What could be better than a girls getaway at Drowsy Water Dude Ranch Colorado? Picture this: your best girlfriends, wearing jeans and flannel shirts the entire vacation, someone else preparing your delicious meals, riding horses, and hiking the Rocky Mountains.
Got it? That's a Dude Ranch Colorado vacation. Who's ready?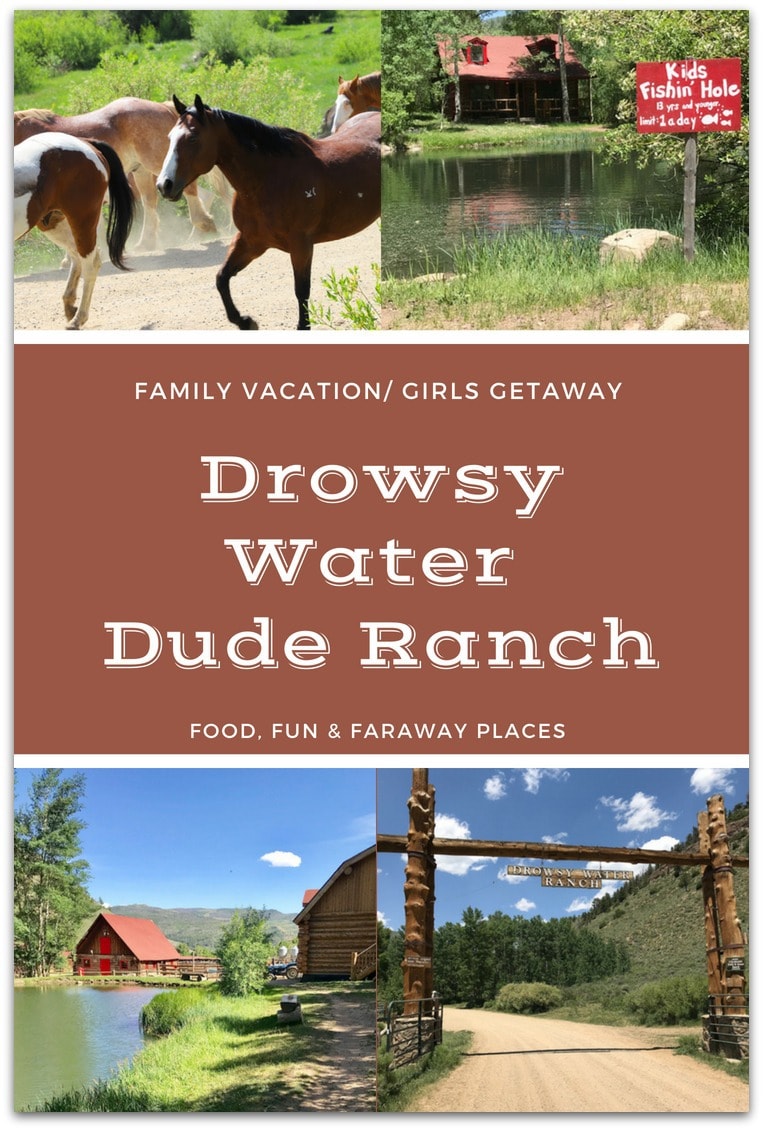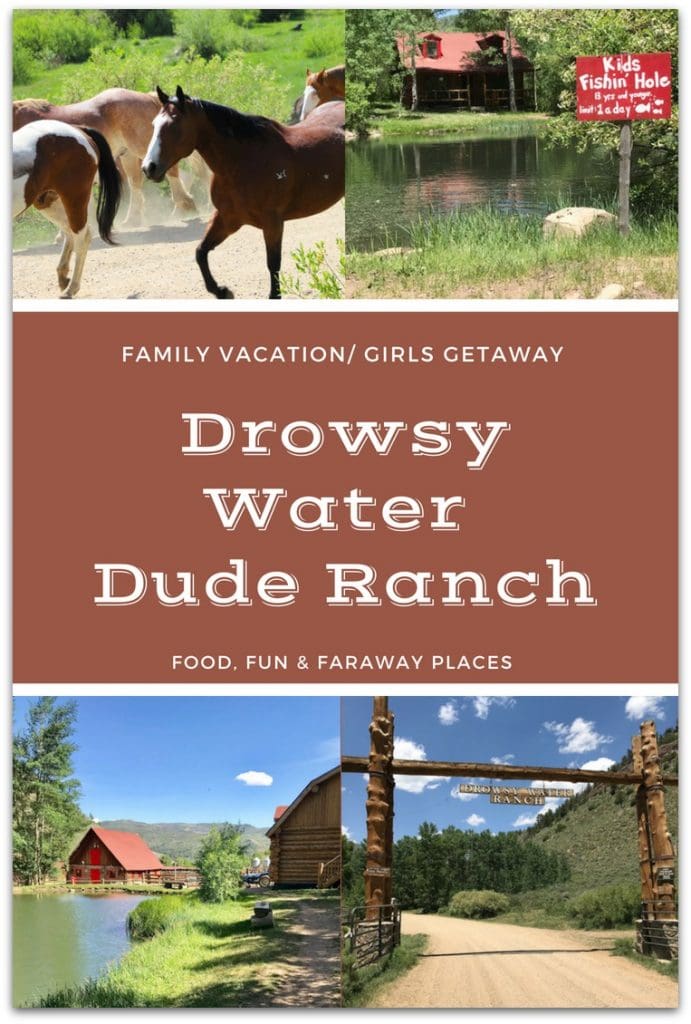 Girls Getaway: Drowsy Water Dude Ranch Colorado
There's nothing quite like getting away from it all. Especially when that getting away involves your besties, sharing a cabin in the Rocky Mountains, without a care in the world. Drowsy Water Ranch in Grand Lake Colorado is that spot girlfriends dream of.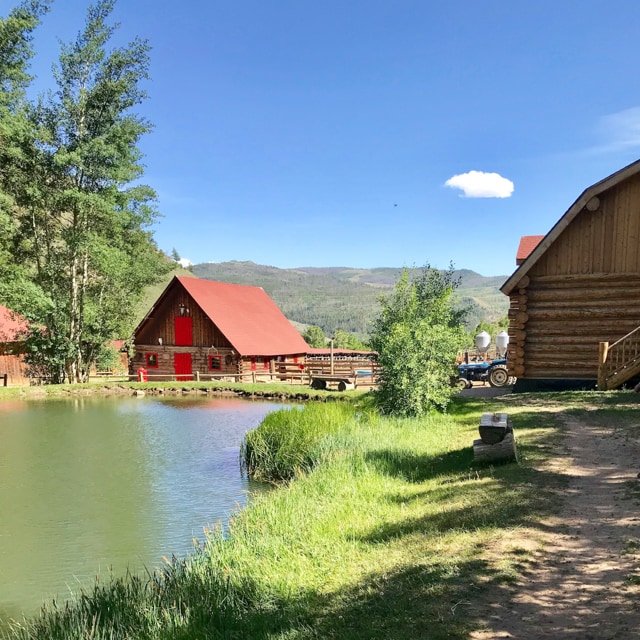 Rewind. In all honesty, when you take four city girls who are travel writers and put them on a Colorado Dude Ranch with a warning that they may not have wifi, it's stressful. Until they get the hang of things. Until they start listening for the lunch and dinner bells instead of their phones ringing.
Until they start to relax sitting around the dinner table with a bottle of wine. Until they remember how nice it is to not worry about social media. That's what a Dude Ranch Colorado vacation is all about.
And if you have kids? This is a great break from all that gaming, too. The kids were taking riding lessons, going on trail rides, white water rafting, and just being kids in the great outdoors.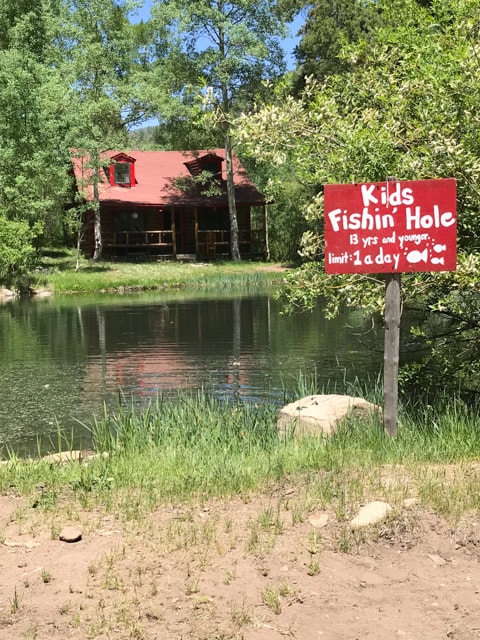 The Drowsy Water Dude Ranch started out as a place where the family would invite their friends in the summer to experience the 'cowboy way' and western lifestyle. They now have 120 horses, a handful of goats and chickens, and are surrounded by the Colorado Rocky Mountains where you'll find bear, deer, mule deer, elk, hawks, blue heron, bald eagles and golden eagles, antelope, and even a coyote or two.
Those mountains are incredible, sitting 12,000- 13,000 feet above the ranch, 8,200 feet above sea level. The sun can be intense, so be sure to take (and wear) sunscreen.
Drowsy Water Dude Ranch Colorado Accommodations
The accommodations at Drowsy Water are just what you'd expect from a dude ranch.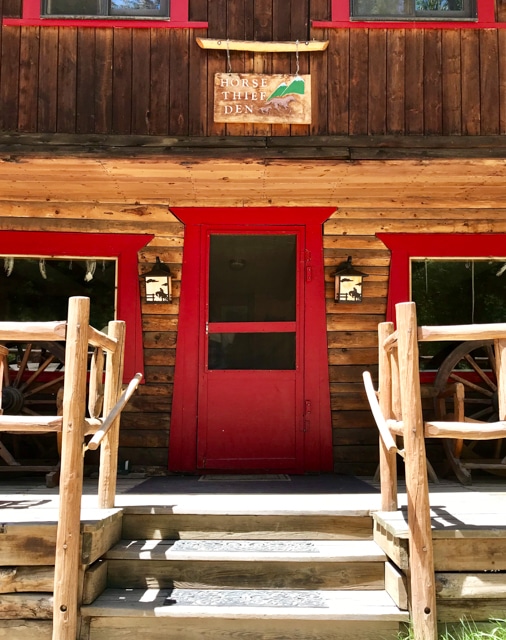 Cozy cabins with western design, the living area had a couple of seating areas which was nice. With five or six people in one cabin, this area was large enough to spread out.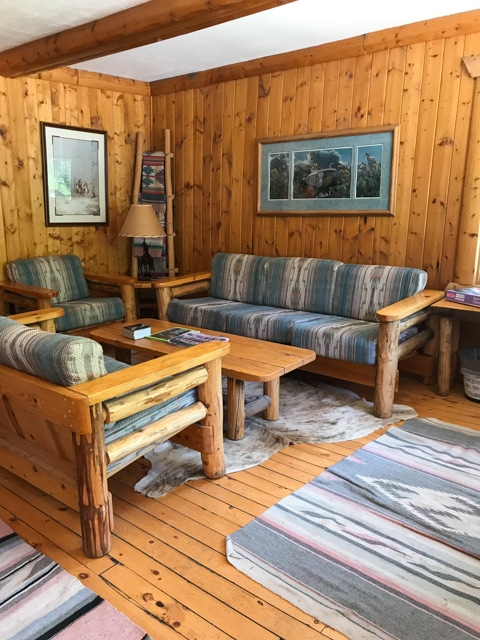 At the time of our stay, we had the four of us and another writer, each in our own room, as well as a family with kids and a grandmother. (By the way, she did everything! She rode almost every day and even went whitewater rafting. I think she said she was 75. How cool is that?)
We had a small fridge in our cabin along with a coffee maker, and a bookcase filled with reading material and puzzles for downtime.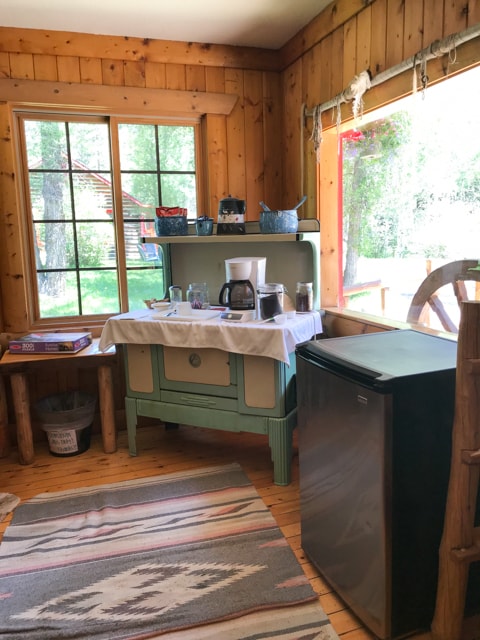 The rooms were nice, some having a private bathroom and some with a shared bath between two rooms. My room had a queen bed along with a twin, perfect for a family with a young child.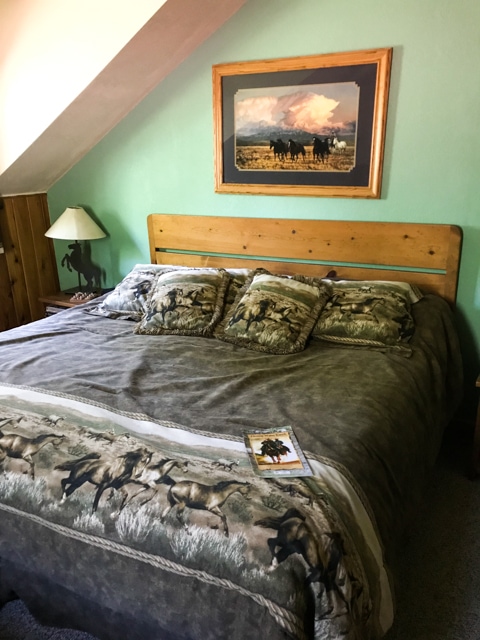 Do bring mosquito repellent. They also have it in the little store in the main cabin where meals are served. I will say I didn't end up with that many bites, but we did see quite a few of the little pests. After all, we were at a ranch in the woods, so it's to be expected.
The main building where we ate also had an area for relaxing. In total honestly, we did have wifi there, but it was spotty. This was where guests hung out in the evenings if there wasn't anything special going on.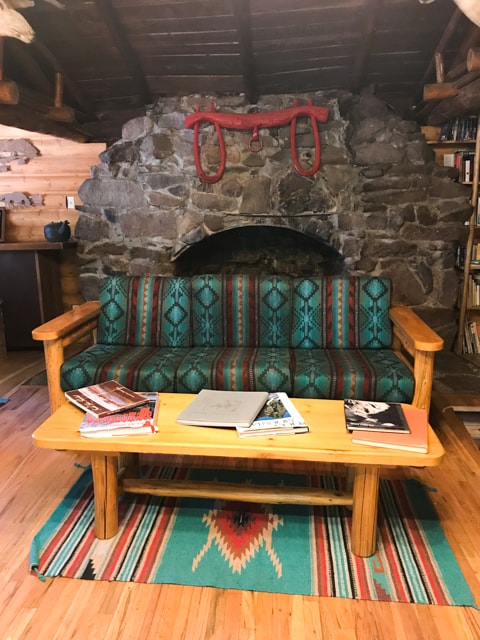 It was nice that there was so much room to spread out with your family and friends. This area is also where the orientation takes place on the first day of your stay.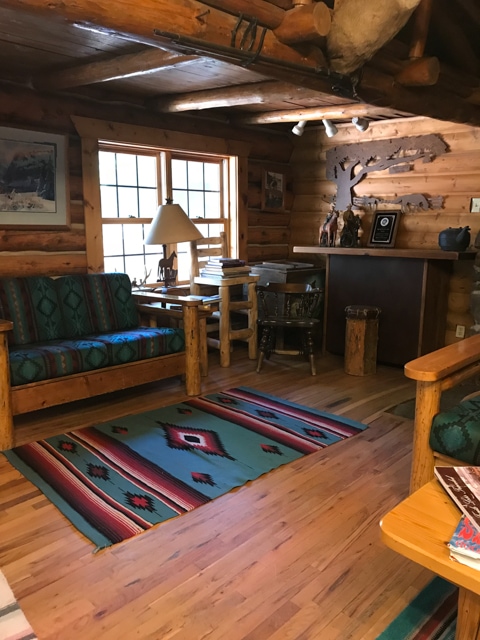 Drowsy Water Dude Ranch Colorado Meals
All meals are served in the Flying Heart Lodge.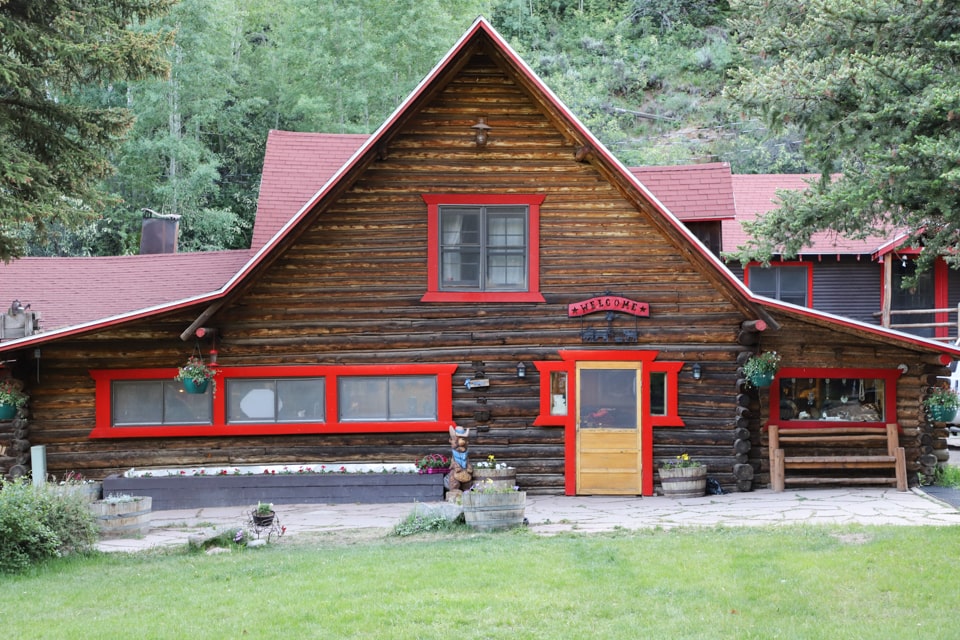 Large tables are set for each meal. Some meals are buffet style and others family style. The staff was very accommodating for food allergies.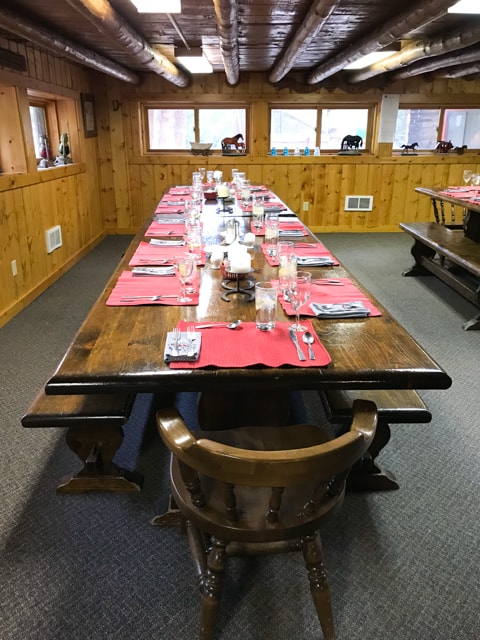 You can order off the menu for breakfast, and it was delicious!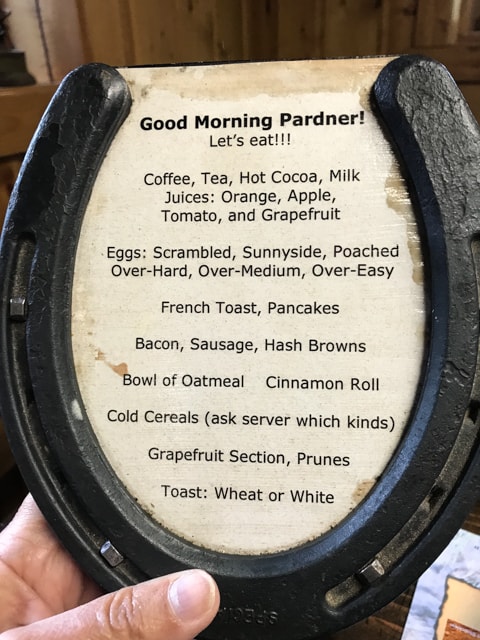 Lunch was usually sandwiches, like these grilled ham and cheese on pretzel rolls. So good! On days when you were off on an adventure, fixings were laid out at breakfast for you to make your own picnic lunch.
And there was always a freshly baked dessert. These are Cowgirl Cookies.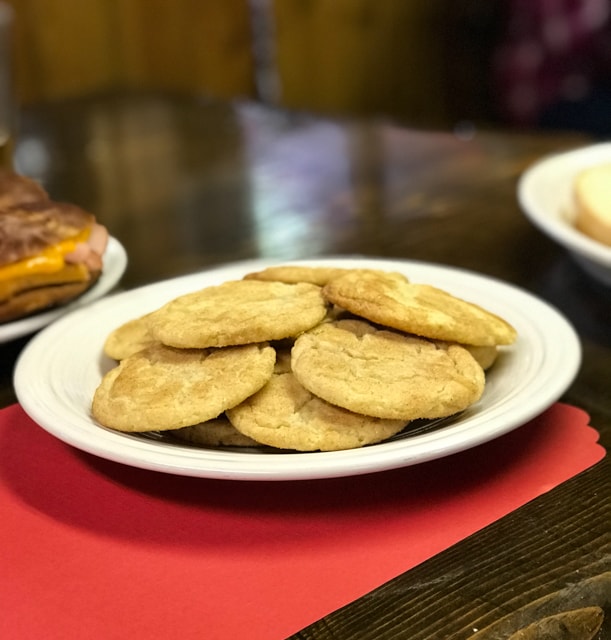 Dinners were comfort food, like spaghetti and meat sauce or barbecued chicken and brisket. And again, those desserts! I scored the recipe for this strawberry rhubarb pie and will be sharing it soon.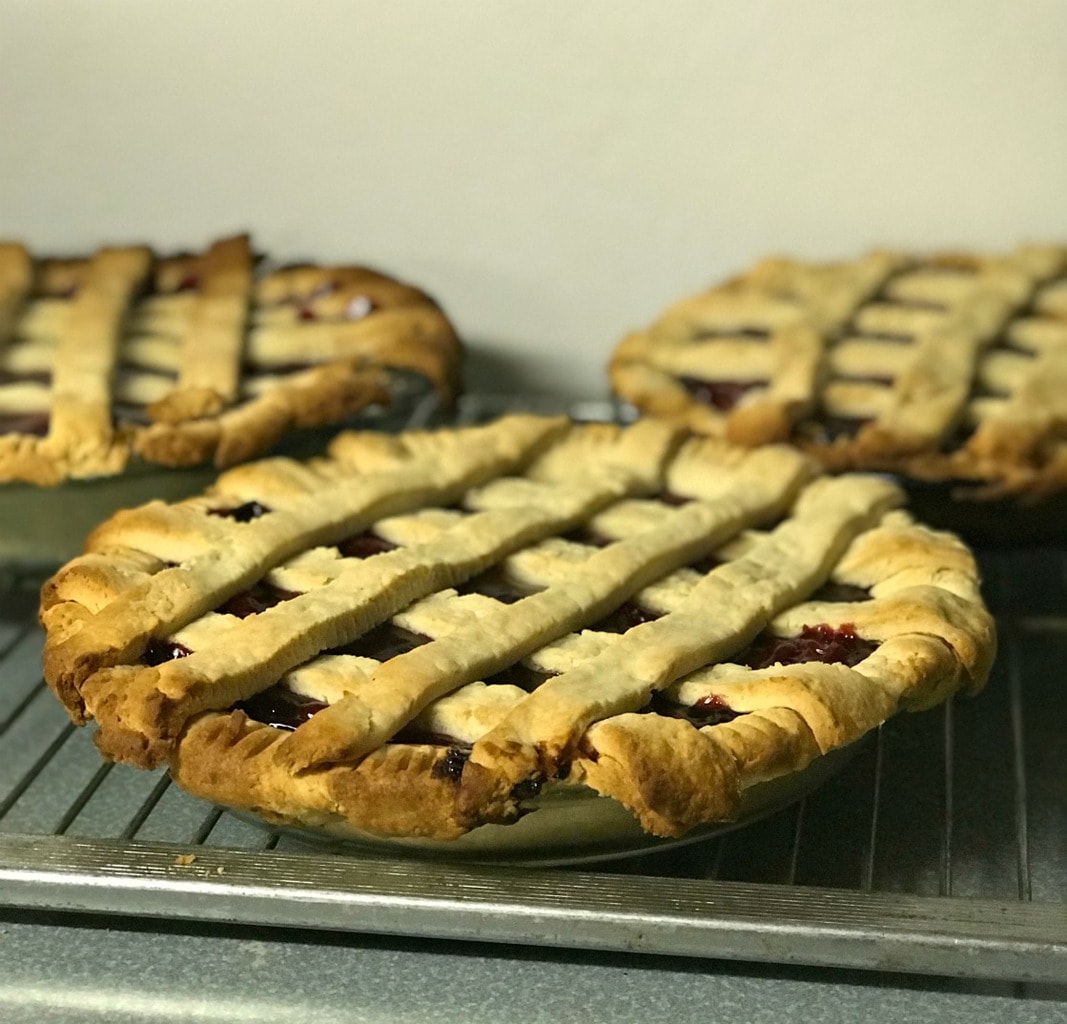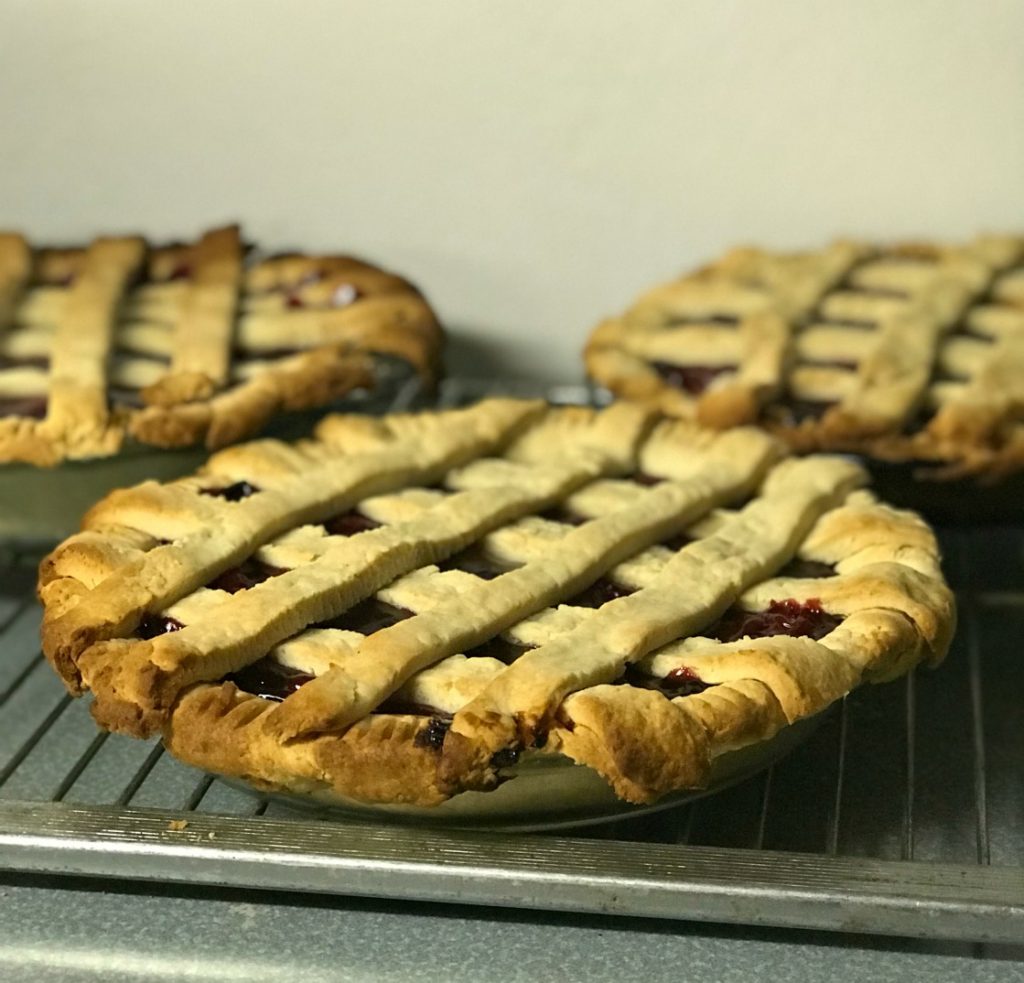 Once a week, this Colorado Dude Ranch serves a meal just for adults. The week we were there, the meal began with roasted tomato soup topped with a small piece of gouda cheese.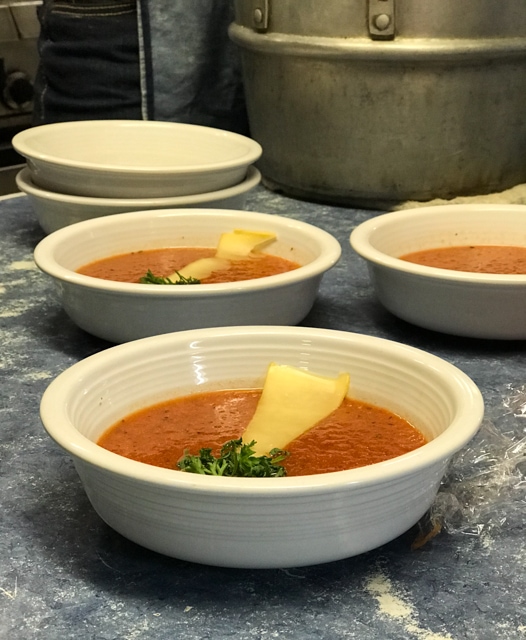 Did I mention the freshly baked bread?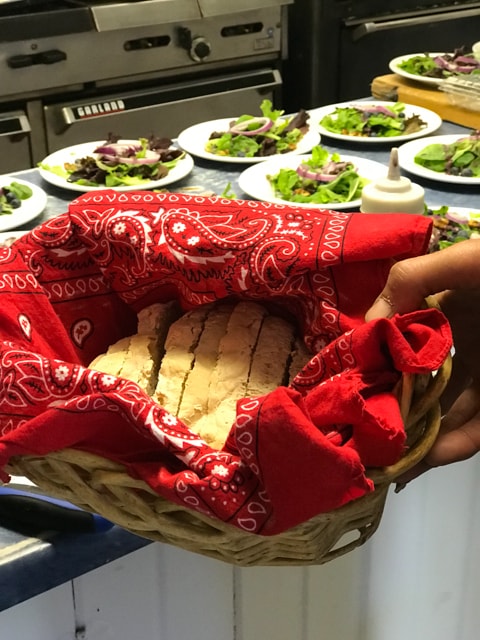 A blueberry salad followed the soup, and the entree was spinach and feta stuffed chicken.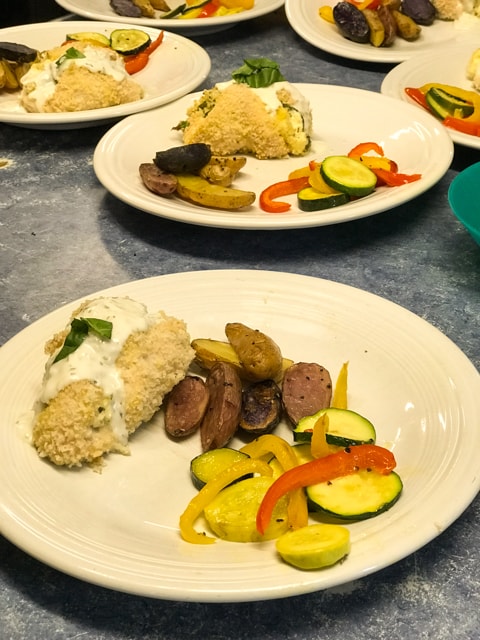 That pie above was served for dessert, topped with fresh whipped cream. Heaven. Not a meal I expected to have at a dude ranch, and a welcome surprise!
If you're wondering what the kids did that night, they had a special evening, too. They sat around a campfire chowing down on mac and cheese and other delicacies kids love, including homemade Rice Krispy treats and s'mores. Yum.
Things to do at Drowsy Water Dude Ranch Colorado
Horseback Riding
Of course, horseback riding is the main attraction at Drowsy Water Dude Ranch. Don't worry if you don't have gear. Drowsy Water will rent you boots.
Lessons are included, and the first day you'll have an opportunity to meet your horse so you can get to know one another. After your horse is assigned, you'll ride over to the ring where you'll have the first lesson.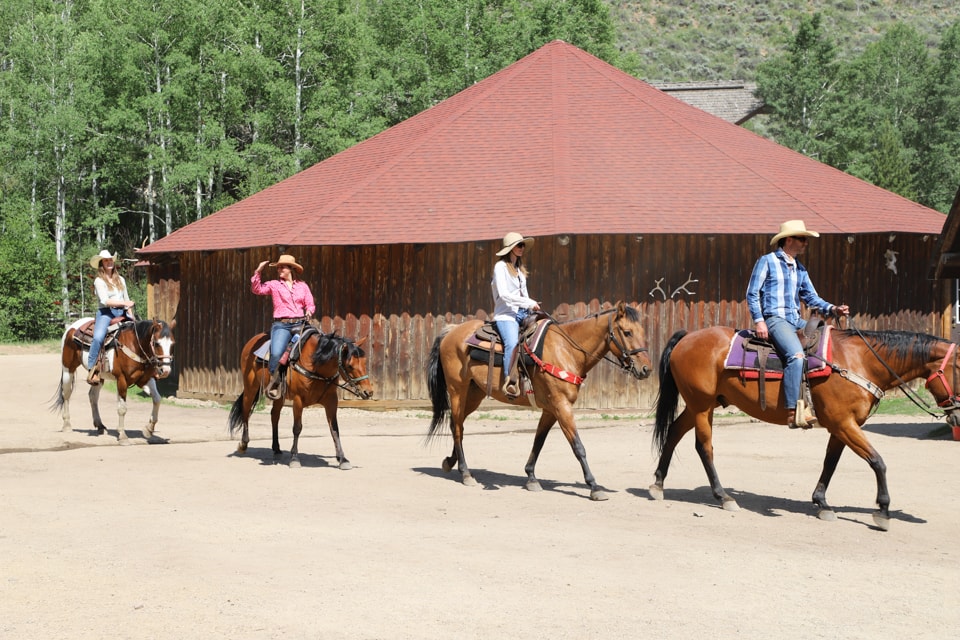 You will ride your horse the entire time you're there, which is so smart. No getting to know a new horse each day.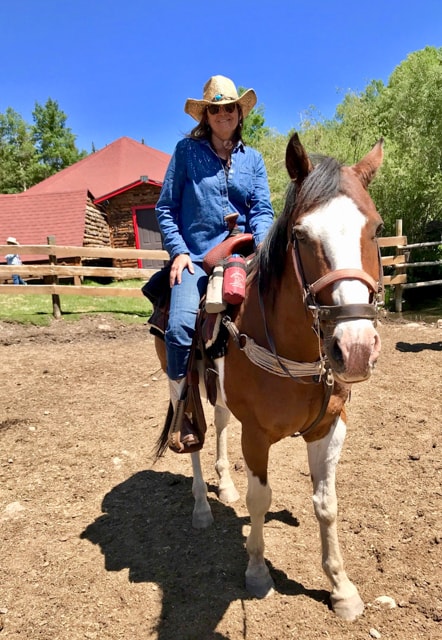 It was a treat to hang out with Susan Lanier-Graham from Wander with Wonder. We met on a trip last year in North Carolina and I hadn't seen her since then.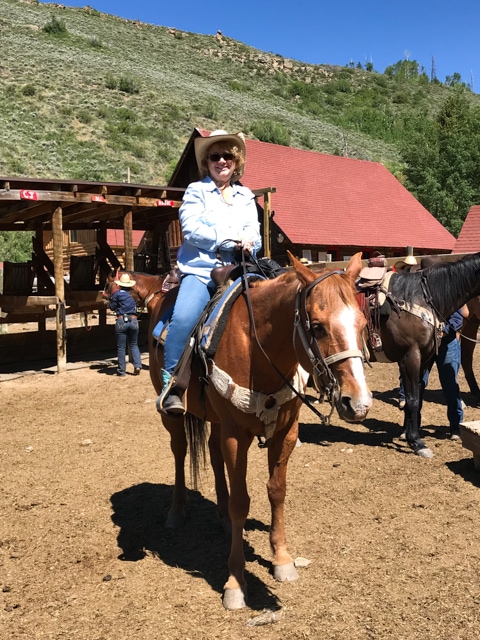 The views of the mountains while we were on our trail ride were pretty spectacular.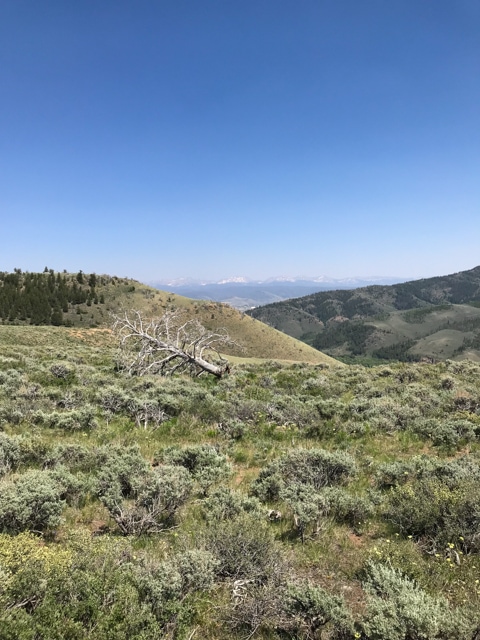 Everywhere you turned.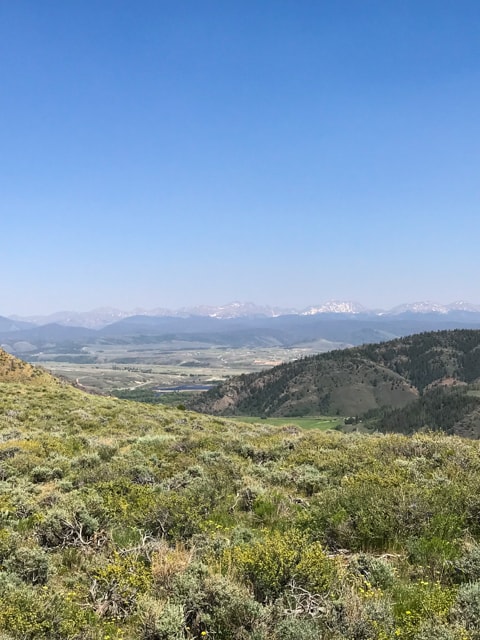 My friend Cacinda Maloney from Points and Travel was riding in front of me. We just couldn't get over how beautiful it was.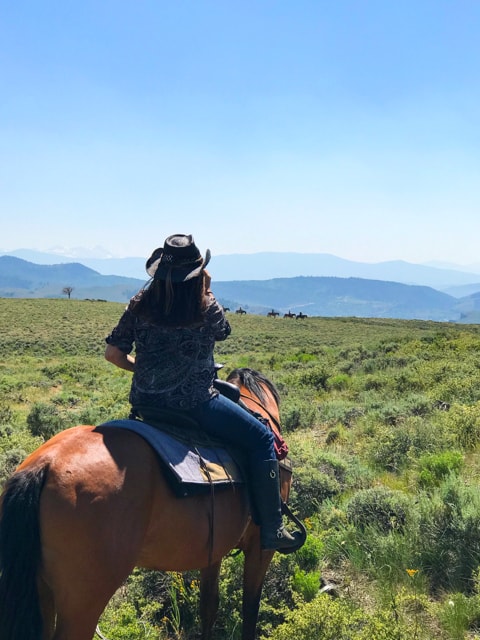 Kids Activities
This Colorado Dude Ranch has a special program just for the kids. For littles from 6-12, the Rangerider Program provides a ranch experience including horseback riding and other organized activities. On any day except Monday, the adults can join the kids for a family ride.
For younger kids, the Buckaroo Program offers crafts, games, and a supervised horseback riding program.
Other Dude Ranch Activities
But riding was not all there was to do. You could take an optional excursion and go white water rafting, take fly fishing lessons, play golf, or go mountain biking. A yoga class was offered, and there was a local masseuse that could be booked. There was also an optional zip-lining course that looked amazing.
If riding was enough excitement for you, there was a swimming pool and hot tub. You could also play volleyball or go hiking.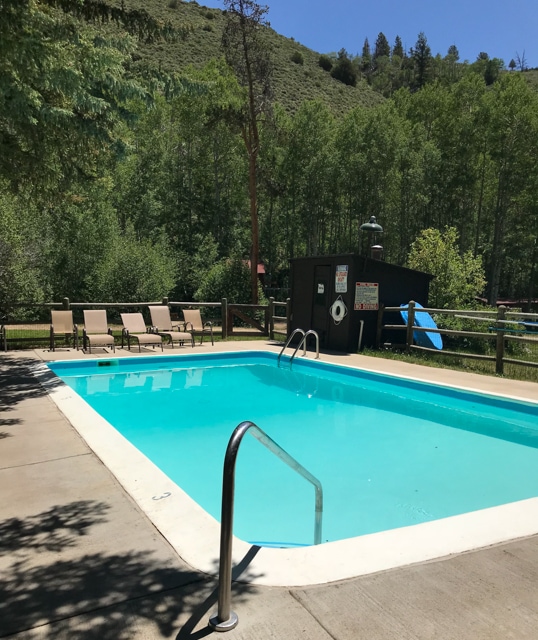 Or, you could simply grab a book and enjoy just being outside.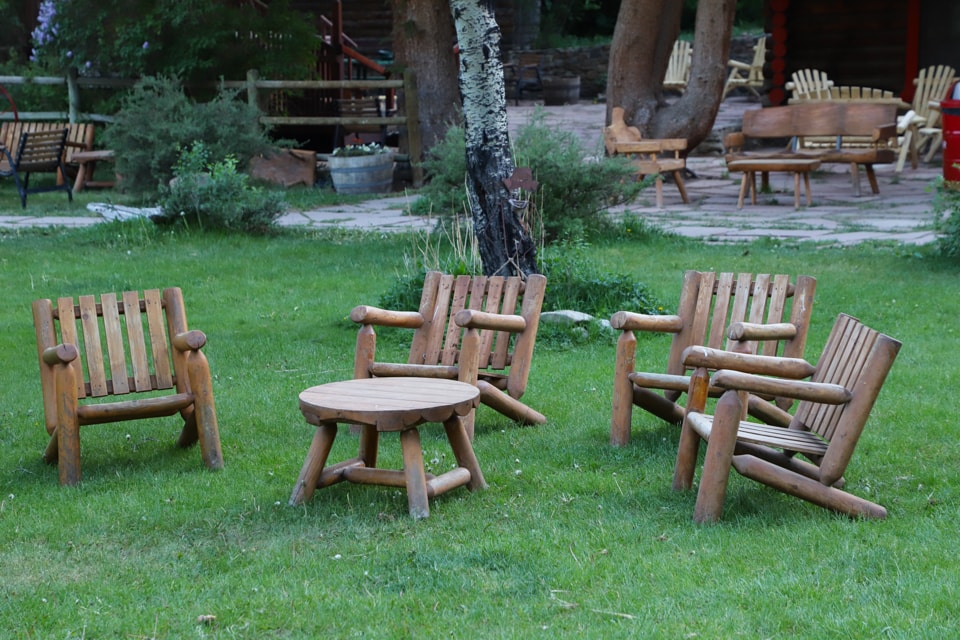 Once a week, the Drowsy Water Dude Ranch holds a Square Dance. I was told many of the staff come to the dance even when they're off work. Everyone had a blast. Take a look.
Things To Do Around the Area of Drowsy Water Dude Ranch Colorado
The Hot Sulphur Springs in Hot Sulphur, Colorado, is not far from the Ranch. The Springs have been in operation continuously since 1864. Yes, you read that right! This spot is where the Ute Indians once bathed, relaxed, and healed body and mind. With 24 pools and private baths, it's an interesting experience.
Visit Rocky Mountain National Park. At 415 square miles of beauty, the views of this National Park are just incredible.
And then you could be just driving along and see this! I had to share on Instagram! Are you following me there?
Stop in the Grand Lake Lodge for amazing food and a fun atmosphere. Built in 1919, the Lodge is on the National Register of Historic Places.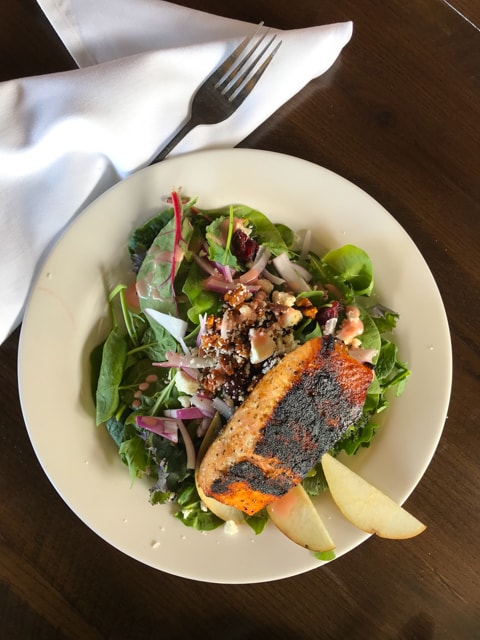 It's easy to see why people would want to tie the knot there! Those views!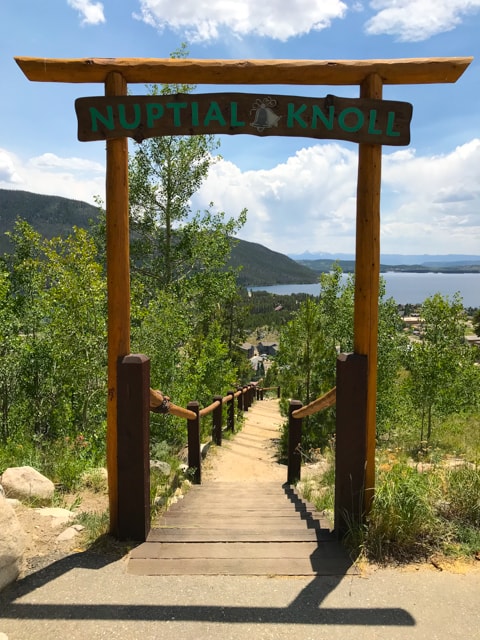 Another amazing place to head for spectacular views and amazing food is Devil's Thumb Ranch Resort & Spa. This upscale property is just gorgeous. Sit out on the patio and have an appetizer or cocktail.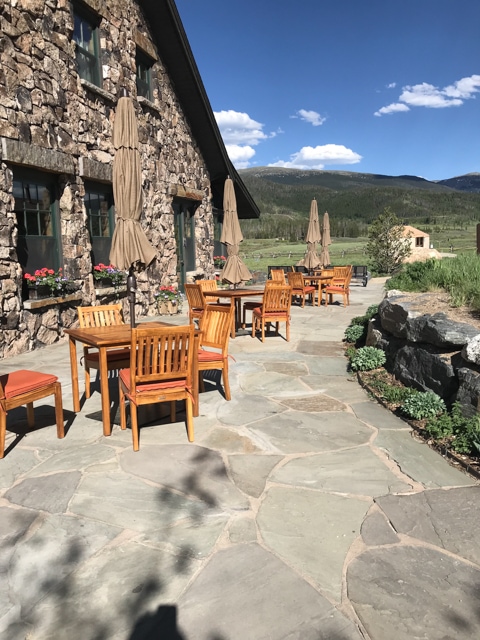 And just take in those views.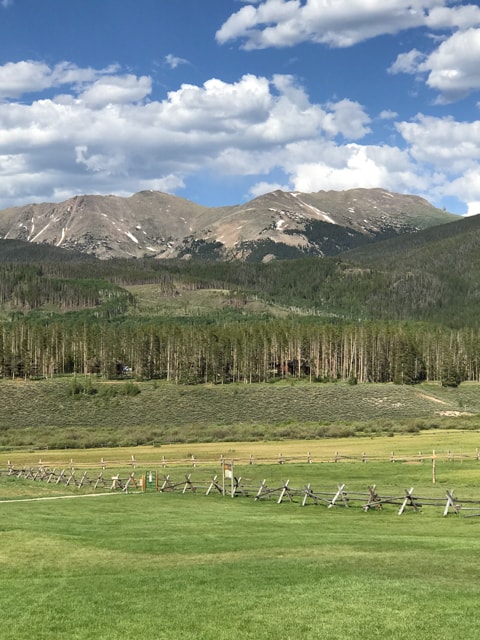 We had dinner at Devil's Thumb Ranch and I'm dreaming of going back after that meal!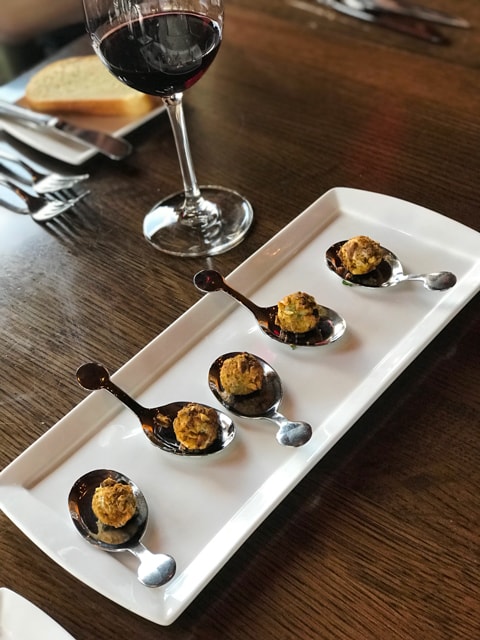 The food was absolutely spectacular. I had the Ahi tuna appetizer and a steak for my entree. Unfortunately, the lighting did not cooperate for the steak but, trust me, it was one of the best steaks I've ever eaten.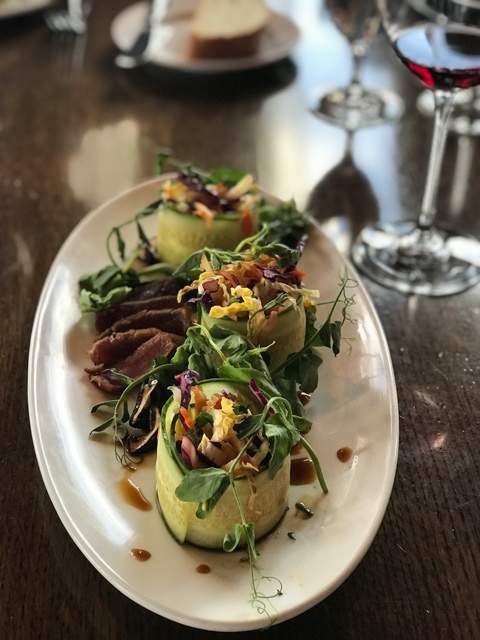 If I get back to the area, I want to check out the spa at Devil's Thumb Ranch, too. I think my husband would enjoy a massage for two!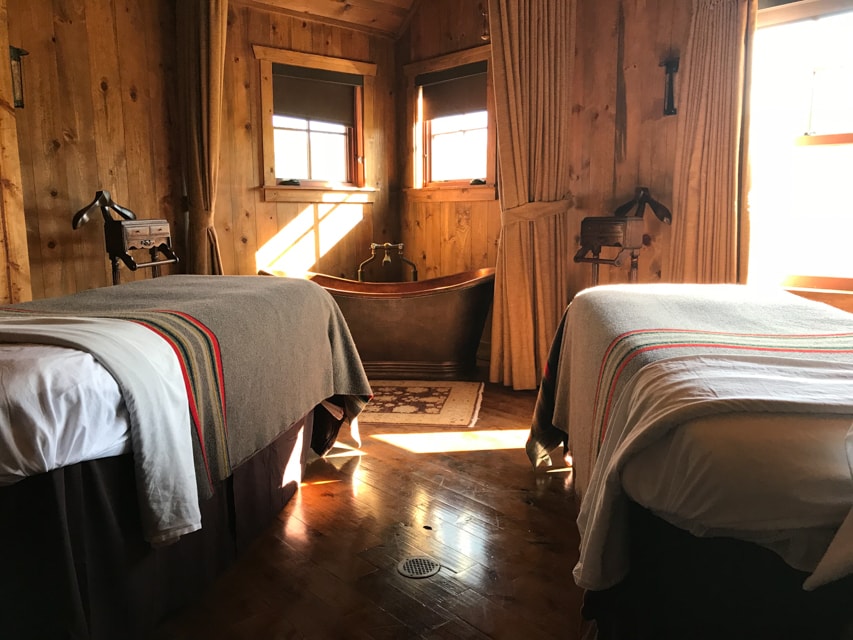 One more suggestion of things to do would be to head to the little town of Grand Lake where you'll find a lot of local shops and restaurants. We found the perfect bar to have a cocktail the day before we left Colorado!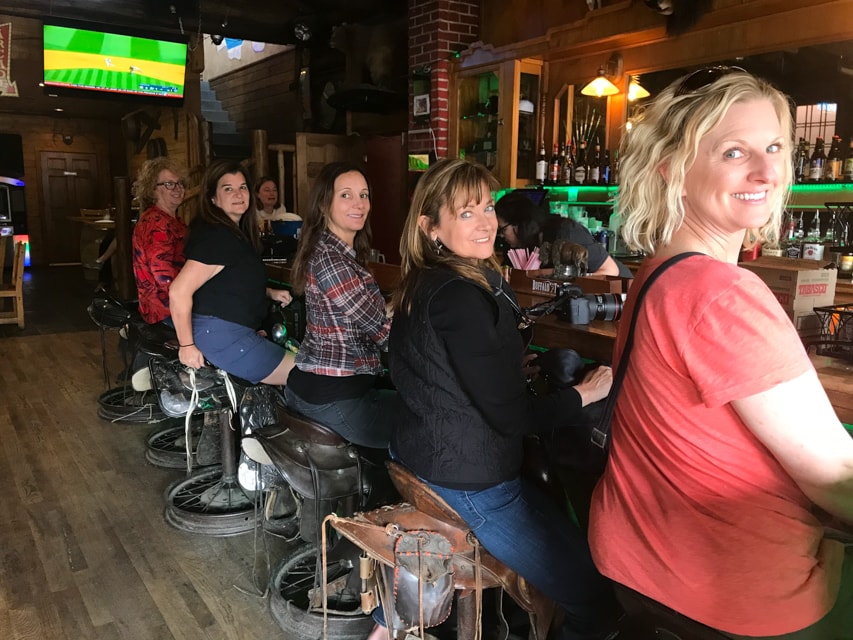 My suggestion would be to spend some time at the Drowsy Water Dude Ranch and then go out and explore. There is really so much to do in this area!
If you're looking for a really special all-inclusive vacation, visit Drowsy Water Dude Ranch online to learn more. It's great for a girl's getaway, family vacation, or even a family reunion. We had a blast on our girls getaway, with Annette White from Bucket List Journey rounding out our foursome.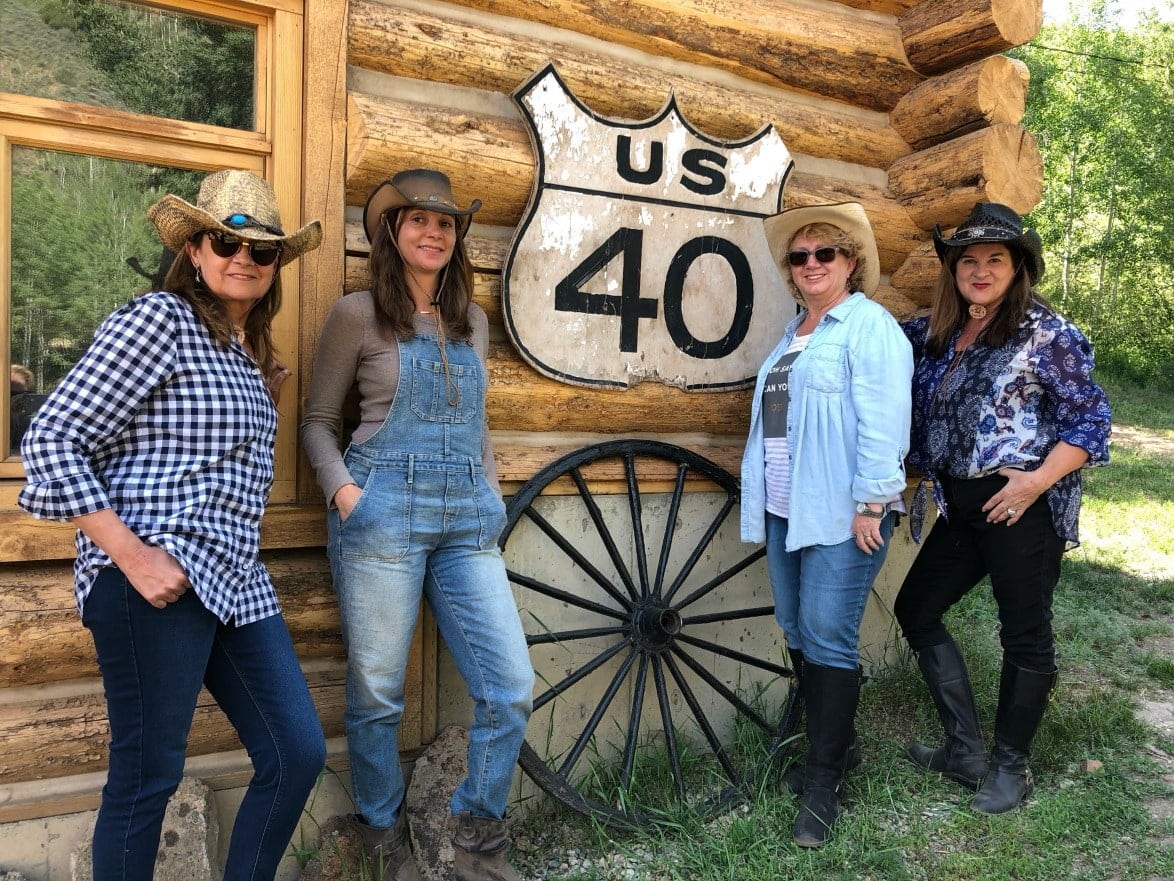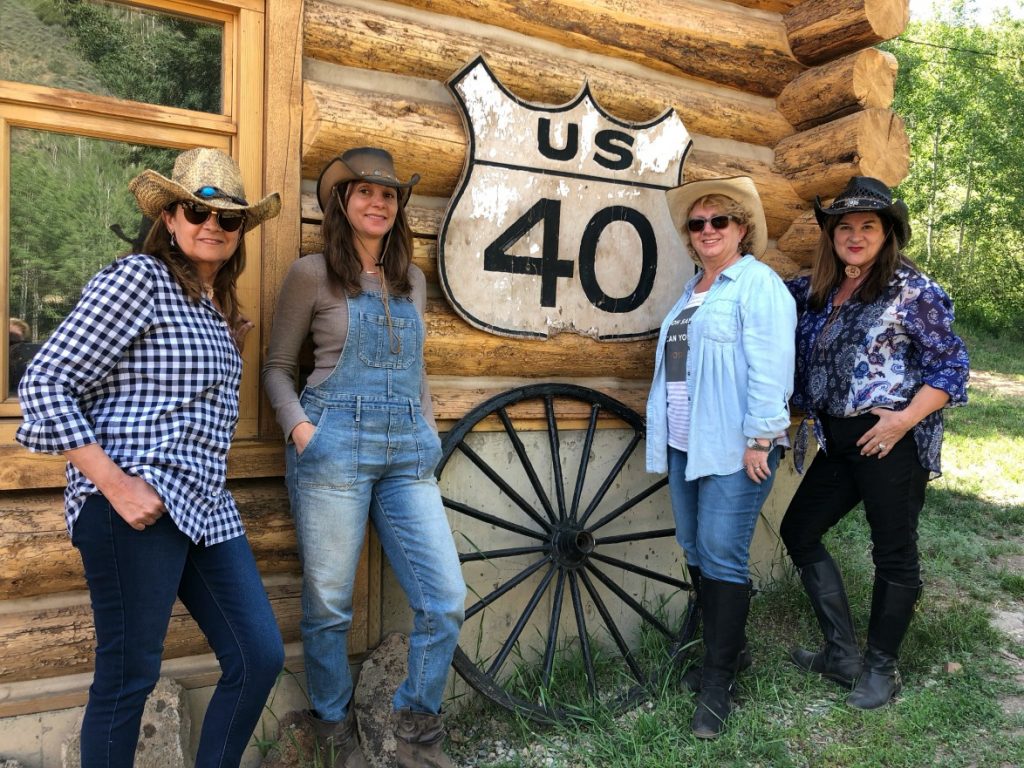 I was invited to experience Drowsy Water Dude Ranch so I could share it with you. When planning your trip there, it's suggested that you book as far in advance as possible. Be sure to tell them I sent you!