These restaurants near Lake Oconee Georgia will have you wishing you'd planned to stay longer. For foodies like me, knowing where to eat is important!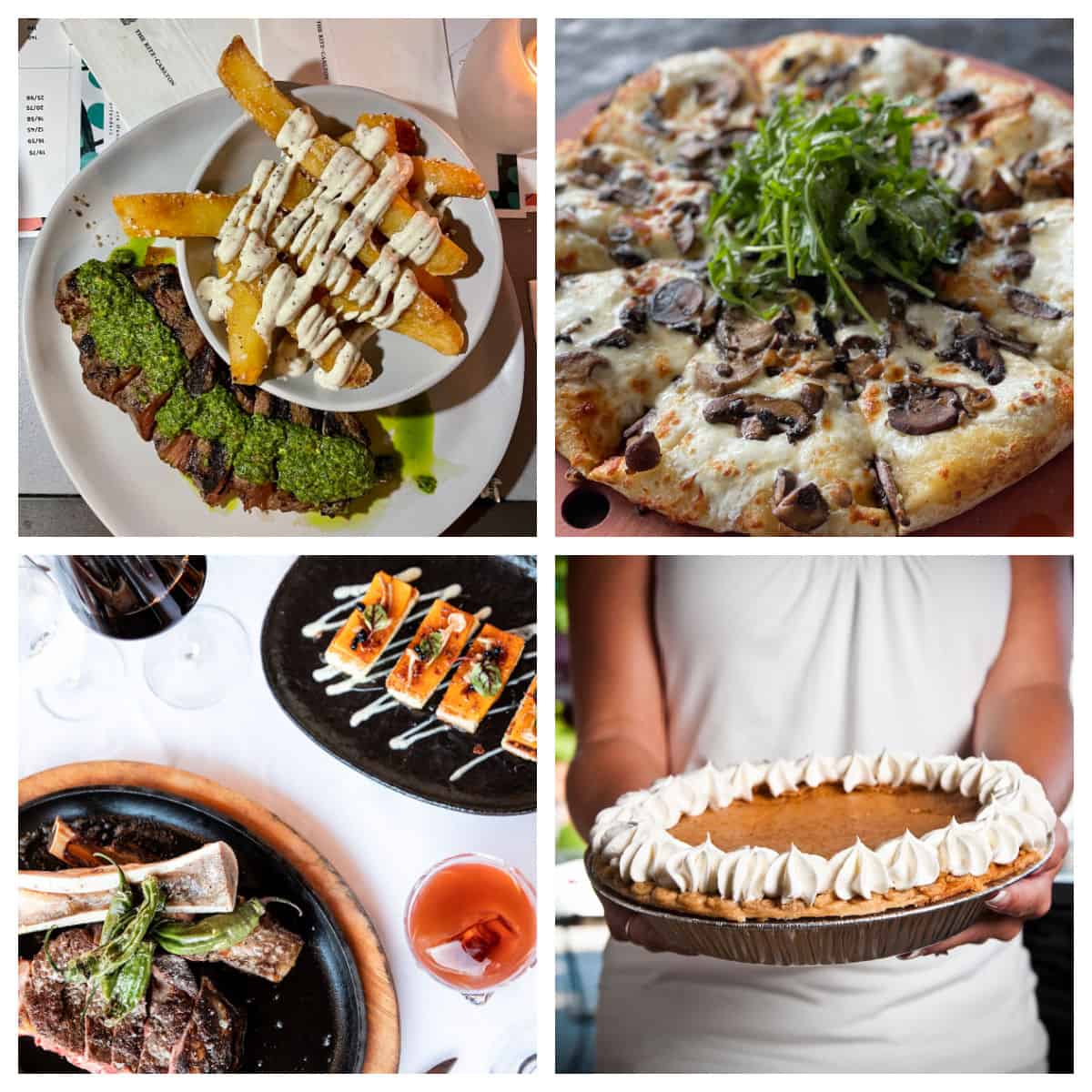 Lake Oconee is a fantastic vacation destination for all sorts of outdoor activities. All that fun in the sun can really work up an appetite.
Thankfully, there are many wonderful places to grab a bite to eat. This guide will help you plan breakfast, lunch, and dinner, so start packing!
Where Is Lake Oconee?
Lake Oconee is located in central Georgia near the towns of Greensboro and Eatonton.
The lake is fed by the Oconee River, but it was created with the construction of the Wallace Dam in 1979. The lake provides water for Georgia Power's Wallace Hydroelectric Plant.
Because of the need for clean water for the plant, the water of Lake Oconee is incredibly clean. This makes it a great vacation destination.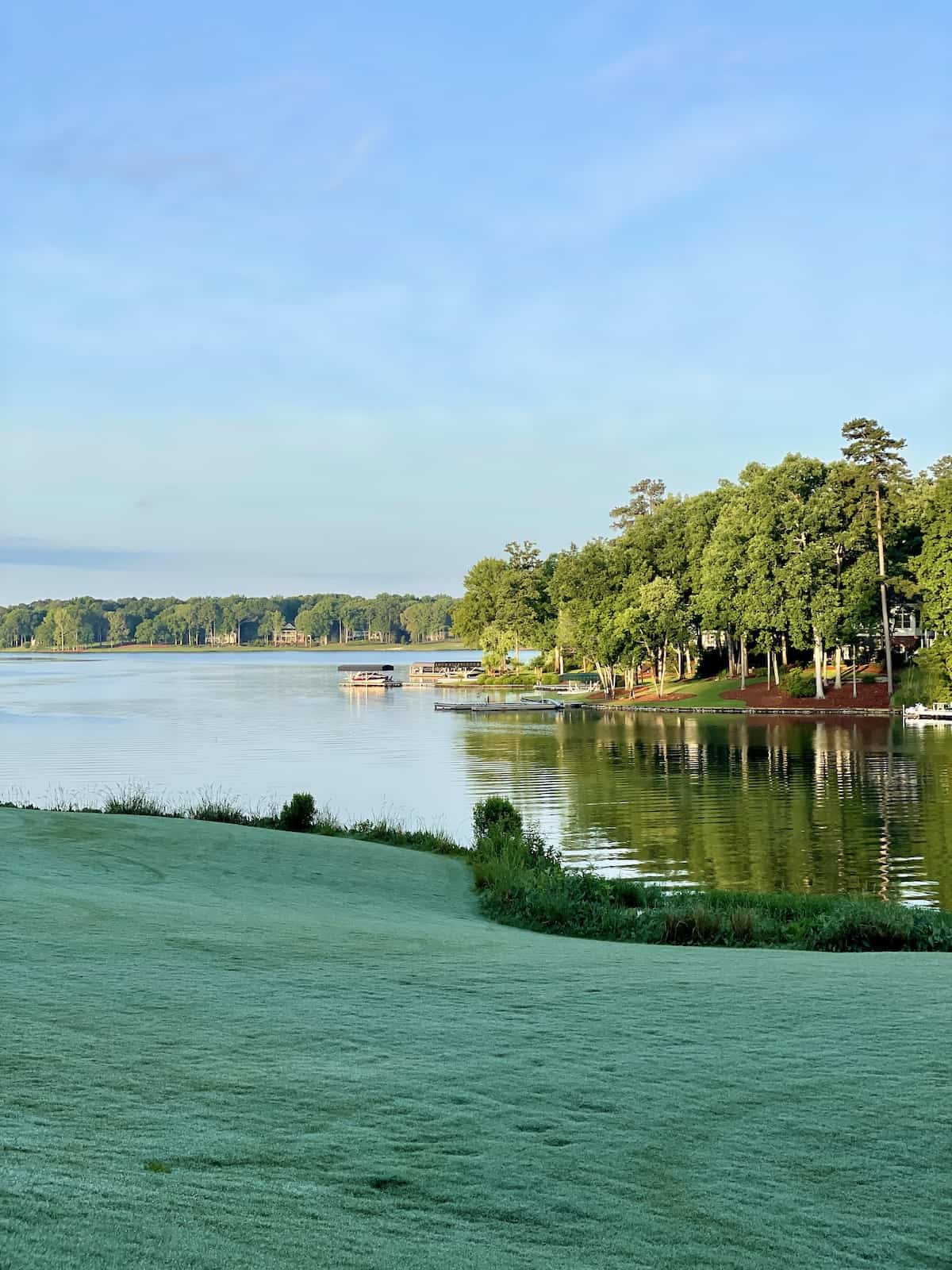 Why We Love This City
There's so much to love about the beautiful Lake Oconee area. If outdoor activities are what you look for in a vacation, this is an ideal place for a getaway.
For the golfers, you have to try out at least one of the five signature golf courses for a taste of Reynolds championship golf.
Designed by some of the best course architects like Jack Nicklaus, Rees Jones, Bob Cupp, and Tom Fazio, Reynolds Lake Oconee has been recognized as one of the top golf destinations in the southeast in the 2022 Golf Digest Editors' Choice Awards.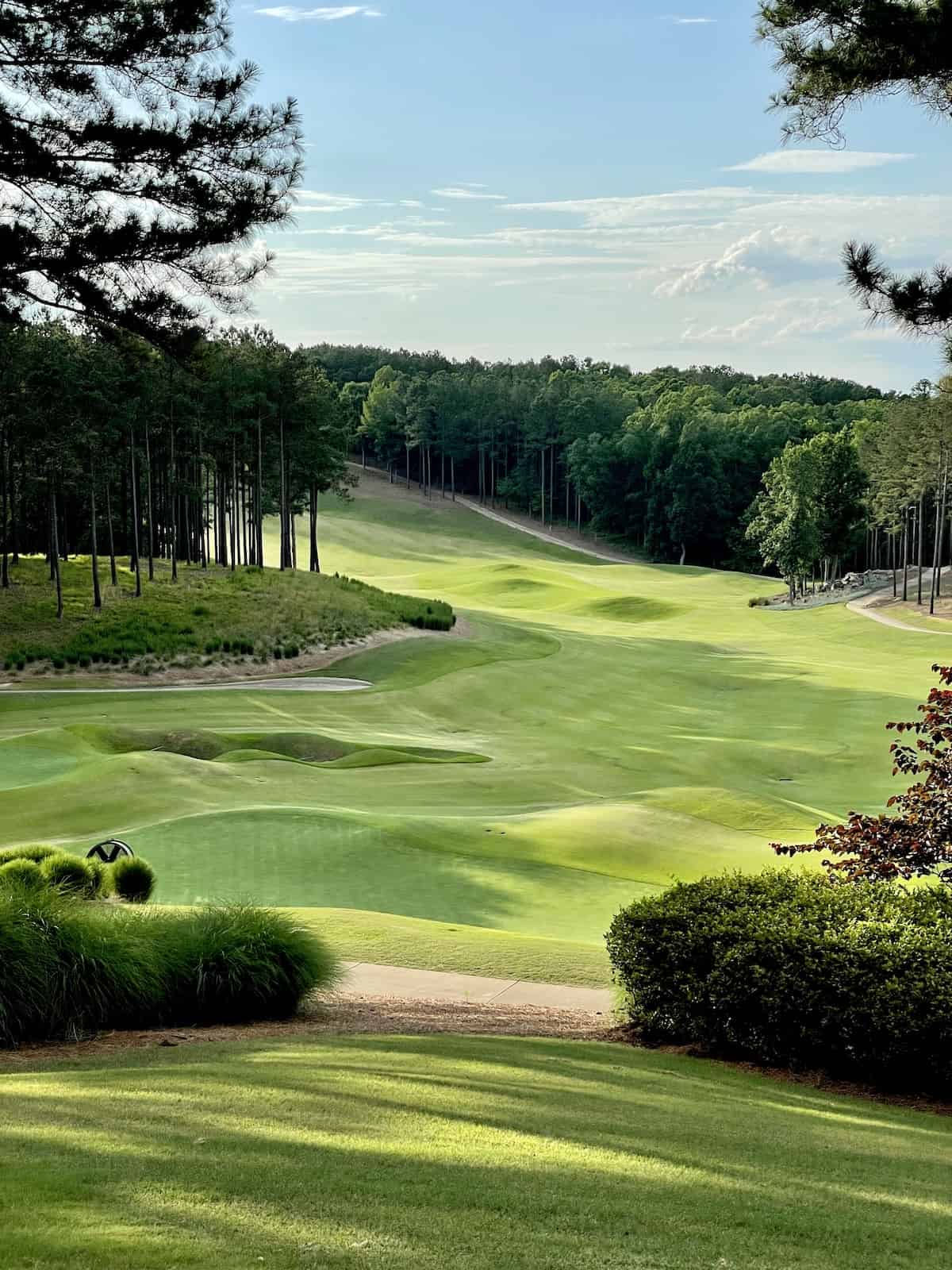 The Kingdom at Reynolds Lake Oconee offers the ultimate golf experience. You can even get private instruction from one of the course's golf pros.
If golf is not your thing, the fishing at Lake Oconee is exceptional, where you'll find bass, sunfish, catfish, and more. Good fishing opportunities can be had from the shore or dock, or take an excursion by boat.
You'll find even more activities at the Sandy Creek Sporting Grounds, like sport shooting, tennis, and archery. No matter what you're looking for outdoors, the Lake Oconee area is the perfect place for relaxation.
I've stayed at both the Ritz Carlton Lake Oconee and at one of the beautiful cottages. You'll be happy with either. The cottages are perfect for a larger family or a reunion.
But back to those restaurants. From casual southern-inspired food to an upscale meal, there's something for everyone in the Lake Oconee area.
Gaby's By The Lake
Located at the Ritz-Carlton, Gaby's By The Lake offers mouthwatering menu items with a southern twist.
Some of the best starters are their Mediterranean Platter, complete with southern-style Boiled Peanut Hummus and the Southern Deep Fried Pepper Shrimp. We are in the South, y'all!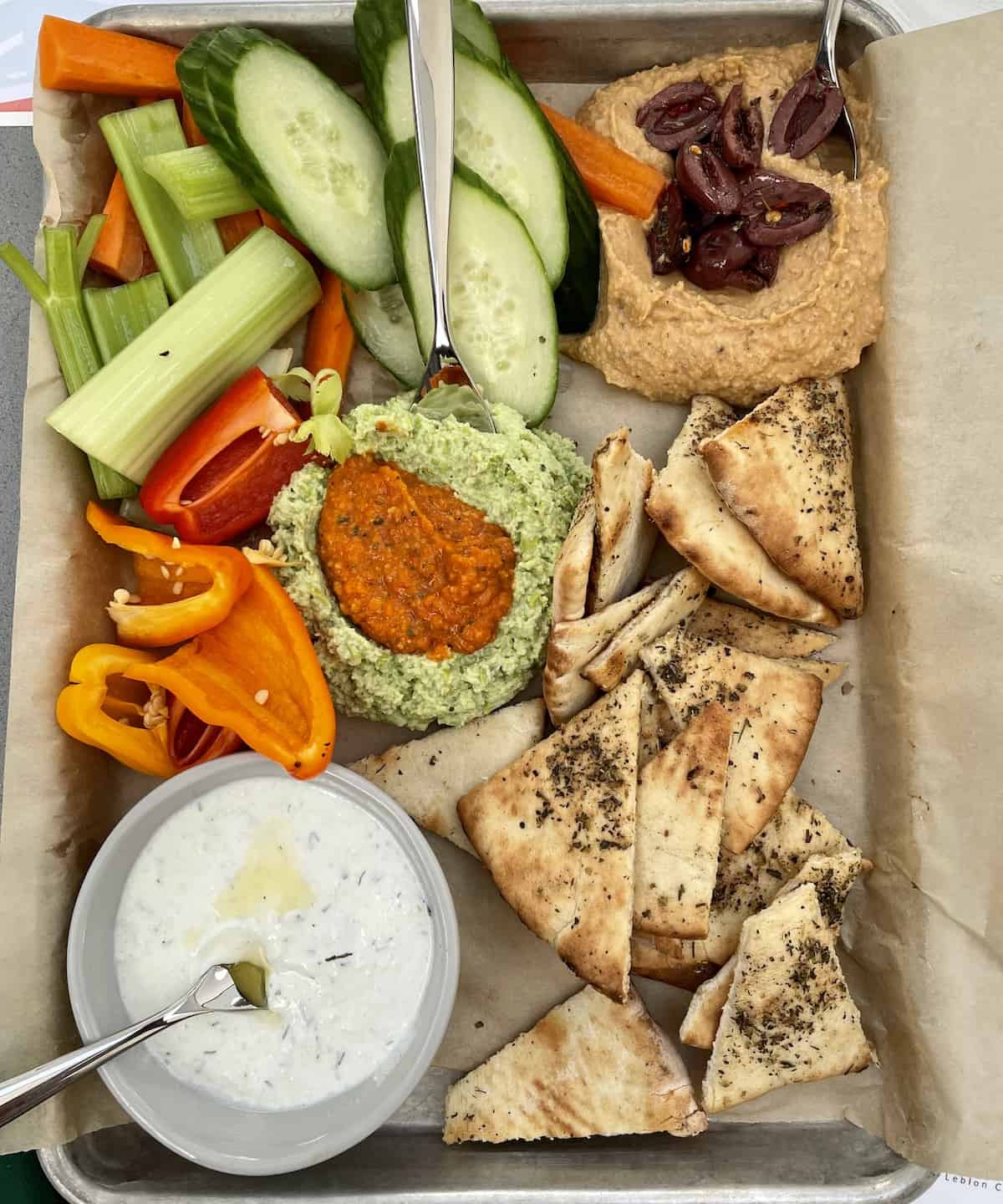 The Brick Chicken with Braised Cabbage and Parsnip Puree was heavenly. For beef lovers, you've got to order the Steak Frites. So good.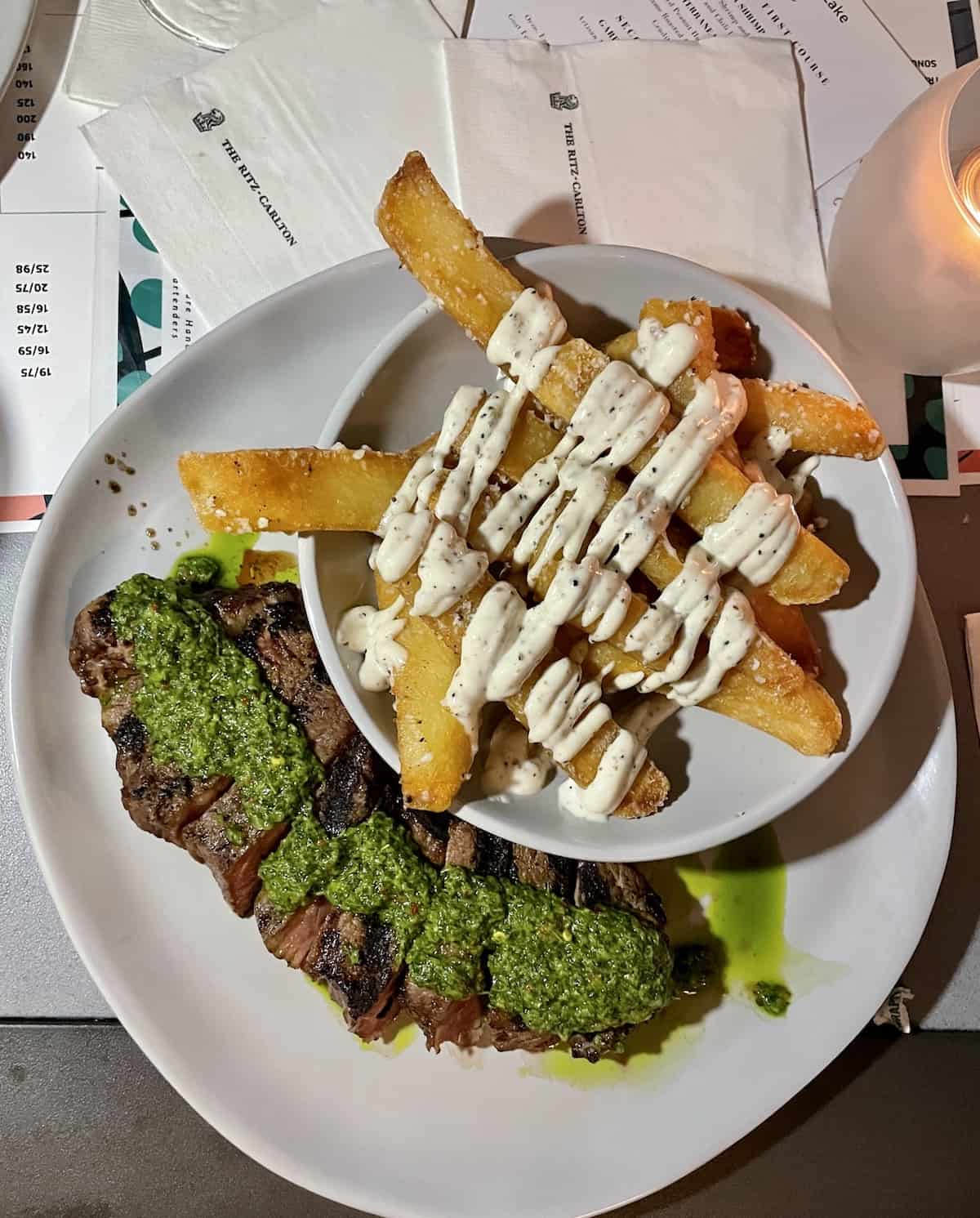 The restaurant is located along the lake with a beautiful view of the water and a delightful lake breeze. This is a great place to relax and just take it all in.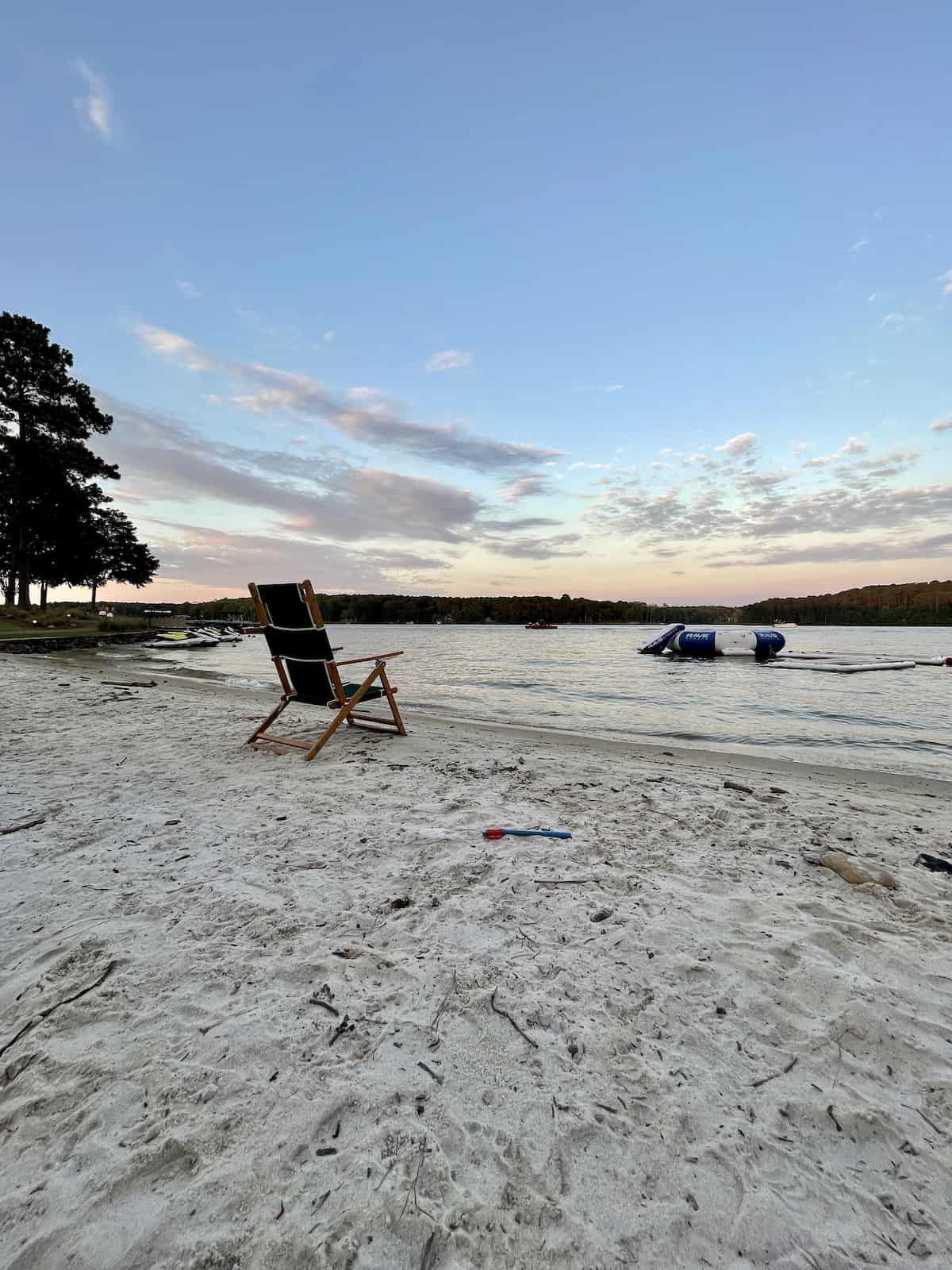 Address: 1 Lake Oconee Trail, Greensboro
Hours: Hours vary. Contact the hotel concierge for seasonal days and operation hours
The Yesterday Cafe
In nearby downtown Greensboro, you can find The Yesterday Cafe. The menu of this local restaurant is filled with good food and a lot of southern classics, but there's one special reason why you have to go: the Buttermilk Pie.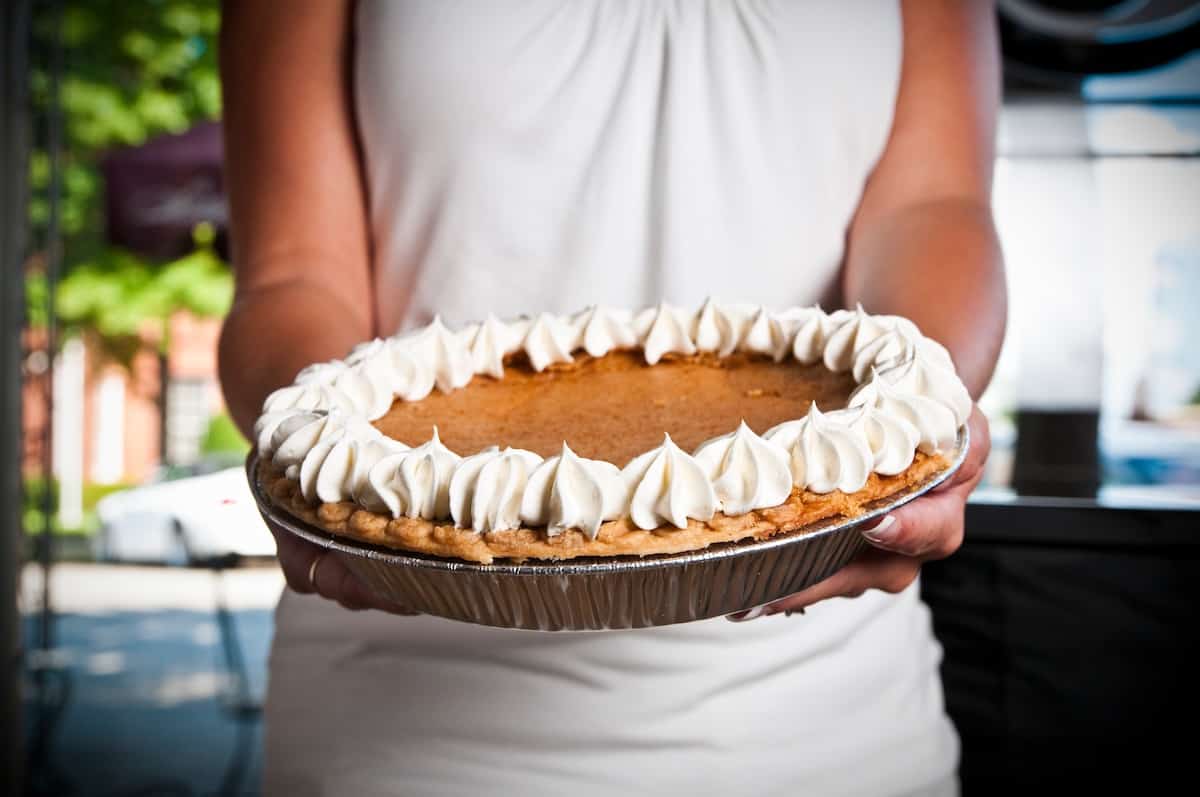 This pie was featured in Southern Living Magazine as one of the best pies of the south. You can buy it by the slice or order a whole pie, but you'll want to arrive early – the pie sells out almost every day.
Address: 114 Main Street, Greensboro, GA
Hours: Tuesday to Friday, 11 a.m. to 2 p.m.
Linger Longer Steakhouse
The Linger Longer Steakhouse is an upscale dining location at the Ritz-Carlton. Their dining room is one of the best places for a fine dining meal.
One of the highlights of the restaurant is their raw bar experience called Chill. And, of course, since this is a steakhouse, you have to try their incredible beef. Try the filet steak, and pair it with a glass of red from their extensive wine list.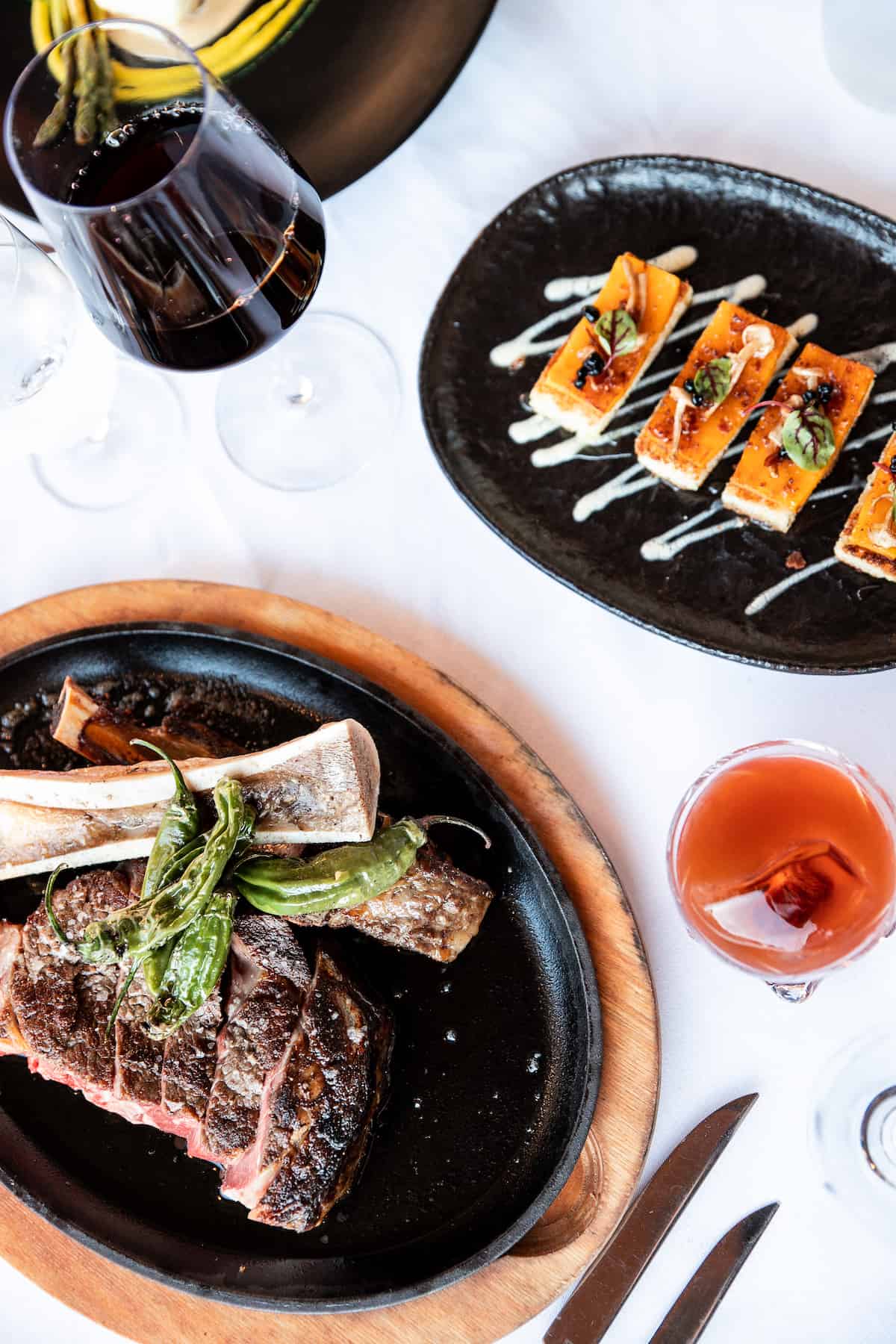 Want a splurge? Ask what the Chef's Feature is for the day.
Address: 1 Lake Oconee Trail, Greensboro, GA
Hours: Please contact the hotel concierge for seasonal days and their hours
Oconee Brewing Company
For a more relaxed setting, the Oconee Brewery Company fits the bill.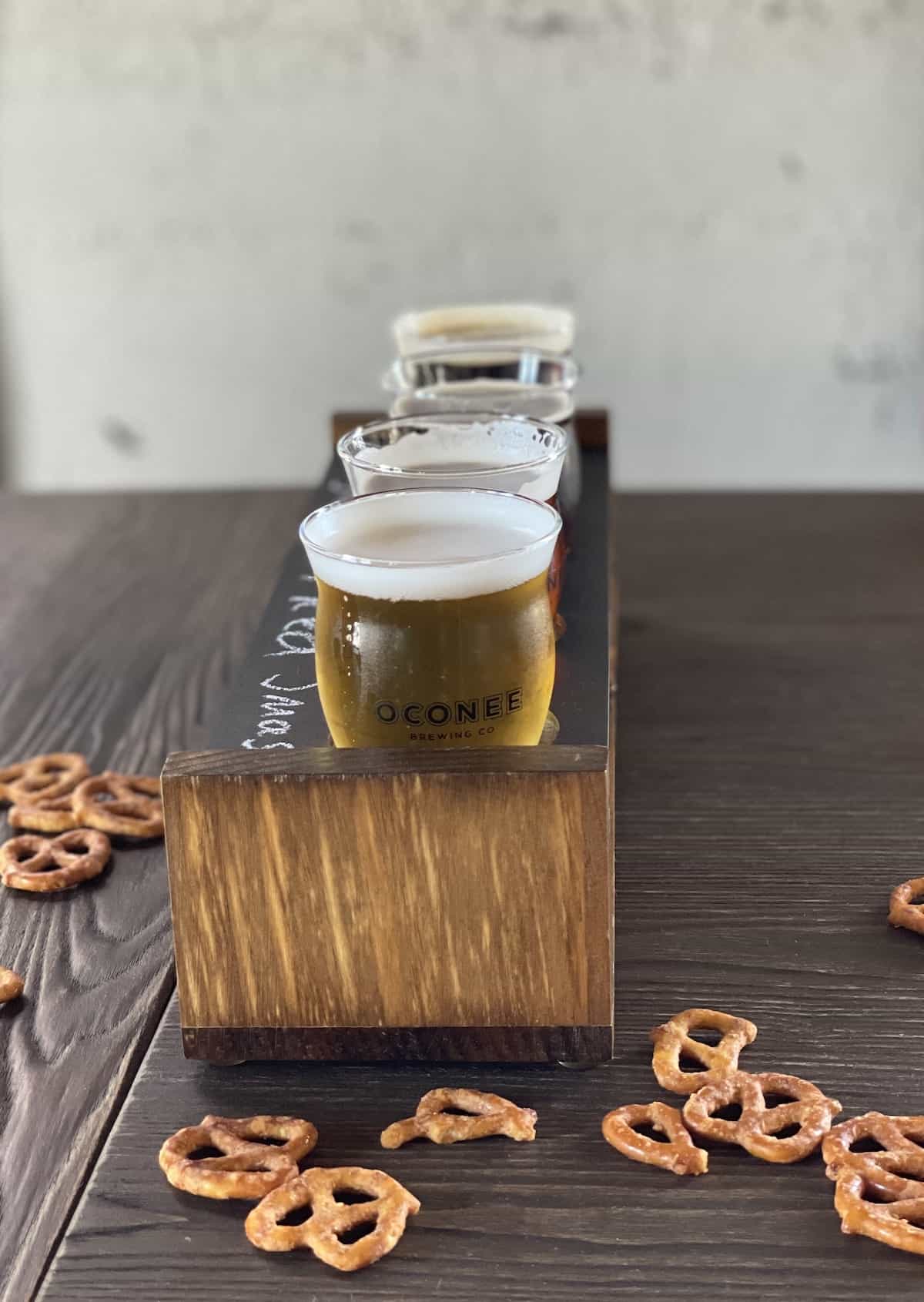 Of course, you can expect great quality beers, but if you want something to nosh on, try out The Burch food truck.
This food truck is a permanent on-site location. It offers delicious food that pairs well with a cold one, like the Double Smash and Crinkle Fries or Pork Tacos. This location is an ideal place for the whole family – and it's even dog friendly!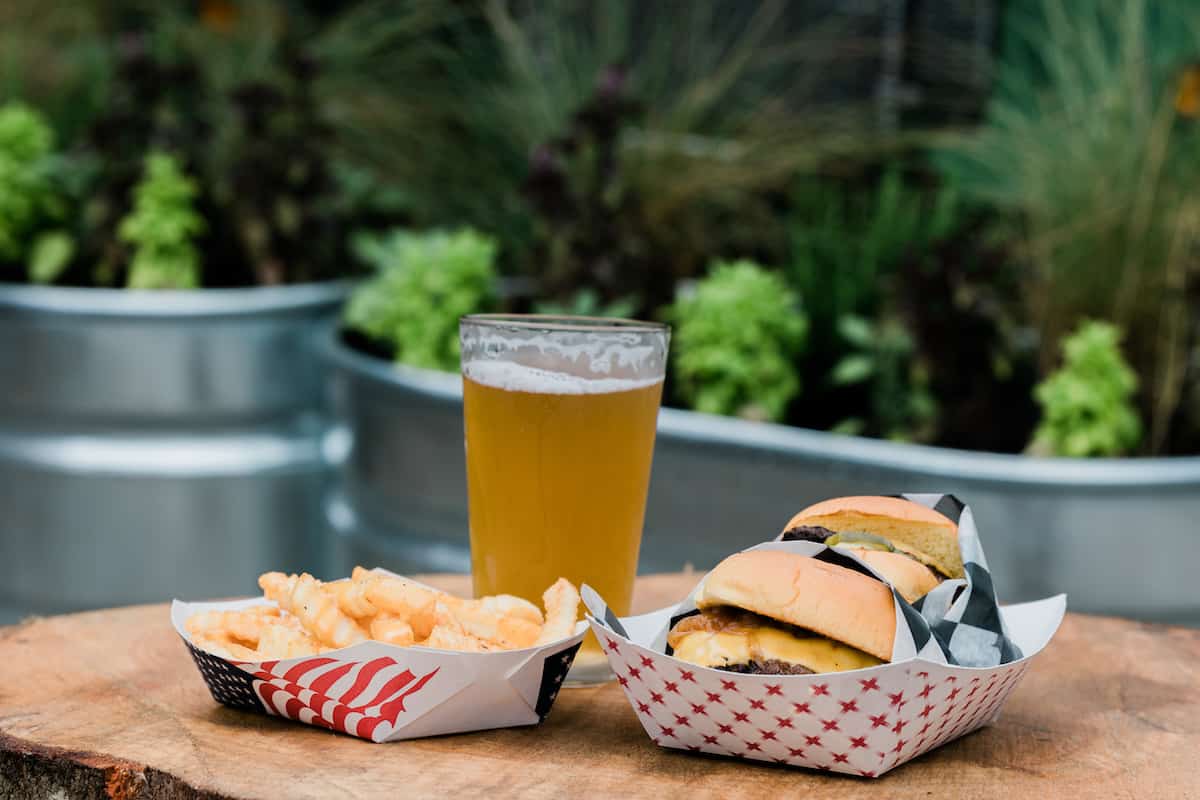 Address: 202 N West Street, Greensboro, GA
Hours: Thursday and Friday, 4 p.m. to 10 p.m.; Saturday, 12 p.m. to 10 p.m.; Sunday 12:30 p.m. to 4 p.m.
The National Tavern
After a round of golf, The National Tavern really hits the spot. It is located on the finishing hole of The National's Bluff nine course.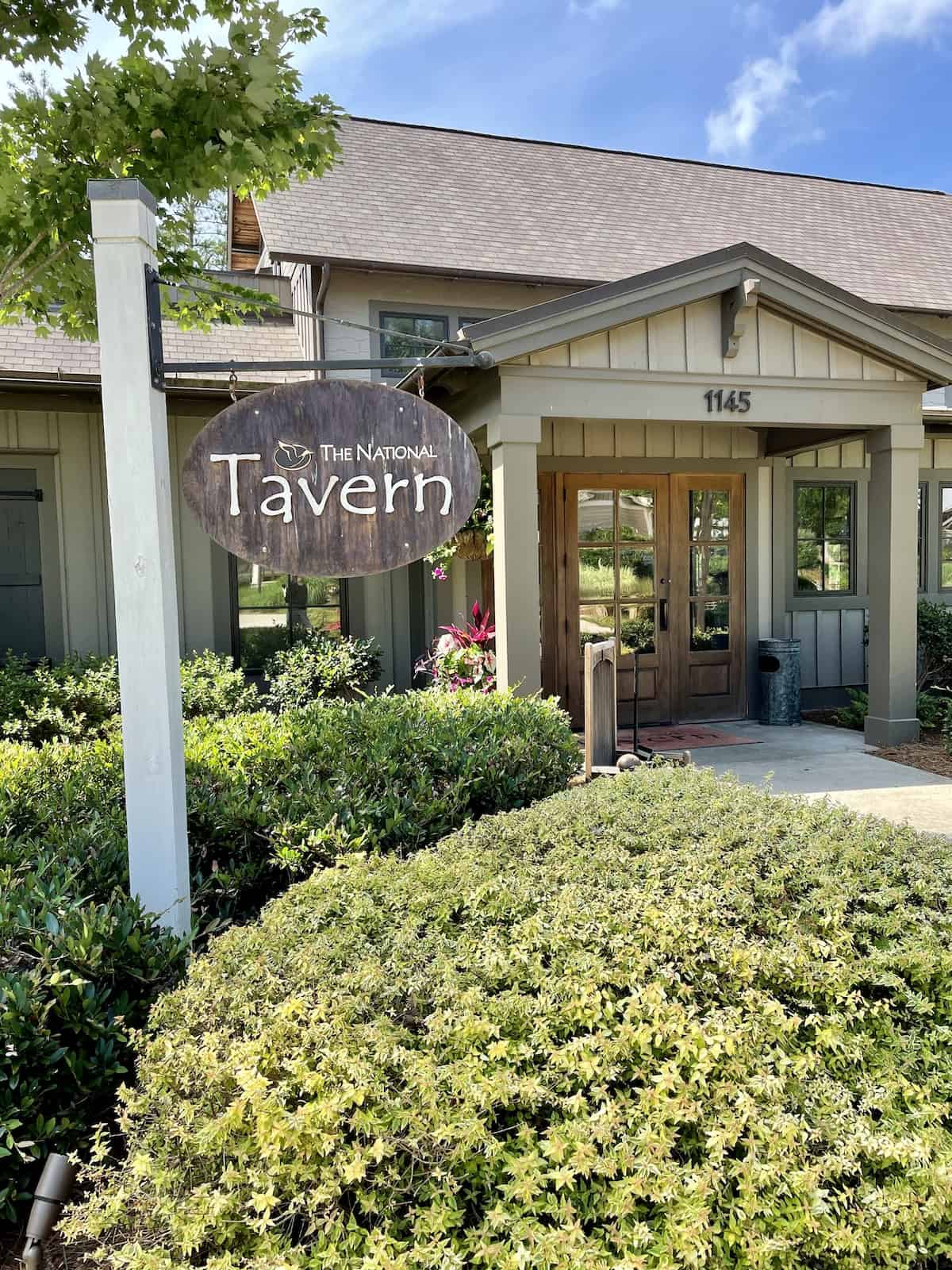 The food both tastes good and feels good-for-you. The Seasonal and Black & Blue Salads were full of fresh, well-balanced flavors.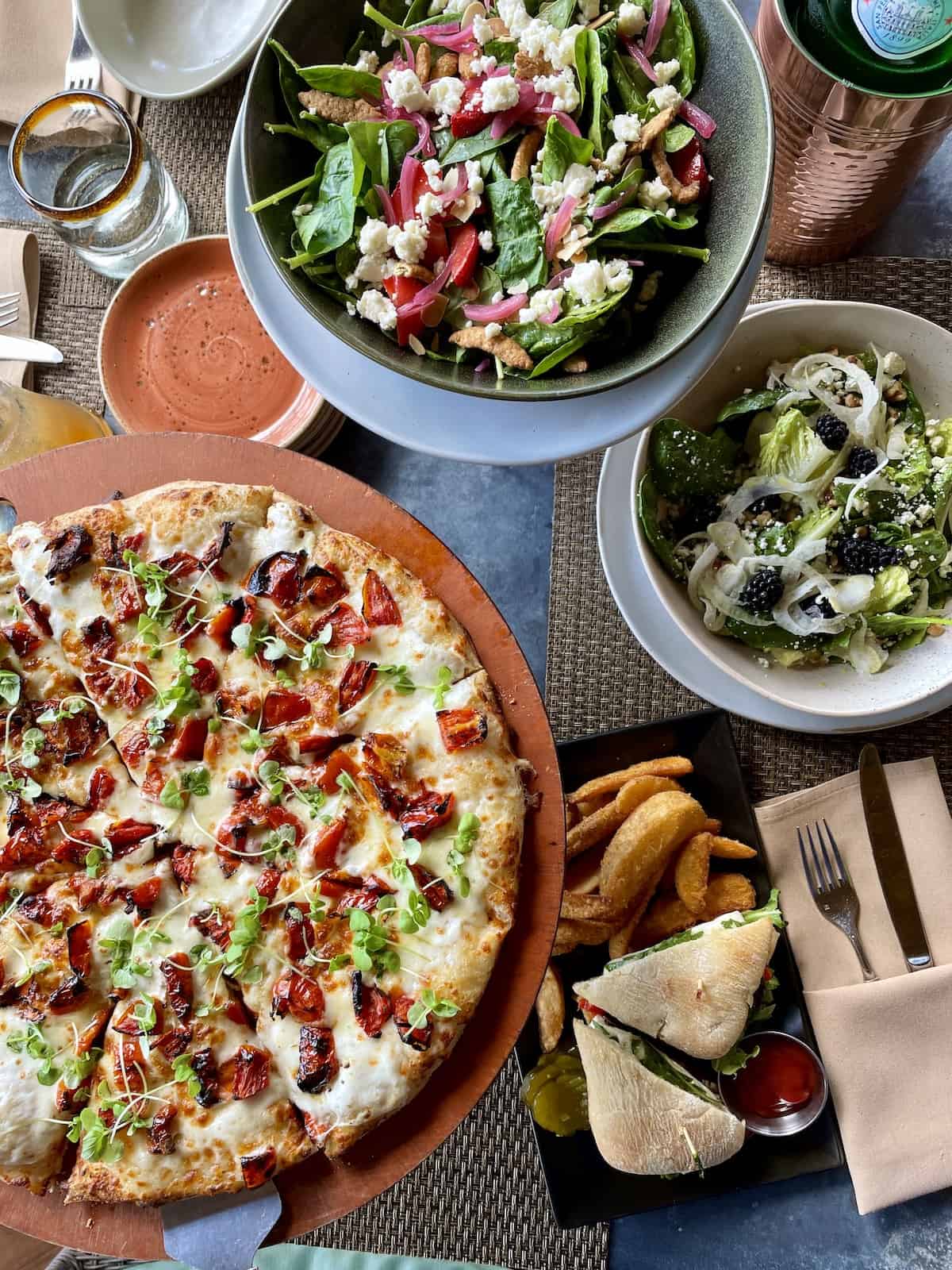 They also have really good pizza. The Wood Roasted Mushroom Pizza is the stuff dreams are made of.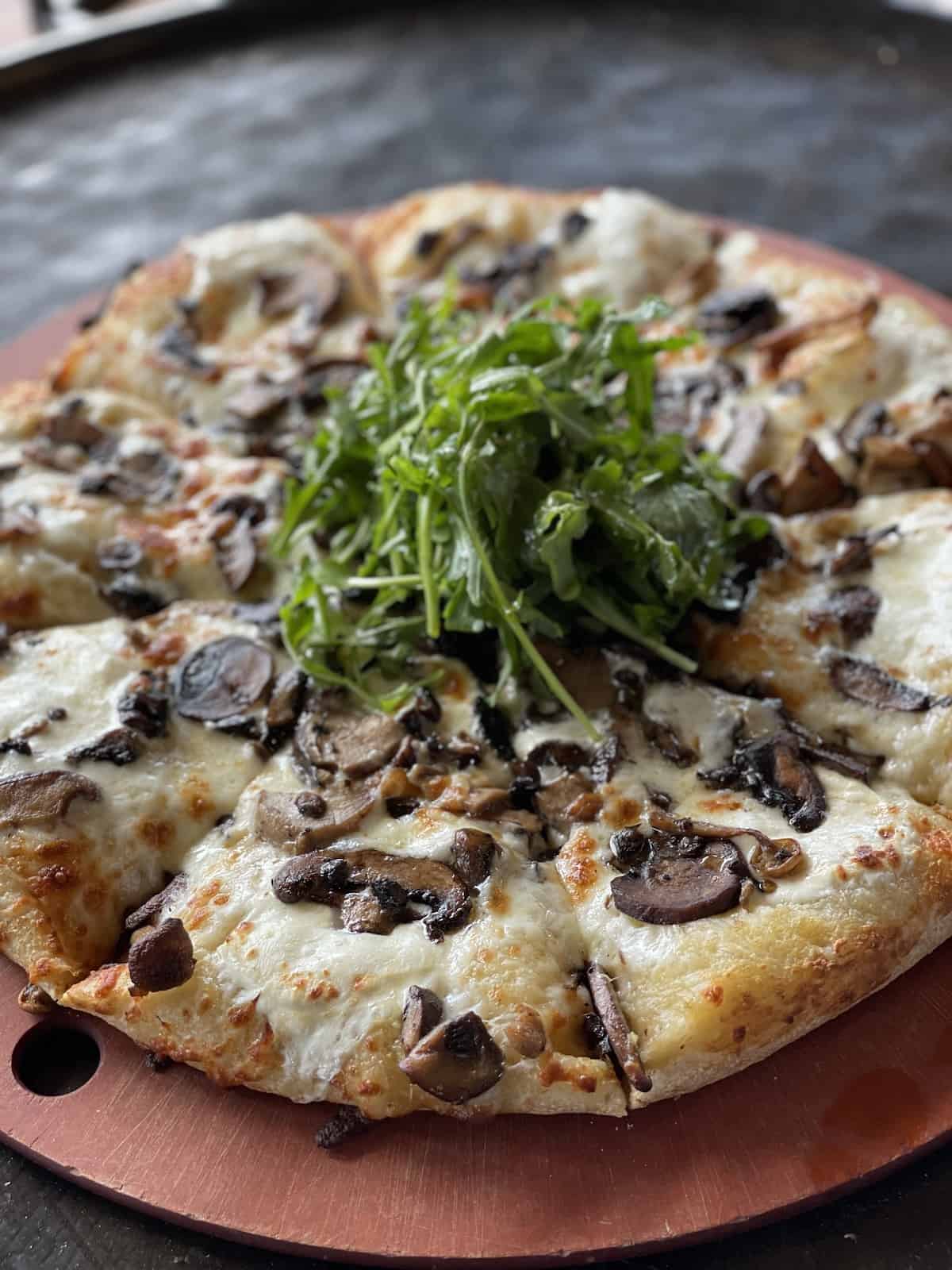 The Margarita Pizza, which is not always on the menu, is also worth ordering.
Address: 1145 National Dr, Greensboro, GA
Hours: Closed Monday. Open Tuesday through Sunday from 11 a.m. to 9 p.m.
Georgia's
Georgia's at the Ritz-Carlton, open for breakfast and dinner, is where you want to go for comfort food. Whether you sit inside or on the patio with views of the lake, it provides a laid-back experience for the whole family.
Their breakfast and brunch offerings are wonderful. For a healthy start, try the Coconut Chia Seed Pudding.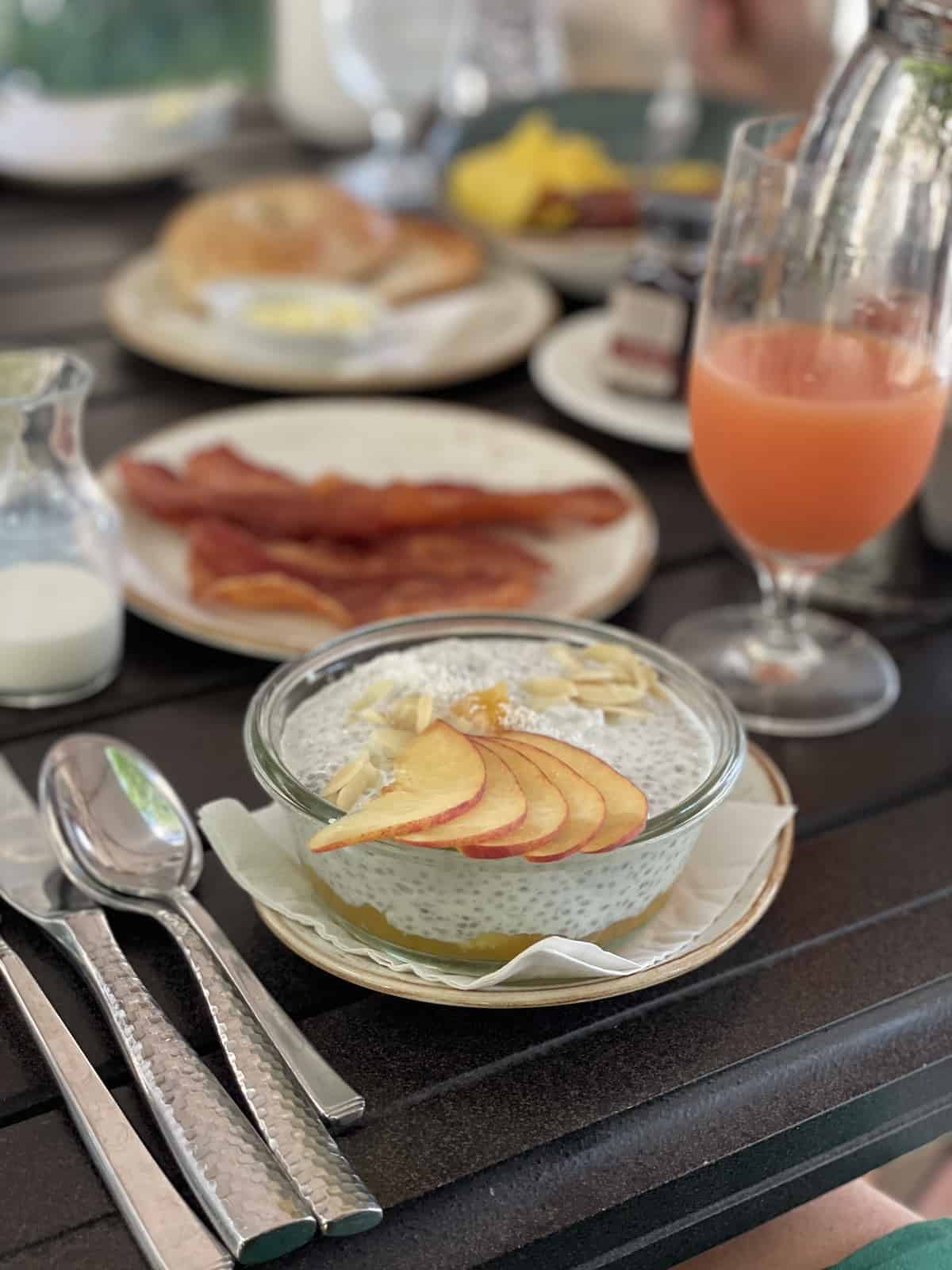 Egg dishes like their omelets and Greek Style Egg White Frittata are amazing.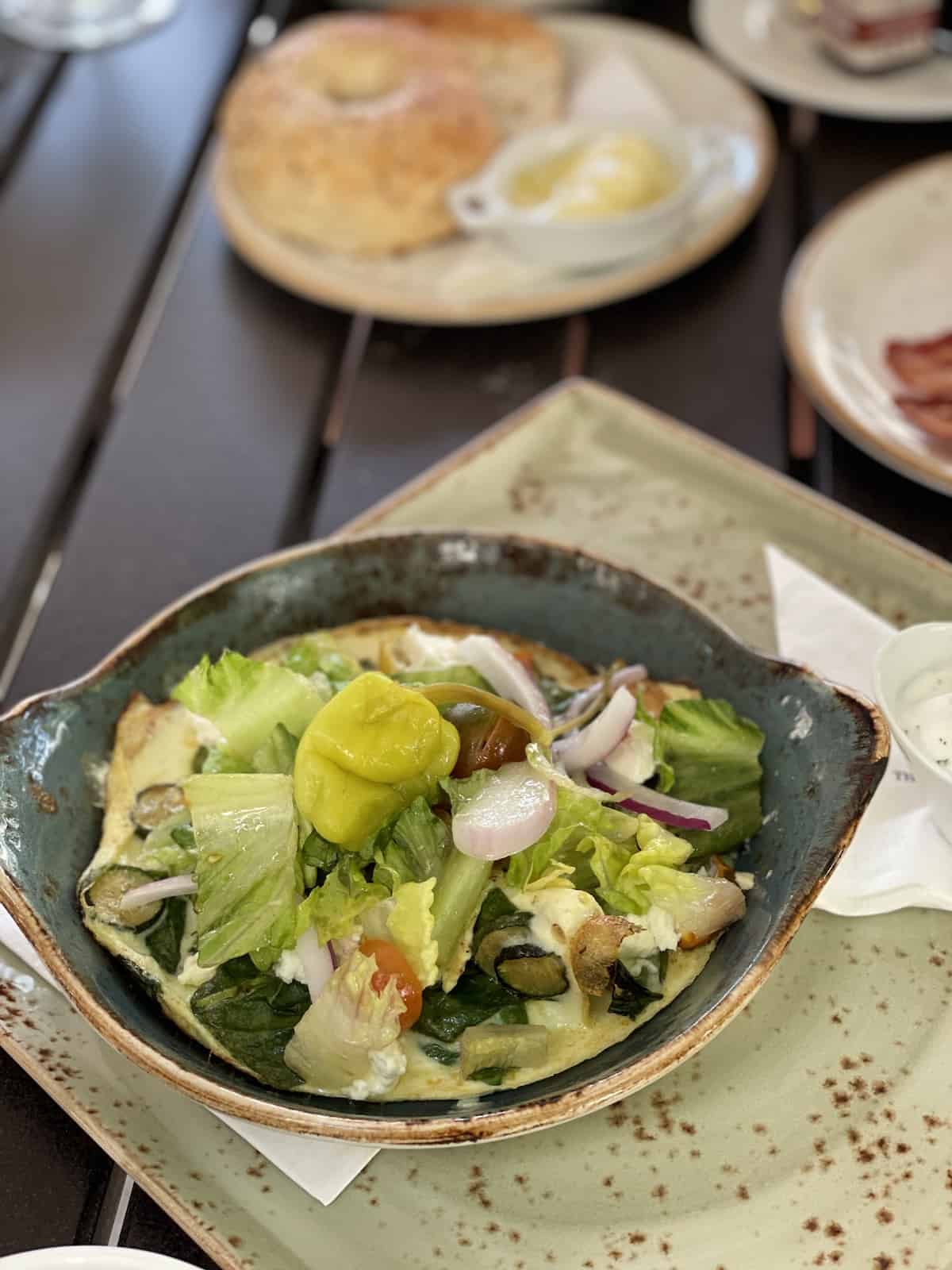 And if you want something a little less healthy, their smoked bacon is heavenly. Do what we did and order a little of everything!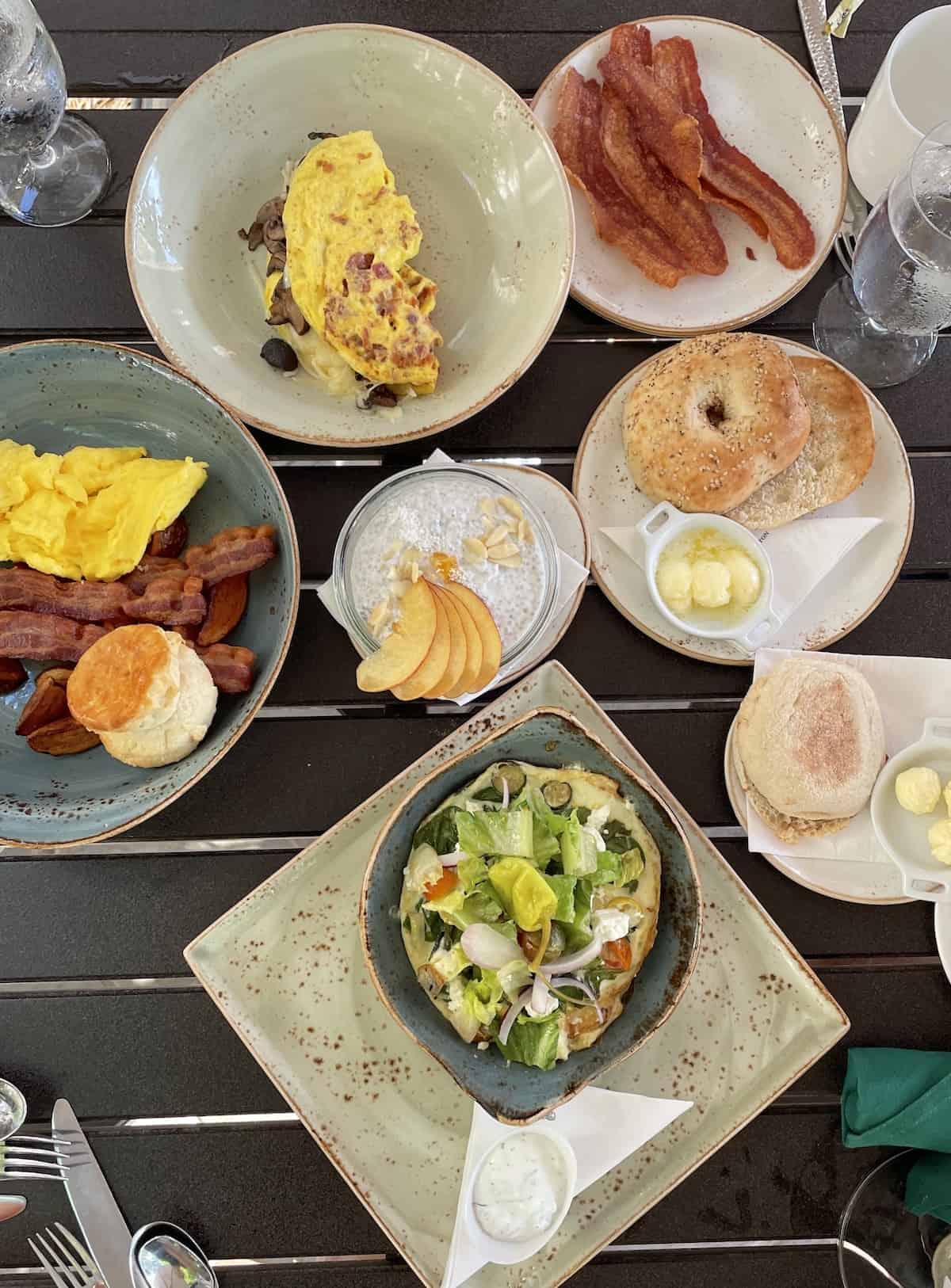 Address: 1 Lake Oconee Trail, Greensboro, GA
Hours: Contact the hotel concierge for seasonal days and hours
Ripe Thing Market
If you're looking for a quick lunch, swing by the Ripe Thing Market. This deli offers soups and sandwiches for a satisfying meal.
One of the highlights, in warmer months, is their open-air market with fresh produce and specialty local products. You'll have a great time just wandering around.
It's a good thing I packed a carry-on suitcase or I would have left with half the store! Those local jams, jellies, and seasonings were calling my name!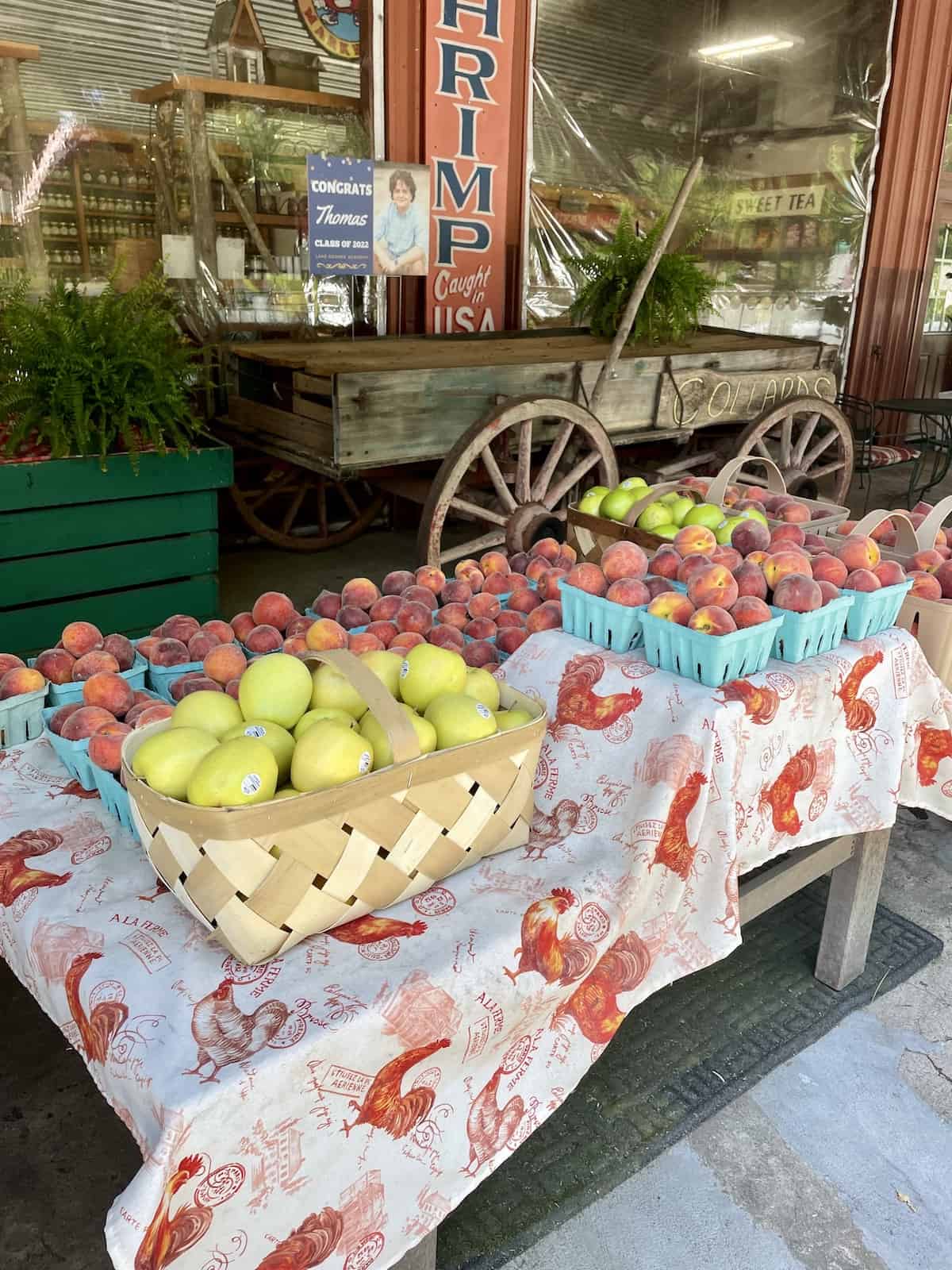 Something you won't want to miss are the Fish Tacos and Crab Cakes made outside by the famous Mr. Ken. You'll see why this is a local favorite.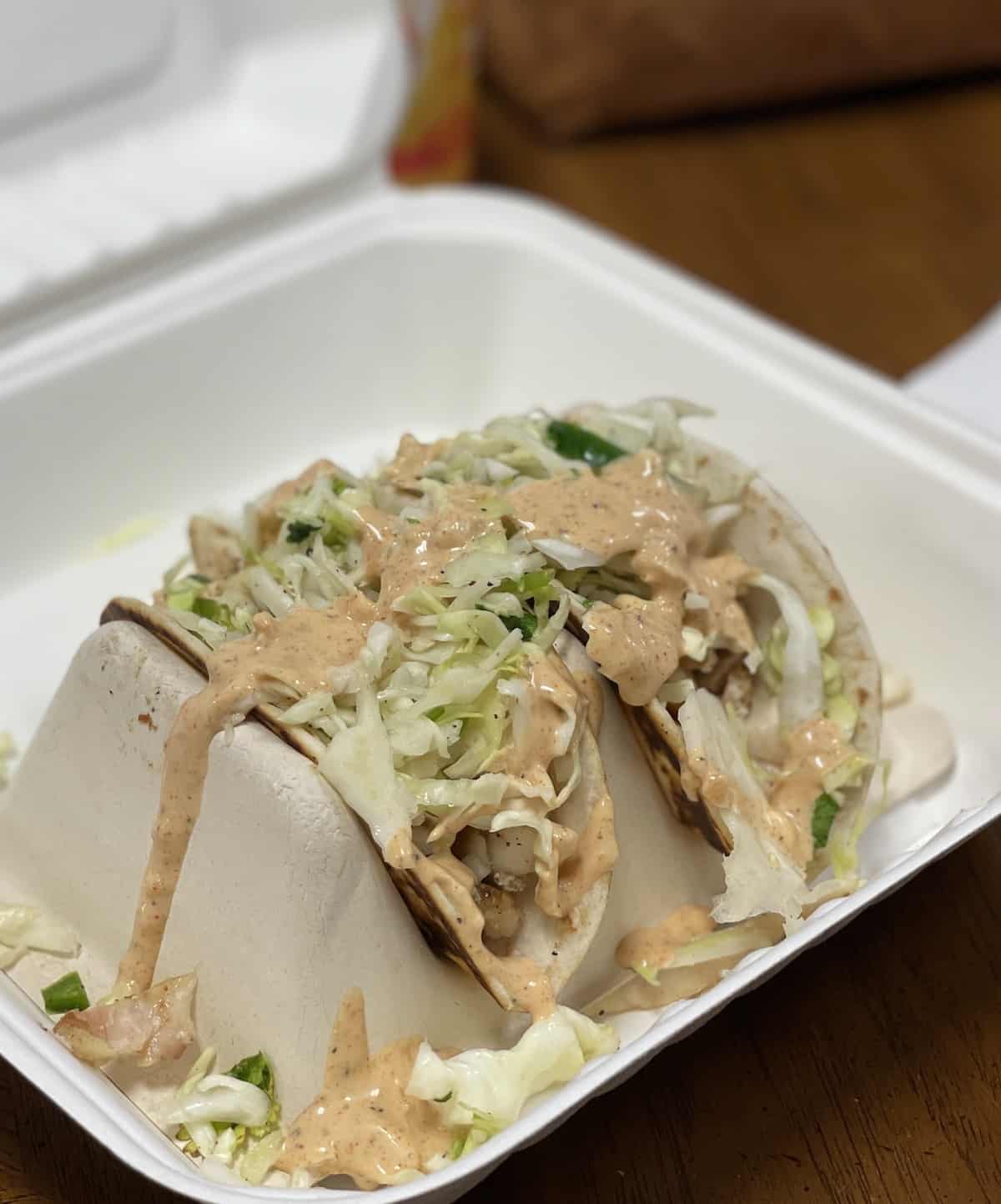 Address: 112 W Broad Street, Greensboro, GA
Hours: Closed Sunday, open Monday through Saturday from 10 a.m. to 6 p.m.
Eighty8 Kitchen & Cocktails
Another spot within Reynolds Lake Oconee, Eighty8 Kitchen serves traditional Southern breakfast, Sunday Brunch, dinner, and cocktails.
Overseen by Executive Chef Zouhair Bellout, you can be sure to have an incredible meal and creative cocktails here at Eighty8. Just for fun, ask for Chef Zouhair's favorite. (It's not on the menu!)
Not into cocktails? The wine list is long and exquisite. As your server for suggestions to accompany your meal.
With delicious offerings like the Blackened Tuna with Ginger Pickled Cucumber appetizer or the Brown Butter Sage Risotto with Grilled Shrimp entree, there's a lot to love about Eighty8.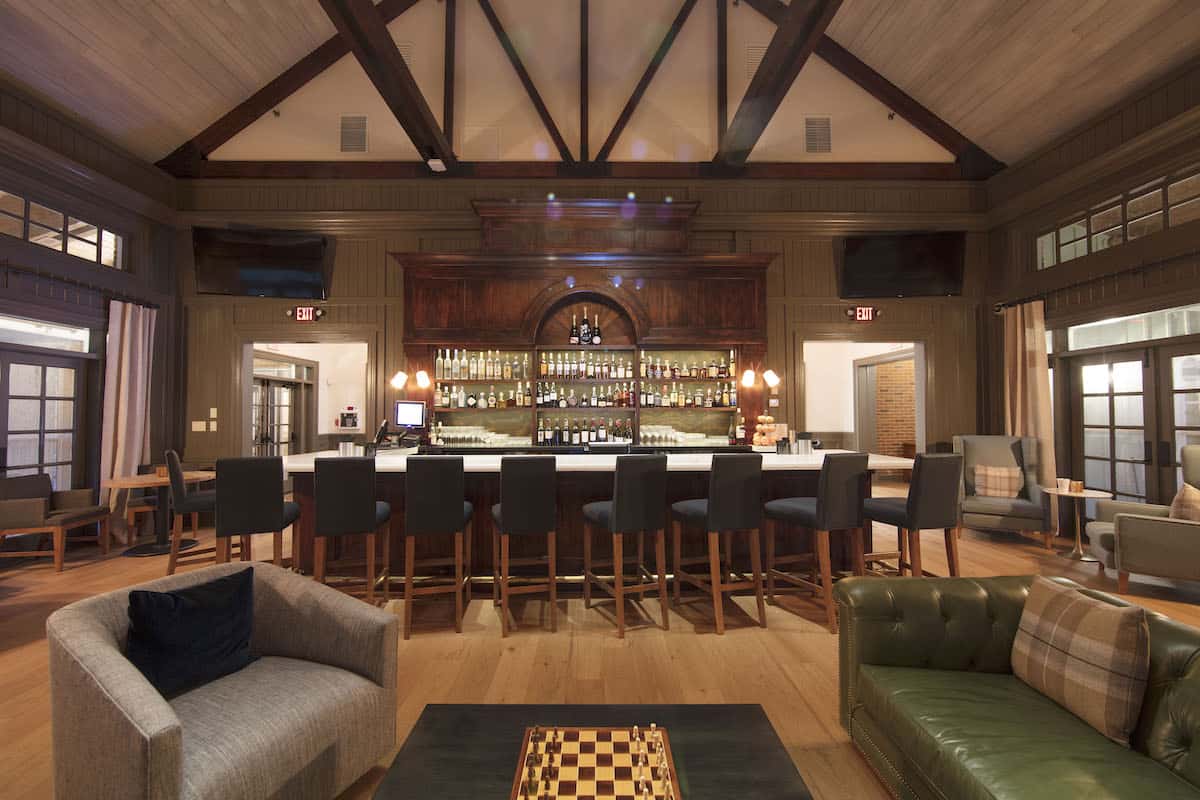 FAQs
Do you need reservations for these restaurants?
Most of the restaurants do not require reservations, but during busy seasons you may expect a wait. Linger Longer does require reservations but will attempt to accommodate walk-ins.
How big is Lake Oconee?
Lake Oconee covers an area of about 30 square miles and is just shy of 20 miles long. 
Is Lake Oconee a natural lake?
Lake Oconee and its sister lake, Lake Sinclair, are man-made lakes created by the Georgia Power company in 1979. 
Top Tips
For the best weather to visit, you'll want to go in April, May, September, or October. The weather is fabulous. Summers can be hot and winters can be cold.
The Lake Oconee area doesn't have public transportation options. To get around, you'll need to bring or rent a car. Parking is readily available.
Like our content? Follow us on Pinterest!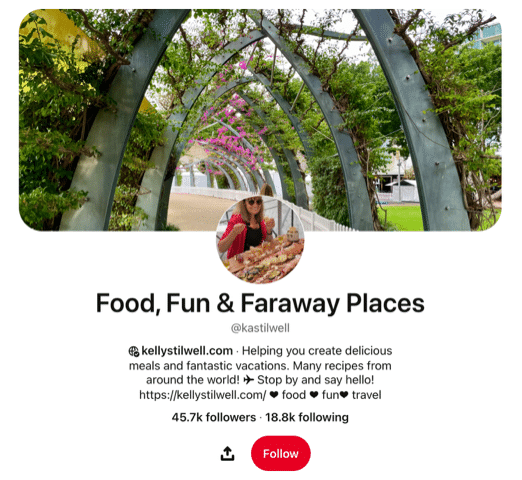 Explore More of Georgia