As I travel quite a bit, with and without my family, I have found a few tips to save on food that work really well. As you have probably found in your own experience, food on vacation is your second largest expense, right after the hotel.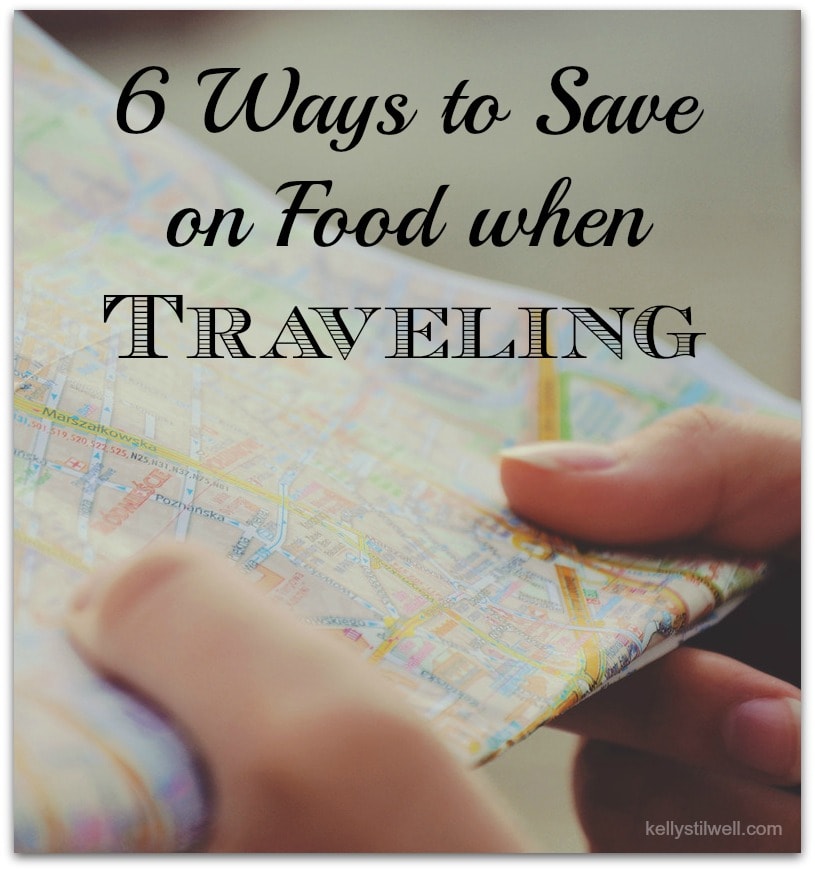 For us, part of the experience is the food, so I'm not going to tell you to go to the grocery store and buy cans of Spam and SpaghettiOs. (Unless that's your favorite food. Please don't say yes!) But I am going to suggest you go to the store because it's just crazy what hotels charge for some of this stuff. Ready?
6 Ways to Save on Food When Traveling
Book a room with a Kitchen and Prepare your own Food
This is the biggest way to save, but we personally don't do it for lunch and dinner. We are true foodies and love to try the cuisine of each place we visit, like this Noodle Ramen I had for dinner when I visited Winter Park. Holy moly it was good!
I don't ever want to miss out on good food! Check out things to do in Winter Park FL if you're planning to go.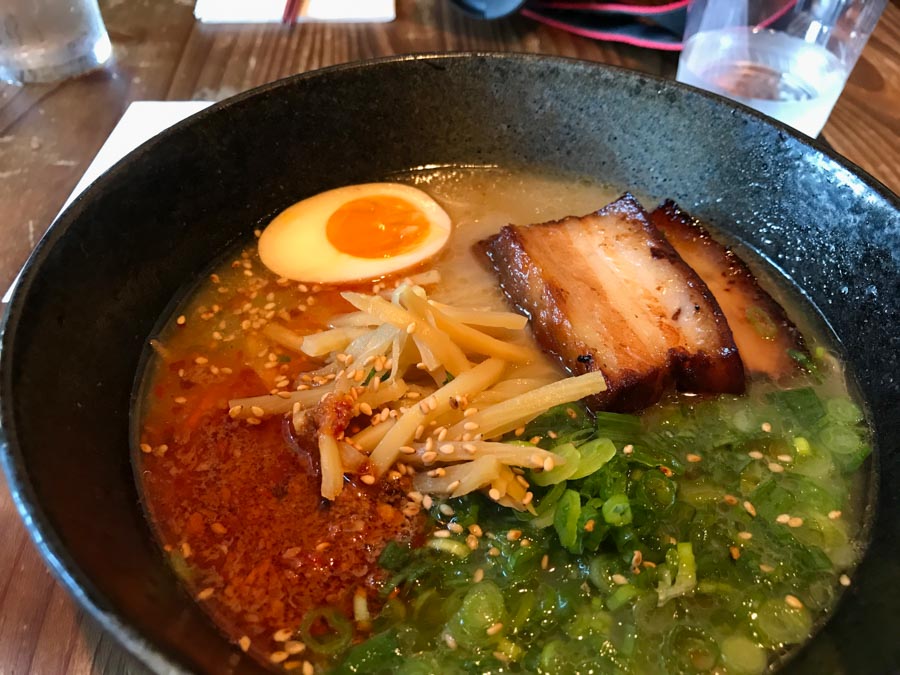 However, especially if you have small children, this really is the way to go. You won't have to go through the ordeal of the kids getting bored at the restaurant, and once they are in bed, you can open that bottle of wine you bought at the grocery store for a fraction of the cost you'd pay in a restaurant.
In addition, you will have a way to heat up the leftovers when you do go out. We often eat our leftovers in our room the next day which means we don't have to pay for lunch.
Buy Breakfast Food at the Grocery Store
Even if you are like us and want to experience the food, eat breakfast in. Unless the hotel you are staying at has a great deal on breakfast being included (and be sure to weigh that out before you upgrade) it just doesn't make sense to eat at the hotel.
In the morning everyone is hungry, so unless there is an inexpensive diner close by, have muffins and fresh fruit to put out for your tribe and save that money to splurge on dinner.
Buy a Case of Water at the Grocery Store
Better yet, take a water bottle for each person in your family. With two teenage girls, we are usually packed to the gills, so adding four bottles to our luggage just doesn't work for us. But especially for a road trip where you have your car, it's totally doable.
We buy a case of water at the grocery store and take four bottles with us each day, refilling as needed. I love this Collapsible Water Bottle Gift Set of 3  These bottles are perfect for stashing in the pocket of my backpack and will save us even more money.
Don't Eat at the Hotel 
I have to add here that if you read my post about almost free travel, I do tell you to eat at the hotel and charge it to your room because you acquire points this way. Doing this once if the restaurant has a great reputation is fine, but hotel restaurants are usually extremely overpriced and not that great.
Buy Wine at the Grocery Store
This way you can enjoy a glass of wine in the room before you go out, or have one once you return and the kids are in bed.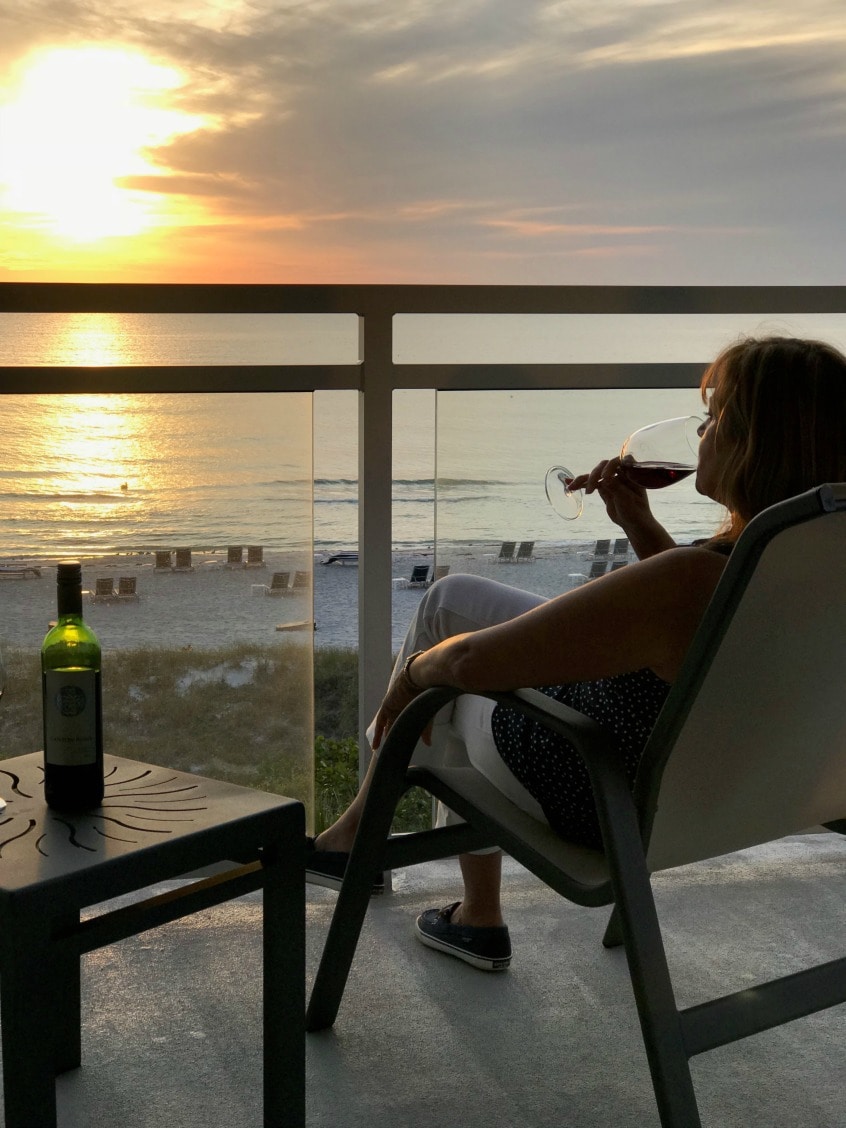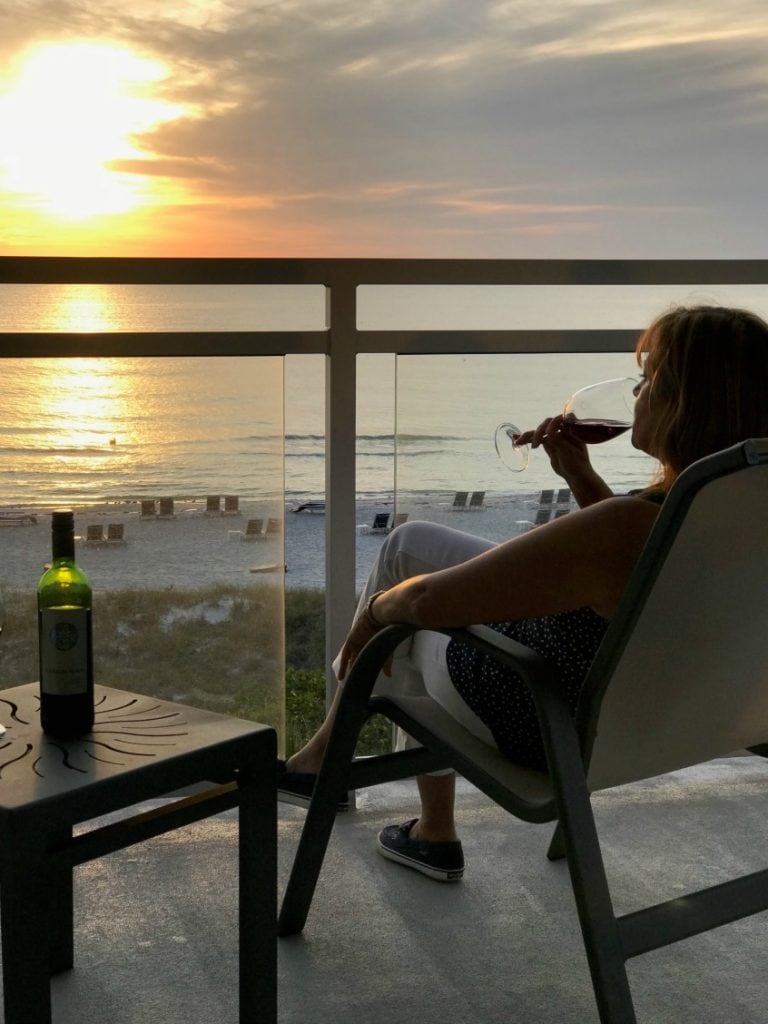 My husband and I went to Las Vegas a few months ago and we were commenting that the first thing we saw at the airport when we arrived was a liquor store. We thought that was so strange. Once we arrived at our hotel, we were wishing we had visited that store! The prices were outrageous at the hotel!
We have had a glass of wine with a slice of pizza more times than I can count once our kids were down for the night. Which brings me to the last tip.
Have a Planned Pizza Night on each Trip
Order a pizza to eat by the pool or order a movie and make it special. We always pack several packs of microwave popcorn, too. If you make this a festive night, it can be more fun than eating out and will be a nice break. Bonus: You'll save on food.
Extra Tips to Save on Food
Bring packages of hot chocolate with you for your trip. My kids always loved having it in the morning in our hotel room while my husband and I had coffee.
When you make your grocery store trip, buy breakfast items that you can grab and go so you can get an early start on your day. Granola bars or those Little Bites bags of muffins work well. Remember to get juice boxes, too.
This is not necessarily a money saving tip, but if you have a coffee maker and they supply that nasty powdered creamer, pick up a small container of cream when you're at the store. I hate that powdered stuff!
I hope these tips will help you travel more! Have ideas? Share in the comments so I can add them!
Remember, Travel is the only thing you buy that makes you richer. ~ Unknown
You may also be interested in these 6 Tips for Packing along with free printable packing lists.
Like our content? Follow us on Pinterest!