There are so many things to do in Basel Switzerland. One day is not enough, but one day in any new country leaves me wanting more.
Our trip with Viking Cruises began in Basel where we would journey up the Rhine River ending in Amsterdam.
If you're considering this trip, be sure to check out how to spend one day in Holland, and spend an extra couple of days exploring.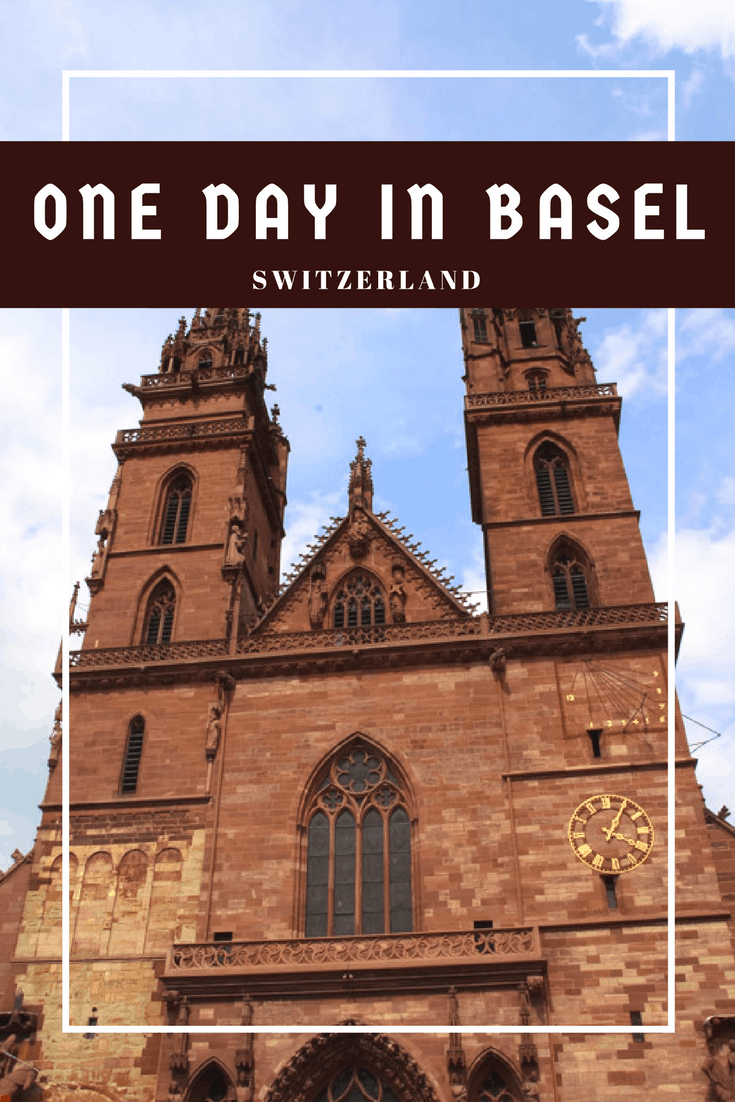 Taking a river cruise is a great way to see this region of the world as you will dock in small ports that larger ships can't get to.
We took a trip along the Rhine River with Viking River Cruises and started our journey in Basel Switzerland. After a long flight from Florida, we dropped our bags at the ship, had a quick bite to eat, and spent the rest of the day exploring.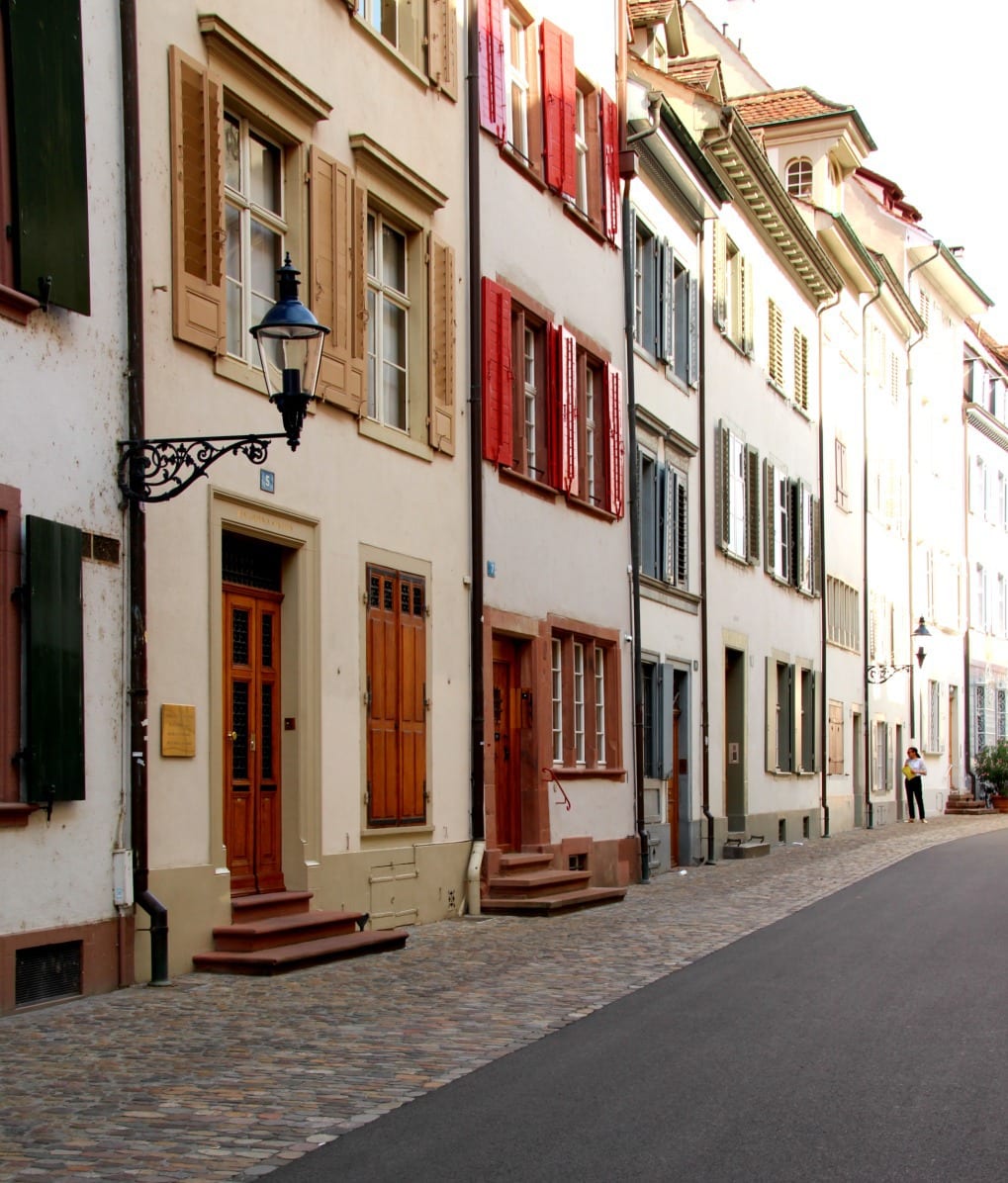 Viking really does want to make sure you see as much as you can, which is why they offer so many excursions.
Though a tour of Basel was not listed in our program, I was told by a friend that she had gone on a tour with a guide from Viking as soon as she arrived. I was thrilled to find we were also invited to go on a Welcome Walk through Basel's city center.
In case you aren't familiar with Basel, it's adjacent to both Germany and France, with the Rhine River dividing the two.
It's not far from the Black Forest and Alsace in France, both of which we visited while on the Rhine Getaway. Check out these things to do in the Black Forest if you're planning to go.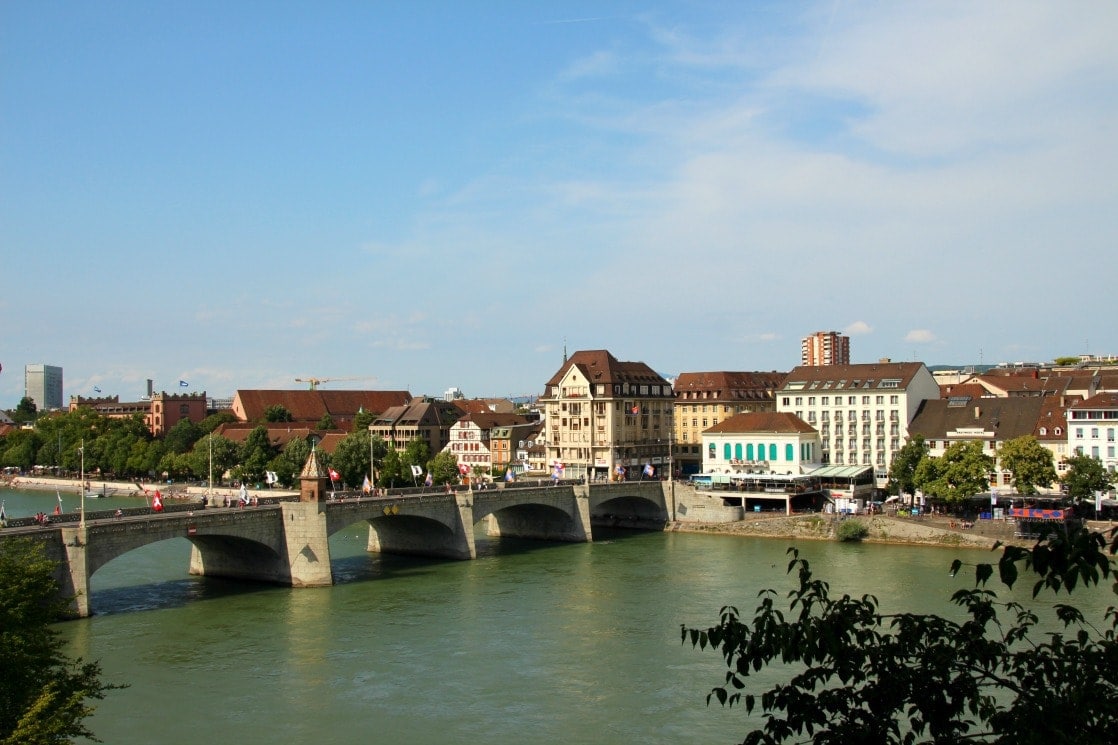 Basel takes pride in being the home to forty museums from Fine Arts to Science to History. I wish we could have spent more time there.
I know my girls would have loved the quirky Cartoon museum being that they both want to be animators. There never is enough time to see it all!
The architecture in Basel is spectacular, and no wonder; many of the modern buildings were designed by some of the most distinguished architects in the world.
With two communities on either side of the river, Grossbasel and Kleinbasel, the Basel Middle Bridge, first built in 1225, unites the city.
You can see below that the river is used for more than trade! On this warm summer day, people were enjoying a refreshing float.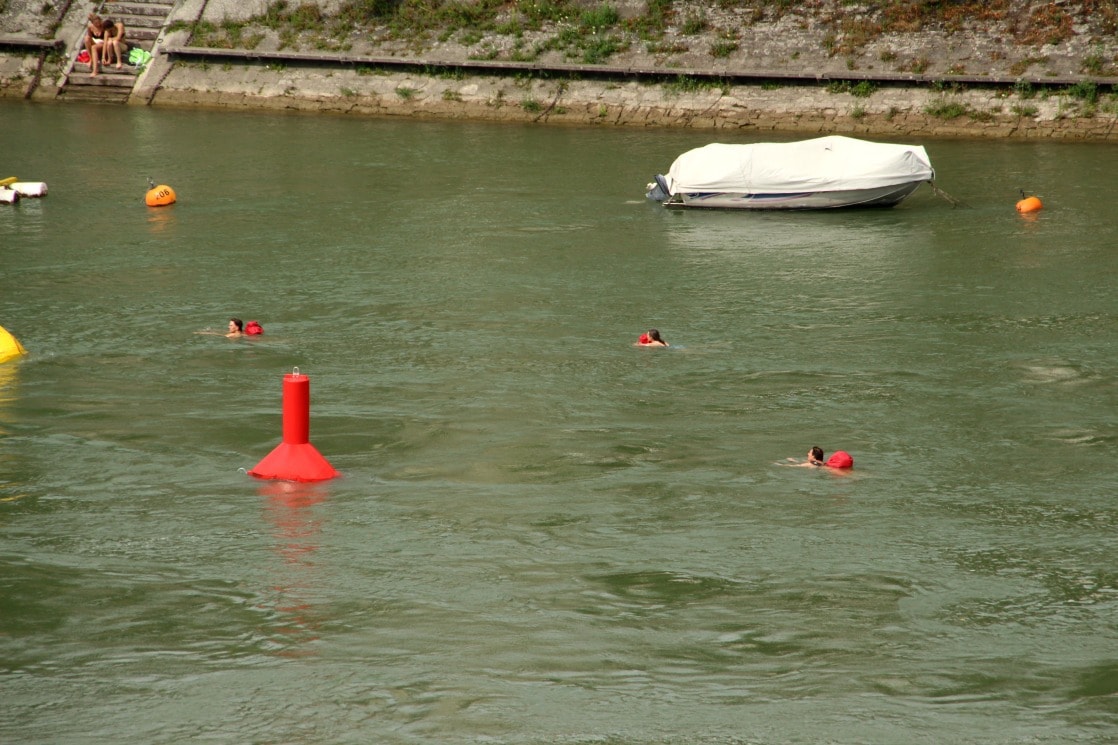 From a distance, it looked like everyone was using a big balloon-like flotation device. After researching, I found it is a Wickelfisch, which is simply a waterproof bag you can put your clothes in so you can put them back on once you were ready to get out. How cool is that?
The Wickelfisch is not really meant to aid in floating, and only good swimmers should be in the Rhine, according to what I read. The water is also cold, so beware if you dare!
Basel is home to Basler Munster, a cathedral built over five centuries, from 1080 to 1529, on the bank of the Rhine.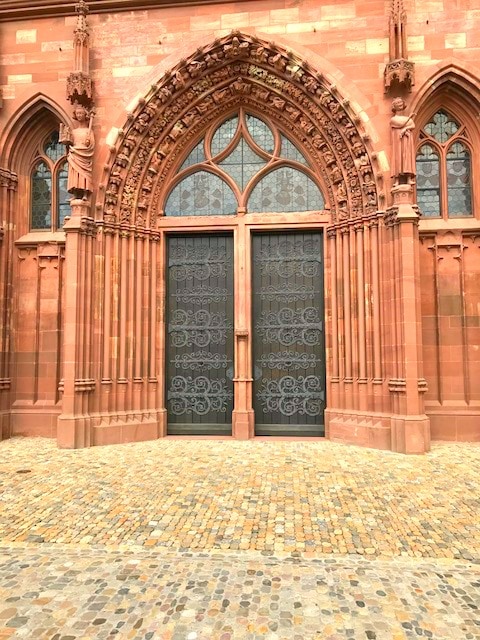 Many of the artifacts from this stunning cathedral are on display at the Met. It's quite an impressive treasury, including gold crosses adorned with diamonds and rubies.
I plan to be in New York City in January and hope to make time to see the collection.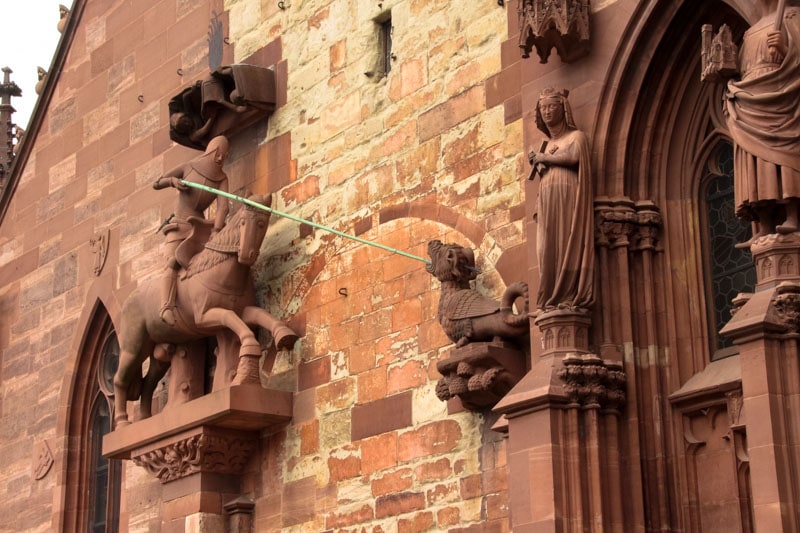 You'll see two towers below. One is the St George Tower, on the left as you're facing it. The above photo is a statue of St. George, dressed as a knight, slaying a dragon.
On the right side just above the clock, you'll find a sundial called Martinsturm, which was completed in 1500.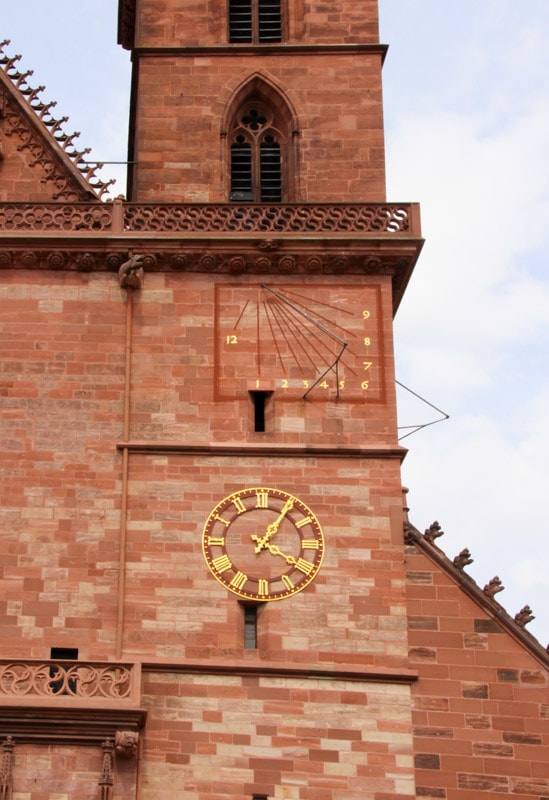 The inside of the cathedral is spectacular, too.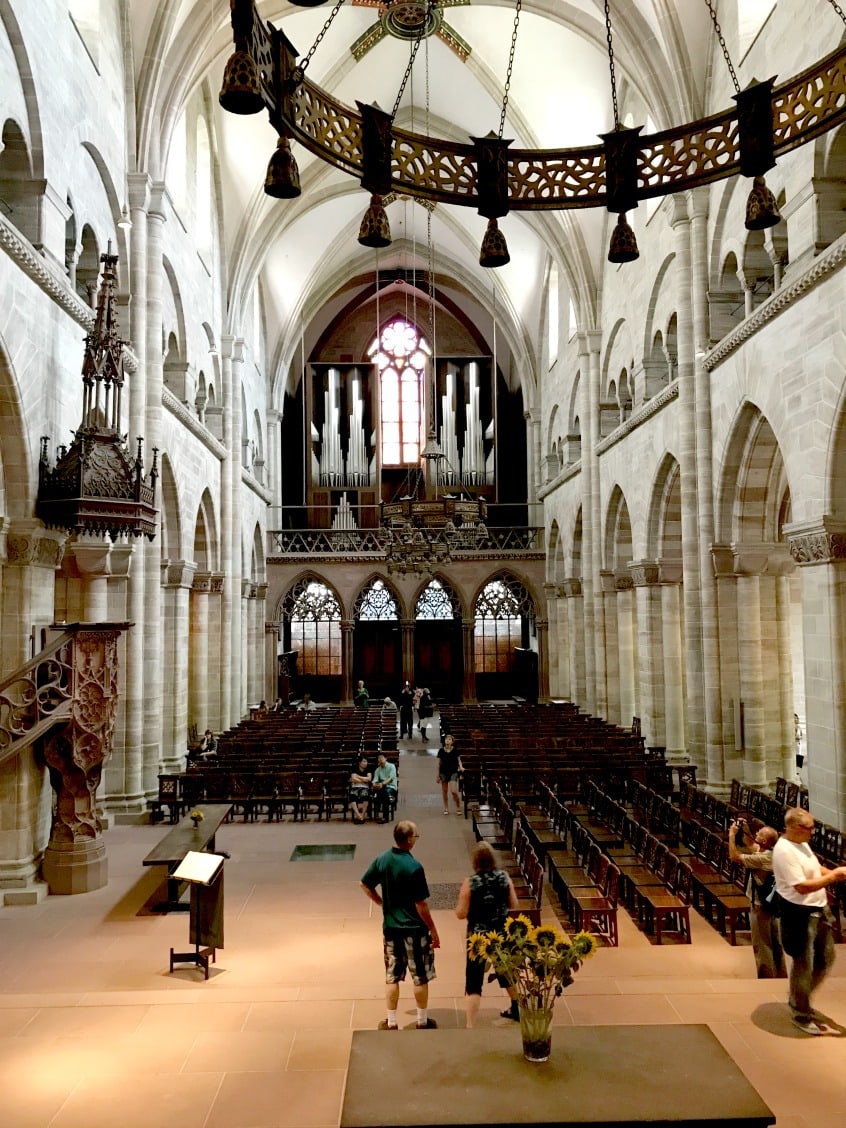 The way the light played on this doorway caught my eye.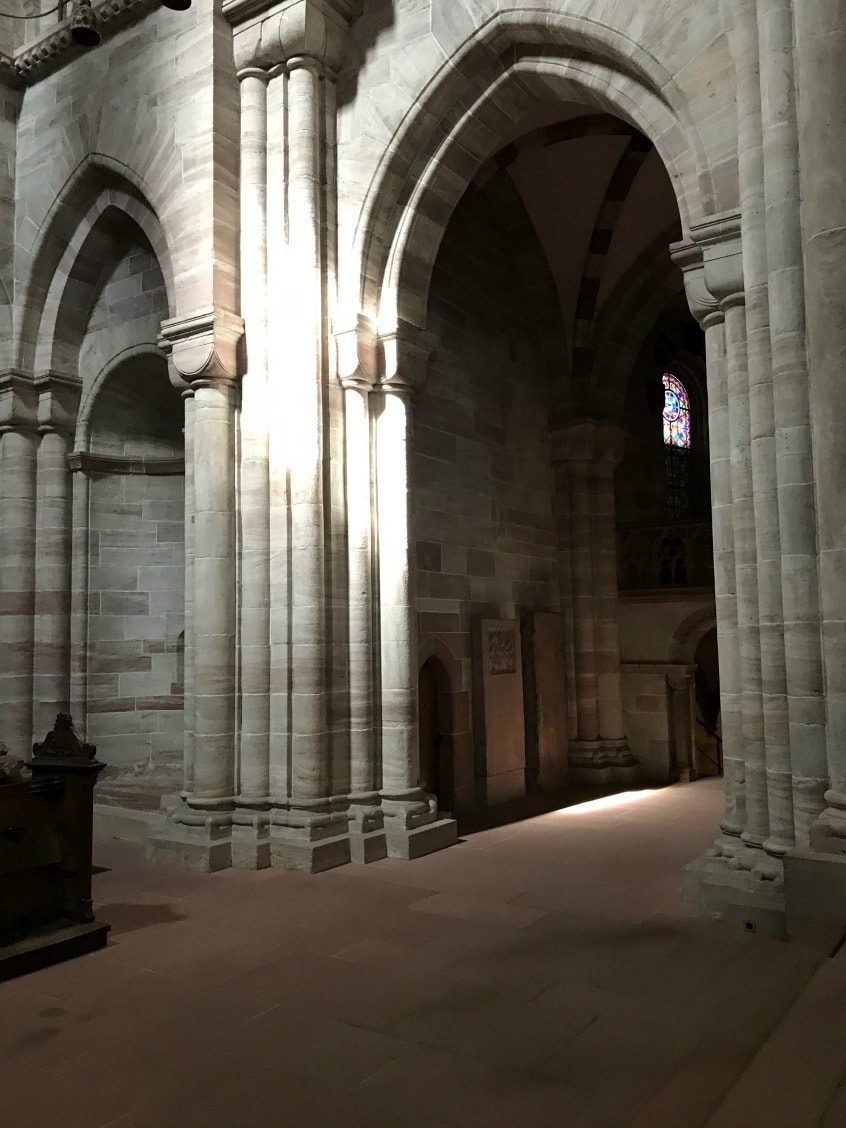 The piazza where the church is located is used for concerts today and is a very popular place to hang out with friends.
Another gorgeous building in Basel is the Rathaus or City Hall. This is the seat of the Basel government as well as its parliament. The crenelations are adorned with twelve coats of arms, including Basel's and the eleven other cantons that made up the Swiss Confederation in 1504.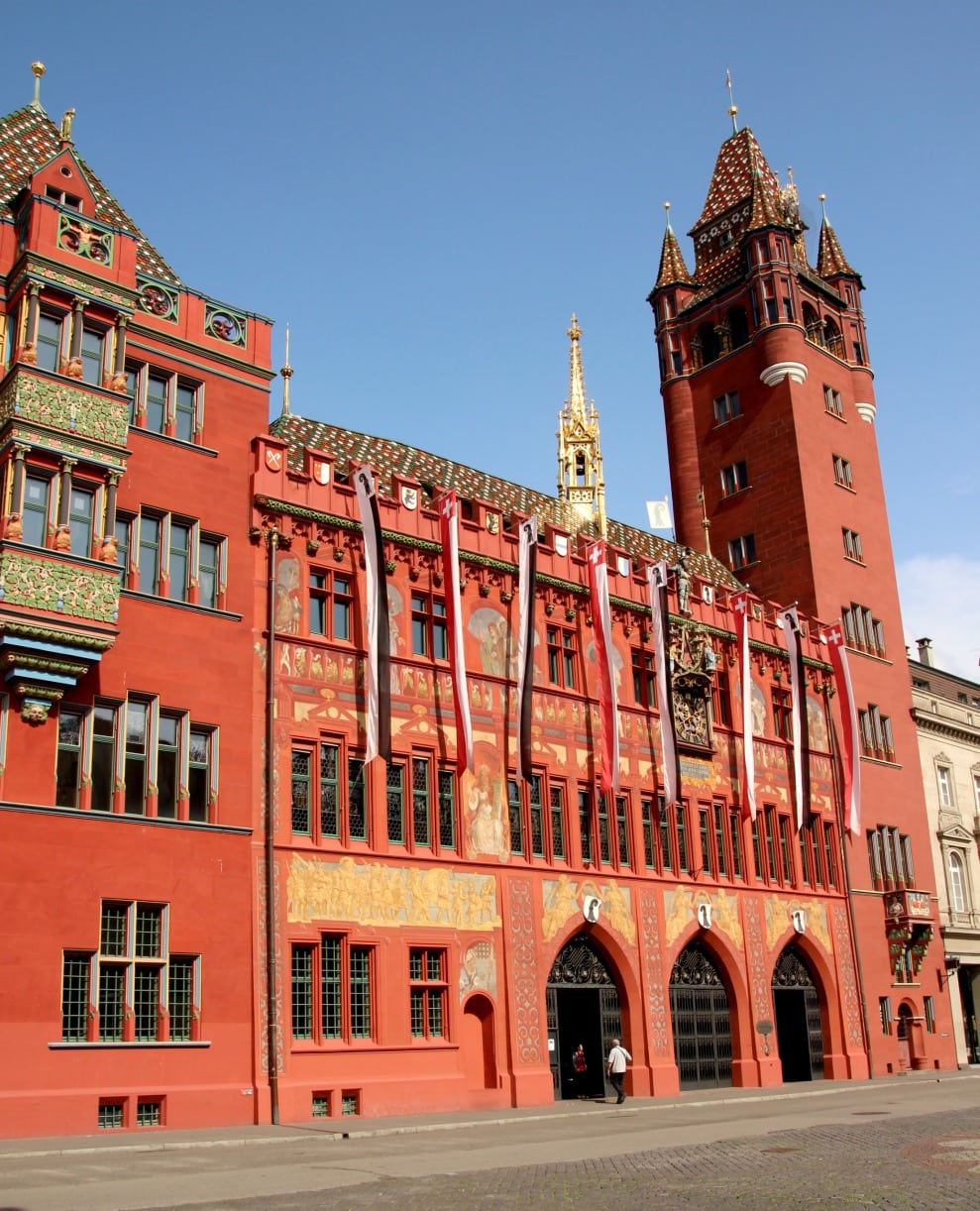 Just across from this building is a street lined with shops and cafes.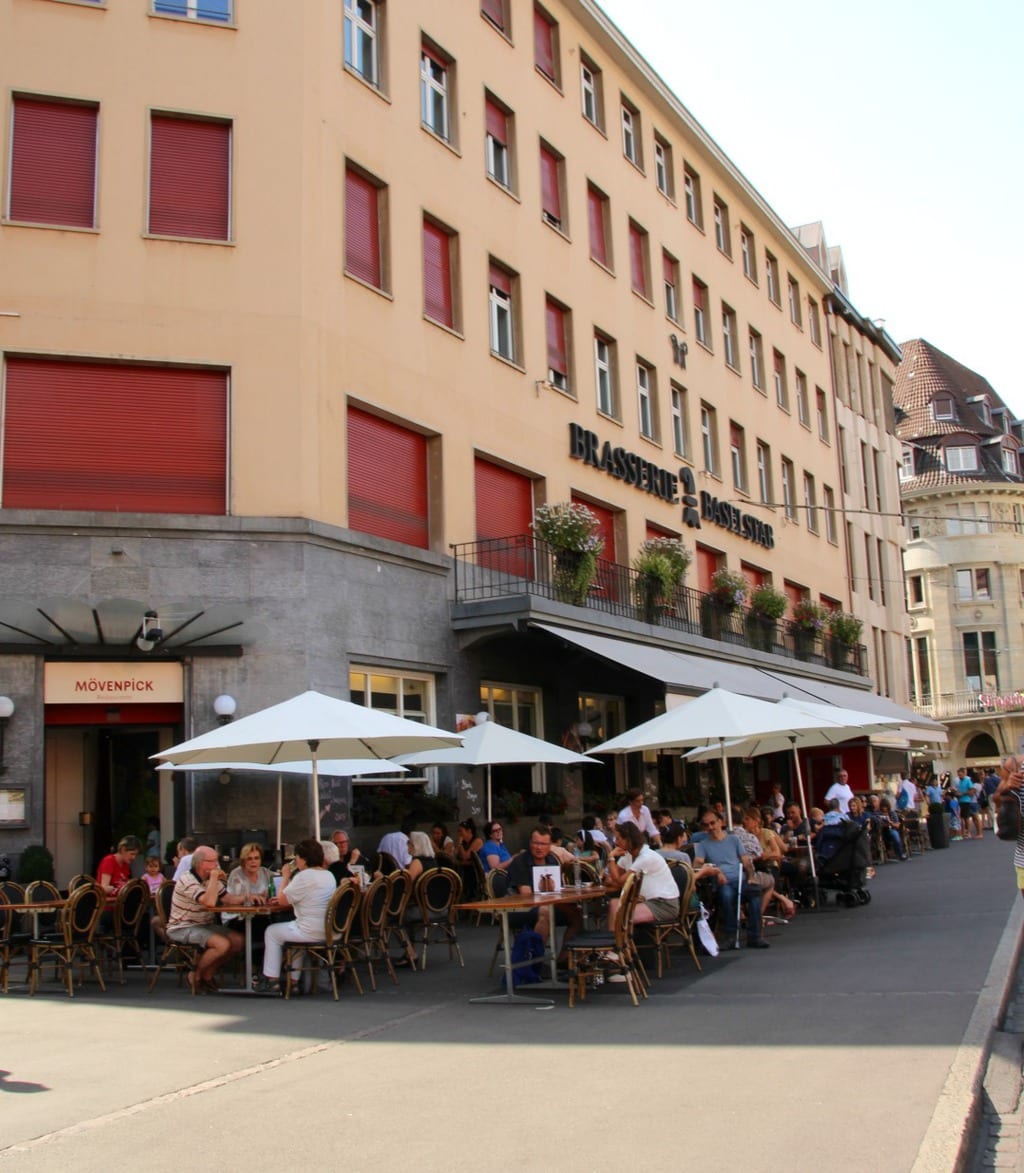 We had just enough time to grab a table and have a beer before it was time to head back to the ship.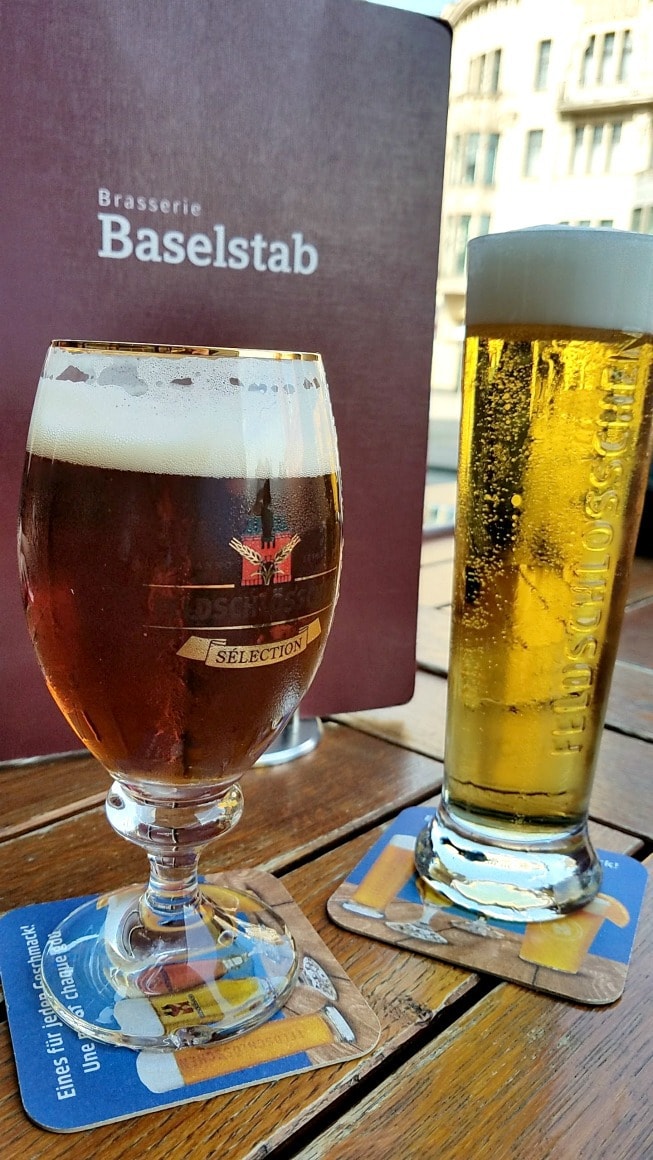 So much history and so little time! I wish we had been able to explore more. I have read the Christmas Market in Basel is incredible, too.
Taking a walk with a guide is the best way to see Basel Switzerland in a day. Leave it to Viking Cruises to make sure we were able to see some of this beautiful city before we cast off at 7 pm.
Have you been on a Viking River Cruise? Have you been to Basel? I'd love to read about your experience. Share in the comments.
And if you've thought about making it a Viking Rhine river cruise with your older kids, just book it. We made memories that will last a lifetime!
You should really take a look at Viking Ocean Cruises, too. We'd like to try cruising on the Viking Star or one of their other new ocean cruises. River or Ocean, you will fall in love with Viking, too!
Love this post and want to save it for later? Please PIN to Pinterest so others can see it, too. Thank you!
Many thanks to Viking River Cruises for hosting me on this trip.