Looking for things to do in Holland? If you have plans of heading to the Netherlands, you must spend one day in Holland. One of the toughest things about travel for me is that I want to fit everything in.
The planning piece of a trip is not easy when you want to see it all, and I always want to see everything!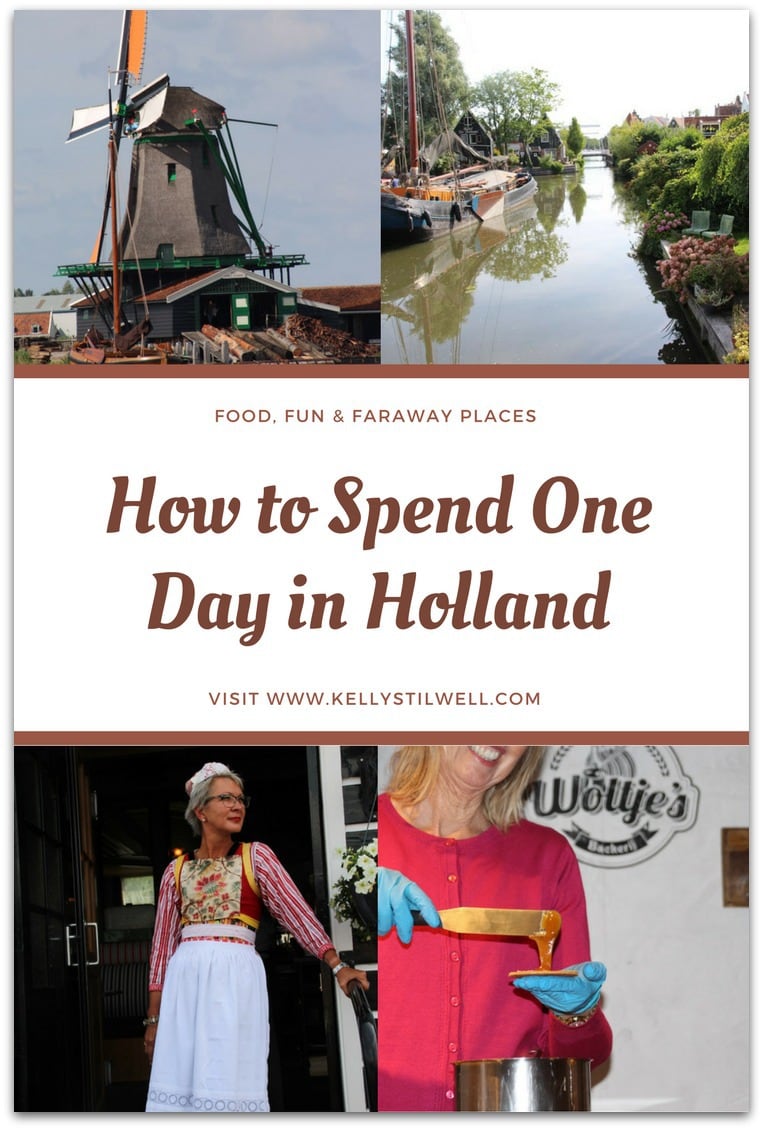 Though I get great ideas from other travel writers who have been all over the world and can share ideas for a destination, I still have to map everything out once I arrive.
We didn't have plans to rent a car in Amsterdam, so I had some planning to do. There are a lot of things to do in Holland, but how to get around without a car?
By the way, a great way to see this region of the world is through a river cruise. A few years ago we took our daughters on a Viking Rhine River Cruise.
It was one of the best things we ever did for a family. We made memories we will talk about for years! (Especially me crying at the table in Amsterdam!)
We started by spending one day in Basel Switzerland and ended by spending one day in Amsterdam before we headed home. If you're thinking about this trip, be sure to check out things to do in Basel Switzerland.
Honestly, Amsterdam is pretty crowded. Though it seemed most people rode bikes everywhere, I don't know if I would have felt totally safe on a bike, especially with my whole family trying to keep up. It's a very busy city!
Fortunately, there is an easy solution. TripAdvisor reached out to me earlier this year and wanted to work together. As I had never tried booking a tour with them, that was the first step.
I went to TripAdvisor.com and booked a tour. It didn't take long to find a tour that was perfect for us. Why I have never thought to do this before, I don't know, because it was so easy and turned out to be one of the best days of our Europe vacation.
Booking is easy. Just go to the TripAdvisor site and enter the city you'll be visiting.

Next, click on things to do in that city. In most cases, many options will pop up. Look through the activities and tours.
We had so many different options, like City Sightseeing or a Private Full-Day Tour of Rotterdam by Train. Based on the time we had, we decided on the Dutch Windmills and Countryside Day Trip which included a Cheese Tasting in Edam and lunch. The tours do change, so just search for what you want to see and do.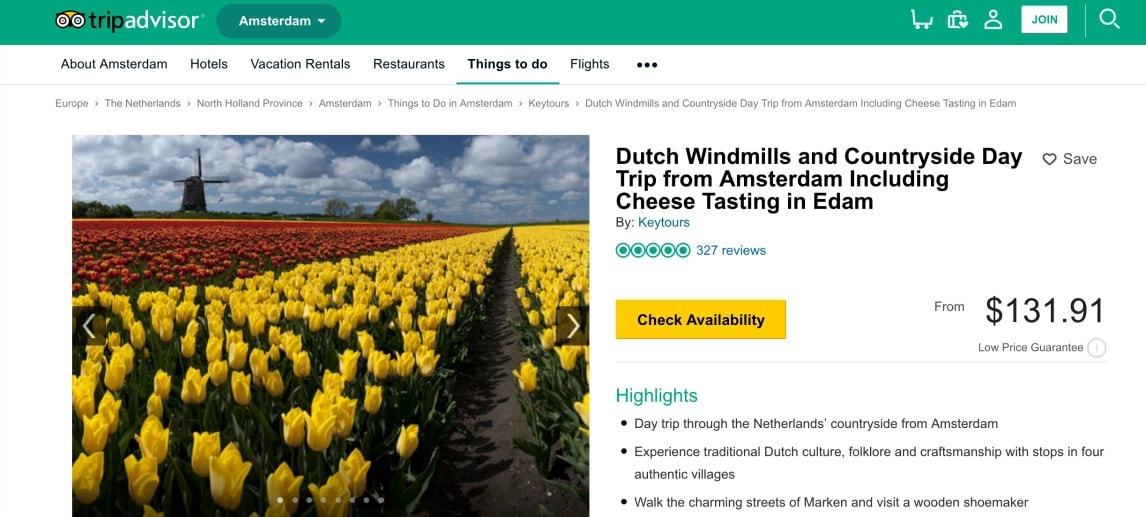 I paid and was sent confirmation right away. We were staying at the Renaissance Hotel in Amsterdam, so I asked about the location of pick-up for our tour when I checked in, and they assured me it was a short walk. The next day, I asked for walking directions on my iPhone, and we were there in about ten minutes.
I went inside to check in and get our tickets.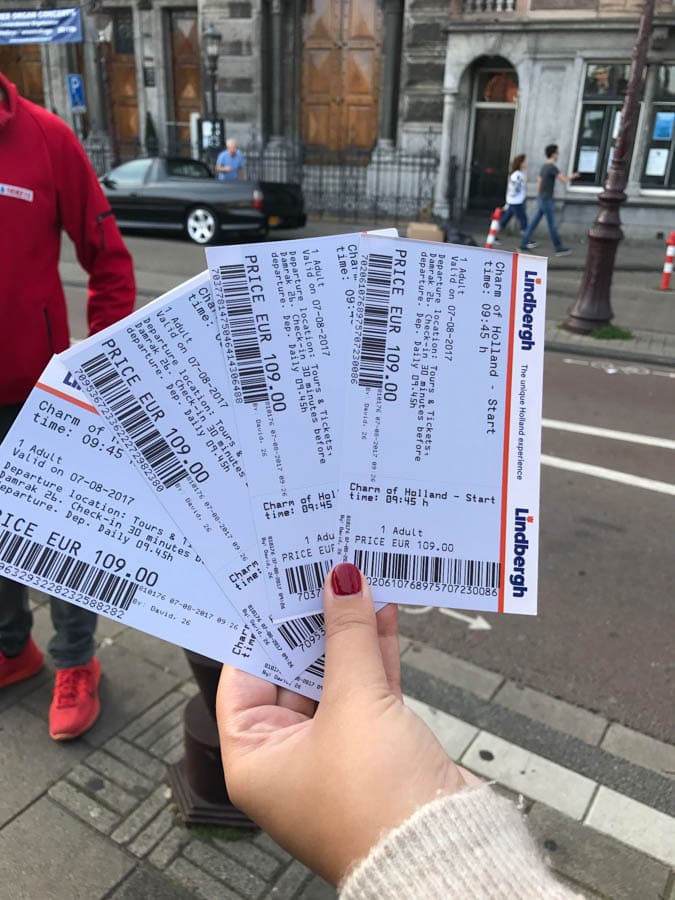 A group guide with a sign stood off to the side to let us know where to meet. We were led to a luxury bus where we made our way to Holland.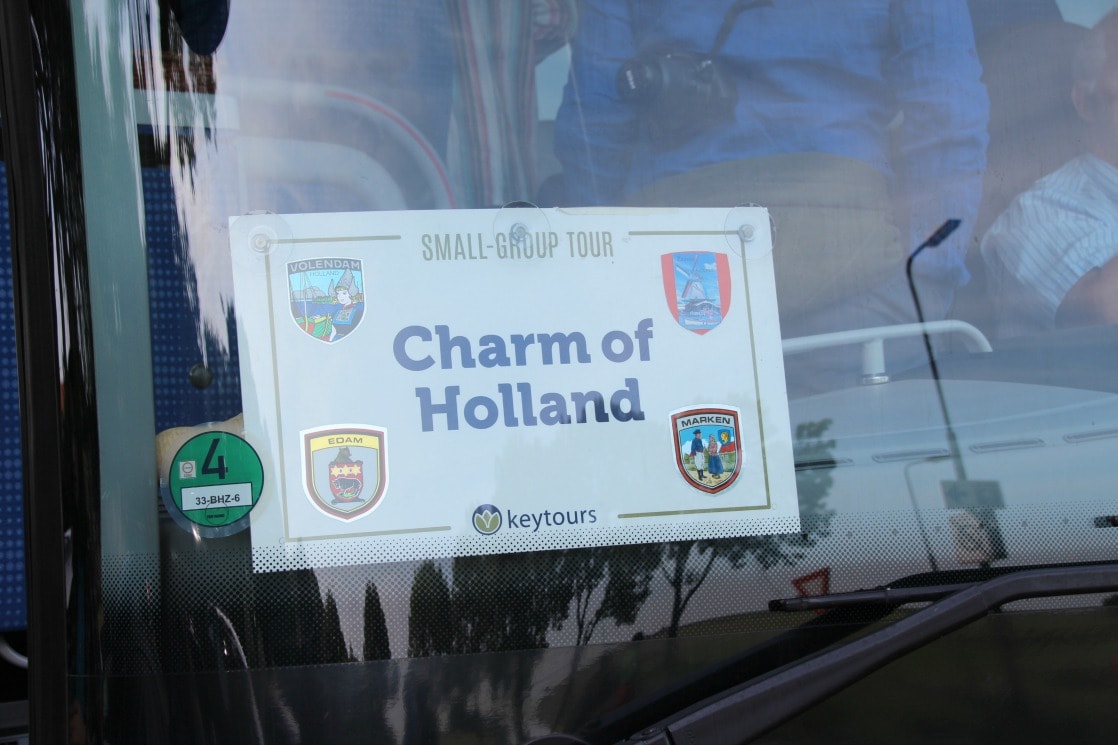 On the way, we were given a form to fill out for lunch so they would be prepared for us.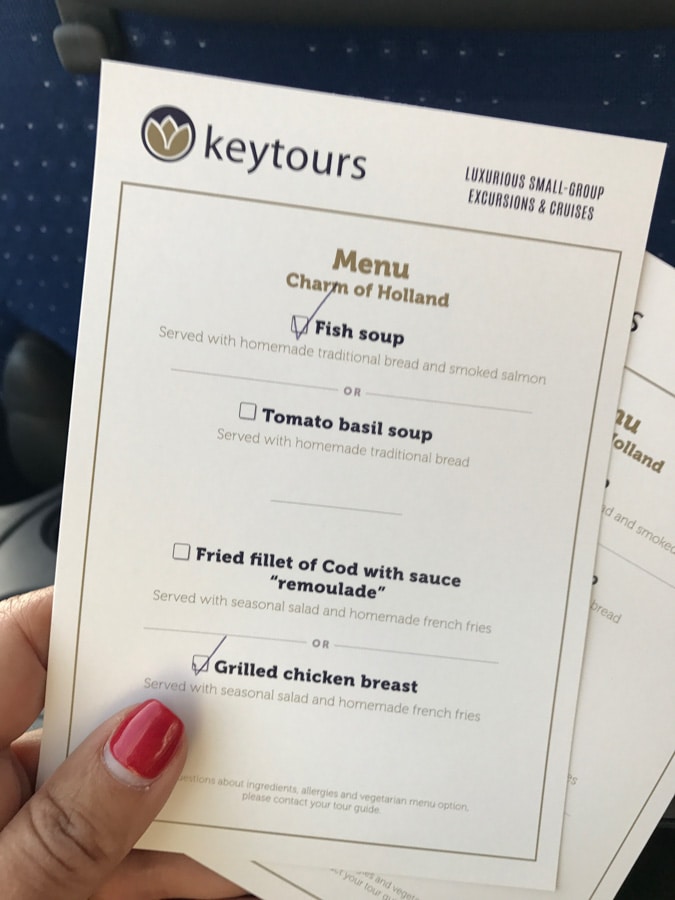 We started out for a walk in Oorgat which is part of Edam.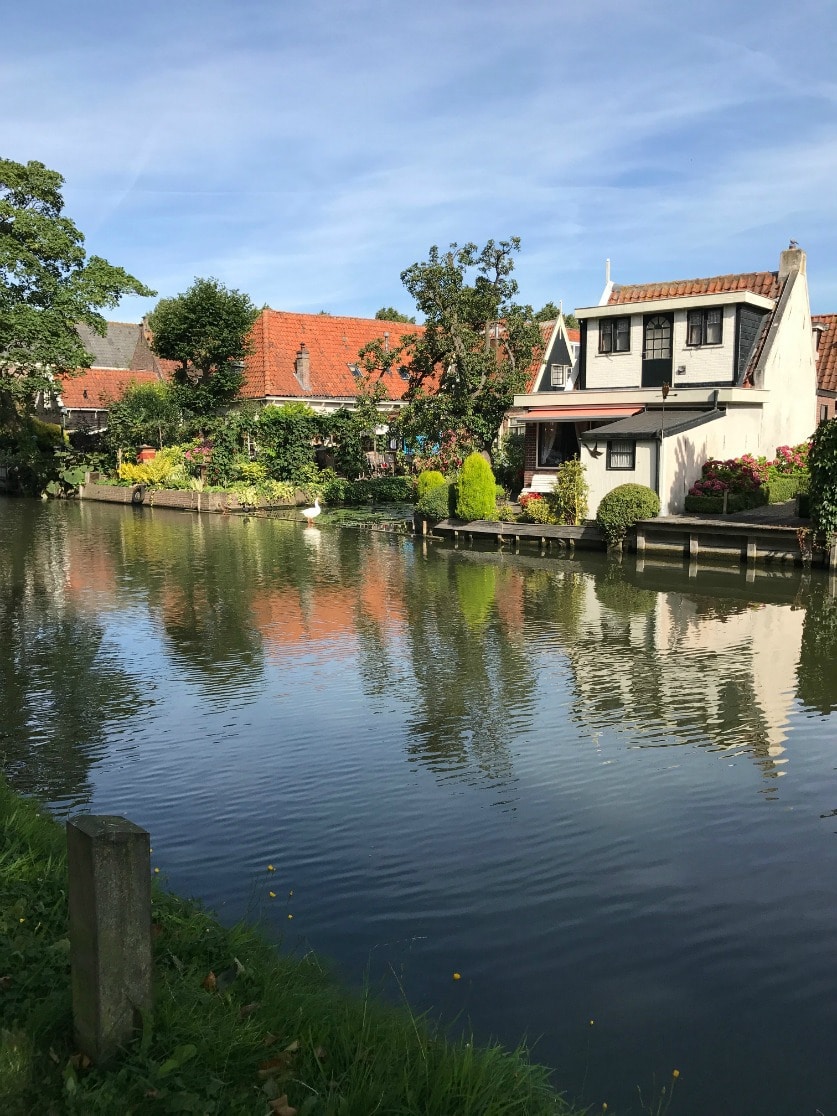 I tried to keep up but kept stopping to take another photo. The wooden houses are just gorgeous. Oorgat is very small and quiet, and the homes are all so picturesque.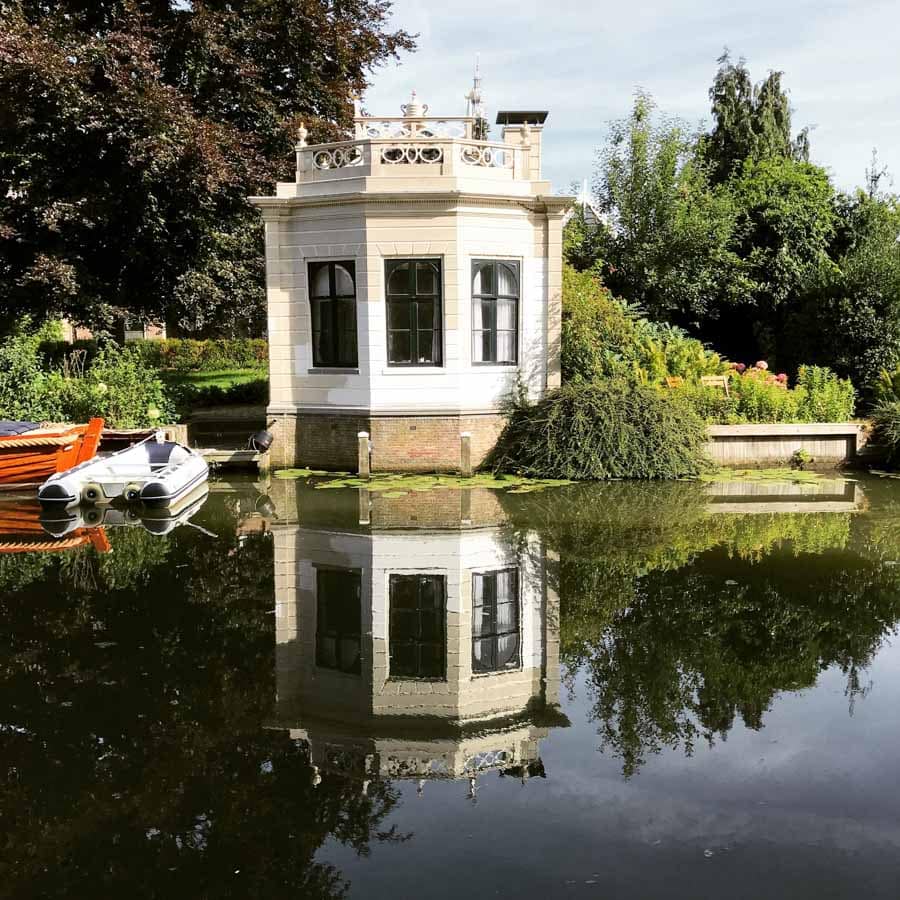 Once we were in the town of Edam, we saw a quaint little cheese shop.
Edam was one of Holland's most important merchant towns in the fourteenth and fifteenth centuries. It was actually shipbuilding and the cheese trade that brought Edam to where it is today.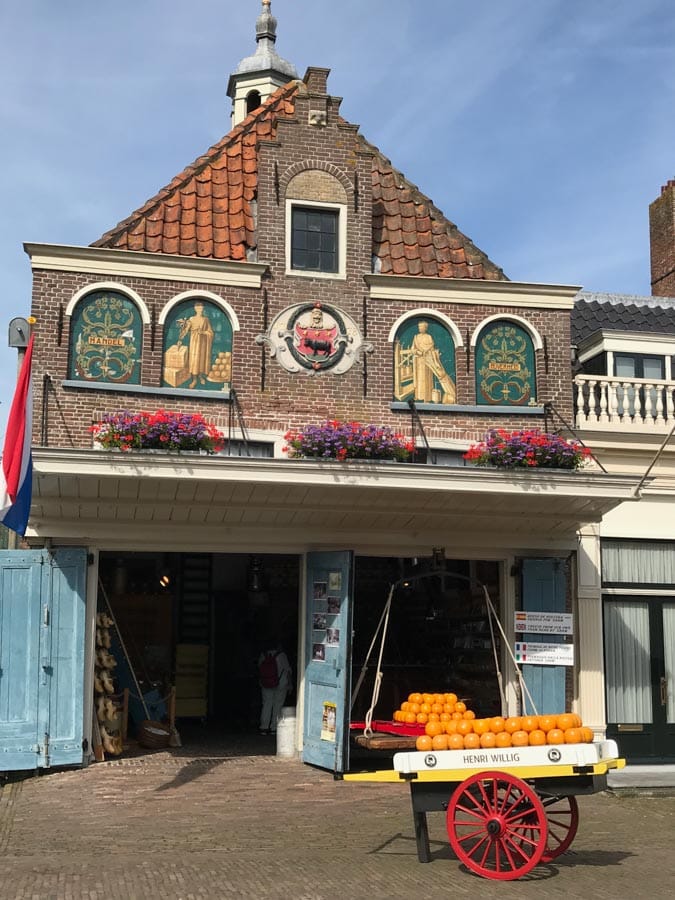 In fact, there is a still a cheese market every Wednesday in Edam. I was so wishing it was Wednesday!
This statue shows how cheese was once transported.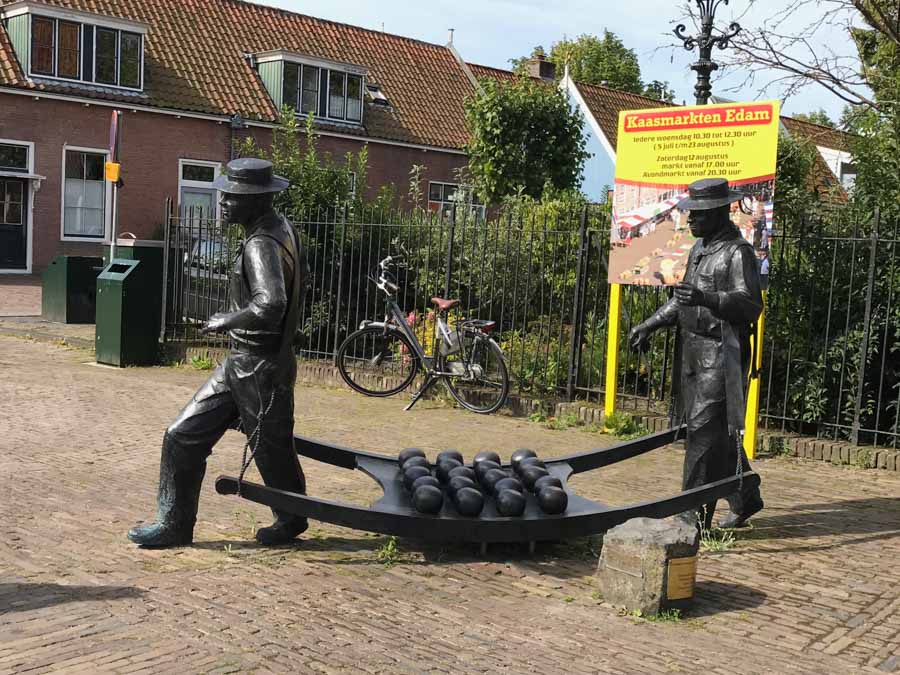 We strolled around the town in awe of the old Dutch architecture and cobbled streets.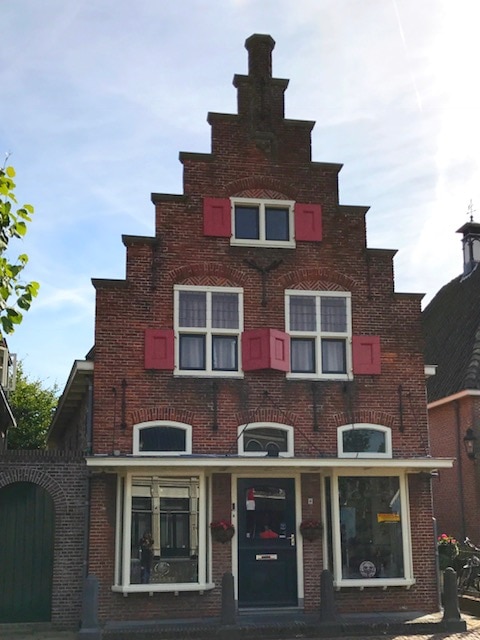 Our next stop was Volendam, an authentic fishing village. Founded in the fourteenth century as Follendam, it was very a popular area for fisherman and farmers to live.
Edam is famous for Edam Cheese, but Volendam has cheese of their own that is pretty amazing!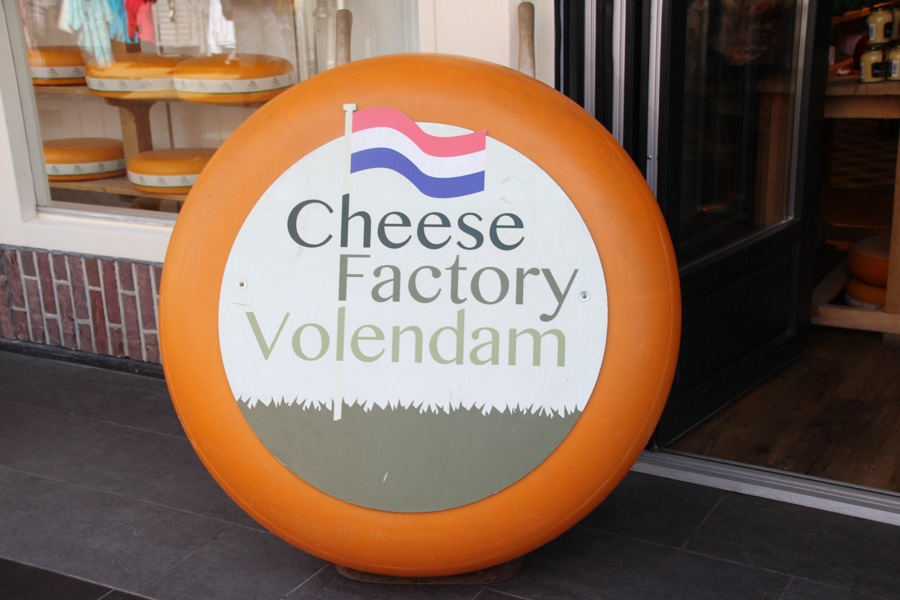 At the Cheese Factory Volendam, we were treated to a cheese demonstration.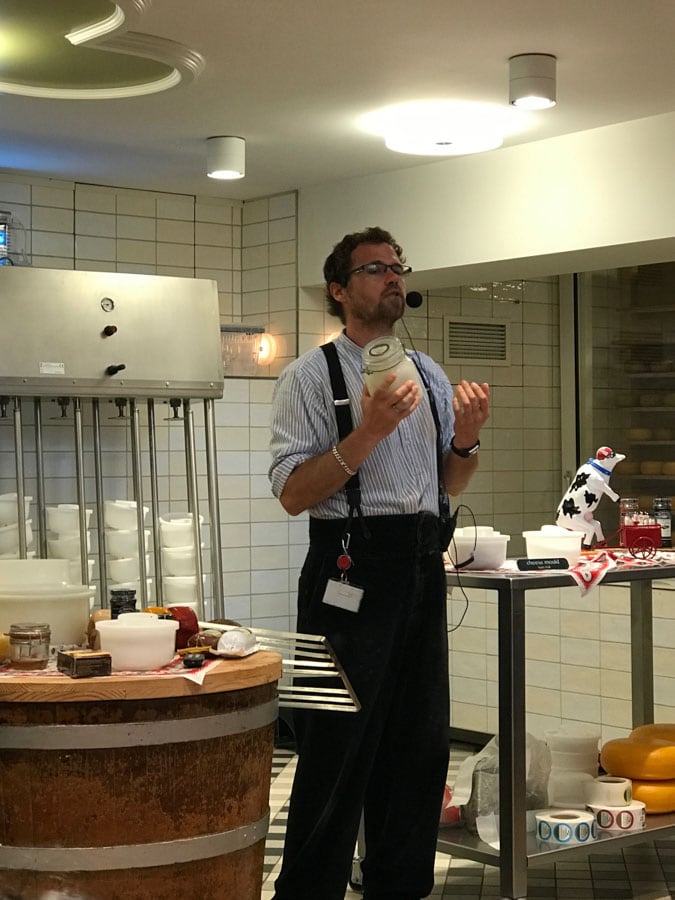 We had already made friends on the tour, and Deanna volunteered to assist in the cheese-making.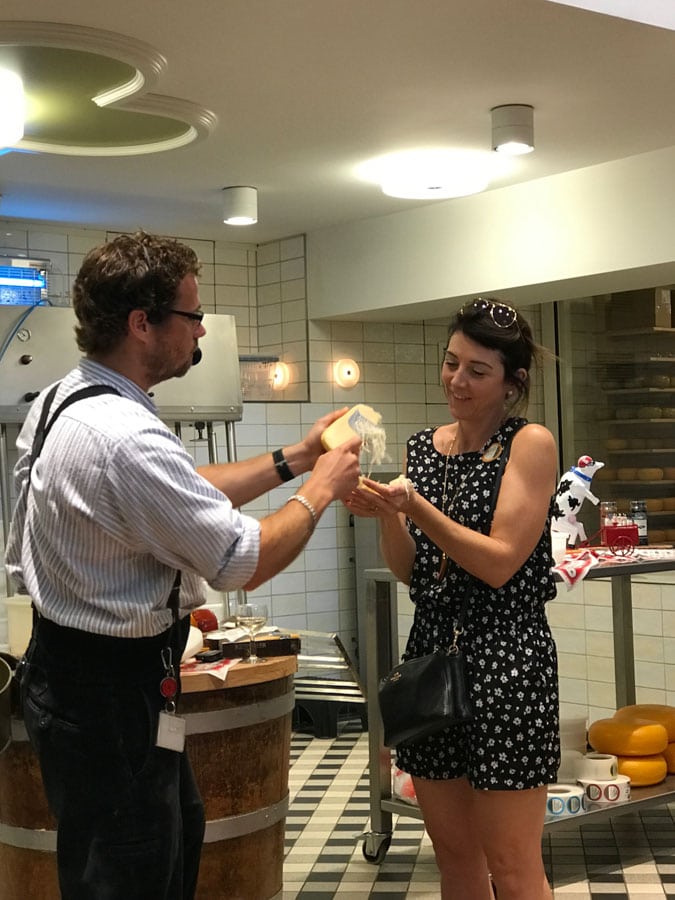 She did share and it was delicious!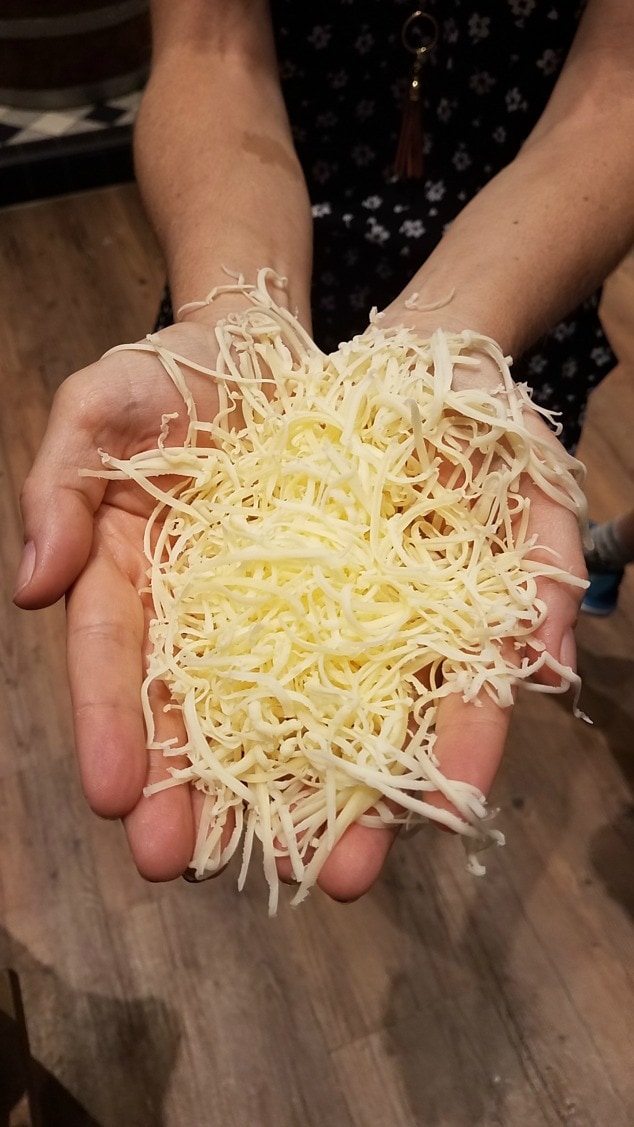 We also were invited to taste many different types of Dutch specialty cheeses, like Reypenaer, different farmhouse cheeses, and of course, Volendam cheese. We brought cheese home as they have varieties that don't need refrigeration.
Also in Volendam, we visited the Woltje's Bakery to learn how to make Stroopwafel cookies. The baker who 'performed' the demo (and it was quite a performance) was a riot!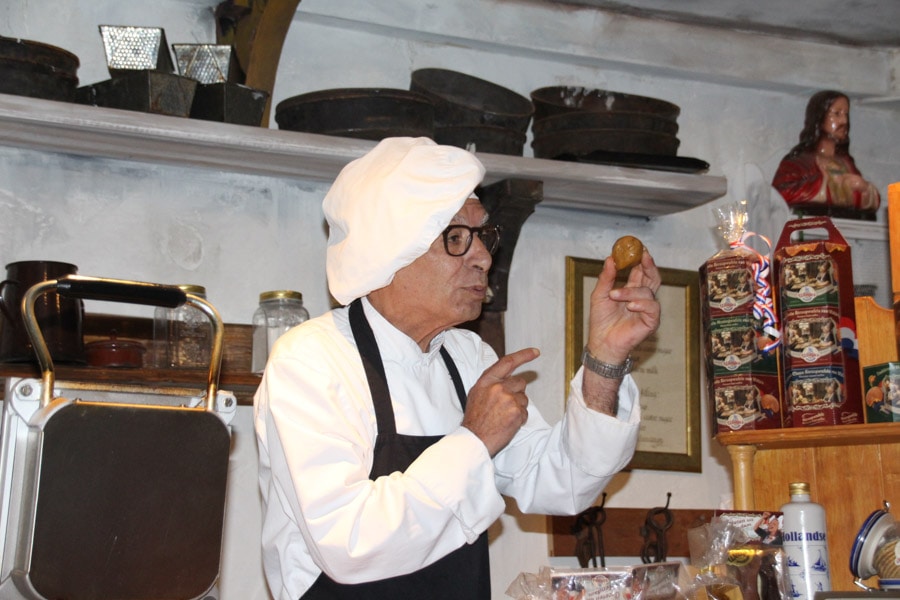 He treated us to a taste of the Stroopwafels. This is the one thing my oldest daughter is sorry we didn't buy to bring home. We were already worried about our luggage being overweight!
The cookies consisted of two thin and crispy waffle cookies with caramel inside. I have the recipe, but doubt I can recreate them! I'm still going to try, so stay tuned!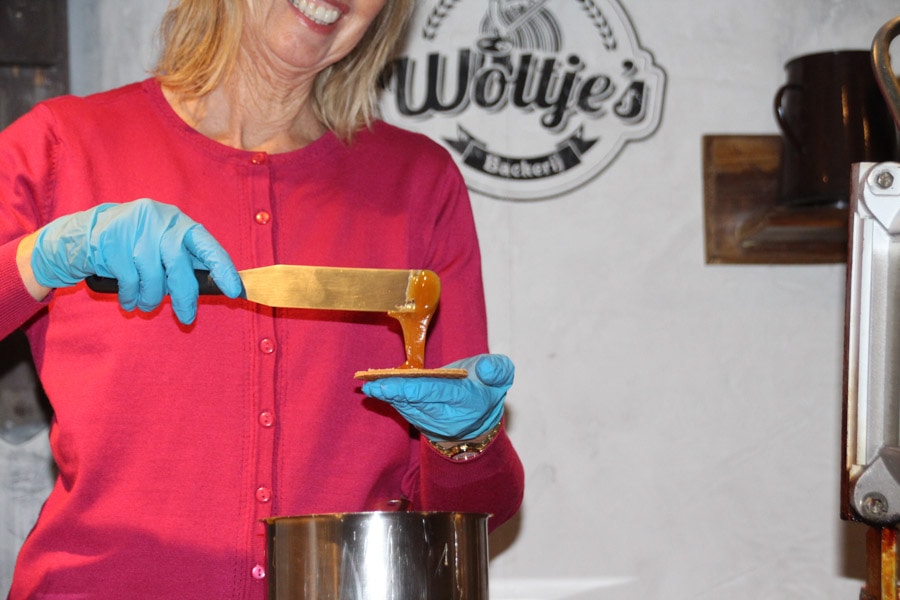 The baker proposed to his volunteer at the end, but alas, her husband was in the audience!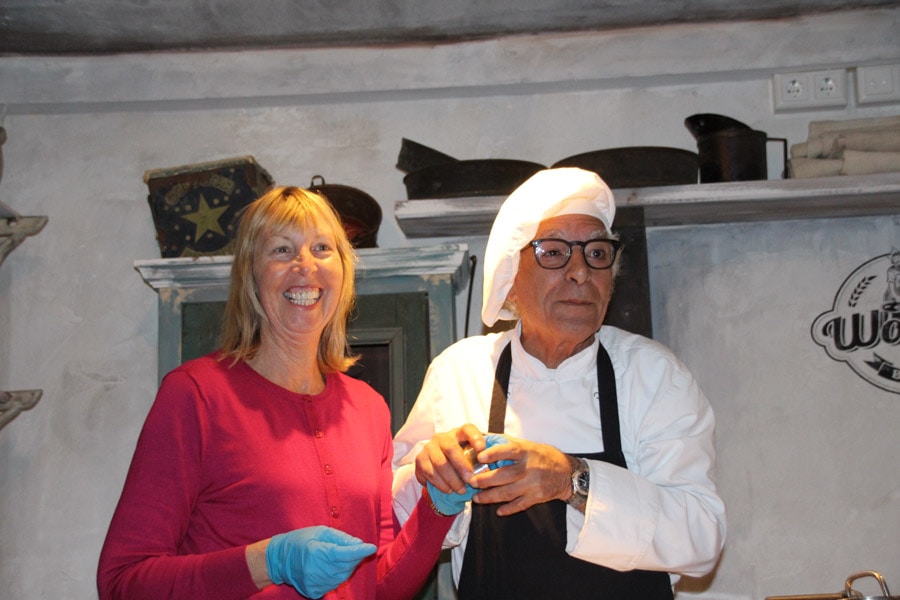 Our next stop was Marken, another traditional Dutch fishing village that has really preserved the culture. Marken is located in North Holland, in the municipality of Waterland.
We toured the Grote Kerk, (former reformed church) of Marken. I think this was my husband's favorite part of the whole day.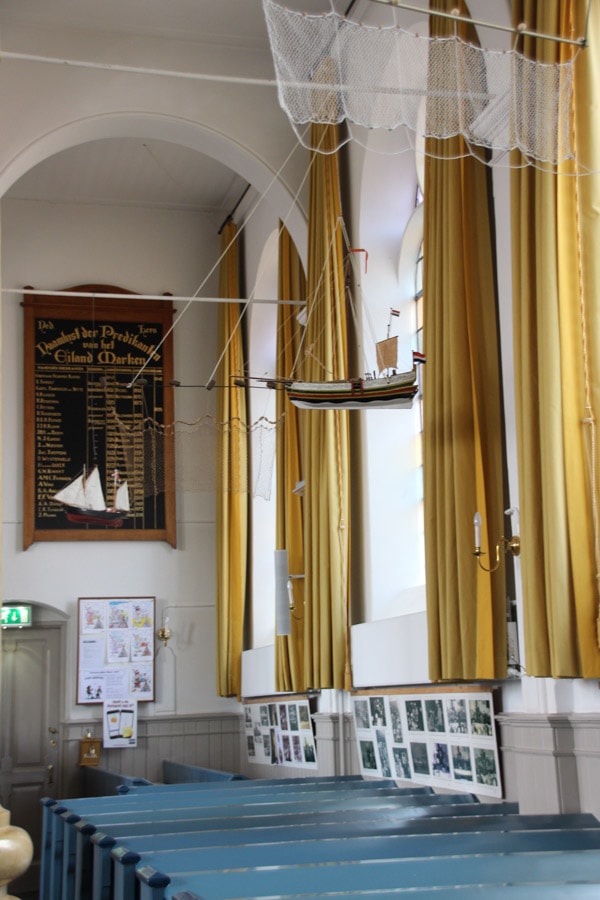 In 1232, when Franciscan monks left the mother-house in Leeuwarden to come to Marken, a chapel dedicated to Maria was part of their monastery.
Unfortunately, the chapel was ready to collapse and was demolished in 1843 and replaced by a simple church. That church ended up in ruins as well by 1904 and was replaced by this Calvinistic style church that stands now.
The gorgeous oak pulpit dates from the seventeenth century and includes a beautifully carved lectern.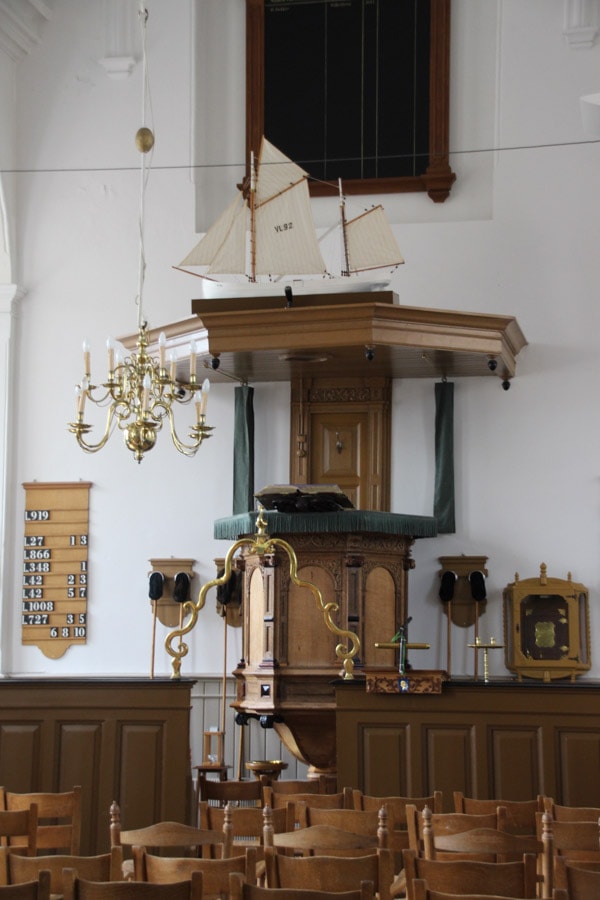 What you may notice that you wouldn't typically see in a church are the ships, there to remind the people of their past history of fishing.
It is also said that the fisherman would take their big sailors guide, the Bible, with them to sea, and bring it back on Sunday to gather and give thanks.
Therefore, the boats have a very real religious sense to them. We thought it was just beautiful.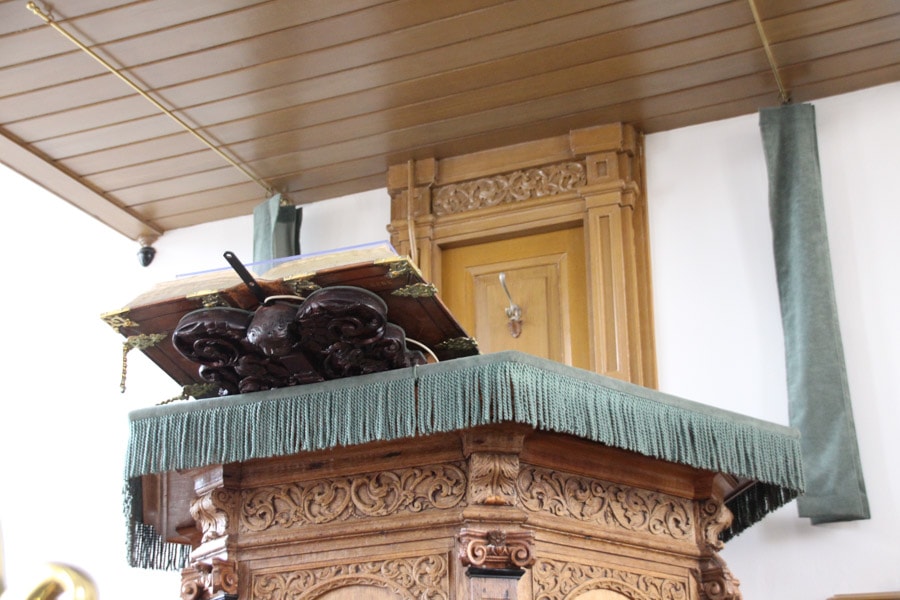 After strolling through the area, we stopped for lunch. Don't you love the traditional Dutch clothing?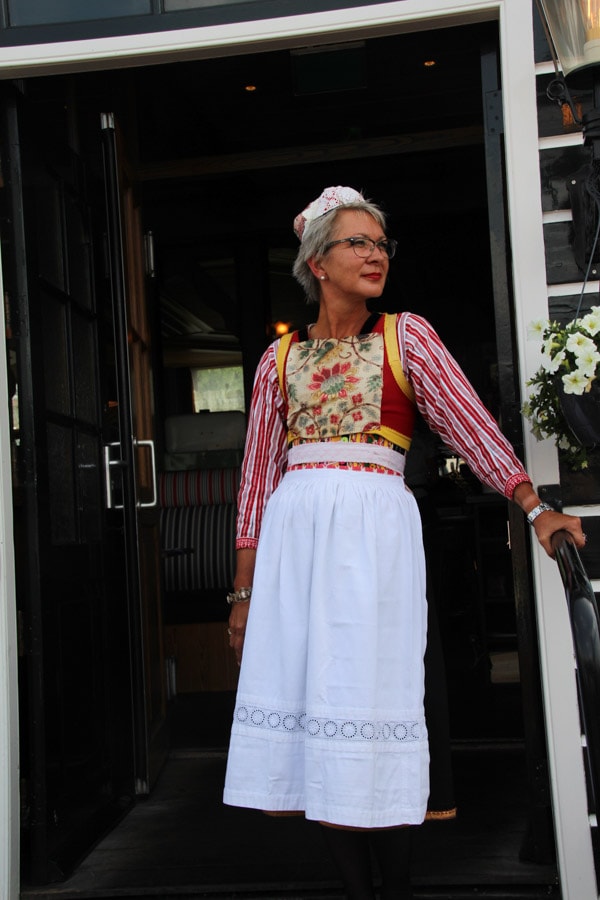 My husband was pretty excited to see Extra Cold Heineken!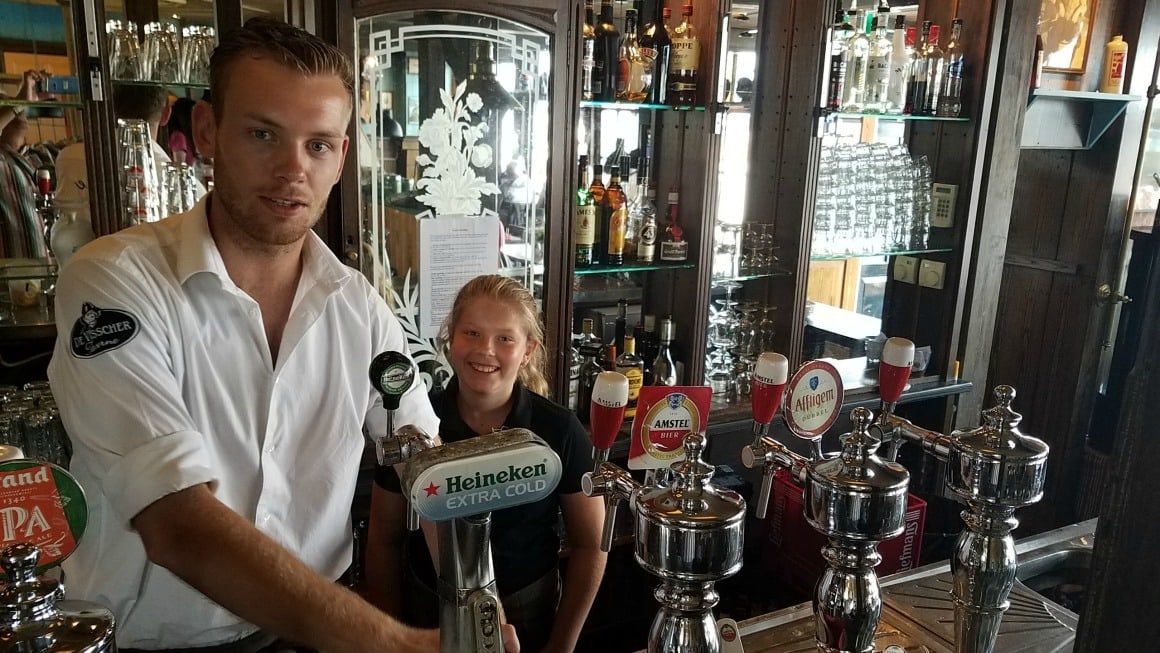 And I was happy to discover Liefmans, another local beer! It was fruity and refreshing!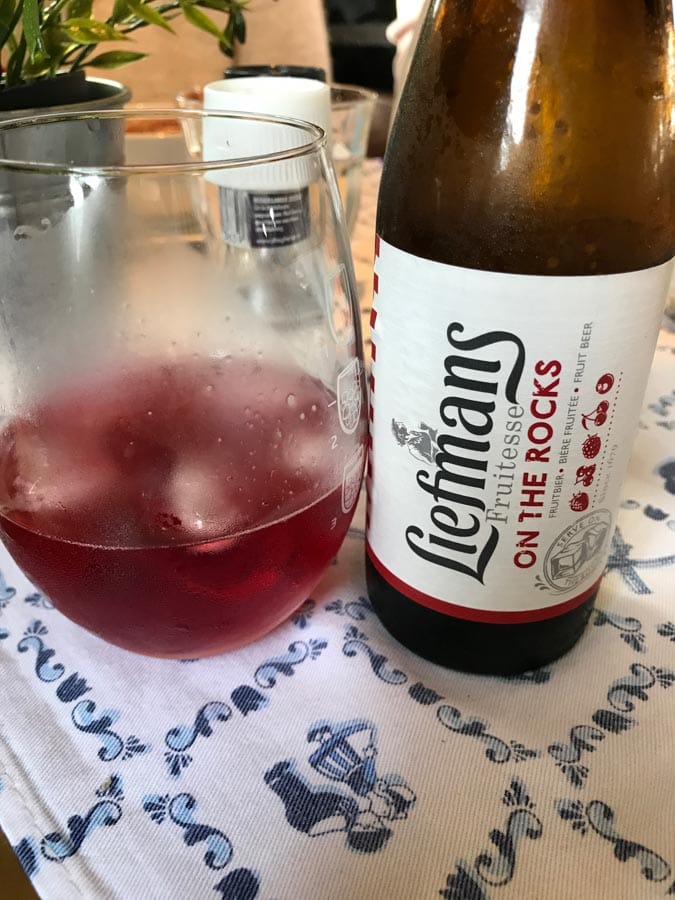 I have to take photos before we eat, and my husband caught me!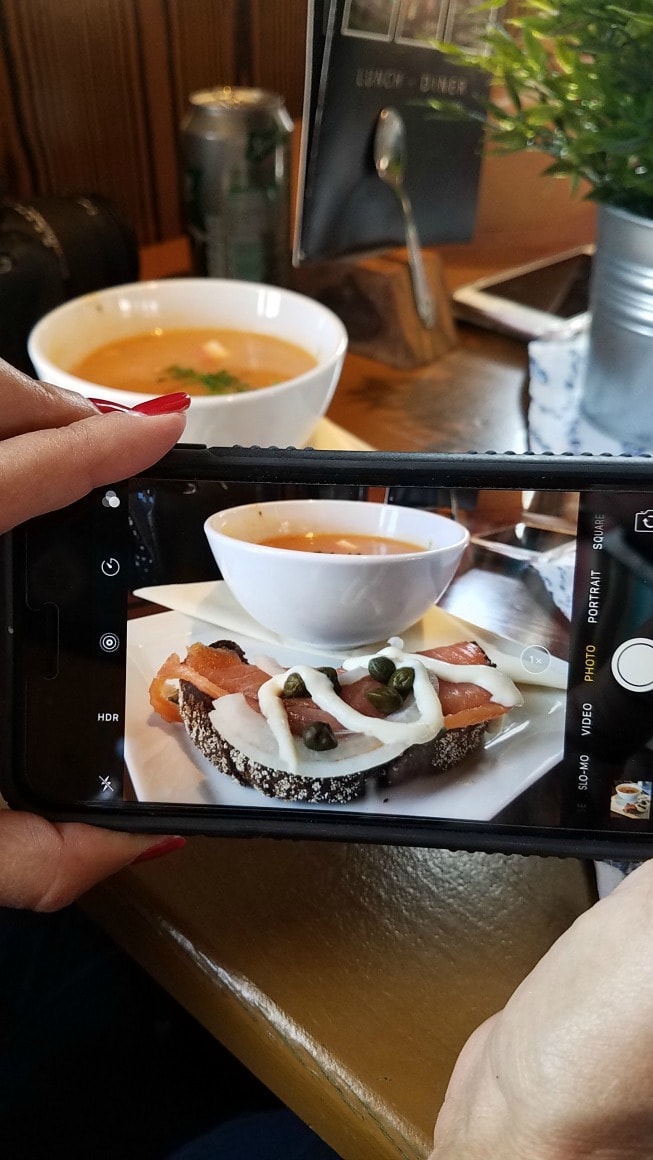 We enjoyed lunch and relaxing for a bit.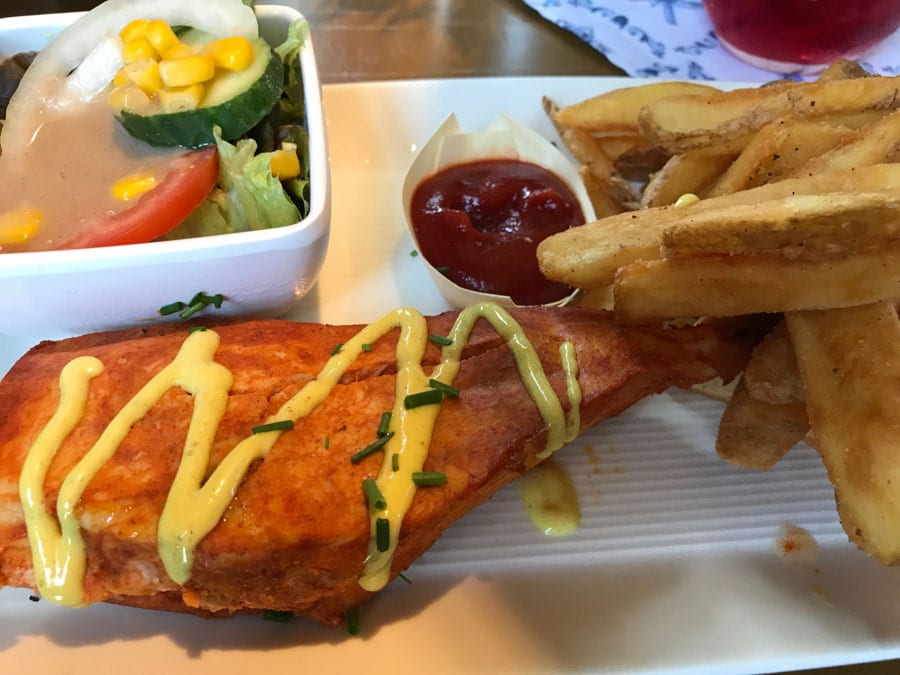 A walk was in order as the weather was perfect.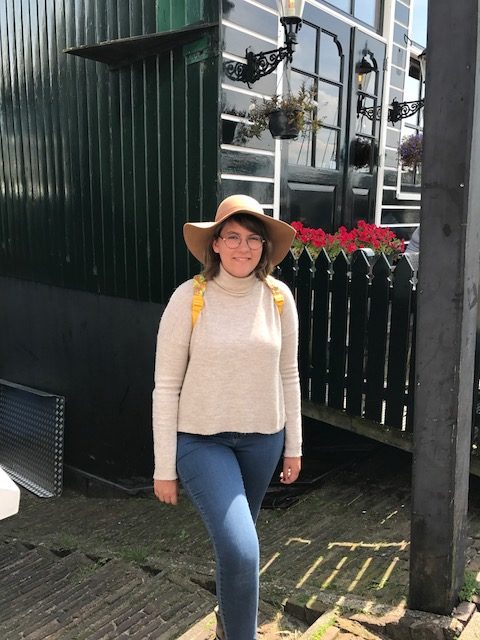 The homes on the canal were just gorgeous. Everywhere I turned was another beautiful photo opp.
The residents of Marken are obviously very proud of their village, keeping the streets pristine and their gardens perfectly tended. It was so beautiful.
You'll see this one on Instagram! Be sure to follow me there as I post a lot wherever I roam!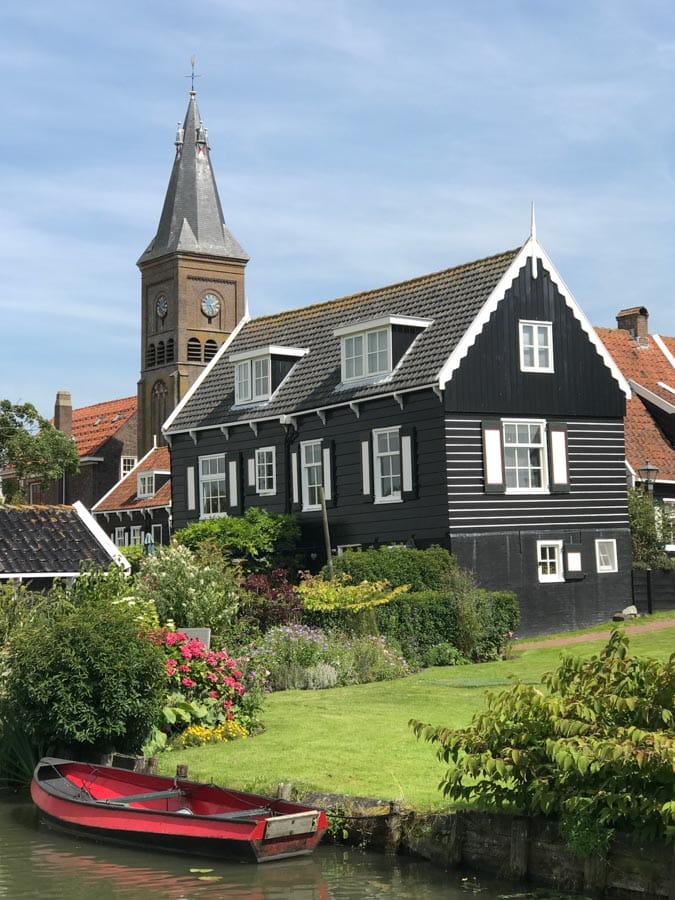 Our next stop was a demonstration by a wooden shoemaker. Many people in Holland still wear these shoes today.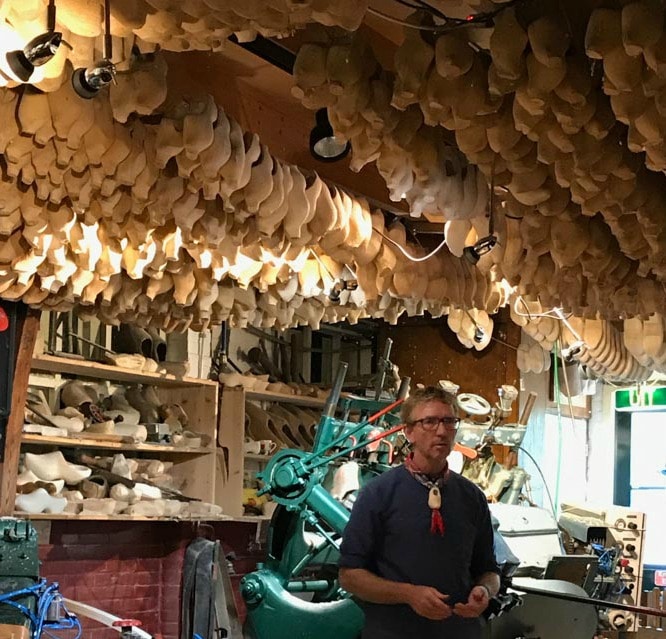 There is a mold for the different sizes, and the shoemaker showed us how the machine works.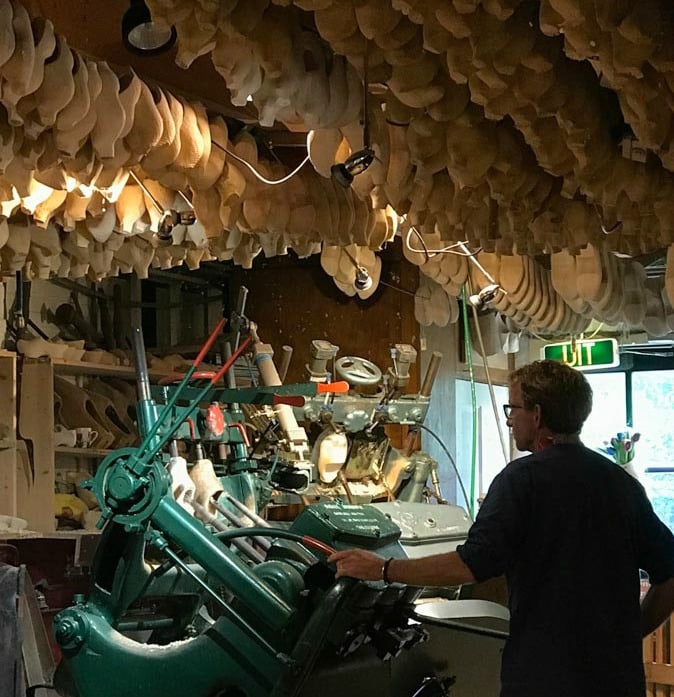 The wood chips were flying above our heads, but it was amazing to watch the shoes being made.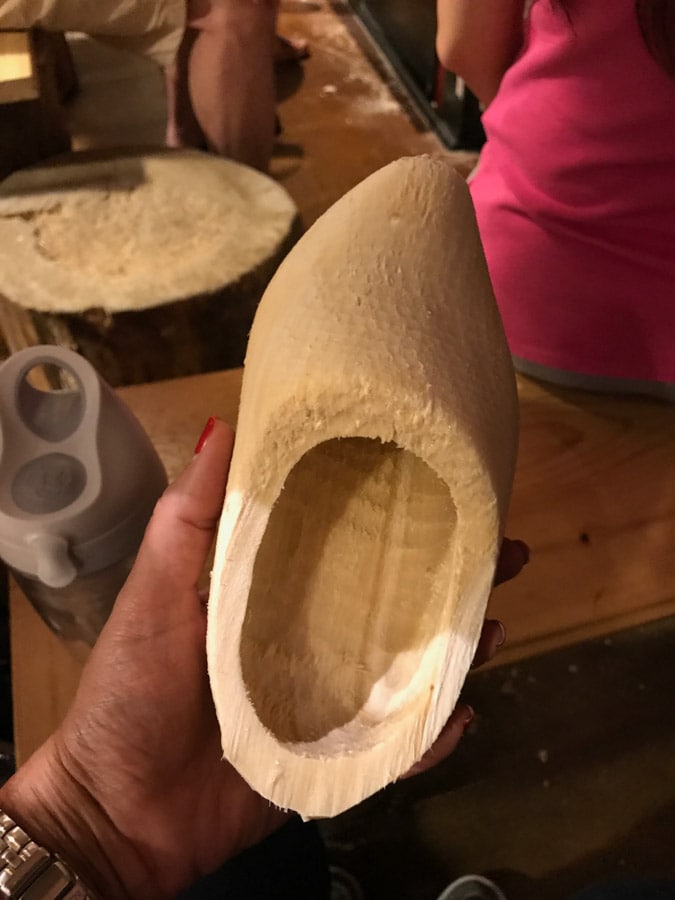 Of course, I had to try on a pair of shoes and my husband plopped a hat on my head.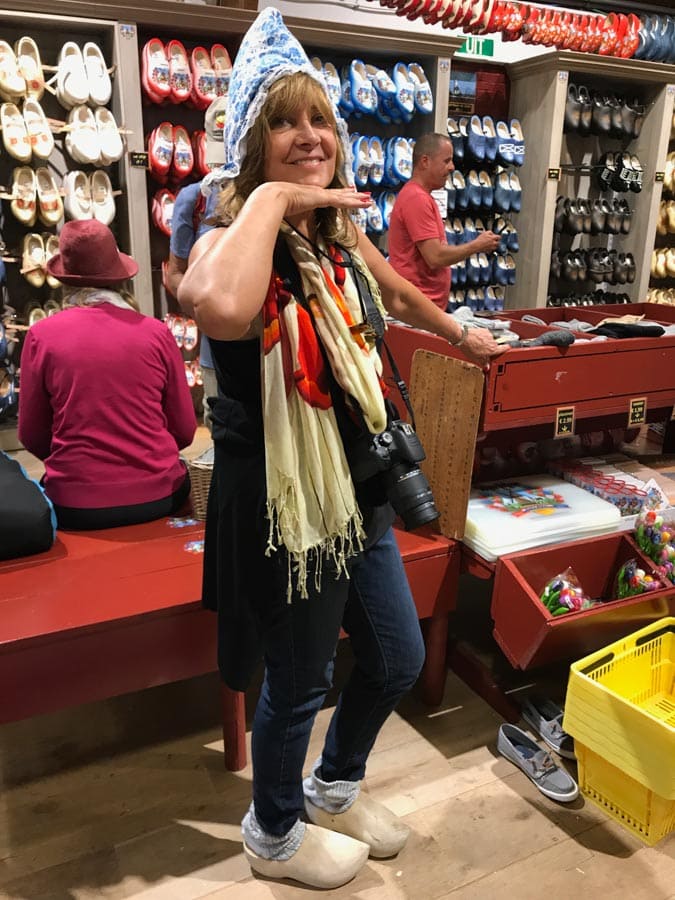 Our guide did a wonderful job of explaining the history and geography of the area.
A free boat ride is included in this tour, which was our next activity. Lake Ijssel is a closed-off inland bay today, but at one time it was part of another bay that flowed into the North Sea.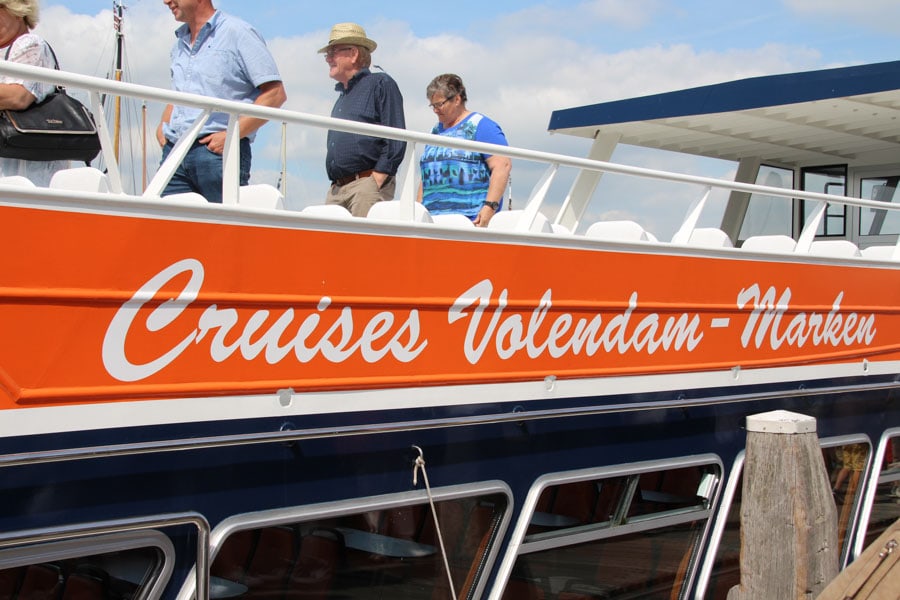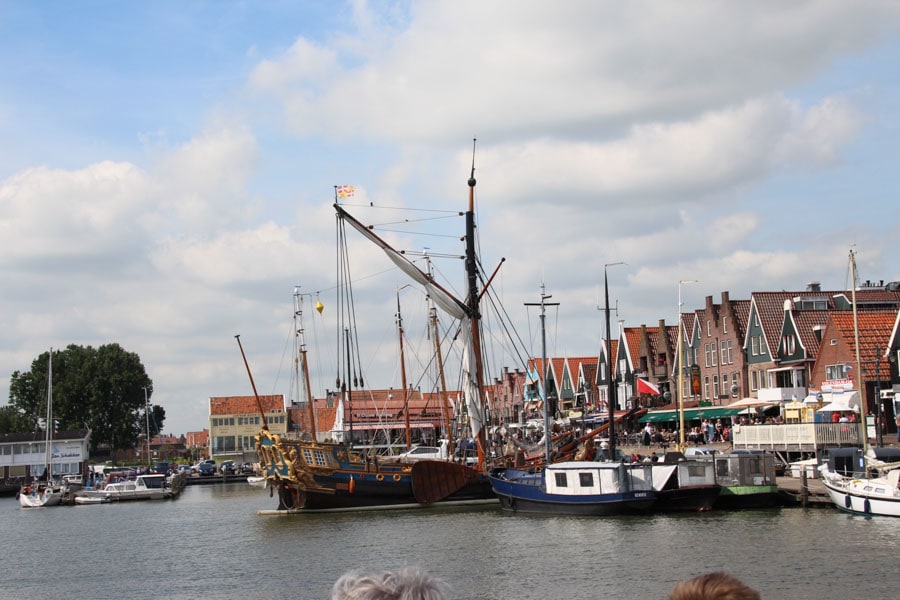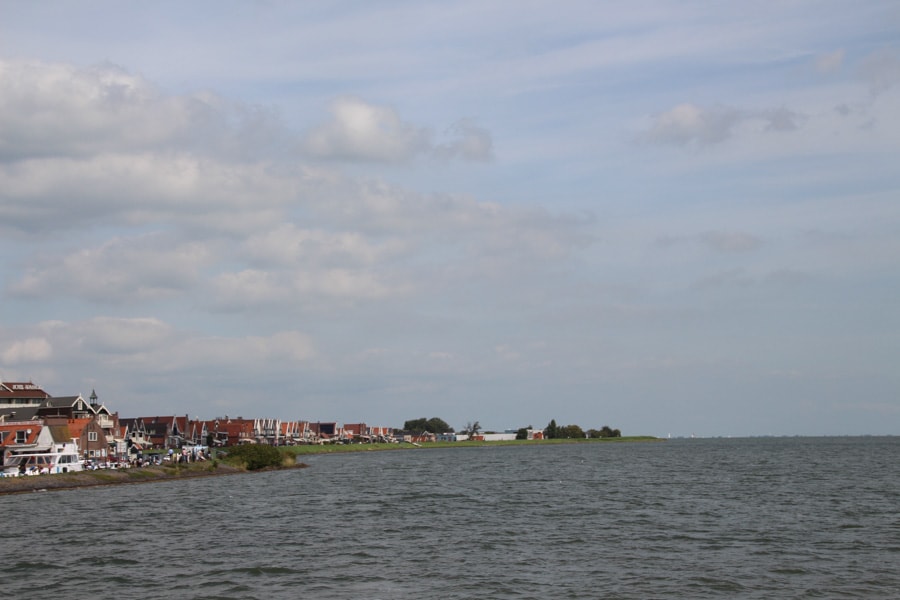 Flooding has always been a huge issue in The Netherlands, and eventually, after the flood of 1916, the Dutch parliament approved Zuiderzee Works, a huge hydraulic engineering project which would create more land for agriculture and reduce floods.
According to Wikipedia, The American Society of Civil Engineers declared these works, together with the Delta Works in the South-West of the Netherlands, as among the Seven Wonders of the Modern World.
As you may know, the reason windmills are important to Holland is that their initial use was to pump water out of the lowlands. Our next stop would be the ancient windmills of Zaanse Schans. The boat ride was fun. Try to get a seat upstairs as the view is better.  
Zaanse Schans is a beautiful area with trails for strolling along to get a better look at the enormous windmills.  
As I mentioned, at one time, the main purpose of the windmills was to pump water. But it was quickly realized they could be used for more, like milling spices, flour, pigments, and seed oil.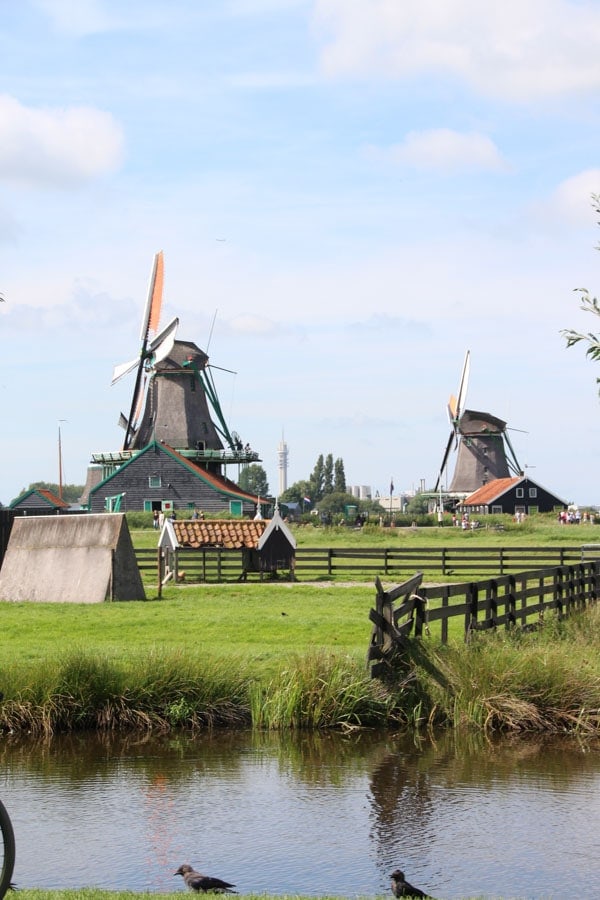 Open from 10 am until 5 pm each day, you can see the windmills at work when you visit. We sat in on a demonstration at one of the mills that grinds seed for oil, and it was eye-opening to see how much power these structures have when the wind is cooperating.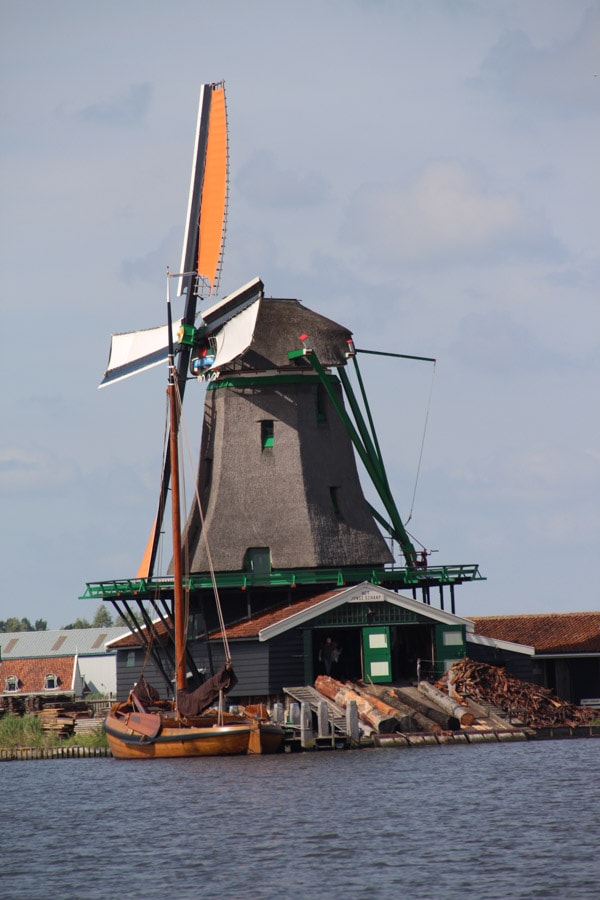 When we toured the windmill, we were able to see the area used for living spaces. Some people still live in the windmills, though most live off-site today.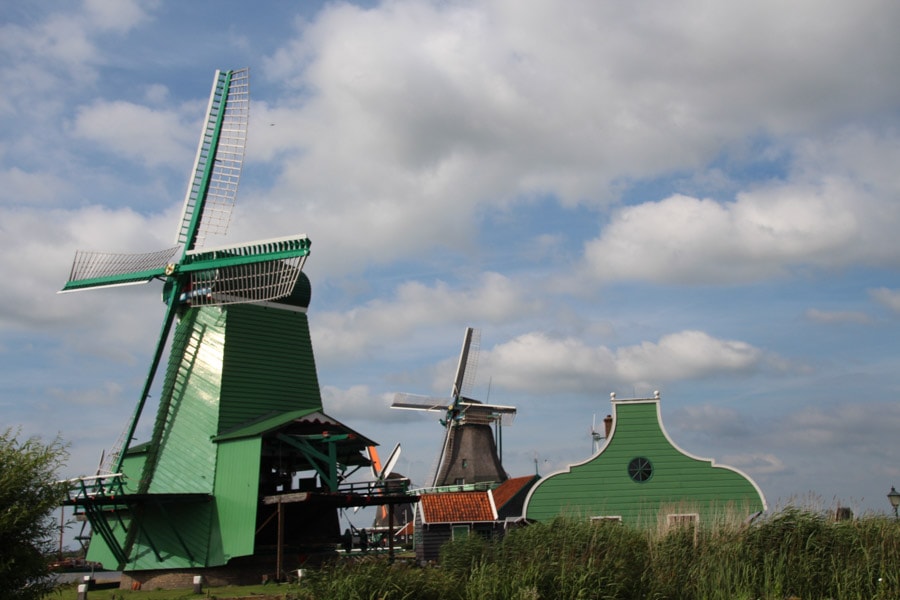 Don't miss the chocolate and ice cream shop!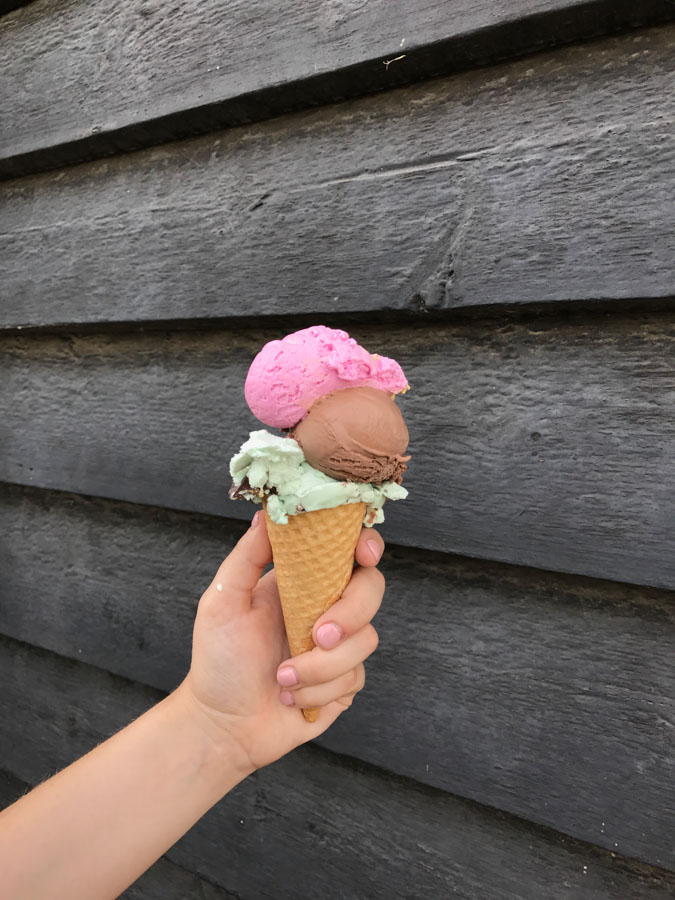 I hated to leave, but our bus was waiting. I think we did a lot to only have one day in Holland!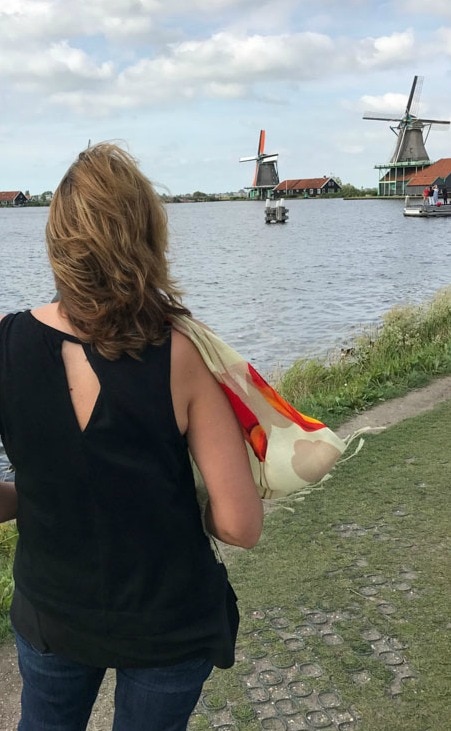 This was the easiest trip planning I've ever done, and I can't wait to book another tour with TripAdvisor. I even found activities near where I live, like kayaking and fishing trips.
Have you ever used TripAdvisor for vacation planning? I'd love to read about your experience. Share in the comments!
Love this post? Pin it for later so others can see it, too! Thanks for sharing!