Shows and casinos may be a draw, but there are also a ton of fun places to eat in Las Vegas.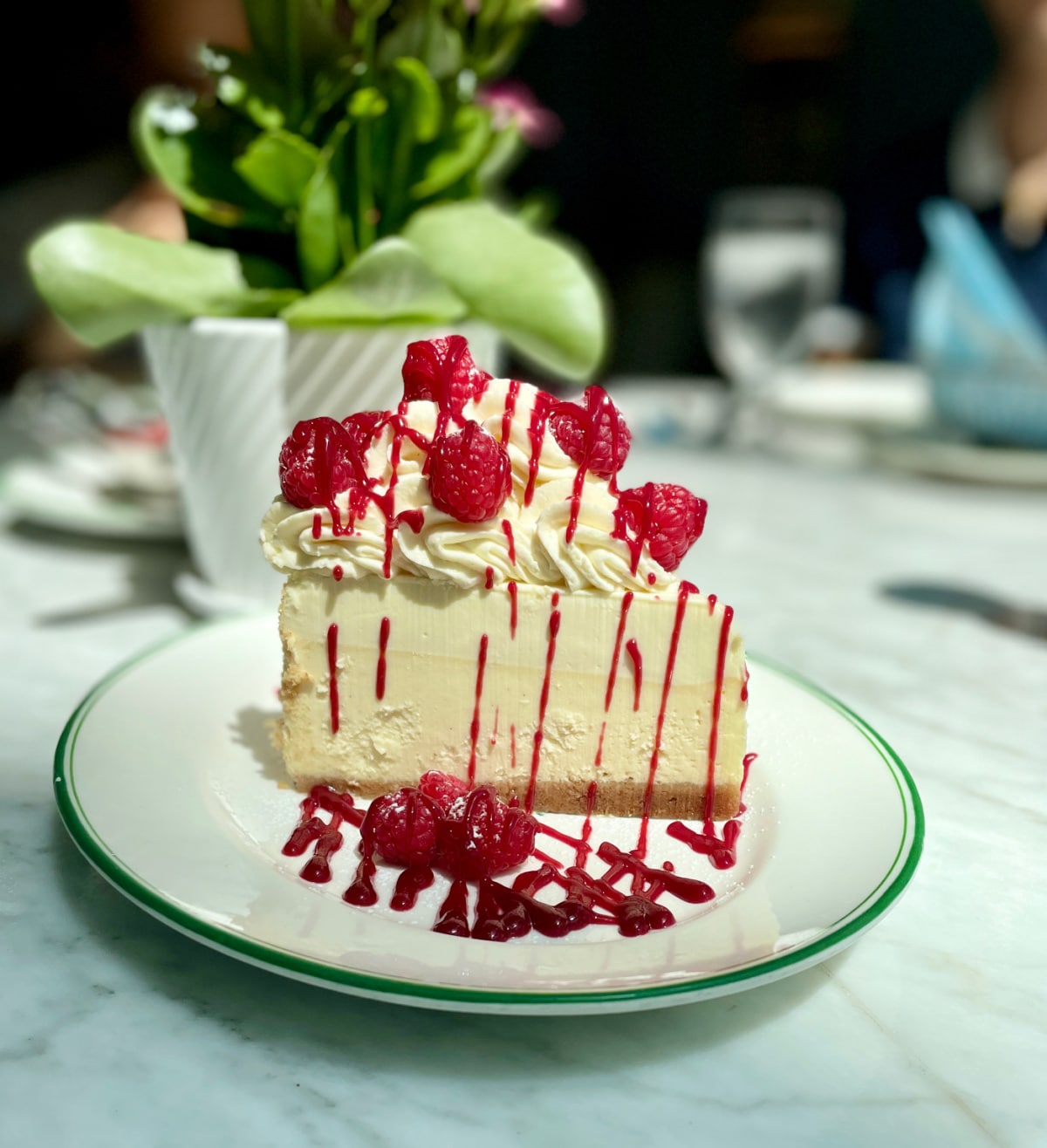 Restaurants with unique food, stunning views, and reputations known around the world make Vegas dining an attraction in its own right. With so many delicious spots, I thought you might want a little help choosing!
If you're having a hard time deciding which of the incredible places in the downtown Vegas area you should visit for dinner with friends, you're in luck.
Here are the 10 most fun restaurants to eat in Las Vegas in 2023.
Where is Las Vegas?
Las Vegas is a neon oasis in the middle of the American West. Located in the southern part of Nevada, Vegas is surrounded by desert, but you wouldn't know it from a visit to the Las Vegas Strip.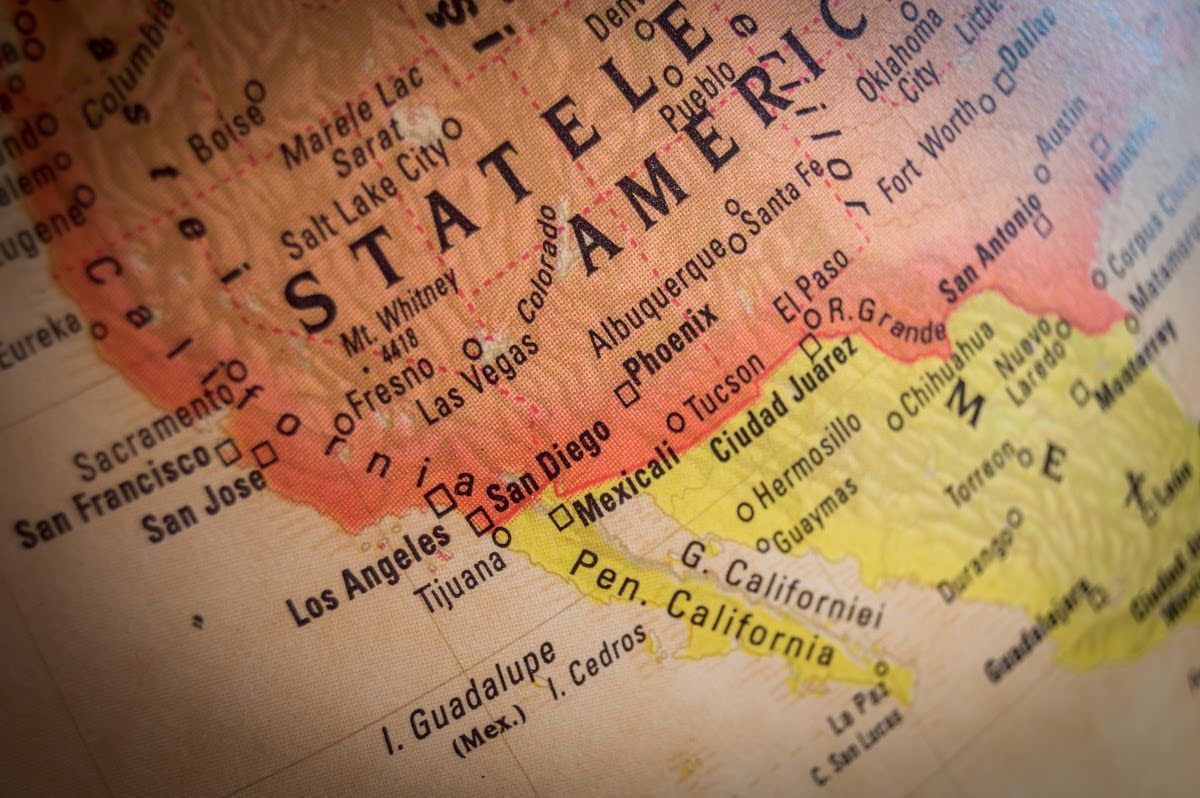 Las Vegas is the 25th largest city in the United States, and on a busy Saturday night, it can feel like every one of those 600,000 residents is visiting casinos, restaurants, or other Vegas attractions.
Most people fly into Las Vegas as its airport is a major hub for the western United States. But once you are on the ground, getting around the tourist area of Las Vegas can be done easily by walking or by taking a rideshare.
Why We Love It
There are so many amazing places to eat in Las Vegas that it would be difficult to run out of options to try. Whether you're looking for fine dining or a casual light bite, there's a restaurant to fit your needs.
Check out the most fun places to eat in Las Vegas below!
Where to Eat for a Fun Time in Las Vegas
Il Fornaio at New York New York Hotel & Casino
This is a great spot to grab lunch or dinner. The New York-New York Hotel & Casino has quite a few restaurants including Irish, American, Italian, and Asian, all serving great food.
It's a fun hotel with its mini Big Apple downtown area designed with faux bricks and street signs.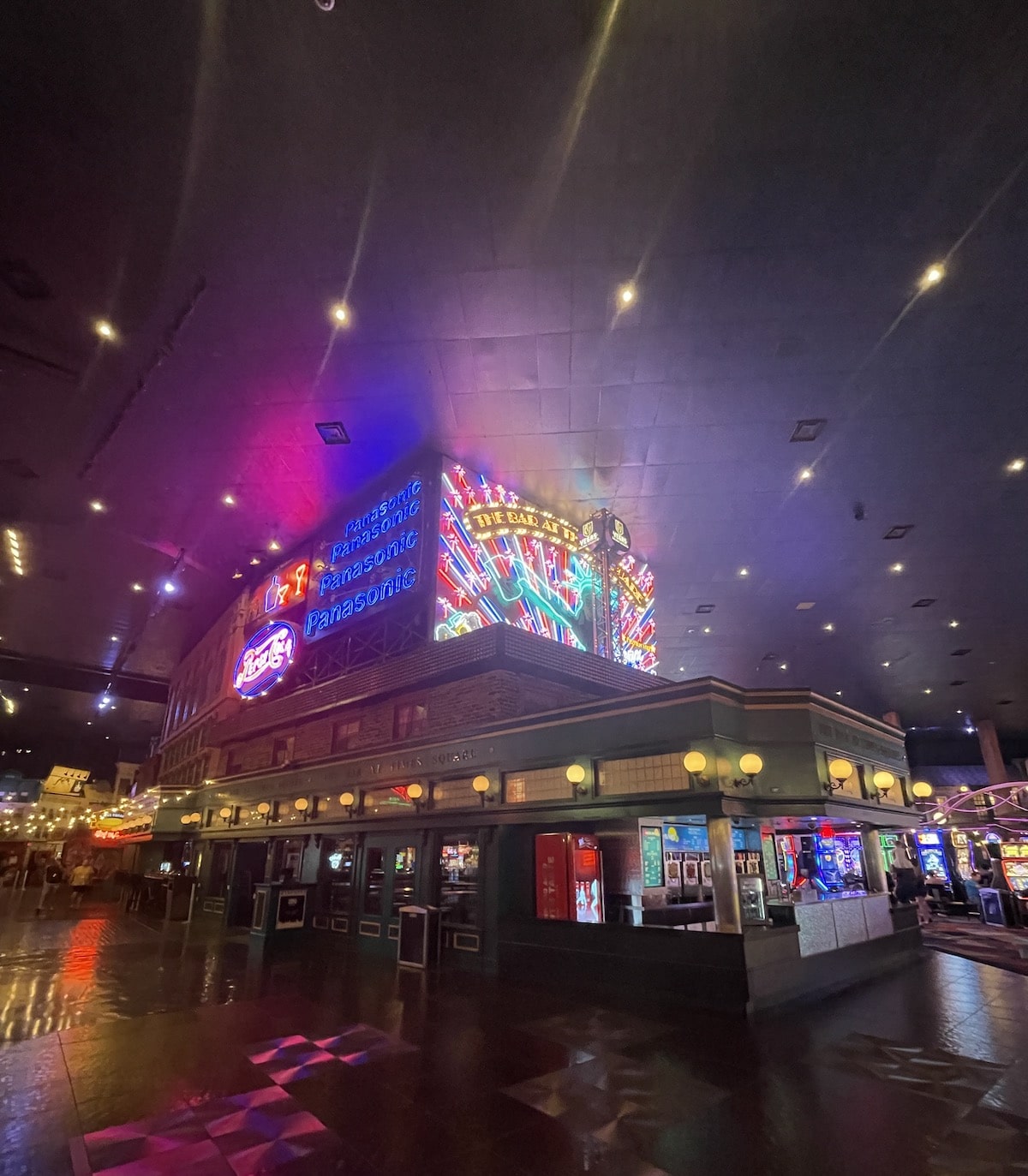 We chose Italian at Il Fornaio. You can grab a high top or table, and the service is friendly and efficient.
The Bruschette Assortite looked incredible, but we weren't sure we could eat that much and dinner was just around the corner.
We decided to share the Insalata Bietole and Margherita Pizza, which were both fabulous.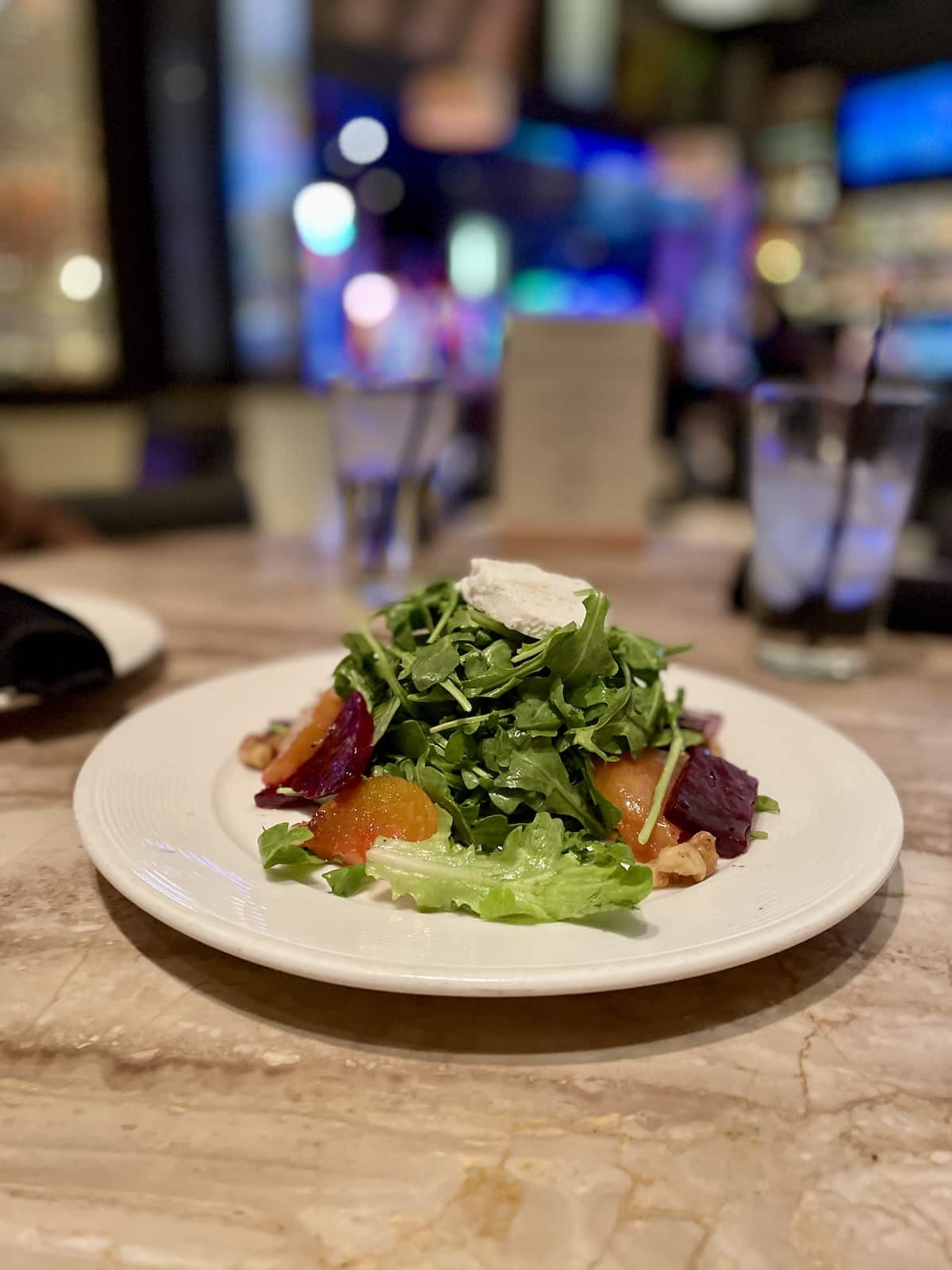 Il Fornaio is known for its desserts, so at least take a look at the menu.
Tip: For a fun evening activity if you love live music, the Bar at Times Square is very popular for their number-one-rated dueling piano show. You might want to arrive early as there was quite a line when we walked by.
Hours: Sunday-Thursday, 11:30 a.m.-9 p.m.; Friday-Saturday, 11:30 a.m.-11 p.m.
Dining at the elegant Cathedrale Las Vegas will make you wonder if you've been transported to the south of France.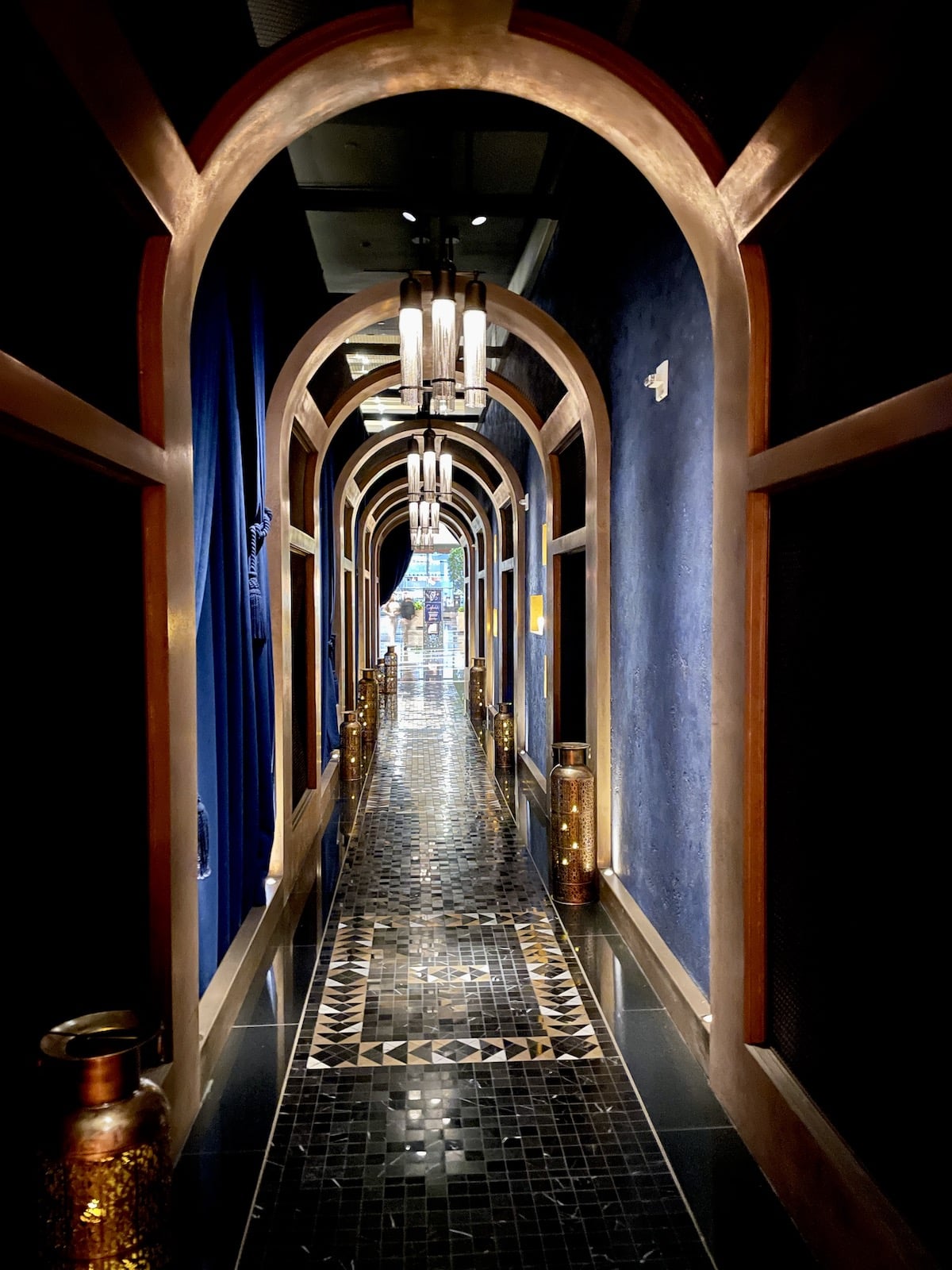 With Mediterranean influences from France, Spain, Italy, and Greece, each dish combines unique flavors that highlight coastal cuisine. If you love fresh seafood, this is the place or order it!
Start off with the warm dates appetizer with Marcona almonds and Roquefort cheese. It's a great blend of sweet and salty.
The tomatoes were so delicious. Why can't we get good tomatoes in Florida?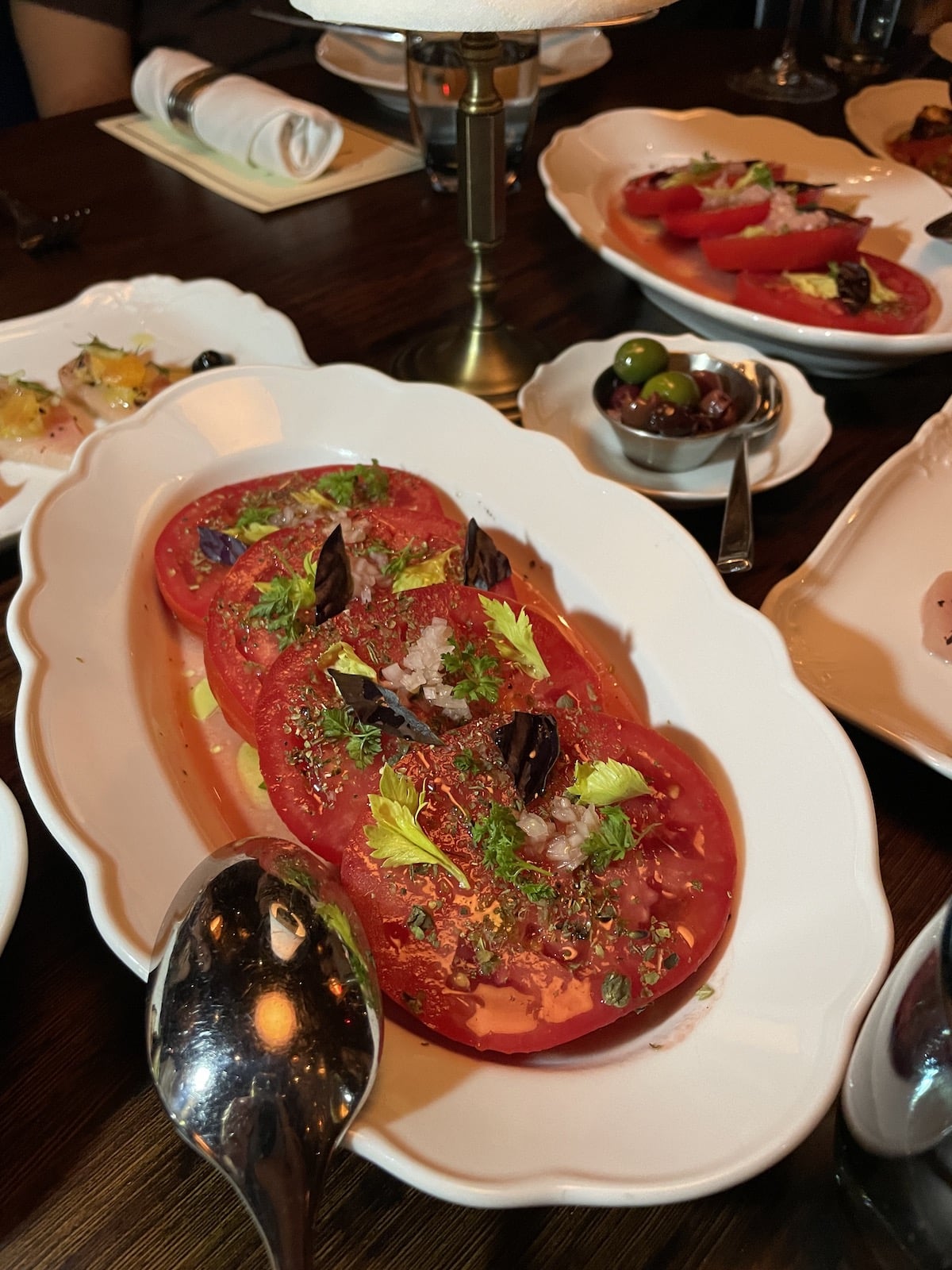 For a main course, the Grilled Branzino shines with a lemon caper sauce that makes sure to let the fish shine through.
The fun appearance of the Creste de Gallo Pasta provides a sense of whimsy to a comforting pasta dish with tomato confit and ricotta.
My strategy is to try a little bit of everything! We shared several dishes, which is my favorite way to dine.
Save some room for dessert! The tableside Crepes Suzette serves two and is the perfect blend of orange, vanilla, and caramel flavors.
Our favorites were the Greek Napoleon with shredded phyllo and the Pink Sorrento Lemon, which looked exactly like a fresh lemon and had the most amazing textures and flavor. One of the best desserts I've ever had!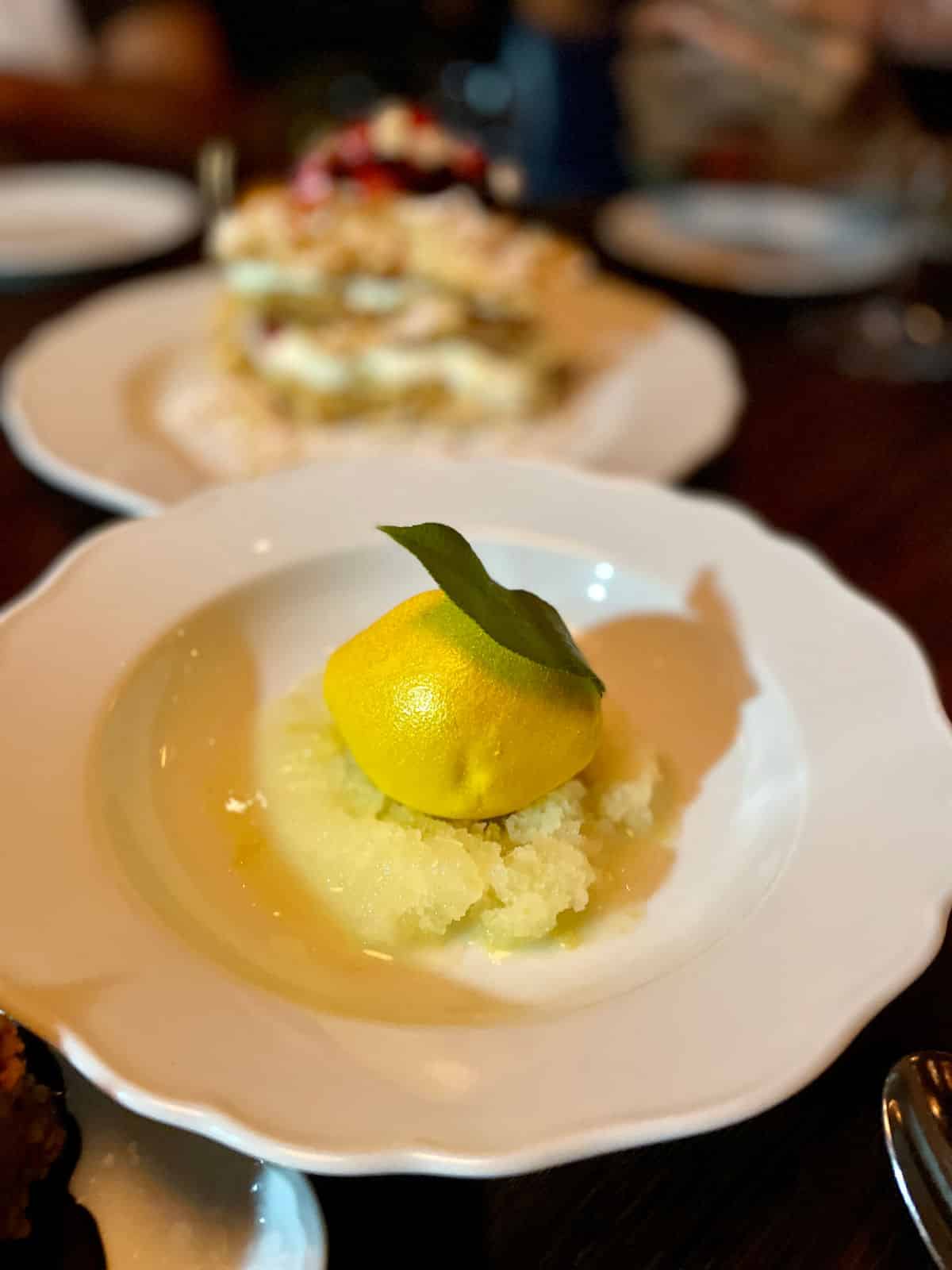 Hours: Sunday-Thursday, 5 p.m.-10:30 p.m., Friday-Saturday, 5 p.m.-11 p.m.
Eataly, located at the Las Vegas Park MGM, is a bunch of establishments under an Italian theme with a different dining experience depending on what you're looking for.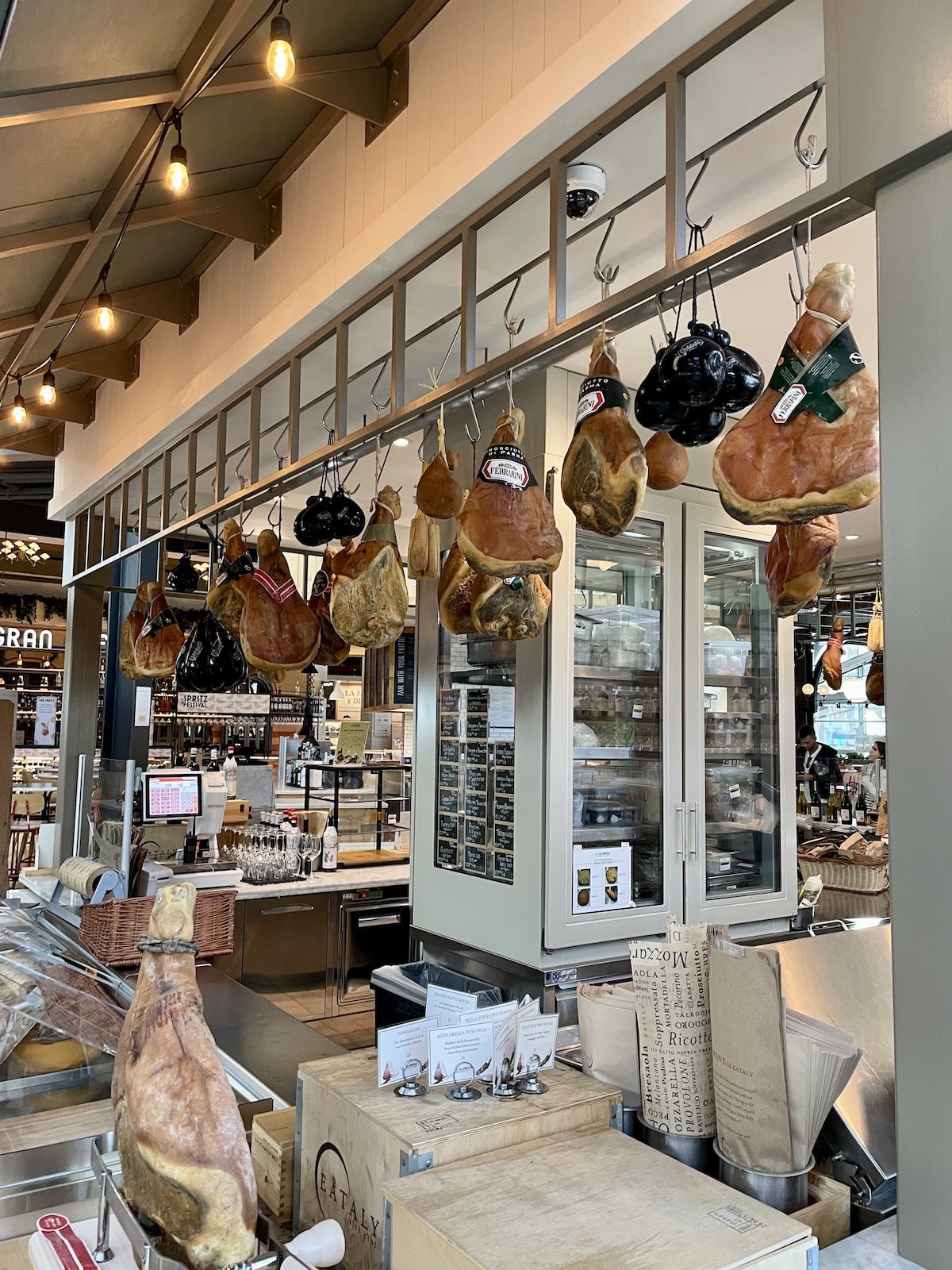 This location includes two sit-down restaurants, more than a dozen food stalls to order from, three bars, a marketplace, Chef's Table dining, and more. If you can't find something to eat there, you're just not looking!
If you can't decide what you want, head over to La Cucina del Mercato. Inspired by an open-air market, there are six booths so you can order different items from each one.
Try some cheese and antipasto from the Mozzarella Bar at La Salumeria or grab a panini from Italian Street Food.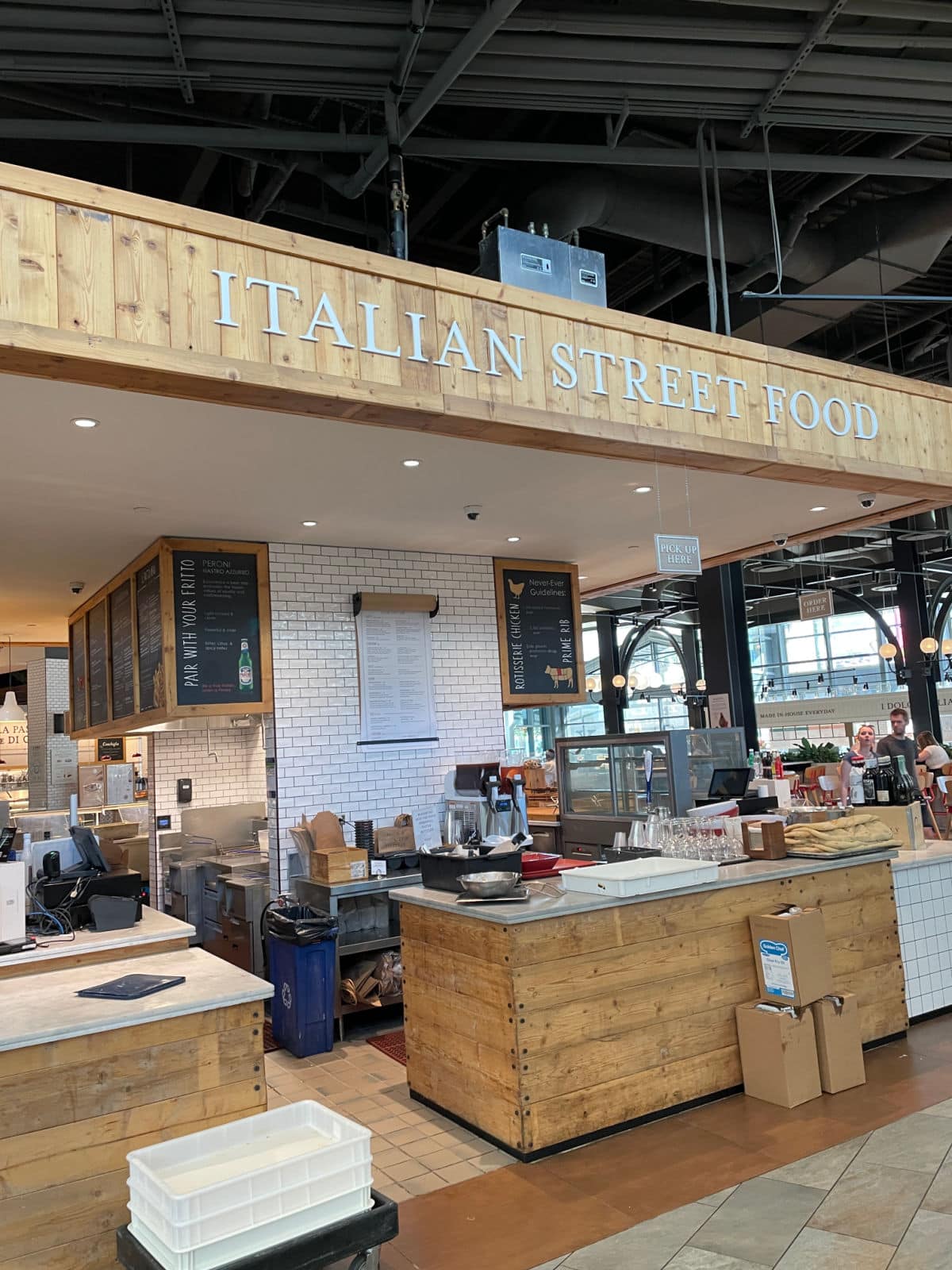 Order a carafe of Aperol Spritz for the table, and have a seat. The food will be brought out to you, and so you can just relax and enjoy sampling the best of Italy.
Eataly is also a great place in the morning. We ordered the crepes for breakfast and had some incredible cappuccino to get the day started.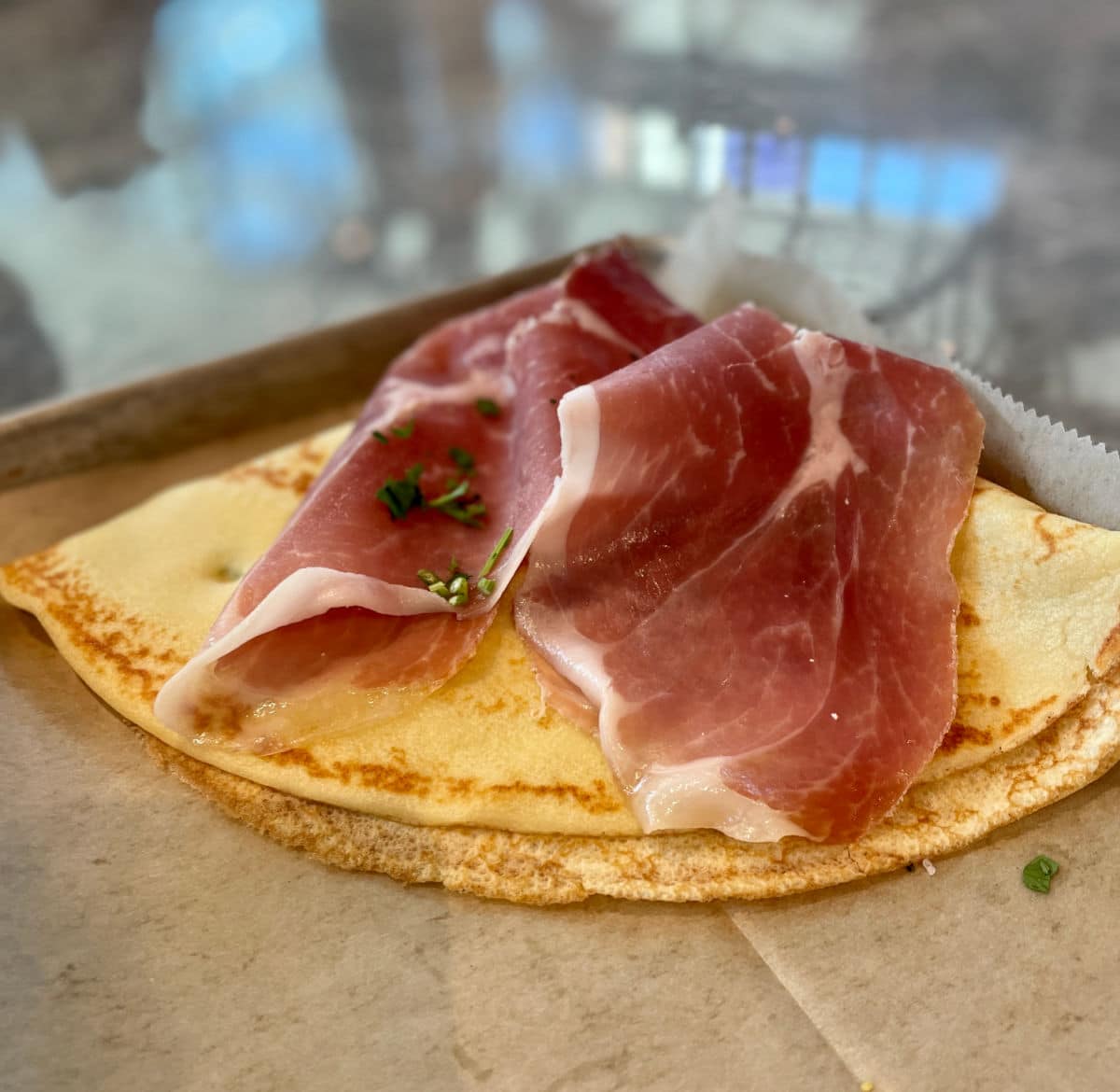 In addition, there's a variety of shops with hard-to-find specialty food items. I wish I'd brought a bigger suitcase!
Hours: daily from 7 a.m. to 11 p.m.
Located at the swanky Bellagio resort, Sadelle's Cafe offers great options for breakfast, brunch, and lunch. In fact, it's known as one of the best brunch spots in all of Vegas.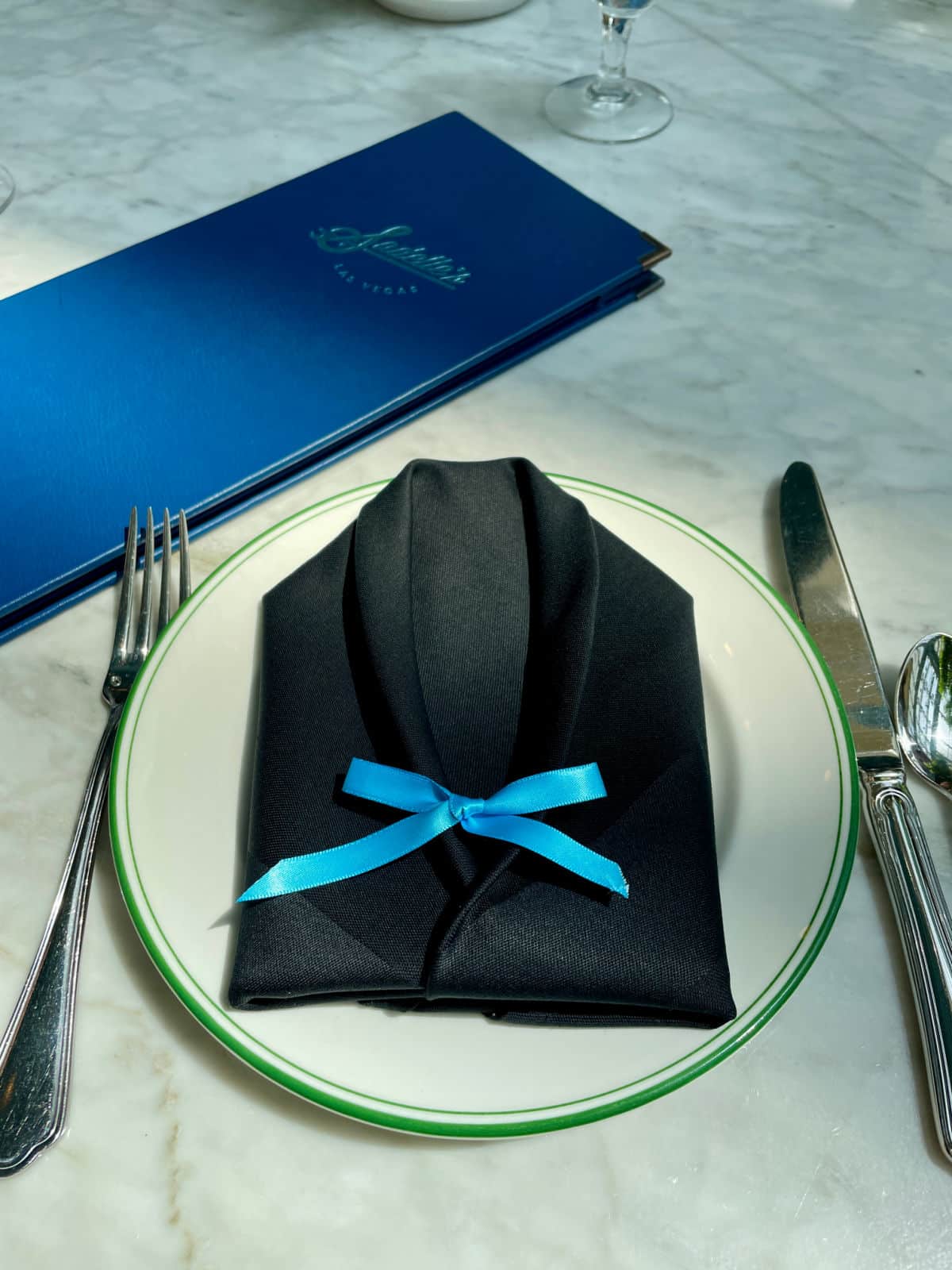 What makes this place special is that the views of the Bellagio Conservatory & Botanical Gardens are a feast for the eyes while you enjoy the incredible food.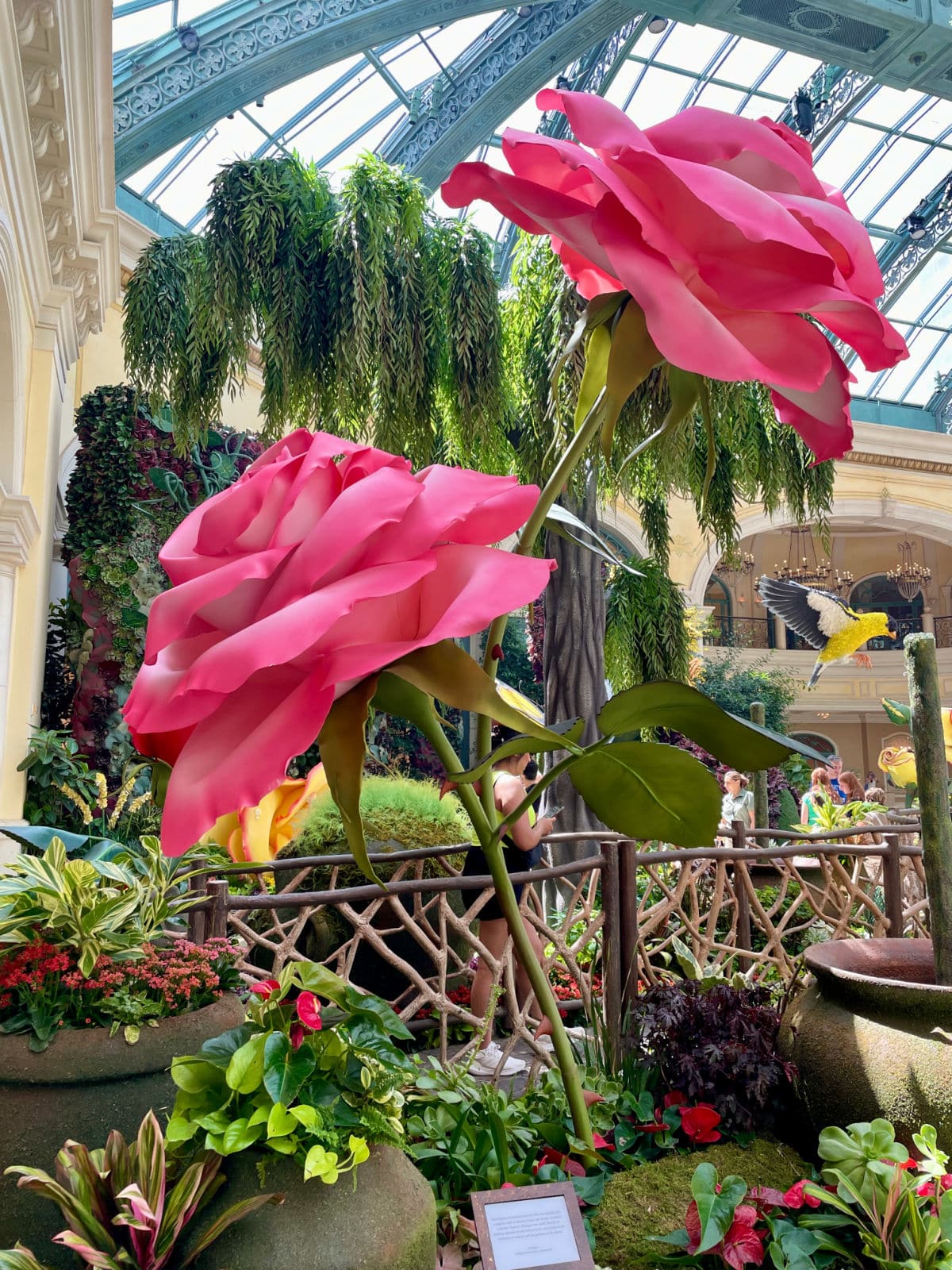 For a hearty breakfast or brunch, you can't go wrong with one of the omelets or benedicts.
For something lighter, have a bagel served with house salmon or whitefish salad. One of their huge salads will also make a delicious meal.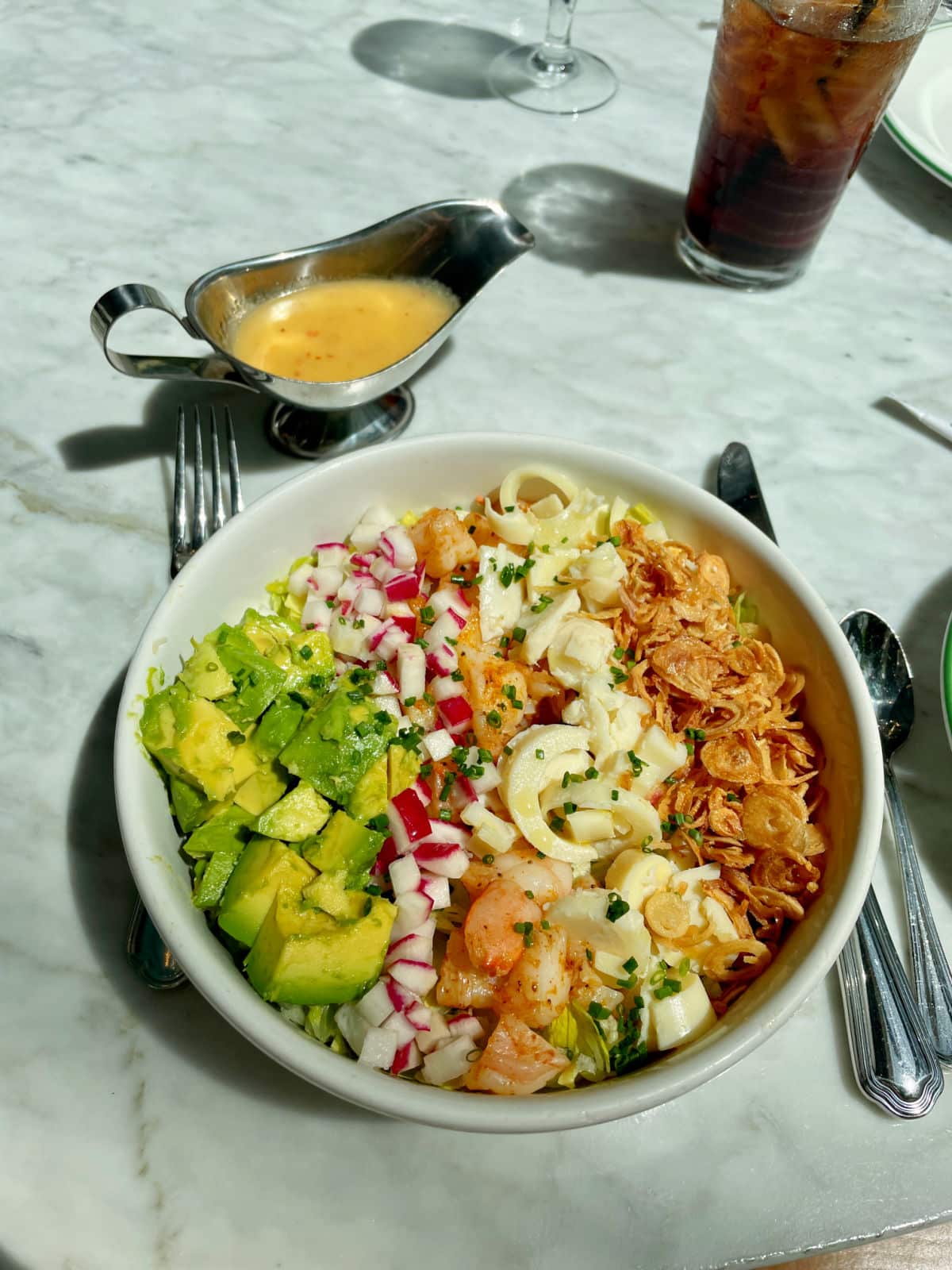 Lunch includes a variety of sandwiches, and on select days there are entrees available after 3 p.m. for the dinner seating.
The dinner menu foods focus on comfort, with items like Garlic Chicken and Mashed Potatoes or the Carbone Family Recipe for Rigatoni Bolognese.
This is one spot you must save room for dessert! Order the cheesecake if it's on special or the famous Strawberry Tall Cake!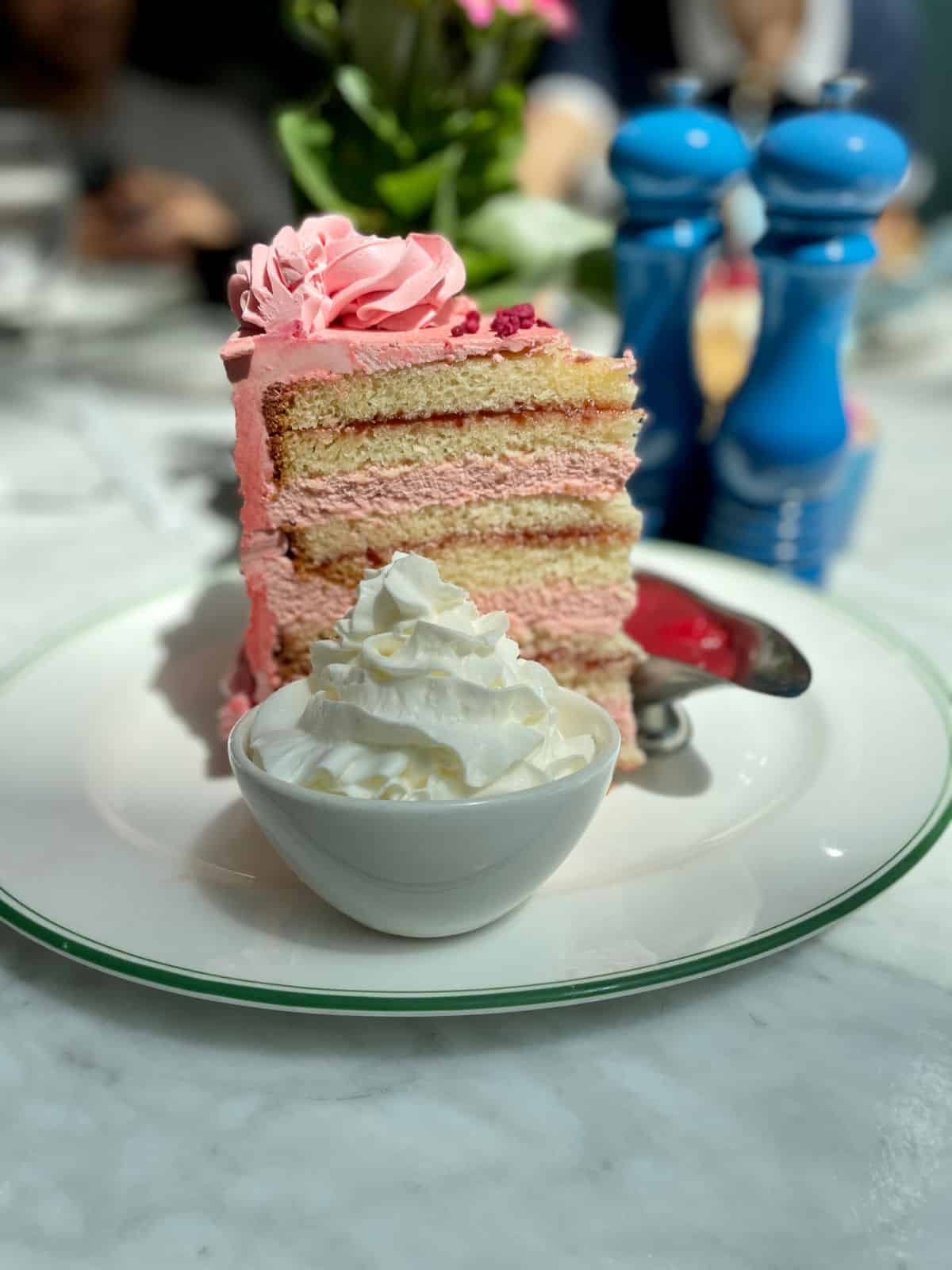 Hours: Sunday-Thursday, 6 a.m. to 3 p.m.; Friday-Saturday, 6 a.m. to 11 p.m.
Confuse your friends by mentioning the amazing meal that you had in Vegas – SpaghettiOs poured out onto your plate from the can. If that sounds like something interesting, swing on by Retro by Voltaggio.
The "VoltaggiO's" is a house-made pasta dish with arrabbiata butter and a giant meatball, but it really comes out with a can. This isn't your old after-school snack!
That gives some idea of the kind of retro-inspired whimsy you'll find here. The restaurant is an 80s- and 90s-inspired eatery from TV stars and celebrity chefs Michael and Bryan Voltaggio.
From classic dishes like Lobster Thermidor to Beef Pot Roast (made with Wagyu beef), these are dishes that have a familiar feel to decades gone by but have been elevated for their Vegas resort setting.
Be sure to try the favorite menu items Deviled Eggs from the snack menu and Shells with Cheddar Cheese Whizz from the sides. Both are sharable.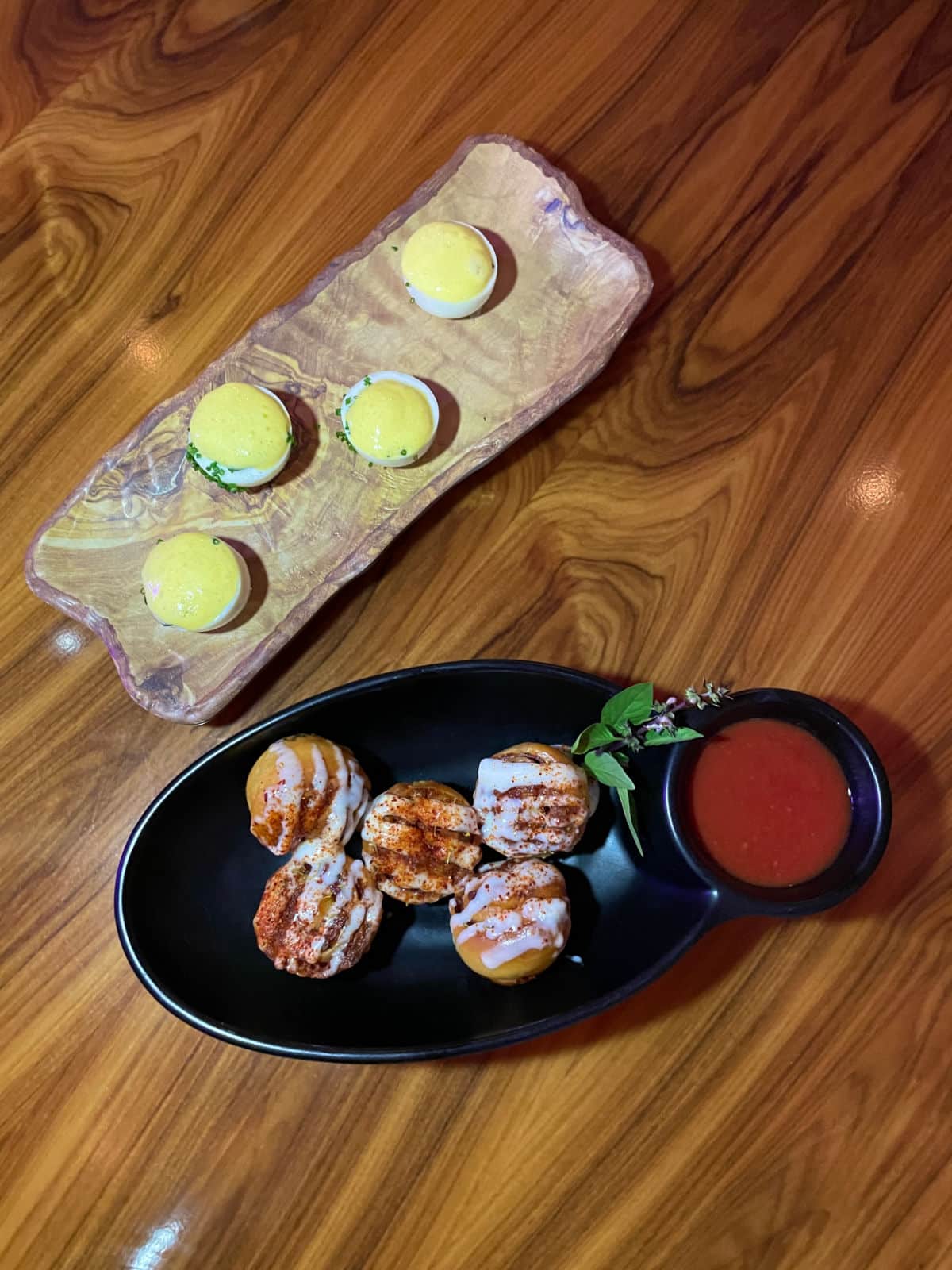 This is a great restaurant for a group, especially if you like to share drinks.
The Jungle Juice cocktail is a blend of rum, cognac, gin, lime, orange, passionfruit, honey, and orgeat and is served in a bowl to be shared by three or four people.
In short, this is one of the most fun places you'll find to let your 80s vibe shine.
Hours: Monday-Saturday, 5 p.m.-10 p.m.; closed Sunday
For a casual meal with a relaxed cafe dining vibe, head to the Overlook Grill at The Cosmopolitan. The restaurant is located next to the Boulevard Pool, which gives it that casual poolside vibe.
The food here consists of popular dishes like Shrimp Tacos, and an OG Double Smash Burger.
There are also healthy options, like a Whole Grain Bowl with vegetables, marinated chickpeas, and a savory vinaigrette. I went for the poke bowl, and there was nothing left of it when I finished!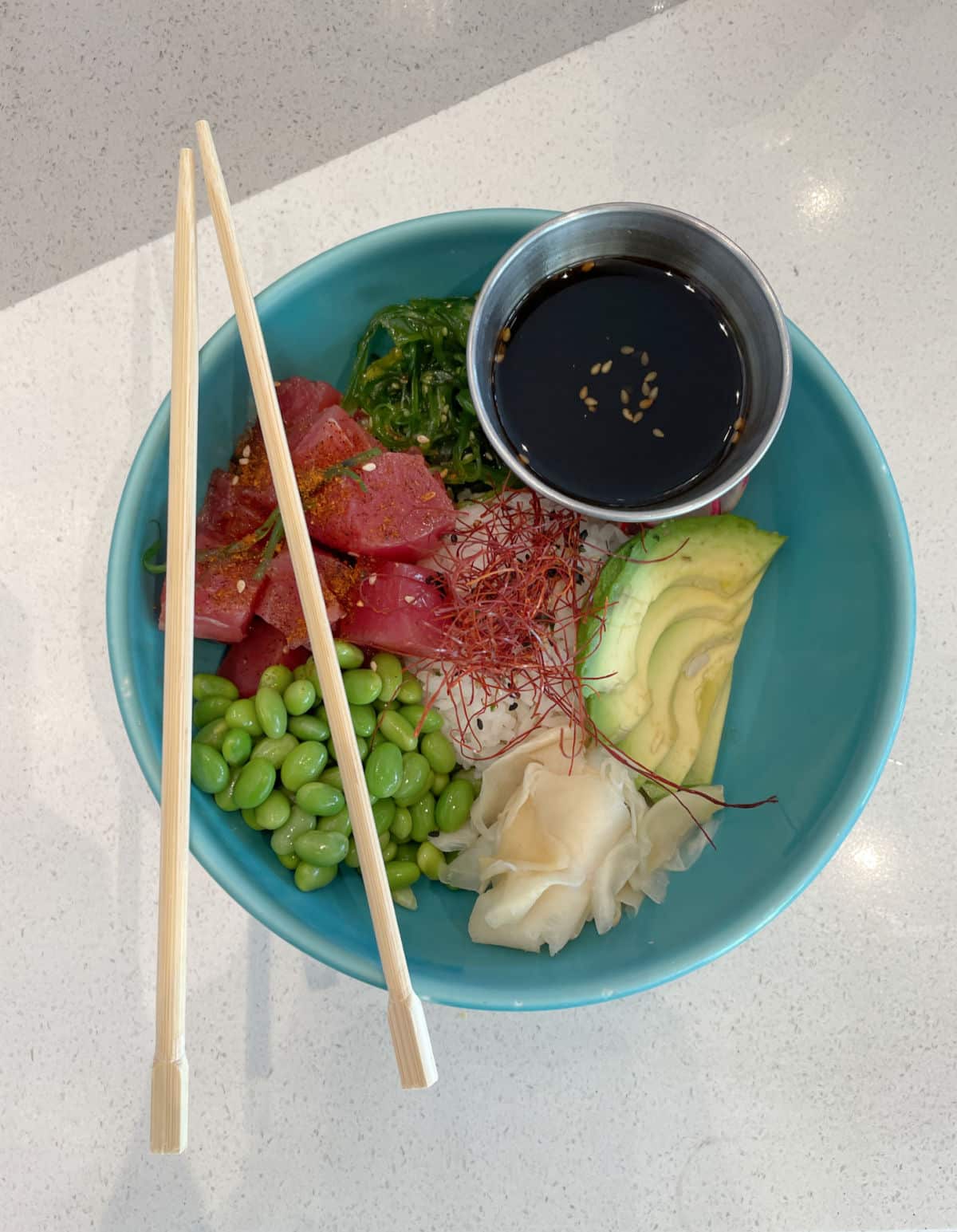 There are plenty of breakfast options as well, making it a great brunch option. And while many places offer bottomless mimosas, this place has their Rosé Today bottomless option, too!
3708 Las Vegas Boulevard South
Hours: Daily 8 a.m.-3 p.m.
Italian American Psychedelic Restaurant? This is the absolute craziest restaurant I have ever been to and the perfect spot for a small group of friends.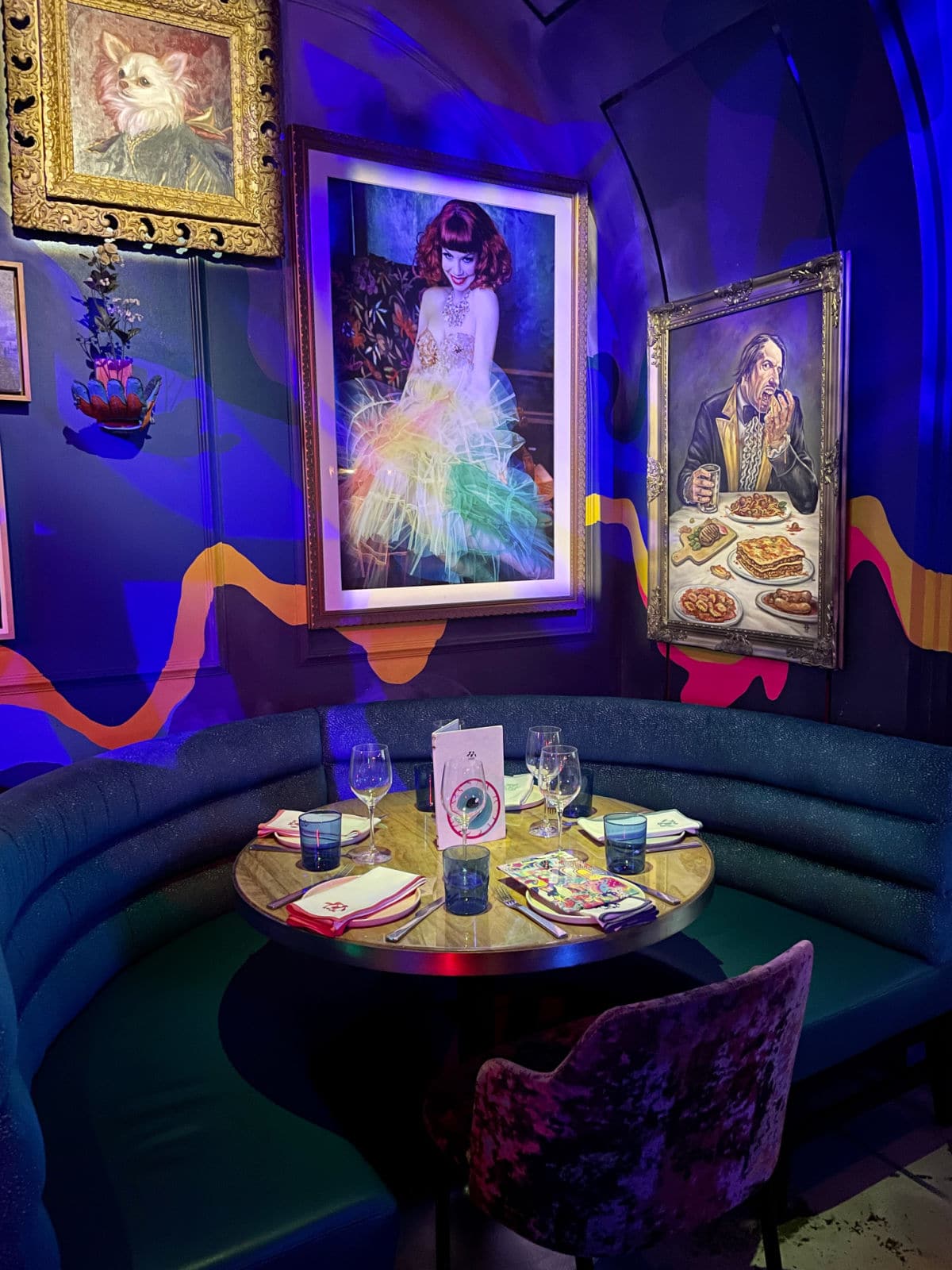 As far as the food goes, it's the type of menu you'd expect from any sort of Italian restaurant along the strip, with pizza, house-made pasta, and seafood dishes.
This is one of those spots that has such a great reputation for fun, they could get away with not-so-great food, but the food is actually amazing.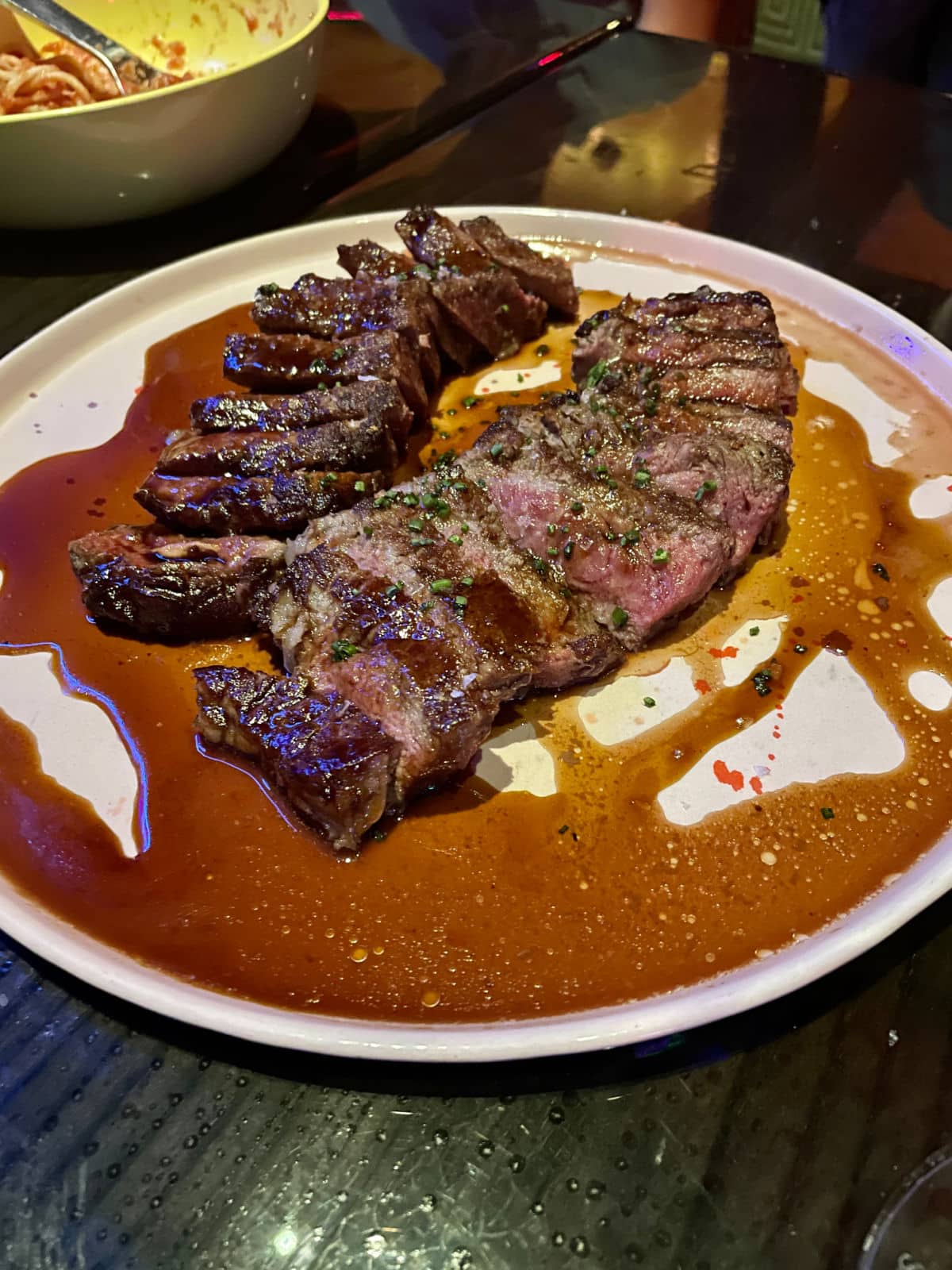 If you love cheese, make sure to try and get an order of the tableside mozzarella preparation!
But the real reason you dine here is for the experience. You've got the only restaurant on the Vegas Strip with an all-vinyl, all-the-time DJ.
There's brash and bold artwork everywhere. The location is set up with a main dining room and different themed rooms and lounges, like a cabin-style Ski Lodge.
There is a variety of live entertainment that might come strolling through, you might be inspired to get up and dance, and wild and crazy spontaneity pops up everywhere you look.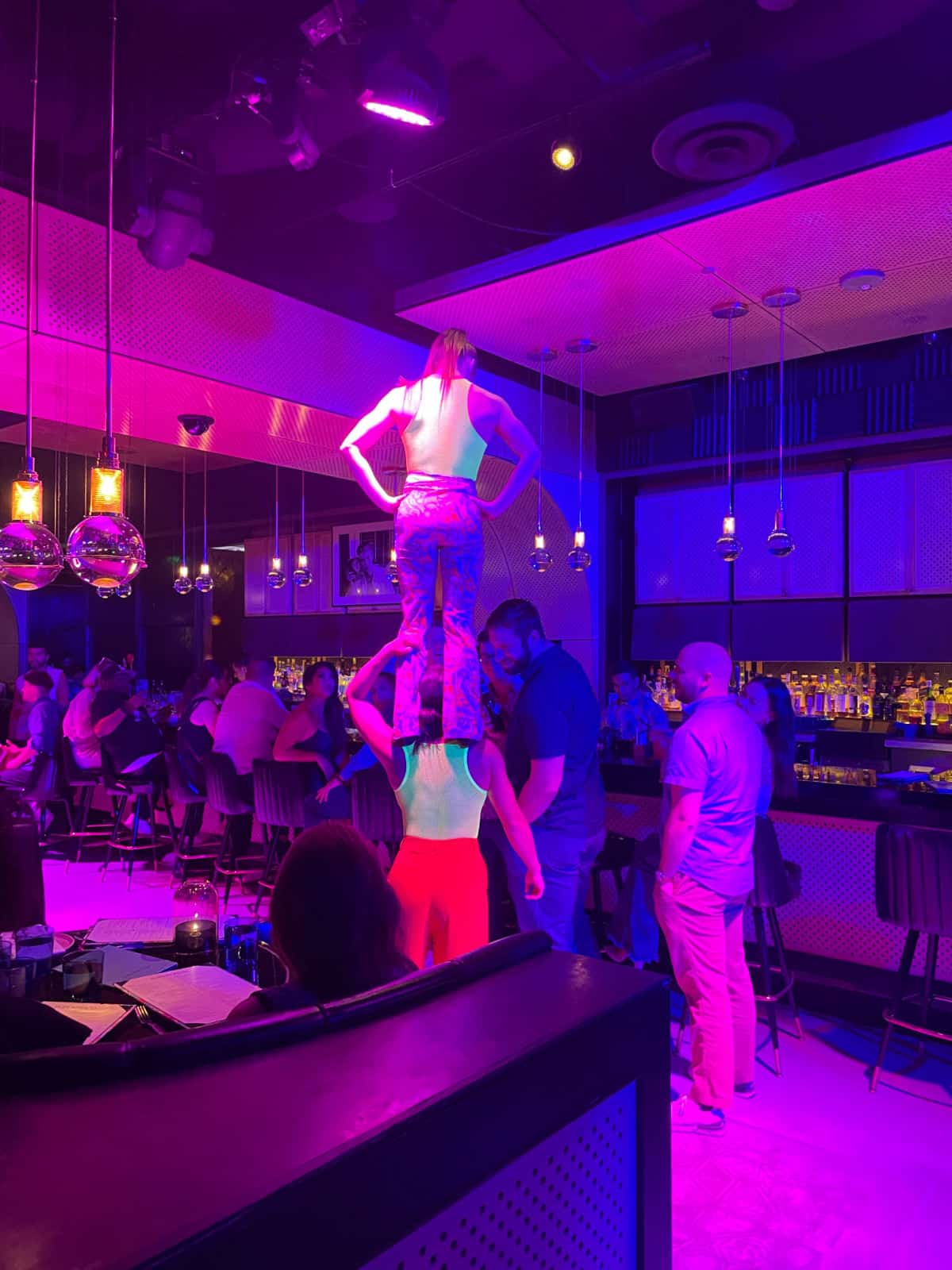 If you're looking for something that goes beyond just a meal and aren't afraid of going to what they describe as the "most Las Vegiest place" in Las Vegas, you've got to swing by here.
It is located next to Starship OPM, and so there's a lot of cross-over with the over-the-top vibes between the two places.
Without a doubt, this is the most unique Las Vegas restaurant I've visited and we had such a good time! This was definitely one of my favorite places we visited.
3708 Las Vegas Boulevard South
Hours: Open daily from 5 p.m. to 11 p.m.
From Michelin Award-winning chef David Chang of New York, this stylish contemporary Asian-inspired restaurant should be high on your list.
With pan-Asian options like noodle dishes, steamed buns, and dishes to share with a group, the menu is filled with unique flavors that are expertly blended to take your taste buds on a journey.
The 5 Spice Roasted Duck is a classic and serves 3-4. For a dish with a huge umami punch, try one of the ramen options, like the Pork Ramen with pork belly and shoulder and a poached egg.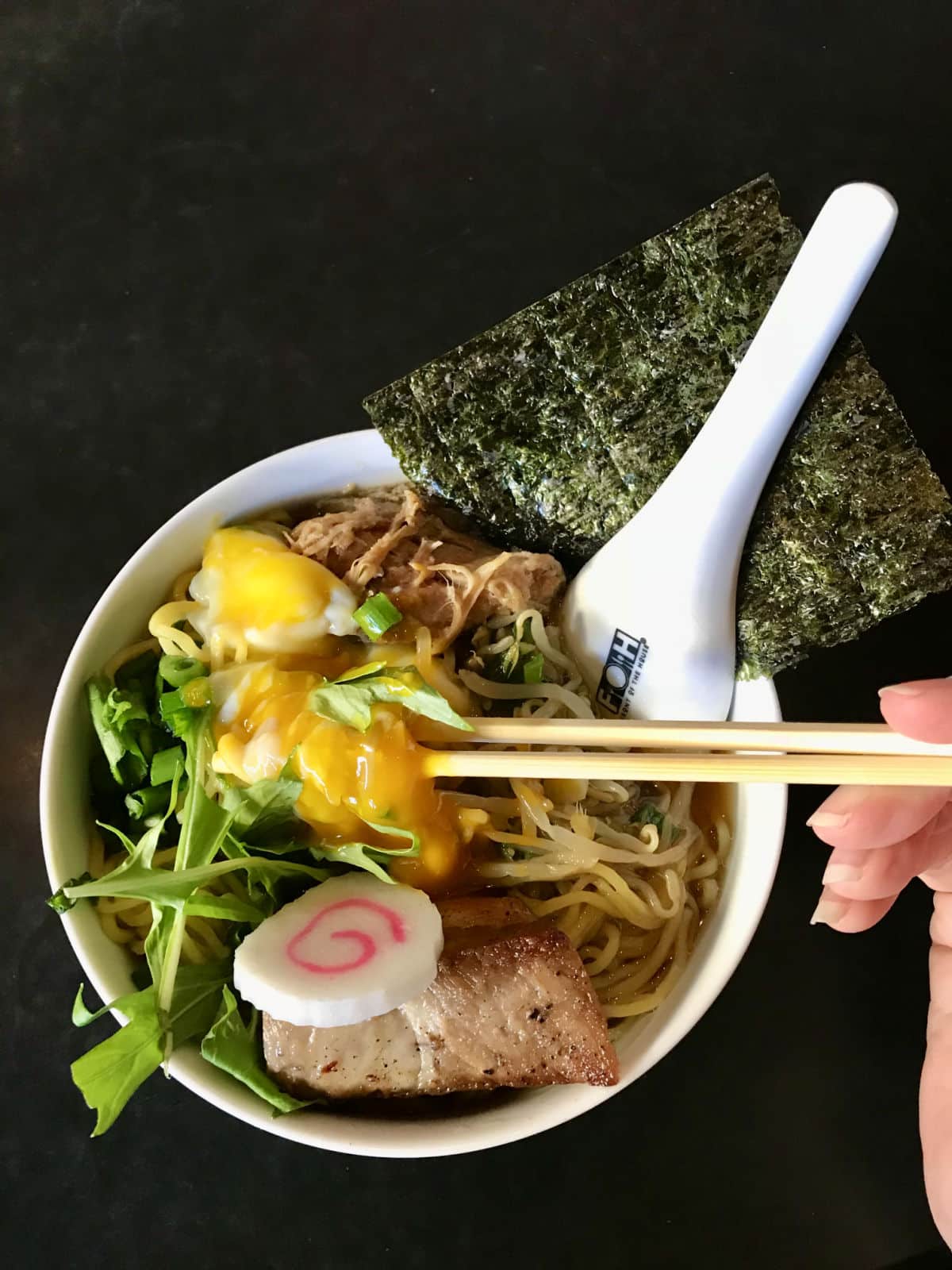 The menu changes daily, so you can never be completely certain what to find.
For a great way to try a bunch of flavors, go for the Chef's Seasonal Menu, available during Lunch. This three-course prix fixe menu also includes house ice cream for dessert in interesting flavors like Thai Tea or Black Sesame.
3708 Las Vegas Boulevard South
Level 2, Boulevard Tower
Hours: Lunch Daily from 11 a.m.-3 p.m.; Dinner: Sunday-Wednesday, 5 p.m.-10 p.m., Thursday-Sunday, 5 p.m.-11 p.m.
Looking for a quick bite to go? If you're wandering around the Grand Canal Shoppes in The Venetian and The Palazzo, look for a cute little street taco truck.
The Canonita Street Taqueria is a pretty shade of blue, it's adorable, and it has really good food!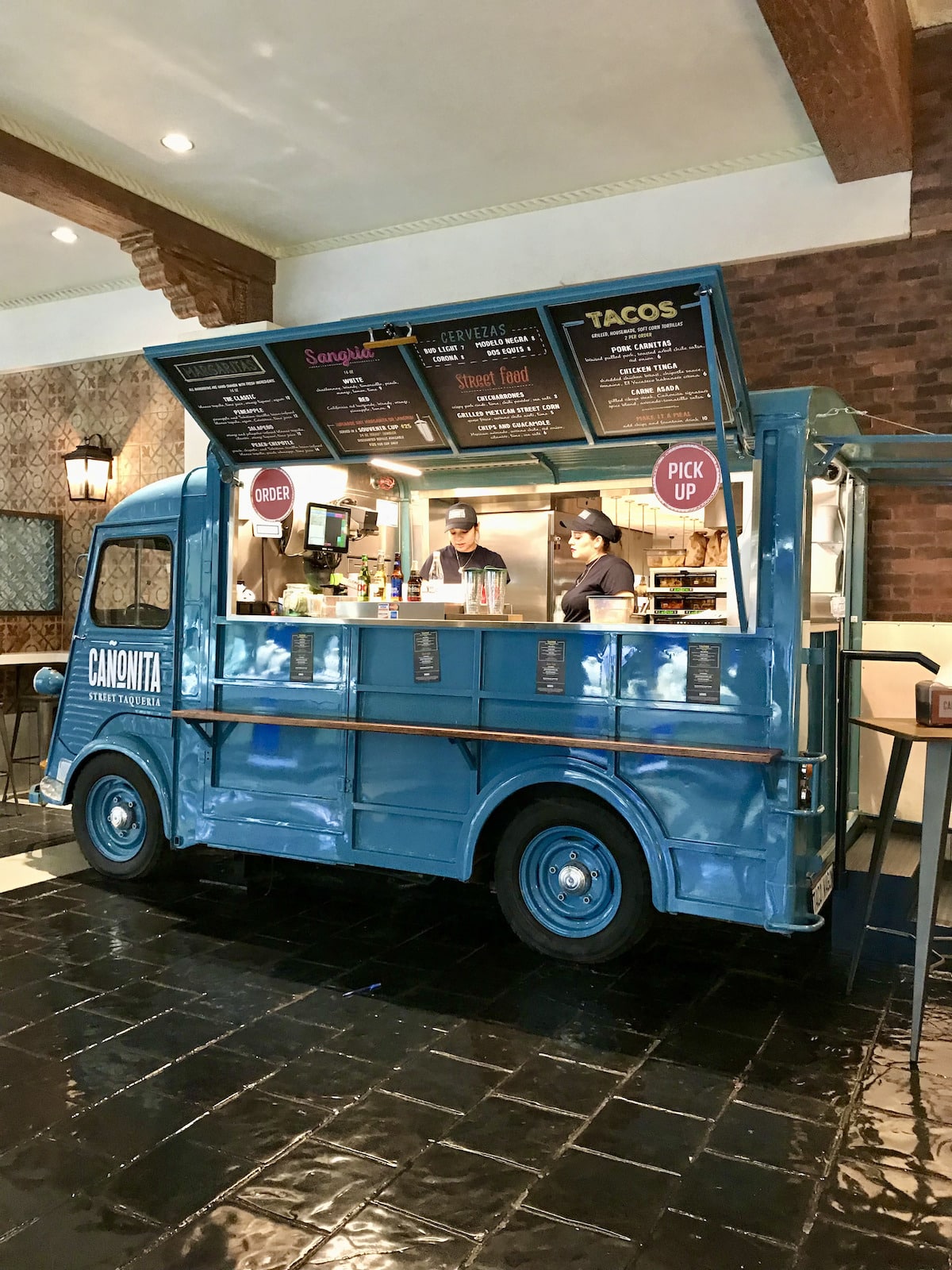 You'll find some amazing options like tacos, burritos, and snackable foods like chicharrones and chips and guac.
Even better, the prices are quite reasonable. You can get a soft or crispy taco on a house-made tortilla for $5 each or two for $9.
The flavors are bold and mouthwatering, like in the Chicken Tinga taco with its combination of chipotle sauce and El Yucateco habanero crema.
But even if you're not a huge fan of the heat, there are also some comfortable options like the Quesadillas or Tostada.
Grab a fresh, hand-shaken margarita or a glass of sangria, and you've got delicious food on the go!
Hours: Monday-Thursday 11 a.m.-10 p.m., Friday-Saturday, 10 a.m.-10 p.m.
Bin 702 at Fremont East
Located at Fremont East, you'll have a lot of choices, but I couldn't resist Bin 702. They have a bottle and board special that gets you a bottle of wine and a really popular charcuterie board.
I went with a couple of the montaditos: mini sandwiches on the most amazing crusty bread and filled with gourmet meats and cheeses. The turkey, fig jam, and smoked gouda sandwich was heavenly.
This is the perfect place for sharing as you can get 12 sandwiches for $40. Most people would probably eat 2-3, so that's a heck of a deal.
The wine list is long so ask for help pairing if you need it!
Hours: Monday-Thursday, 11 a.m. to 10 p.m.; Friday-Saturday, 11 a.m.-1 a.m.; Sunday, 11 a.m.-8 p.m.
Lip Smacking Foodie Tours
To experience a handful of amazing restaurants in just a few hours, consider booking Lip Smacking Foodie Tours.
This tour company does a great job taking you to 4 of the top restaurants in Las Vegas, you'll have so much fun.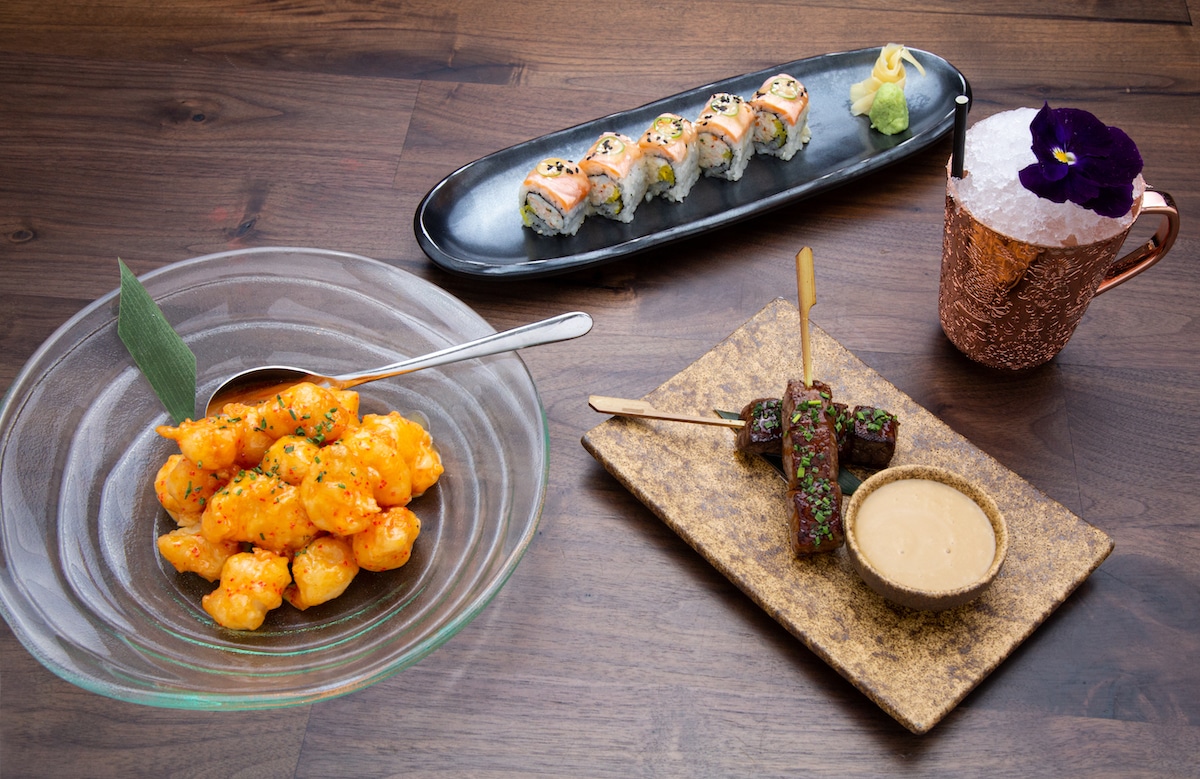 You don't have to wait in line and your table is always ready. Think it won't be enough food? I had a huge bag of leftovers I took back to my hotel!
This is a fabulous tour if you happen to be on your own for an afternoon as you'll meet new friends and be able to try a lot of different foods.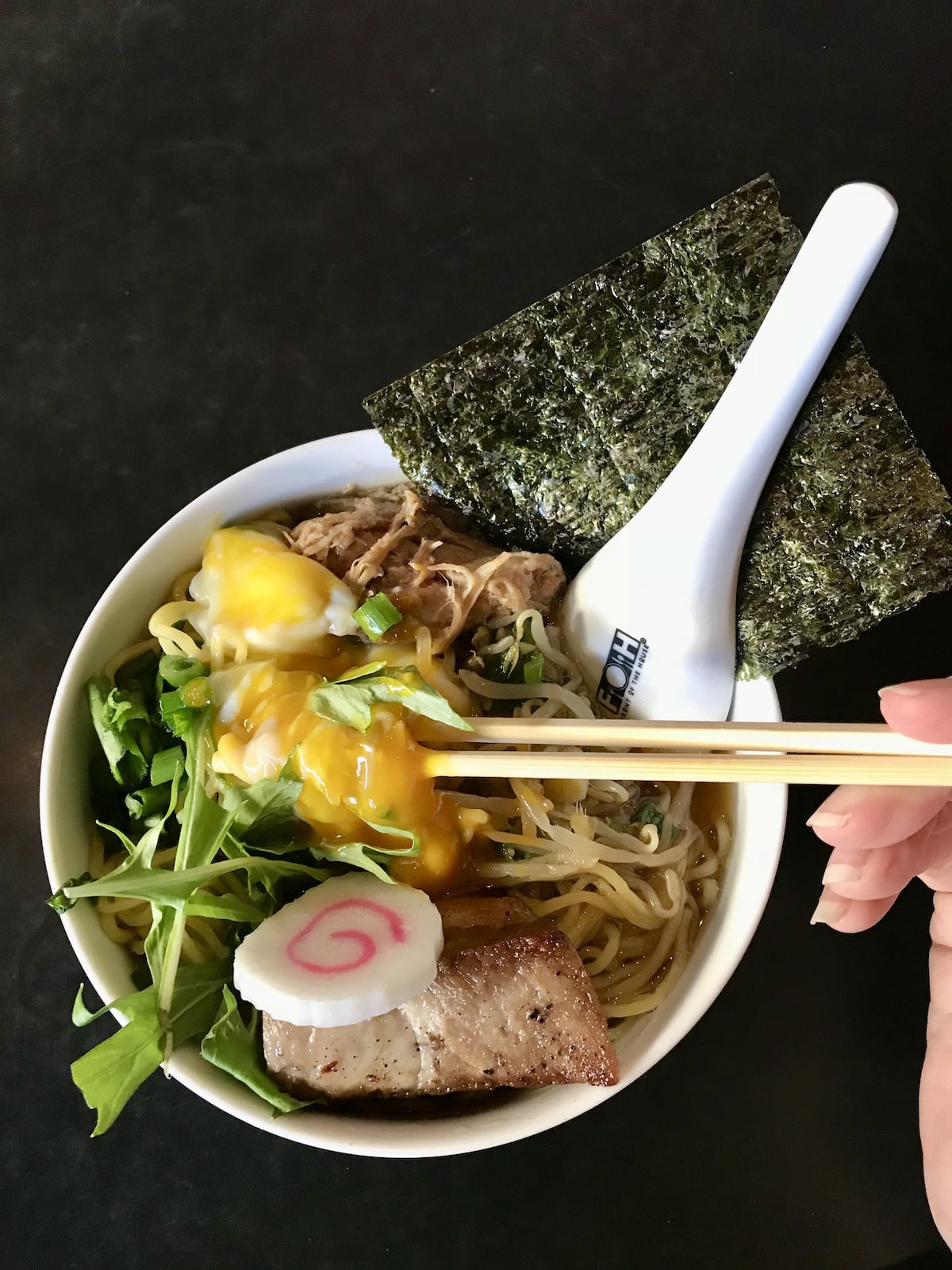 Other experiences along the way include meeting the chef and a guided walking tour giving you insider information about Las Vegas and some of the sights you pass en route to the next restaurant.
I was able to experience a few of the spots on this list as part of a Lip Smacking Foodie Tour and I would love go on one of their other tours!
Please note, the restaurants may change, but there are a lot of tours to choose from. My tour was the Afternoon Culinary Adventure, a 2 ½ hour tour. The price includes the guide, food, and gratuities.
Other Things To Do You Shouldn't Miss
Soar high into the air – or at least feel like you are soaring – with this Las Vegas attraction.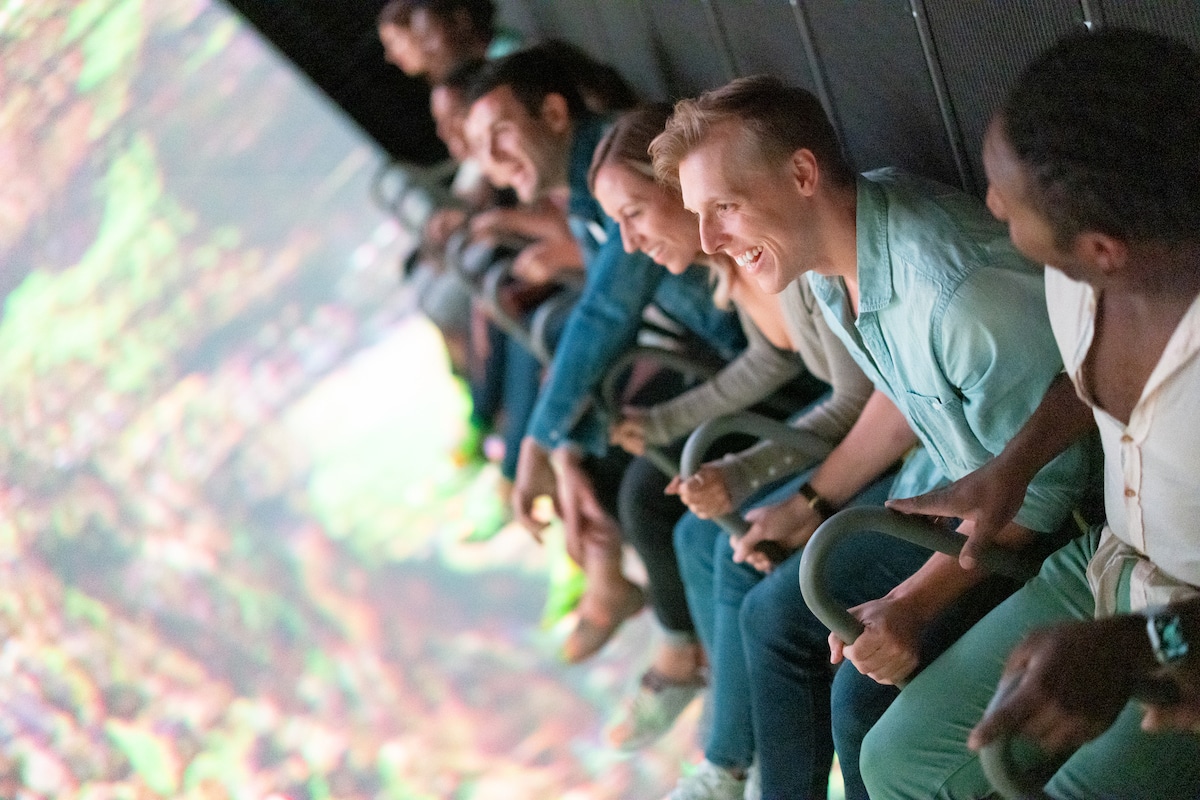 Through the magic of technology and multi-sensory effects, you will feel like you are actually flying over landscapes like the American West, the Canadian Rockies, or the stunning landscapes of Iceland.
The preshows are really good, too!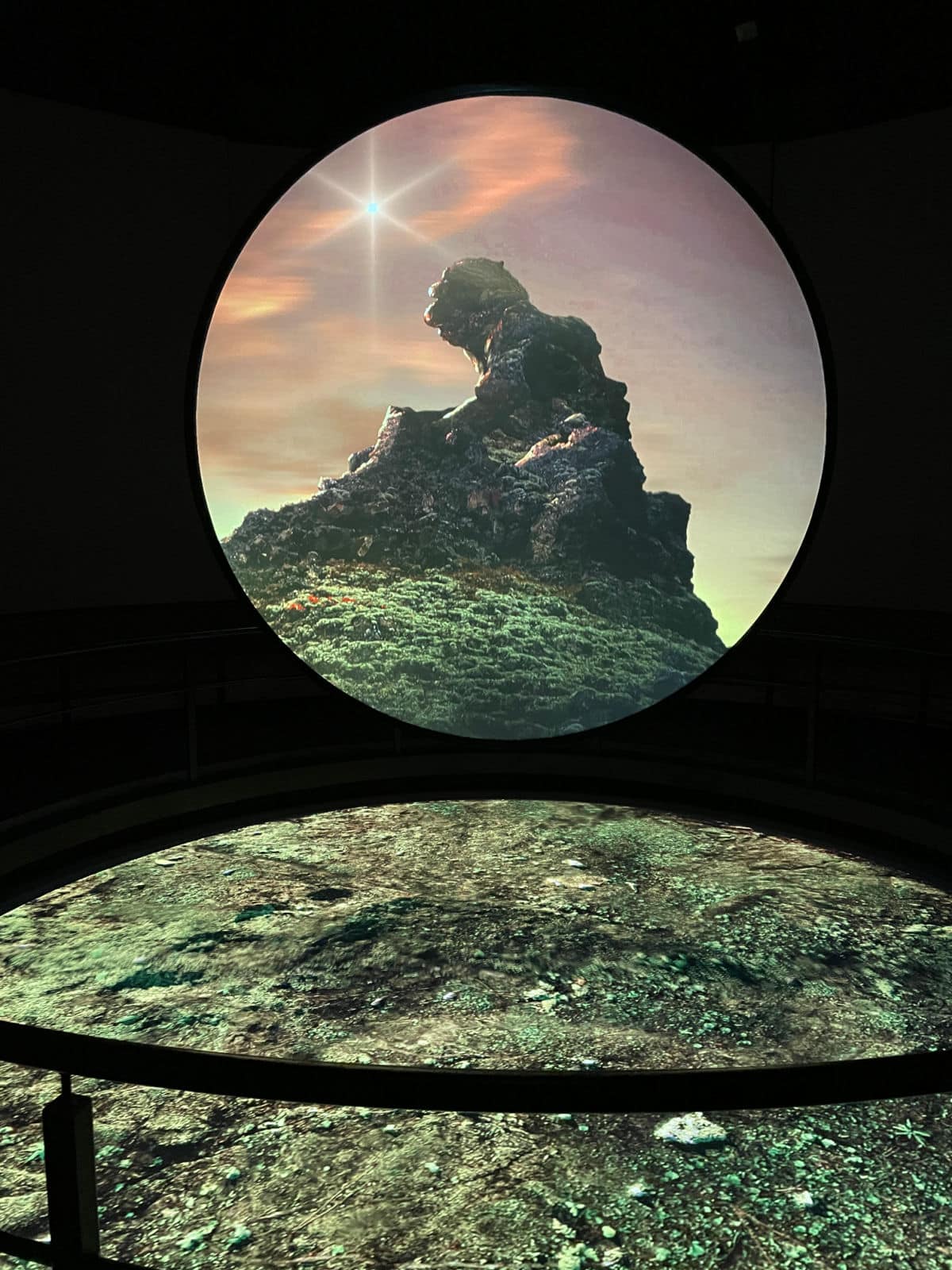 Before or after your flight, grab one of the signature cocktails at The Lost Cactus Bar. Some of the drinks are even themed to the attraction, like the Canadian Sky, Iceland's Fire and Ice, and Cactus Water.
What I really love about FlyOver is that it's a perfect family activity as well as a fun spot for a group to enjoy the experience along with cocktails and snacks.
3771 Las Vegas Blvd S, Suite 150
Bellagio Fountains
One of the most iconic sights., The Bellagio Las Vegas Fountains have daily shows where the water from more than a thousand fountains "dances" to different songs.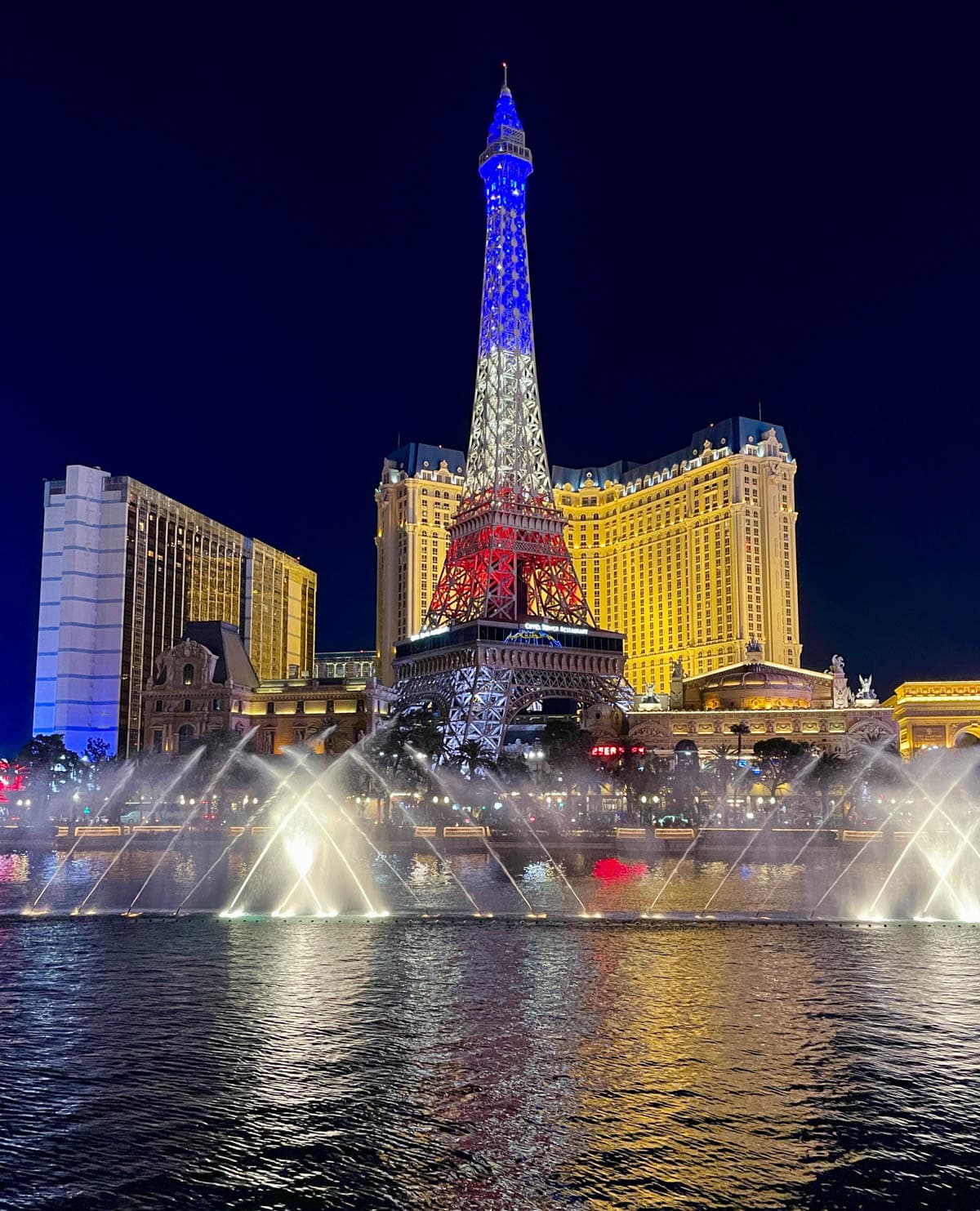 This is one of the best places to grab an impressive selfie at a recognizable Vegas landmark.
Vegas has always had a reputation for its hidden and seedy underbelly with mob connections. But how much is fact and how much is fiction?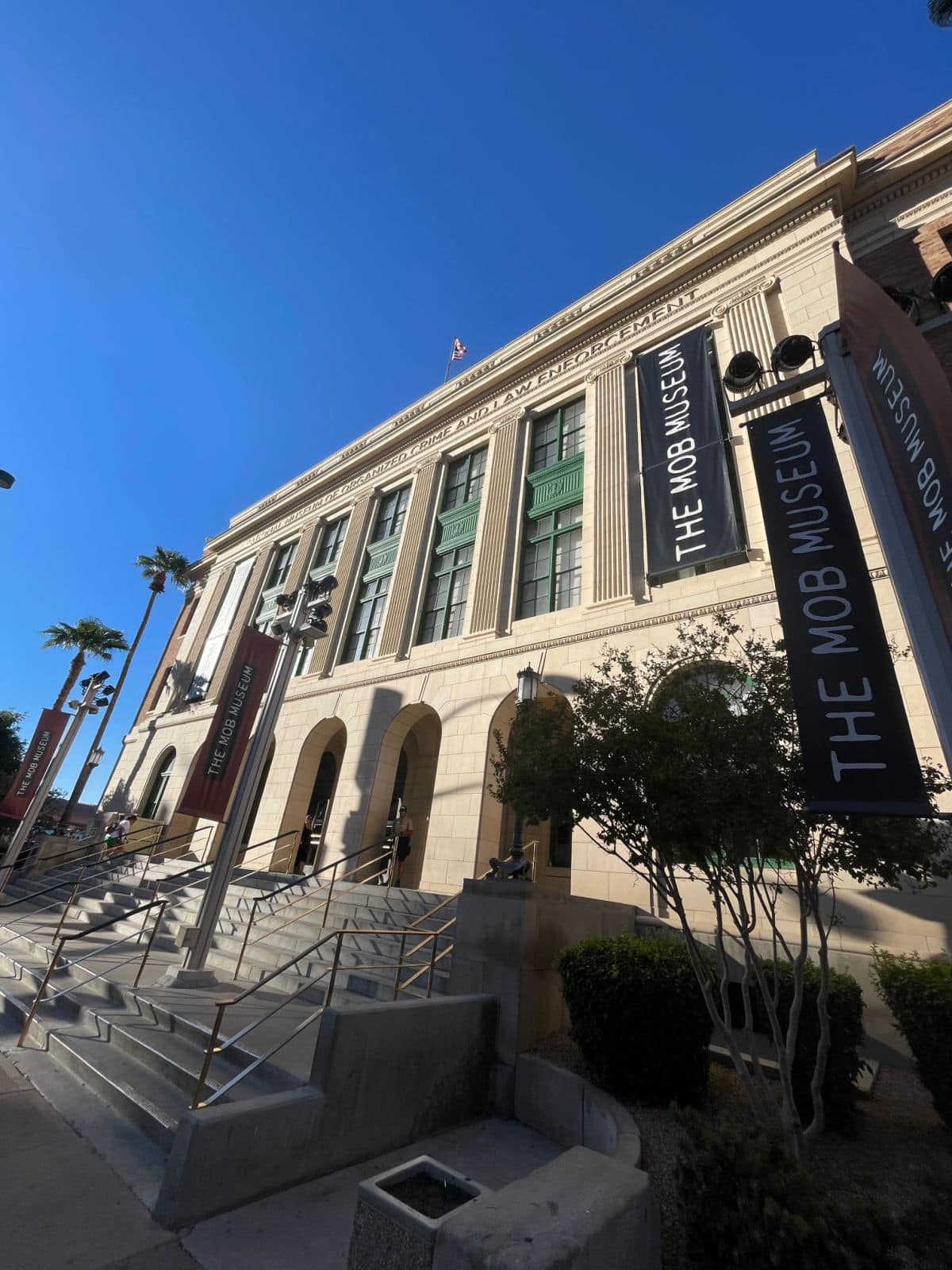 The Mob Museum, also known as the National Museum of Organized Crime and Law Enforcement, explores the history of the Mob in Vegas, from its time during Prohibition when speakeasies popped up all around the strop through to the modern day.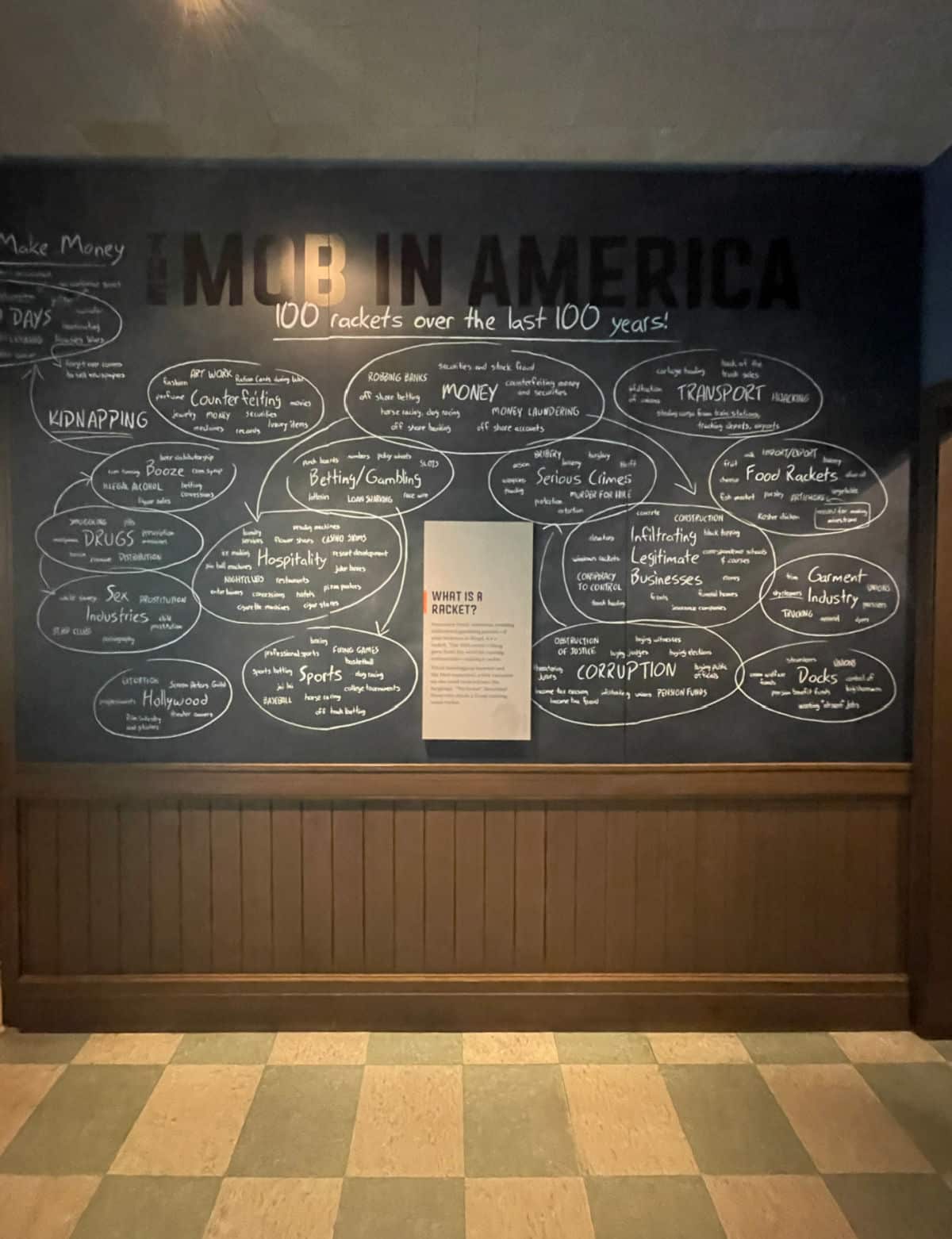 For the full experience, grab a drink from the hand-crafted cocktail menu at their very own speakeasy featuring drinks inspired by the Roarin' 20s.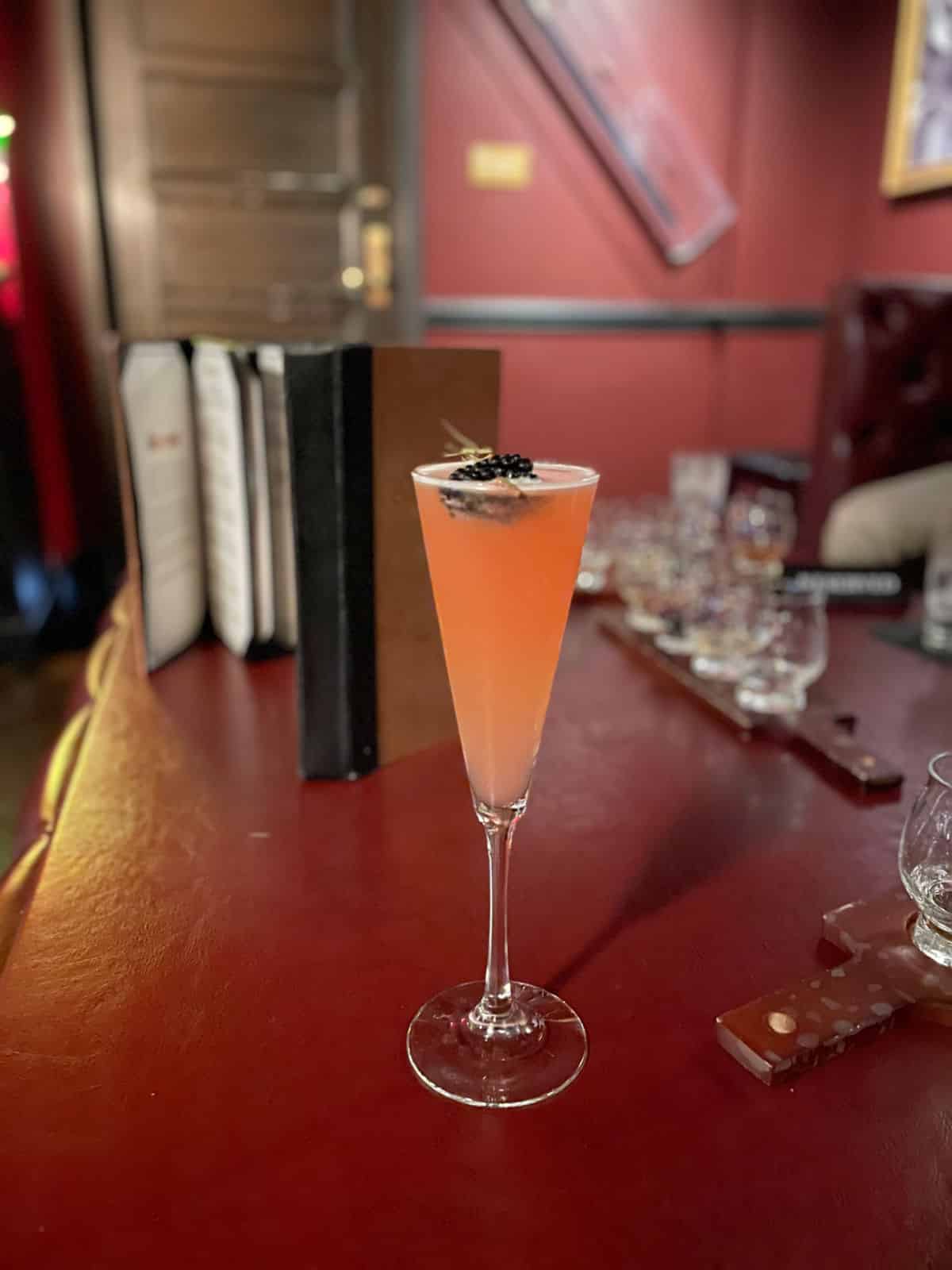 You can't think about the history of Las Vegas without images of the bright neon signs that lit up the strip at night. Over the years as places have come and gone, many of these neon signs fell into disrepair.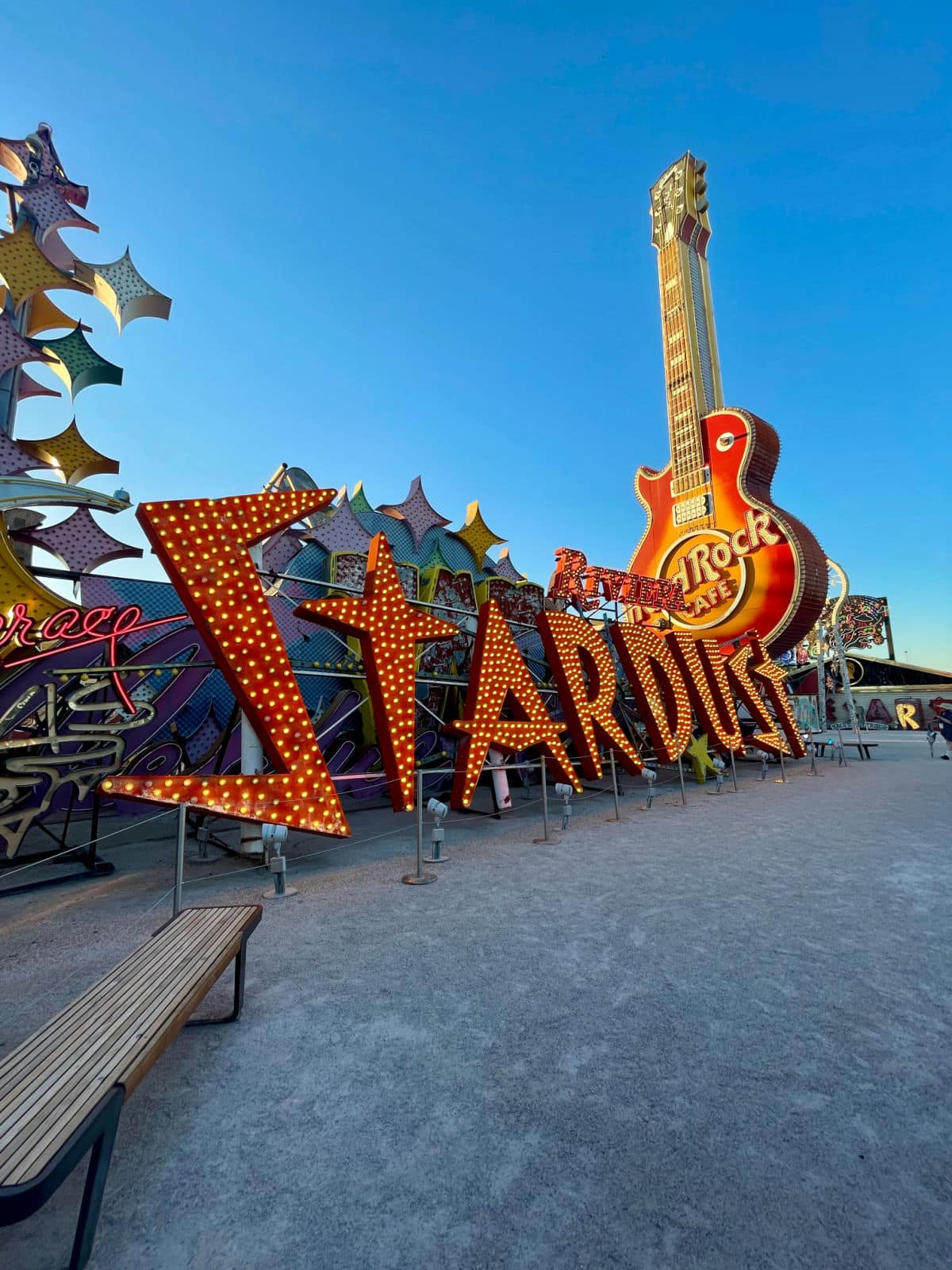 Thankfully, The Neon Museum has embarked on a path to preserve these works of modern art for their historic and cultural value.
Take some time to wander the Neon Boneyard and learn more about the history of these iconic signs.
I have to recommend a guided tour as the stories that go along with the signs makes it a fascinating walk through the history of Las Vegas.
This entertainment location in Sin City is out of this world! Starship OPM by Spiegelworld offers acrobatics and other performances with a sci-fi theme and humor.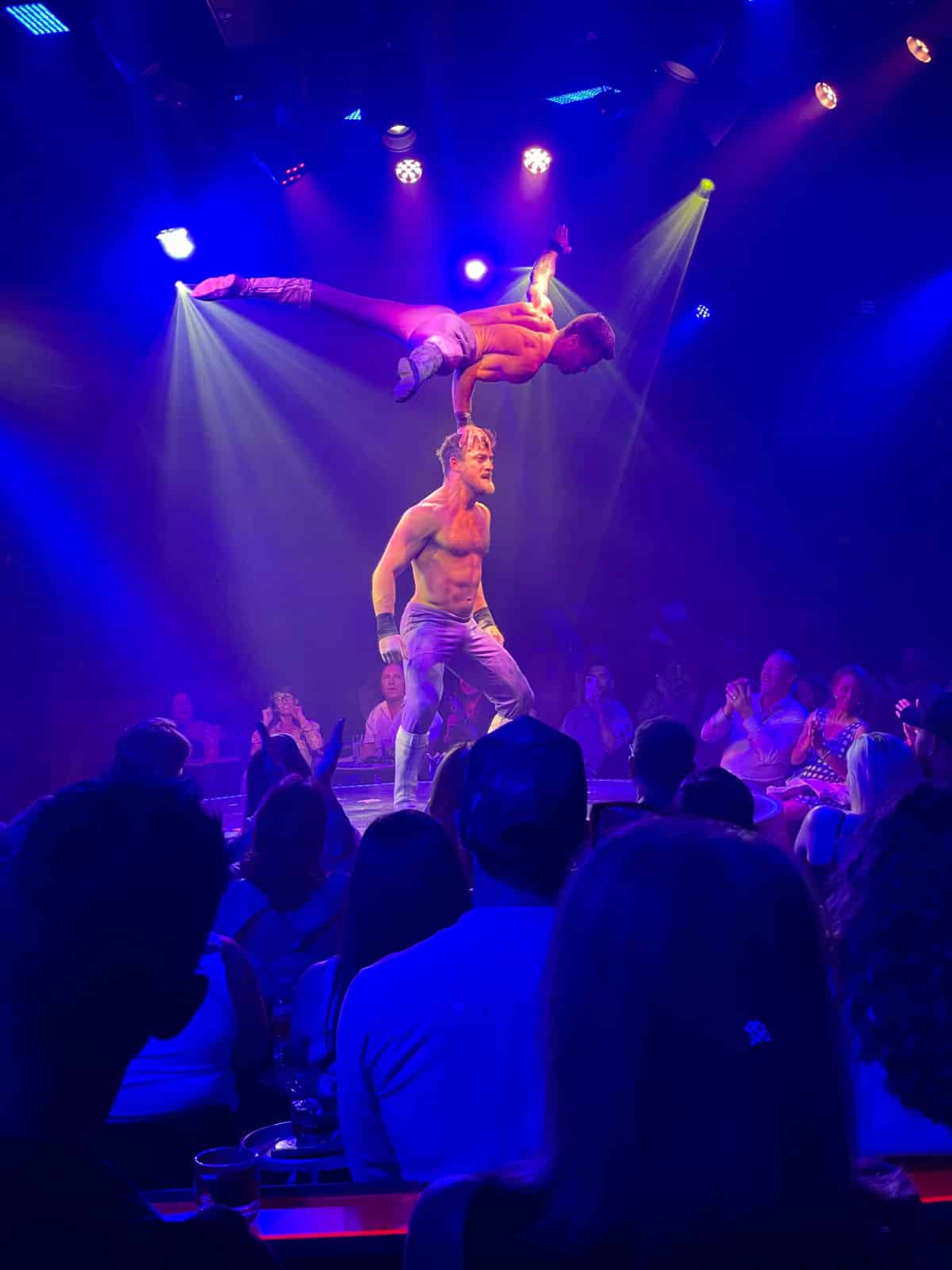 This show, located at the Cosmopolitan, is described as a sexy, space-themed carnival, and it is one of the more unique offerings on the Vegas Strip.
Where to Stay in Las Vegas
You'll have a plethora of choices of where to stay. I've stayed at several places, but I'm recommending one for a lower-priced option and one for luxury. I have personally stayed at both.
⭐ Recommended Better Priced Hotel
New York - New York Hotel & Casino is located at 3790 Las Vegas Blvd. S. and the rooms were nice. The lobby and casino area are fun and you'll have a lot of great restaurants right in the hotel.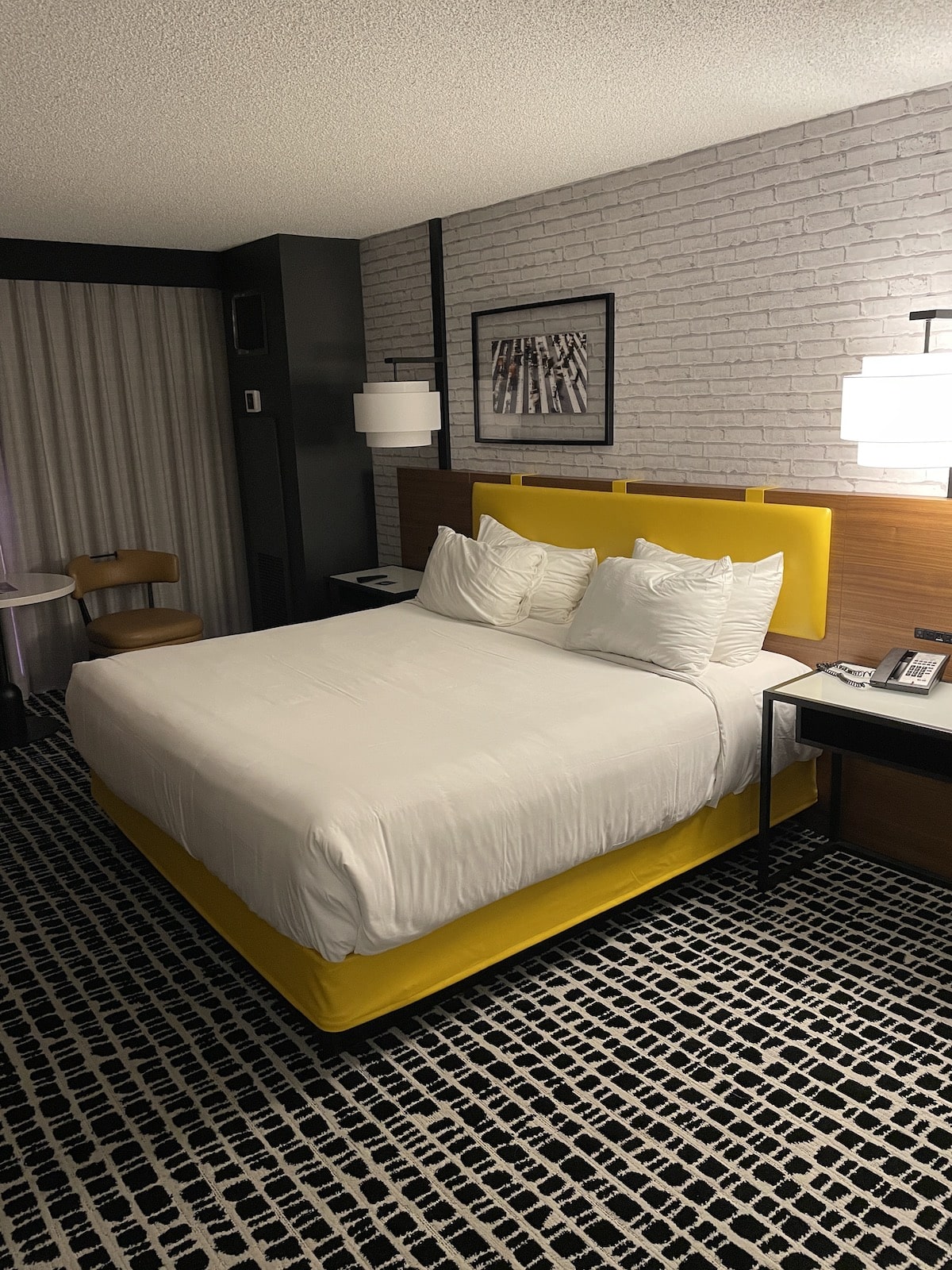 ⭐ Recommended Luxury Hotel
Wynn Las Vegas is a Forbes Five Star Luxury Hotel & Casino located at 3131 Las Vegas Blvd. S.
The rooms are luxurious and you'll also find great restaurants right in the hotel. Our room was larger in this hotel, but of course, the higher price went with the luxury.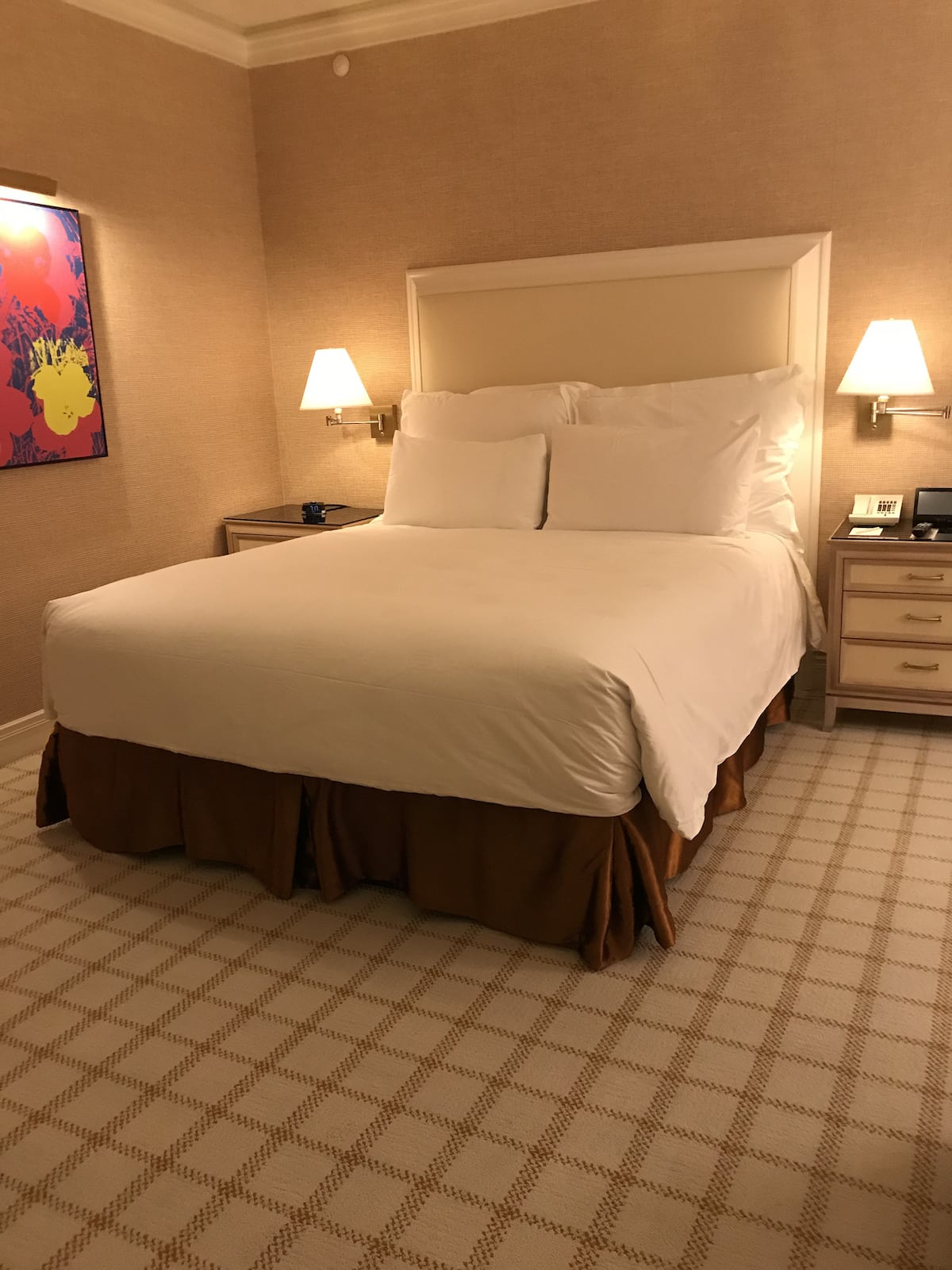 Frequently Asked Questions
Can you eat at a restaurant at a Vegas hotel if you're not staying there?
Absolutely! And while reservations aren't always required, it's a good idea to have them before you head on over to the location to avoid any disappointment. Hopping around from hotel to hotel to dine, gamble, or just wander around is one of the best things about Las Vegas.
Do you have to dress up for dinner in Vegas?
Some restaurants may have a dress code, but there are so many to choose from that you can easily find whatever suits your fancy (even if that doesn't include a fancy suit!).
From casual attire all the way up to formalwear, check with the restaurant's website to see about any dress code requirements, and to get an idea of the vibe before you set your heart on dining at one particular location. 
What is the best time to eat in Las Vegas?
For the best availability, go for an early dinner (between 3 p.m. and 5 p.m.). Best prices are usually available at lunch, and dining early (before noon) can also help with crowds. Don't assume that late-night dining will mean low crowds. There can be a rush on restaurants as evening shows let out, too. 
Top Tips for Dining in Las Vegas
Make a reservation as far in advance as you can. Some of the best restaurants may be full for dinner for months.
Lunch may be the best way to try the food if a dinner reservation isn't available. Most restaurants have the option to make reservations online.
Check out happy hour deals. Happy Hour specials may not only offer discounted prices for food and drinks, but some places also offer smaller dishes. This makes it wonderful if you want to try a little bit of everything.
If you're driving, research parking ahead of time. If you're planning to drive on your own, know where you're going to park, the prices they charge, and any other restrictions.
Each hotel sets its own parking rules, and this is especially important to know before you count on something like parking validation just because you're dining at their location.
Finally, if you're walking, wear comfortable shoes. What may look like a short walk can me much longer when you have to walk up steps to cross bridges over busy streets. (That's coming from experience!)
Did we miss one of your favorite fun places to eat in Las Vegas? Let us know your favorite restaurant so we can try it next time!
Like our content? Follow us on Pinterest!