Guinness draught is available in 120 countries, and wherever you find it, it's always delicious. However, the flavor is so much better in Ireland.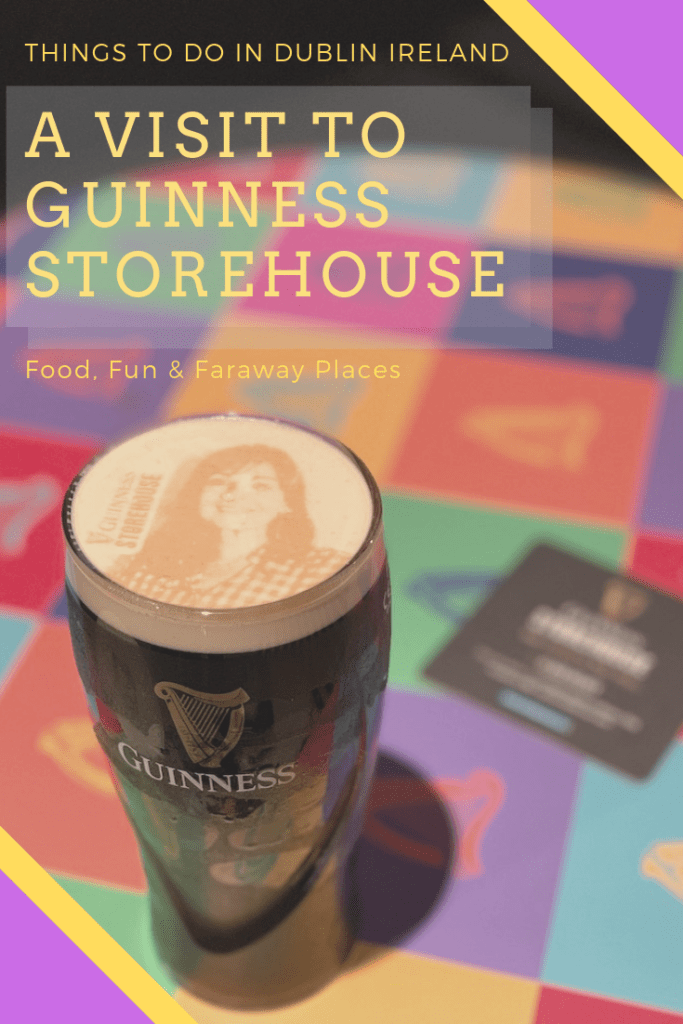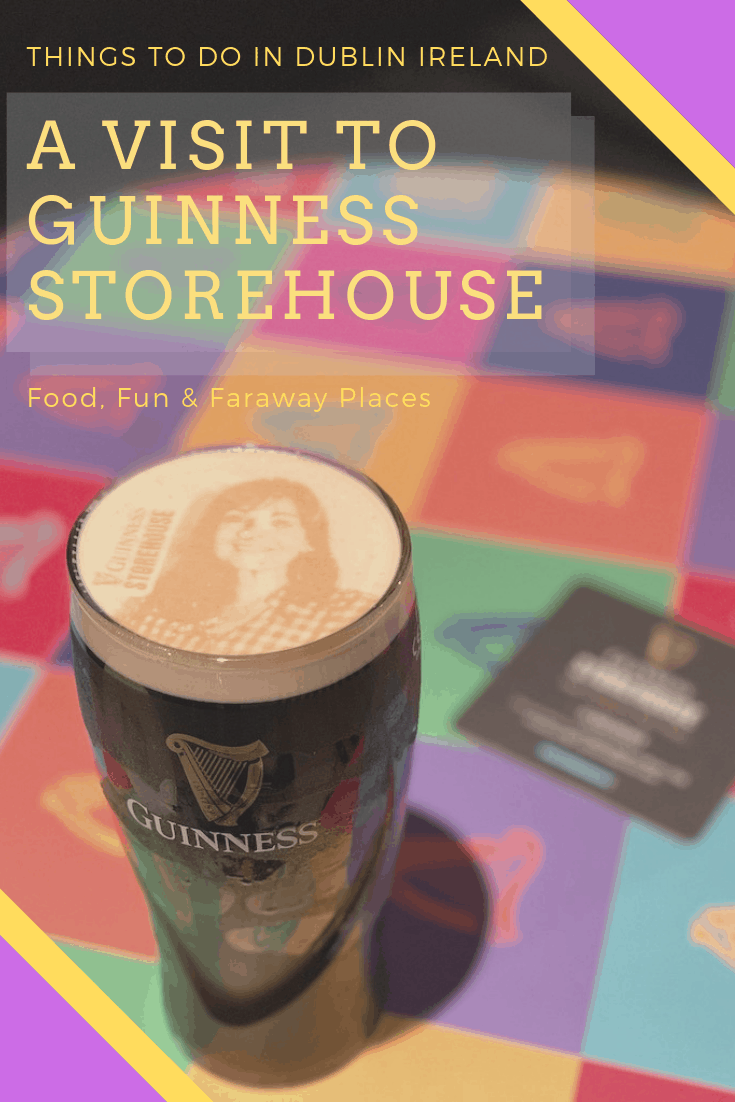 There is something special about drinking Guinness draught in Ireland.
I was thrilled to be invited to experience Ireland for the first time with Tourism Ireland and Steller, the creator of an amazing app for storytellers.
I've heard it said that Guinness tastes better there as you're closest to the source, which is true of course, and that the flavor just isn't the same after traveling.
Whatever the reason, a Guinness draught in Ireland is delightful. And with a rich brewing history going back to the mid-1700s, Guinness is an icon of beer.
So if you're a beer aficionado, or just love a good beer from time to time, drinking a pint of Guinness draught at the Guinness Storehouse in Dublin, Ireland is a must.
If you're not a beer drinker (what?!) you'll still enjoy this interactive experience. For history, beer, food, or all three, it's a must for any Ireland trip.
The History of Guinness Draught
Guinness draught was born at Arthur Guinness' brewery at St. James' Gate in Dublin, Ireland in the late 18th century.
Arthur Guinness began brewing ales in 1759 after signing a 9,000-year lease for an unused brewery. You can see the lease on the floor of the Storehouse.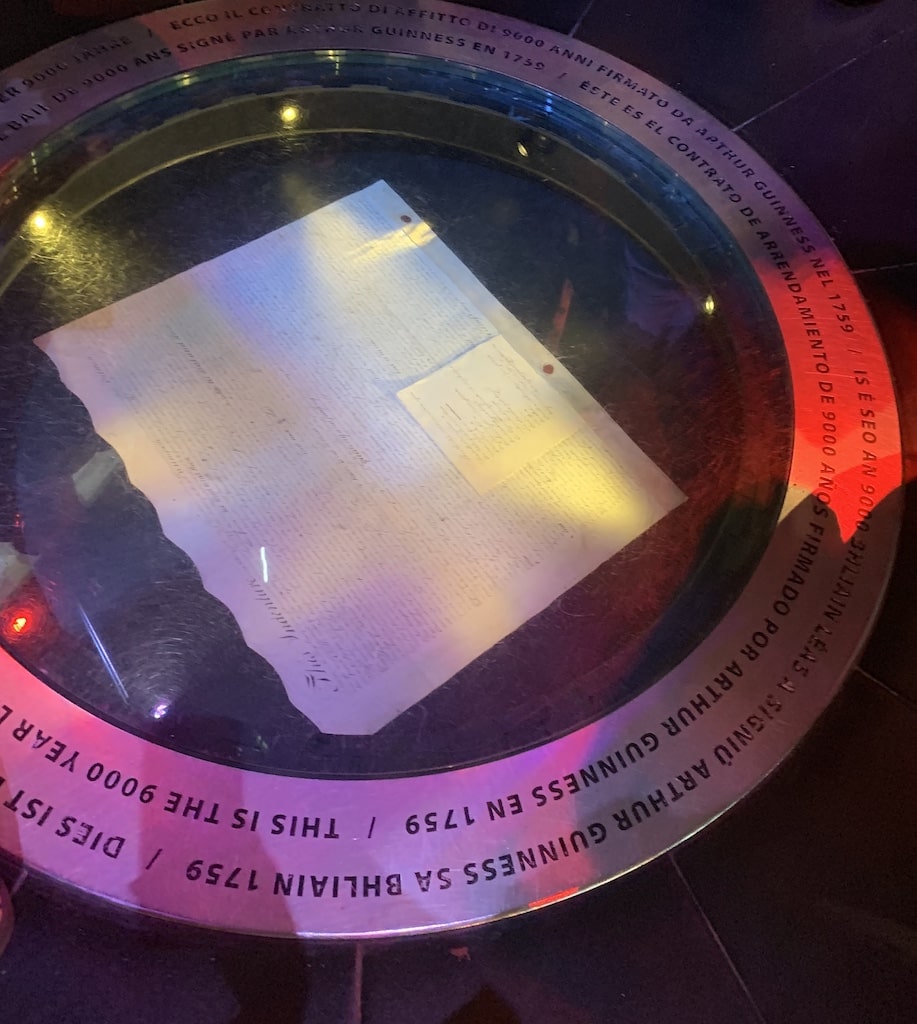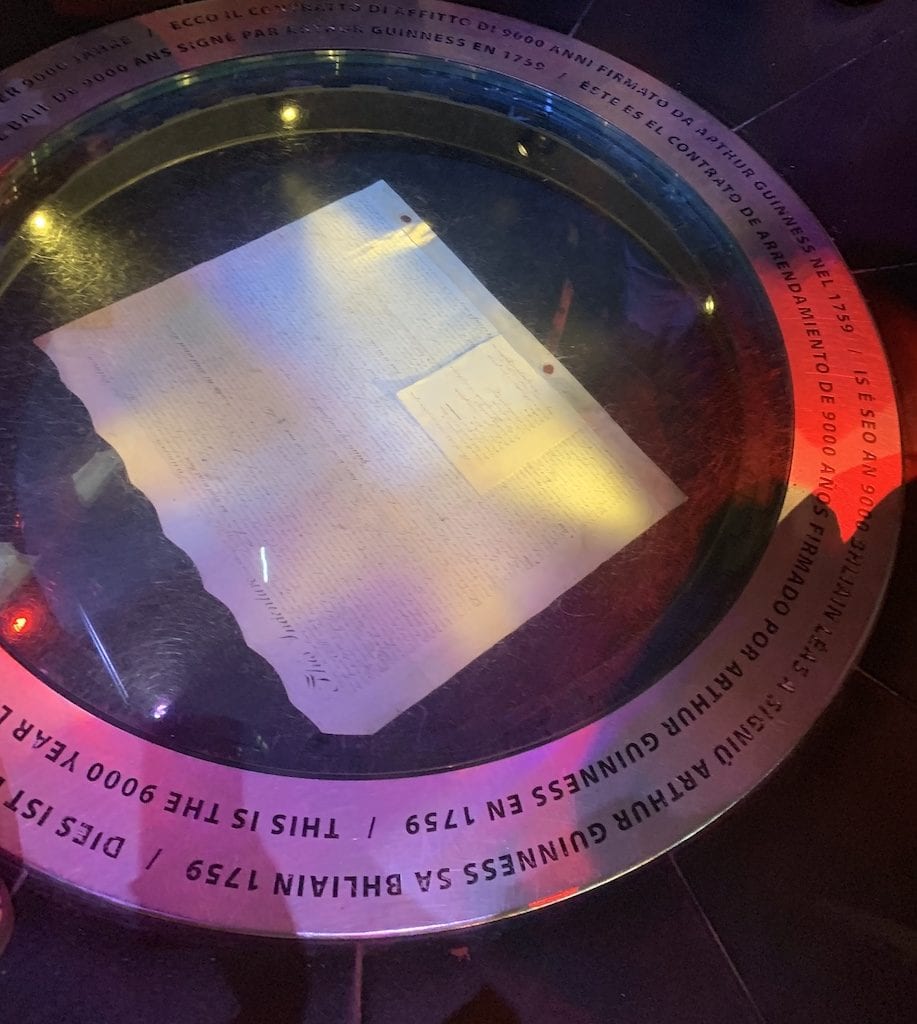 It was there that Arthur Guinness began to craft what we know today as Guinness, based on a porter style of beer that was popular in London in the early 18th century. Ten years after signing the lease, Guinness was first exported.
Despite refusing to sell at a discount and a complete lack of advertising, the stout was so popular that by 1886, it was averaging 1.2 million barrels a year in sales. It was in that same year that the company also went public.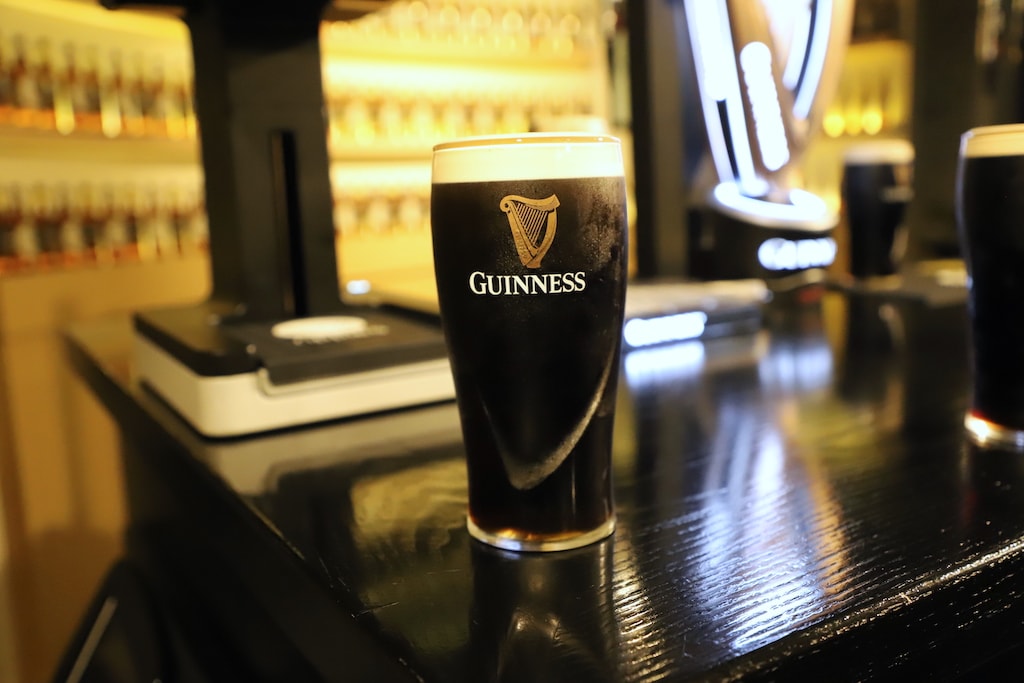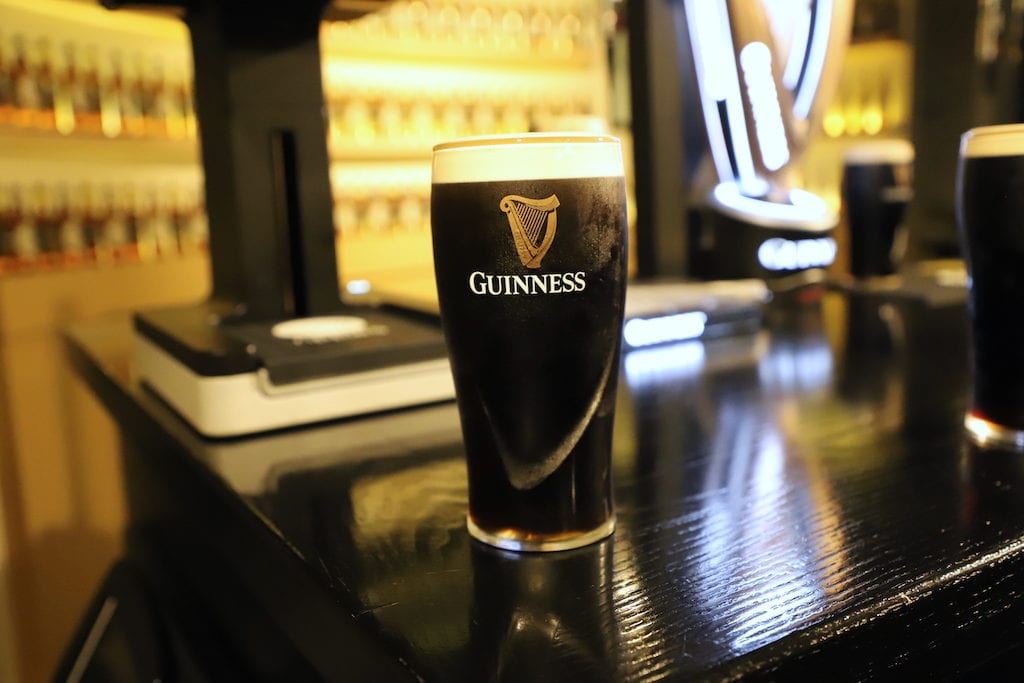 By 1914, Guinness was turning out 2.6 million barrels of beer a year, more than double its closest competitor. By the 1930s, Guinness was the seventh-largest company on the planet.
That success allowed the company to begin doing something that it's still known for to this day - giving back to its employees and their communities.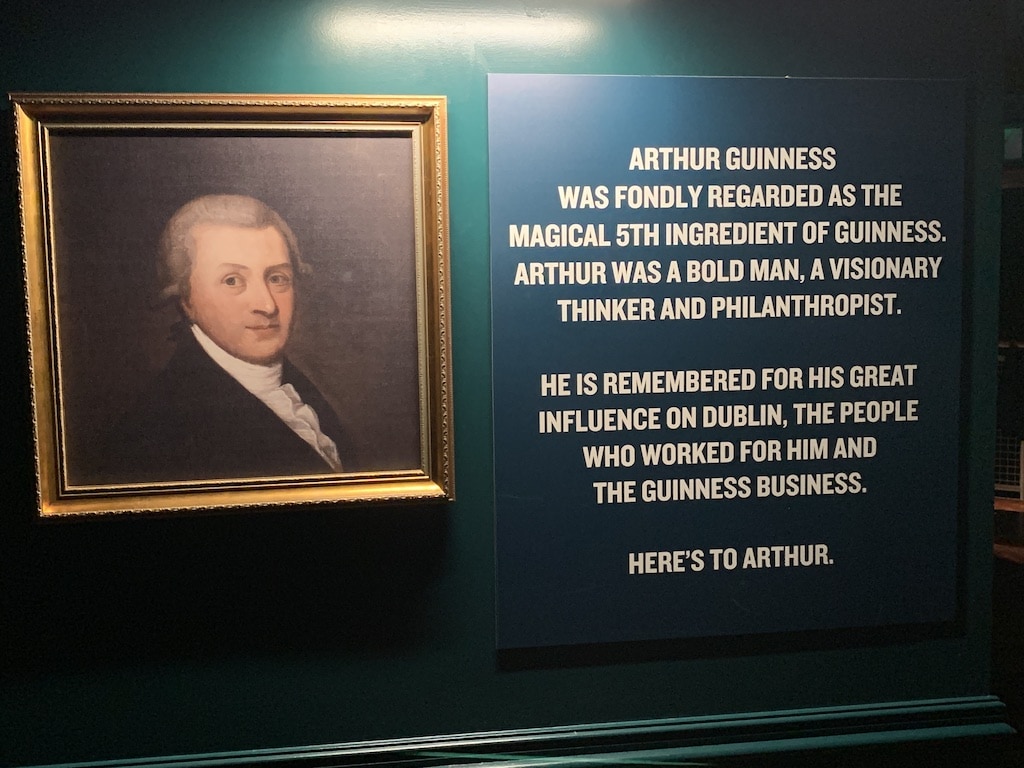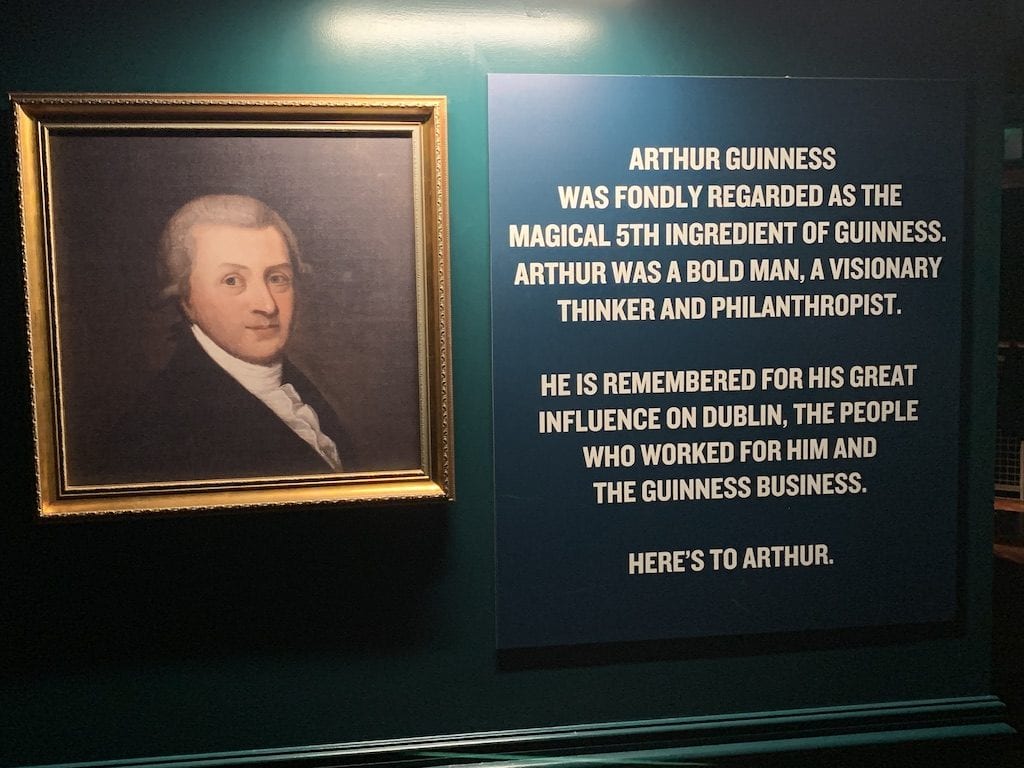 The Distinctive Flavor of Guinness Draught
Guinness is known around the globe for its deep, dark color, substantial head, and a flavor that you won't find in any other beer. The distinctive, almost burnt flavor comes from a unique process of brewing with roasted, unmalted barley.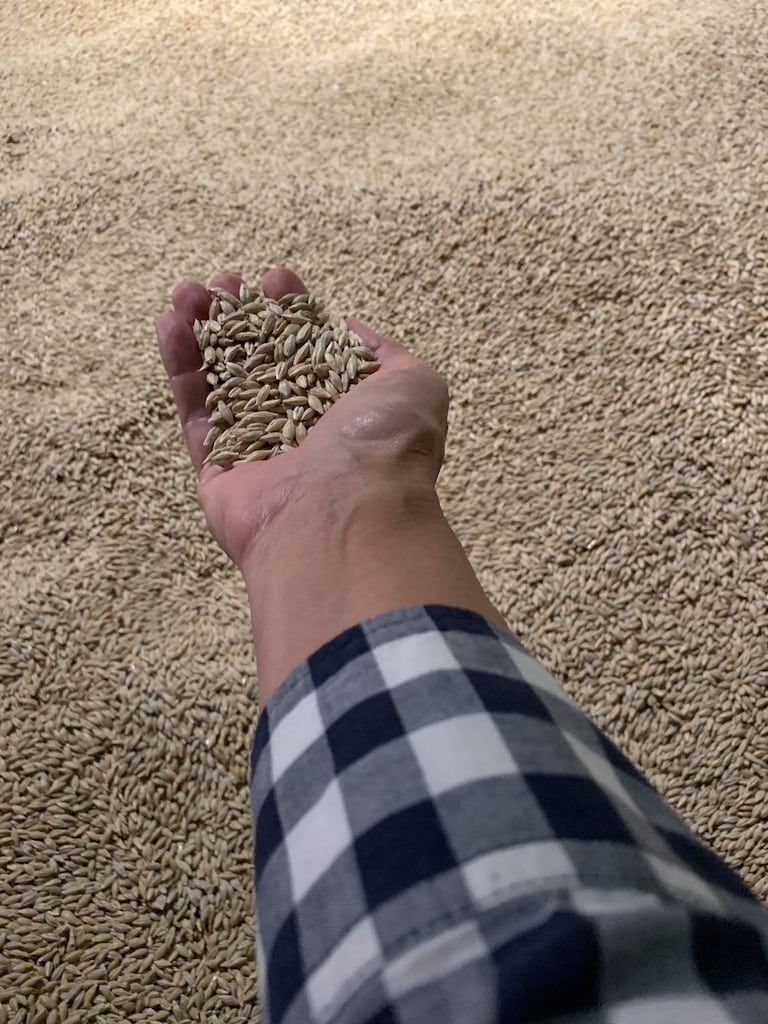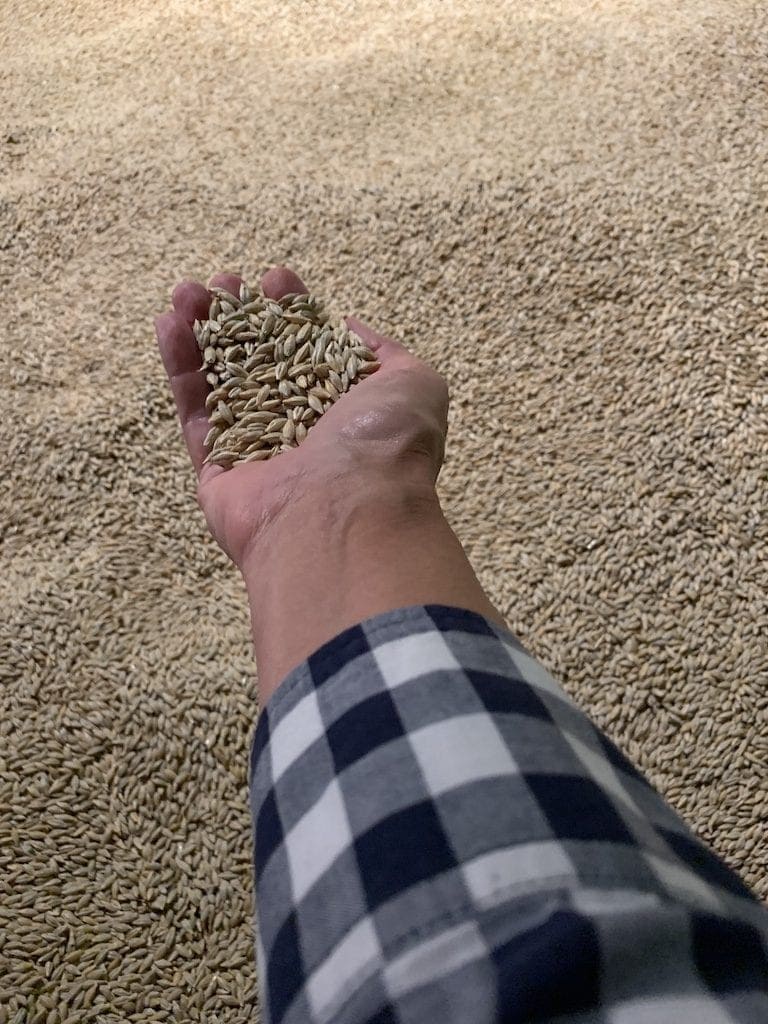 This process of roasting the barley produces a flavor that can almost be equated to charring a beer the way you'd char a steak. It's a deep, rich flavor that's overflowing with overtones and complexity.
The unique thick, creamy head of the beer is achieved by mixing the beer with nitrogen while being poured. These two processes combine to produce a beer known the world over for its special look and taste.
Explore the Home of Guinness Draught
To get the full Guinness experience, visit Guinness Storehouse in Dublin. The city's number-one tourist attraction, Guinness Storehouse is not only the home of Guinness, but it's also the home of its story.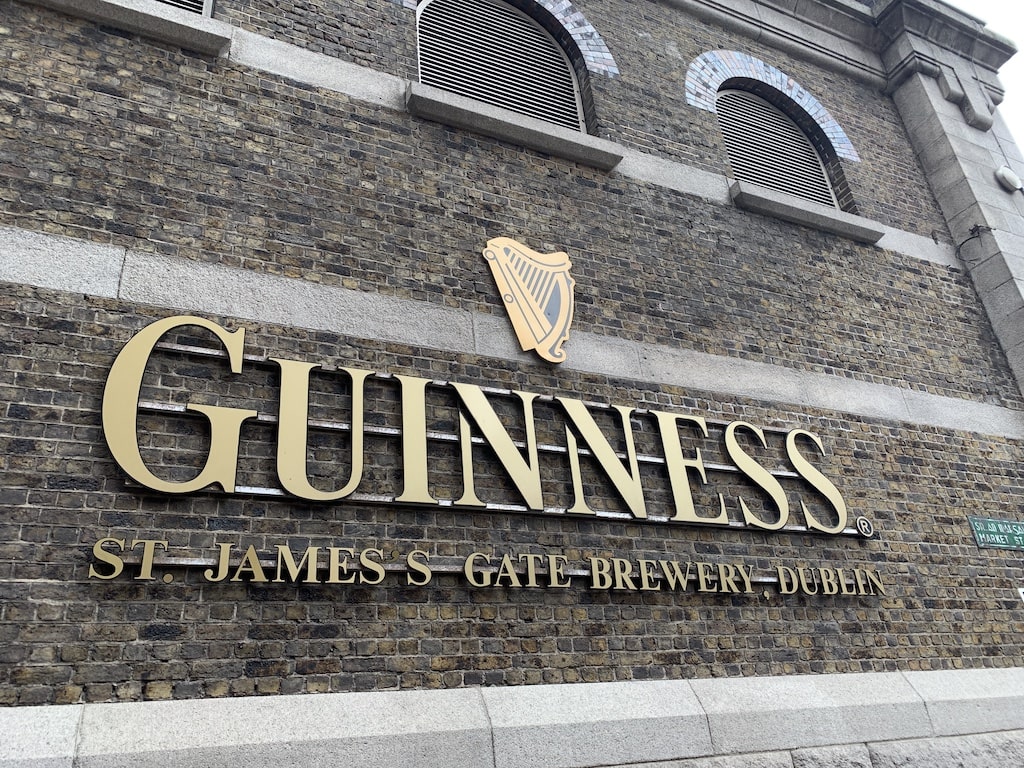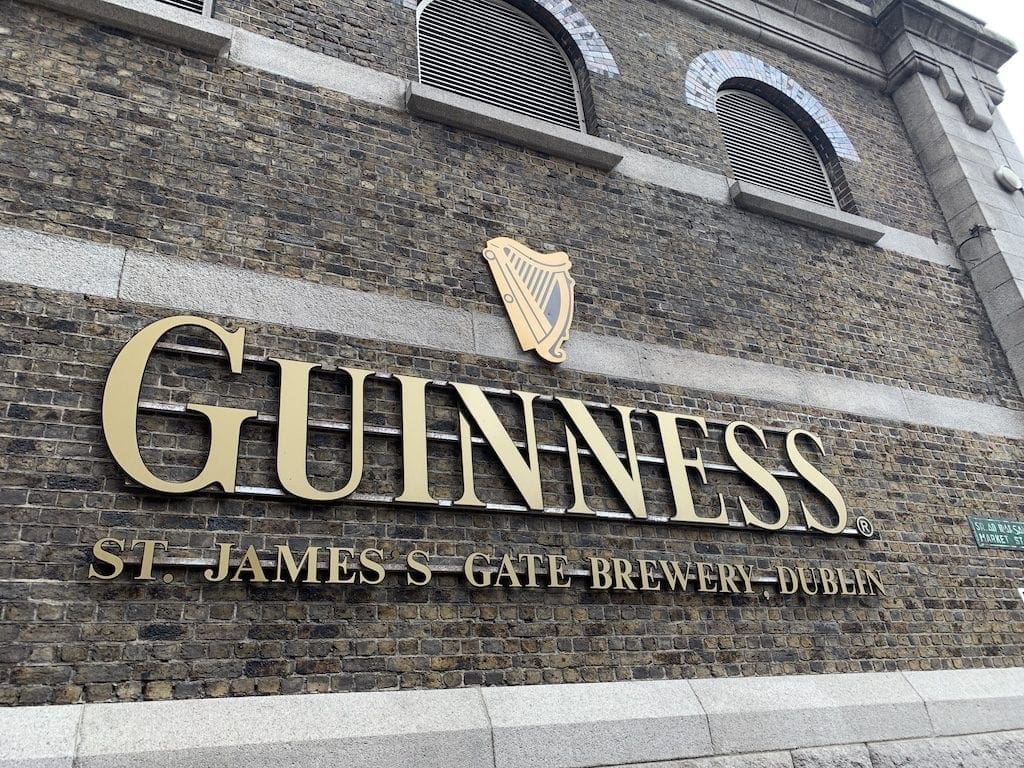 The Storehouse offers fine dining, beer tasting, events and more. This makes it one of the best places in Ireland to visit for beer enthusiasts, foodies, and history buffs.
Bars
Guinness Storehouse has two outstanding bars. At the Gravity Bar, enjoy a pint of Guinness while taking in a 36o-degree view of the surrounding city of Dublin and the rolling hills beyond it. The view really is gorgeous!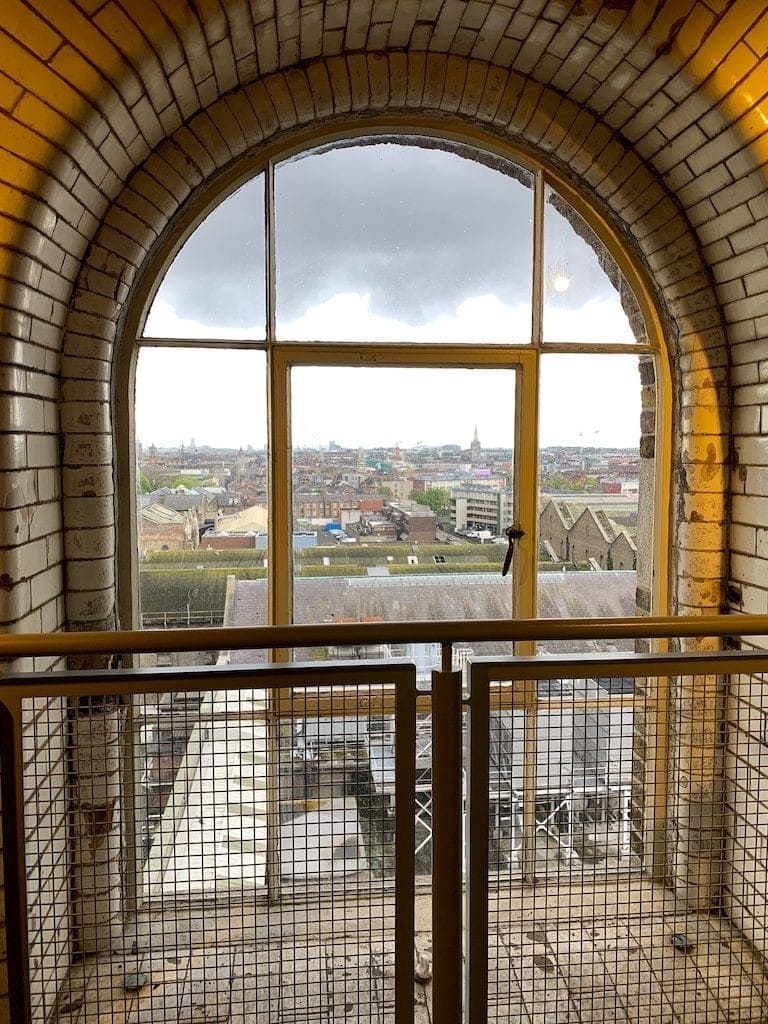 The Connoisseur Bar offers a unique tasting experience. Explore the different types of Guinness as their knowledgeable staff leads you on a journey that takes you to the heart of the most famous beer on the planet.
Cafes and Restaurants
With four different dining options, Guinness Storehouse offers delicious food to go with their spectacular beer. Choose from traditional Irish cuisine, seafood (they're known for the oysters), pub food, and more for a full dining and beer experience.
Brewers' Dining Hall
For a nostalgic dining experience, check out Brewers' Dining Hall. Inspired by 18th and 19th-century dining rooms at St. James' Gate, you'll find plenty of atmosphere at Brewers'. Enjoy iconic Guinness dishes along with traditional Irish food, all prepared in an open kitchen.
1837 Bar & Brasserie
Enjoy delicious food in this laid-back eatery. With dishes ranging from small plates to hefty main dishes and large sharing platters, 1837 is the perfect place for groups to relax and eat. We were treated to a platter of salmon appetizers.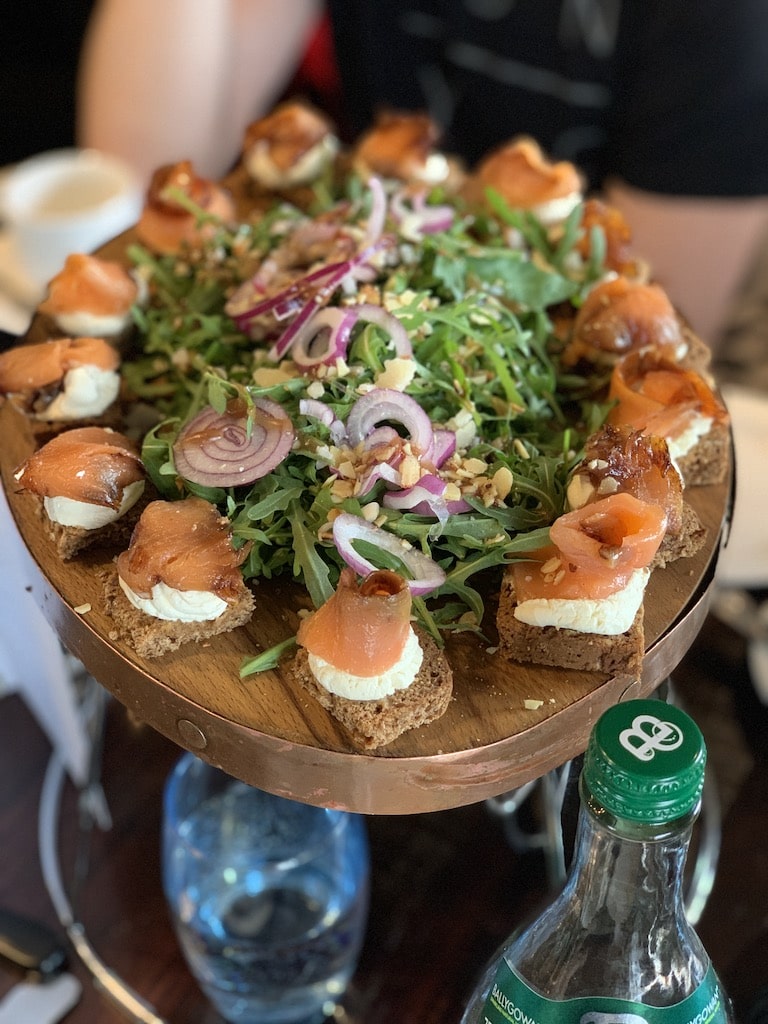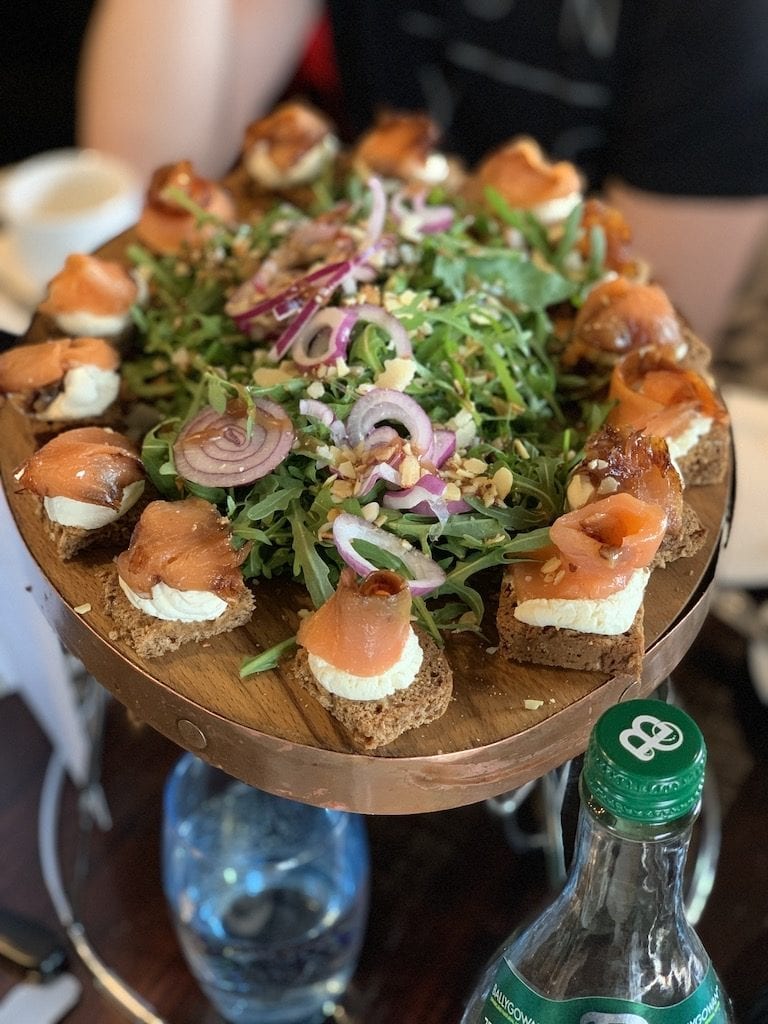 Followed by a platter of oysters!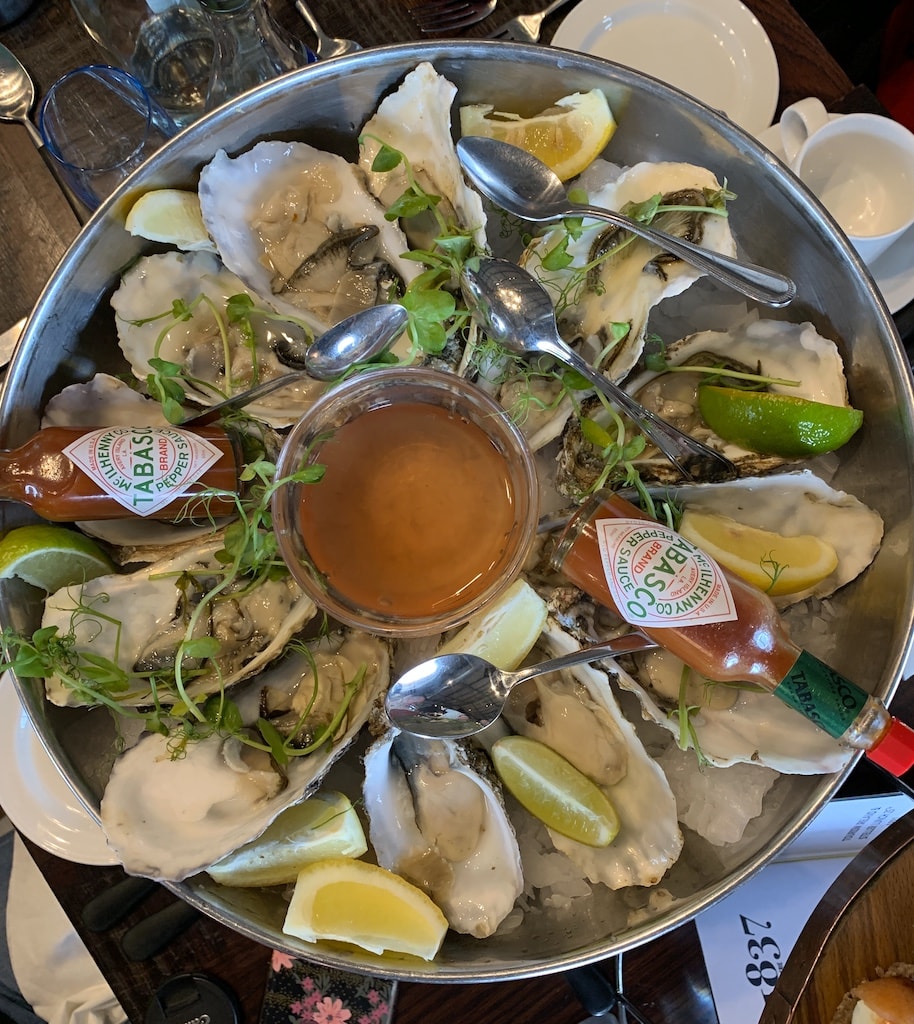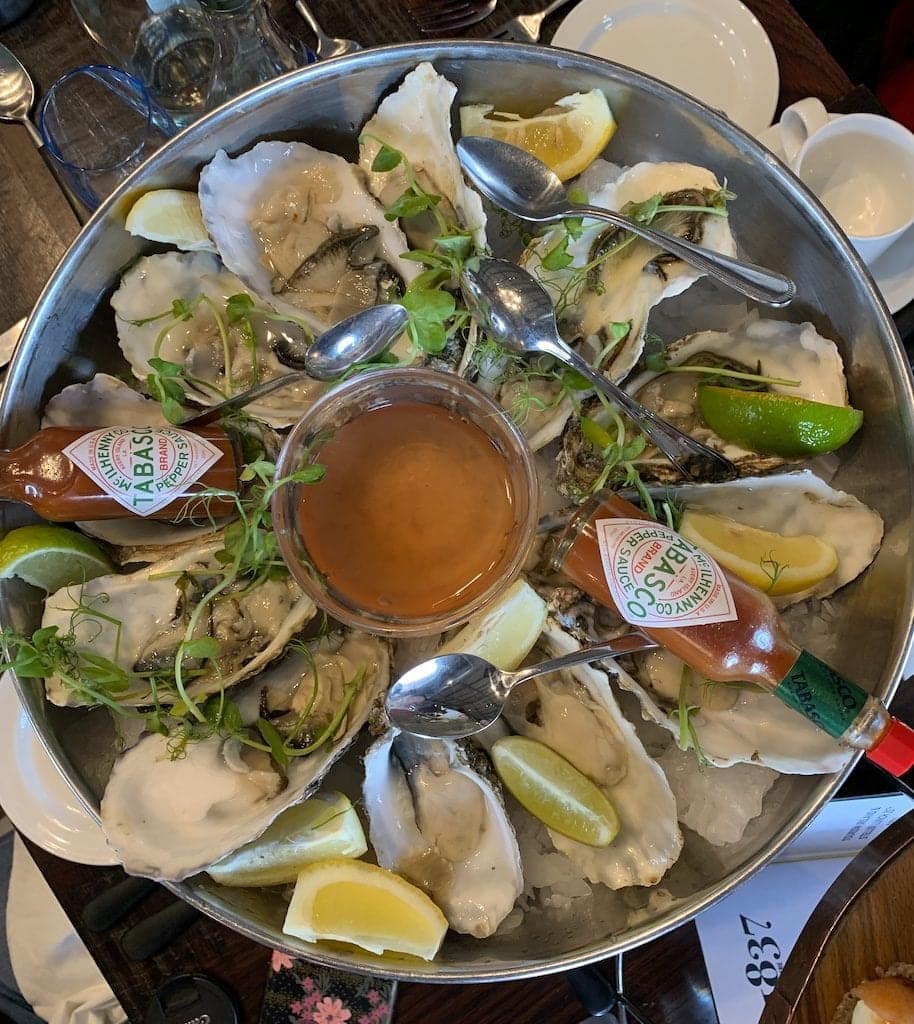 And, of course, a Guinness Extra Stout. You can't get this in very many places, even in Dublin. Don't miss tasting this Guinness with a hint of coffee flavor. It's absolutely wonderful.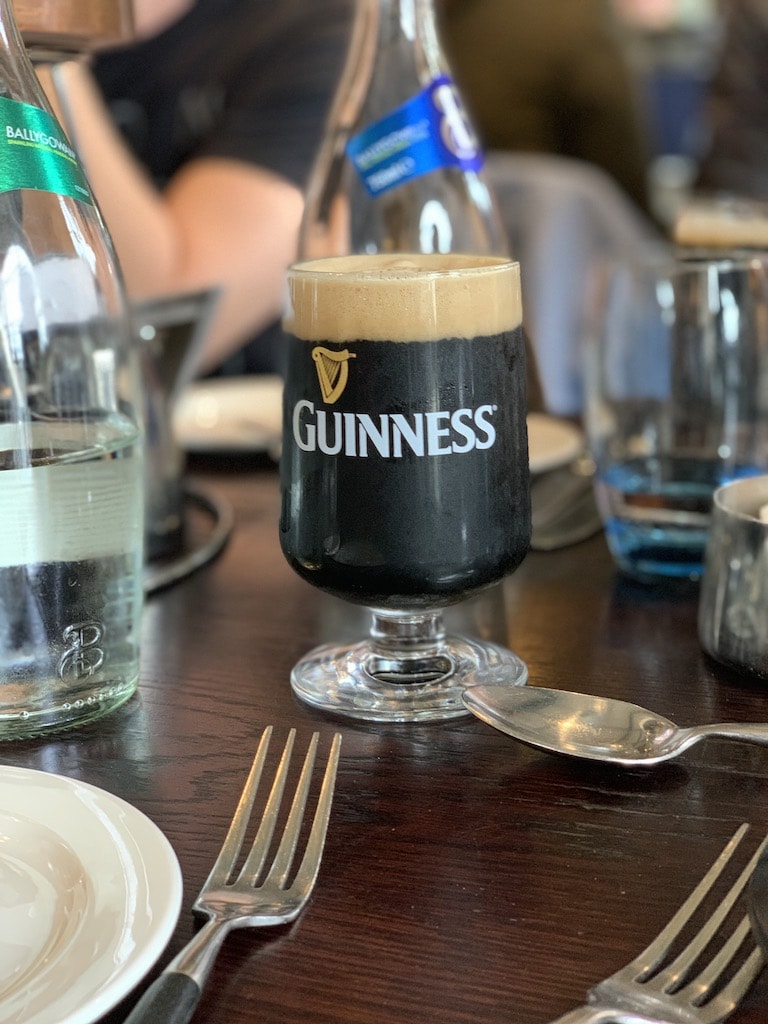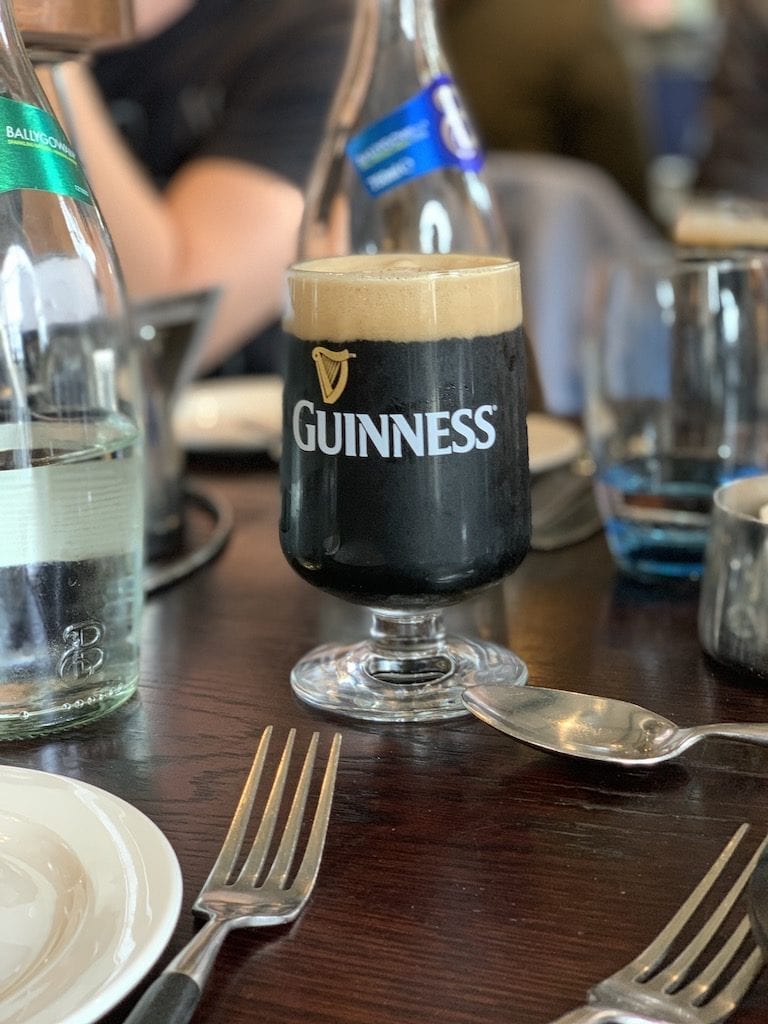 If you're hungry for a meal, you'll have choices like their Signature Beef and Guinness Stew, Pork Belly, or this delicious burger! Apologies for not showing you those fries which were equally as amazing.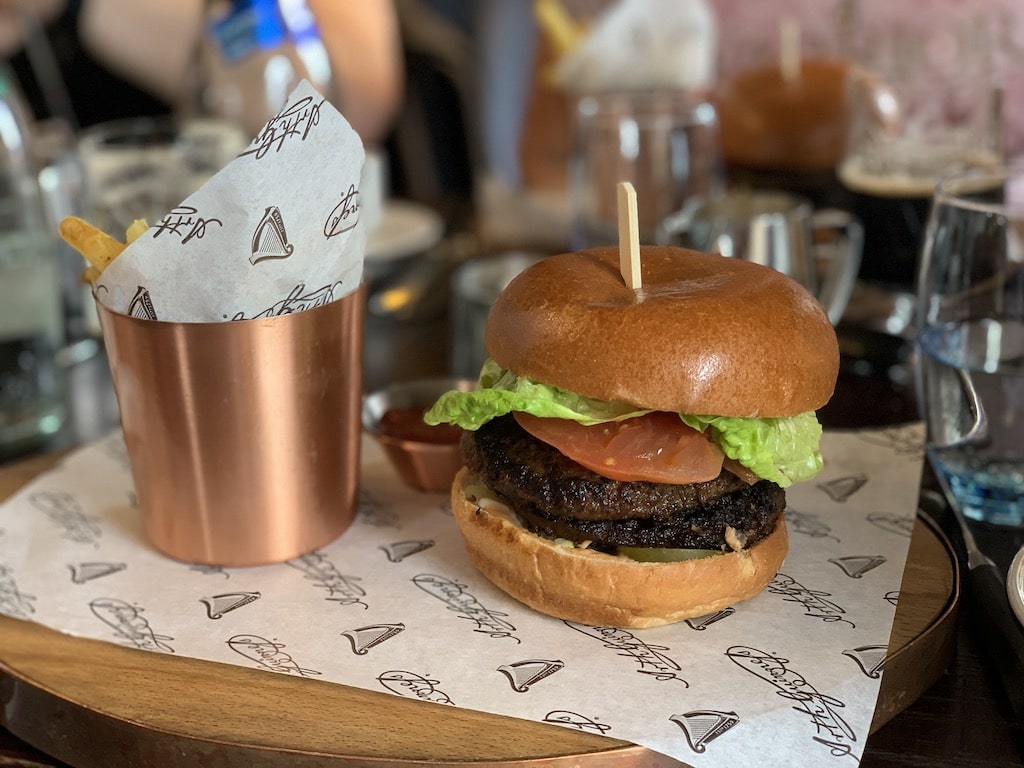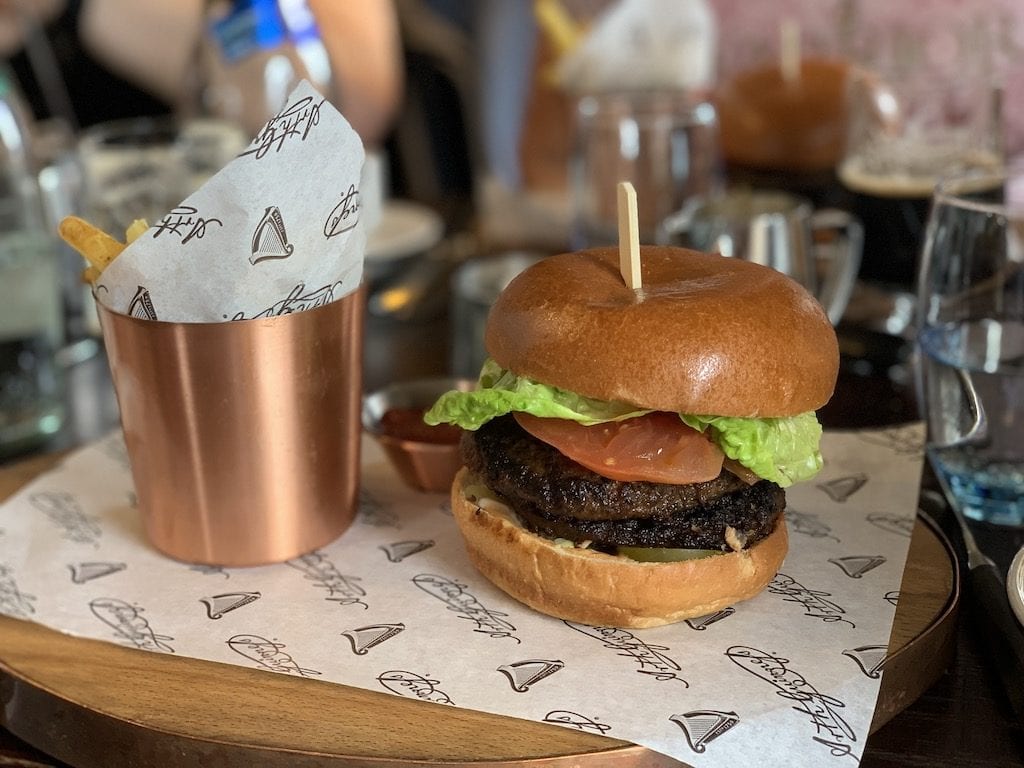 Arthur's Bar
Arthur's Bar is a love letter to the traditional Irish pub. With gorgeous views of the city, more Guinness variants than you can shake a stick at, and traditional bar fare, it's an experience not to be missed.
The Cooperage Cafe
Enjoy coffee, pastries, and sandwiches at this modern Irish cafe.
Experiences
Enjoy experiences at Guinness Storehouse that thrust you fully into the world of Guinness. Among other things, visitors will enjoy beer tasting as well as learning how to pour the perfect pint of Guinness draught.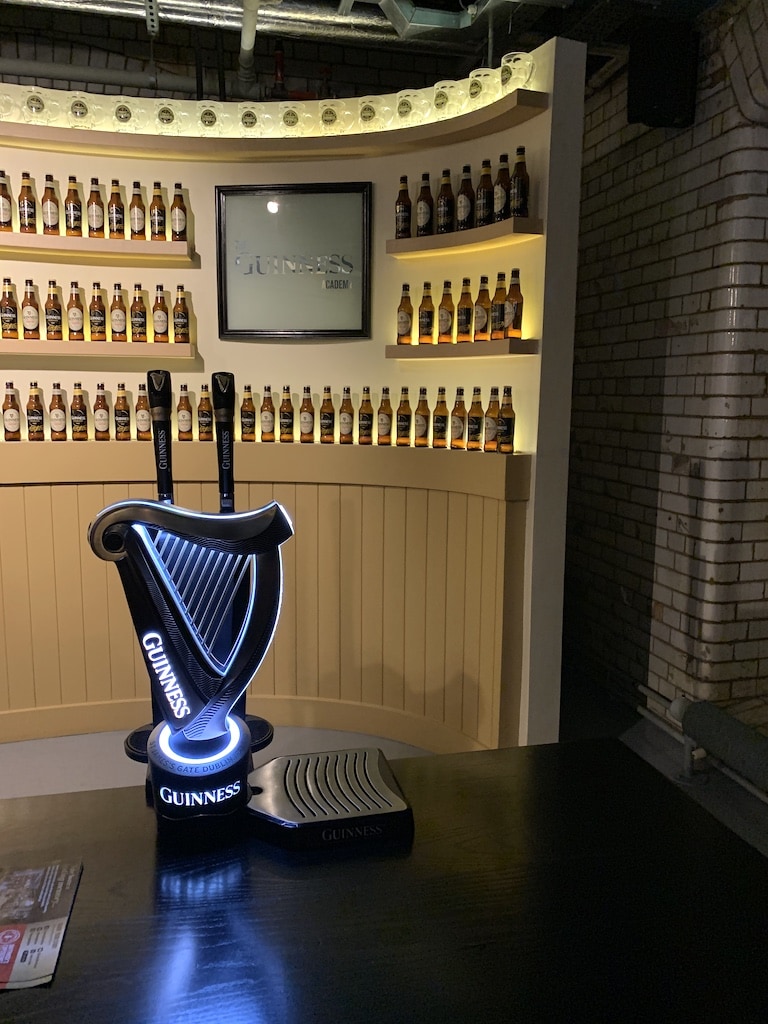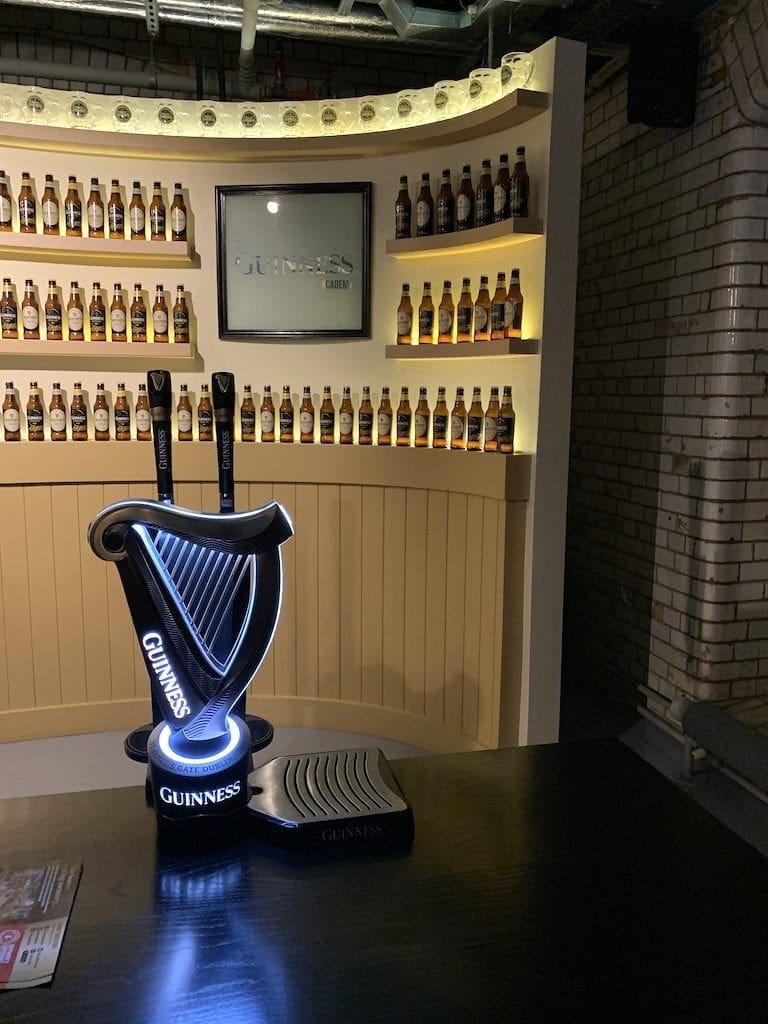 Guinness Academy
At Guinness Academy, you'll learn how to pour the perfect pint of the black stuff. Learn the six-step ritual that's almost as legendary as the beer itself. Once you've mastered the pour, you'll receive a Guinness certification.
It's not as easy as it looks! It wasn't finished at the point you see below. It's all about the waiting! In fact, Guinness Academy says it should take 119.5 seconds to pour one of their stouts. After the pour below settled, that was when I topped it off.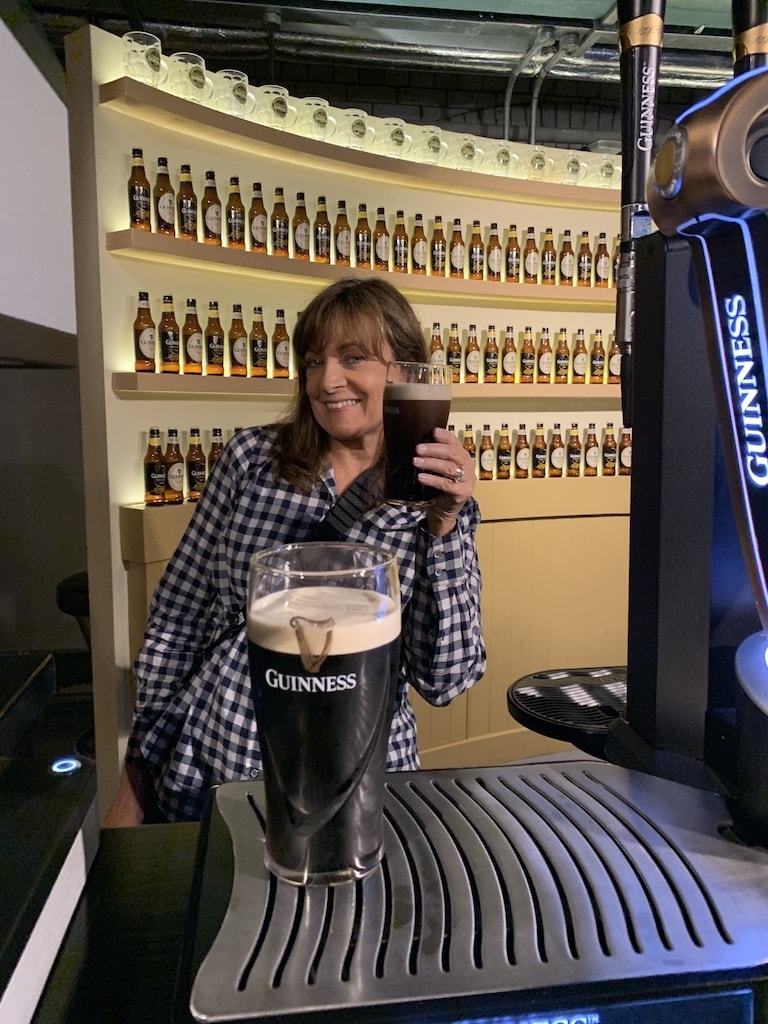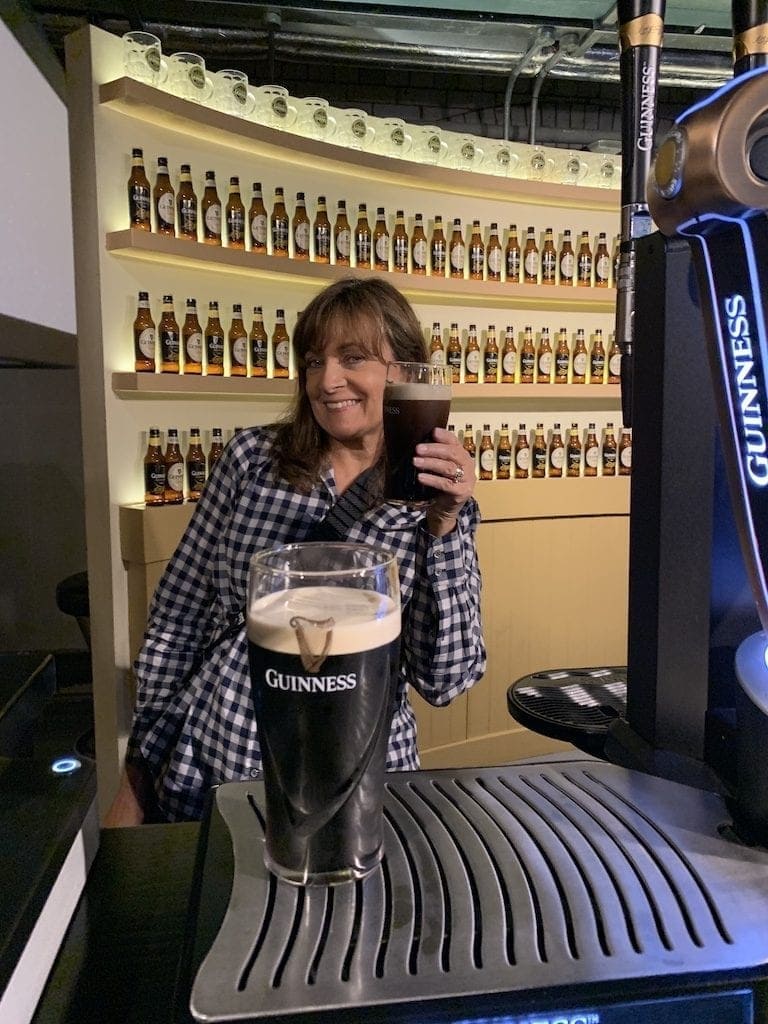 Tasting Experience
Experience beer like never before with this tasting event. From the iconic head to the signature aroma, sample Guinness' variants and see how complex and subtle a beer can really be. The extra stout is hands down my favorite. It's like dessert!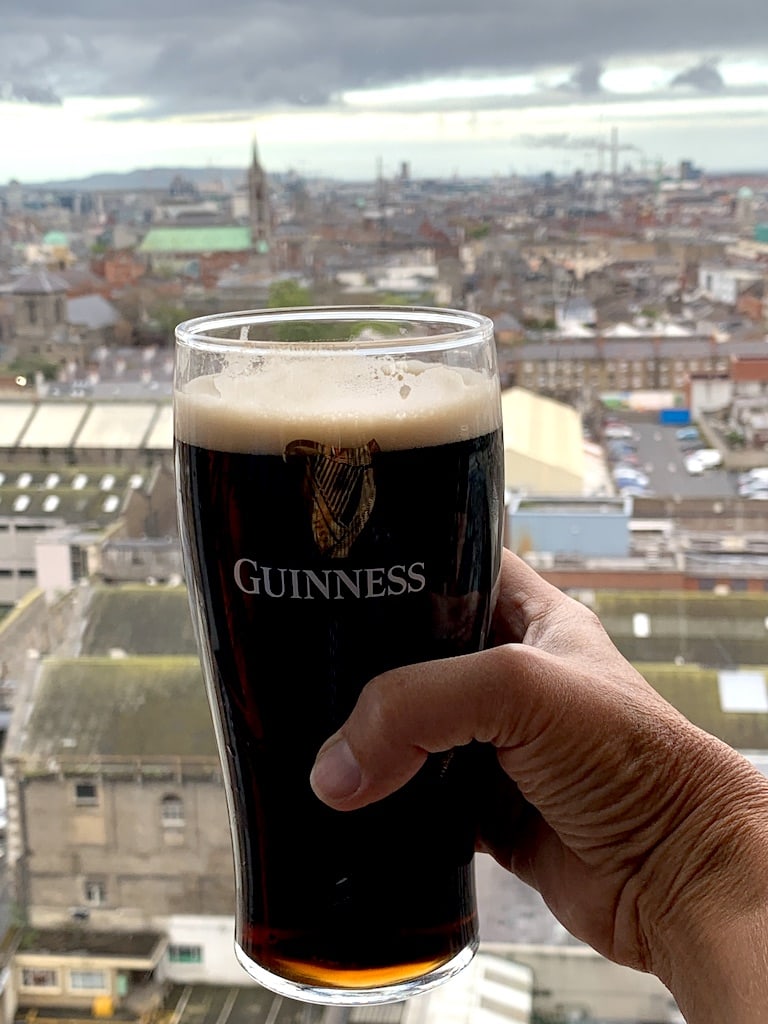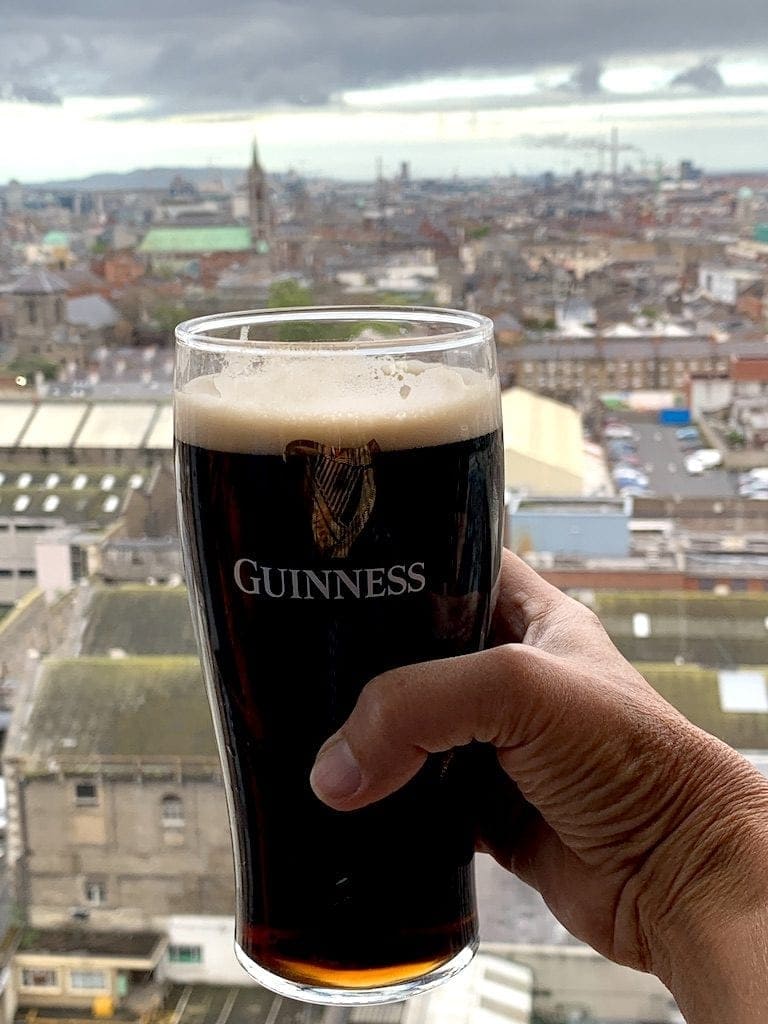 Stoutie
Take a very different kind of selfie with the STOUTie. You'll enjoy a pint of this famous beer with your picture on the top of the foam. It's really cool to watch this being created.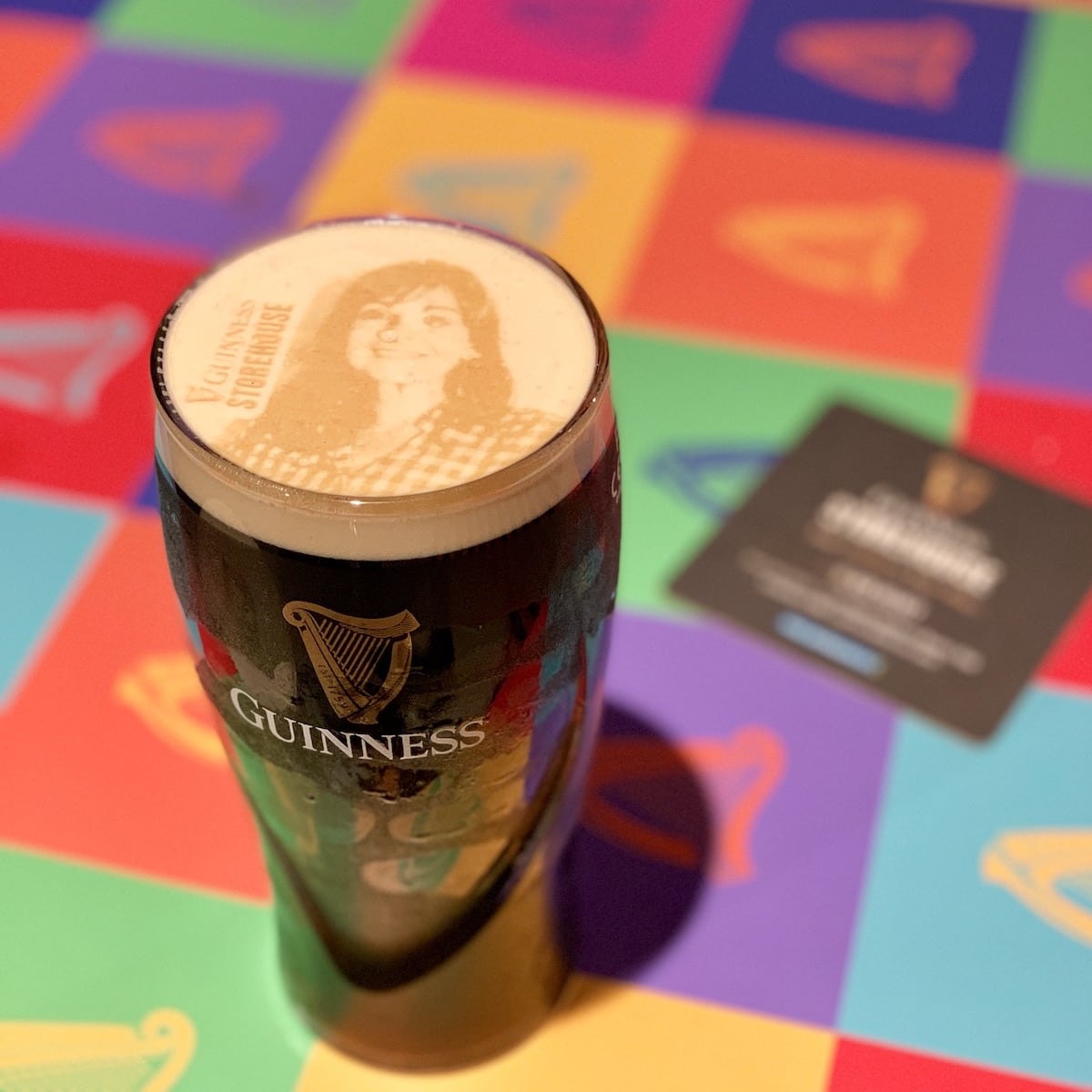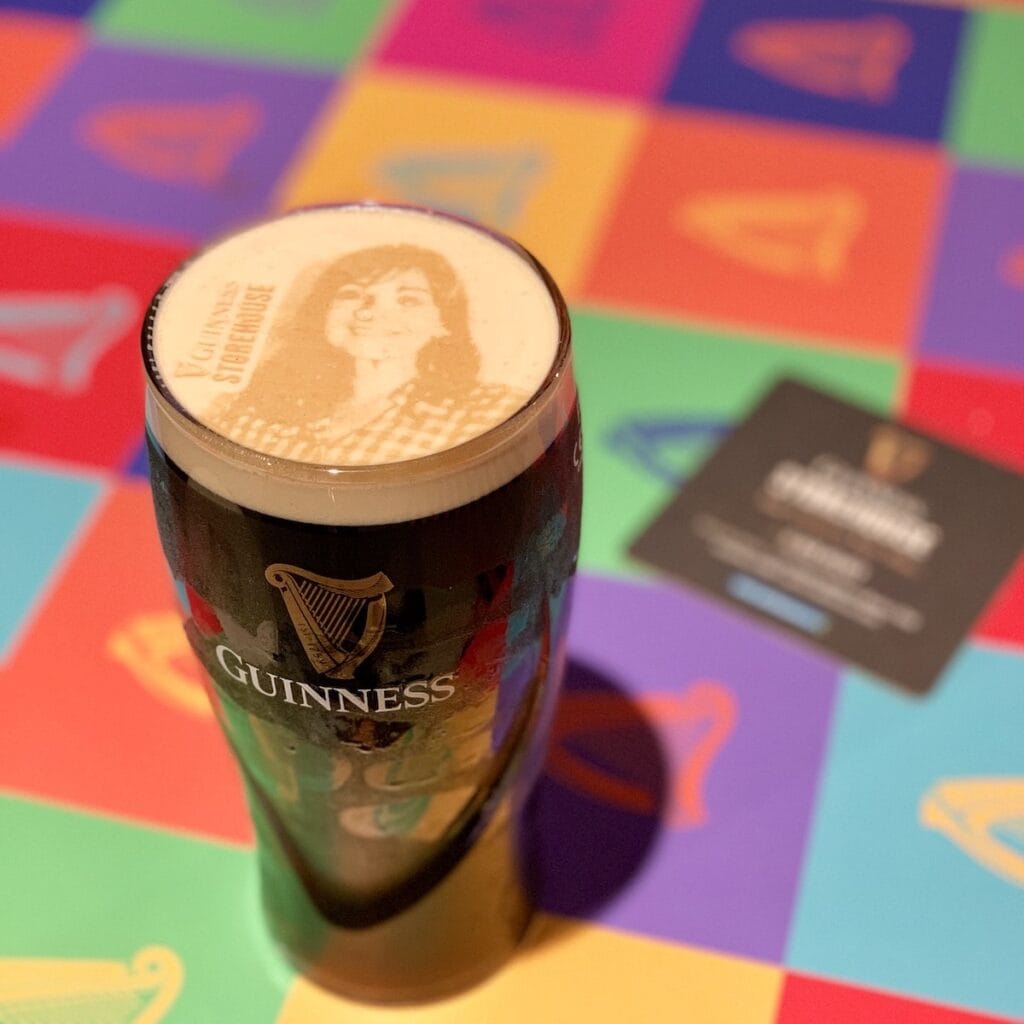 The Guinness Retail Store
Any fan of Guinness must visit their retail store. It has the largest collection of official Guinness memorabilia and merchandise in the world.
Guinness Beer Club Guided Tour
Explore Guinness in a new way with this guided tour. On the tour, you'll spend an hour and a half visiting the brewery and advertising floor, followed by a tasting session.
Don't miss the section about Guinness advertising. You'll see a few hilarious examples of how Guinness got the word out.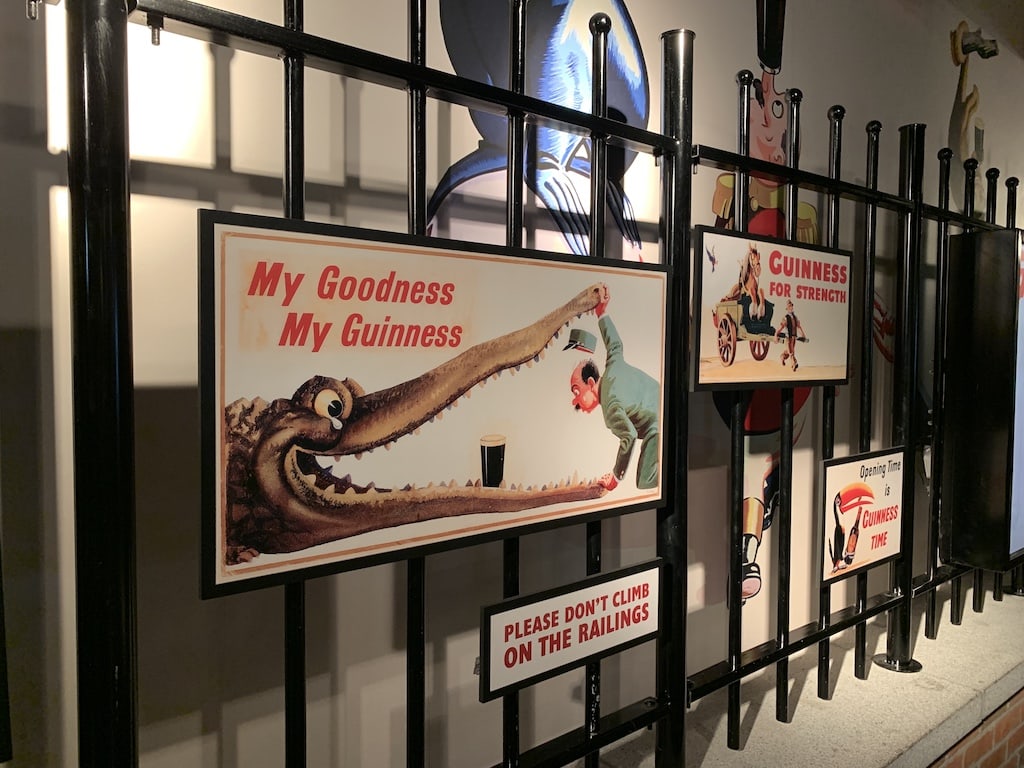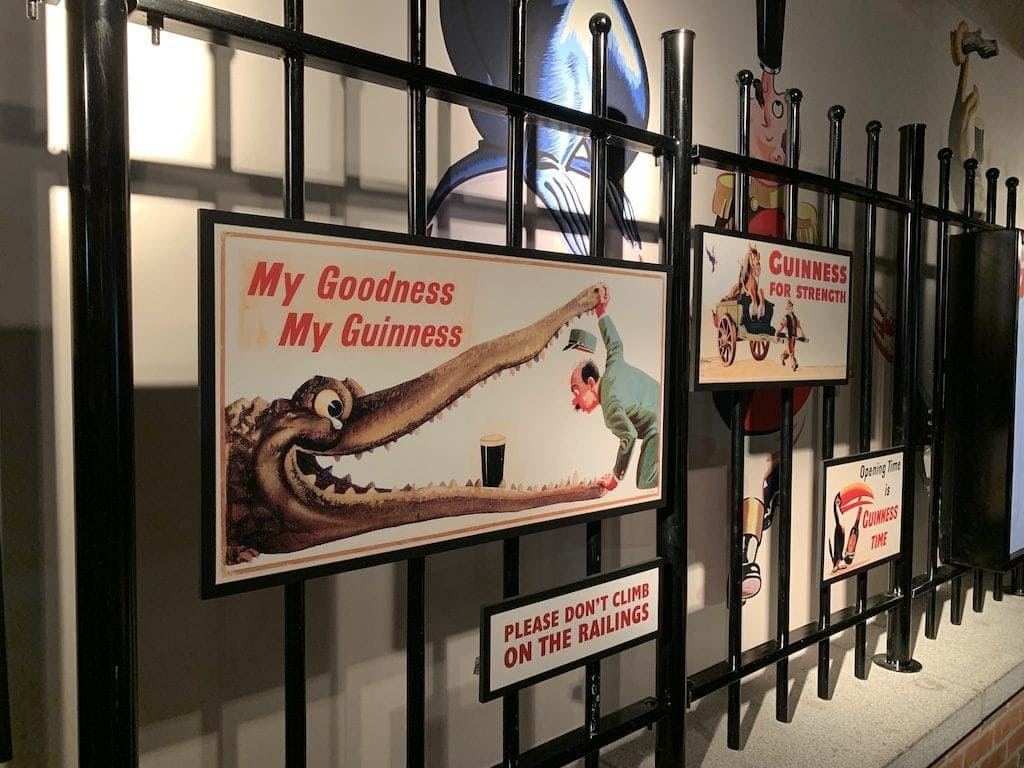 Explore the Flavor and History of Guinness Draught at the Storehouse
There's a world of Guinness draught to explore at Guinness Storehouse. From interactive exhibits exploring the process of brewing this famous stout to beer tastings to fantastic Irish fare, you'll get the full Guinness experience here.
Guinness Storehouse is a must for any beer lover traveling to Dublin or the surrounding area.
I want to go back and spend more than a couple of days exploring Dublin. Have you been? Maybe we should do a girls trip to Dublin! Would you join us?
Recipes with Guinness Draught
Long before I visited Guinness Storehouse, I was using Guinness Draught in my recipes. It makes ribs taste heavenly! To start, I make this Guinness sauce. Once you've made the sauce, you have the first ingredient for making these Guinness Irish Beer ribs.
Take these Guinness cupcakes to a St. Patrick's Day party or anytime you want to bring a boozy dessert to an adult gathering. Let me know if you try these recipes or if you use Guinness when cooking. Cheers!
Irish Recipes