Championship golf awaits at Ritz-Carlton Reynolds, Lake Oconee. Located on beautiful Lake Oconee in Georgia, this lovely resort offers more than beautiful scenery and luxury accommodations.
The Ritz Carlton Lake Oconee also offers the ultimate golf experience for any lover of this time-honored sport. With six courses, each offering a truly unique golf experience, Ritz-Carlton Reynolds, Lake Oconee takes championship play to an entirely new level.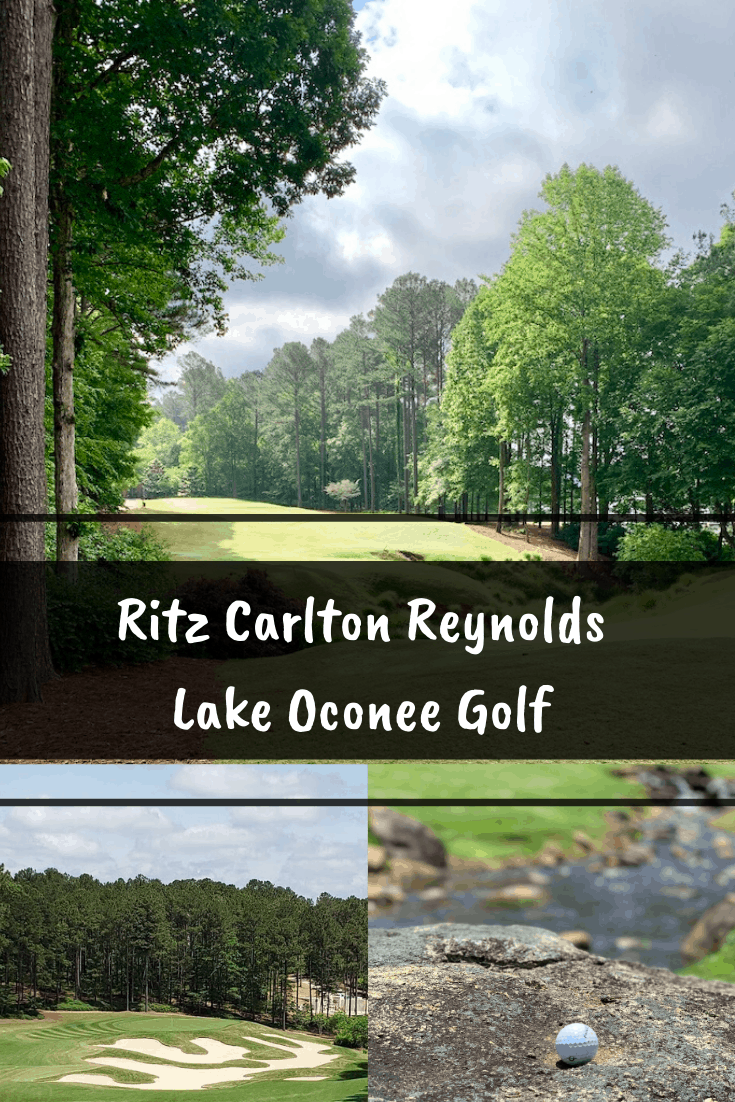 In addition to the six world-class courses, golf enthusiasts can enjoy the Quick Six, dubbed a course within a course, as well as instruction at the renowned Kingdom of Golf School. It all adds up to a golf experience that you can't find anywhere else.
Champion Golf with Six Unique Courses
There are many resorts that showcase their golf options, and of course, many of those courses are wonderful. After all, if you're showcasing your golf, you can't afford to have sub-par courses.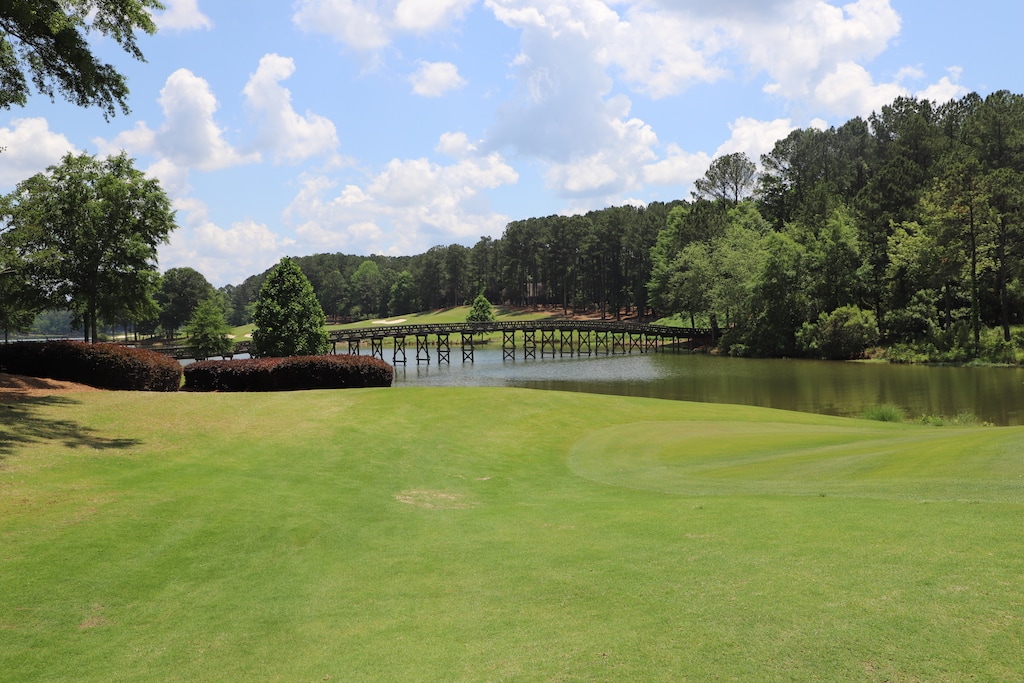 Each of the six courses, designed by four legendary architects, offers its own unique challenges, terrain, and views that are as breathtaking as the play.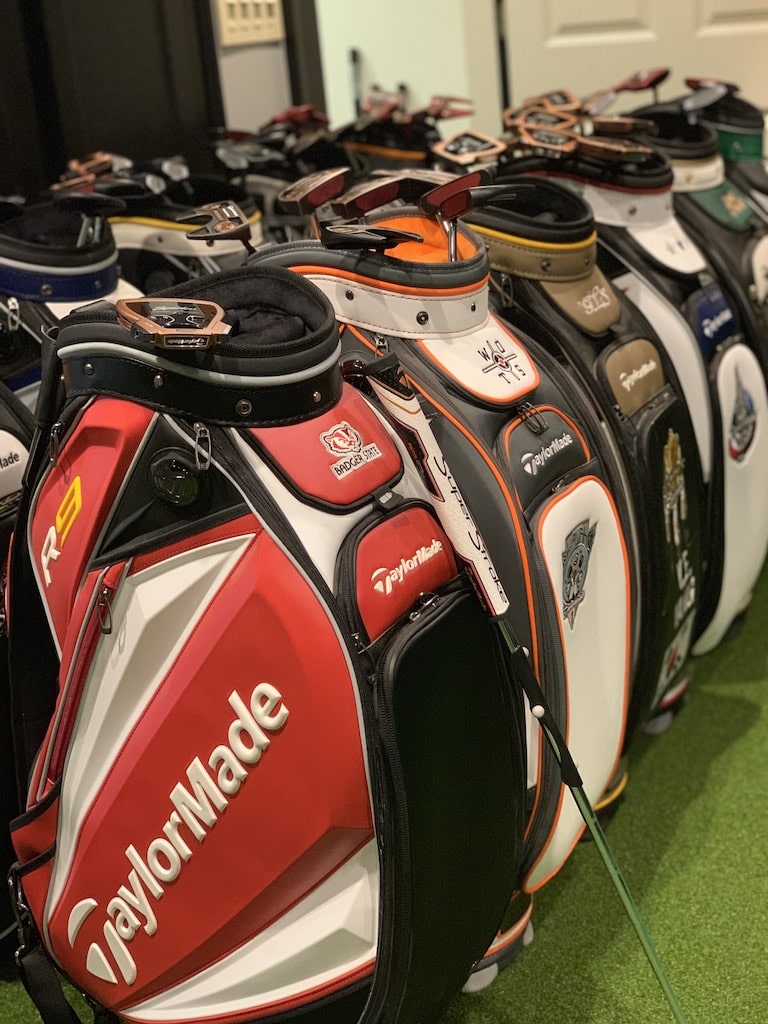 The Landing
The original course at Lake Oconee, The Landing was the seed from which grew the Ritz-Carlton Reynolds' reputation as a premier golf destination. Designed by legendary golf architect, Bob Cupp, the course works with the terrain of the area rather than against it.
A variety of holes make their way through and around naturally wooded areas and rolling hills, embracing nature and making it part of the experience.
The Preserve
Another gem by Bob Cupp, The Preserve continues his principal of marrying his courses with nature. This course embraces the idea of making golf fun for all players, no matter their skill level, by working with the natural rolling nature of the land.
The landscape offers beautiful scenery, as well as holes that slowly reveal their true challenge for every player. The Preserve is also home to the Quick Six experience for those who don't have time for a full round of golf.
The National
Designed by renowned course architect, Tom Fazio, The National is a challenging combination of beauty and difficulty. Its trademark elevation changes from tee to fairway can be as much as 60 feet, creating a course that offers both beautiful views and challenging play.
This course layout is a work of art. It's ideal for those who appreciate a round of golf that truly puts the player through his or her paces.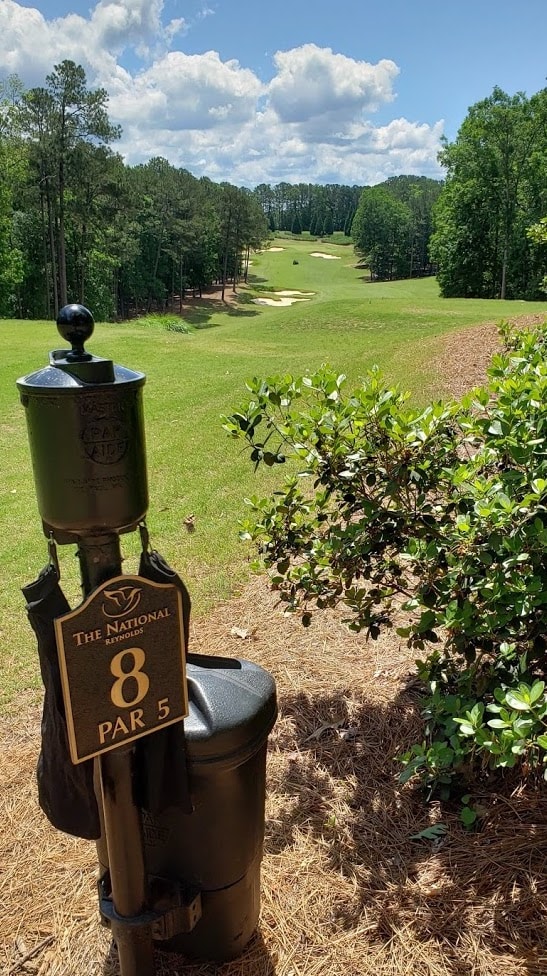 This was the first course my husband, Tim, played at Ritz-Carlton Reynolds. It has 3 different nines named after the terrain they are built on; Ridge, Bluff, and Cove. He played the Ridge and Bluff nines from the tournament tees (which was a little long for him) at 6329 yards.
Stunningly beautiful, playing the National is like being on a nature walk – the way Fazio incorporates the landscape is masterfully done. But this course plays tough; the elevations made distances difficult to judge and Tim said he and his playing partner could have used an extra club on a high percentage of shots.
Missing a lot of greens in regulation means you are using every club in your bag which is fun – he ended up shooting over his handicap but said it was well worth every missed shot!
The Oconee
The Oconee is known for its beautiful views of Lake Oconee, as well as its level of play. This Rees Jones beauty is a course fraught with tough decisions for players. Should the shot be played over the water inlets which pepper the course or opt for the doglegs, instead?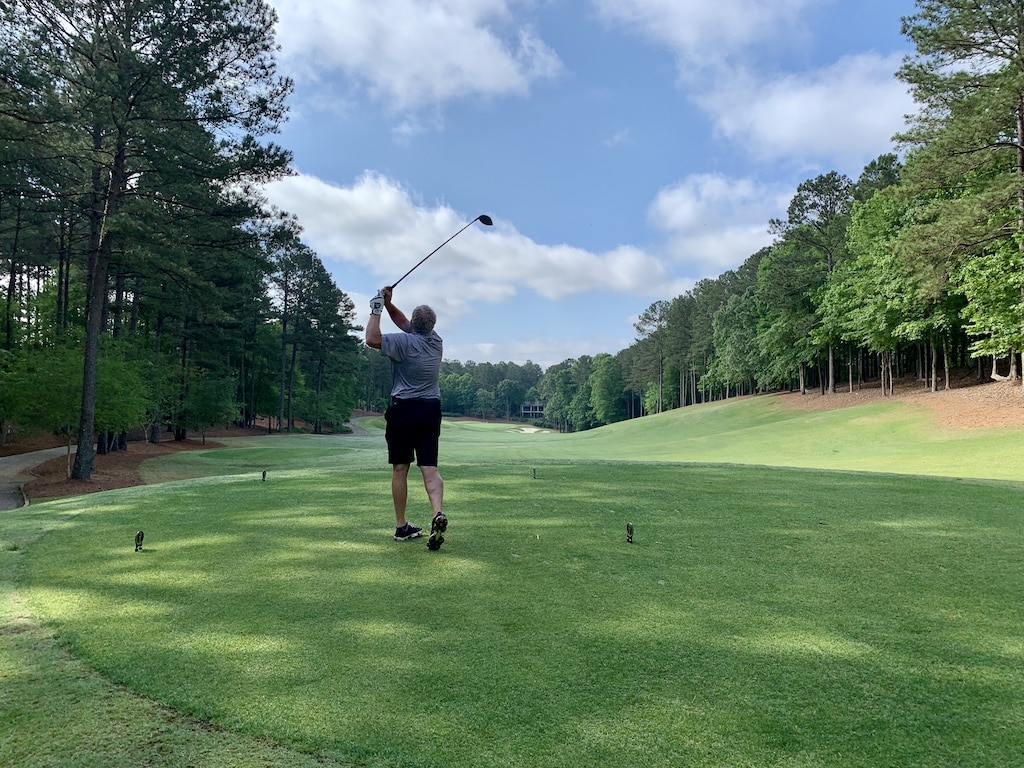 These decisions and the view that accompanies them are what make the Oconee a true masterpiece. Take an aggressive chance or use your conservative play. Which will carry the day on this course?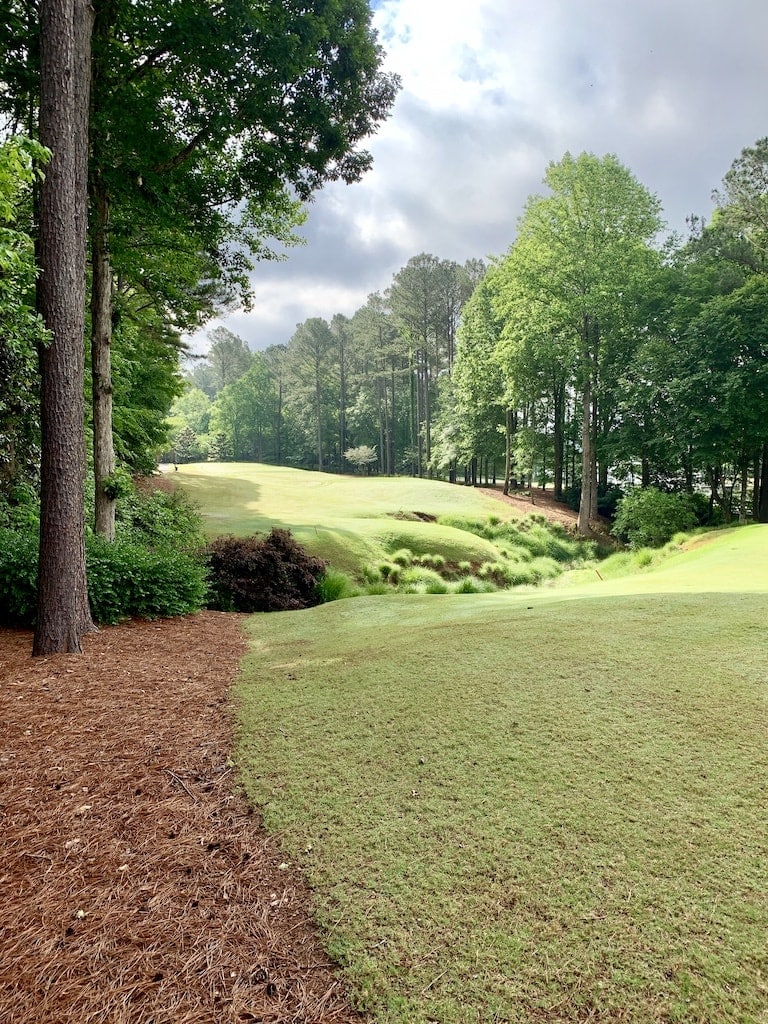 While maybe not as physically challenging as the National, this course offers more risk-reward opportunities that are not for the faint at heart. The par threes are simply stunning for their challenging design as well as their beauty.
One of my favorite things in golf is judging par-three distance with a steep elevation change. Interesting note: the Oconee course boasts the largest sand trip on the east coast – and I found it….twice!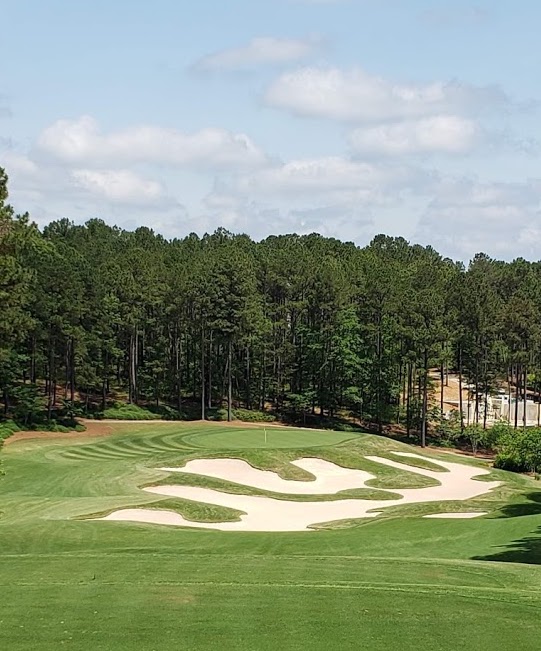 Great Waters
A course that no golf fan should ever miss, Great Waters is designed by the one and only Jack Nicklaus. This course was obviously designed by an incredible player.
With a timeless feel and scenery that takes full advantage of the area, this course offers championship golf at its best. Great Waters recently underwent an 18-month renovation, making it a fresh experience for both new and returning players.
The Creek Club
A members-only course, The Creek Club is designed by Jim Engh. We didn't have a chance to see this course, but I've heard it's spectacular.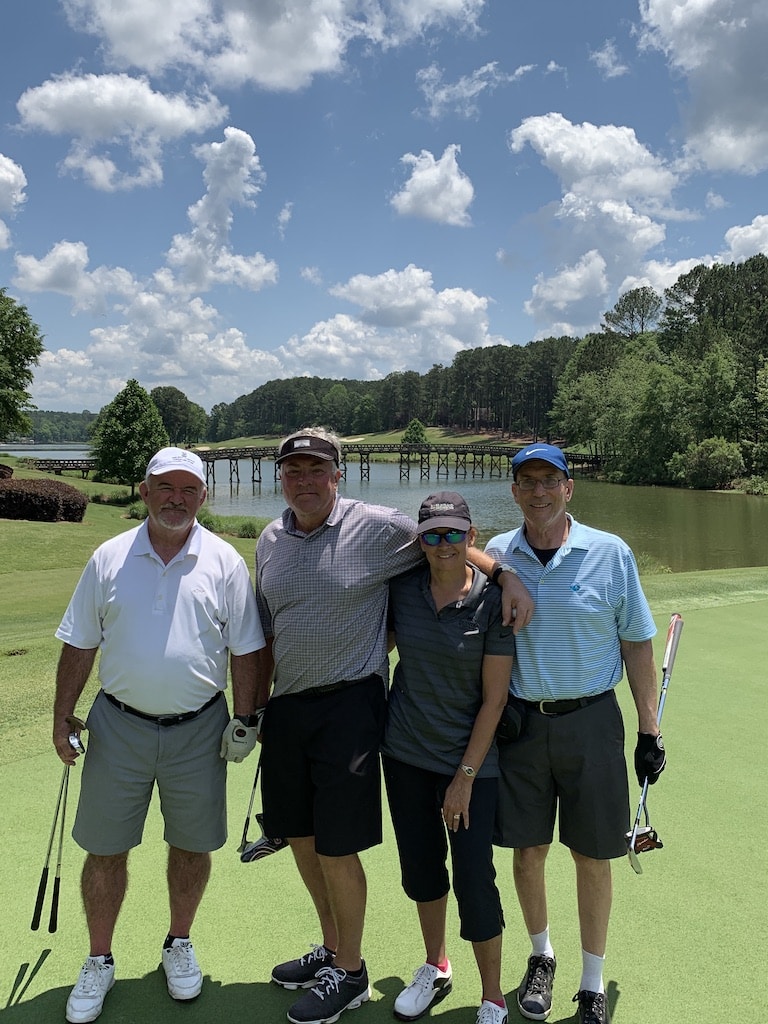 The Quick Six - A Course Within a Course
For those who either don't have time for a full round of golf or just want a more laid back experience, there's the Quick Six. Located within The Preserve, the Quick Six offers a quick championship golf experience in a short time frame.
The Quick Six takes advantage of several tee boxes and the greens of holes 1, 2, 3, 7, 8, and 9 to create a flexible course that requires fewer clubs and less time. With holes that play no longer than 135 yards, the course plays quickly while still delivering a challenging experience for even the most discerning players.
Championship Golf Instruction at The Kingdom
Called The Kingdom for short, Reynolds Kingdom of Golf presented by Taylor Made will leave you feeling like a pro. Whether you're a beginner or a long-time player, Reynolds Kingdom is designed to help you up your game and lower your handicap with instruction by some of the most capable golf pros in the country.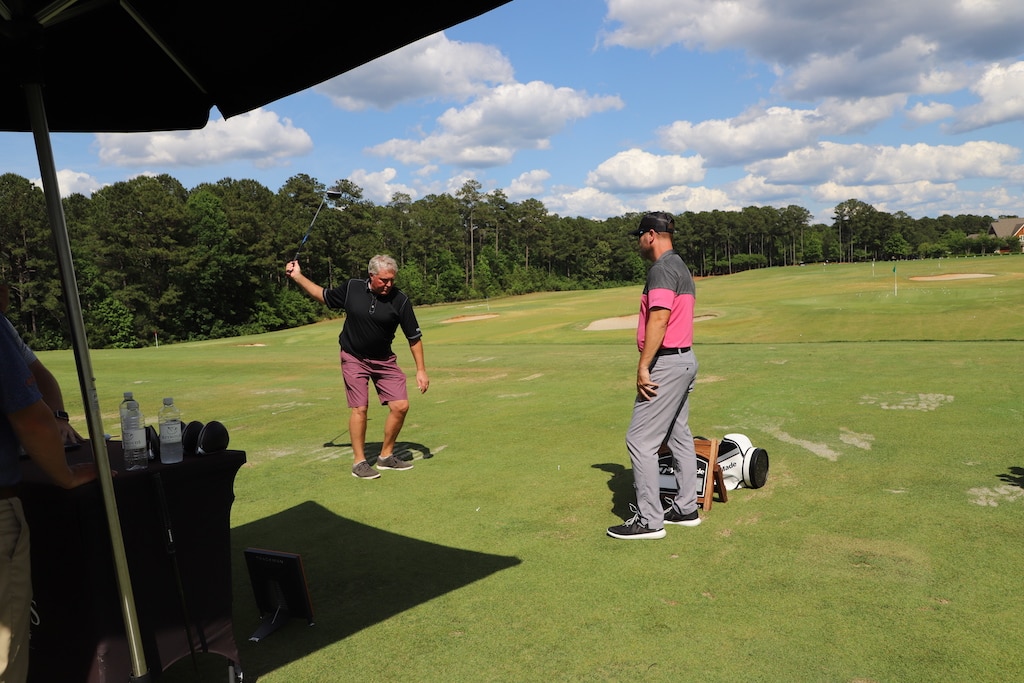 An optimal student/teacher ratio ensures that you'll be able to take full advantage of the instructors' experience. The classes at Reynolds Kindom of Golf range from the Energize workshop, which offers a fresh way to look at this ancient game, to Scoring School, a class designed for all levels of experience, and offering 2 custom wedges along with other perks.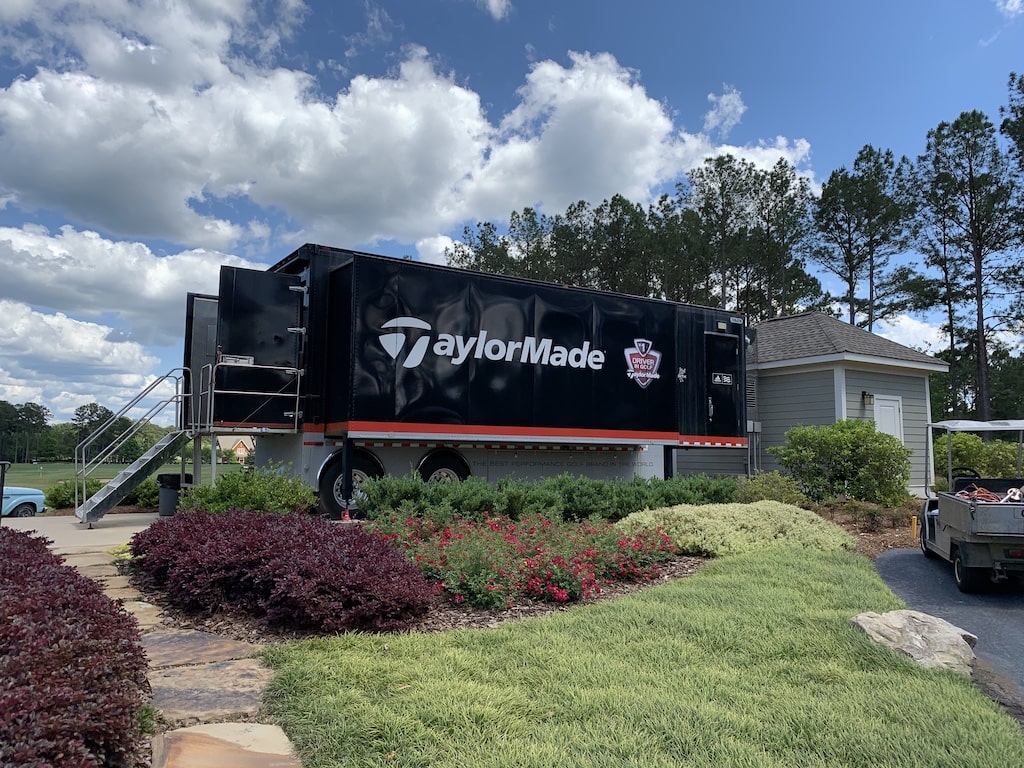 Whichever class you choose, you'll emerge with a better grasp on your game and the confidence to hit the course like never before. I had a TaylorMade putter created just for me while I was there and it really has changed my play on the green.
Championship Golfing, Instruction, and More at Ritz-Carlton
Whether you're taking in a short round at the Quick Six, a full 18-hole experience on one of the other five courses, or getting in some instruction with the Kingdom, you'll find a full championship golf experience at the Ritz-Carlton Reynolds, Lake Oconee.
And if you're looking for the perfect spot for a corporate event, Ritz-Carlton Reynolds, Lake Oconee can set that up for your company, too.
Let me know if you visit. I'd love to hear about your experience at this fabulous Lake Oconee resort.
Like our content? Follow us on Pinterest!