Knowing where to find the best Grapevine restaurants will save you the trouble of searching them out once you're in this fabulous city.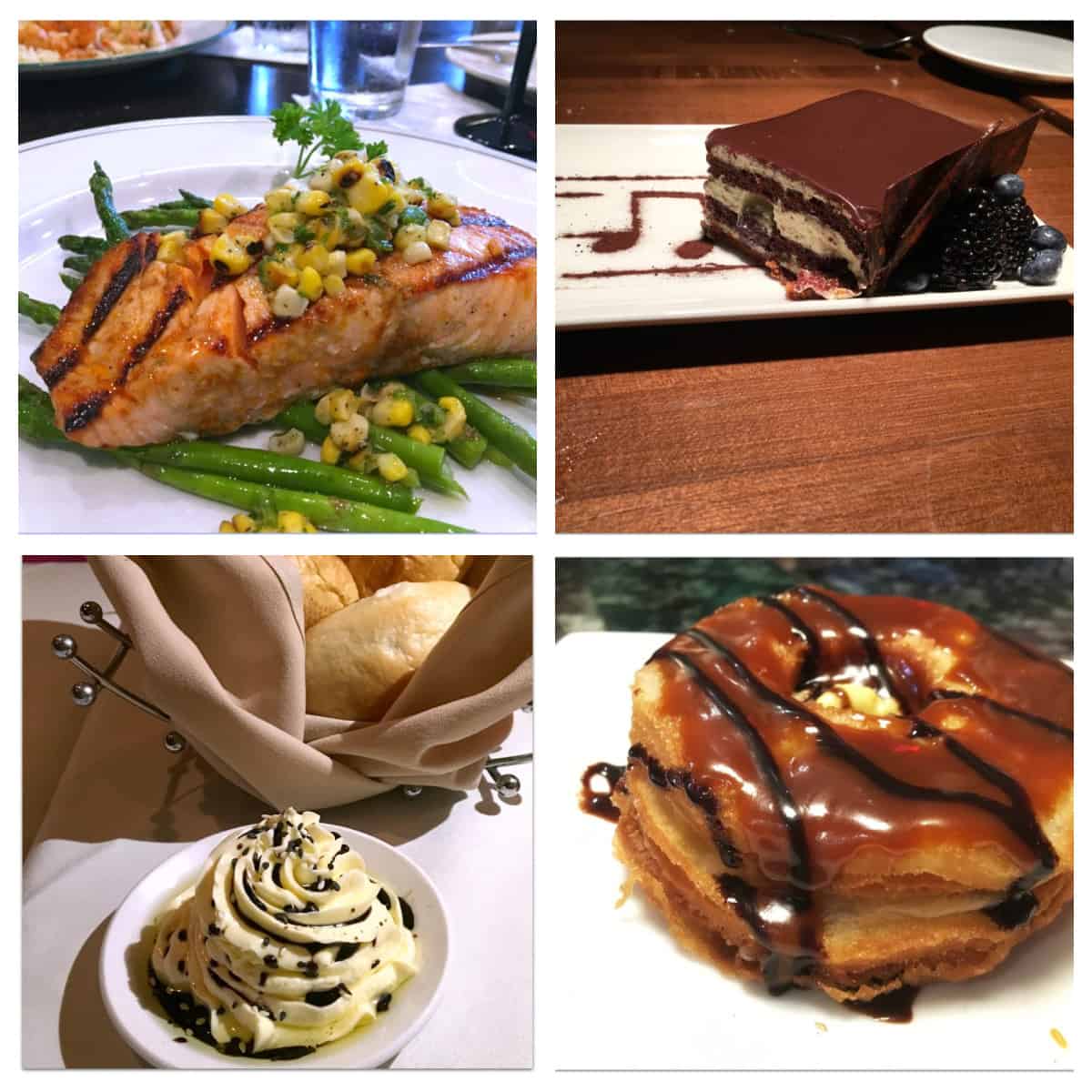 One of the reasons I love to travel is being able to try new restaurants and specialties from different destinations. These Grapevine restaurants were a great find!
Where is Grapevine?
Grapevine is located in north Texas between Dallas and Fort Worth. The DFW airport is less than 5 miles away from this fabulous city with a small-town feel.
If you're road tripping, this Texas Bucket List will help you decide what is most important to see. Make sure to bookmark it so you have it when you need it!
Historic downtown Grapevine is where you'll find quaint shops, art galleries, killer restaurants, and fabulous tasting rooms for wine.
A travel conference brought me to the beautiful city of Grapevine, and a few excursions were planned as part of the event.
When I saw the listing for a Girlfriends Getaway where we would be drinking wine and eating our way around Grapevine, I didn't need to see more.
Little did I know all this destination had to offer, especially when it comes restaurants! They really know how to please the foodies in all of us!
Besides the fact that the people of Grapevine were so amazing, the local restaurants in this charming city of 50,000 are fantastic.
I was surprised and thrilled to taste several wines made right there in Texas. One thing is missed was the craft beer. I'd love to go back and attend the Main Street Fest!
I even shipped a few bottles home from Grapevine Wineries and can't wait to taste them again!
My Favorites
With over 200 restaurants in Grapevine, there is so much to experience, and they have some of the best restaurants! I was honestly blown away at the creativity of some of the chefs.
Winewood Grill
From the first evening experiencing Grapevine restaurants when we were treated to Winewood Grill for dinner, I was in my happy place.
If you've visited this site before, you know how much I love appetizers. Small plates are always a great choice because I can try a little of everything!
Our waiter suggested we try the tenderloin bruschetta. Think a toasted slice of baguette topped with tomato jam, basil pesto, and a couple of pieces of perfectly grilled tenderloin topped with arugula and freshly grated parmesan. I know, right?
It was so delicious that when my neighbor at the table who was a vegetarian offered hers to me, I ate it, too. Yes, I did. No judging.
I needed to try everything so I could tell you which Grapevine restaurants you needed to visit, right?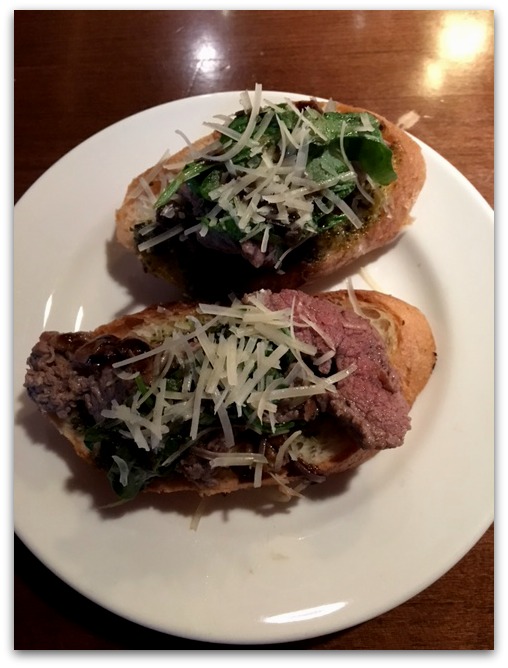 By the way, the calamari was equally as delicious, but I just couldn't get a good shot of it. Sometimes the lighting in restaurants is so difficult for photos, but this dish is another one you must when you visit Winewood.
We paired our meal with a crisp Trebbiano from Duchman Family Winery in Driftwood Texas. Made from 100% Texas grapes, it was a perfect accompaniment to the great food.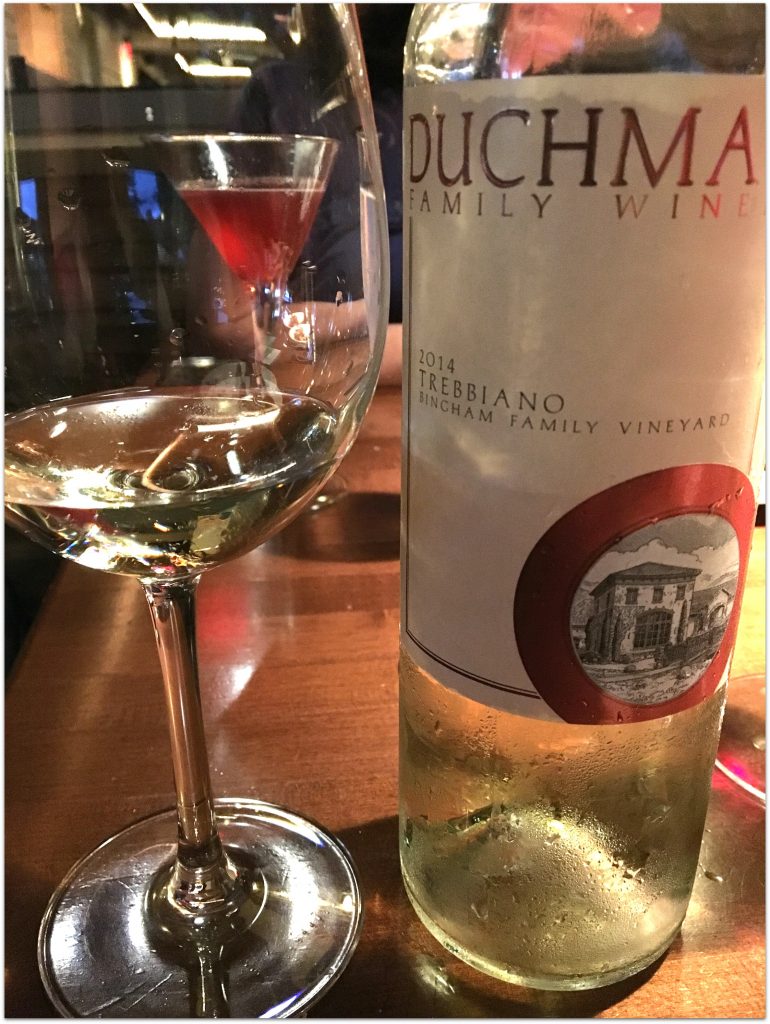 Prefer a martini? The hand-crafted martini menu at Winewood blew my mind! How about a Strawberry Basil Martini made with Plymouth Gin, muddled strawberries and basil, homemade simple syrup and aged balsamic reduction (what?!) and topped with Ginger Beer.
Oh, my. I didn't order one, (what was I thinking?!) and must try it when I head back to Grapevine for their Christmas celebration!
It's been said that dinner at Winewood isn't over until the Opera Cake sings. Regardless of what you order for dessert, I can pretty much promise you will love it.
They have a huge selection of desserts, so what to do? Order one of everything! In our defense, there were about eleven of us at the table, so we shared about six desserts.
The best dessert I found at any of the Grapevine restaurants was this Opera Cake. Similar to Tiramisu, it was heavenly.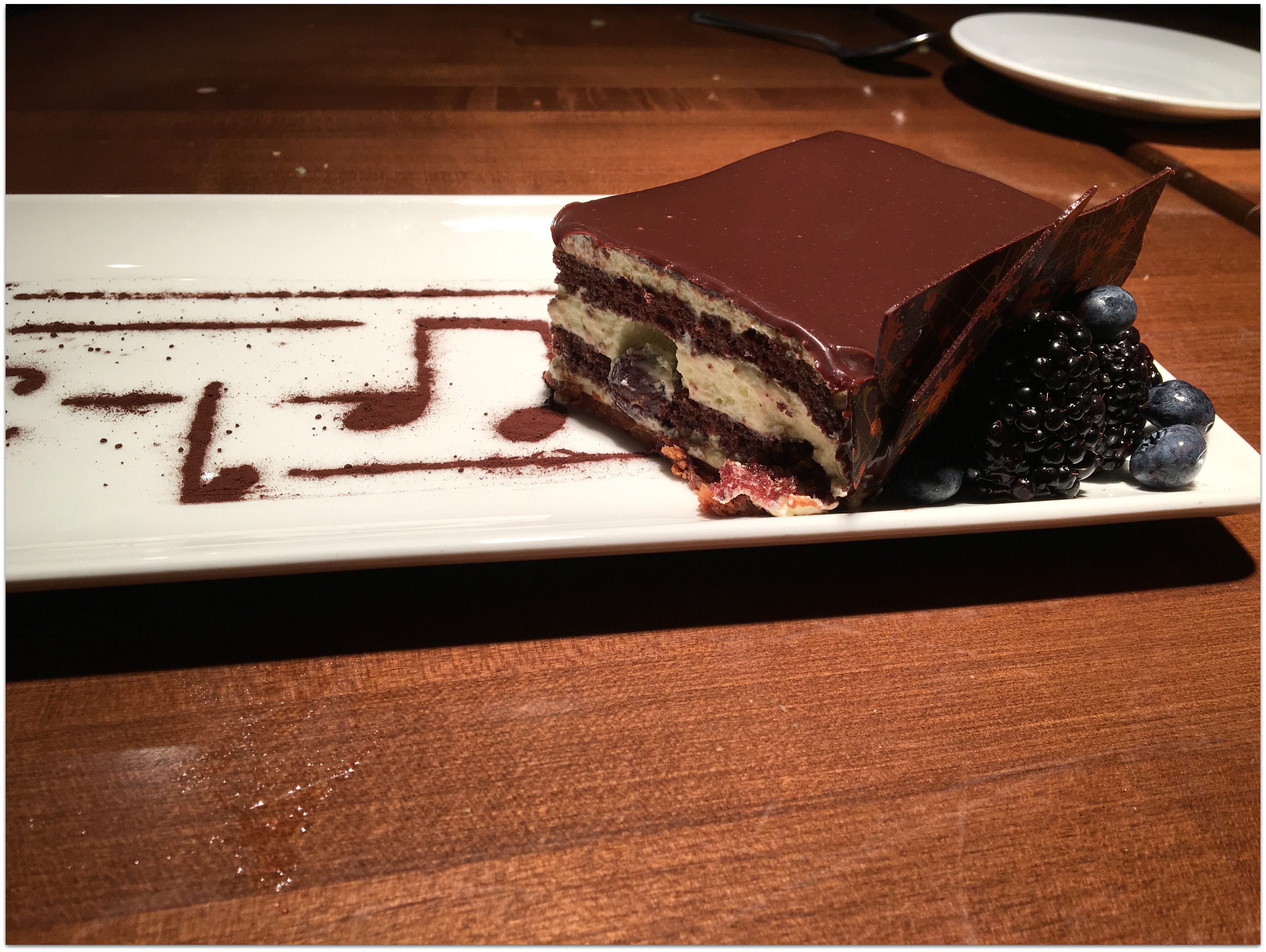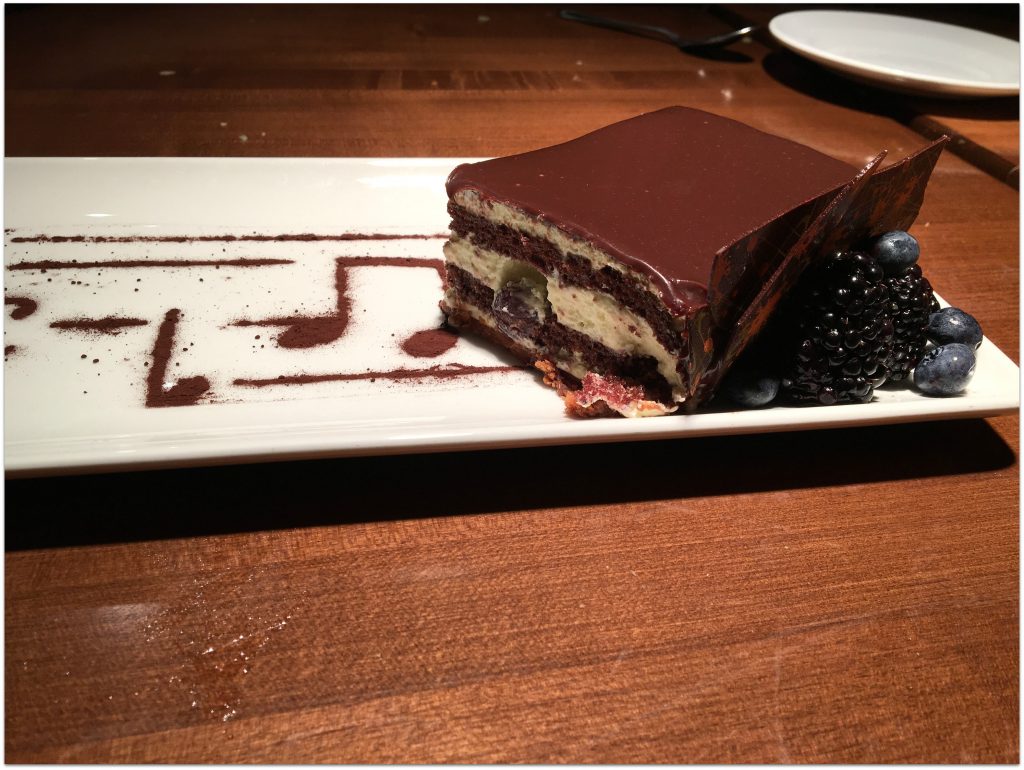 You'll find Winewood at 1265 S Main St. Hours are 11 a.m. until 10 p.m. Monday through Thursday and until 11 p.m. on Friday and Satruday. They close at 9 p.m. on Sunday. Happy Hour is from 3 p.m. until 7 p.m. every weekday.
Farmer's Market Grapevine
This is not your momma's Farmer's Market. With an indoor market open year-round and an outdoor market on Thursday through Saturday, there is a lot to see (and taste!) at the Farmer's Market of Grapevine.
The assortment of Mexican food is incredible at the Market, including a huge variety of handmade tamales.
If you want to experience the flavors of Mexico, you must stop by and try one of the tamales, homemade salsa, guacamole, and queso.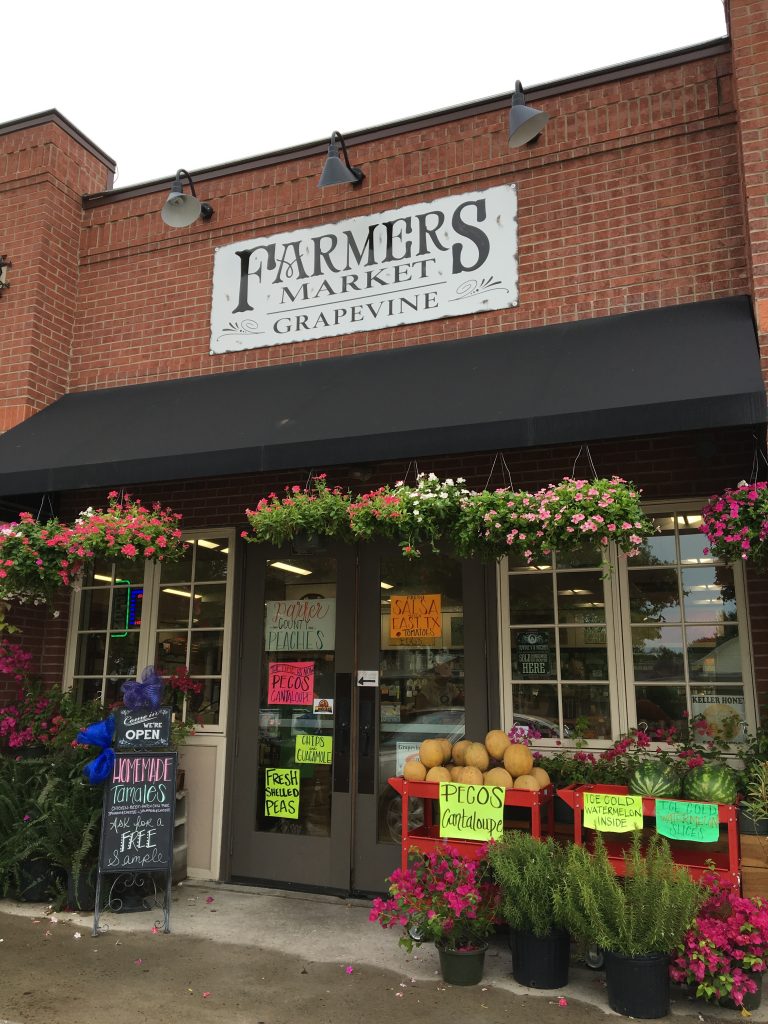 I tasted orange watermelon for the first time, and it was so sweet and delicious that I had to add it to my list! The figs were also fantastic, but my foodie find here was that watermelon.
Check out this short video of us tasting it while on the Girlfriend's Getaway. We were also drinking wine towards the end of the day so you might see us being silly.
If you can get a piece of that watermelon, it will wow your taste buds!
The Farmer's Market is located at 520 S Main St. They are open Monday through Saturday from 8 a.m. until 8 p.m. and Sunday from 9 a.m. until 6 p.m.
Dino's Steak and Clawhouse
I had heard about the butter at Dino's Steak and Clawhouse, but wow! It's just something you have to experience at this upscale restaurant.
I believe it's drizzled with a balsamic reduction, olive oil, and topped with white sesame seeds, but that's a guess after tasting it.
So creamy and delicious on the fresh rolls they set right in front of me. Did someone call ahead and tell them to do that?
Another find from Dino's was the wedge salad. I don't know what it was about this salad. Maybe the pickled onions? Really delicious!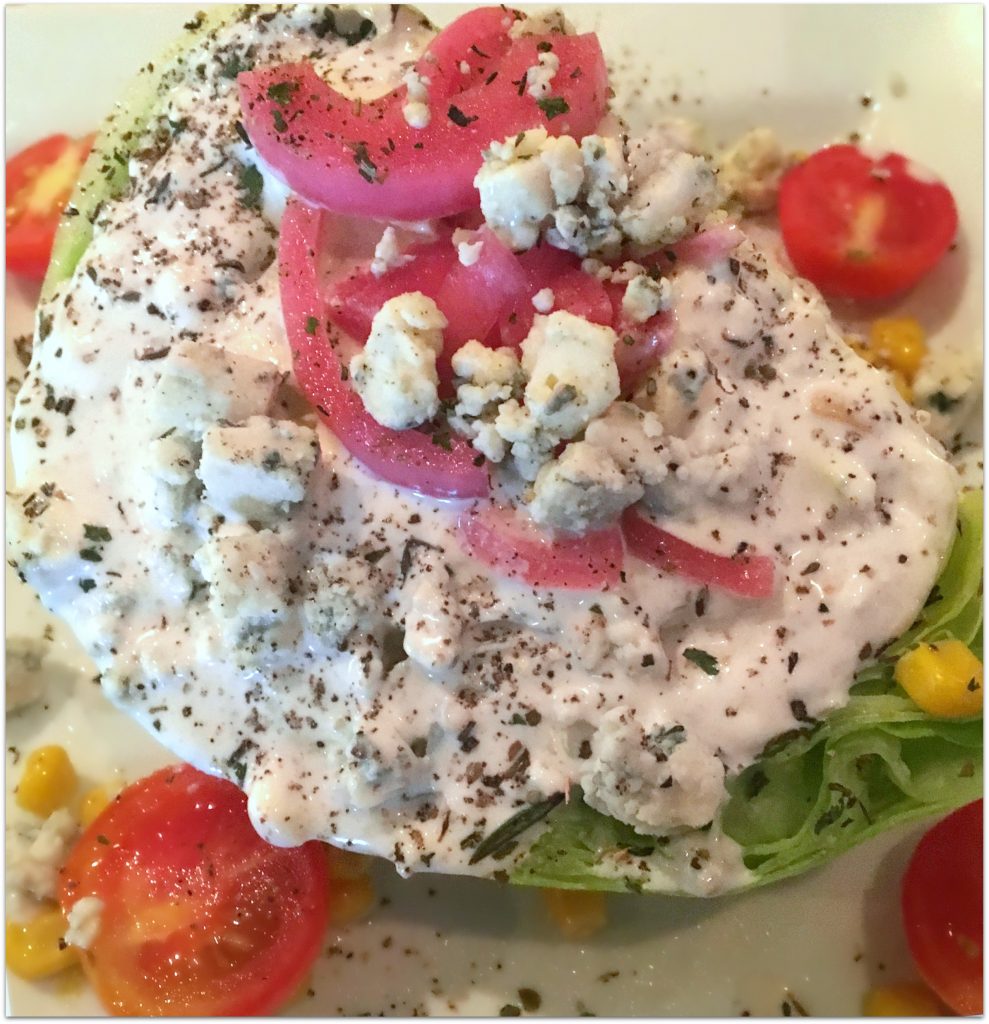 You'll find prime steaks to be the star of the show at Dino's. I didn't have good light to show you, but the food was really wonderful. The wine list was exceptional, too.
Dino's has private dining room options for up to 80 people, so if you have a large group, check out their private parties.
You'll find Dino's at 342 S Main St. Hours are Monday through Thursday from 5 p.m. until 9:30 p.m., and until 10:30 p.m. on Friday and Saturday. They are closed on Suday.
Mac's on Main
Love seafood? You'll find a lot of it on the menu when you visit restaurants in Grapevine! These scallops from Mac's on Main were absolute perfection.
Each tender scallop is served with a spoonful of avocado-corn relish on top of a blue corn tortilla chip. This was an appetizer, and I seriously thought about ordering another for my meal. So good!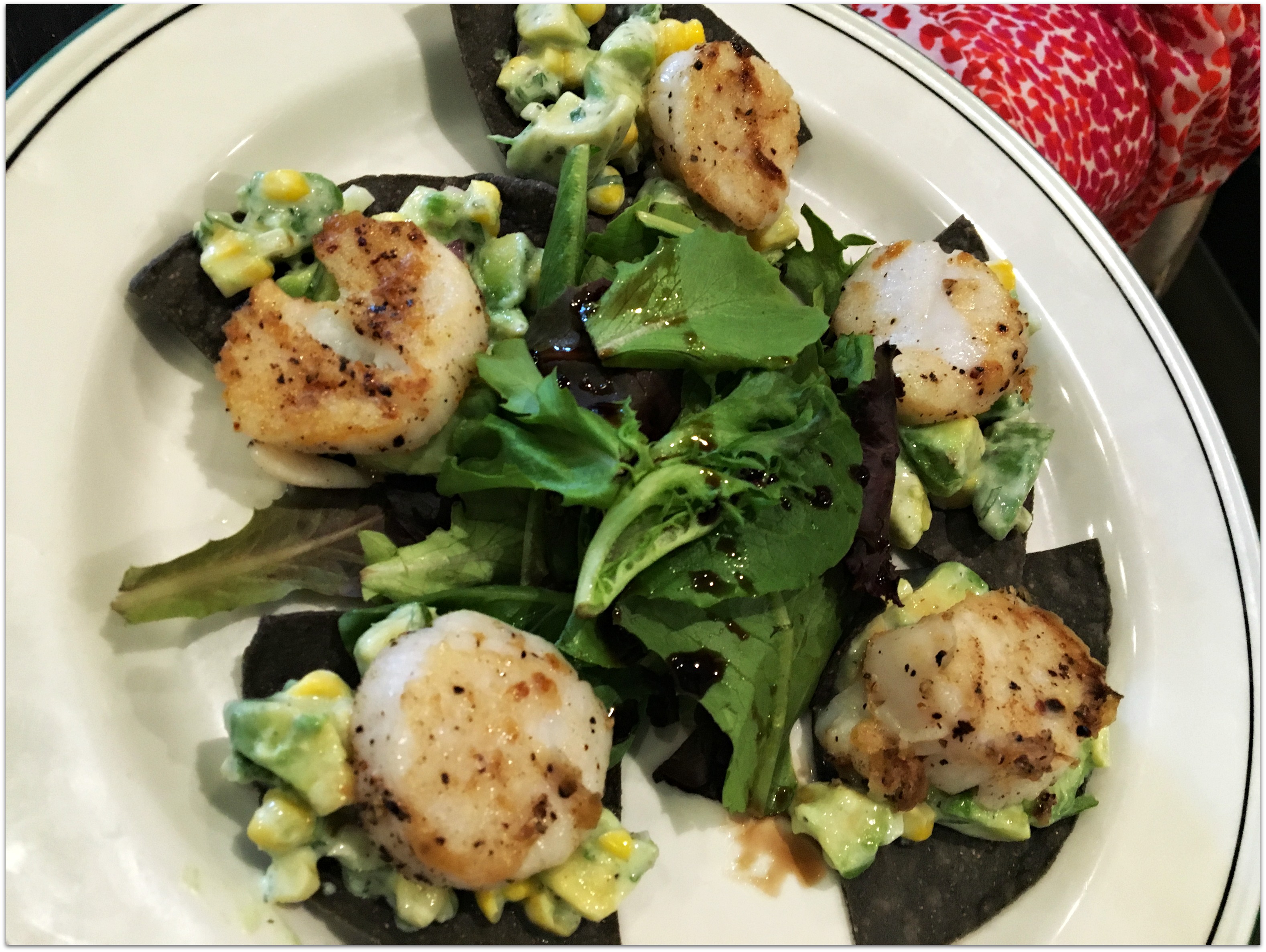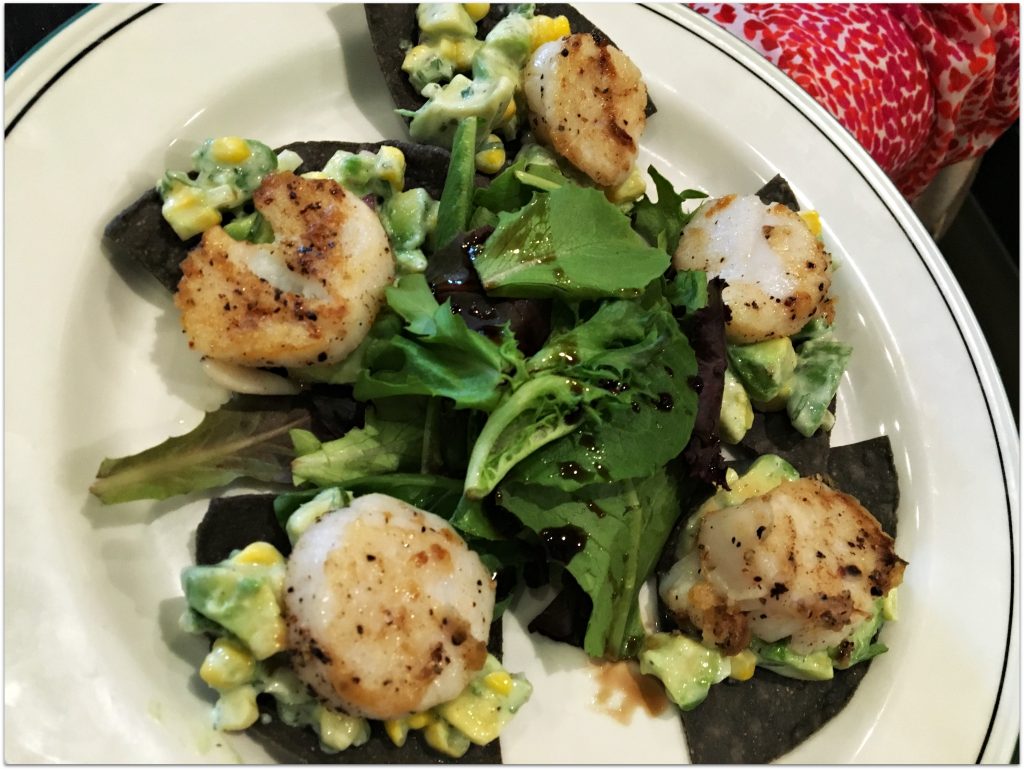 You really can't go wrong with anything at Mac's on Main. Every entree looked incredible.
I did not taste this salmon but asked one of my girlfriends if I could grab a photo because she loved it so much.
It's another one on my list for things I want to try in December when I go back!
Mac's on Main is located at 909 S Main St. They are open for lunch Monday through Saturday, from 11 p.m. until 3 p.m.
Dinner hours are from 4:30 p.m. until 9:30 p.m. Monday through Thursday and until 10 on Friday and Saturday.
Sunday Brunch is also offered from 10 a.m. until 2:30, and Sunday Dinner is from 4:30 until 9:30.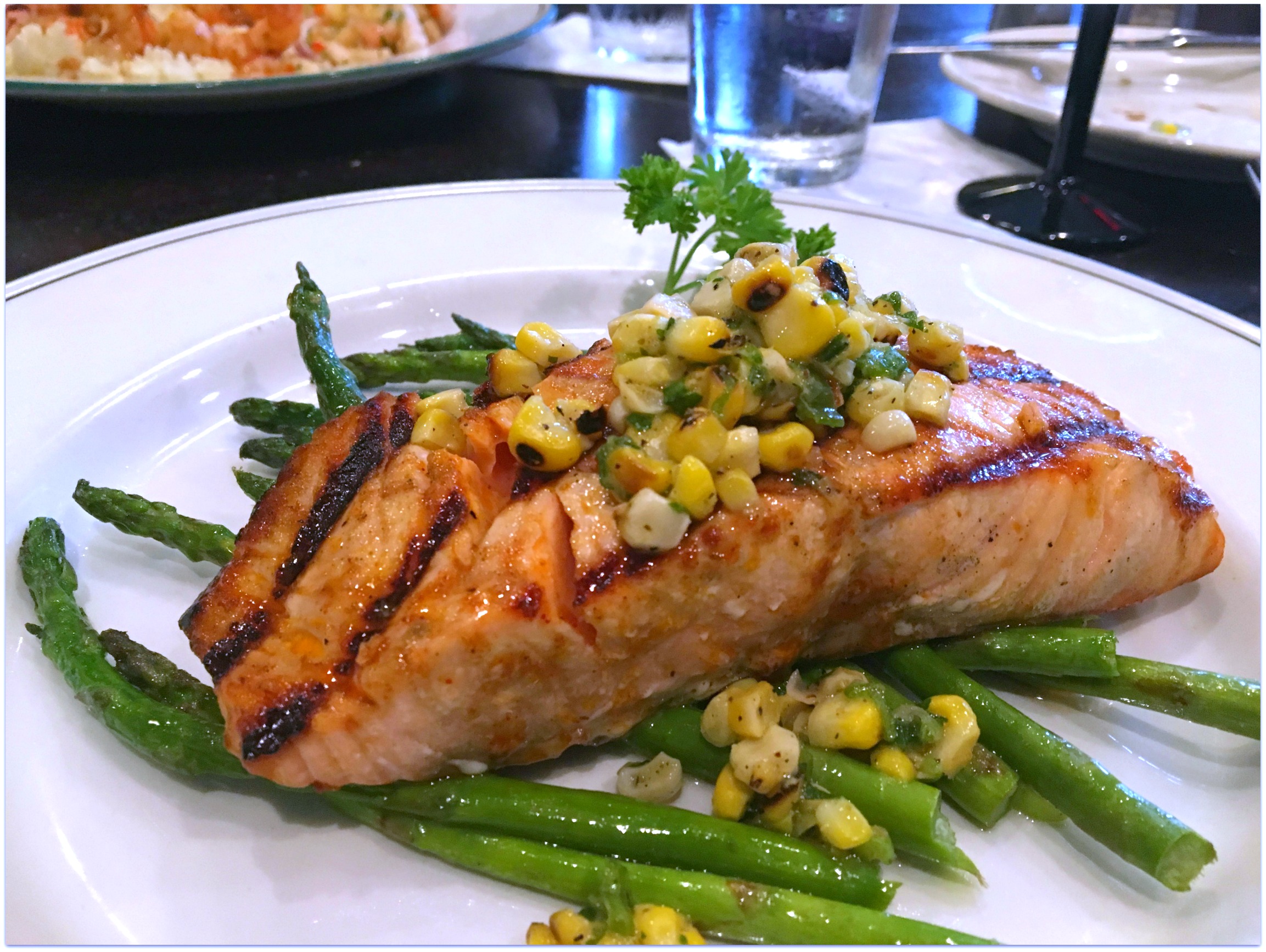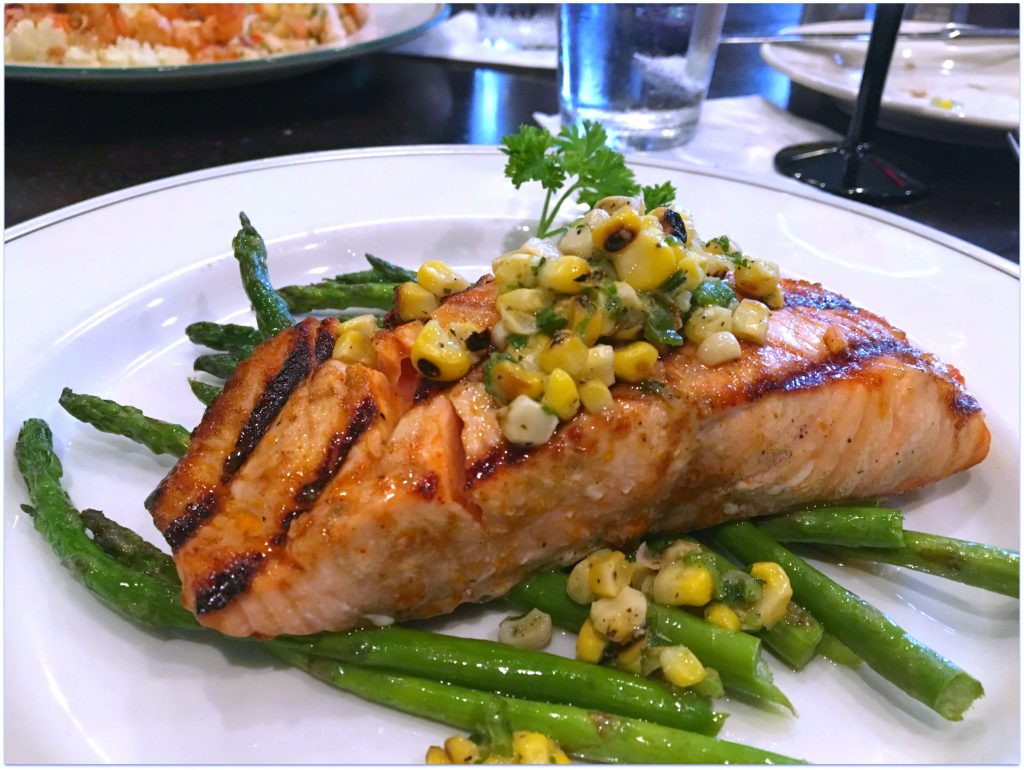 Maine Street Bistro
You can only hope to find a bakery like the one at Main Street Bistro when visiting a new destination.
Not only do they have the Croi-Doughnut Brûlé, but they have a huge menu for breakfast that includes Mimosas and a Bloody Mary Bar (just sayin') and a fantastic lunch menu with dishes like Braised Short Ribs as well as Chicken and Waffles.
This has to be on your list of Grapevine restaurants to visit.
Main Street Bakery and Bistro is located at 316 S Main Street. They open for breakfast at 7 a.m. every day and close at 4 p.m. on Monday, 9 p.m. on Tuesday through Thursday as well as Sunday. They're open until 10 p.m. on Friday and Saturday.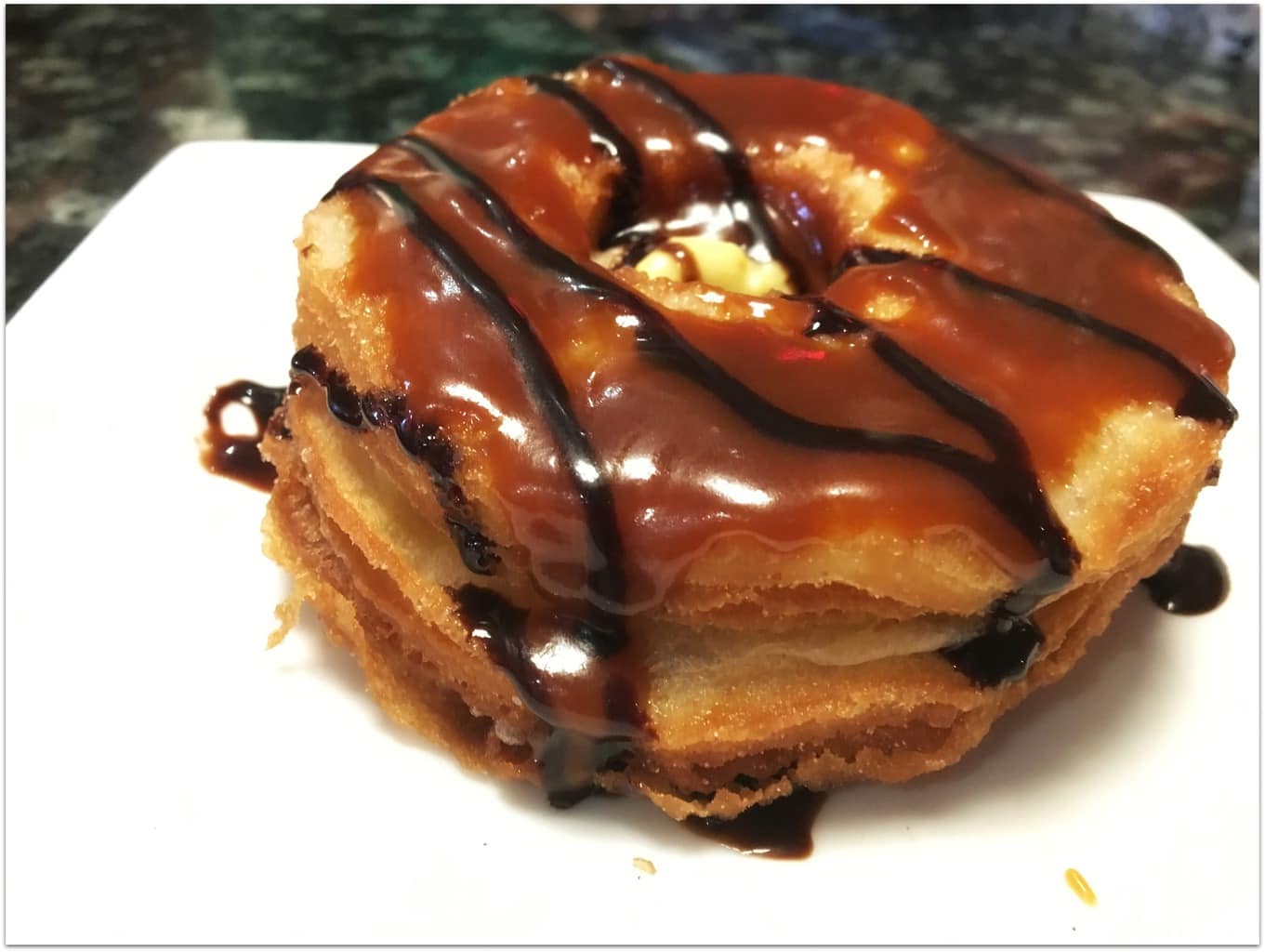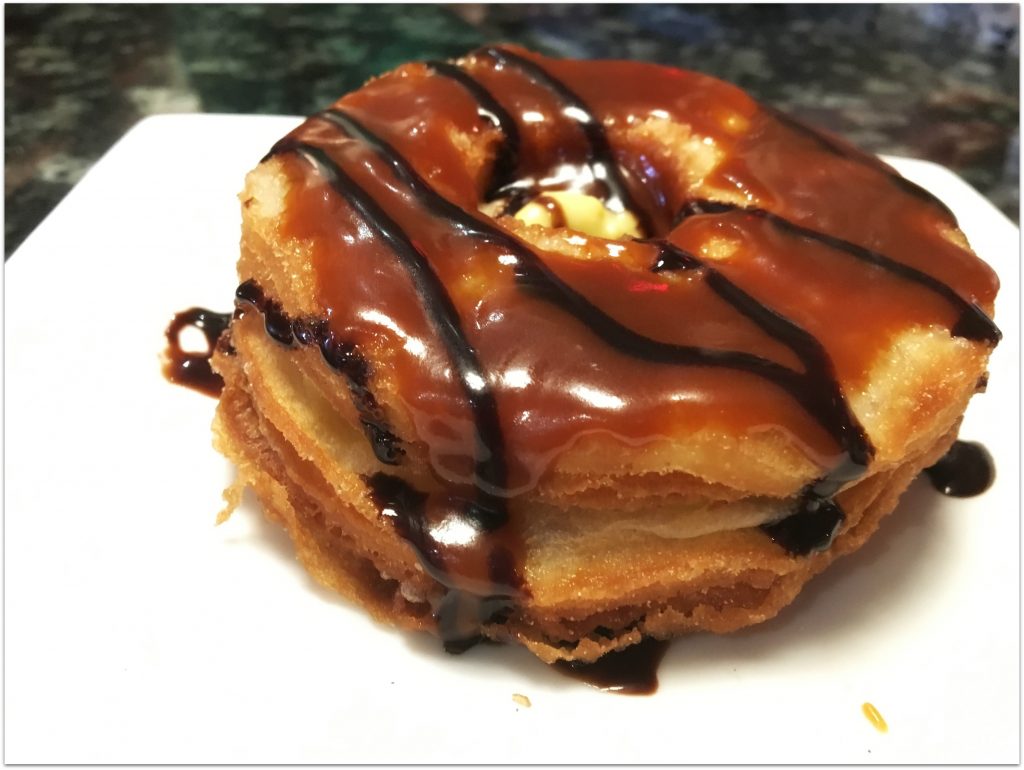 Dr. Sue's Chocolate
Not a restaurant, but it's one of my favorite foods in Grapevine! If you love chocolate, don't miss Dr. Sue's Chocolate .
Dr. Sue is actually a family physician who is on a mission to educate people about the benefits of dark chocolate. This is without a doubt the best chocolate I've ever eaten, and my whole family agrees!
I will be bringing an extra bag for Christmas gifts when I visit Grapevine in December, and I know at least half of it will be filled with Dr. Sue's Chocolate.
The Ginger Fig Bark is to die for! You can taste many of the varieties when visiting the store at 417 S. Main St., but you can also order online.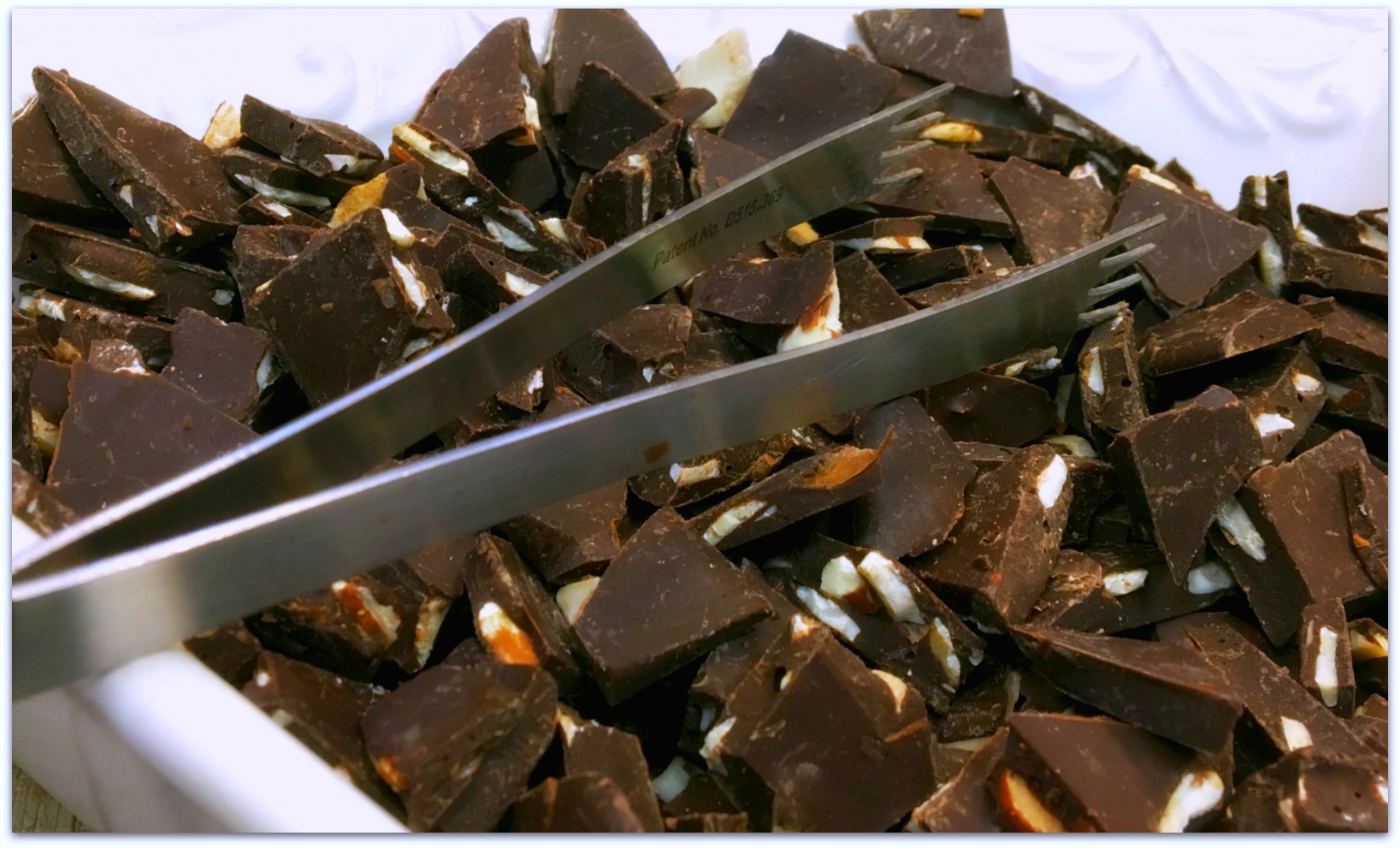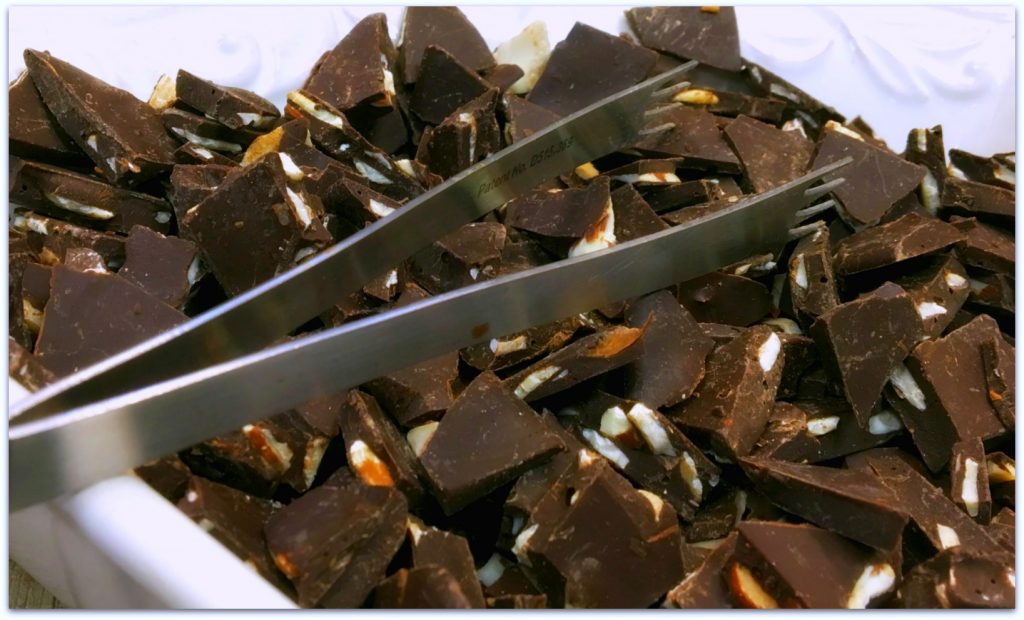 Where to Stay in Grapevine
I would have to say the best place I've stayed is the Gaylord Texan Resort at 1501 Gaylord Trail. It's an absolutely gorgeous resort (and huge!) with beautiful rooms, a great atmosphere, and so much to do.
This is a fantastic spot for Christmas vacation, so if you can go around the holidays, it will be a magical experience for the whole family.
If you have young children, they might prefer Great Wolf Lodge, a water paradise for the young and young at heart. If you enjoy water parks, this would be a great place for a family getaway.
I've heard Hotel Vin is fabulous, too. It was not open when I was there.
Who knew there was so much deliciousness in Grapevine?
What's your favorite foodie destination? Share in the comments so I can check it out.
Questions Readers Ask
What restaurants are in the Gaylord Texan?
The Gaylord Texan has 8 places to eat, including an Italian restaurant, a Cantina Mexican Restaurant, a steak house, and more. Visit the website for details.
What is Grapevine known for?
The wild mustang grapes gave Grapevine its name, but the city is now known as the Christmas Captial of Texas.
What is there to do in downtown Grapevine?
There is actually a lot to do! You can shop, taste local Texas wines, visit the aquarium, check out the Vintage Railroad, attend the Texas Star Dinner Theater, explore the history, find new places to eat, and more!
More Things to Do in Texas