My family decided to spend our spring break in Puerto Rico this year, and honestly, I can't wait to go back. It's so easy to travel to, and it was really inexpensive to get flights.
You don't need a passport or foreign currency, so you can just pack up and go!
We really didn't decide what part of Puerto Rico we were going to visit until about a week before we left.
I don't necessarily recommend waiting that long, but if you are planning a last-minute vacation, Puerto Rico is the way to go!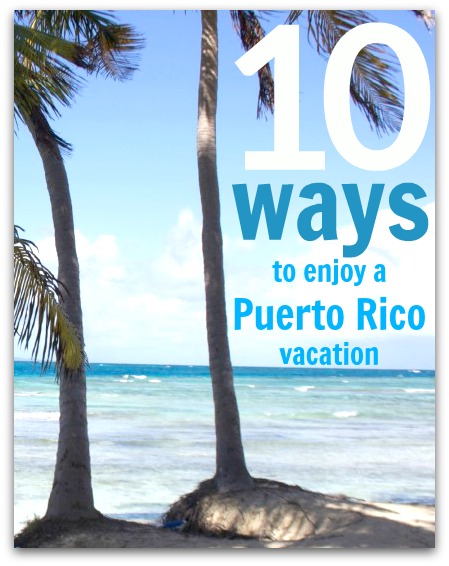 I feel like it took us a couple of days to get the lay of the land, so to speak, but once we discovered how much there was to do, we couldn't fit it all in!
So you don't miss any time exploring this beautiful island, here are 10 ways to enjoy your Puerto Rico vacation.
10 Ways to Enjoy your Puerto Rico Vacation
Beaches: Puerto Rico has 270 miles of gorgeous coastline and has been featured on the Travel Channel's Top 10 beaches. Flamenco Beach in Culebra has been said to be one of the best beaches in the world.
Fabulous hotels: You'll find many top hotels in Puerto Rico.
Bioluminescent Bays: In these Bioluminescent bays, you can glow like an angel. We didn't get to do this on our trip, but we plan to the next time. The whole experience is really fun, as there are many vendors selling local Puerto Rican food and handmade items.
Rainforest: Very close to the hotel we stayed at in Fajardo was El Yunque, the only rainforest in Puerto Rico under US national park service.
We had such a great time exploring the park, even hiking down to the biggest waterfall. It was a pretty long walk, but the path was not difficult, and well worth it! If it is a hot day, you can swim once you get there. You will not find any amenities, so take a towel and wear your bathing suit.
Fabulous Golf: My husband played 18 holes while we were in Puerto Rico, and I know he would have loved to play more! He thought the course was very well maintained, and as it was an Arthur Hills course, it was also very challenging.
Incredible restaurants: Have breakfast at Las Vistas, lunch at La Parrilla, and dinner at La Estacion, and you will eat three of the best meals you've ever had!
Snorkel & Dive: You'll find many opportunities to snorkel and dive. In many places, you can go in right from the shore. For better viewing, go with one of the many companies who will take you out to deeper waters.
Sailing: Whether catamaran or sailboat, Puerto Rico is perfect for enjoying the pristine waters of the crystal-clear Caribbean Sea.
Horseback riding: Many places offer horseback riding, even in the foothills of the El Yunque Rainforest.
Relax: Doing nothing while enjoying the gorgeous beaches of Puerto Rico is also an option you will enjoy. I spent an afternoon in a lounge chair just staring at the sea. Leave your phone in the room and unwind.
Whatever your vacation plans are, you will fall in love with Puerto Rico.