At Hawks Cay Resort Duck Key, it's all about relaxation. Combining the feel of a Caribbean getaway with a convenient location in the Florida Keys, Hawks Cay Resort offers a one-of-a-kind experience that you can't find anywhere else.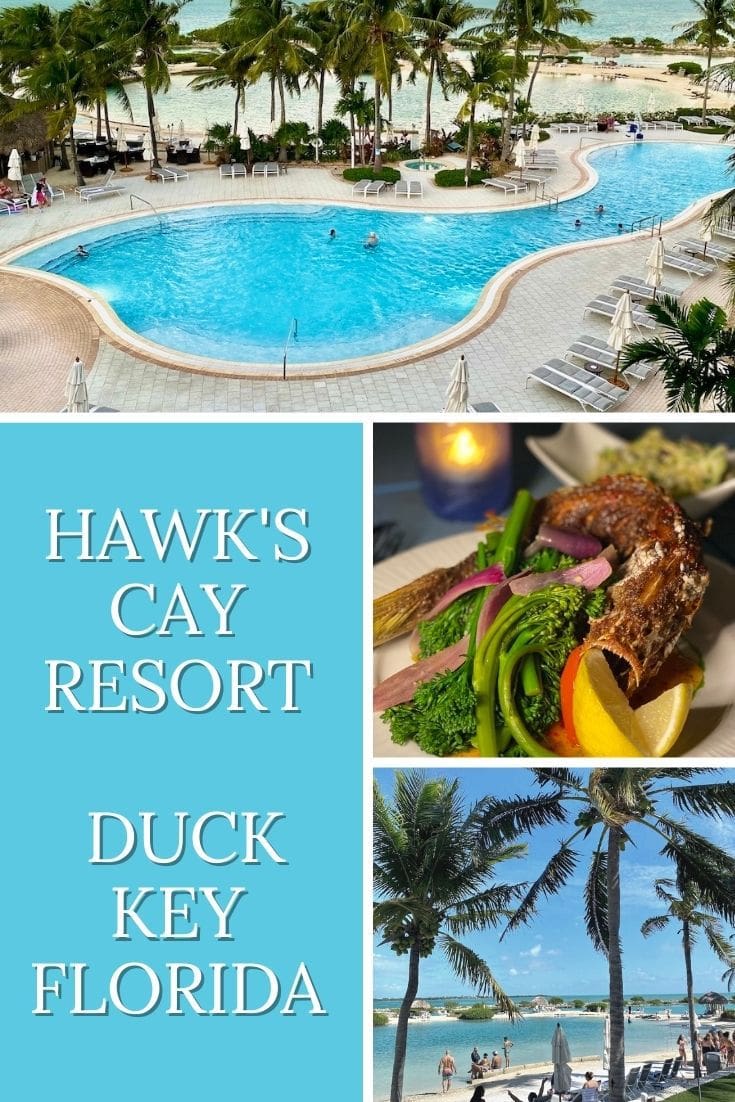 Voted #1 Best Family Resort in the country in the USA Today 10Best Reader's Choice Awards, head to this stunning resort in Florida's Duck Key for a fun and easygoing getaway.
Be sure to check out things to do in Key West with kids if you're heading there, too!
Hawks Cay Resort Duck Key
Nestled on the secluded island of Duck Key, Hawks Cay Resort is located squarely between Miami and Key West, two of the most popular spots in all of Florida, creating the perfect mix of quiet relaxation and convenience.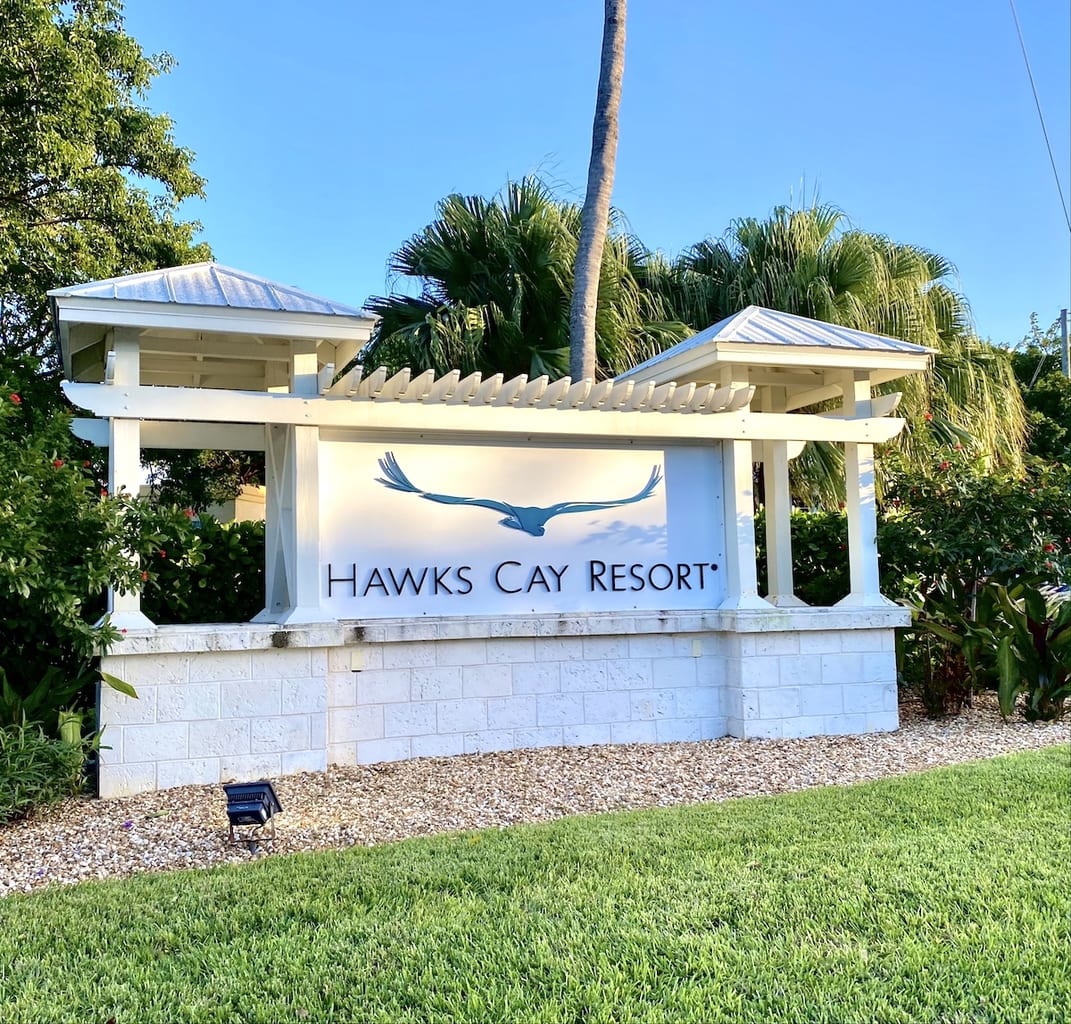 Easily accessible by car, boat, or plane, the resort offers all the benefits of being located on the mainland while evoking a Caribbean vibe.
Hawks Cay Resort offers up crystal clear turquoise water, loads of sunshine, fishing and diving, the freshest seafood, and a laid-back tropical atmosphere, all without the need of a passport or leaving the States.
This resort is a true tropical getaway, and you can feel it from the second you arrive. You'll be greeted by lush tropical plants, gorgeous views, and lovely rooms.
A wristband will get you in and out of your room and be used to charge to your account anything you purchase. It was nice to not have to worry about carrying my purse or wallet!
The resort even has its own lagoon for soaking up that warm Florida sun.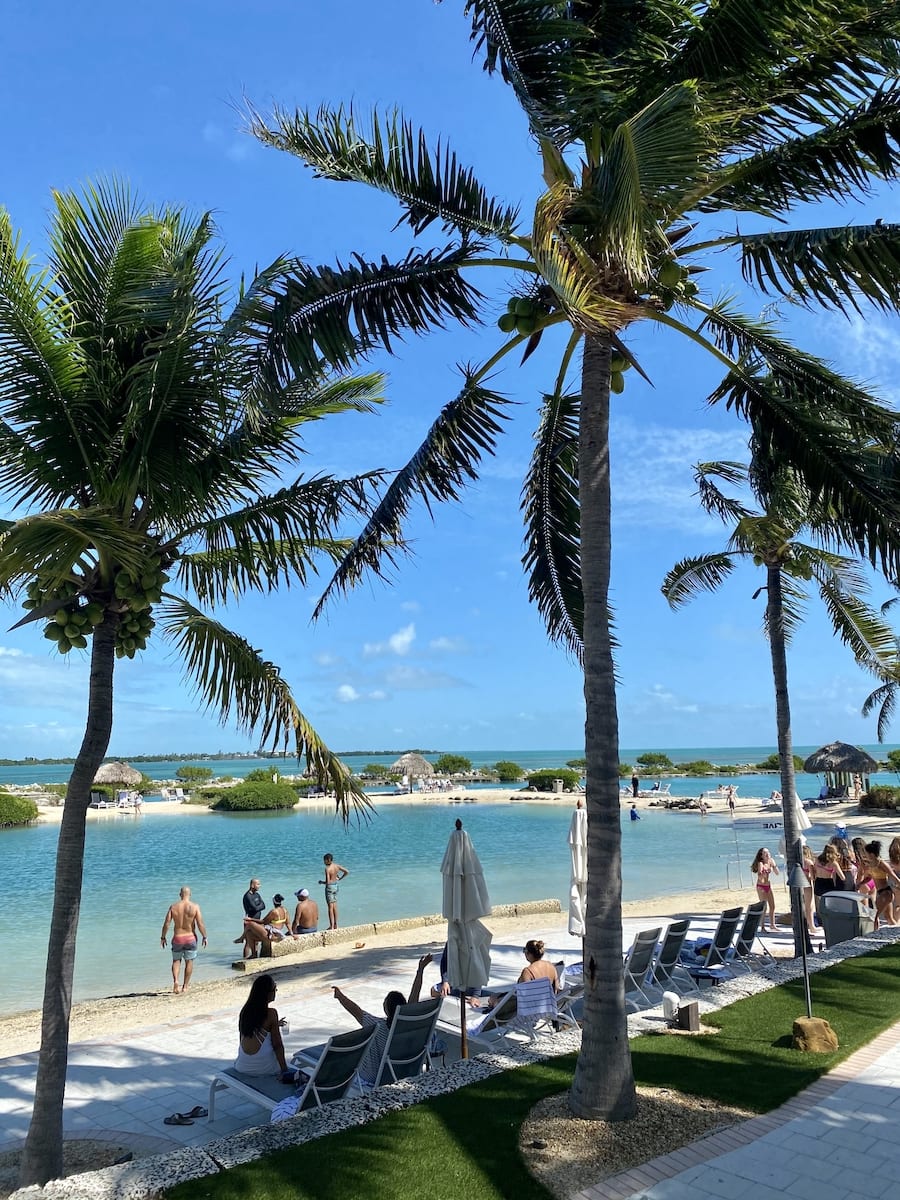 If you're more of a do-it-all versus chill kind of vacationer, the resort also boasts an excellent location for taking day trips to the surrounding areas like Key West.
You could even combine a stay at Hawks Cay with a night or two at the Lighthouse Hotel Key West like we did. And if you're driving north, you really should stop on the way. We found so many things to do in Naples Florida that we had to spend a few days!
It's hard to get everything in when visiting Key West for a Day trip, but you can definitely still see a lot if you want to just spend four or five hours.
Relaxed Luxury Accommodations
Hawks Cay Resort offers a variety of beautifully appointed accommodation options ranging from rooms and suites to villas and penthouses.
Rooms and Suites
The Resort offers a variety of rooms and suites with lovely furnishings and comfortable spaces.
Many offer stunning views, as well. Ours overlooked the pool and I had to get up to see that sunrise!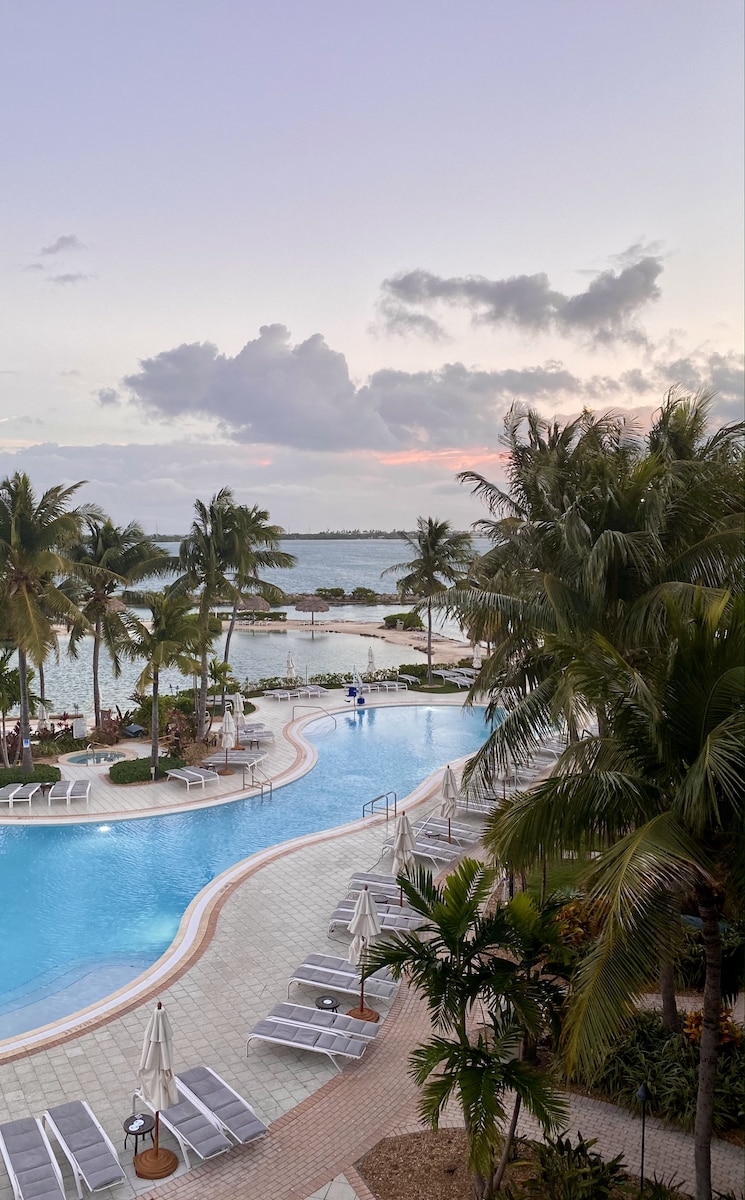 Our room had two beds, a large bathroom with a jacuzzi tub, and lots of space.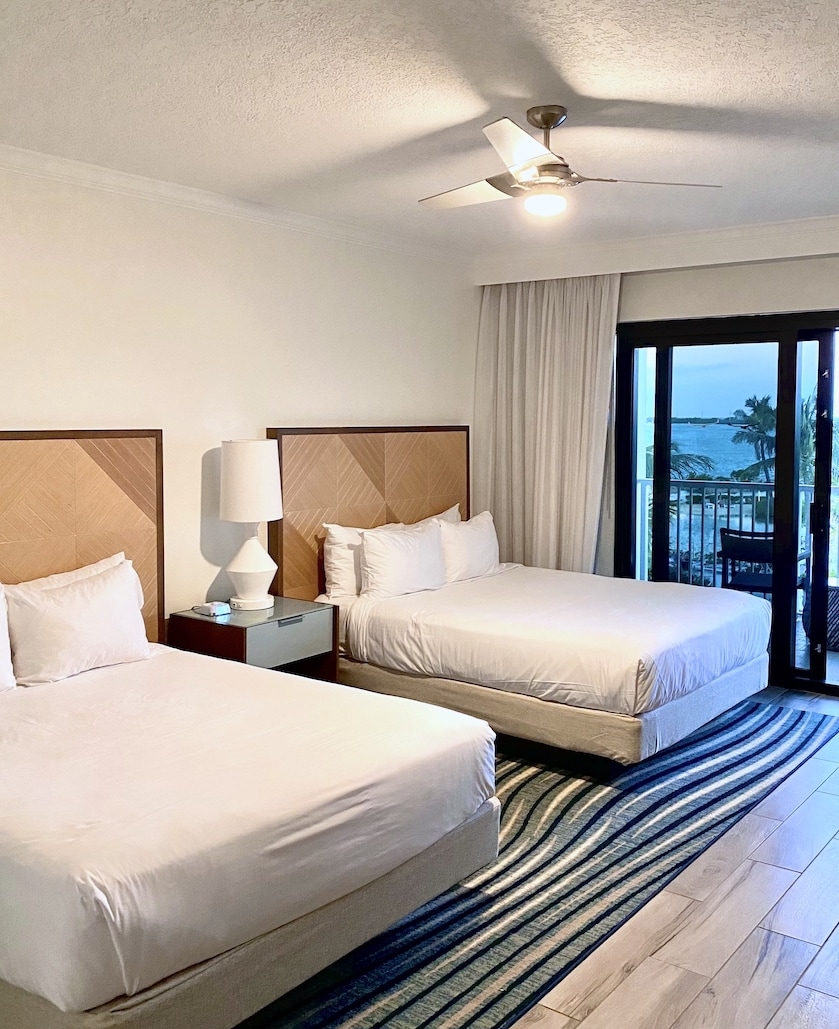 Robes are provided, as well.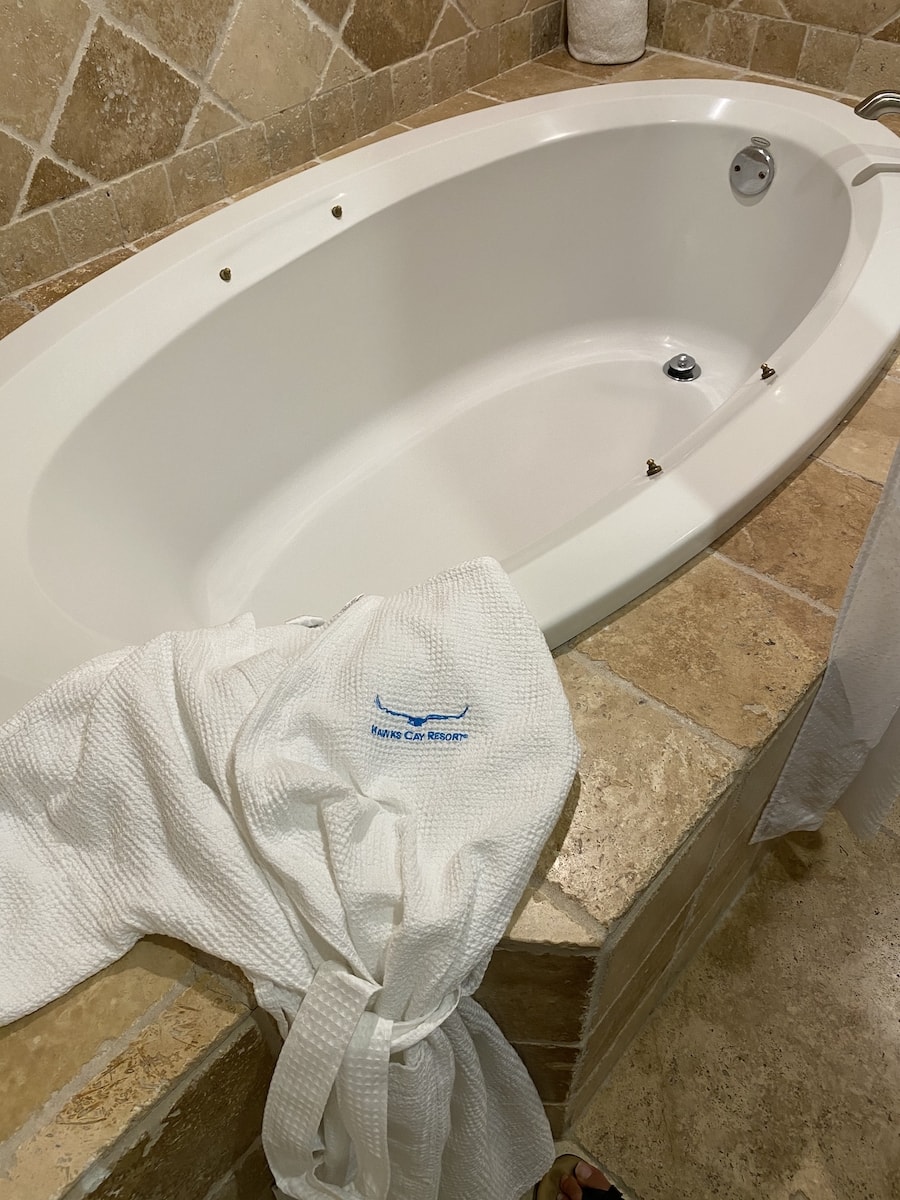 Tropical Villas
Hawks Cay Resort offers a variety of tropical villas, all of which feel like elegant homes away from home.
The villas boast larger living space with 2, 3, and 4 bedroom options, and gorgeous views. This is a great option for larger families.
Penthouse Suites
The Coastal and Stargazer Suites are designed for the ultimate in relaxed upscale luxury.
The Coastal Suite offers a coastal-casual design and gorgeous views. The Stargazer Suite takes elegance and adds a bit of whimsy, along with an in-suite telescope for guests to watch the twinkling night sky.
Hawks Cay Resort Amenities
All guests of Hawks Cay can take advantage of their wonderful amenities designed to make life easy-going and convenient for all guests.
The resort combines the feel of a tropical getaway with modern necessities that allow guests to kick back and enjoy their vacation.
General Amenities
Self-parking
On-resort transportation (great for dinner at Angler & Ale!)
Coral Cay Kids' Club
Tennis facility
Bike rentals
Kayak and paddleboard rentals
5 Pools
Salt Water Lagoon
Calm Waters Spa
The definition of relaxed luxury, Calm Waters Spa offers guests their own unique Florida spa experience. Traditional and locally-inspired spa treatments and therapies using natural ingredients and scents of the islands combine to create a spa experience that restores and rejuvenates.
Enjoy massages, facials, peels, and more. The spa also offers special occasion and bridal packages. I wasn't able to experience the spa myself this time, but I've heard it's amazing.
Fitness Center
The Hawks Cay Resort Fitness Center offers both strength training and cardio equipment so all guests can keep to their fitness regimen if they so choose.
Pools and Lagoon
Poolside lounging is one of my favorite activities on vacation, and you'll have the opportunity to do plenty of that at Hawks Cay Resort.
With five pools and a saltwater lagoon, your biggest decision of the day will be which chair you choose at which pool!
Resort Pool
The Resort Pool is just past the lobby and offers ocean views, music and entertainment like family games, and on-site eats and drink from the Tiki Grill, which is really good, by the way!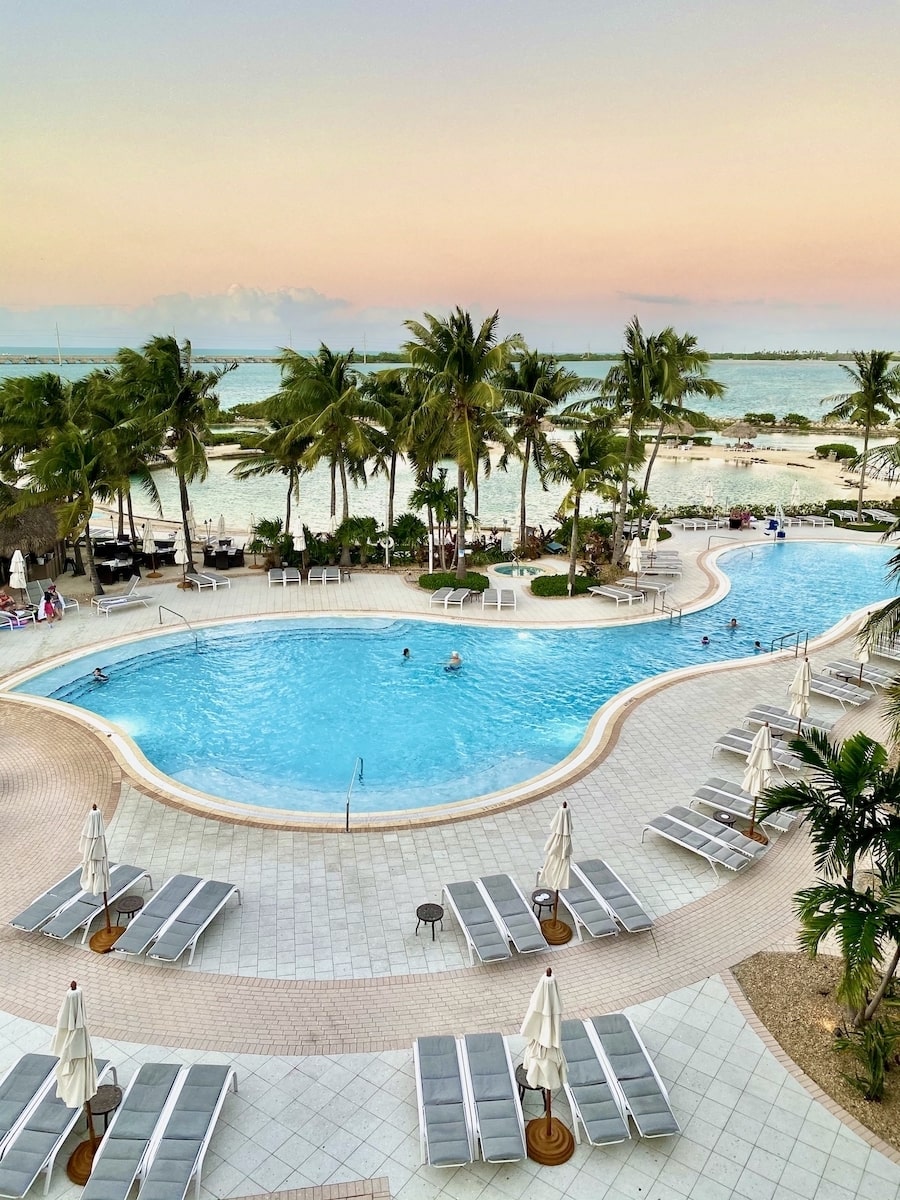 This resort is a great choice for kids of all ages. I saw groups of young teens running around together having a blast.
Hawk's Cay Resort reminded me of Dirty Dancing, where families go to the same resort and meet friends year after year.
Tranquility Pool
This adults-only oasis features beautiful views, food and drinks from Oasis Cay attendants, and private cabanas available for reservation. We spent the good part of a day at Oasis Cay and it was lovely!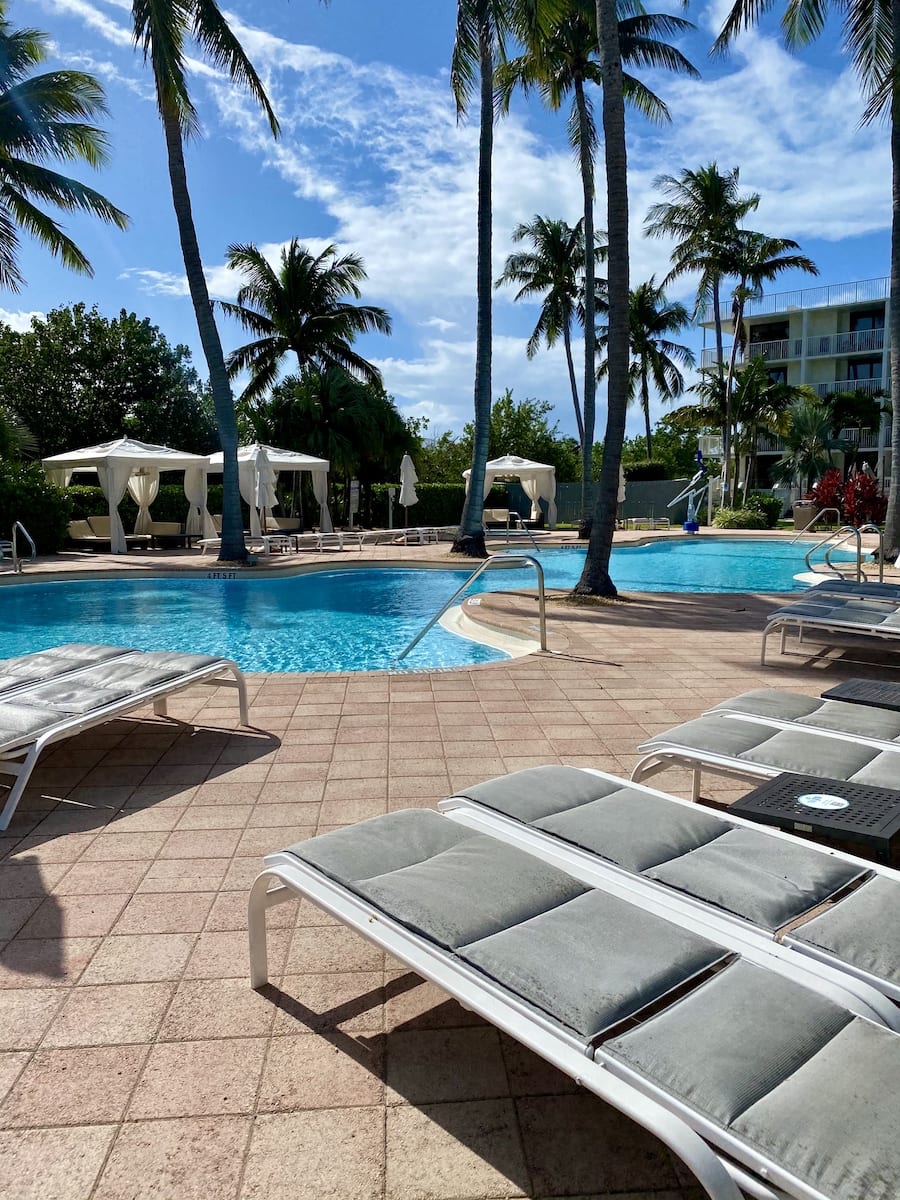 Pirate Ship Pool
Featuring slides, water cannons, raining palm trees, and shallow areas for budding swimmers, the Pirate Ship Pool is made with children in mind.
It's a great hub for kids to meet new friends and have a ton of fun. The Pirate Ship is located steps from Coral Grill for tasty eats and Coral Cay Club which offers video games, sand volleyball, and more.
Coral Cay Pool
Coral Cay Pool is adjacent to the Pirate Ship Pool, allowing families to take advantage of both.
Sunset Pool
This secluded pool is perfect for a relaxing end to the day. Guests can enjoy beautiful Florida Keys sunsets while taking a swim or simply lounging.
Saltwater Lagoon
This enclosed saltwater lagoon is fed directly from the ocean, rising and lowering with the gulf tides.
Guests can relax at the water's edge, go paddle boarding or swimming, and enjoy looking for dolphins and sea turtles that routinely swim through the harbor.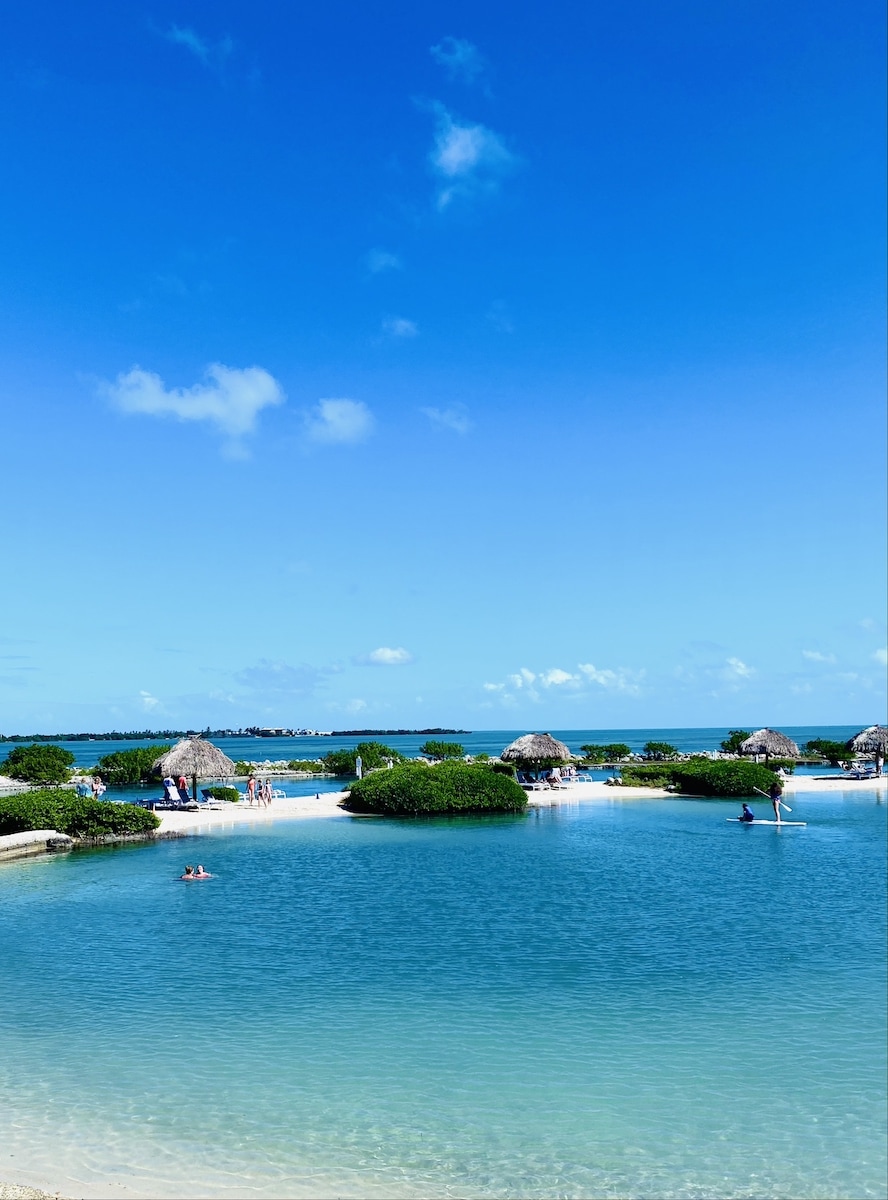 Things to Do
In addition to the areas designed to help you unwind, Hawks Cay Resort offers a wide variety of activities for adults and families to enjoy.
From their kids' club to fishing and so much more, there's something for everyone.
Take a look at the Events Calendar each day to see what's in store.
New in 2022, Hawks Cay has launched a new songwriters' concert series called Keys to Country, featuring three, weekend-long concert events! The first event will be headlined by country music star Easton Corbin on President's Day Weekend, Feb. 19-20. Artists for the April and August concerts will be announced shortly.
From Resort Yoga to Beach Cardio to paddleboard lessons and crafts for the kids, you can stay as busy as you'd like!
Coral Cay Activities & Adventure
Putting course and sports field
Hawks Cay Pools
Fishing
Swimming with dolphins
Watersports
Walk around and explore this gorgeous resort. I found some great Instagram opportunities!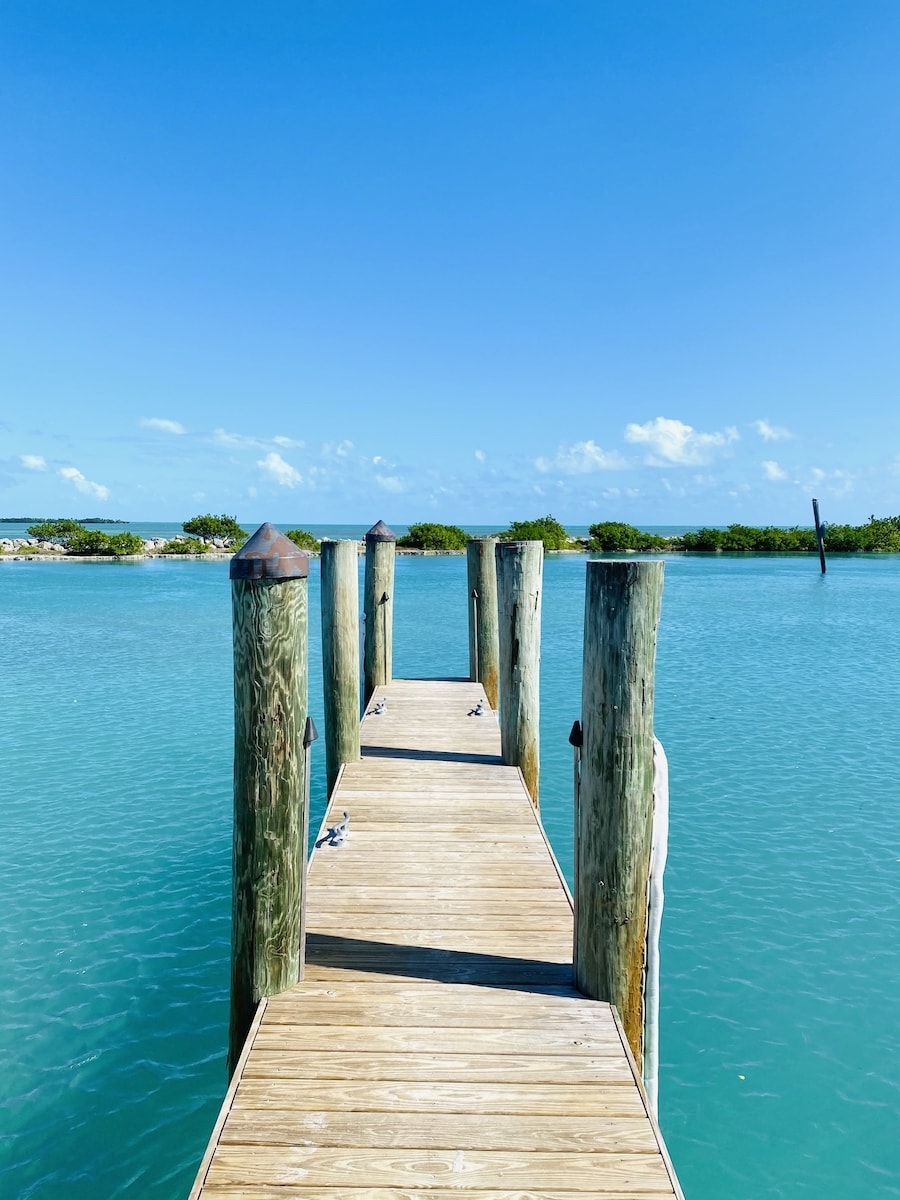 In the evening when the fire pit is blazing, grab a chair and check out the live entertainment. They have some very talented singers and entertainers on staff!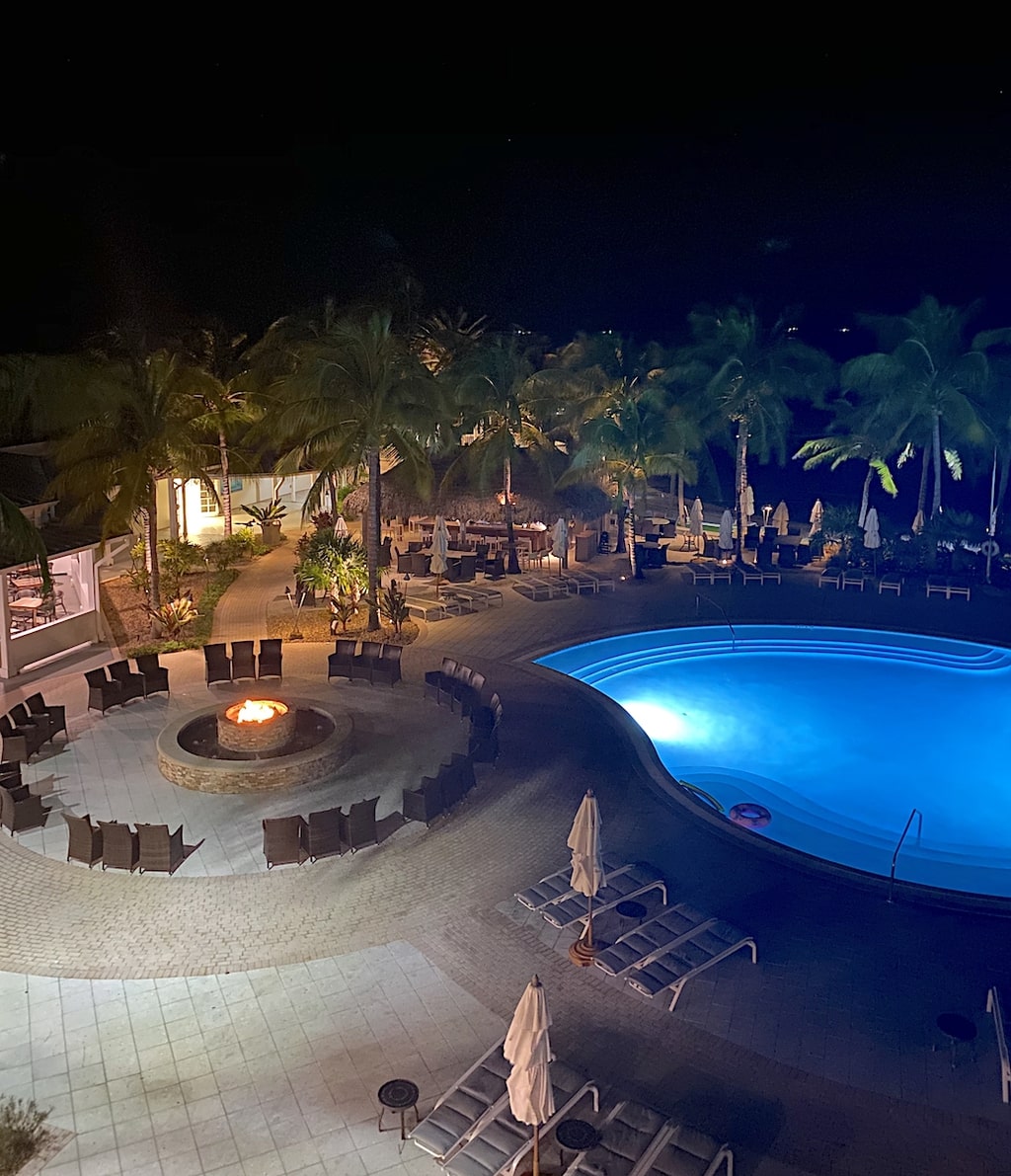 I was impressed with the variety of entertainment, too. They really catered to all ages, even the littlest guests got to choose songs like the Itsy Bitsy Spider. So cute!
Resort Dining
Hawks Cay Resort makes it easy right down to their dining options.
Choose from in-room dining along with six restaurants offering everything from prime steak and seafood to fresh groceries delivered from Publix - for when you've been running after little ones all day.
The resort even offers made-to-order boxed lunches delivered to you for eating at a table outside or taking on a fishing trip or other excursion.
Sixty-One Prime
Guests can head to Sixty-One Prime to enjoy premium steaks and fresh seafood, all served with the classic Key West flair and a fantastic selection of wines.
Angler and Ale
Enjoy a relaxing meal beside the dock or bring in your own catch for Angler and Ale's signature Hook and Cook meal.
We had dinner at Angler and Ale and it was fantastic. Located right at Hawks Cay Marina, grab a table outside and enjoy the breezes off the water.
I have to say I was surprised at the upscale food as the atmosphere reminded me of a crab house. It's very laid back and casual.
We ordered the Crispy Grouper Cheeks to start.
The large pieces of white fish that were crispy on the outside and tender and flavorful on the inside were a great way to start the meal. The portion is large so be prepared to share this one!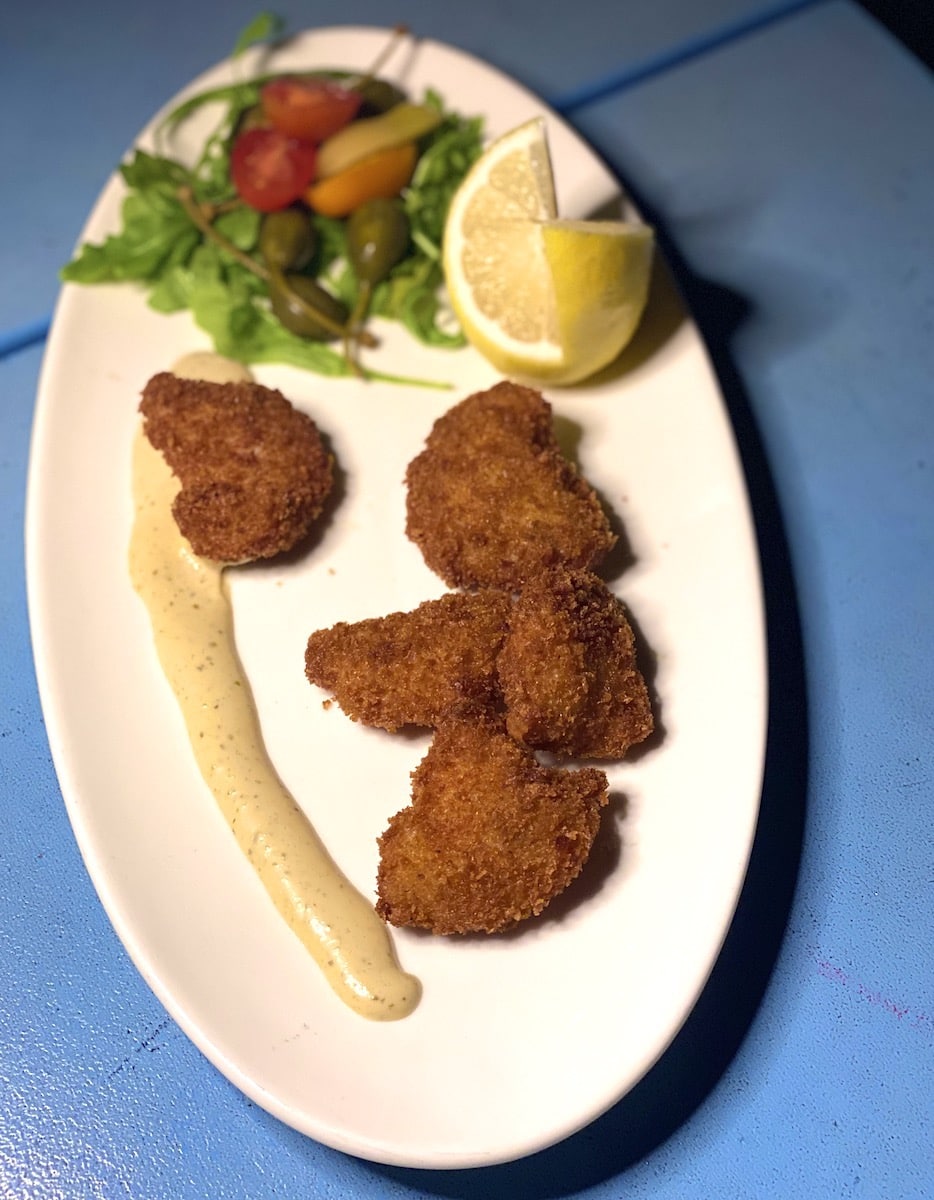 I ordered the Whole Fried Snapper. This is a whole fish served with the head on. It was perfectly cooked and really delicious.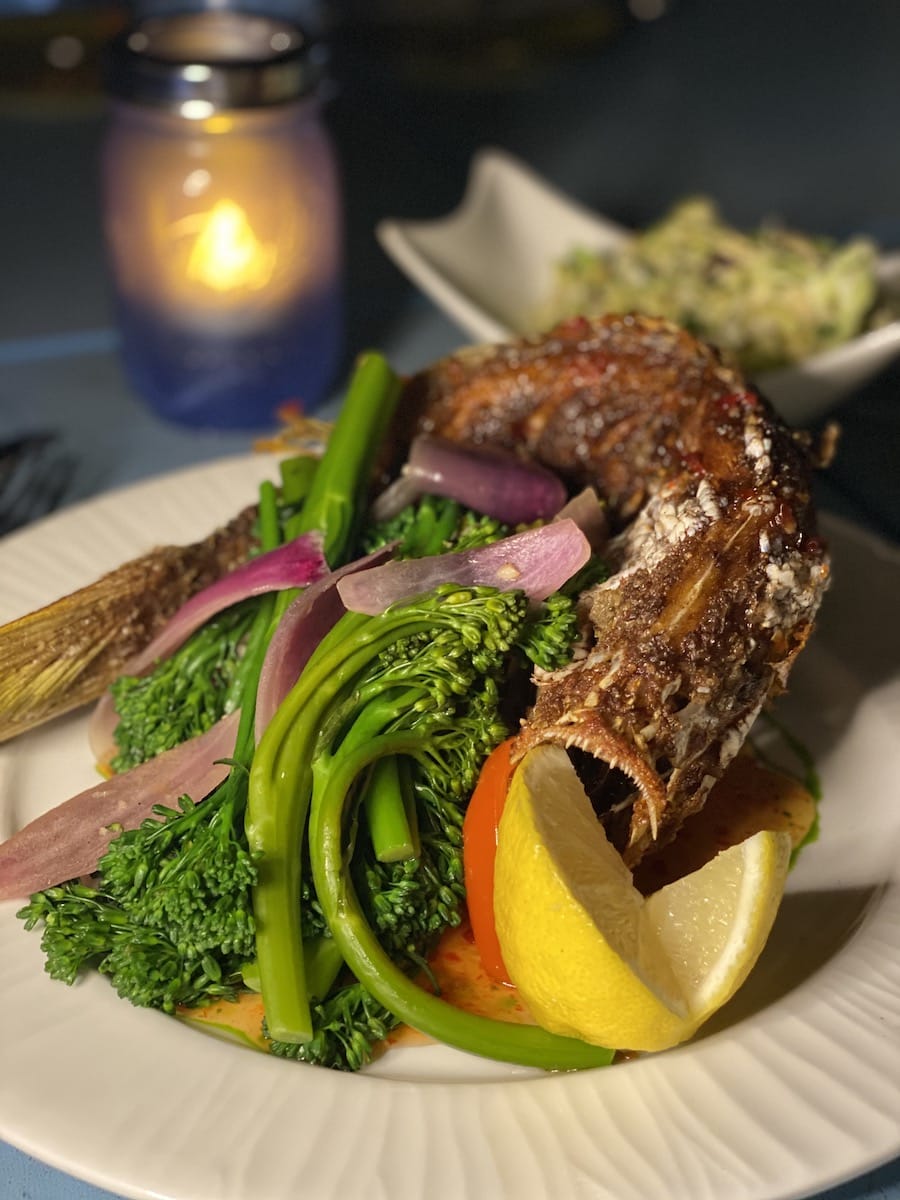 My daughter ordered the Salt & Vinegar Jumbo Lump Crab Cakes, because why wouldn't you? We thought crabmeat with salt & vinegar chips sounded pretty heavenly. We were right.
The Caribbean Banana Split sounded so decadent, but we just had no room! If you go, please let me know so I can see this masterpiece!
By the way, the marina can accommodate vessels up to 110 feet long and provides boat in/boat out service and dockage for resort guests and liveaboard boaters. They also offer a whopping 85 boat slips, so if you're arriving by boat, they've got you covered.
Hawks Cay Marketplace
For on-the-go guests, Hawks Cay Marketplace offers fresh, family-friendly dining that's prepared quickly. Guests can enjoy salads, pressed paninis, pizzas, and pasta. We didn't end up eating here, but it was pretty popular.
Oasis Cay
This adults-only bar offers up delicious eats along with specialty alcoholic and non-alcoholic beverages by the relaxing Tranquility Pool. Service is also available right at your lounger.
Tiki Grill
Guests can enjoy the classic tiki bar experience at Tiki Grill.
Combining poolside eats like sandwiches, salads, cold drinks, and tropical cocktails along with Florida Keys quirky, tropical vibe, Tiki Grill was fun and the burgers were killer.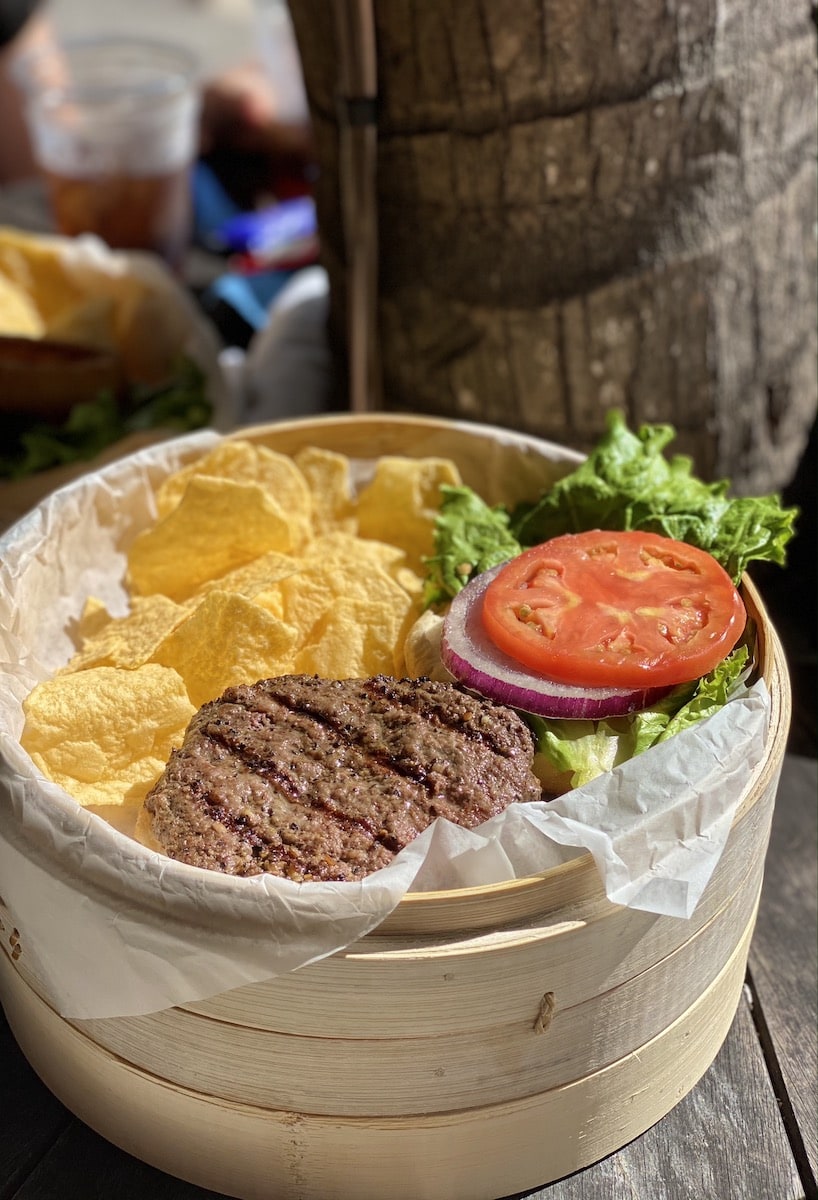 The Tiki Burger is crazy good according to my daughter!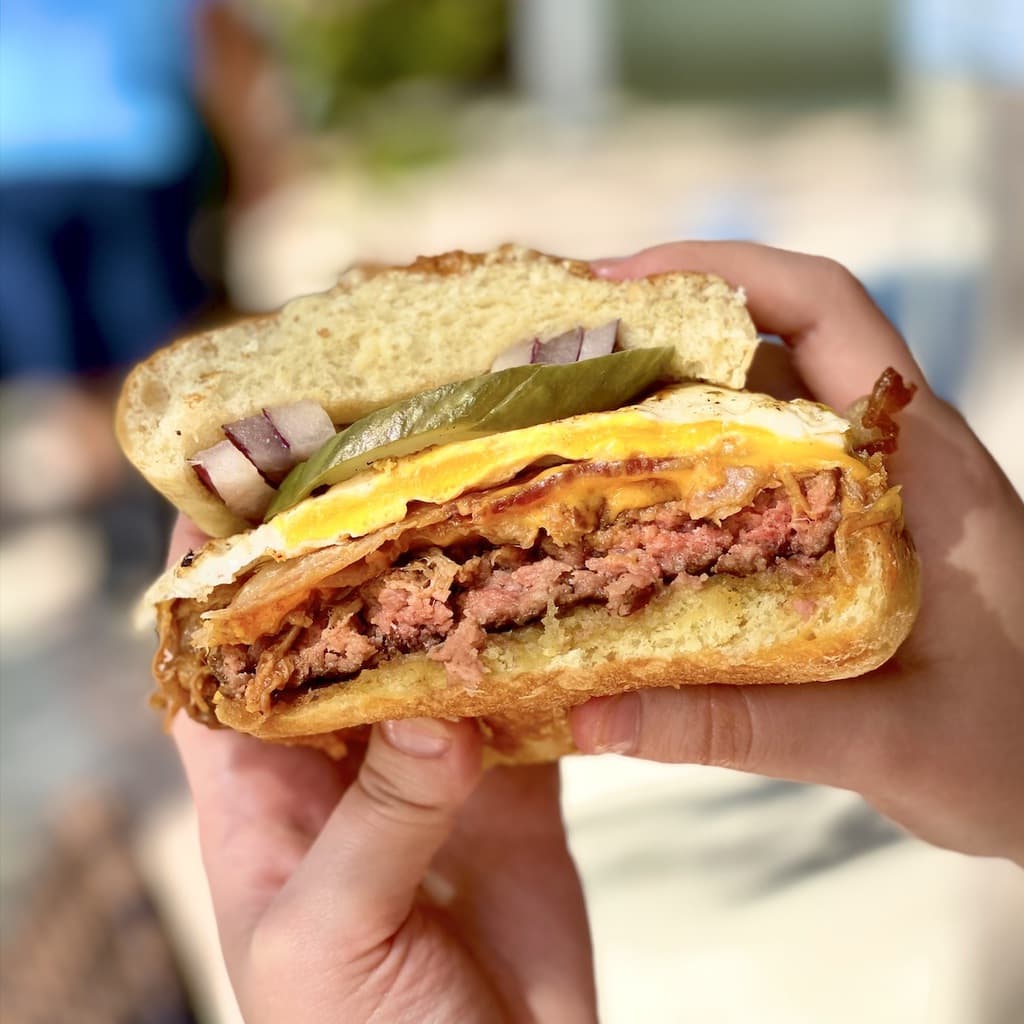 Coral Grill
Coral Grill offers casual eats at a family-friendly eatery near the Pirate Ship Pool, making it the perfect spot for those with kids.
How To Get to Hawks Cay on Duck Key
You can fly into the Key West Airport and drive about an hour and a half to Duck Key. Though there are several spots where a passing lane appears briefly, for the most part, the Overseas Highway is one-lane. Keep that in mind as drive time can be slower during the busy season.
If you're driving, Duck Key is only about 80 miles from Miami, and you'll find fun spots to stop along the way. We drove this 2020 Lexus NX F Sport and had our favorite tunes and podcasts going, so the drive was actually a lot of fun.
We stopped for a lot of photos!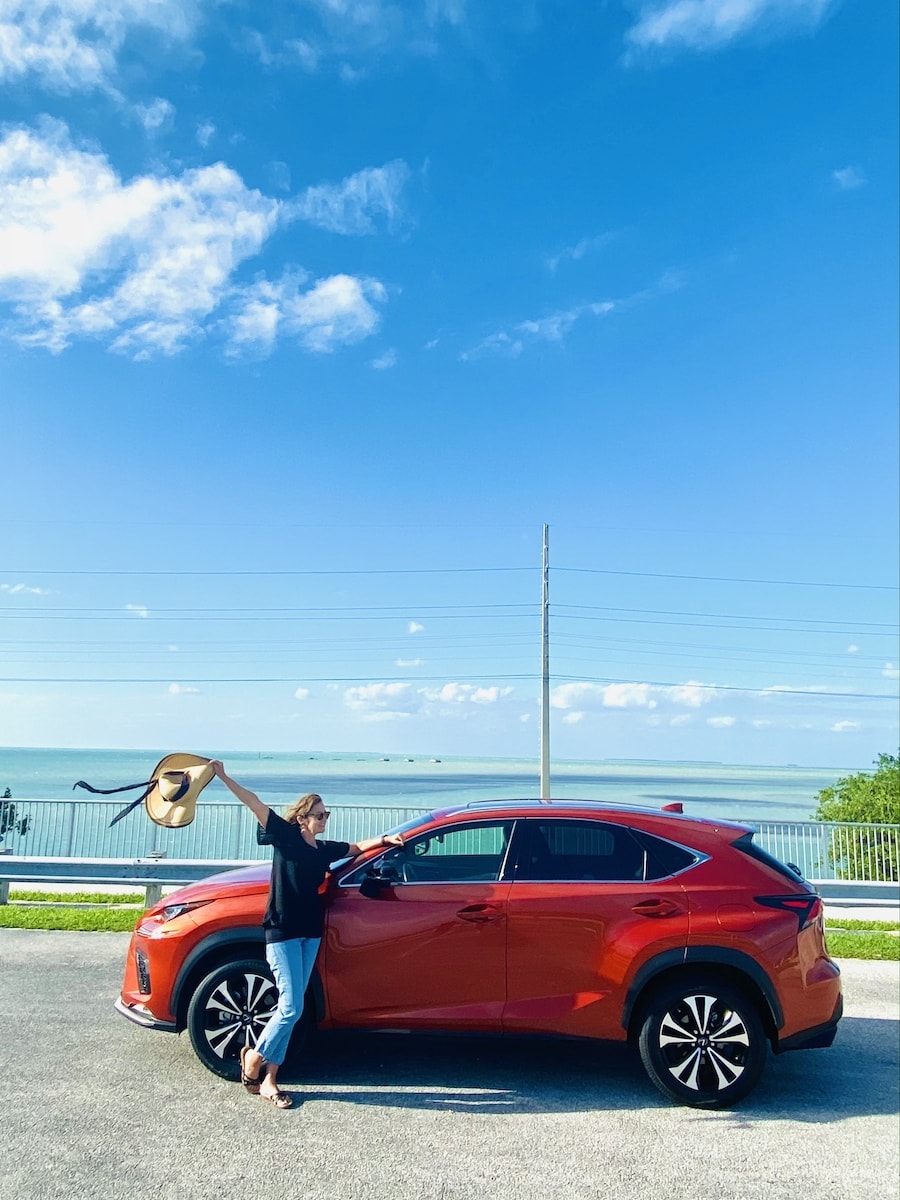 Hawks Cay is the Perfect Vacation Spot
Hawks Cay Resort Duck Key offers a relaxed vibe and a Florida Keys flair that every member of the family will love. From a couple's retreat to a family getaway, this resort really does have something for everyone.
Have you been to the Florida Keys yet? If you haven't been to the other side of the state, check out all the things to do in Daytona Beach!
More Florida Destinations