Gili Trawangan is one spot you don't want to miss in Indonesia. The two weeks I spent there were absolutely incredible, but I'm still wishing I had been able to spend more time in Gili Trawangan.
If you like the island vibe, this is your little piece of heaven.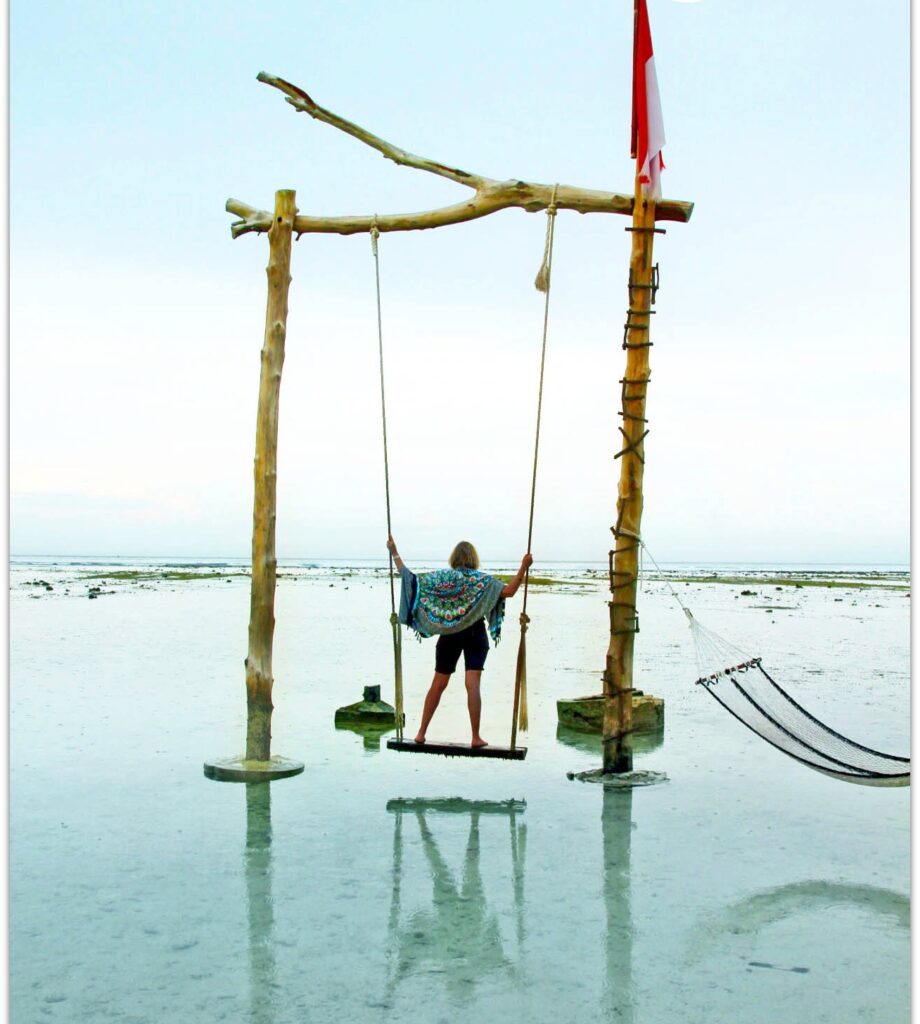 When we arrived in Gili Trawangan, were almost at the end of this extraordinary adventure.
We would be flying out of Bali, but unfortunately not spending much time there. I've already made my list for what I want to do when I go back, and it includes spending time in Bali as well as staying at one of the beachfront hotels in Sanur.
Arriving just in time for lunch at Villa Ombak, it was nice to chill while taking in the spectacular views. After lunch, I was excited to have some free time to explore before our farewell dinner cruise.
24 Hours on Gili Trawangan
Once you're on the island of Gili Trawangan, you quickly realize why backpackers and those craving a party atmosphere flock to this Indonesian destination.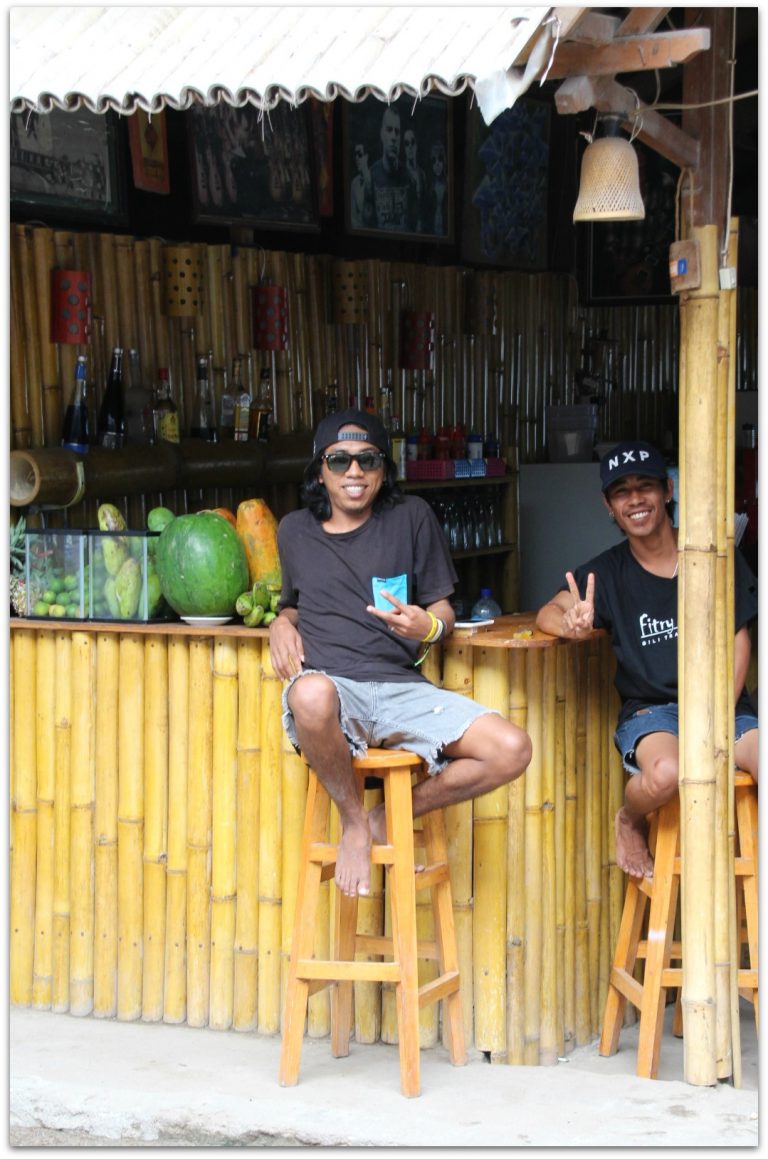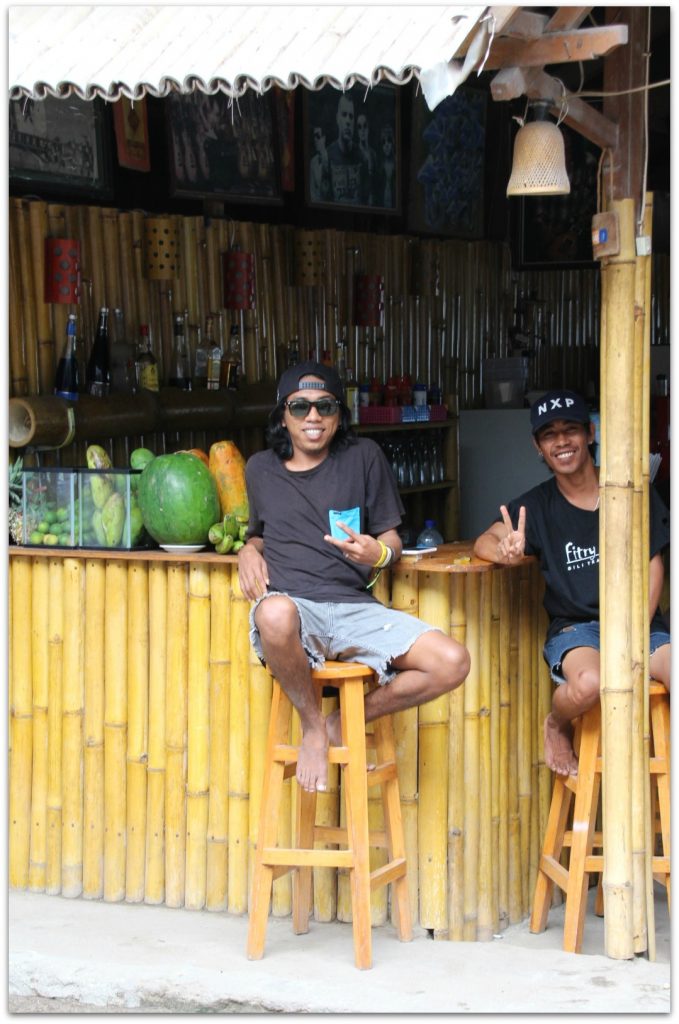 Also known as Gili T, it's one of three of the Gili islands, with Gili Air and Gili Memo being the other two. Gili T is the largest of the three and the most distant, but that doesn't prevent the snorkelers, divers, and partygoers from visiting. Gili T definitely has an island feel to it.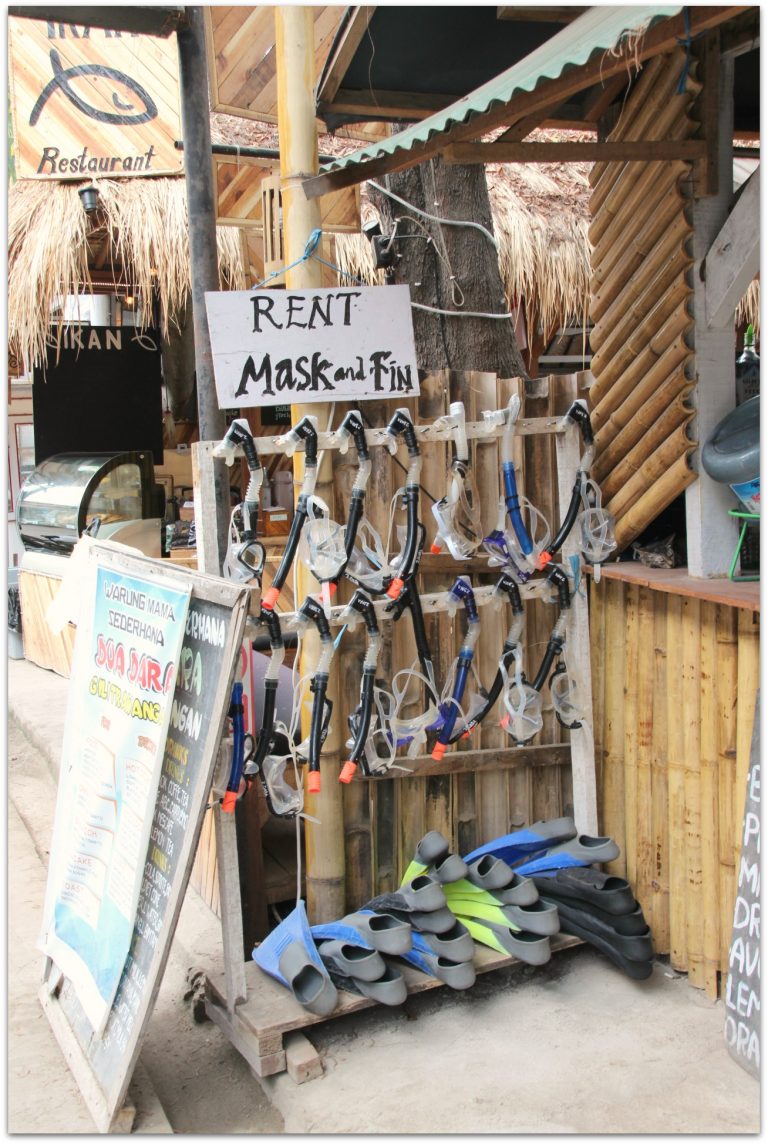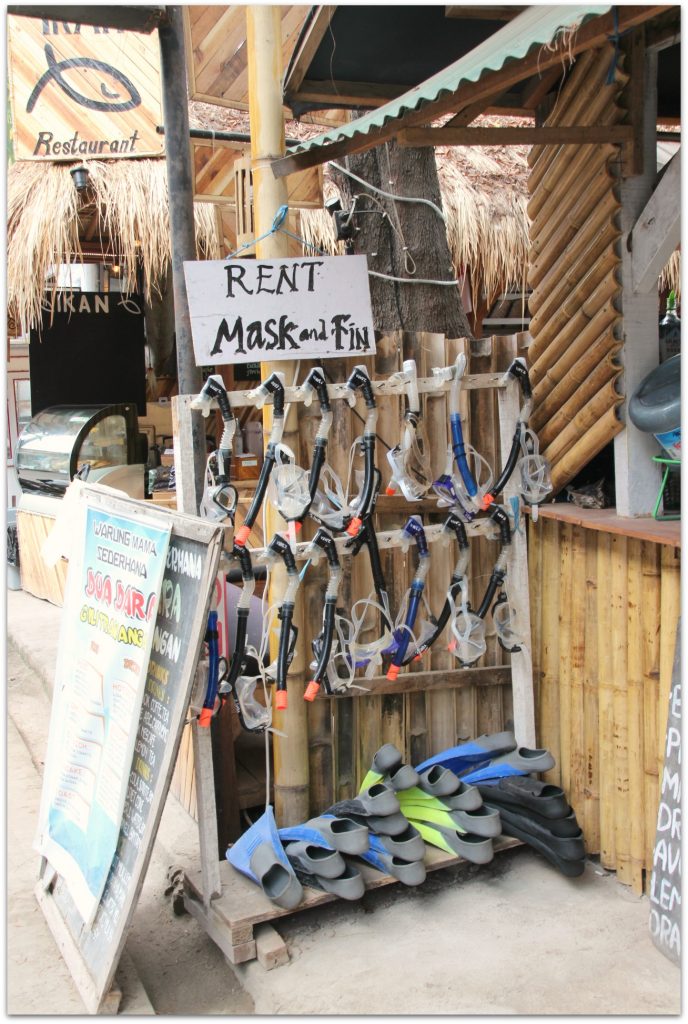 This beach town stays up late but gets up surprisingly early as well. The boats are ready and waiting to take snorkelers and divers out for the day.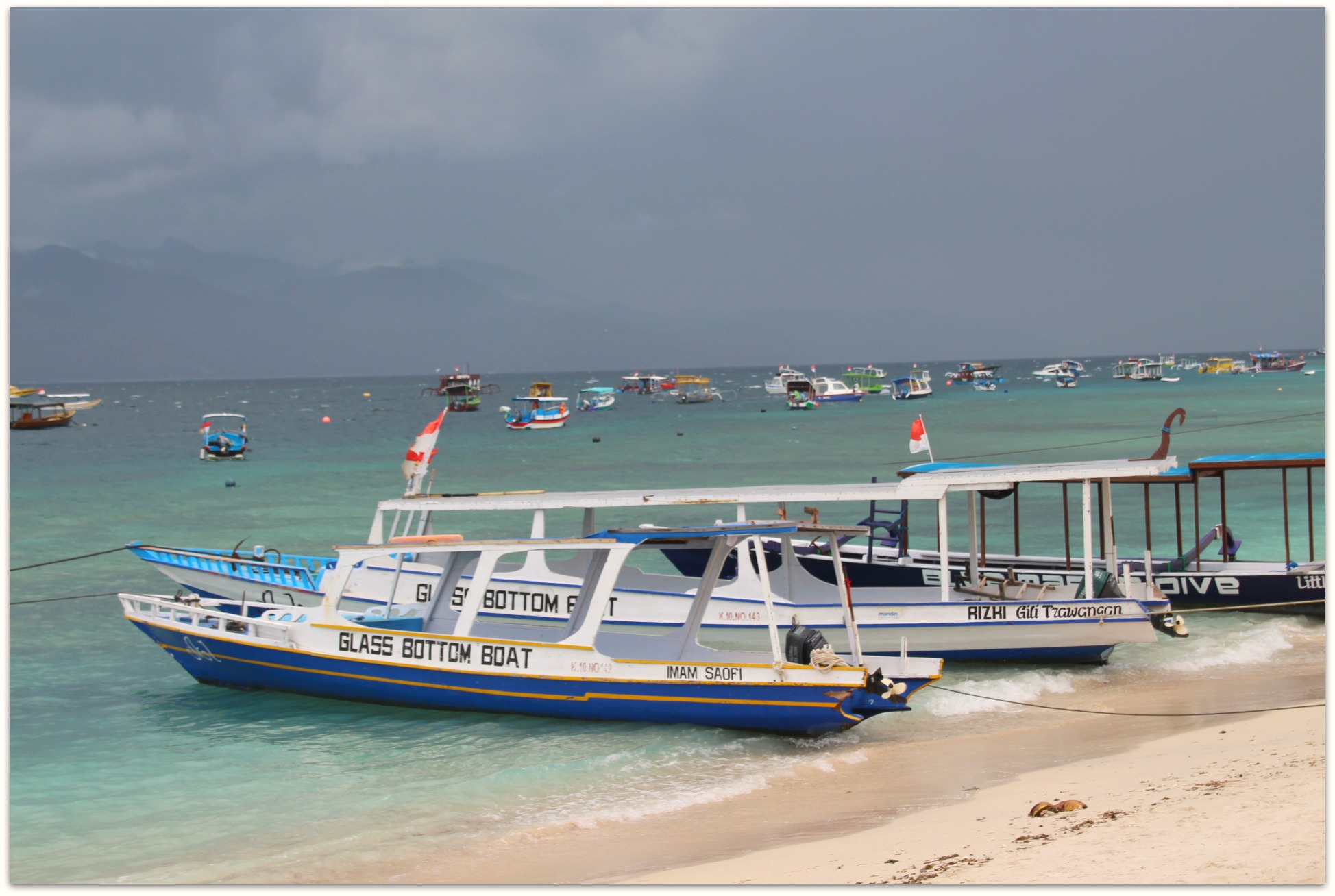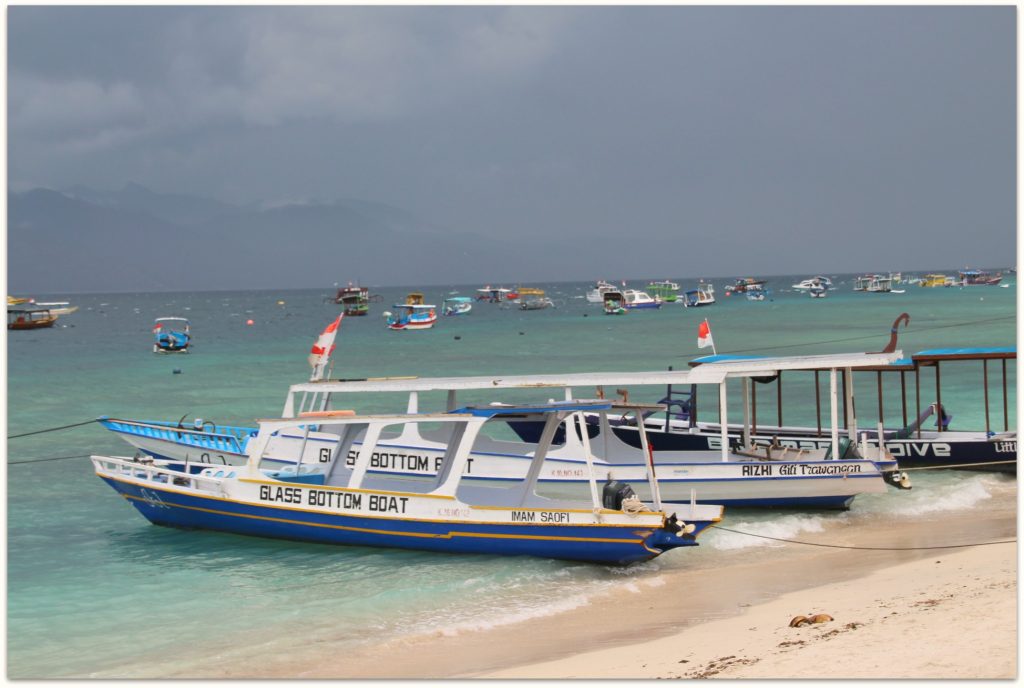 Around every corner you'll see offers for lessons, dive certification, and tours.
Snorkeling and diving in Indonesia is one of the biggest reasons people flock to the country. Five minutes in the water and you'll know why.
This shot is from Raja Ampat but the snorkeling is fantastic in Gili Trawangan, as well.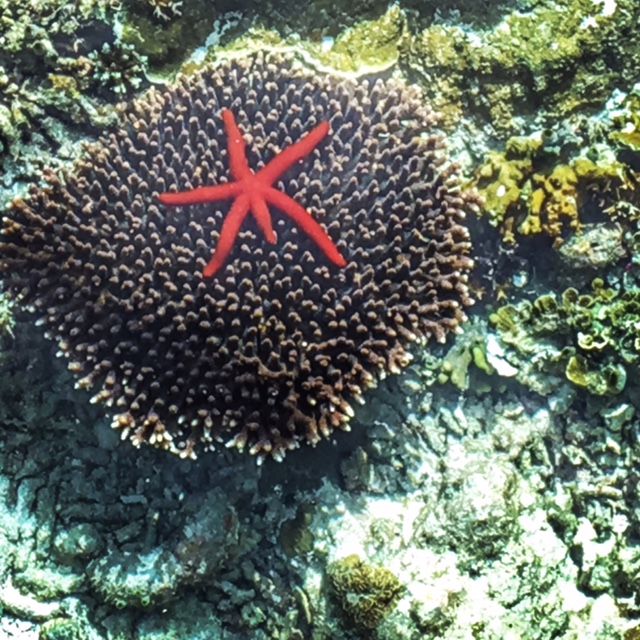 I even got my cat fix while in Gili T.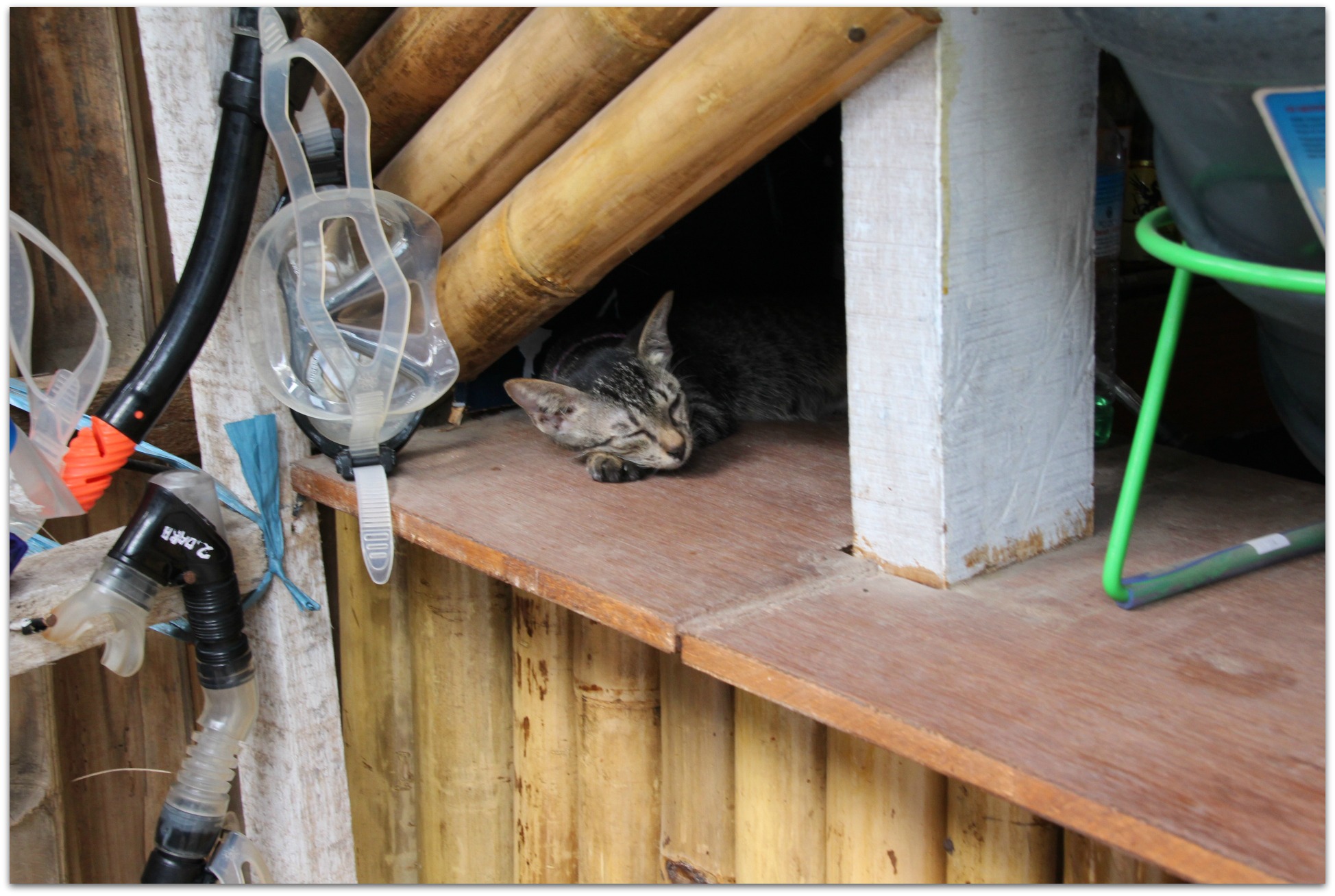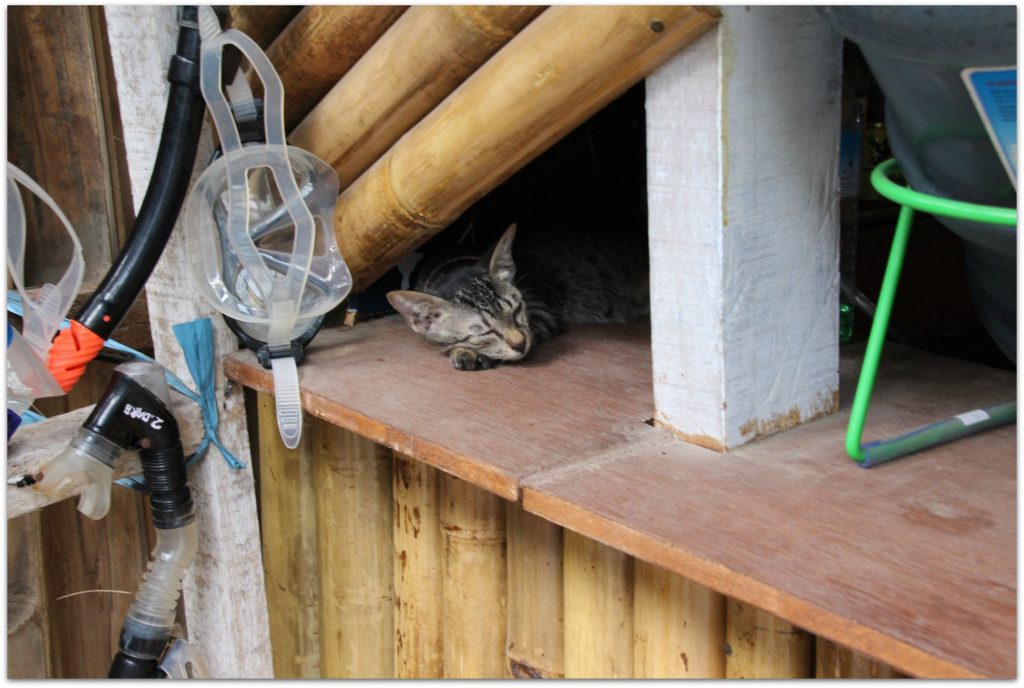 You don't have to worry about people speaking English. Most everyone does, as well as other languages.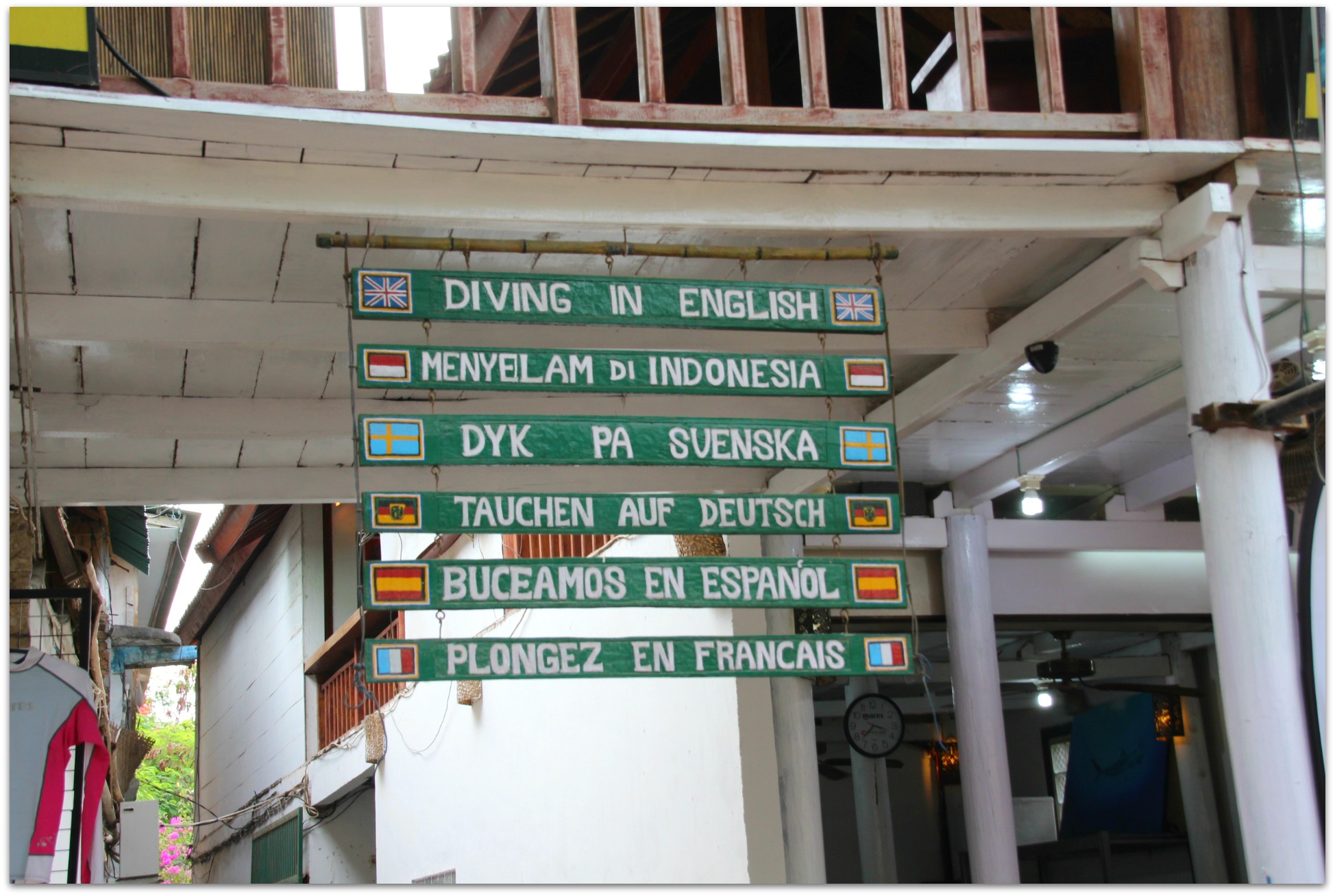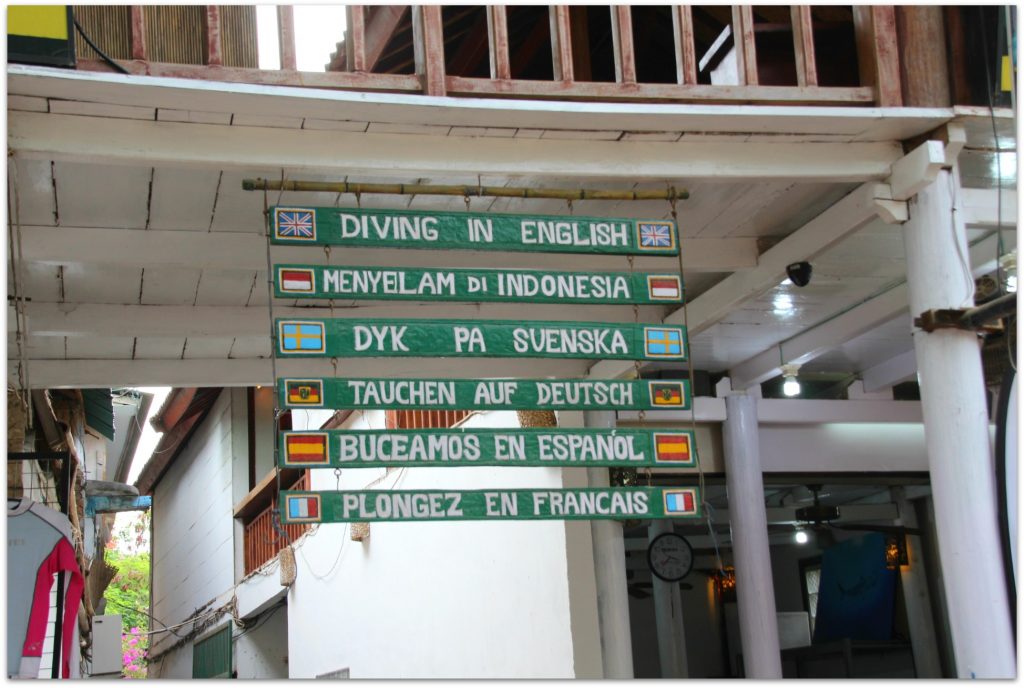 Though most of the people are pretty laid back in Gili Trawangan, you wouldn't know it from the horse-carts that barrel down the dirt road. No worries, they will let you know if you are in the way, and you get used to hearing them well before they approach.
Most people are on foot, but if you want to get around a little more quickly, a ride on the horse-cart will take about an hour to circle the island.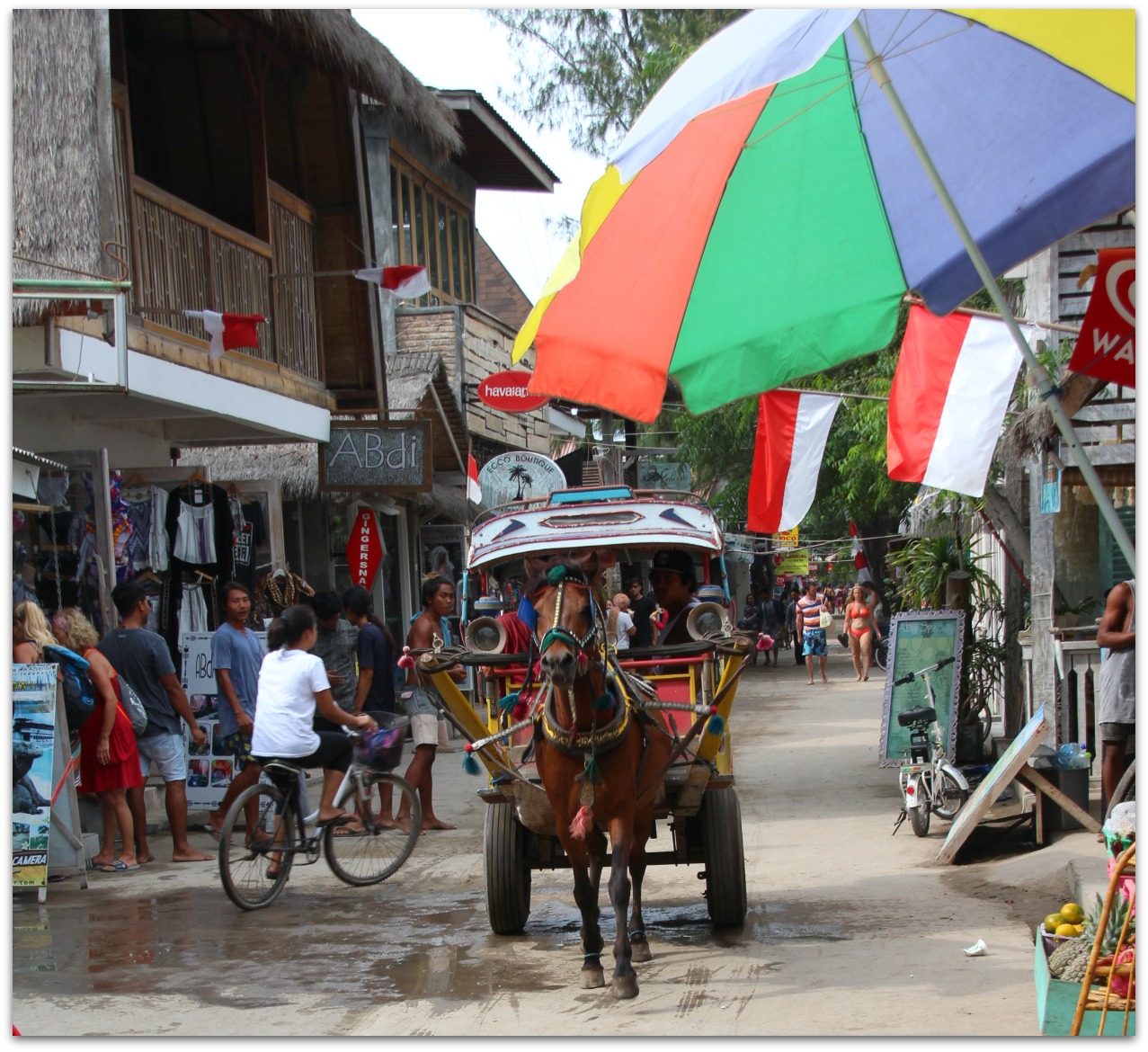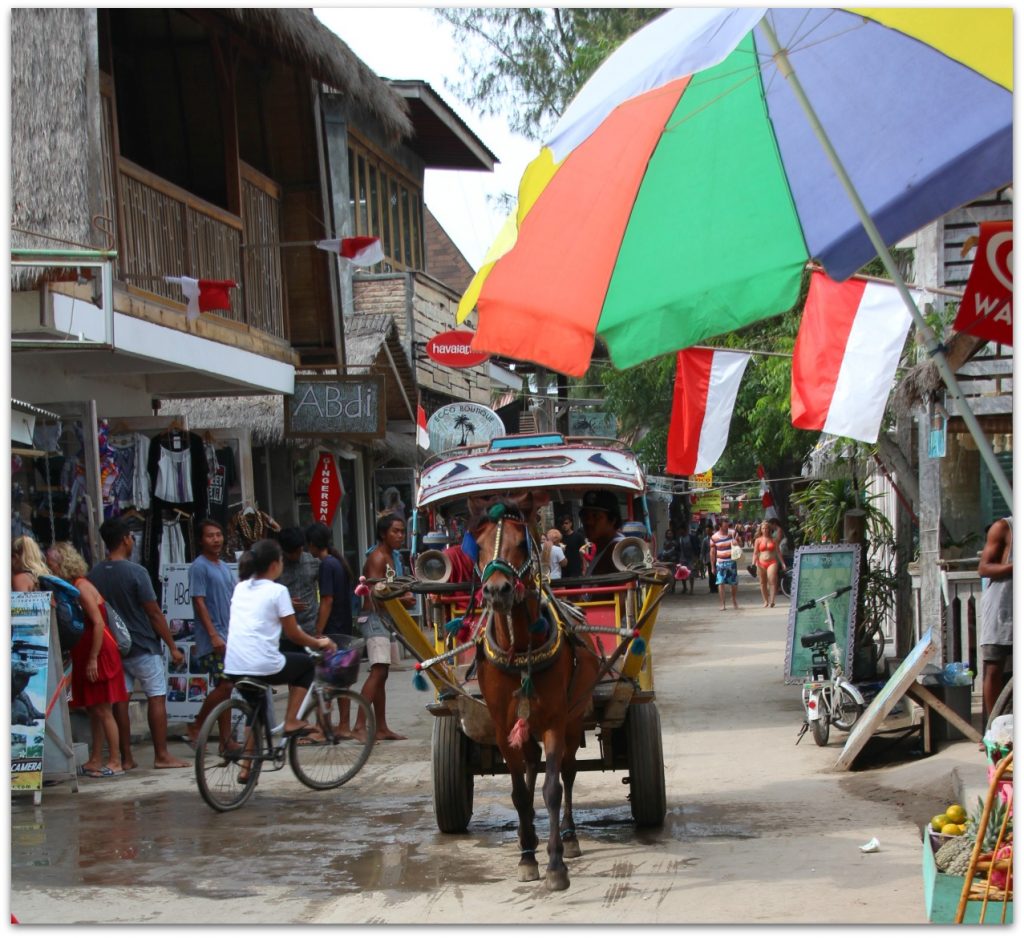 Bikes are also readily available, but we're talking the kind that you peddle, not the kind you'll see zooming through the streets of other Indonesian areas.
On Gili Trawangan, there are no motorbikes or cars, so you'll either have to walk, rent a bike, or pay for a horse cart ride. I thought the prices were reasonable and it looked like fun!
Be sure to check out the many shops, perhaps even spending some time at the hookah bar. Smoking a hookah is one thing I've never done.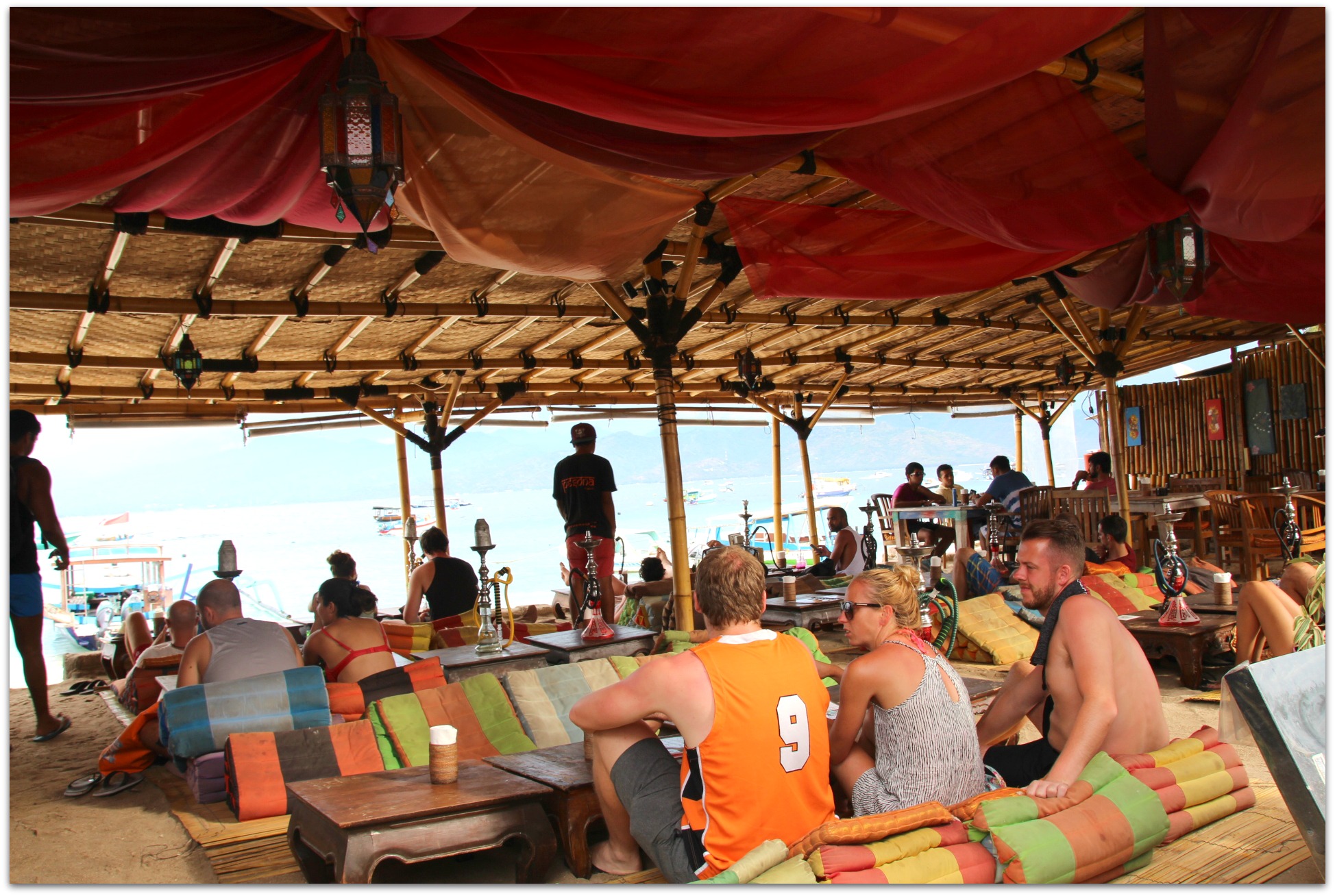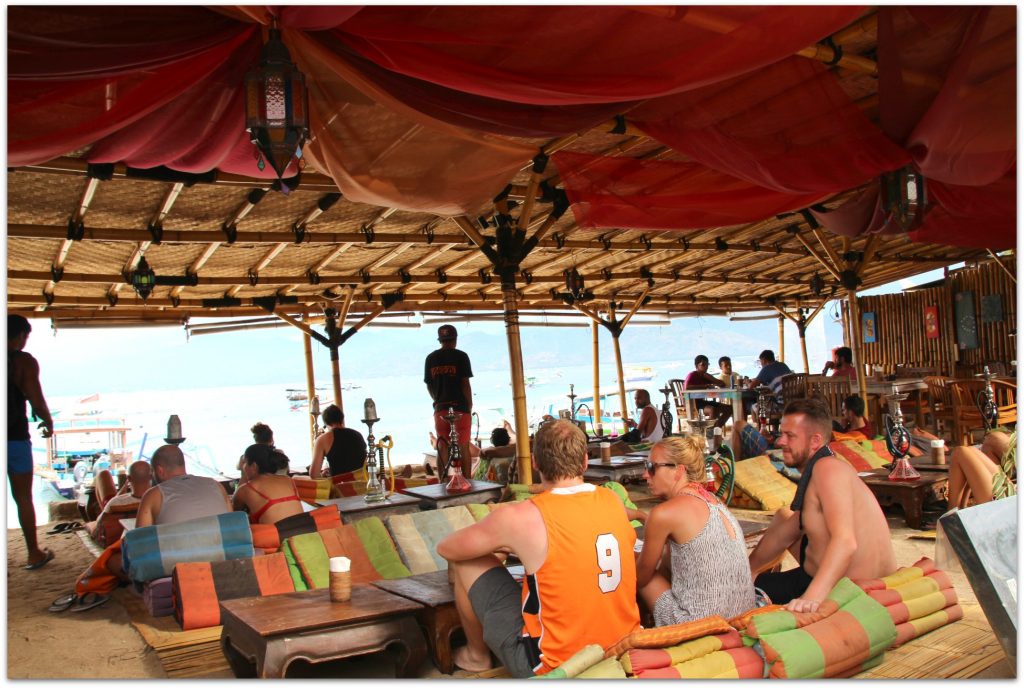 Perhaps on another visit I'll be more brave as it did look like the almost full house was enjoying it.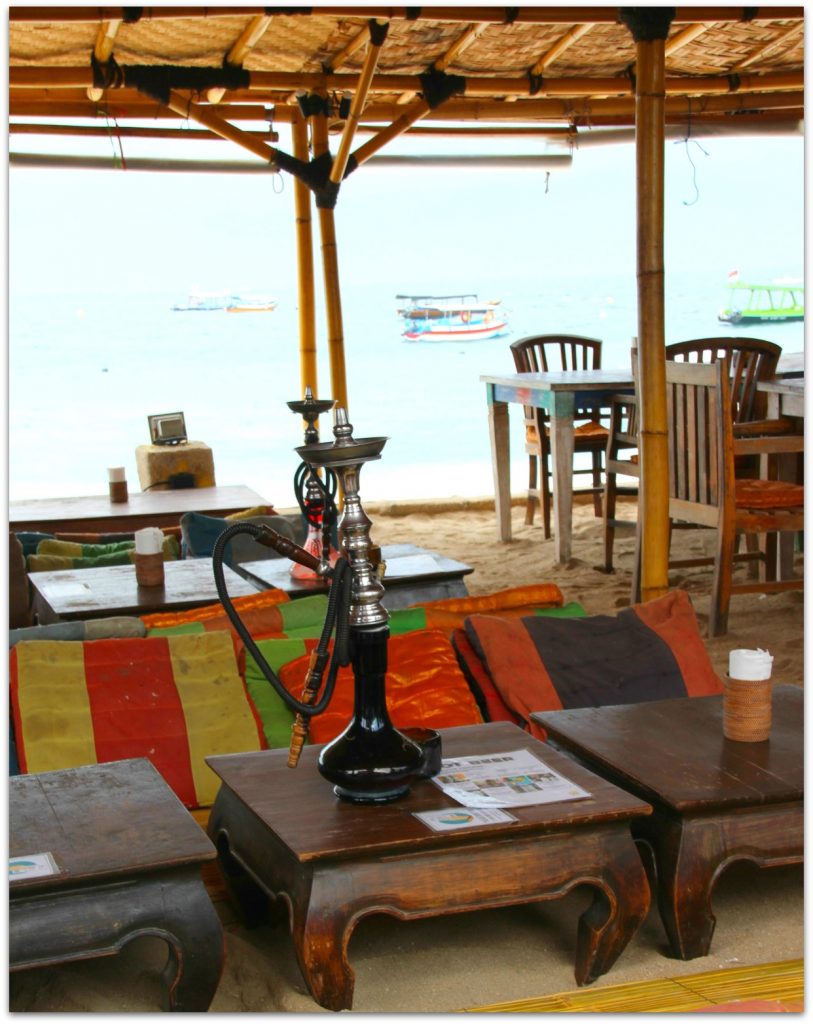 There are plenty of places to eat and drink. And the view, well, it's pretty spectacular.
Drinking is a favorite pastime in Gili T.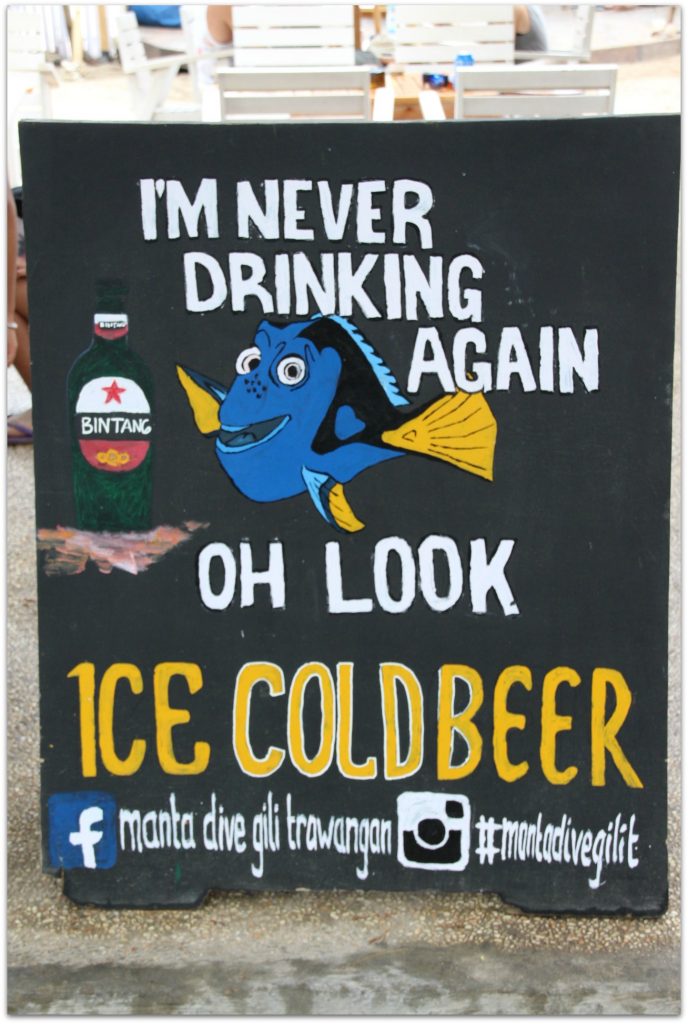 I have a feeling there have been some pretty amazing parties on the island...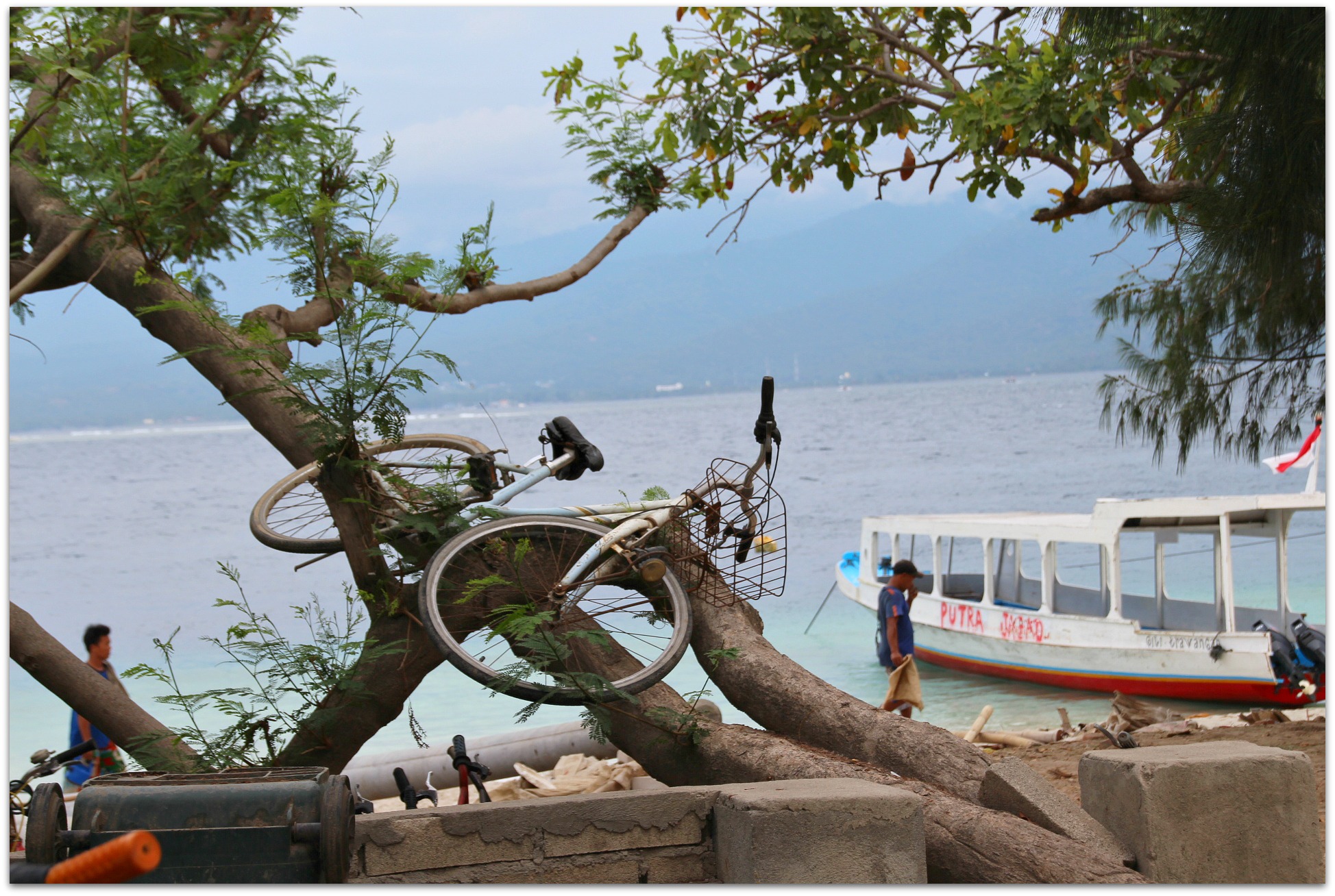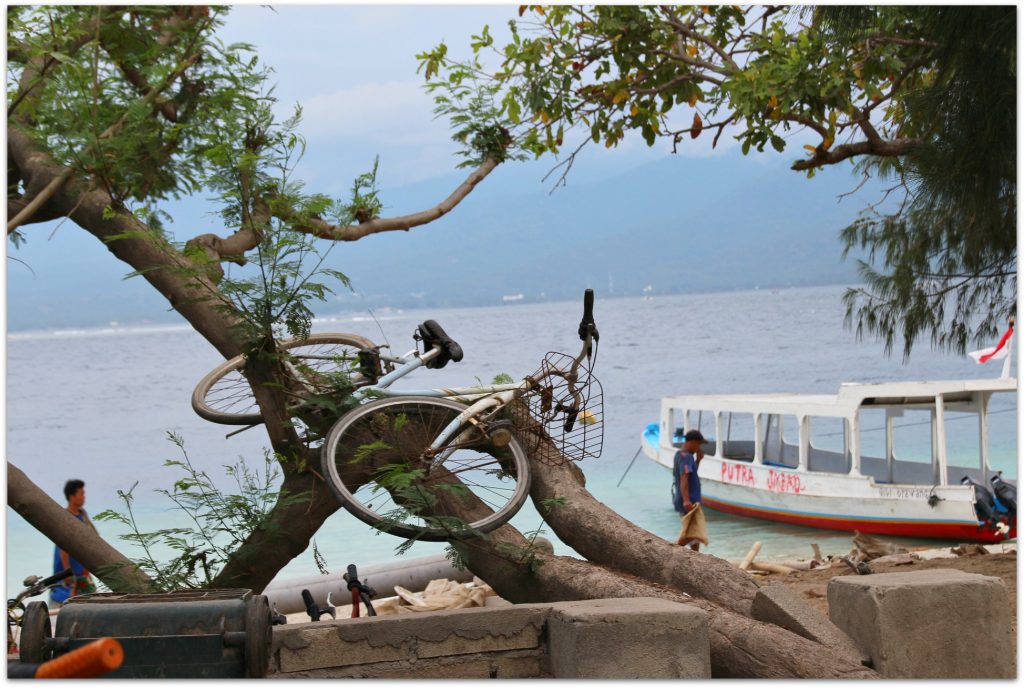 Just remember to eat! You won't have any trouble finding delicious food, even right on the street. Well, the dirt road.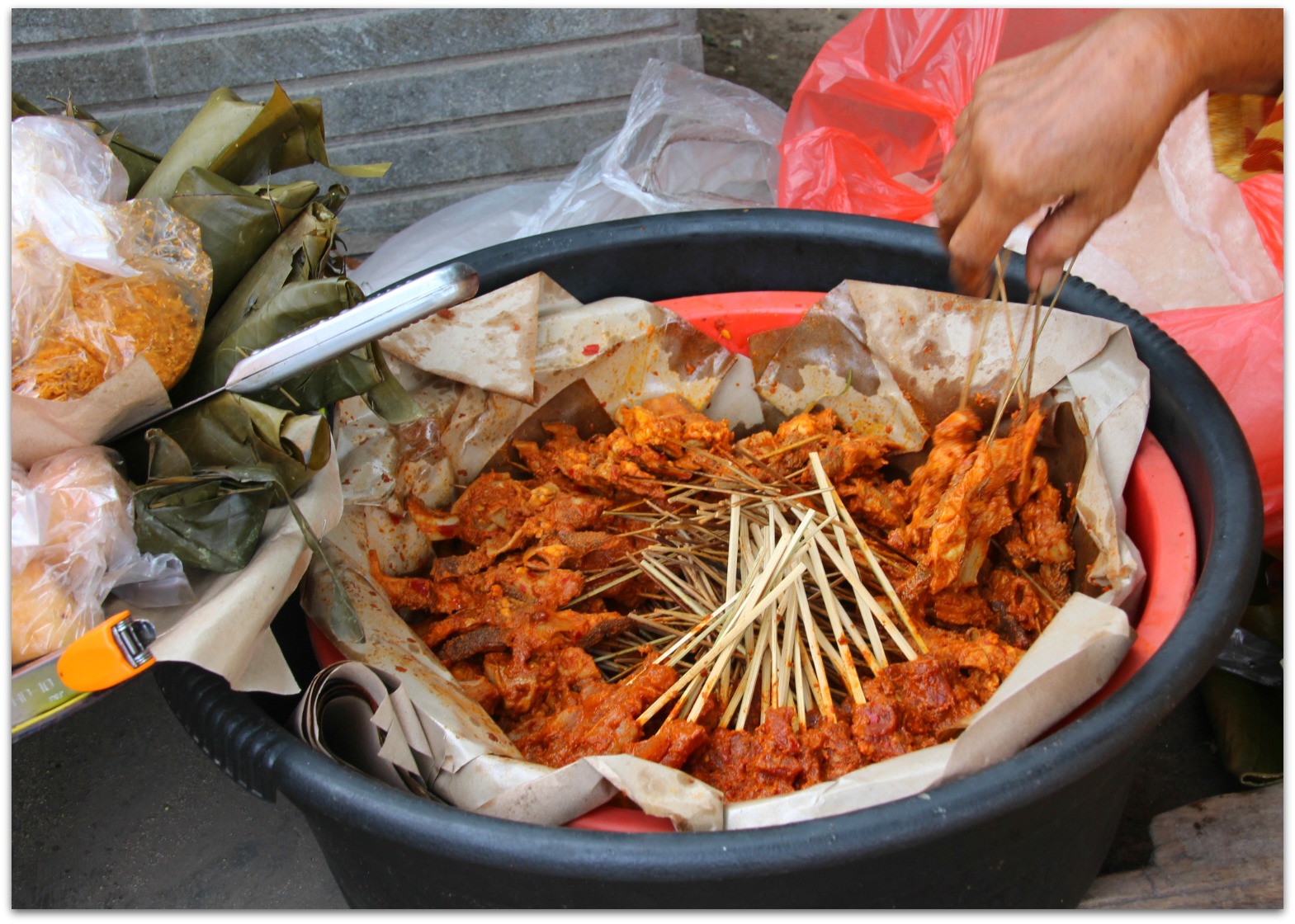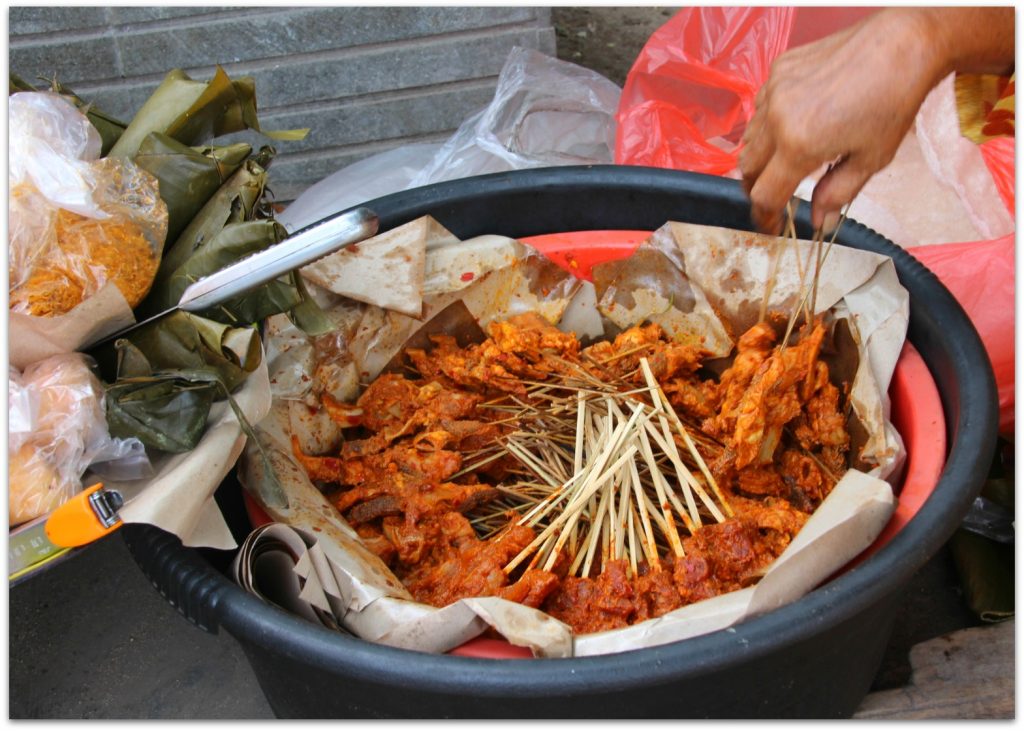 Seeing the food makes me want to go back to Gili Trawangan! The food is so good! Try your hand at making this easy Gado Gado!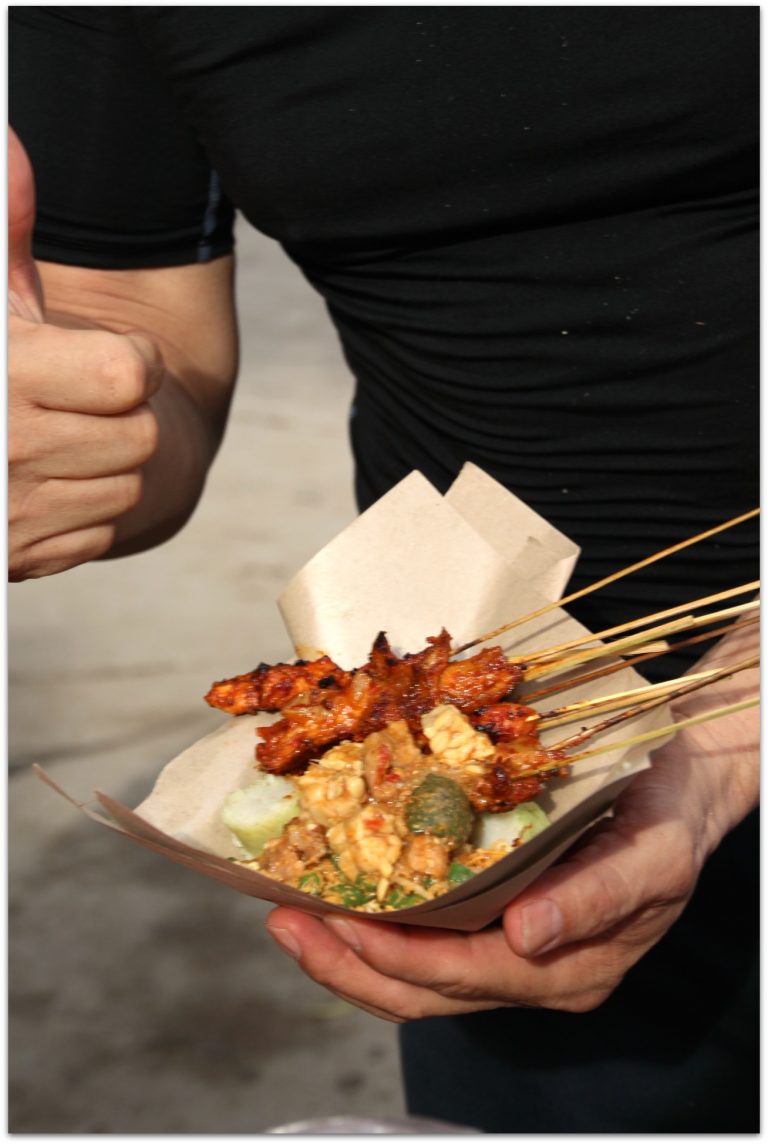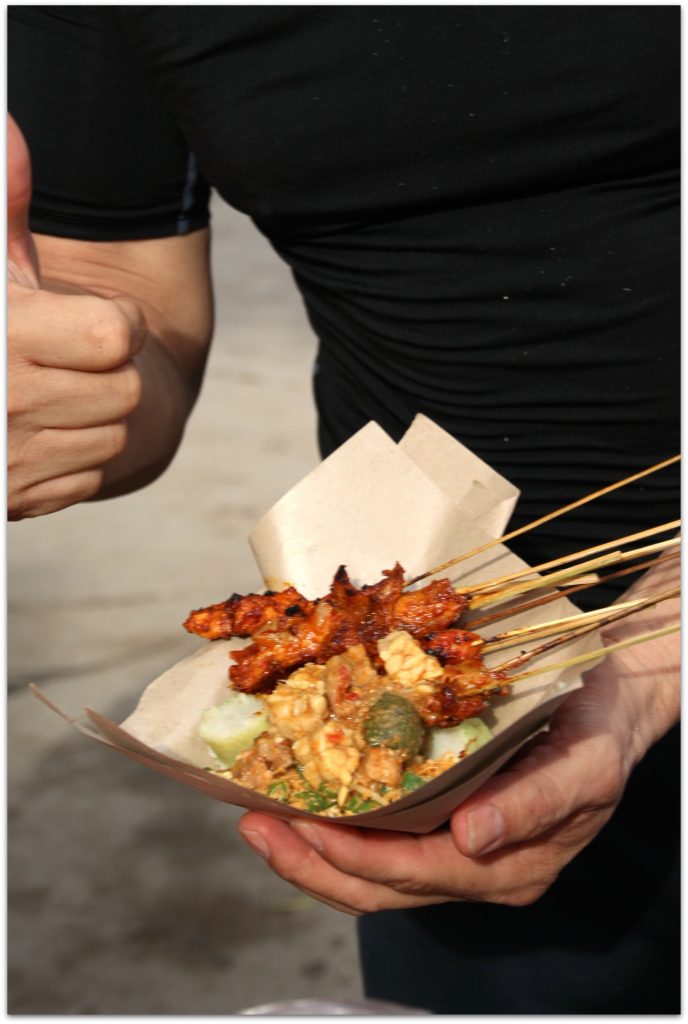 And the fruit stands! This is one of the reasons you see boats being unloaded all day long. There is no shortage of fruit on Gili T.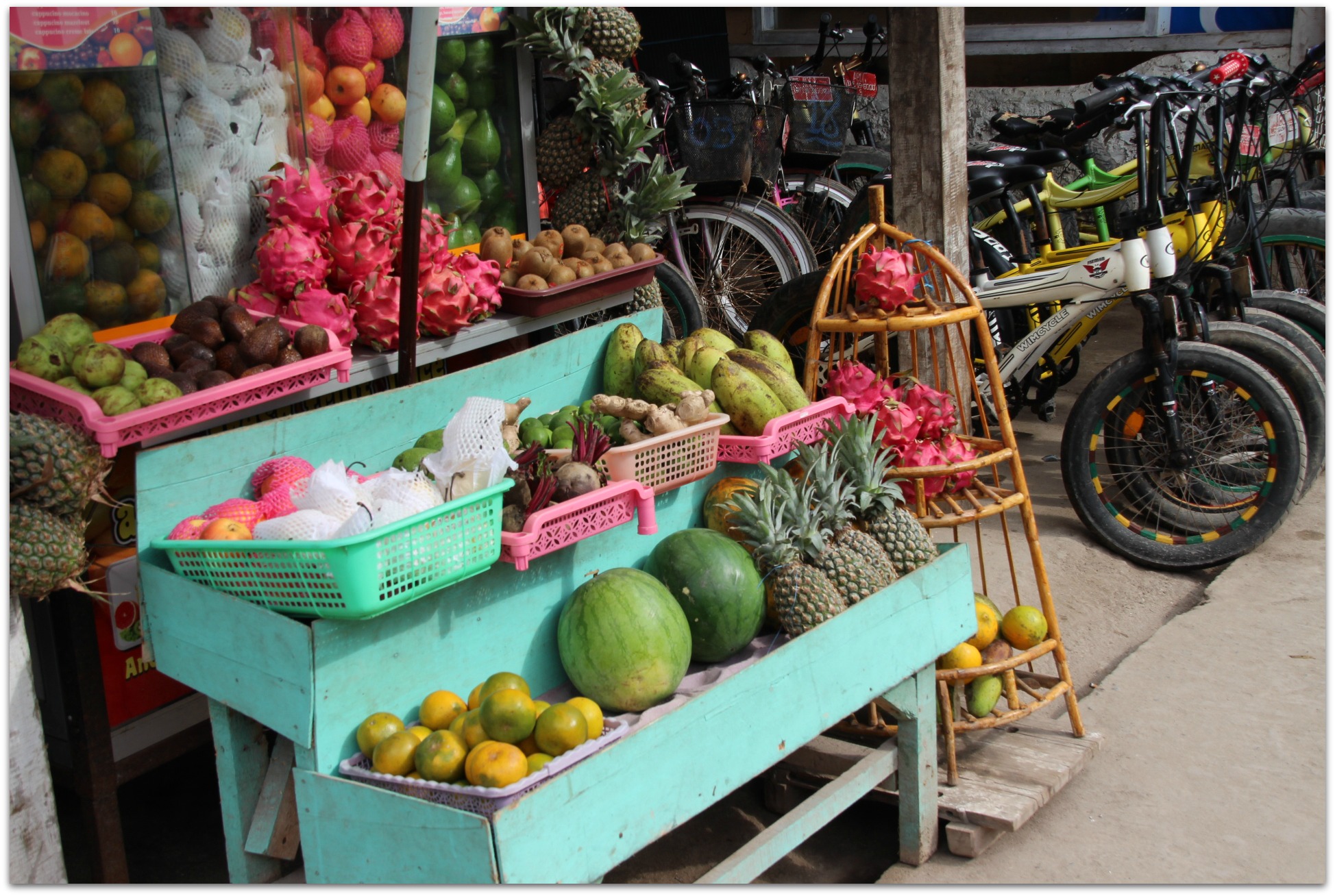 Restaurants are plentiful, and the food is fantastic. In fact, you may want to check out this roundup of Indonesian desserts. They are really like nothing I've eaten before. So delicious!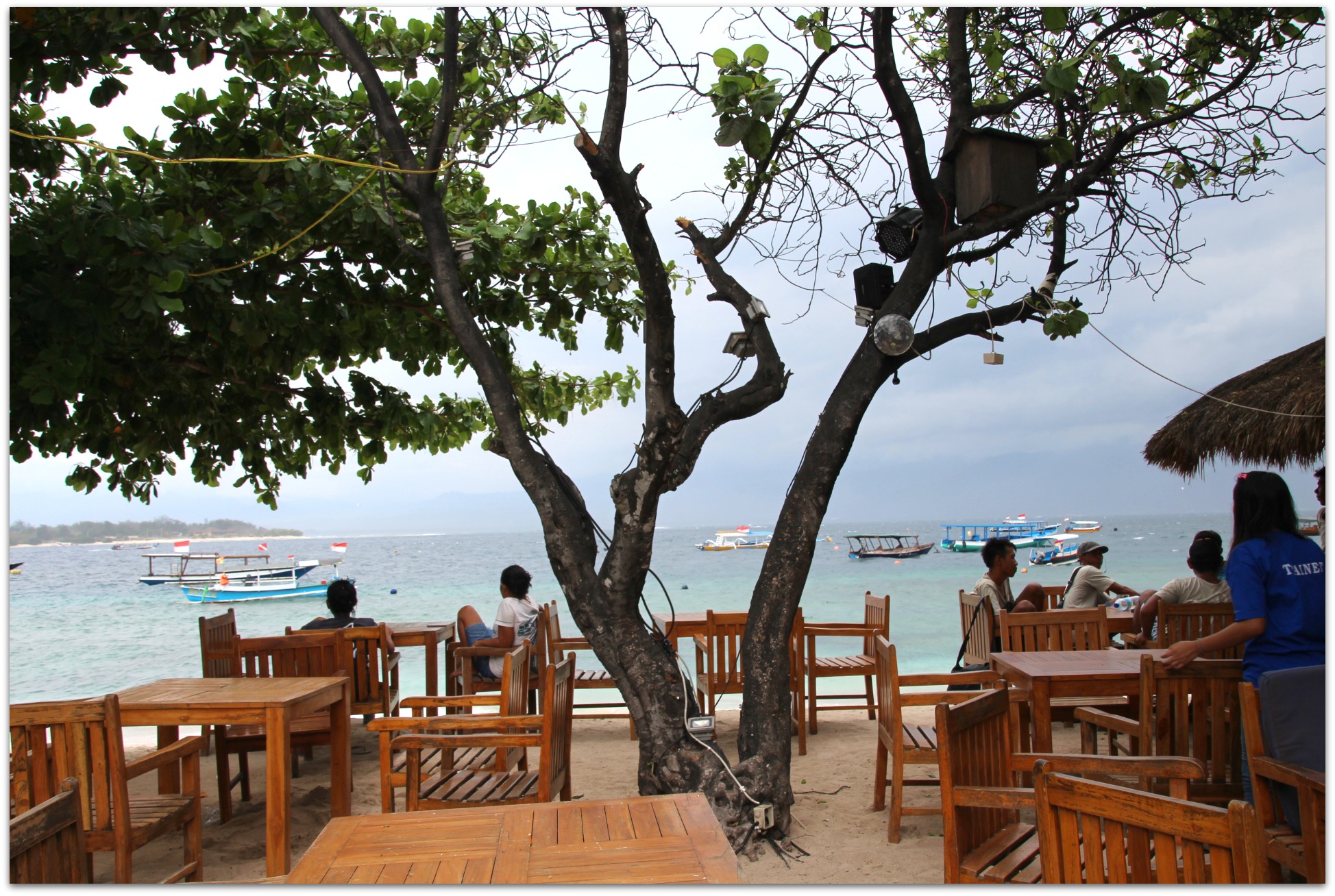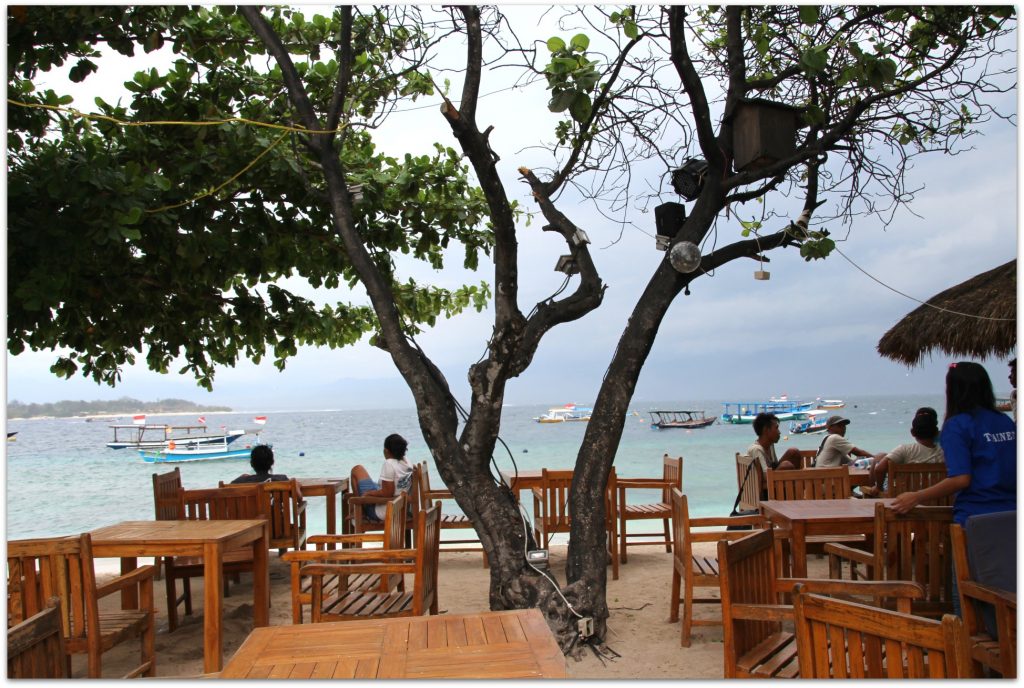 Keep an eye on the signs. Most places want you to remove your shoes. A few have additional instructions. 🙂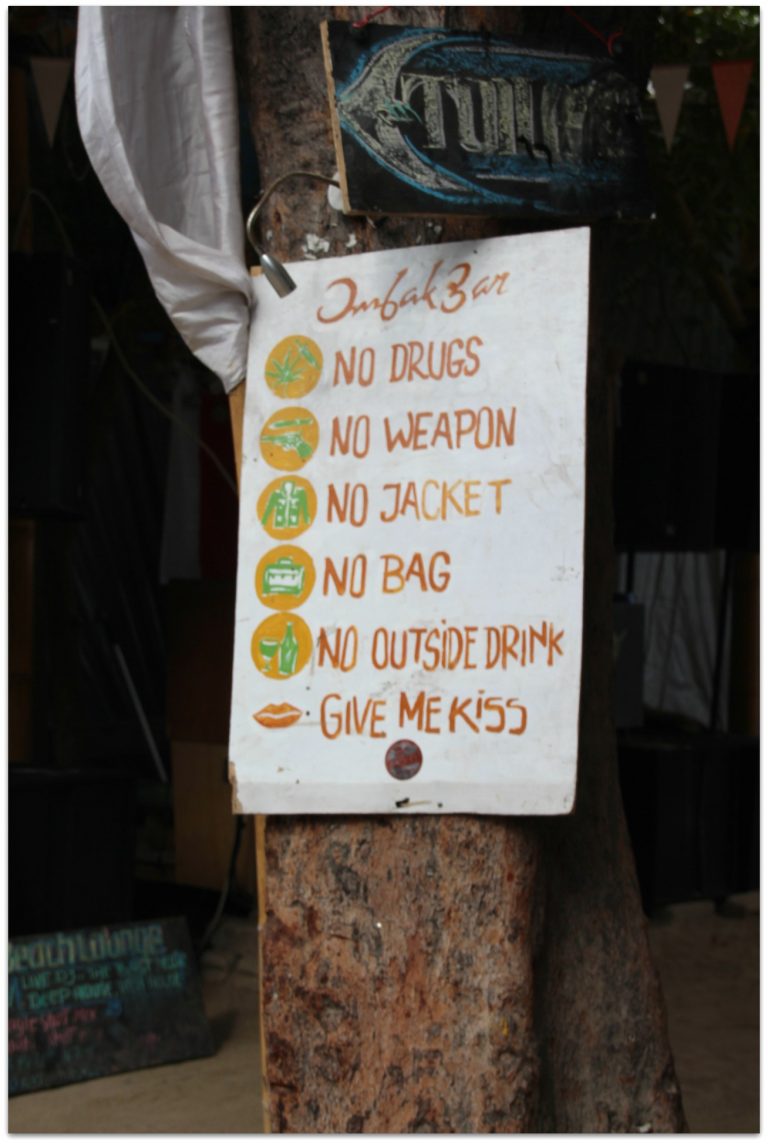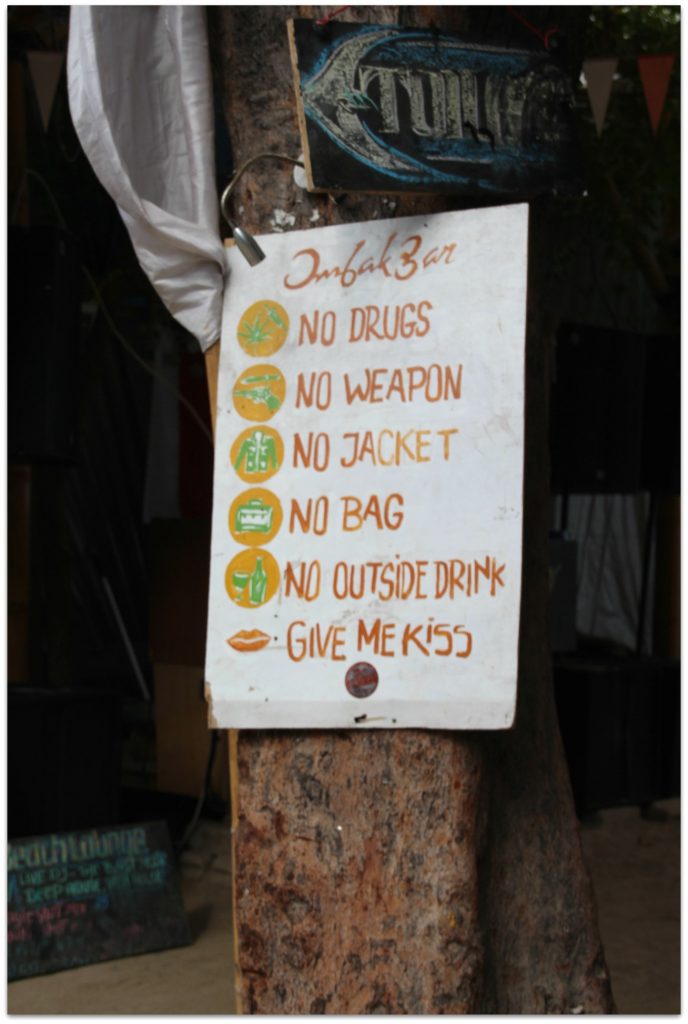 The many shops on Gili Trawangan offer up sarongs in any color combination you could desire, jewellery, t-shirts and other beachy apparel, as well as home décor, handbags, and backpacks.
In fact, backpackers make up a good percentage of the visitors to Gili T. Need a souvenir? You won't have trouble finding one here.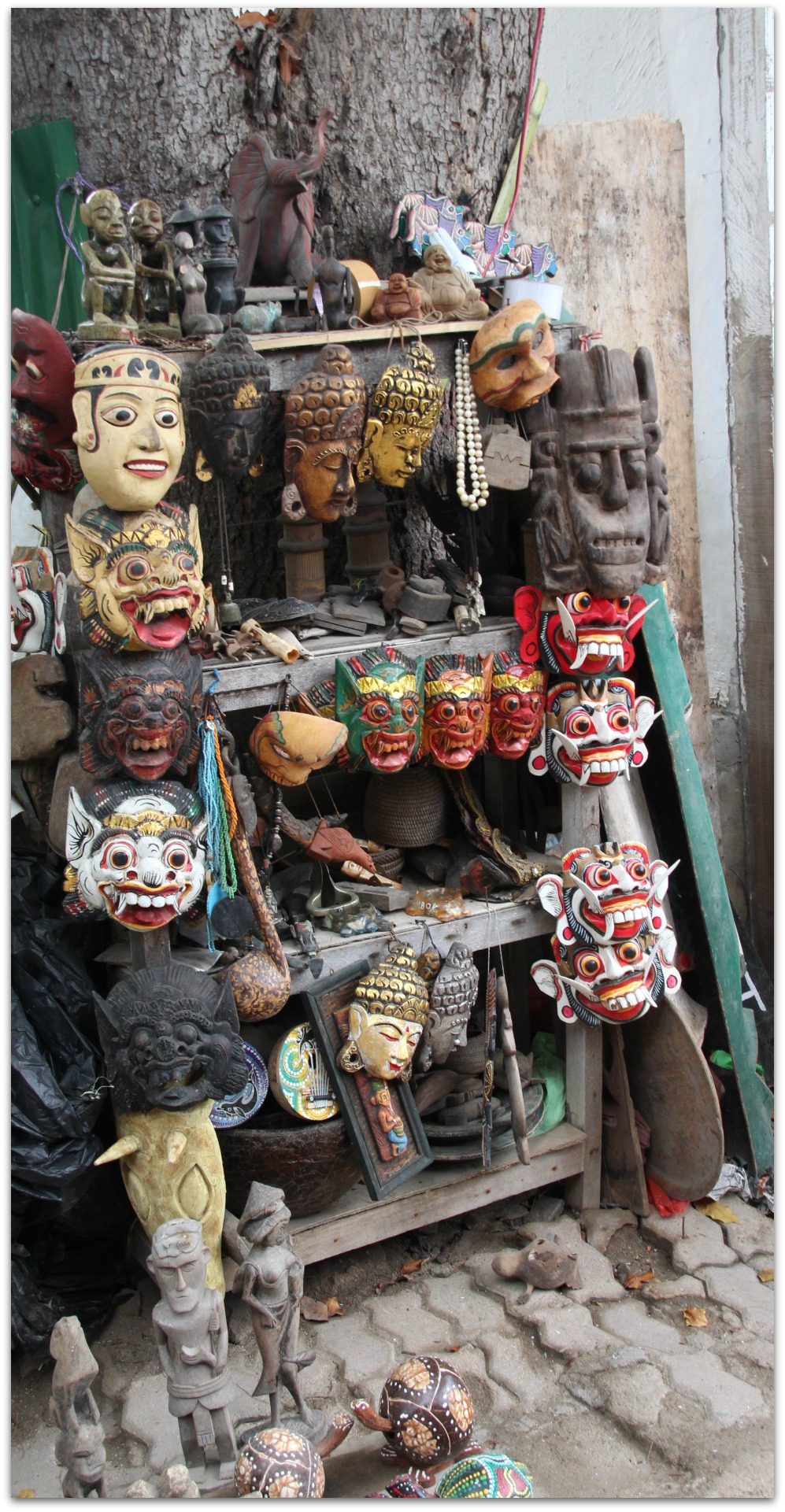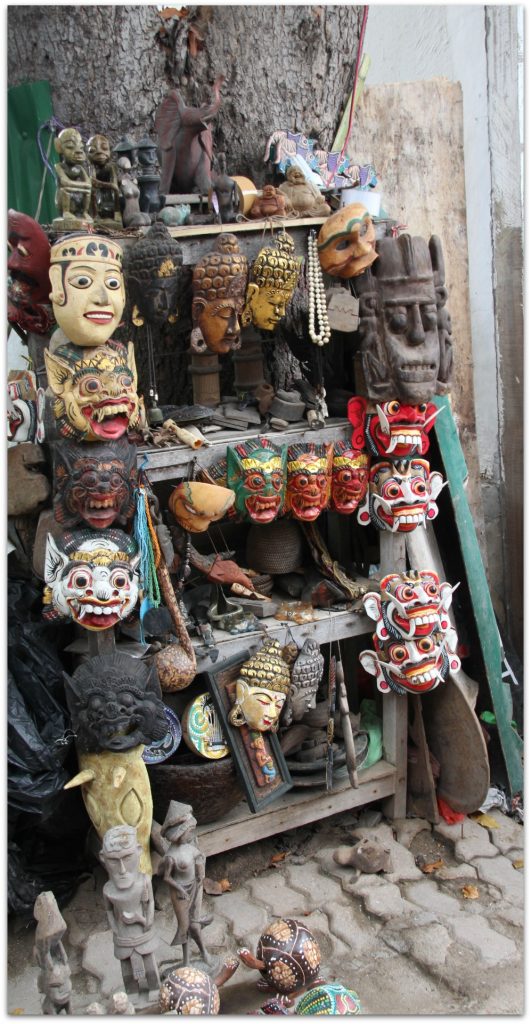 The one thing you can not miss in Gili T is the swings. Though I say that, I almost missed it. Thankfully, Mike from Mike's Road Trip was willing to hop on a bike and take the ten-minute ride to get to there.
As we were bumping down the road, I realized why the guy who rented us bikes offered fat or regular tires. Spend the little extra and go for the fat tires. Your derriere will thank you later. The smaller tires don't absorb the shock much.
Arriving at the swings, you will realize the short ride was well worth it. With a stunning backdrop of mountains over the sea, I've heard any of the four swings make a stunning photoshoot.
We only saw the first two, but this tree made up for it. I am seriously considering getting this framed for my beach-themed living room.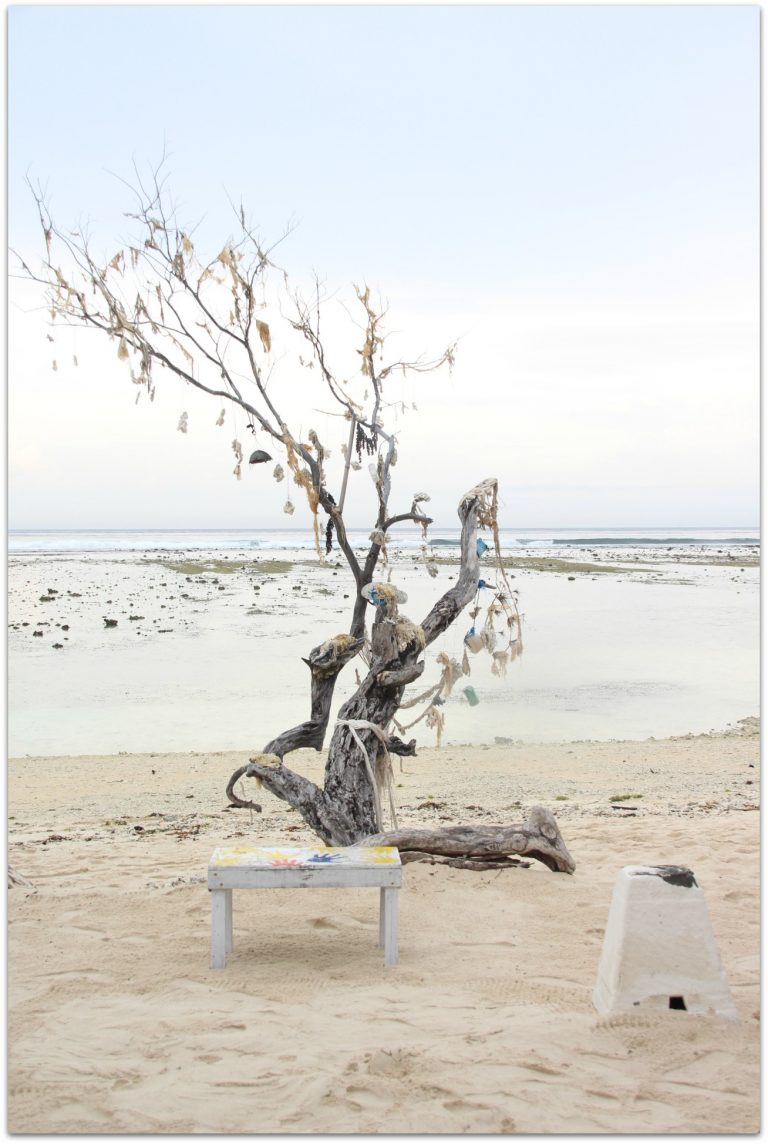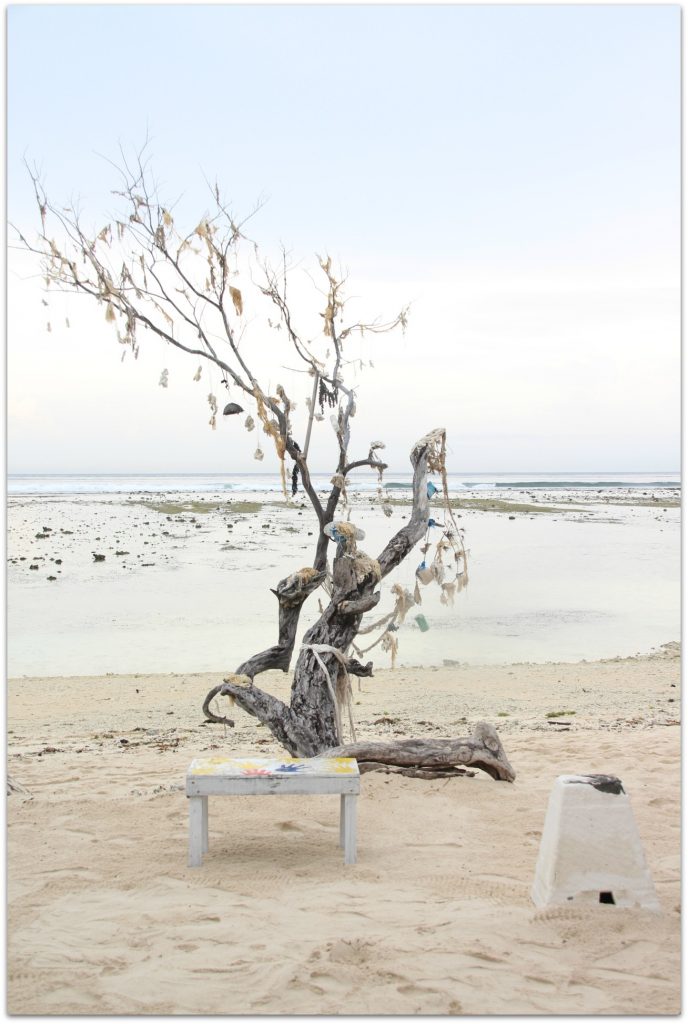 Being on this trip with fabulous photographers, I learned a thing or two about being prepared. Take a scarf or even a change of clothes. I'm still kicking myself for not thinking ahead.
I bought the sarong in the photo at the beginning of this post while at Selong Blanak Beach, and only wish I had picked one up earlier. Huge thanks to Mike for being my photographer.
Indonesia has a place in my heart forever. But the people made this trip extra special. Learn how to play the traditional Indonesian games was so much fun.
If you dive or just want to spend some time on one of the most incredible tropical islands in the world, check out Raja Ampat diving.
The only question left is, where to go next? This post with 50 unbelievable things you can only do in Indonesia should help, and this Raja Ampat bucket list is a must!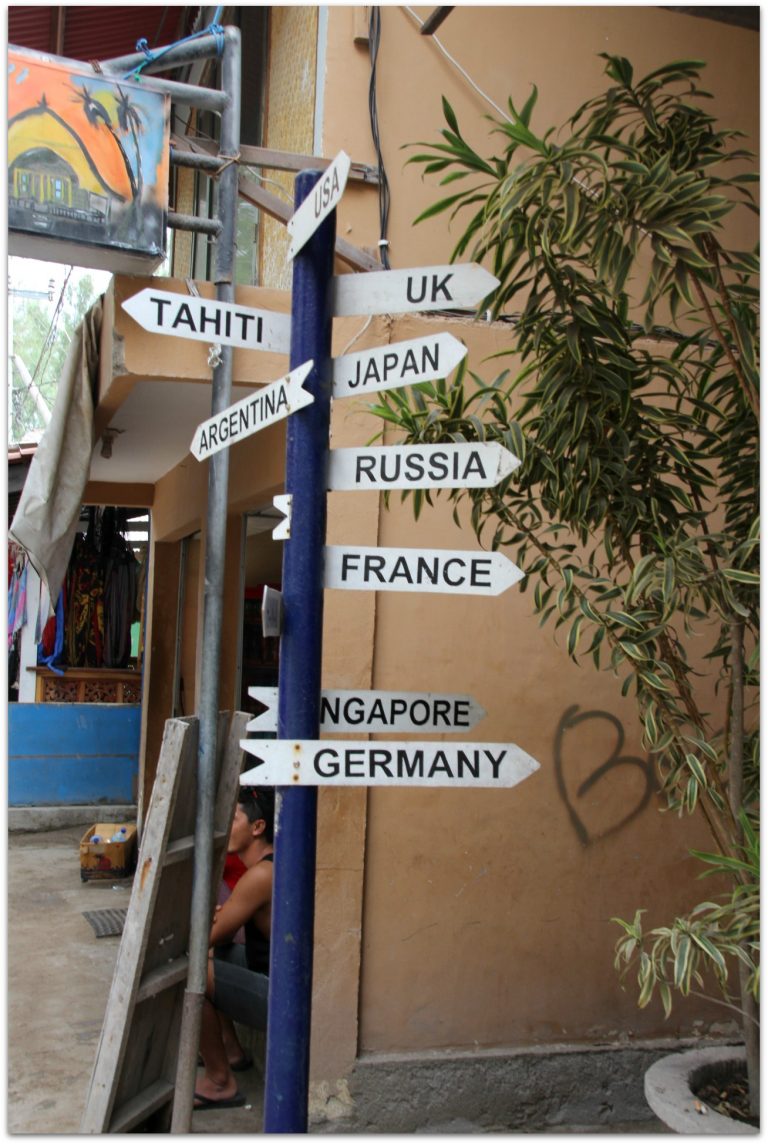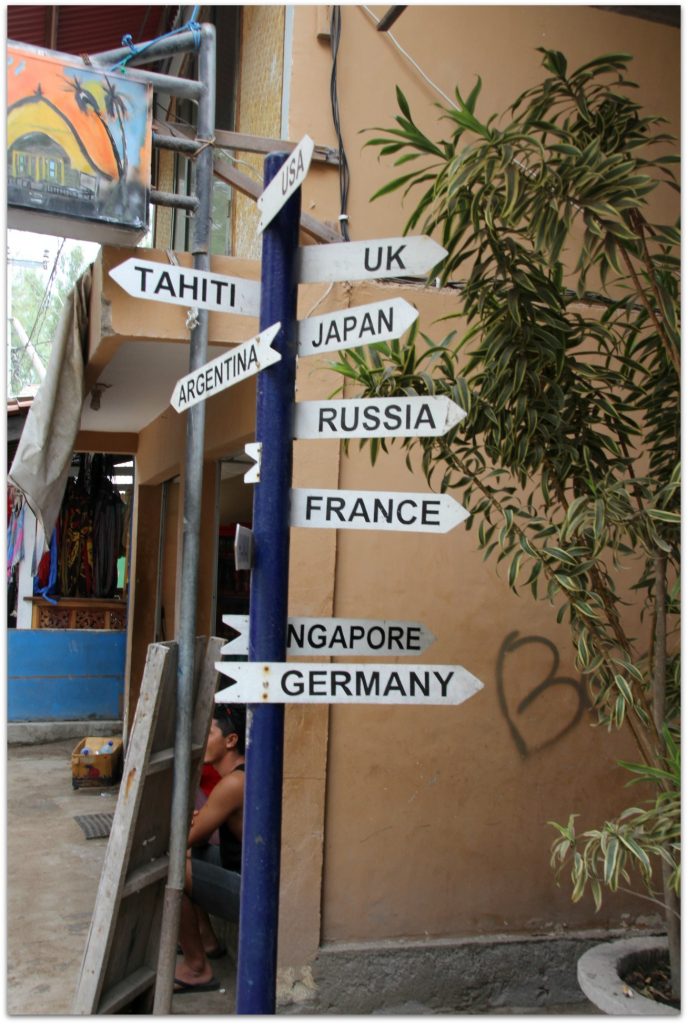 Have you made plans for your next adventure? I hope to go back to Indonesia eventually because I never made it to Bali. I still can't believe I traveled that far and didn't make it to that gorgeous part of the country!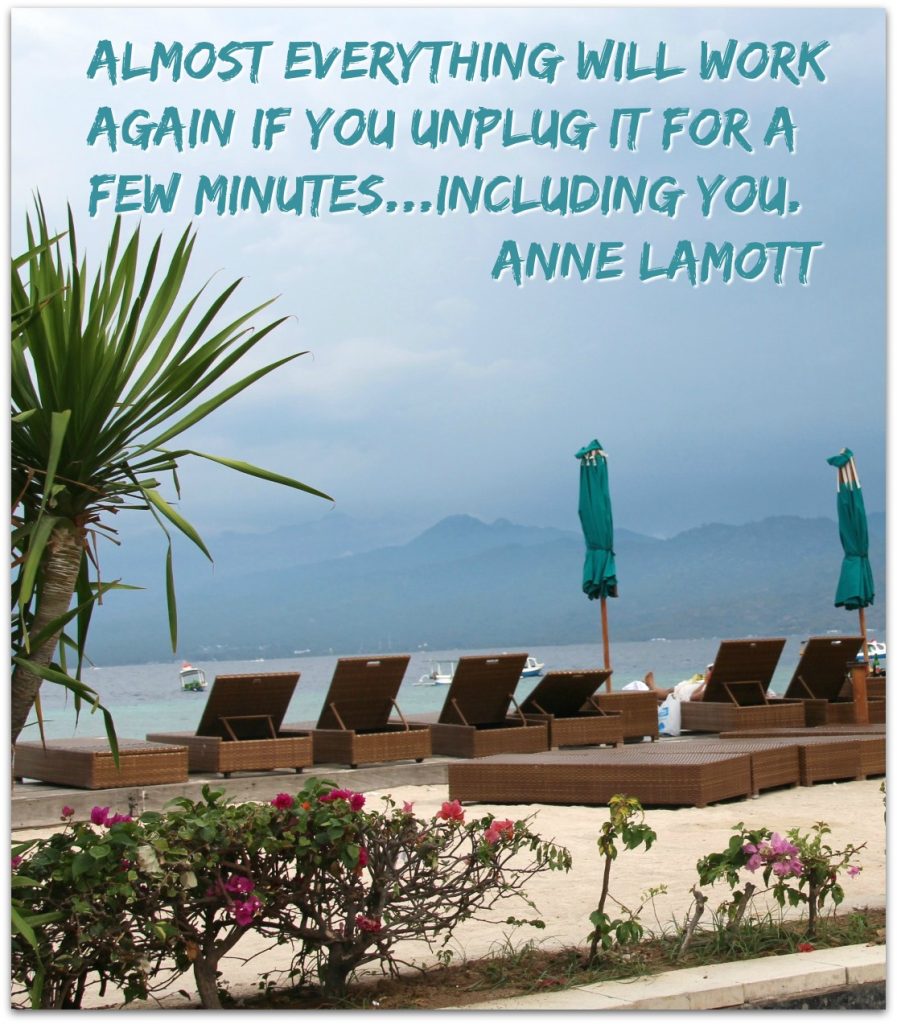 More from Asia
Many thanks to the Indonesia Ministry of Tourism for hosting me on what was truly a trip of wonders!