It's important to know the best time to visit Machu Picchu when planning a trip to Peru. It's a long journey for most of us and you'll want to be able to have the experience of a lifetime.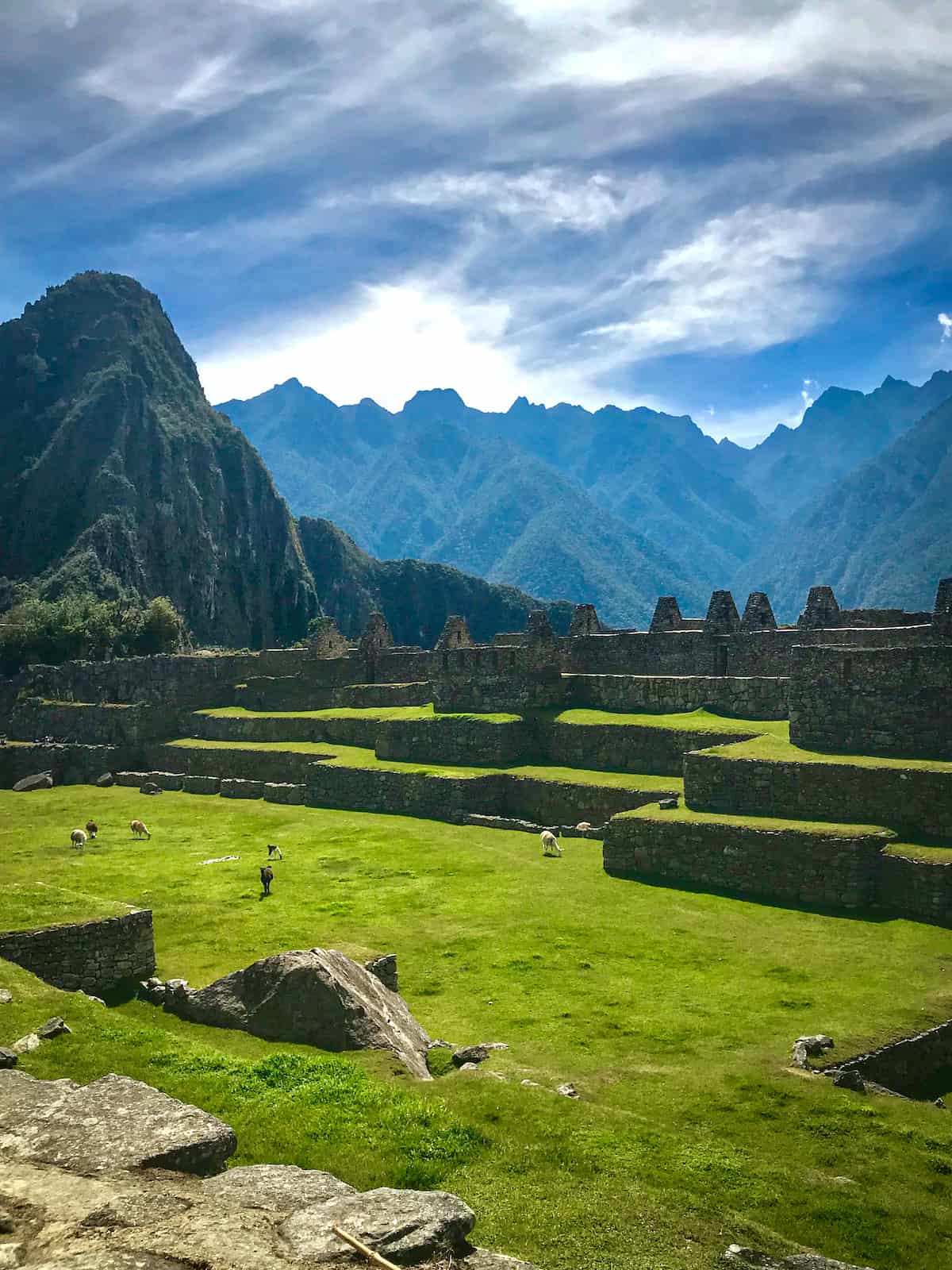 Do your research and be sure you're planning the trip during the best time of year.
Best Time to Visit Machu Picchu
Weather
For the most part, April through October is the best time to visit Machu Picchu. The weather plays a pretty big factor as November through March is the warmest season, but warmer weather can also mean rain.
Keep in mind that if you're planning to hike the Inca Trail, it's completely closed in February, typically the month with the heaviest rainfall.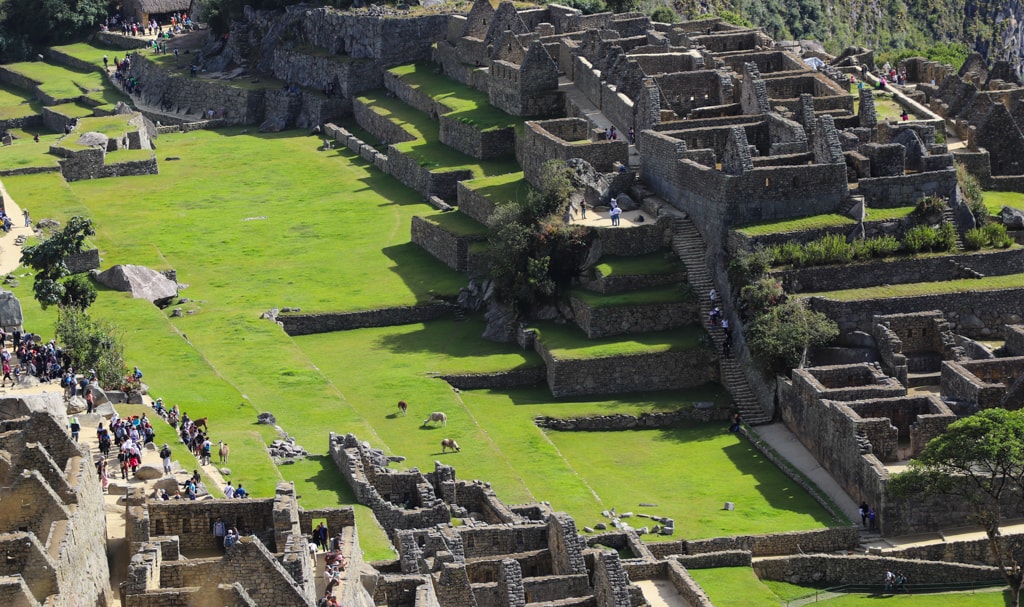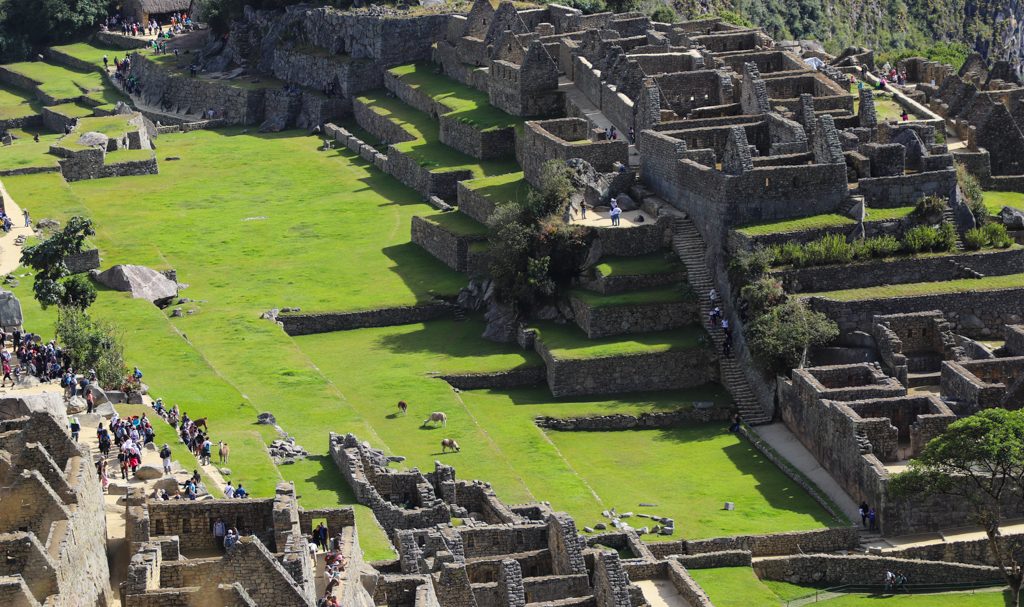 That being said, I visited in July, which is winter in South America. Though it was pretty chilly at night, the days were perfect.
I wore a lightweight down vest and only needed my winter coat in the early mornings, so just tied it around my waist or left on our private bus for safekeeping. 
TIP: Bring warm pajamas. Some hotels only offer a heater and it takes a while for the room to get warm. They do offer extra blankets.
Park Reservations
You don't need to worry about Machu Picchu being open - the park is open seven days a week including holidays, so that's one less thing to be concerned about.
However, you will need reservations, which is why I chose to go with G Adventures. They took care of everything for me.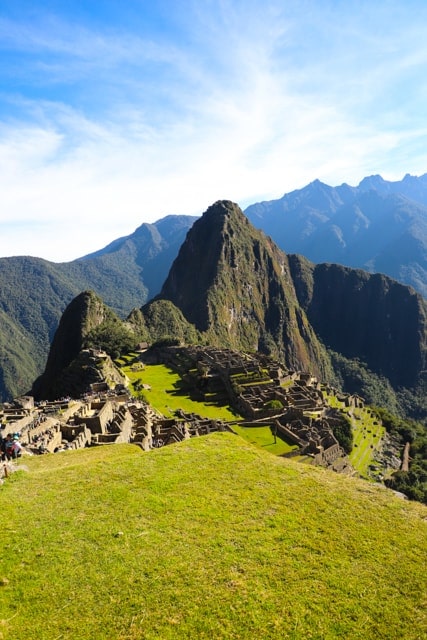 Peak Season
It's said that peak season is June through August, which is the case with just about any vacation for those of us in the U.S. as kids are out of school.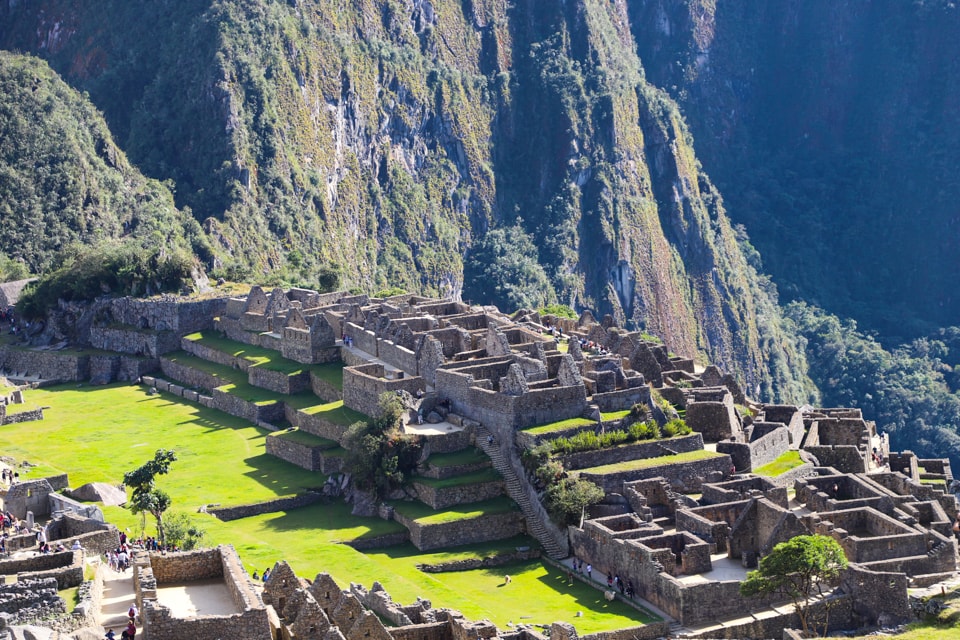 Here's my take on the busy season after being there smack dab in the middle of it:
the park limits the number of people to the site and, in fact, permits can sell out months in advance.
I never felt I was fighting the crowds, never felt rushed.
I even set up my small tripod for photos and got several before anyone walked anywhere near me.
In other words, don't let the thought of it being crowded keep you away. It really was not an issue.
Hiking Machu Picchu
I'm using the word 'hiking' pretty lightly. Hiking the ruins is nothing like hiking the Inca Trail. Touring the ruins is a bit of a hike, but it's easily doable for average fitness levels.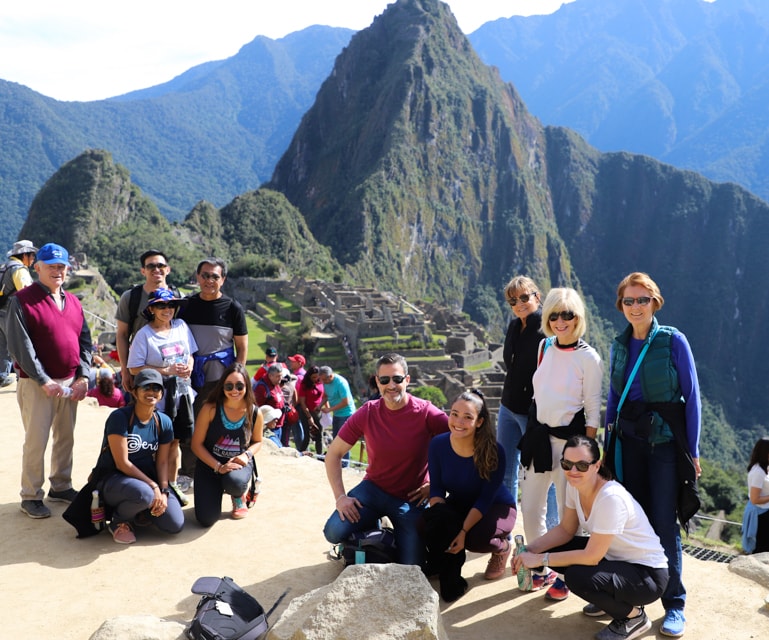 Your Guide
You can't enter Machu Picchu without a guide, and ours was amazing at making sure everyone was stopping now and then for rest and water breaks.
In addition, he was extremely knowledgeable and passionate about the history of Machu Picchu. He took plenty of time to answer questions, too.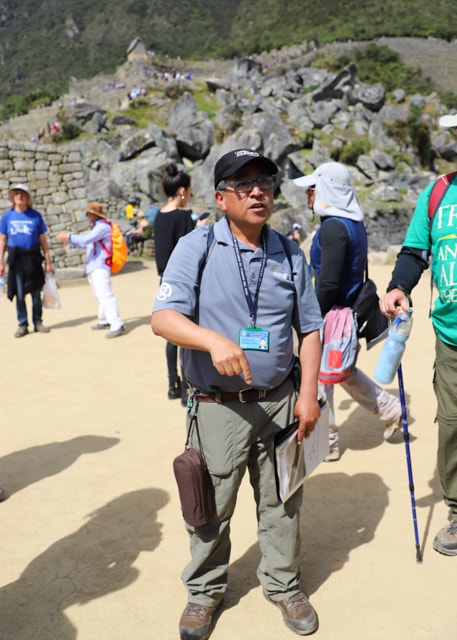 You will have to walk up and down fairly steep steps, so be prepared with good walking shoes. Most of our group wore athletic shoes, and a couple of people used walking sticks.
If you're planning to hike the Inca Trail, I heard from others in our group that it was tough, so be prepared.
Use this backpacking checklist when preparing for your trip. The last thing you want is to be on the trail and need something you forgot.
The Inca Trail is one of the world's most popular hiking experiences, with options of one-day hikes to longer hikes with camping.
For either choice, you must have a guide, and for the camping hike, you'll want to have porters to carry your gear. Pack animals are no longer allowed on the Trail.
Porters
Though the Inca Trail is hard work for the porters, most of them are in this job because they love to be able to be outdoors and show visitors this beautiful part of the world.
Be sure to book through a reputable company so you know the porters are paid well, and always remember to tip your porters and guides.
I booked my trip through G Adventures and they took care of permits for tours, transportation, hotels, and anything else I needed while in Peru, including setting up optional activities like food tours.
The G Adventures App
I loved that they had an app I could follow every day without pulling paperwork out of my backpack, even giving me a packing list right within the app.
There were a few things I wouldn't have thought of, like packets of electrolyte drink mix I could add to water. When you're affected by the altitude, staying hydrated is really important. I was glad they thought of that!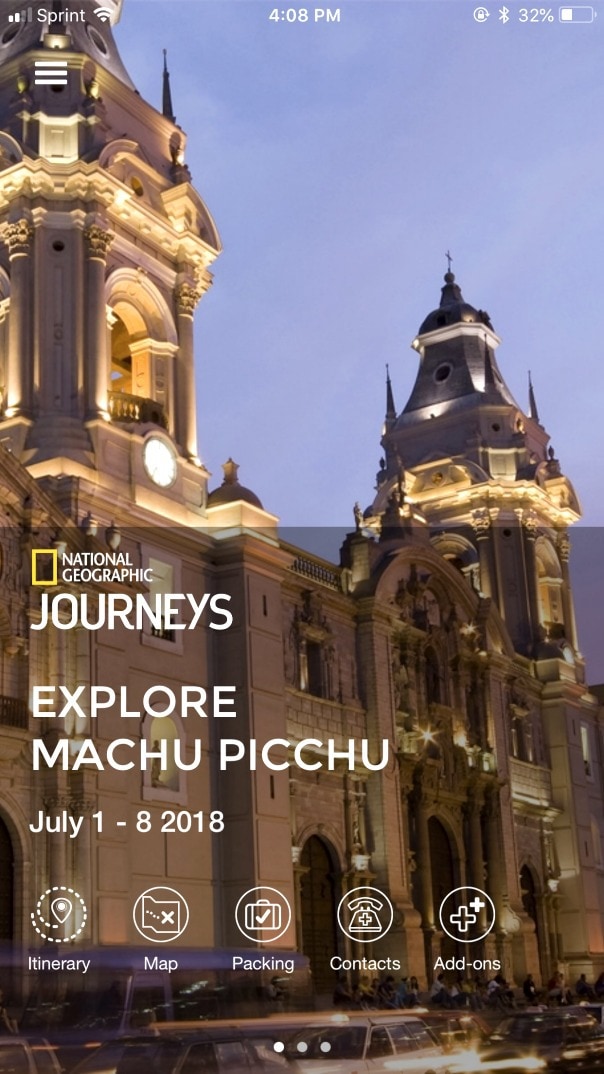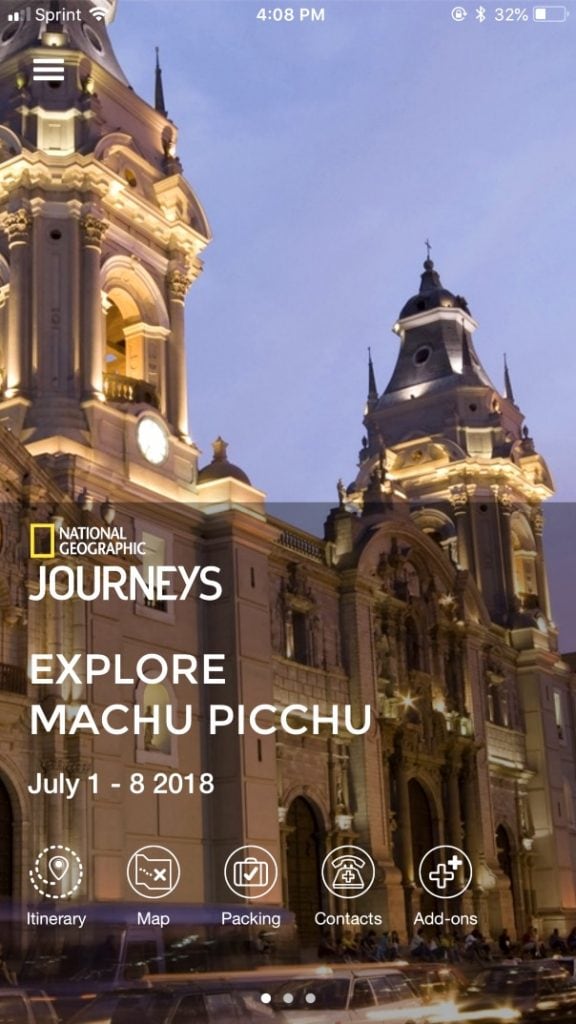 History of Machu Picchu
The sacred Inca city of Machu Picchu was built on top of the Andes Mountains in the 15th century, high above the small town of Urubamba below.
The words mean Old Mountain; Machu=old, Picchu=mountain. The property covers over 32,000 hectares, with the heart of it being the citadel, an architectural community with steps, terraces, aqueducts, and temples.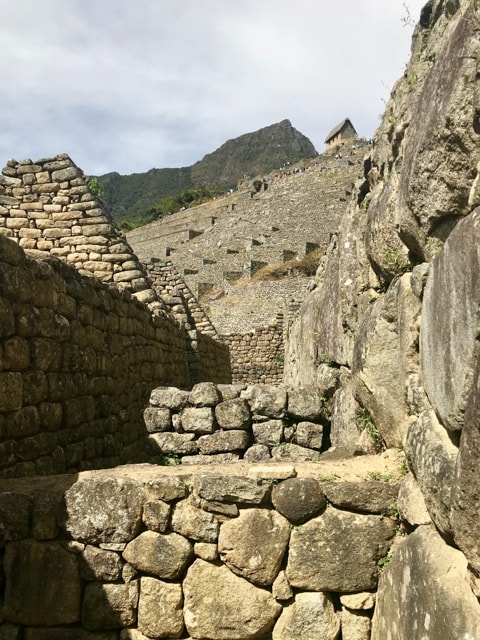 When the Incas were conquered by the Spaniards in the 16th century, Machu Picchu was abandoned, not being rediscovered again until 1911 when Hiram Bingham found the site as he was traveling through Peru.
Of course, the people who lived near the site knew it was there and told Bingham through translators, but Bingham shared Machu Picchu with the world.
Many scholars, even today, are searching for the true purpose of Machu Picchu. Regardless, the purpose it served was to house a community and Inca leader strongly believed to be Pachacutec.
Scientists say about 750 people lived there, but as there was no written language, we may never know.
Note: Some forms of Inca language are being studied. It will be fascinating to see the outcome.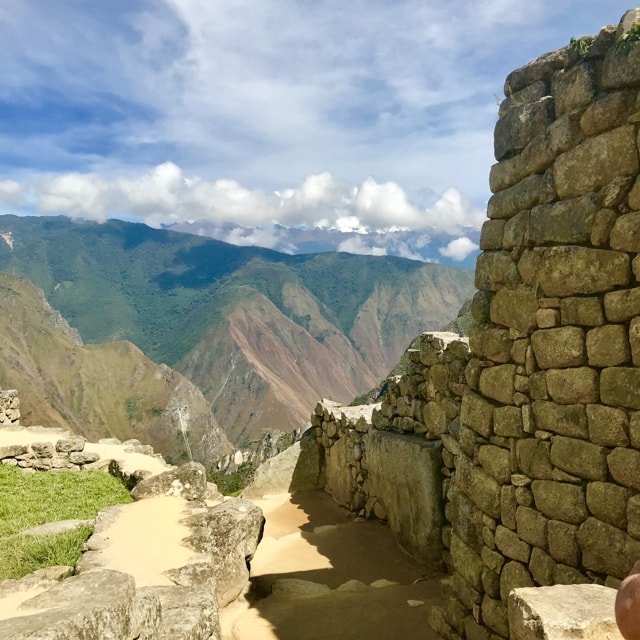 Farming in Machu Picchu
Though the Incas knew they had to be at a higher elevation to be protected from flooding, they also knew how important water would be to them.
In fact, it's said the Incas thought the river next to the train to Machu Picchu was the Milky Way on earth.
Perhaps it was because they used the stars to help them with farming. During the drier seasons, Machu Picchu has 16 springs, some of which you will be able to see on your hike.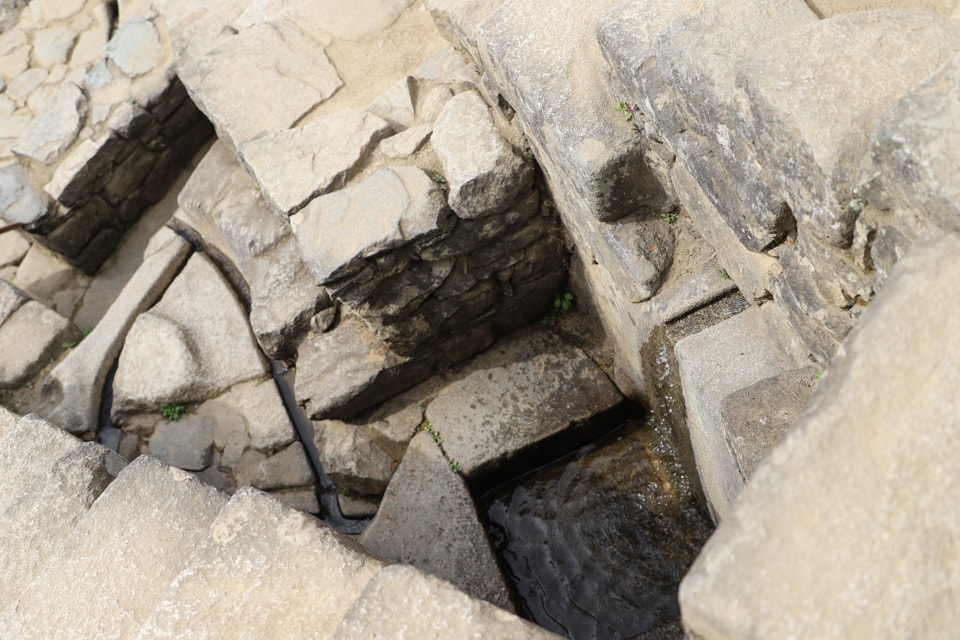 The terraces, which you will also see, created microclimates, which is truly incredible to think the Incas had that kind of knowledge in the 15th century.
Feeding all the people who lived in Machu Picchu took a lot of food, and these microclimates were perfect for growing potatoes and other vegetables as well as many types of fruit.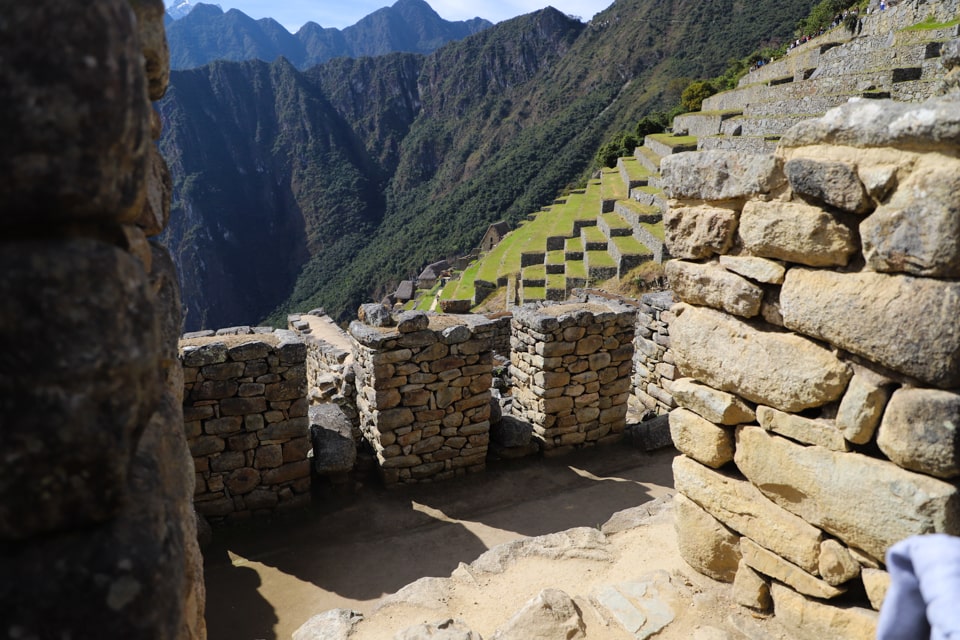 To put some perspective on this, the world has 117 microclimates, and Peru has 88!
Machu Picchu is actually located where the Andes meets the Amazon. Growing food under those conditions is pretty easy, but what about spoilage?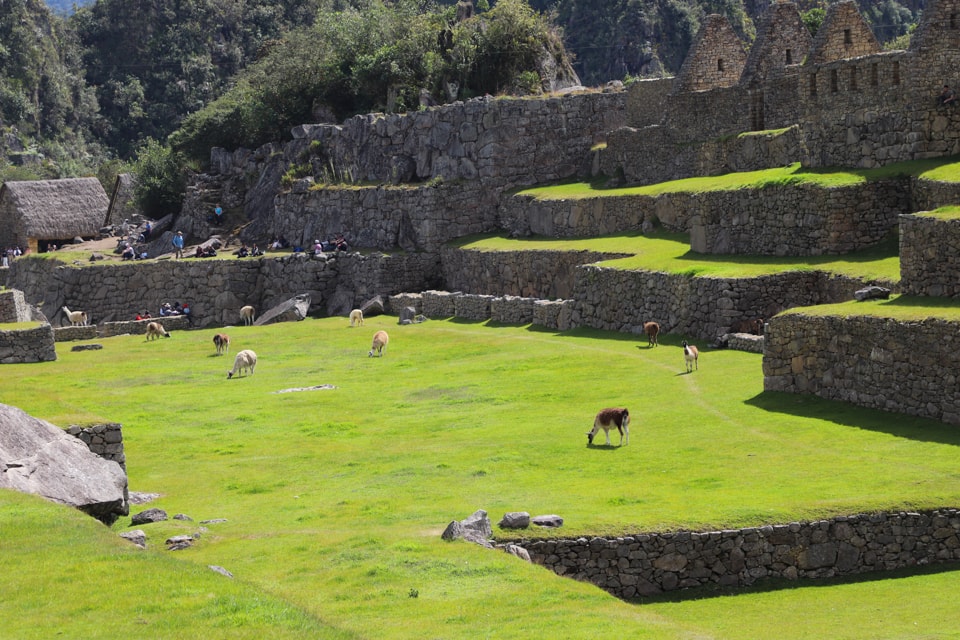 The Incas also knew they needed a way to preserve the food they grew.
Dehydrating much of what they harvested was a huge reason why they were successful. Dehydration meant less food would spoil. In fact, our version of jerky came from the Incas.
The Temples of Machu Picchu
It's said the Temple of the Sun is the most important of all the structures at Machu Picchu, housing the Inca leader.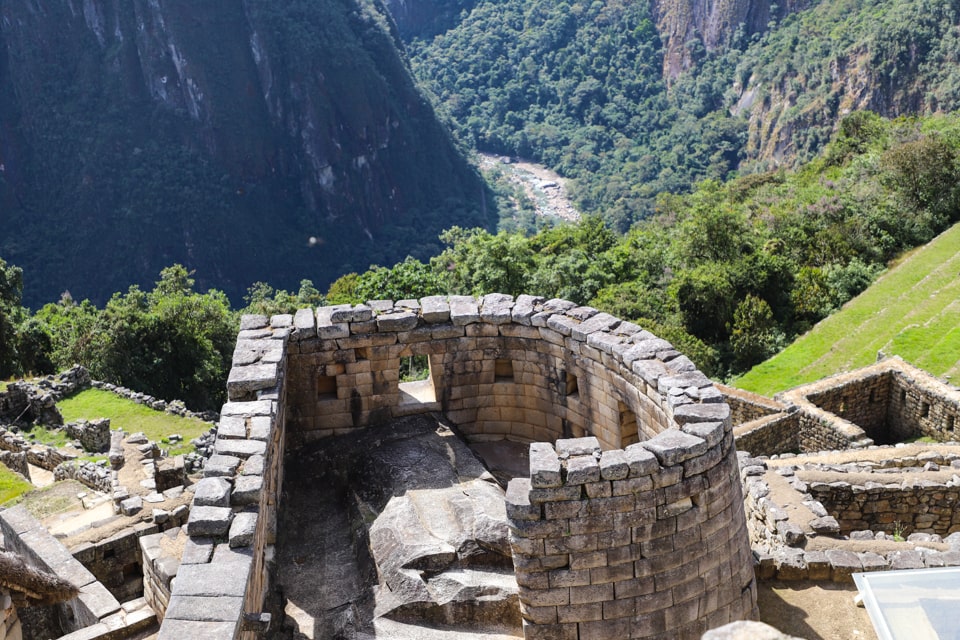 The Temple of the Three Windows is another important structure, with the three windows believed to represent three parts of the world; the underworld (Uku-Pacha), the heaven (Hanan-Pacha), and the present world (Kay-Pacha.)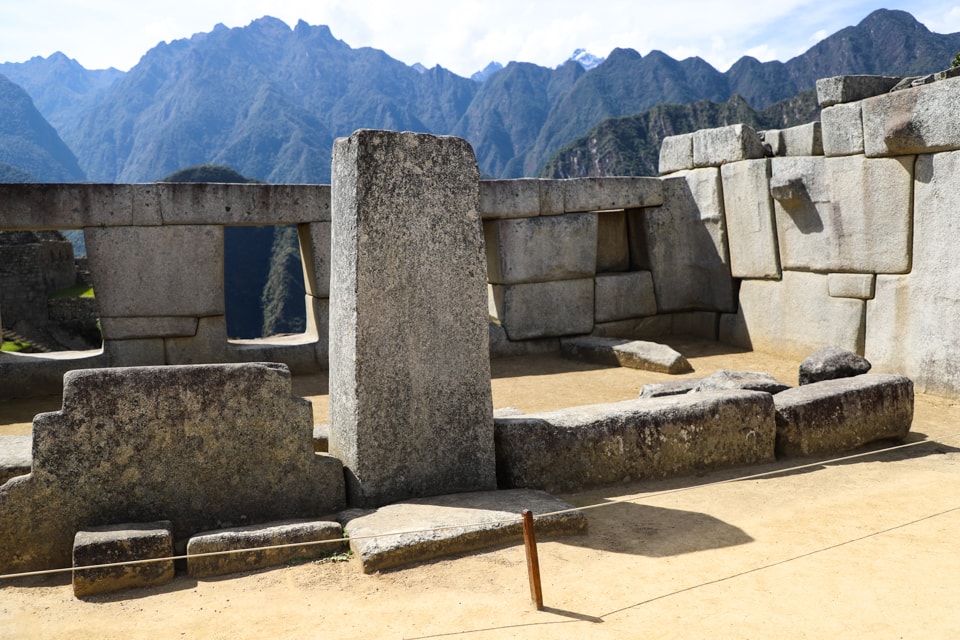 The Principal Temple looks like it's starting to lean, or has settled.
Our guide said it has not changed, that when the Incas realized it was not level ground for building, they left it unfinished. It remains that way still.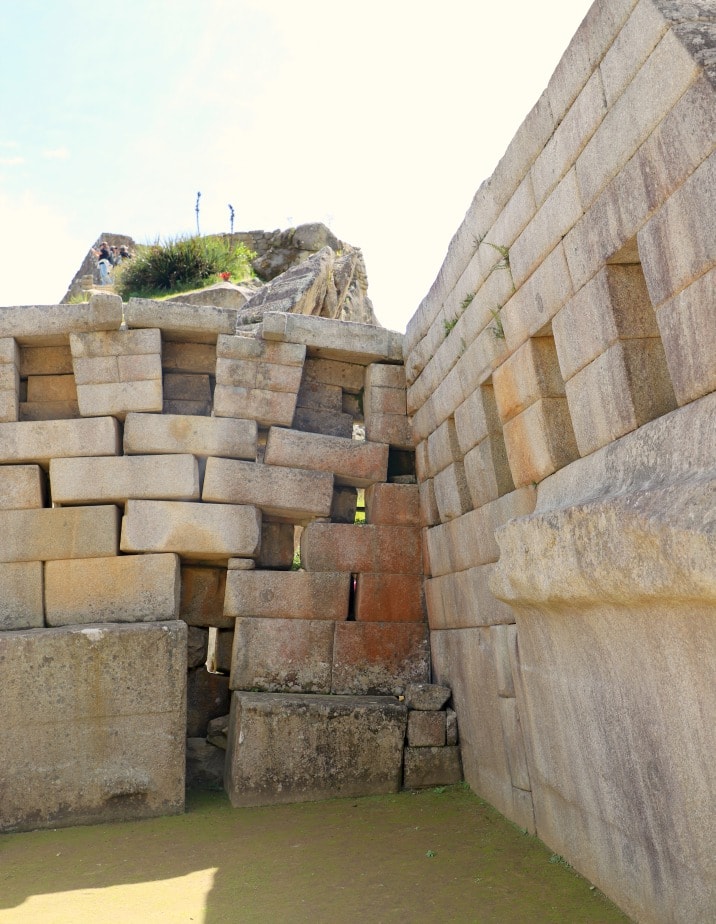 The Guardhouse is a beautiful structure but wasn't that important, except for serving as a watchtower of sorts.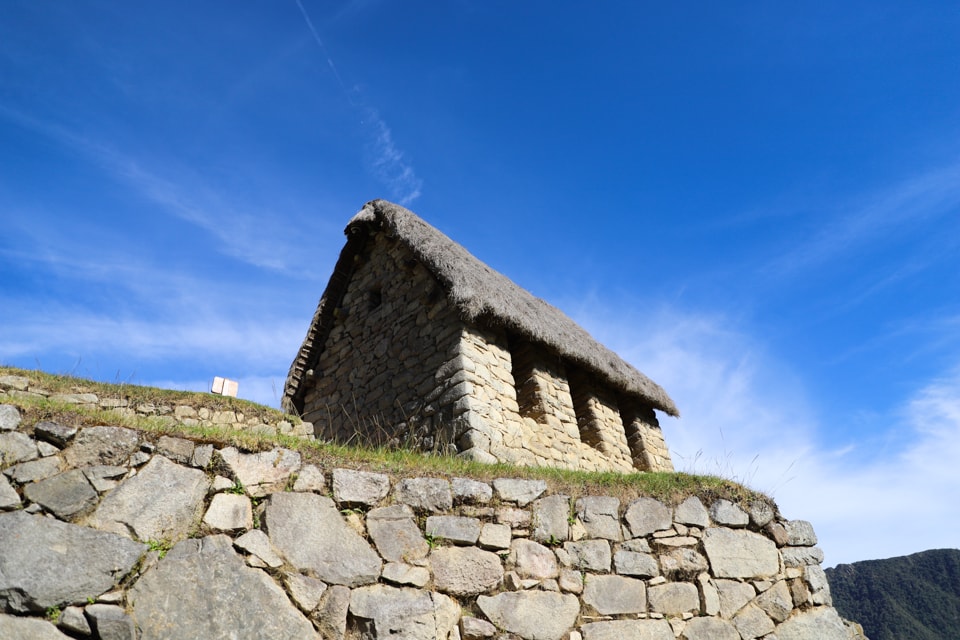 One structure we saw had what was thought to be a bedroom, a kitchen, and a bathroom.
The kitchen had a special surface that seemed obvious for grinding food, and the bathroom was a very small room with a hole in the ground.
Now you can say you've seen a 500-year-old bathroom. You're welcome!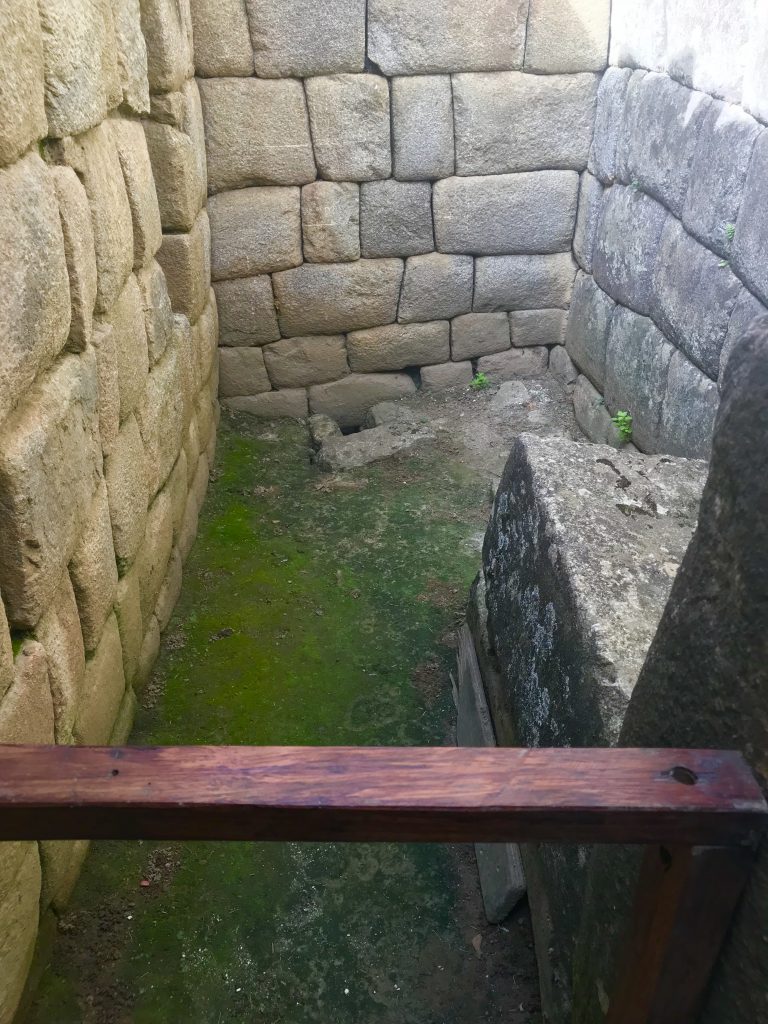 It took us about three and a half hours to tour the Ruins. You can only stay for four hours once you enter.
It really goes fast while you're learning from the guide.
Take time to get your photos when you're given a break to wander, or just sit for a moment and take it all in.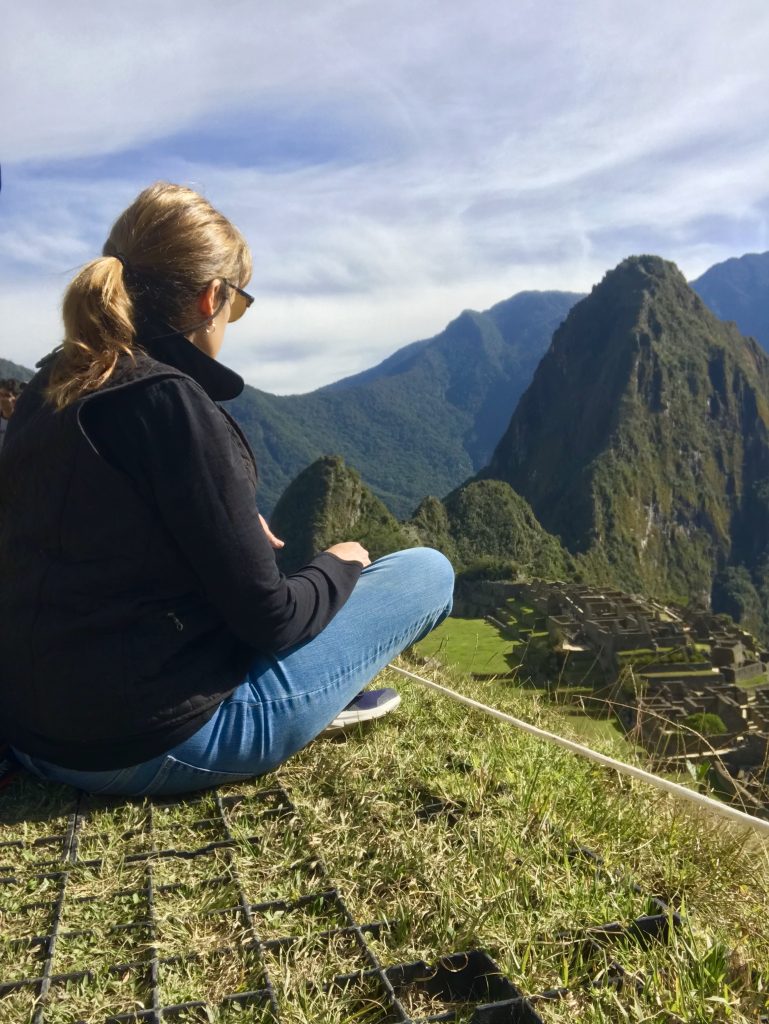 Though we were there to see the Ruins, I couldn't help but take a few shots of the views from the citadel.
It was breathtaking and such a gorgeous day. July really is the best time to visit Machu Picchu.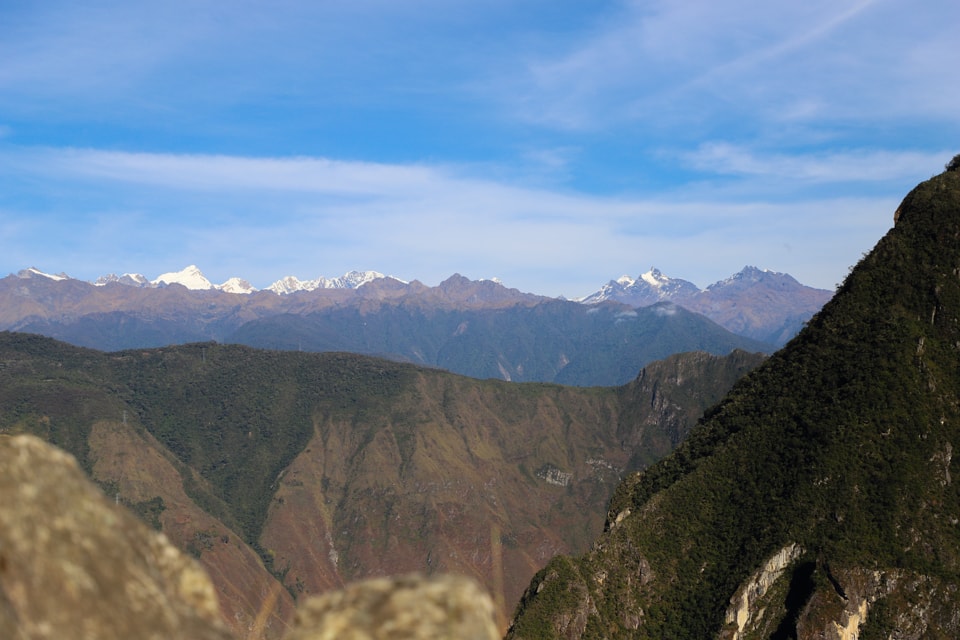 How to get to Machu Picchu
There are only two ways to get to the Machu Picchu Ruins; hike the Inca Trail, or take the train to Aguas Calientes.
We took the train which was a nice scenic ride.
The three people who hiked the Inca Trail got off before our stop to meet their guide and begin their scheduled hike, meeting us at the end of the day at our hotel.
I thought it was great that G Adventures made it so convenient for some to hike and others to just tour the Ruins, especially for multi-generational families.
Where to Stay Near Machu Picchu
Though the Belmond Sanctuary Lodge is the most convenient place to stay when you're visiting Machu Picchu - it's practically next door - rooms begin at $1,400 per night, pricey for most of us!
Our group spent a night at the Hotel Taypikala Machu Picchu which was lovely and convenient for exploring.
We moved to Hotel Taypikala Cusco the next day so we could explore the city. Both hotels were really nice properties.
See Machu Picchu Now
I heard talk about the number of people being limited even further as far as visitors to Machu Picchu.
As I've seen with other sacred ruins around the world, if they aren't protected, they won't be there for generations to come.
How To Visit Machu Picchu
If Machu Picchu is on your bucket list, start making plans now. I joined a G Adventures group and toured Lima, Urubamba, Cusco, and Machu Picchu. Check out the tours available for Peru on the G Adventures site.
National Geographic partners with G Adventures on some of the tours, including the one I was on.
Search by activity level to see which tours are a good fit for you. You'll see there are tours all over the world, including tours for families.
G Adventures even has special groups for 18-30 year-olds who want a little more adventure. There really is something for everyone.
If you're planning to go to Machu Picchu on your own, there are many lovely hotels near the sites.
⭐ Recommended Upscale Hotel Sumaq Machu Picchu Hotel is a 5-star hotel located just 20 minutes from the Machu Picchu Archaeological Site.
⭐ Recommended Budget Hotel Waman Hotel is a comfortable hotel that is highly rated by guests and the price is very affordable.
Now that you know the best time to visit Machu Picchu, are you thinking about going to Peru? What are you planning for your next vacation?
Click here to save this TRAVEL idea to Pinterest!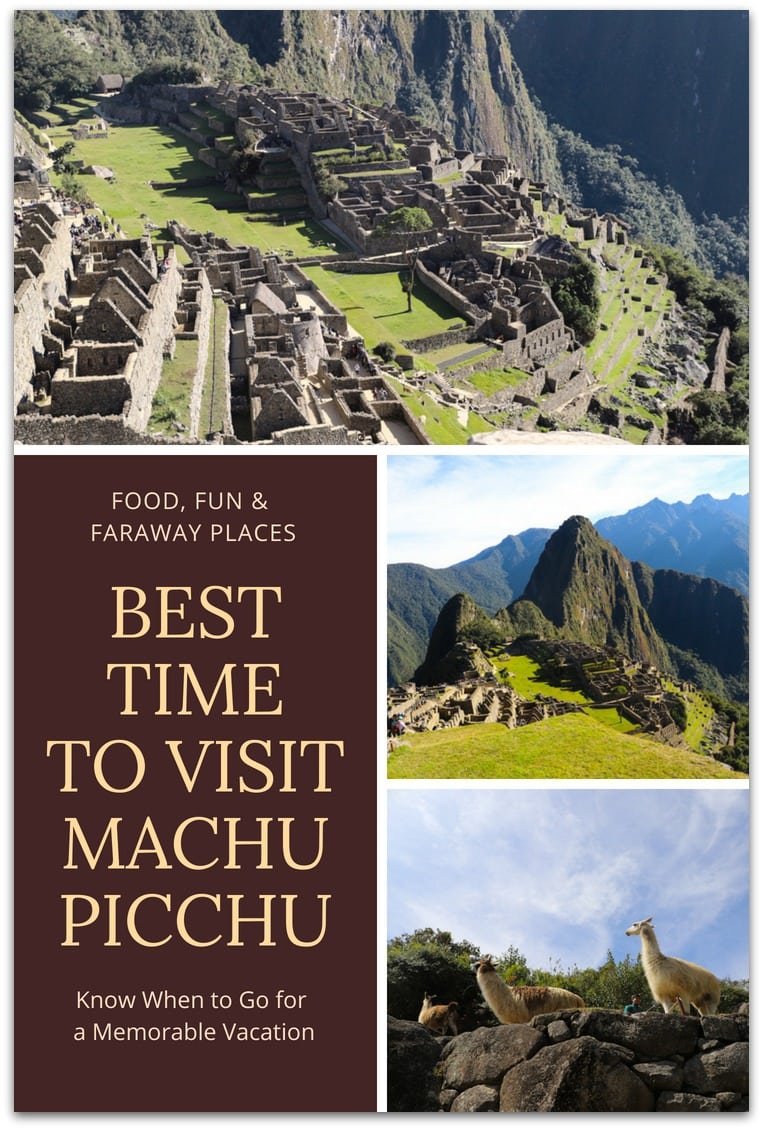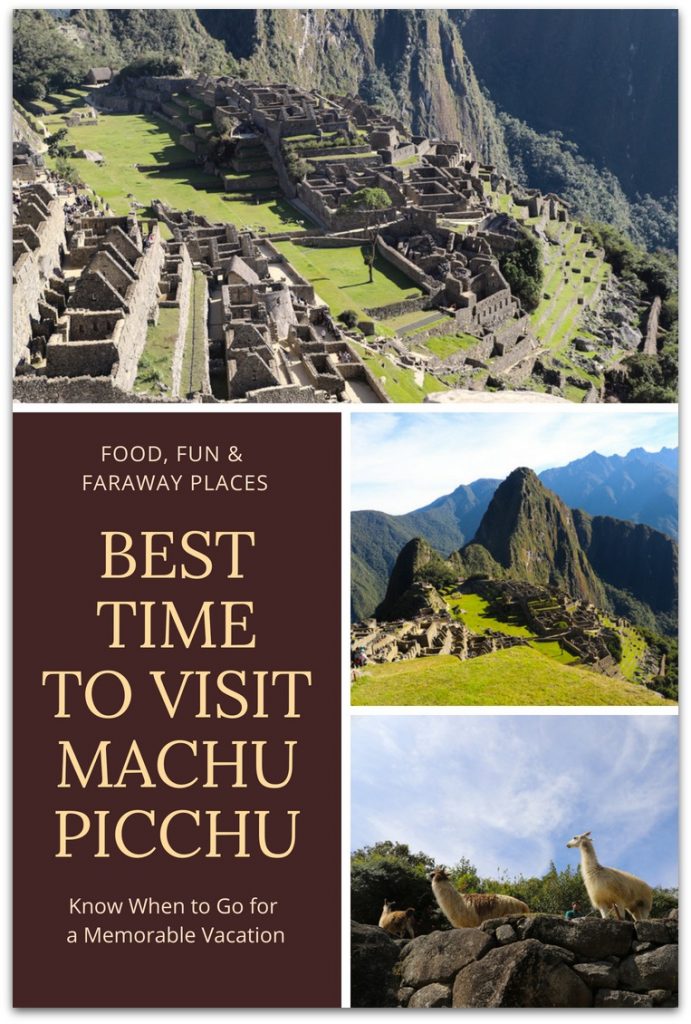 This post was written in partnership with G Adventures and contains affiliate links, meaning I may receive a small commission at no extra cost to you. Please let me know if you have questions about this trip and I'll be happy to answer them or connect you with a G Adventures rep.
Like our content? Follow us on Pinterest!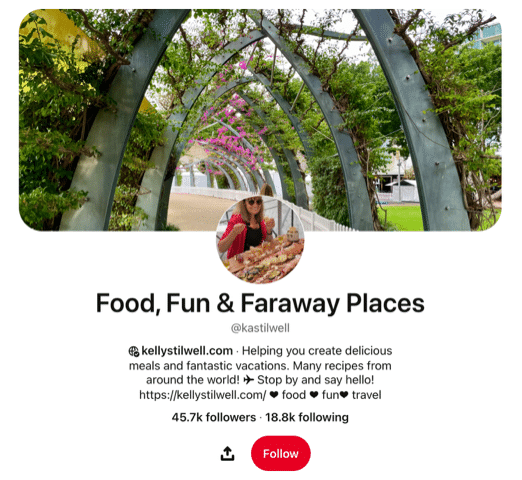 More About Peru