A trip inside Petra Jordan looks like something out of an Indiana Jones movie. But this is no movie set – the lost city of Petra is a UNESCO World Heritage Site that was inhabited for centuries!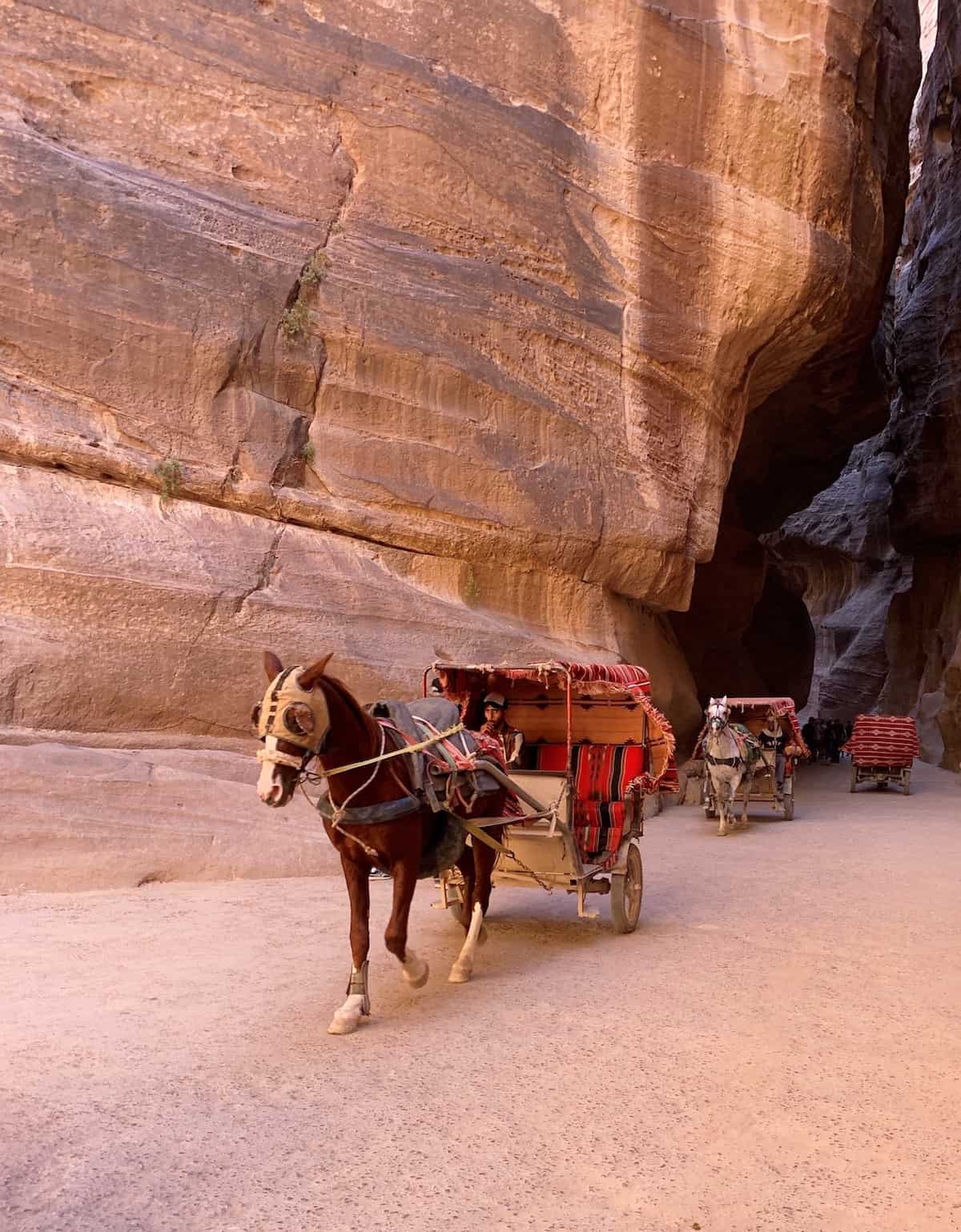 This is just one of the many places I visited while in Jordan, along with Little Petra, Feynan Ecolodge, Ancient Jerash, Wadi Rum, and Amman. Check out things to do in Amman and our favorite restaurants in Amman if you're thinking of visiting.
Even if you don't know anything about its history, you will be impressed by the mammoth rock carvings and raw beauty of its rose-colored sandstone. There's no question why the Rose City is one of Jordan's top tourist attractions.
Where Is Petra?
Petra is located in central Jordan, around a three-hour drive south of the capital city of Amman. The nearest settlement is the town of Wadi Musa, which is also known as the Guardian of Petra.
To reach Petra, international guests often fly into Queen Alia Airport, just south of Amman. A closer, but smaller, option is the Aqaba (King Hussein International) Airport, which is two hours south of Petra.
Roads in Jordan are well-marked, so driving is an option. If you choose not to drive, you can travel by shared taxi or bus service.
There's also JETT bus, the Jordan Express Tourist Transportation Company, offering comfortable coach service between the airports and Petra for a very reasonable price.
Why is Petra Called the Lost City?
Petra was originally thought to have been built around 312 BCE by the Nabataeans. In its history, it was attacked by Greek and Roman forces, and the Romans took over Petra in 106 CE.
The Romans ruled over the city for more than 250 years as Arabia Petraea. In the 4th century CE, an earthquake destroyed much of the city.
Eventually, the Byzantines took control and rebuilt, but by the 8th century CE, the city had been largely abandoned, lost in the sands of the desert.
Petra was rediscovered in 1812 by Swiss explorer Johann Ludwig Burckhardt. Later archaeological expeditions helped to excavate more of the lost city.
It was named a UNESCO World Heritage Site in 1985 and subsequently called one of the New Seven Wonders of the World.
What's Special about Petra?
At a first glance, the construction of Petra being built into mountains of rock formations is impressive in its own right. But then you see how pristine some of the carved rockwork is and you're blown away by the fact that this is centuries upon centuries old.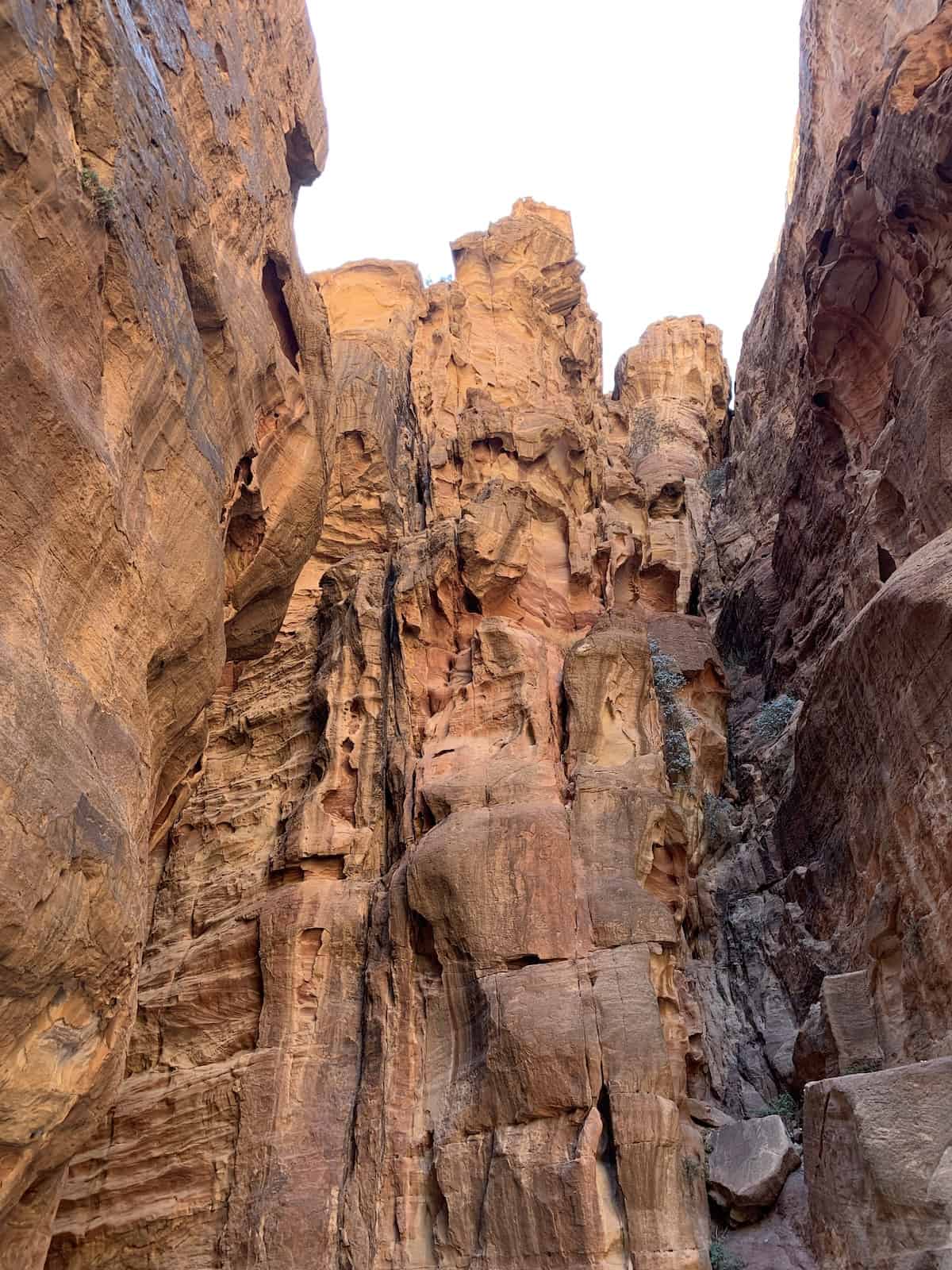 Each group that lived in Petra added on its own unique design style, making the city a blend of many cultural influences.
In addition, the water harvesting system built by the Nabataeans is a technological marvel of its time. Through a series of conduits, rainwater could be directed to dams and cisterns where it was held for use year-round.
Farmers could use this water to help improve crop growth and to prevent the impacts of drought. The water conduits also helped prevent flooding in the city.
Simply put, there's no other place like this in the world. It is truly worth its designation as a wonder of the world.
Things Not to Miss
With more than 800 registered sites in Petra, it can be overwhelming! Have no fear, there are signs in English that will help you find your way.
I took the Lonely Planet Jordan Guide with me and it was incredibly helpful, even with a guide showing us everything. The Visit Jordan website is a great place to begin your planning.
Begin at the Petra Visitor Center in Wadi Musa to get your tickets.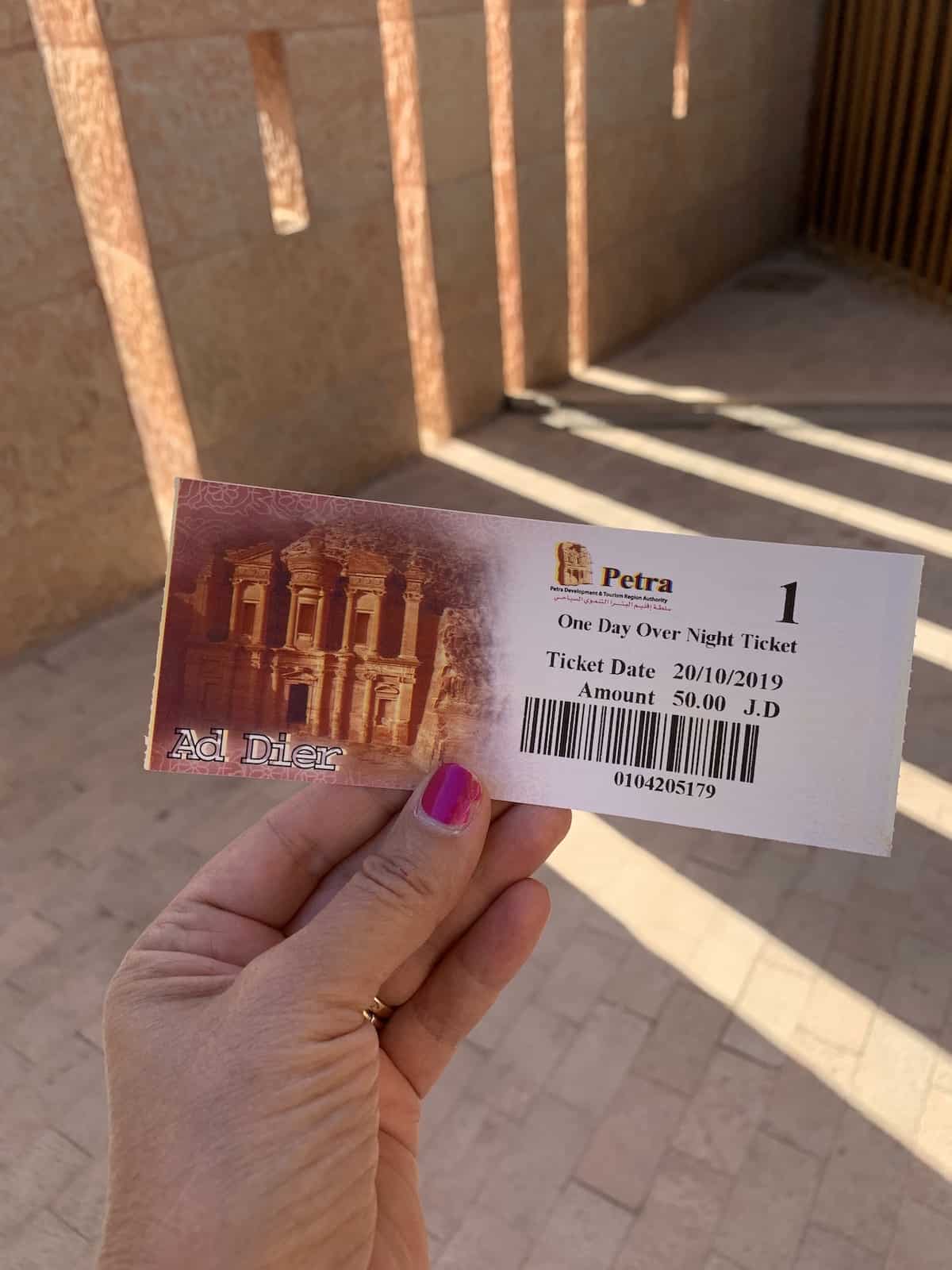 This gives you access to all the sites at Petra. It is a long walk to cover all of Petra in a day, so I'd suggest two, though I understand you can't always make that happen.
Here are the archeological sites you don't want to miss:
Djinn Blocks
Also known as the God Blocks, these three monuments are located halfway between the Visitor Center and the entrance of the Siq. 
Siq
The Siq is the main trail into Petra. It is about three-quarters of a mile long and only 3 meters wide in spots. 
For anyone who has dreamed of going through a small opening and entering another world, this is the real-life version. Wind your way through the Siq with its 200-meter-high walls that have been ripped apart over time by tectonic forces.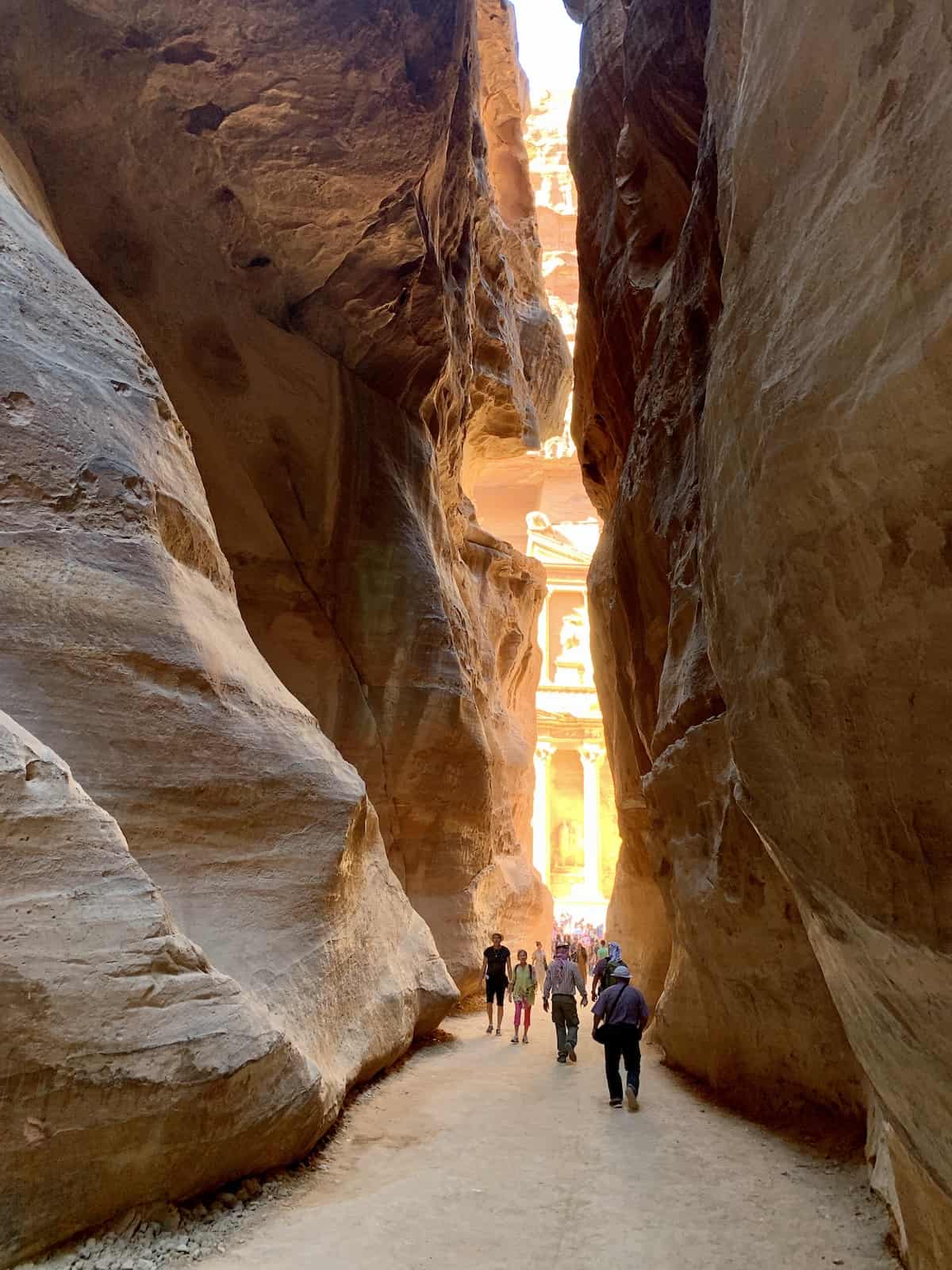 Take your time walking through here. There are many details from the ancient Nabataean times carved into the walls. And when you see the big reveal of the ancient city of Petra, it is absolutely jaw-dropping.
Obelisk Tomb
The Obelisk Tomb is a two-story-tall carved rock tomb. This massive area features different features added during Roman, Greek, and Nabataean times. It is thought that feasts to honor the dead were held inside.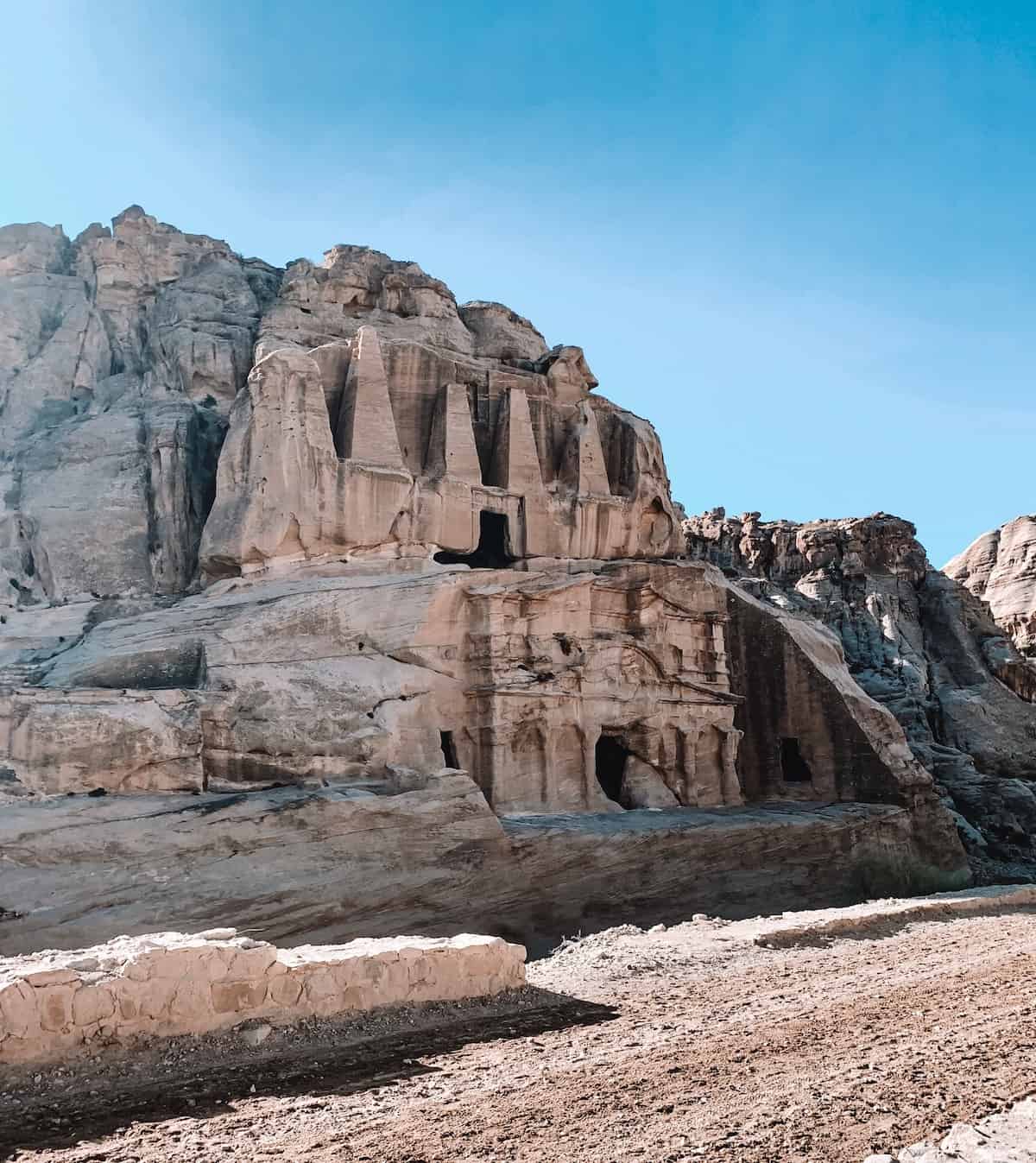 Treasury
The Treasury, also known as Al Khazneh, is both an artistic and technological marvel. Likely constructed in the 1st century BCE, the Treasury building is 40 meters high and decorated with ornate friezes, figurines, and more.
Street of Facades
This area contains a row of Nabataean tombs with carved decoration. Some of these have seen the effects of time, while others show the skilled detail of the rockwork. One of the towers is over 15 meters high!
High Place of Sacrifice
As the name suggests, you'll need to hike up a steep climb to reach this site. It is well worth the half-hour hike, however.
In addition to an amazing view, you can also see a place where sacrifices were performed. This is one of the best-preserved sites of this nature in the world. 
We only had one day in Petra and did not make the climb as there was so much to see. I regret that decision and urge you to make the climb.
Theatre
This ancient amphitheater can seat up to 8000 people. You can just imagine the amazing performances that this theater has seen over the centuries!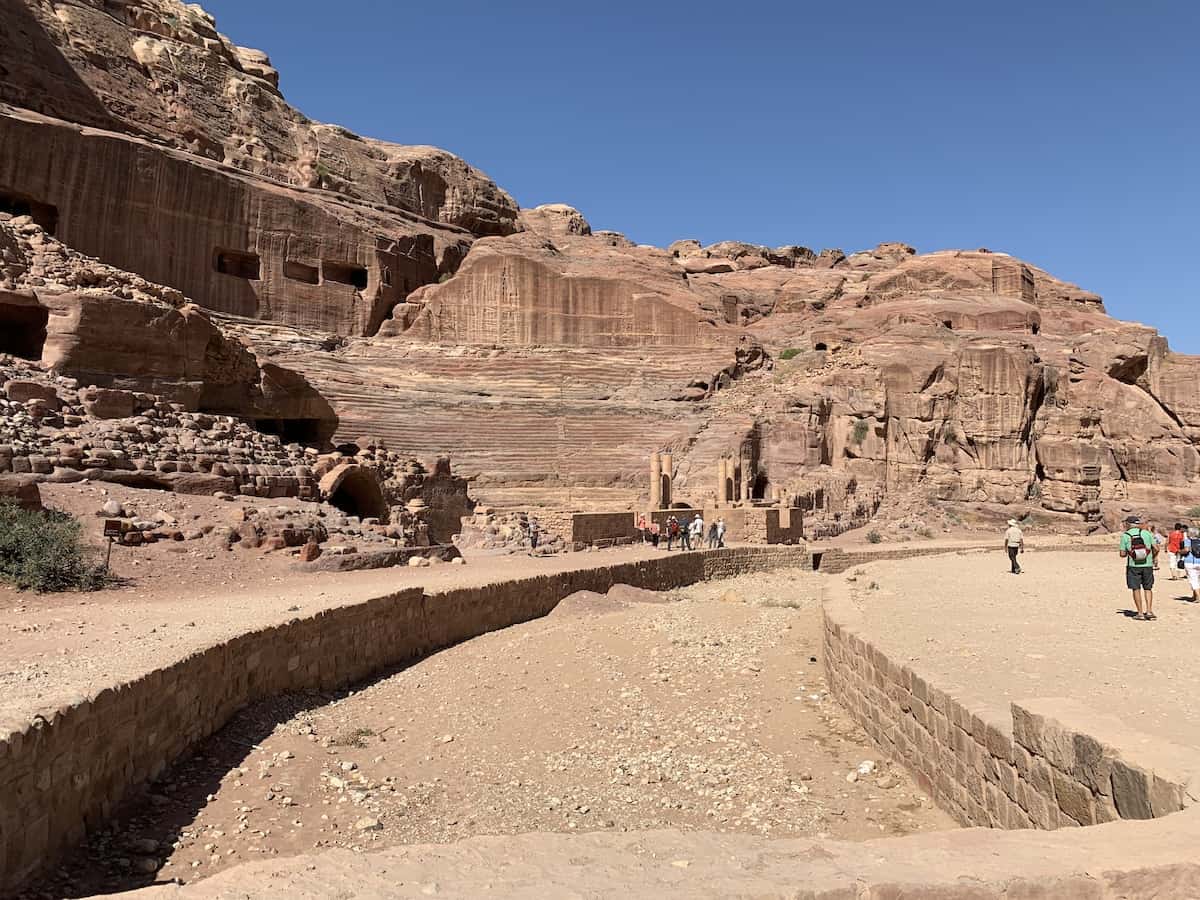 Royal Tombs
The Royal Tombs are a series of impressive mausoleums clearly fit for royalty. Which royal members is a mystery lost to time, but they are from the Nabataean era.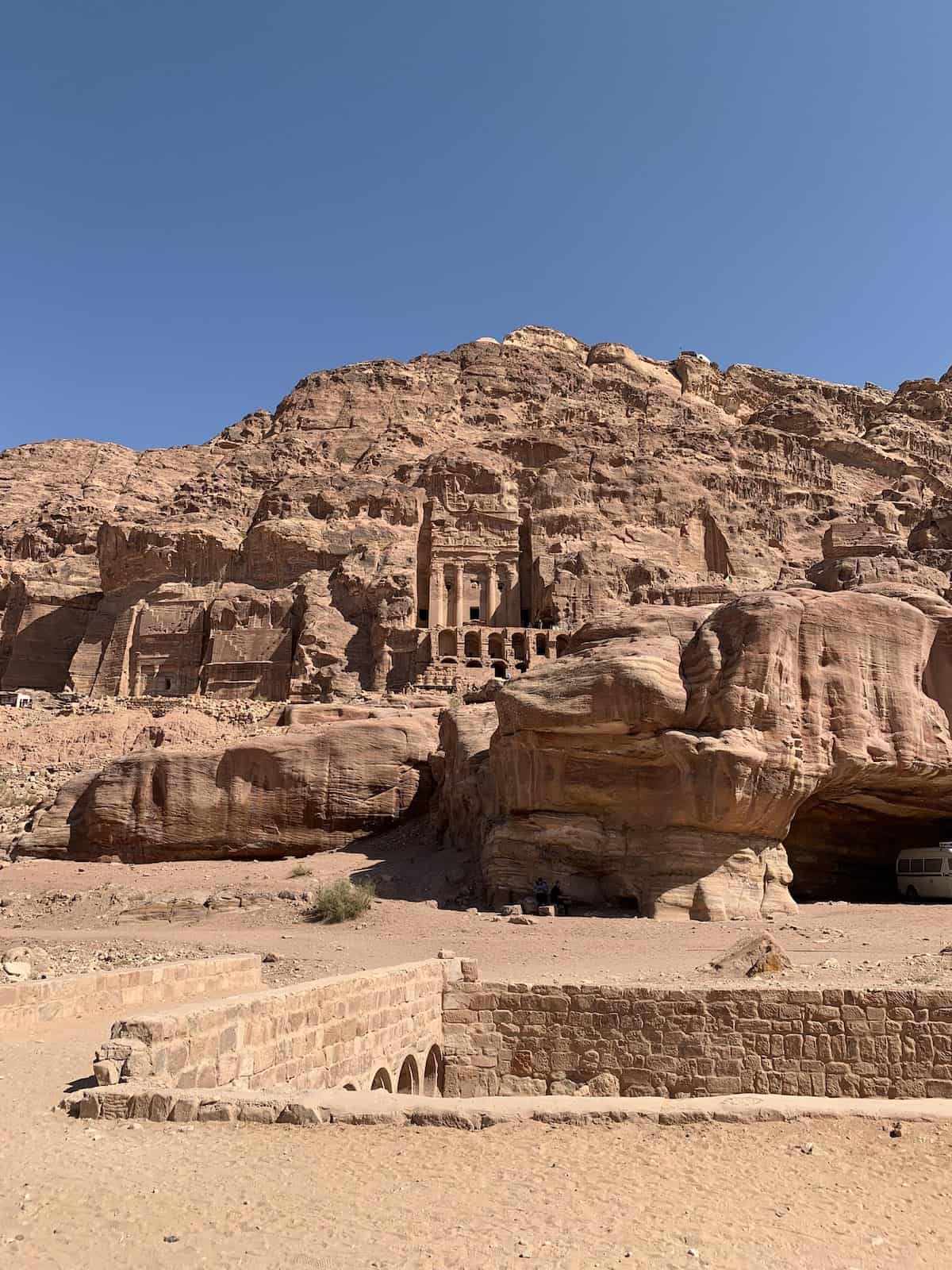 Urn Tomb
The Urn Tomb is somewhat newer than the Royal Tombs, estimated to have been constructed in 70 CE.
It is named for the urn on the triangular pediment of the tomb. At one time in its history, it was also the site of a Byzantine church.
You can see the Urn Tombs off to the left in the background.
Palace Tomb
The Palace Tomb is another stately area. It has a dozen decorated columns and four gates with 18 pillars up above. In all, the Palace Tomb is 49 meters high!
Great Temple
Founded over 2,000 years ago, the Great Temple complex was abandoned until 1992 when archaeologists from Brown University rediscovered it. They began excavations in 1993 that are still taking place today.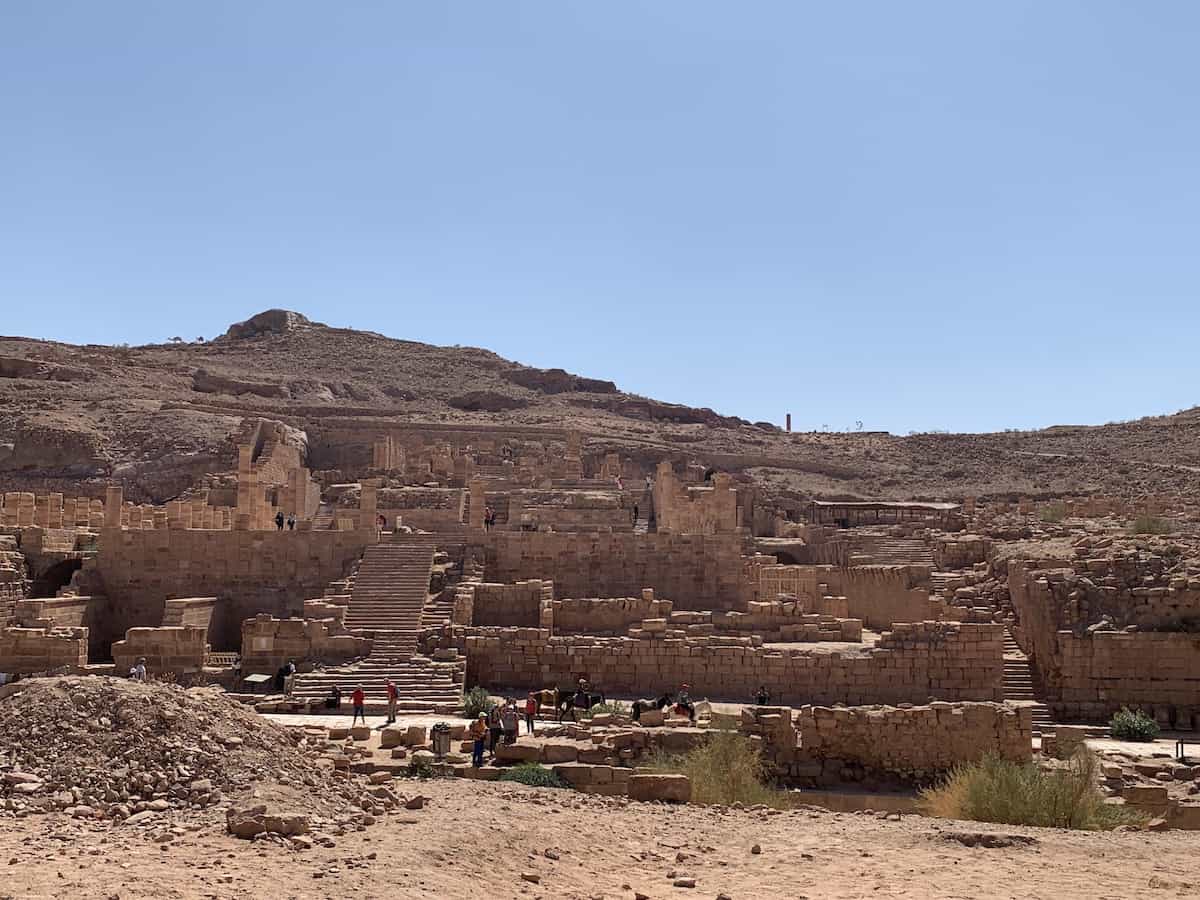 Monastery
This is one of the most impressive sites in Petra, at 47 meters wide and nearly 49 meters high. Looking at the preservation of this site, it is hard to believe just how ancient it is.
It gets the name the Monastery because it was once a site of a Christian chapel, with crosses carved inside. You will have the best view of Petra from here.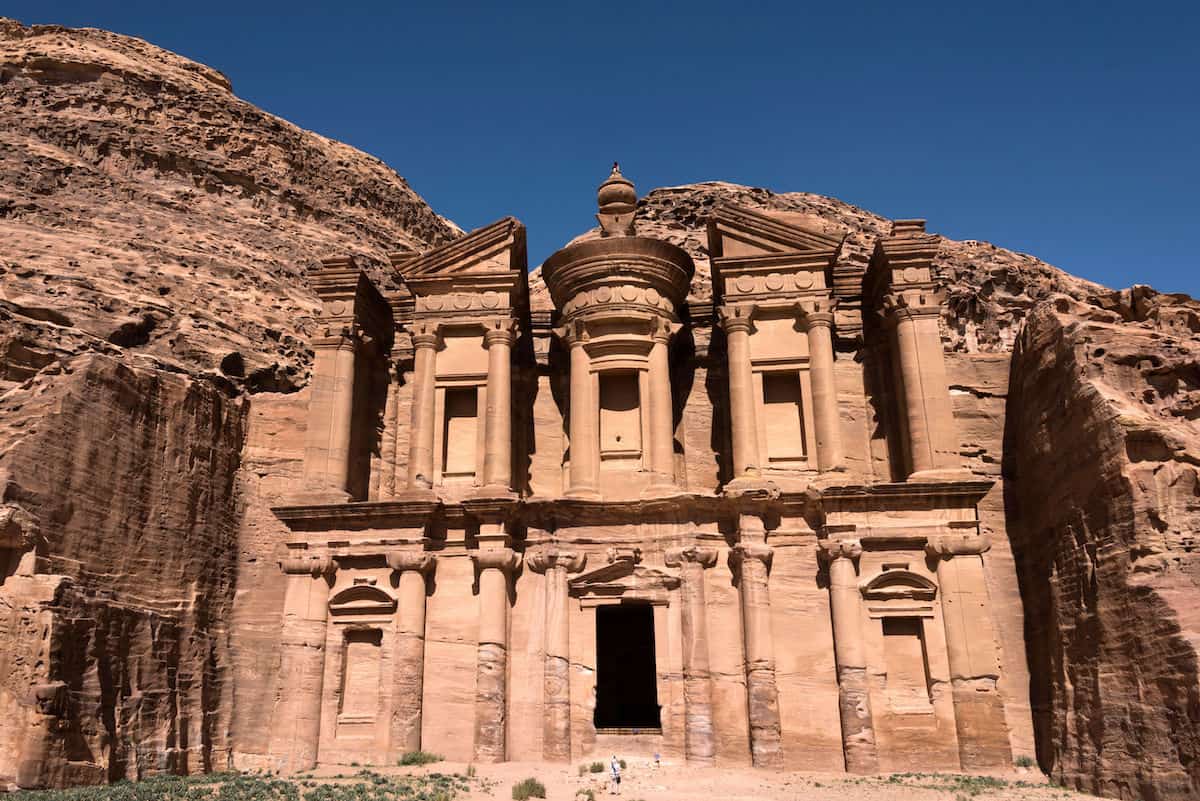 Shopping in Petra
Shopping in Petra provides everything from tourist souvenirs to handmade arts and crafts. But if you want a true "taste" of Petra, there's one type of souvenir you'll need to find.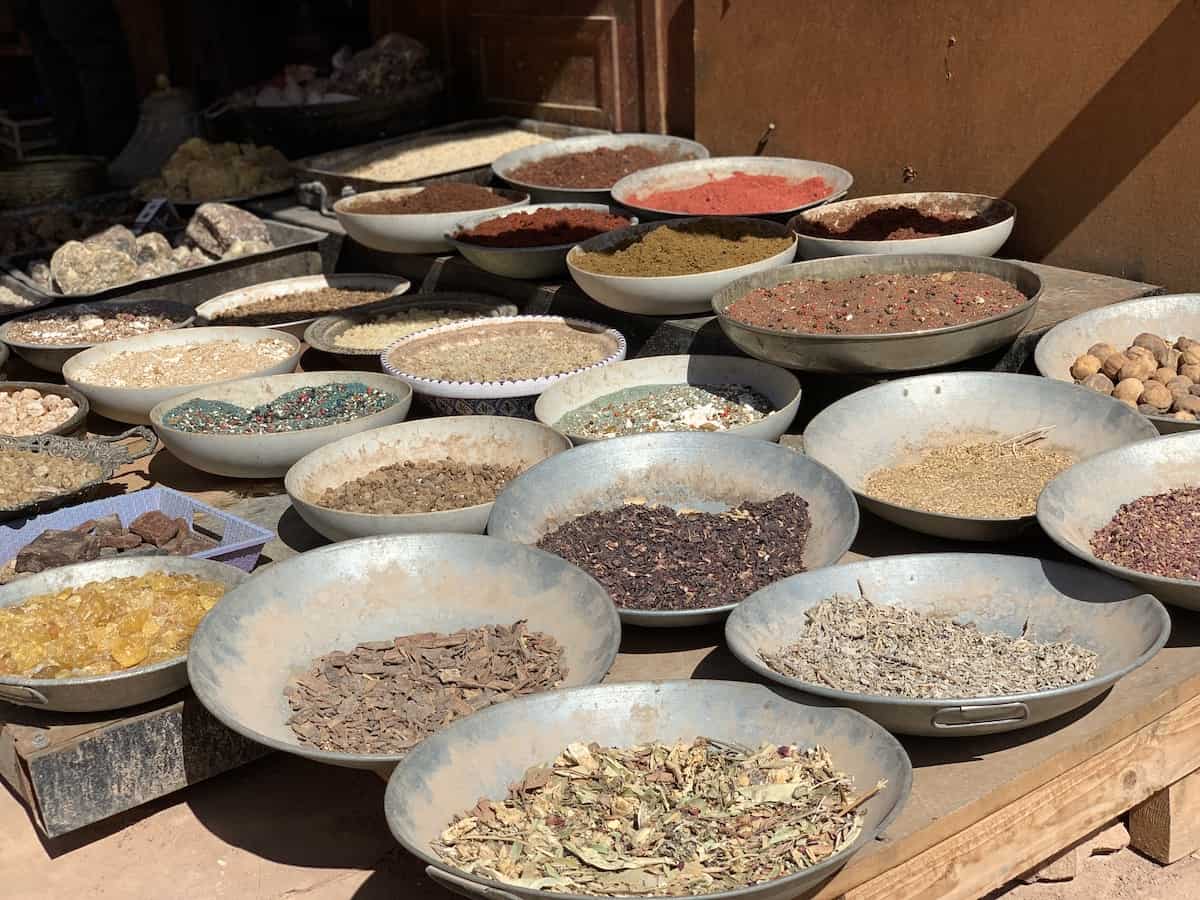 Look for places to buy spices that you can bring home. I may have gone a little crazy but how can you not? Try this authentic tabbouleh and this Muhammara aka Red Pepper Dip I made after the trip.
Restaurants in Petra
All that hiking around Petra can work up an appetite. There are some wonderful restaurants that you will want to try.
Our favorite was Basin Restaurant. It offers indoor and shaded outdoor dining. Not sure what to eat? Basin Restaurant offers a lunch buffet so you can try all kinds of food, like cool salads, fresh pasta, hot entrees, and desserts. We even had a Petra beer which was so refreshing!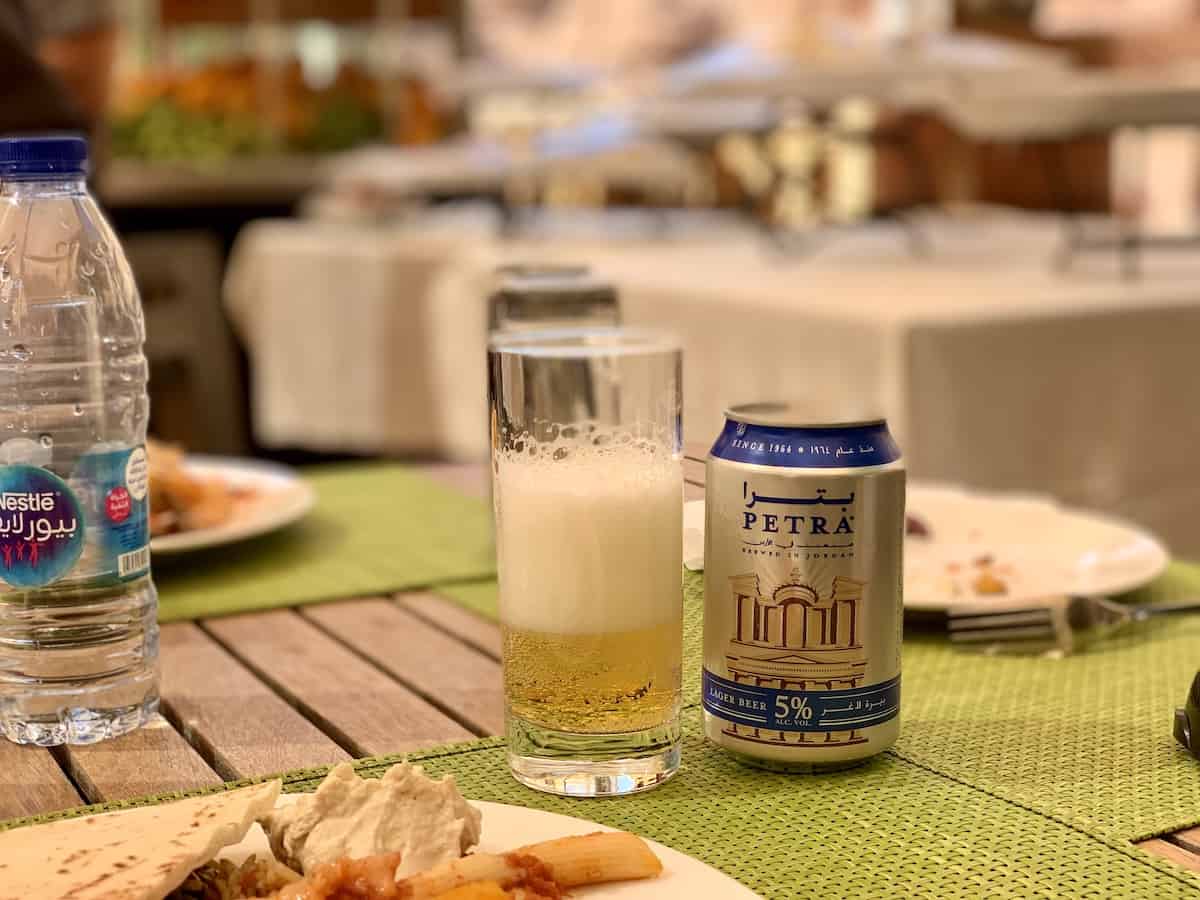 Another option is the Nabataean Tent Restaurant, which offers casual fare. The packed lunch comes with foods that can be eaten on the go: Bread and cheese, falafel and yogurt, cucumbers, and cake. We did not eat here, but I understand it is inside Petra and the reviews are good.
Love the food and want to learn how to make it at home? Book a class to learn how to cook Jordanian food at Petra Kitchen where I learned to make this traditional Tabbouleh.
When Is the Best Time of Year to Go to Petra?
As expected, the summer months can be brutally hot in Petra. Between March and April, the desert blooms with wildflowers, bringing beautiful color to the area.
In late fall, from around the end of September to the middle of November, temperatures are quite pleasant, making it the best season to visit.
💭 Top Tips for Visiting Petra
Dress for the weather and terrain. This means that comfortable shoes are a must! I have these Ecco shoes and I like that they are a little nicer than sneakers. You can also try before you buy. I did!
Arrive early. There's so much to see that you'll want to get an early morning start. Even better, visit for two days.
Purchase the Jordan Pass ahead of time. This sightseeing pass gives you access to 40 of Jordan's tourist attractions. Buying in advance means your tourist entry visa cost is included!
Consider hiring a guide. There's so much to learn about this area, and a guide can enhance your visit. 
Frequently Asked Questions
Is there a cost to enter Petra?
Entrance to Petra is 90 JD (around $127) if you are coming as a day guest. For visitors who stay at least one night in Jordan, prices drop to 50 JD ($71) for a one-day ticket, 55 JD ($78) for a two-day ticket, and 60 JD ($85) for a three-day ticket.
Children under 12 are free.
Is Petra kid friendly?
Because of the nature of the location, younger children may find the amount of walking difficult. It is a lot of walking! Older children are likely going to be amazed, just like adults, with the impressive sights throughout Petra.
Are there restrooms inside Petra?
Yes, restrooms are available throughout Petra. Check the site map for exact locations.

More to Read about Jordan