This pear martini recipe is for those of you who don't really like the taste of alcohol! Made with sparkling wine, muddled pear, and a pear liqueur I bought when visiting Germany years ago, it's a delicious cocktail for a party or a Sunday afternoon!
I've been having fun making cocktails lately. You may have seen the decadent chocolate deliciousness I posted last week. If you missed it, check out how to make a Turtle Cocktail. It has everything you love in a turtle candy, but with a little kick.
The week before, I shared this French Martini. I named it French because it has St~Germain, an elderflower liqueur that I adore. It was absolutely wonderful and fun for a party.
And now, I'd like to introduce you to my pear martini recipe!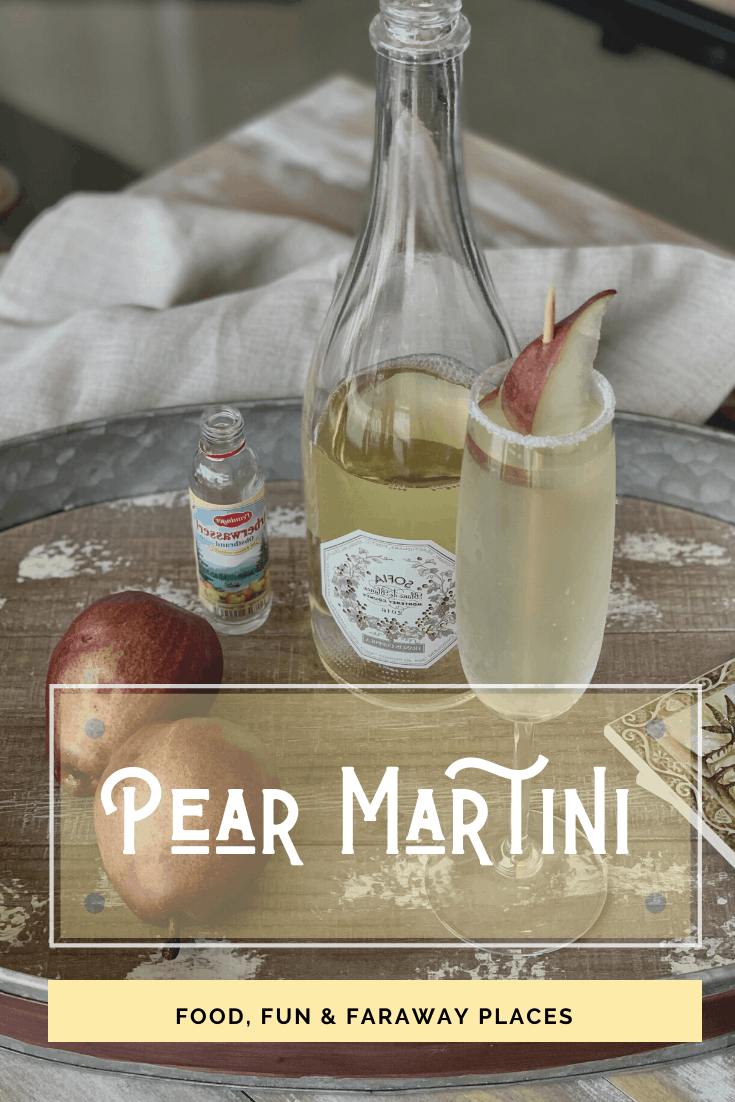 Pear Martini Recipe
This is a simple recipe, with just four ingredients. I'm betting once you try it, you will want to make these the next time you have friends over. It's a fun cocktail and takes any sparkling wine to another level.
Start with fresh pears. You'll need a half pear for each martini. I used red anjou pears, but any will work as long as it's ripe, or even over-ripe.
The pear must be soft in order to muddle. Begin with half of a pear, peeled and sliced.
Take your muddler and smash the pear in a cocktail shaker until the liquid is released. This also brings out the flavor of the fruit so it combines well with the rest of the ingredients.
Once the pear is muddled, add ¾ ounce of pear schnapps. I used Arberwasserl from the Penninger House Distillery in Bavaria.
I picked up a couple of packages of miniatures while cruising with Viking River Cruises a few years ago, just to experiment with in desserts and cocktails. You can use any brand of pear schnapps.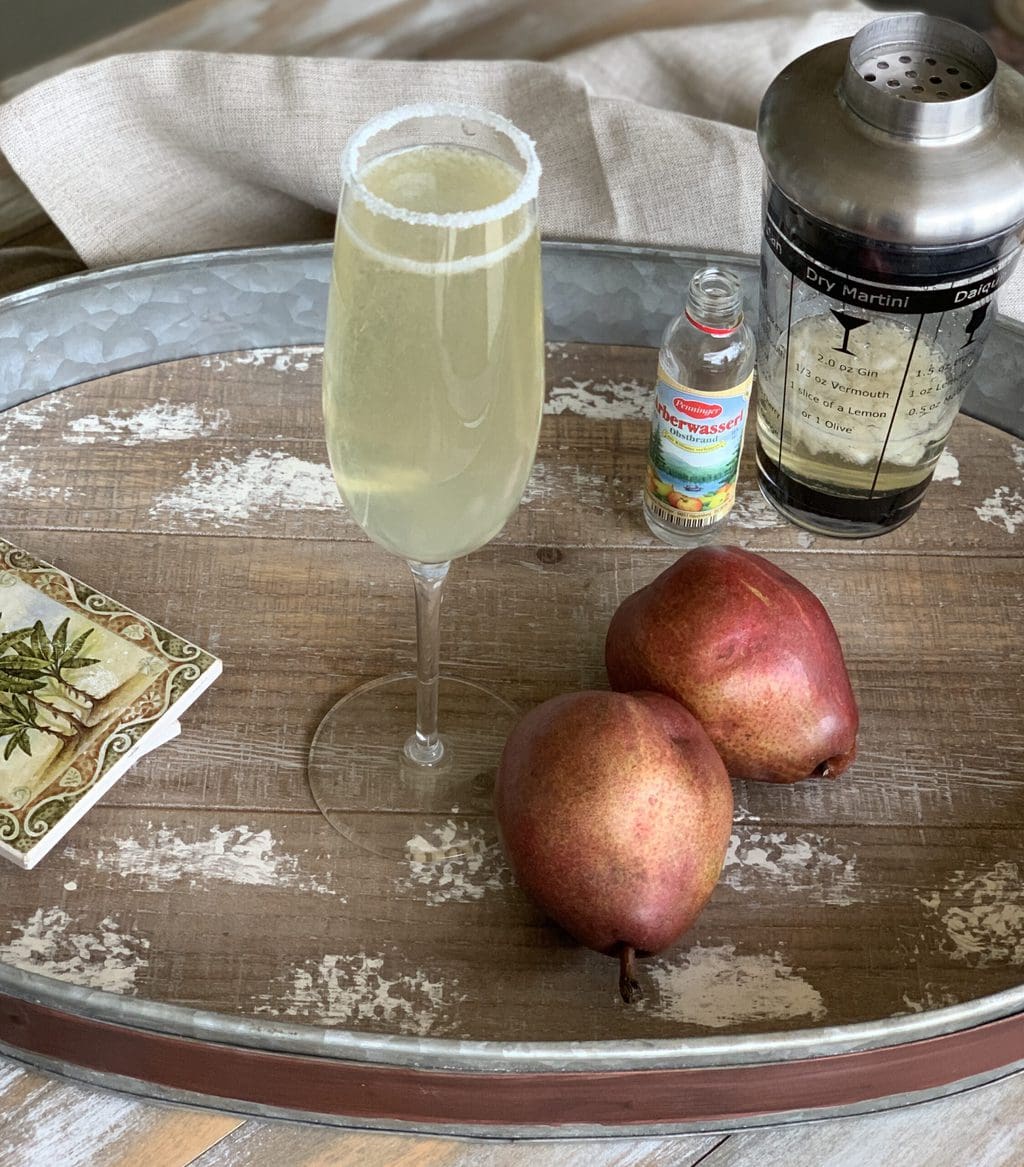 And speaking of desserts, if you get to Germany, do try to get to the Black Forest. I also brought back a bottle of Kirsch to make a Black Forest Cake. There's no shortage of things to do in the Black Forest, so add it to your bucket list!
Do you ever pick up spices or other food items to try once you're home? It's one of my favorite things about traveling. But back to the recipe!
Rim a champagne flute with sugar. Add ice to the pear juice and schnapps mixture and swirl until it's well chilled. Pour the mixture into the glass. Fill with sparkling wine.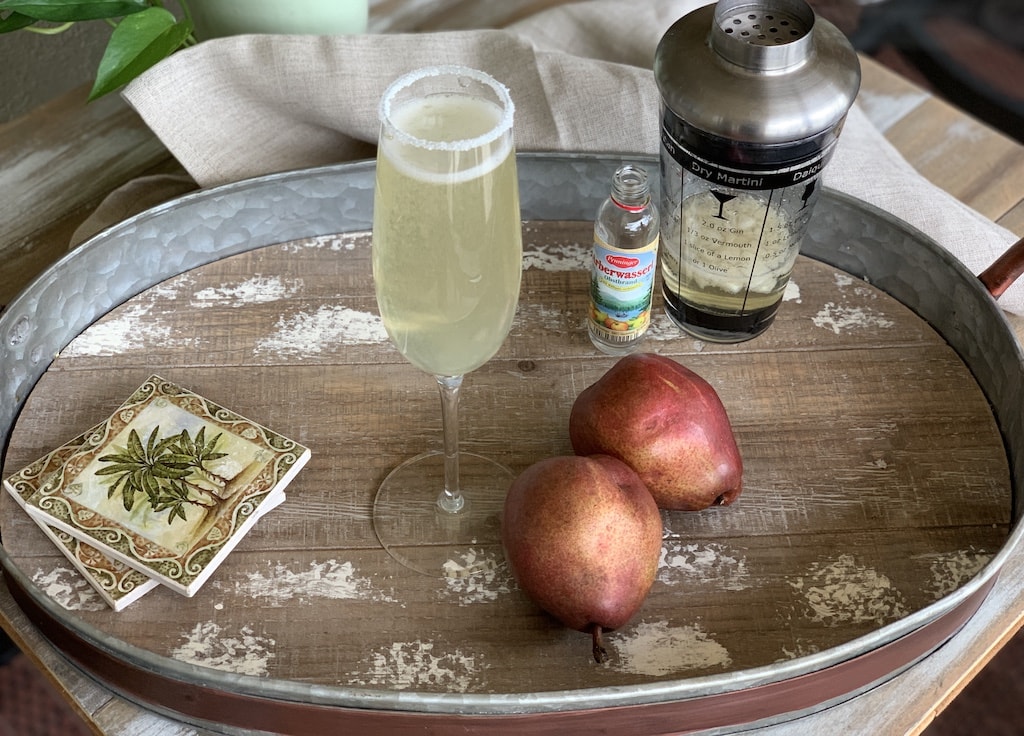 Stir lightly and enjoy. You could make a pear martini with Prosecco, too. Add a little cinnamon for a Spiced Pear Martini, or try it with apple cider instead of pear juice. Get creative!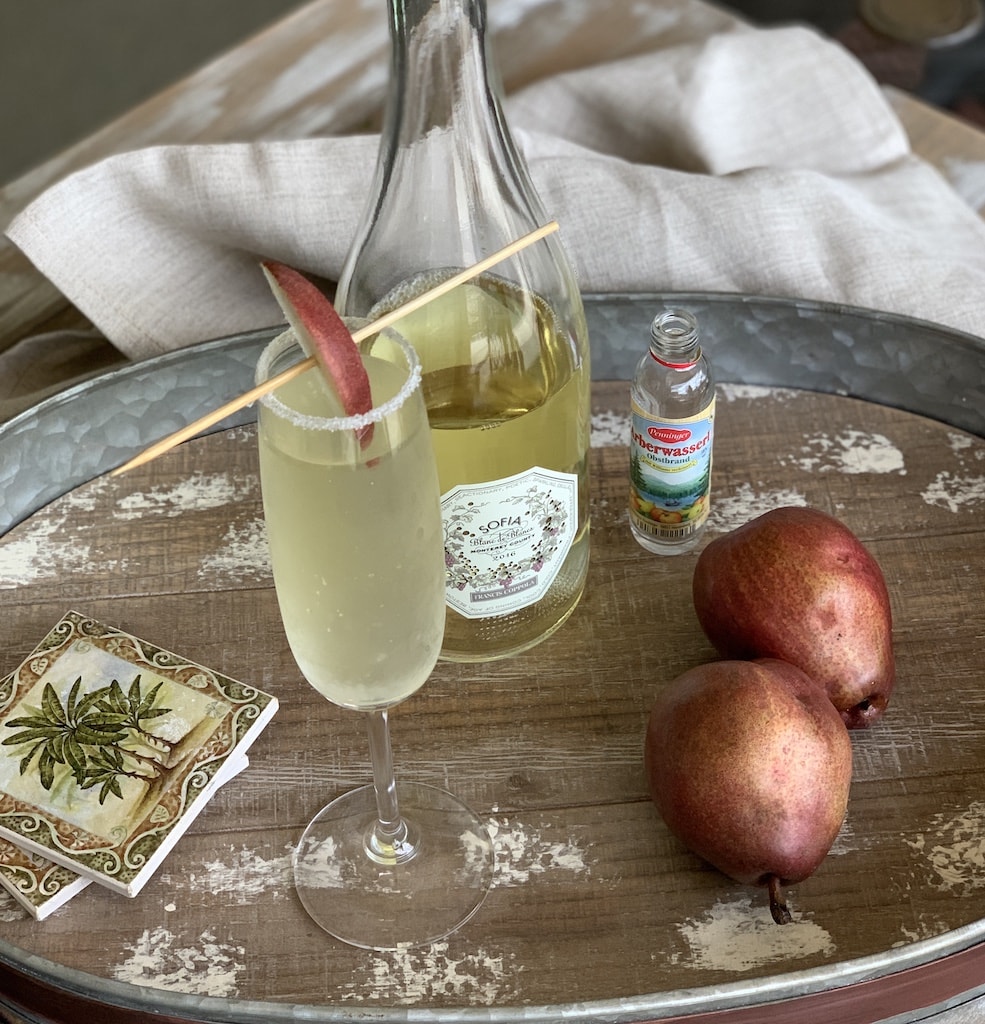 Can I Serve a Pear Martini in a Martini Glass?
Of course, you can serve the martini in whatever glass you wish! You may not know that the earliest martinis were not made in martini glasses, but a glass more like a coupe.
In fact, I love the way an article from Imbibe Magazine describes the martini glass, "one of those objects appealing in concept but disappointing in reality..." I couldn't agree more.
Do you have martini glasses in your cabinet? I do. My husband insists on his martini being up, very dry, usually with an olive, and in a martini glass.
I thought about sharing the recipe with you in a post but never did. I'll add it here. It's chilled gin. That's it. I don't know why he orders it as a martini when we're out. He should just ask for Tanquerey chilled, in a martini glass. But back to the glass.
Every martini glass we have ever owned is chipped. It could be because it gets a lot of use, but more likely, it's because it's awkward.
Regardless, it's not quite the same sipping a martini in another glass, or a cosmopolitan for that matter. It's just festive, isn't it?
I like serving cocktails in flutes, too. I think they are equally as festive.
If you're looking for more cocktail recipes, check out this list of easy holiday cocktails or this list of popular martini cocktail recipes. They're all festive, but can be served any time of year! Remember to drink responsibly and always have a designated driver.
Have a favorite cocktail? Share in the comments so I can try it, too!
Recipe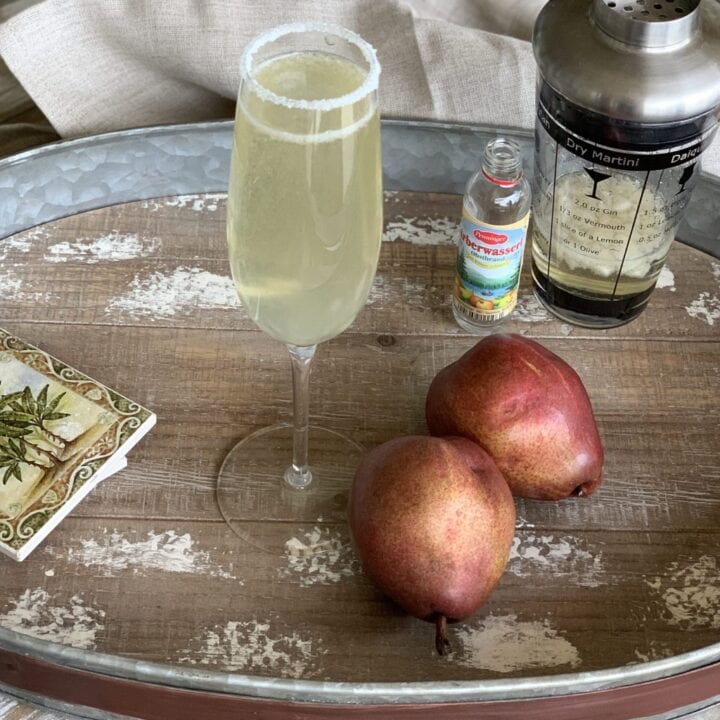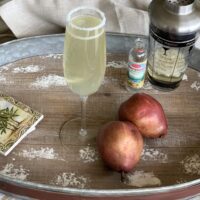 Ingredients
½

pear

ripe and soft

pear schnapps

Ice

Sparkling wine

sugar for rim
Instructions
Muddle the pear to release the juice. You can use a muddler or anything that works to smash the pear.

Add pear schnapps to the glass.

Rim a glass with sugar

Add ice to the glass of schnapps and pear juice.

Swirl until chilled, and strain into a cocktail glass.

Fill with sparkling wine.