With so many things to do in Amman, Jordan, this is definitely a destination to add to your bucket list. I spent ten days exploring the country and wish I'd had a couple of extra days to explore more of the capital of the Hashemite Kingdom.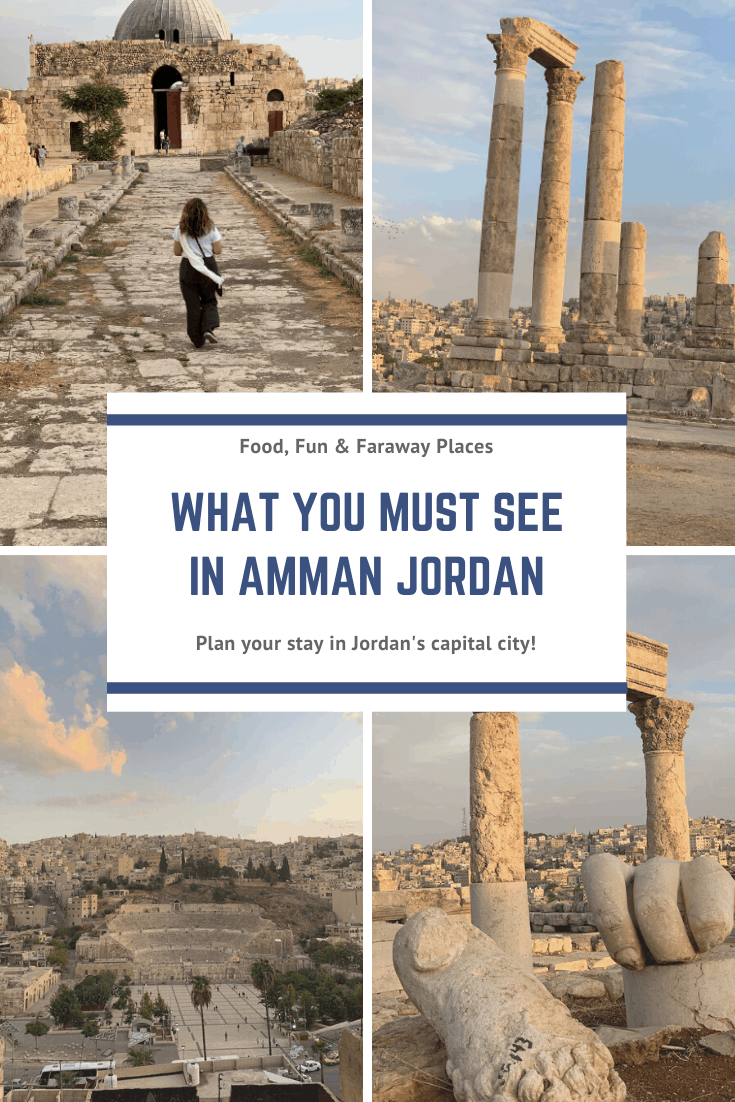 Arriving
Amman is often where people begin their vacation in Jordan. You will fly into Queen Alla International Airport where the Airport Express Bus runs to Amman every 30 minutes during the day and every hour from 5 pm until 12 am. You can also grab a taxi for about 20 JD. The ride is around 40 minutes.
Get Acclimated
Spending two to three days in Amman will make a restful start for your trip. We were able to explore the city a bit and take a couple of day trips returning back to our hotel without having to worry about packing and unpacking. Having time to rest is also a huge help with jet lag.
Jordan is a fantastic country to see remains of the Roman Empire, and Amman has its share. We had a fantastic guide (email me for details) and he showed us the important sites and helped us explore downtown a bit.
Some of the hills are steep, so be prepared for a lot of walking and wear comfortable shoes. Also, be sure to stay hydrated and wear sunscreen as you are in the sun most of the time when visiting the historic sites in Amman.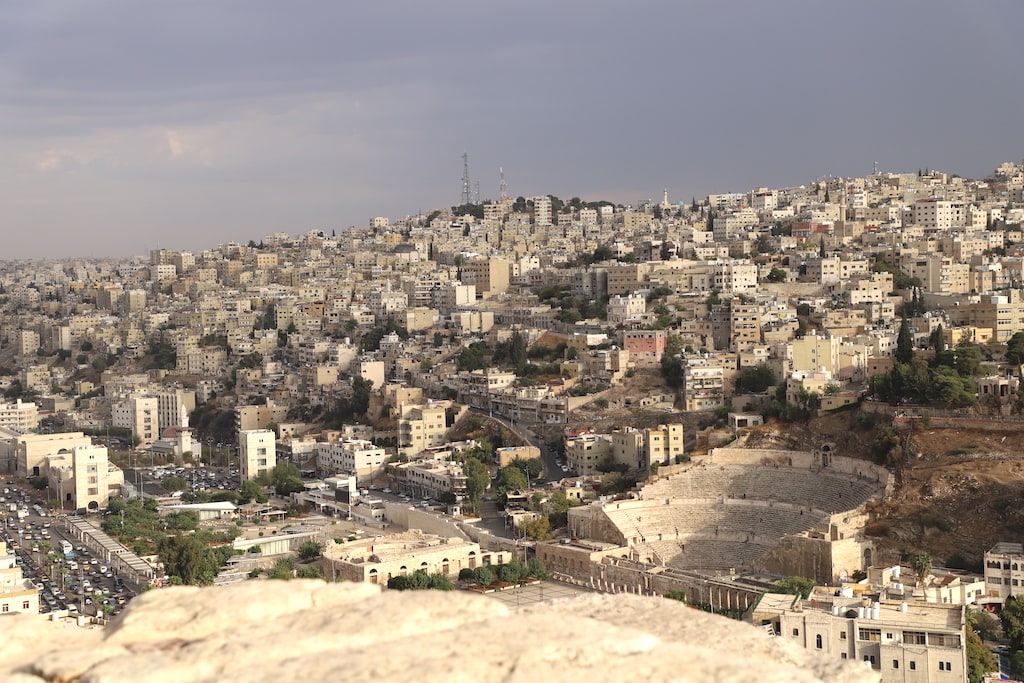 You will read over and over that Jordan combines the old with the new, and it really is true. You'll find boutique shopping, modern coffee shops, fantastic restaurants, and friendly people around every corner, most of who speak English.
The Jordan Pass
The most cost-effective way to see as much of Jordan as you can is with the Jordan Pass. You'll have prepaid entrance fees to over 40 attractions including Jerash, Petra, Wadi Rum, and more.
In addition, if you purchase the pass before arrival, your tourist entry visa fees are waived. You'll also receive a free 120-page guidebook.
I bought the Lonely Planet Jordan book before my trip and took it with me. It was fantastic to refer to throughout the trip. I found myself reading aloud to our group as there is so much I didn't know about Jordan!
Things to Do in Amman
Citadel
You'll find the Citadel, also known as Jebel Al Qala'a, on the highest hill in the city of Amman. In Biblical times, this area was known as Rabbath Ammon, established sometime around 1800 BC, and inhabited since the Bronze age.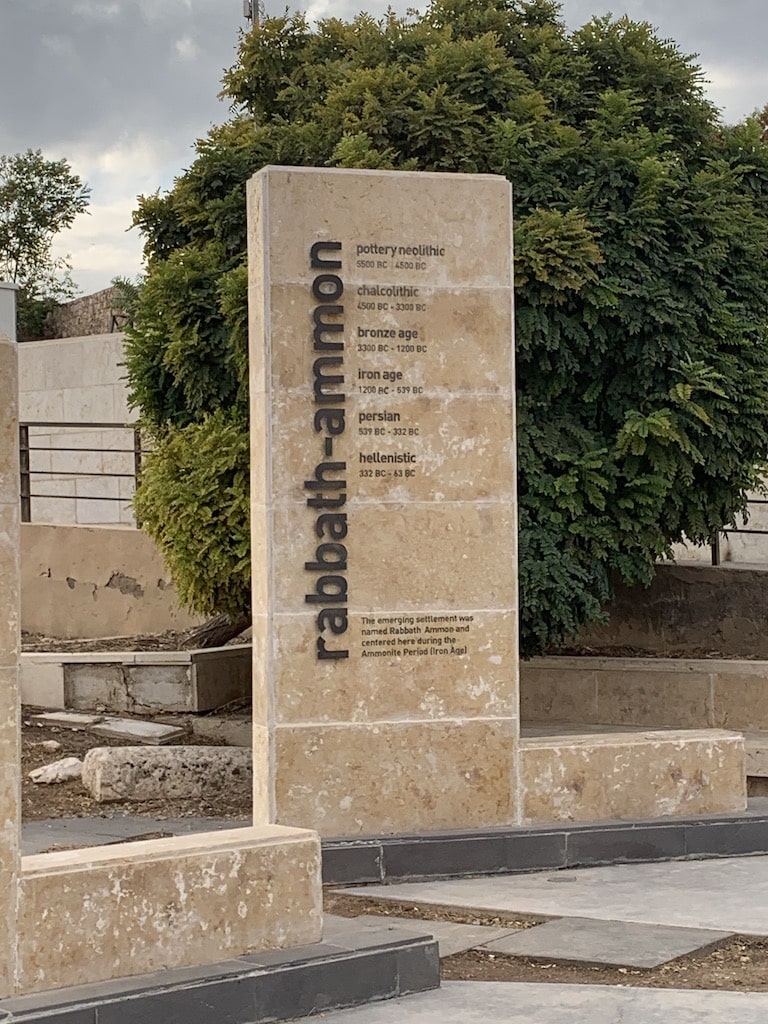 You can still see the fortification walls that surrounded the Citadel. Inside are the remains of tombs, arches, walls, and other structures still being excavated today. In fact, archaeologists say this summit dates back 7000 years.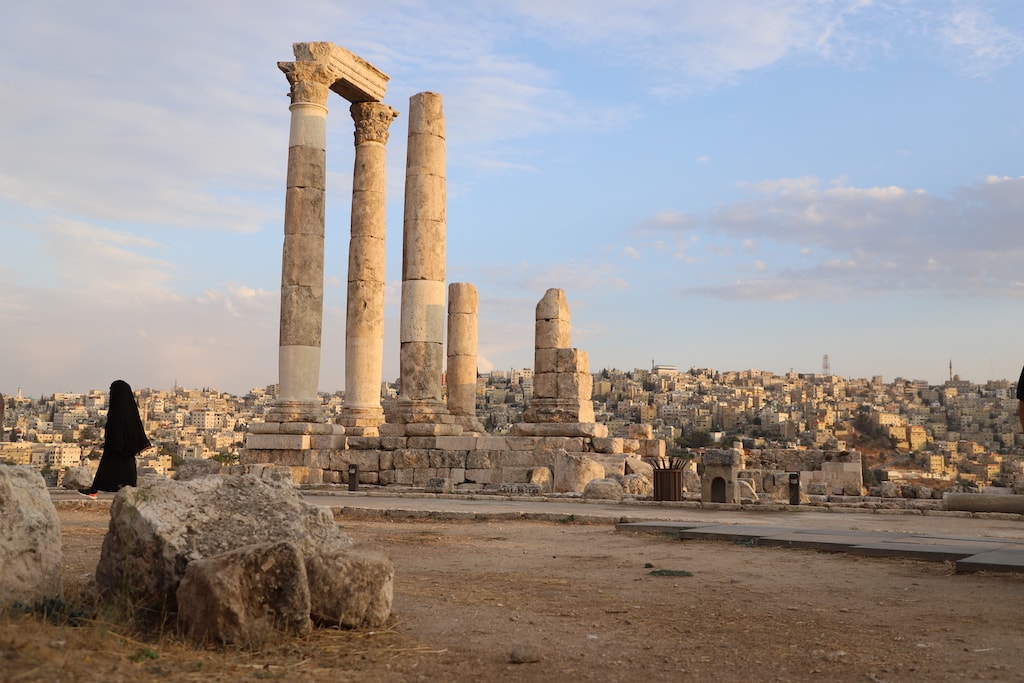 This area is where the important residents of Amman lived, including the governor and his officials, his family, and his security team. The rest of Amman's residents lived in the area now known as downtown.
We spent a few hours exploring the ruins from the Roman, Byzantine, and Umayyad periods. You'll find information signs throughout the site, all with English translations, explaining the most important structures. You could easily spend an entire day, but don't miss the highlights.
The Temple of Hercules
The Temple of Hercules is an absolute marvel. Built sometime between AD 161-80, you can't miss it as two of the pillars stand 33 feet tall.
It's believed the other four pillars were not finished, and the materials used for something else.
The statue of Hercules is said to have been about 43 feet tall, but all that remains is part of a hand and an elbow. This was the largest statue from the Greco-Roman times.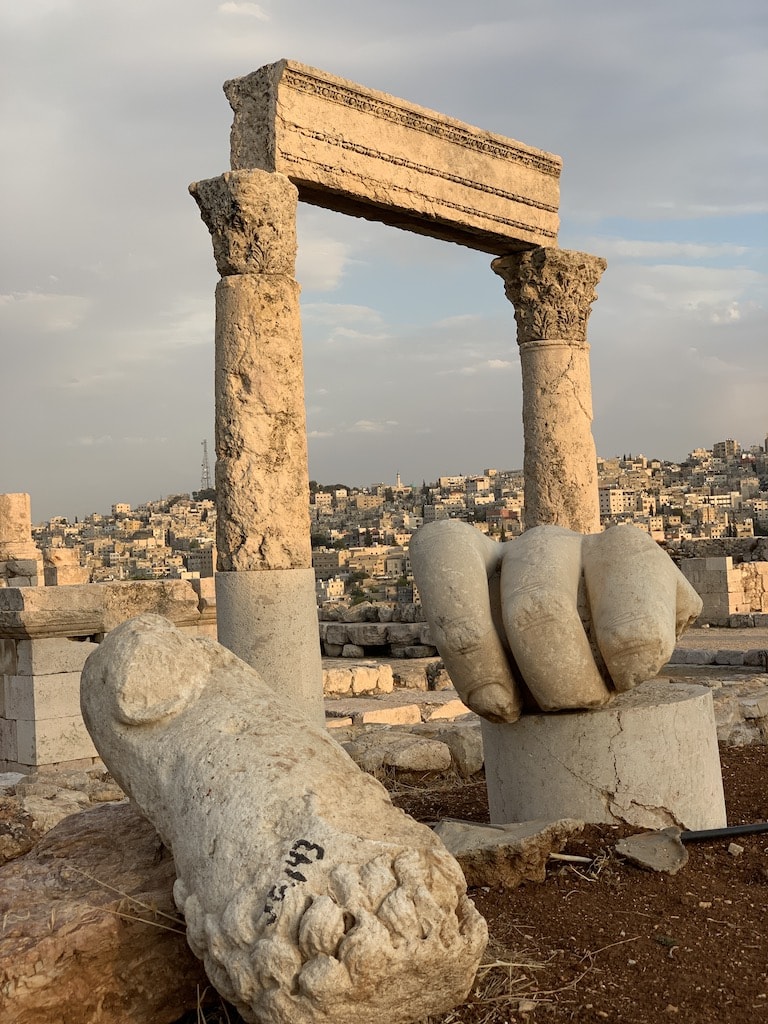 It's believed the statue was destroyed in a catastrophic earthquake. Who knows which pieces were reused to make other structures. Perhaps time will tell.
I was surprised we could get so close to the remains. The intricacies are just astounding.
Umayyad Palace
You'll find the Umayyad Palace on the Citadel's northern side. Believed to be built over a Roman temple by Umayyad Arabs, the Palace was once home to Amman's governor.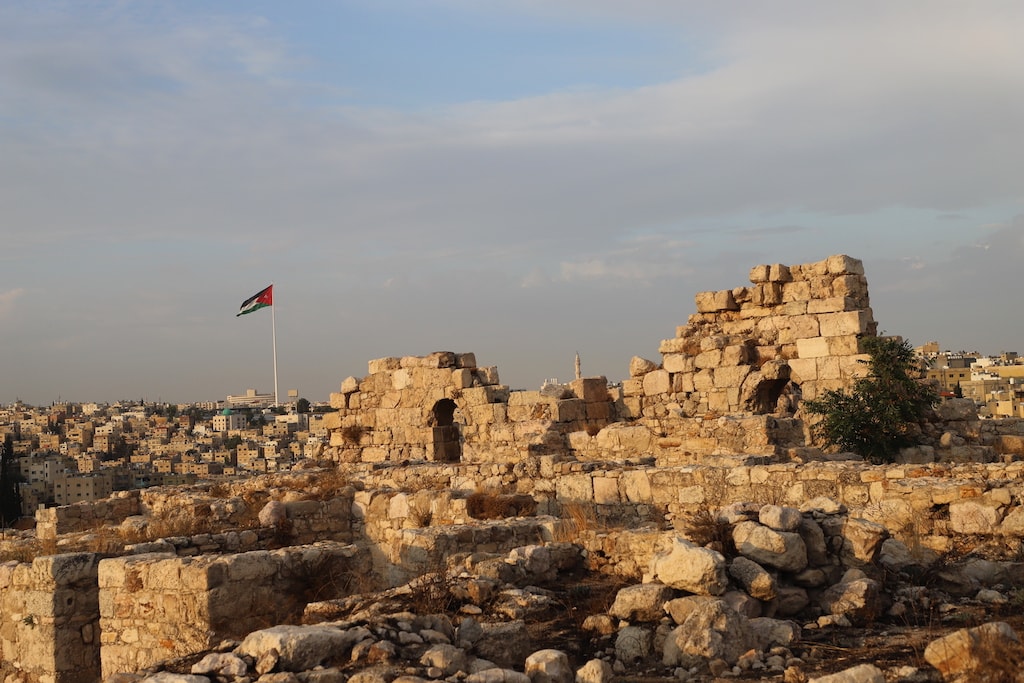 It's hard to believe the palace was built around AD 720 and destroyed in an earthquake less than 30 years later, never to be rebuilt.
The Audience Hall, below, is thought to have been built on top of a Byzantine structure of some kind. This is the most intact building within the Citadel.
You can see that there were columns on either side of the walkway at one time. The colonnaded street connected the Entrance Hall to other important areas of the palace.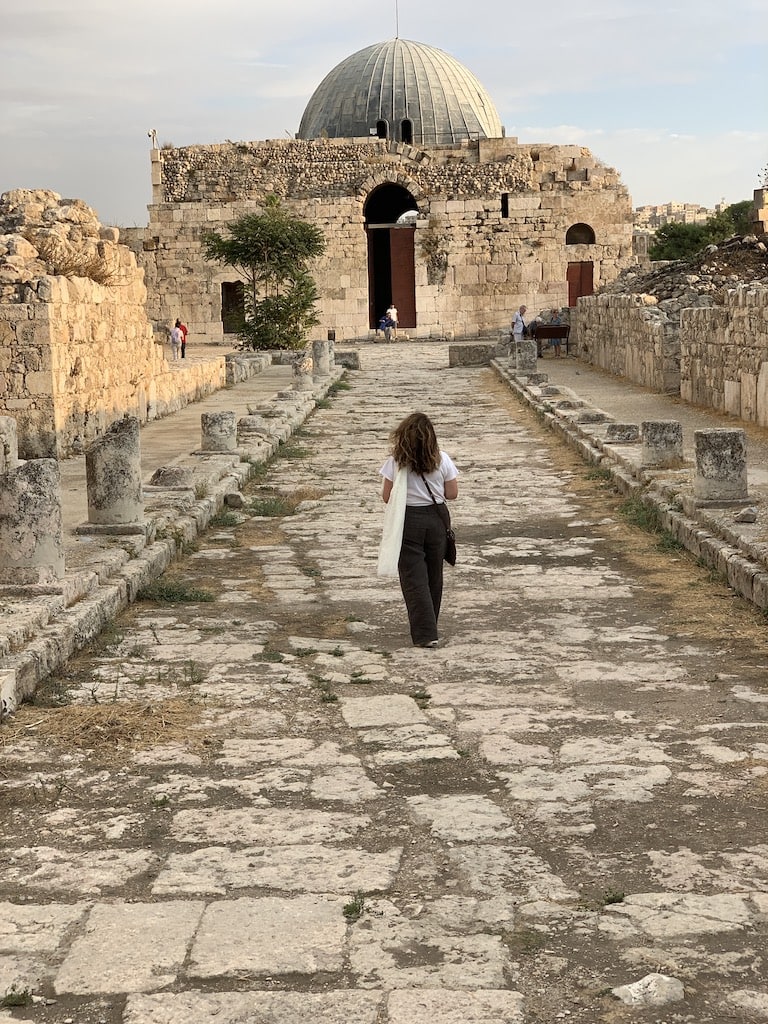 Gates would have controlled access to this area, with security being tight. Visitors would enter the Palace complex here.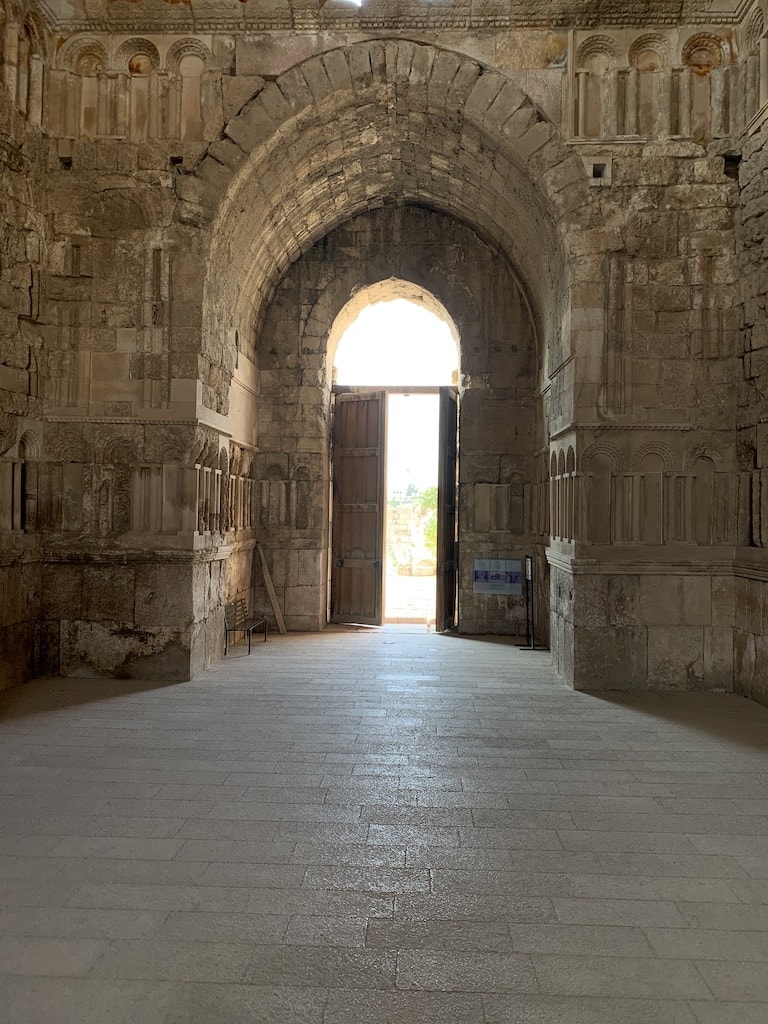 Residential areas were also located in this area, obviously for those in important positions.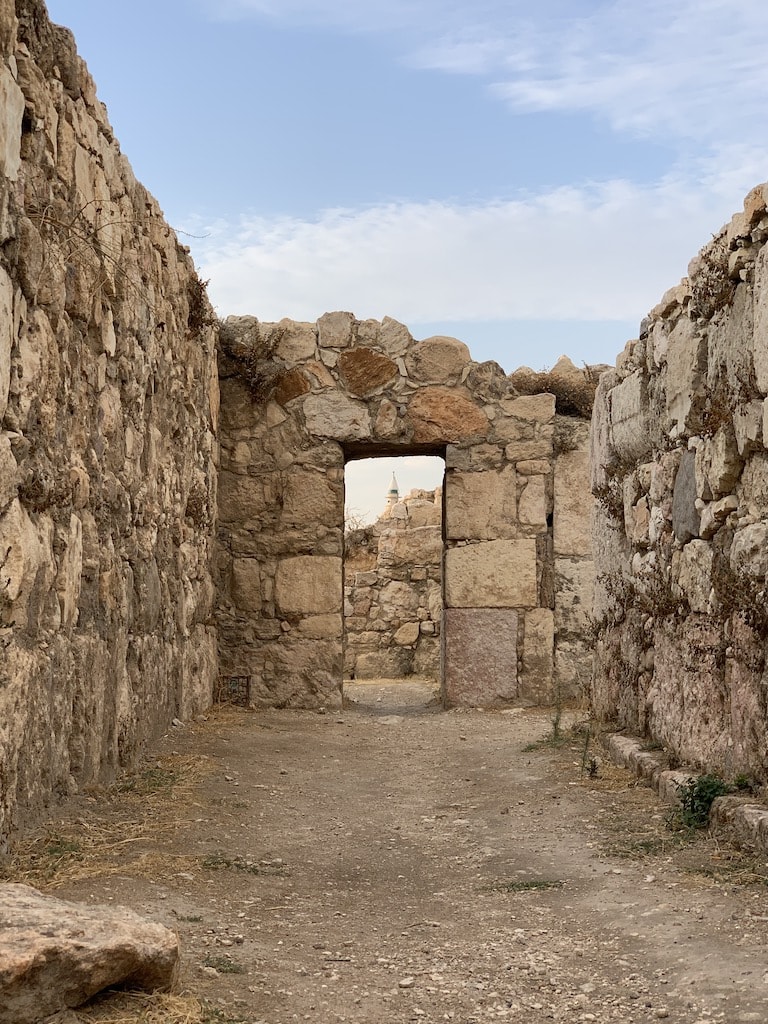 The Audience Hall has been preserved so well, though there has been quite a debate as to whether or not the structure had a dome or was left open.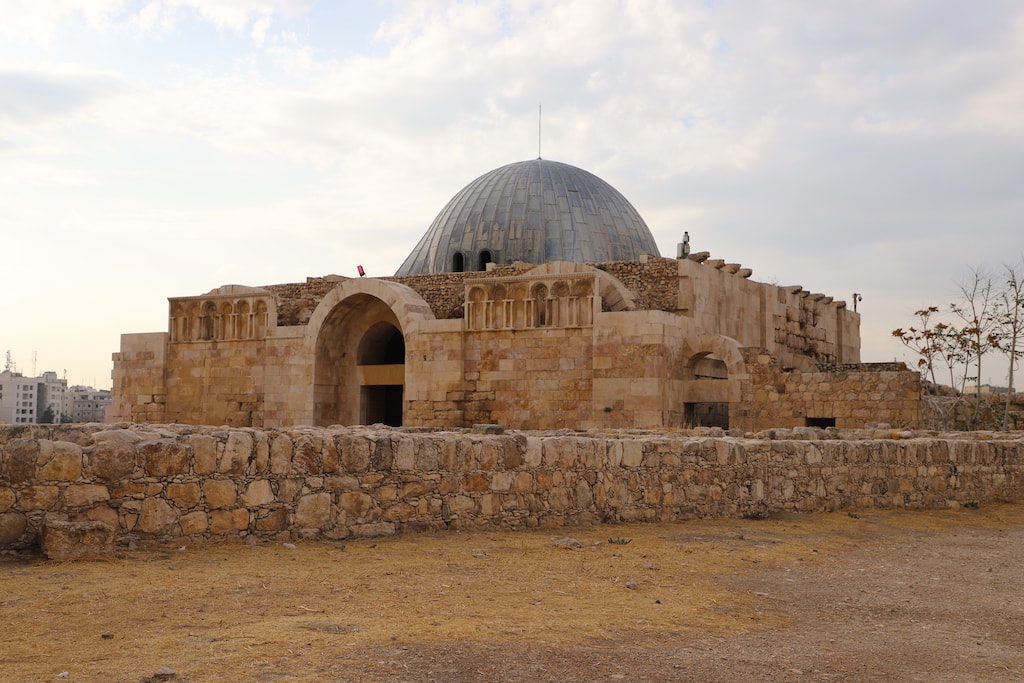 For now, a team of researchers won the argument to add the dome. Spanish archaeologists reconstructed it with wood in 1998 and it's gorgeous, so be sure to look up. You can see part of the dome in this shot.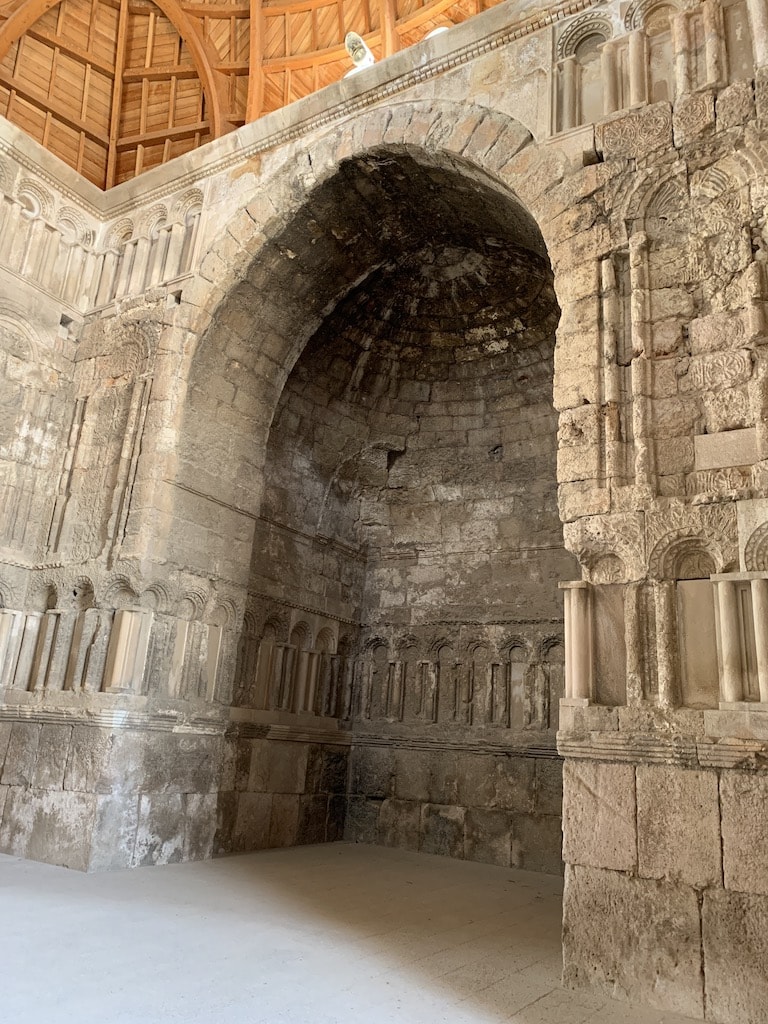 Can you imagine what this bustling area would have been like at the height of its use?
Byzantine Church
Though you won't find a church building, the remains of the Byzantine Church are impressive, especially when you realize they are from the year AD 550.
Take a look around at the detail. Some of the pieces you see here were taken from the Temple of Hercules.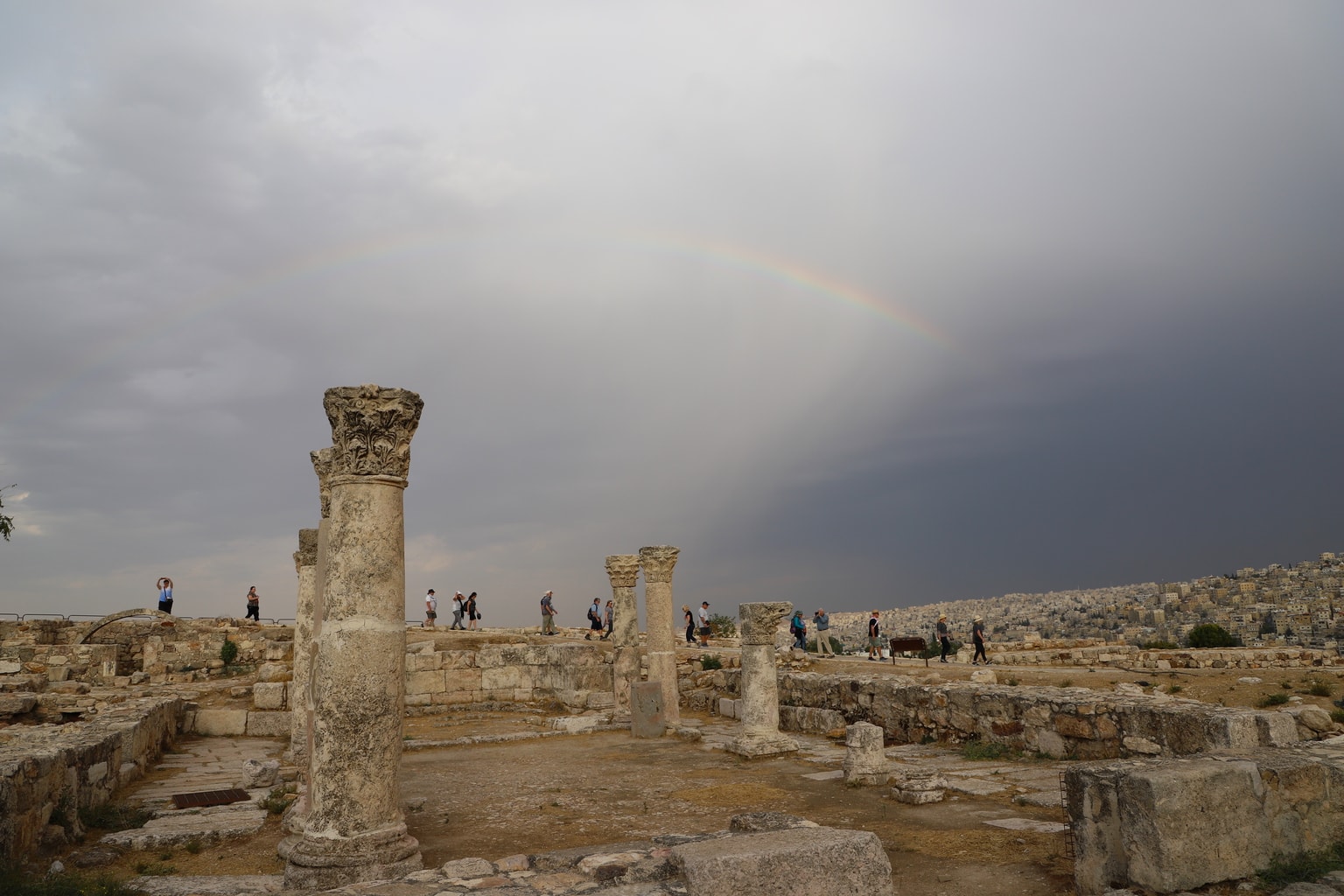 Jordan Archaeological Museum
Be sure to visit the Jordan Archaeological Museum where you'll see additional remnants of the Citadel and other historic sites in Jordan. The collection is arranged chronologically and you'll see tools and pottery once used in daily life right here in the Citadel.
Don't miss the most important exhibits - the Dead Sea bronze scroll written in Aramaic and the plaster statues from Ain Ghazal, dating back to 6000 BC.
The views from Citadel Hill are spectacular.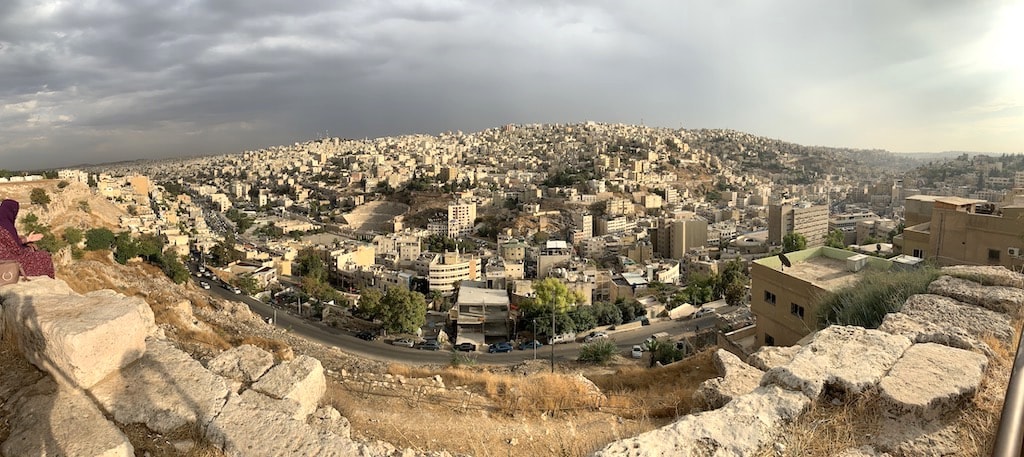 Roman Theatre
In the distance, you can see the remains of the Roman Theatre, dating back to the 2nd century when the city was known as Philadelphia. This 6,000 seat theatre is still used for special events today.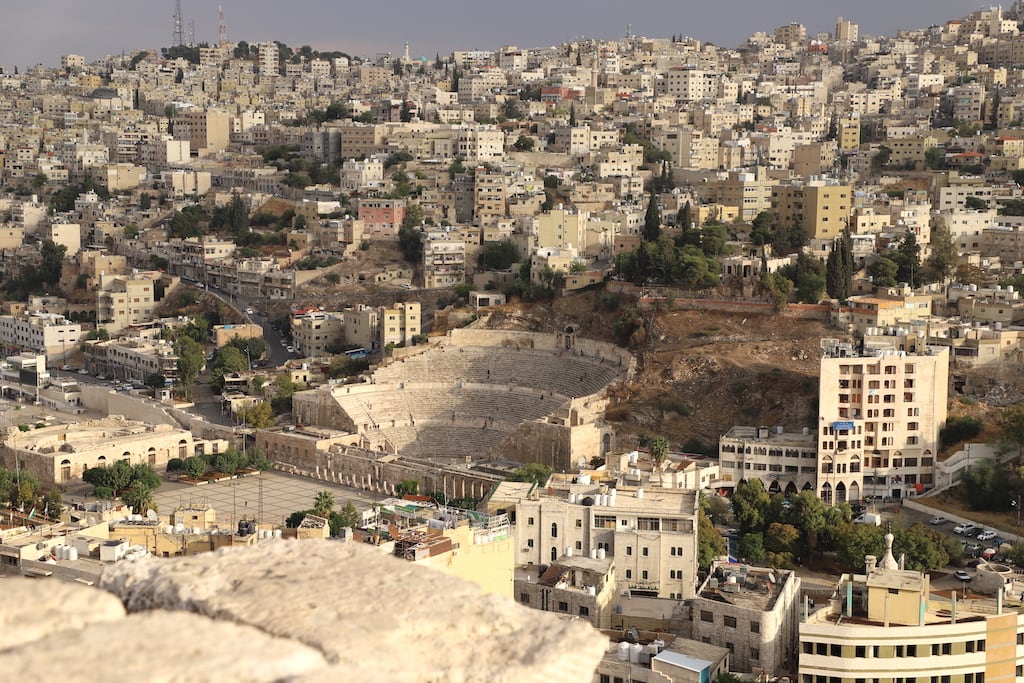 Downtown Amman
Strolling through downtown Amman is fun, and you'll find restaurants and shopping everywhere you turn. And if you're looking for an unusual gift, you'll find plenty of options in downtown Amman!
Al Husseiny Mosque
When visiting downtown, stop by the Al Husseiny Mosque. You'll see the minarets from afar. As long as you are respectful and dressed appropriately, you may ask to go in if you'd like to see more of the inside.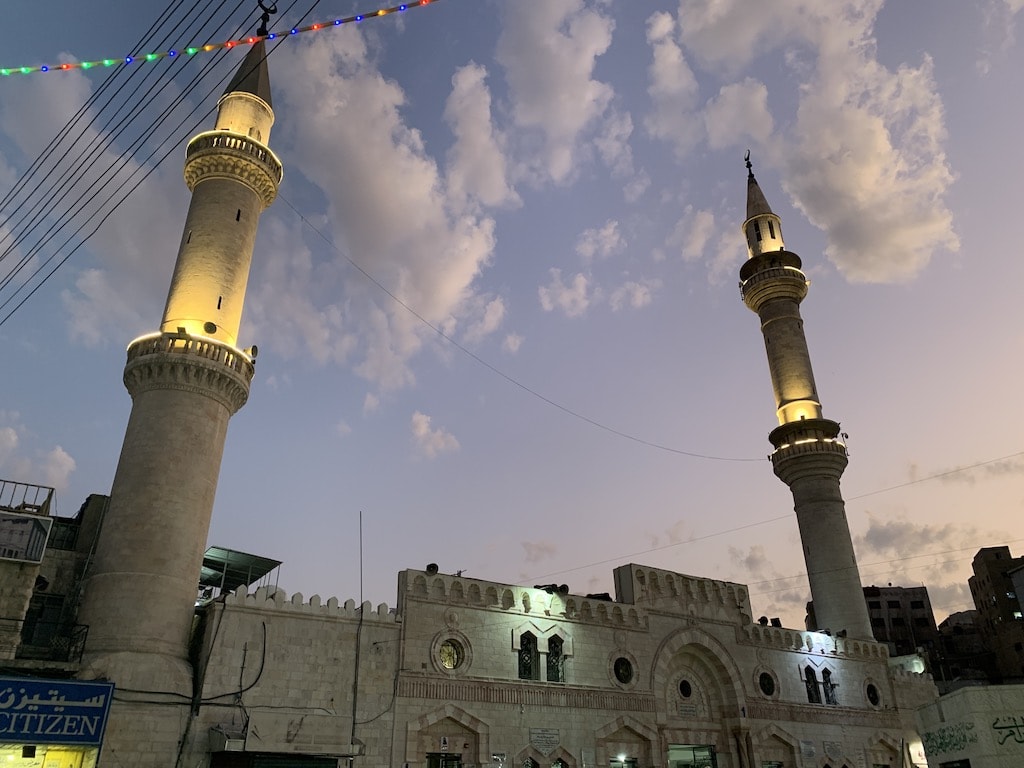 This mosque was built in 1924 by King Abdullah I and updated in 1987. As you'll hear over and over in regards to historical structures, this mosque was built on top of another mosque erected in AD 640.
Where to Stay in Amman
If you're taking my advice and spending a few days in Amman, spoil yourself and stay at the St. Regis Amman. I've spent many nights in hotels while traveling all over the world, but the St. Regis Amman is one of the most luxurious hotels I've ever experienced.
Picture this: you've been traveling on a plane for 20 plus hours with not much sleep. There's barely enough time to freshen up before heading to dinner. Arriving back to your beautiful room, you're ready to fall into the heavenly bed when you remember that one time your phone alarm failed you. (Don't ask!)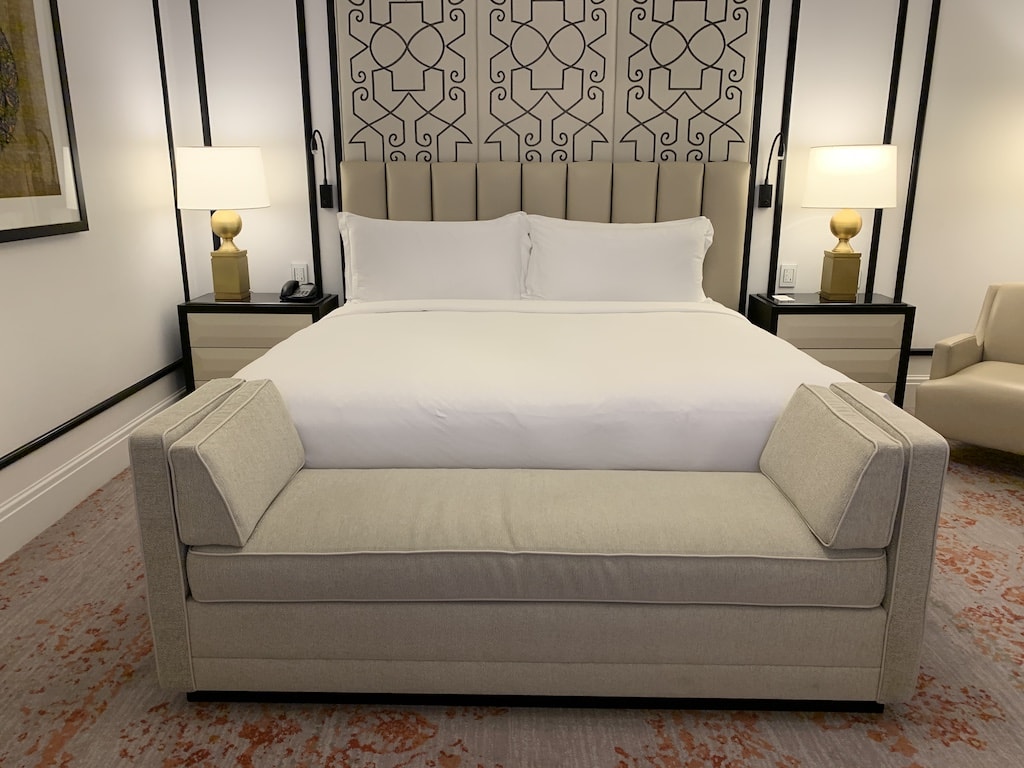 You decide to call the front desk for a back-up wake-up call. The lovely voice on the other end of the phone asks if you'd like an Americano delivered with your call. Well, yes. Yes, I would.
When that call comes right on the dot, they let you know your Americano is waiting outside the door of your room. The sweetest server brought in my caffeine and poured it for me. Can I stay forever?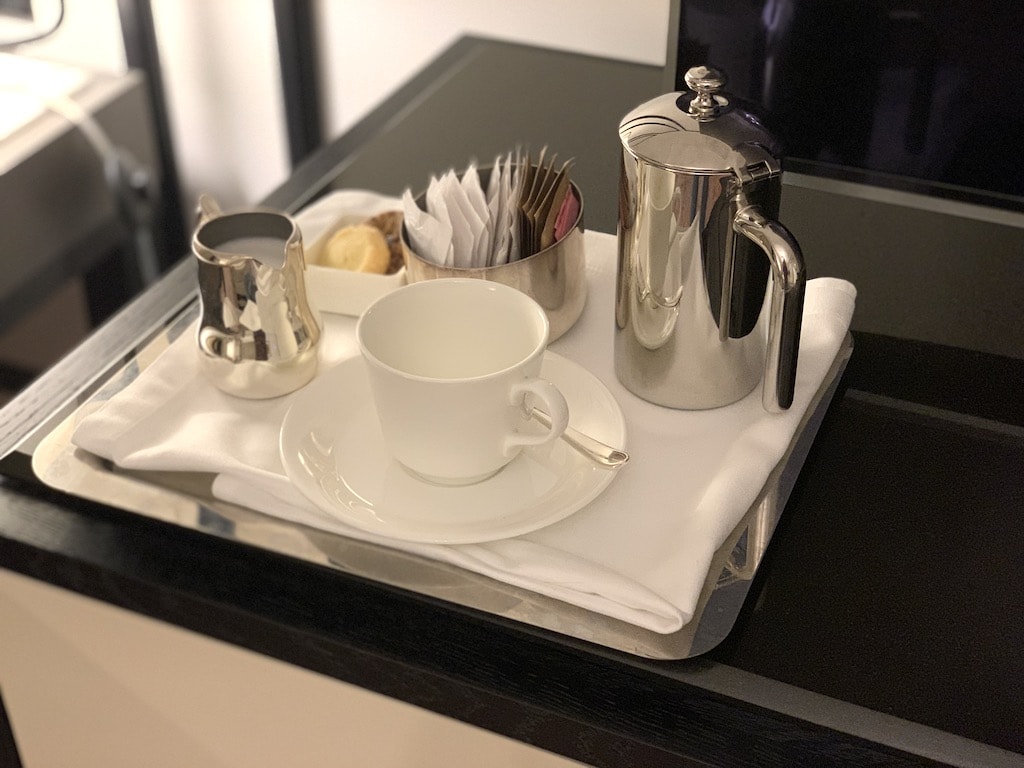 The brand new St. Regis Amman is located at 5th Circle, Shafiq Al Hayek Street, in the affluent district of Abdoun. With 258 rooms, suites, and optional upgraded butler service, there is no better way to start your Jordan vacation.
After exploring, you'll be glad to retreat to your sanctuary.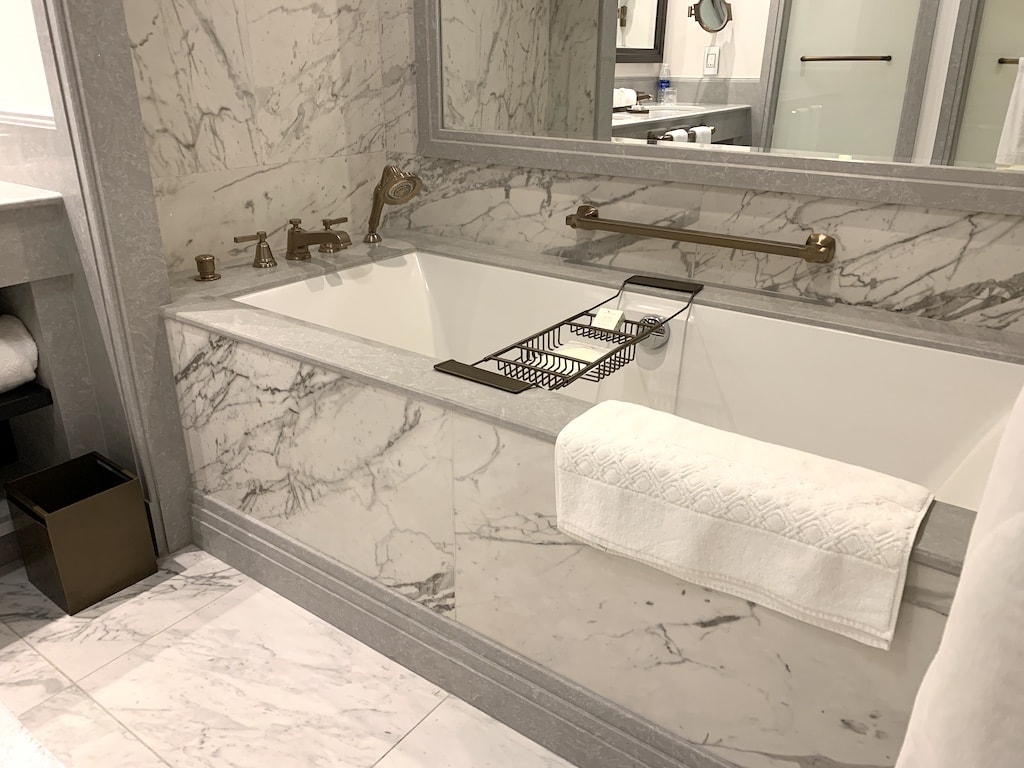 After a good night's sleep, start your day with the magnificent breakfast buffet. Choose from traditional Jordanian dishes, pastries, dried fruits and nuts, eggs, as well as meats and cheeses. A breakfast menu is also available, though I can't imagine there is anything else you could want.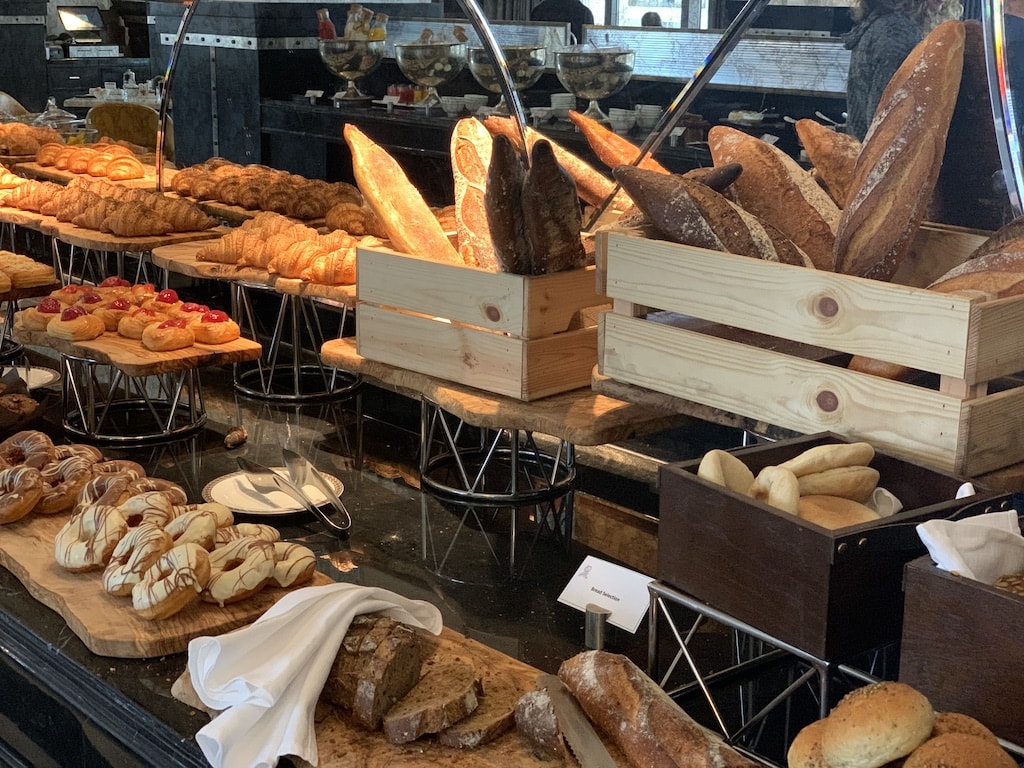 The decor of the St. Regis is elegant and refined.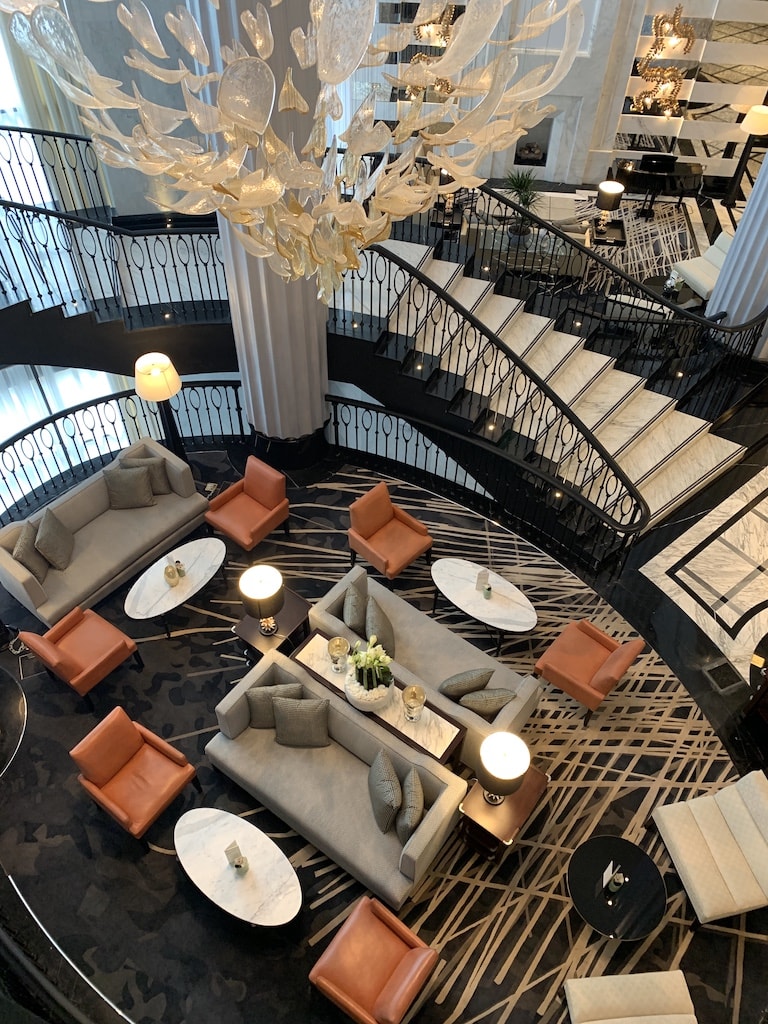 The pool area is lovely in the evening, and servers are available for food, drinks, and shisha (hookah.)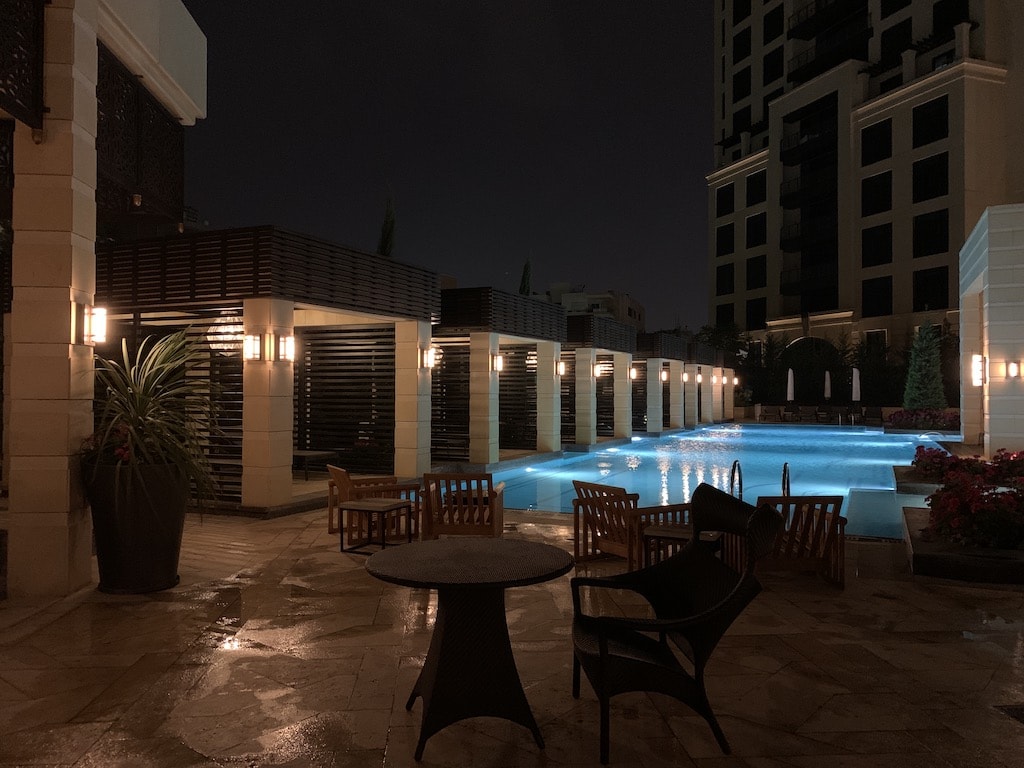 And don't miss the evening ritual of sabrage that takes place at every St. Regis every day around the world. Cheers!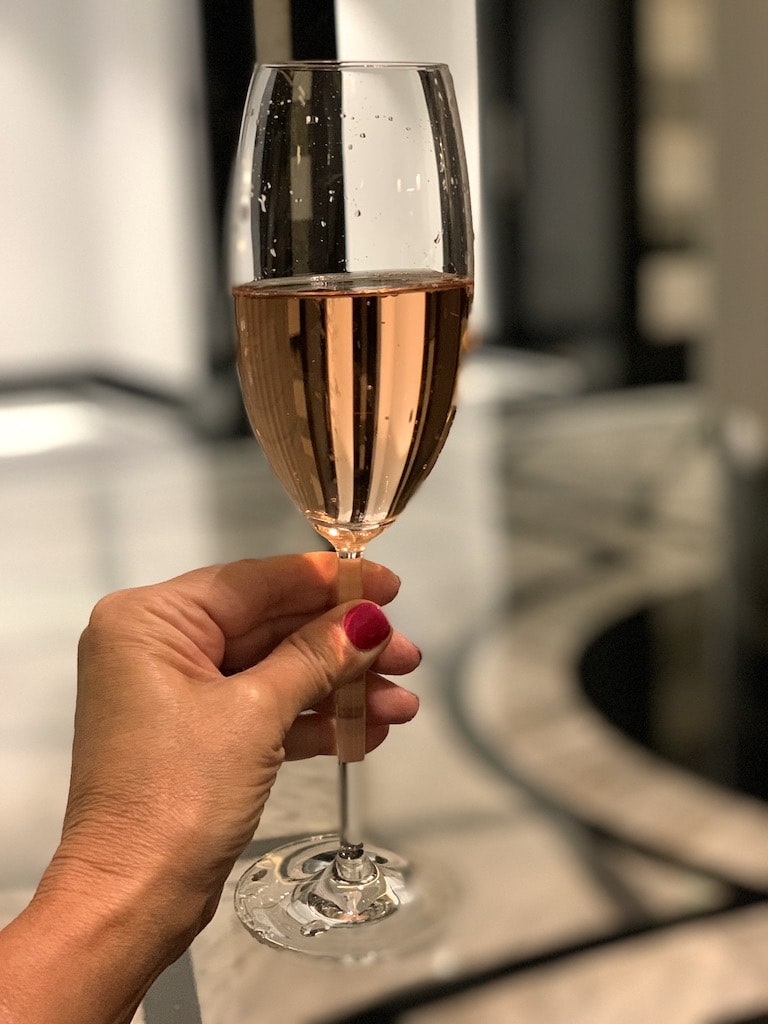 Where to Eat in Amman
With so many fantastic places to eat, it's hard to choose. It's best to go with reviews from people who have actually visited. I loved the food so much, I decided to write a post sharing my favorite restaurants in Amman Jordan so it's one less thing you have to worry about!
Because I thought you'd like a taste of the wonderful food before you go, I brought back recipes for authentic tabbouleh and red pepper dip. I think you'll love both!
Amman was amazing, but I have so much more to share about Jordan. We visited Jerash, Petra, the Dead Sea, and even stayed at a Bedouin camp in the Dana Biosphere Reserve. So much more to come!
Is Jordan on your bucket list? Let me know if you have any questions. I'm happy to help you plan your trip!
More About Jordan