A stay at Feynan Ecolodge in Wadi Feynan provides an immersion into Jordanian life. This was one of my favorite stops during my visit to Jordan.
Voted one of the best ecolodges in the entire world by National Geographic Traveler, Feynan Ecolodge is a once in a lifetime experience. Forbes called it, " A shining star among the green lodges worldwide."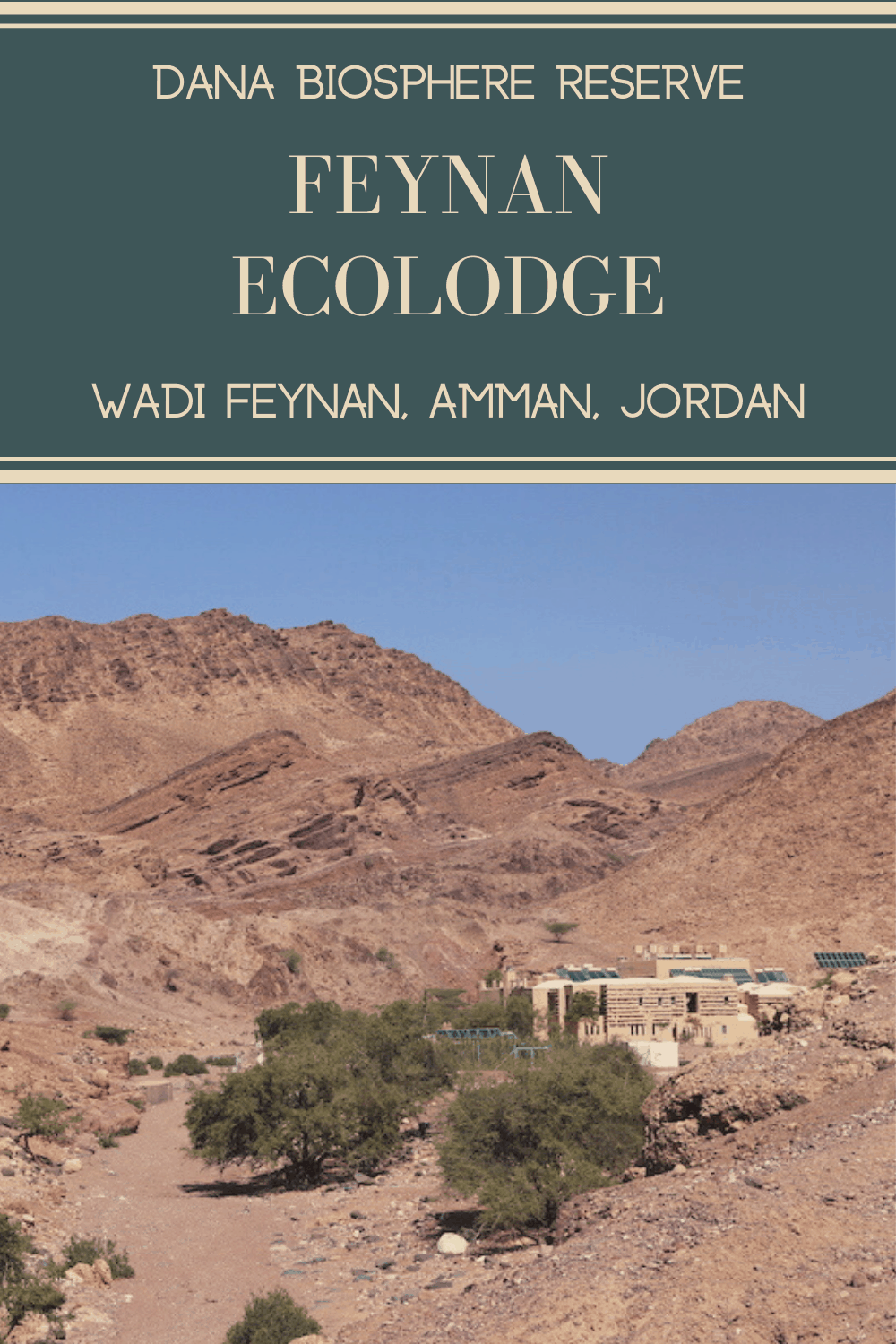 There is so much to see while you're in this region, so be sure to read about what to see inside Petra Jordan as well as things to do in Amman.
You'll want to know where to eat, so check out best restaurants in Amman, too. The food is incredible.
What is Feynan Ecolodge?
Located in the Wadi Araba area of the Dana Biosphere Reserve, Feynan Ecolodge is an inn run by local Bedouins, with the goal of providing sustainable, nature-based income for their families.
The Lodge is operated by EcoHotels, a local company, but all guest interaction on the property is with the local Bedouin community.
This means the local Bedouins will be your drivers, tour guides, cooks, and hosts. The candles in your room are also made by Bedouins.
In fact, you're encouraged to bring a flashlight for the evening as the lodge is completely candlelit other than your bathroom. It's such a lovely atmosphere.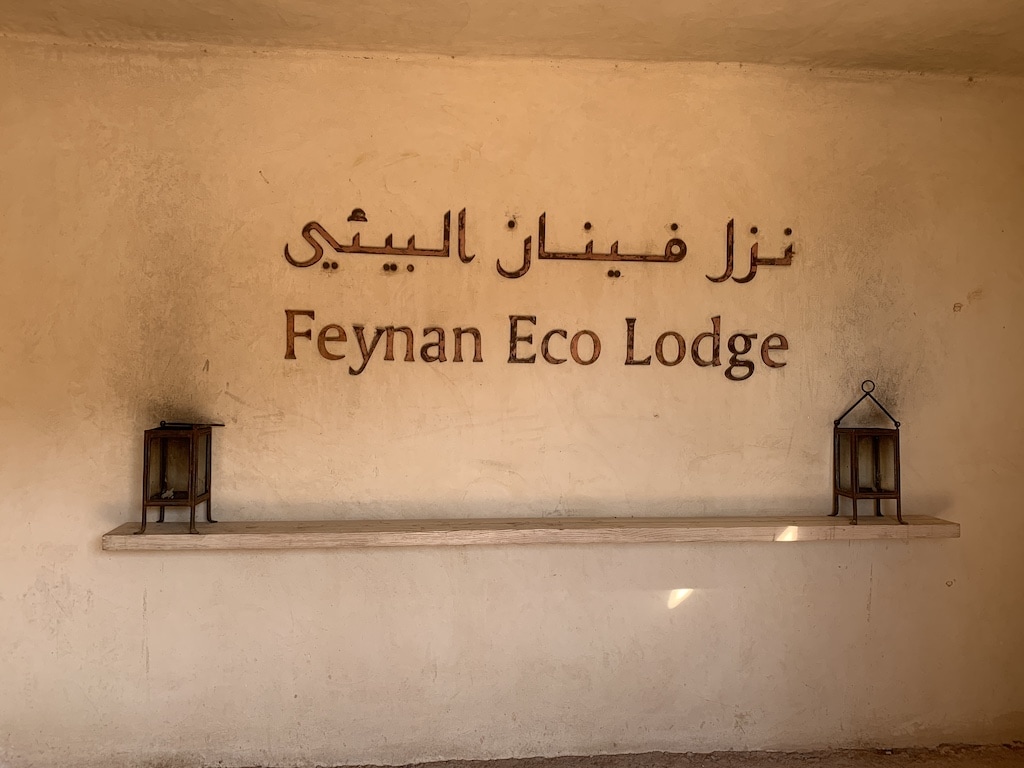 When you realize about half of the revenue from tourism is returned to the community and the Lodge benefits more than 80 local families, it's easy to see why this destination is so popular.
In a day and age where we're finally realizing the importance of sustainable travel, spending time at Feynan Ecolodge is not only enjoyable, but a way to give back to the community.
Getting to Feynan EcoLodge
The route to the Lodge was an experience in itself. We joined our driver in a 4 wheel drive from the Dead Sea Highway and it didn't take long to realize why our normal driver couldn't get us there.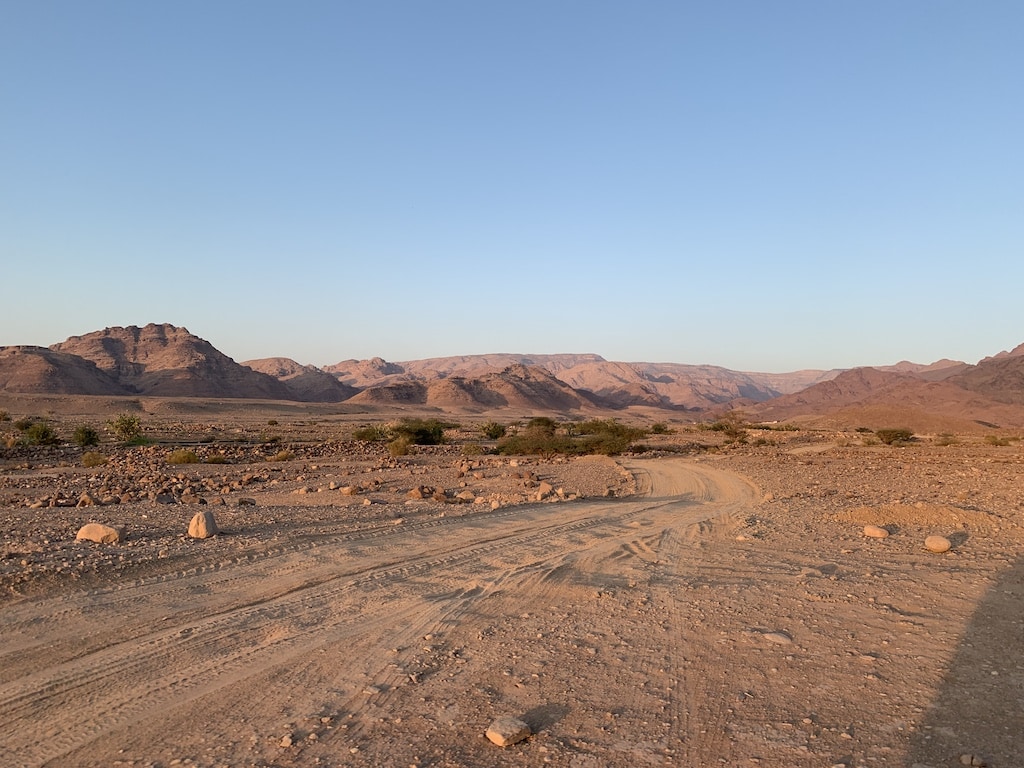 Though the ride is a bit bumpy, the scenery is gorgeous. Our ride ended on the top of a hill in what seemed like the middle of nowhere to watch the sunset.
The Dana Biosphere Reserve is special for many reasons. There is a large variety of wildlife such as the sand cat, Syrian wolf, lesser kestrel, and spiny tail lizard. 449 animals have been recorded in the Reserve. In addition, over 800 plant species live in the Reserve, with three of them being unique to the area.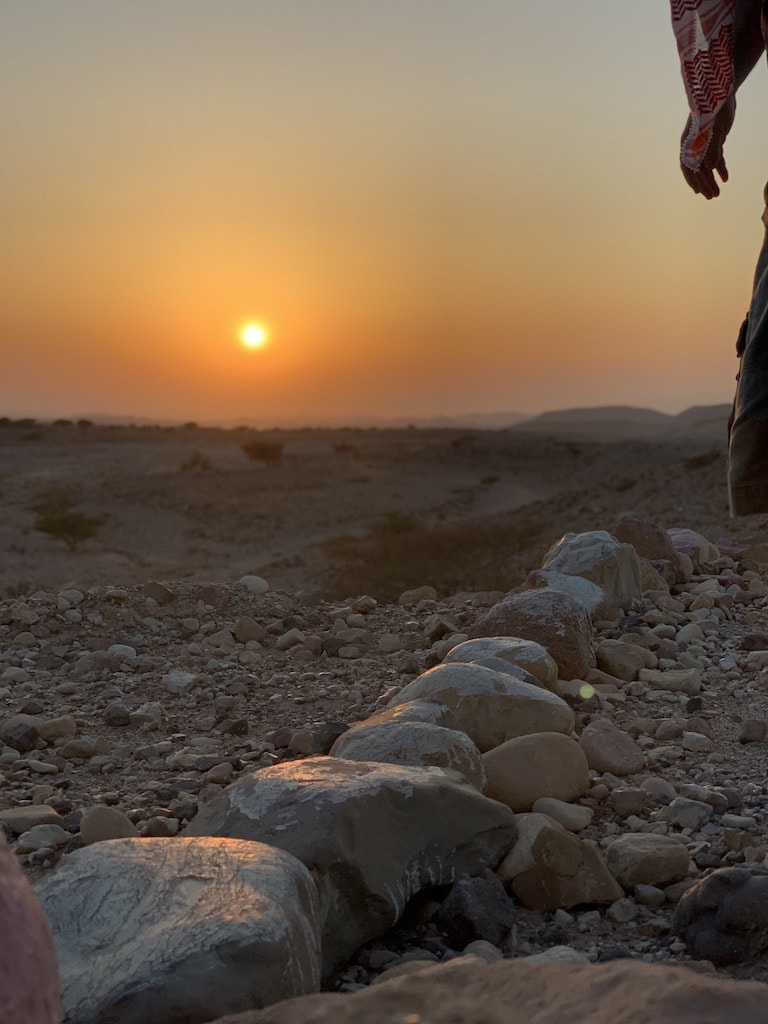 We were greeted with traditional Jordanian hot tea, which seemed crazy to me as we were quite a walk from the lodge. It was a lovely experience.
The views were just incredible.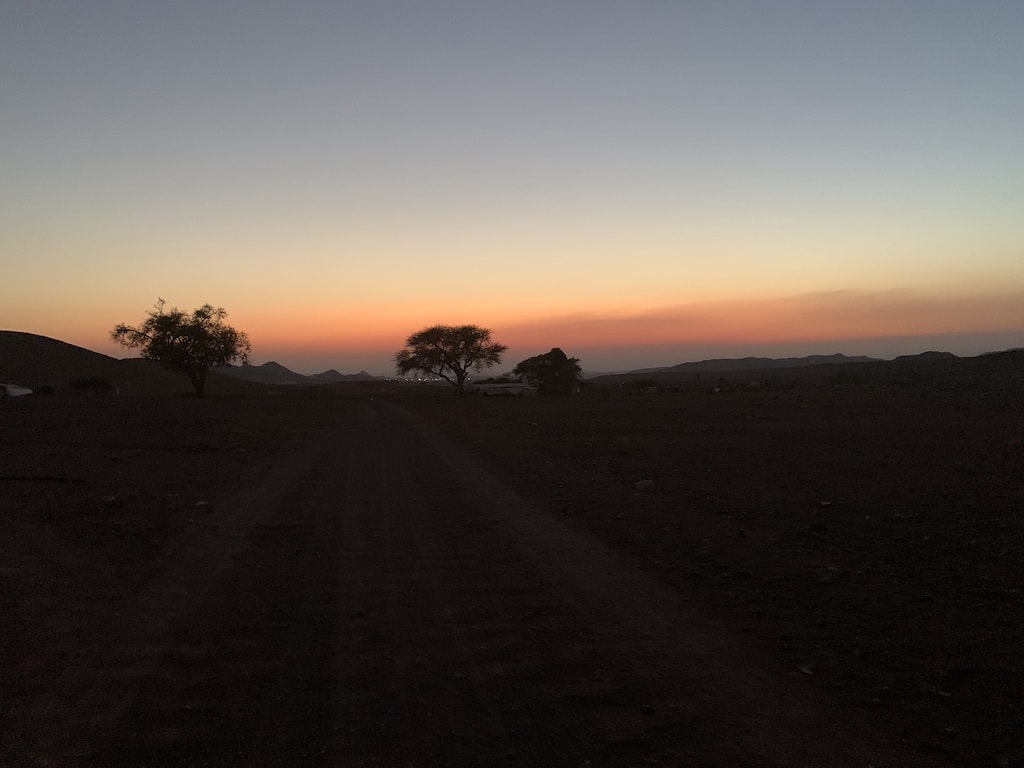 Feynan Ecolodge Accommodations
As I mentioned, the Lodge uses minimal lighting, and it makes the atmosphere so lovely in the evening. The Bedouins make 4000 candles per month to be used for lighting, and the water is heated by solar. You can see the panels in the distance.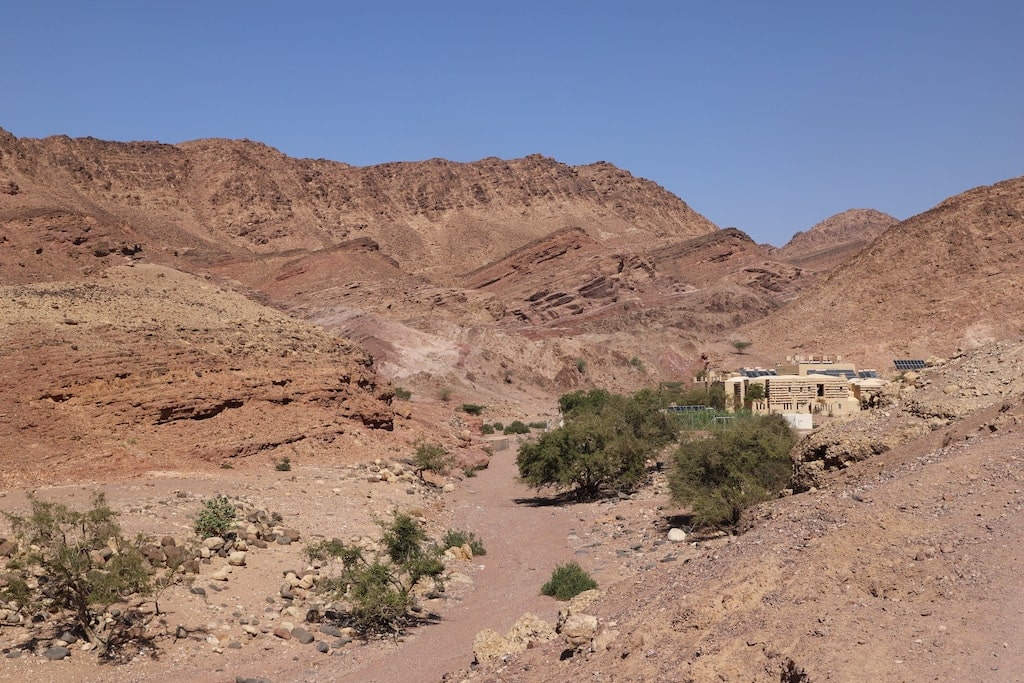 The Lodge has a lot of space to hang out. Grab a hammock or go up to the rooftop to relax. The courtyards are pretty when the flowers are in bloom.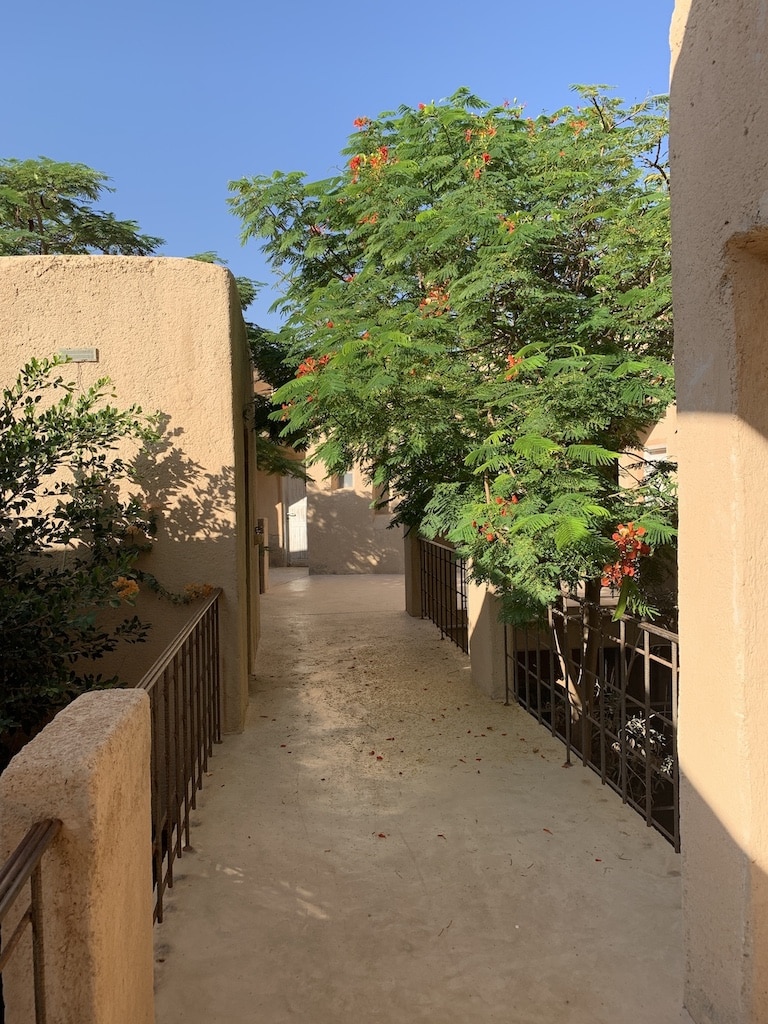 You'll also find tables outside where you can have a cup of tea with friends or bring your meal outside.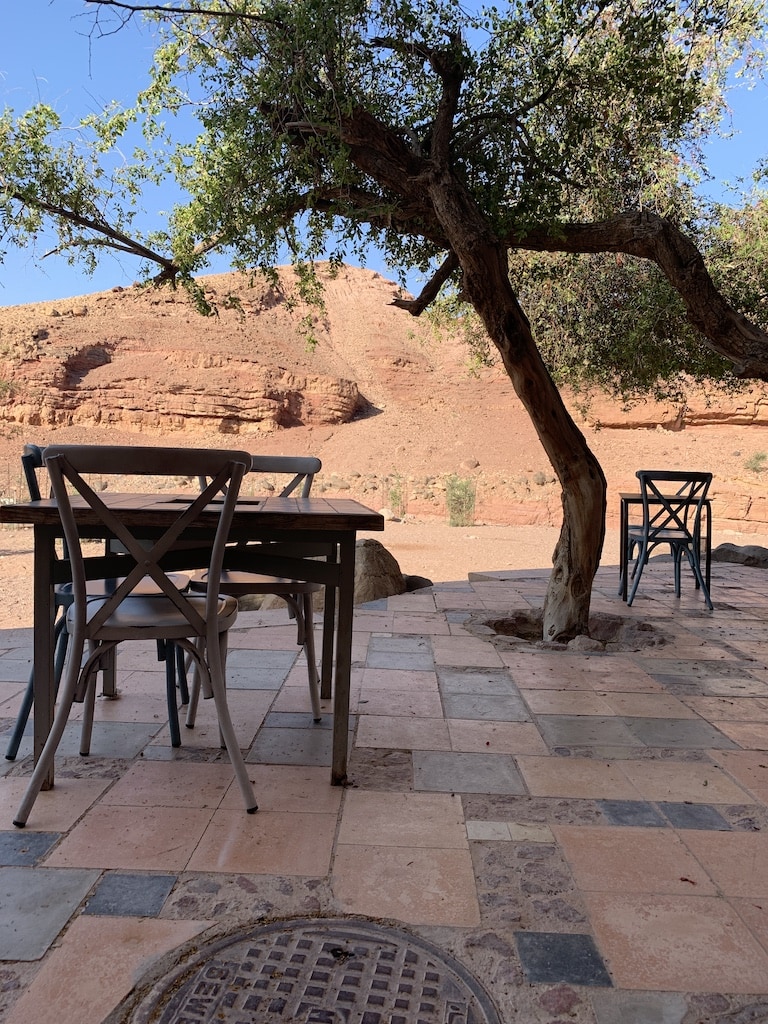 Make friends with the local wildlife!
My room was small, as you would expect, but large enough for a wardrobe, two twin beds, a small desk, and a bathroom. I found a clay pitcher full of cool water as well as two candles for light. I chose the bed near the window and went to sleep looking out at the moon.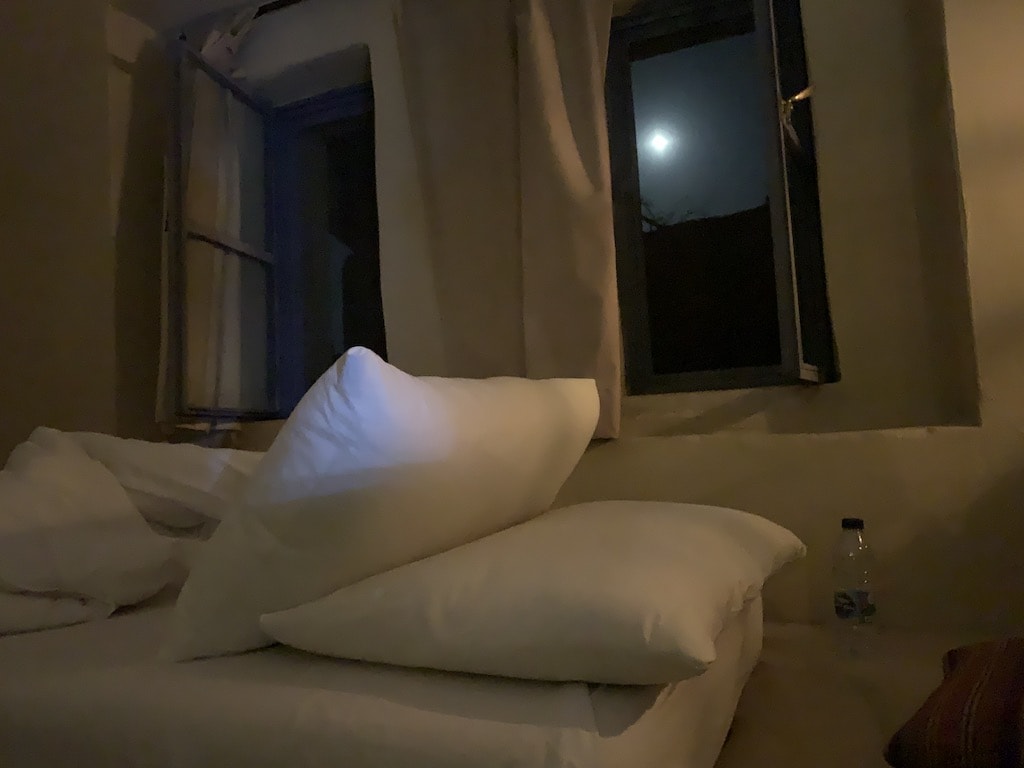 As it was already dark when we checked in, I didn't take many photos of my room. Instead, I asked if I could see a double room in the morning, so you can see what a room really looks like when you check-in.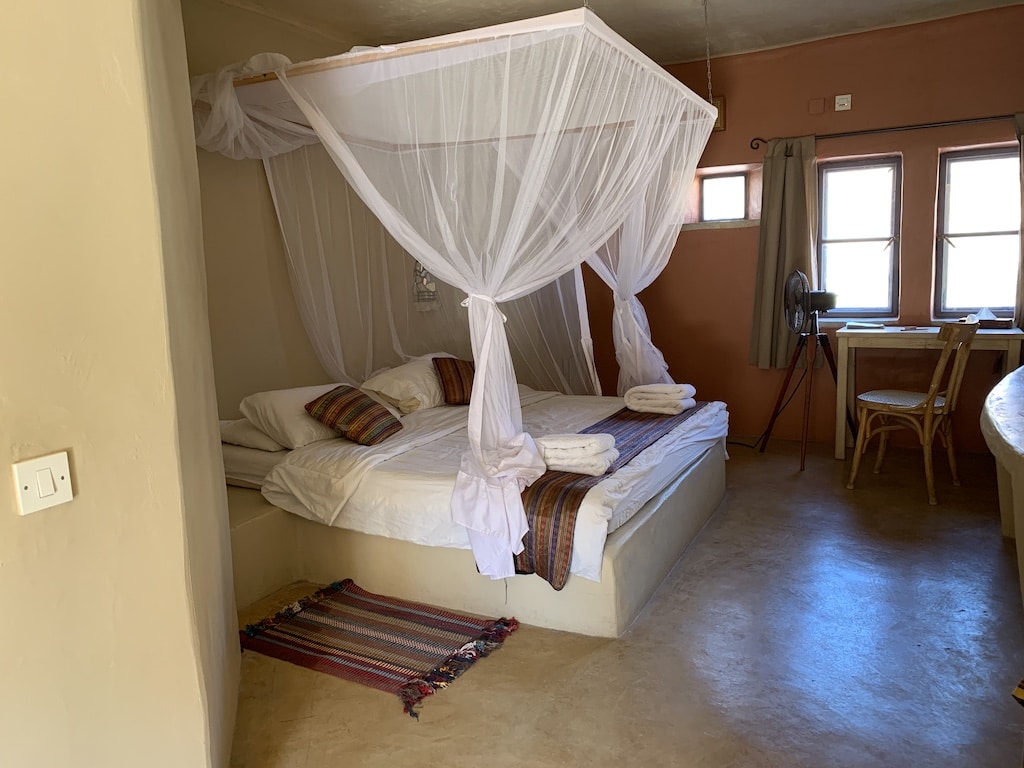 Dining at Feynan EcoLodge
A local woman makes bread 3 times per day and delivers it to the Lodge. All the food is vegetarian which I always enjoy. The meal is buffet style and the staff replenished it frequently.
For dinner, we filled our plates with a delicious eggplant dish called Muhammara, olive salad, seasonal vegetables with olive oil and traditional spices, Chickpea Fatteh, and just blanched green beans with tomatoes. And, of course, there was always hummus with that freshly made bread.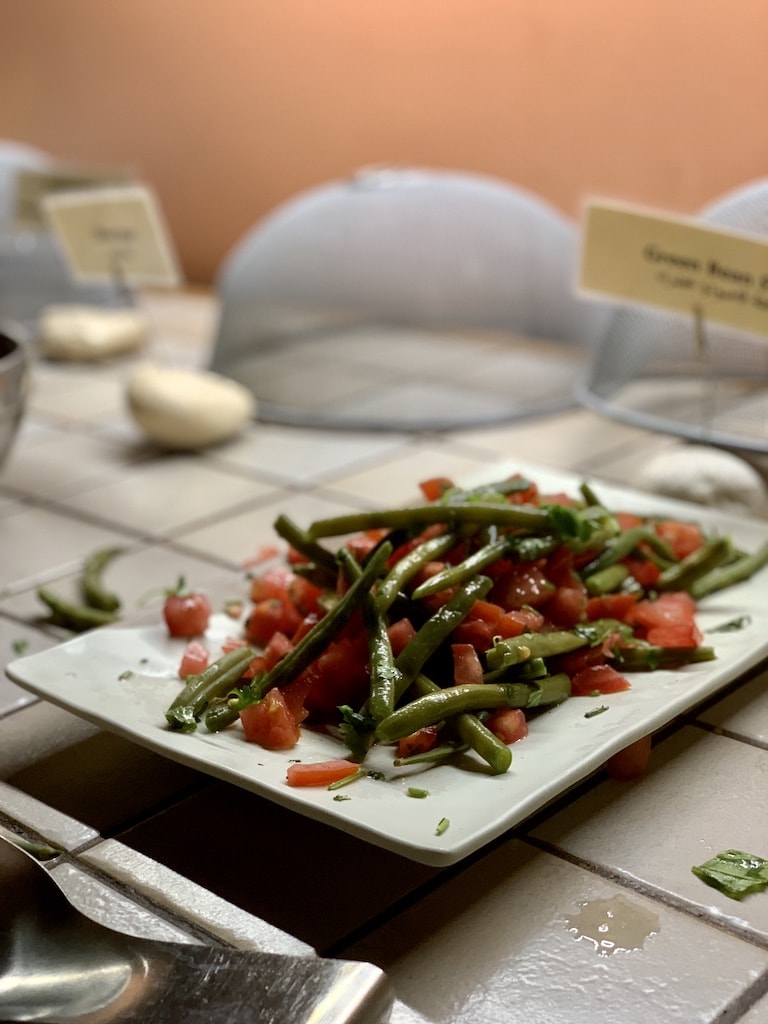 Breakfast held a few varieties of house-made jams (the carrot was my favorite!) to spread on the local bread.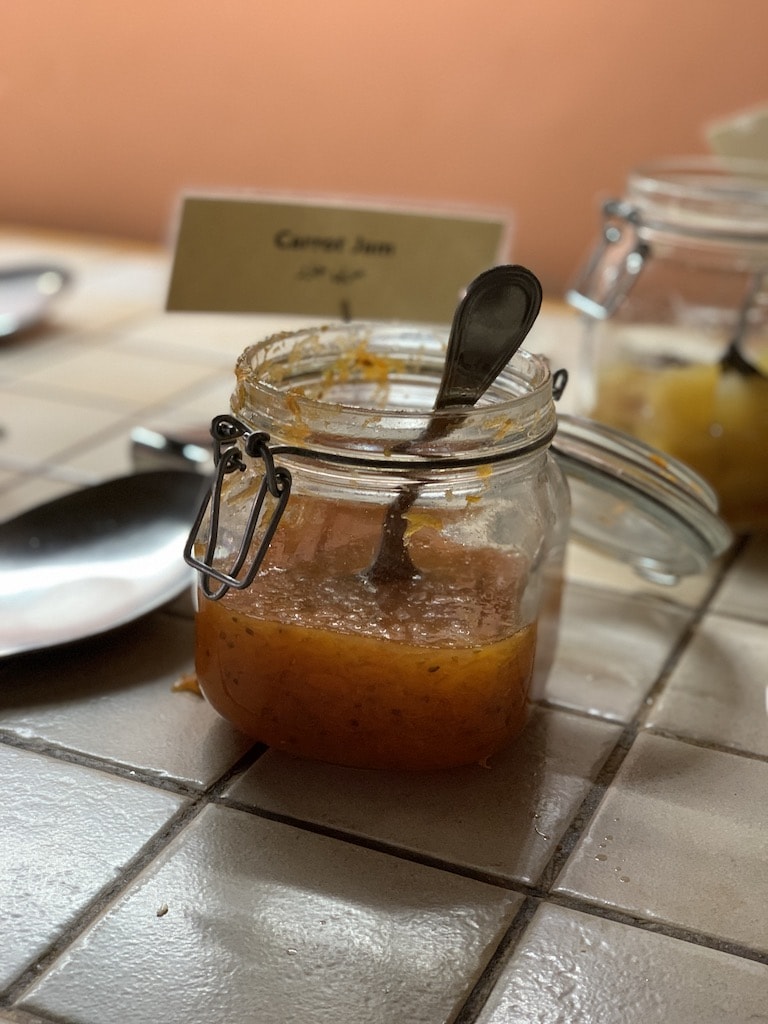 Call me quirky, but when I tasted the Halawa, which is made with tahini, it reminded me of peanut butter! I combined it with the carrot jelly to make the perfect PBJ substitute!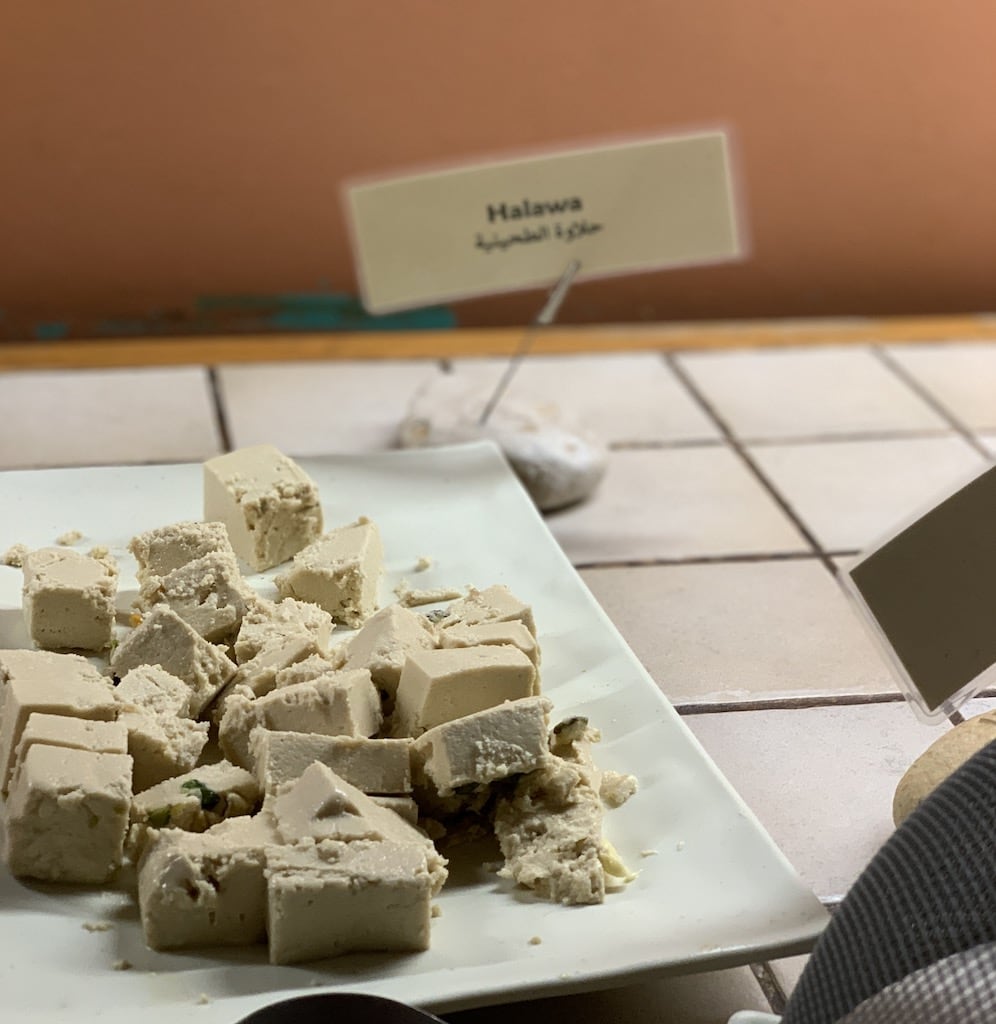 The buffet also offered tofu slices, salted white cheese, and a couple of other traditional dishes. Tea is served with every meal. The lodge offers cooking demos and classes, so just ask to book a spot when you make your reservation.
Activities at Feynan Ecolodge
We were only at the Lodge for one night, but many activities are offered, from adventures like canyoning and hiking in the Dana Biosphere Reserve to bread-making and coffee pounding.
In the evening, there is an incredible telescope on the roof, as well as thick, comfortable mats for viewing the stars. Some people even choose to sleep on the roof. It's a very peaceful spot and the number of stars will take your breath away.
Ask the person who is helping you look through the telescope to take a photo with your phone. How amazing is this shot taken with my phone?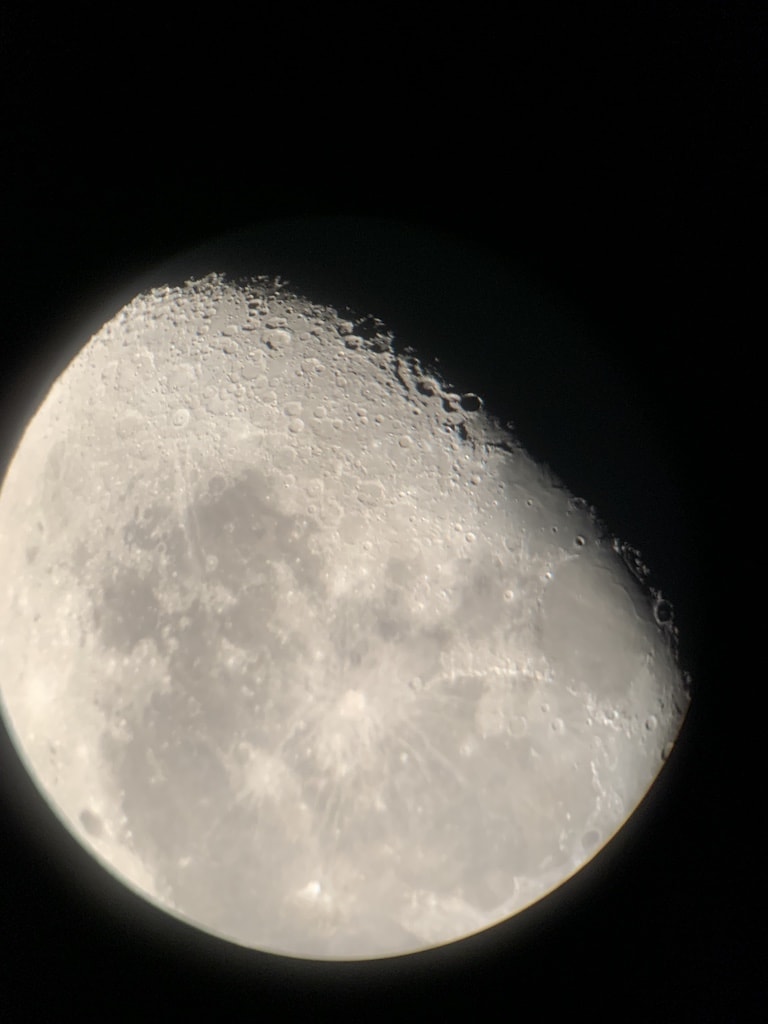 One of the activities offered gives you time with one of the Bedouins, to learn about their way of life. We were able to ask questions, and it was really a remarkable immersive experience.
I think it's important to note that activities including local families have a small supplementary fee which is given, in full, to the families involved.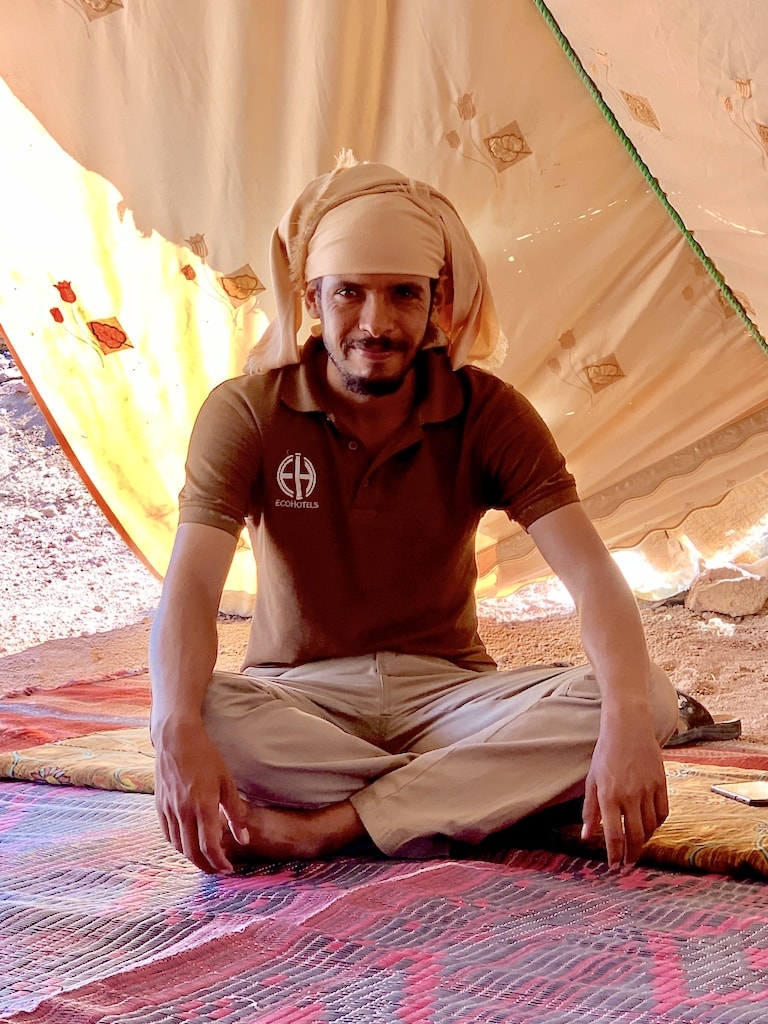 We learned that these semi-nomadic people leave their summer home and find a new spot in the winter. Their decisions are made based on shade, access to water, and in this case, ease of getting back and forth to the Lodge.
Our guide has lived in the same spot all his life. He says working for Feynan Ecolodge is perfect for meeting people from all over the world.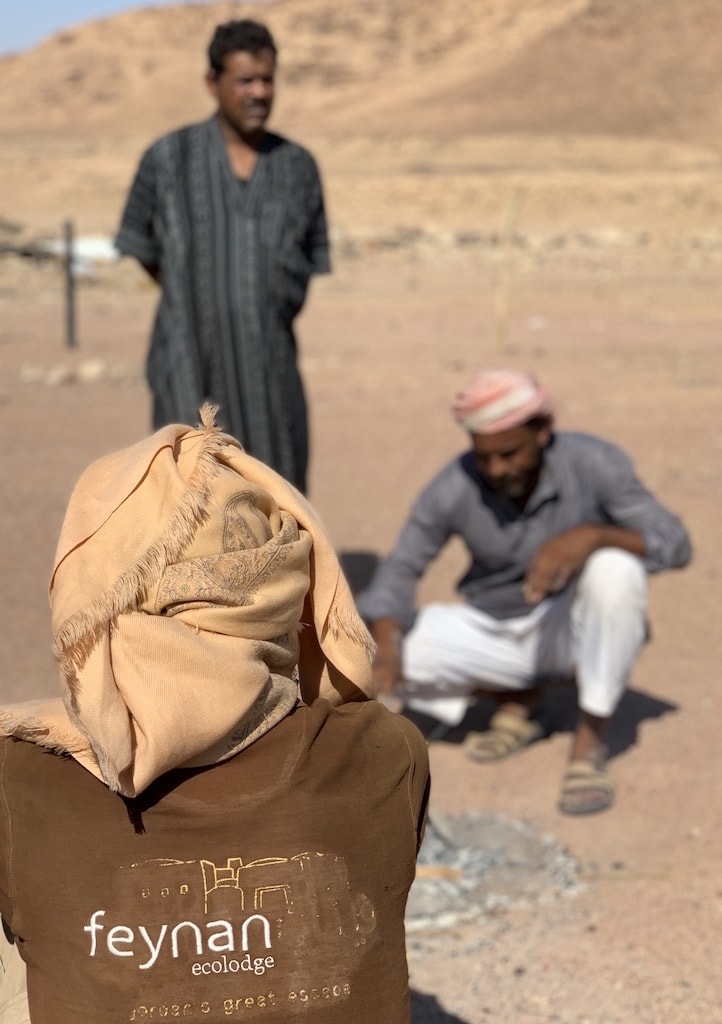 There is a school for 60 families within the settlement. The children are just like our children, fun and curious about visitors.
Our guide told us there are dangers in the wadi, and the children learn by watching the adults. The biggest danger is a flood. We were told, Water is powerful - you can't beat nature. Water can kill in the wadi. Other dangers are camel kicks and cliffs.
Scorpions are also dangerous - so much so that when a mother is breastfeeding, they take five or six scorpions and put them in the fire until they are ash, adding a tiny bit in the infant's mouth. This acts as a vaccine against the poison of scorpion bites.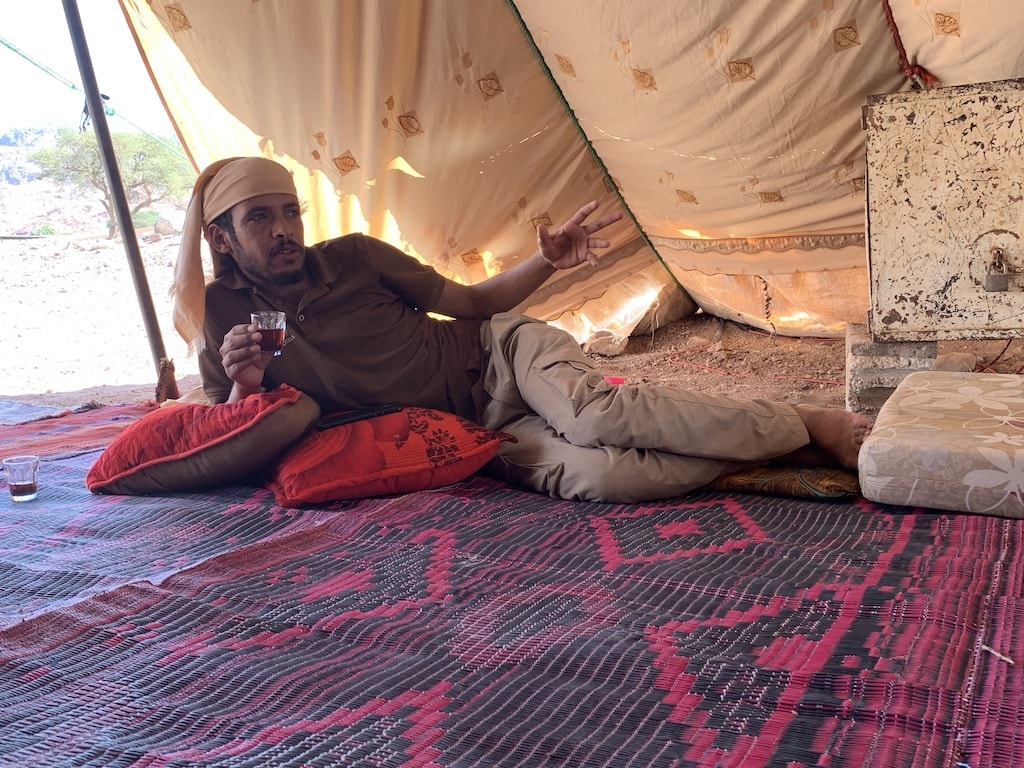 We learned the etiquette of visiting your neighbors - you can visit anytime, but you must clear your throat to let them know you've arrived. Take your shoes off and put them behind you. It's disrespectful to show the bottoms of your feet.
Giving is important and always good, so take a gift. Be happy. Try to be as light as possible as a guest. I think that's good advice anywhere!
Men make coffee for guests and they taste it first. We were told it is customary to only enjoy three cups of coffee with your host. The first cup is hospitable, the second cup is for the soul, and the third cup is for your mood. In so many words, I got the impression that a fourth cup is overstaying your welcome.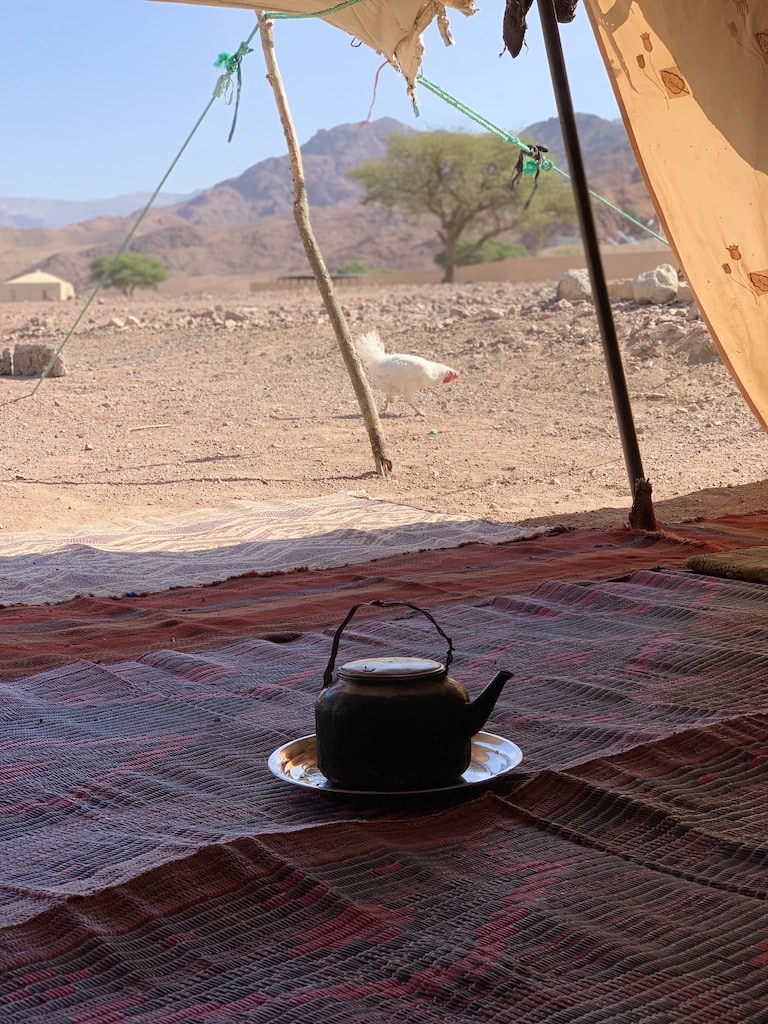 Our guide showed us how a local family makes a special meal. It begins with bread made with flour, salt, and a little water. The bread is baked in ash, then broken apart. Over the bread, they add lentils, water, and sautéed onion. Goat ghee is poured over the top.
The video you'll see in the corner was taken inside the Bedouin tent just for guests. The tent the Bedouin family lives in is right next door. We visited with another family later in the week, and they were staying at a spot near the mountains - kind of like their vacation spot. It was such a fascinating experience to be able to chat with these people and learn about the way they live.
As I mentioned, we only spent a short time at Feynan Ecolodge, but I'd recommend you stay longer. There is really so much to do, and for many of us, when will you have this opportunity again? Feynan Ecolodge is very popular, so be sure to book as far in advance as you can.
As most visitors to Jordan begin their journey in Amman, you might be interested in learning more about things to do in Amman, the capital of the Hashemite Kingdom of Jordan. The food in Jordan is incredible, so don't miss the best restaurants in Amman.
I've made a couple of my favorite recipes from meals I had while in Jordan. This lentil stew was delicious, and this authentic tabbouleh is one of my favorite side dishes - it's wonderful with steak or chicken.
I also made red pepper dip called Muhammara and a vegan hummus recipe, both fabulous with pita bread.
Please let me know if you visit Jordan. I'd love to hear about your experience.
More About Jordan