Touring the historic ruins of Jerash in Jordan was a fascinating experience, and a must when visiting the Hashemite Kingdom.
Though you can find Roman ruins all over Europe, Africa, and even Asia, very few are preserved as they have been in Jerash in Jordan.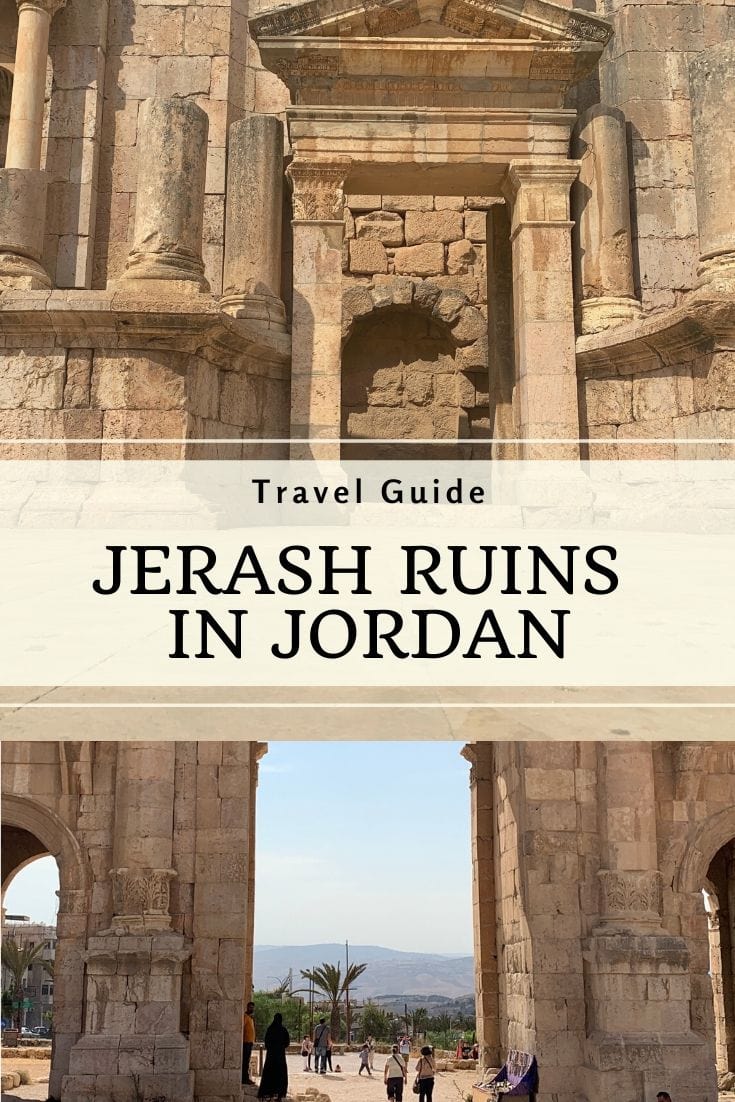 The ancient Roman city of Jerash (known in Roman times as Gerasa ) is located north of Amman, a little less than an hour away by car, and it's a beautiful drive.
Abundant in Biblical sites and ancient ruins, you really can't miss seeing this region of Jordan which boasts an unbroken chain of human occupation dating back more than 6,500 years. Let that sink in.
Most people do begin their journey in the capital city, so you'll want to plan a list of things to do in Amman Jordan. The food in Jordan is incredible, so make plans ahead of time to visit the best restaurants in Amman Jordan as reservations are always a good idea. 
And if you're going, of course don't miss going inside Petra Jordan.
Ancient Jerash in Jordan
Jerash was one of the cities of the Decapolis League, a group of commercial cities from Syria, Israel, Jordan, and the Palestine Territories. Originally thought (or planned) to be ten cities, some scholars think there were more than ten, and even up to eighteen or nineteen. It's believed that at least five of the cities within the League were in Jordan.
If you really want to be able to appreciate this city, do some research before going so you know what not to miss. It can be a little overwhelming if you don't know what you're looking for, and you'll appreciate it so much more if you have a plan.
I was so lucky to have an incredible guide who really knew his history. Feel free to shoot me an email for his information. He stays pretty busy so do try to book with him as far in advance as possible.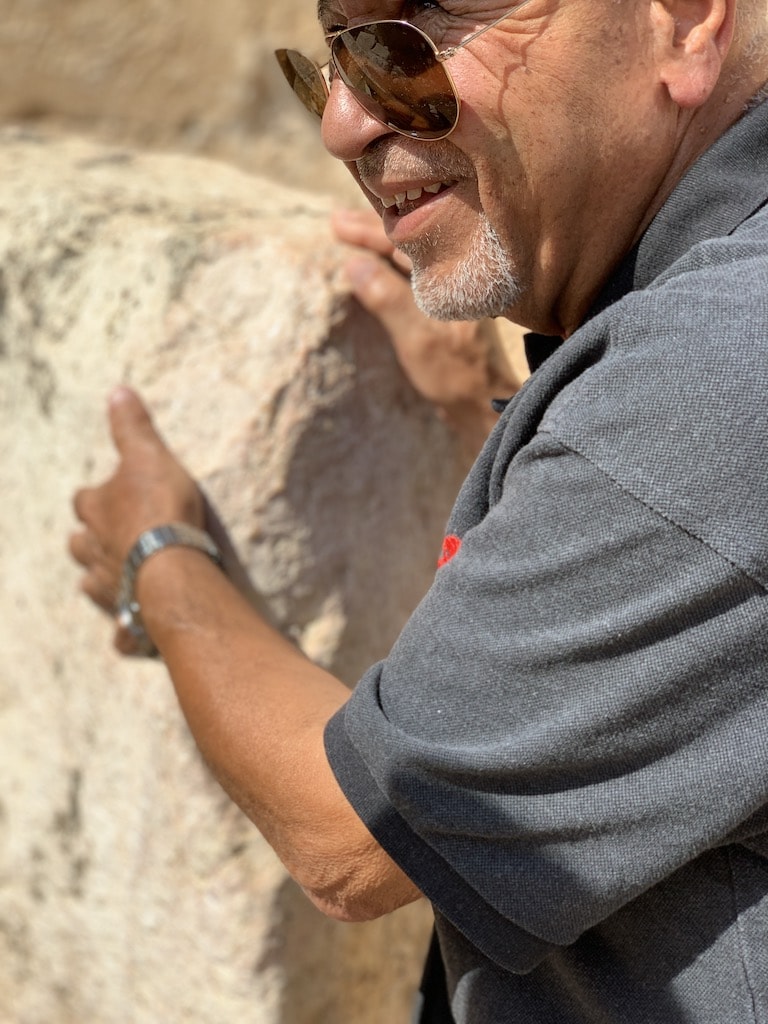 Walking among these ruins that have been so well preserved is mind-boggling. Realizing that in the 2nd century, Jerash was a thriving city with shops and other businesses set up along the Cardo gives your visit new meaning.
Things to See in Jerash in Jordan
These ruins are in order so you'll be able to follow this path. Again, it can be really overwhelming once you're there, and the worst thing is to get back to your hotel (or home) and realize you've missed something.
I've flown by the seat of my pants quite a few times and missed things. Especially when you're traveling a long distance, it can be heartbreaking to realize you've walked right by something significant. I hope this helps you to enjoy the journey.
Hadrian's Arch
You'll start your visit at Hadrian's Arch, standing 13 meters high. Entering through this archway helps you to understand the grandeur of Jerash.
The Arch is right outside the South Gate and was named after the Roman emperor Hadrian who visited during his reign, around 30 AD.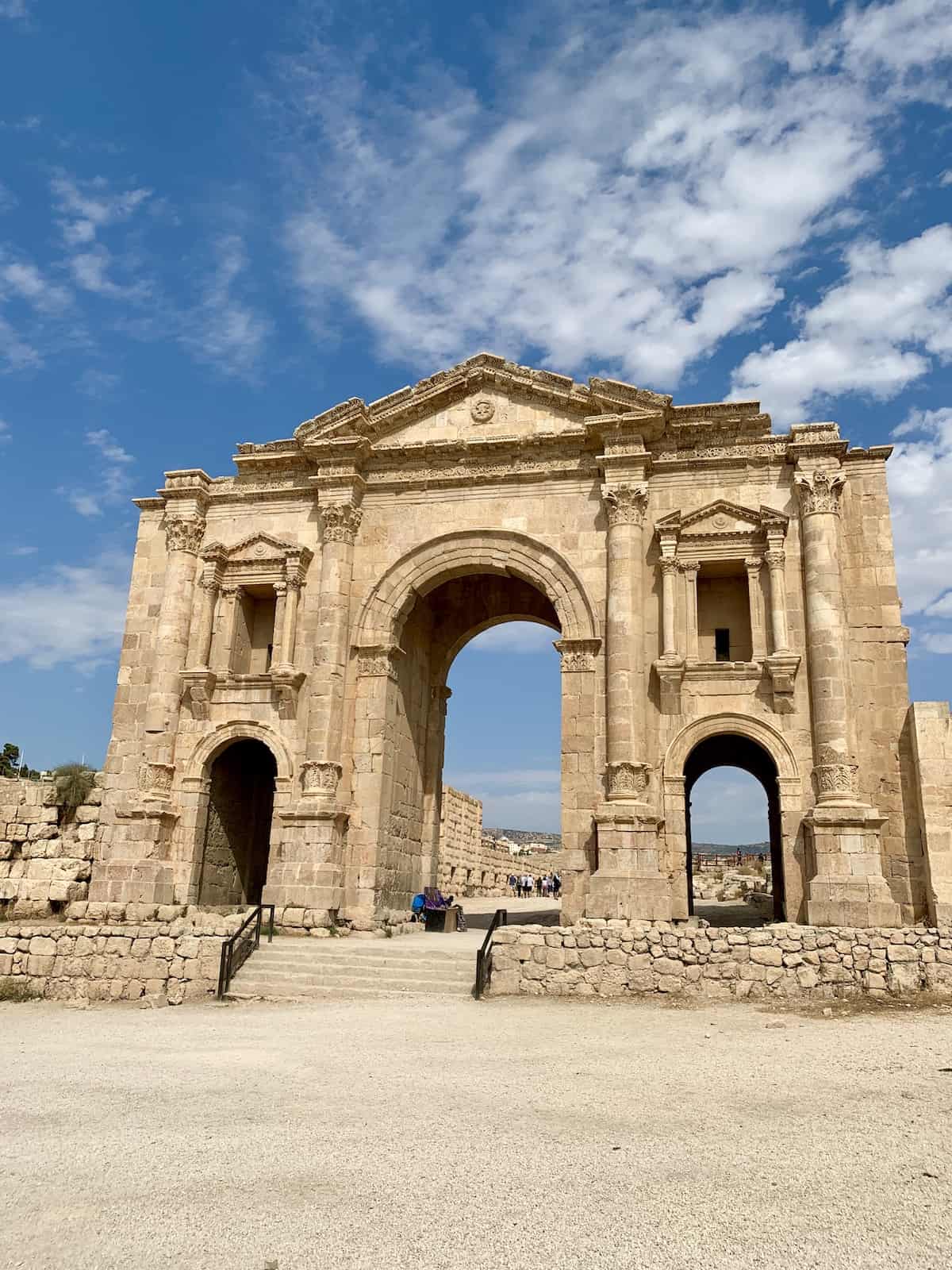 As you stand there, imagine that the Arch was twice as tall as it stands today back when this was a thriving city, and three wooden doors protected the entrance.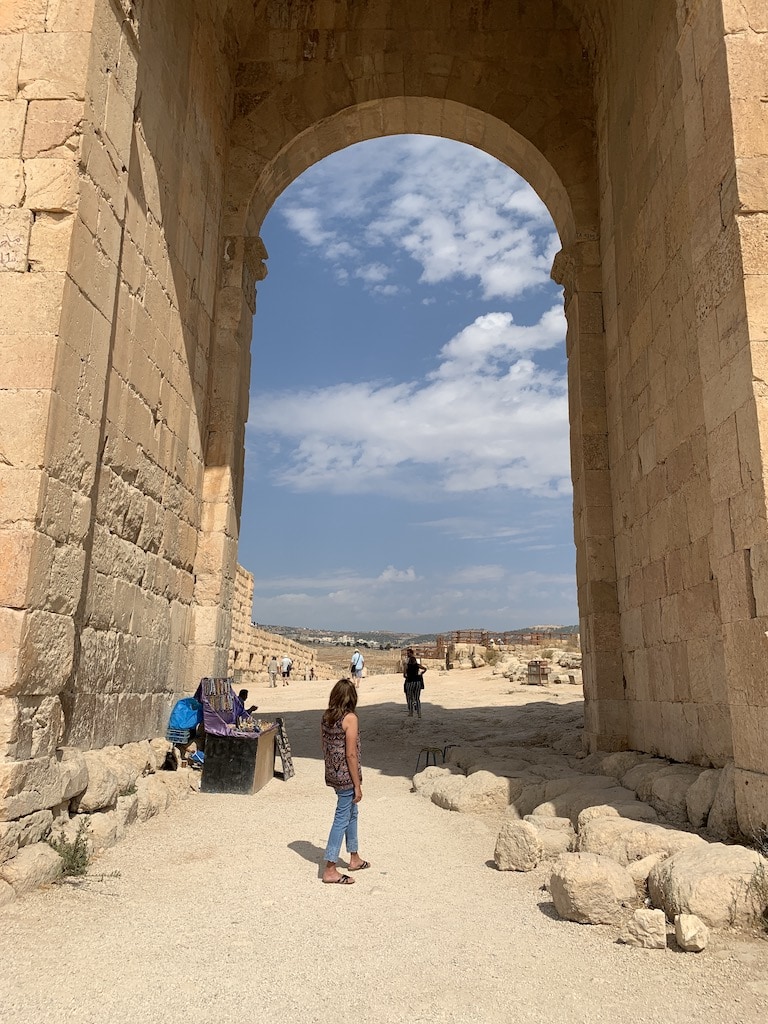 Hippodrome
The Hippodrome was once a sports field for horse and chariot races. Built sometime between the 2nd and 3rd centuries, this arena could host 15,000 seated spectators. At about 244 meters by 50 meters, this is one of the smaller hippodromes.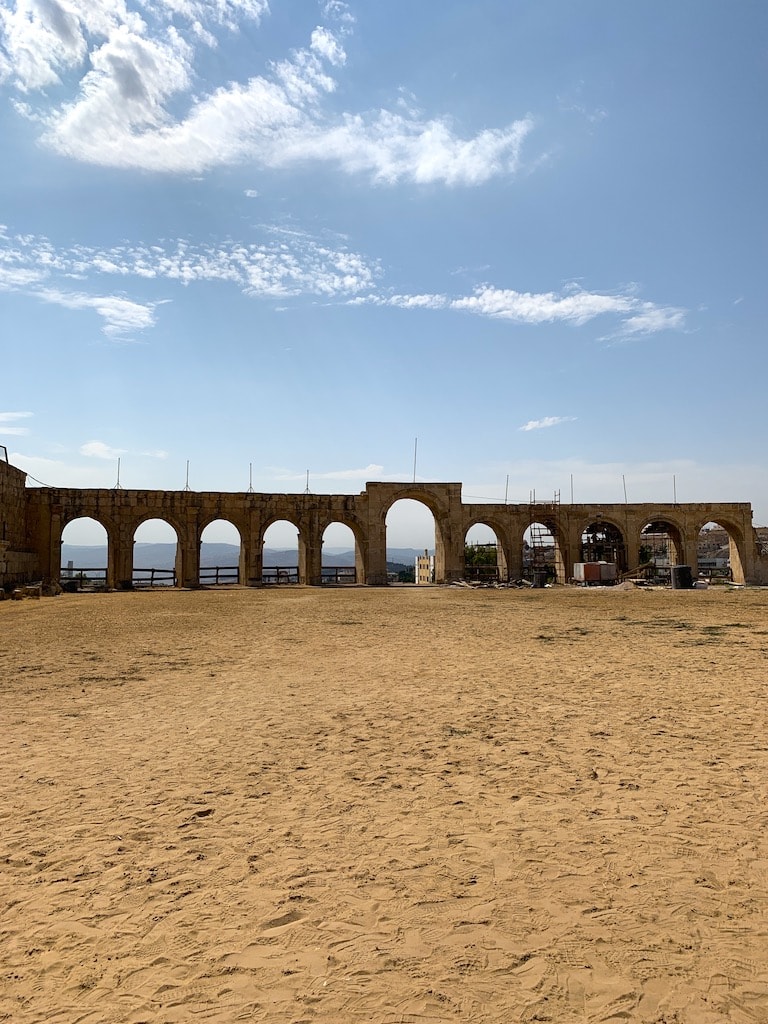 To get a feel for what it was really like when this arena was in use, you can attend a reenactment of RACE, the Roman Army and Chariot Experience held at the Jerash Hippodrome.
Normally, two shows are offered on Saturday, Sunday, Monday, Wednesday, and Thursday at 11 am and 2 pm. Friday offers one show at 10 am.
In these uncertain times, some events have obviously been suspended and may take a while to be on a regular schedule once travel is back to normal. Check the website on days and times RACE is being offered.
Be sure to take in the view from here and get a few photos. It's so beautiful.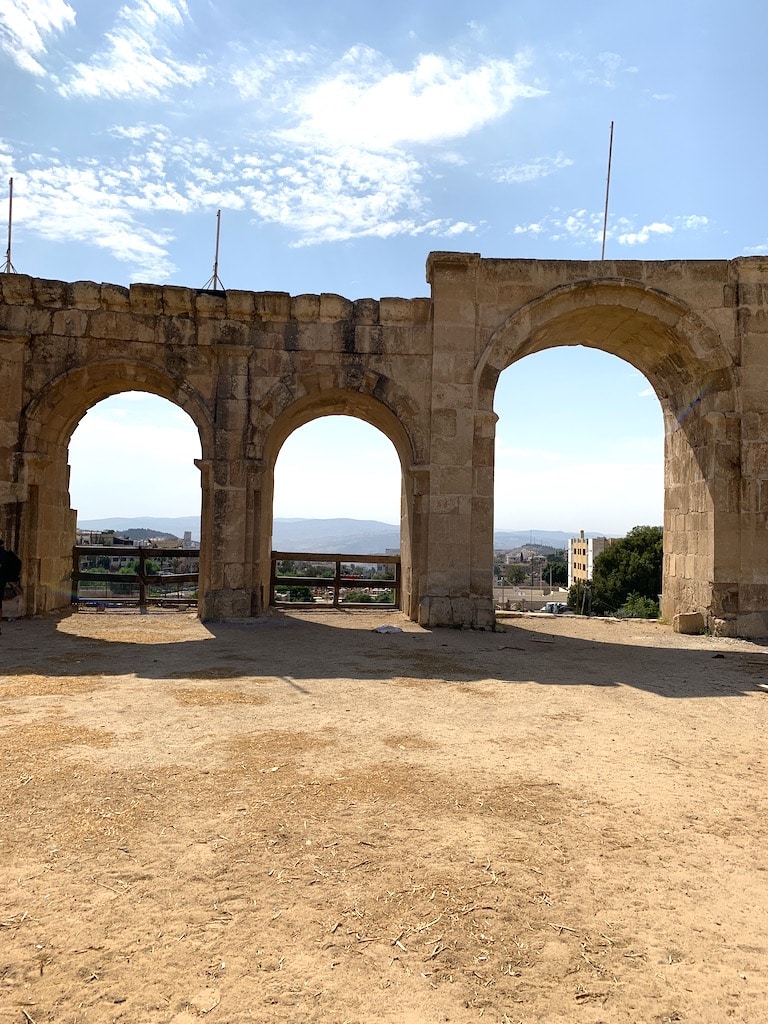 South Theatre
Continuing to the left along the path, you'll come to the South Theatre, preserved incredibly well. In fact, this venue still hosts the annual Festival of Culture and Arts in July and August, featuring music, plays, poetry readings, and other performances.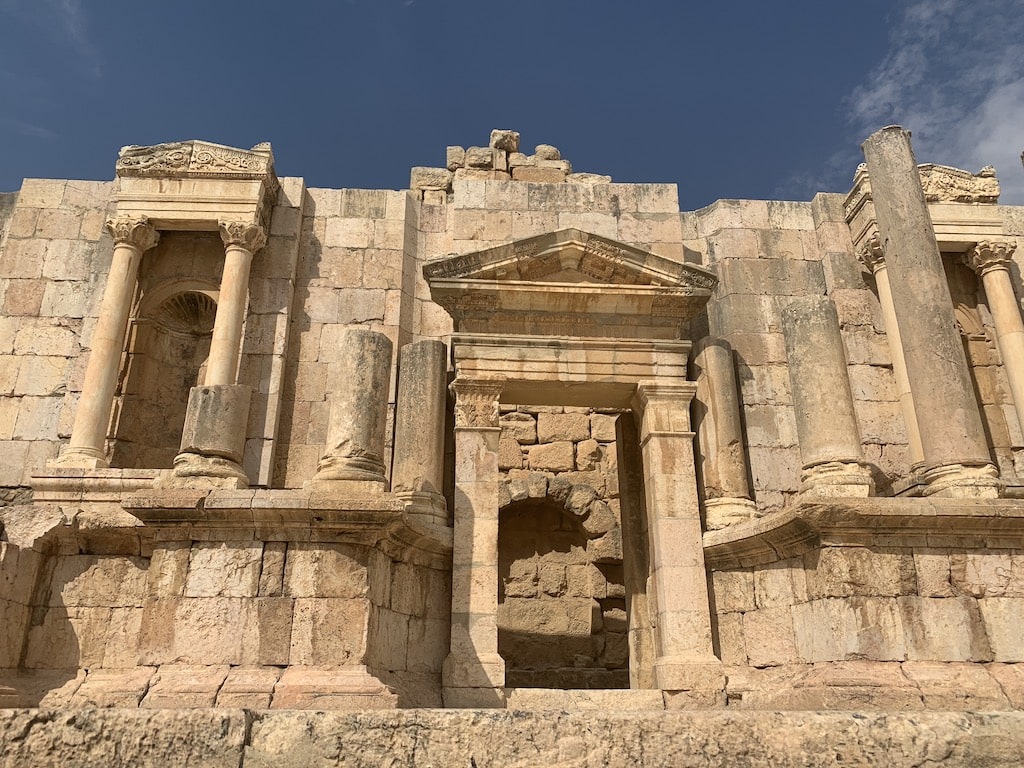 At one time, 5,000 spectators could sit and watch events in the South Theater. Today, only one tier of seating is left, but visitors filled a second tier in earlier days.
The seats are numbered, and wealthier spectators could reserve them for a price. Obviously, the acoustics are better in some seats than others.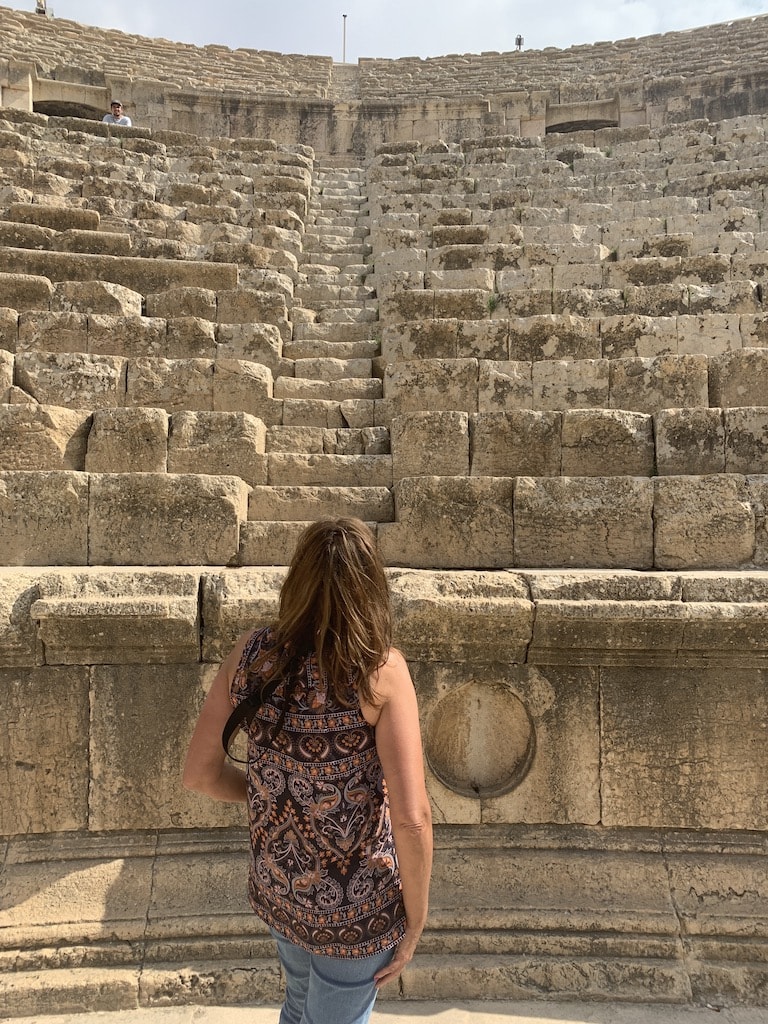 It's said that if you stand at the mid-point of the orchestra, you can test out the sound. Performers could be heard quite well from there.
An easy way to test out the acoustics is to ask a friend to go to one of the circular indentations while you kneel at another and whisper to each other. It really is unbelievable that this structure was built between the years 81 and 96 AD. I've been to concert venues with horrible acoustics in just the last twenty years!
My friend Tim Johnson was checking out the acoustics. Follow him on Instagram at TimJohnsonTravels to see more of his adventures. I was so lucky to be traveling with such amazing journalists on this trip!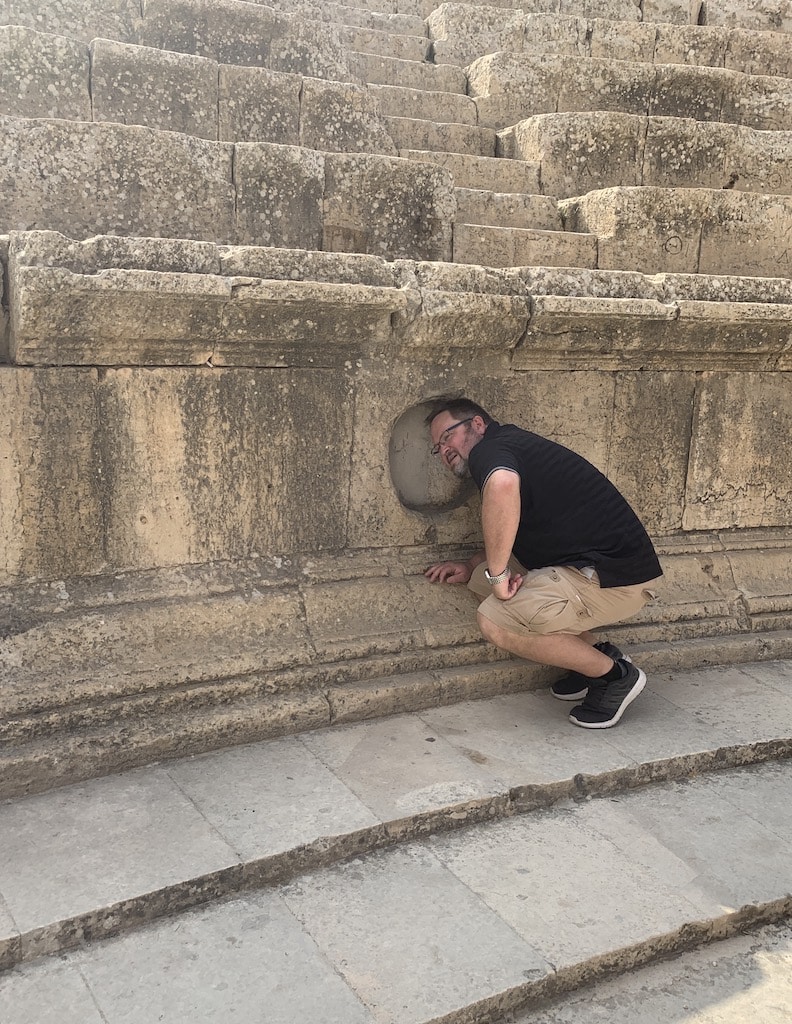 You'll probably see the Jordanian Scottish bagpipe band looking to entertain guests. If you see the drum, they will probably be back soon.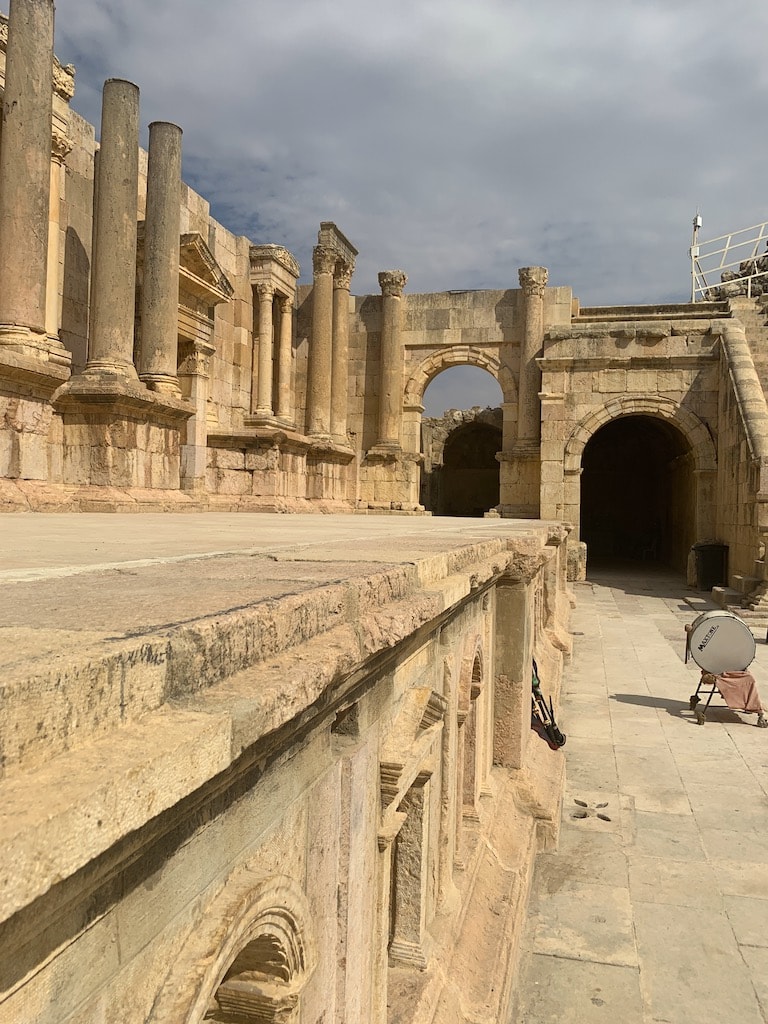 The band is happy to have spectators join in the fun. My friend Melissa was happy to oblige. She is so much fun. Follow her at MelCorbin on Instagram and see her cooking segment about making traditional hummus.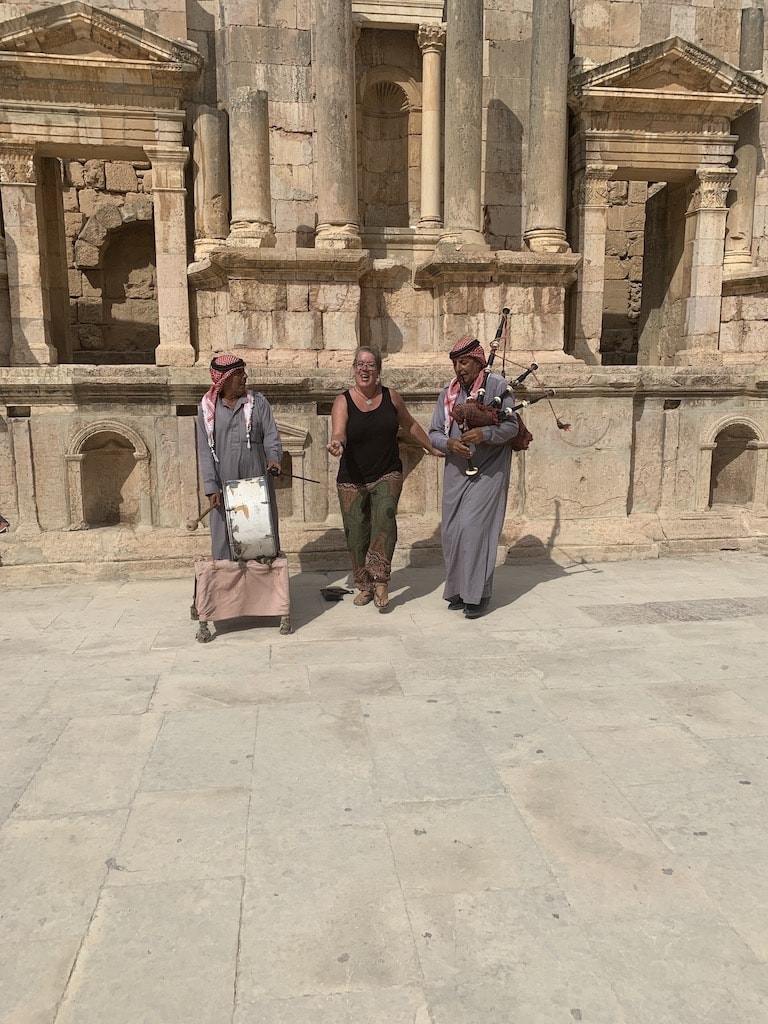 Temple of Zeus
You can see the Temple of Zeus on the left, overlooking the city of Jerash in Jordan. Built over a previous temple which is said to have been built over another worship site, the spectacular Temple of Zeus was built around AD 162.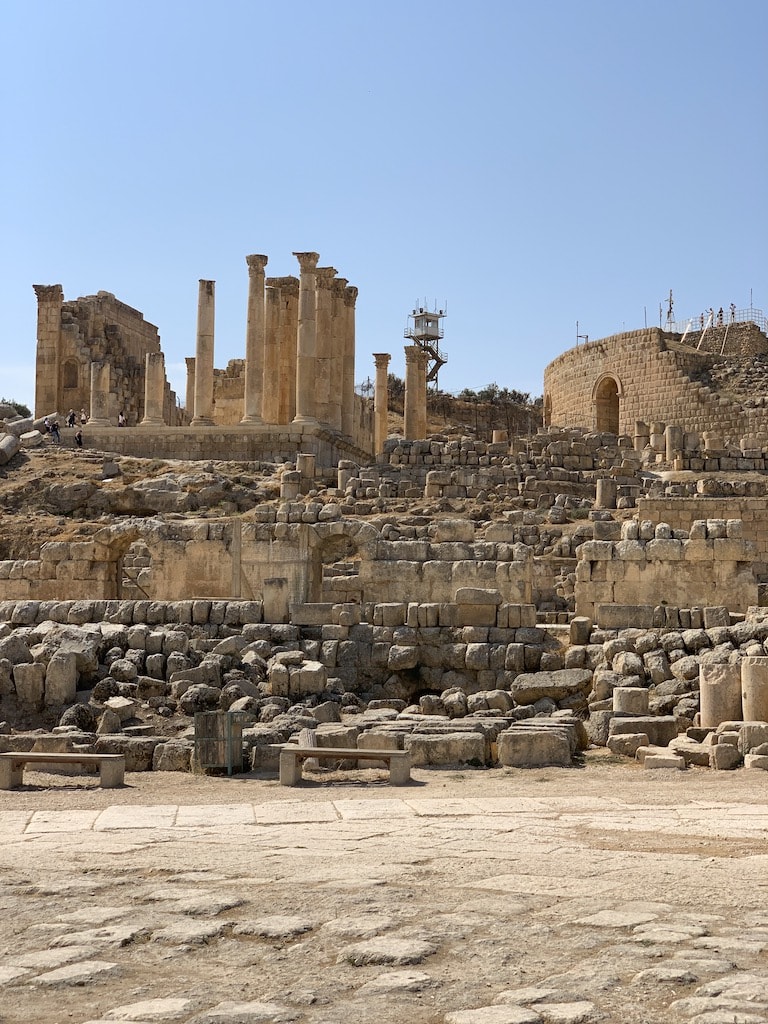 One thing you'll notice all through the complex is fallen pieces of architecture. For some structures, research tells us they were partially rebuilt from another specific building, as with the Temple of Zeus and many churches.
But for others, we don't know those answers yet. It will be exciting to see what else is uncovered over time.
Forum
The Forum (also referred to as the Oval Plaza) was used for the main forum as well as a marketplace, connecting the main street, or Cardo Maximus, with the Temple of Zeus.
Surrounded by 56 stunning columns, the Forum is one of the most beautiful of the ruins. Each column was crafted from four cuts of stone. Though the forum was built around the 1st century, it wasn't paved until around the 4th century.
Seeing the forum from higher up displays its magnificence. Look back once you are at the Temple of Zeus to get the full effect.
From the Oval Plaza, you can visit the Museum and Visitor's Center where you'll find jewelry, coins, mosaics, and other artifacts from the ruins of Jerash.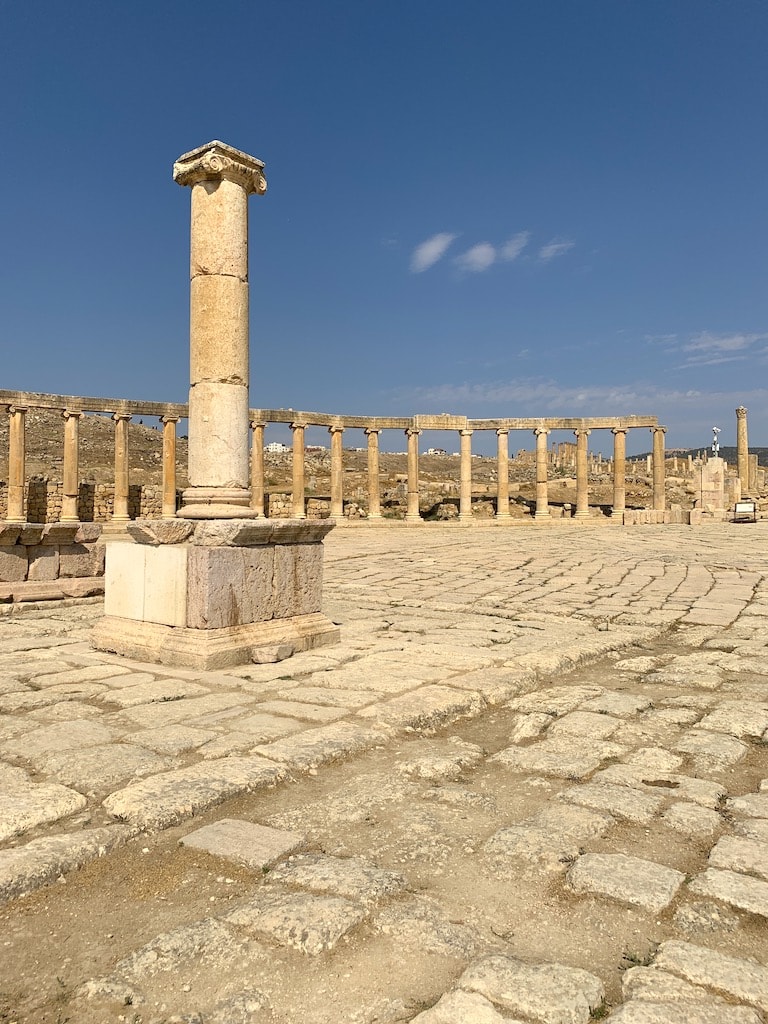 Agora
You'll pass by Agora on your way to the Temple of Artemis. An agora is simply a public meeting place and this central fountain was where many people met regularly.
You can easily see the writing on the fallen column at the bottom of this photo.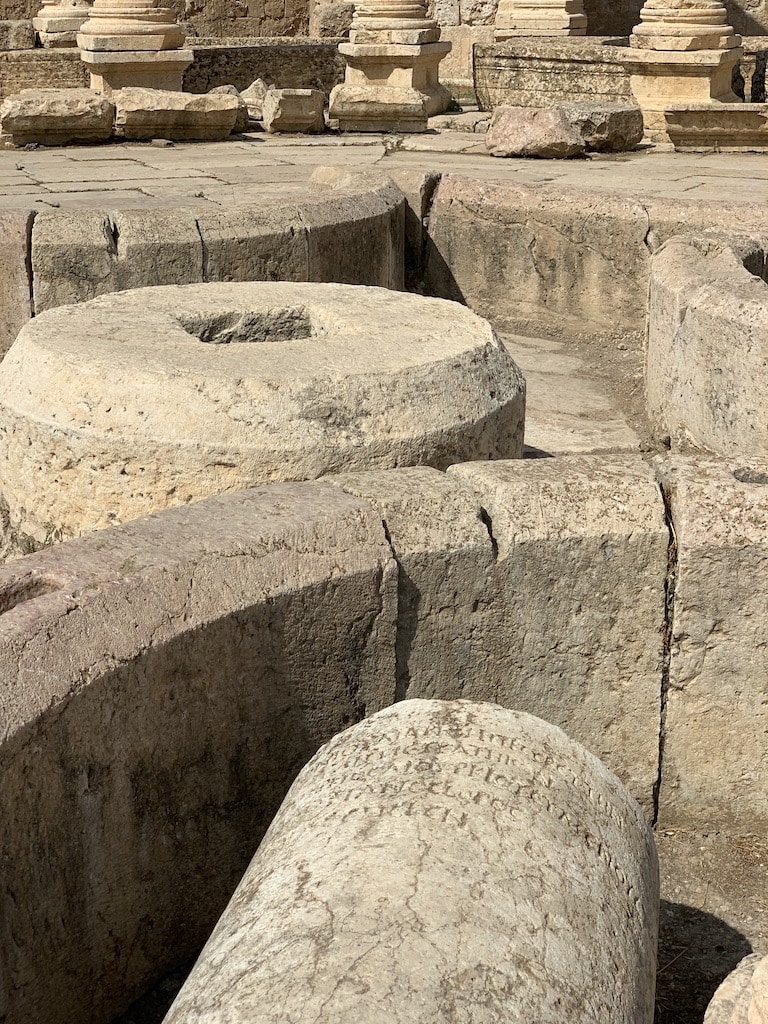 Umayyad Houses
Go left instead of straight to Cardo Maximus so you can see what remains of the residential Umayyad Houses. This is significant because Jerash was really considered to be a Roman or Christian city, as can be seen with the more than fifteen churches within this complex.
Researchers have discovered that the Umayyad House is one of the very few early Islamic domestic houses still in existence, and the most complete Islamic houses found in Jerash.
Believed to have been occupied from 660-800 AD, there were five or six units, all sharing a courtyard. Some research indicates there was a second floor.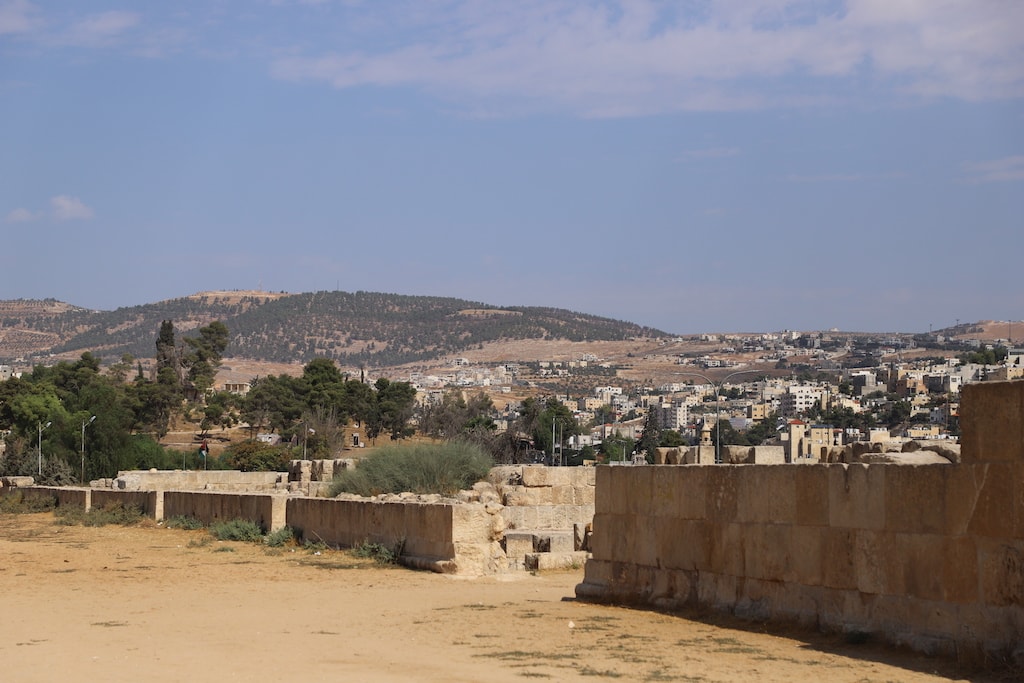 Cardo Maximus
The Cardo was where all the action was in ancient Jerash. The rest of the city diverged from this 800 meter-long colonnaded street connecting the Oval Plaza to the North Gate. This was the main access street to the Sanctuary of Zeus.
If you look closely, you can see groove marks left from chariot wheels.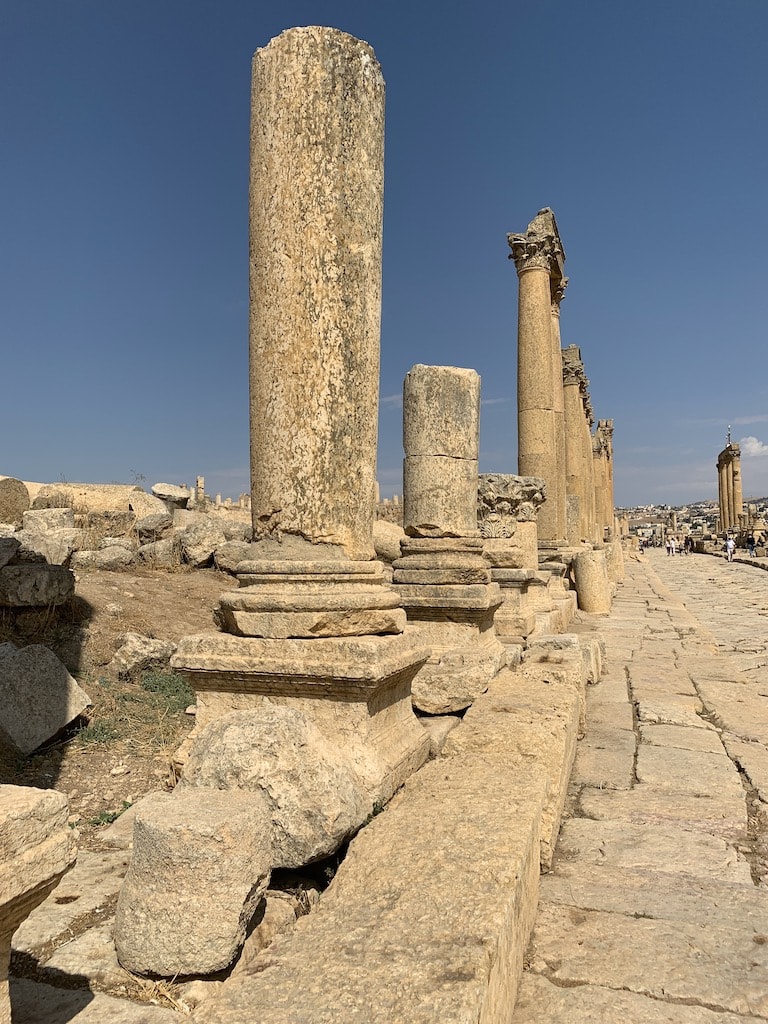 Cathedral
The Cathedral, to the left of the Cardo, was constructed sometime in the middle of the 4th century. Though the Cathedral is known to be the oldest church in Jerash, no evidence exists as to whether it was a more important church, other than its size.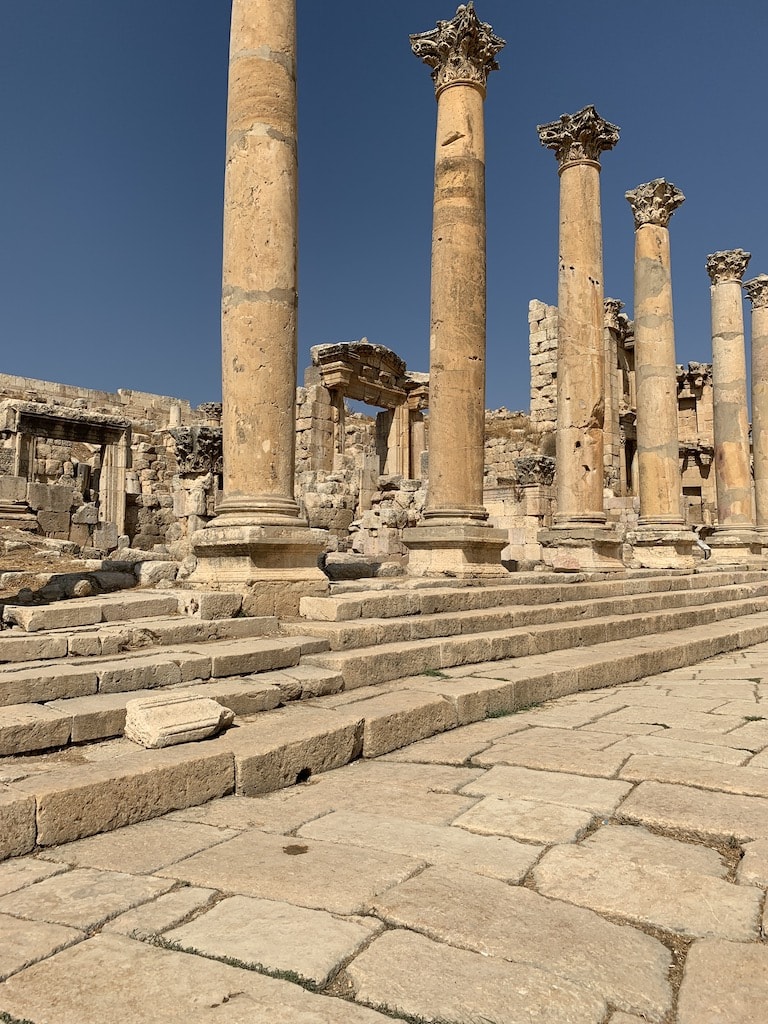 Nymphaeum
Across from the Cathedral, you'll find the Nymphaeum, dedicated to the mythological water nymphs. Built around 191 AD, this was the main ornamental fountain in the complex.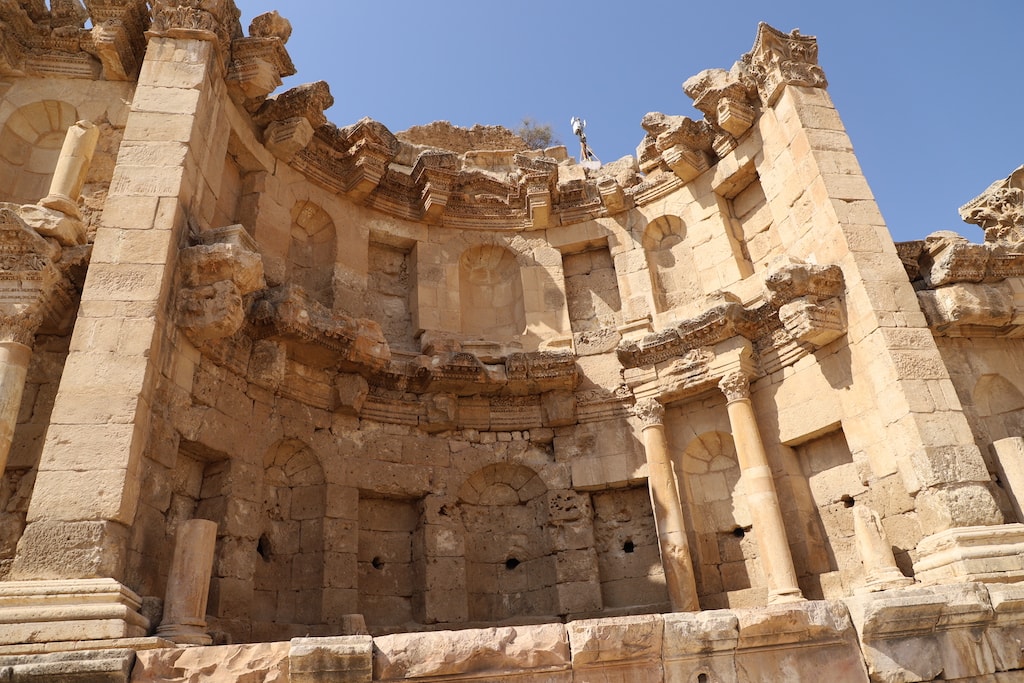 Church of St Cosmas & St Damian
You'll continue to head away from the Cardo (you'll swing back around) to get to the Church of St Cosmas & St Damian.
More than 15 Byzantine churches have been uncovered in Jerash, and as excavations continue, they will probably find more. This is the most preserved church in the ruins of Jerash.
If you look closely, you can see symbols on the beautiful mosaic floor. This church was consecrated in 533 in memory of twin brothers who were both doctors and spent their lives caring for the poor.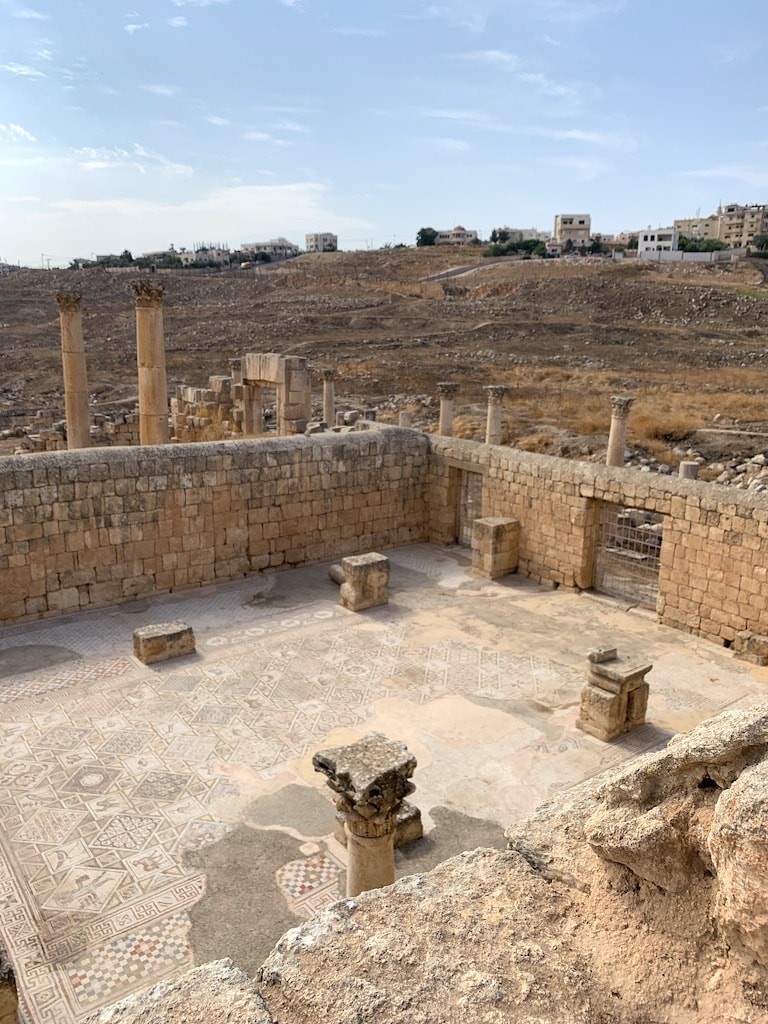 Temple of Artemis
From this point, you can see ruins of a couple of other churches and then head to the Temple of Artemis, which is a must-see. Built on the highest hill in the city, the Temple was constructed as a gift to Artemis, the patron Goddess of Gerasa.
Built between 150 and 170 AD, it's said that the Temple was never finished as 32 columns were originally planned. Only 11 columns still stand. Large underground vaults are believed to have been storage for temple valuables.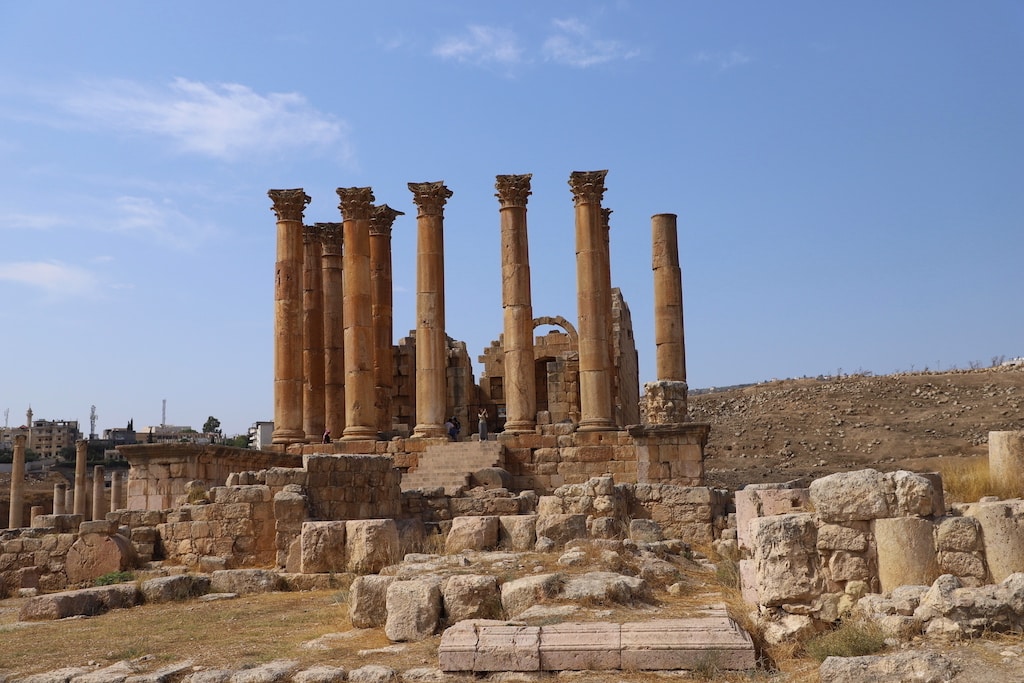 North Theatre
Stop by and see the North Theatre before heading to the Northern Tetrapylon. This theatre, unlike the South Theatre, is believed to have been more of a business and government meeting place than an entertainment venue.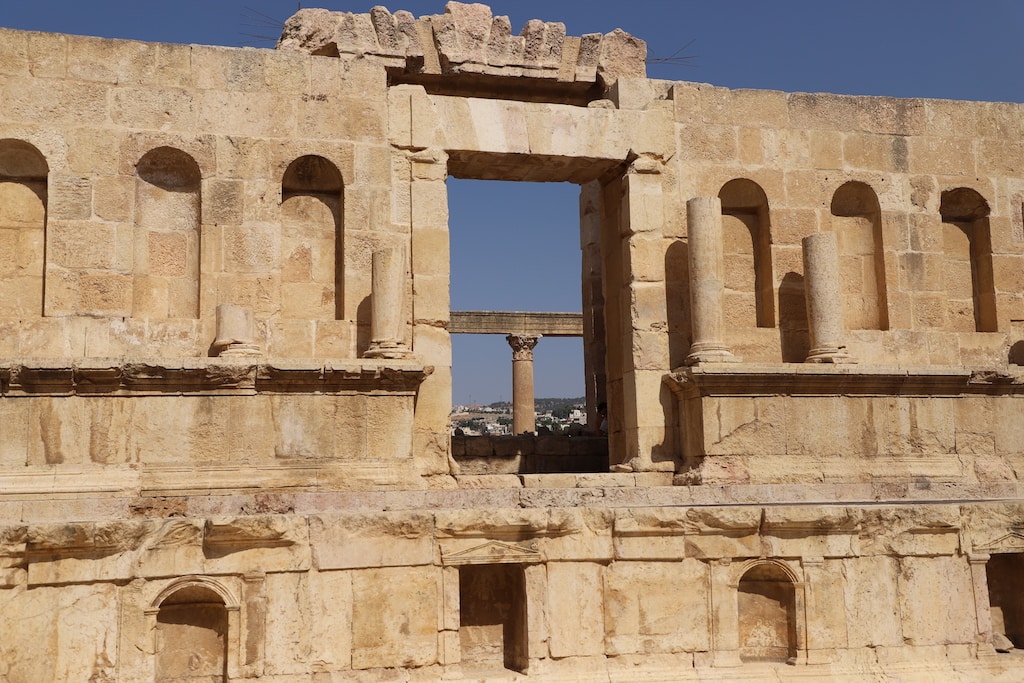 Northern Tetrapylon
It's believed the Northern Tetrapylon was designed as a gateway to the North Theatre. As impressive as it is, this type of structure was usually built as a landmark, leading the way to a more important building.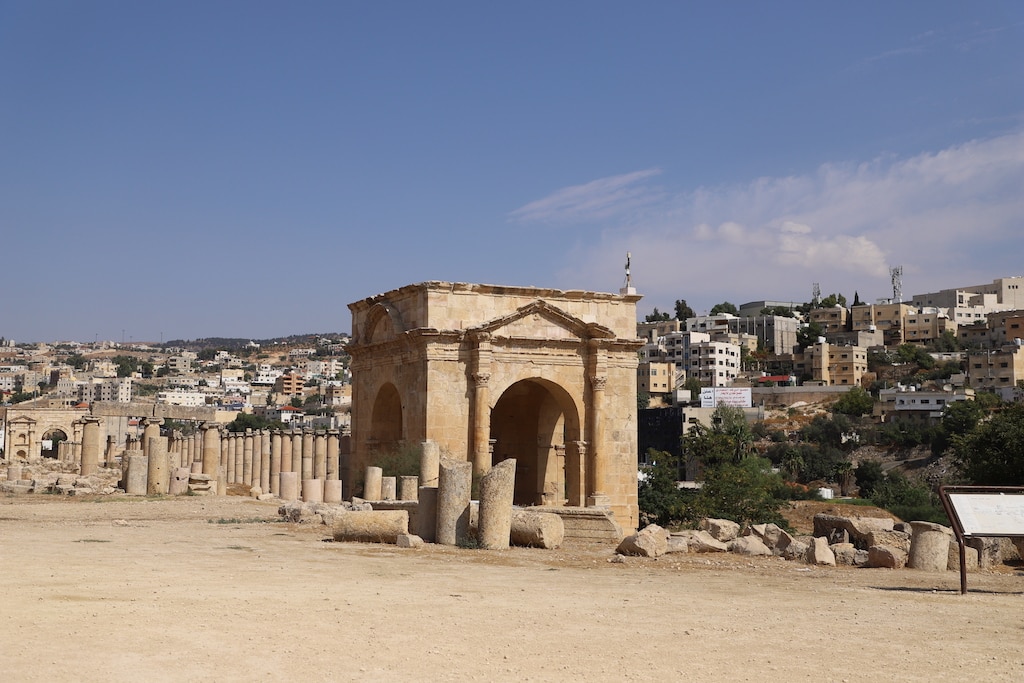 Western Baths of Jerash
The Western Baths were once a series of cold, warm, and hot baths, and an important part of social life during those times. People from all backgrounds would come to partake in the baths, to learn the news of the day, and sometimes enjoy performances.
In ruins since an earthquake in 749 AD, you can only get a glimpse of what was once such an essential part of living during this time in Jerash.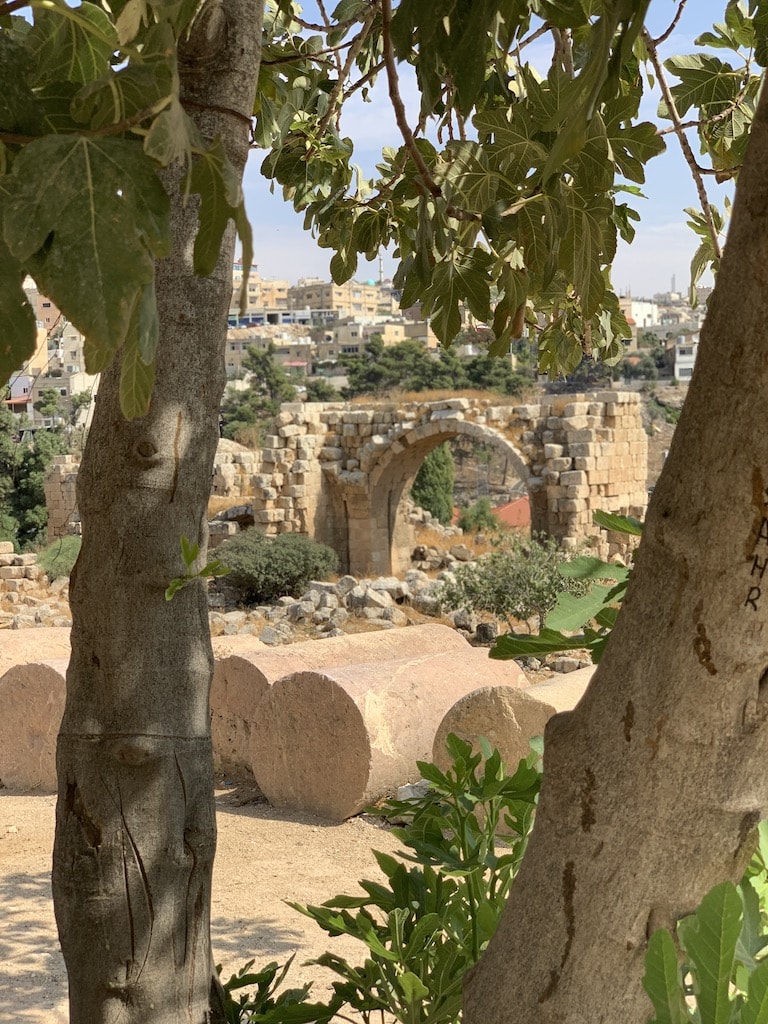 South Gate
This is where we ended our tour of the Jerash ruins. You'll likely be tired from the walking, especially if the weather is warm, but do look back at the South Gate. Isn't it beautiful?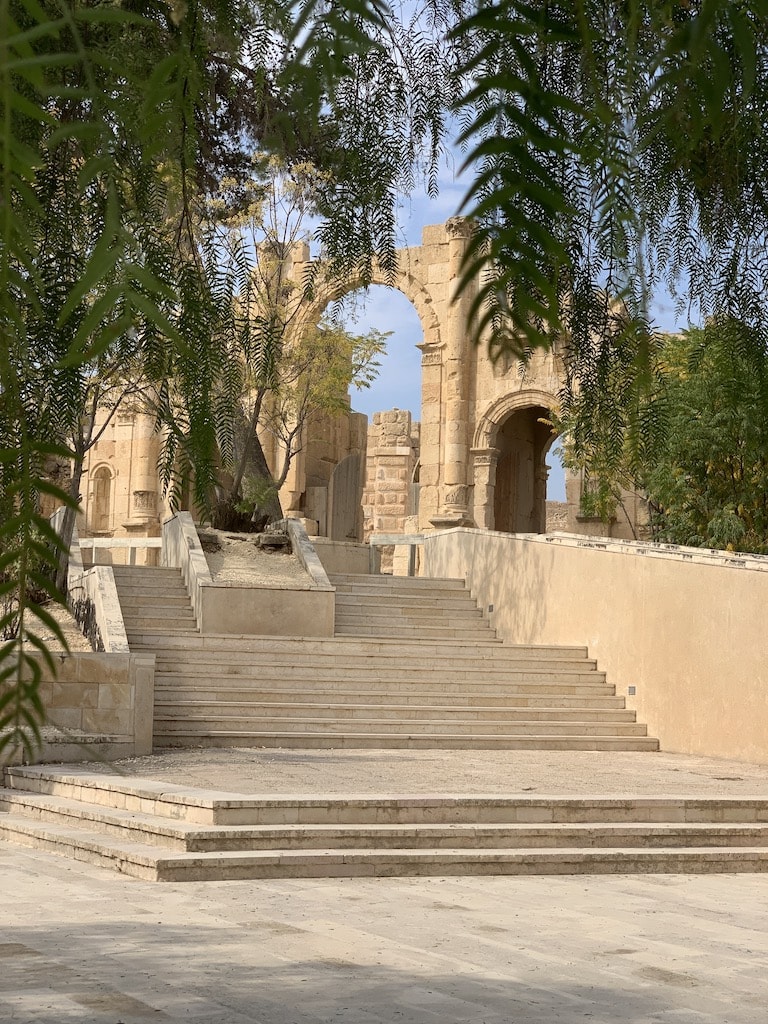 This had been a bucket list day already, and we were on our way to a fabulous lunch and back to Amman for more exploring.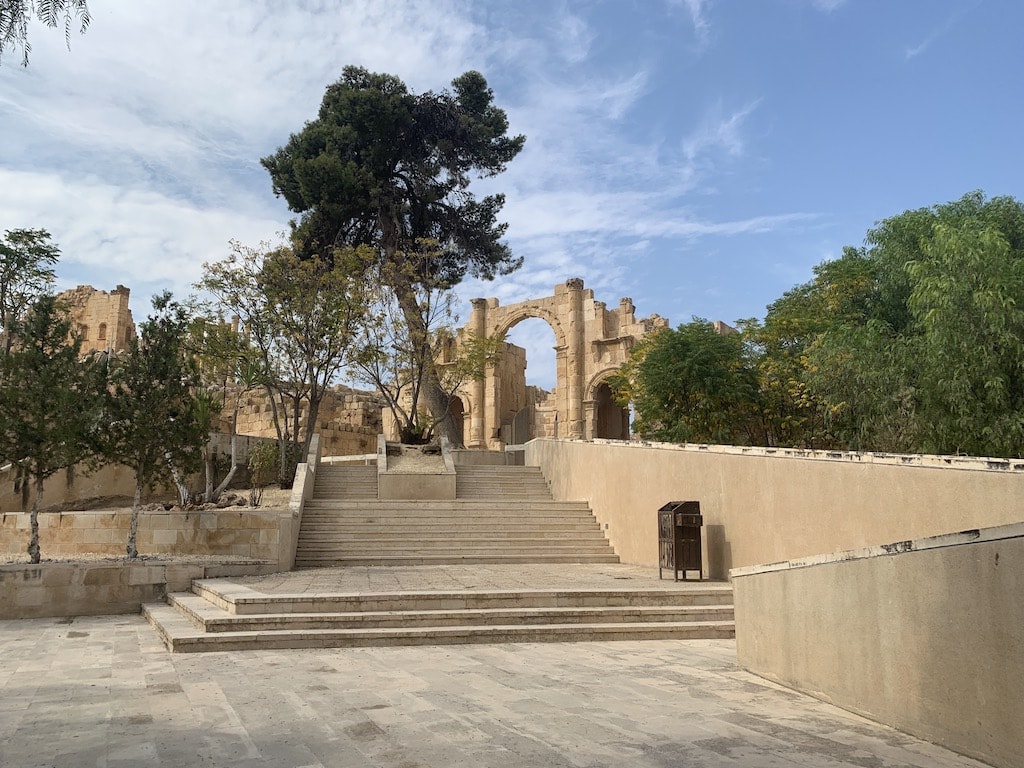 Hours of Jerash Ruins
The hours at the Jerash Antiquities Site do change with the seasons. The site always opens at 8 am, but the closing time varies.
The earliest closing time is 5 pm, so check ahead if you'd like to stay later. The site stays open as late as 8 pm beginning the middle of May until the end of August.
The fee to get into Jerash, including the museum, is currently 10 dinar. You can always check the Visit Jordan website for up-to-date fees for any historic site, museum, or natural reserve.
Souvenir Shopping in Ancient Jerash in Jordan
You will go through the ticket office when arriving at the Jerash ruins. This area also has refreshments and a shopping area. As I had just arrived in Jordan, I was excited to start buying souvenirs.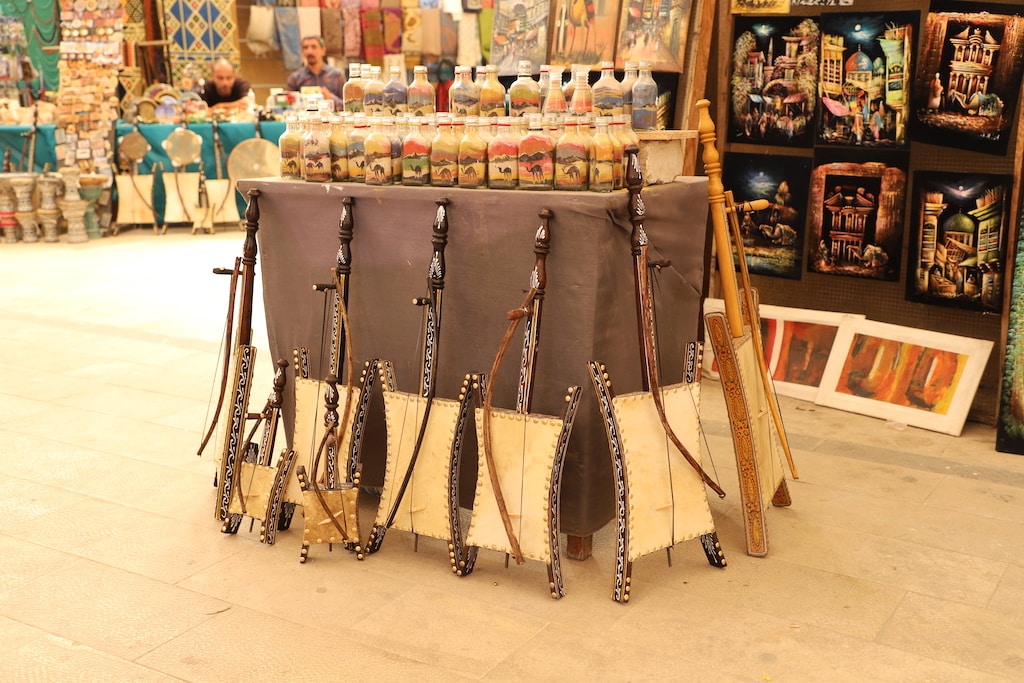 I bought a pretty scarf shortly after arriving. Many of the men working their kiosks were asking if they could put the scarf on our heads, with hopes that we would buy. I thought the price was great so was excited about my purchase.
As you weave your way through this area, prices drop. Remember, you can always go back and buy something if you don't see it at a lower price. More than likely you will save a little money if you wait.
I've read some accounts of people not liking the stalls being right there near the ruins, but we had a good time there and bought a few souvenirs. I always want to support the local businesses, too.
The merchants answered questions and knew we would try to haggle. I think everyone in our group who bought something thought the prices were fair.
Where to Eat in Jerash in Jordan
I was thrilled to find out we were planning to have lunch at Lebanese House as it was not only recommended in my Jordan book, but I had read on a couple of websites that it was the best food in Jerash.
The cold mezze was delicious, and when it's hot outside, a welcome treat.
Another benefit of eating at Lebanese House is that it's just a 10-minute walk from the ruins. This restaurant has been serving customers in this same spot since 1977, and you'll taste why.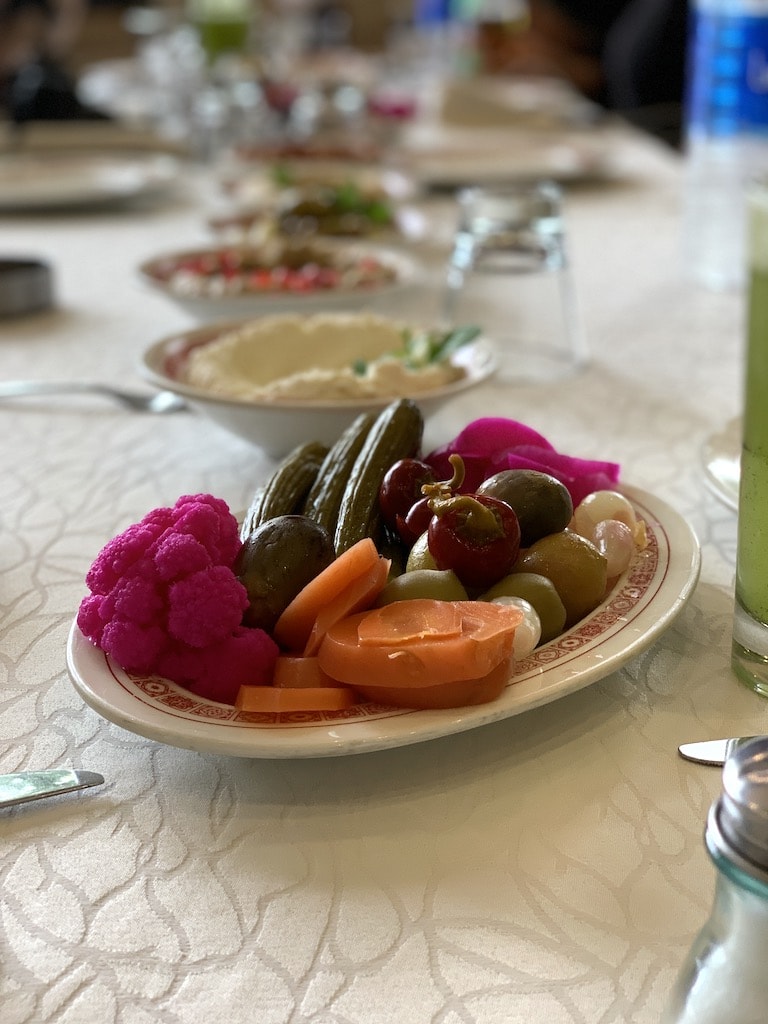 This is where I was introduced to Muhammara, one of the best dips I've ever tasted. Also referred to as Red Pepper Dip, it's sweet and smoky.
And just look at that fresh Tabbouleh. I decided to make an authentic Tabbouleh recipe after eating it in Jordan, and it's so delicious.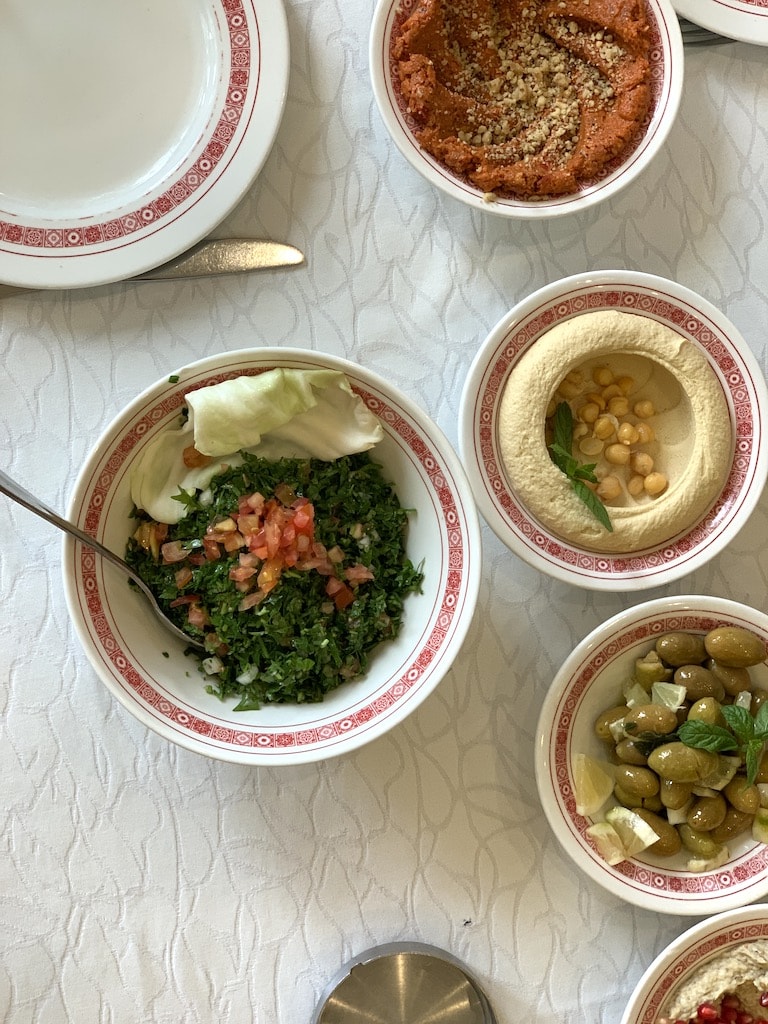 The freshly baked bread is heavenly for scooping up the wonderful dips.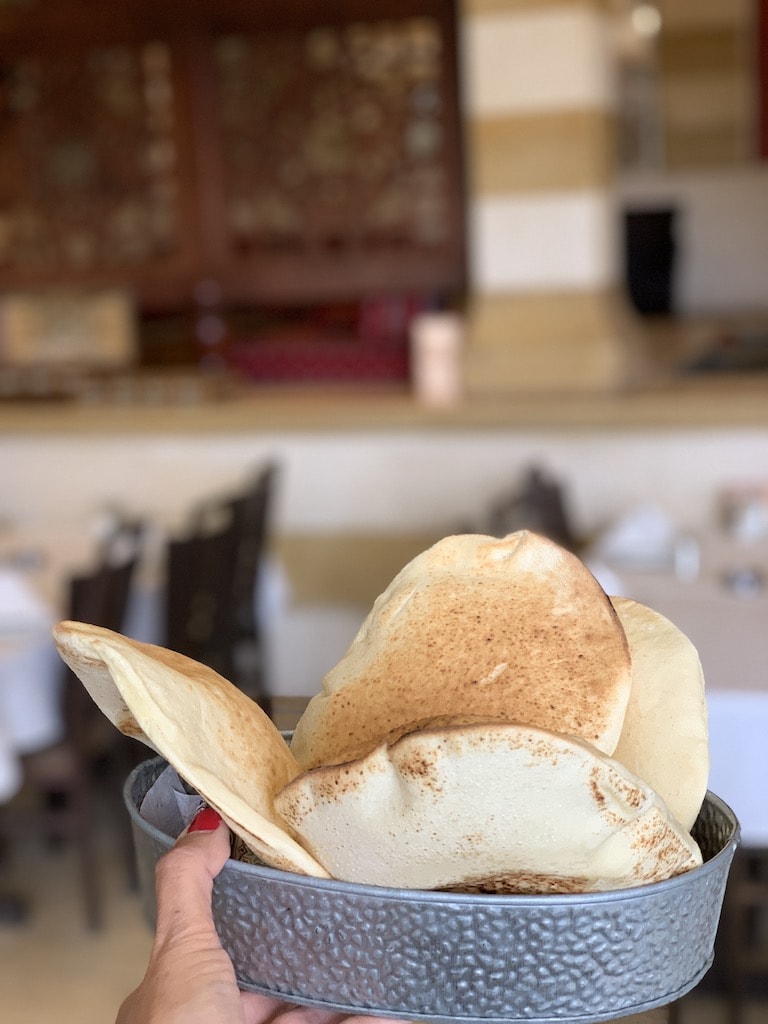 If you can't decide what to order, there's a preset menu. If you want to taste my favorite things on the menu, order the Tabbouleh, Homos (hummus) and Motabbal from the cold meze menu.
I also really enjoyed the Goat Labneh and Fried Kubbeh, as well as the Falafel. You really can't go wrong with anything on the menu.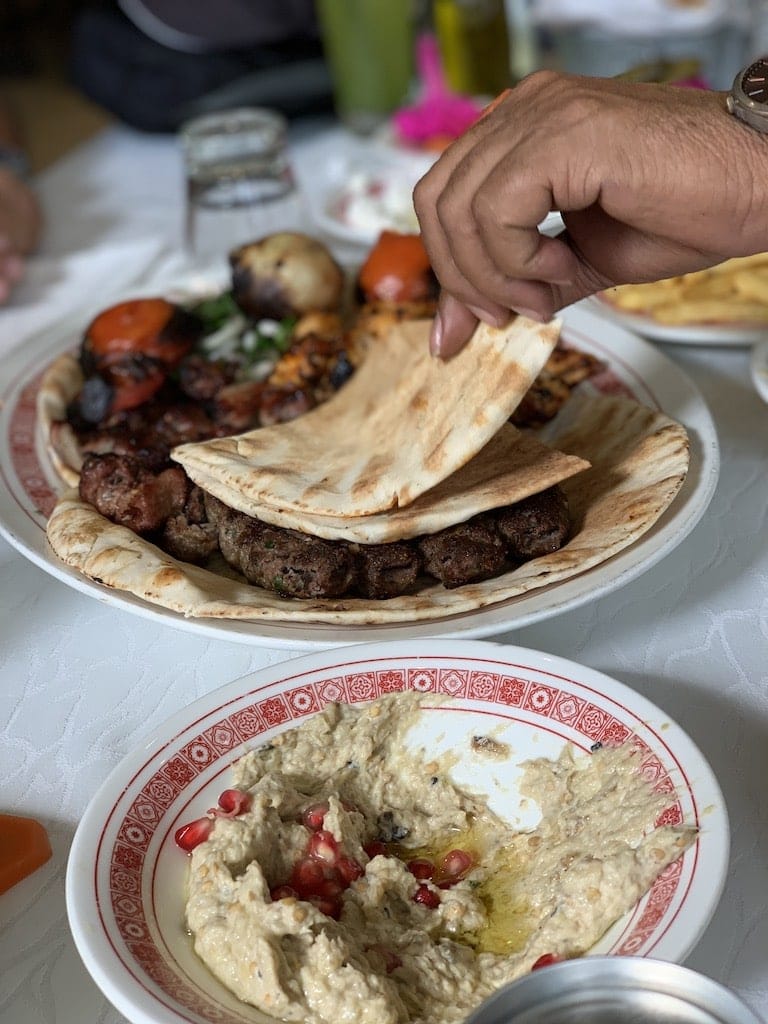 Save room for a light dessert.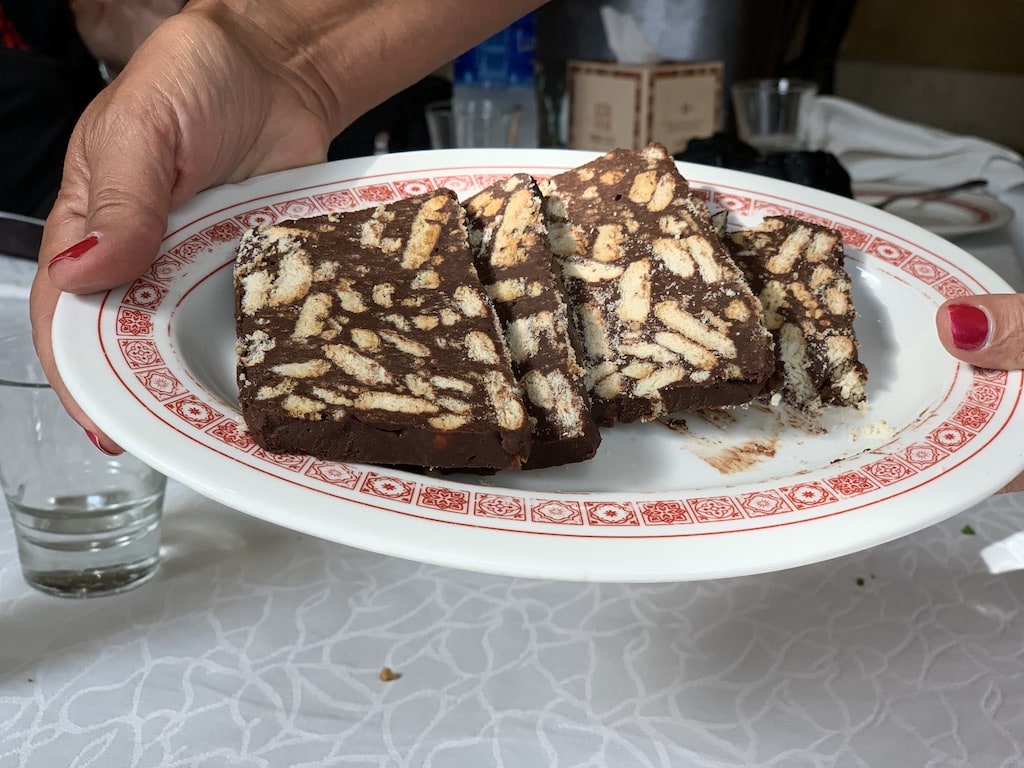 When to Visit Jordan
I don't think there is a bad time of year to visit Jerash in Jordan. January is the coolest month, but even then you are looking at temperatures in the 50s during the day on average, though it is cold at night, in the 30s.
In July, the average high is 88 and the average low is 67. Depending on the kind of weather you enjoy most, you can choose your favorite time of year to visit.
How to Get to Jerash
Jerash is only 50 km from Amman, and road signs are frequent. You can also take a bus from Amman from the North Bus Station. Once dropped off, you'll have a walk of about 15 minutes to the ruins. Be sure to check the schedule for return times.
You can also take a private taxi to Jerash from Amman, with prices around $28 US. If you'd like to have a guide, you can also book a tour that includes transportation. Prices average about $120 US.
Again, you won't find a better guide or transportation than the gentlemen we hired, so reach out for information well in advance of your trip and I'll let them know to look for your email.
Books About the Ruins of Jerash in Jordan
You'll be able to pick up books while you're in Jordan. Tourism is obviously important to this country, and we saw books at several small convenience stores as well as at some of the historic sites.
I liked having my book ahead of time, so I could read up on where we were going and take the book with me for the long flight. I went to the bookstore and browsed through every book they had before deciding on Lonely Planet's Jordan. It comes with access to an eBook, as well, if you'd rather not carry the book.
Have you been to Jerash in Jordan yet? Please share if you've been and saw something I missed. I'd love to go back!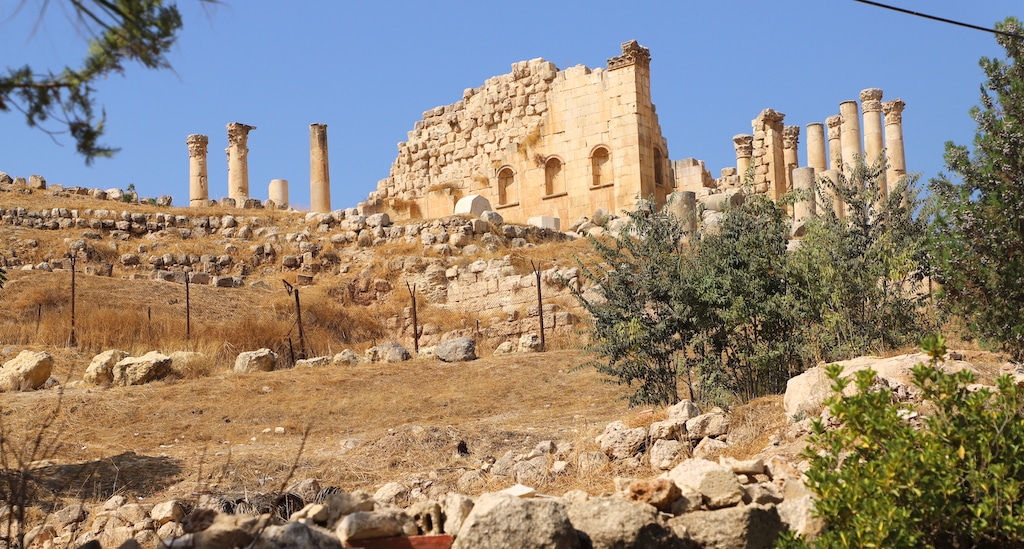 Like our content? Follow us on Pinterest!