Being able to get some rest at this convenient Jakarta Airport hotel shortly after I arrived in Indonesia was a lifesaver. The flight to Indonesia was the longest flight I had ever taken up to that point in my travels.
If you've ever traveled that far, you know how important it is to get a good night's rest once you arrive. Fortunately, my host, The Ministry of Tourism, Republic of Indonesia, knew I would be exhausted.
The Swiss-Belhotel Airport is pretty fabulous, especially after a 27-hour flight from Florida to Indonesia. The first thing I thought about when arriving was sleep, and I slept so well.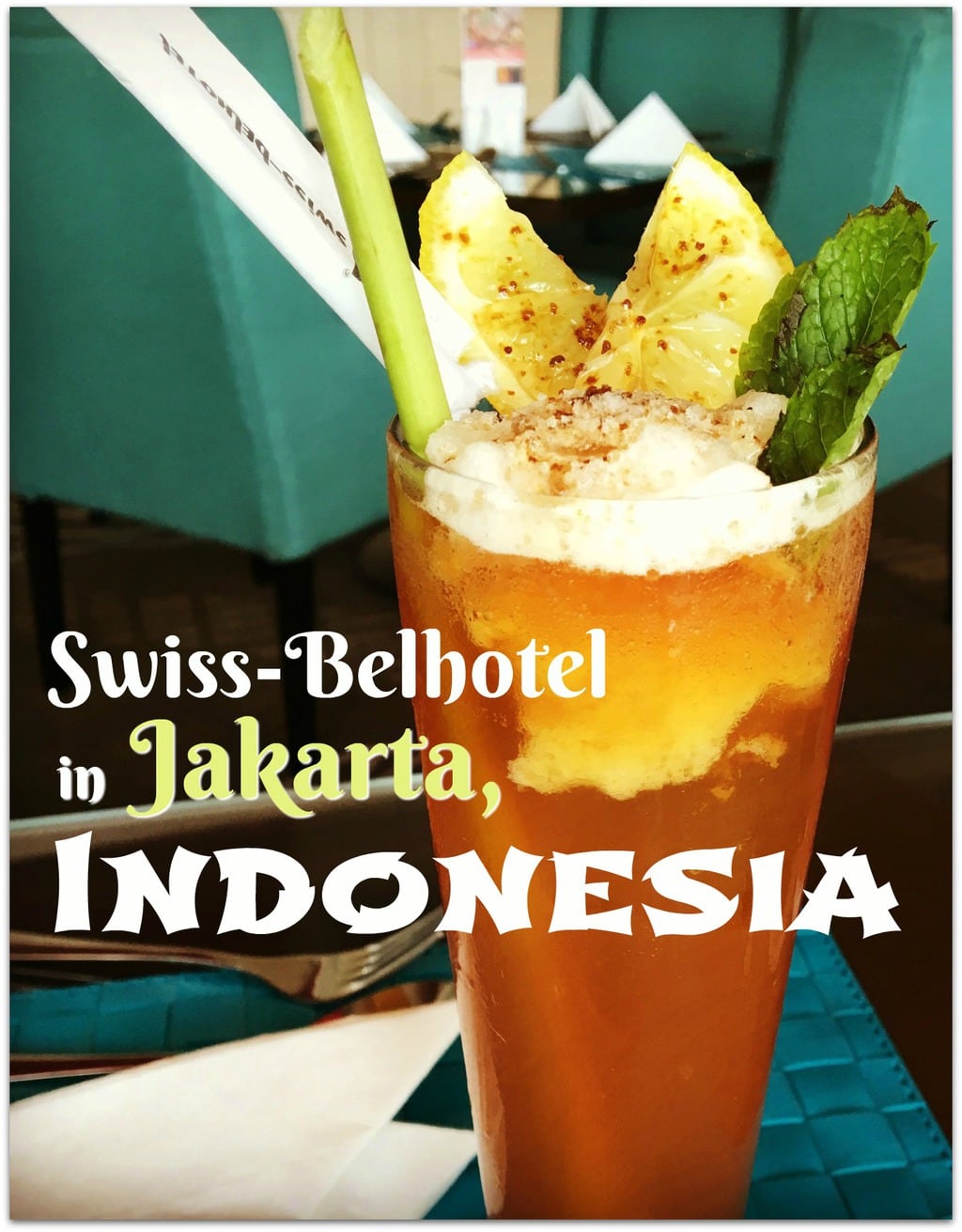 I was beyond exhausted when we landed shortly after midnight. After going through customs and waiting for a friend in our group, I desperately needed rest!
Not knowing how long it would be until I could close my eyes for more than a few minutes, I was thrilled to see we were at this Jakarta Airport hotel, Swiss-Belhotel, within about ten minutes.
Lovely Jakarta Airport Hotel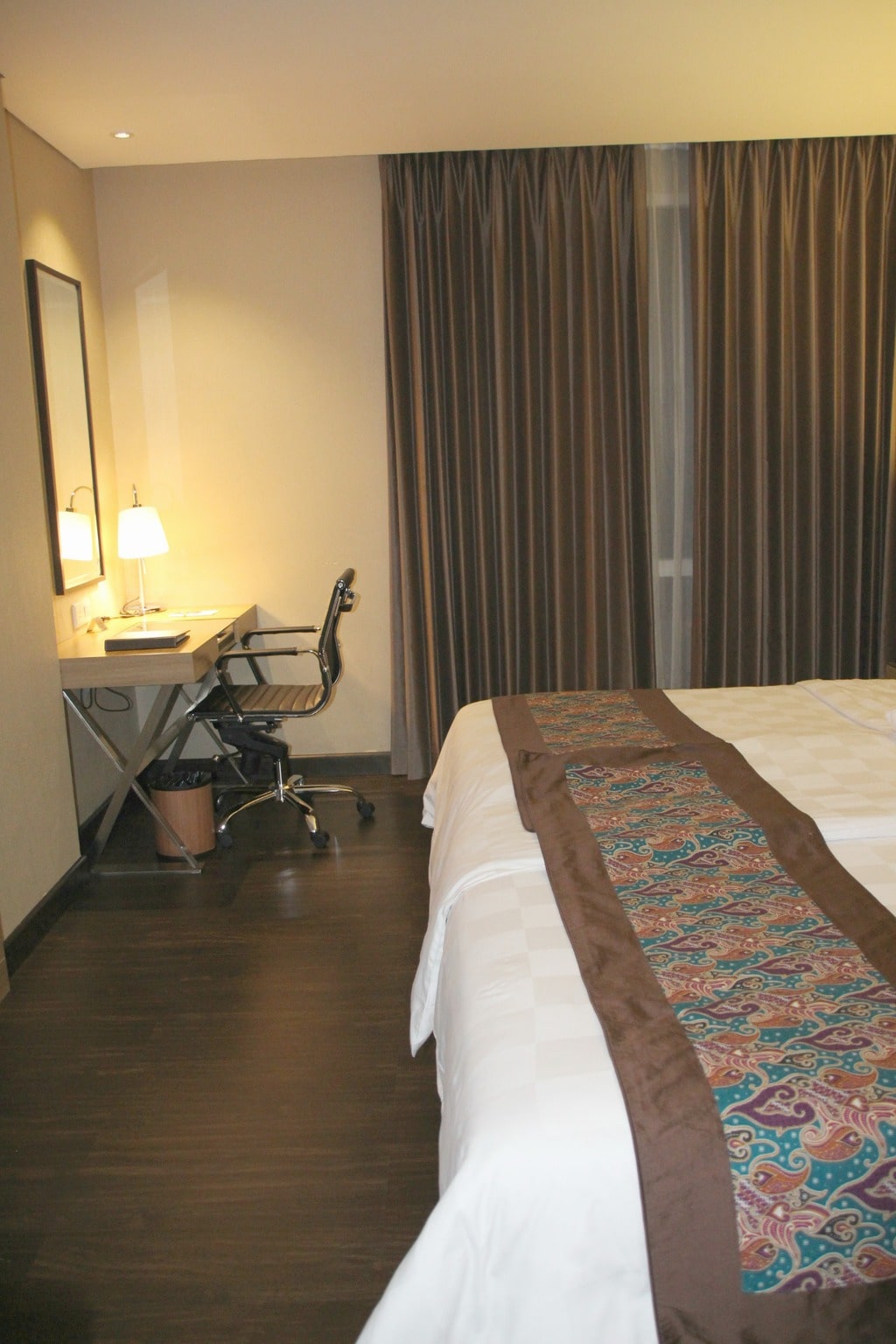 I usually avoid airport hotels. Not only do the planes keep me up at night, but the hotels close to the airport often focus on the convenience and not much else. This was not the case with the Swiss-Belhotel in Jakarta.
The staff could not have been more kind, even at almost 2 in the morning. We were checked in quickly and shown to our rooms. That the room was lovely, spacious, and cool was a bonus.
I thought about seeing if there were any urgent emails when I saw the desk, but once I was ready for bed I collapsed until 10:30 the next morning. A perfect eight hours and I was ready for the day! If you are flying into Jakarta, the Swiss-Belhotel is your perfect first stop.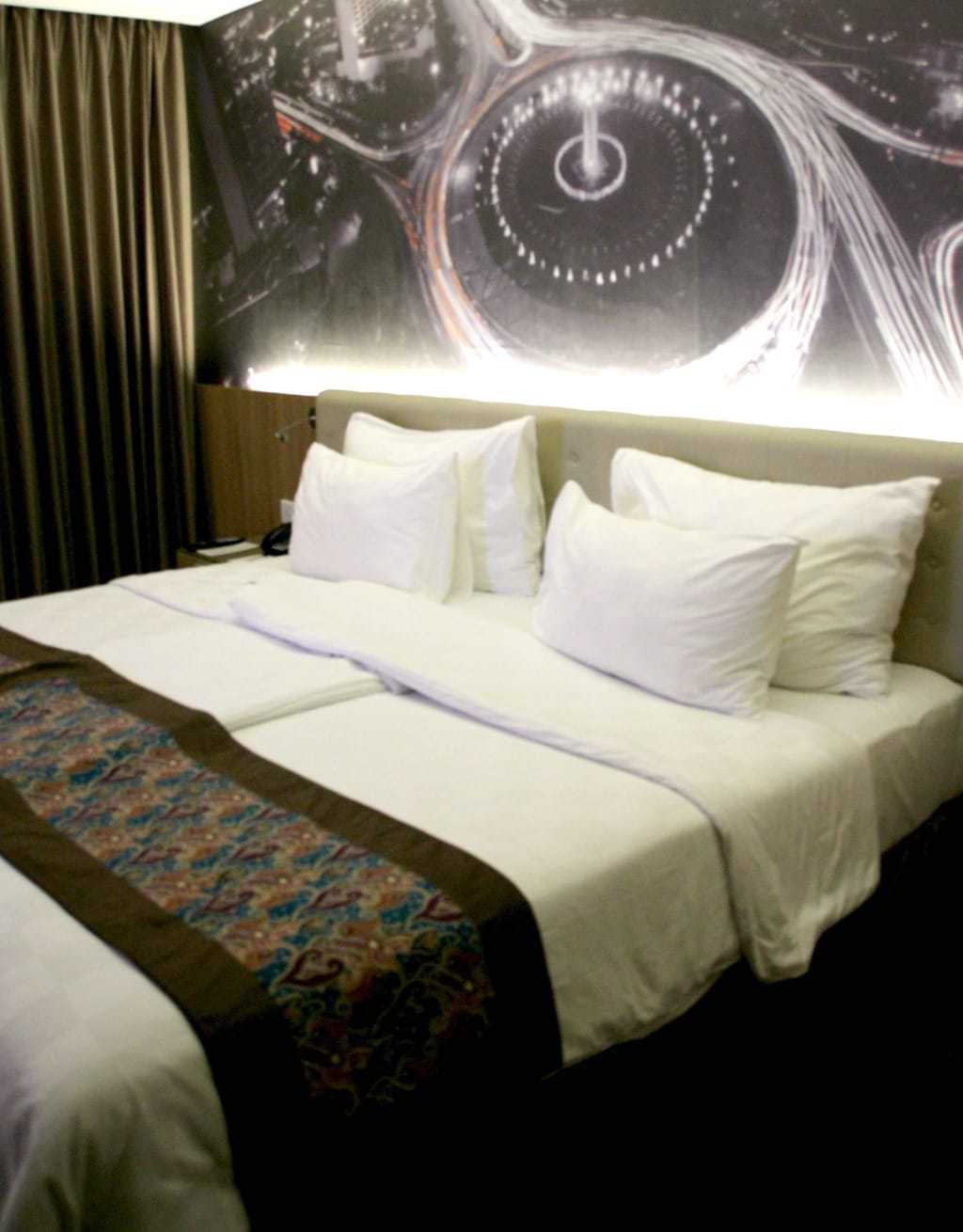 My bed was a king and so comfortable. The hotel is very quiet, which was surprising as it's minutes from the airport. The bathroom was large and toiletries were provided as well as a few extras like toothbrushes, a sewing kit, and a vanity set. Complimentary bottles of water were on the nightstand.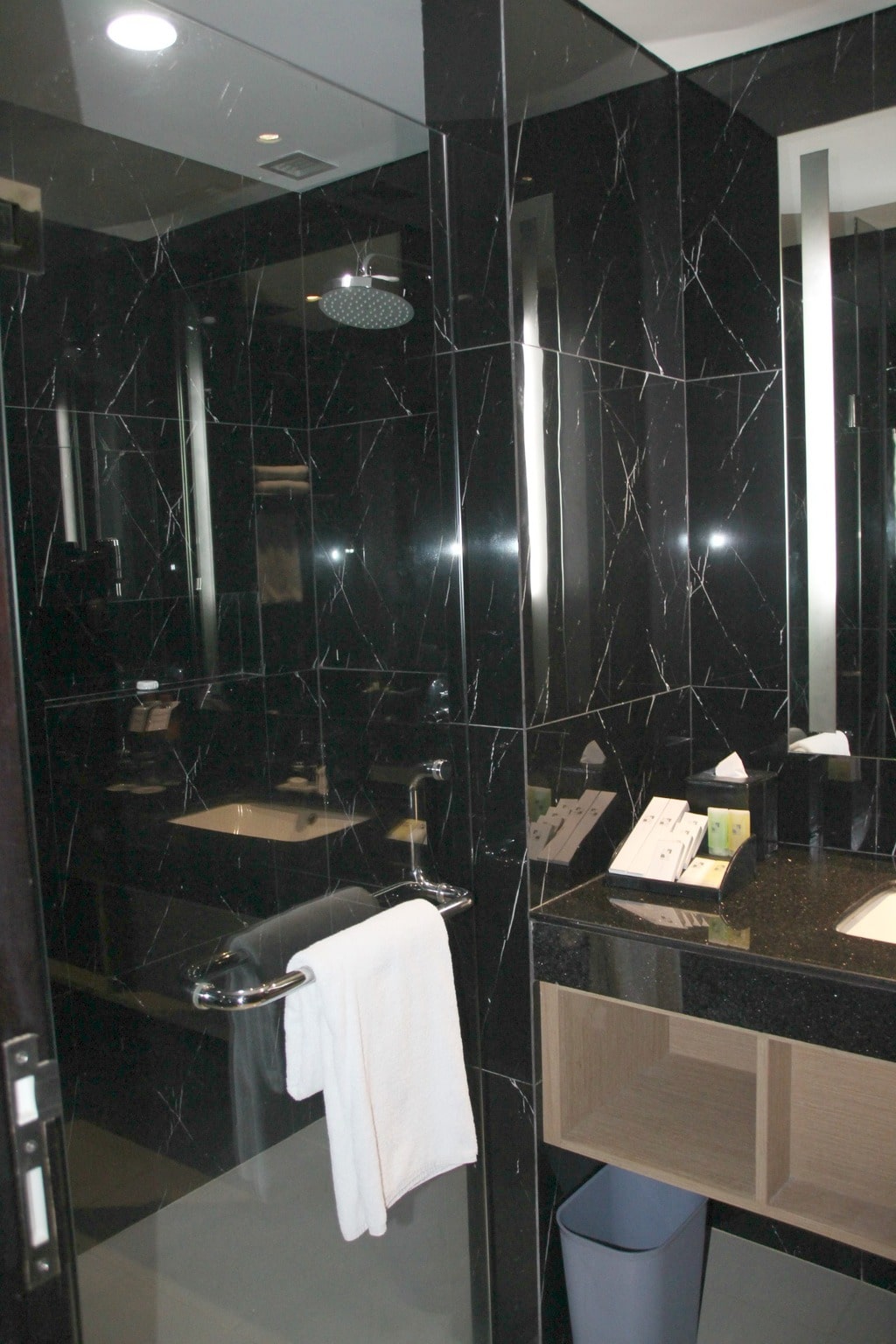 I brought an electrical adapter but didn't need it. Swiss-Belhotel is prepared for international guests. English was not a problem, either. Not everyone speaks it, but there is always someone close by who does.
I took a walk in the morning before lunch. The pool looked inviting, but there would not be time this visit.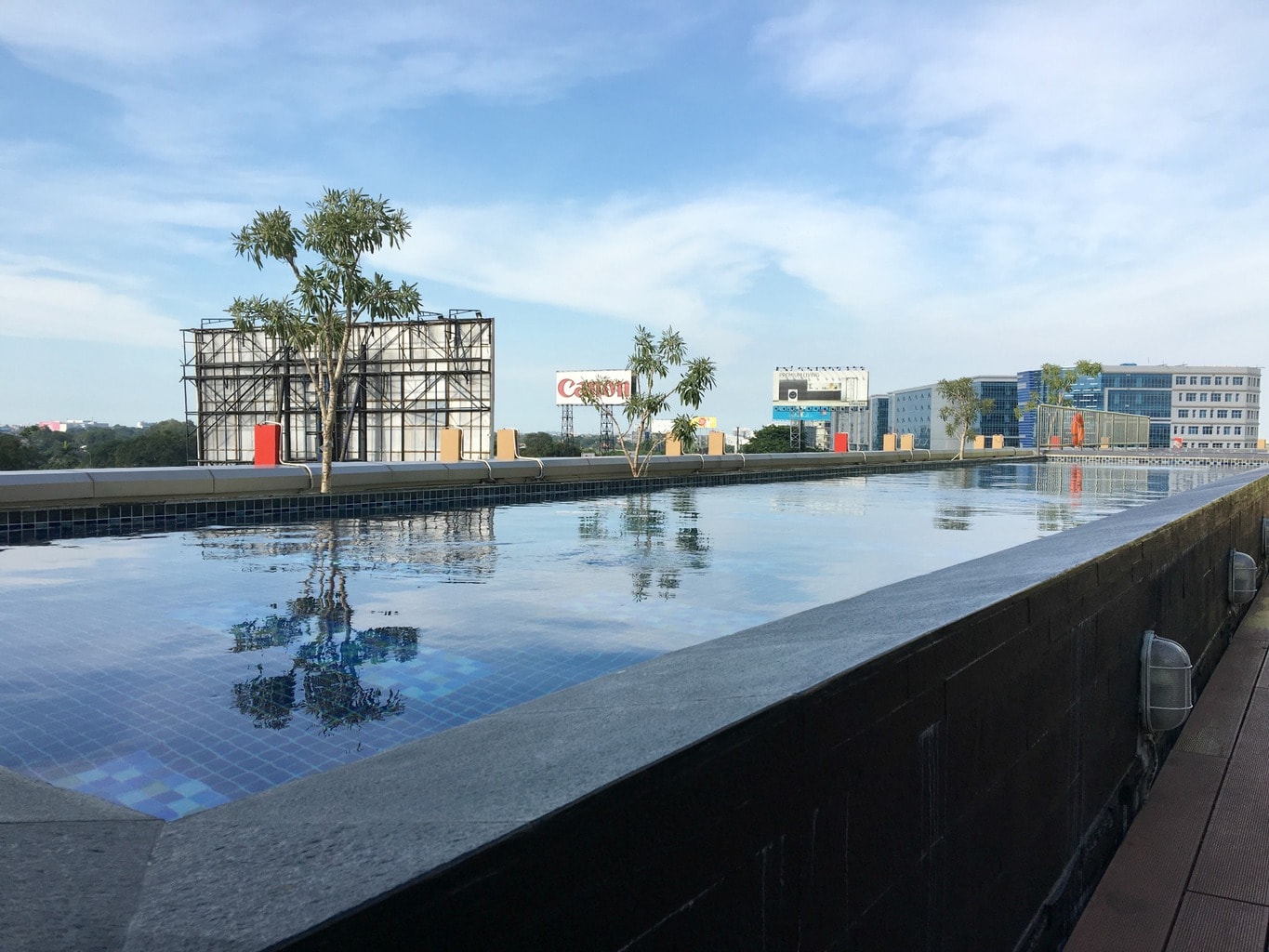 We had lunch at the hotel restaurant, the Swiss-Café, where they also have an extensive selection of wine and beer. I ordered the Chef's Special, and it was fantastic. Shrimp, curry chicken, steak, fermented crispy beans, along with rice and egg, every bite was delicious. The serving was pretty large for me, so I passed the plate around and everyone agreed it was amazing.
I was told I would be eating a lot of seafood, chicken, and rice with every meal, and couldn't have been happier with that menu! Looking at this drink one of my friends ordered, I really wish I had ordered one! If you are a foodie, you will fall in love with Indonesia!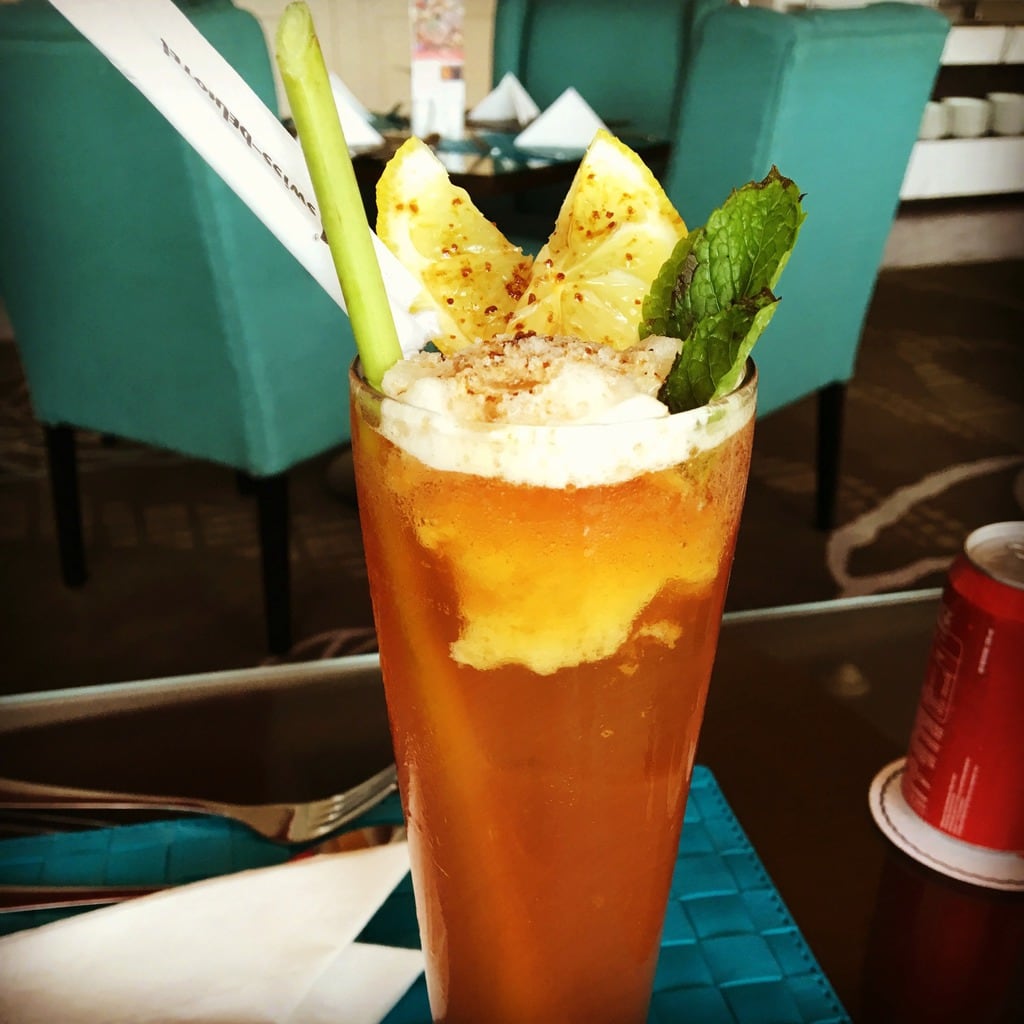 We were moving on to Bandung where we learned to play traditional Indonesian games, but I thoroughly enjoyed my short stay at this wonderful Jakarta Airport hotel! Getting a good night's rest will make all the difference in your journey, whether in Indonesia or other parts of the world. Luckily, there are many locations of Swiss-Belhotels.
If you are traveling to Indonesia, it can be a very long flight, depending on where you're coming from, of course. For me, it was about 27 hours! Be sure you're prepared with this list of what to take on a plane for a long flight.
Do you dream of visiting Indonesia? I fell in love with the country and the people and hope to go back one day. Check out these other posts about my trip.
And if you are a foodie, you'll love these Indonesian Food Recipes for Dinner including this Indonesian Gado Gado Recipe. You might also want to check out these Indonesian Snacks as well as these delicious Indonesian Desserts.