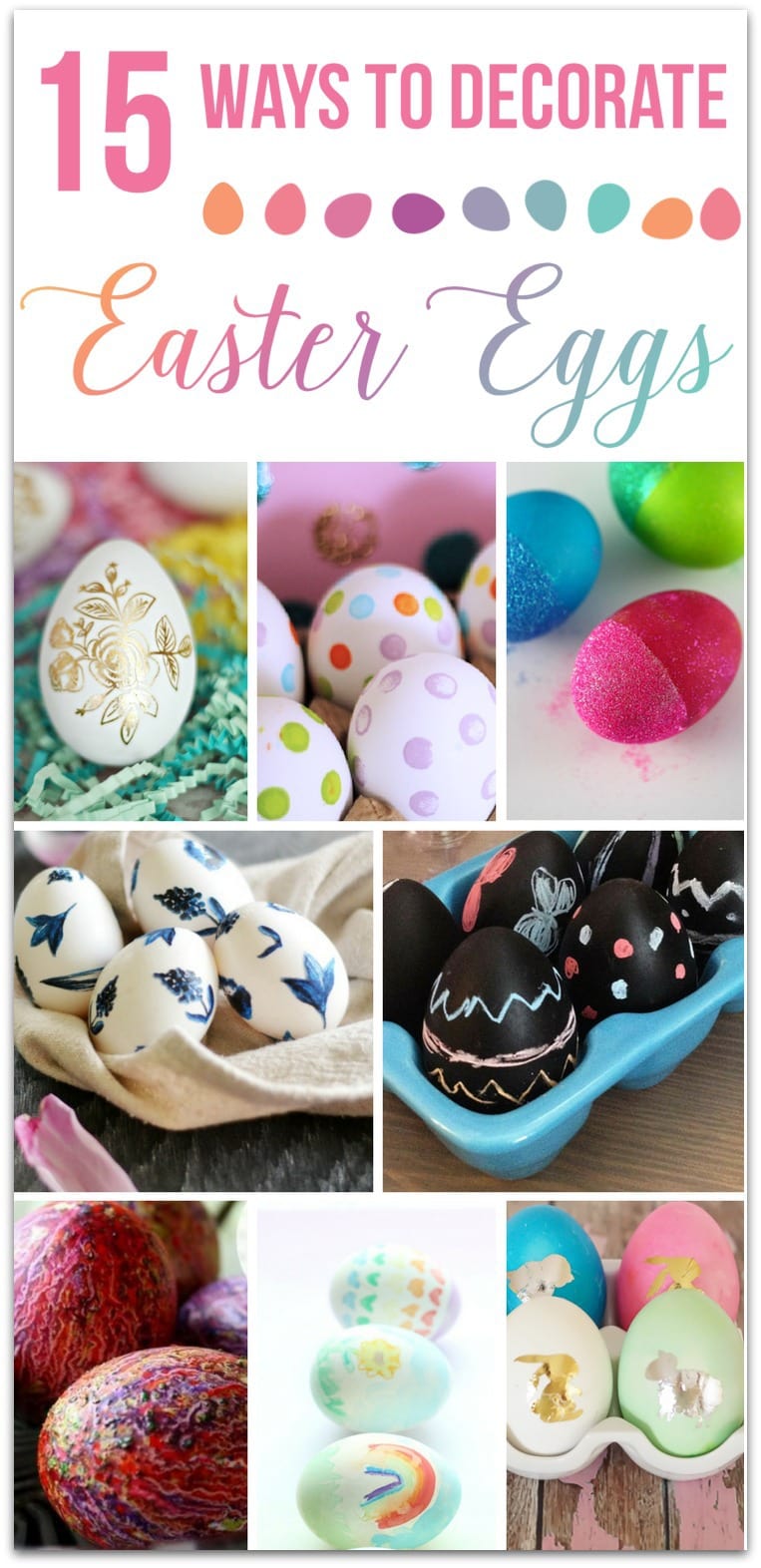 How many ways can you think of for Easter Egg decorating? I think no matter how old my kids are, they will always think about decorating eggs when Easter rolls around.
Since they were old enough to understand, we have been setting up the little bowls of dye, trying new techniques every year, and placing the dyed eggs in a basket on Easter morning for them to find with the chocolate bunny and Peeps. Since they were old enough to walk, we've been hiding eggs for them to find. In fact, they would often have two hunts because my dad always wanted to hide plastic eggs with coins in them for the kids to find before dinner. My girls have such fond memories of those times.
Isn't it crazy that the first eggs were decorated back in the thirteenth century and we're still doing it today? Even crazier, the Easter Bunny symbol of the holiday was brought to the US from Germany, where they had stories of an egg-laying hare. You may not find any reference to Easter eggs or bunnies in the Bible, but the egg symbolizes new life, and new life is what the Bible is all about. I hope you and your family have a wonderful, wonder-filled Easter.
Best Ideas for Easter Egg Decorating
1. Happiness is Homemade - Marbled Easter Eggs
2. Frugal Mom Eh - Glitter Dipped Easter Eggs
3. Simply Designing - Foil Easter Eggs
4. Sugar Spice and Glitter - Chalkboard Easter Eggs
5. DIY Candy - Easter Egg Gold Foil Tattoos
6. The Jenny Evolution - Natural Easter Egg Dye Recipes
7. Family Food and Travel - Silk Tie Easter Eggs
8. A Grande Life - Easter Eggs with Kool Aid
9. The Girl Creative - Painted Polka Dot Easter Eggs
10.The Joys of Boys - Tie Dye Easter Eggs
11. My Frugal Adventures - Watercolor Easter Eggs
12. Gym Craft Laundry - Lego Ninjago Easter Eggs
13. Red Ted Art - Dyed Easter Eggs
14. Parenting Chaos - Hot Crayon Easter Eggs
15. Today's Creative Life - Easter Eggs Designs
Looking for recipes for your Easter celebration? These adorable Bunny Butt Cupcakes will make the perfect centerpiece! I also have 10 recipes for Easter cupcakes, and 15 fun Easter crafts for the kids.
Do you have special traditions for celebrating Easter? Share in the comments!