Looking for the most adorable easy Easter desserts? You've just found them! Any of these recipes would be beautiful on your dinner table on Easter.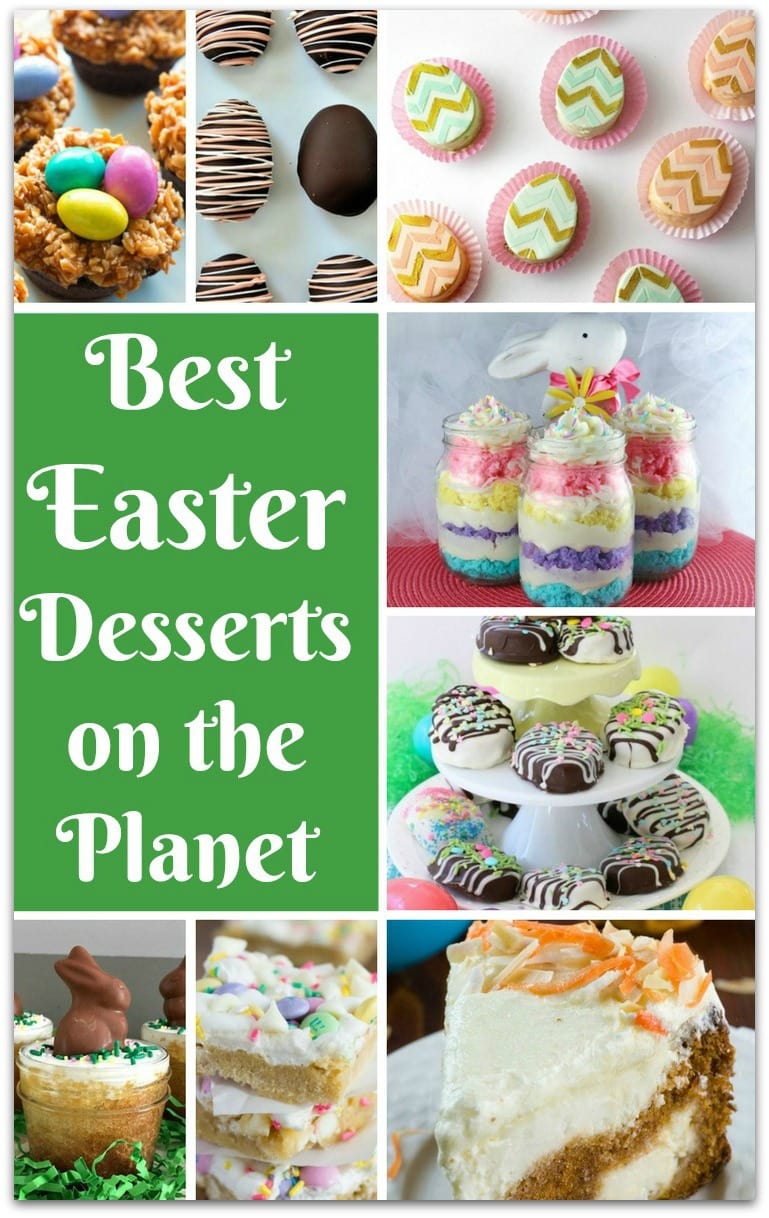 Most holidays have a starring dish that everyone is familiar with; turkey for Thanksgiving, ham for Christmas, and champagne for New Year's Eve. Easter, however, is a bit different.
The traditional Easter meal may consist of either ham, lamb, or chicken. We have always had a big ham (leftovers!), potato salad, and deviled eggs.
My mom made the best potato salad ever, and I think I'm pretty close to matching it after many years of trying! I have the deviled eggs down pat, and the ham is easy. Yum! I can almost smell that ham in the oven now!
The Easter holiday has never had a particular dessert associated with it. At least not in my home as I was growing up. Do you remember something special your family served? 
No matter the main dish you have for your Easter family dinner, it's often the dessert that people most look forward to eating. These easy Easter dessert recipes will end your Easter meal on a sweet, happy, delicious note, and you have 20 fantastic recipes to choose from below. Enjoy!
Best Easy Easter Desserts on the Planet
Easter Bunny Cupcakes | Food, Fun & Faraway Places
Aren't these so cute? And you can purchase the little bunny butts to make this an easy Easter dessert.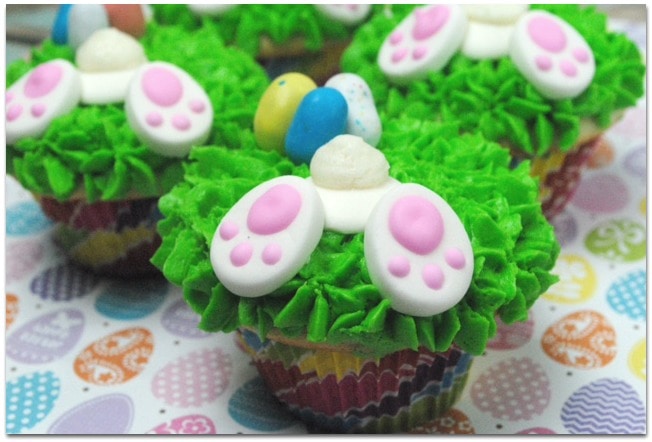 Easter Dirt Cake | Lil' Luna
Kids just love dirt cake, and making it an Easter dessert is pretty brilliant!
Easy Rice Krispies Pops |  Passports & Parenting
You just can't go wrong with Rice Krispies Pops! I'm thinking this would be good for all kinds of holidays by just switching up the colors!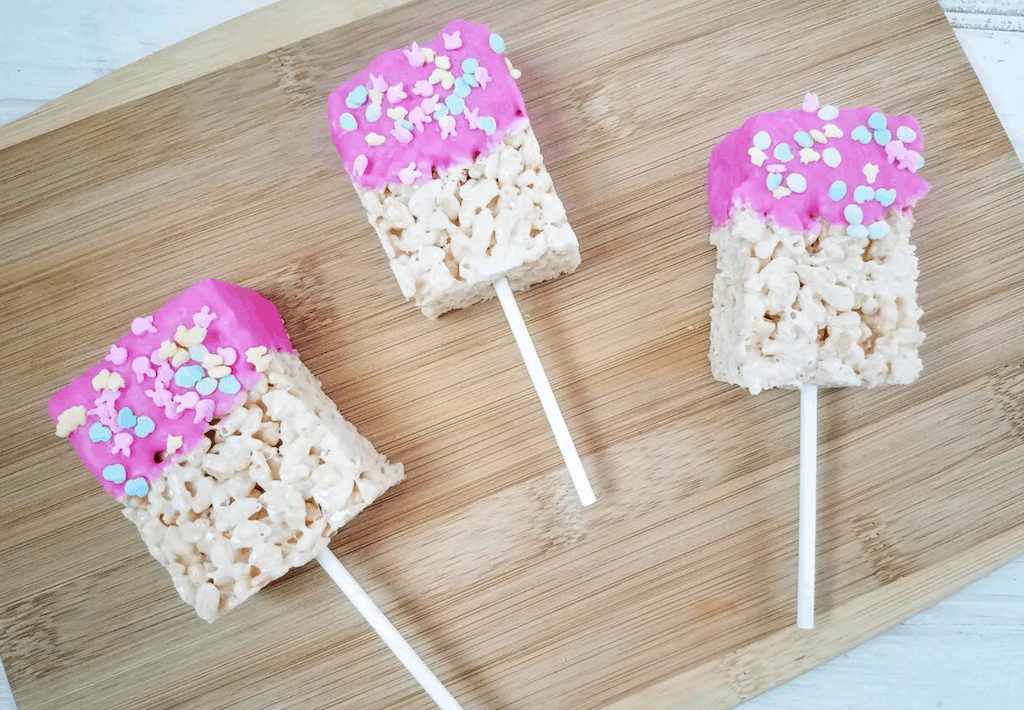 Soft Peanut Butter Cookies | Inspired by Charm
I know you wouldn't typically think of peanut butter cookies as an Easter dessert, but did you see these cookies? The pastel colors make them a perfect treat to add to an Easter basket!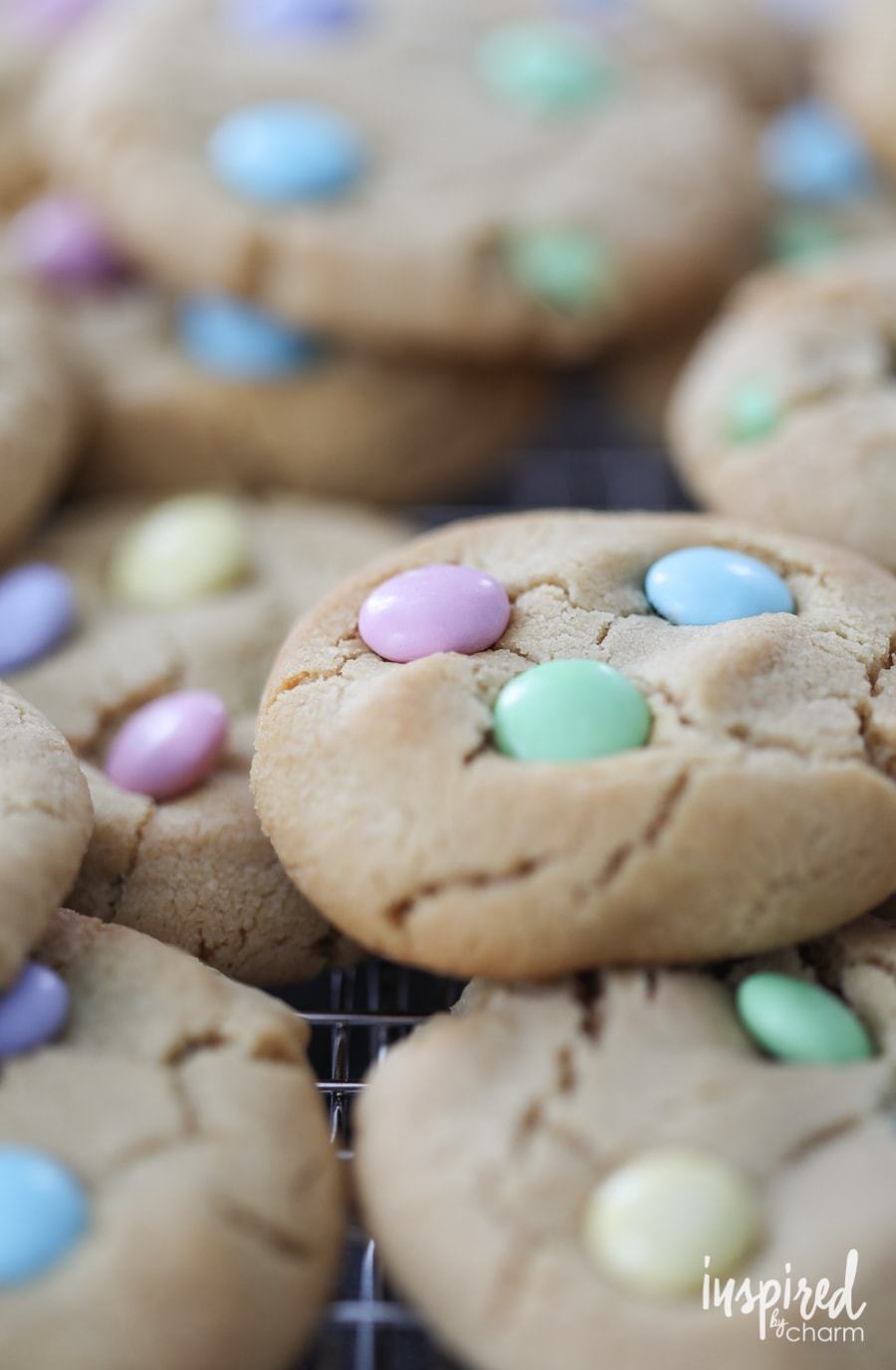 Rice Krispie Nests | Crafty Morning
Spring and Easter have always been a good pairing. After all, Easter is all about new beginnings. I'm so grateful for that!
Rice Krispie Nests | Crayons and Cravings
These are no-bake! Yay for easy and so adorable!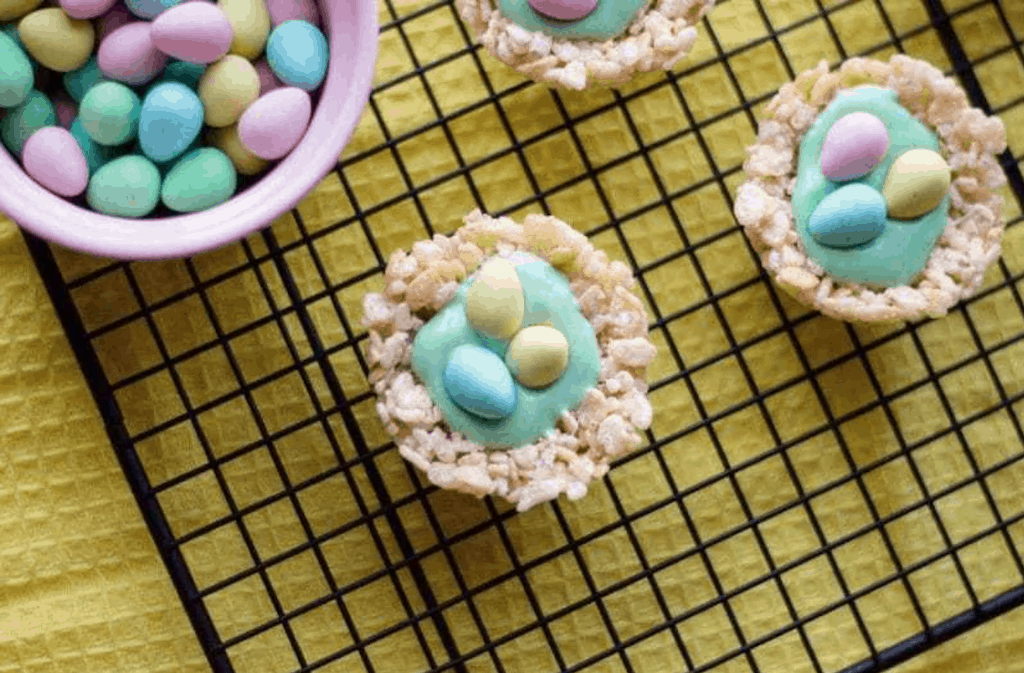 Easter Muddy Buddies | Frugal Mom Eh!
Though this treat would be pretty right on a table in a bowl, I think it would be really cute in one of those carrot baggies and placed right in an Easter basket.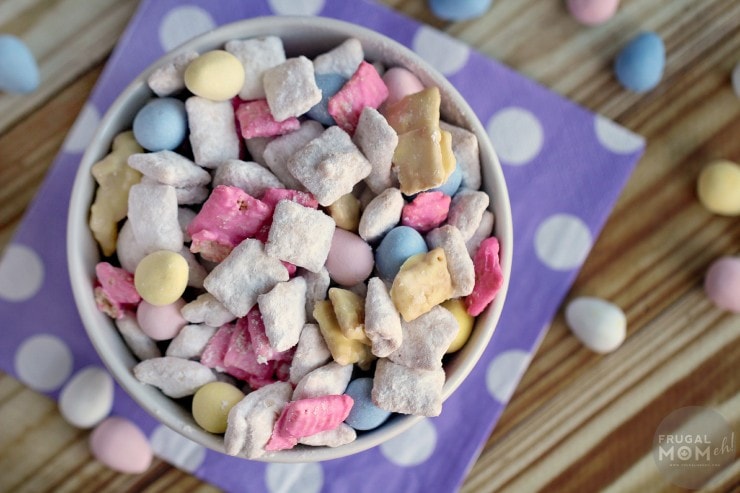 Bunny Cupcake in a Mason Jar | Freebie Finding Mom
I love any dessert in a mason jar, and this one is really cute!
Easter Bunny Cut Out Cookies |  The Flying Couponer
These cookies are so much fun and so easy to make, you'll want to make them all the time! Get the kids to help and make some to share!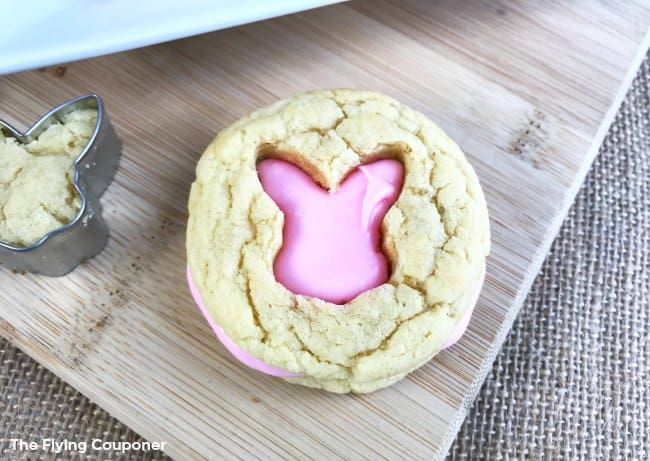 Confetti Bars | Chelsea's Messy Apron
This colorful dessert tastes delicious and will brighten up any Easter table!
Spring Mini Bundt Cakes | A Day in Candiland
Adorable and delicious! You can't find a cuter springtime treat than these little bird nest bundt cakes! Easy to make too!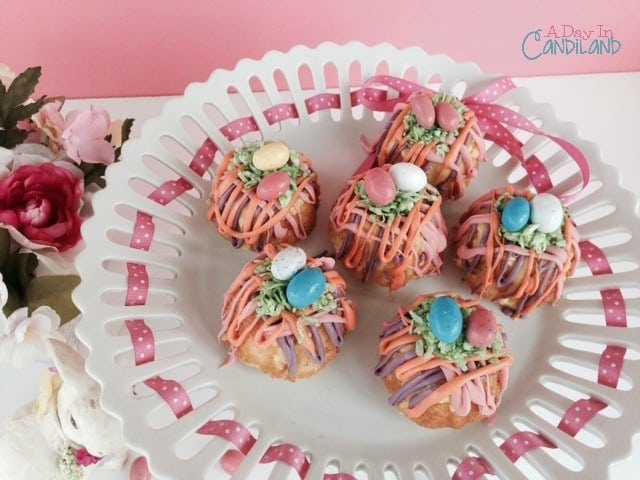 Carrot Cake Cheesecake | Oh My Goodness Chocolate Desserts
Every blogger will tell you there are a few sites they personally love. This is one of mine! Every dessert on this site is to die for!
Instant Pot Chocolate Custard for Easter | Spices N Flavors

An easy recipe using everyone's favorite new kitchen appliance to make a creamy and delicious custard just in time for Easter!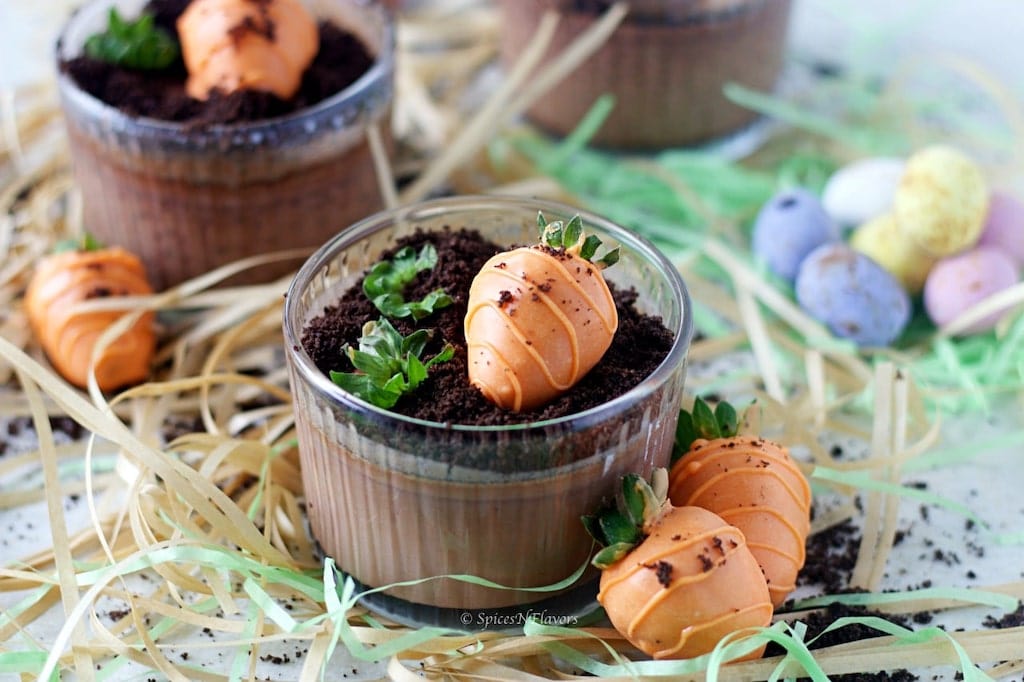 Easter Bunny Cake Cupcakes | Food, Fun & Faraway Places
More bunny butts! I personally think the first one (on the grass) would be cuter in an Easter basket, but this one is really precious, too.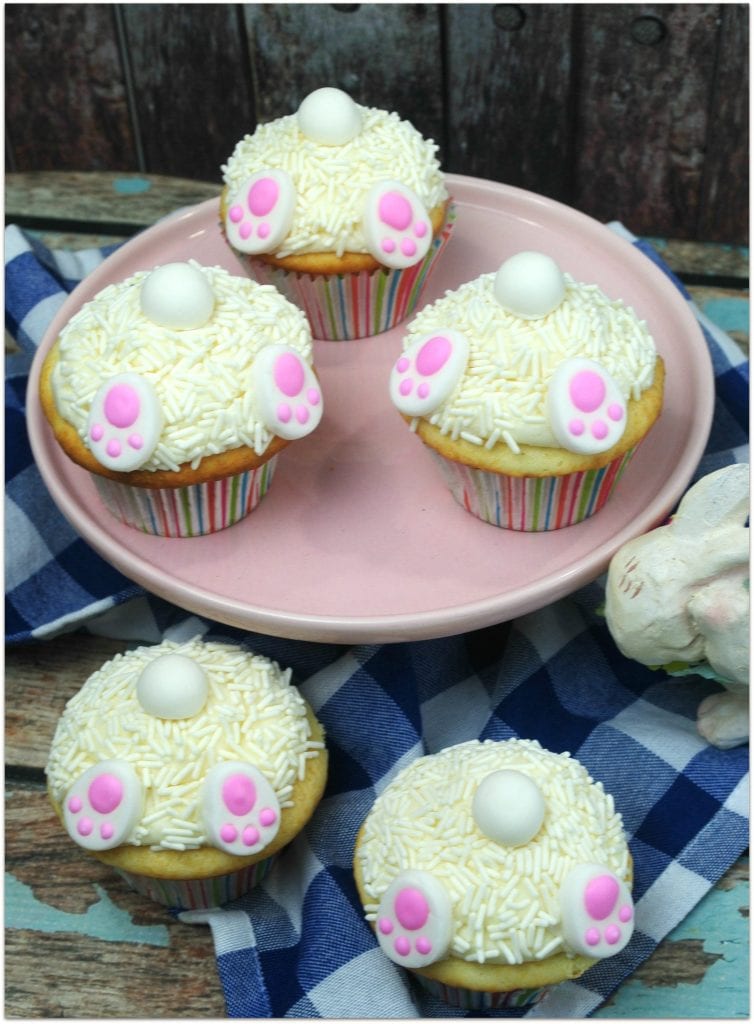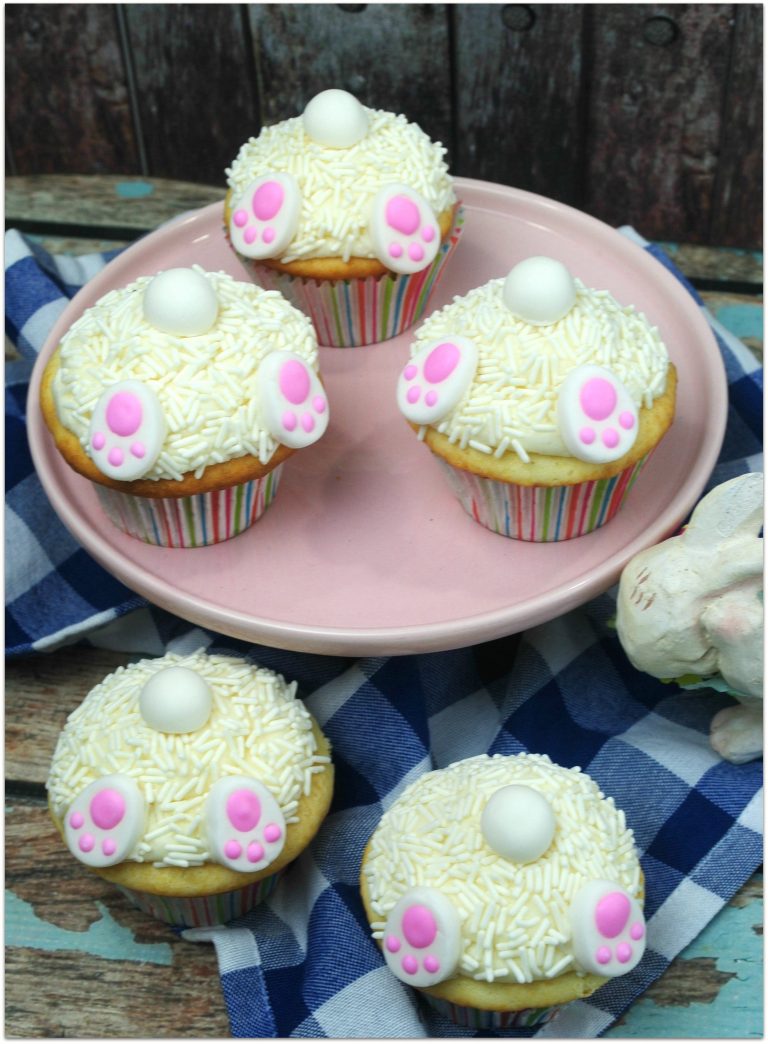 Mini Easter Egg Cakes | The Cake Blog
Another one that looks more difficult than it actually is, these Easter Egg cakes are really pretty.
Easter Egg Fruit Pizza | Persnickety Plates
This is a sugar cookie pizza the kids would have so much fun making and eating!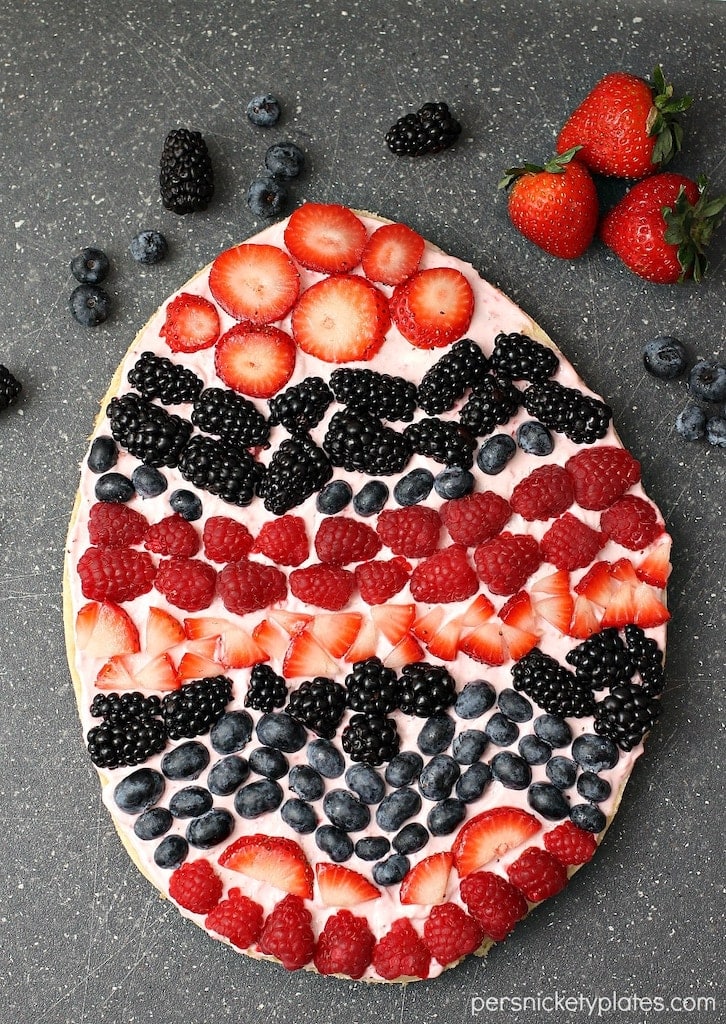 Mini Eggs Easter Brownie Parfaits | The Busy Baker
I adore these parfaits! We have these wine glasses and I love putting dessert in them. Such an elegant way to present this treat!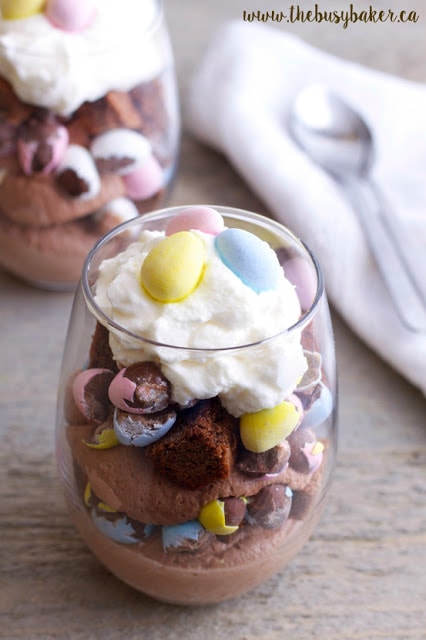 Easter Egg Coconut Cupcakes | Swirls of Flavor
Moist and tender cupcakes topped with creamy rich frosting and coconut flavored 'grass' for an Easter treat to please everyone!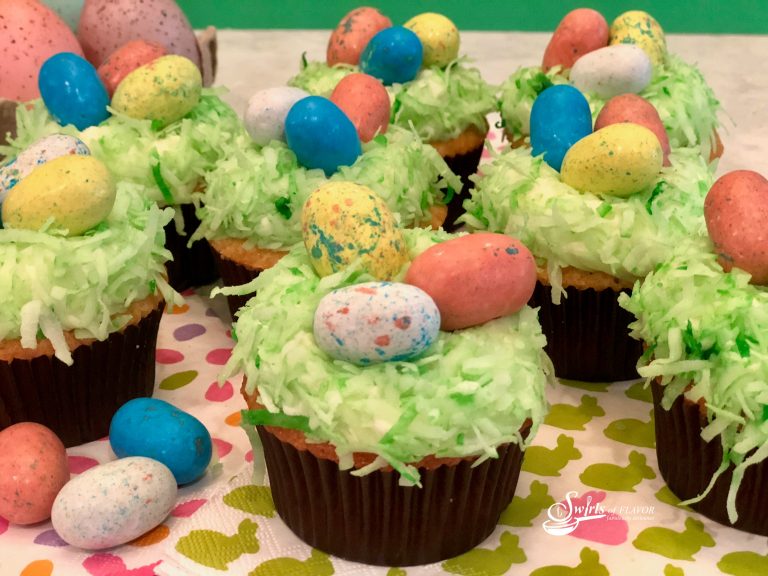 Easy Mini Individual Cheesecake Recipe | Little Miss Kate & Company
These little Easter Baskets are not only precious but delicious! And who doesn't love cheesecake?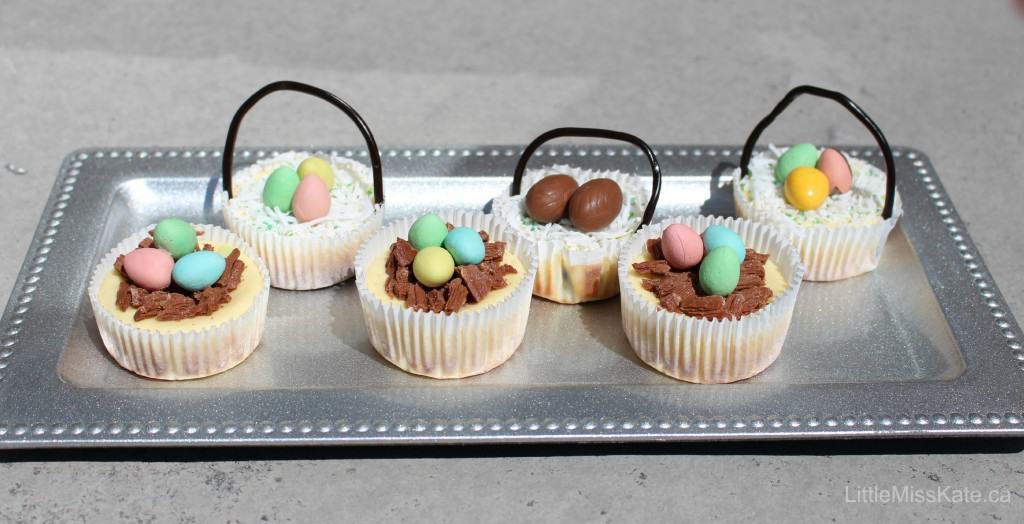 Easter Sugar Cookies | Pint Sized Baker
Another on the kids will enjoy participating in. Having kids in college is hard, y'all! I miss those days of dyeing Easter eggs and making cookies! 
Easter Egg Cheesecake | Tempting Recipes by Amy Treasure
This is the most decadent recipe I have EVER seen. Please invite me over when you make this!!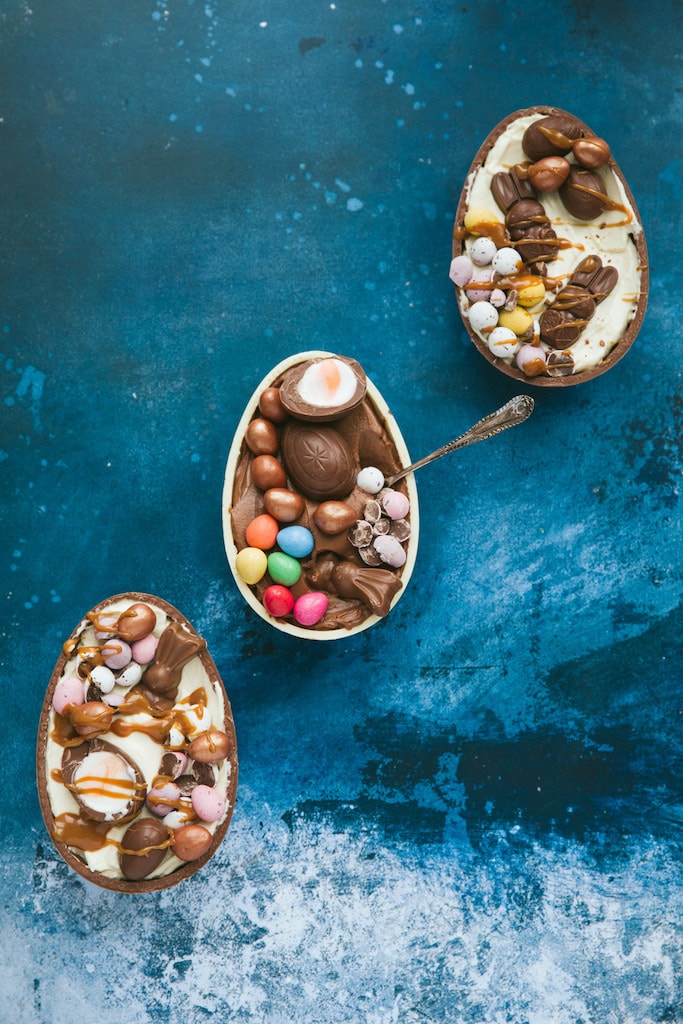 Springtime Cupcake in a Jar | Two Sisters Crafting
Aren't these adorable? I think they would be great for a baby shower, too, with just blues and pinks.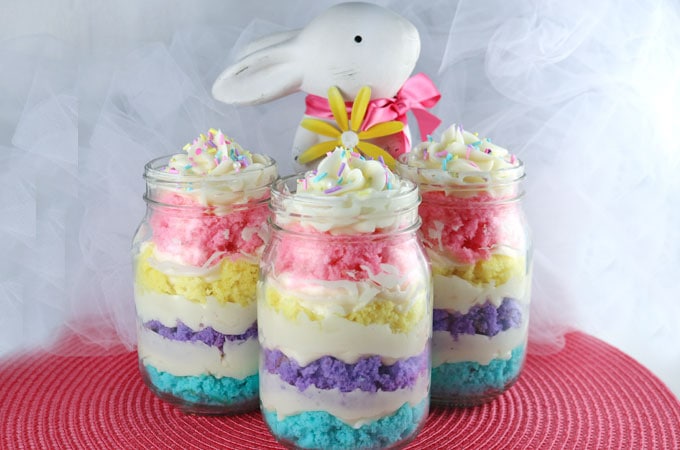 E is for Easter Letter Cake | Tempting Recipes by Amy Treasure
Here's another one from Amy Treasure. You MUST visit her site to see her beautiful recipes!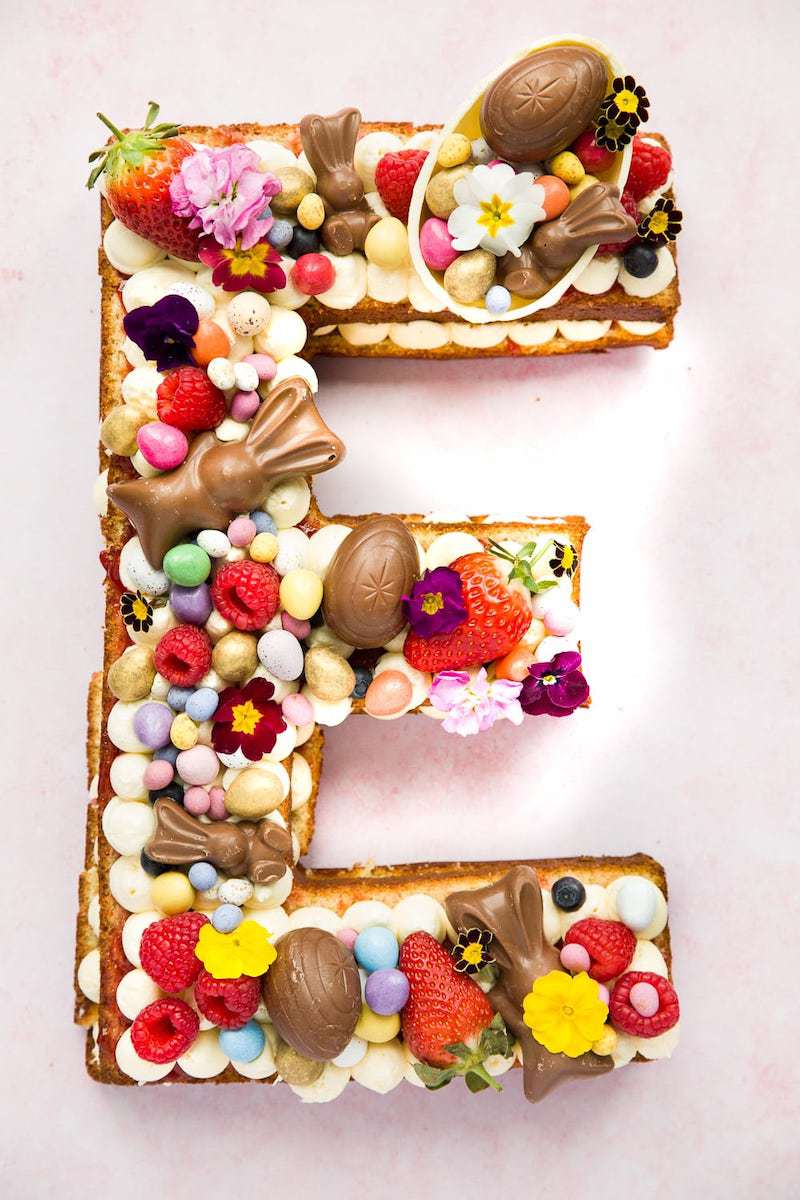 Easy Peanut Butter Easter Eggs | Butter with a Side of Bread
Most of us would go out and buy these, but knowing what is in my food is important to me. As long as it's not too difficult, homemade is going to be my choice. 
Robin's Nest Cake Recipe | Mama's Geeky 
This would make a beautiful centerpiece for your Easter table. Not to mention - delicious!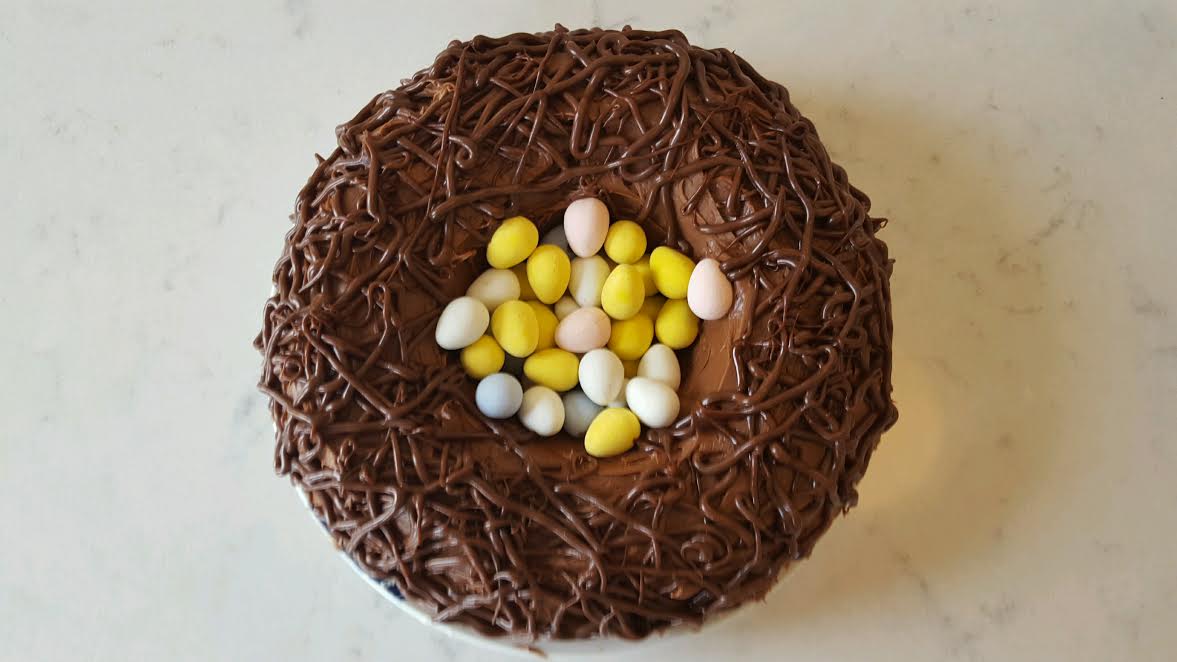 These are just so cute, and before you run off screaming that you could never make these candy melt carrots - I'm telling you, you can do this!
Mini Eggs Cheesecake | Mom & Munchkins
Mini Eggs and Cheesecake. That should be enough to grab your attention. But add in a creamy chocolate ganache AND chocolate frosting and now you have everyone's attention!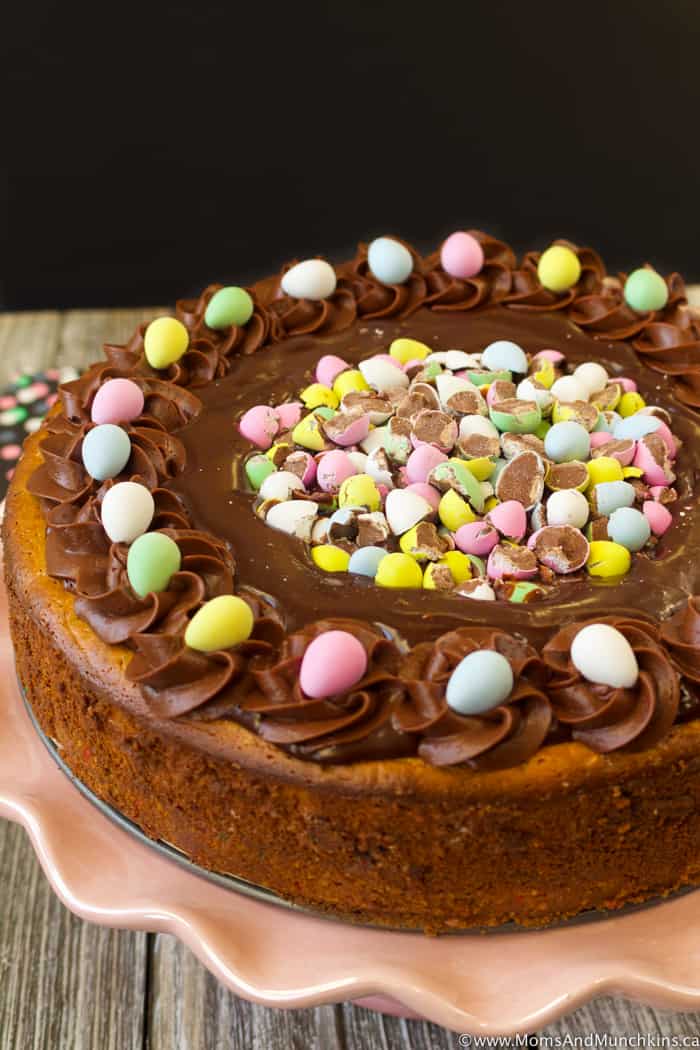 Easter Peeps Milkshakes | Shared Appetite
All I'm going to say about this one is that if you look over these directions and don't want to make this, I don't know if we can be friends. (Just kidding!!) This looks so decadent that I can't wait to try it!
Unicorn Cake Donuts | Well If She Can Do It
How fun are these donuts? They would be pretty in an Easter basket, too! And don't you love the name of this site? You can do this, too!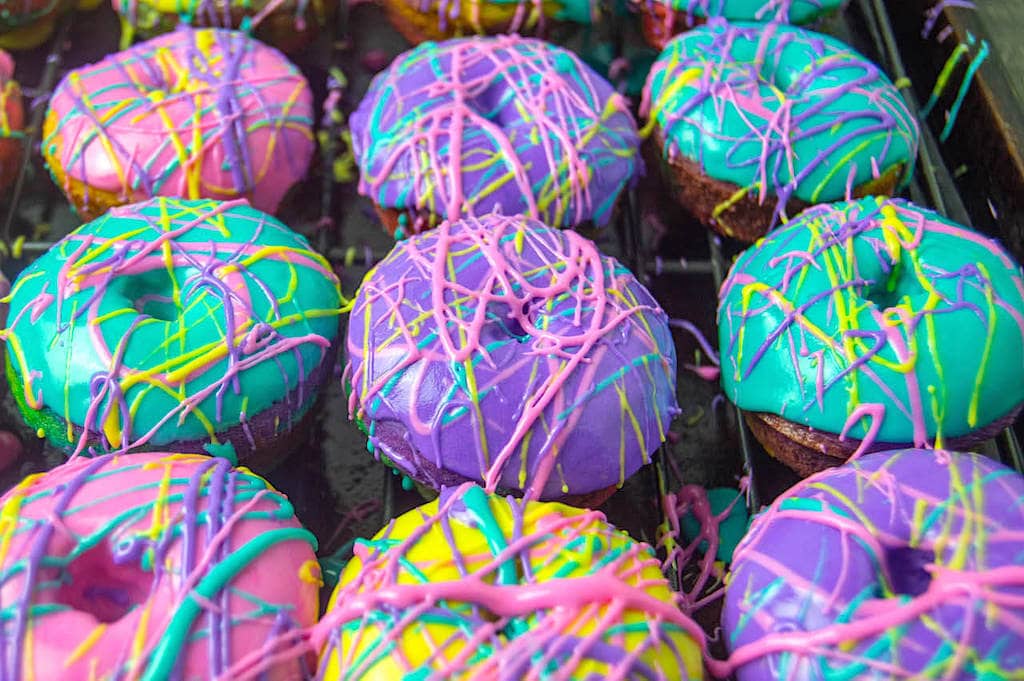 Gluten-Free Bird Nest Brownie Bites | Grain Changer
These are really cute, and are made with already prepared brownie bites! So easy!
Easter Magic Cookie Bars | Mom Foodie
These cookies will magically disappear!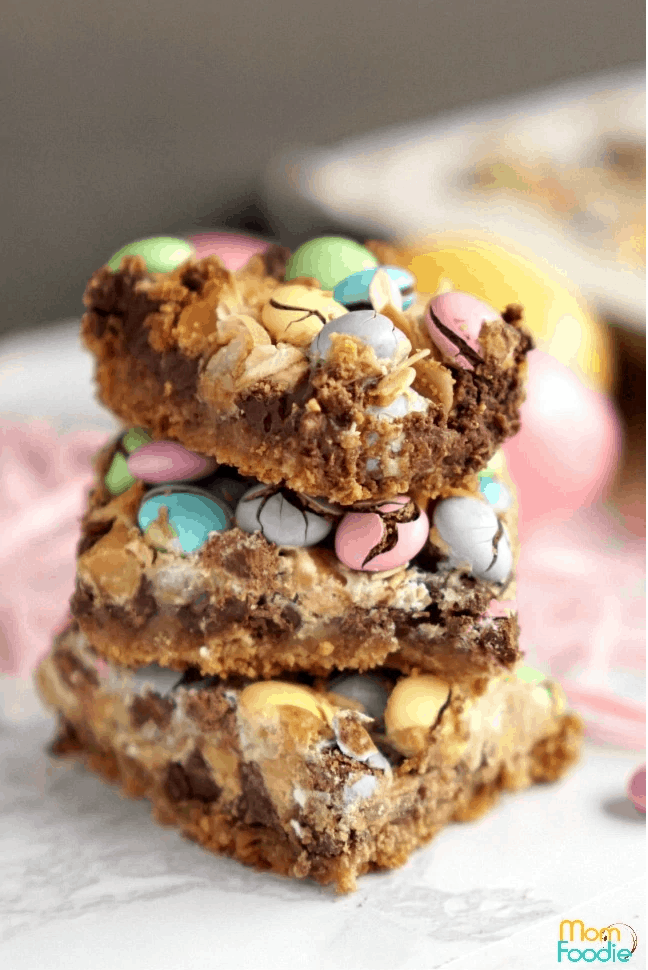 Homemade Marshmallow Easter Eggs | Mel's Kitchen Cafe
I start craving these a couple of weeks before Easter, but now that I know how easy they are to make, it might be trouble!!
Mini Easter Pavlova Nests | Enjoying Life Everyday
Not exactly meringue but just as light and fluffy!DELI Delicious little Easter treats for young and old!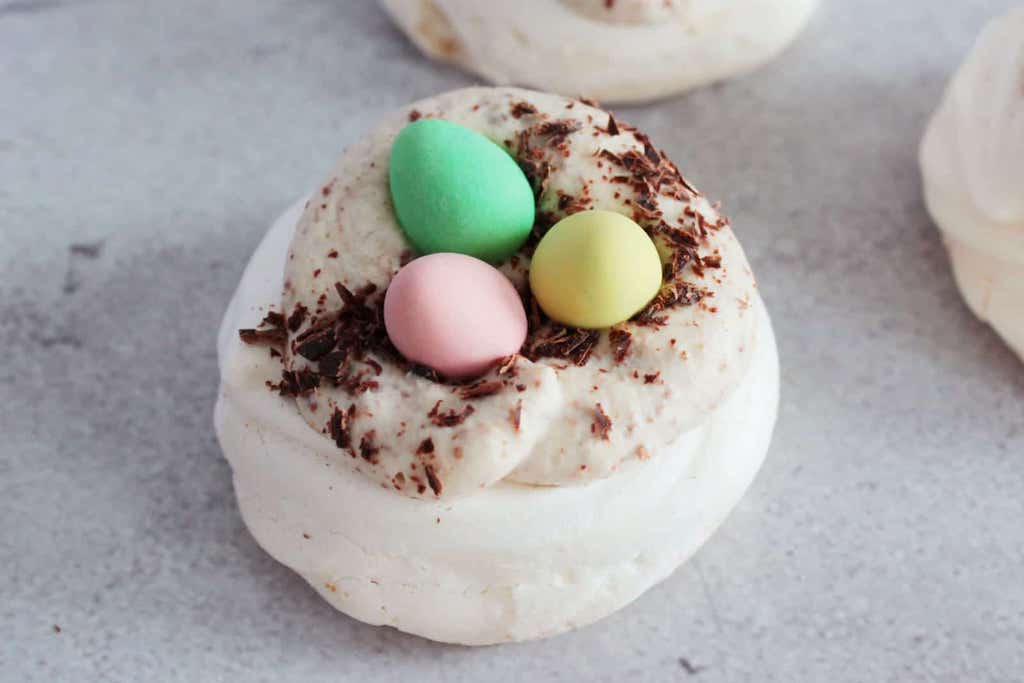 Chocolate Easter Bunny Cupcakes | Mommy Made That
These little cuties couldn't be easier to make and couldn't be more precious! And they're atop a delicious moist cupcake too!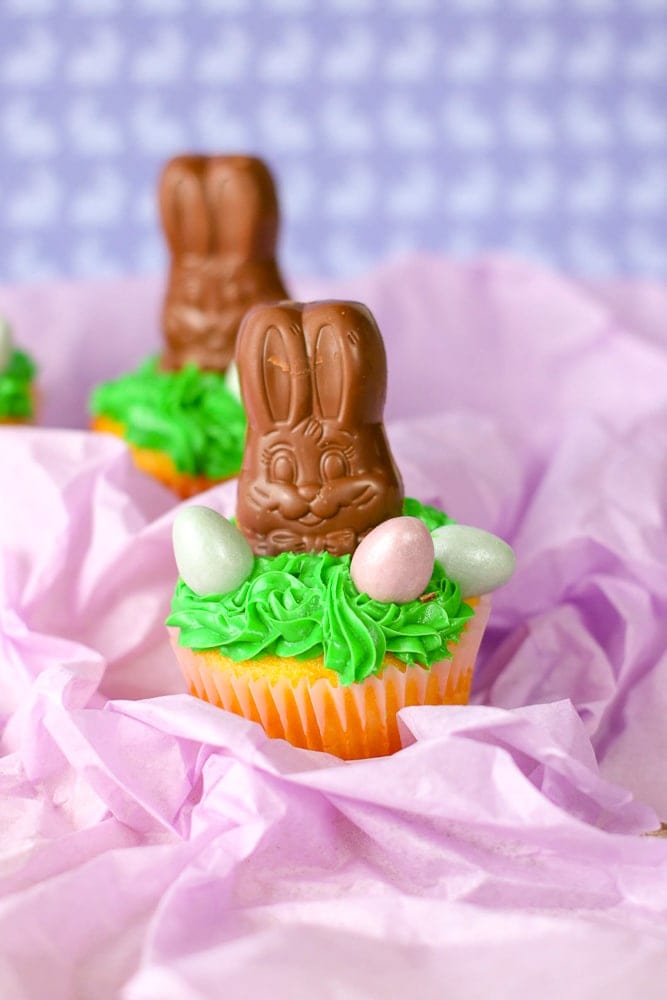 Peanut Butter Cornflake Nest Cookies | Where'd My Sanity Go
Again with the tiny nest cuteness! With the mini eggs, these are perfect to make for Easter or any other Springtime treat!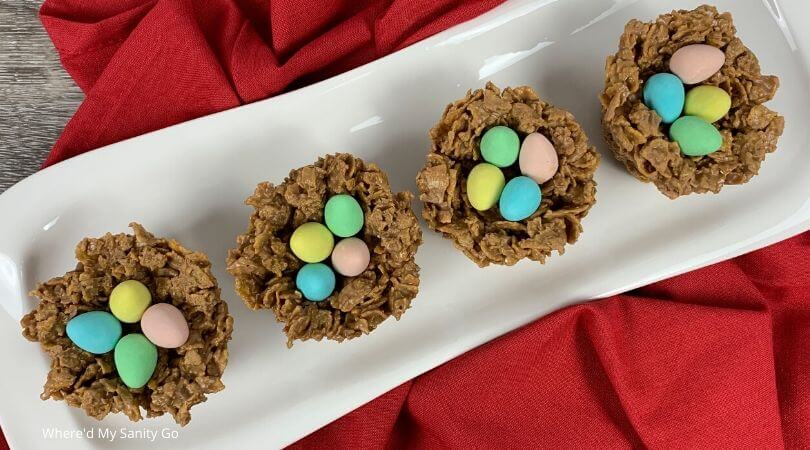 Ice Cream Cone Cupcakes for Easter | Boulder Locavore
Your favorite cake mix + ice cream cones + plastic Easter eggs = a wonderful treat to surprise the whole family!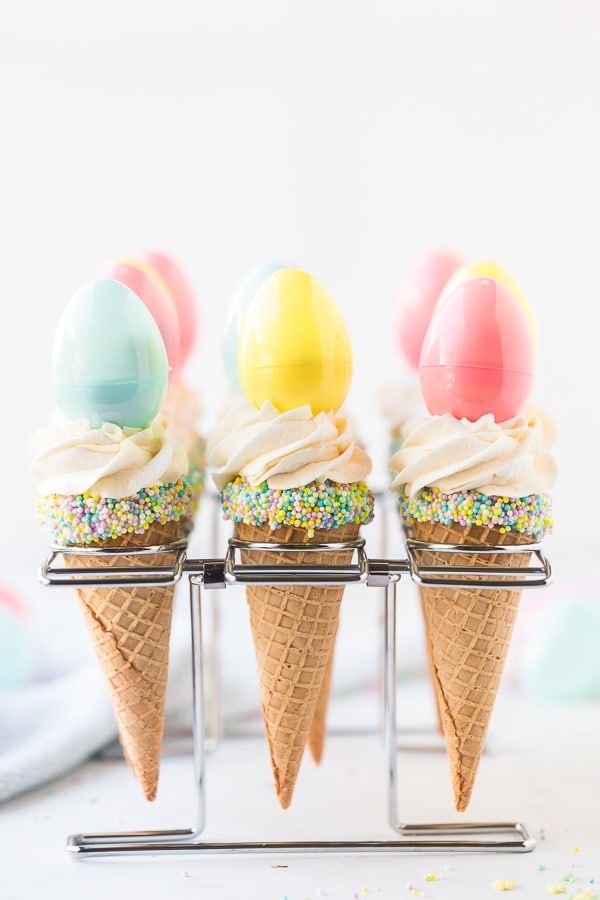 Mini Easter Cheesecakes | My Kitchen Craze
I am craving cheesecake right now! That graham cracker crust is calling my name! And I love that these are just a bite!
Easter Bunny Carrot Cake |  Chisel & Fork
This carrot cake is so beautiful with a scrumptious flavor!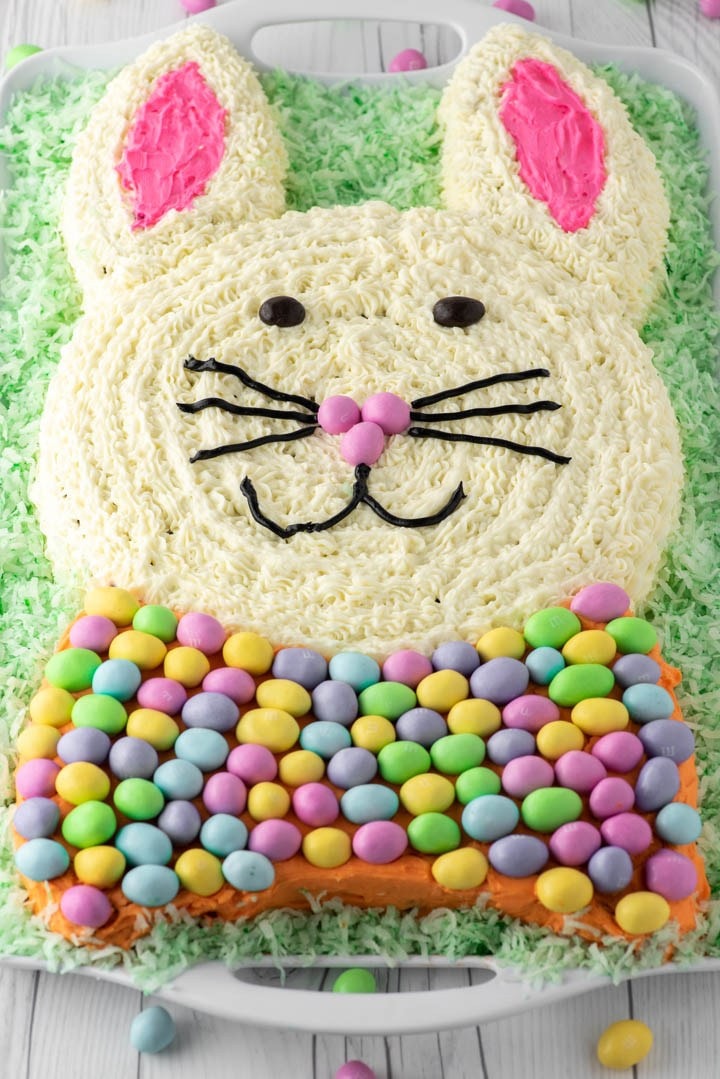 Easter Caramel Peanut Butter Cookie Fudge | The Food Hussy
Caramel was all I needed to hear for this highly addictive colorful Easter treat! And making it is as easy as eating it!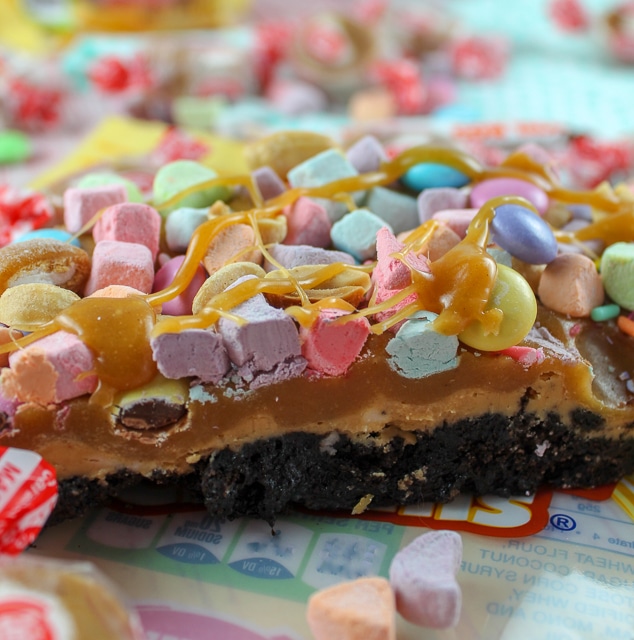 Bird's Nest Brownie Bites | Pretty Providence
Yes, more brownie bites, but these are more like German chocolate cake. I really need one of these with a tall glass of milk right now.
Bird's Nest Cookies | Marathons & Motivation
If you like Macaroons you will love these little creations. Great for Easter or any Springtime occasion. They're adorable and so good!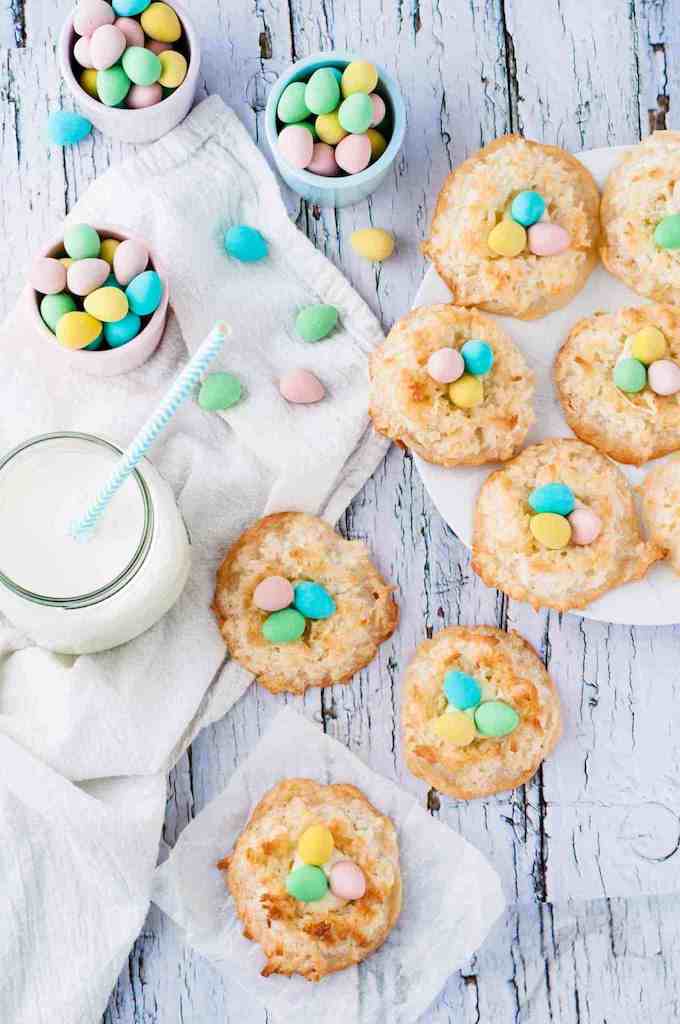 Easter Ice Cream Cake | California Unpublished
Easiest Easter treat ever! Trying to figure out what to do with all that leftover Easter candy? It now has a new home!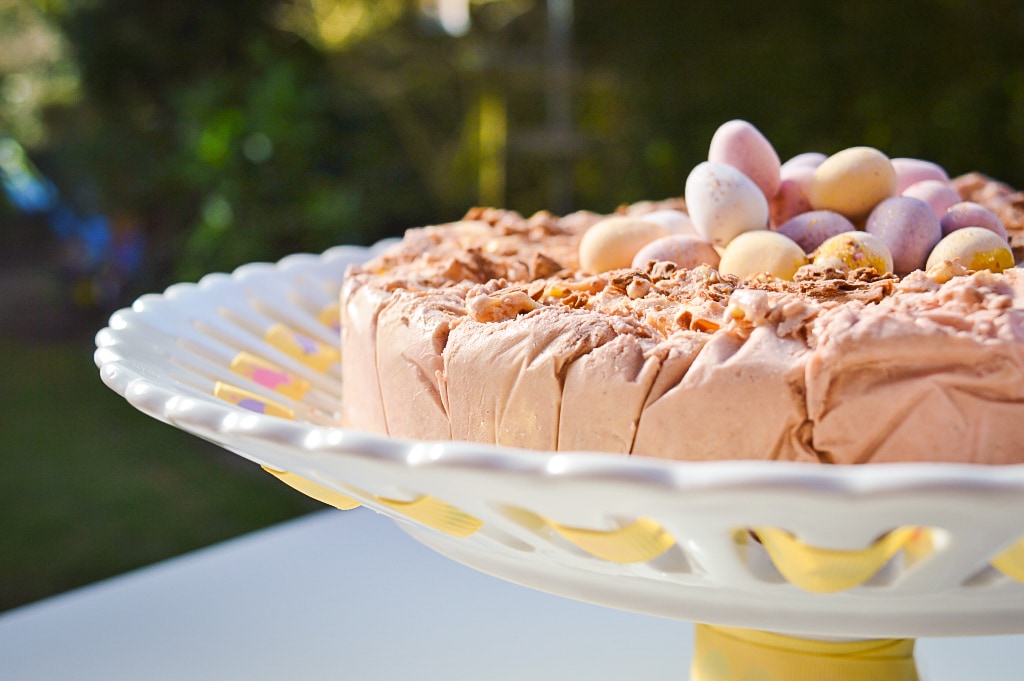 Cadbury Cupcakes | Baking Beauty
Love those Cadbury Eggs? Now you have another dessert to love just as much. These are so cute!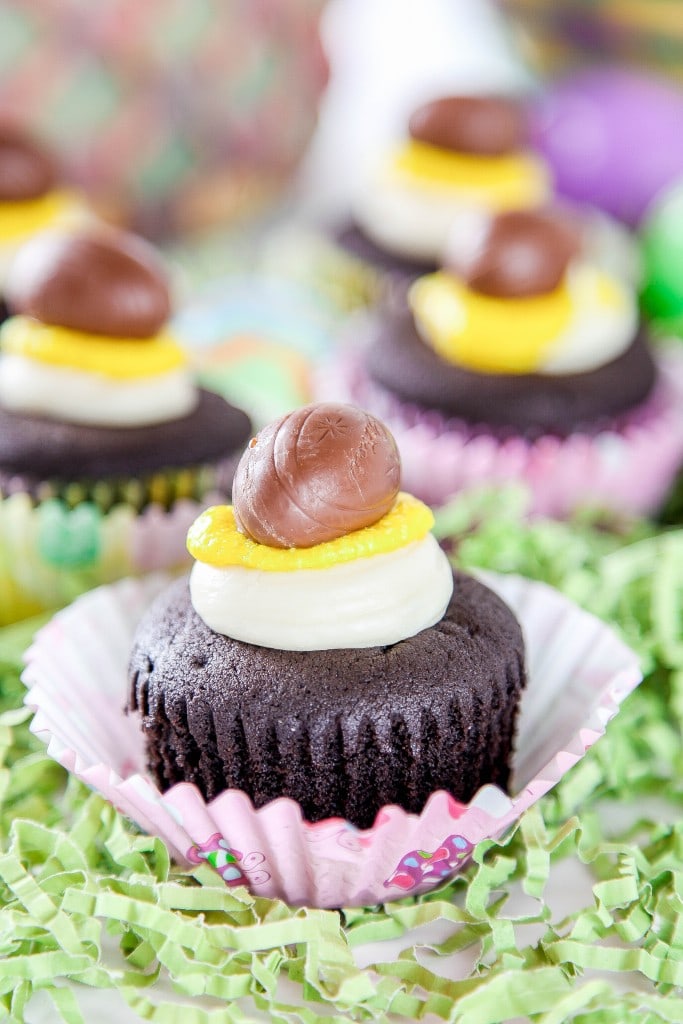 Nutter Butter Chicks | The Soccer Mom
An Easter treat was never so adorable as these tasty little treats! Easy and fun to create as well. They make great additions to Easter Baskets, too!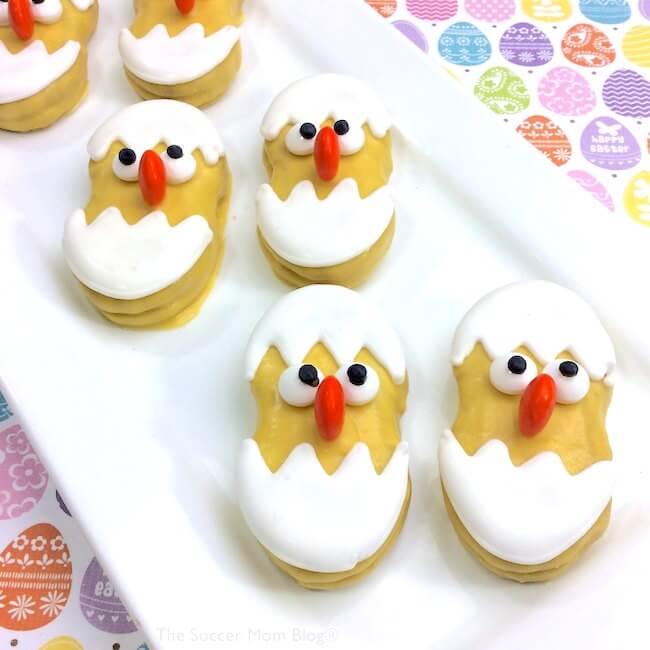 Mini Egg Chocolate Cheesecake Cups | Canadian Cooking Adventures
If you love chocolate cheesecake these little cups will soon be a staple on your 'go-to' dessert list! Perfect for Easter too!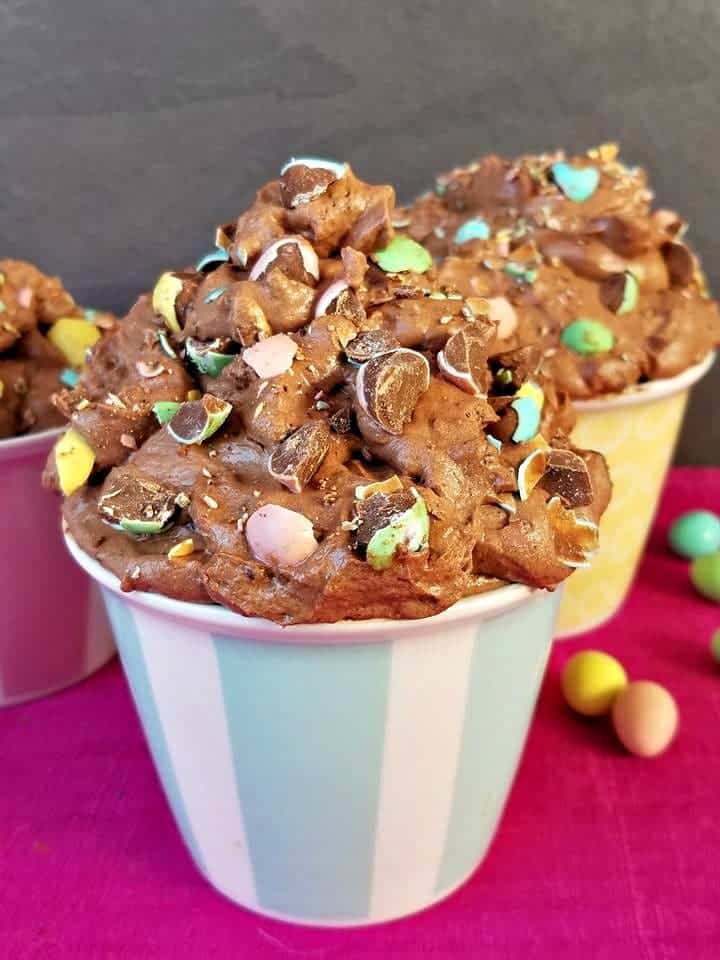 Easter Cadbury Eggs Chocolate Cupcakes | Ottawa Mommy Club
Can you ever have too much chocolate? Make these chocolatey treats and decide for yourself.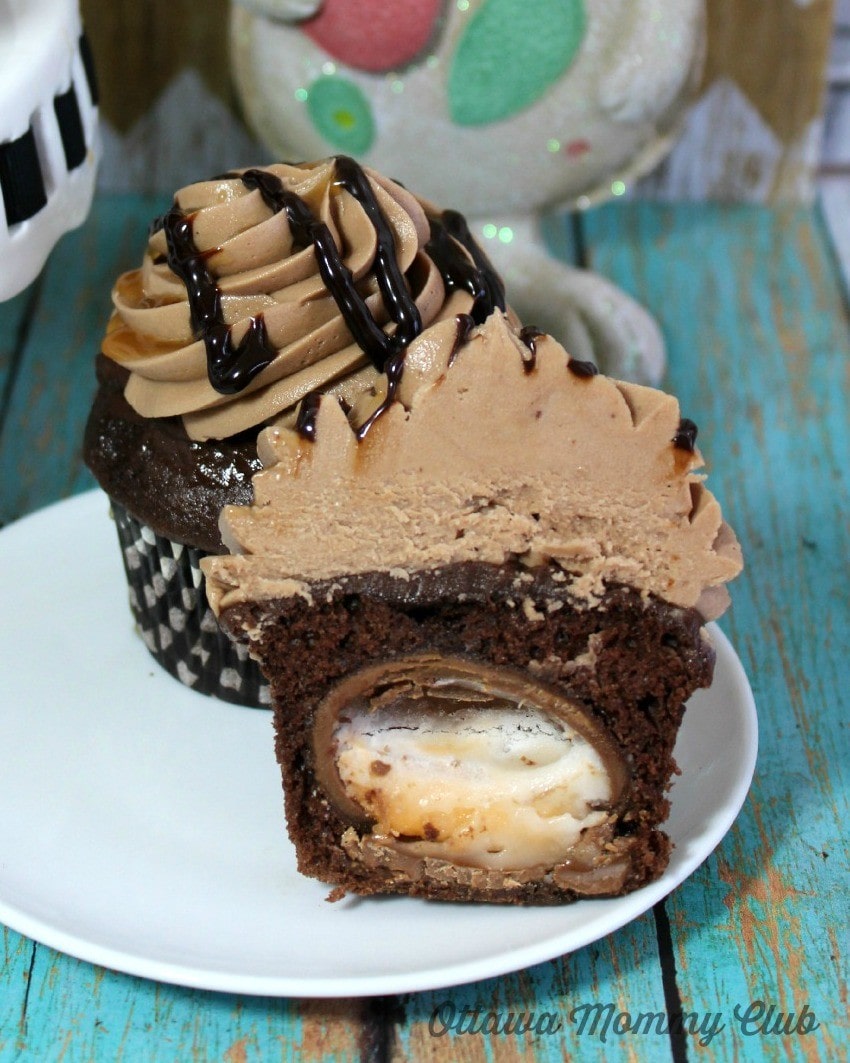 Marzipan Easter Eggs |  The Winged Fork
I love the stories about how this recipe came about!
Adorable Easter-themed treats your family will love. Making them is just as much fun as eating them!
Easter Confetti Chocolate Bars Recipe | Francine's Place Blog 
This recipe is so easy, you can do pull it together at the last minute! And the results are spectacular! A 10-minute dessert that looks like you spent hours! Quick and delicious and full of fun!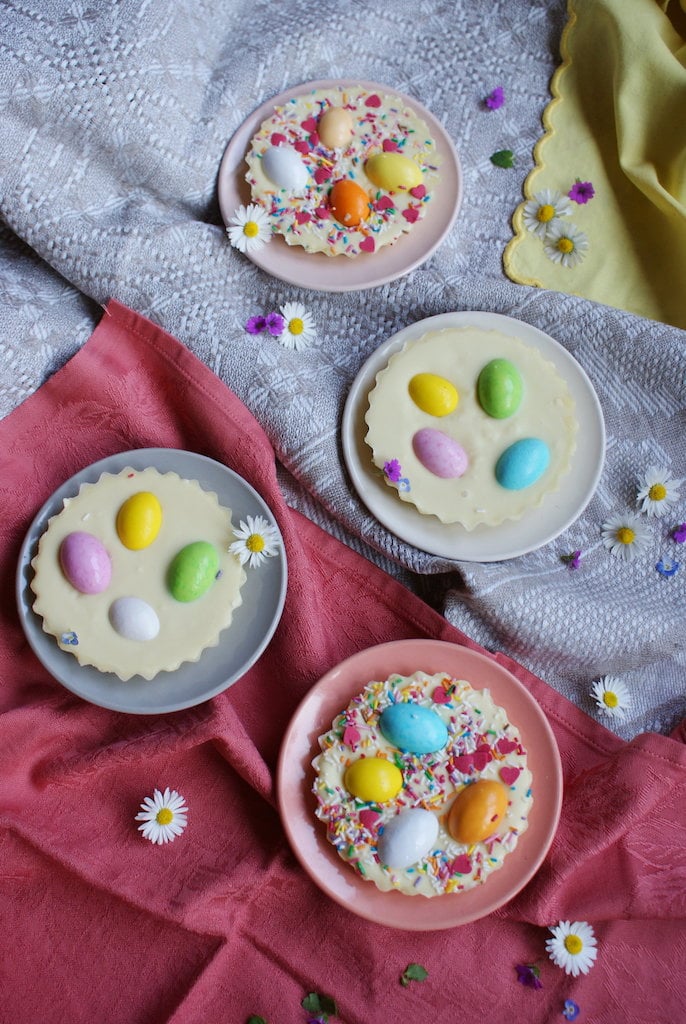 Bunny Cake Bites | Moms Who Save
Bunny cake bites are full of marshmallowy goodness and almost too cute to eat! Almost!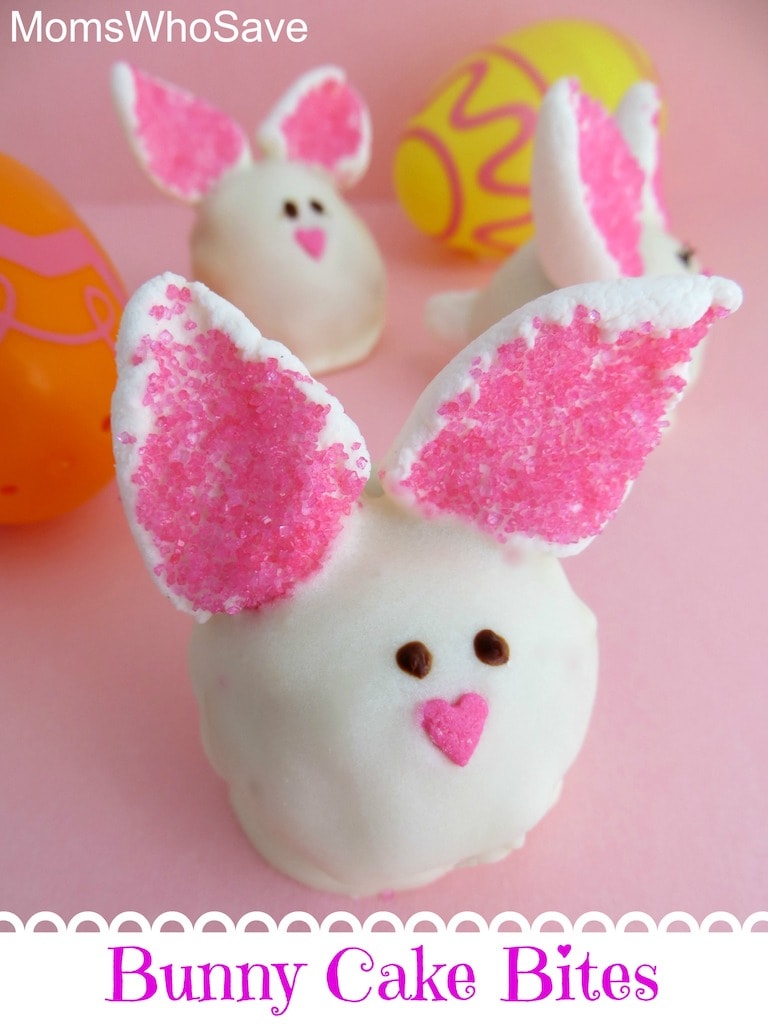 I know that's a lot of deliciousness in one post, but hey- it's a special occasion! Instead of buying a bunch of Easter treats, let's make a couple of these easy Easter desserts this year!
Love this post? Pin it to Pinterest so others can see it, too! Thanks for sharing the love!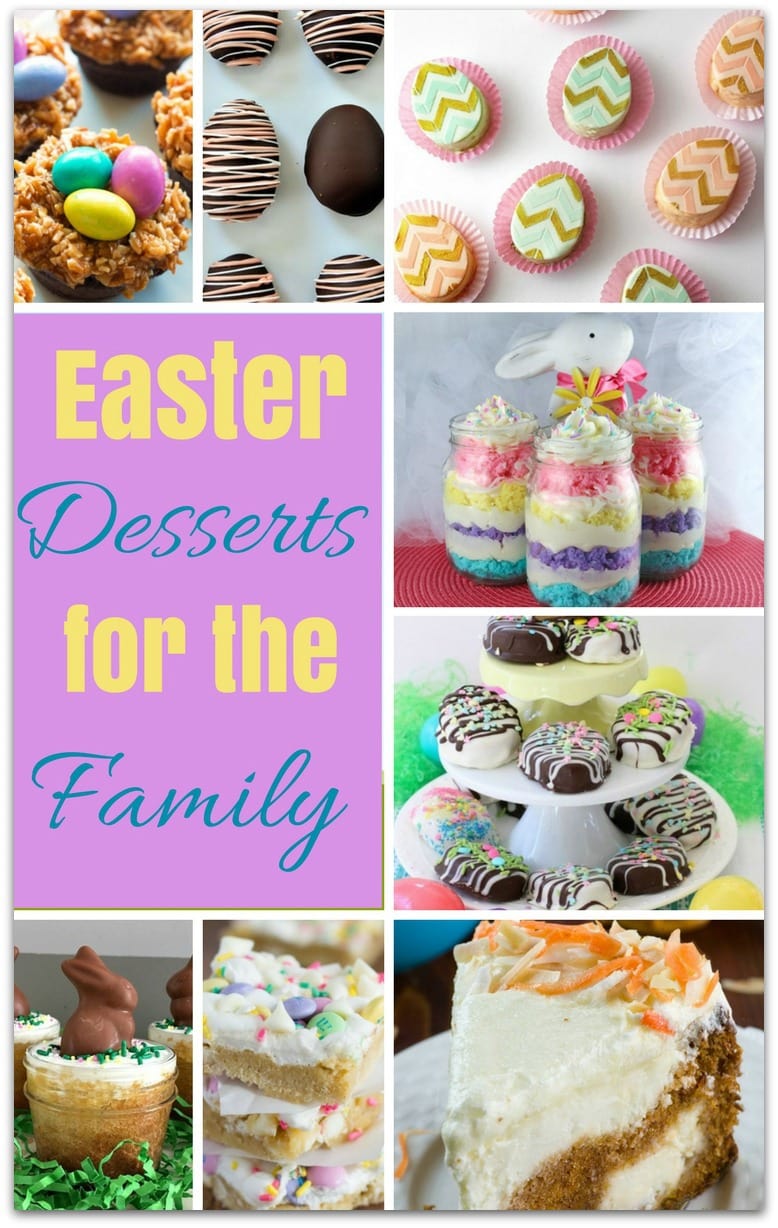 You might also enjoy these Easter articles: