To find the top spa experiences around the world, I went straight to travel bloggers. I was looking for the best of the best in spas, and couldn't be more pleased with the submissions I received.
We're featuring spas all around the world, from Victoria in British Columbia, Canada, to the other side of the world in St. Moritz in the Swiss Alps.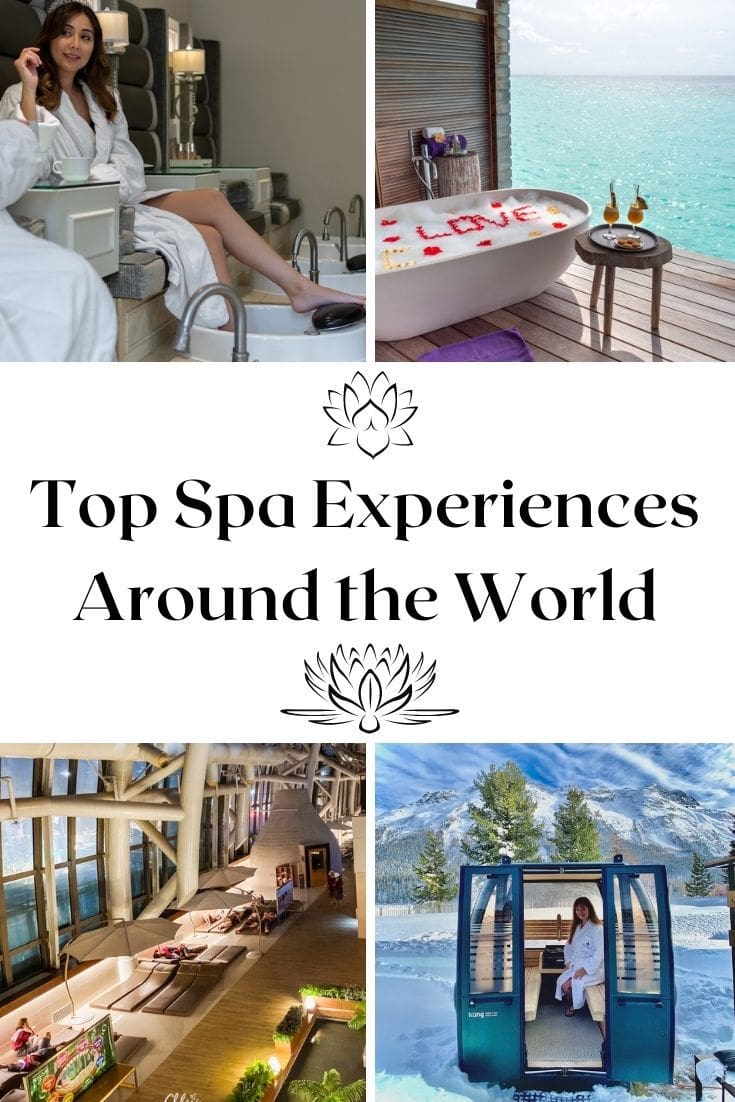 Where to Go for the Best Spas Around the World
Each one of these reviews was written after spending time at the spa the writer chose. It's not easy to choose a favorite when you've traveled all over the world! Each writer chose just one to be included on this list.
You'll need to explore more details on the site featuring each spa, such as the specialty for that particular facility, or the exact address and how to reach them to make a reservation.
Now that you have this list of spa experiences, be sure to bookmark it or Pin it to Pinterest. You'll want to have it at the ready when you're planning a trip to one of these destinations.
Top Spa Experiences Around the World
As you're making plans to travel to your bucket list destinations, bookmark this list of top spas around the world. These spas have been visited by each featured travel blog listed. Feel free to reach out to each blog with questions and tips for each spa showcased on this list. And do come back and let us know about your personal experience!
Spas in Florida
As Florida is my home, I thought I'd leave you with a couple of my favorites not far from where I live, near the Gulf of Mexico in Manatee County.
For one of my favorite spots to get pampered in Florida, check out Innisbrook Golf Resort. I visited with my daughter last year for a short getaway, and we had a wonderful time at the spa as well as exploring the area. There's a lot to do including a beautiful beach just minutes away.
The Salon and Spa at Bay Hill, located at Bay Hill Club and Lodge, is located in Orlando, Florida. Just minutes from the theme parks (consider a Disney VIP Tour) and Disney Springs, this area offers everything you could want in restaurants and shopping.
Please come back and let us know if you visit any of the spas listed here by leaving us a comment below. Self-care is more important than ever, so remember to take some time for you.
LET'S CONNECT ON SOCIAL!