We hadn't been to Islands of Adventure at Universal Studios in ages. In fact, I think the last time we went was for a Rock the Universe weekend over two years ago! I was so excited when Universal offered us passes to visit so I could share all the fun with you! You've got to put visiting both Islands of Adventure and Universal Studios on your list when vacationing in Orlando!
My girls were pretty excited to visit The Wizarding World of Harry Potter™ again, so we planned to head right there. On our way, we stopped at Poseidon's Fury, which is a walk-through live-action special effects show.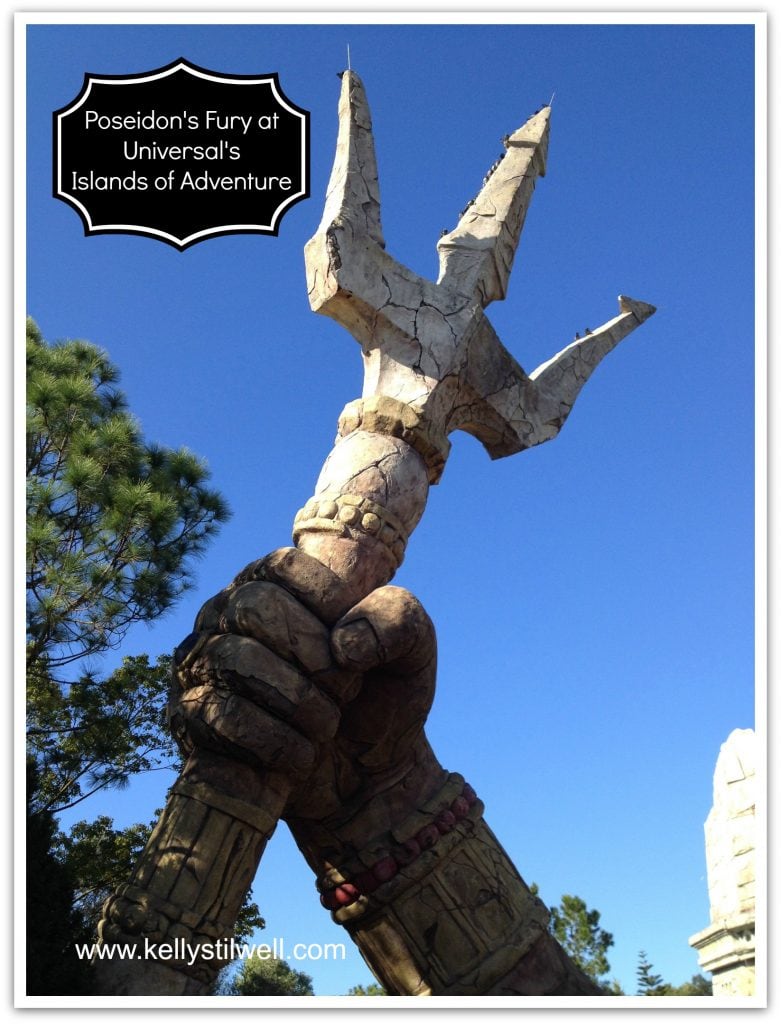 Our host, an archeologist from the Global Discovery Group named Taylor, was a riot! He began by telling us all about his expedition, but the next thing we knew, we were smack-dab in the middle of a battle between Poseidon and Lord Darkenon. Honestly, I wasn't prepared for the explosions of fireballs! In the end, we had to walk through a vortex of water to escape. This was without a doubt the coolest part of the show! Looking around, I could see others surveying the water swirling around us, too. It was epic!
We made our way through the crowds to The Wizarding World of Harry Potter. Let me stop here for a sec and say that the holiday crowds do not diminish until after the kids are back in school! For some reason, I thought many families would be on their way home the Friday before school was back in session, on January 3rd. This was the most crowded I have ever seen a theme park. I know a lot of people were surprised by the weather, too, including us! It was in the 40's, and we were bundled up and still cold!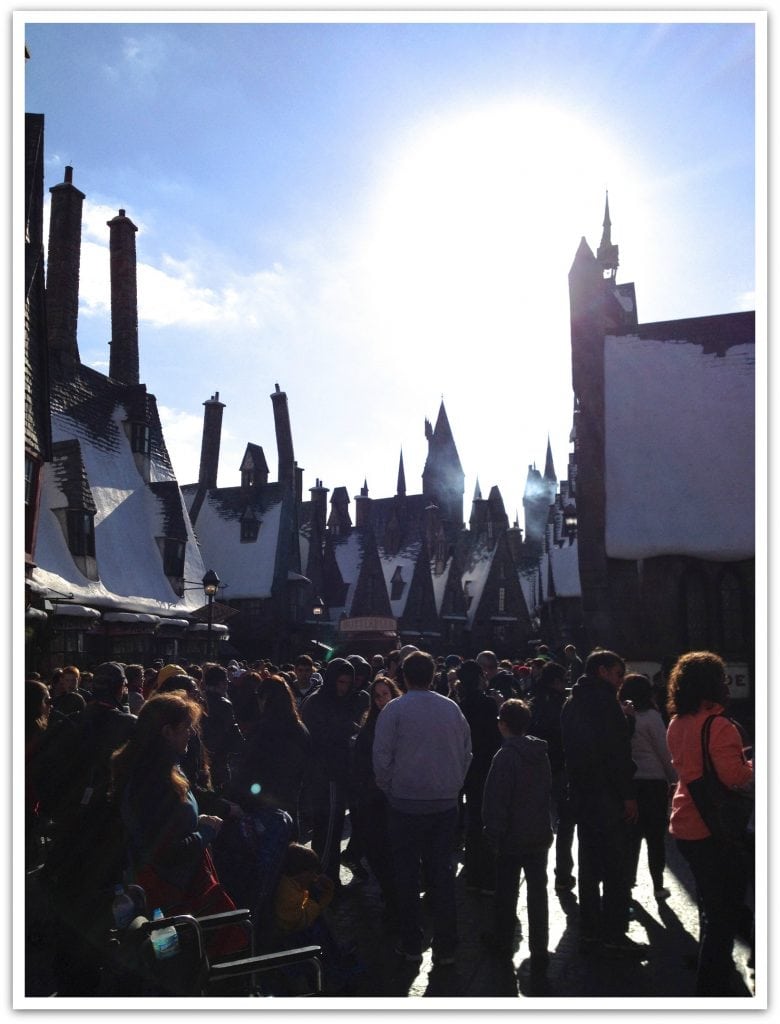 I had forgotten how breathtaking this area of the park is. When you enter, you really are taken aback at the architecture. It looks just like you would expect it to! I'm reading a fictional book right now about a 3rd grade little girl who loves Harry Potter, and I can't help but think how amazing it must be for young fans of Harry Potter to walk through Hogsmeade.
By the way, the Butterbeer is totally worth waiting in line for!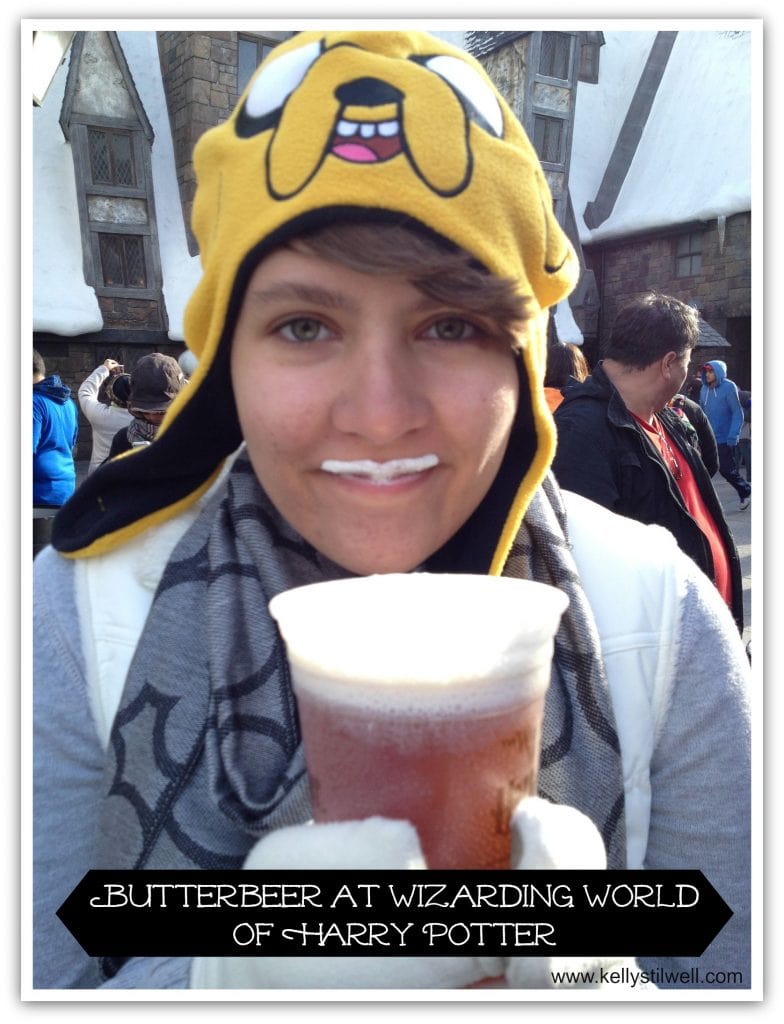 I can't wait to go back so I can do more! The line for the Harry Potter and the Forbidden Journey ride was unbelievable. I don't like motion rides, so when we visited the park right after the ride opened, I didn't get on with my family. Afterwards, they told me how amazing it was, and didn't think the motion would bother me. Darn! I was so bummed! We weren't going to wait in line in the cold as we could come back another time, but my oldest daughter said if she didn't live in Florida, and didn't know when she could come back, she would wait in that line. She said the ride is that good!
There is so much more to do in The Wizarding World of Harry Potter, but we still had a lot of park to cover. When we go back, I know the rest of my family will want to go on the Dragon Challenge again. Though it's two different intertwining coasters, you wait in the same line and choose whether you want to ride the Chinese Fireball or the Hungarian Horntail. They rode both and loved it the last time we were there. My older daughter also saw the Frog Choir when she was at the park on a church trip, and said it was really good. As I said, we have a lot more to see when we go back. We did stop in to Hog's Head pub for a brew before heading to the next section of the park. I want to try their Hog's Head Brew the next time!
By the way, later this month, January 24-26, there will be a Celebration of Harry Potter, which is pretty exciting! If you sign up for emails, you can attend a special LIVE webcast on January 23 at 10:30 AM where you can learn all about Diagon Ally, coming soon to Universal Studios. You're welcome!
Next we were off to Seuss Landing.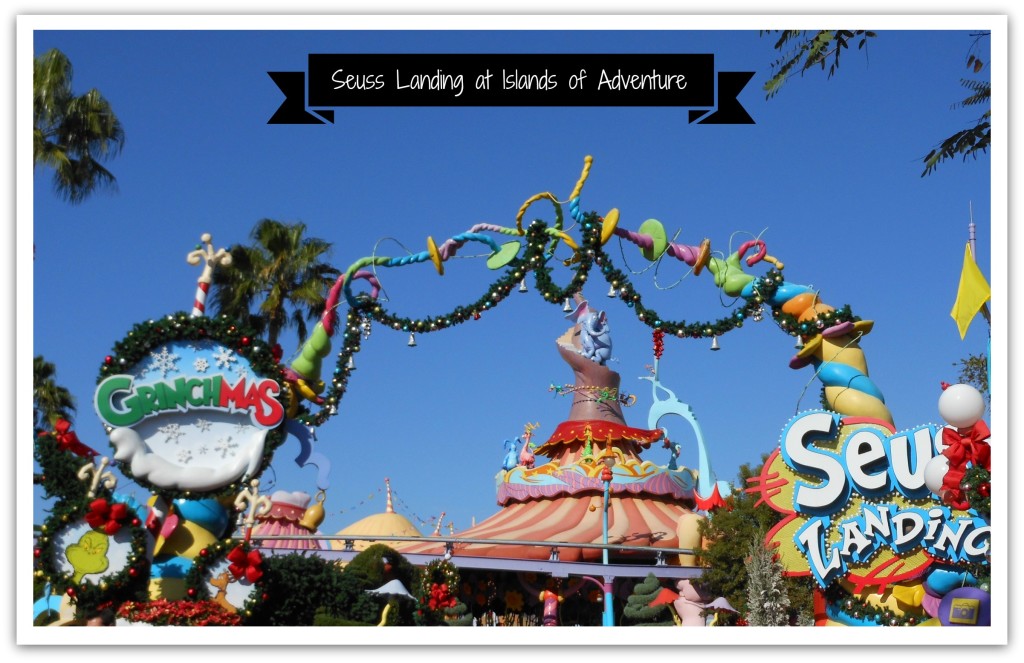 I couldn't resist the photo opp!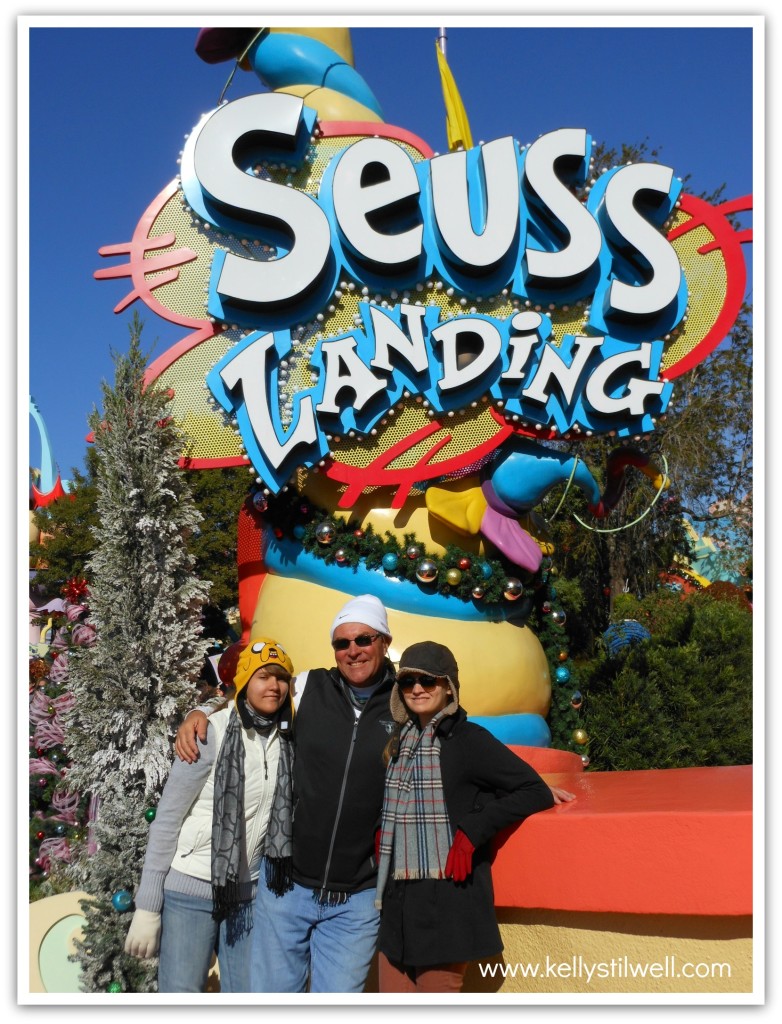 We are huge Seuss fans, so we really enjoyed this area.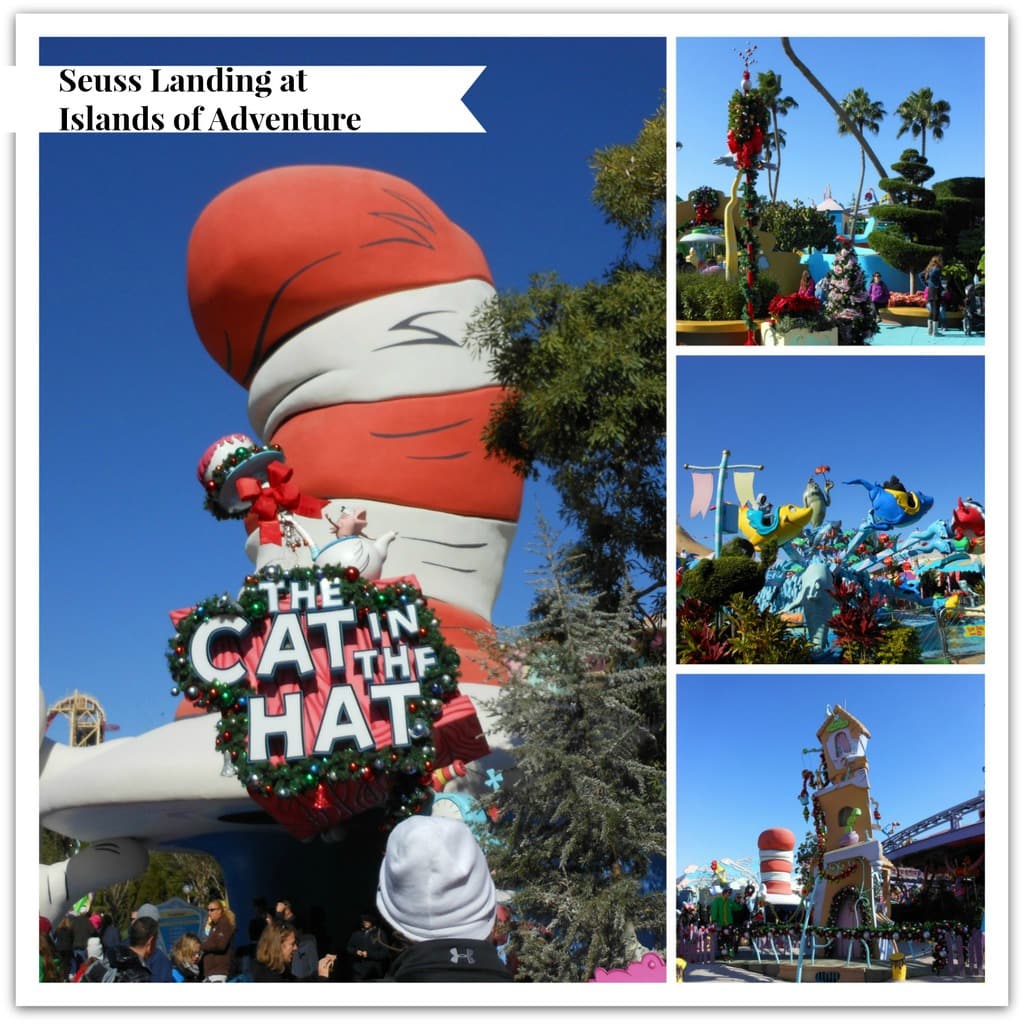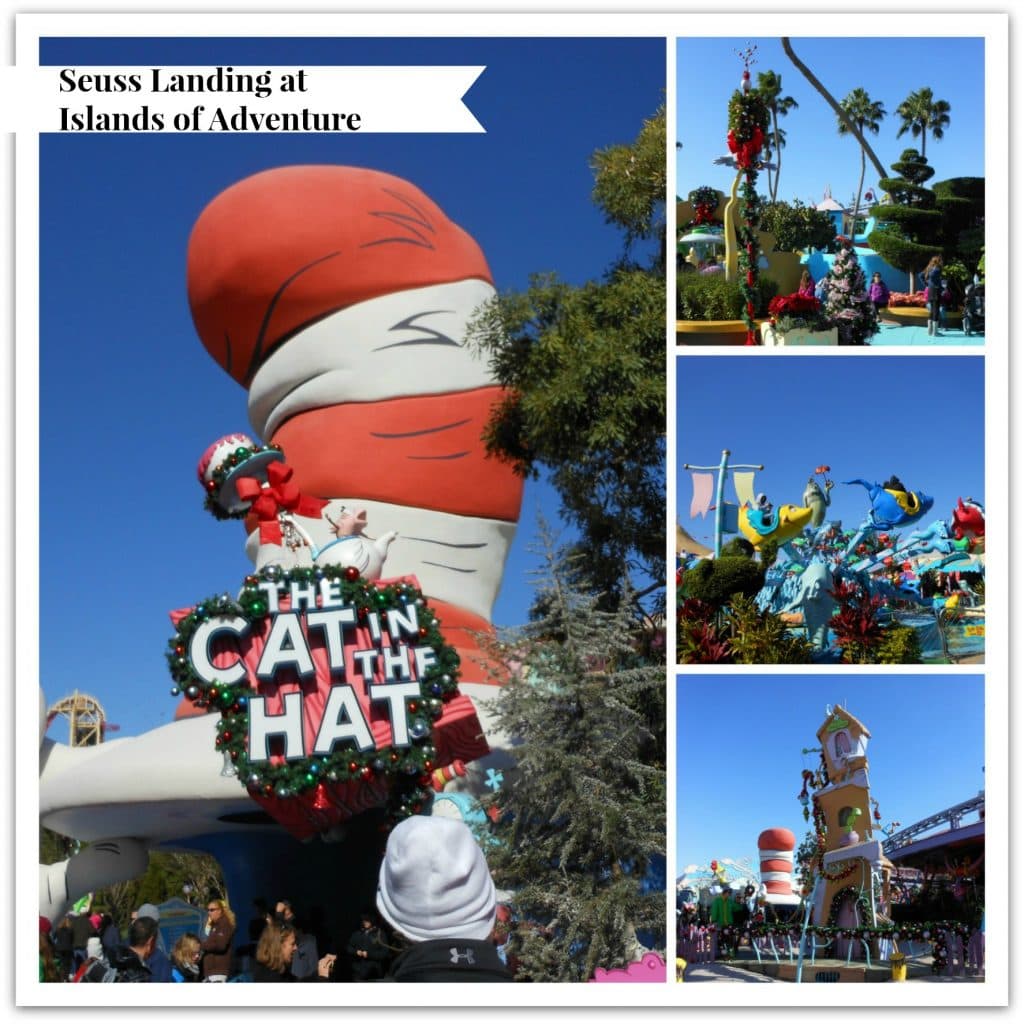 We had to do a little shopping, too. Just not too sure about the PJs, Dear...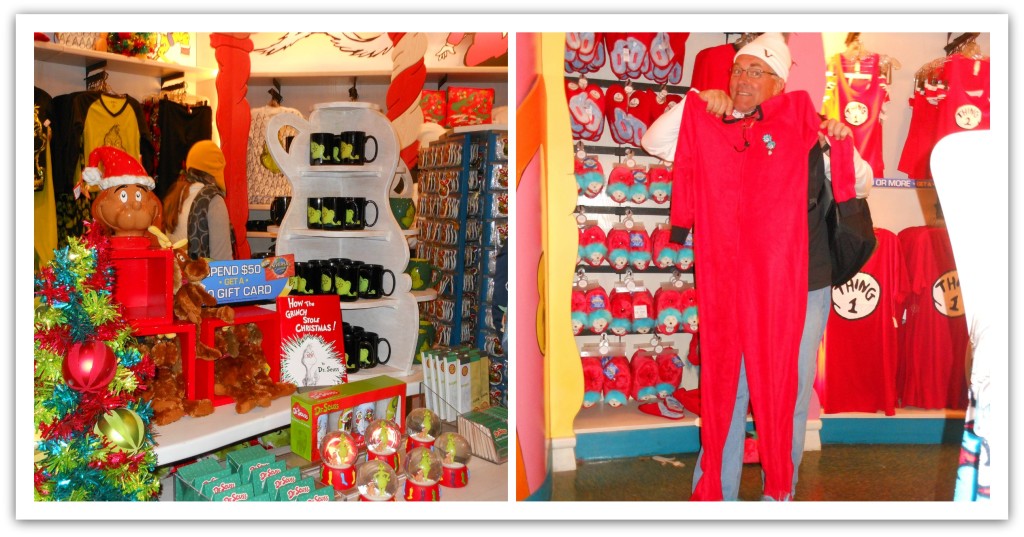 All of a sudden, we ran into the most adorable Who!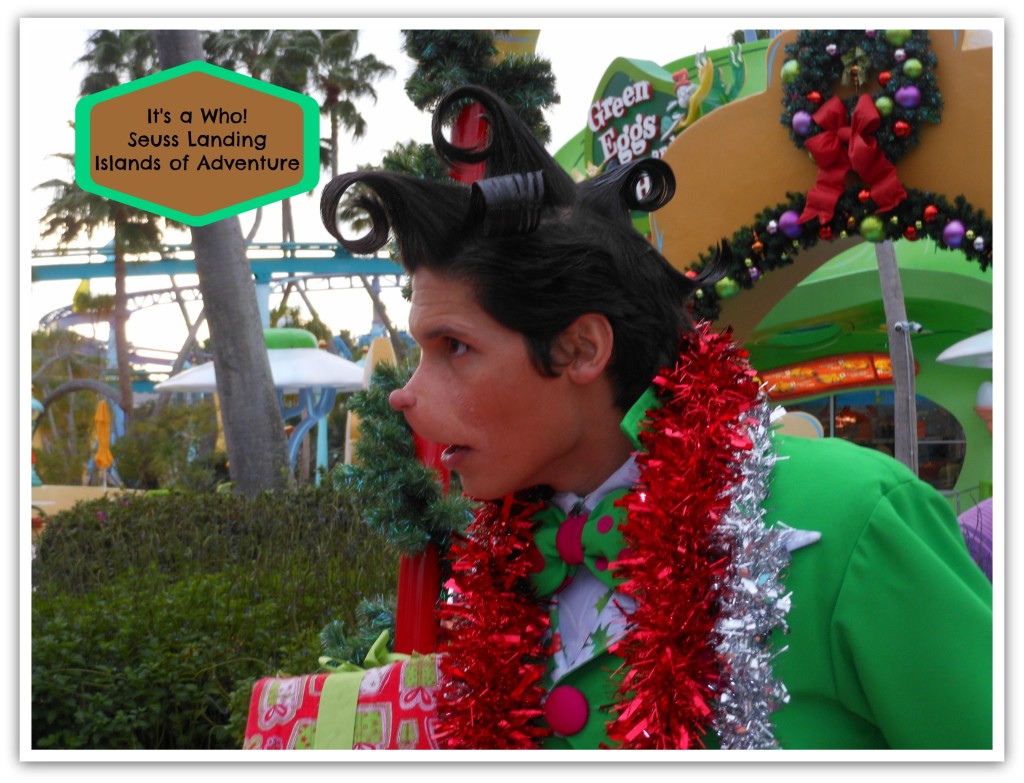 In case you didn't know, the Whos (from Whoville, of course) love to decorate, and you could find these two spreading Christmas cheer (and garland) everywhere they went.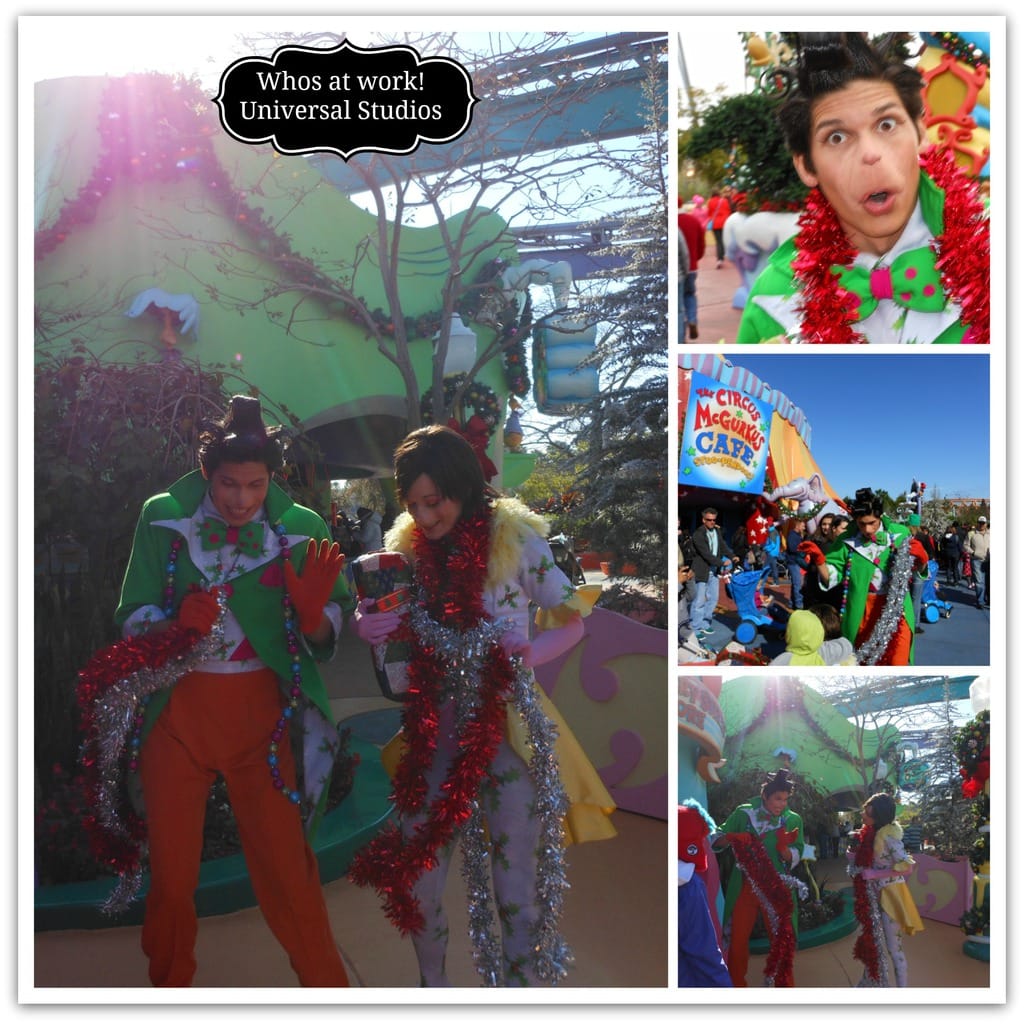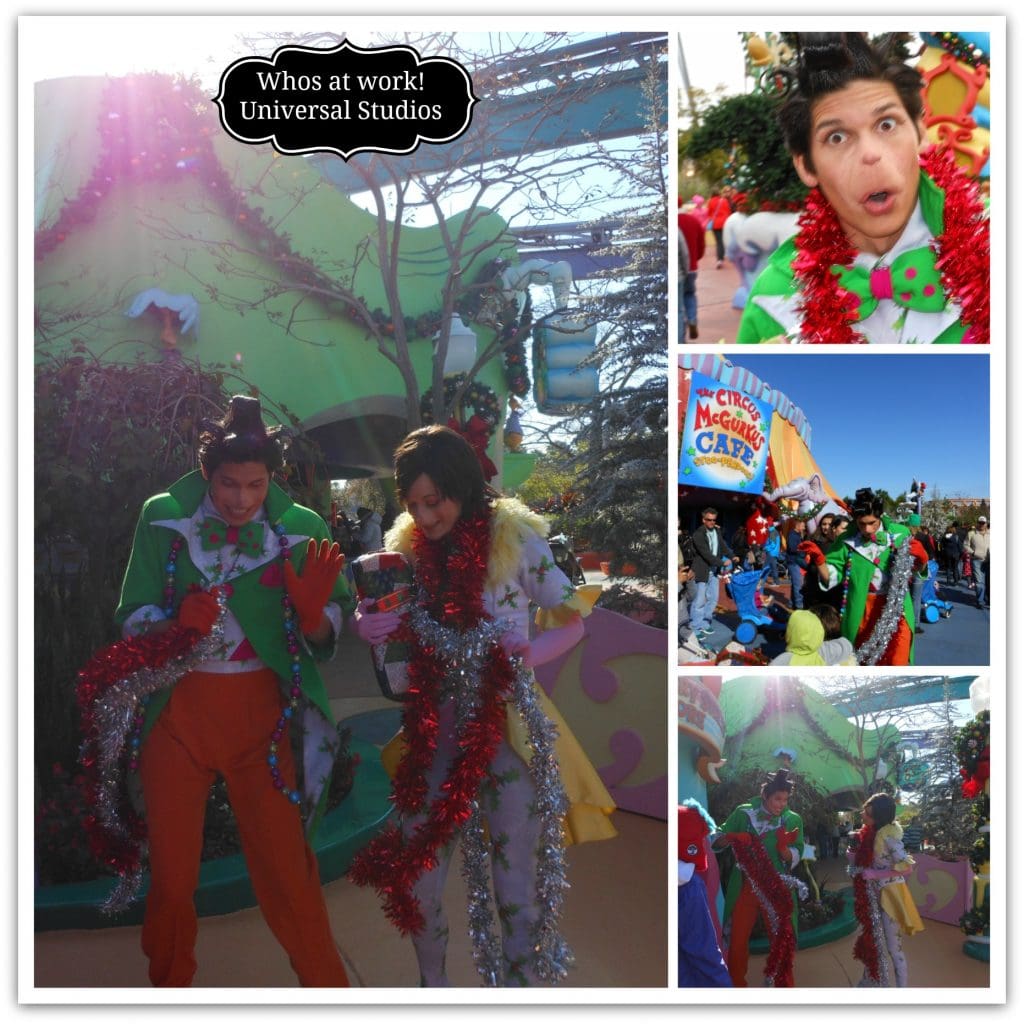 I wish I could have gotten video of these two doing the "sisters dance," but they didn't stay in one place for long.
There is so much fun to be had in Seuss Landing! We didn't get a chance to go on The High in the Sky Seuss Trolley Train Ride, but it's on the top of my list when we go back. This trolley takes you high above Seuss Landing so you can see just about everything, even circling around Circus McGurkus Cafe Stoo-pendous where you can wave to the people dining! How fun is that? The One Fish, Two Fish ride looks like a blast for younger kids.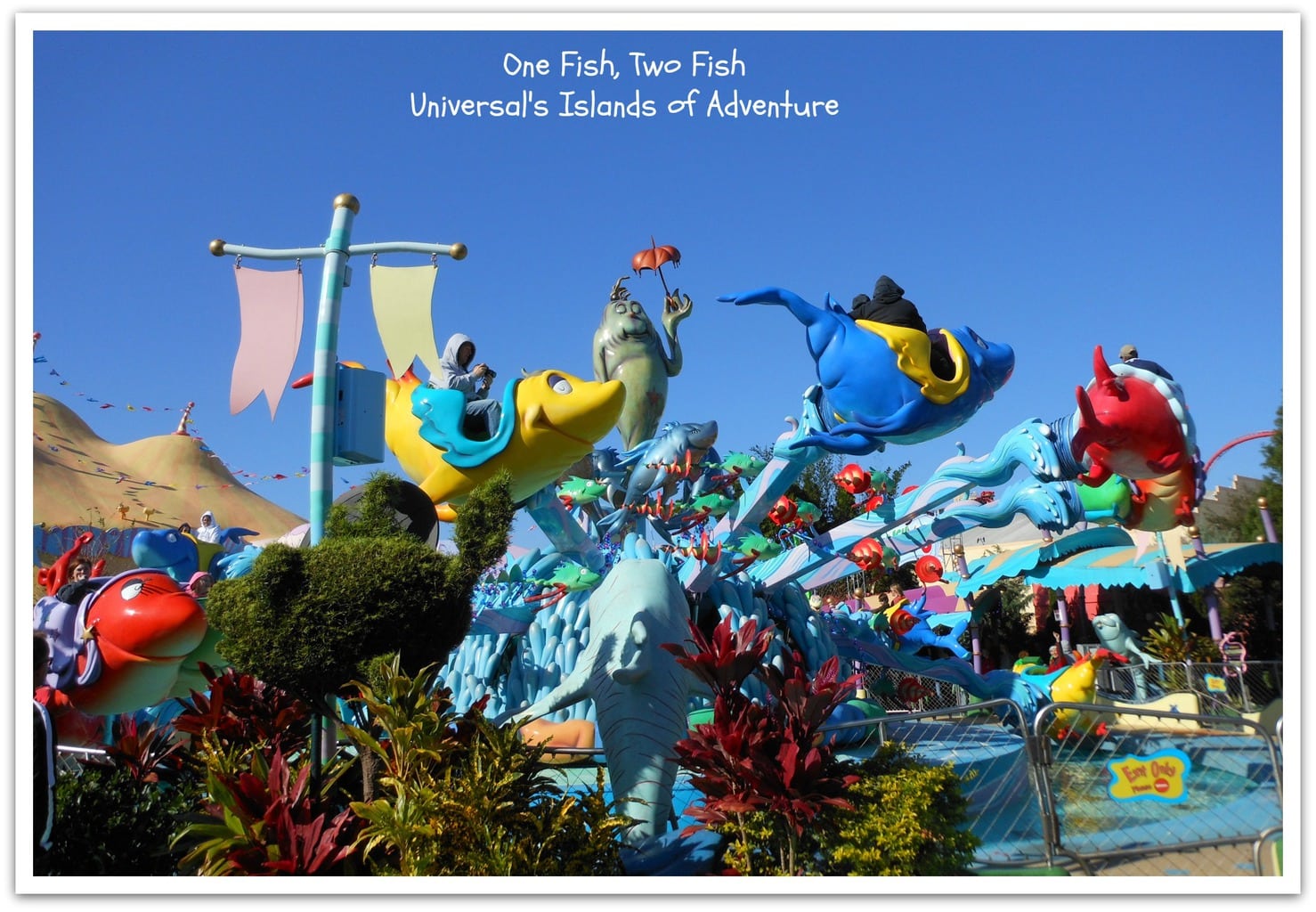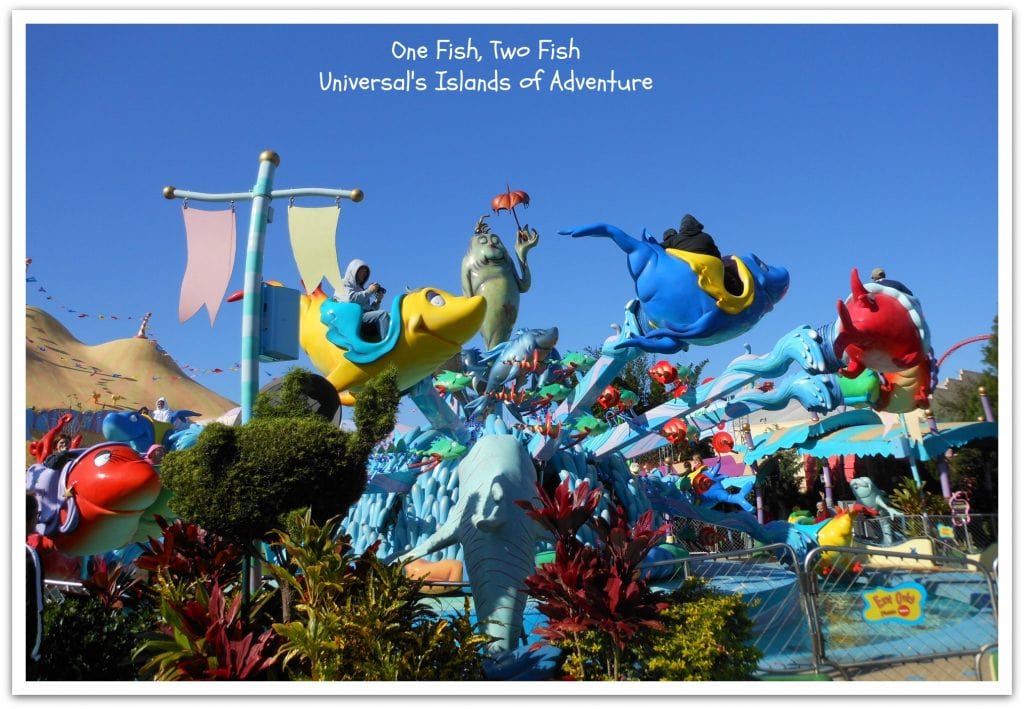 I was excited about our next adventure because I'm a huge Marvel fan. Hopefully you saw my post about visiting Hollywood in November for the Thor: The Dark World premiere. Marvel Super Hero Island is ah-maz-ing!!
I'm sorry we didn't get the chance to go on any rides this time. My husband and daughters loved the The Incredible Hulk Coaster when we visited before. They said it has an awesome take-off, shooting you straight up in the air! We've never done The Amazing Adventures of Spider-Man, but it looks like fun. Doctor Doom's Fearfall is a bit much for me, but my 14 year old can't wait to ride it. My favorite part of any theme park is the characters. We spotted the Green Goblin a couple of times, and he was having so much fun sneaking up and scaring people!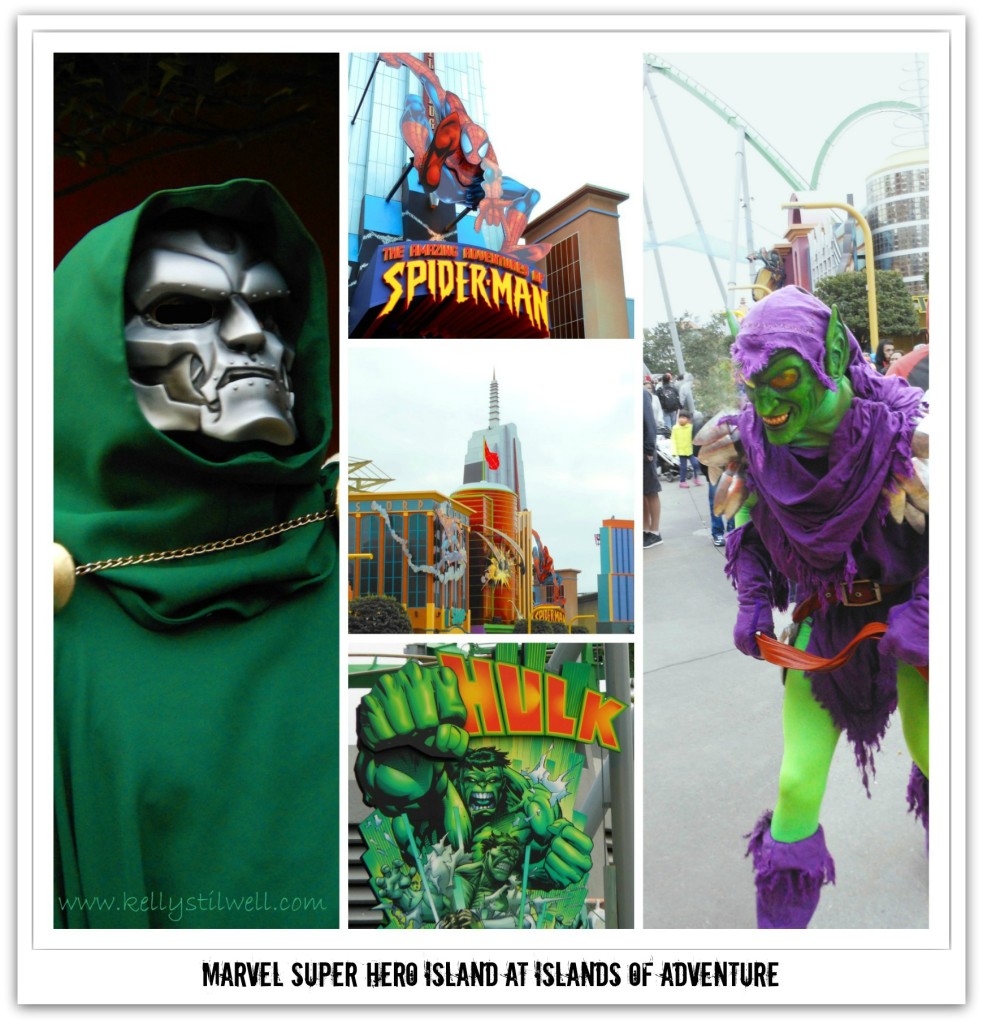 We'll get back to Islands of Adventure soon and share more with you. Until then, head over and check out our visit to Universal Studios, which is right next door! I'd love to read your thoughts about what you liked best at Islands of Adventure! Share in the comments below!
Like our content? Follow us on Pinterest!