Following the Romantic Road in Germany makes for a very special trip.
When I was asked if I'd like to visit Germany with my husband, I hadn't heard of the Romantic Road.
Now that we've experienced a little bit of it, I want to go back and take more time. Four days was not enough!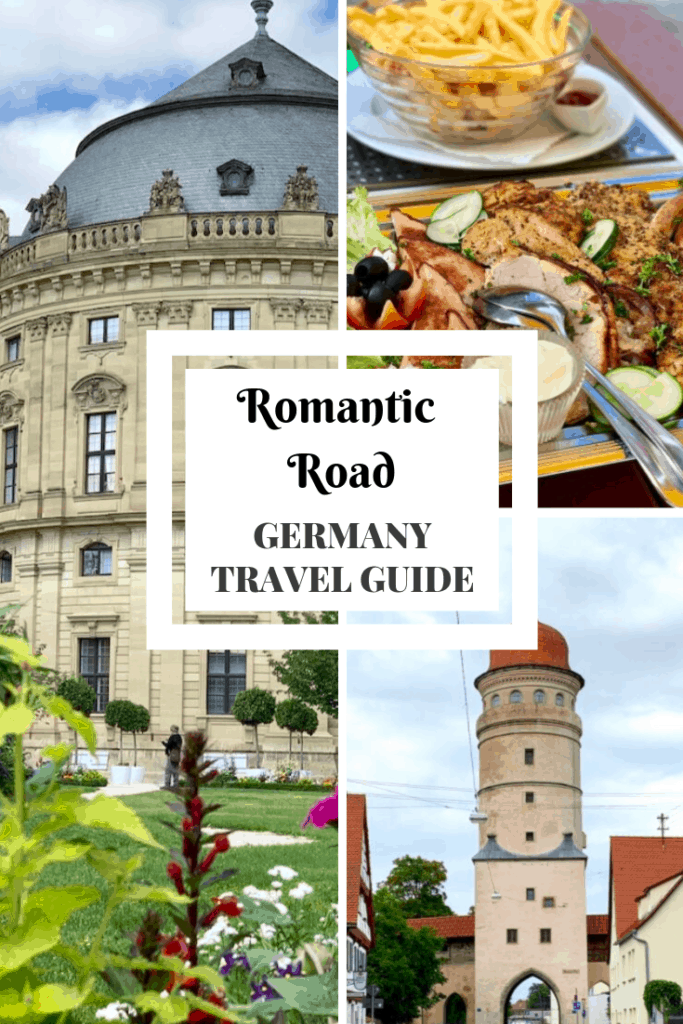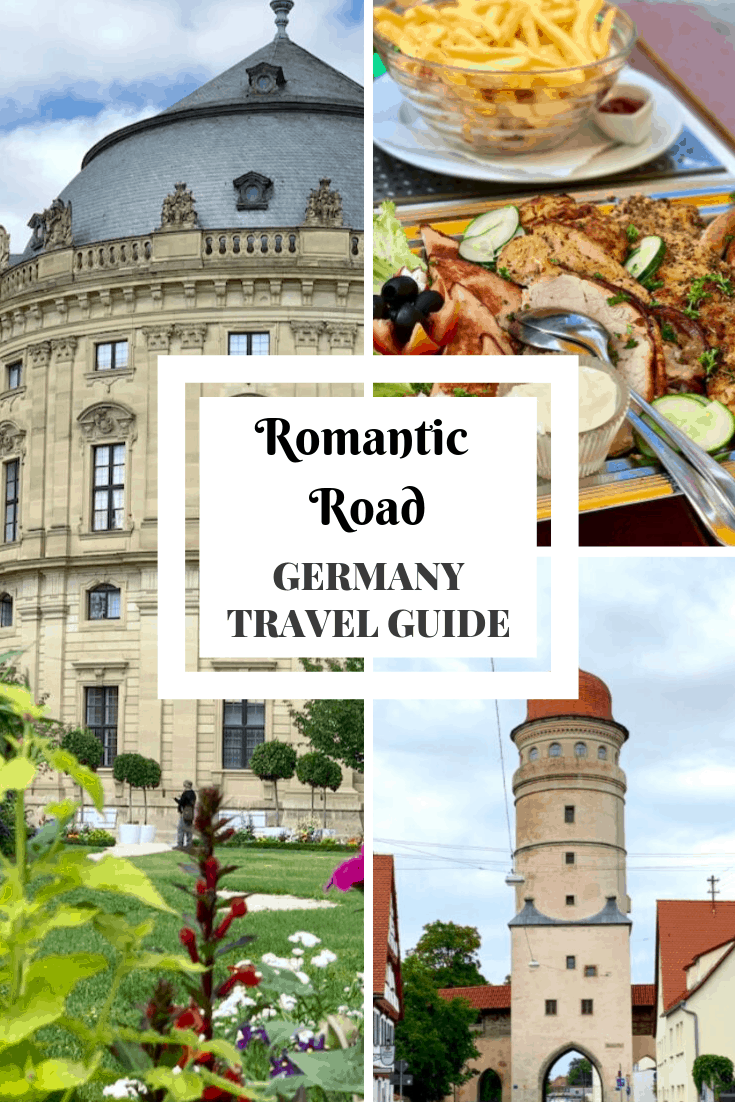 This journey on the Romantic Road is unquestionably Germany's most popular road trip, running from the Main River to the Alps.
With medieval walled towns, wonderful restaurants, and quite a few UNESCO Heritage sites, there is a lot to see and do.
Even the drive between the stops is spectacular, with farmland and meadows starting in the north, and ending with stunning mountain views further south.
Romantic Road in Germany Travel Guide
I'll do my best to answer your questions about a trip along the Romantic Road, known as Romantische Straße in Germany.
One of the first questions I had was the name. Is this considered a romantic vacation?
It certainly can be! There is so much history, wineries, great restaurants, and of course, those castles. 
But this would also be a great trip for families. We happened upon a wonderful festival in Dinkelsbühl, and the kids were having a fabulous time running around just being kids.
There's a puppet theater in Rothenburg ob der Tauber that has daily shows. Teens might enjoy the Medieval Crime Museum in the same town.
Visit the Romantic Road website to get ideas for including the whole family.
Where is The Romantic Road?
The Romantic Road in Germany technically begins in Würzburg and ends in Füssen, or vice-versa. In other words, if you wanted to drive from one point straight through to the end, these are the endpoints. We flew into Munich and started in Augsburg.
The journey is 410 kilometers (almost 255 miles) from one end to the other. As you're driving, you'll see brown signs that indicate the route. But there are other ways to take this journey besides by car.
How To Best See The Romantic Road
Car
Visitors take the Romantic Road in different ways. Some start by car at one end and drive to the other end. Some decide which cities out of the 28 they are most interested in seeing, and skip around.
It's a very good idea to make reservations ahead of time, especially in the busy season of June through August, and again in December. But you will probably find places with a room if you decide to be spontaneous.
Long-Distance Walking Trail
Most people do go by car, but there is also a long-distance walking trail. Obviously, there are things you miss when traveling from place to place by car.
The landscape in this region is breathtaking and was the inspiration for many works of art in the 19th century. The walking trail is almost 500 kilometers. Blue signs mark the trail. Easy access to the villages ensures stops for traditional meals and a good night's sleep.
If you do opt for the Walking Trail, be sure to get your Hiking Card to get stamped. There is a Romantic Road Gold Badge in store! If you're only able to visit 18 stops, you'll be awarded a Silver Badge, and if 9 stops are all you can make this trip, a Bronze Badge awaits.
All tourist offices have hiking cards, so be sure to stop by and pick them up. You must have all the required stamps to get each award. If you'd like to see the route, including stops, visit the Romantic Road website.
Long Distance Cycle Trail
Another fun way to see the Romantic Road is to take the Cycle Trail. We met a couple who were doing the entire trail in twelve days.
The terrain is steep at times, so this is not for those who have not spent at least some time on a bike. Perhaps a shorter portion would be a good way to begin for those less experienced. From April through October, a coach service accepts bicycles with advanced reservations, so that is a great way to try out cycling.
For more experienced cyclists, they will find the 460-kilometer trail to be mostly flat with some gentle slopes and some steeper slopes. The trail is not at all intended for professional cyclists, so those who ride for leisure on a fairly regular basis will probably find the Romantic Road Long Distance Trail to be a great way to travel.
Romantic Road Coach
If the entire Romantic Road is not something you're quite ready for by foot or bike, you can choose a portion of it, and take the Romantic Road Coach for other areas of the itinerary. Find out more about taking the bus including schedules and cost. It's easy to catch the bus in Munich or Frankfurt.
Train
The train is another option as each of the larger towns has their own railway station that's connected to regional public transportation. If you want to just hit the larger cities of Würzburg, Donauworth, and Augsburg and go from there, you can choose Germany Rails High-Speed ICE Train.
Our Stops on the Romantic Road in Germany
Now that we've covered the various ways you can travel the Romantic Road, I want to share where we stopped. After flying into Munich, we drove directly to our hotel in Koenigsbrunn, the largest town in the Augsburg district. Koenigsbrunn is just 10 kilometers south of the city of Augsburg.
We stayed at the Best Hotel Zeller, which has very reasonable prices and a lovely buffet breakfast that's included with your stay. The rooms were clean and comfortable. Our room had a queen-sized bed, a desk, a chair for relaxing, and a bathroom with a nice shower. The hotel also has a sauna, but we weren't really there long enough to check it out.
The restaurant in the hotel offers traditional German food and has an appetizer platter of specialties. The name on the menu is Biergartenschmankerlrunde! Say that three times fast!
I fell in love with the food after the first taste. I was surprised at how easy traditional German dishes are to prepare!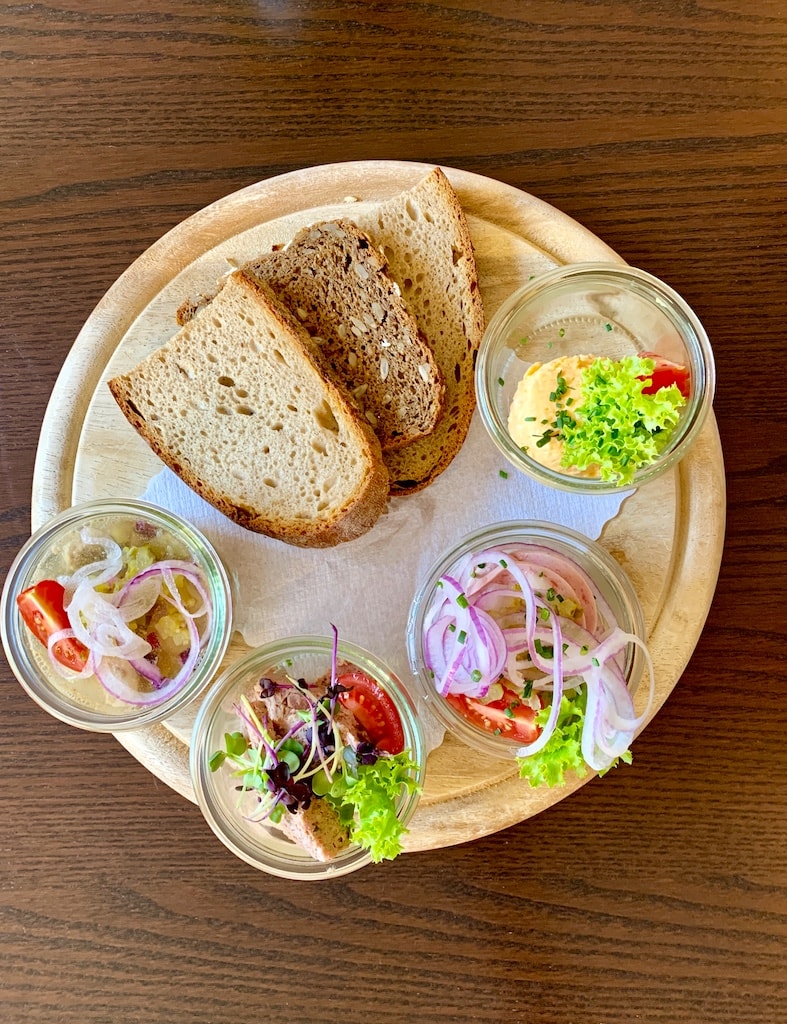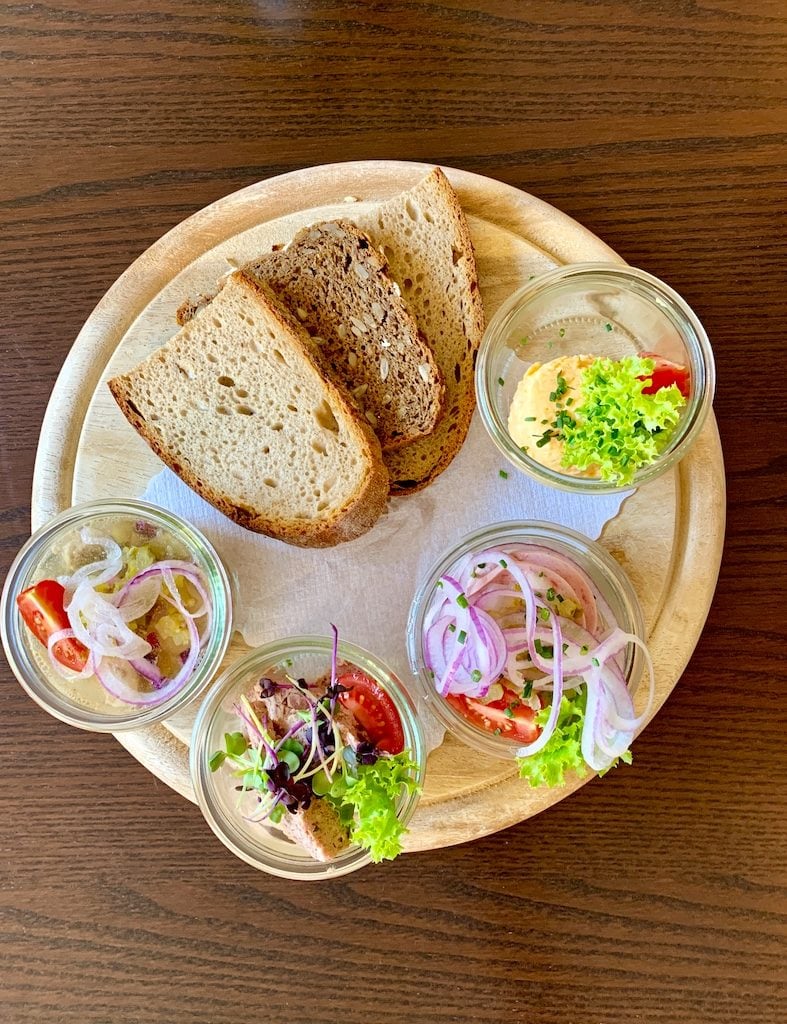 This also gave us an opportunity to have our first beer in Germany on this trip. Delicious!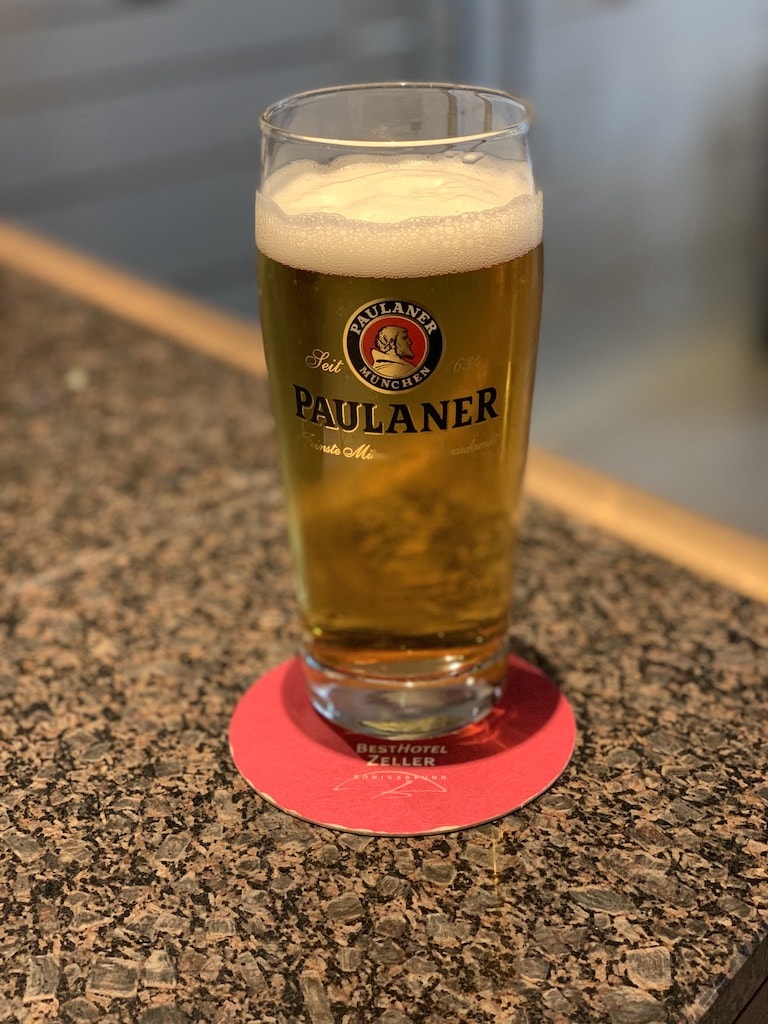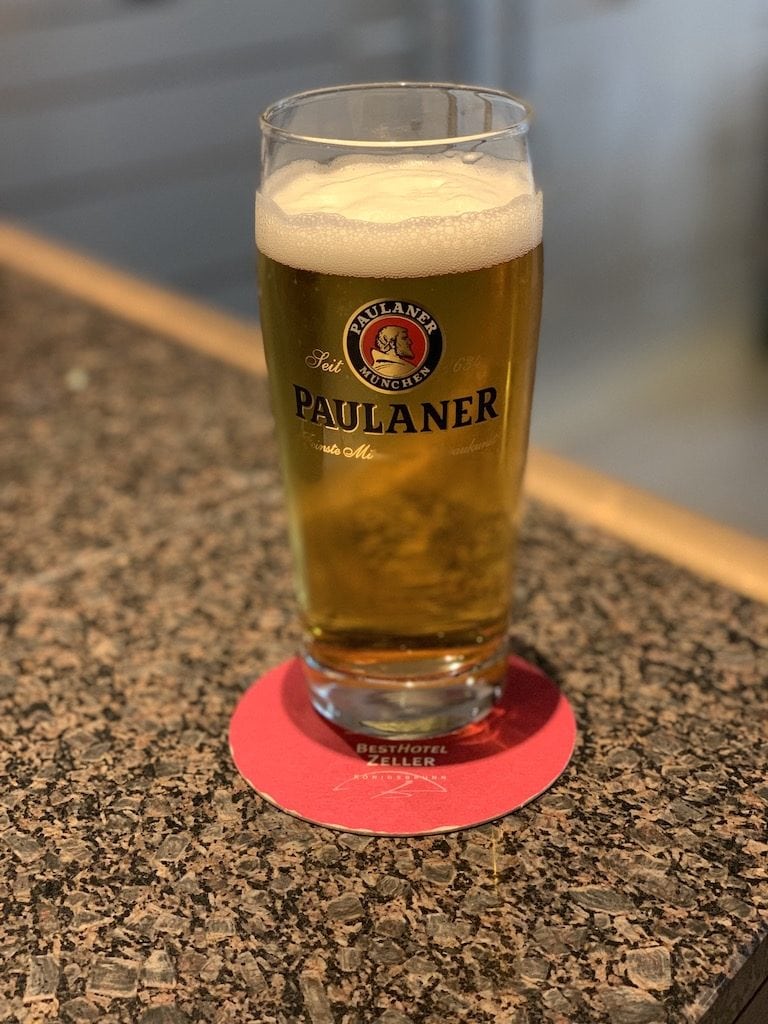 We did walk around a bit in Koenigsbrunn, but there's honestly not much there compared to Augsburg. The hotel does have free bikes you can use if you want to explore.
If you have a sweet tooth, you'll find a huge dessert shop that looks a little like a palace in a theme park. Muller's Cafe has anything your heart might desire when it comes to dessert, including decadent chocolate creations. You can also get coffee, cappuccino, and other beverages there.
We settled on dinner just across the street from our hotel. It was an Italian restaurant, but they did offer a few German dishes. The schnitzel platter was good along with another beer and we were ready to rest up for the next day.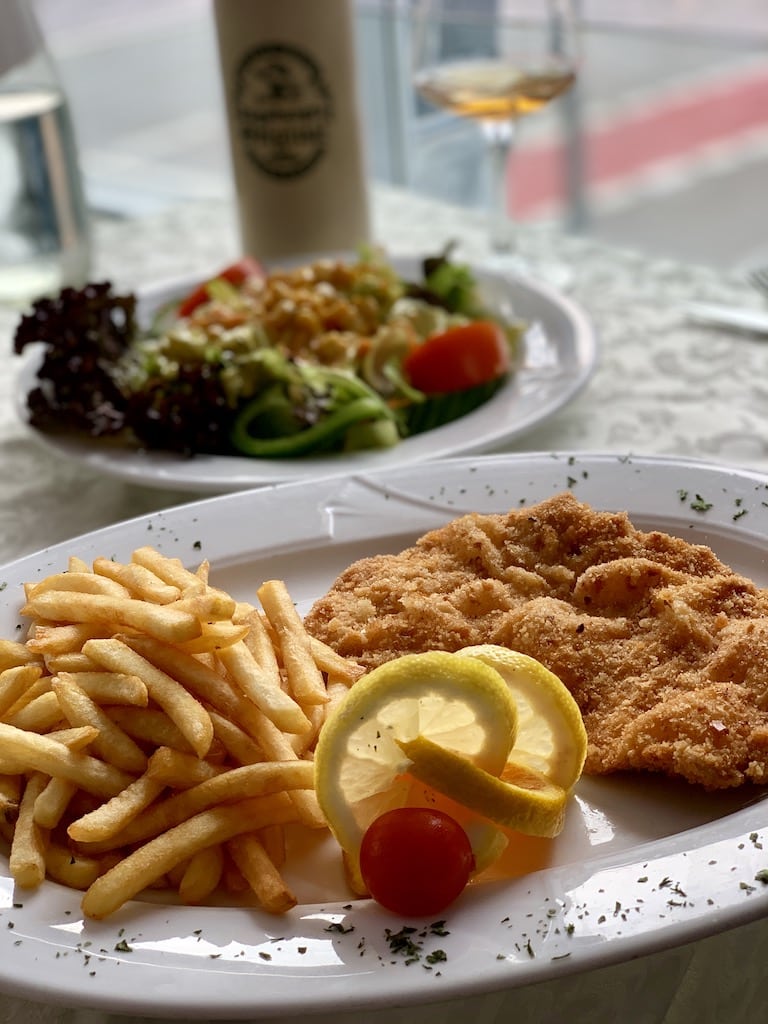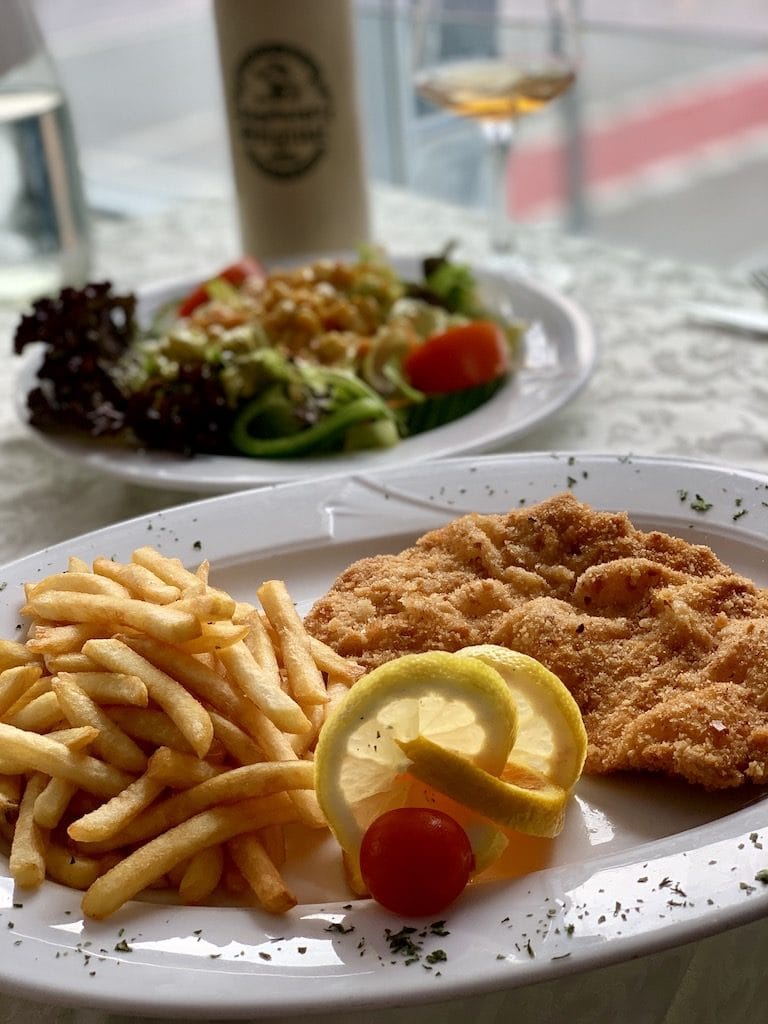 We had big plans to visit Augsburg, Donauwörth, Nördlingen, ending in Rothenburg ob der Tauber, all in one day!
Augsburg
Augsburg is one of Germany's oldest cities, founded by Roman Emporer Augustus in 15 BC. You could easily find enough to do in Augsburg to spend a few days.
We had a busy day ahead so only spent a few hours, so if you're just stopping in Augsburg on your way to another destination, you can absolutely see a lot in a half day. If nothing else, please see the Fuggerei, the oldest social housing complex in the world.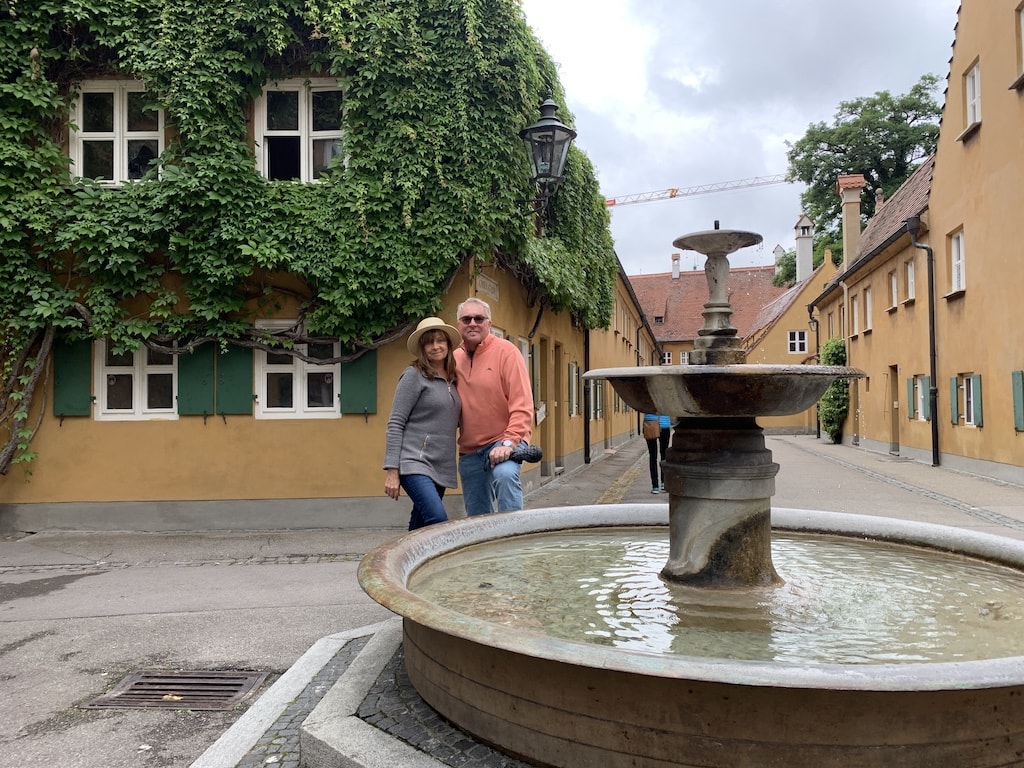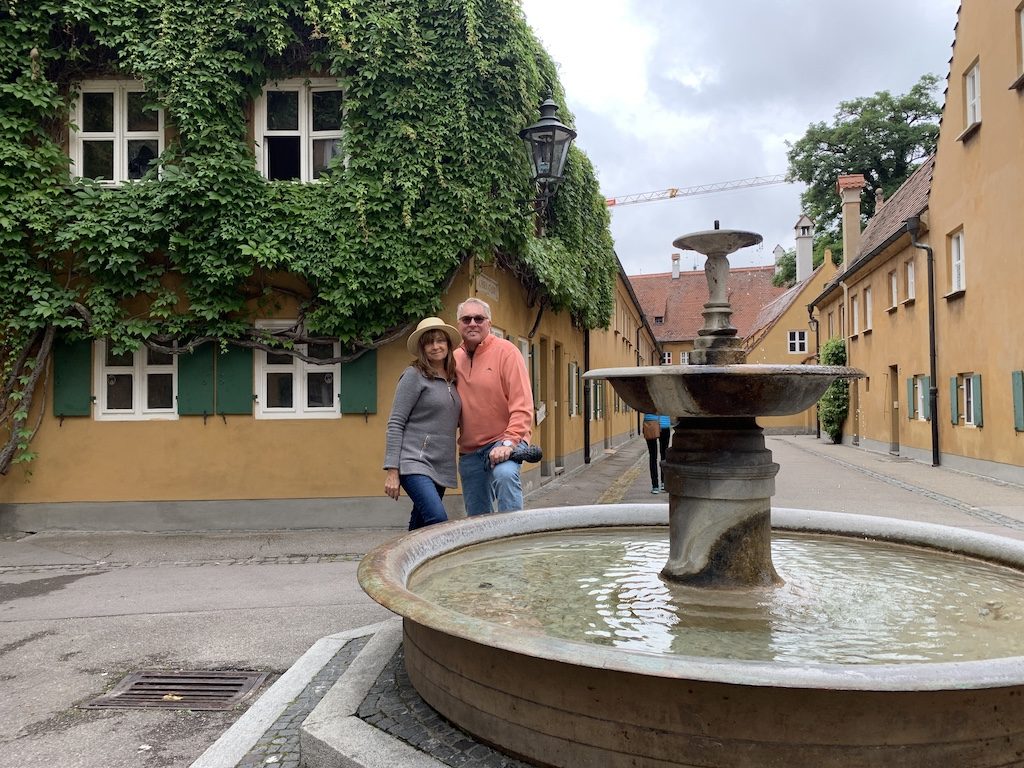 For more ideas of what to do, I have a few activity suggestions. See more about what we did in downtown Augsburg.
Donauwörth
Where the Danube and Wörnitz Rivers meet, you'll find Donauwörth. It's a pretty town, with colorful buildings and homes, set along the Wörnitz River.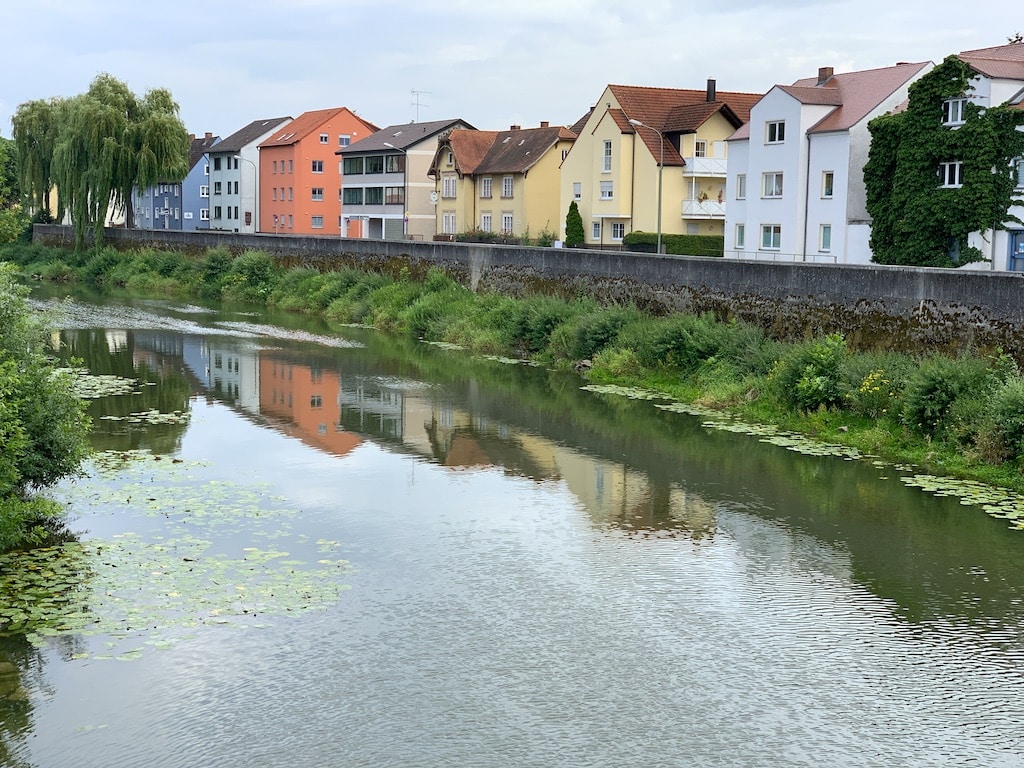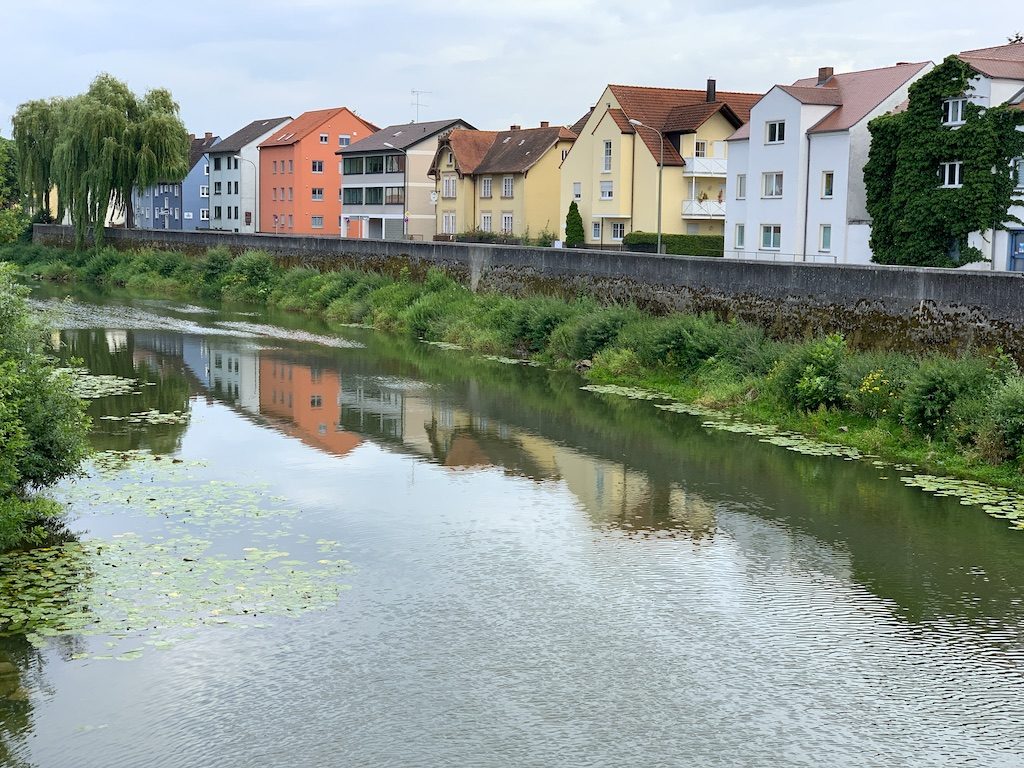 Much of Donauwörth was destroyed in the World War II bombings. The main street is Reichsstrasse, lined with some of the oldest buildings in the city. This street was on the Imperial route between Nuremberg and Augsburg, and markets were held here for many years.
Museum of Local History
If you're a history buff, visit the local museum to learn about the history of the town. Many battles were fought in this walled city because of its location on the Danube.
Käthe Kruse Doll Museum
Kids might enjoy the Käthe Kruse Doll Museum. On display, you'll find 150 dolls and mannequins, created at the world-renowned Käthe Kruse doll manufacturer, some dating back to as far as 1910. Käthe Kruse has a wonderful story, being born in 1883 to a single mother, and later becoming famous worldwide because of her dolls.
Town Hall
The 14th century Town Hall was restored in 1853 and is known for the glockenspiel on the side of the building. Hear the bells at 11 a.m. and 4 p.m. each day.
.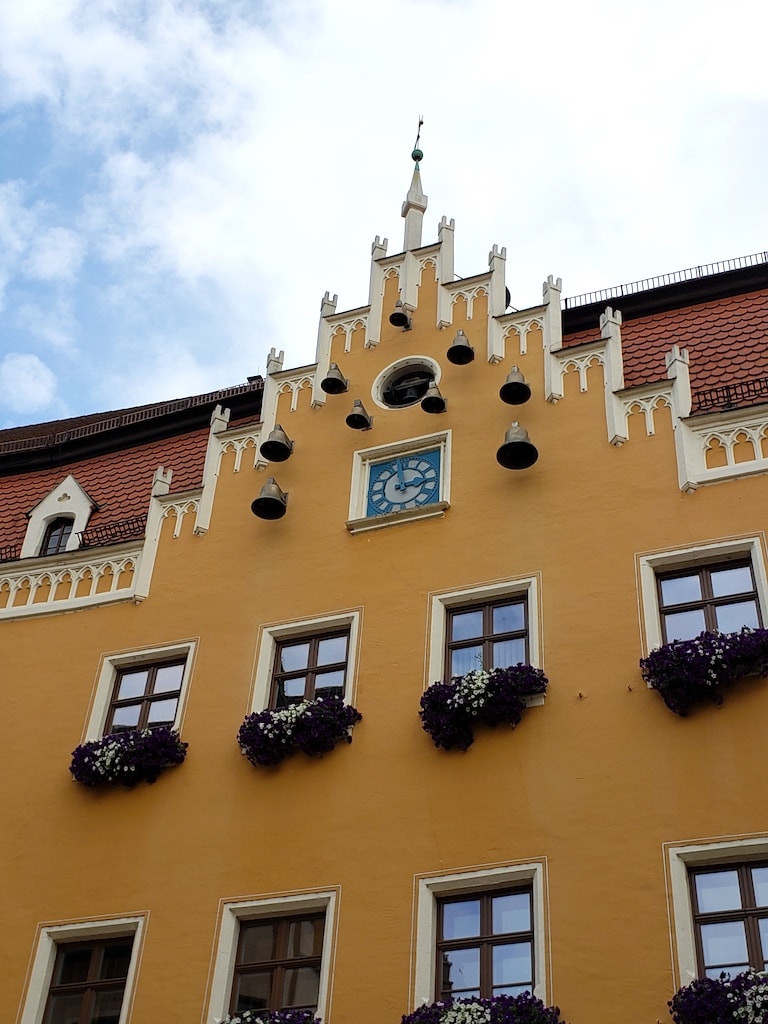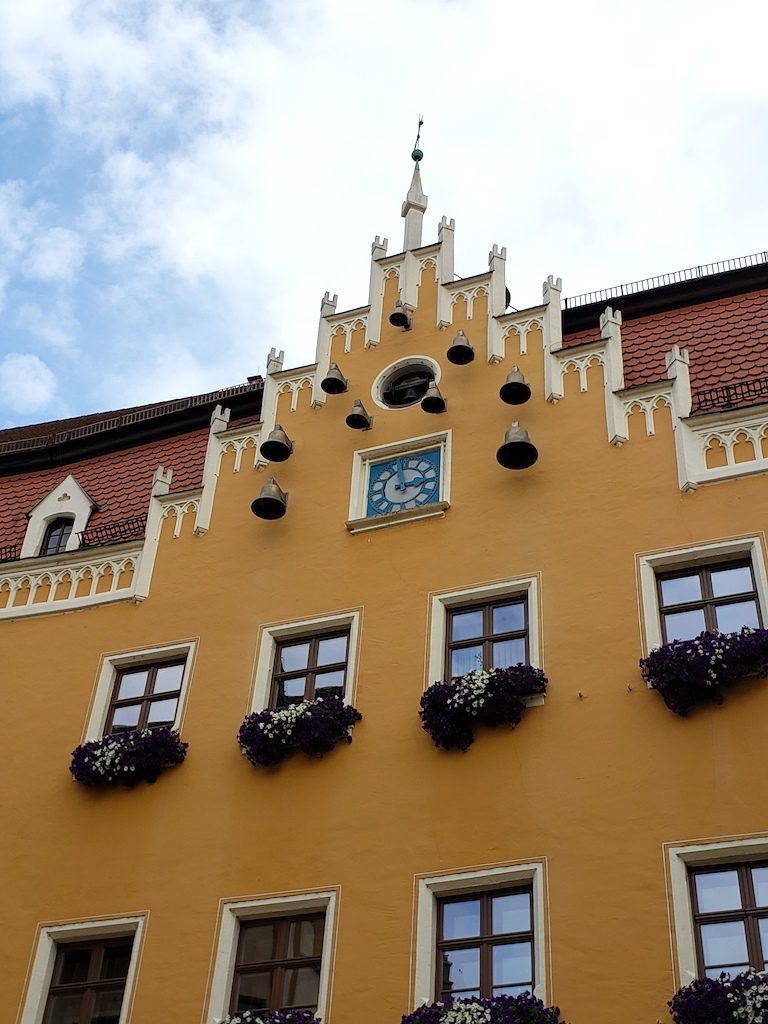 Nördlingen
Nördlingen is one of our favorite cities on the Romantic Road. You must climb Daniel Tower. The views were unbelievable!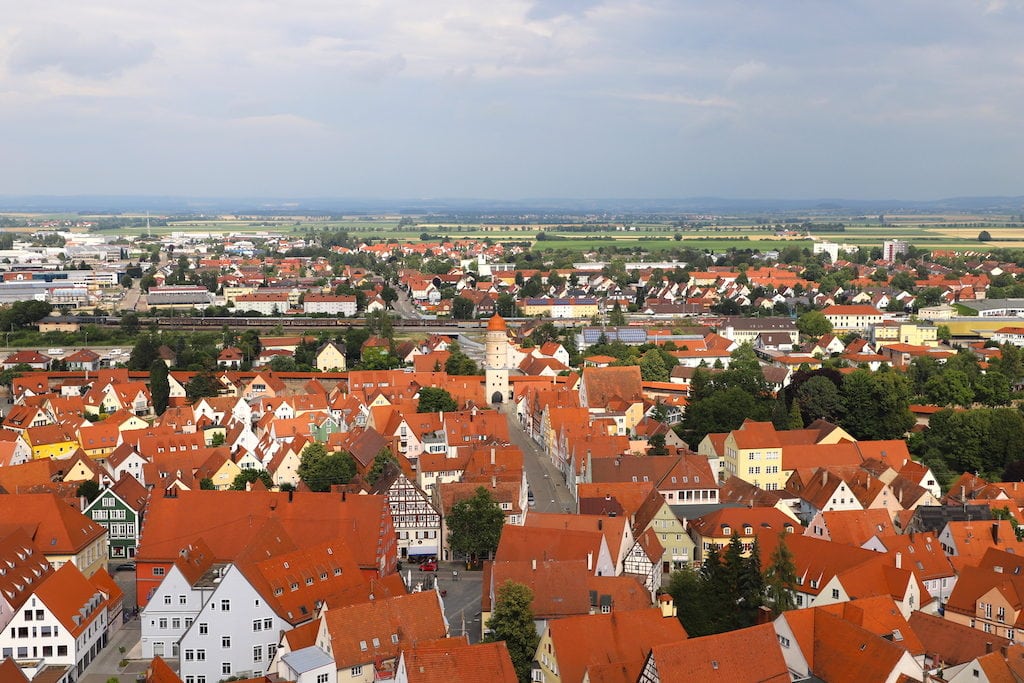 I had no idea a meteor had hit this area almost 15 million years ago. If you look in the distance in the photo above, you can see the higher elevations. The town of Nördlingen is inside the crater that spans approximately 400 feet below the rim.
Nördlingen even has a Michelin Starred restaurant. We had a lot of fun in this city. Read this post for a list of things to do in Nördlingen Germany.
Dinkelsbühl
Dinkelsbühl is another of the medieval walled cities on the Romantic Road in Germany. Like many of the cities we visited, this city was an important stop on a trade route. In fact, Dinkelsbühl was at the intersection of two important routes; the north-south Germany-Italy route, as well as the Rhine route through to Eastern Europe.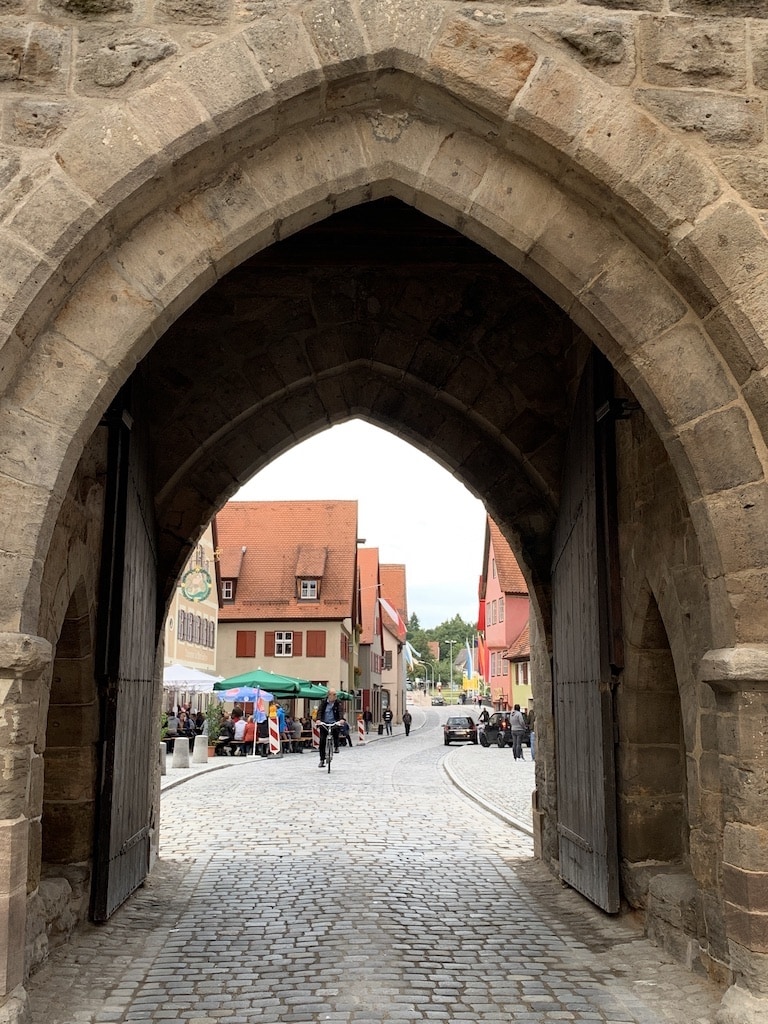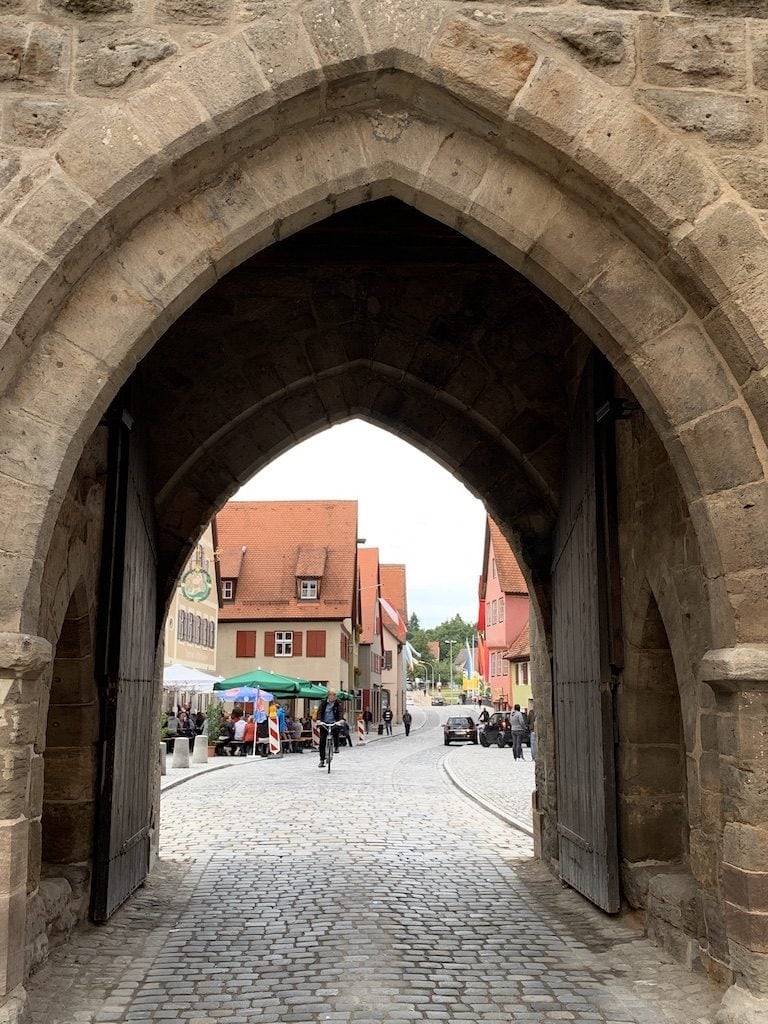 The Kinderzeche Dinkelsbühl is an annual festival that is worth planning your trip around. See what else there is to do in Dinkelsbühl, Germany and why I think you should make this one of your stops.
Rothenburg ob der Tauber
Rothenburg, also known as Rothenburg ob der Tauber, is located above the river Tauber. This is probably the most popular of all the walled cities along the Romantic Road.
With so many things to do in Rothenburg, Germany, you might want to spend a couple of days exploring. It's especially beautiful at dusk when the crowds are gone!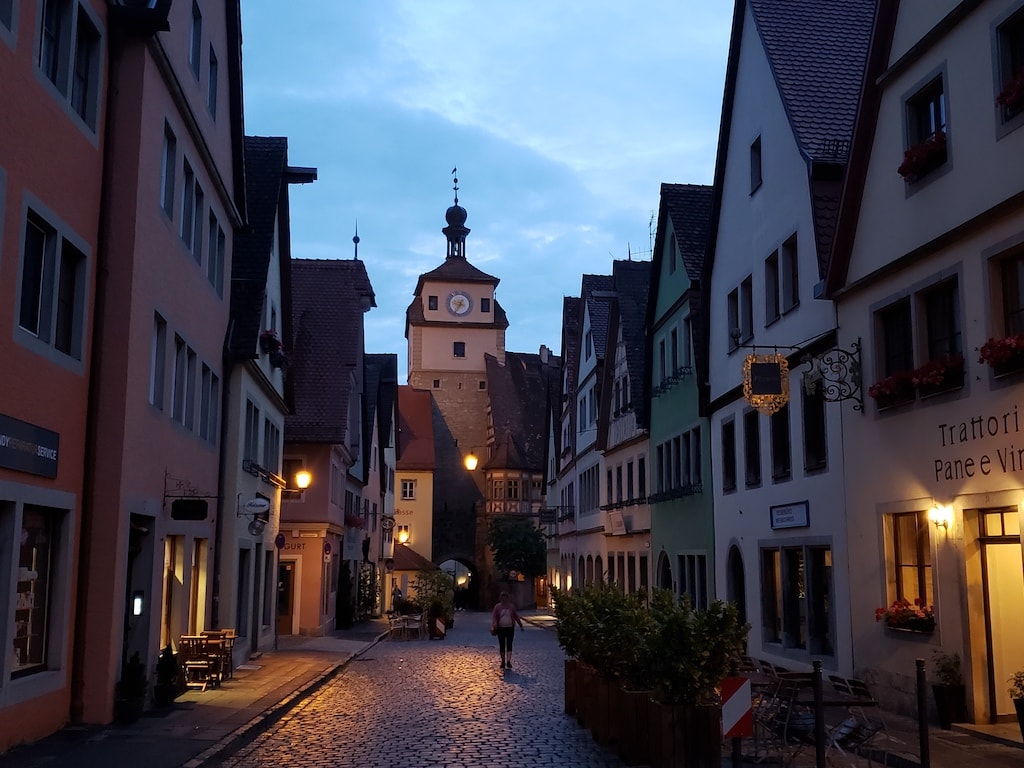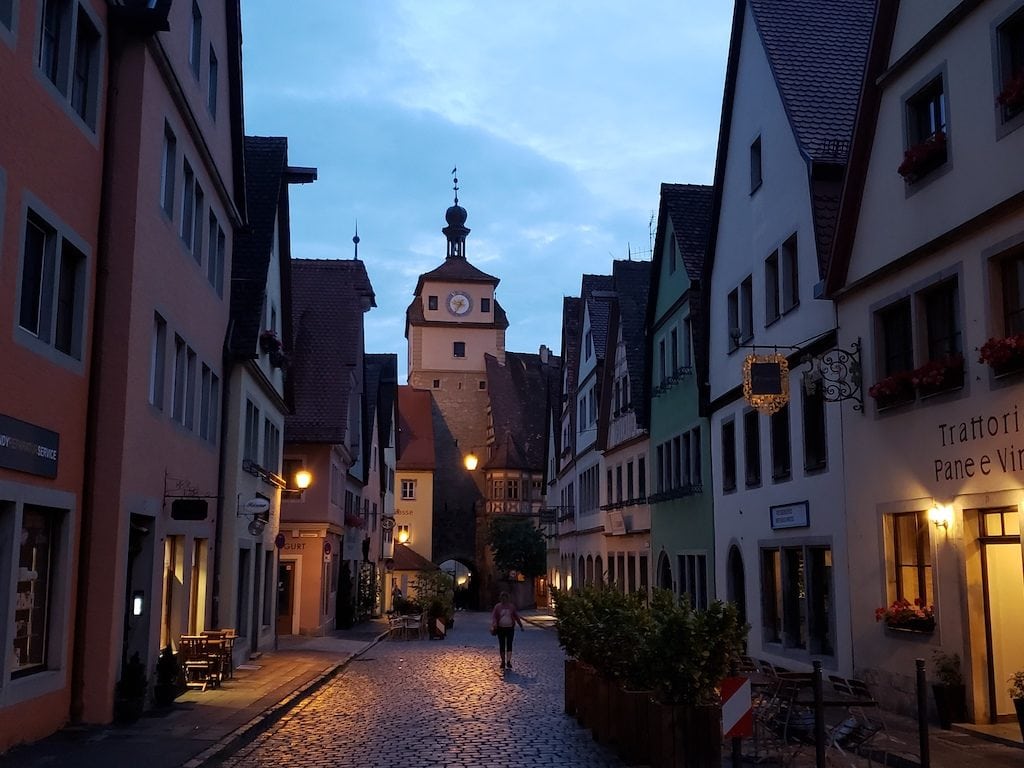 Würzburg
Many people begin their trip along the Romantic Road in Würzburg. Whether you start there, end there, or have a different plan than traveling the Romantic Road, don't miss seeing this beautiful city.
Bürgerspital Wine Estate
We had so much fun at the Bürgerspital Wine Estate, one of the oldest wine estates in all of Germany. We had a fabulous lunch in the historic courtyard. There is a separate area for wine tastings, or you can taste right at your table in the courtyard. You'll also find indoor seating if you're visiting in winter.
I decided to do the six tastings and I honestly loved them all, which was a surprise. German wines have not been at the top of my list, but now I know I just hadn't tried the right wines!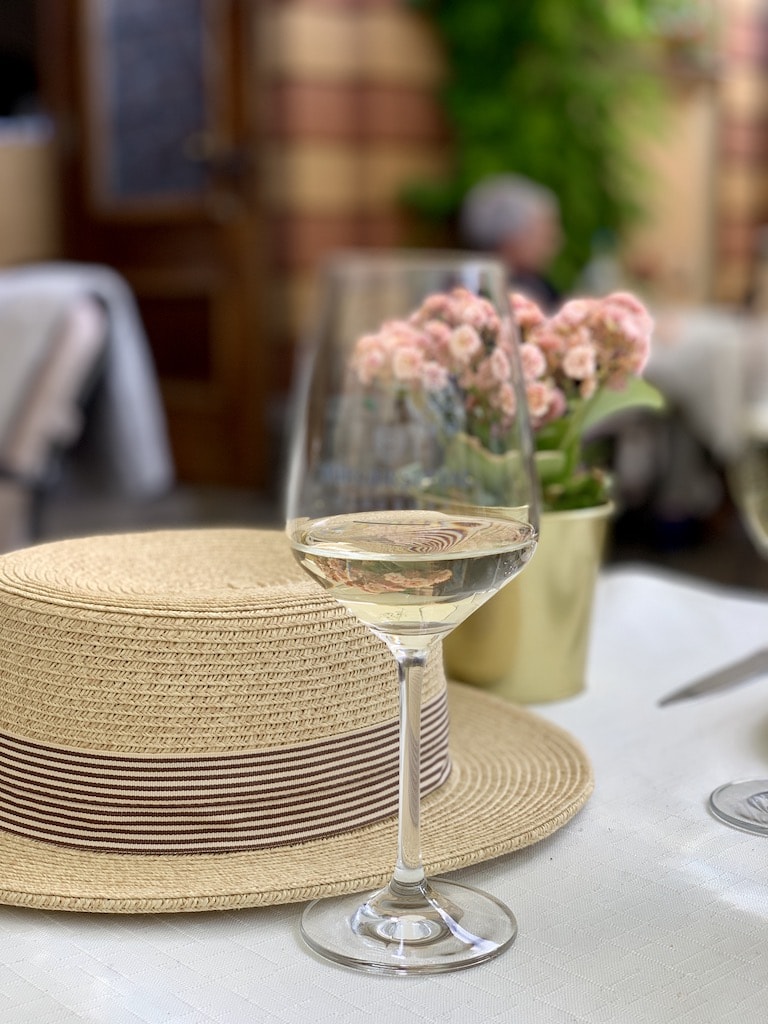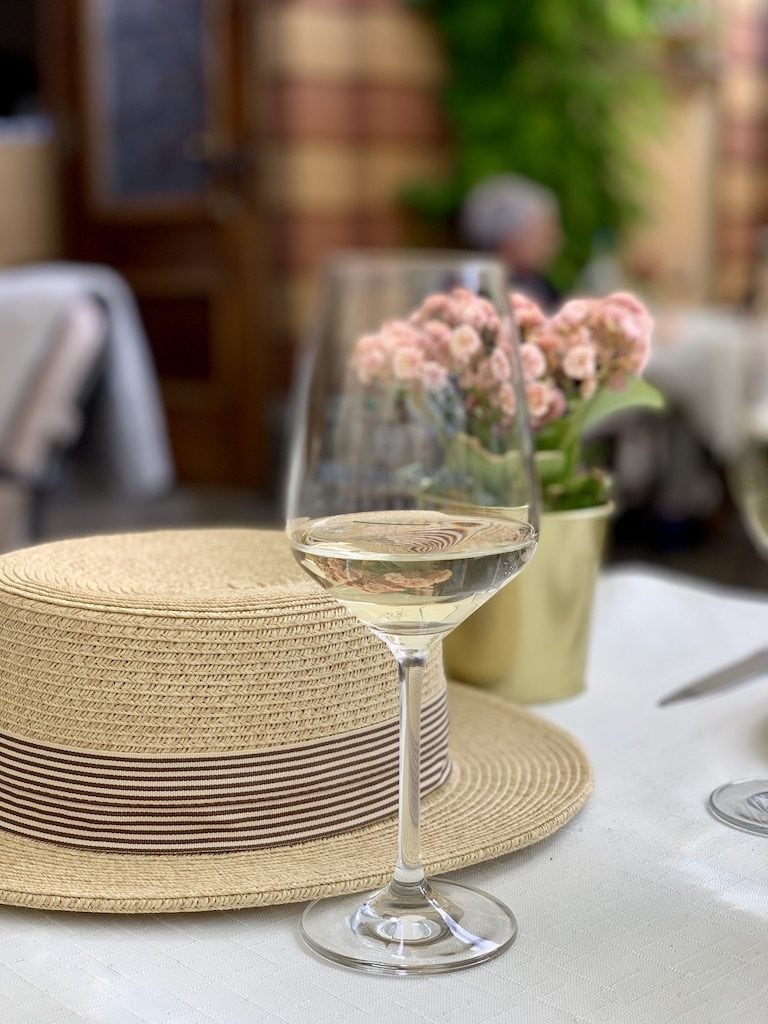 The menu at Bürgerspital has a lot of choices. My husband started with the mushroom soup and I ordered the fig and goat cheese salad.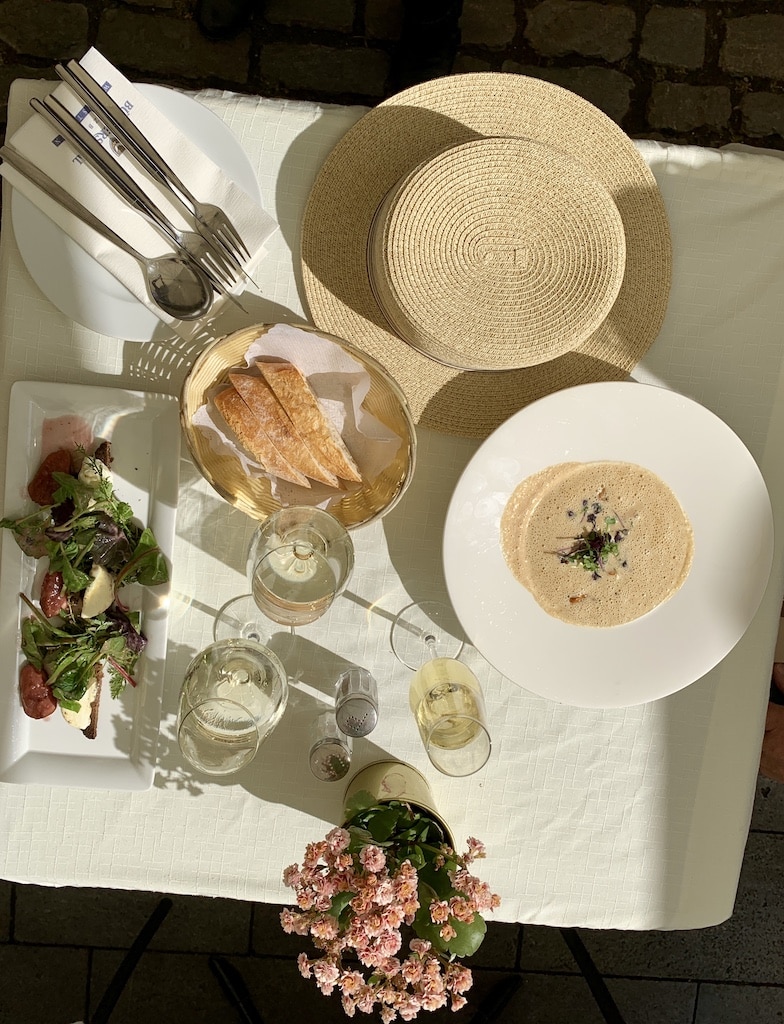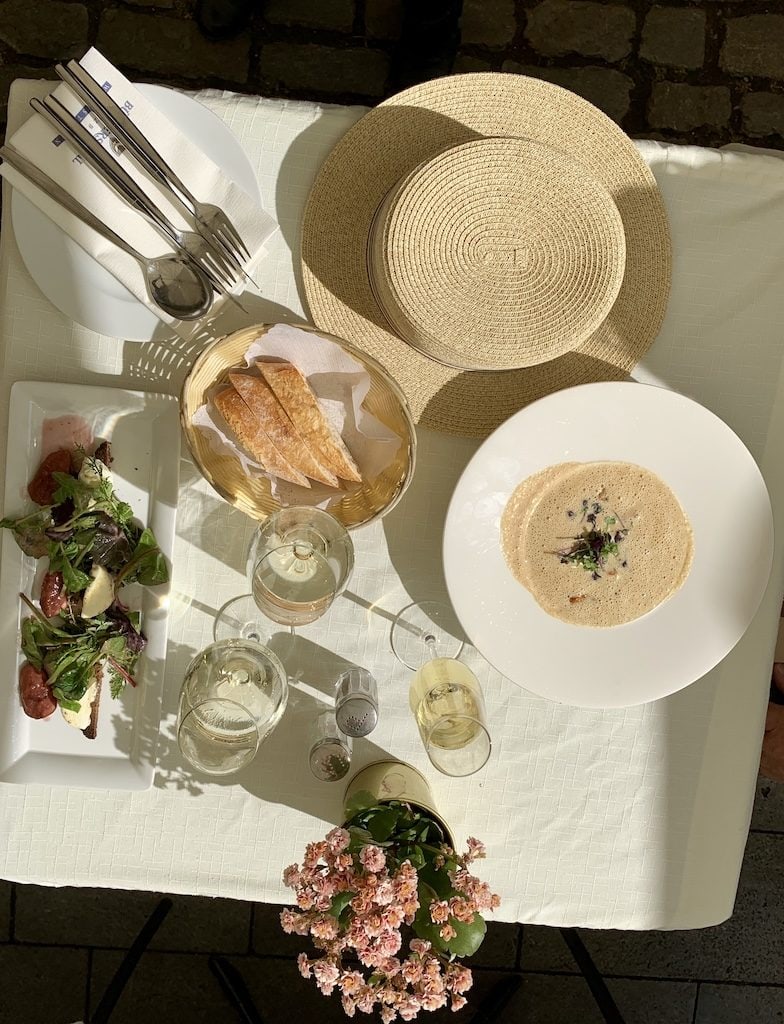 My husband ordered the trout club for his entree, which was scrumptious.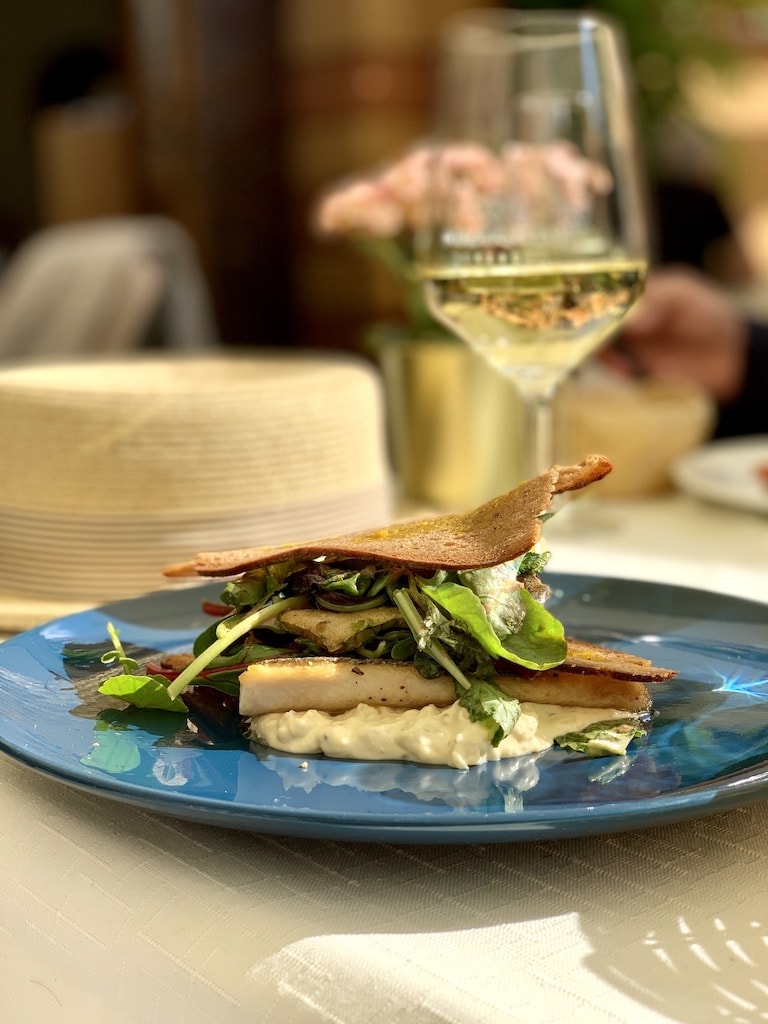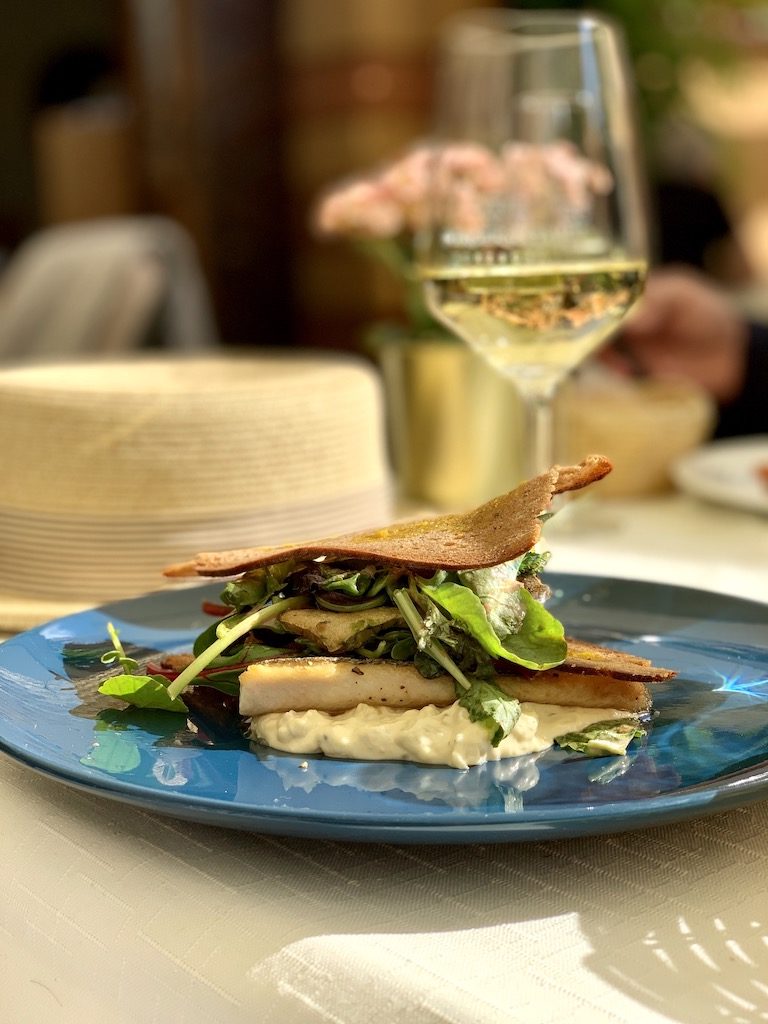 I wanted to try a traditional dish, so I ordered this smoked sausage with potato salad. It was so delicious. I need the recipe for that potato salad!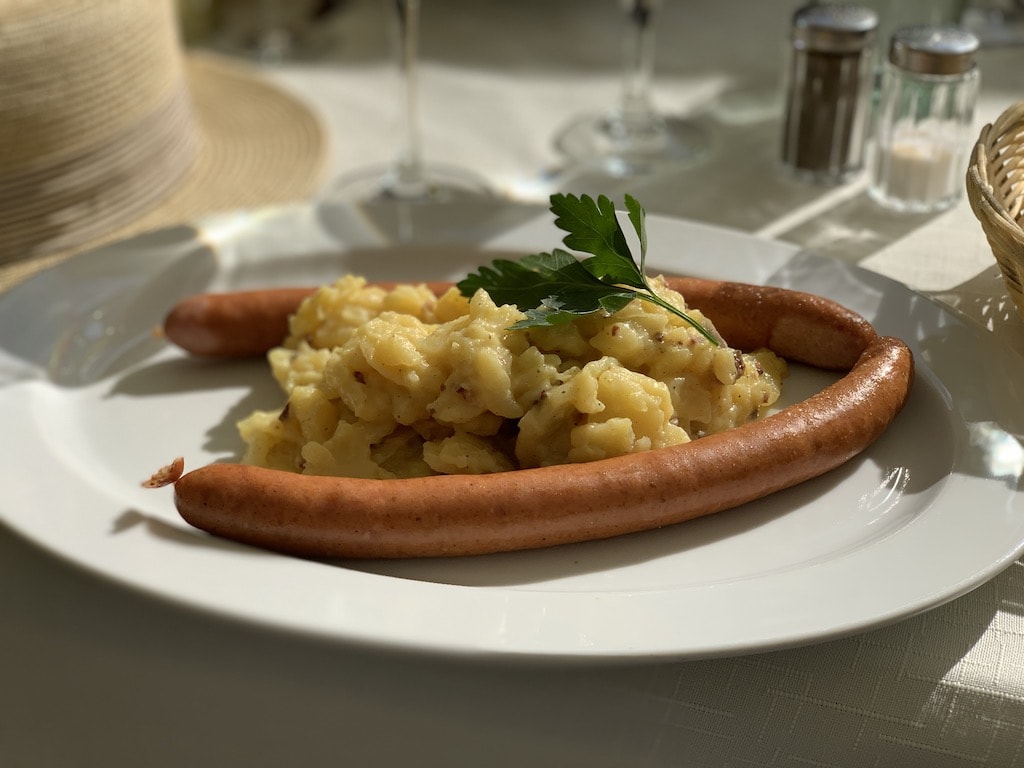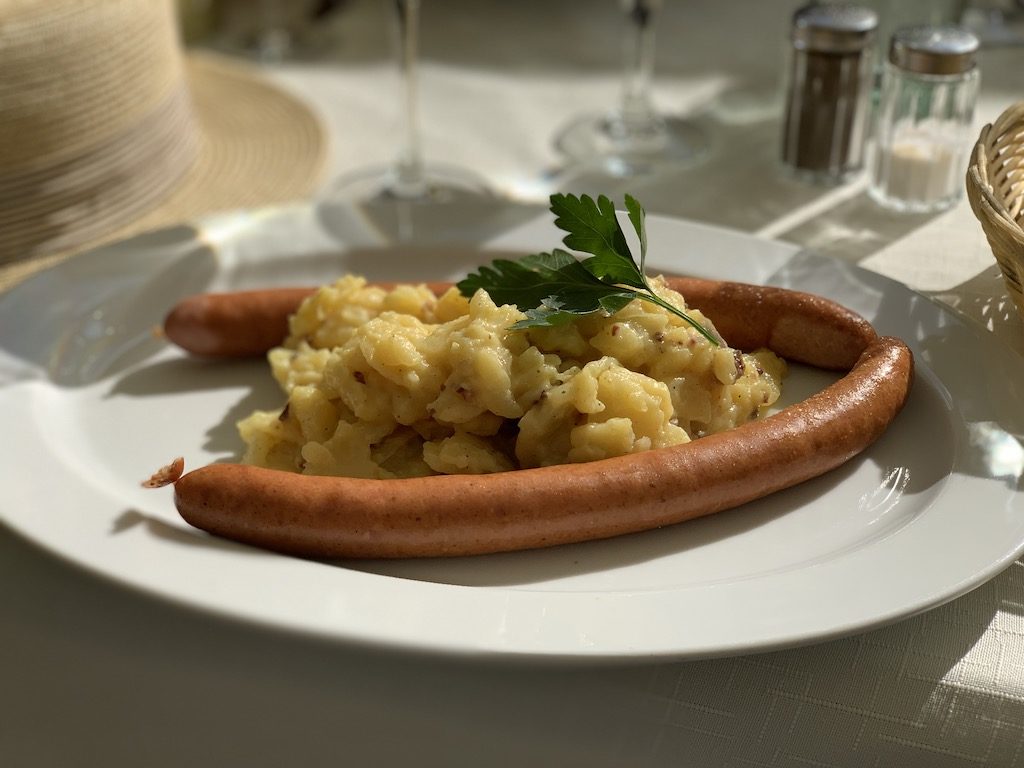 As I had a sweet wine for my final tasting, we asked our server what we should pair it with. She suggested this apricot and white chocolate dessert. It was so lovely with the wine.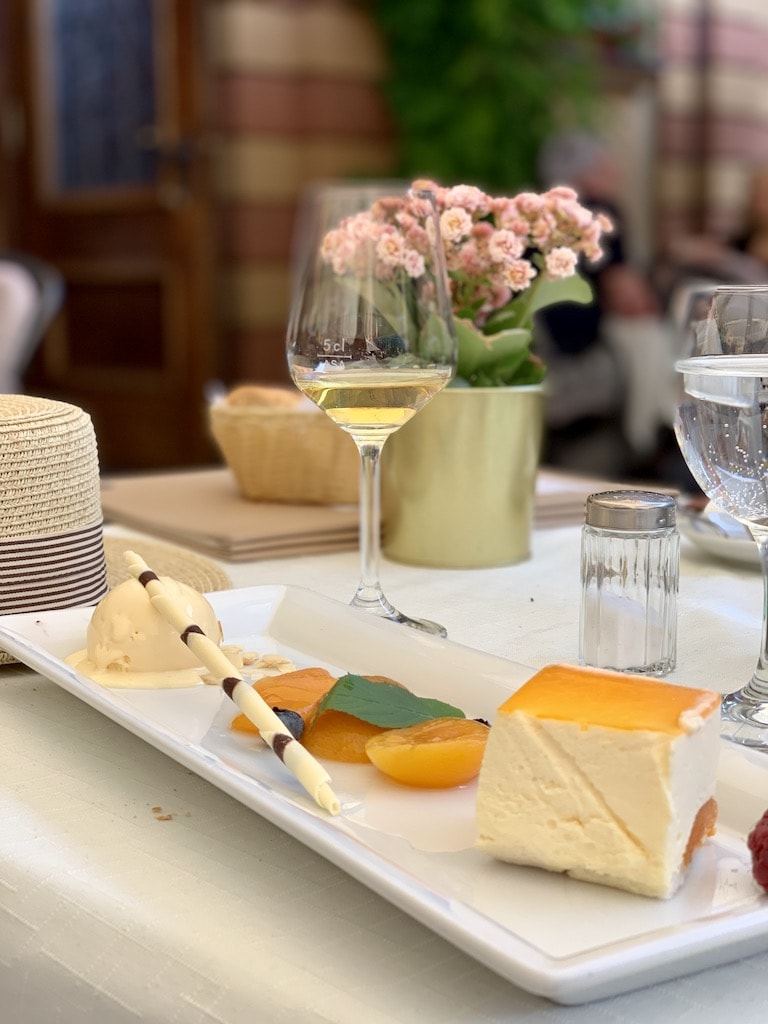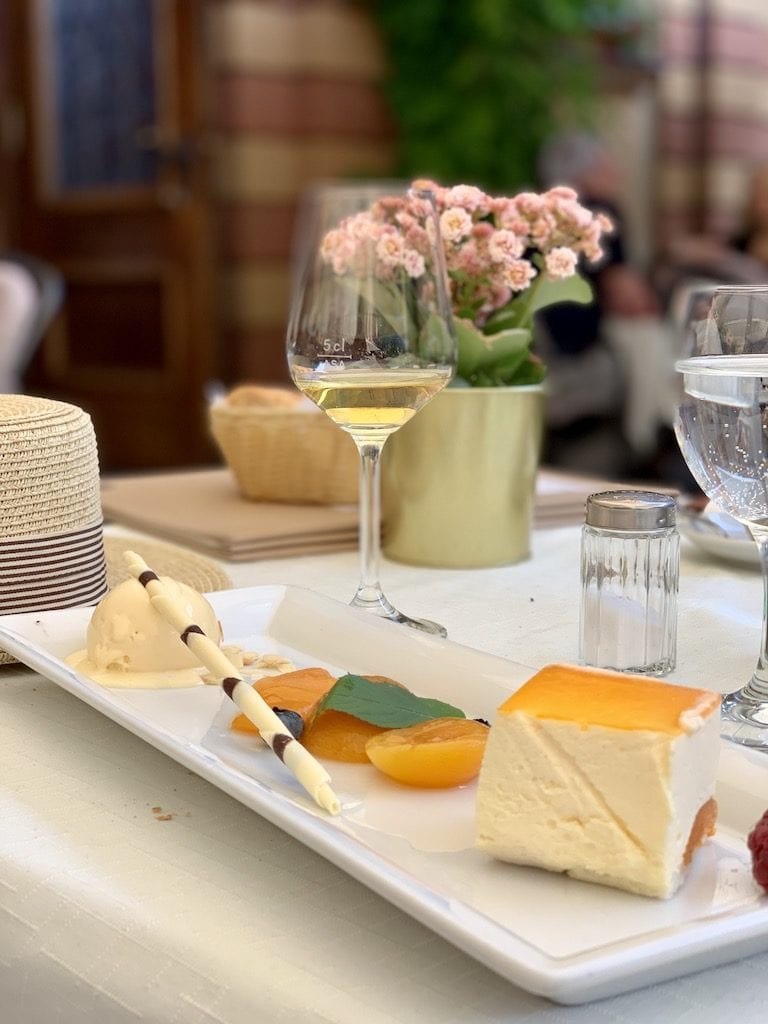 What was really unique about the Bürgerspital Wine Estate is that it's part of the Foundation for the Hospital of the Holy Spirit. The purpose of the foundation has always been to care for those in need. Every bottle of wine sold supports its mission.
Residenz Würzburg
Another must when in Würzburg is this Bavarian Palace. Residenz Würzburg was built between 1720-1744, with completion by 1780. It's hard to believe the building almost burned to the ground in March of 1945, just a few weeks before the end of World War II.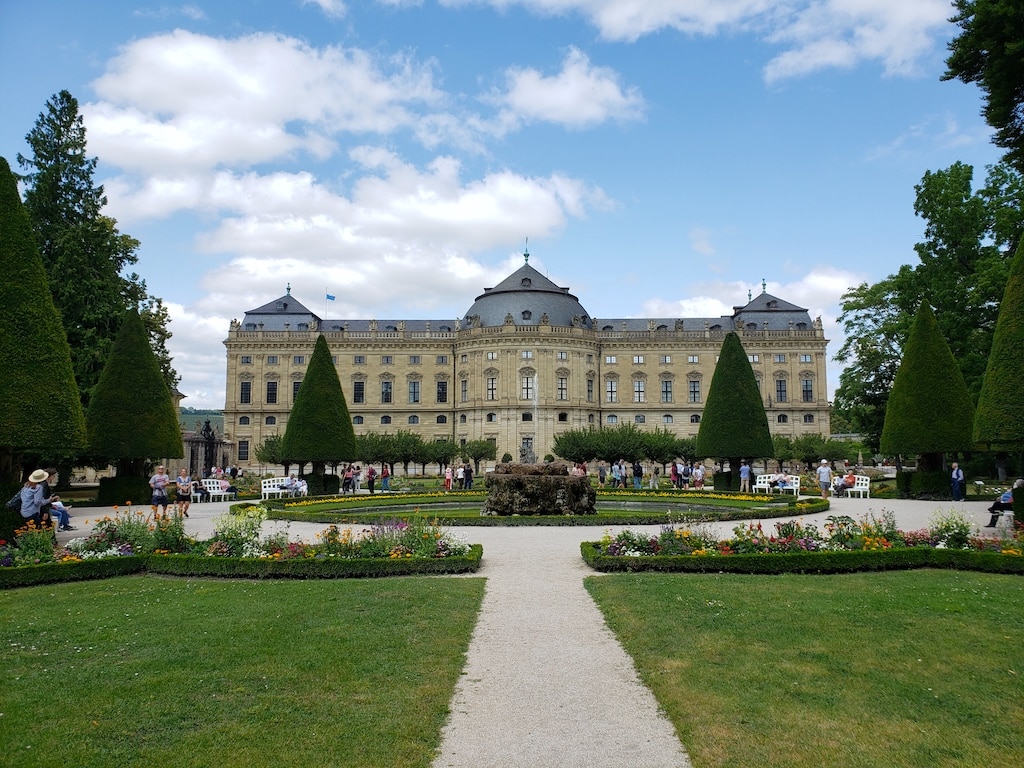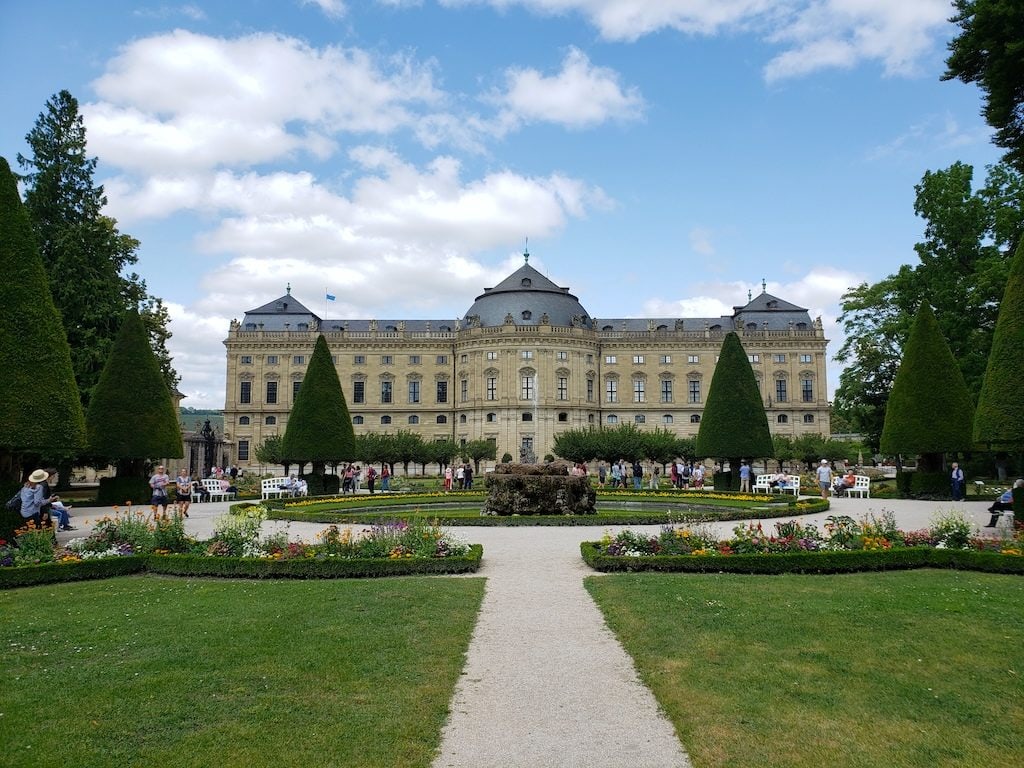 Fortunately, a lot of the furniture was outsourced, so saved from the fire that burned almost everything inside the castle. What was saved inspired the rebuilding of this magnificent building, now a UNESCO World Heritage Site.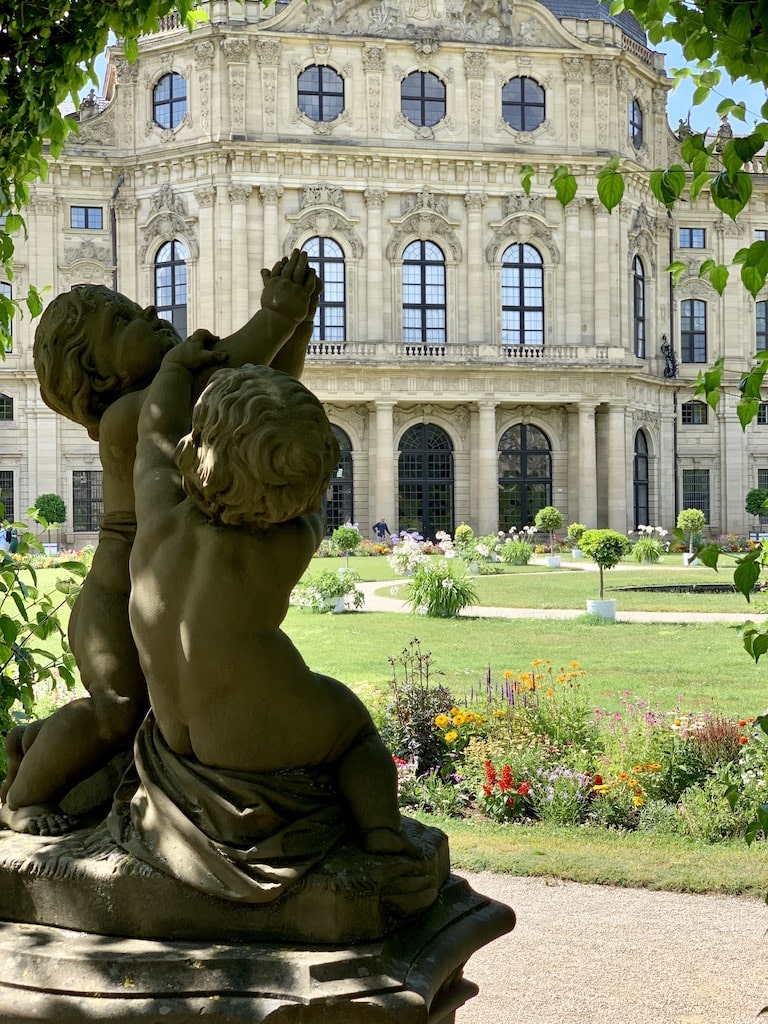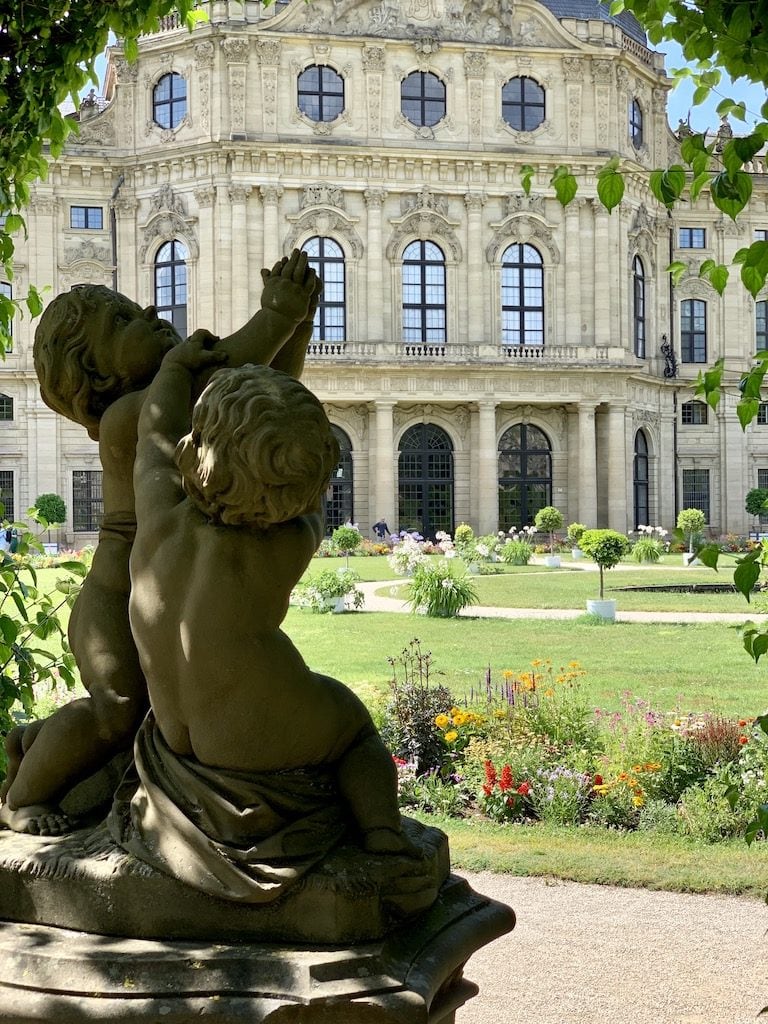 Be sure to take your time to walk through the stunning gardens and castle. We had such a relaxing afternoon exploring.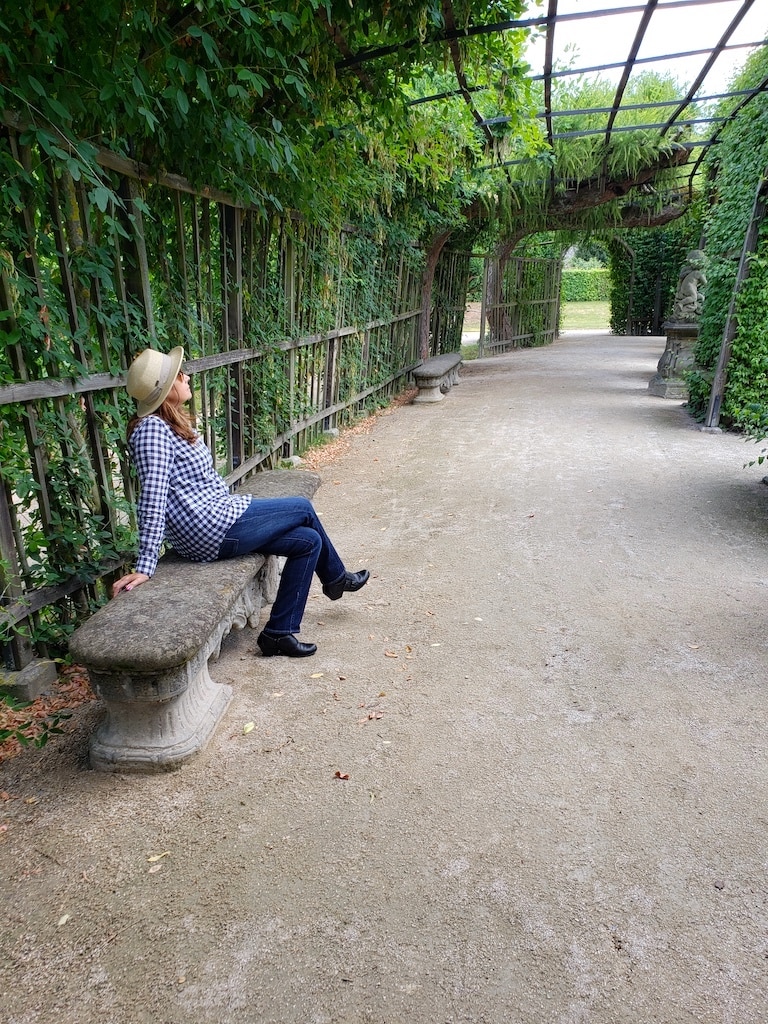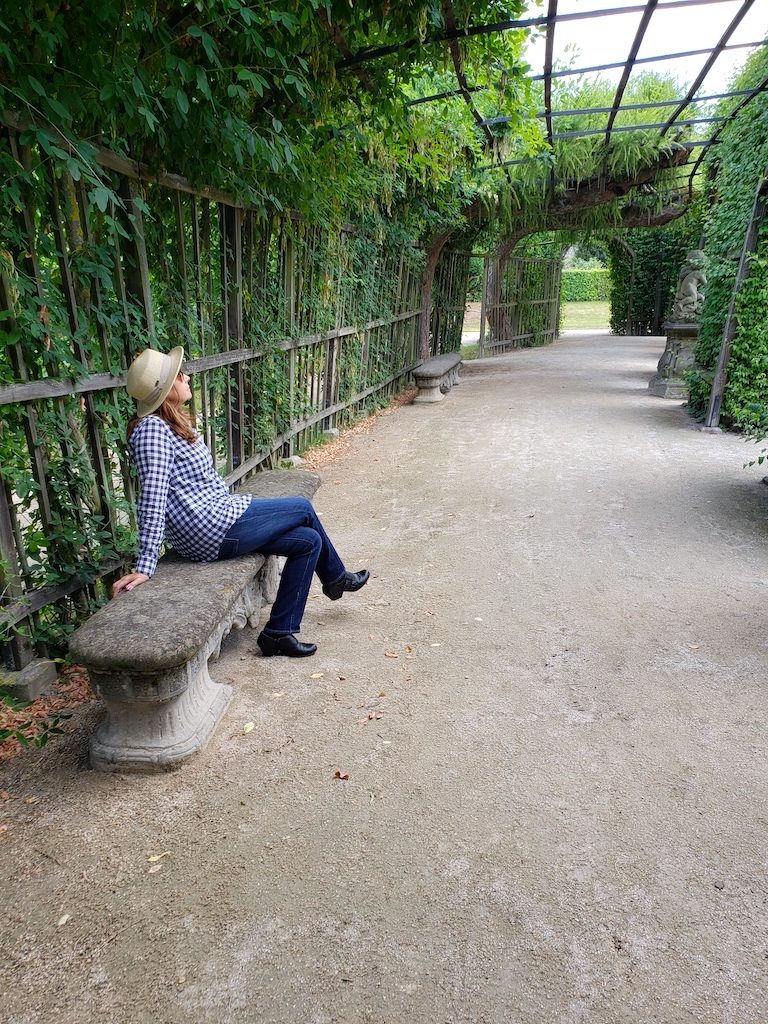 There is no fee to explore the gardens, but you will have to pay an entrance fee to see the inside of the castle. English guided tours are available each day.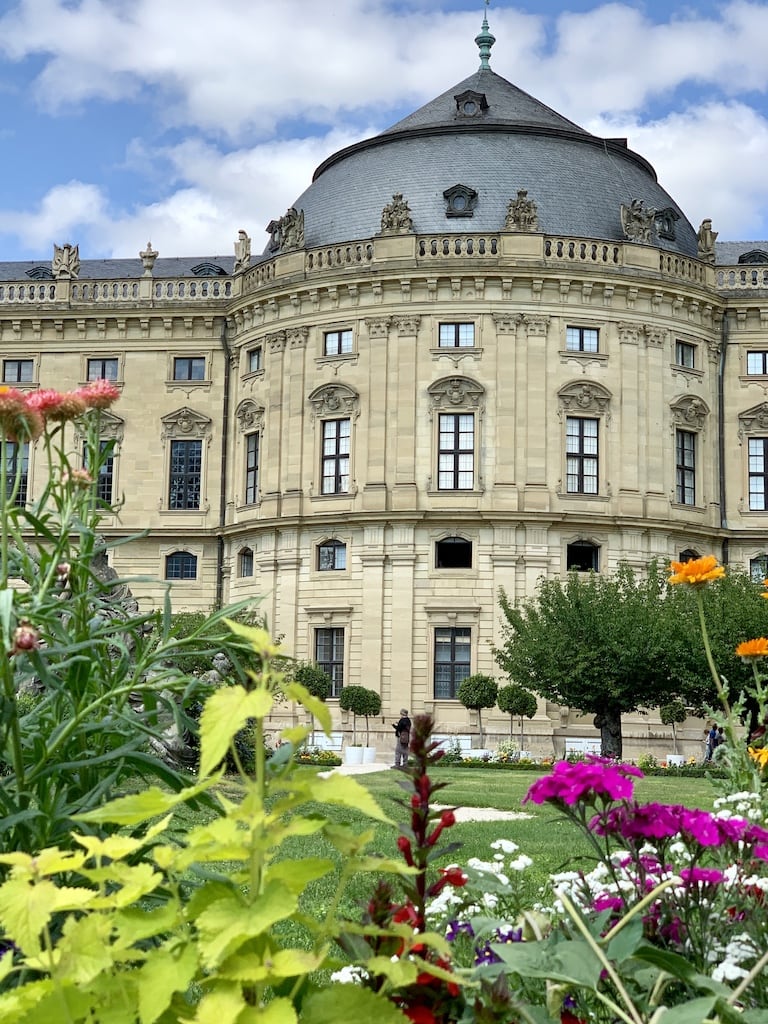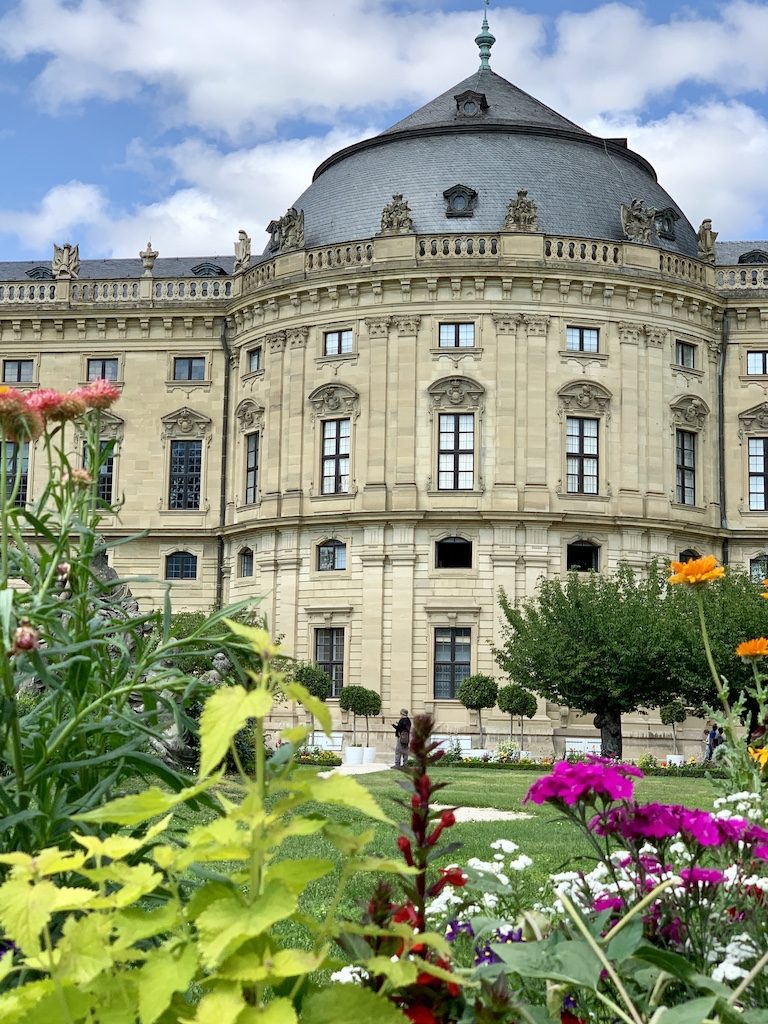 Note: No photos are allowed inside the Residenz.
Where to stay in Würzburg
Our favorite hotel out of the four we stayed in during our trip along the Romantic Road was Schlosshotel Steinburg. Located on the Main River, the views are spectacular.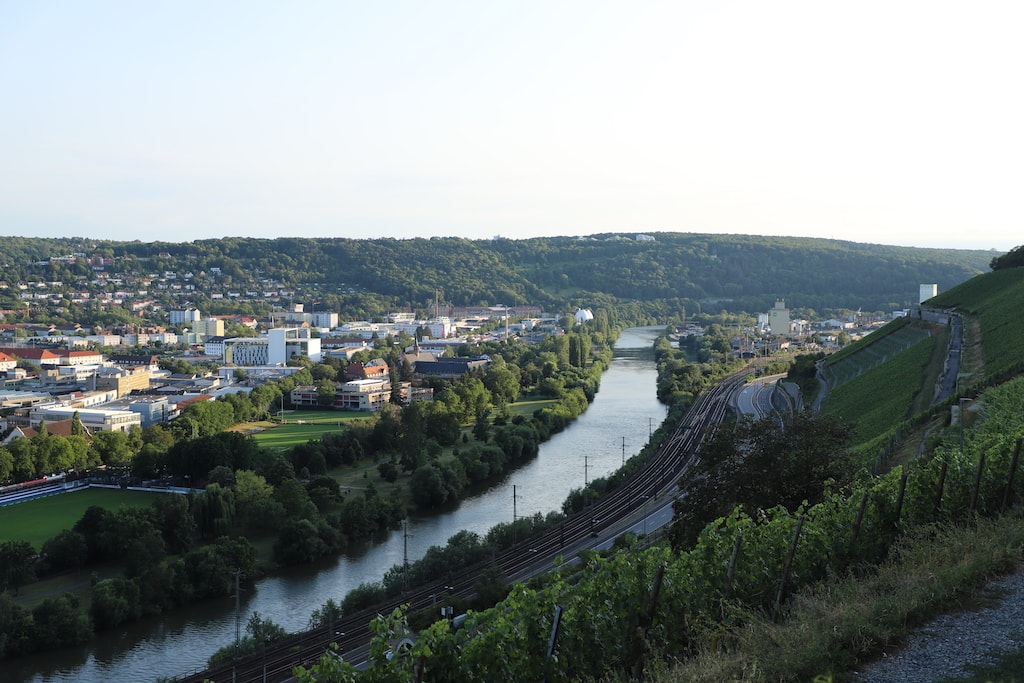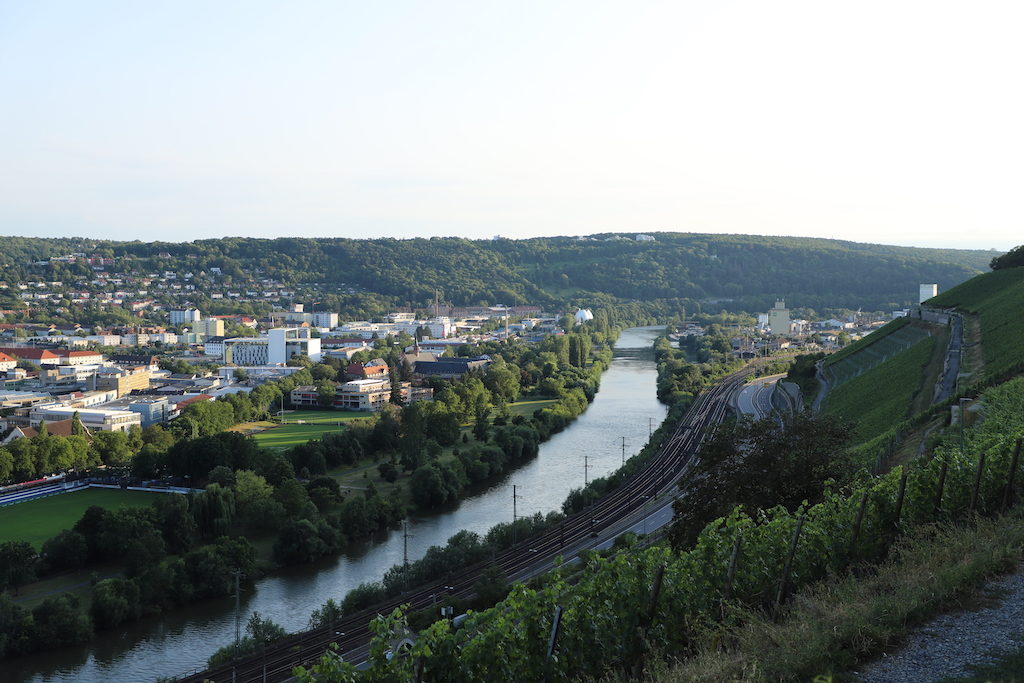 If you want a room with a view, make a reservation as far in advance as you can. It's not every day that you can see sights like this. The hotel has 69 rooms as well as junior suites.
We arrived at the hotel around 8 p.m. The menu at the restaurant looked wonderful, but we just wanted to nibble, so we ordered the charcuterie platter and a couple of glasses of wine and sat on the terrace. Blankets are available if it's chilly, which just adds to the coziness of this property.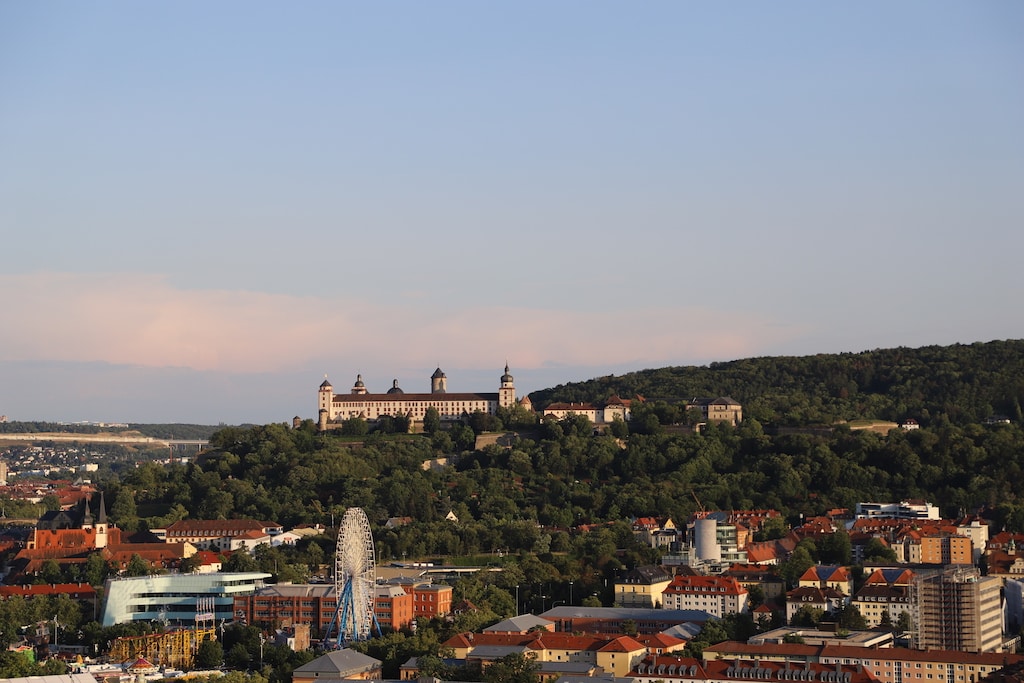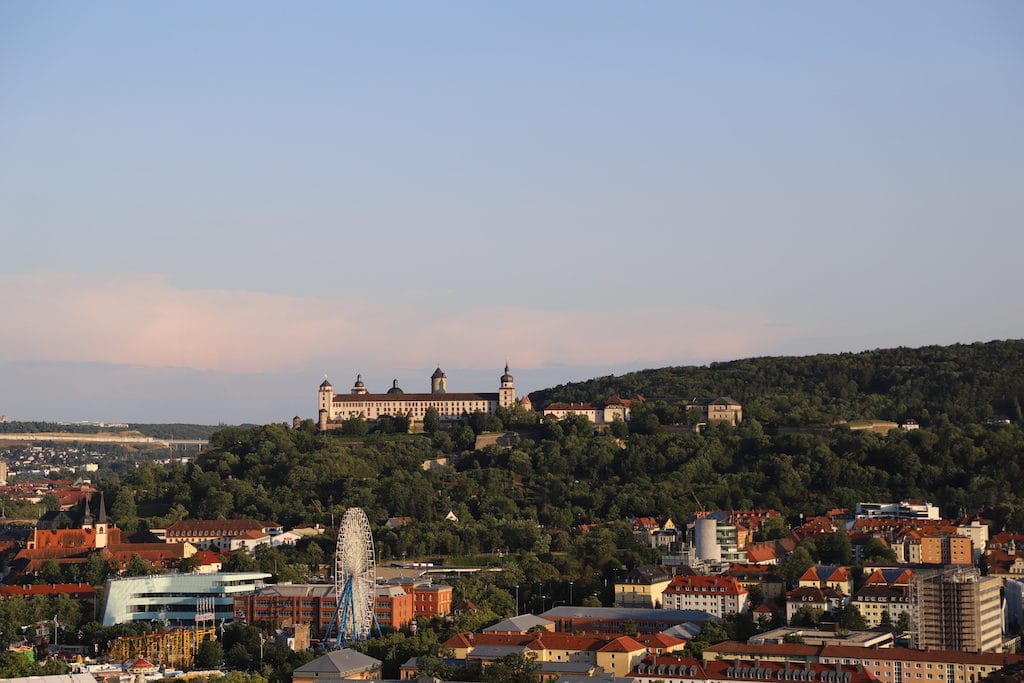 The rooms are small but charming. I believe this was a large single room. Take a look at the website to see the different options.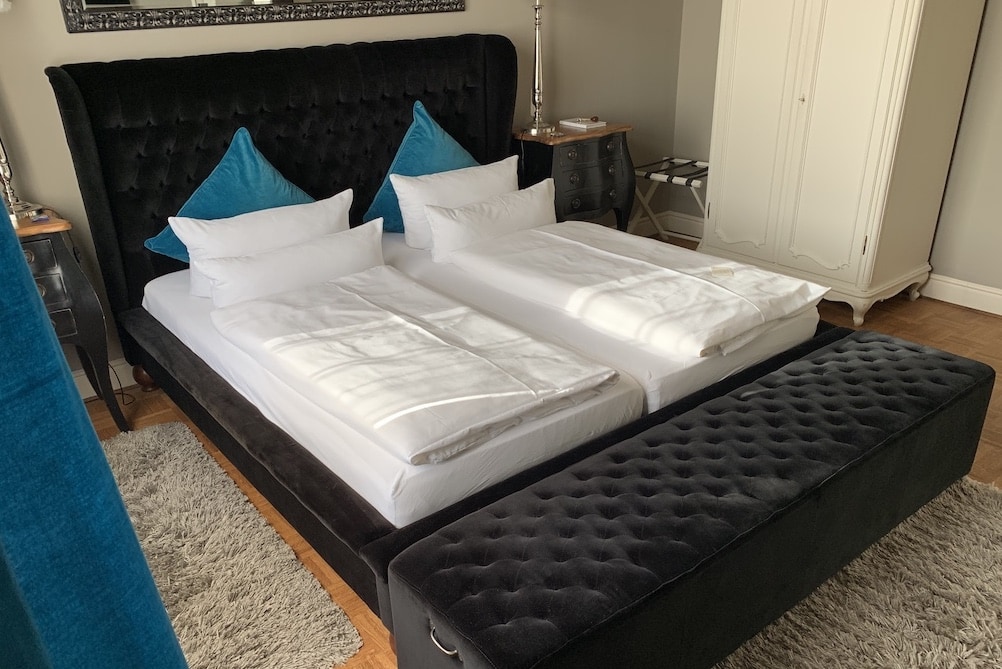 Our bathroom was up a small spiral staircase. This was a first! It had a surprising amount of space.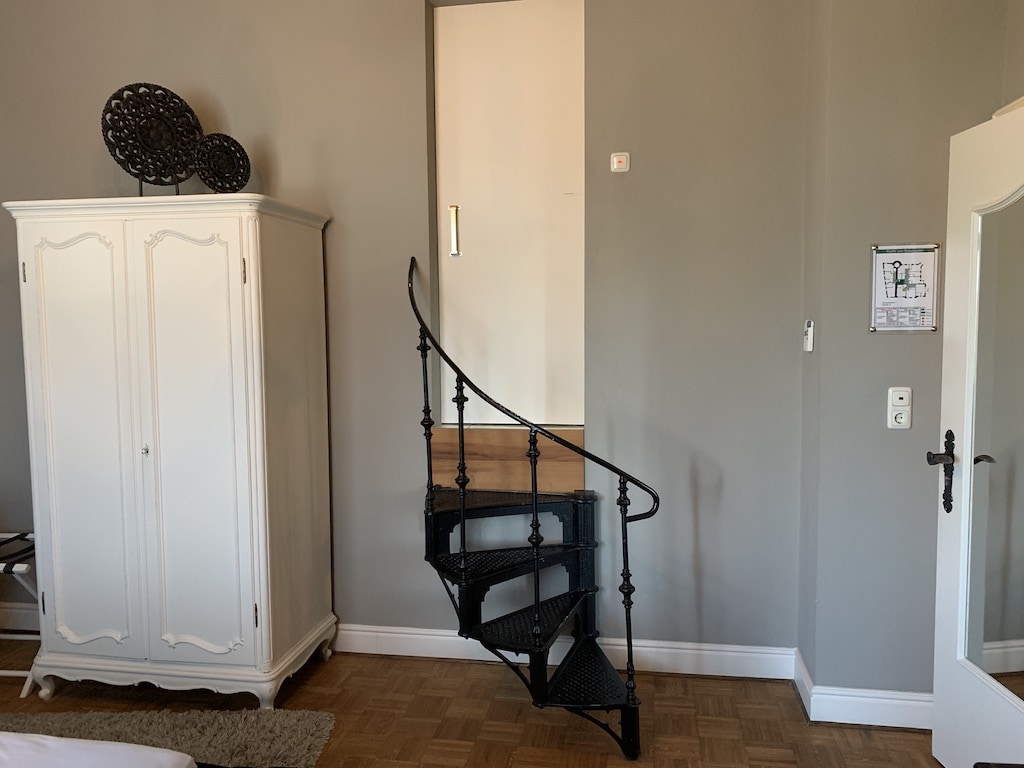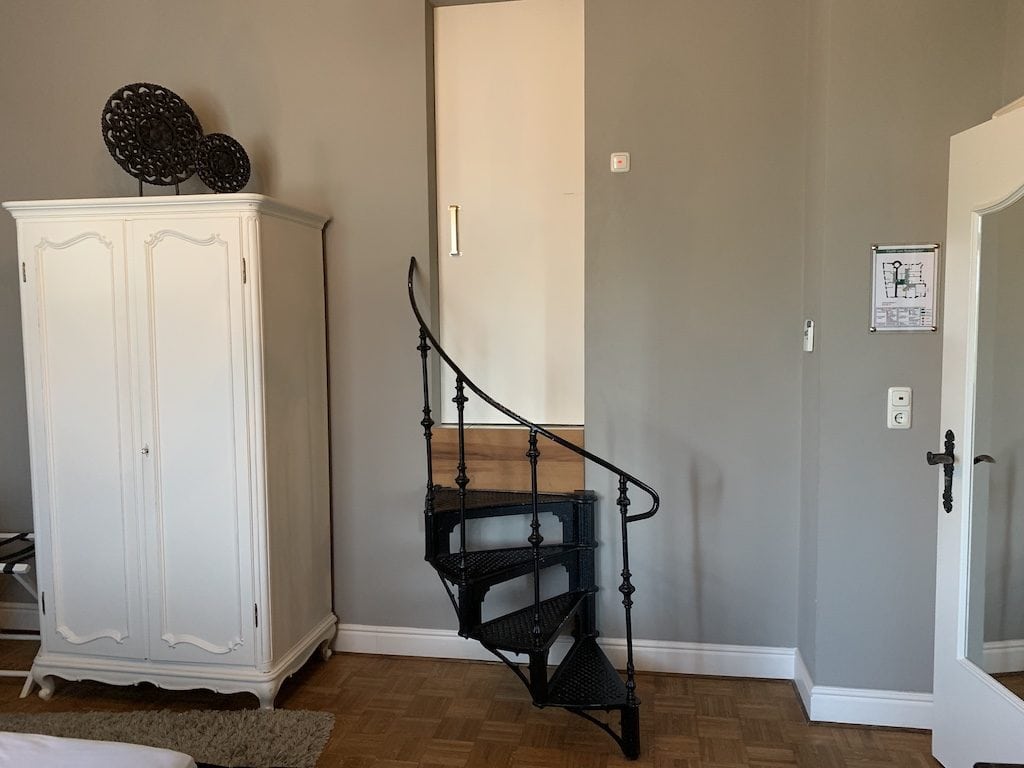 In the closet, you'll find robes, slippers, and even a basket to carry your things to the sauna and indoor pool. The restaurant has a lovely breakfast buffet in the morning, too.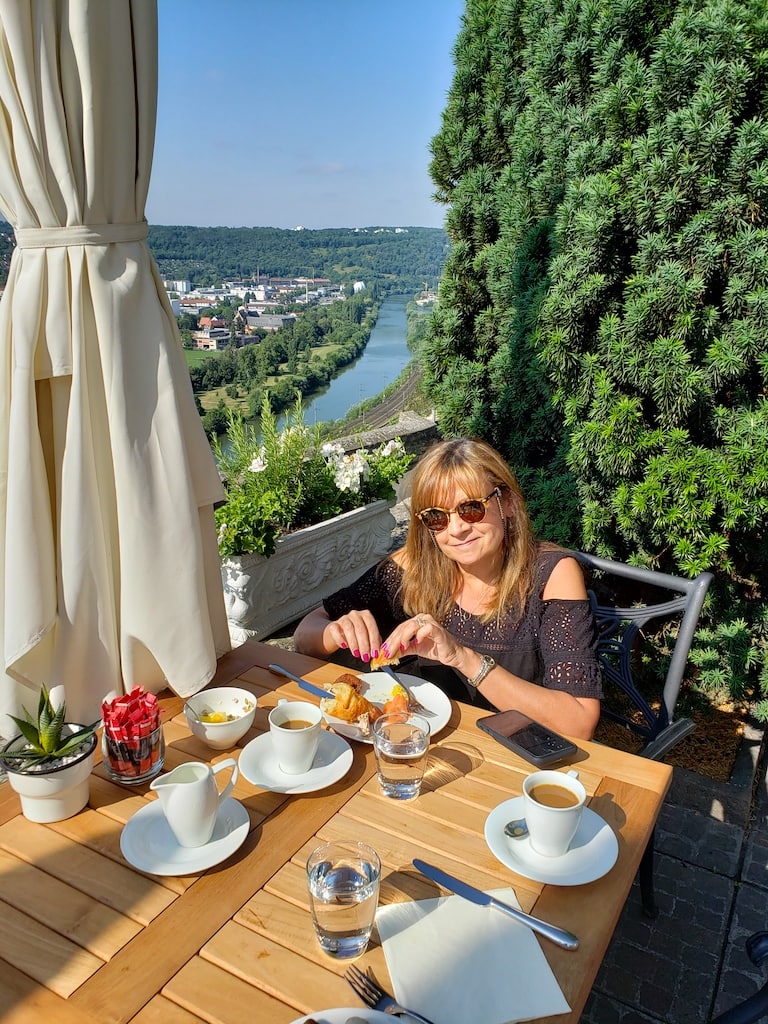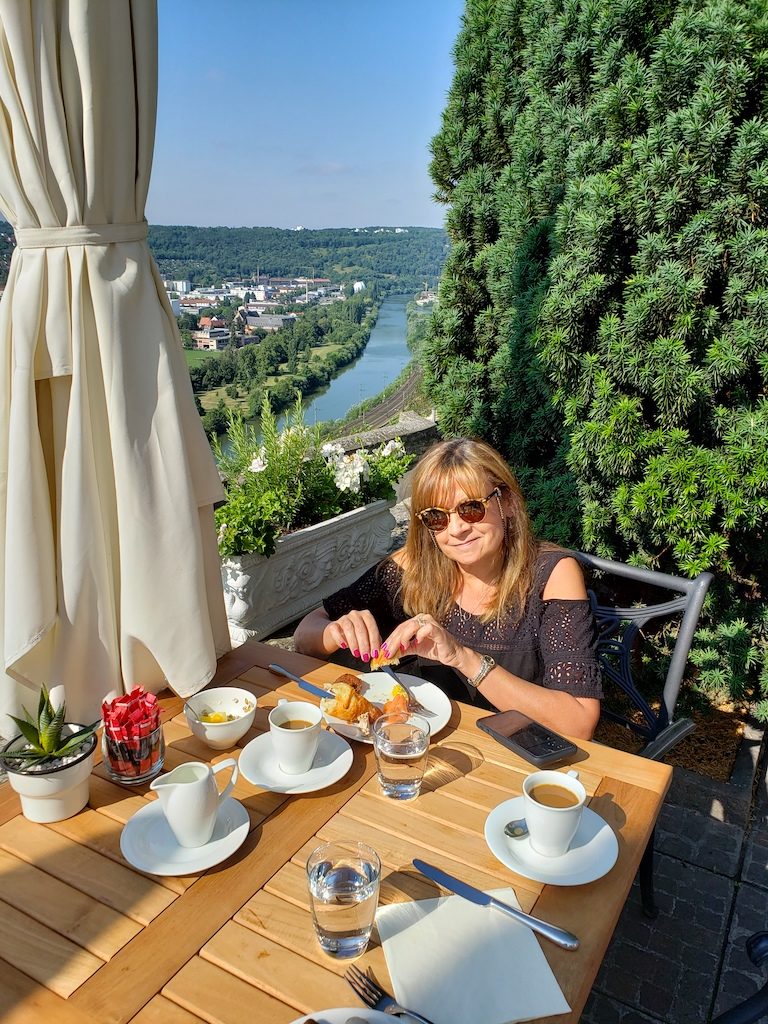 Schwangau
We had one full day left on our Romantic Road trip. We drove about three hours to Schwangau to see the castles this village is so well known for.
Neuschwanstein Castle
The Neuschwanstein Castle is also known as the Sleeping Beauty Castle, as the design of Disneyland's castle was taken from this stunning landmark. Built for Ludwig II, this is one of two magnificent castles in Schwangau.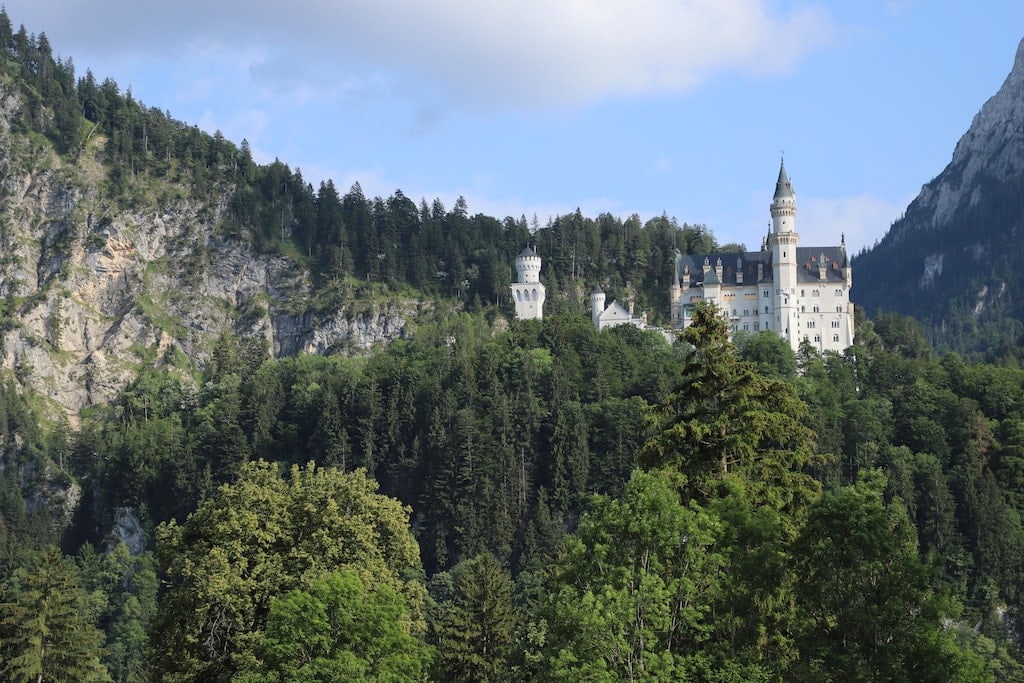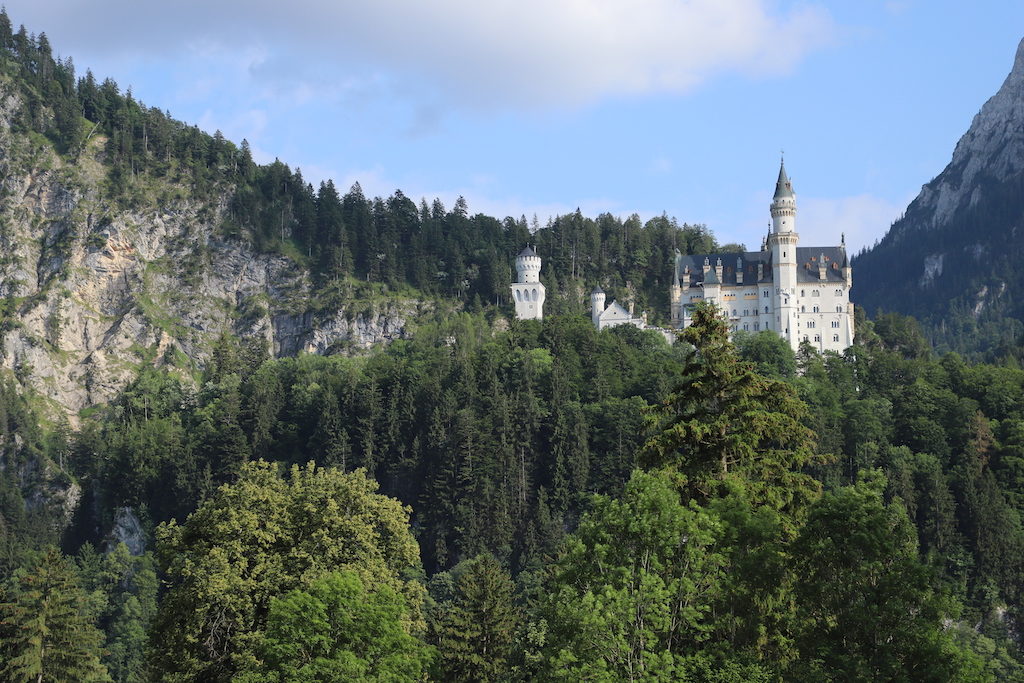 Hohenschwangau Castle
The other castle is Hohenschwangau, a favorite summer retreat for Ludwig II.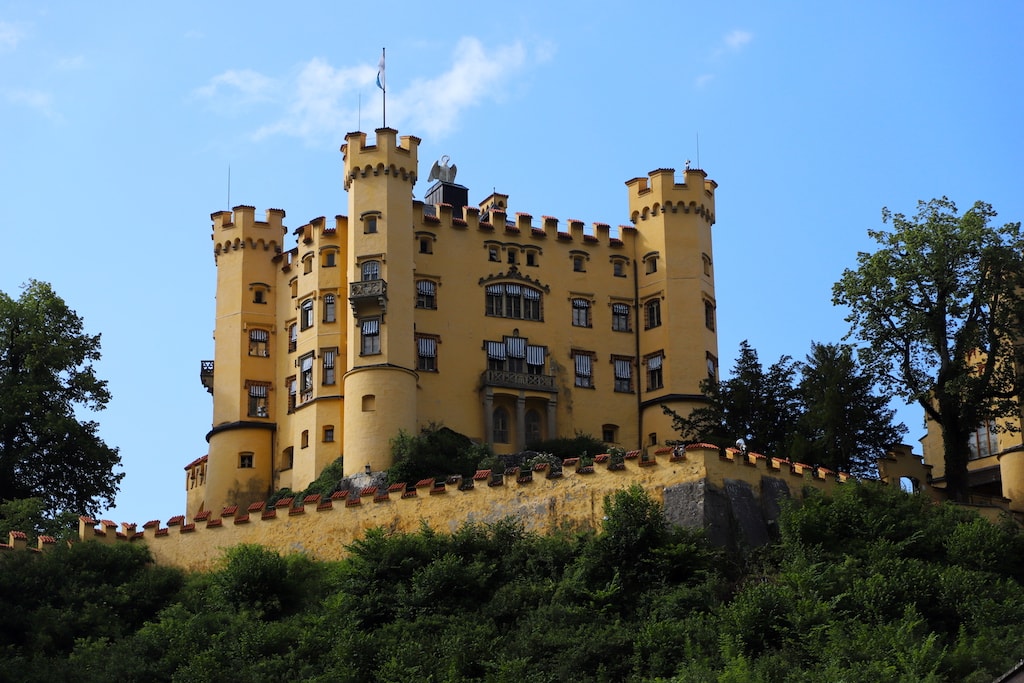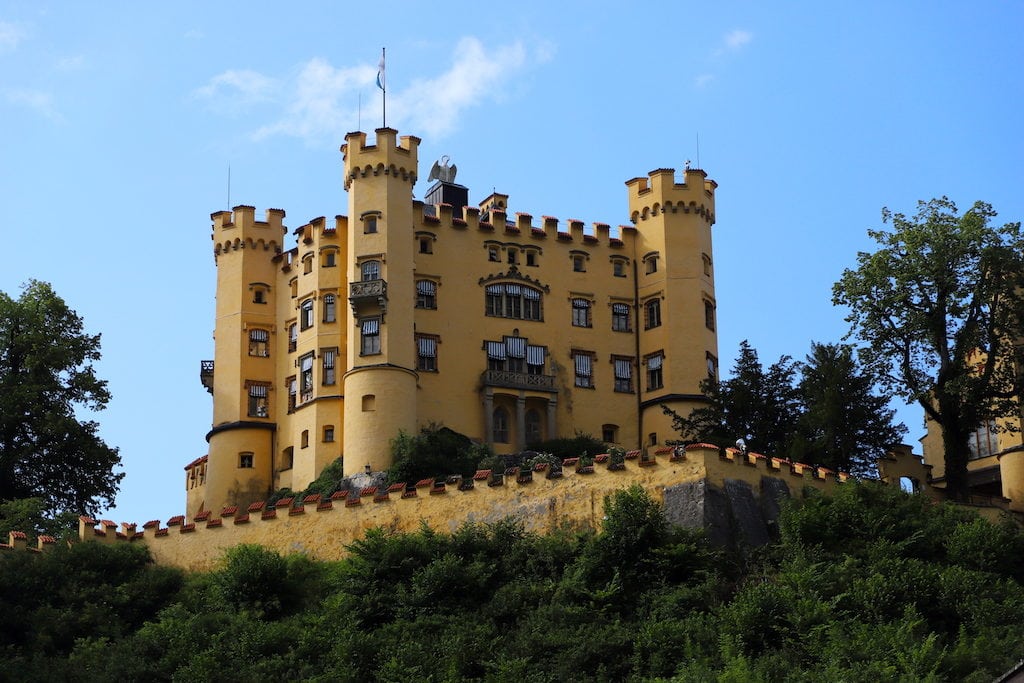 Boat Tour
There are a couple of options for boat tours in the area. Forggensee is one of the largest lakes in Bavaria, and you can see both castles from the lake. The lake is emptied in the winter months but is beautiful May through October.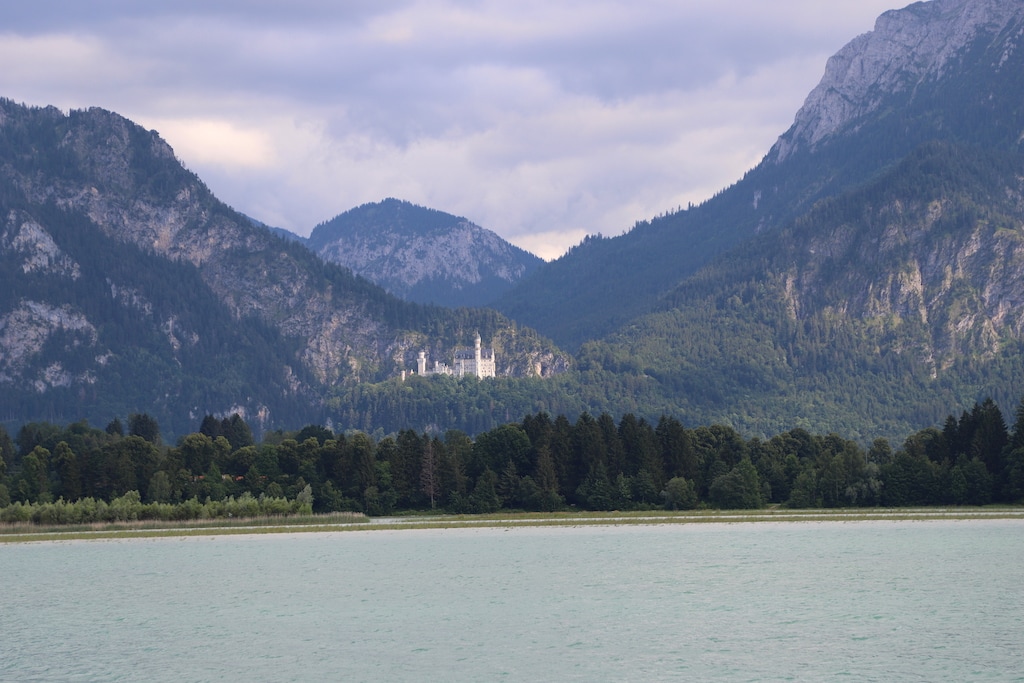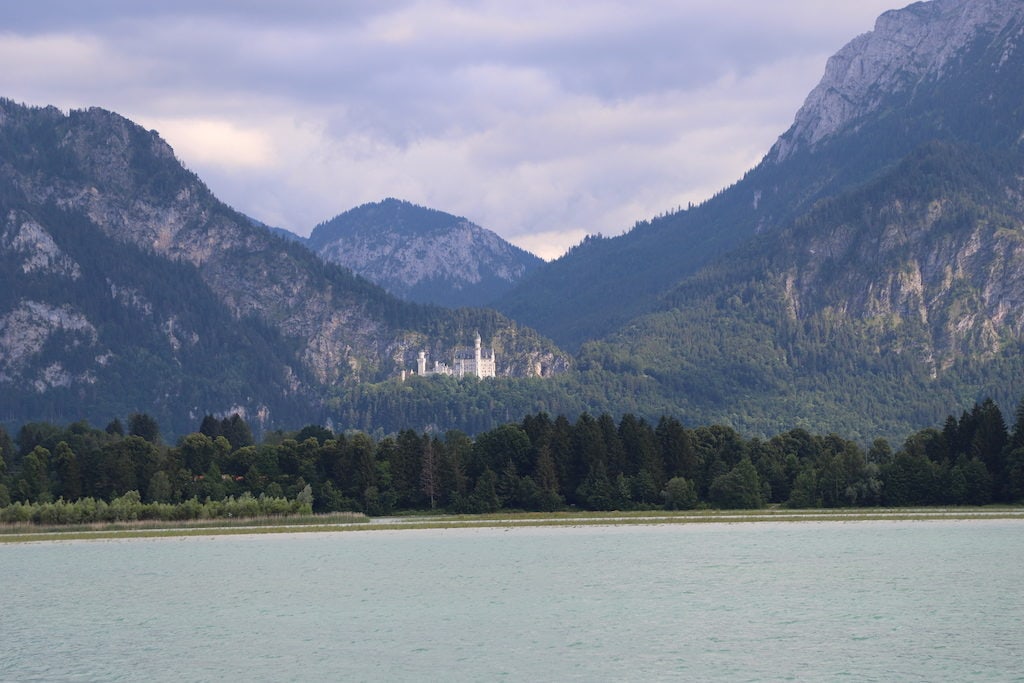 With a long-range lens, you would be able to get decent photos, but I didn't have a zoom with me, so it just wasn't great for pictures.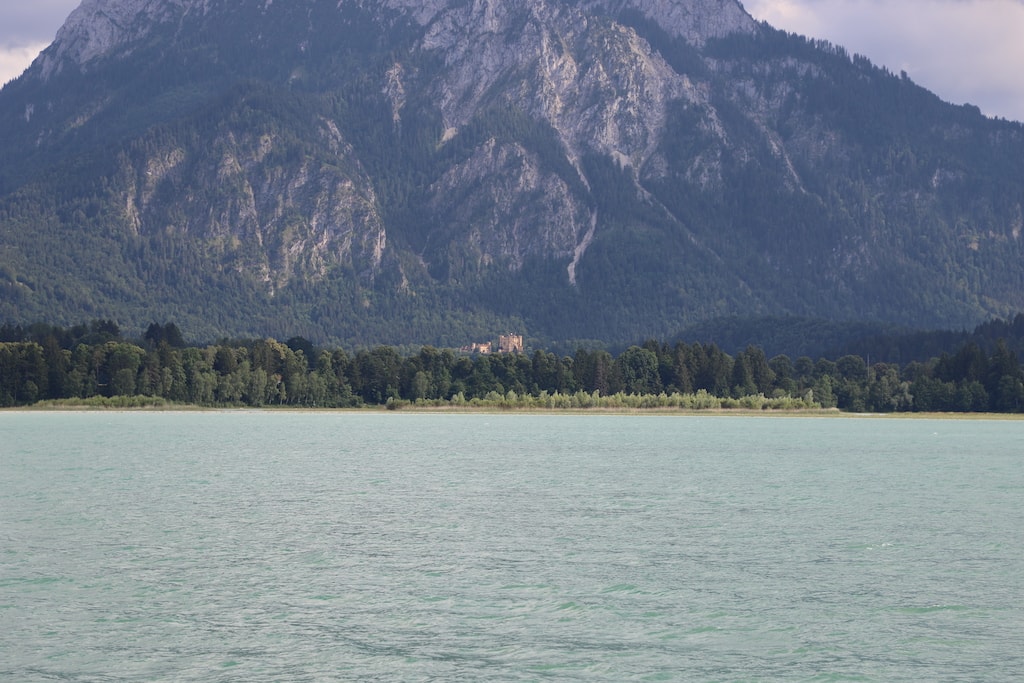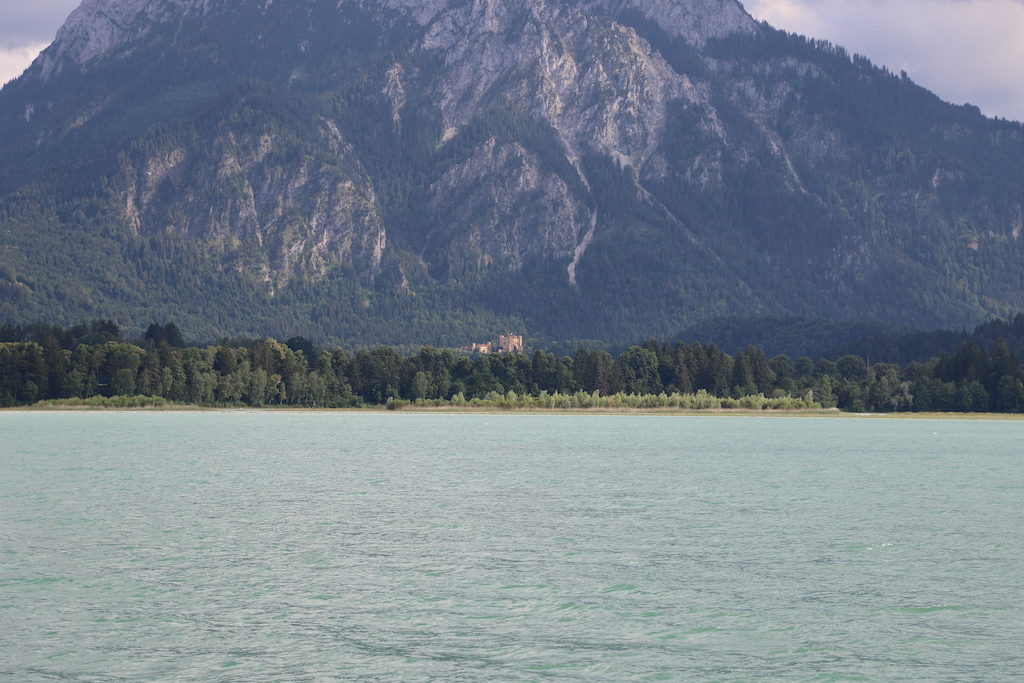 If you want to take the boat ride, visit the Fuessen website for times and location. We had a little trouble figuring things out and ended up on a ferry. The ride gave us the same view but was not as nice as the MS Allgäu or MS Füssen cruise boats.
To be honest, unless you have time to kill, I'd recommend just going to the castles. The lines can be long for transportation up the hill to Neuschwanstein Castle. Most people walk up the hill, which takes about twenty minutes.
Schongau
This would be our last stop on the Romantic Road in Germany. The drive from Schwangau to Schongau is about 35 minutes, and it's a beautiful drive. Schongau is another walled city, but we would be leaving very early to make the 90-minute drive to the airport, so didn't have time to explore.
We arrived just in time to find one last spot to eat traditional German food. Schongauer Brauhaus was the perfect way to end our stay in Germany. Not only was the food great, but we had found a local brewery!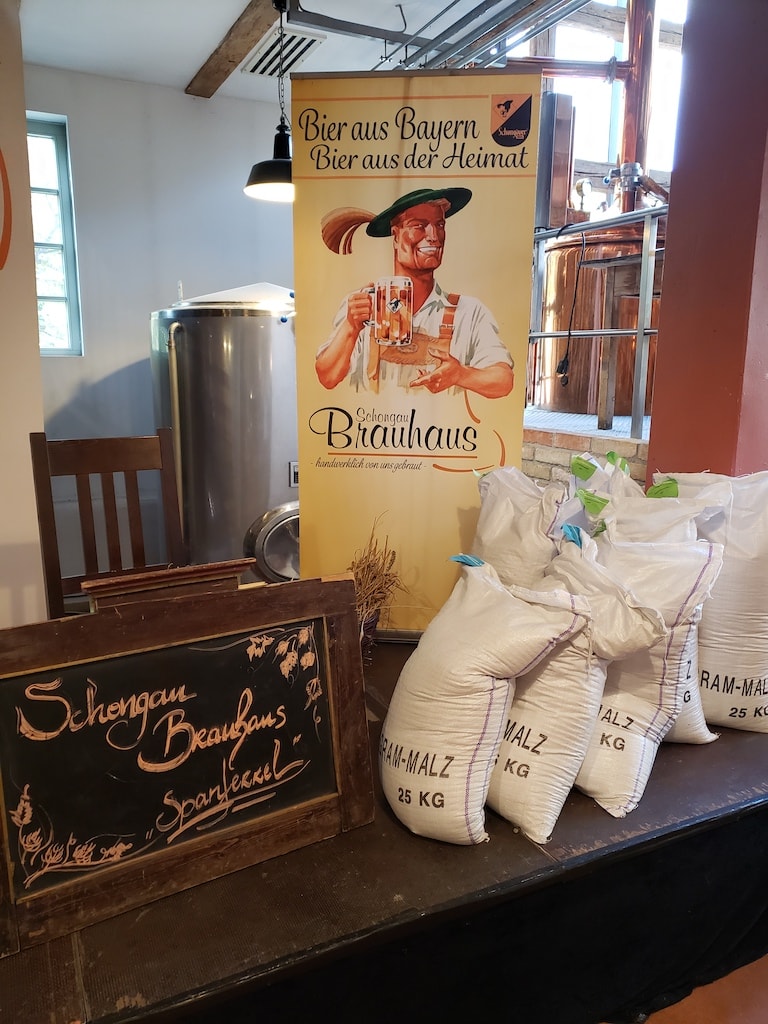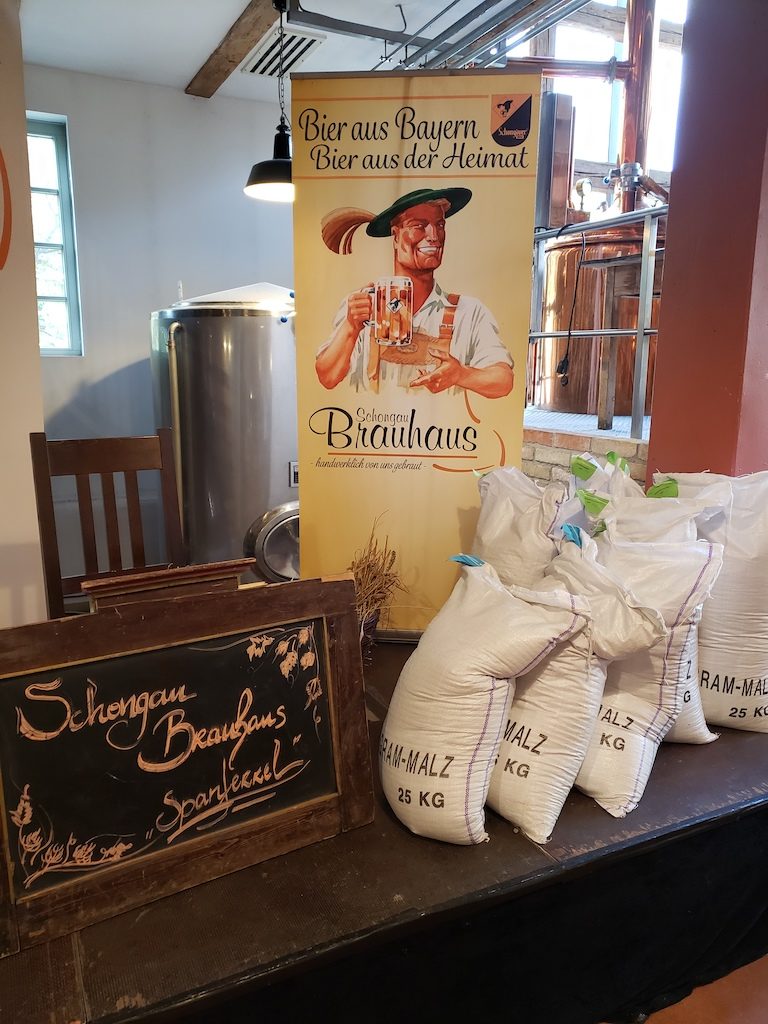 We thought a beer tasting would be the perfect way to celebrate the end of our trip.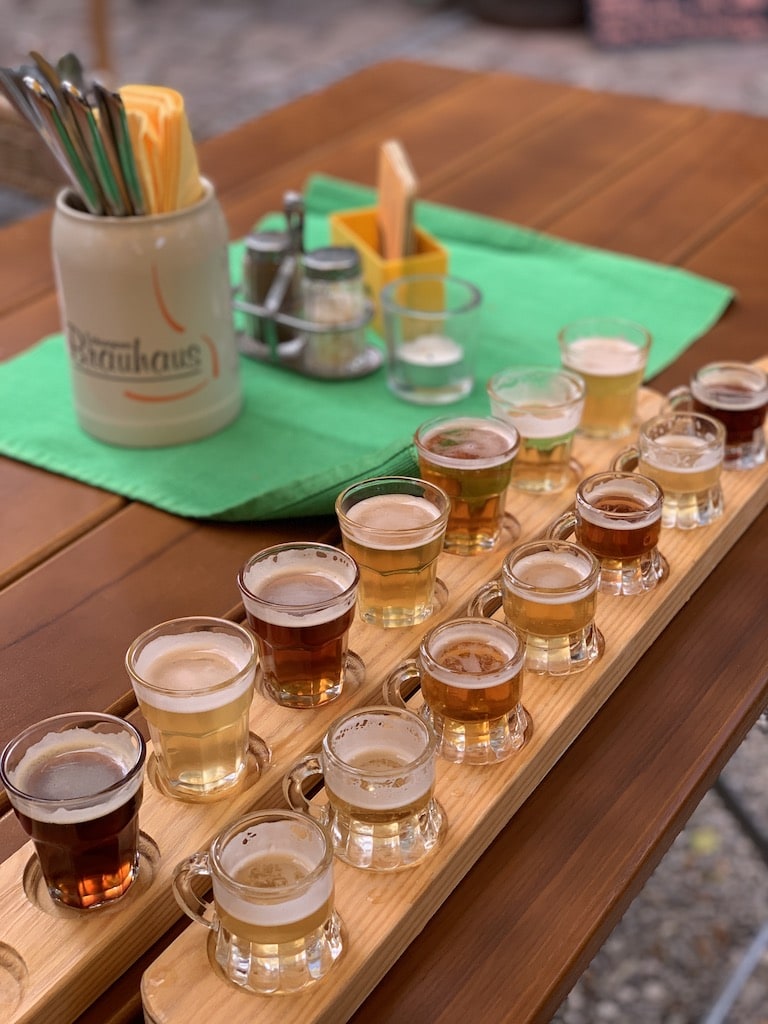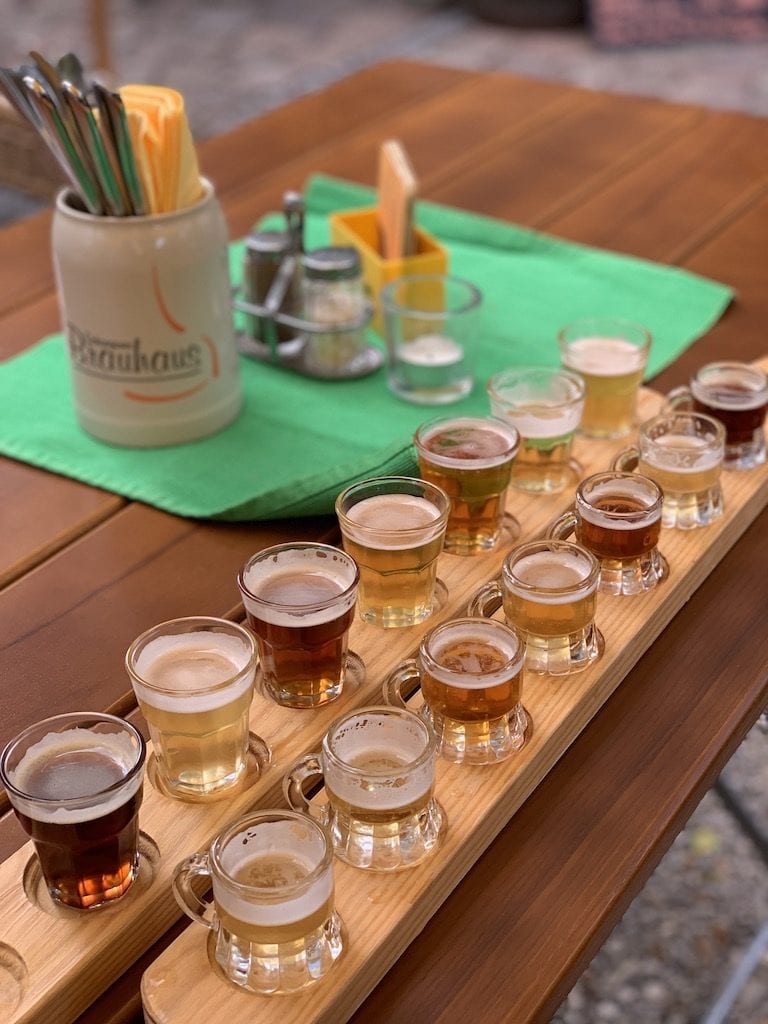 I asked our server (the owner's mom) if we could order a platter of specialties, and we were pretty happy with the delivery!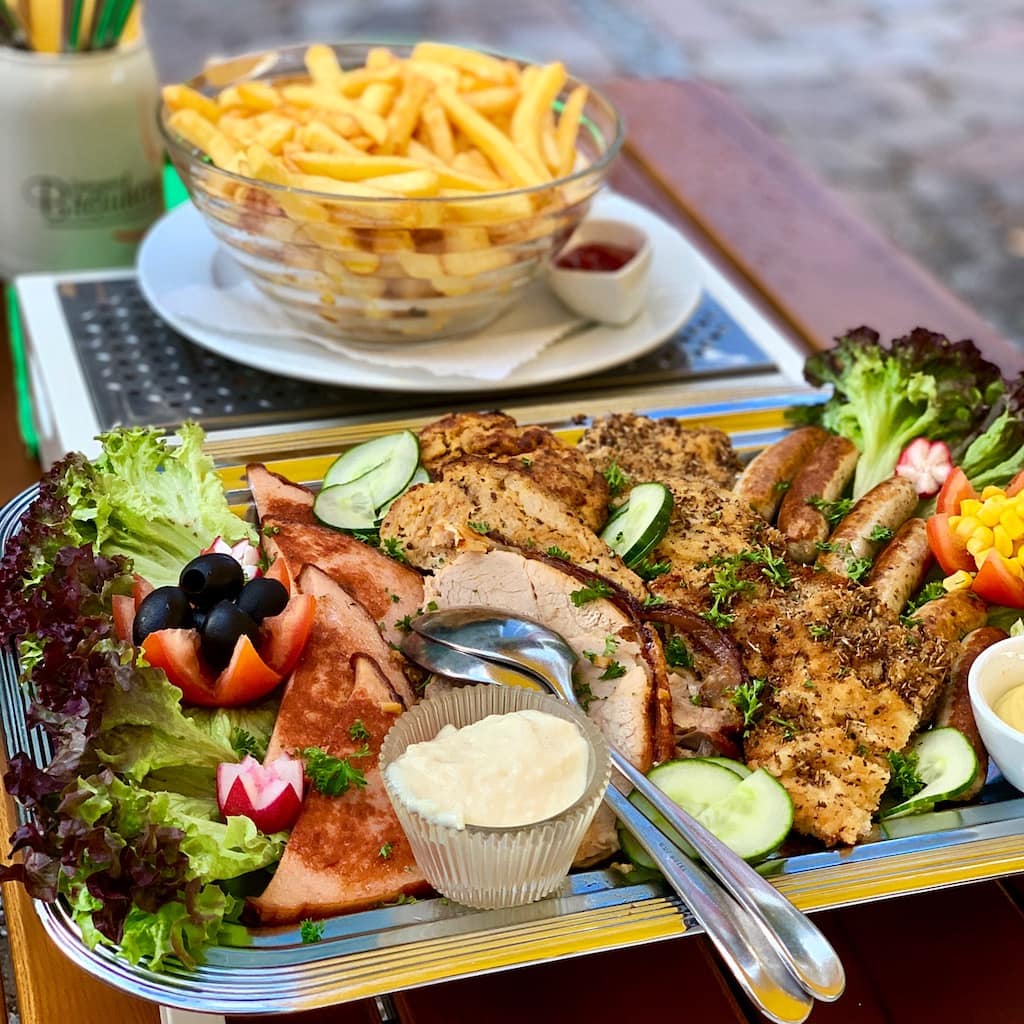 We feasted on roasted pork, ground pork with spices, pork sausage, and the most delicious ham I've ever tasted. It really put the exclamation point on the end of our journey!
Tips for Traveling the Romantic Road
I hope this guide helps you plan your trip along the Romantic Road in Germany. Make sure to read the tips below. These are things I didn't know before our journey that would have made it even better.
One bit of advice that I wish I had read before I left. Many GPS systems don't have the correct coordinates yet, so follow the brown signs instead. We only had so much time in Germany, and I now wish we had been able to spend less time sorting out directions and more time exploring the stunning Romantic Road.
Rent a smaller car, as many of the streets are very narrow and parking spots are small.
The Romantic Road signs will take you through beautiful villages and lovely landscapes. Leave the highway and take your time. Remember – you're on vacation!
Wear tennis shoes or completely flat soles as you'll be walking on cobblestones much of the time. Even the very low heel on my boots was a struggle sometimes.
Pack light, as many hotels don't have elevators. Some of the smaller hotels may not have a bellman to help you carry them up the stairs, so if this is something you need help with, ask when making your reservation.
Some stores may be closed on Sunday, just so you know. We did find some stores open, but if your plan is to shop, do it Monday through Saturday.
This post was produced in partnership with Travel Mindset and The German National Tourist Office.
More Destinations in Germany