Dinkelsbühl, Germany is a picturesque medieval walled city on the Romantic Road in Germany. Like many of the cities my husband and I visited in Bavaria, was an important stop on a trade route.
In fact, this city was at the intersection of two important routes; the north-south Germany-Italy route, as well as the Rhine route through to Eastern Europe. Dinkelsbühl was one of our stops after we visited downtown Augsburg and Dinkelsbühl website.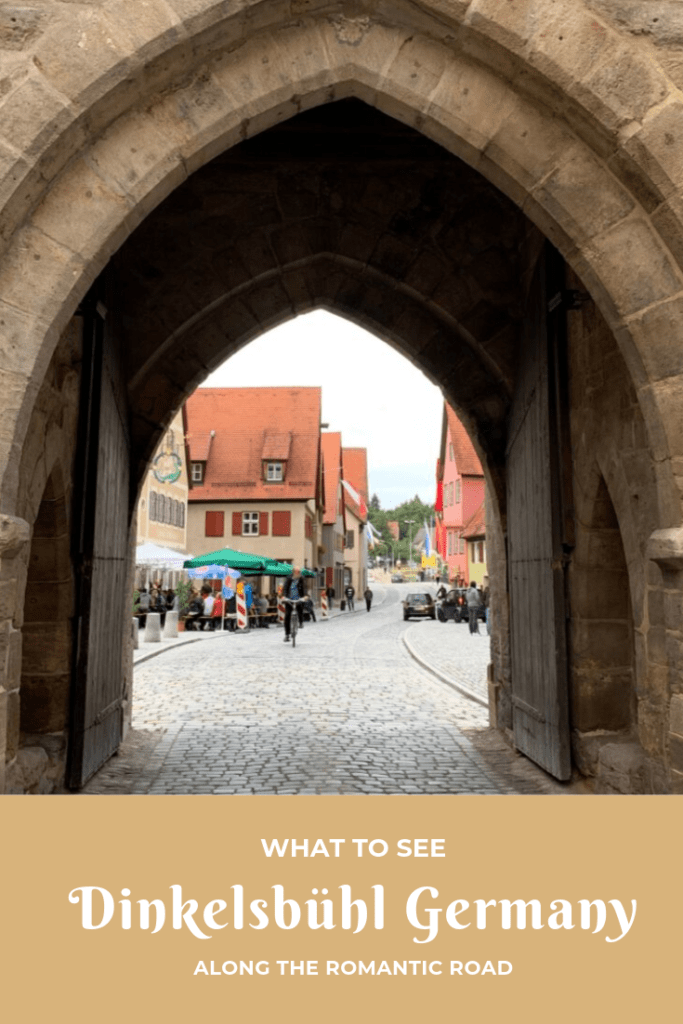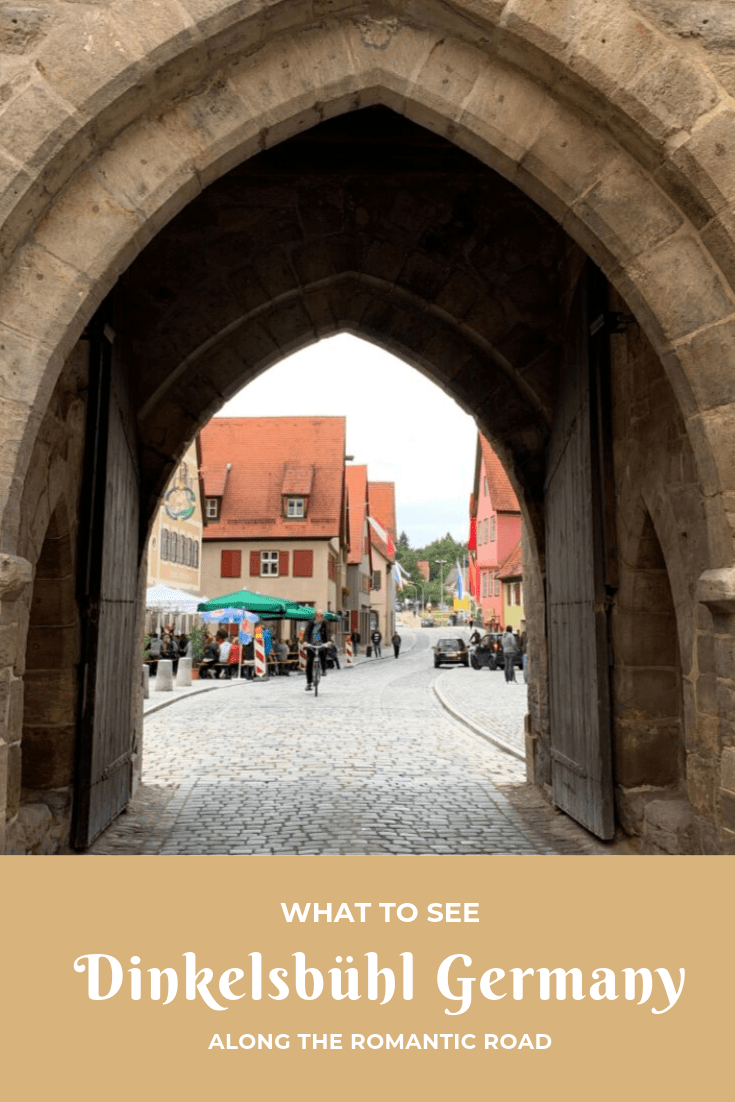 It is believed that Dinkelsbühl was founded around the 8th century. The fortifications around the city didn't begin until around the 13th century. Its economy was built on cloth and weaving manufacturing.
Can anything good come from war? In this case, it led to the preservation of the original buildings. During World War II, Dinkelsbühl's economy suffered greatly, and many of the buildings remain just as they were in the middle ages because there was no money to renovate them.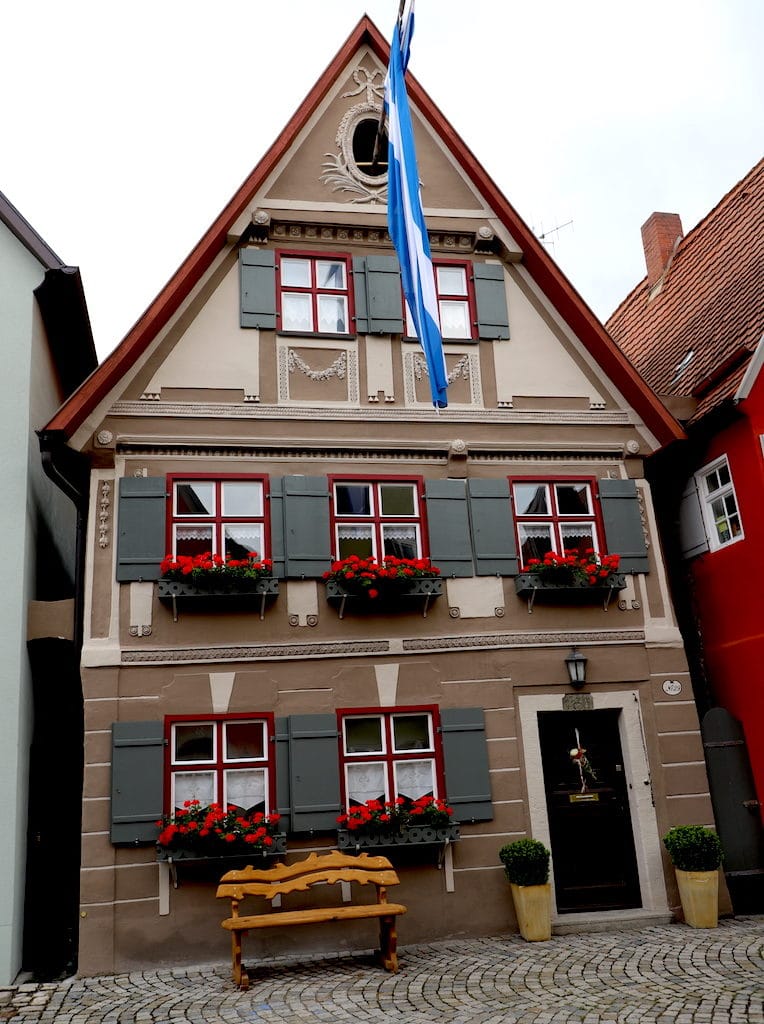 In the early 19th century, Ludwig I of Bavaria made the decision to safeguard the buildings to be sure they would be preserved for the future. We're lucky to be able to see this sweet town much as it was so many years ago.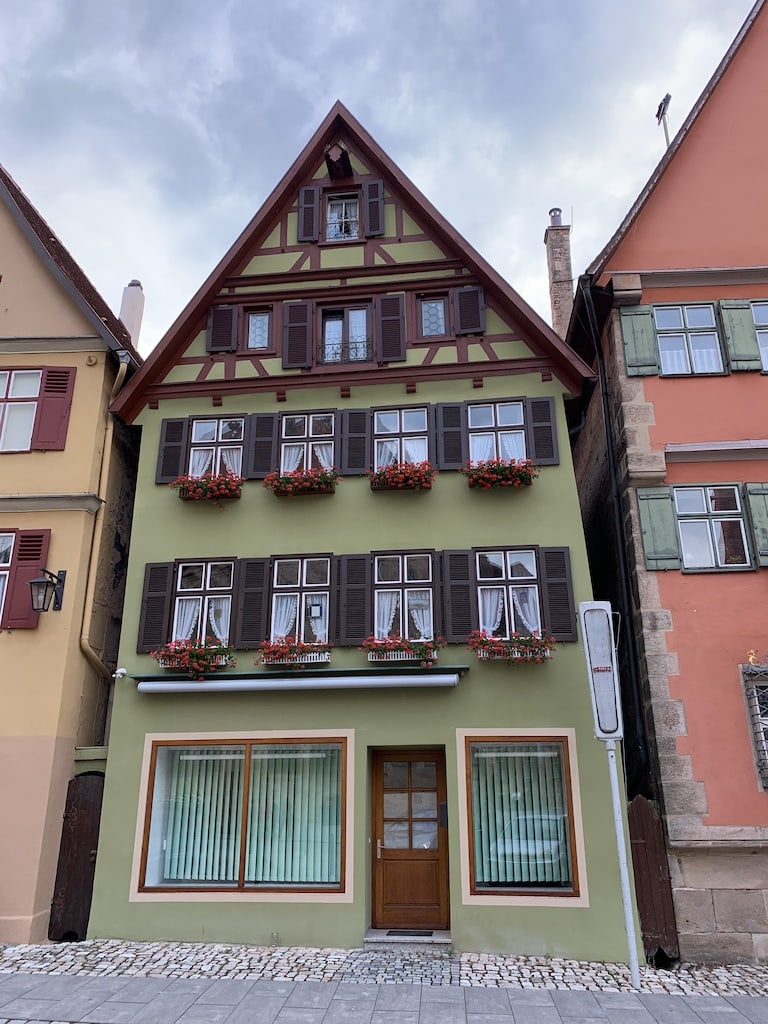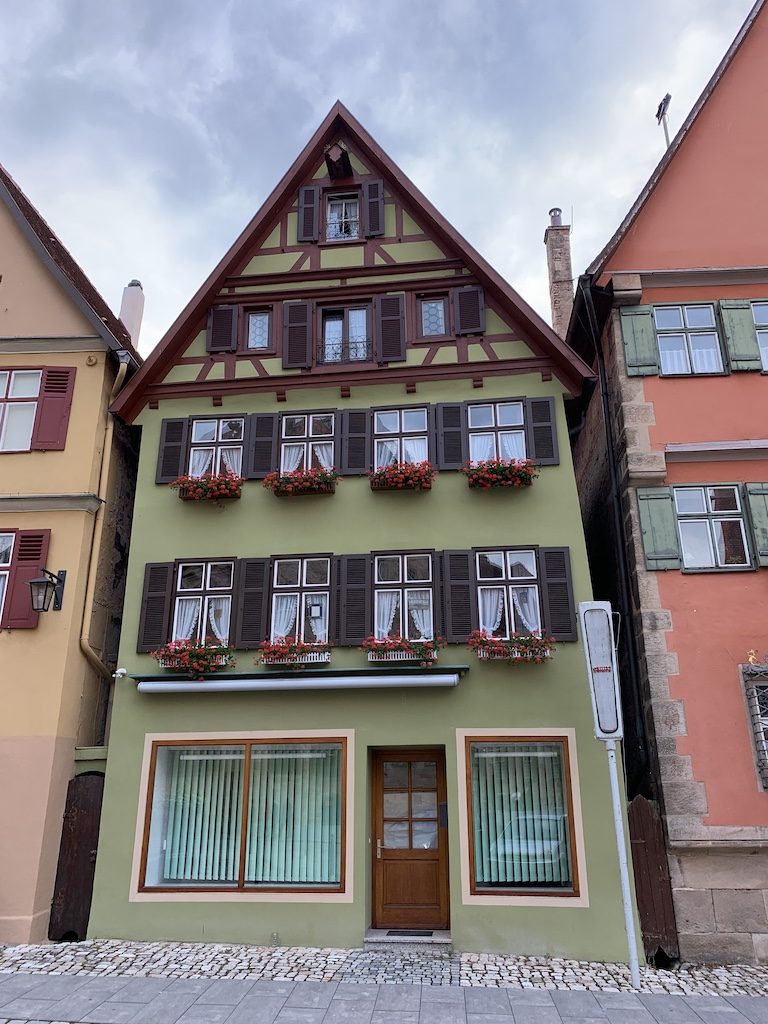 What to See in Dinkelsbühl Germany
Below are spots you should see when visiting Dinkelsbühl, and a festival you just might want to plan your trip around!
Kinderzeche Dinkelsbühl
Once in a while, you really get lucky when you're traveling, and that happened to us while visiting Dinkelsbühl. One of the oldest festivals in all of Germany (since 1897) happened to be going on while we were there, and it was quite a party. Many people say this is the prettiest city in all of Germany.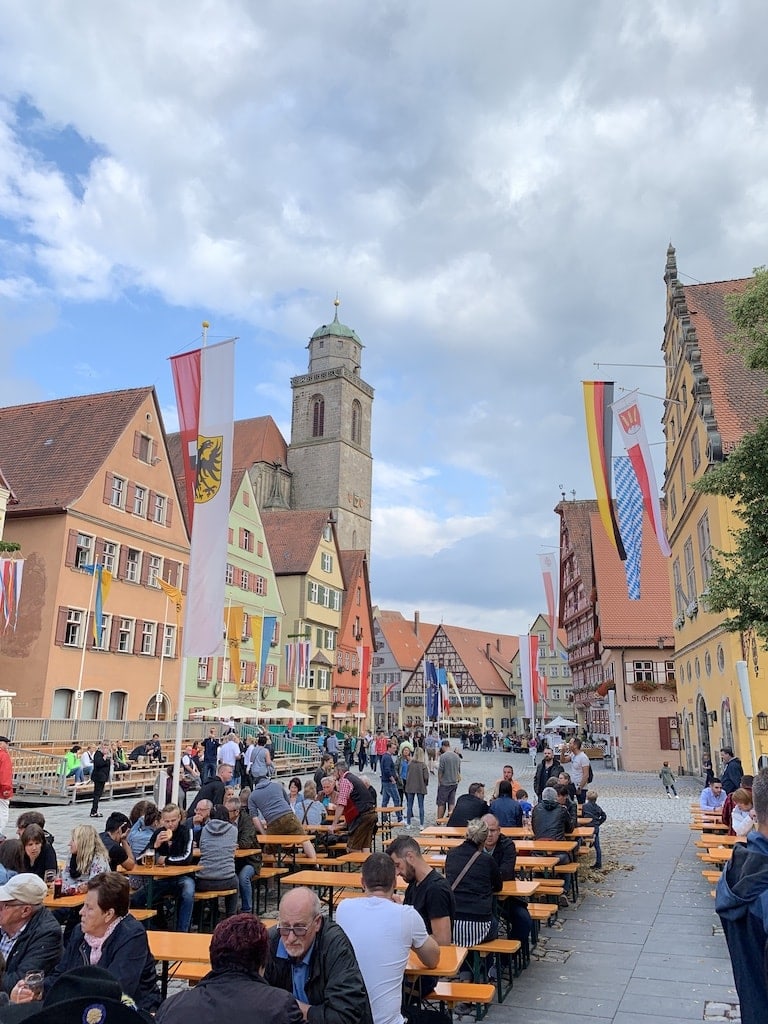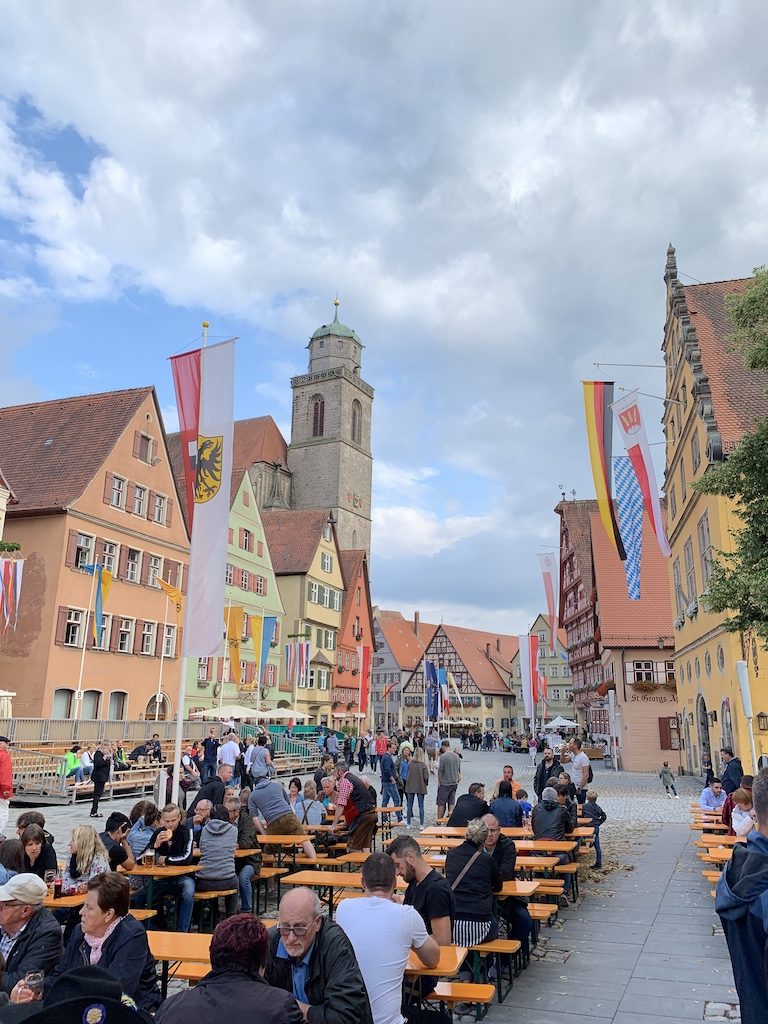 If you happen to be visiting this area around the third Monday in July, you are in luck. The festival is centered around that day and runs ten days, starting on a Friday and ending on a Sunday.
In fact, I'd go as far as to say it's worth planning your trip to be able to spend a day or two in this lovely city during the festival.
So what's the festival about? I had a conversation with a few of the actors from the annual retelling of the story who shared it with me.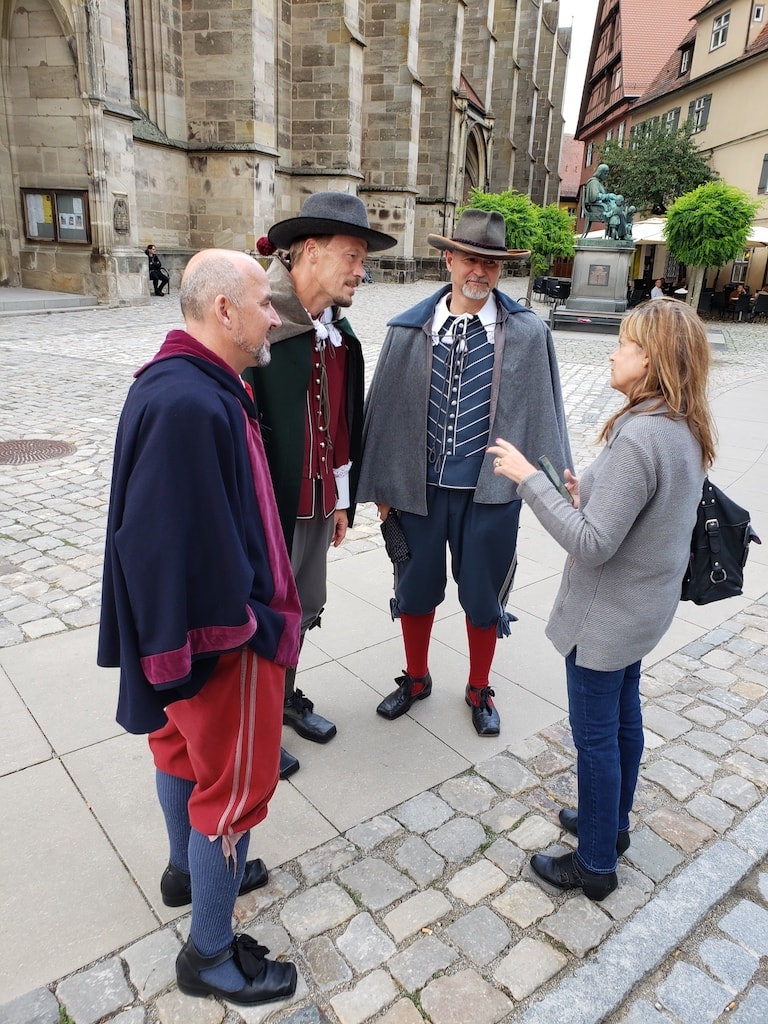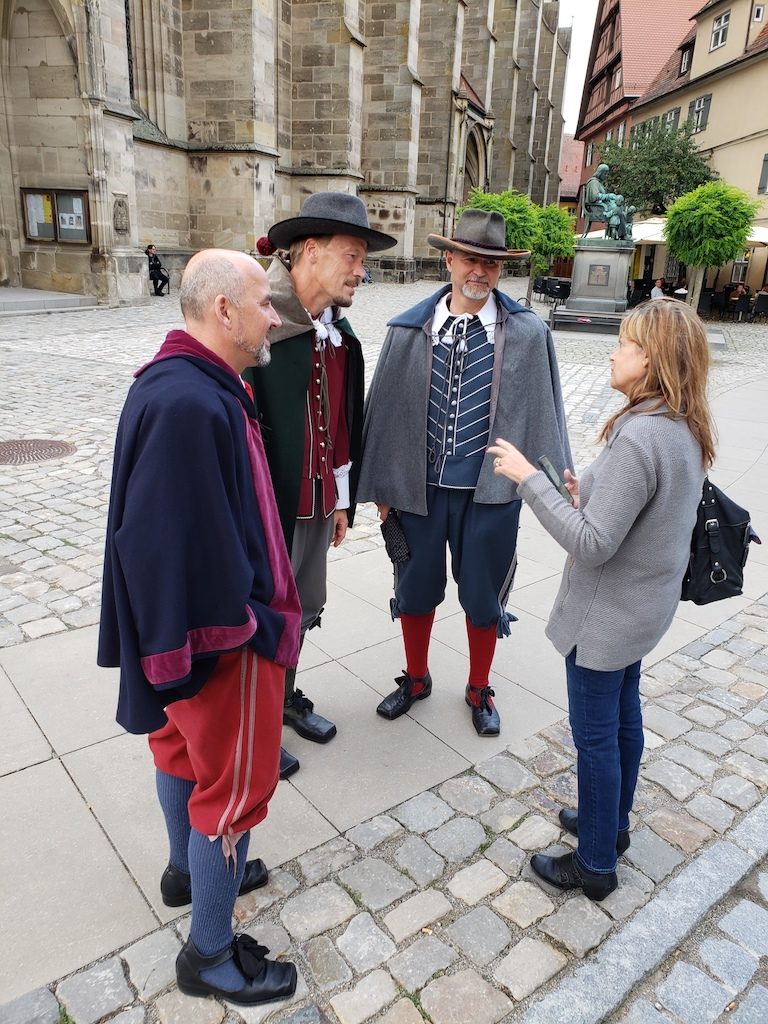 As you probably know, during the Thirty Years' War, many areas in Germany were destroyed. The story says Dinkelsbühl was spared because of children pleading with the Swedish Council.
Is it true? I was told it's just a story, but such a sweet one that I'm sticking with it being the truth! I mean, would either of these three lead me astray?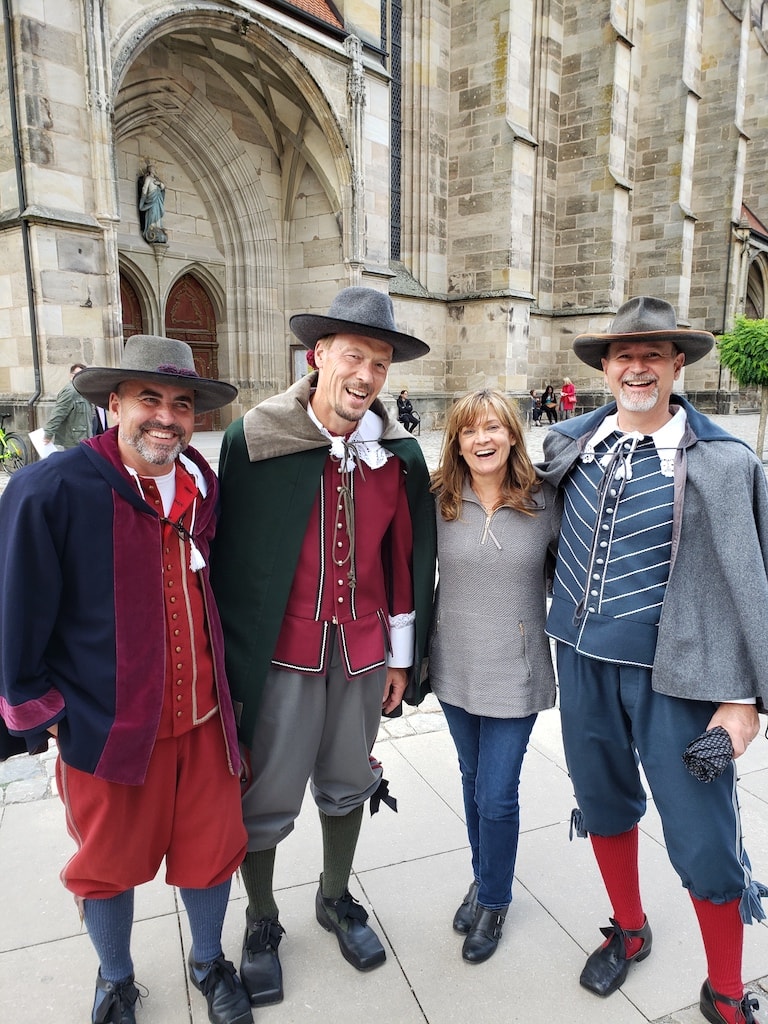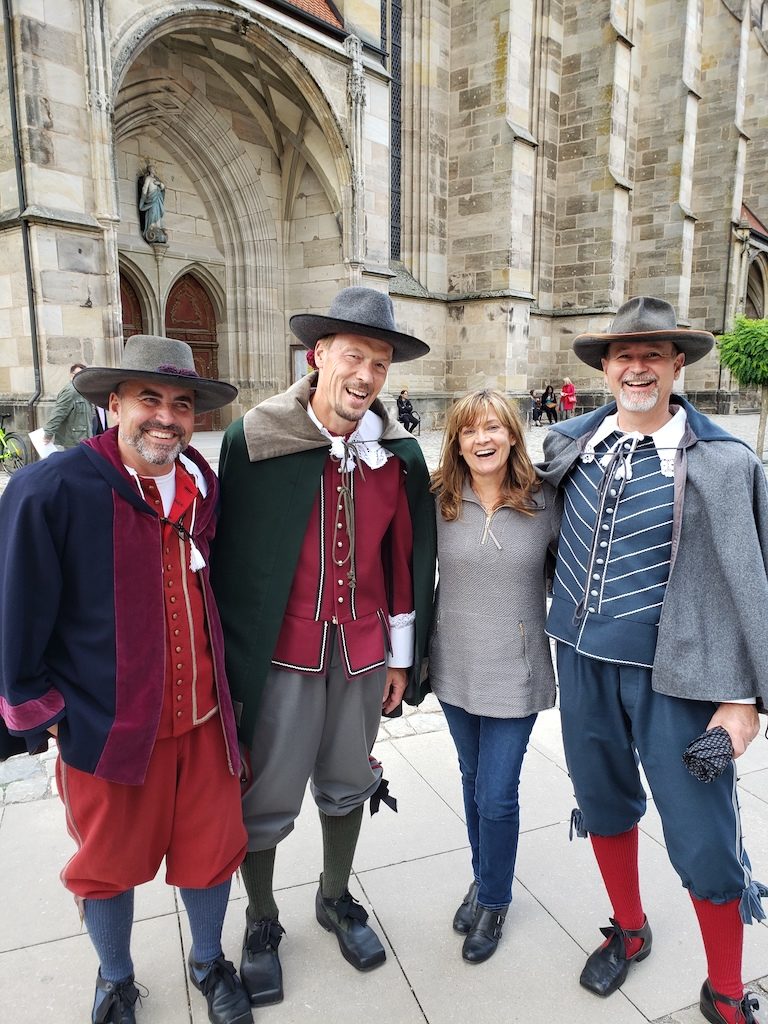 For the last one hundred years or so, Dinkelsbühl has celebrated what the children did for this city, handing out colorful bags of candy to all the children who take part in the procession.
St. George's Minster
In the middle of Dinkelsbühl Germany, you'll find the beautiful Gothic Minster of St. George. This stunning Gothic church was built between 1448-1499, at the intersection of the old trade routes.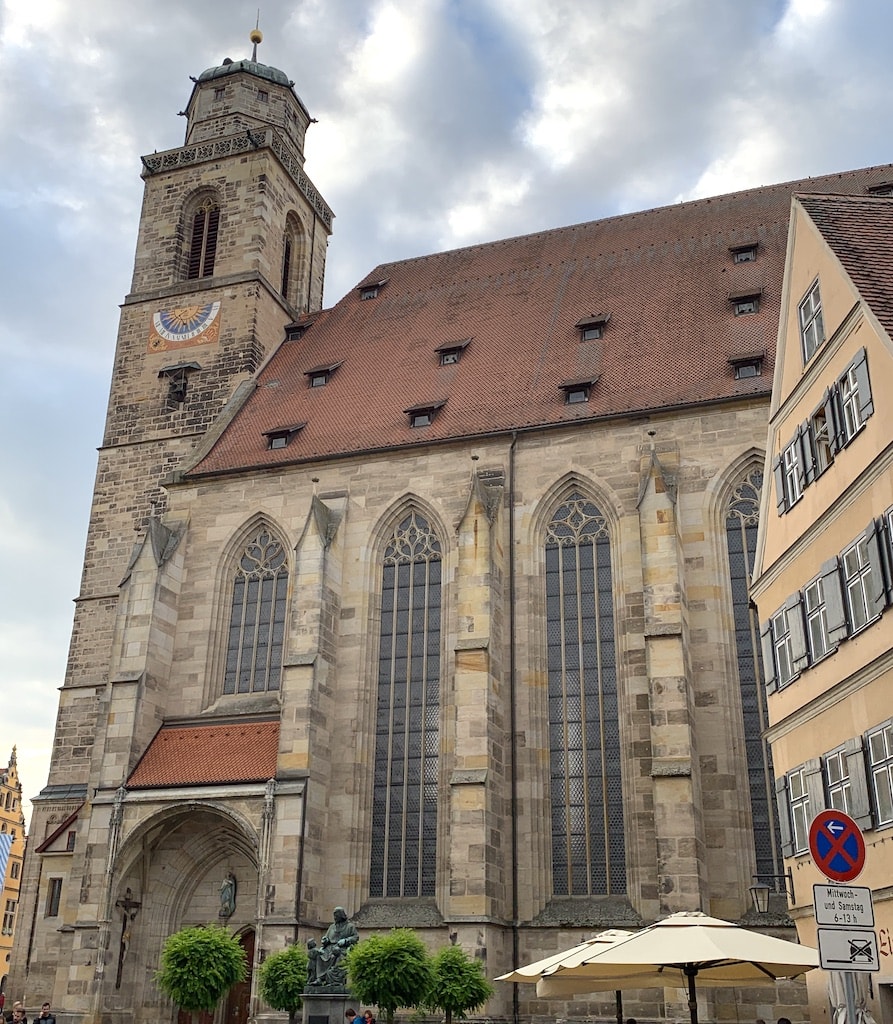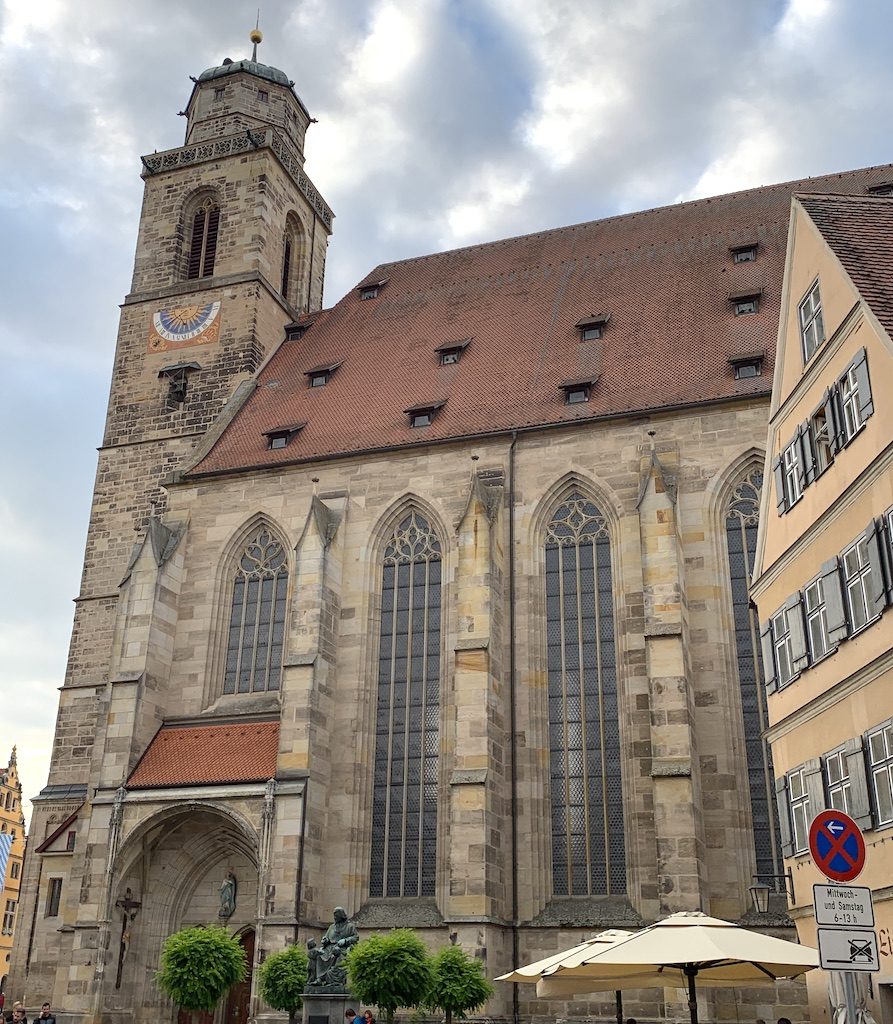 I thought it was fascinating that this tower was not meant to be a church tower initially. Built in the 12th century, it was a free-standing tower. Eventually, the church was built out to meet the tower.
If you're willing and able to climb the 220 steps up the tower, the view is supposed to be stunning!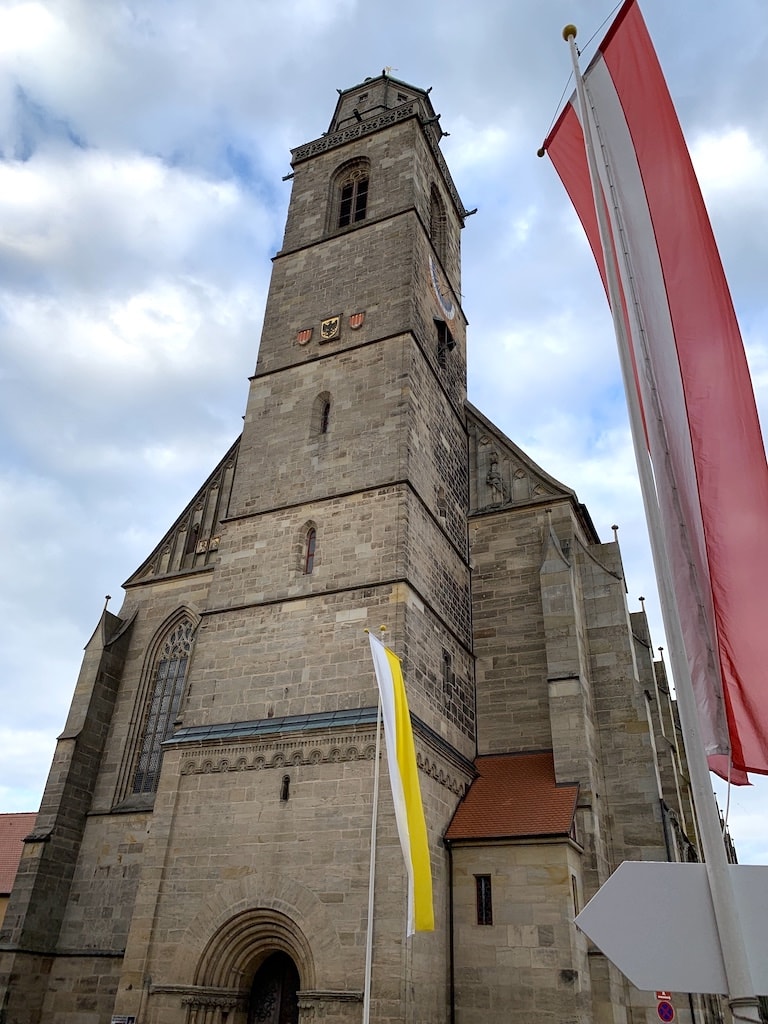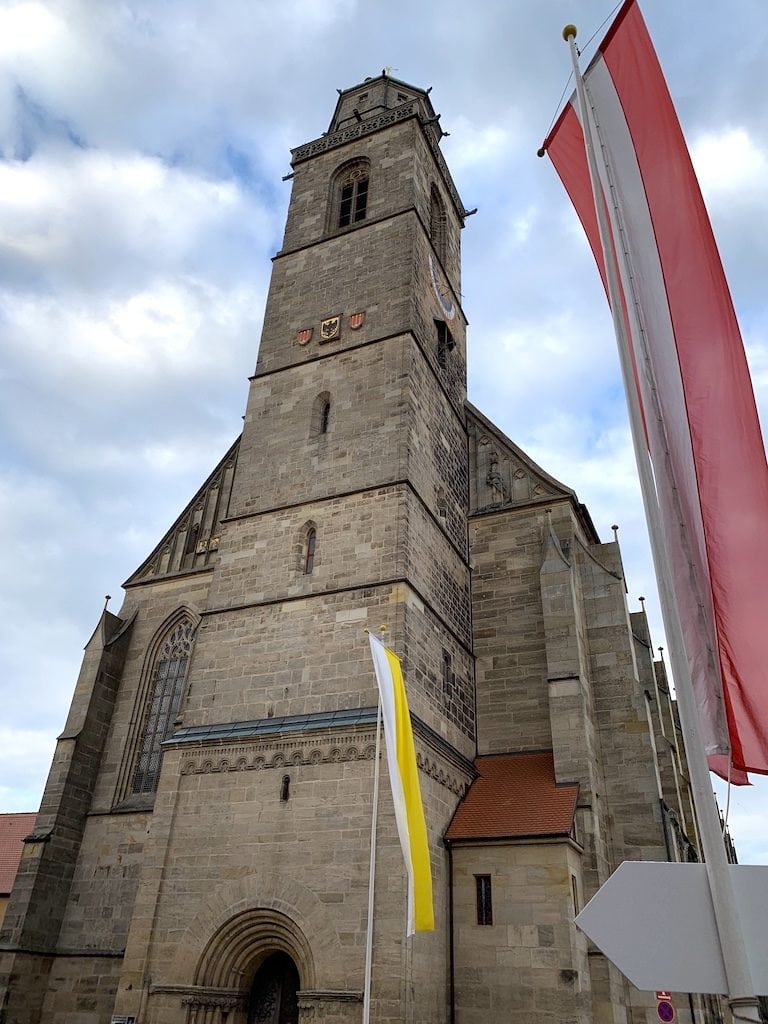 The Faulturm
One of the prettiest spots to see in Dinkelsbühl is the Faulturm. This would have been one of several lookout points around the city.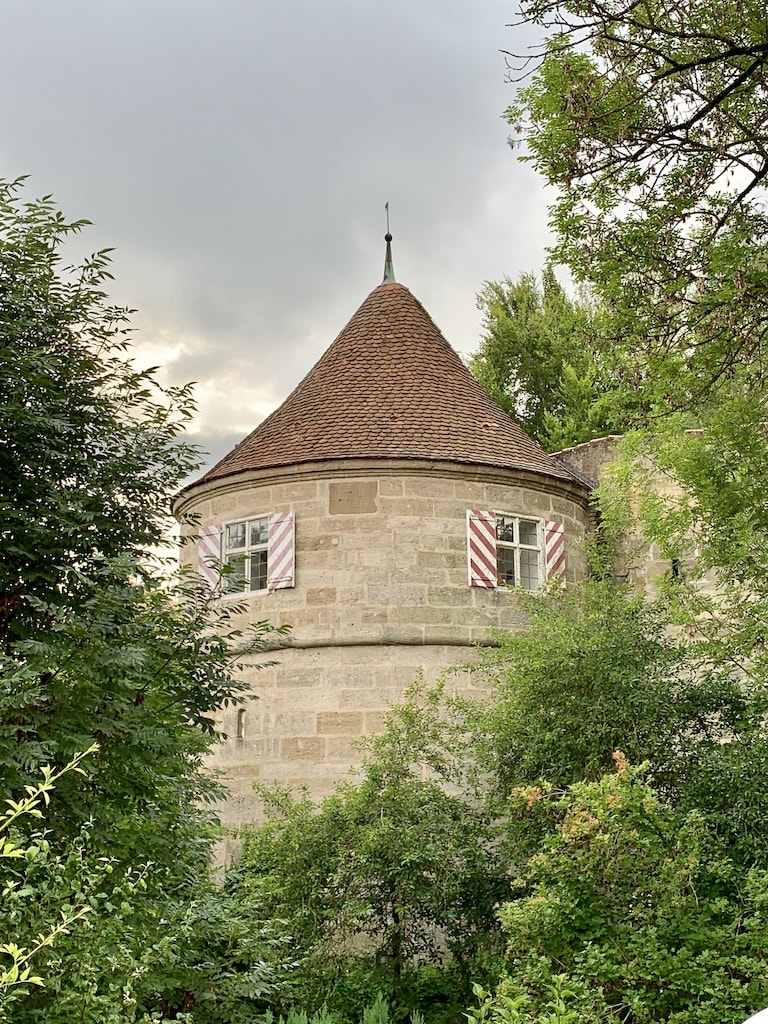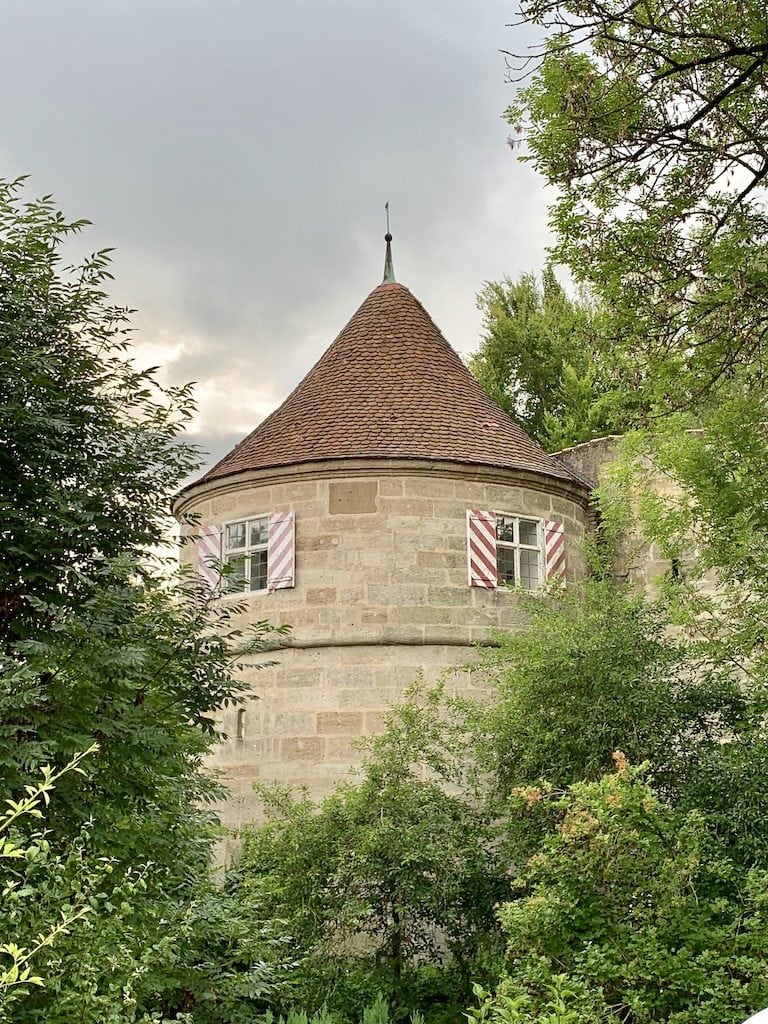 House of History, Dinkelsbühl – of War and Peace
You'll find the History Museum in the Old Town Hall. With 600 exhibits, this is worth a stop. There's a special trail through the museum just for kids, and the children's section is very special.
Dinkelsbühl Germany Carmelite Monastery
This beautiful church built in the early 1840s is now used by the College of Music.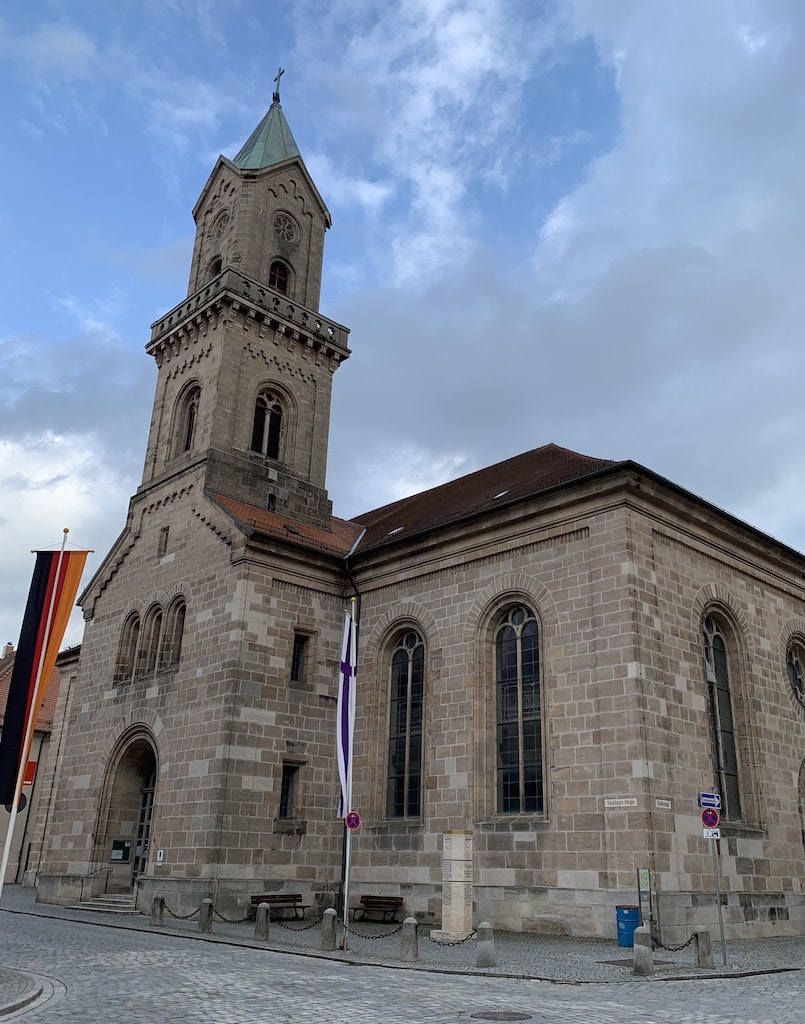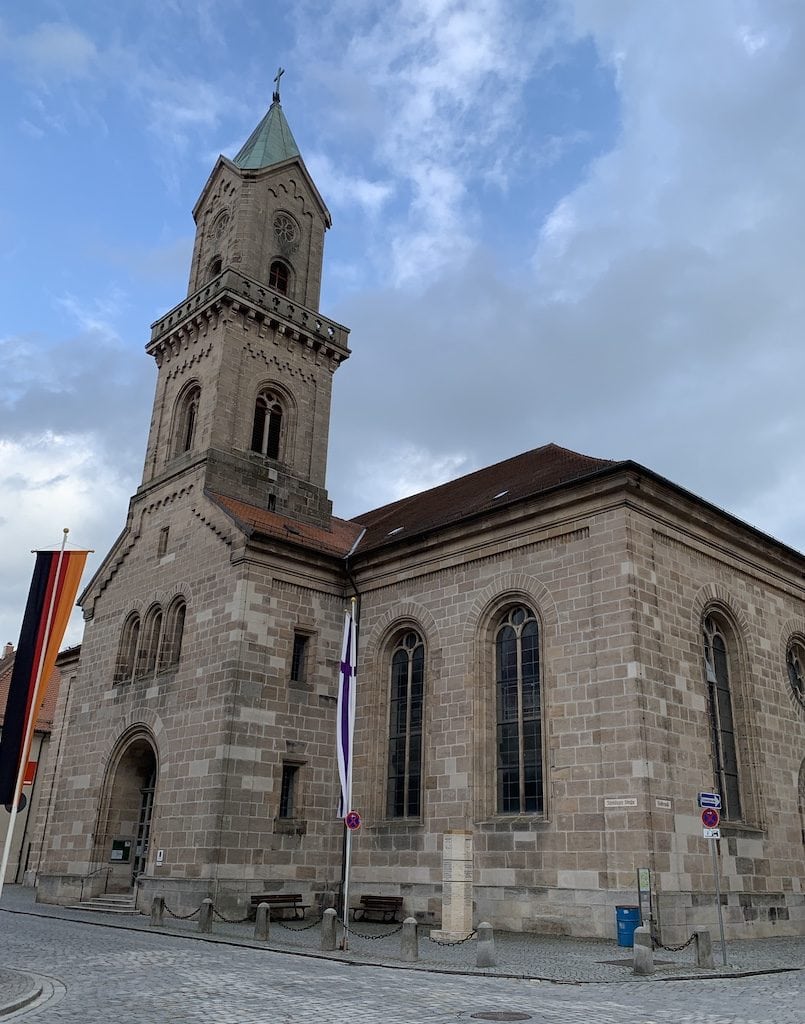 Tour with the Night Watchmen
During the months of May through October, meet the Night Watchmen at the Minster for a guided tour of illuminated Dinkelsbühl. Beginning in November and through the month of April, the tours are only on Friday and Saturday. The meeting time is 9 p.m., and the tour is free.
If you prefer a tour during the day, they are offered at 11 a.m. and 2:30 p.m. May through October. November through April, there is only one daily tour on the weekends at 2:30 p.m. The fee is 5 Euro per person for these tours.
Covered wagon tours are available as well. Visit the Dinkelsbühl website to learn more and reserve your spot as seating is limited.
Tips for Visiting Dinkelsbühl Germany
If you're driving, it's a good idea to rent a smaller car. The streets are narrow and on a busy day parking may be tricky within the city walls. You'll be much more likely to find a spot with a smaller car. In fact, we found parking spots just outside the city easily, and the walk was not that long.
Wear comfortable shoes with no heel. I wore low boots with a small heel and struggled occasionally on the cobblestones. I won't let that happen again!
The best time to visit is May through September when the weather is practically perfect. That being said, Octoberfest looks like a total blast from what I've heard from friends. Also, the Christmas markets are very popular, beginning in late November and running through the third week of December. This is on my bucket list!
Though it never hurts to brush up on your language skills when traveling to a new country, we encountered very few people who did not speak English.
When Will You Visit Dineklsbühl Germany?
Taking the Romantic Road route through Bavaria is a great way to see this part of the country. Check out what we did in Rothenburg, Germany, also along the Romantic Road, too. You'll want to add it to your list of places to stop!
Please let me know if you visit Dinkelsbühl and what you find. I'd love to go back and spend more time.
Save Dinkelsbuuhl Germany to Pinterest for Later!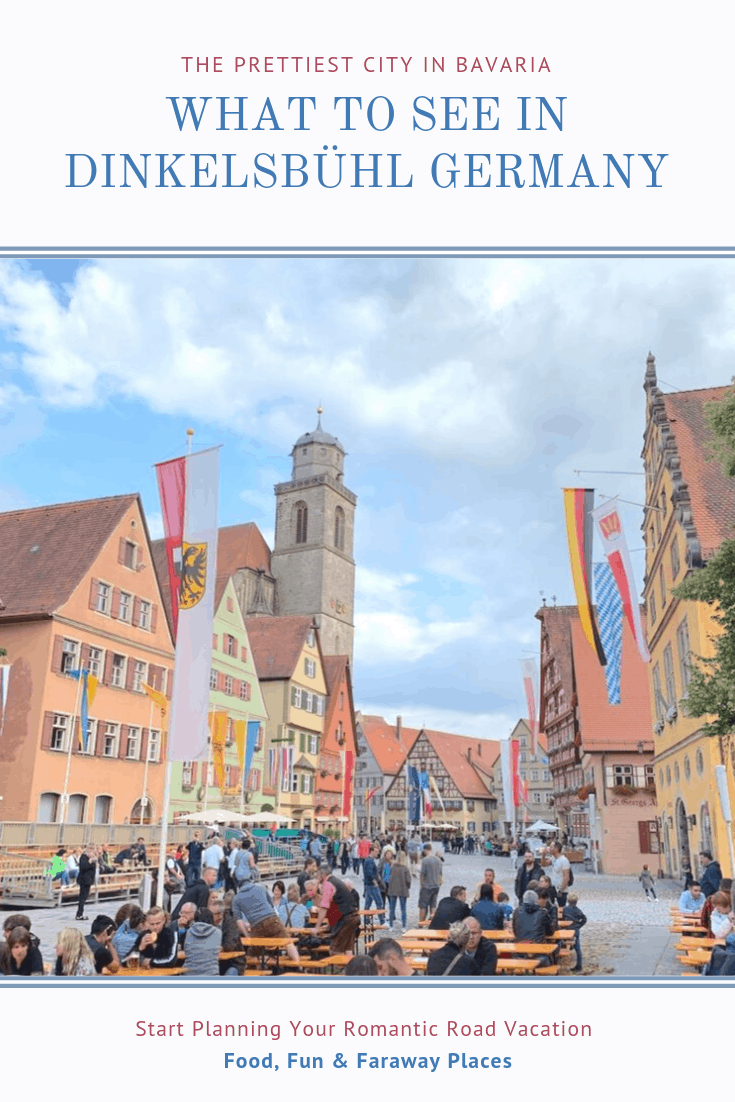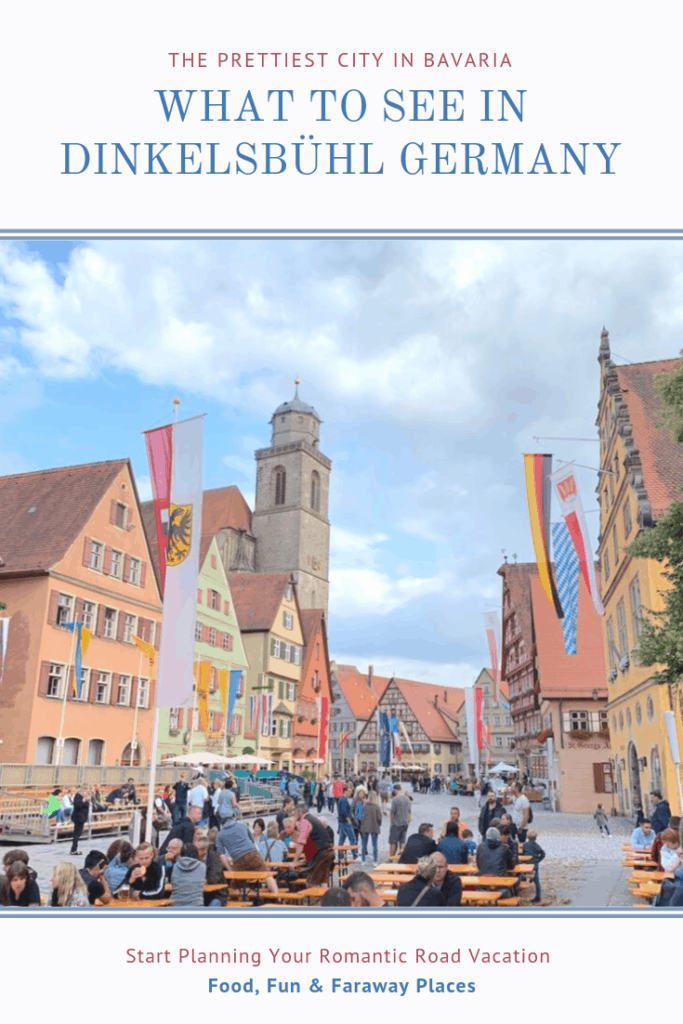 This post was produced in partnership with Travel Mindset and The German National Tourist Office.
More Destinations in Germany