Dunrobin Castle looks like something out of a Disney film or fairy tale, set high on a picturesque hill.
With turrets piercing the sky and surrounded by pristine manicured gardens, the location is awe-inspiring.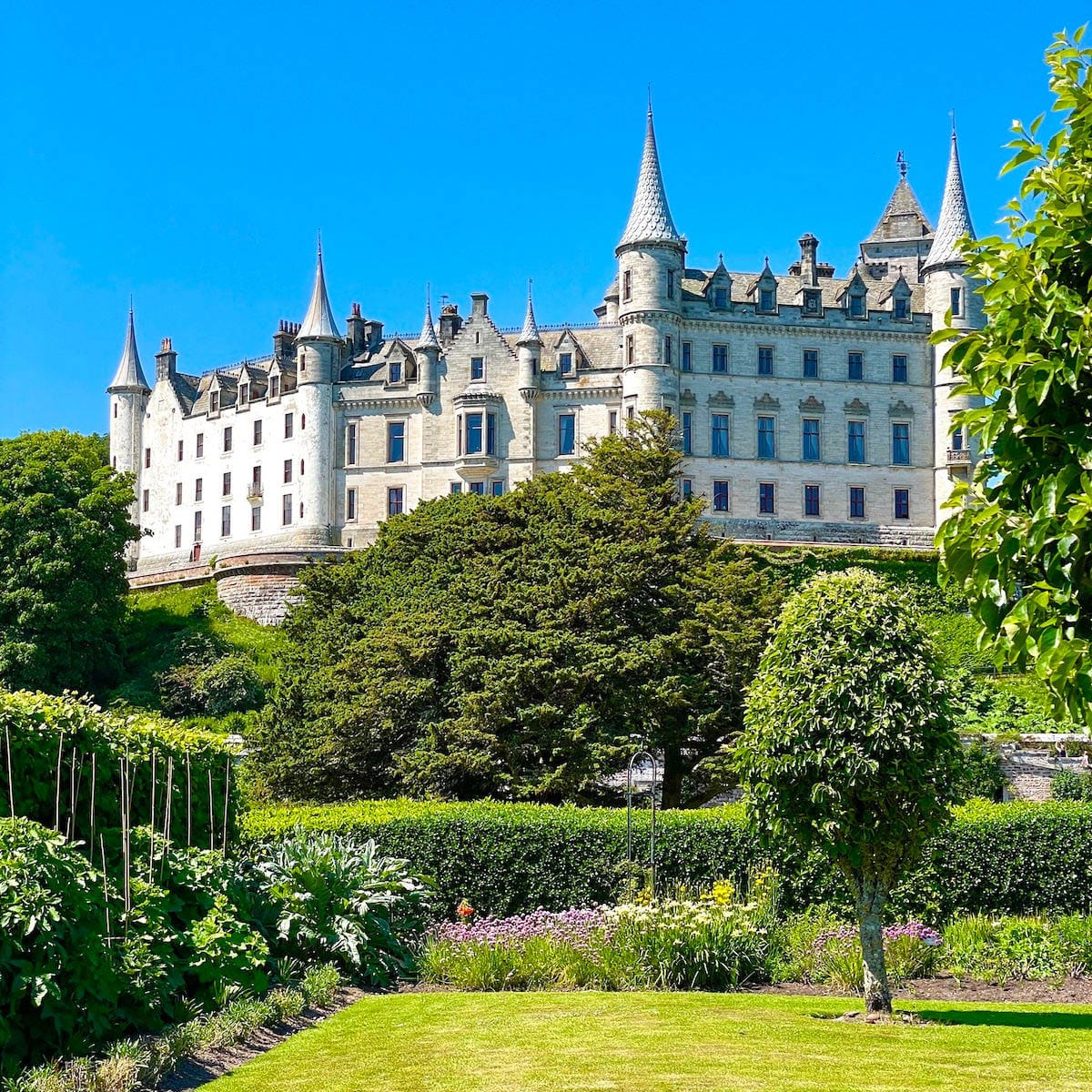 A visit to Dunrobin Castle & Gardens in Golspie, Scotland is a must if you are planning a trip that includes the Scottish Highlands.
I had the pleasure of visiting this area as part of the Northern Islands and Gems Oceania Cruise.
If you need more inspiration for places to see on that cruise, check out this article with things to do in Bruges in one day.
It was a wonderful cruise and itinerary, and I'd love to visit this region of Scotland again to do a little more exploring.
I also have a couple of places on my bucket list, like St. Andrews and Glencoe in winter. I think I'll need at least 10 days to really explore Scotland properly!
Here's what you need to know about this popular attraction which is the largest house in northern Scotland.
Where Is Dunrobin Castle?
Located on the east coast of the northern highlands in Scotland, Dunrobin Castle is about a mile north of the town of Golspie. Dunrobin overlooks an area called Moray Firth, a type of tidal inlet or "sea loch".
One easy way to get to Dunrobin is actually by the ScotRail train. There's a train station that is about a five-minute walk from the Castle. The train runs during the summer months.
If you're driving, you'll follow the A9 from Inverness in and out along the eastern coast of Scotland. The trip from Inverness is about 50 miles.
A visit to the Castle is also one of the many excursions we could take from the ship when we docked in Invergordon. It's a charming seaside town about an hour away.
Dunrobin Castle is open from April 1 through October 31. In April and October, it is open from 10:30 a.m. to 4:30 p.m. In between those months it's open from 10:00 a.m. to 5:00 p.m.
Falconry displays are daily at 11:30 a.m. and 2:30 p.m. It's best to check the website in case they make changes.
Why We Loved It
Dunrobin may not be exactly what you think of when you picture ancient Scottish castles, but that's part of its charm!
History of the Castle
The castle was built for the Earls and Dukes of Sutherland around 1235. Originally a small fort, the castle remained relatively unchanged for 200 years before a high house and staircase were added.
Starting around 1785, a series of changes came to the castle to turn it from a military-style fort to the castle that it is today. You can still see the framework of the original keep.
By 1845, the architectural influences of Sir Charles Barry made significant modifications. This gave it more of a Scottish Baronial style, inspired by the Balmoral estate of Queen Victoria.
This is when the conical spires were added, giving the castle its unusual, almost dreamlike quality.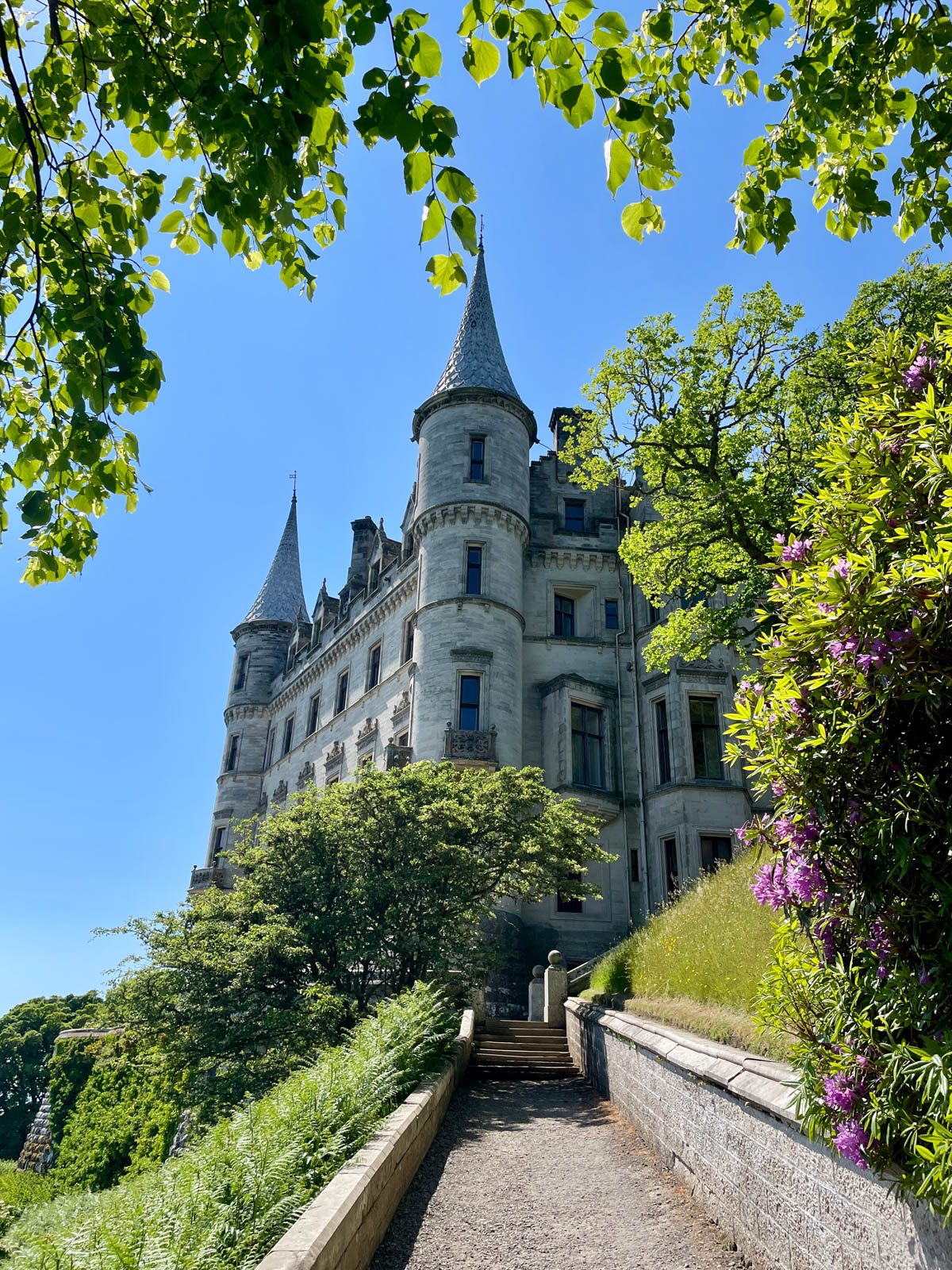 At that time, beautiful formal gardens based on the ones at Versailles were also added.
During the First World War, the castle was used as a Naval Hospital and surgical base for the North Sea Fleet.
At one time an electrical fire gutted some of the inside, although a news report mentioned that the wounded soldiers were able to get out.
The furniture and paintings were able to be saved as well, and the house was restored. It's passed through the line for decades.
The castle was briefly a boys' boarding school in the 1960s. Today, it's once again a family house as well as a popular tourist destination. It's truly one of the great houses of Scotland.
The Castle Today
With 189 rooms, the castle looks simply magnificent up on the hill. Inside artwork and antiques add a regal touch to the public spaces.
Outside, the gardens are everything you'd expect of a formal Victorian garden. There are walled gardens with fruits, vegetables, and flowers.
You'll also see nursery gardens and greenhouses, a croquet lawn, fountains, topiaries, and well-manicured areas.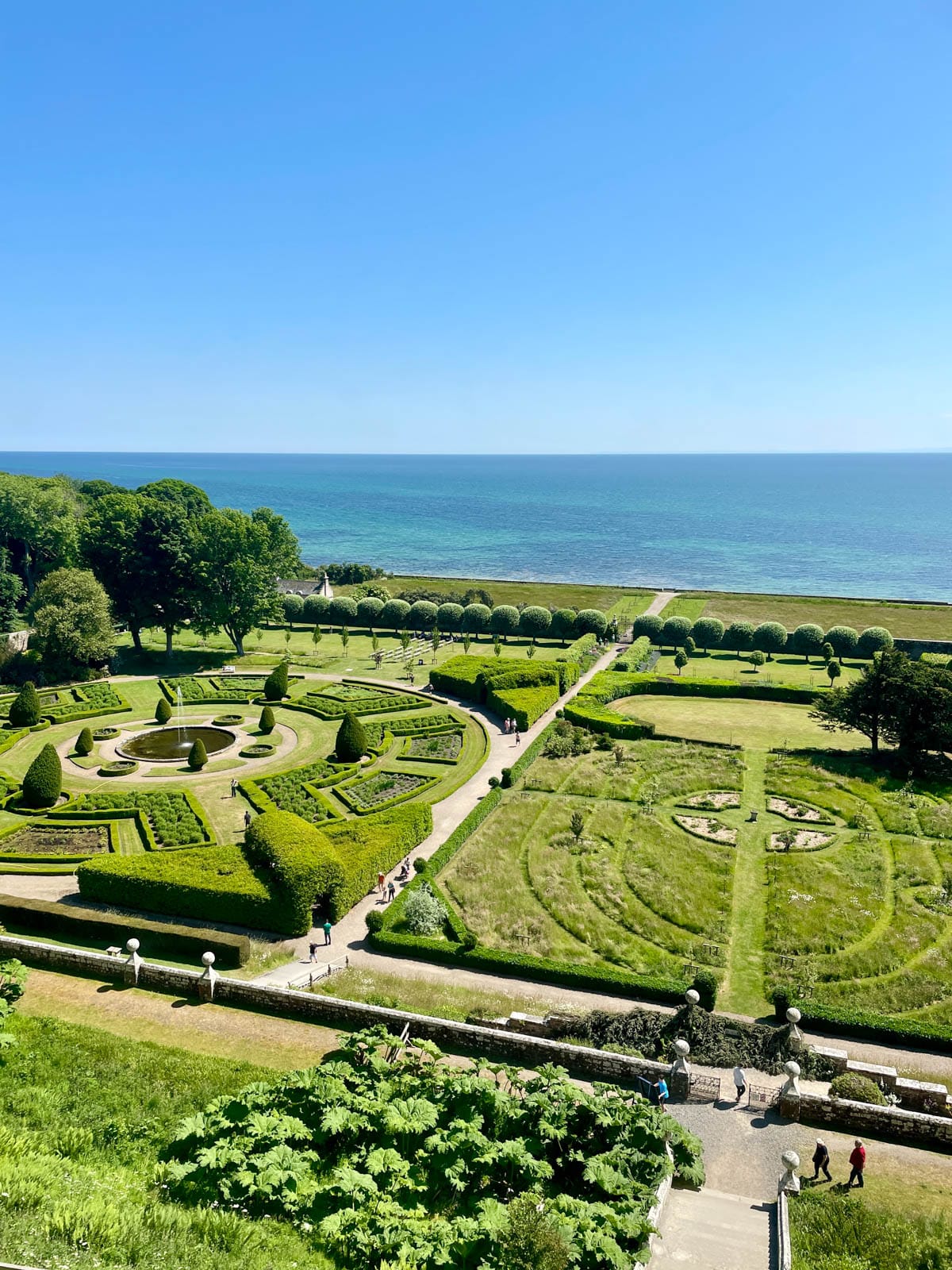 During the year, different flowers are in bloom, making each month a new way to enjoy the beautiful gardens of this stately home.
You might see tulips in the early spring, as well as lilies, dahlias, and geraniums throughout the summer.
Whether you're taking photos of the grounds, from the grounds up to the castle, or from the castle down to the grounds, every photo captures the beauty of this location.
You can admire this castle for its incredible history or its spectacular appearance today.
Things to Do at Dunrobin Castle & Gardens
Touring the Castle
Without a doubt, the highlight of a trip to Dunrobin is touring the castle itself.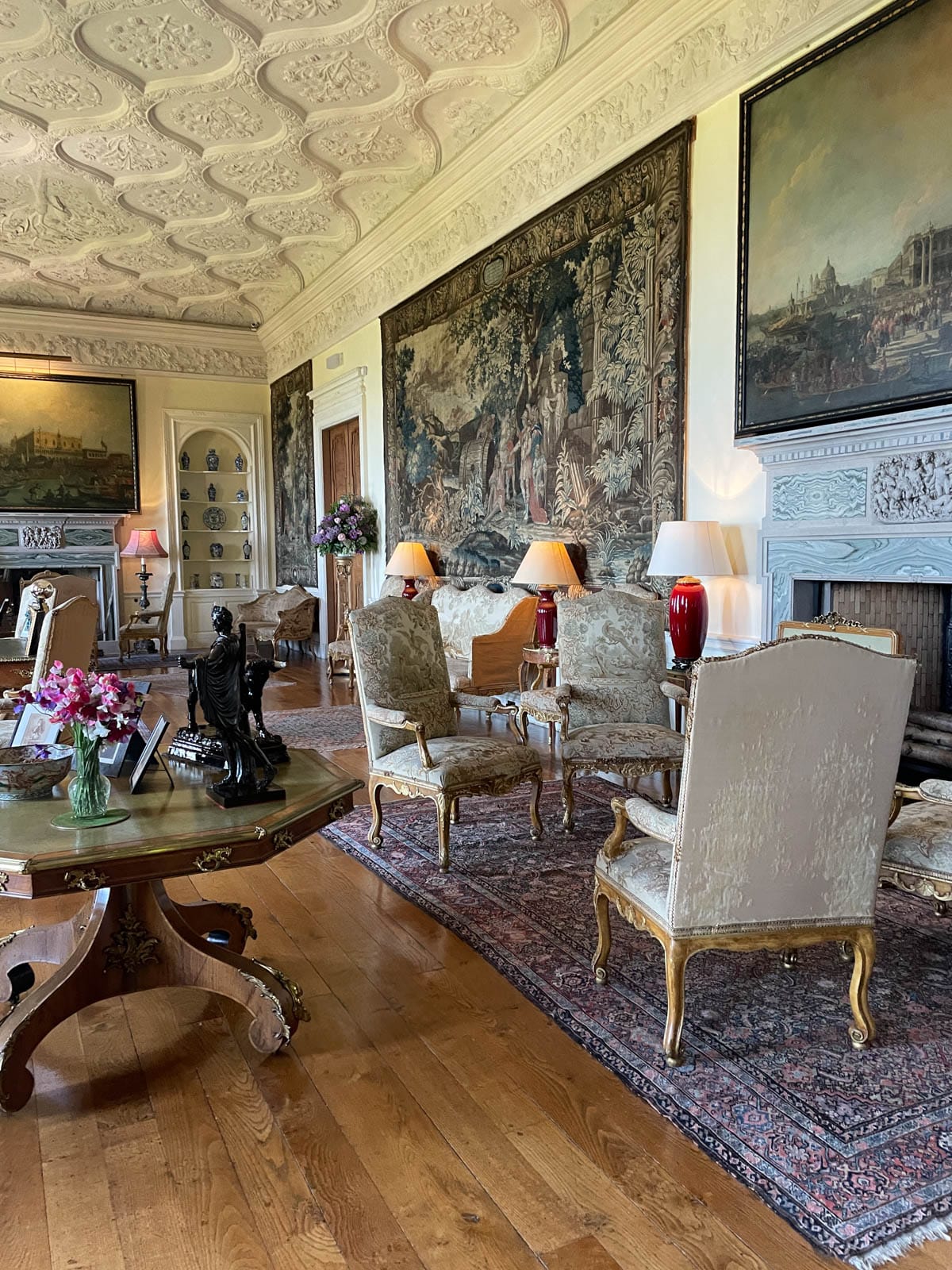 From the grand entrance hall and around the main staircase to the state rooms on the first floor, it's all so beautiful.
And that formal Library has more than 10,000 books!
Walking through the Dining Room with its collection of the family silver, you get a glimpse into the lives of the Sutherland family from historic times through today.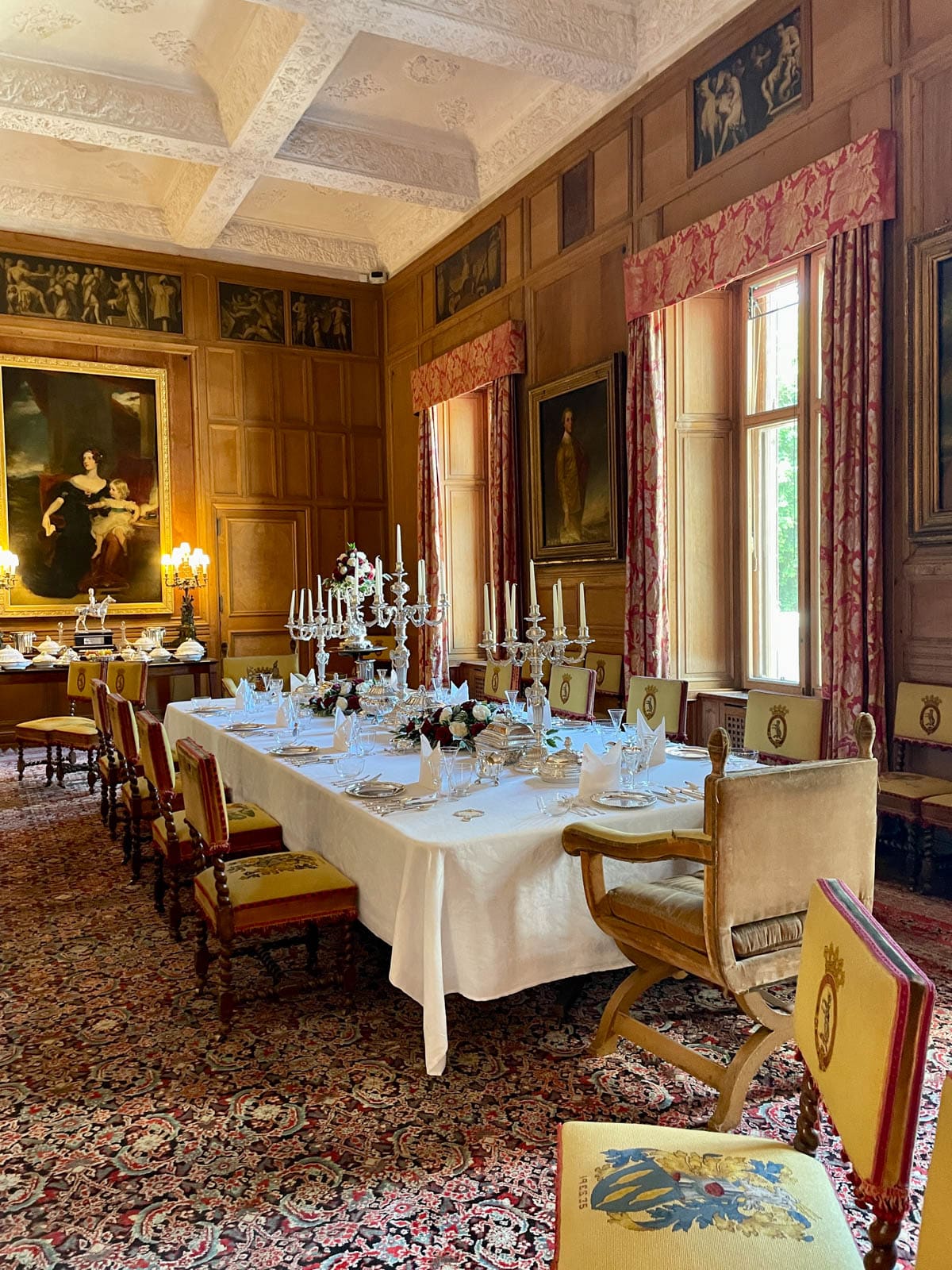 The self-guided tour includes 18 rooms in the castle. Your ticket includes access to the gardens and museum once you have finished with the castle tour.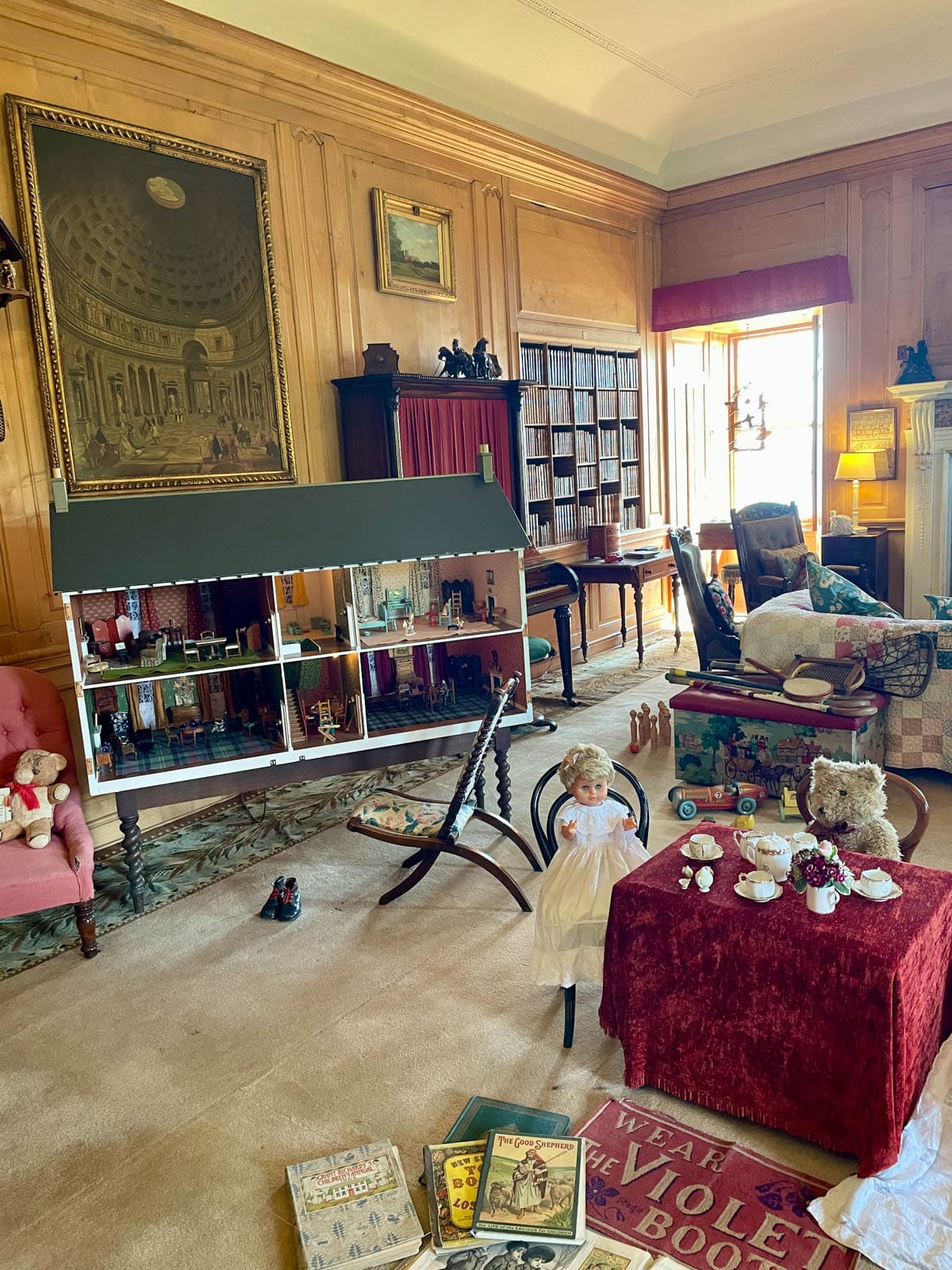 Exploring the Dunrobin Museum
Speaking of the museum, the Dunrobin Museum is located on the property in a building originally built as a summer house.
The museum contains a large collection of hunting trophies and archaeological items. These were from the Sutherland family during their travels to Africa.
While these collections are impressive, make sure to spend some time looking at the excellent collection of Pictish stones. These stones date back more than 1500 years, engraved with Pictish symbols.
The museum also contains exhibits about gold panning at Kildonan, coal mining at Brora, and the general geology of the area.
Visiting the Gardens
Make sure to take some time to explore the gardens, especially the featured sites like the Lily and Bulrush Fountain Parterres.
The Pyramid Garden is spectaular. You'll see trees such as the crab apple, scarlet hawthorn, and quince.
Also see the selection of Gunnera manicata. This is a native rhubarb plant from South America that does surprisingly well in Scotland. You can spot it by its massive eight-foot leaves!
Falconry Exhibit and Show
This unforgettable experience provides displays of the ancient art of falconry.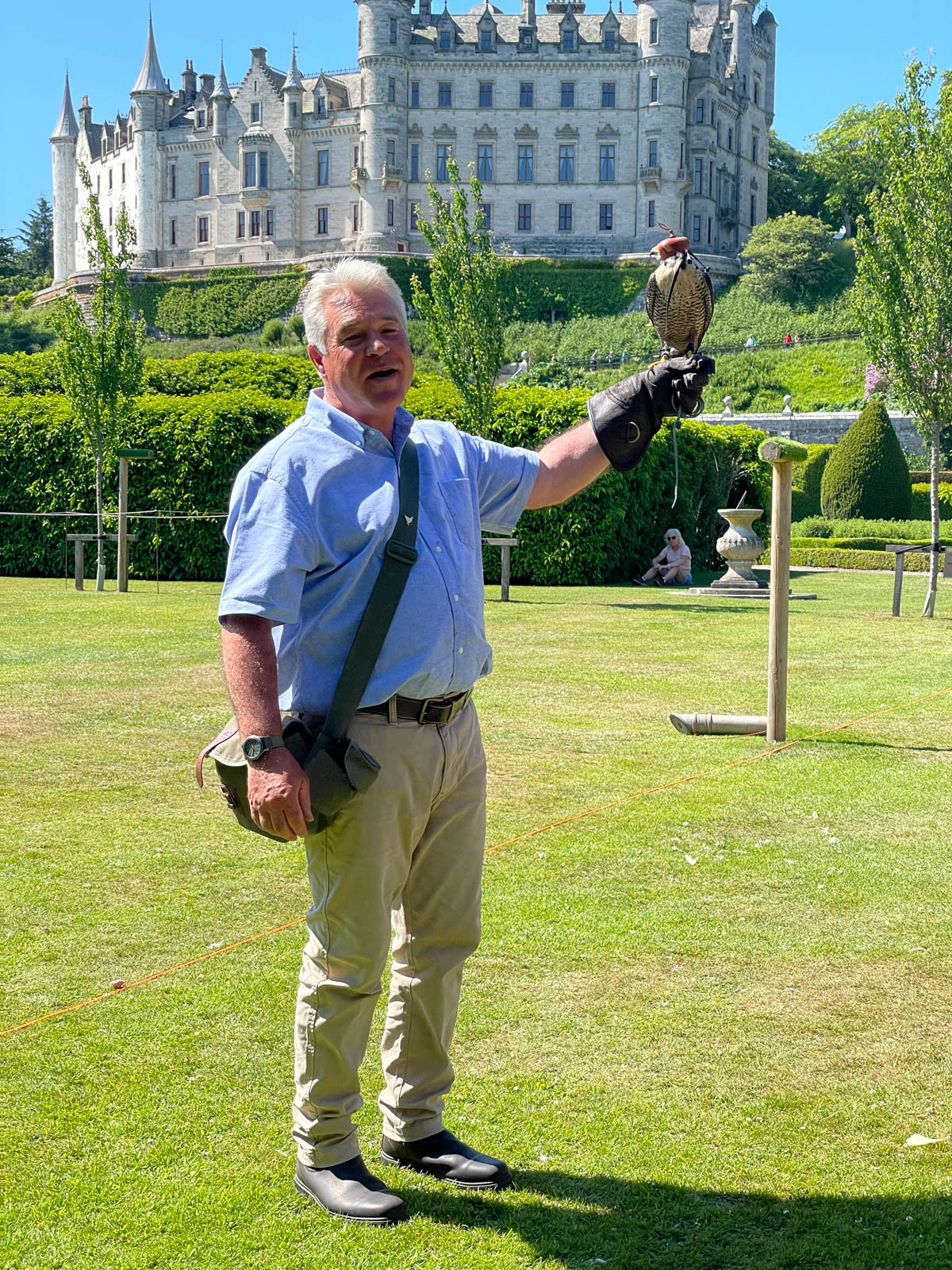 Learn all about the local birds of prey and watch a flying demonstration of the Peregrine, Gyrfalcon, and Harris hawks along with their history in falconry.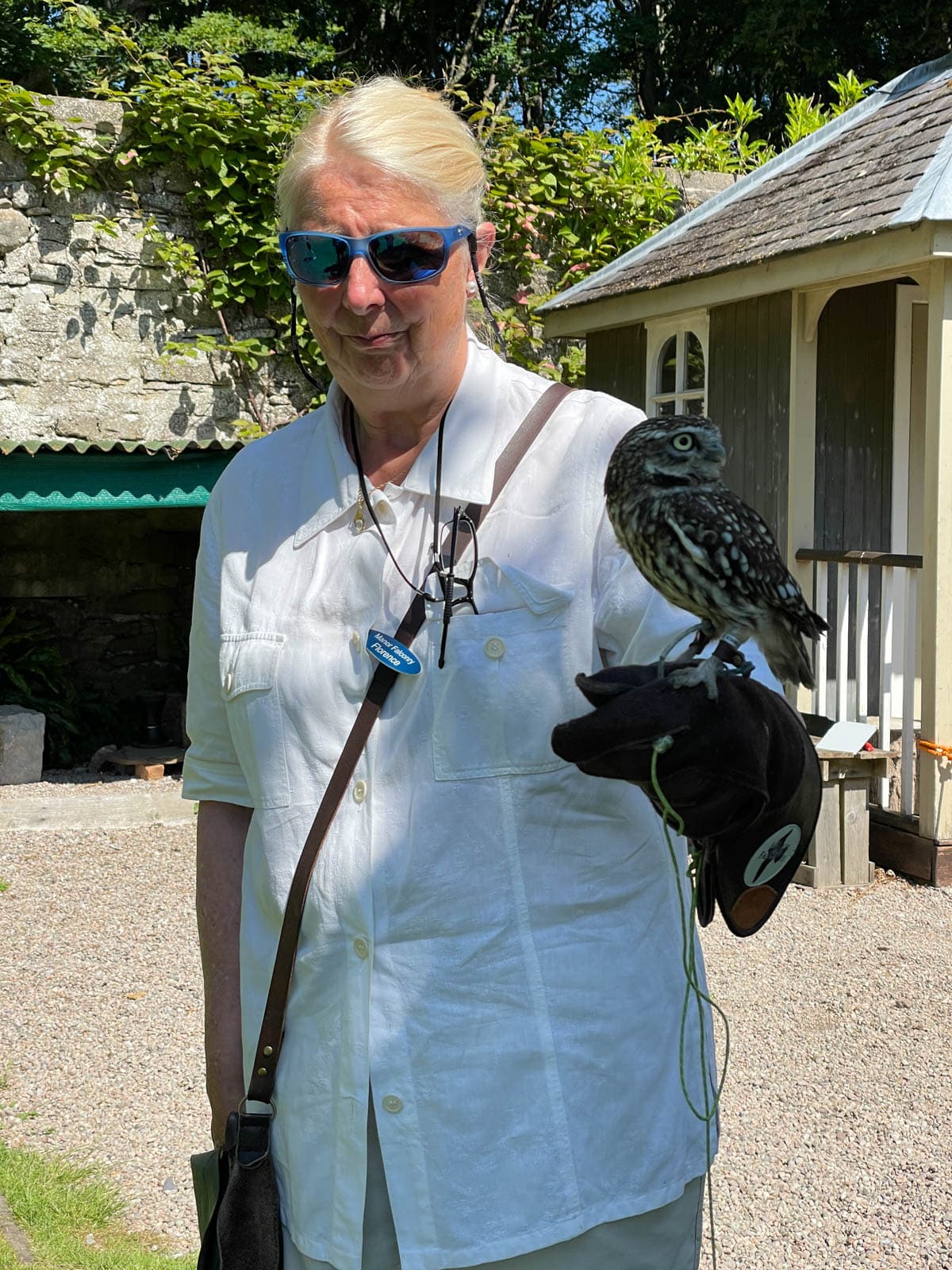 Falcons were trained to be hunting companions to catch prey that was fast or difficult to catch.
It takes a long time to train one of these birds, and the skill of both the birds and the handlers is commendable. It is a unique show that you don't want to miss!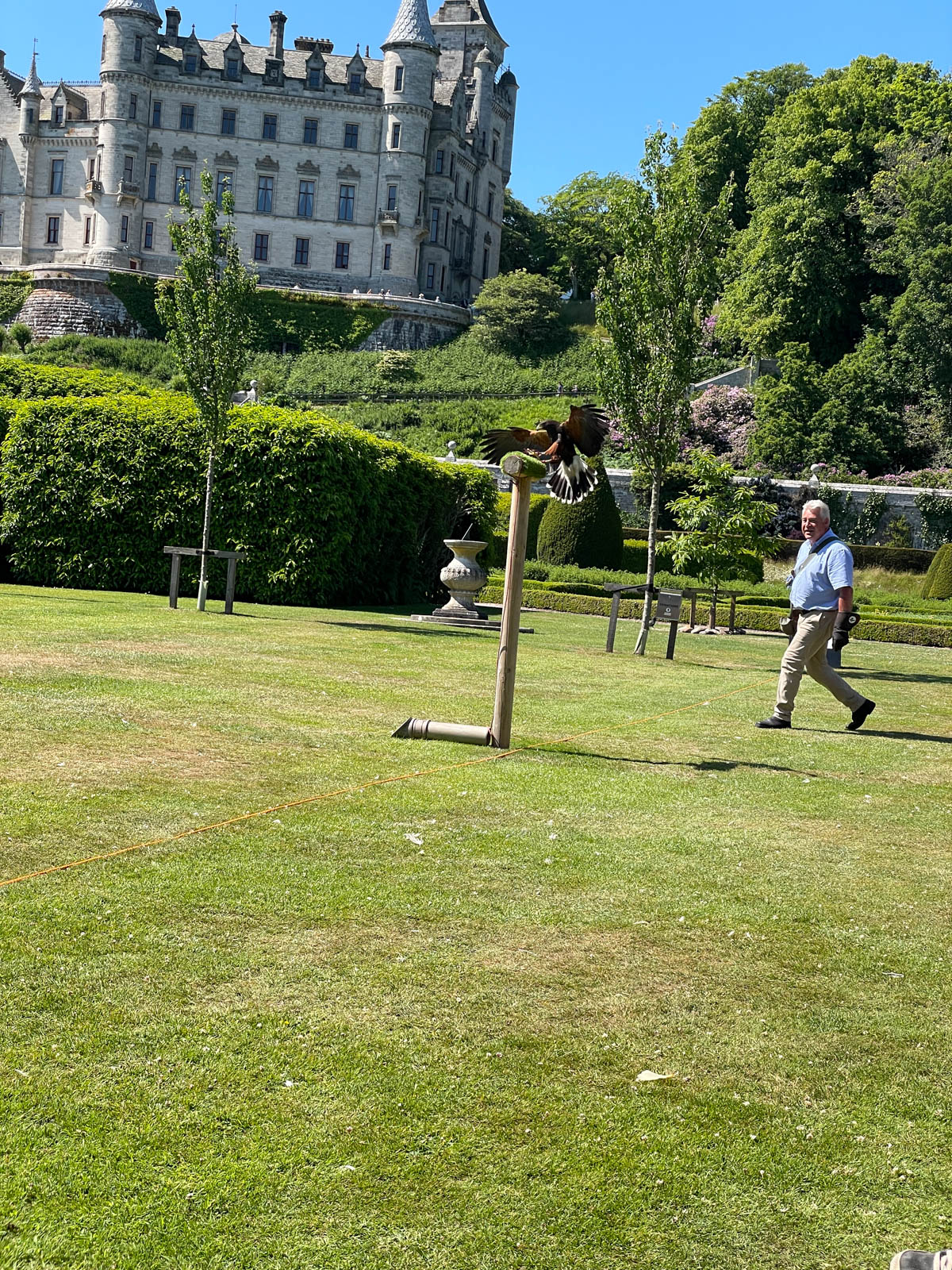 Castle Tea Room
Fancy a spot of tea? The Castle Tea Room serves homemade soups, cakes, pastries, local ice creams, freshly made sandwiches, and other light refreshments in an elegant setting. The scones are wonderful!
Gift Shop
If you want to grab something to remember your visit, there is a small gift shop with Scottish crafts, woolen products, postcards, and other souvenirs.
Frequently Asked Questions
Can you purchase tickets in advance online?
No, tickets are not available for online purchase. They must be purchased on the day of your visit. An exception for this would be if you are with a cruise excursion, who would handle the ticket purchasing as part of your tour package.
Can you take photographs in Dunrobin Castle?
Photos can be taken in the castle, however, flash photography is not permitted. Drones are not permitted in the garden or grounds, but photography is encouraged.
How much does it cost to visit Dunrobin Castle? 
Adult tickets are £14.00, Seniors and Students are £12.00, and children are £9.00. A family pass for 2 adults and up to 3 children is £42.00, and there are group admission rates for parties of 10 or more.
The ticket includes admission to the Castle, Museum, Gardens, and daily Falconry Display. Parking is free.
Top Tips for Visiting
Wear comfortable shoes as there is a lot of walking and steps. Some areas are not accessible as this is a historic castle.
If you are on a cruise or a tour that has a set time to return to your meeting place, take into consideration the distance to get back. It is a LOT of walking and steps if you are in the gardens when it's time to leave. If possible, it's best to see the gardens first and end in the castle.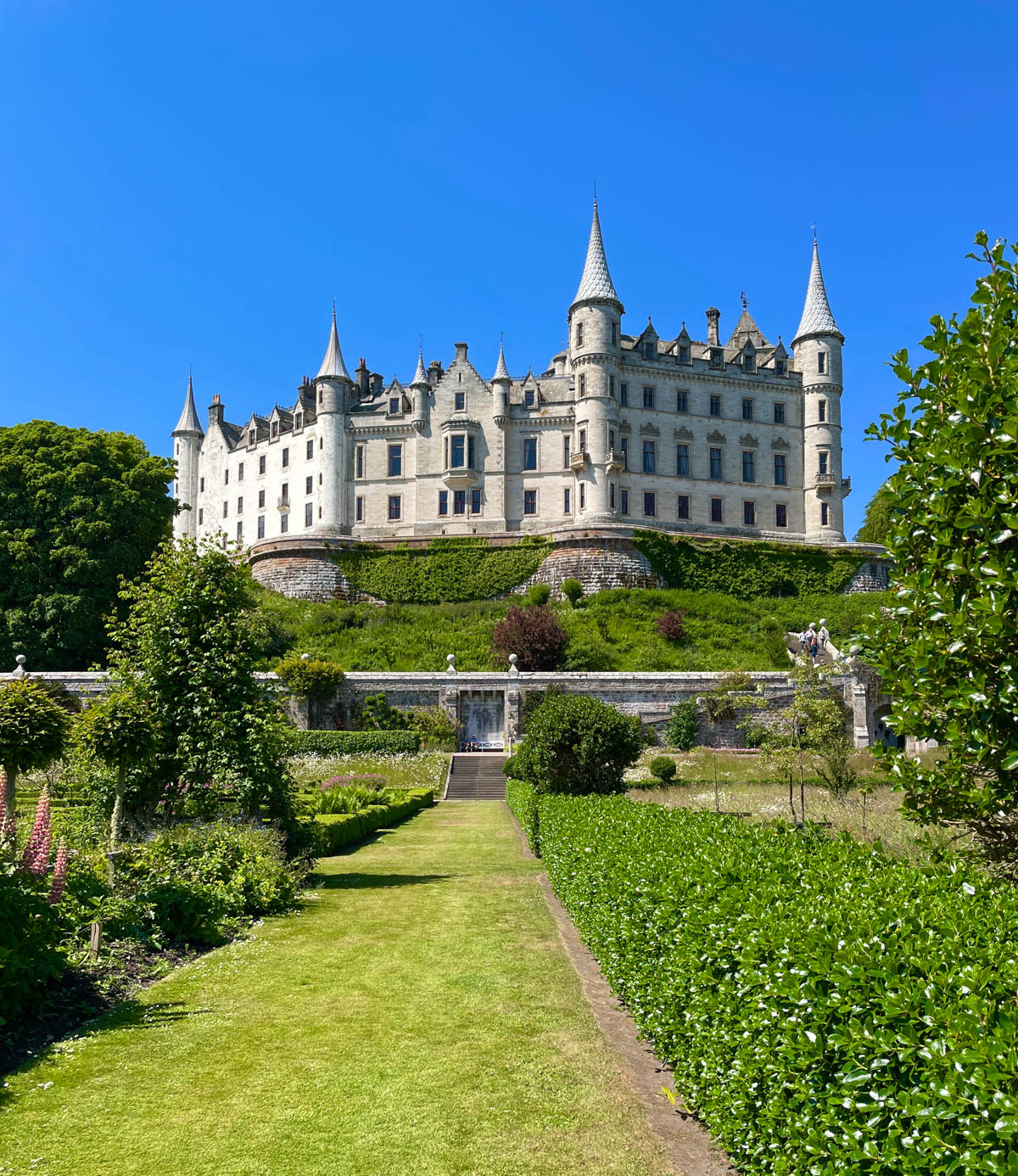 Check the times for the Falconry demonstration as you won't want to miss it!
Looking for other things to do in the area? There are wonderful options within a couple of miles of Dunrobin Castle including the Clynelish Distillery and Brora Beach.
There's also a trail walk to the waterfalls at Big Burn Walk, and the historic Carn Liath Broch (a prehistoric stone round building that is more than 2000 years old!).
Like our content? Follow us on Pinterest!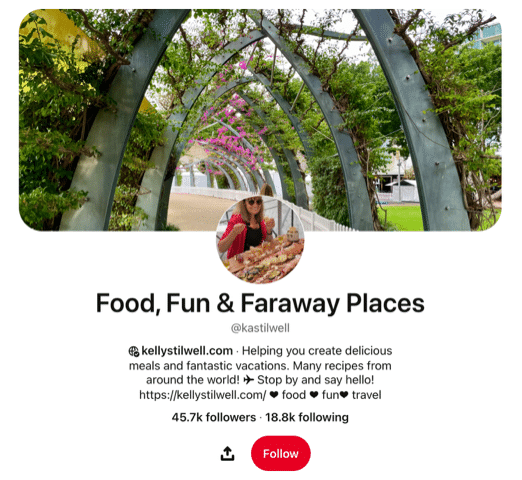 More Destinations to Visit in Europe
Black Forest Germany (Things to Do)
Best Seine River Cruise in Paris