Make breakfast delicious with this easy muffin recipe. You won't find a healthier way to start your day as this muffin has no added sugar and no dairy!
Pair this muffin with an almond milk smoothie, and you'll have a boost of antioxidants and fiber. I love these muffins so much - for any time of day. They've been the perfect snack in the afternoon with a cup of chamomile tea, too.
Click Here to Pin this for Later!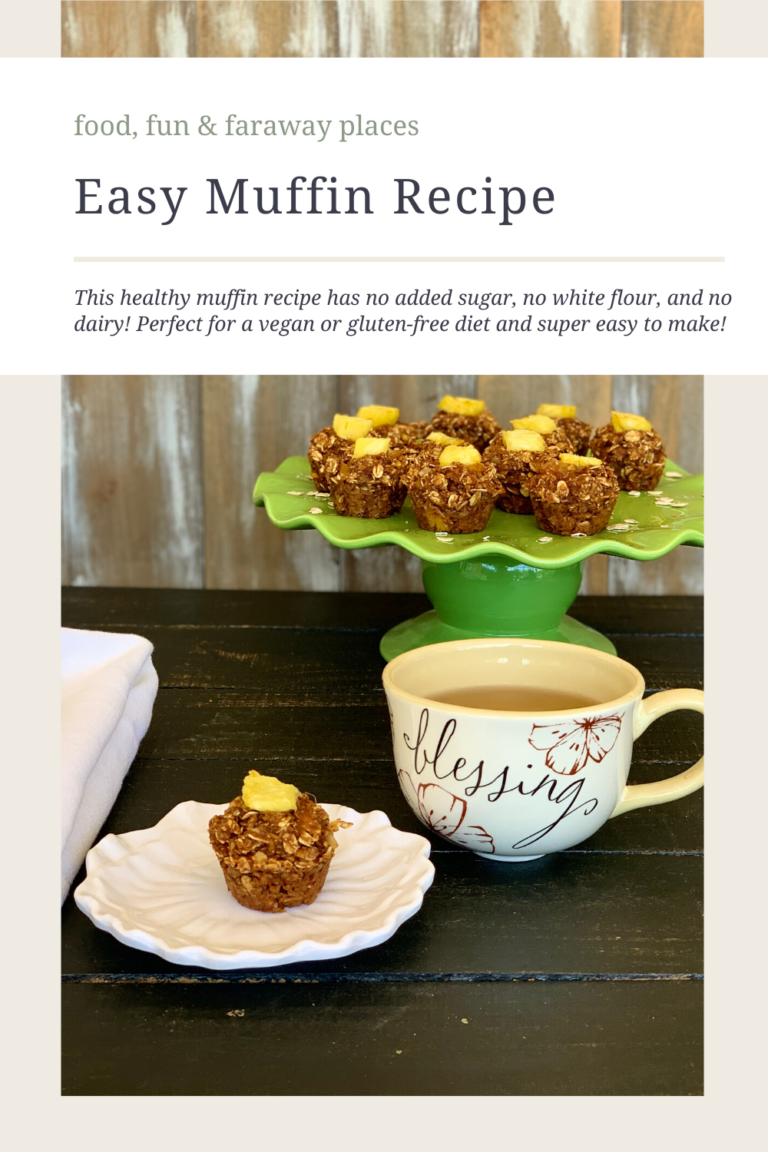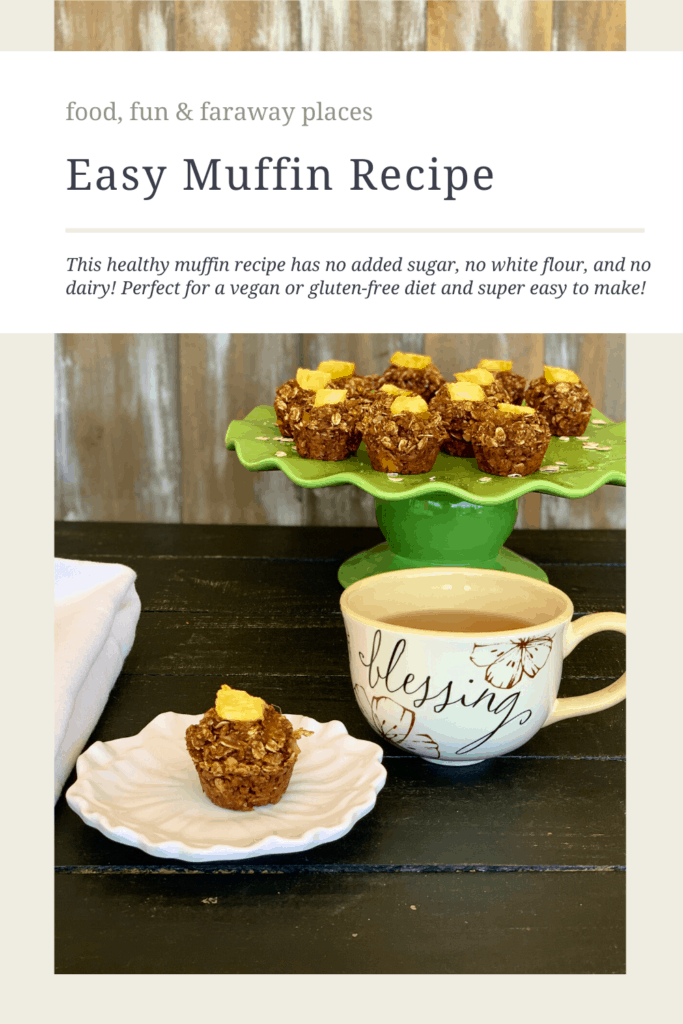 Every year in January my husband and I take part in a fast with our church. Though there are many different kinds of fasts (some people even fast social media) we choose to use the Daniel Fast as our guideline.
This easy muffin recipe fits right in with the Daniel Fast as it has no added sugar, no dairy, and no white flour. I found the basic recipe for Pineapple Citrus Muffins on the Ultimate Daniel Fast website. I switched it up a bit with what I had on hand and eliminated the coconut.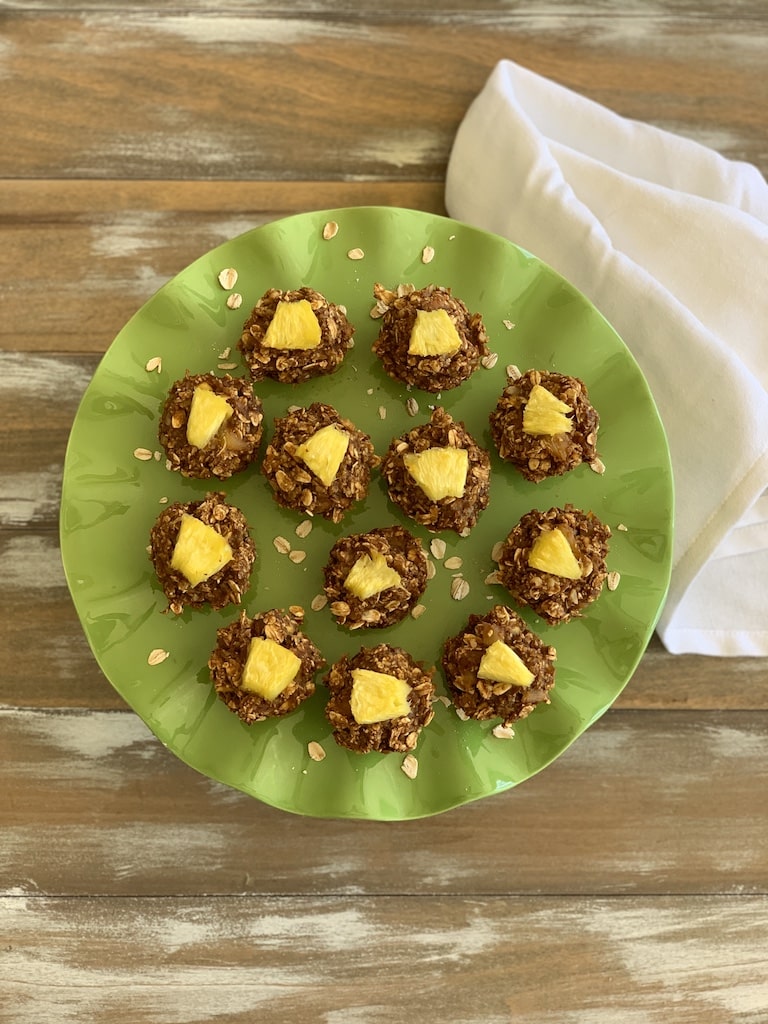 If you're not familiar with the Daniel Fast and want to know more, check out preparing for the Daniel Fast. This fast is about eliminating foods that simply aren't healthy, but there is plenty you can eat! When you stop putting unhealthy food in your body, several things happen:
You eliminate toxins that have built up in your body from processed foods.
Your thinking becomes more clear, which is why many churches participate in this fast. Clearer thinking means more focused prayer time.
You usually lose weight.
You'll have a better idea of what you're putting in your body, which is enlightening, to say the least.
In an article in Time magazine, Dr. Richard Bloomer, dean of the University of Memphis' School of Health Studies, says, "There's a lot of potential health benefits from adopting this approach." I've participated in The Daniel Fast for about the last 7 years, and I see benefits each time I go on the fast.
What You Need for this Easy Muffin Recipe
You can certainly use purchased oat flour, but you can also make it by putting old fashioned oats in your food processor and grinding until it's powdery. It's super easy!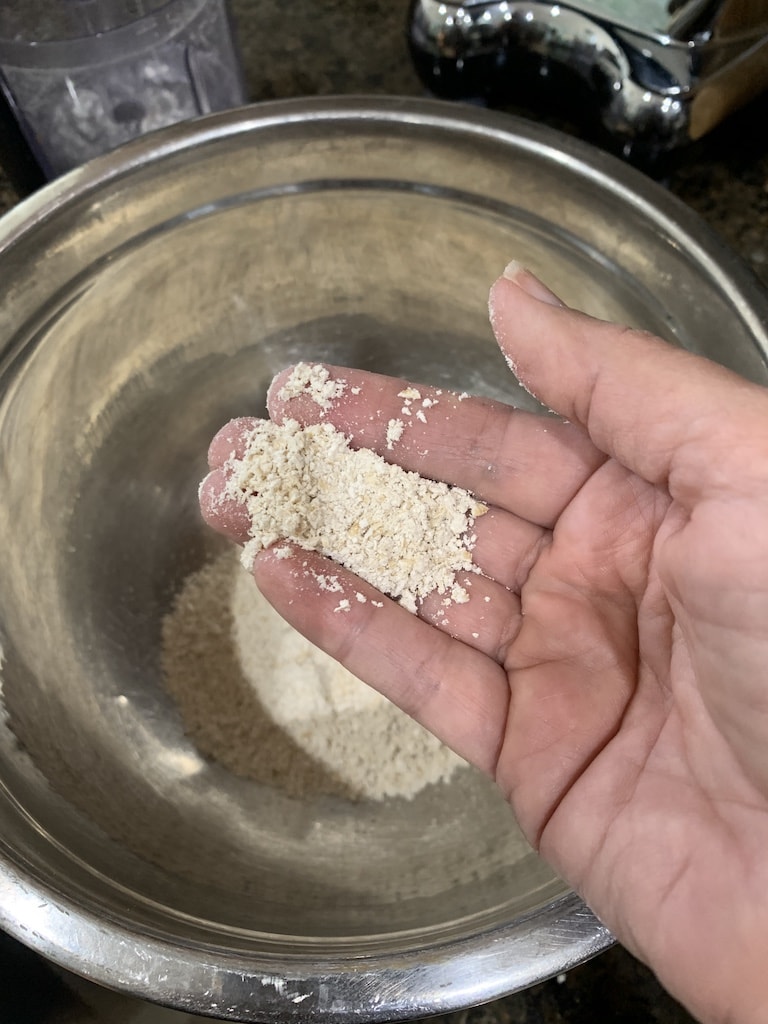 You will also need old fashioned oats, chopped apple, pineapple, ground flaxseed, walnuts, date syrup, orange zest, and ground ginger.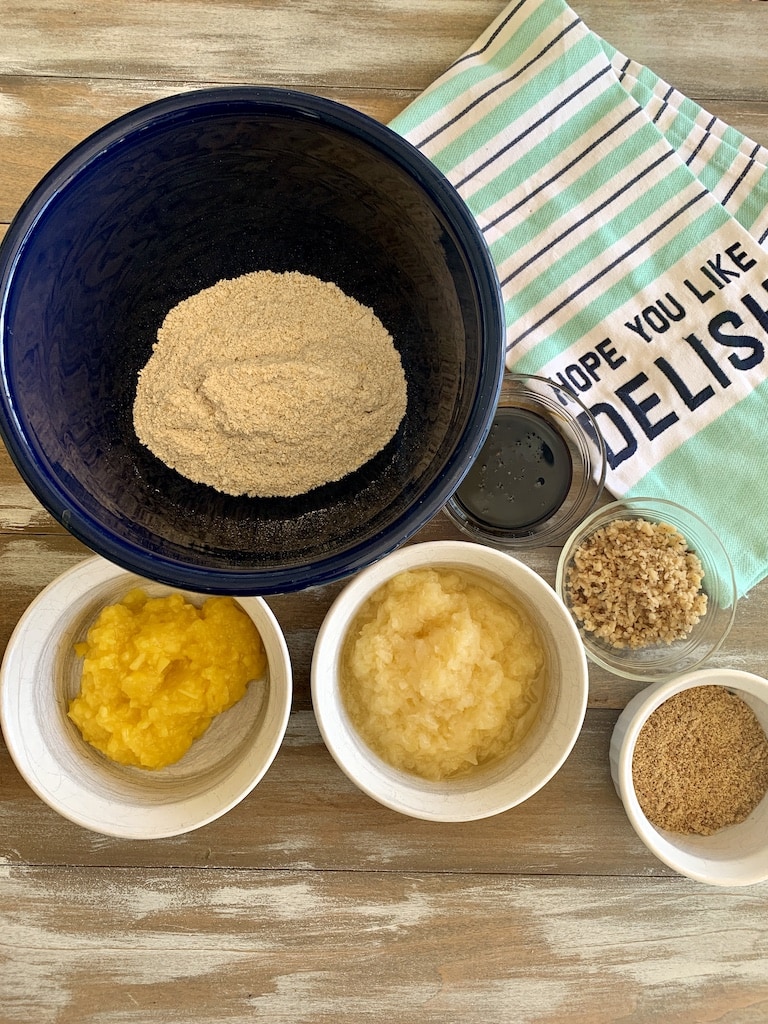 How to Make this Easy Muffin Recipe
Scroll all the way down to see the exact measurements for ingredients as well as detailed instructions!
Gather all your ingredients from the list below.
Preheat oven to 350 degrees.
For Oat Flour: Ground one cup oats until fine like flour.
Grease 12 cup mini muffin tin with oil or oil spray
Combine all ingredients except pineapple pieces and stir well.
Fill each muffin about ½ full. They won't rise very much.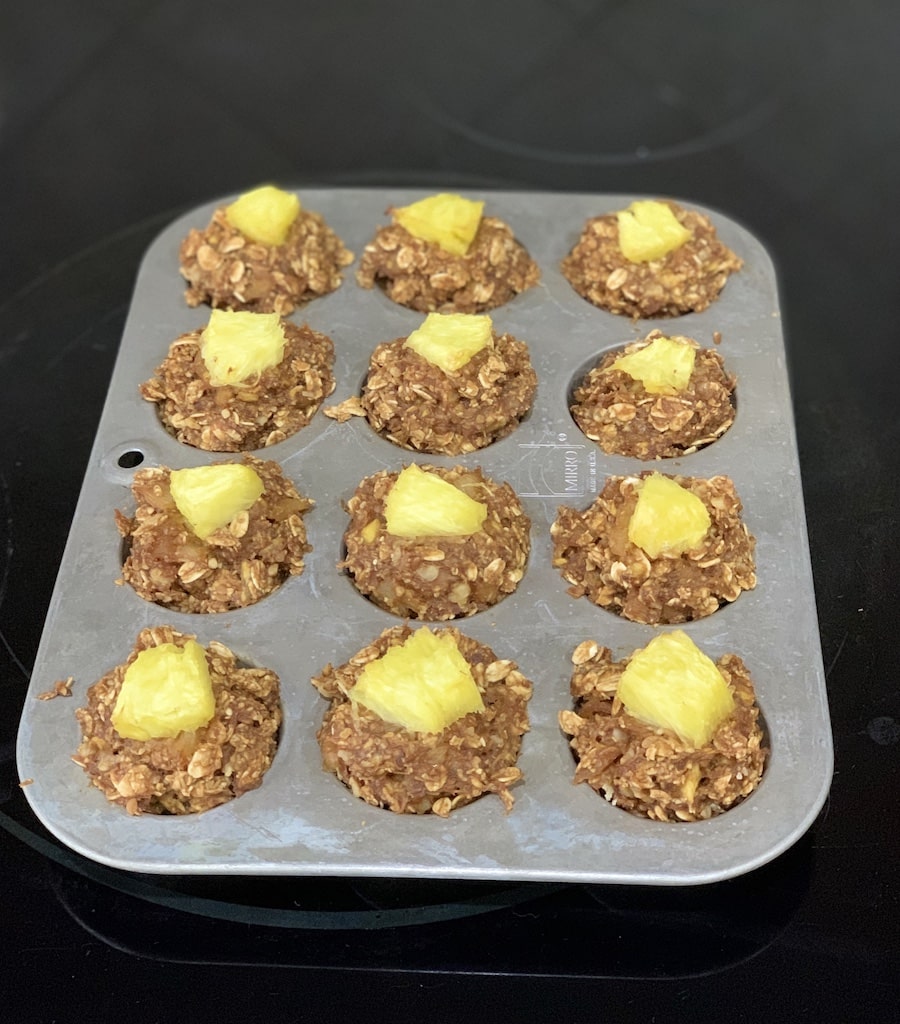 Bake 15 minutes or until lightly browned.
Serve warm or cold. Refrigerate leftovers.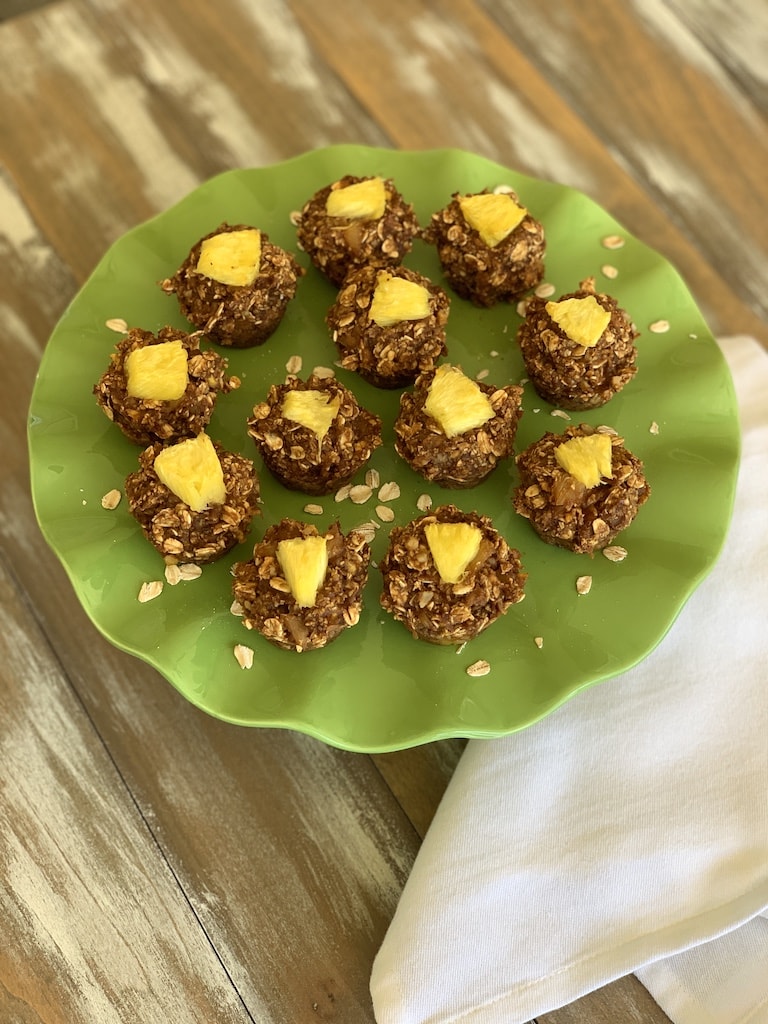 What Other Fruit Could I Use for this Easy Muffin Recipe?
You could use just about any fruit! I really like chopped mango in my oatmeal, so it would be a nice addition to these muffins. Banana would be wonderful, as would any kind of berry.
You can also switch up the nuts. Try almonds or pecans. Chia seeds would work as well.
How Long Do These Muffins Keep?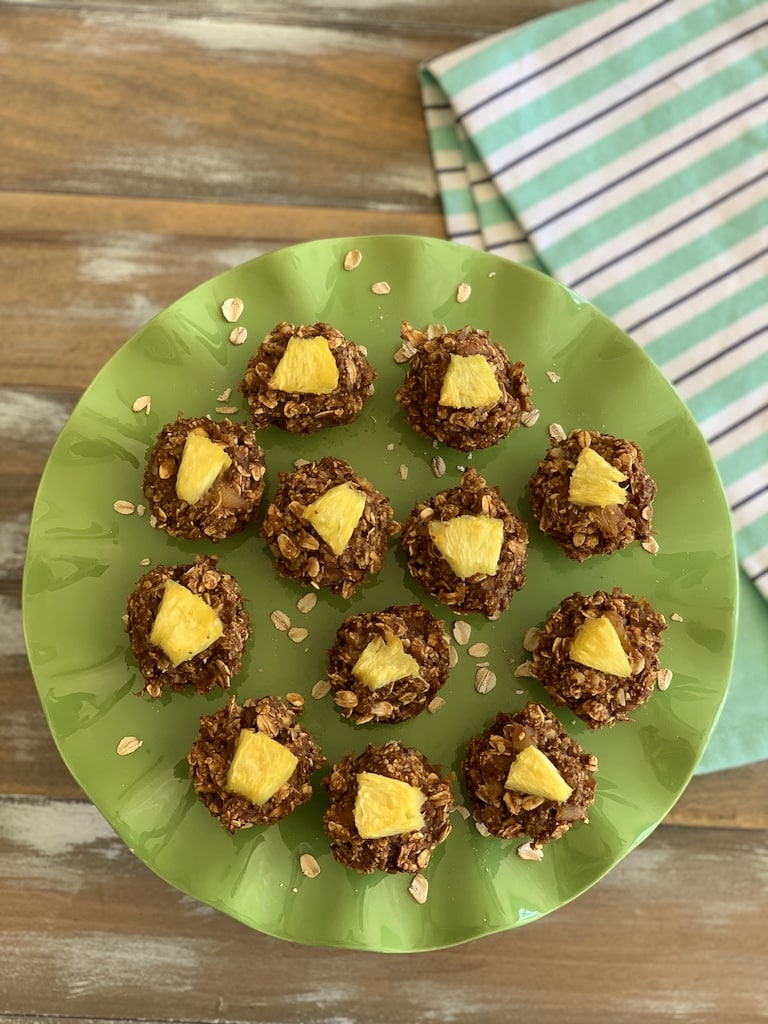 Refrigerate these muffins and they will keep for 3-4 days. They can also be frozen, keeping for a month or so.
Be sure to get the air out of the bag before freezing. Just press the baggie as much as you can to get excess air out. Freezer burn will ruin the flavor.
Make sure to write the date on the bag so you know when it's time to toss them- though they never last that long in my house!
More Daniel Fast Recipes
If you're looking for more Daniel Fast recipes, I have quite a few as we've done the fast so many times. Click the links below for more recipes for breakfast, lunch, and dinner. This Lentil Stew is really good! It was a new recipe this year and we enjoyed it for dinner and lunch the next day.
Daniel Fast Breakfast recipes
Daniel Fast Lunch and Dinner recipes
Recipes for The Daniel Fast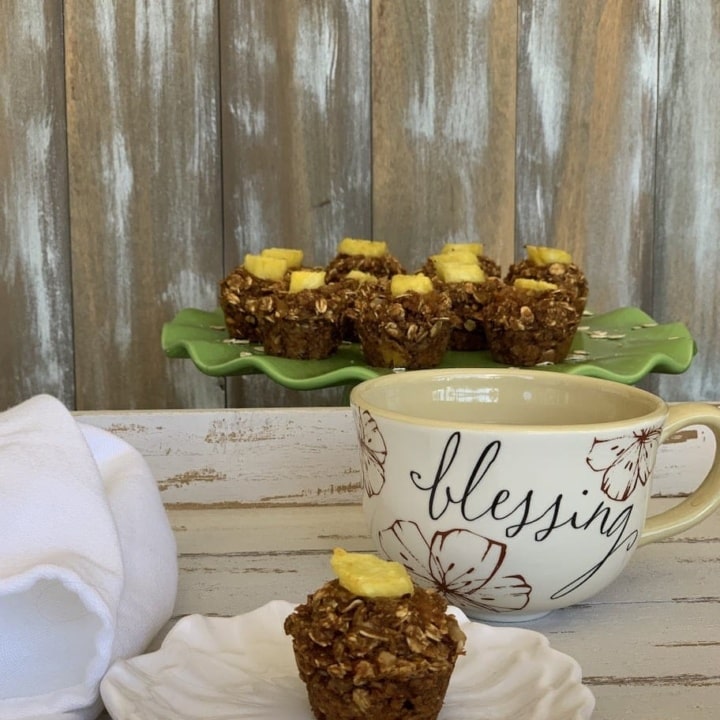 Muffins
I can't imagine a healthier muffin recipe than this one. Delicious and nutritious, your family will be asking for these again.
Ingredients
1 C oats, old fashioned
1 C oat flour
1 C apple, chopped
½ C pineapple, chopped small
¼ C walnuts, chopped
¼ C Date syrup
¼ C flaxseed, ground
2 tsp orange zest
½ tsp ground ginger
¼ C pineapple pieces, optional
Instructions
Preheat oven to 350 degrees
Ground one cup oats until fine like flour.
Grease 12 cup mini muffin tin with oil or oil spray
Combine all ingredients except pineapple pieces and stir well.
Fill each muffin about ½ full. They won't rise very much.
Bake 15 minutes or until lightly browned.
Serve warm. Refrigerate leftovers.
Notes
Recommended Products
As an Amazon Associate, I earn a small percentage of products you purchase on this site. You pay the same amount you would pay otherwise. 
Nutrition Information:
Yield:

12
Serving Size:

12 muffins
Amount Per Serving:
Calories:

110
Saturated Fat:

1g
Sodium:

4mg
Carbohydrates:

15g
Fiber:

3g
Sugar:

2g
Protein:

3g
Follow Food, Fun & Faraway Places on Social!