This Kale Caesar Salad is so delicious and fits the original Daniel Fast. If you have used this recipe before, you'll notice some changes.
A few of my readers called me out on the cheese and I'm grateful. Though I do have other Daniel Fast books I refer to, they are absolutely right in that there should be no dairy in the original diet.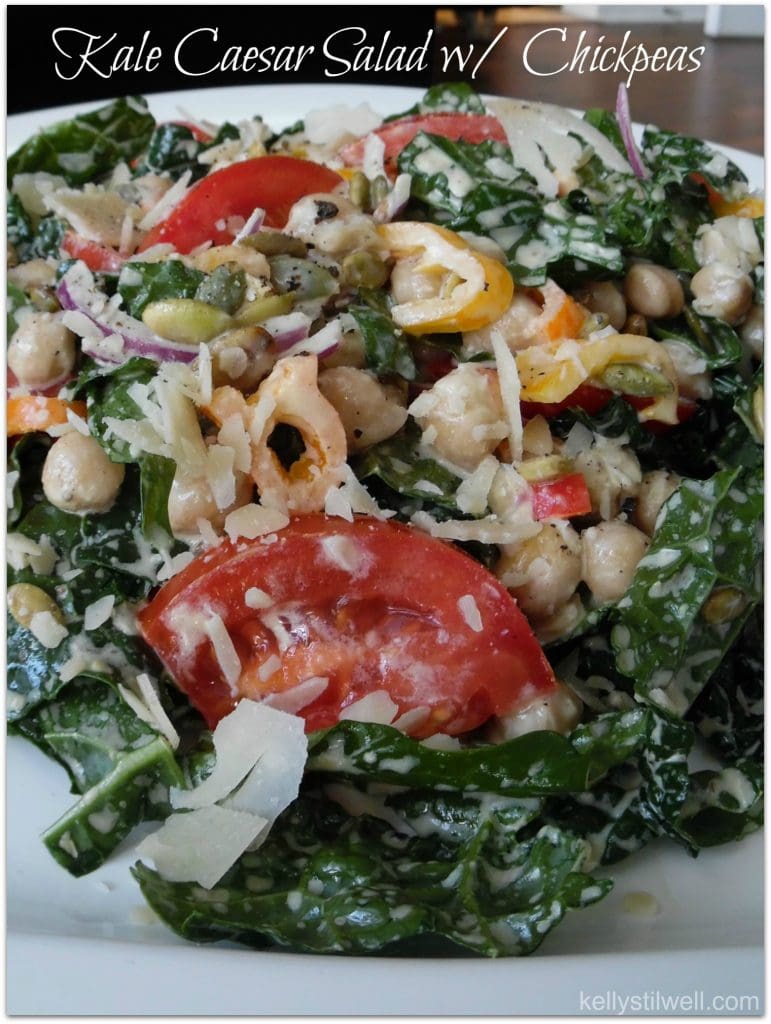 Some Daniel Fast books do allow cheese. However, to be honest, cheese is an animal by-product, so I personally do not eat cheese when doing this fast.
I also had anchovy paste in this recipe, though it was optional. I've replaced it as well. Let me know what you think about the changes if you've tried it before.
The Spiritual Aspect of The Daniel Fast
Each day brings new challenges, but it's up to us as individuals how we handle those challenges.  Are you like most, trying to do everything in your own strength?  I tend to find my daily challenges aren't really that challenging when I go to God first with everything.
If we can seek Him in every decision, every circumstance, every situation - I know even with the troubles of each day, our days would run much smoother. Let's try to make that a priority.
Let's seek Him from the moment we wake up to the moment we lie down.  Like I mentioned in previous posts, this Fast isn't so much about food or what we're fasting from; it's about our spiritual focus first and foremost.
Remember the saying "When life hands you a bunch of lemons, make lemonade"...  It's always a good thing to keep a positive attitude on a daily basis.  And speaking of lemons...  did you know lemons have over 200 enzymes and is the most restorative food for the liver?
Kale Caesar Salad with Chickpeas for The Daniel Fast
I tend to use lemons in just about everything I possibly can.  My all-time favorite salad recipe is Kale Caesar Salad because the Caesar Dressing I make calls for half a lemon - but I love the tart freshness of lemon zest that I add that to the dressing as well - just to get the full lemon flavor!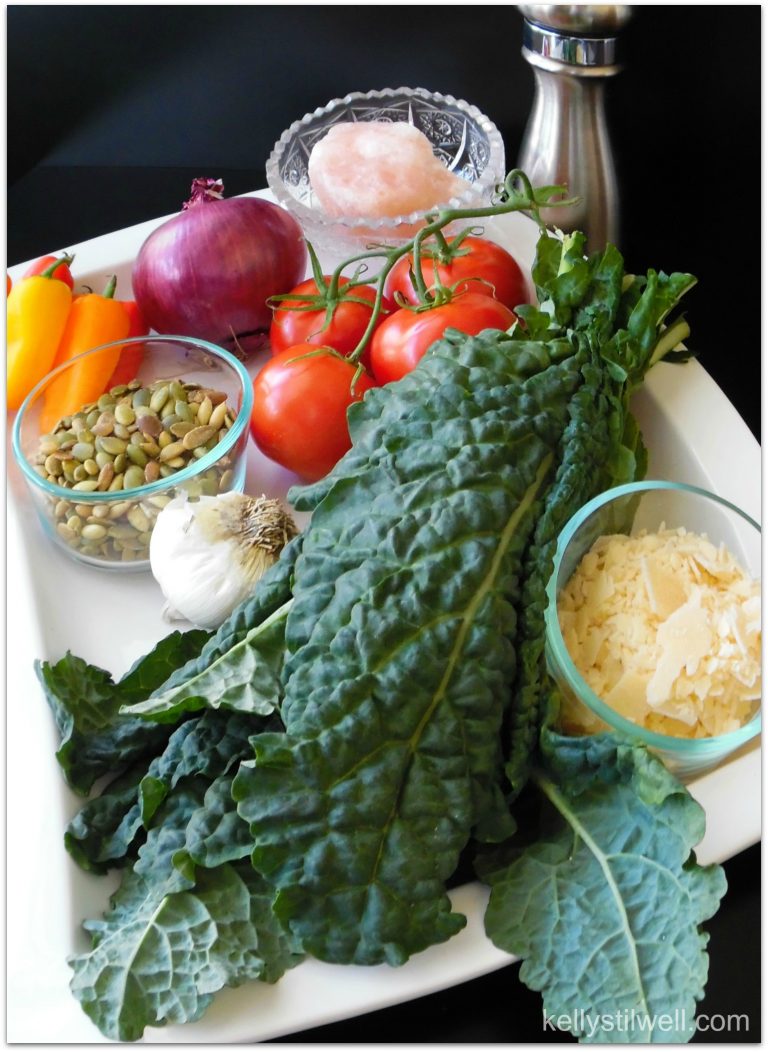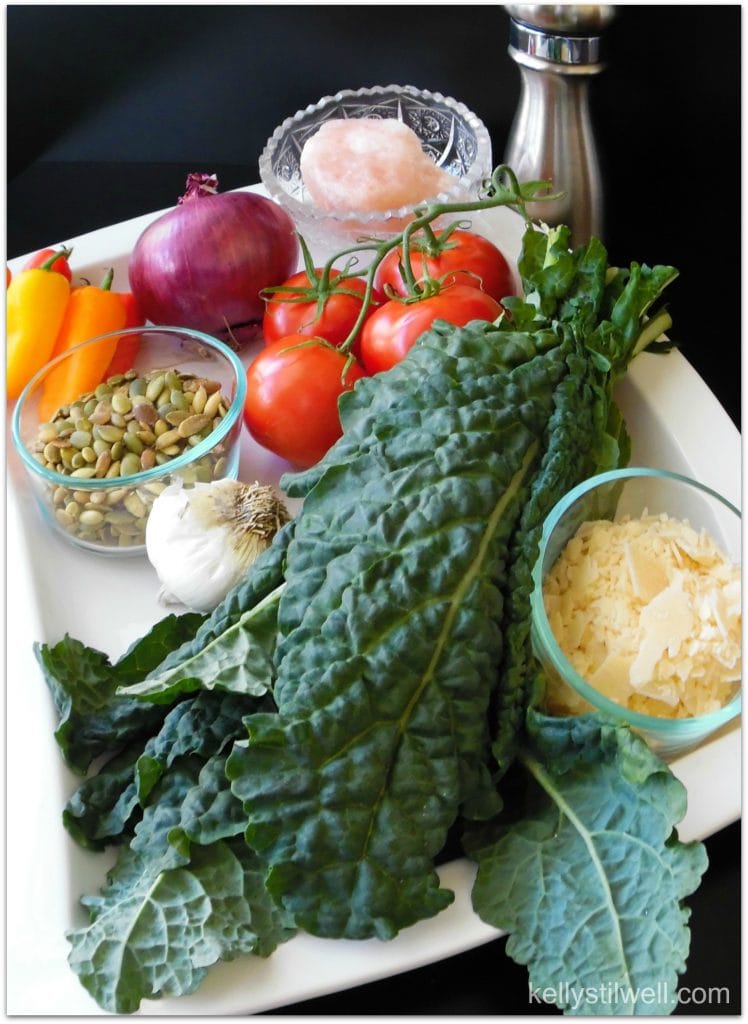 What Do I Need to Make Kale Caesar Salad?

A lot of these ingredients are probably in your pantry or fridge. Salt, pepper, garlic, grainy mustard, red wine vinegar, olive oil, and lemons are staples in my house! What you might not have, or even have heard of, is
Umeboshi Pickled Plum Paste.
This paste of fermented Japanese ume plums has been said to be one of the ancient superfoods that can transform your health. It brings a salty flavor to the recipe. You can replace it with capers, but you really should try it. Those who won't be without the paste say they use it in place of parmesan cheese, anchovies, and miso.
You'll find all the ingredients for the salad and dressing below. It's an easy salad to prepare. Combine the ingredients, add dressing, toss to coat and serve. This salad serves two.
How Long Does This Kale Caesar Salad Last
The salad dressing will last for 5 days in the refrigerator. Kale and peppers last for 5-7 days in the refrigerator, and onions last longer, unrefrigerated. You may need to buy more tomatoes, depending on how ripe they were when purchased.
If you plan to have this a few times, double the batch of salad dressing. This would make a delicious salad in a jar to take to work. Just remember to put the dressing in the bottom of a mason jar, and layer the ingredients from the bottom, hard to soft on top.
More Daniel Fast Recipes
Looking for more Daniel Fast Recipes? Check out this roundup of Daniel Fast Lunch and Dinner recipes. You may also find something you like on this list of Breakfast recipes. My favorite is this easy muffin recipe.
Below is a printable recipe for the Daniel Fast Kale Caesar Salad you can take to the store.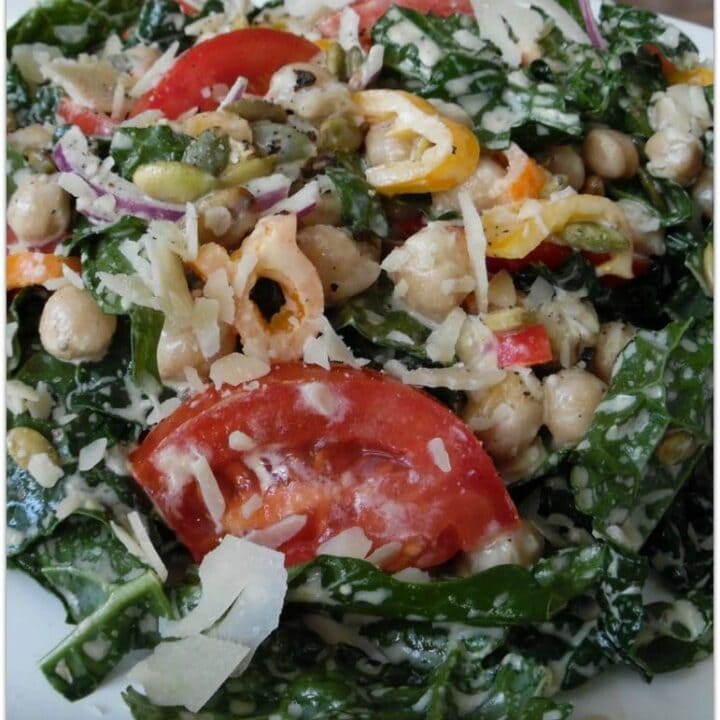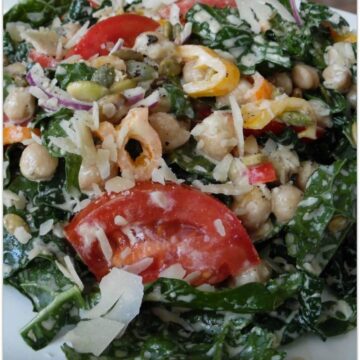 Kale Caesar Salad with Chickpeas #DanielFast
This salad is perfect for dinner along with a bowl of soup. Take the leftovers to work the next day, packing the dressing in a separate container.
Print this Recipe
Pin this Recipe
Rate
Ingredients
For the Salad Dressing
½

tsp

salt

1

tsp

black pepper

2

cloves

garlic - minced

1

tsp

Umeboshi paste

1

TBS

dijon

or grainy mustard

1

TBS

vegan mayo

juice of ½ lemon

zest of ¼ lemon

2

tsp

red wine vinegar

⅓

cup

olive oil

Worcestershire sauce

optional
For the Salad
1

bunch

Organic Kale

rinsed, dried and torn into bite sized pieces

4

sweet baby peppers

red, orange or yellow or 1 regular sized pepper - chopped

¼

red onion

sliced thin

1

cup

chickpeas

rinsed well and patted dry

⅛

cup

soy parmesan cheese

shredded

½

cup

pepitas

roasted pumpkin seeds

1

large

ripe tomato - sliced and chopped
Instructions
Make dressing, whisking all ingredients together until creamy. Refrigerate. (will keep refrigerated up to 5 days)

Combine salad ingredients, add dressing, toss to coat and serve.
Nutrition
Calories:
695
kcal
|
Carbohydrates:
42
g
|
Protein:
17
g
|
Fat:
53
g
|
Saturated Fat:
8
g
|
Sodium:
983
mg
|
Potassium:
830
mg
|
Fiber:
9
g
|
Sugar:
7
g
|
Vitamin A:
8247
IU
|
Vitamin C:
153
mg
|
Calcium:
150
mg
|
Iron:
5
mg
Follow Food, Fun & Faraway Places on Social!
FACEBOOK  PINTEREST INSTAGRAM TWITTER