Using just a handful of fresh ingredients, we're going to teach you how to make Pistachio Pesto. This will add a bright pop of flavor to everything from pastas to pizzas to salads and more.
I spent 3 days in Rome last year after a Mediterranean cruise from Barcelona, and love how Italians make the freshest of recipes. This is a simple and wonderfully versatile sauce that only takes 5 minutes to whip up.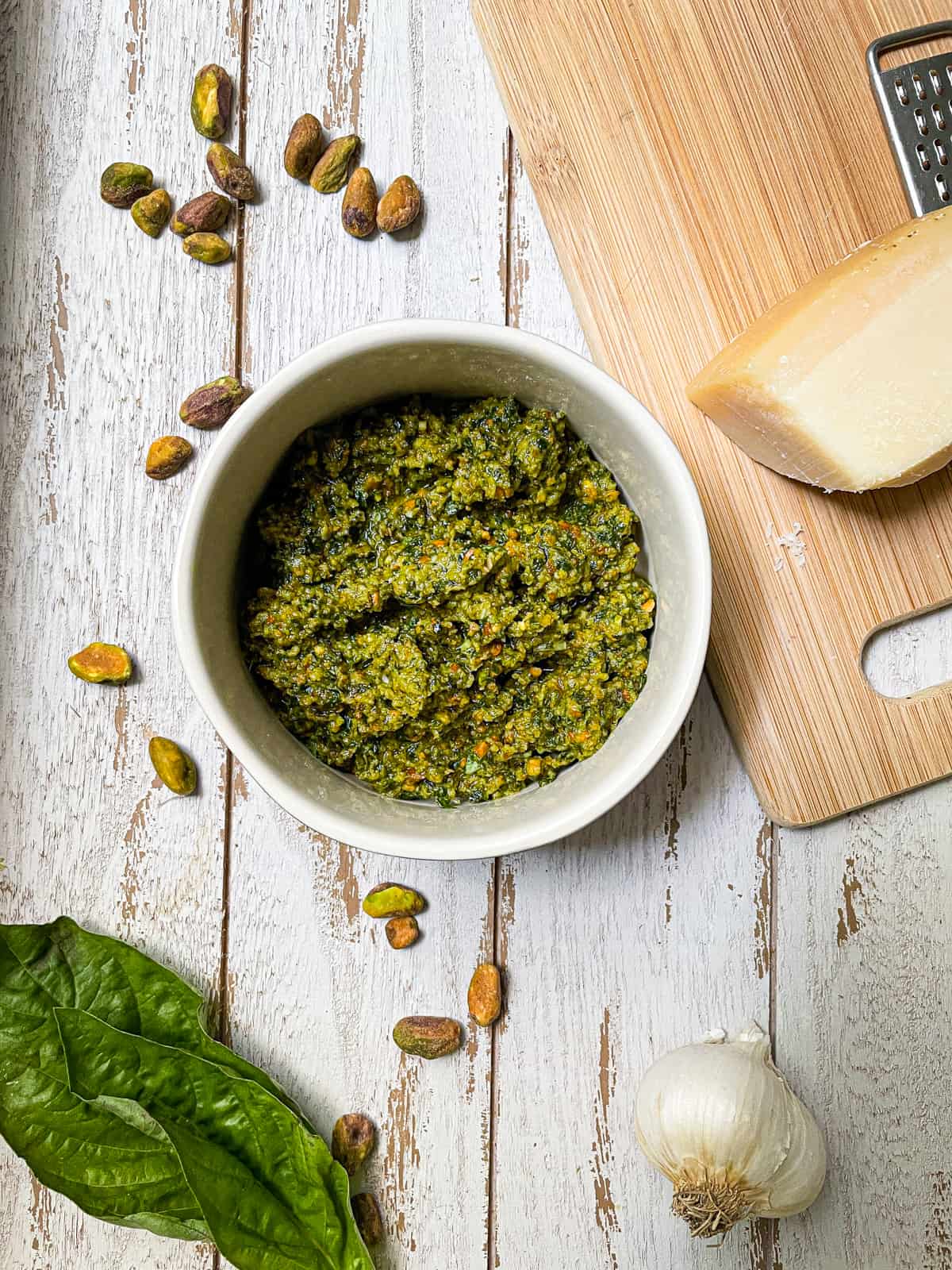 Traditional pesto is a beautiful, vibrant green, flavorful sauce made by blending a combination of fresh, aromatic basil leaves, olive oil, parmesan cheese, and pine nuts.
We're giving this recipe a fun twist by using pistachios instead. Full of fiber, minerals, antioxidants, and unsaturated fat, we love making pesto with pistachios!
This pesto is so good over pasta, too. Learn how to make grape tomatoes for pasta for another wonderful meal using pesto.
How to Use Pesto
Versatile sauces like this are good to have on hand. Pistachio Pesto is amazing served over your favorite pasta or over chicken, like this Grilled Bruschetta Chicken.
It makes a delicious addition to just about any savory salad, or you can add a fresh punch of flavor to soups, like this homemade Minestrone Soup.
Another one of my favorite ways to enjoy this simple pistachio pesto recipe is to use a dollop of it instead of whole basil leaves in this easy Bruschetta with Mozzarella appetizer.
Regardless of how you decide to use it, once you see how delicious and easy it is, you'll never reach for store-bought pesto again.
❤️ Why We Love This Recipe
This delicious pesto is an irresistibly tasty condiment made with just a handful of ingredients you can find at any grocery store. Plus, it all comes together in a few minutes in your food processor.
My daughter gave me an Aerogarden a couple of years ago for Christmas, and I had no idea I would use it so much! Now that I have fresh basil all the time, pesto is easier than ever.
The nutty flavor of pistachios pairs perfectly with the other ingredients in this homemade pesto sauce, providing it with the slightest hint of sweetness along with giving it a wonderful and heartier texture than traditional pine nuts.
It freezes beautifully, so make a double batch and you'll always have some on hand for last minute recipes.
🛒 What Goes into This Recipe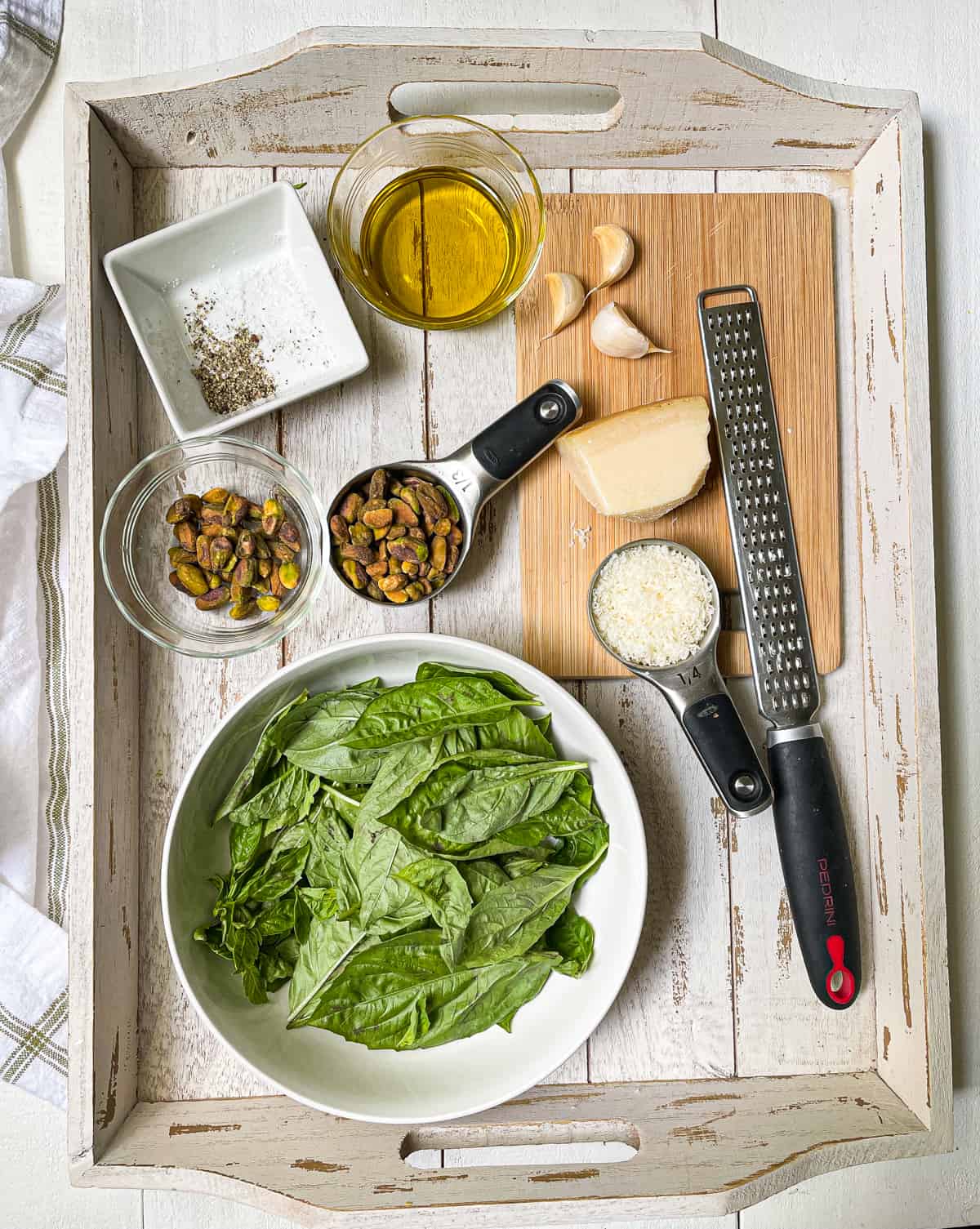 Fresh basil-while you can often use dried herbs in recipes, fresh basil is an essential ingredient in any traditional basil pesto recipe.
Parmesan cheese-freshly grated works best.
Olive oil-because this is a key ingredient used to make the sauce, use a good quality extra virgin olive oil.
Shelled pistachios-the star of this recipe!
👩🏻‍🍳How to Make this Recipe
Step 1. Add the basil leaves and raw pistachios to the bowl of a food processor and pulse until it's well chopped.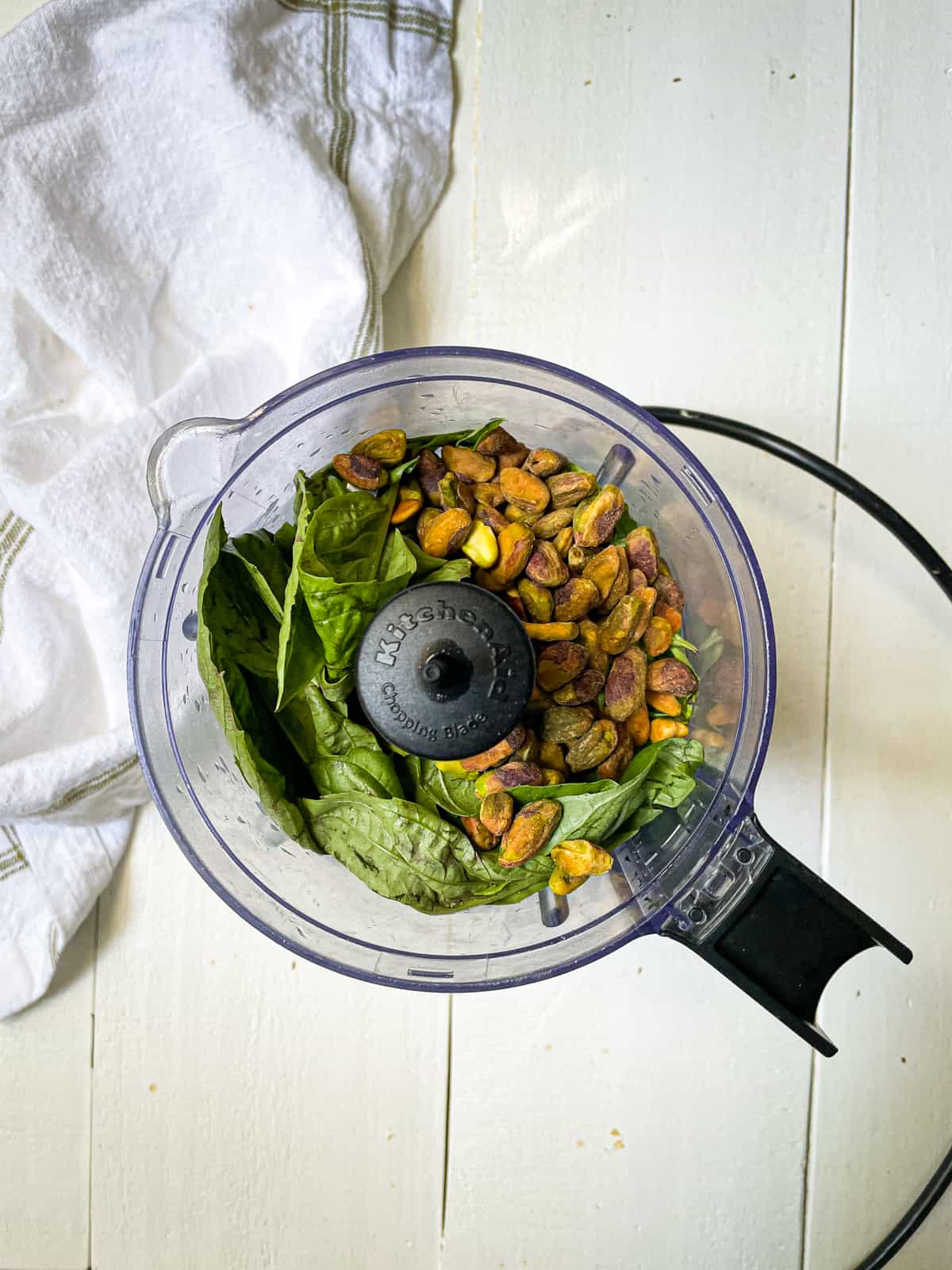 Step 2. Next, add the parmesan cheese and the minced garlic. Give it a good pulse a few times.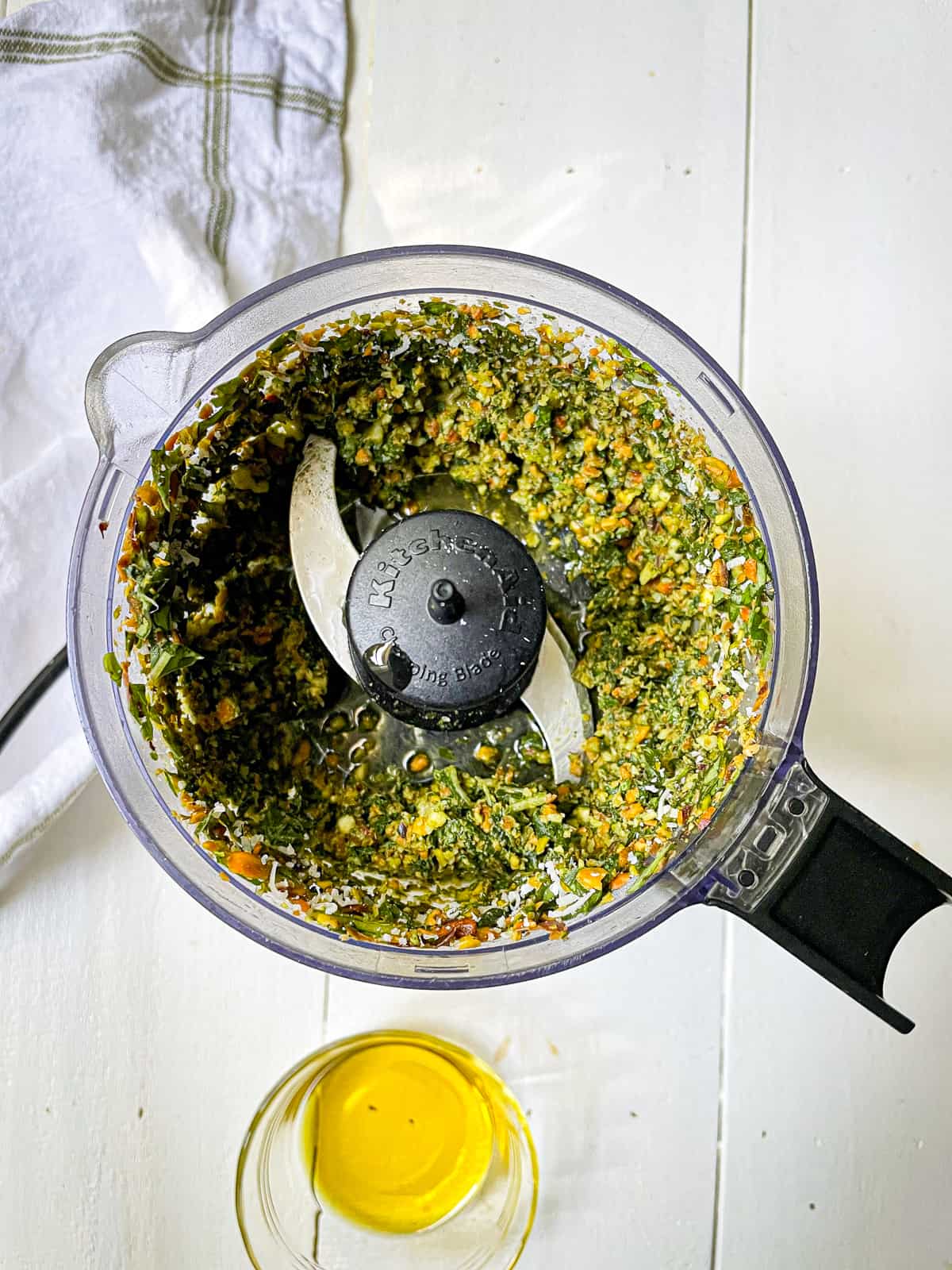 Step 3. Add enough olive oil, while food processor is running, until your pesto reaches the desired consistency (use our measurement as a suggestion only).
Step 4. Season this simple basil pistachio pesto with a pinch of salt and ground black pepper to taste.
Serve immediately or store leftovers in a sealed mason jar or other glass jar with a tight-fitting lid in the fridge.
📖Pesto Basil Pesto Variations
Lemon: For a zesty and wonderful twist, add a fresh squeeze of lemon juice and lemon zest.
Spice things up: If you want to add a little heat to your pesto, throw in a pinch of red pepper flakes. Careful though, a little goes a long way.
Add other greens: I would not recommend completely doing away with the basil, but you can use other fresh herbs like a few mint leaves, parsley, or cilantro. You can also add in some fresh arugula or baby spinach.
Make it vegan: For an easy vegan pesto, you can use nutritional yeast instead of parmesan cheese.
Roasted garlic: Regular minced garlic adds wonderful savory flavor but roasting garlic first gives it a sweeter and milder flavor.
Nut free: You can use sunflower seeds, roasted pumpkin seeds, flax seeds, melon seeds, or hemp seeds instead of the pistachios to make a nut free variation.
Frequently Asked Questions
How do I freeze homemade pesto sauce?
If you like to make it in large batches to freeze, just make sure you keep it in an airtight container. I like to top mine off with an extra drizzle of olive oil on the top to help protect the basil from freezer burn.

Freezing it in ice cube trays first before transferring it to a freezer bag or container is a great way to have smaller portions on hand to use in soups and other recipes. I recently tried a tip for freezing - put it in a freezer baggie, flatten to get any air out, and store it flat in the freezer. When you're ready to use some, just break off a piece and put the rest back in freezer. Works like a charm!
Are pistachio nuts healthy?
They certainly are! Pistachios are a great source of protein, fiber, and antioxidants as well as other important nutrients, including vitamin B6 and potassium.

They are linked to many health benefits that you can read all about in this article on Heathline.com.
What can I use instead of pistachios?
If you aren't a fan of pistachios, you can use other types of nuts in this pesto. Almonds, hazelnuts, cashews, macadamia nuts, and traditional pine nuts are always an option.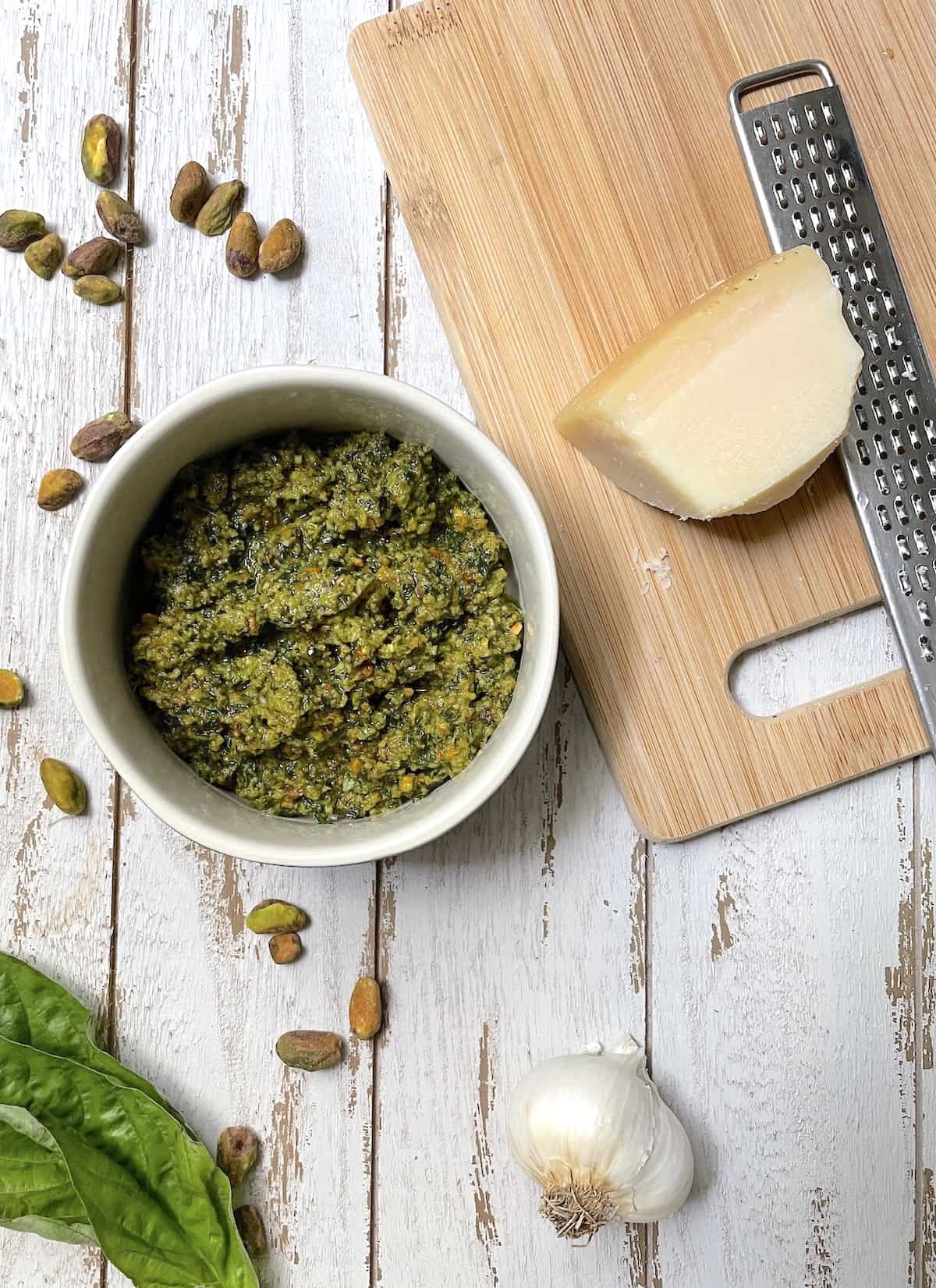 💭 Top Tips:
If you have a good bit of pesto left over, you can keep it from turning brown in the fridge by placing a piece of plastic wrap directly touching the top of the sauce.
You want a lot of basil flavor in this sauce. When you measure the loose leaves, lightly pack them down into a measuring cup.
Save a little time - instead of mincing your own garlic, try using the pre-minced garlic in the refrigerated section of the produce department. For a dish like this, it tastes just as good and makes prep even easier.
Like our content? Follow us on Pinterest!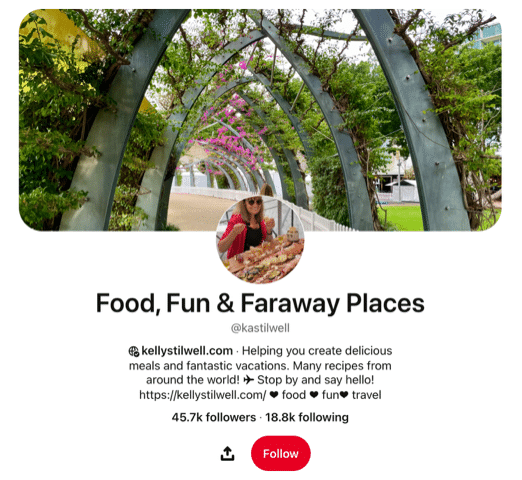 More Italian Recipes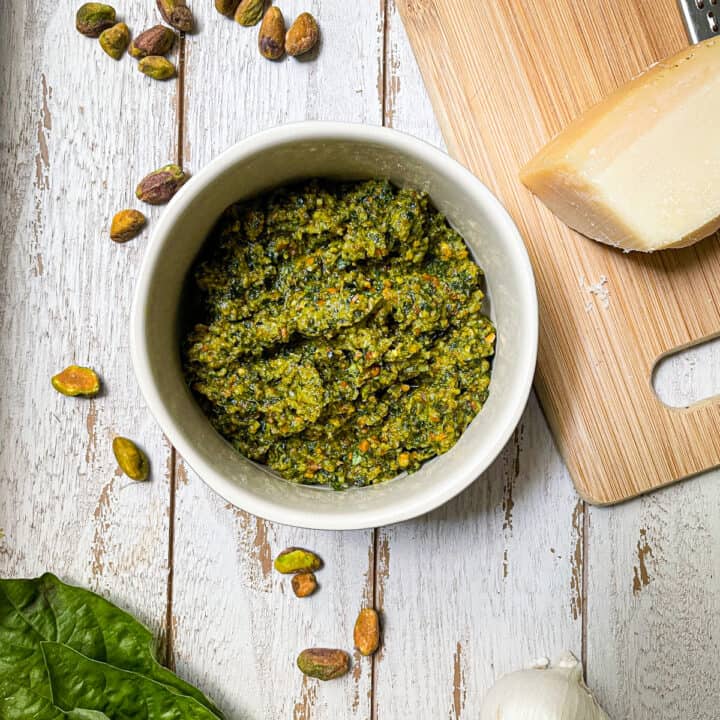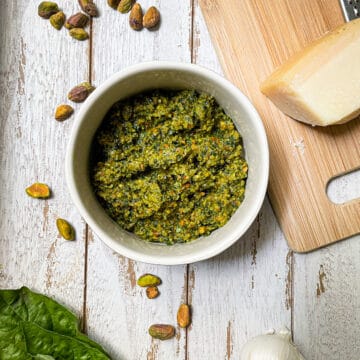 Ingredients
1

cup

basil

packed, fresh

¼

cup

parmesan cheese

freshly grated if possible

¼

cup

olive oil

½

cup

pistachios

reserve some for topping, lightly crushed

½

tablespoon

garlic

minced

⅛

teaspoon

salt

⅛

teaspoon

pepper

freshly grated
Instructions
Add pistachios and basil to food processor and pulse until it's well chopped.

Add garlic and parmesan and pulse a few times.

Add olive oil while food processor is running until pesto is desired consistency, using our measurements as a guideline.

Season to taste. Use over pasta, chicken, or bread for a delicious bruschetta.
Notes
You will not use all this pesto. Place in fridge and use in the next day or so over pasta with a little olive oil or over grilled chicken.
Our calculations for servings are using the typical measurement for pesto over pasta, which is around 3.5 tablespoons per person. However, you can add this to so many things, and the measurements will be different each time. For instance, I would only add a couple of tablespoons to a pasta recipe that already had sauce, like my grape tomato sauce.
Nutrition
Serving:
1
|
Calories:
104
kcal
|
Carbohydrates:
2
g
|
Protein:
2
g
|
Fat:
10
g
|
Saturated Fat:
2
g
|
Polyunsaturated Fat:
2
g
|
Monounsaturated Fat:
6
g
|
Cholesterol:
2
mg
|
Sodium:
77
mg
|
Potassium:
83
mg
|
Fiber:
1
g
|
Sugar:
1
g
|
Vitamin A:
191
IU
|
Vitamin C:
1
mg
|
Calcium:
46
mg
|
Iron:
0.4
mg