These easy cream cheese appetizers are some of the simplest party foods to create. I always have a package of cream cheese in the fridge because you can mix in such a wide variety of things to make delicious starters to take to parties or to serve while watching a game or your favorite TV show.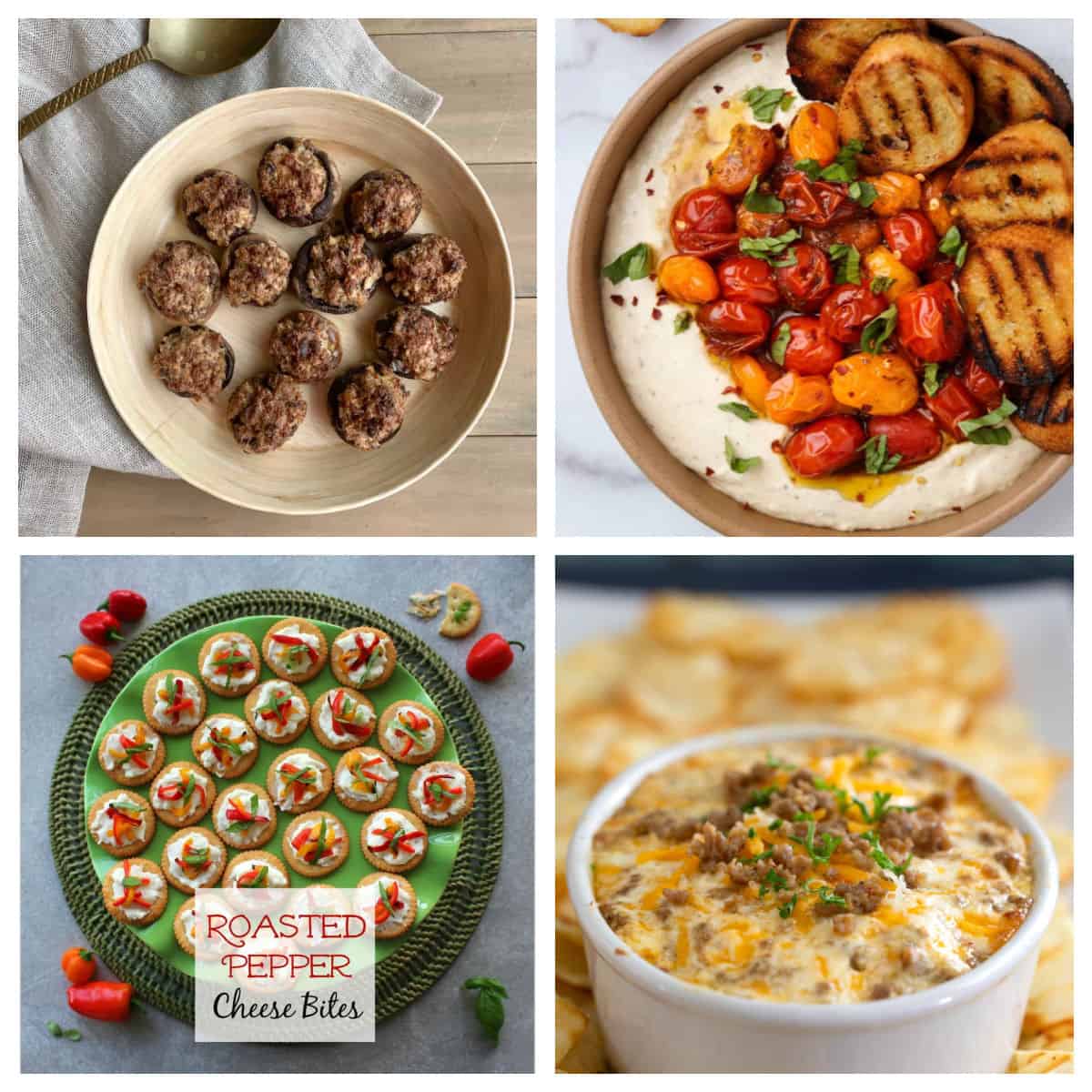 We often eat appetizers for dinner, combining small plates like the stuffed mushrooms (first on the list below) with my best bruschetta recipe, a cheese tray with veggies, or this vegan hummus that is so delicious and healthy!
This list of party appetizers has something for everyone! Who needs a main dish when you can have a little bit of everything?
And if you're a fan of cream cheese, you've got to check out these amazing cream cheese dip recipes. So much creamy goodness! Let me know which cream cheese appetizer recipe is your favorite!
Tips for Serving
I have always felt presentation is important, so I have a cabinet for my pretty serving dishes. This multi-tiered dish is nice as it won't take a lot of room on a table and is so pretty. When I travel I try to buy dishes so I can match the food to the dish, like this festive tray with designs of Mexico. I like how the small dishes come out, so you could put them around the table for easier access.
Variations
Cream cheese pairs so well with so many different ingredients. Serve a block of Philadelphia cream cheese with red pepper jelly poured over it, and you have an easy tasty appetizer recipe your party guests will love that took one minute to make!
Try different jams or jellies. Raspberry jelly and even cranberry sauce or cranberry salsa are both good if you don't like the heat or red peppers. Serve with tortilla chips or crackers.
For a super easy recipe, make cream cheese roll ups by adding a tablespoon of cream cheese to a piece of prosciutto or other sliced meat and roll it up for a yummy easy cream cheese appetizer.
Try a new flavor combination by adding a slice of green onion, a basil leaf, or a few sprigs of fresh parsley for even more flavor. The combination possibilities are endless for cream cheese snacks and simple appetizers. You'll have a good time testing new flavors of these finger foods and you'll be ready for those holiday parties!
And you'll want to have a couple of desserts to end your gathering with, so be sure to bookmark these traditional Italian dessert recipes, peanut butter brownies, and this delicious Jello Parfait.
Top tip
Above all, be a good party guest! When taking cream cheese appetizers to a friend's house, you'll want to consider whether you'll have to warm up the dish. The last thing a host needs is to have to go looking for a baking dish or pan, so bring it in an oven-safe container and just pop it in the oven. Don't forget to set the timer! If it has a garnish, pack it in a separate baggie and add it after it comes out of the oven for the best presentation. Remember to bring a serving spoon, as well.
More Appetizers