You could vacation in County Wicklow Ireland for weeks and never see it all.
I started on the east coast in Dublin and worked my way down and around to Balina, Co Mayo, before heading back to Dublin to fly home.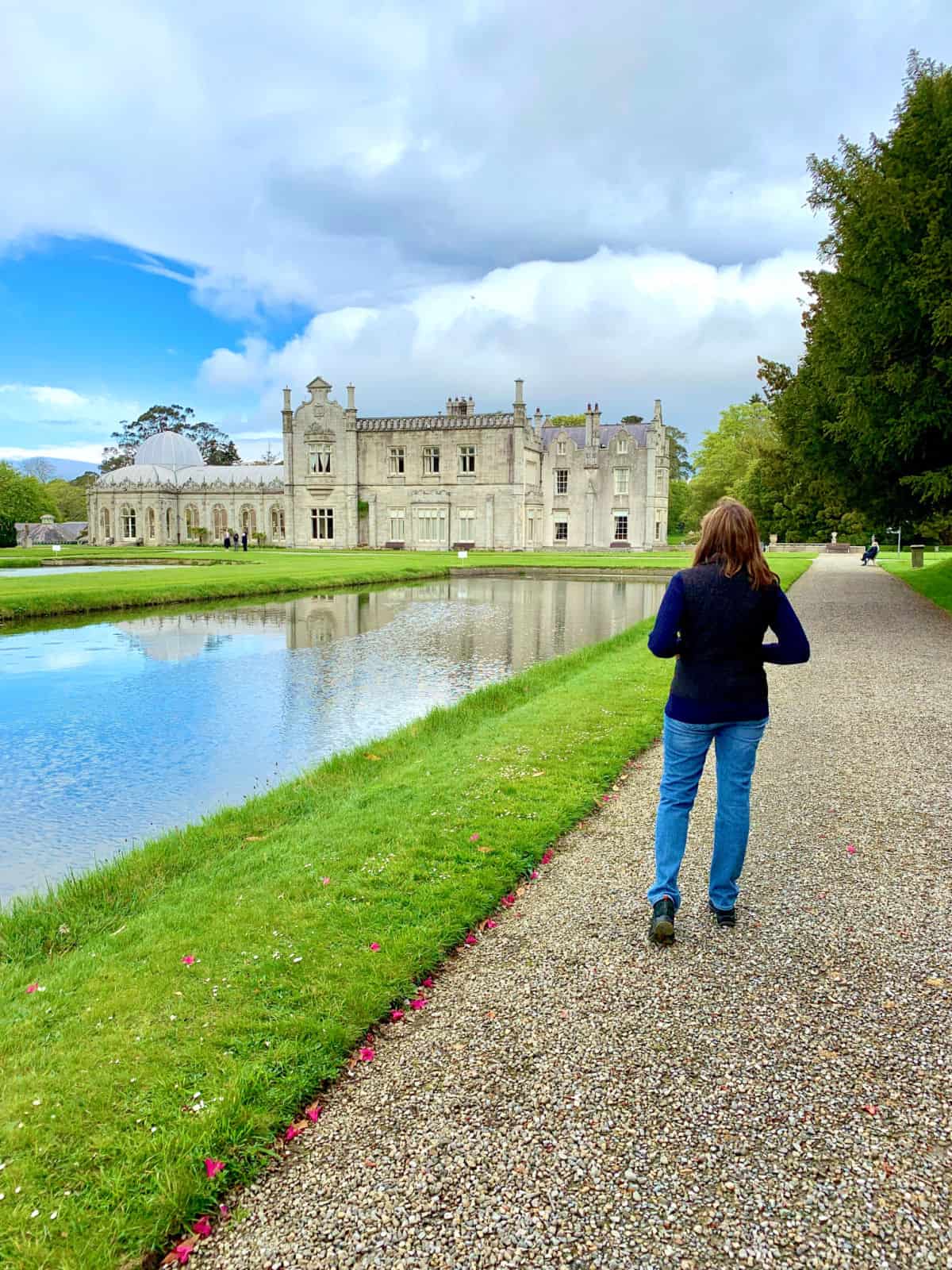 From a monastic site dating back to the 6th century to the Hollywood of Europe, this gorgeous county bordering the Irish Sea in Ireland has something for everyone.
Pack your walking shoes and get ready to explore one of the most beautiful destinations on earth.
All that exercise will help you work up an appetite, and the flavors of Ireland will make your tastebuds sing. Get ready to fall in love with this gorgeous region of County Wicklow Ireland.
Beginning in Dublin is a perfect way to get some rest before your trip begins and to see the capital of the Republic of Ireland.
Don't miss visiting Guinness Storehouse. You can't go to Ireland and not taste a Guinness Draft from the source! 
I can't wait to go back and do everything on this list of things to do in Limerick, too, just a couple of hours from Dublin.
I think I'd need at least a month to do everything on my list!
Things to Do in County Wicklow Ireland
There is a lot to see in County Wicklow Ireland. Known as the Garden of Ireland, how do you begin to plan when there is so much to do?
Some people like to make their own itinerary, and others prefer to travel with a tour company.
Do you want to see the most historic spots? Rather wander through a few of the magnificent gardens? Eat at Michelin-starred restaurants?
Sit down with your family or group and talk about what each person wants to see.
You may have to negotiate some things based on where it is and the amount of time you have, but try to be sure everyone has a say.
Don't forget to look at the weather! It's good to have cheap packable rain jackets, especially when you're traveling in the rainy season. It's no fun to get caught in the rain without protection.
Getting There
Even the drive along the Old Military Road is interesting if you know a little history about why it was built. This road runs across the spine of the Wicklow Mountains range.
Constructed between 1800 and 1809, this road stretching from Rathfarnham (where Wicklow Way begins) to Aghavannagh was built to give the British troops access to the mountains so they would be able to find insurgents hiding there.
This drive is also a great way to see the bog habitat. There are many wonderful, short, and easy trails along the way.
Lough Tay
If you'd like to see Lough Tay, you can pull off on one of the car parks along R759.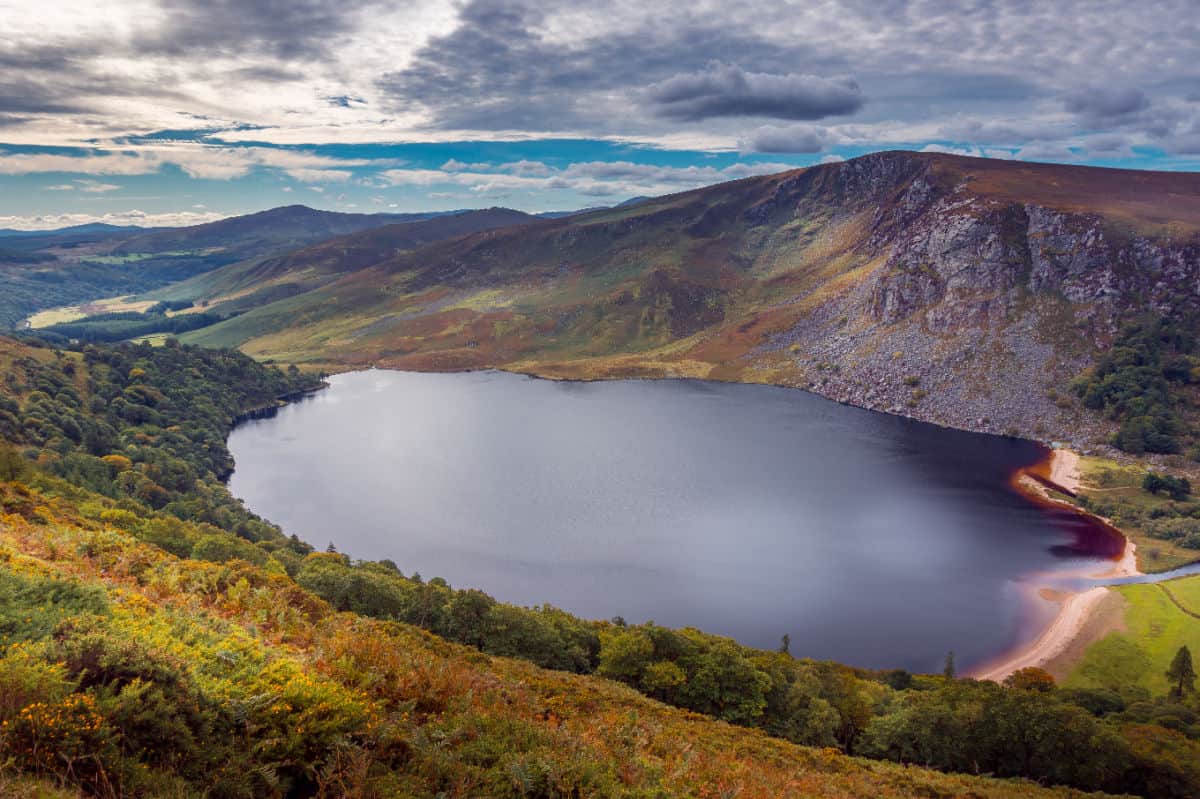 This scenic lake was the setting for the fictional village of Kattegat from the television show Vikings from 2013. The site is privately owned.
Part of the former Guinness Estate, Lough Tay was nicknamed Guinness Lake. The Guinness family even imported white sand to place at the northern shore beach to make it look like a pint of Guinness.
Killruddery House & Gardens
Killruddery House & Gardens in Bray has quite a history. The house as it stands dates from the 1820s, though the Earls of Meath have resided here since 1618.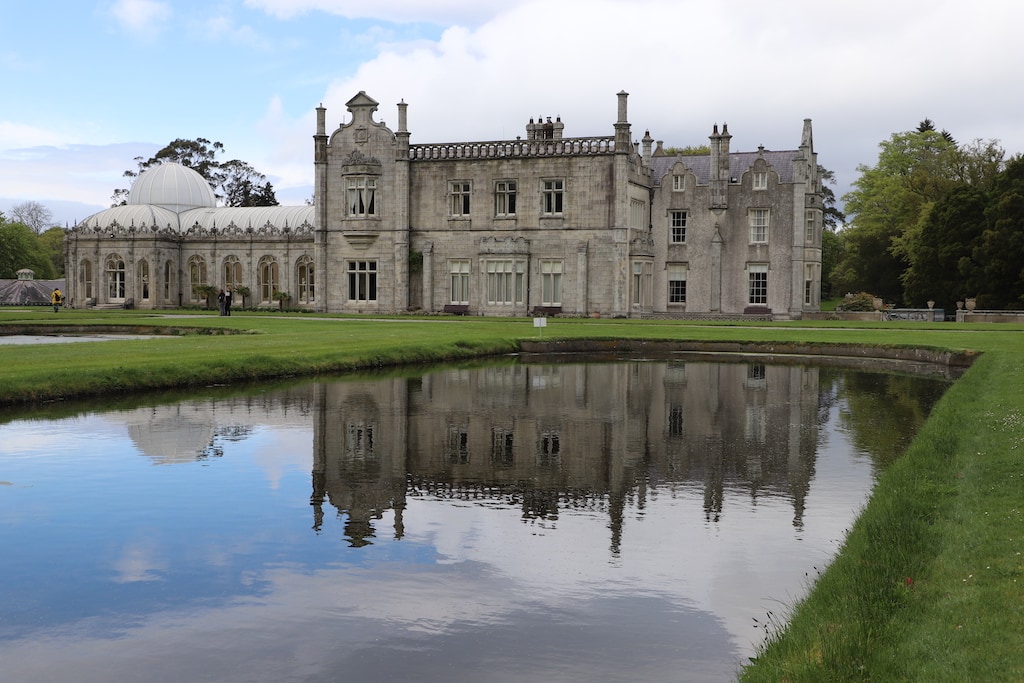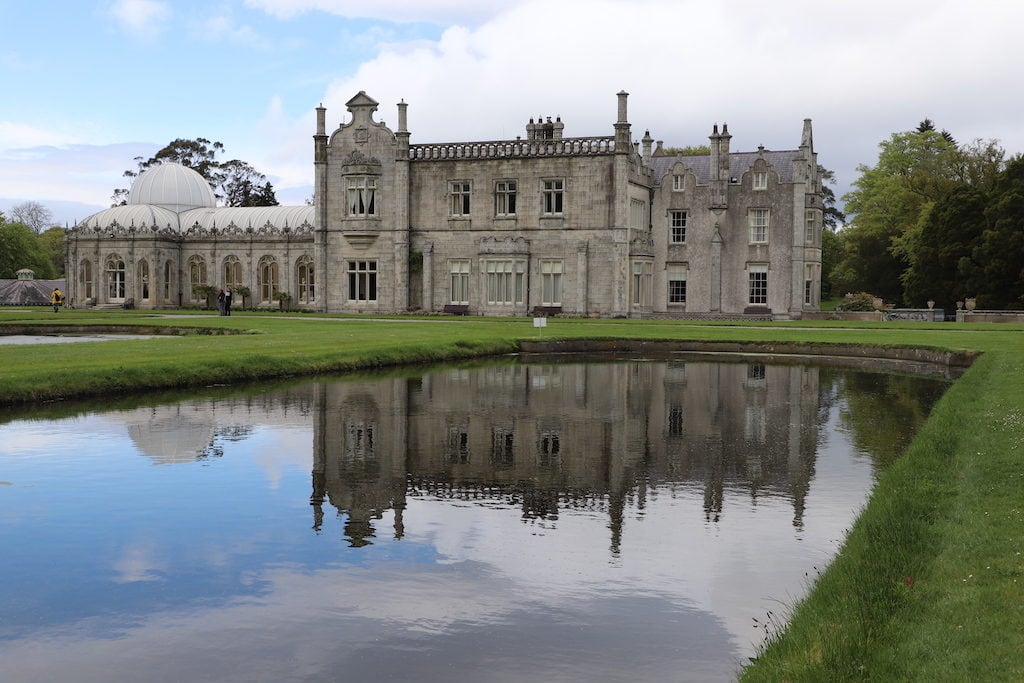 Take a guided tour to truly appreciate this grand estate. We started our tour in The Orangery, built in 1852, inspired by the Crystal Palace in London.
Take a tour and learn about the legend surrounding the family tiara. It's said it was sold to finance the building.
The crenellations around the dome are very similar to the design of the tiara, weaving around the bottom of the glass.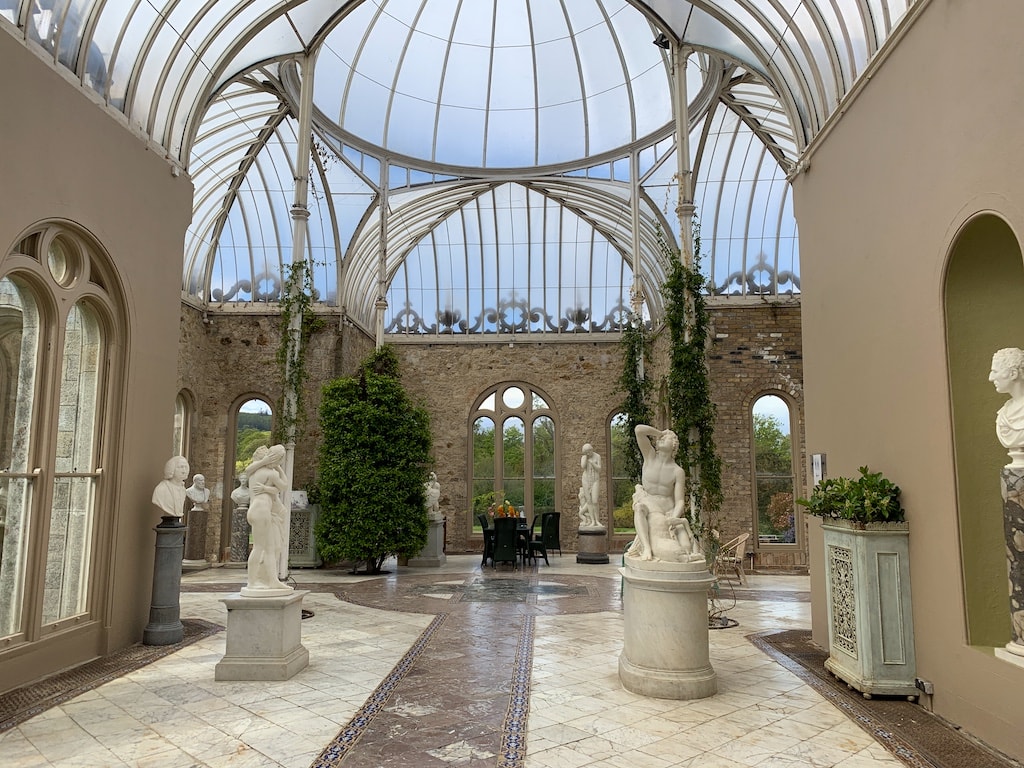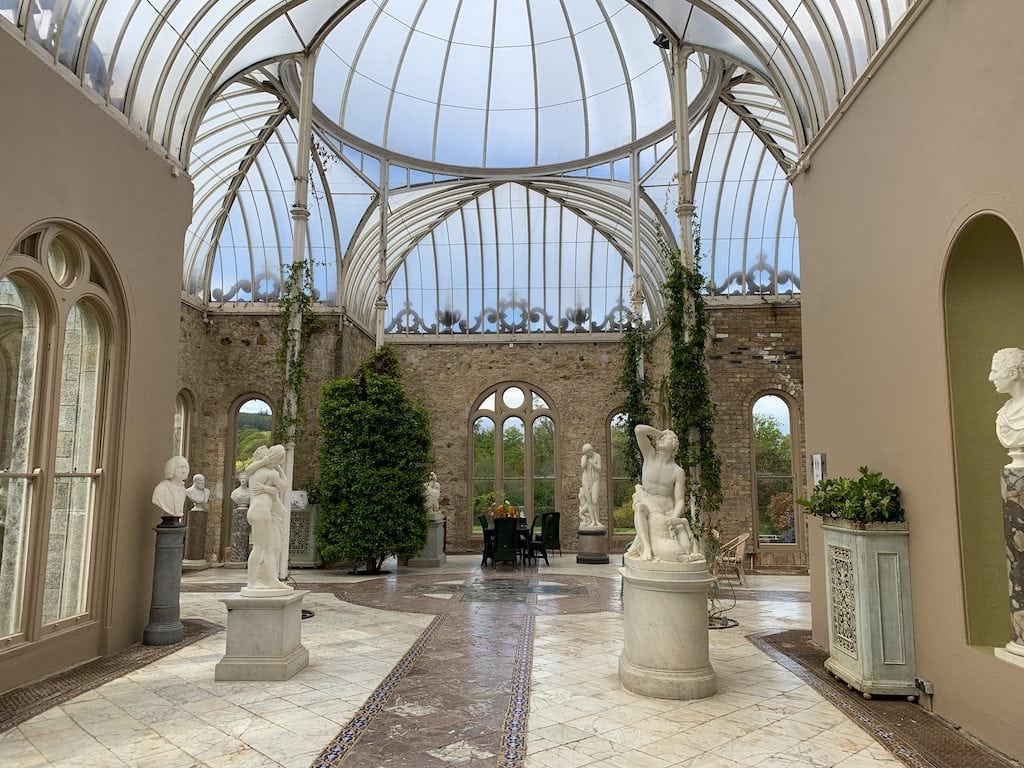 Richard Turner, known for his work at the National Botanic Gardens in Dublin, designed the dome. The 11th Earl brought back the collection of marble statues after a tour of Italy from 1830-1850.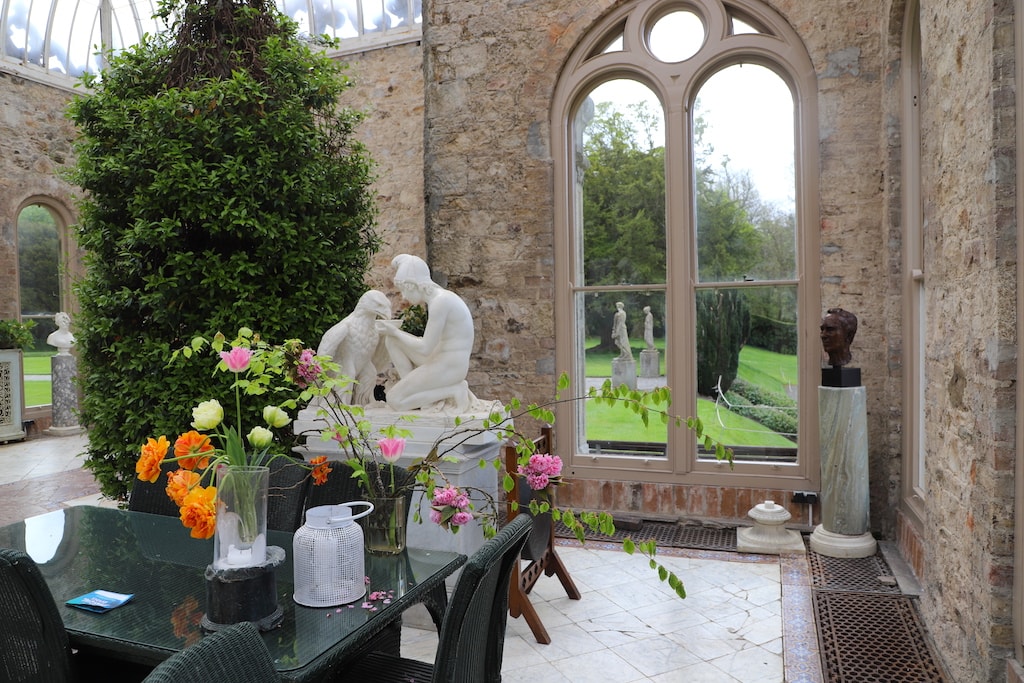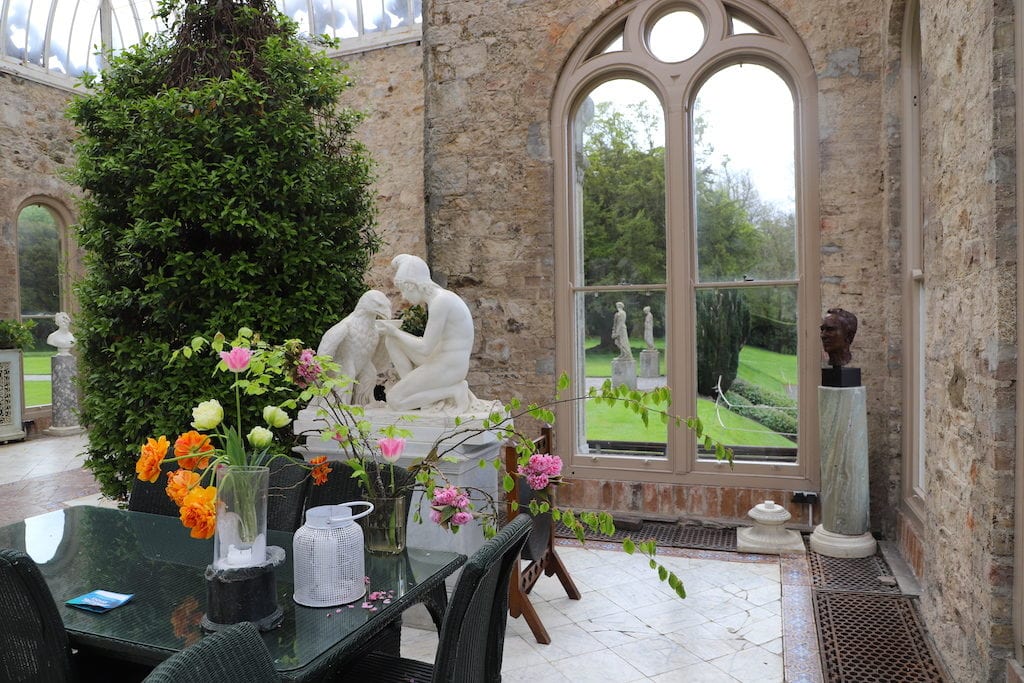 The Gardens at Killruddery House are spectacular when in bloom. Though they were created by the 3rd & 6th Earls of Meath, the formal layout was designed by the French Gardener, Bonet, in 1682.
Bonet had been a disciple of Andre Leon Norte who created the gardens at the Palace of Versailles. This was one of my favorite stops.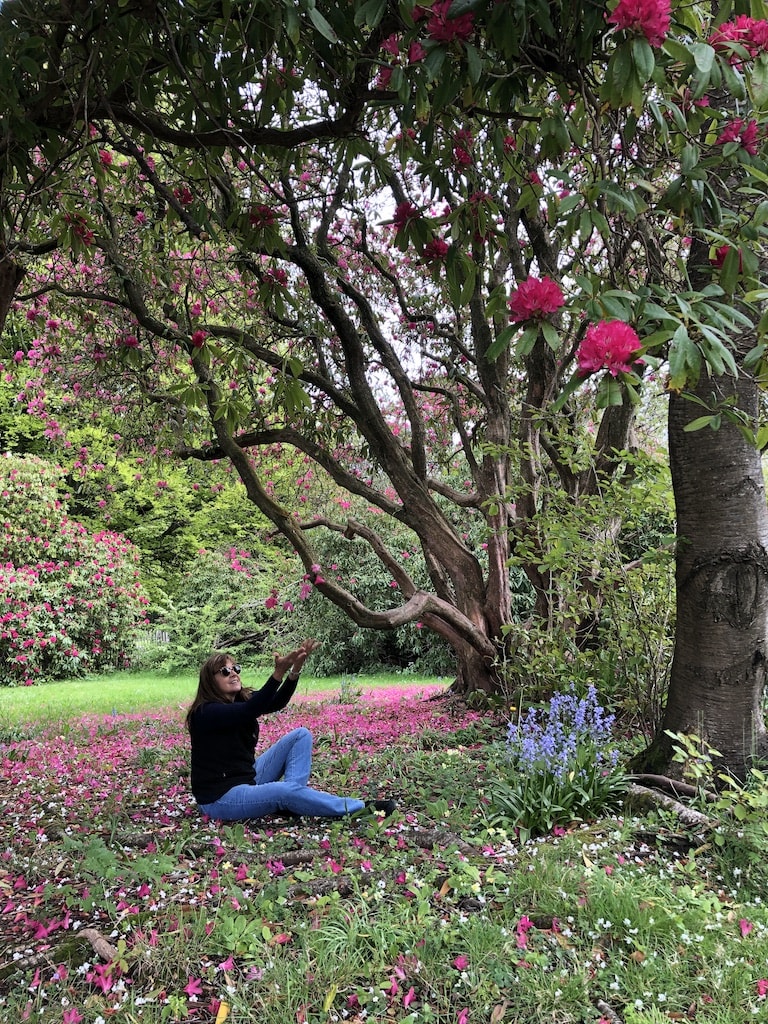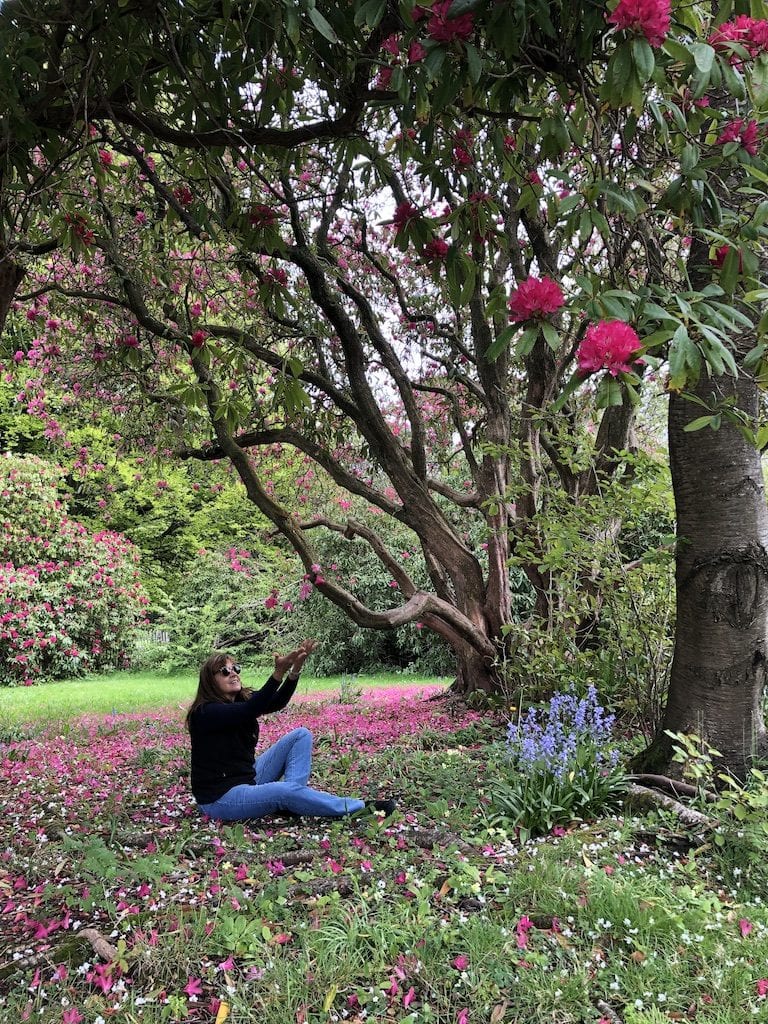 The gardens by the pond would be perfect for a family photoshoot. Catch the reflection in the lake for fun Instagram shots.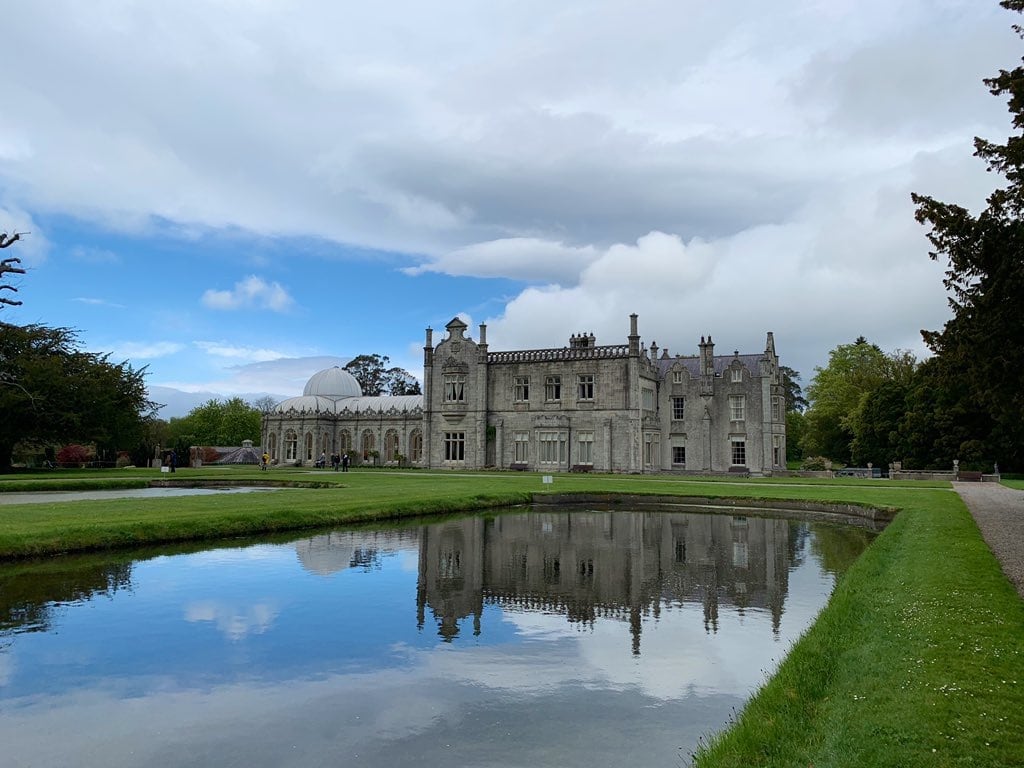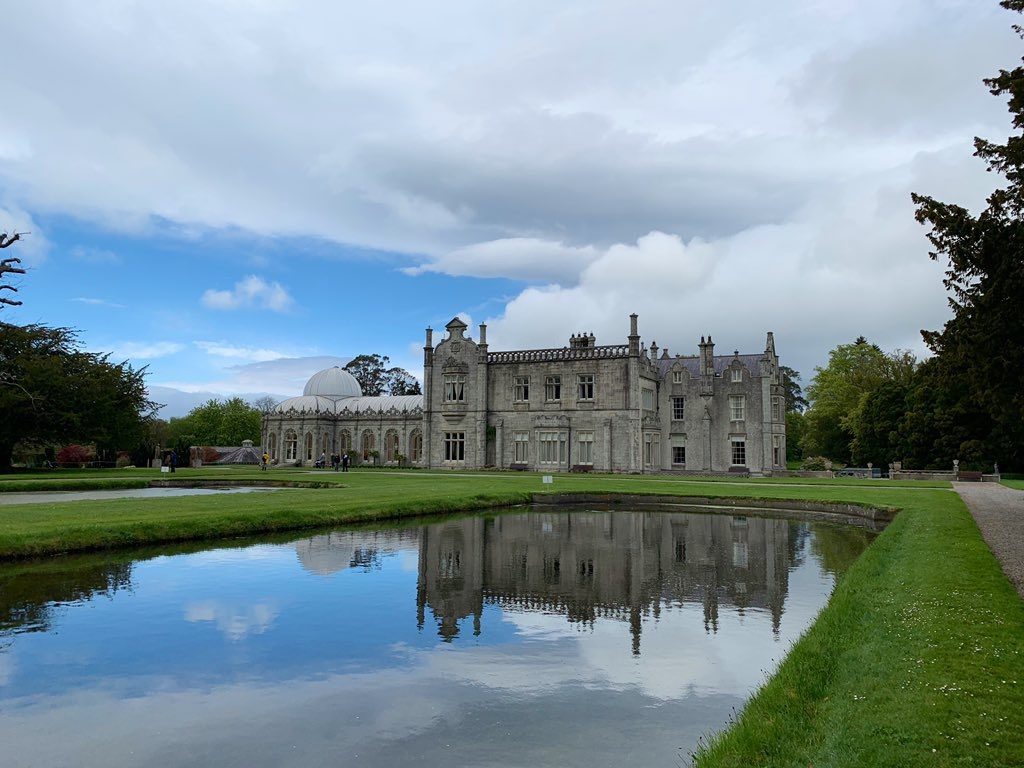 I really enjoyed walking around and exploring the spectacular scenery.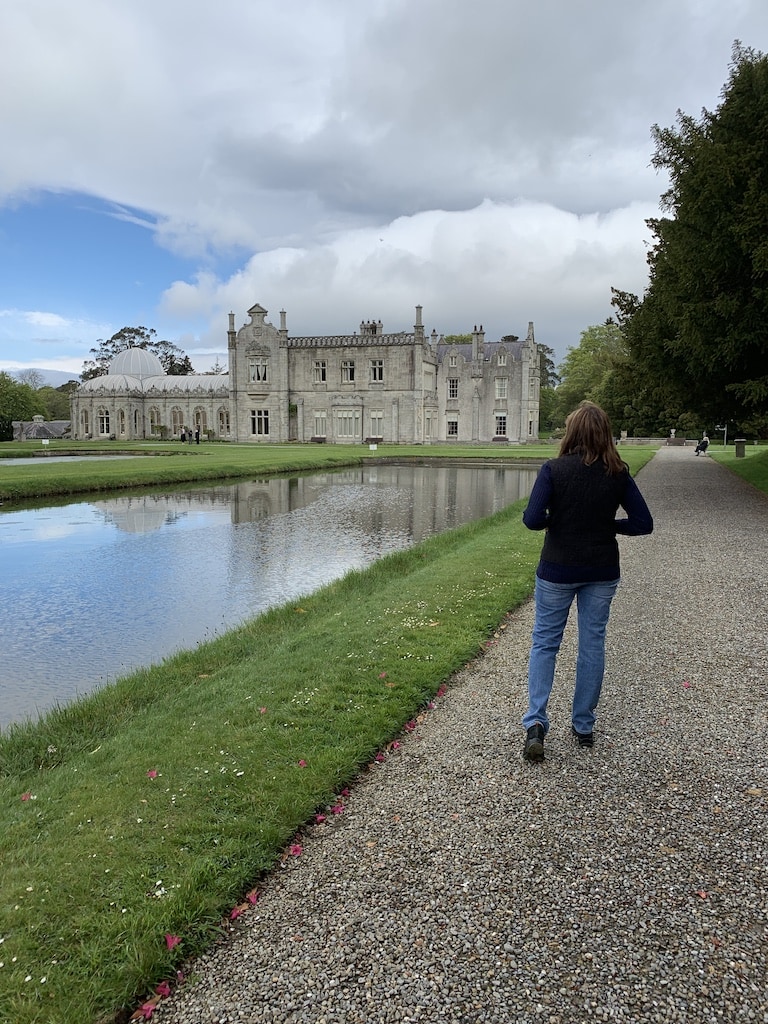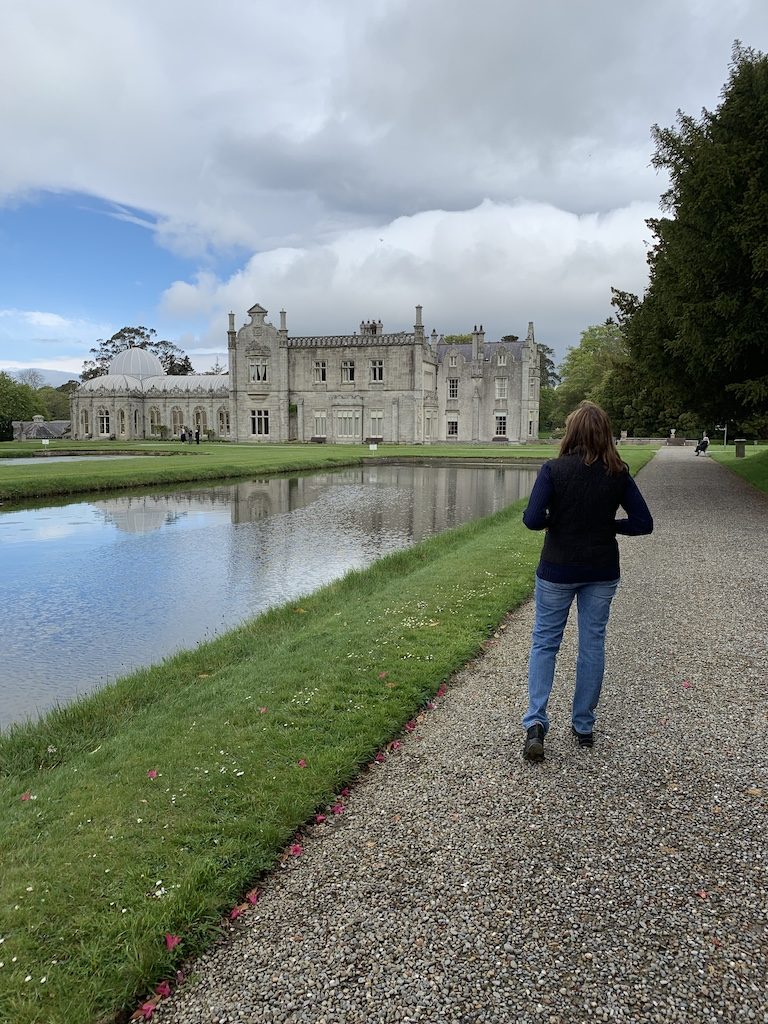 The guided tour will take you into the area where the Clock Tower is located, as well as the stables and the Farm Market. The entire estate is just fabulous.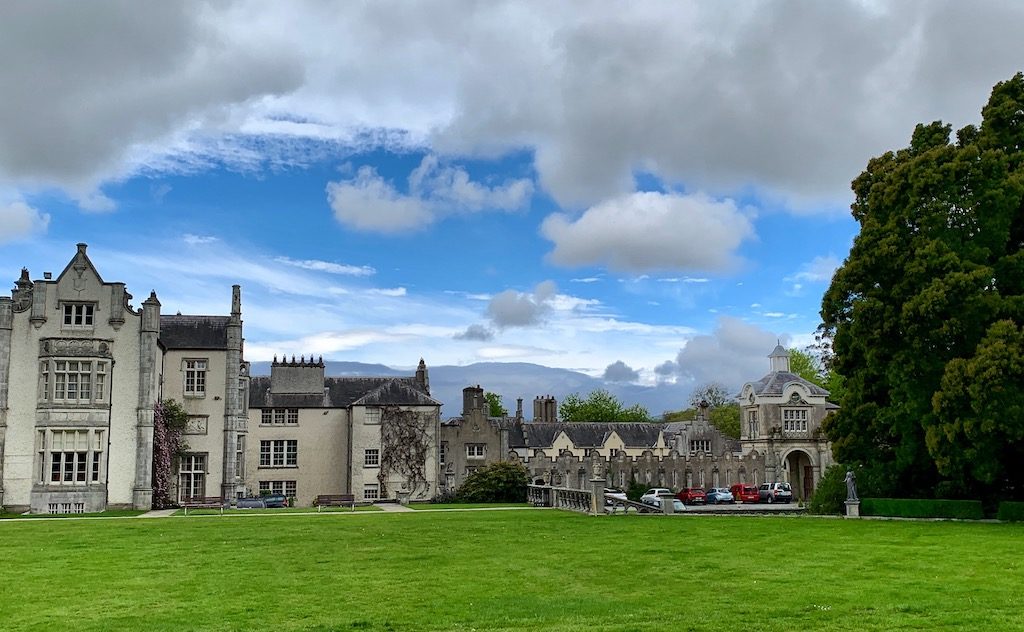 I was wishing we'd been able to visit on Saturday when the Market was open. Exploring an area through food is always my favorite way to learn!
I saw shelves of jams and jellies -including Lady Meath's Marmalade, freshly baked bread, Killruddery orchard eggs, pesto, soups, stews, and more.
You might be lucky enough to visit when there's a wine tasting. These wines are produced right in County Wicklow Ireland.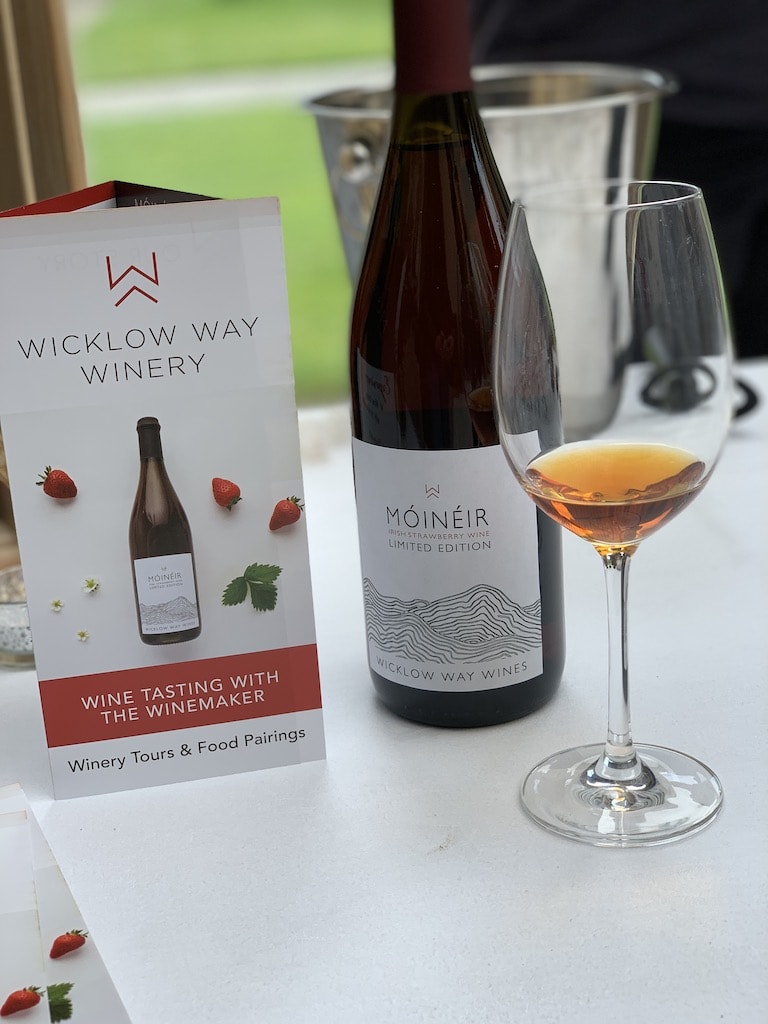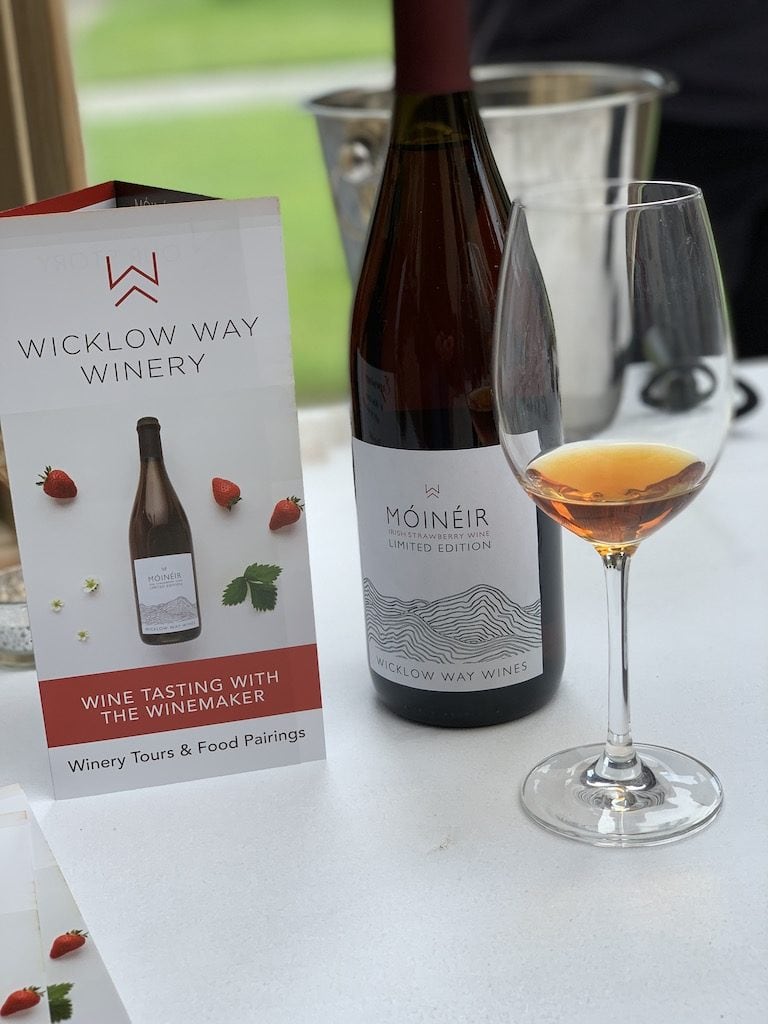 Check the opening times and schedule of events so you can make the most of your visit. Fall is an especially busy time with loads of festivals.
Glendalough
You'll probably travel south by way of Sally Gaps to get to Glendalough. On the road to Sally Gap, the views of the blanket bog are incredible. Until you actually see it, you can't understand how spectacular it is! And you're just about an hour from Dublin!
There's a lot to see once you're there, so perhaps you should begin at the Visitor's Centre. Here you can plan what you want to see. There's an educational center with audio and visual exhibits. This glacial valley created 20,000 years ago has quite a history.
The knowledgeable staff is available to help you with questions. You'll also find restrooms in the Centre.
Glendalough Monastic City
You can't go to County Wicklow Ireland and not visit this ancient Monastery of Glendalough. This monastic city was founded by St Kevin, whose teachings attracted numerous followers looking for spiritual answers.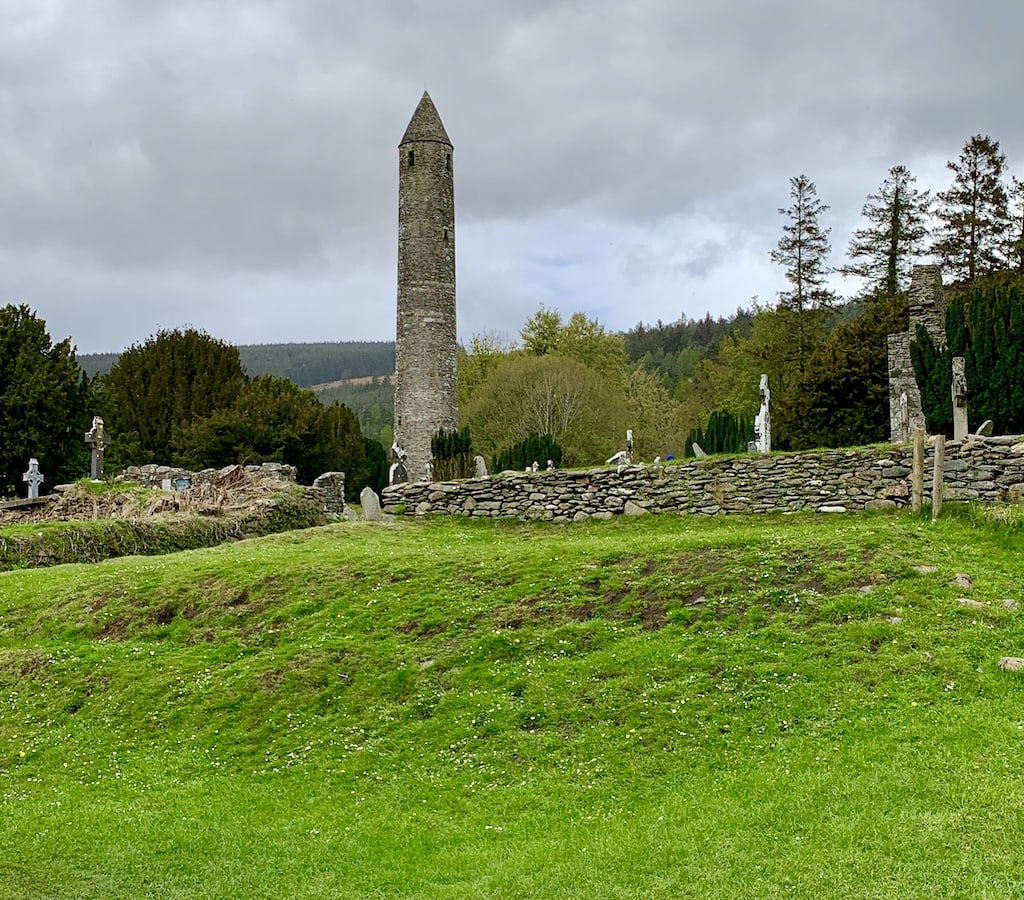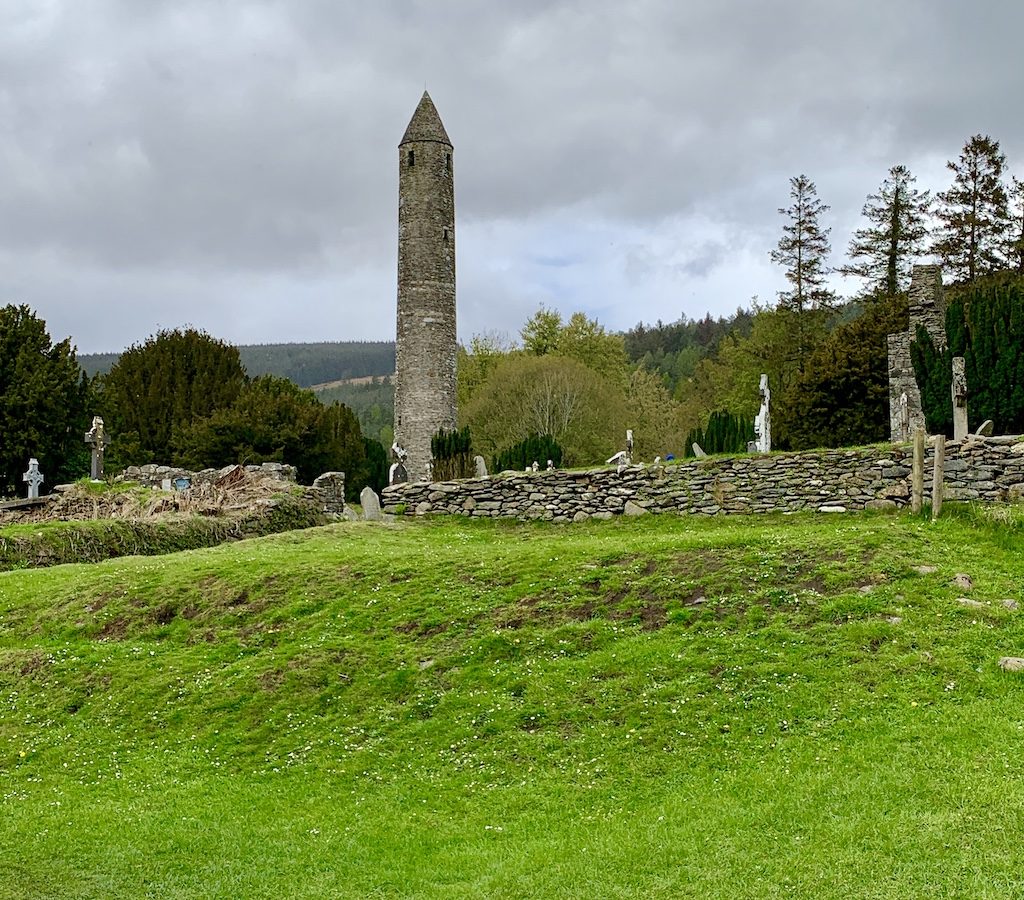 The Glendalough settlement is one of the most important monastic sites in Ireland, dating back to the 6th century. The buildings you'll see there today date from the 10th-12th centuries as the Normans destroyed the monastery in 1214.
Cathedral of St. Peter & St. Paul
The largest church in this monastic City was the Cathedral of St. Peter & St. Paul. Here we see the remains of the Cathedral, which is the largest of the seven churches in Glendalough.
Built between the 10th and early 13th centuries, the schist stones came from a smaller church that was already in this location. A walk inside reveals grave slabs and what's left of the decorated arch.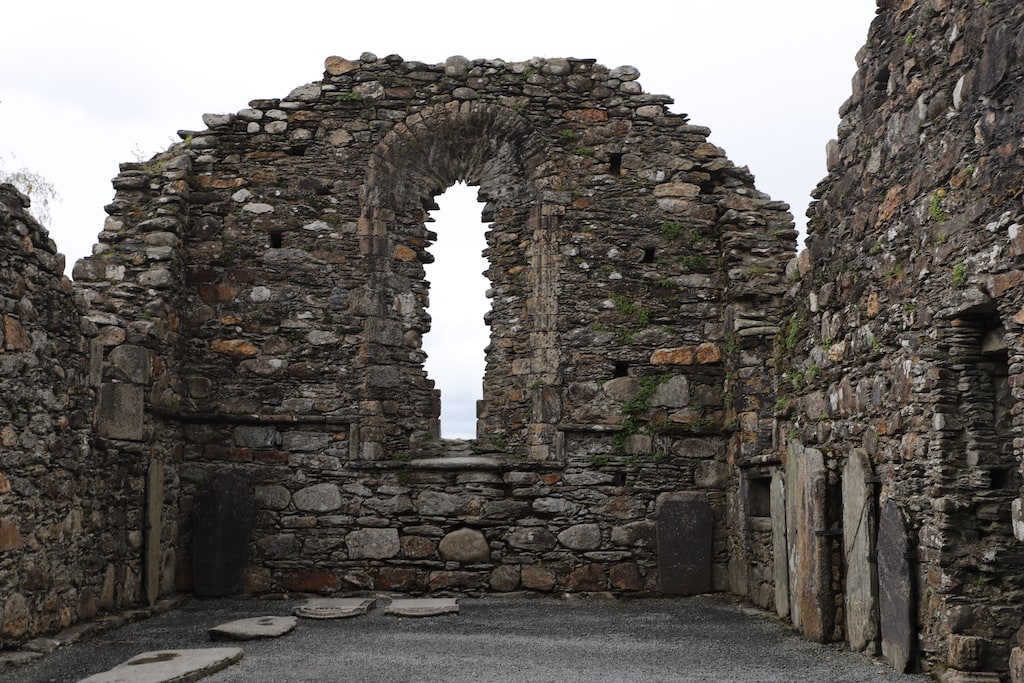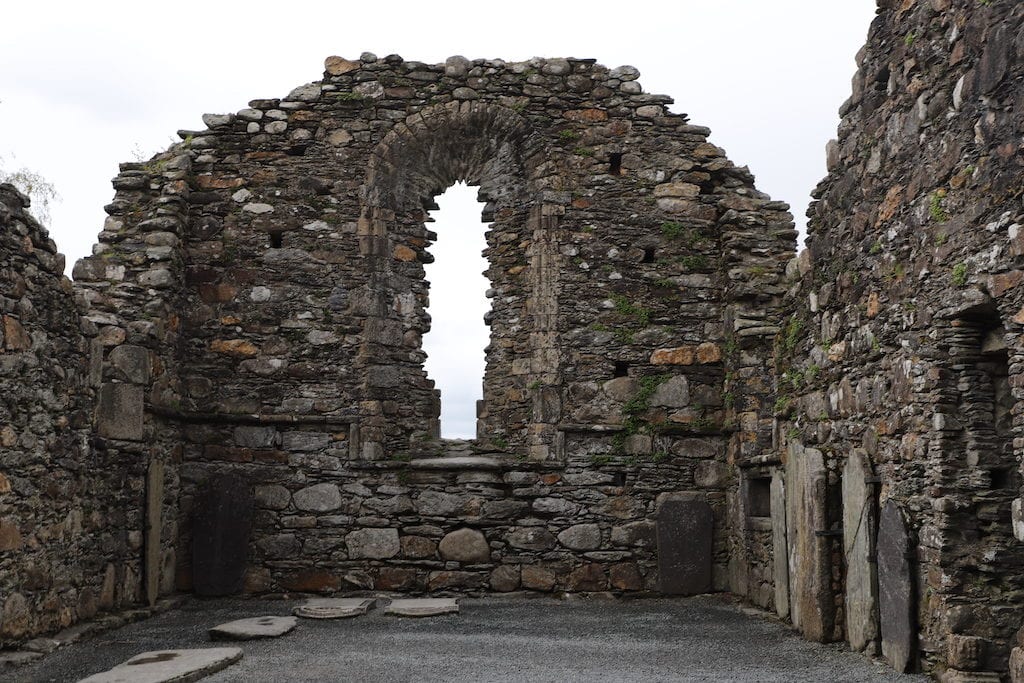 St. Kevin's Church
St. Kevin's Church is another structure still intact. The nave and chancel were two different areas in medieval times. This is the area we would call the sanctuary today.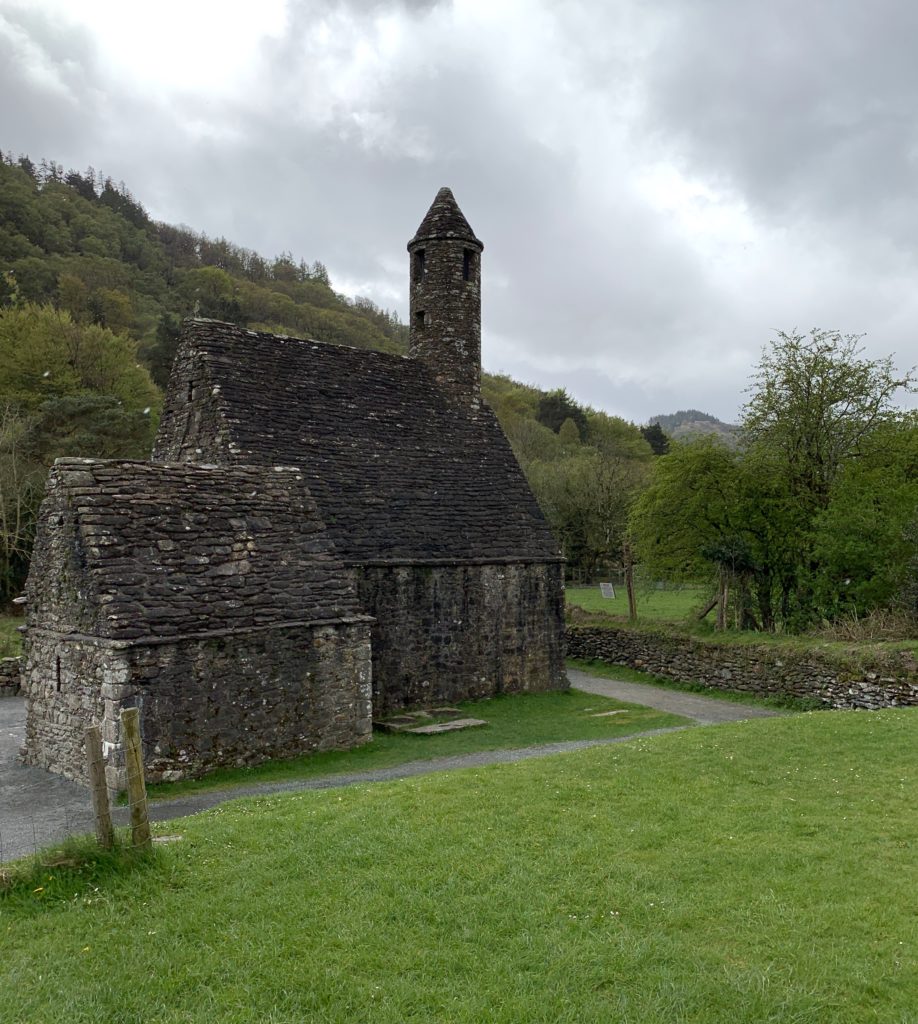 St. Kevin's Church is more widely known as St. Kevin's Kitchen because people thought the bell tower was a chimney. It's now known that it was never meant to be a kitchen.
The Round Tower
One of the most important structures on this site is the Round Tower, which stands 110 feet tall.
We know from history that these towers were used to house the bells and as lookout points for pilgrims as well as enemies, but it's also said they were used as shelters to keep the monks and the church valuables hidden from Viking attacks.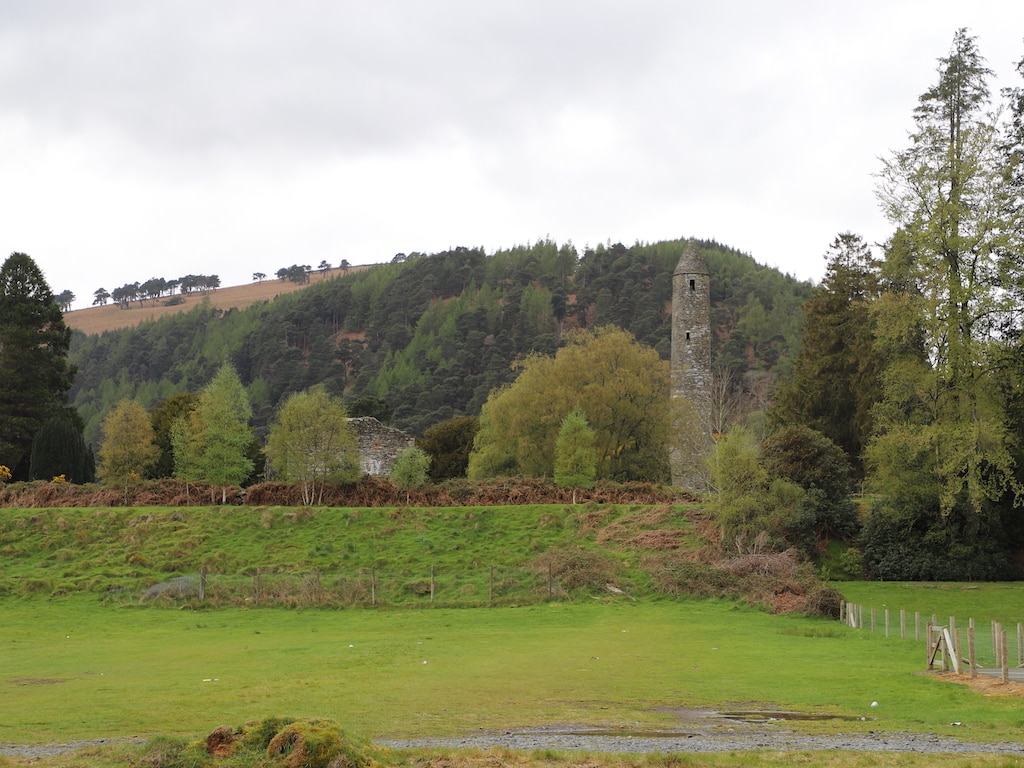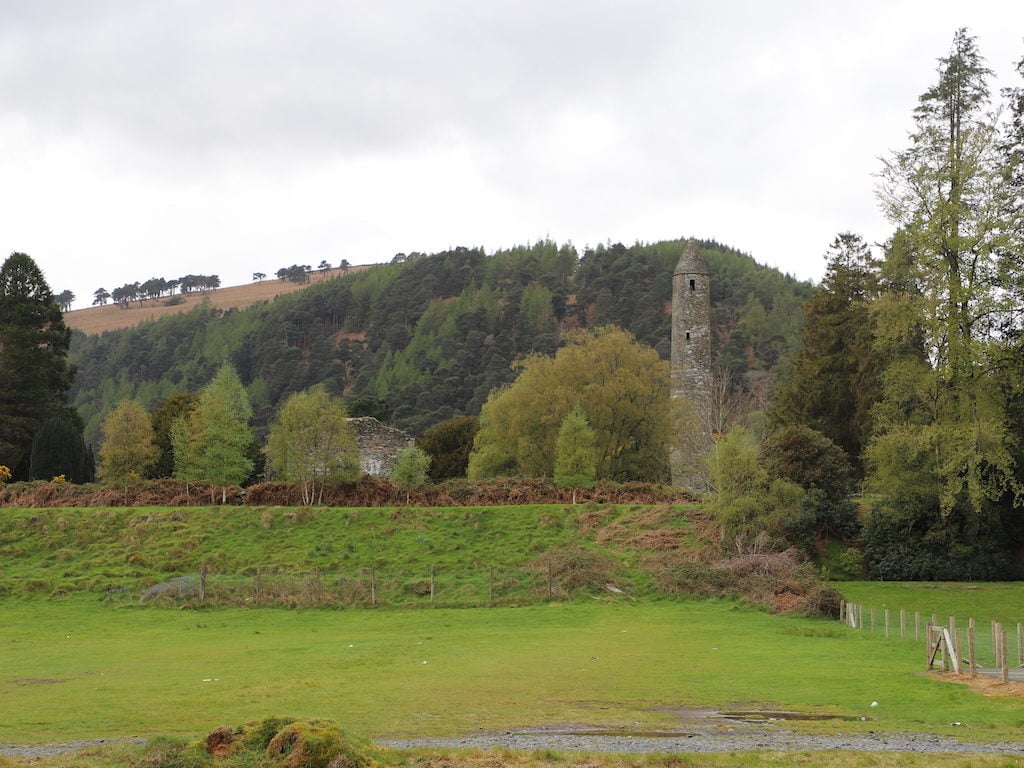 Unfortunately, there were times when the Vikings also knew there was no way the monks could escape, so they would use fire to smoke them out of the tower, often killing them in the process.
Cemetery
The cemetery that is part of the monastic site is said to still be in use today, though the most recent burial I could find was in 1998. The first burial I could find in my research was in 1795. I was amazed at how well preserved this cemetery remains today.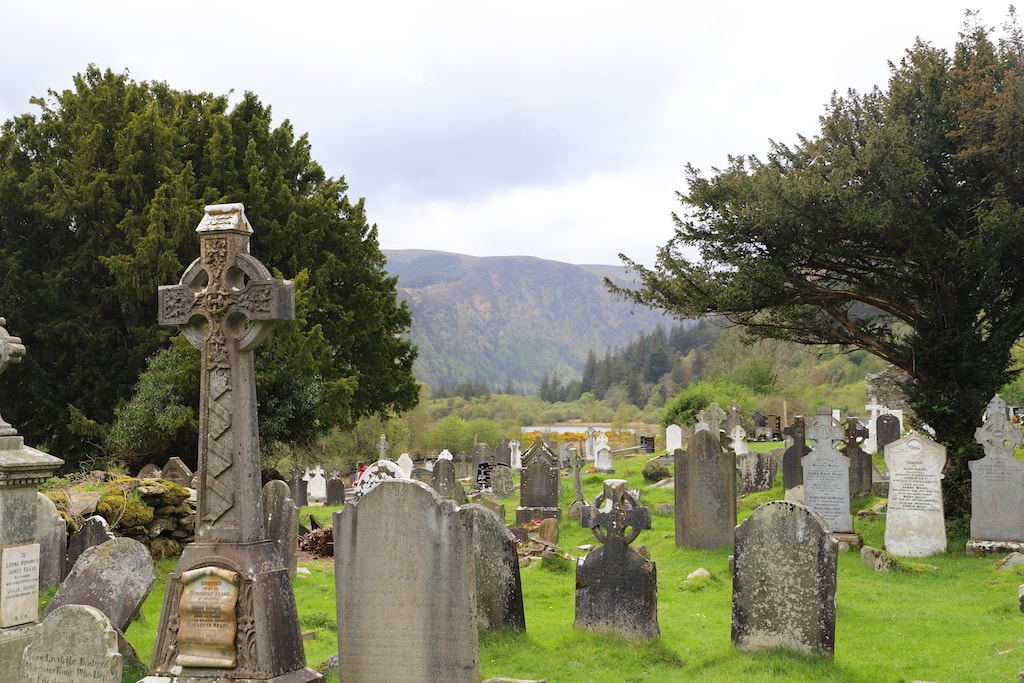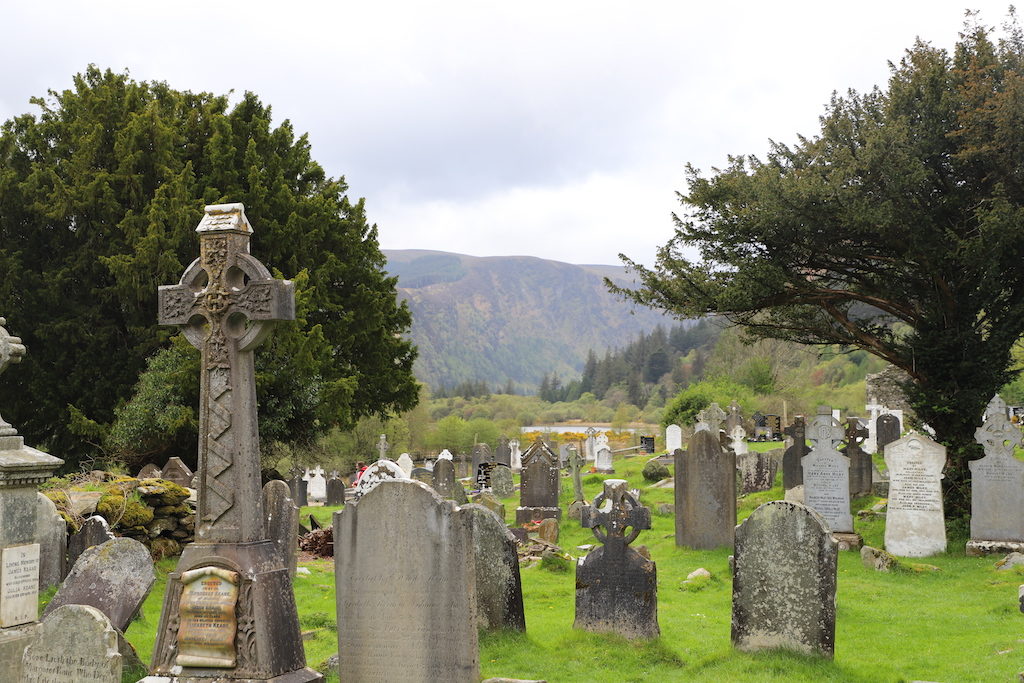 The fact that this monastic site continued to grow from the 6th century until the 17th century, despite the intermittent attacks, tells us a lot about how much the spiritual aspect meant to so many.
Hiking in County Wicklow Ireland
After checking out the monastic site, take some time to explore Wicklow National Park. This is the largest of Ireland's six National Parks and the only one located in Ireland's Ancient East.
With 20,000 hectares to explore, there is a lot of space to hike. One hectare is about two and a half acres.
Doing the math from there will give you an idea of how large Wicklow National Park really is. Learn more about the park by stopping by the Visitor's Center.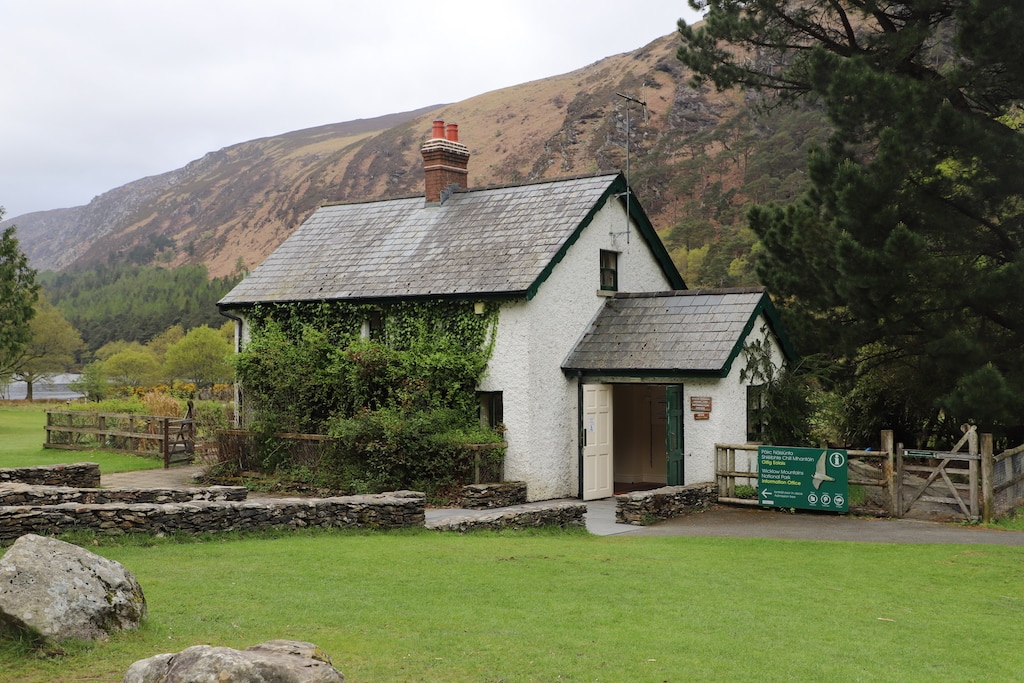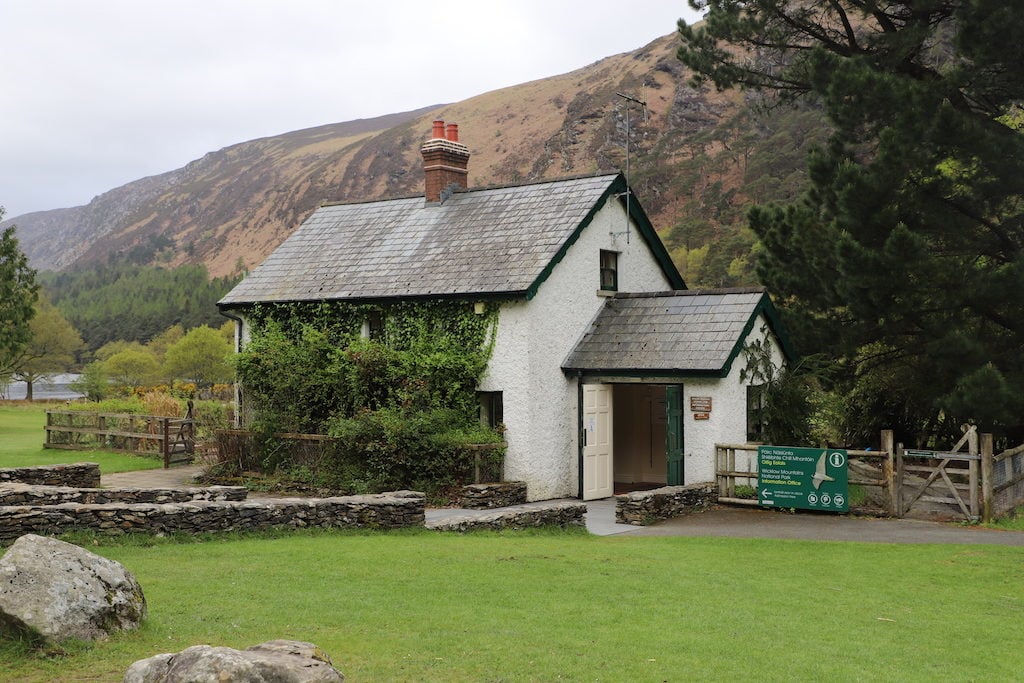 Visiting the County Wicklow website ahead of time is also a good idea so you can make a decision based on the amount of time you have. Maps are also available for download if you'd like to print one ahead of time.
For an easy hike, the Green Road walk only takes about 50 minutes and is marked with green arrows. This is where you'll see the Lower Lake and continue on to the boardwalk and wetlands. This is a good walk for everyone, including kids.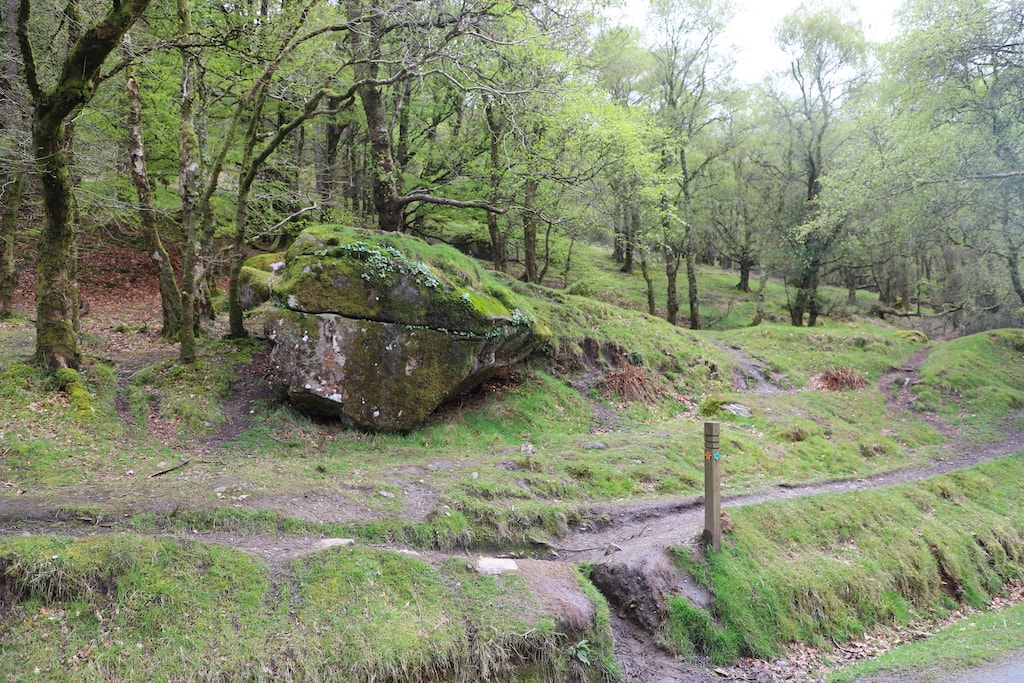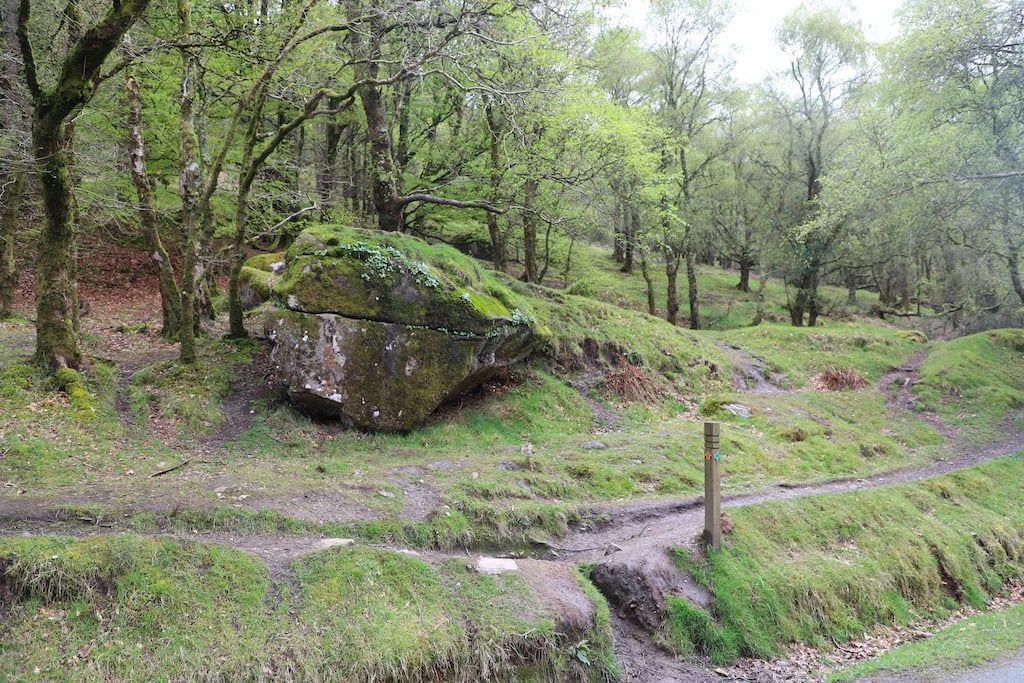 The Orange Route is a moderate walk, with a steep climb up next to the Polanass Waterfall. This will take you above the valley and end up on the Green Road. This hike is about two hours.
You can also do a guided hike up Lugnaquilla, the highest mountain outside of Kerry with a summit of 3,035 feet above sea level. This hike takes 5-6 hours to complete.
Upper and Lower Lakes
The Upper and Lower Lakes are part of Wicklow Mountains National Park. As mentioned above, you can take the Green Road to see the Lower Lake.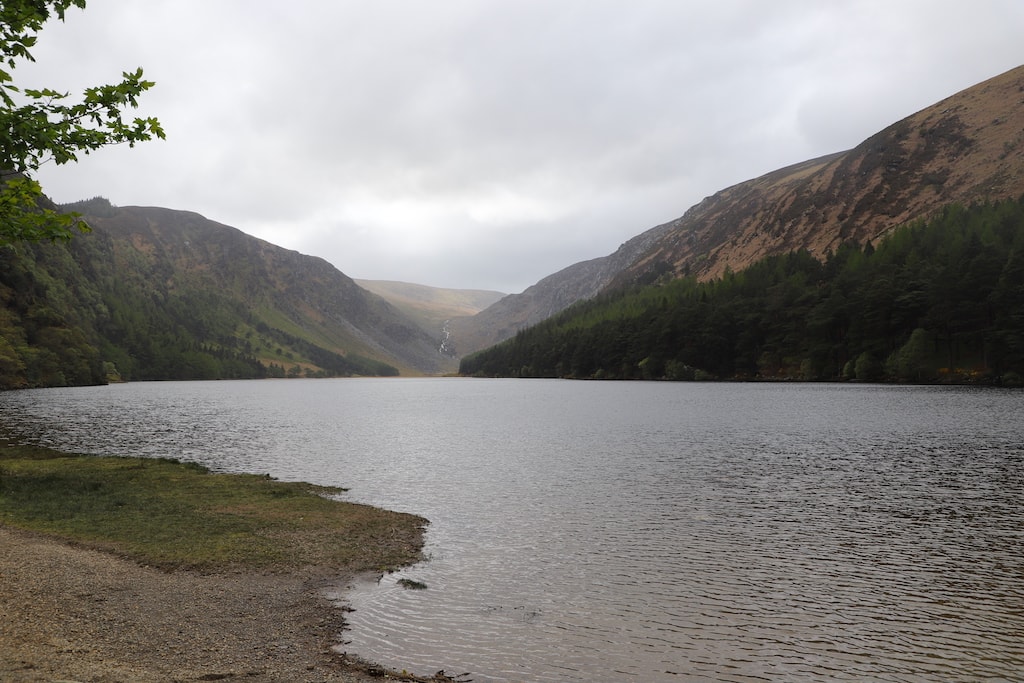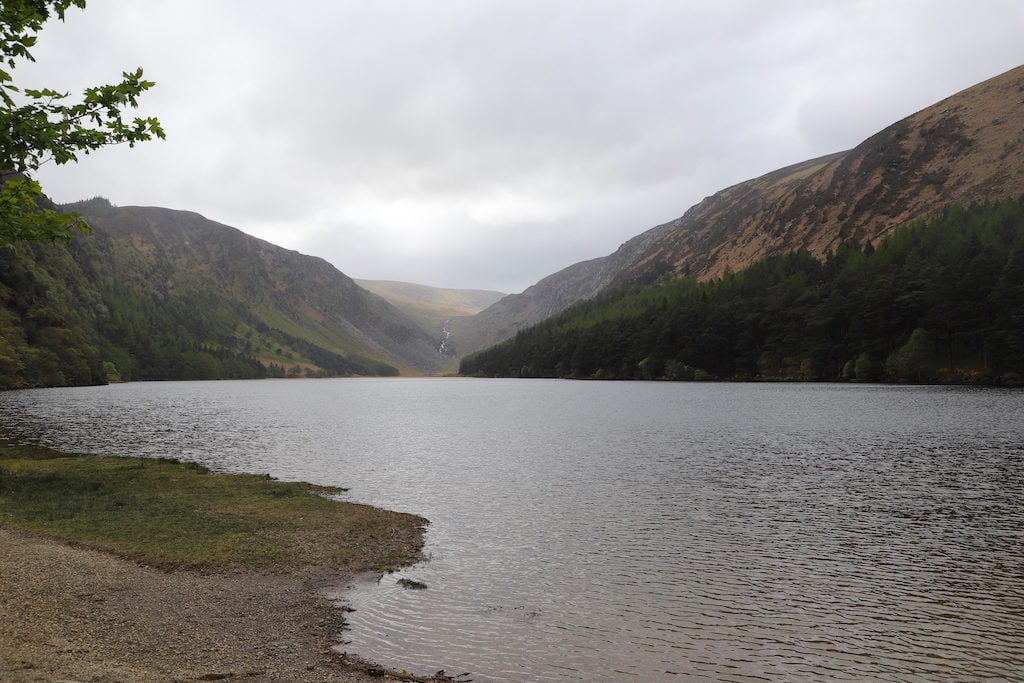 Known as Gleann-Dá-Locha, the valley of two lakes, it's an easy walk to see both, and the views are spectacular. Depending on which route you take, you may see feral goats, lizards, falcons, and other wildlife.
If you love the water, you should also check out the beaches in Wicklow. A beach day makes every vacation better!
Hike to St. Kevin's Bed
Close to the Upper Lake is a cave known as St. Kevin's Bed. It's believed it was where St Kevin retreated for meditation and prayer. As it's not high enough for anyone to stand, it's thought that St. Kevin only slept there, hence the name.
The hike to St. Kevin's Bed is not an easy one, but a trail guide is available from the Visitor's Centre. Walking tours are also led by local operators. Call ahead if you're interested.
It's easy to see why pilgrims flocked to this area for solace and enlightenment. Today, over 1 million visitors per year are estimated to visit Glendalough.
See Filming Locations for Popular Movies & TV
I have to admit, I didn't know so many feature films were made in this part of Ireland. Below is just a handful of spots you can visit.
For more on filming locations in County Wicklow Ireland, check out Visit Wicklow.
Henry V (1944) starring Laurence Olivier was shot at Powerscourt House Estate, Enniskerry.
Black Beauty (1971) was also filmed at Powerscourt Estate.
Remington Steel (1987) starring Pierce Brosnan and Stephanie Zimbalist was also filmed at Powerscourt Estate.
Parts of he post-apocalyptic film One Hundred Mornings was filmed around Lough Dan, in the county of Wicklow.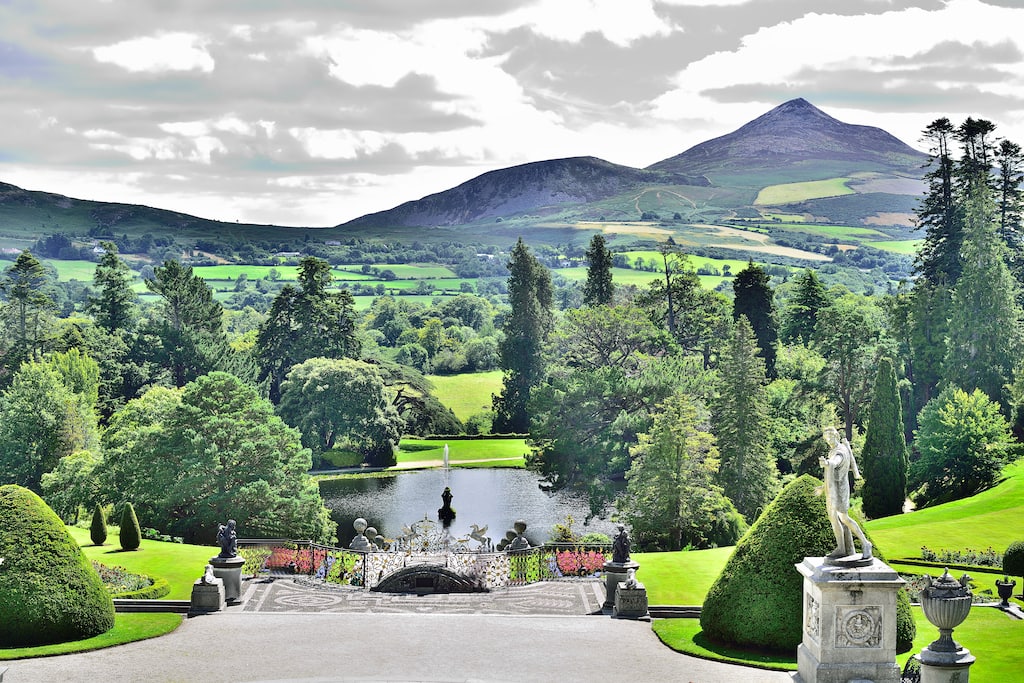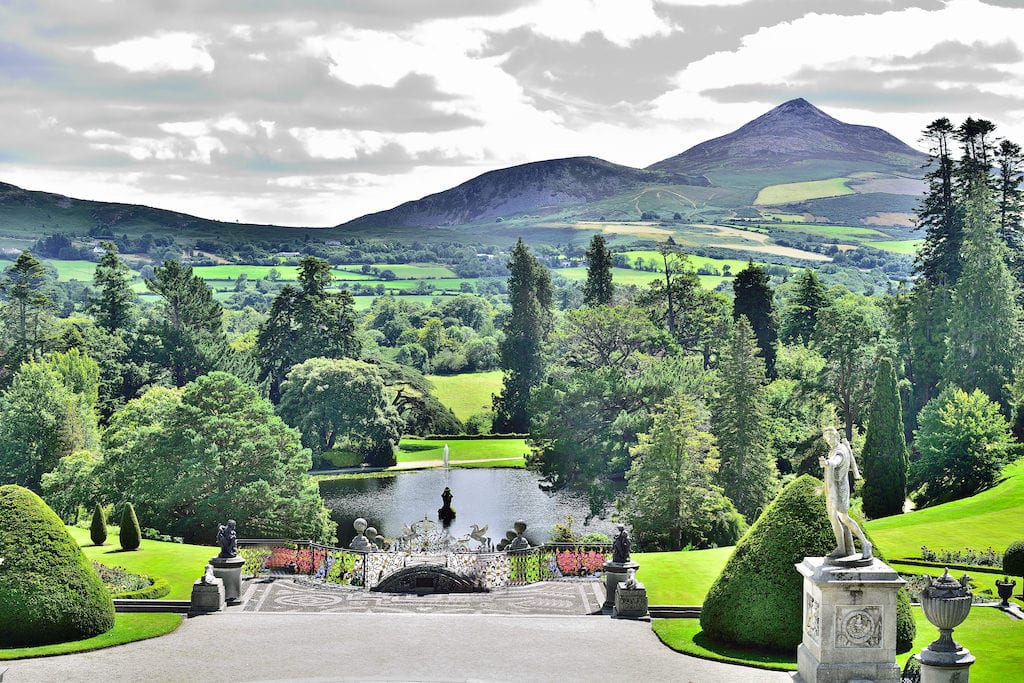 Many people think the popular film Braveheart (1995) starring Mel Gibson was filmed in Scotland. Though some of the footage was filmed there, the majority was filmed in Ireland on location in Wicklow Mountains National Park and Blessington Lakes, both in County Wicklow.
Michael Collins (1996) starring Liam Neeson and Julia Roberts was filmed in Rathdrum, the film capital of Ireland.
Ella Enchanted (2004) starring Anne Hathaway was filmed in Wicklow at Luggala Estate, Kiltegan, Powerscourt, and Killruddery House and Garden.
The movie PS I Love You (2007) was filmed in Wicklow Mountains National Park.
The Tudors (2007-2010) was filmed at Powerscourt Estate.
The BBC series Ballykissangel, which ran from 1996 until 2001, was filmed in the Village of Avoca, as well as Wicklow Town and Glencree Centre.
I wish I'd had enough time to explore more of this area, especially Powerscourt and their Distillery. I'm already making a list for my next visit. If you're interested in a tour from Dublin, check out Wild Wicklow Tours.
Where to Eat in County Wicklow
Happy Pear
The drive to Glendalough from Killruddery House is only about 45 minutes, but if you time it right, you can stop for a late breakfast or lunch at The Happy Pear. I hadn't heard of these famed cafes before, but I'm a fan now!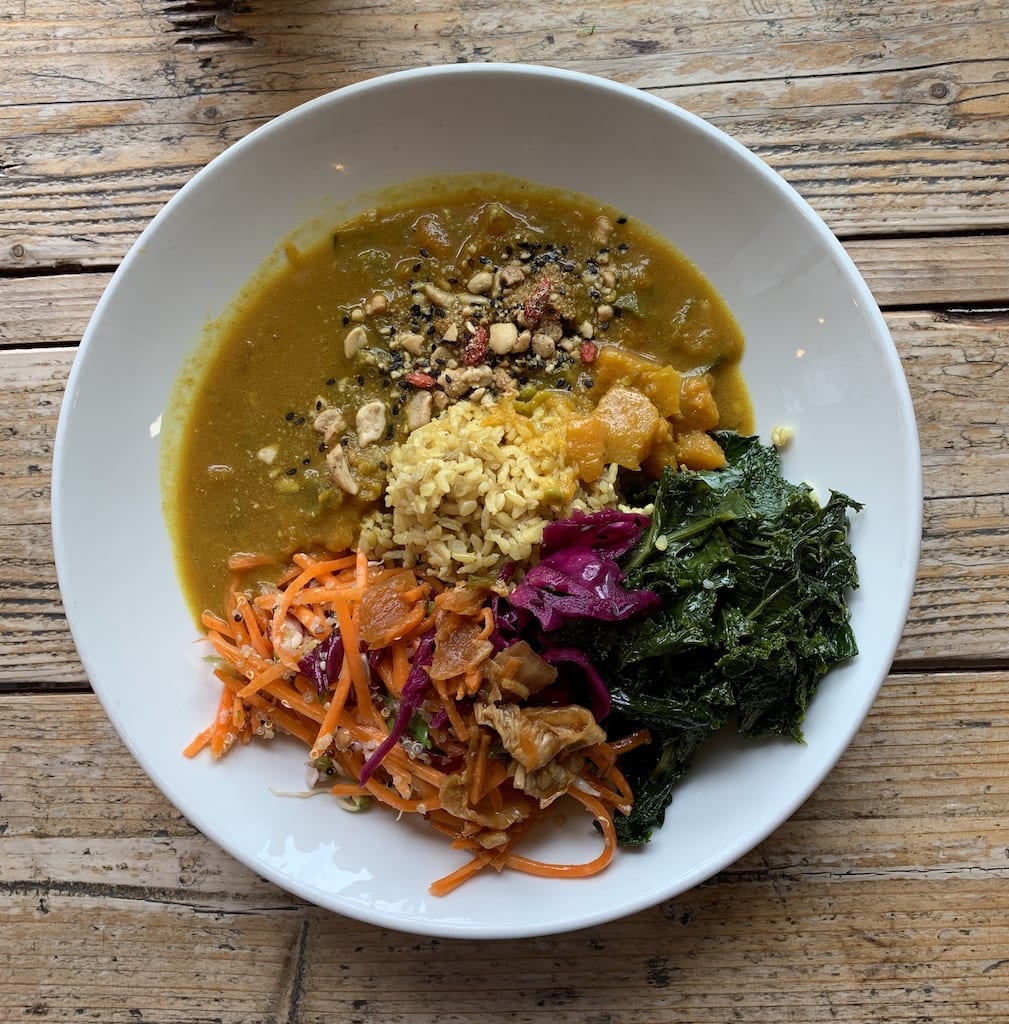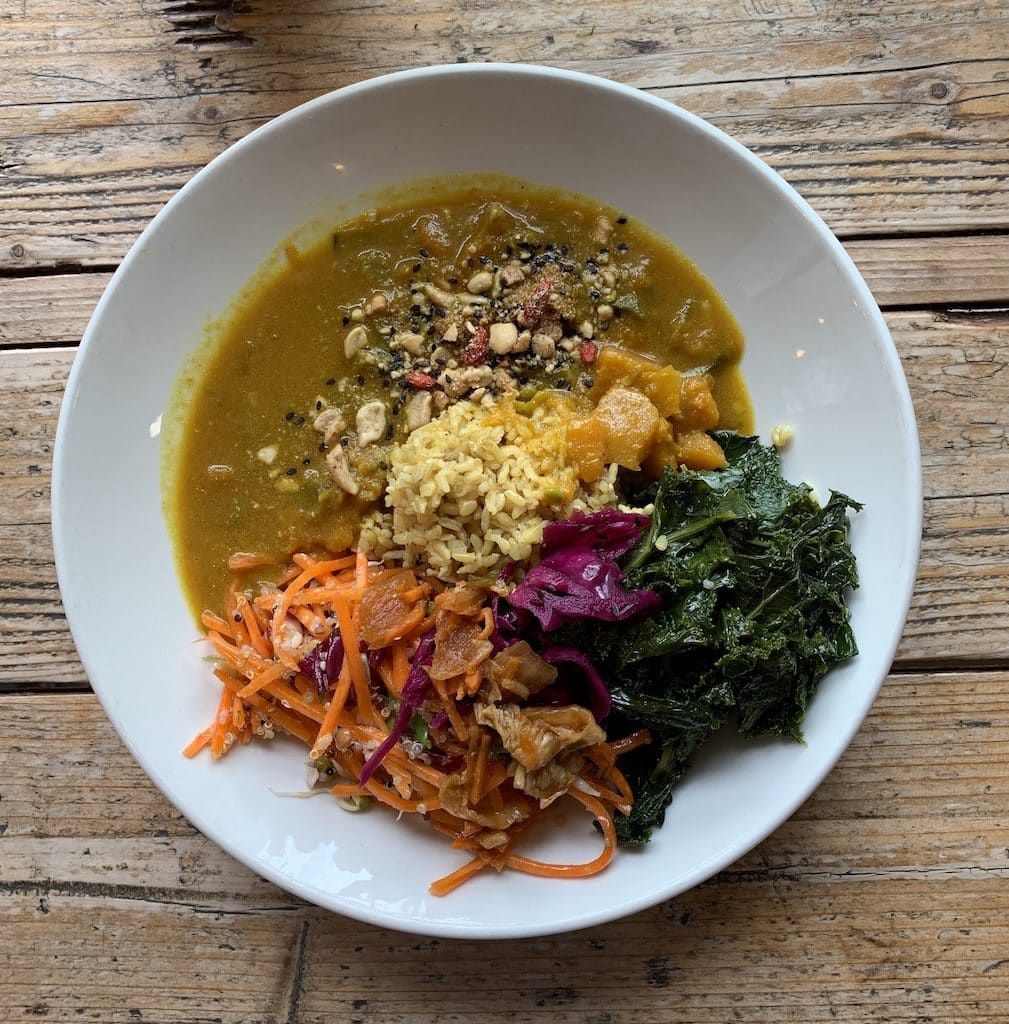 The Happy Pear is owned by twin brothers who have authored several books filled with vegan recipes, and even offer cooking classes on their website.
If you're looking for a healthier way of eating that is also wildly delicious, check out one of their books on Amazon, or better yet, visit one of the Happy Pear locations in Ireland. Be sure to visit the store inside, too.
Lynhams of Laragh
Though we didn't eat at Lynhams because we had dinner reservations in just a few hours, we did stop for a libation, and you should, too!
This traditional Irish Pub was established in 1776 and is only a kilometer from the monastic city of Glendalough. Order a hot whiskey!
Strawberry Tree Restaurant
The Happy Pear isn't the only famous restaurant in County Wicklow. The award-winning Michelin Starred Strawberry Tree Restaurant is not only incredibly delicious, but it's the only certified organic restaurant in all of Ireland.
Much of the produce you will eat was foraged by staff members. Try some of the Irish cheeses or meats smoked right on the property.
The seafood was incredibly fresh and the sophisticated flavor combinations were outstanding. You must try the smoked salmon. It's on all the menus.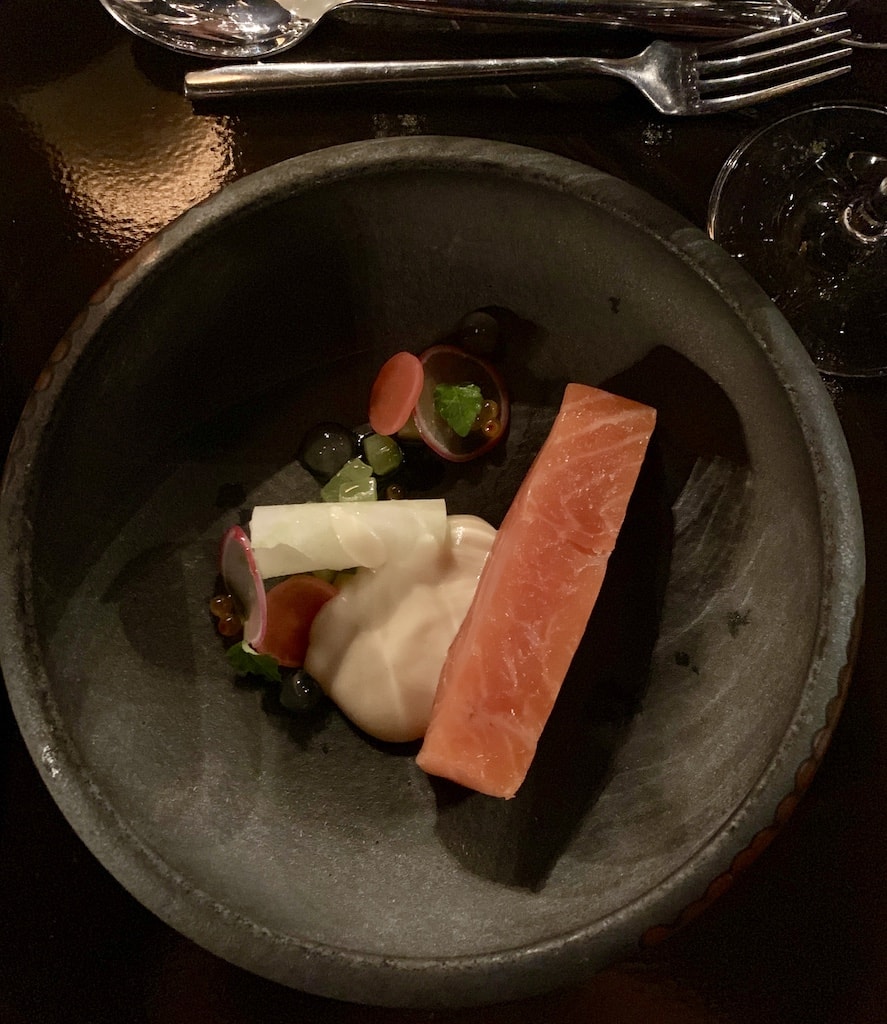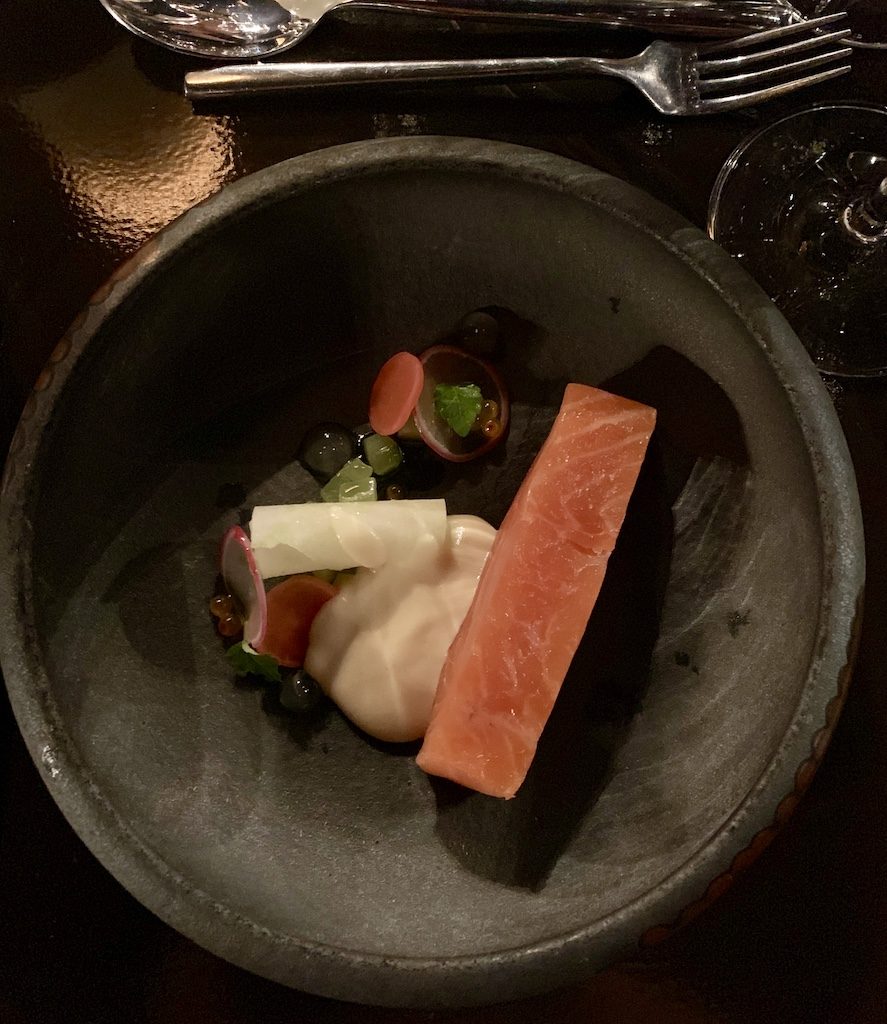 The Strawberry Tree Restaurant celebrated 30 years in 2018 and has won multiple awards over time. Enjoy a choice of a 5-course Dinner Menu or a 9-course Tasting Menu.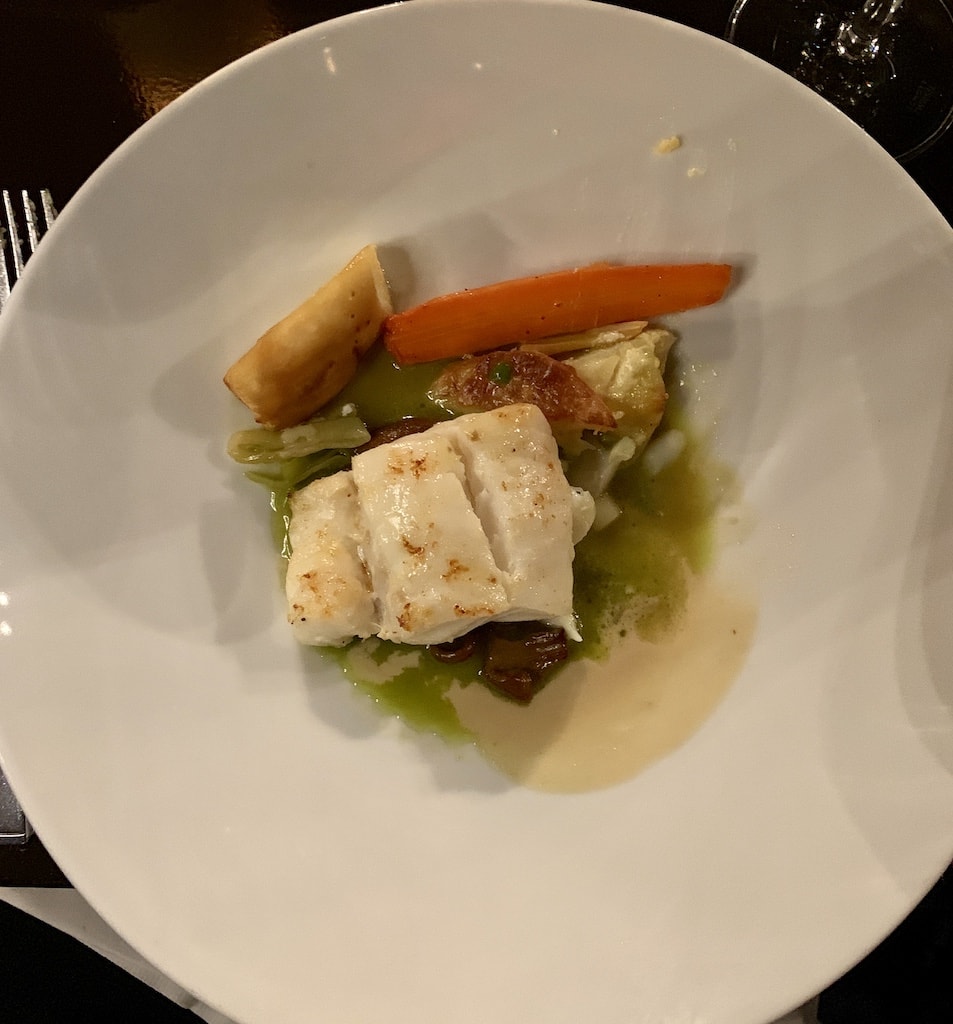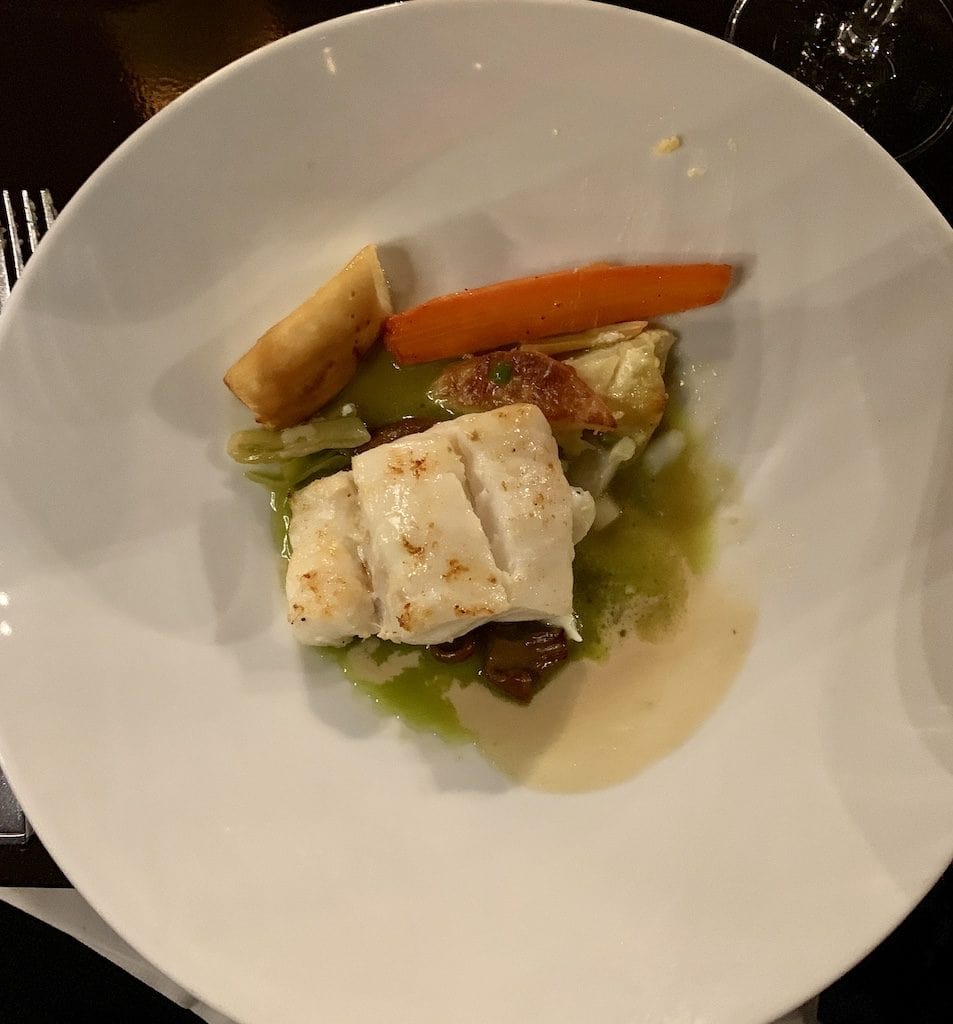 The Strawberry Tree has a full bar and extensive wine list to accompany your meal. A vegan menu is also available. Be sure to order dessert!
Where to Stay in County Wicklow
We stayed at the lovely Brooklodge & Macreddin Village for one night while in County Wicklow.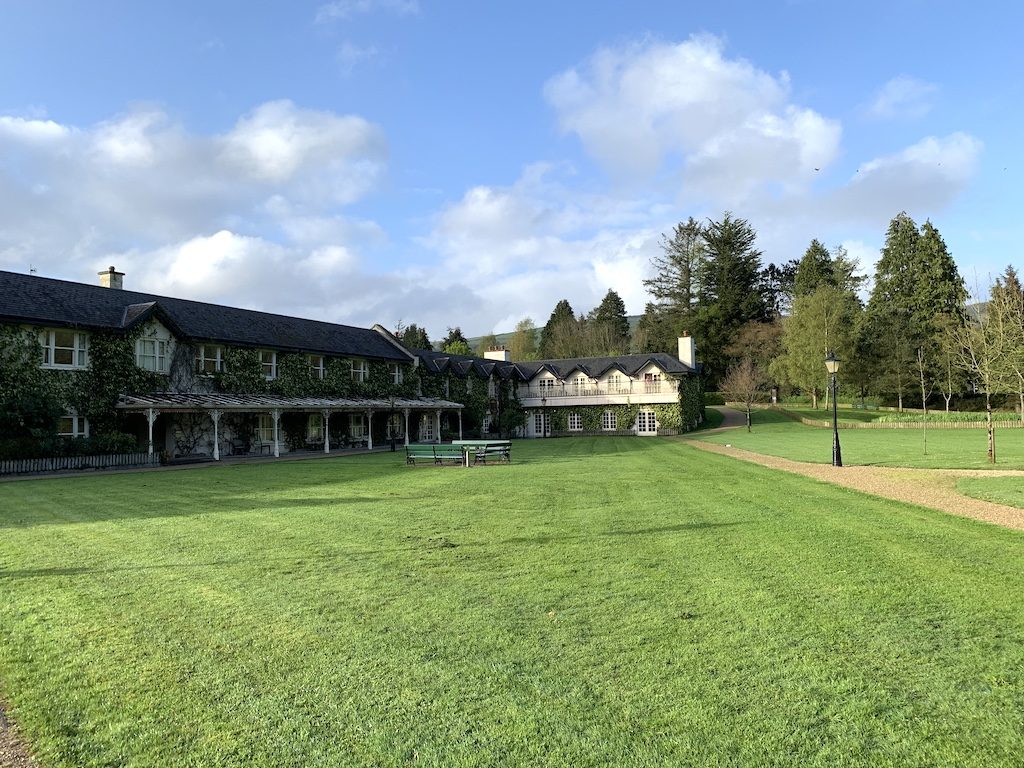 This four-star property, just an hour from Dublin, features large, comfortable, cozy rooms with plush robes hanging in the closet.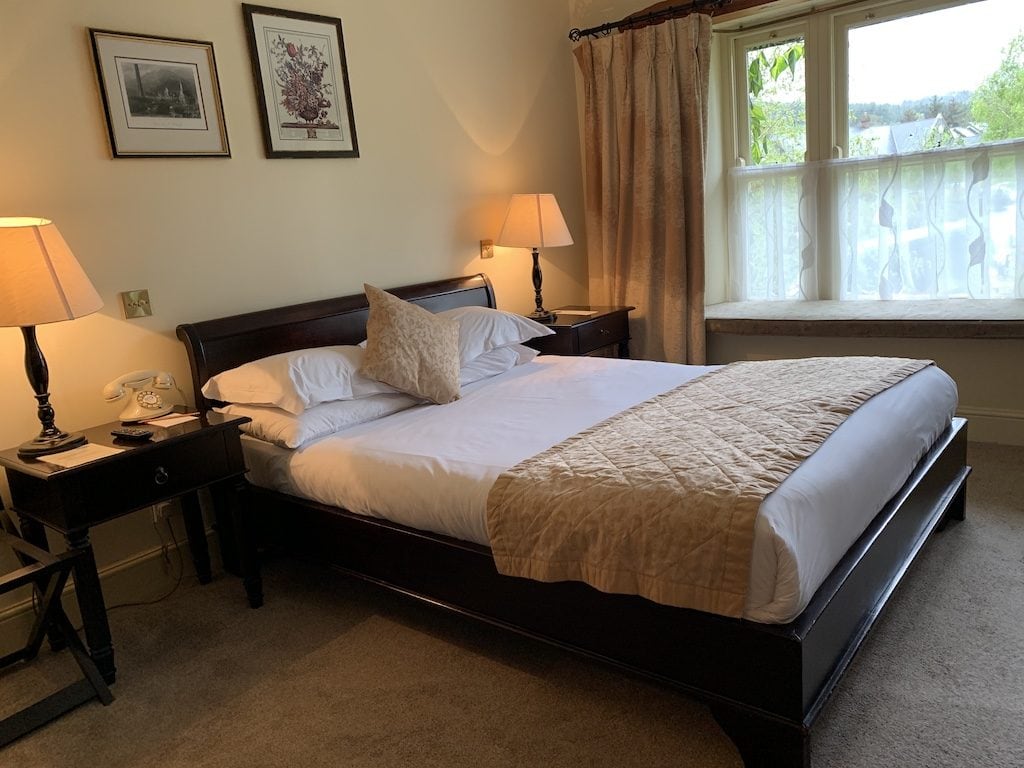 The surrounding area is just gorgeous. Take a walk to see the creek and the old church.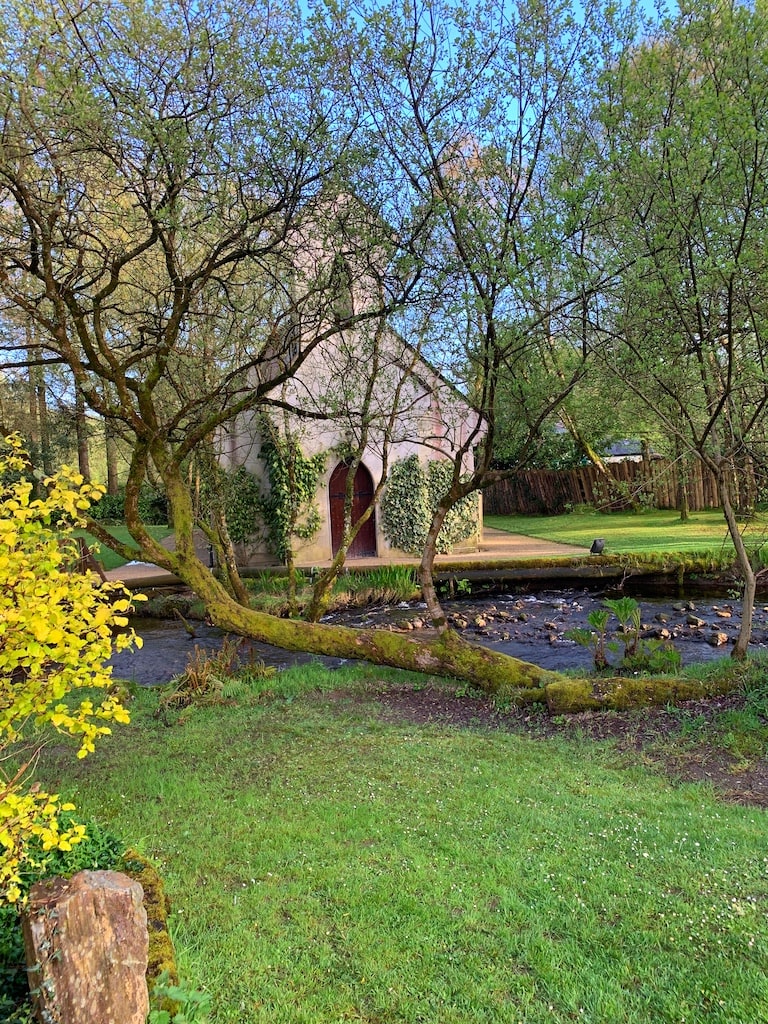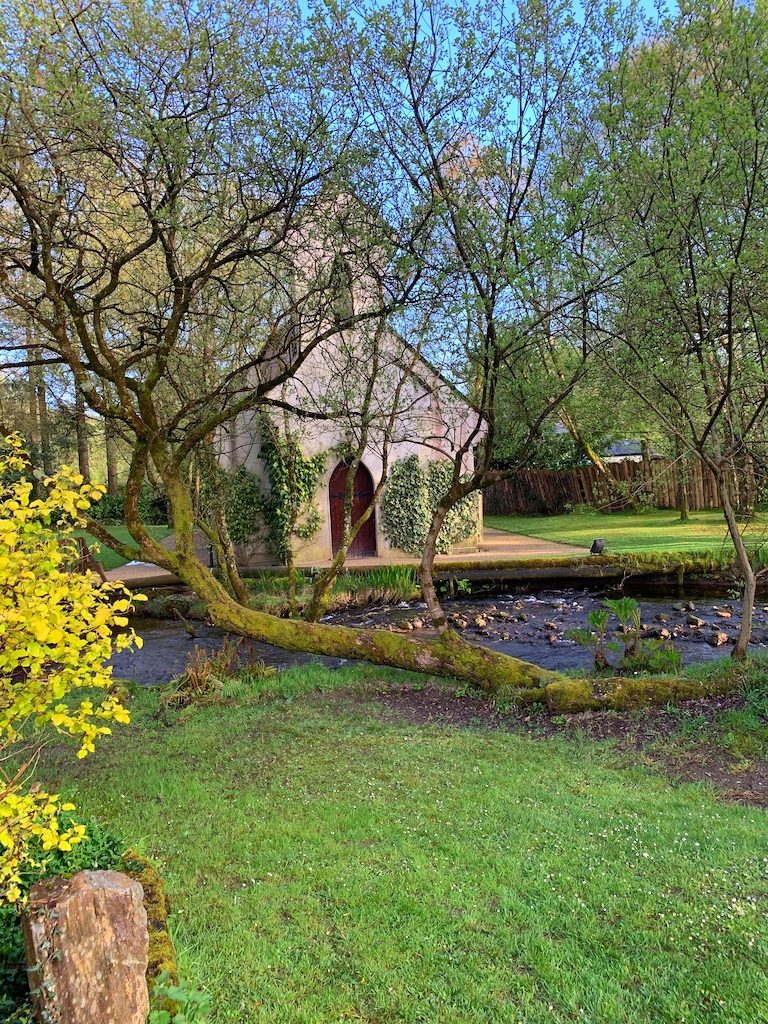 Have a cocktail in Actons Country Pub and take a look around at the traditional decor. If you're spending the day, ask about the Afternoon Tea.
Make a reservation at The Strawberry Tree for dinner. You can't be that close to a Michelin-Starred restaurant and not eat there!
If you're more in the mood for Italian, La Taverna Armento serves a full menu of Southern Italian specialties. Honestly, you can't go wrong eating anywhere on the property.
For breakfast, you'll be treated to a buffet of delicious choices. The organic bakery provides fresh scones, croissants, and other pastries. Traditional breakfast choices are available as well.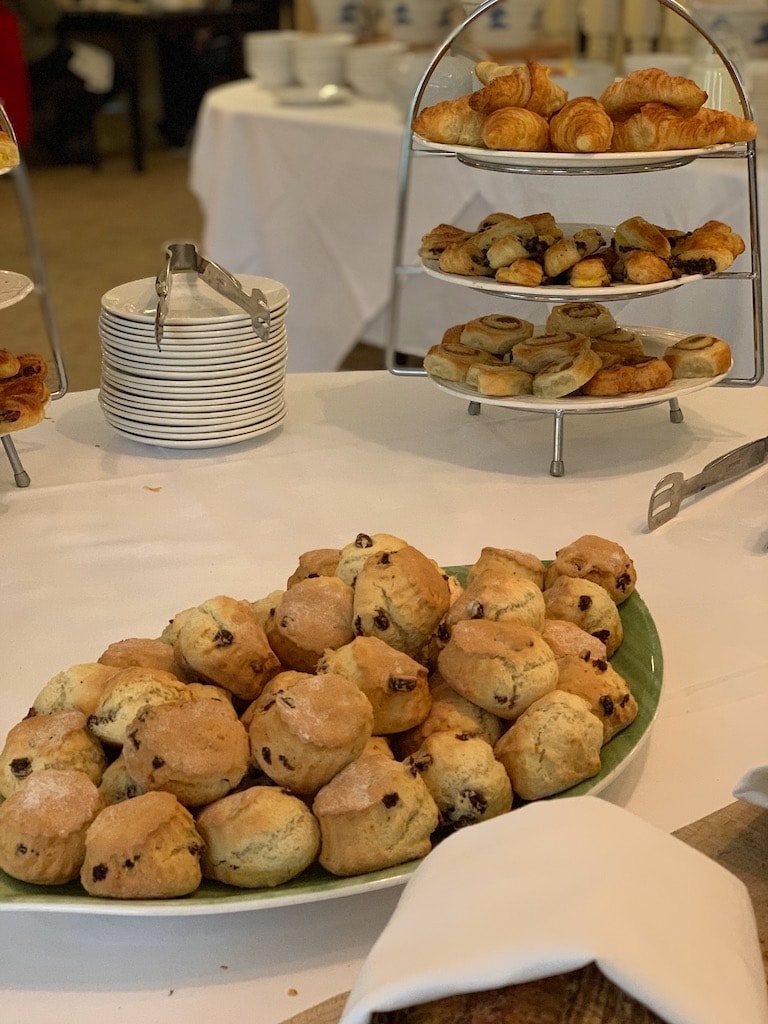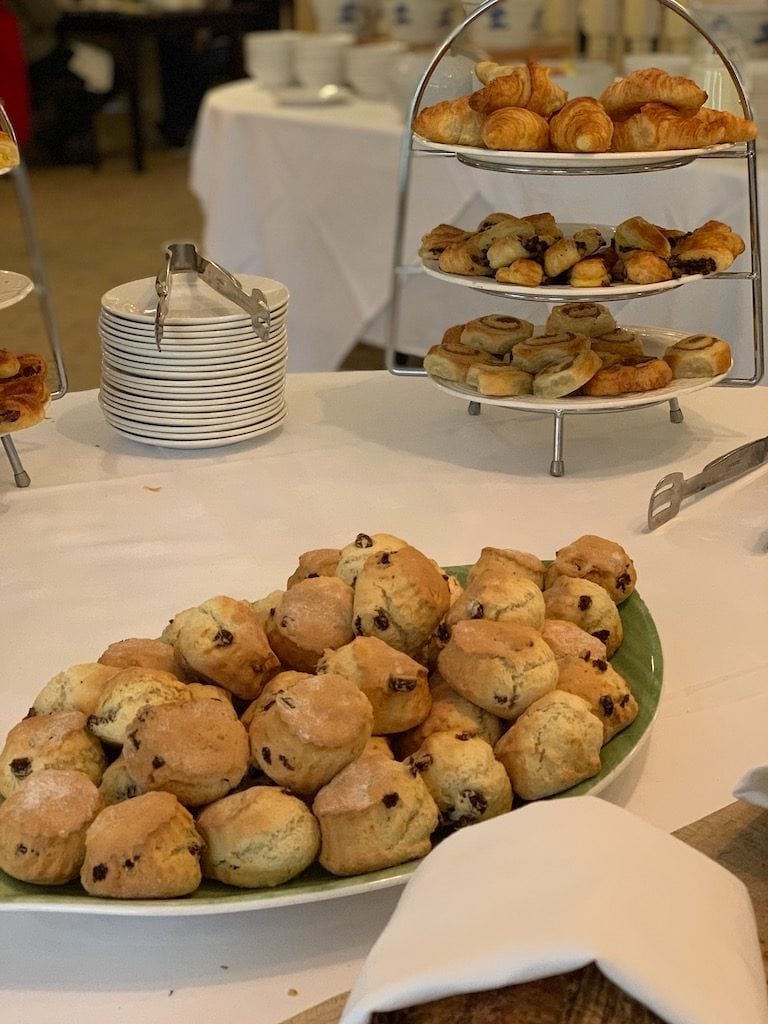 The Orchard Café is also open on weekends. Reservations are suggested at all of the restaurants, but you may be able to get a table at the last minute. It never hurts to try!
In addition to incredible food, Brooklodge & Macreddin Village offers Food Heritage Master Classes.
Macreddin Golf Course, designed by European Ryder Cup Captain Paul McGinley, is also on the property. I wish I could have played while there, but we had a tight schedule. Next time! There are so many great golf courses in Ireland!
Many thanks to Steller and Tourism Ireland for introducing me to this incredible country! To see more of my stories from Ireland, follow me on the Steller App. Download the app and start creating YOUR stories! Please share as I'd love to see your trips.
In case you missed it, I recreated the Guinness Beer Braised Short Ribs shortly after returning from Ireland, and they were divine. Let me know if you try them. I'll have more recipes to share from my trip soon.
Become a subscriber so you don't miss a thing! Drop me an email if you have questions or comments.
Tips for Visiting County Wicklow
As always, but especially in this part of the world, wear comfortable shoes, and again, keep a hat and that raincoat in your backpack. It takes very little space and you'll be glad you have it if the sky opens up!
Visit the Ireland Tourism website where you'll find a lot of ideas for itineraries and trip ideas, as well as where to stay, where to eat, and how to best get around.
More of Ireland