Did you know Discovery Cove at SeaWorld in Orlando was just voted the number 1 amusement park in the entire world for the second year in a row? There's a reason for that!
I was invited to visit Discovery Cove and SeaWorld last month when I was on the #RockYourVacation press trip with Experience Kissimmee, and we had such an amazing time! I had never been to this park, and was so excited after learning about the Discovery Cove Sea Venture experience! If you've seen information about the park, you may have an idea of all there is to do, but nothing does it justice like being there. This place is huge!

We started out by snorkeling for a few minutes before our first scheduled activity. The fish were really active, and the rays were bigger than I've ever seen! You can even reach out and touch them, and some of them seemed to really enjoy the interaction.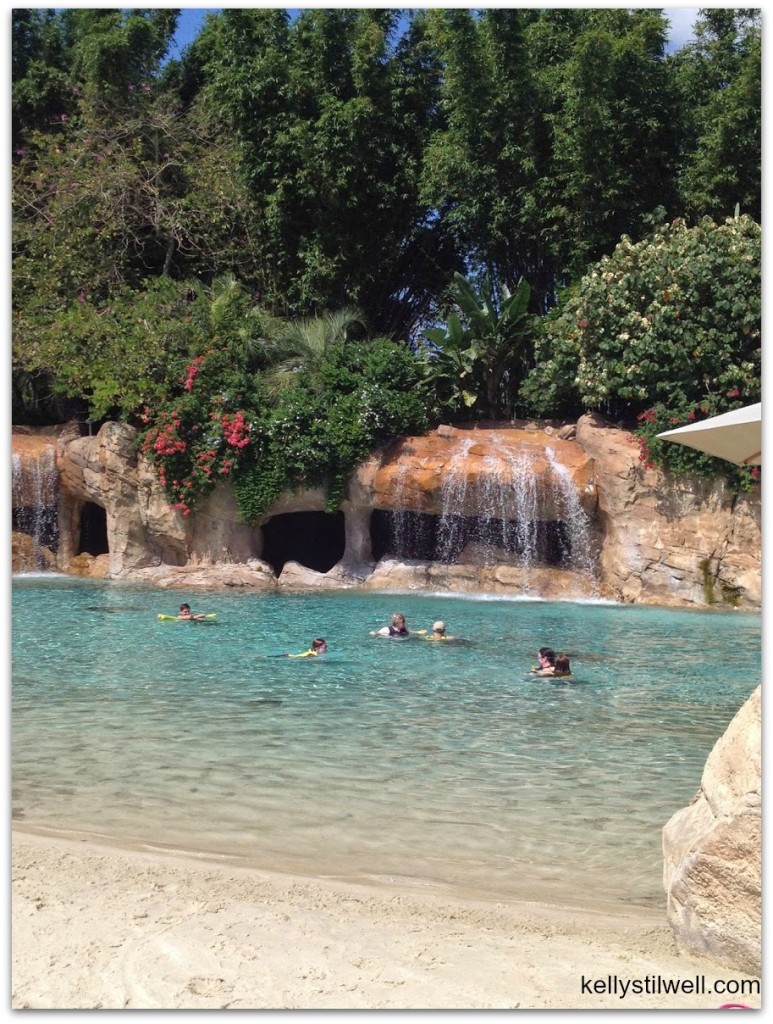 One of the adventures on our schedule was the SeaVenture. It's an underwater walking tour. You wear a dive helmet, but it's nothing like scuba diving.
Confession time: I went through the diving certification a couple of years ago. I did the swim, which was across the pool something like 18 times, followed by swimming underwater across the pool. When I was a kid, I loved doing that! Now? Not so much. And the fact that I was not aware of the testing? Well, let's just say I was the last to finish. And I thought I was in pretty good shape! 
I told the other bloggers in our group that I was a little worried as once I was underwater during the scuba class (18 feet down) I freaked out a little. Who knew you could feel claustrophobic under water? If this worries you, rest assured, the SeaVenture is nothing like that!
You just climb down the ladder...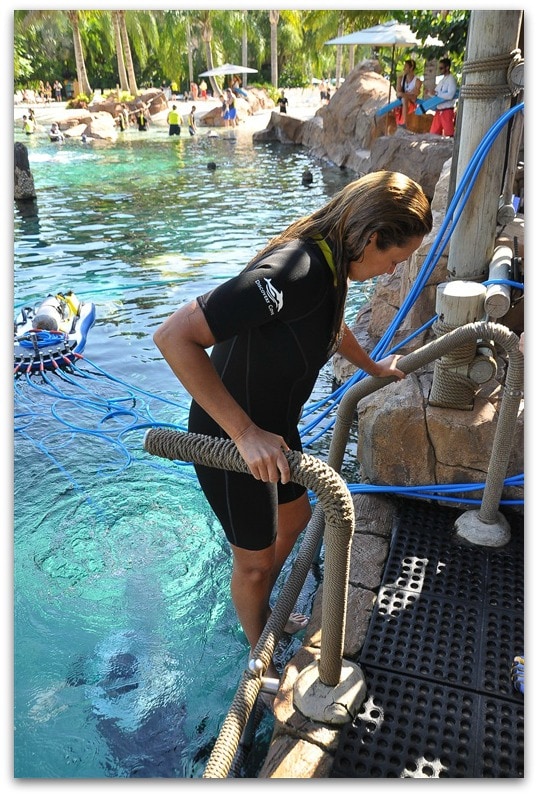 And a helmet is lowered onto your head.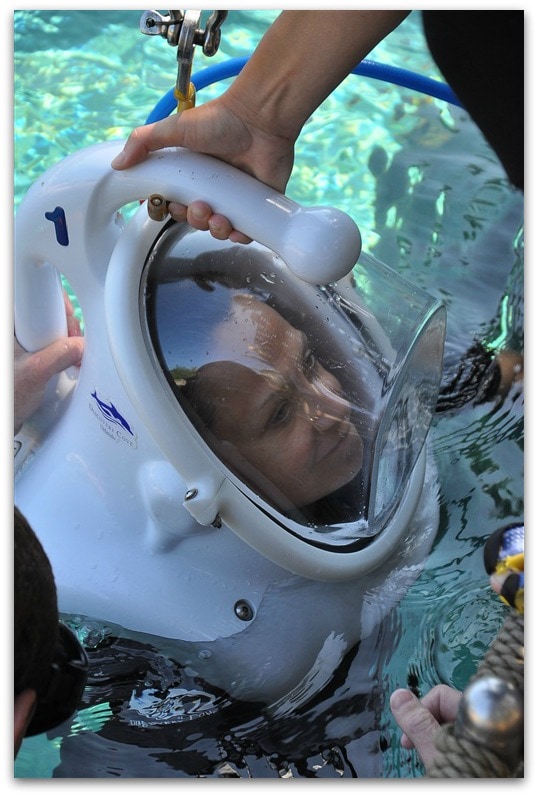 This was when I got a little nervous. My friend Kas from Southern Bella's Ways knew it, and was checking on me.
There really was nothing to worry about. We had so much fun!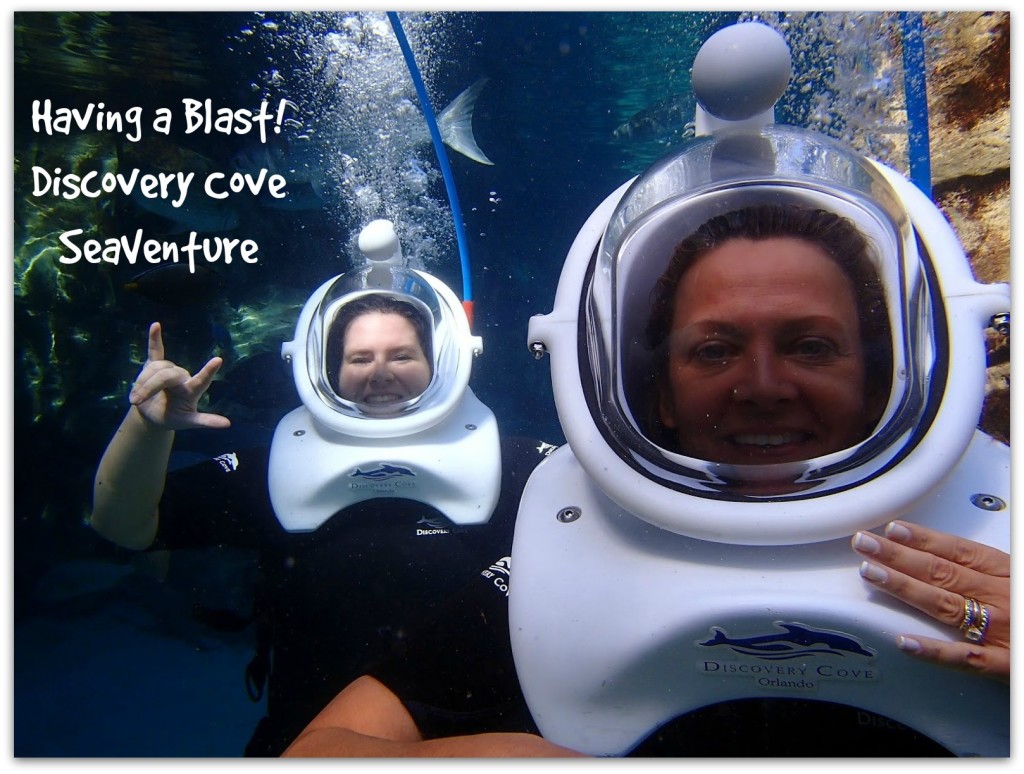 Once you are on the bottom, there's a 10 foot tall, 21 foot long panoramic window where you can view sharks. At first, it really looks like they are right there with you, but of course, they aren't. By the way, Discovery Cove has underwater cameras they passed out to our group so we could take photos, which added so much to the experience.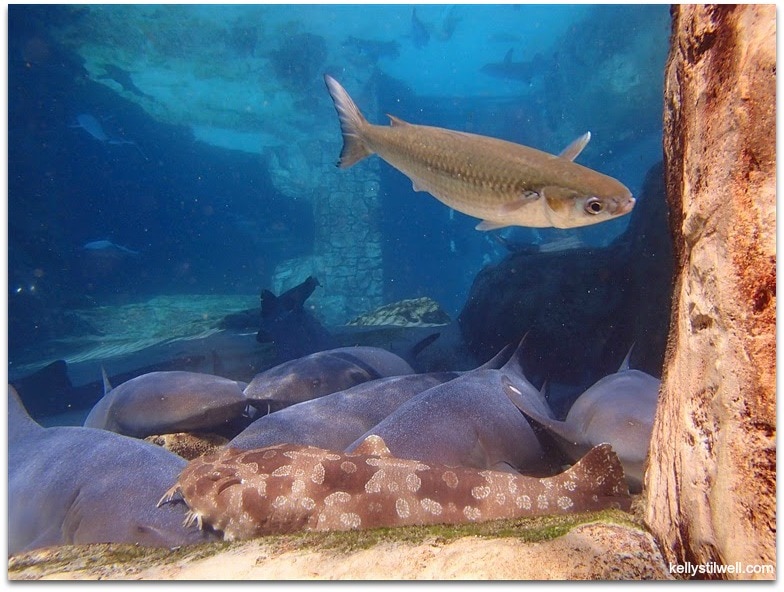 You're perfectly safe as those big guys are behind the window. Whew!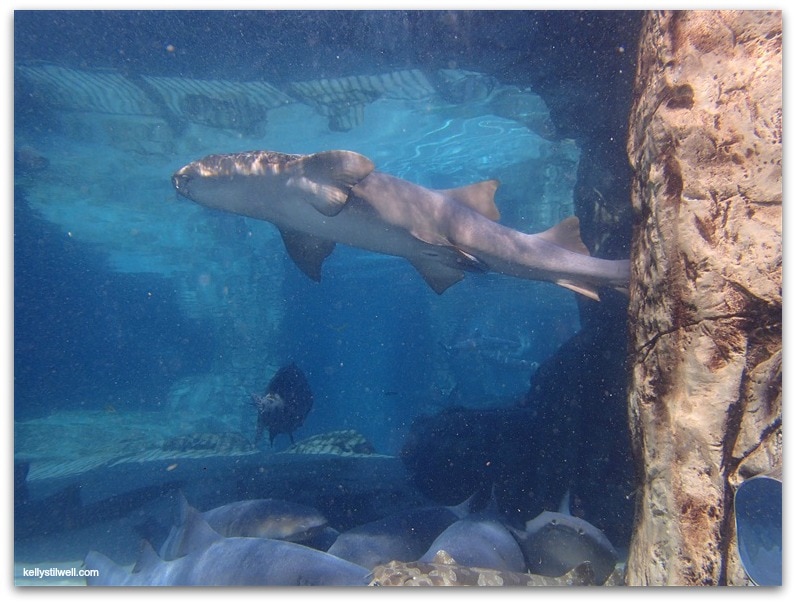 We did come in contact with all kinds of fish, rays, lobsters, and other creatures. It was very cool. At the end, our hosts fed the fish and it was quite a frenzy!
The Grand Reef is really beautiful as Discovery Cove uses a unique technology for maintaining the coral. Each piece weighs almost a ton, and is inflatable! When it's inflated, it floats to the surface for easy cleaning. Brilliant! There are over 90 pieces of inflatable coral, so it's still quite a job. The water is so clear you have to wonder how they are able to keep it that way. The word is that you will have to keep wondering, because the recipe for the salt water is a closely guarded secret. We had so much fun exploring. Don't miss this when you visit Discovery Cove!
One of my favorite finds at Discovery Cove is the cabanas. We had our own private cabana stocked with water, a table and chairs, chaise lounges and towels. It was so awesome to just relax in between our different activities. The cabanas are an additional fee, but so worth it.

We were able to hang out for a while and see some of the animals at Discovery Cove. I watched this marmoset for a long time. He was not bothered at all by me snapping pictures.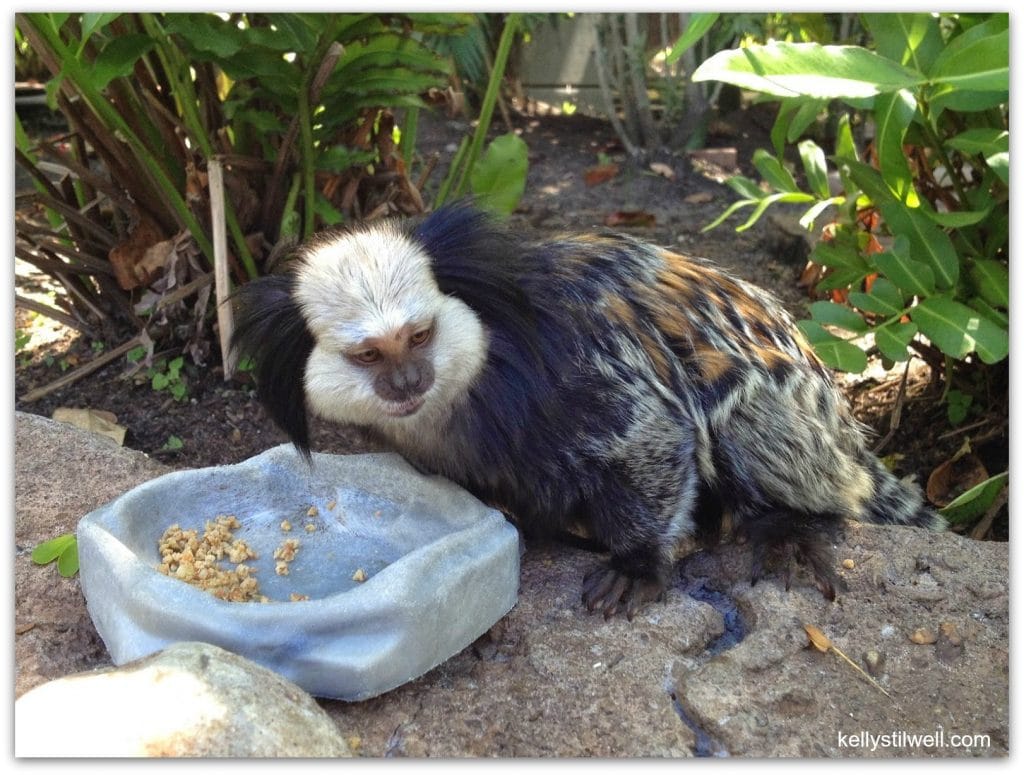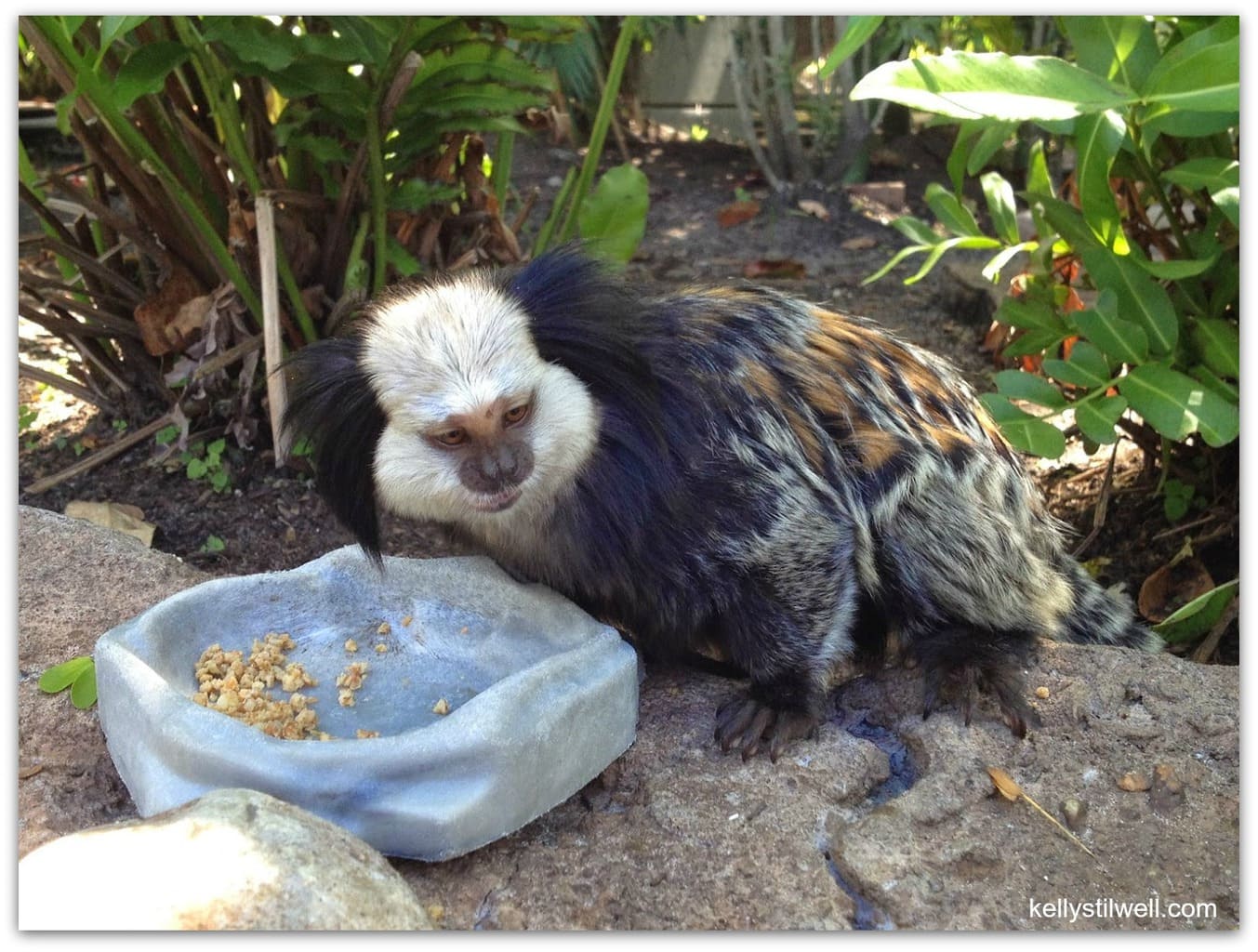 The otters were really fun to watch, too, and I loved feeding the birds!
There is so much to do at Discovery Cove that I couldn't fit it all in one post. My absolute favorite activity? Swimming with the dolphins! That post is coming soon, along with our Sea World experience. You're going to love it!