This guide will help you know where to find the best Juneau breweries when you're on a cruise and coming into the Juneau Alaska cruise port.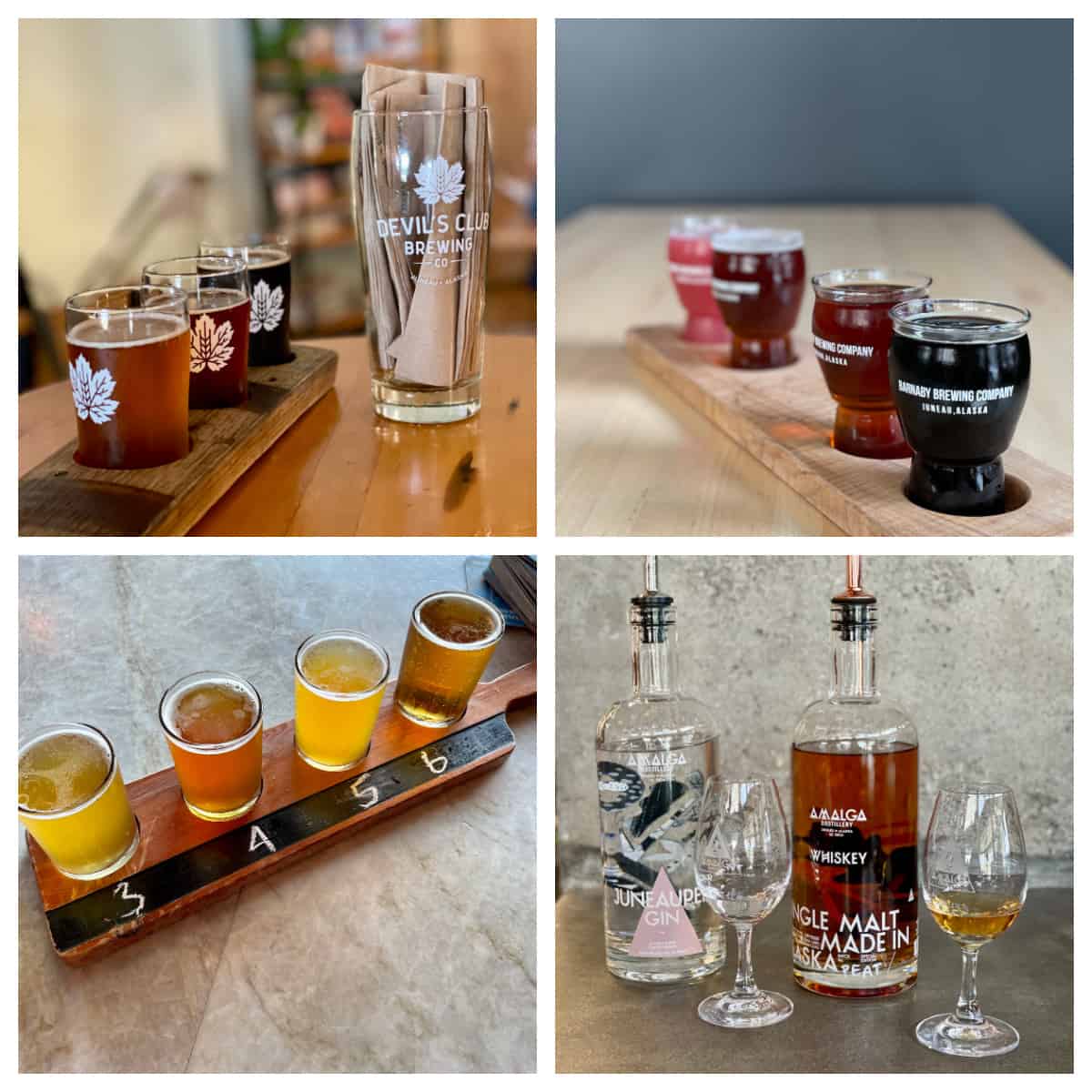 I love discovering local craft breweries when visiting new destinations, and the fun town of Juneau has four breweries and a distillery to try.
We created our own brewery tour, so beer lovers have the info ahead of time and can relax and enjoy the local beer.
Check out our Holland America Alaska excursions review and start planning your bucket list trip!
Where is Juneau?
The capital city of the state, Juneau is located in the Alaska panhandle. Though it's the second largest city in the United States by area, its nearest neighbor is a huge ice field from which about 30 glaciers flow.
If it sounds like it's in the middle of nowhere, you'd be right. You can only get to Juneau by boat or air. It is inaccessible by road.
Before you write Juneau off, it is a fabulous stop on a cruise! We had so much fun exploring this surprisingly metropolitan city when we sailed with Holland America. A cruise is a wonderful way to see the great state of Alaska!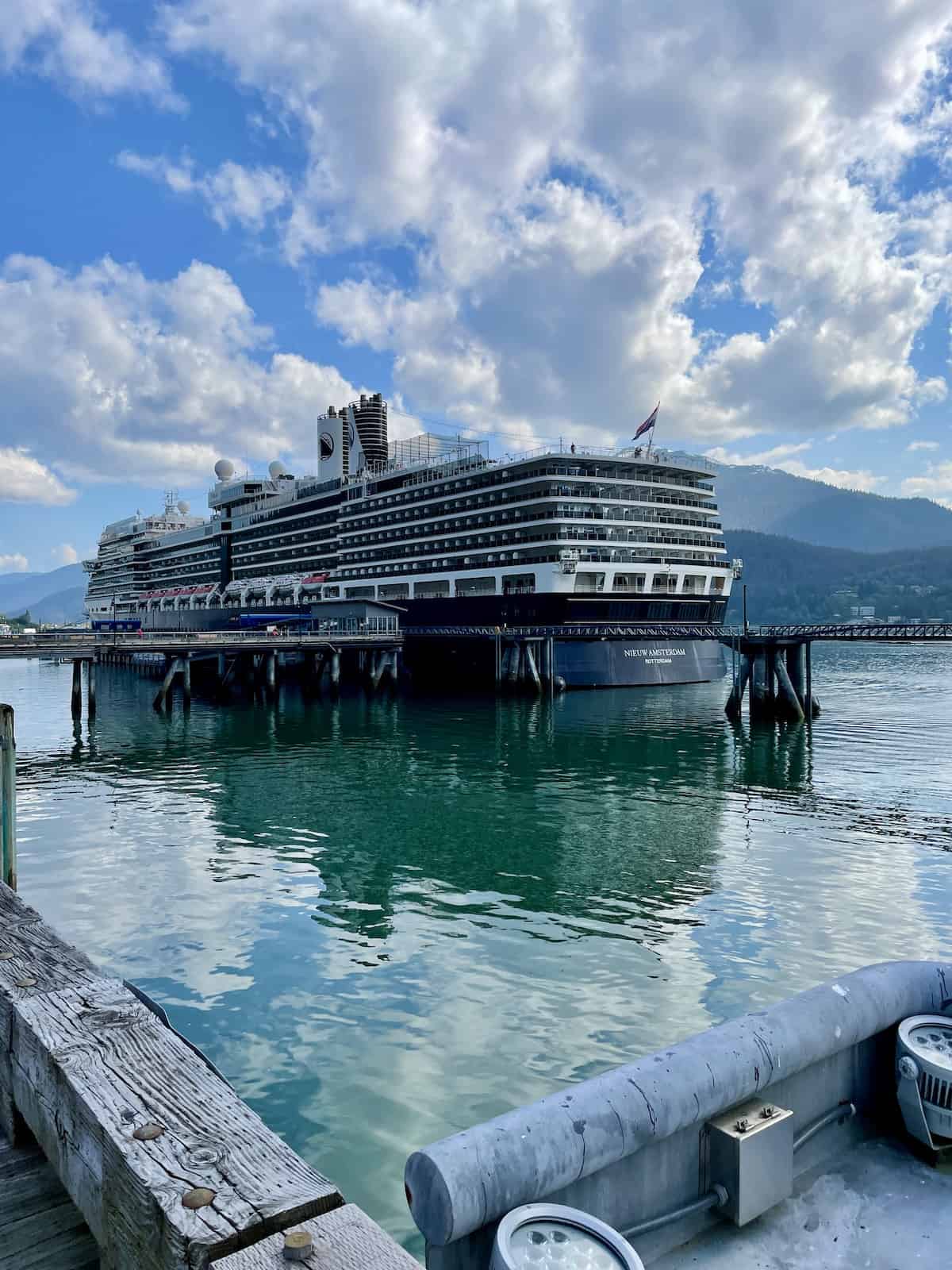 And yes, we saw whales! You can see different types of whales at different times of year, so be sure to read about the best time to see whales in Alaska before booking your trip.
Juneau Breweries to Visit
Devil's Club Brewing Company
Devil's Club Brewing Company is a brewery and restaurant. Their story is an interesting one, with three Juneau boys who wanted to create a successful brewery in Juneau. So they did! All three boys have a rich history of brewing.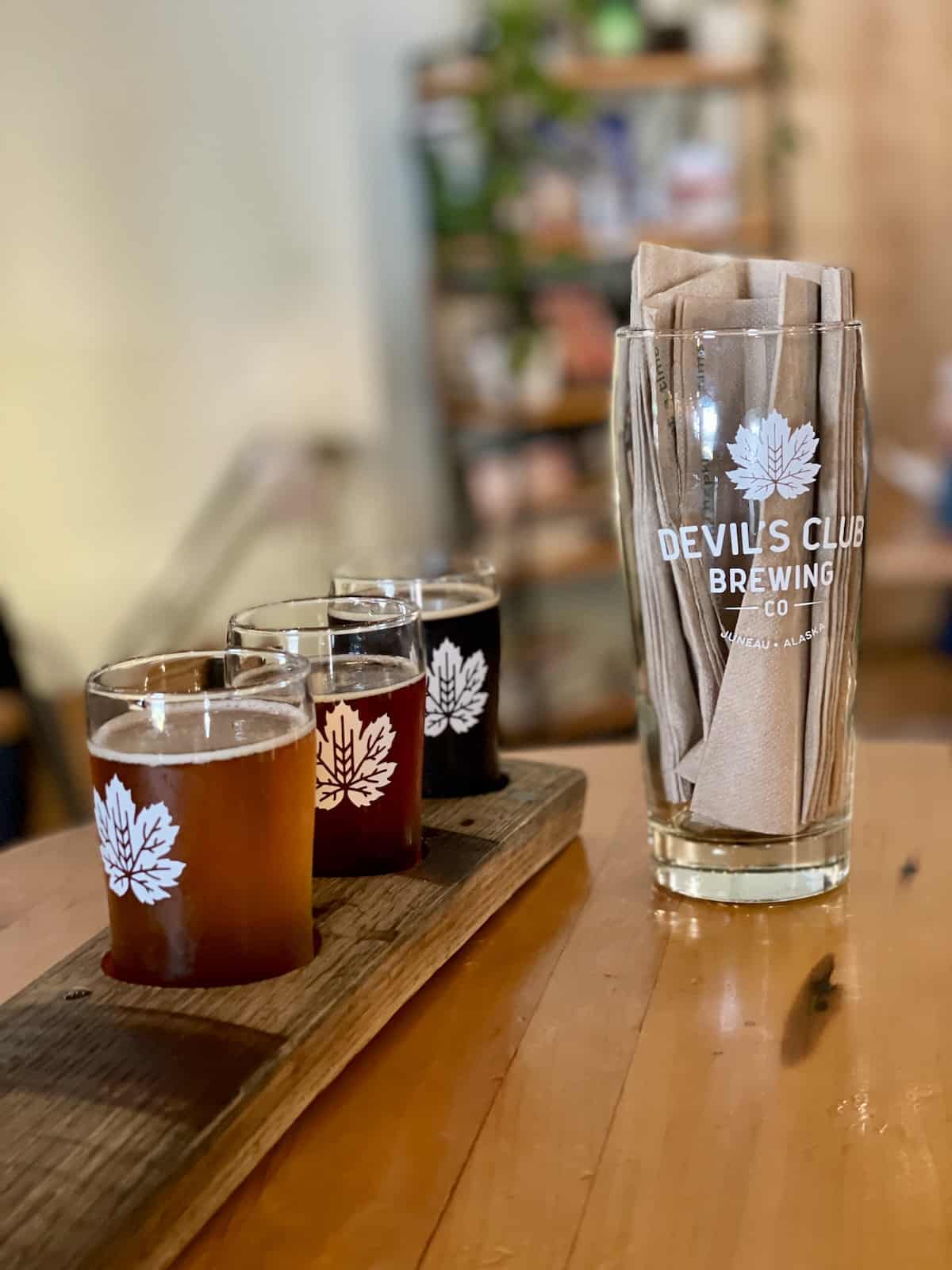 We enjoyed visiting this friendly spot. We ordered a flight as we normally do at new places. It's a great way to see what you like.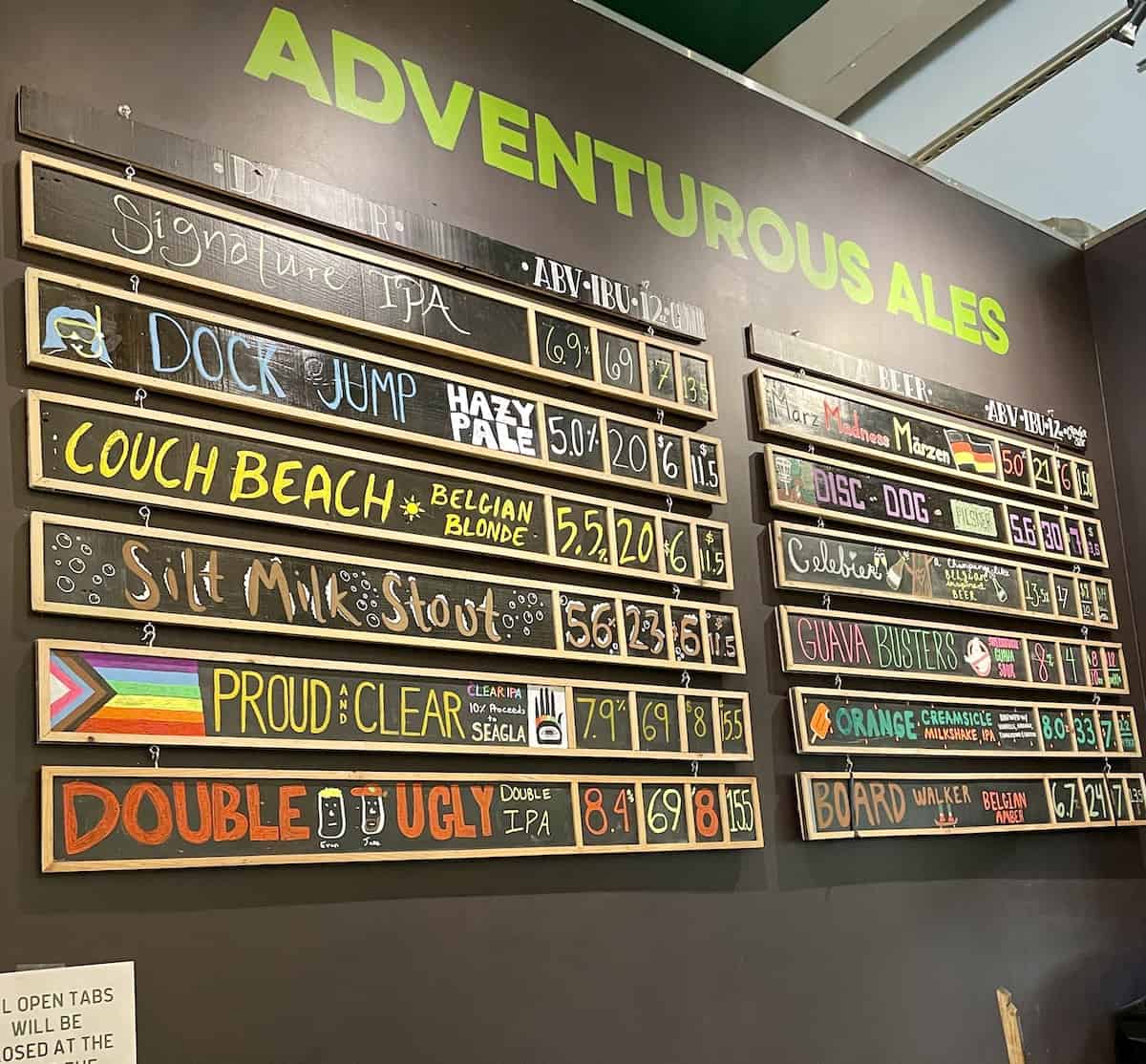 I loved the Silt Milk Stout and the Couch Beach Belgian Blonde. The food looked good, too.
Address: 100 N Franklin St, Juneau
Hours: Tuesday through Saturday, 11 a.m. until 8 p.m. Closed Sunday & Monday.
Barnaby Brewing Company
Check out a large variety of local craft beers at Barnaby Brewing Co.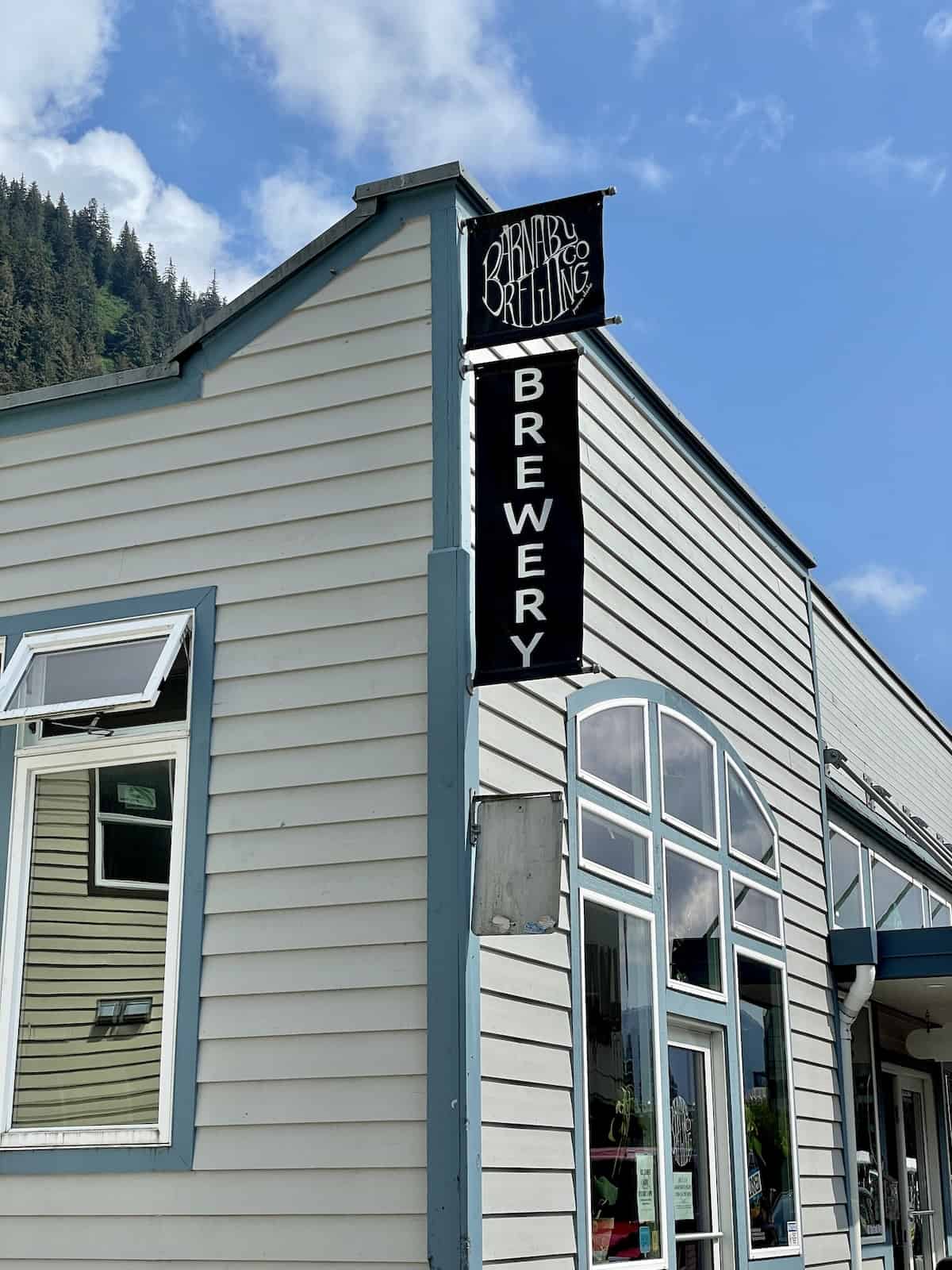 We tried the Spruce Tips Pale Ale - really refreshing and only available in summer.
We also had a flight with a stout, an amber ale, porter, and a fruity beer I don't recall because I probably didn't like it. I loved the stout, of course!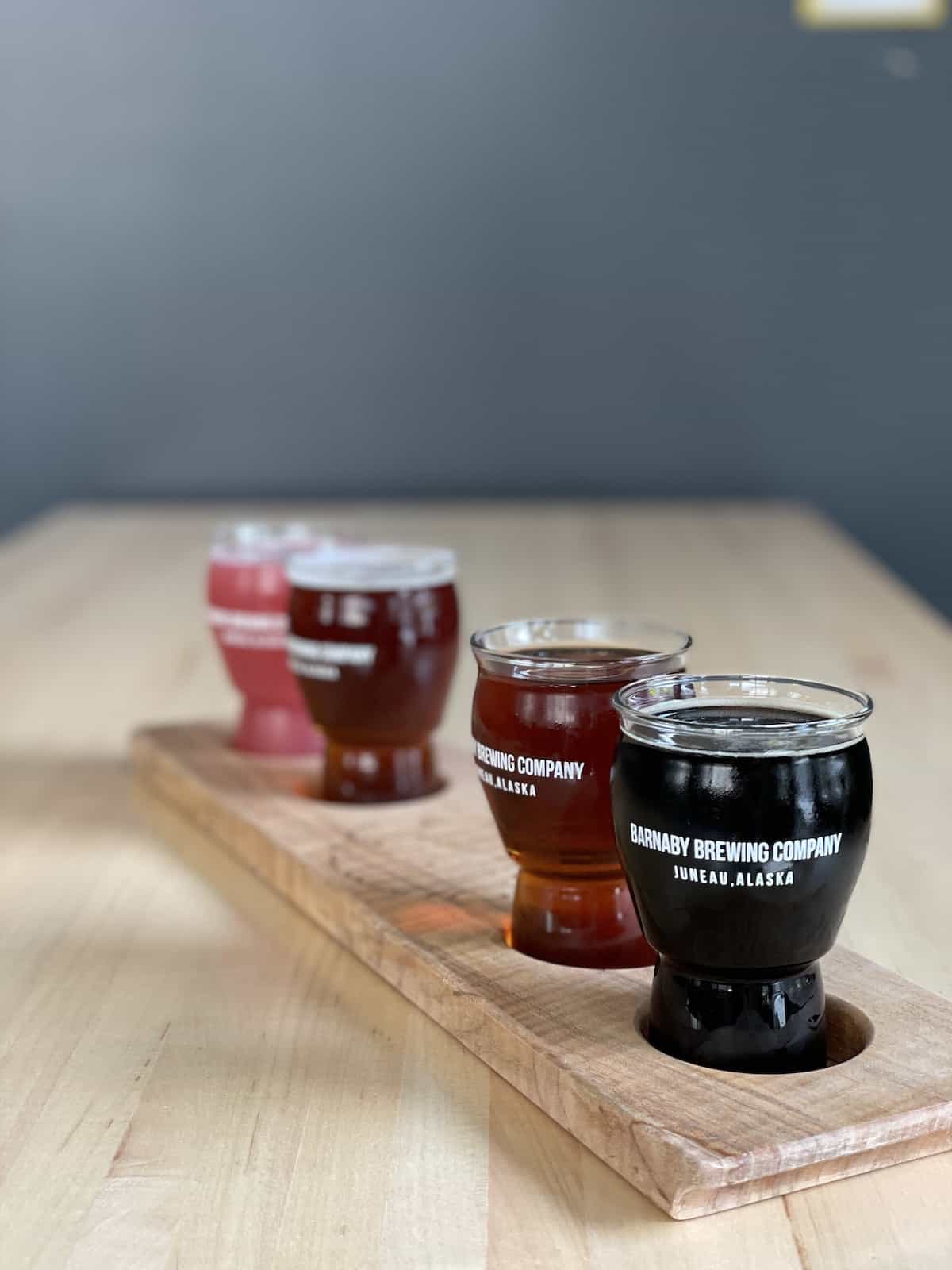 They don't have food but you are welcome to bring it with you or have it delivered so you can enjoy it with a couple of delicious beers.
Address: 165 Shattuck Way, Juneau
Hours: Wednesday through Friday, 4:30 p.m. until 8 p.m. Saturday, 4 p.m. until 8 p.m. Closed Sunday through Tuesday.
Forbidden Peak Brewery
I'm really bummed that we didn't get to visit Forbidden Peak as I heard they had good beer and a fun atmosphere. They have a lot of beer choices, including a Pumpkin Dunkel for fall that I would love to try!
They partner with Red Spruce AK, offering burgers, a salmon burger, salads, and a Bavarian pretzel that sounds incredible.
I see a lot of breweries partner with food trucks here in Florida, and I think it's brilliant to bring food in. Especially with a menu like Red Spruce AK!
Address: 11798 Glacier Highway, Juneau
Hours: 11 a.m. until 8 p.m. every day.
Alaskan Brewing Company
We didn't make it to Alaskan Brewing Co as we had limited time and were told getting a ride back might take a while, but we did try a flight while at The Hangar On the Wharf.
Ask to see the menu of Alaskan beers as they had quite few to choose from. We went with a flight of Alaskan White, Alaskan Juneau Juice, Alaskan Island Ale, and Alaskan Kölsch.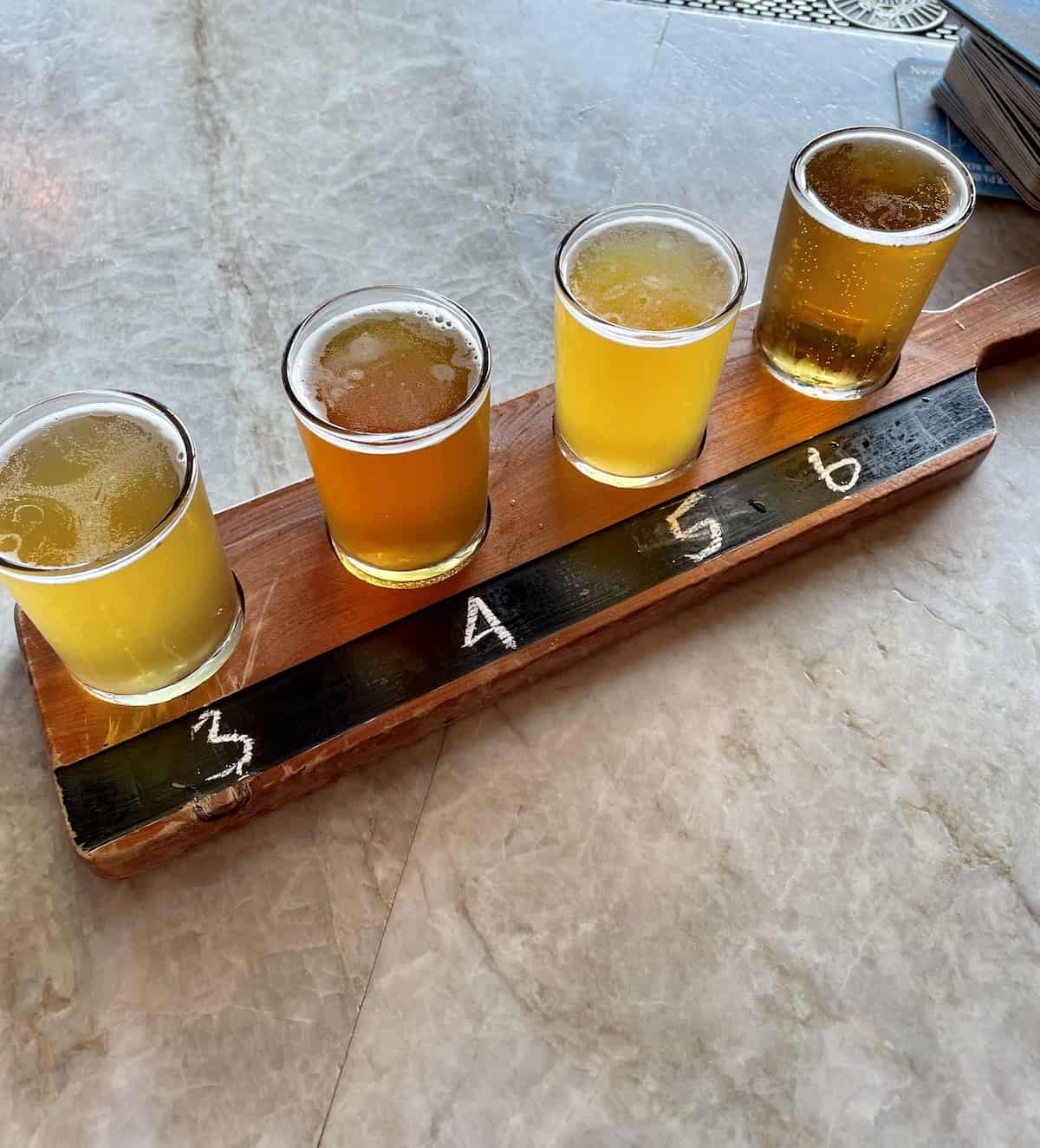 We enjoyed everything we tasted. It must be that cold glacial water!
Alaskan Brewery was the first brewery in Juneau since prohibition and the 67th independent brewery in the country. Their first beer was inspired by the Gold Rush era. The history alone is reason to visit!
I heard the brewery tasting room was a great place to hang out and meet the locals and wish we'd had time. Maybe next time. Take a walk through the gift shop before heading out.
You can also shop for Alaskan Brewing Co. specialty beers at Alaskan Brewing Co. Depot located at 219 S Franklin St.
Address: 5364 Commercial Blvd, Juneau
Hours: 11 a.m until 7 p.m. every day.
Amalga Distillery
Not a brewery but had to mention, Amalga Distillery was a fun stop. This lively bar was packed and they were serving all kinds of creative cocktails on draft. The menu rotates, so you never know what you might find!
Known for their gin and whiskey, you really should do a tasting. Many of their batches sell out, so if you're a fan, get it while you can.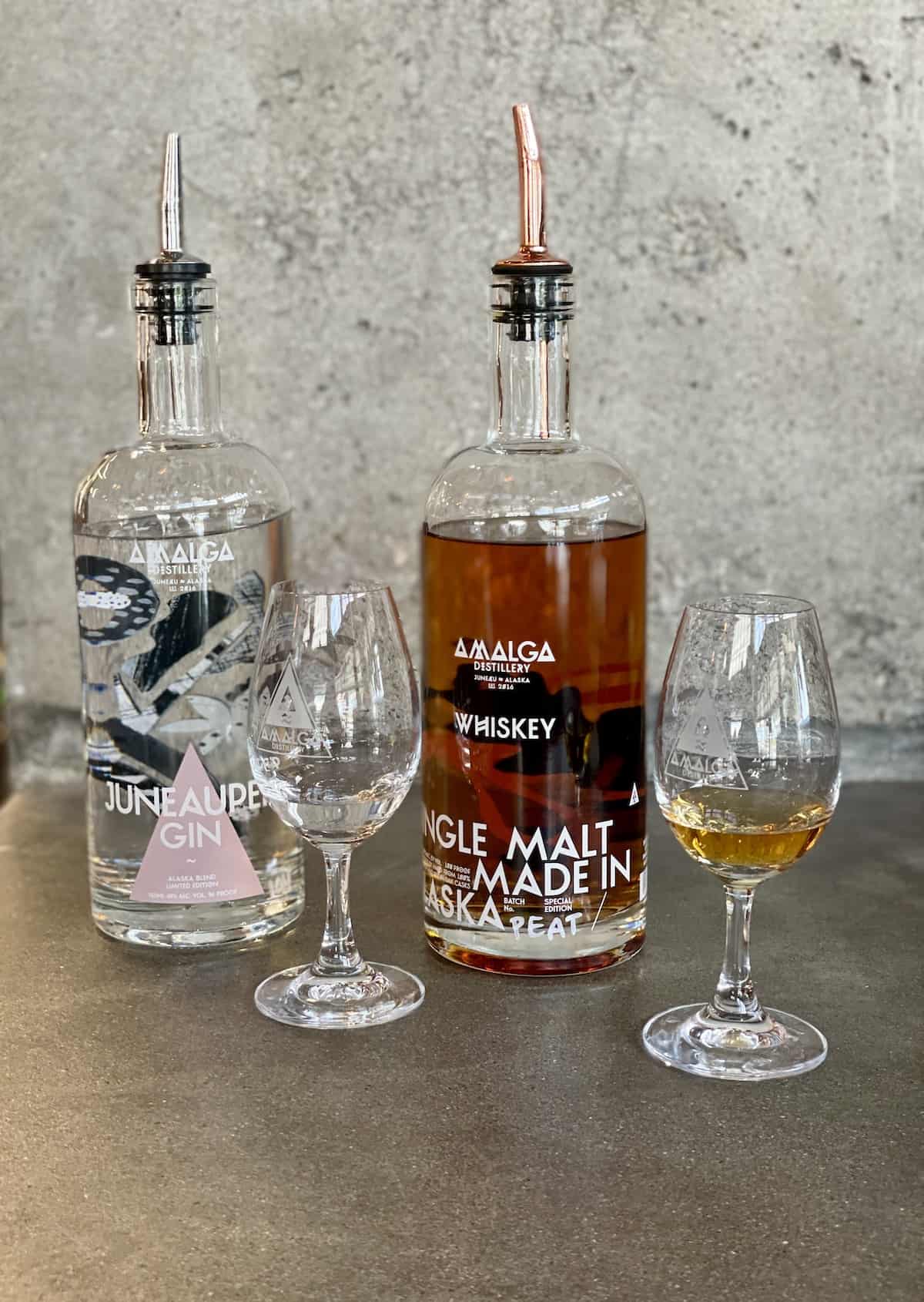 Address: 134 N Franklin St
Hours: Monday through Friday, 1 p.m. until 8 p.m. Open at noon on Saturday and Sunday.
Other Things to Do in Juneau
Of course, there is a lot to do in Juneau besides drink beer (and gin) and we did explore before heading to the breweries!
Mendenhall Glacier And Juneau Tram
Our excursion choice for the morning was to take the Juneau Tram up 1,800 feet above the city to the Mendenhall Glacier and Visitor's Center.
The excursion is around four hours, but you can take as much time as you need as long as you are back to the ship in plenty of time before sail away.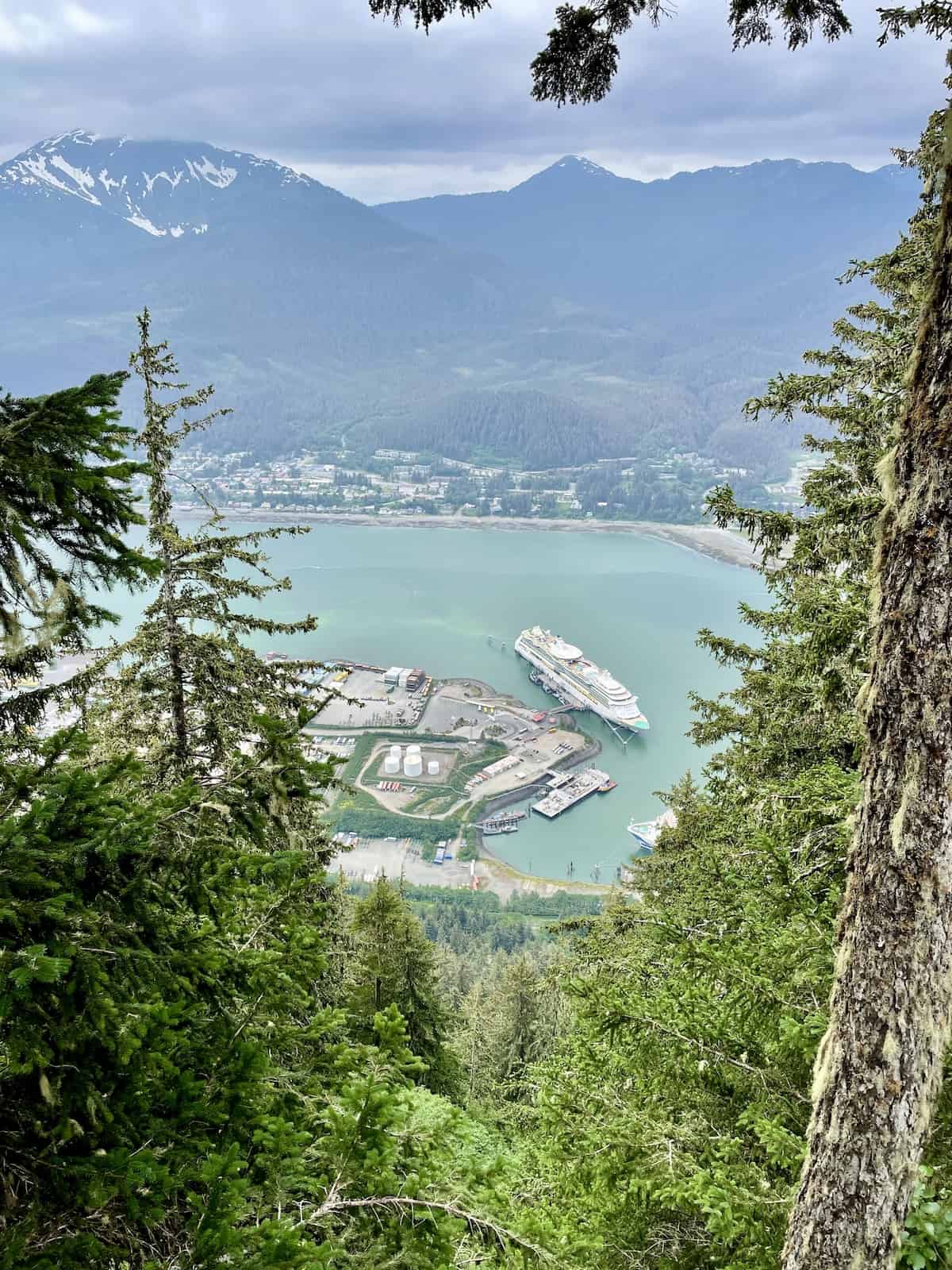 The excursion begins with a narrated tour of Juneau where you'll also get briefed on what you'll want to see once you take the Tram up Mount Roberts.
The Mendenhall Glacier along with 37 other glaciers make up the Juneau Ice Field, which is 1,500 square miles remaining from the last ice age. You can learn about the glacier in the Visitor Center by watching the 15-minute film.
Stop in to Raven Eagle Gifts where you can watch local artists create traditional pieces. When we were there, this Tlingit local was creating a full size Totem Pole for the city of Juneau.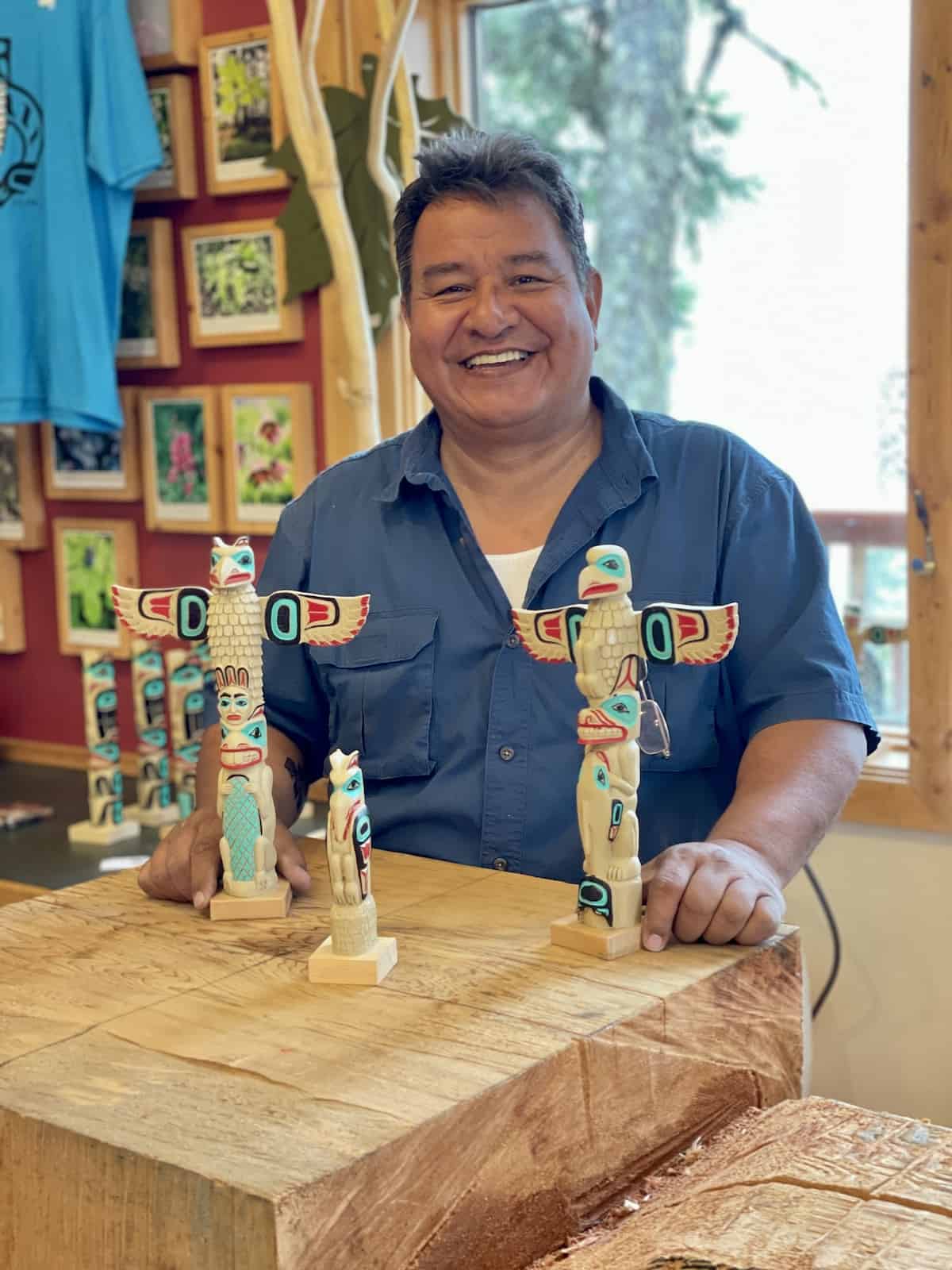 So you can see how huge this will be!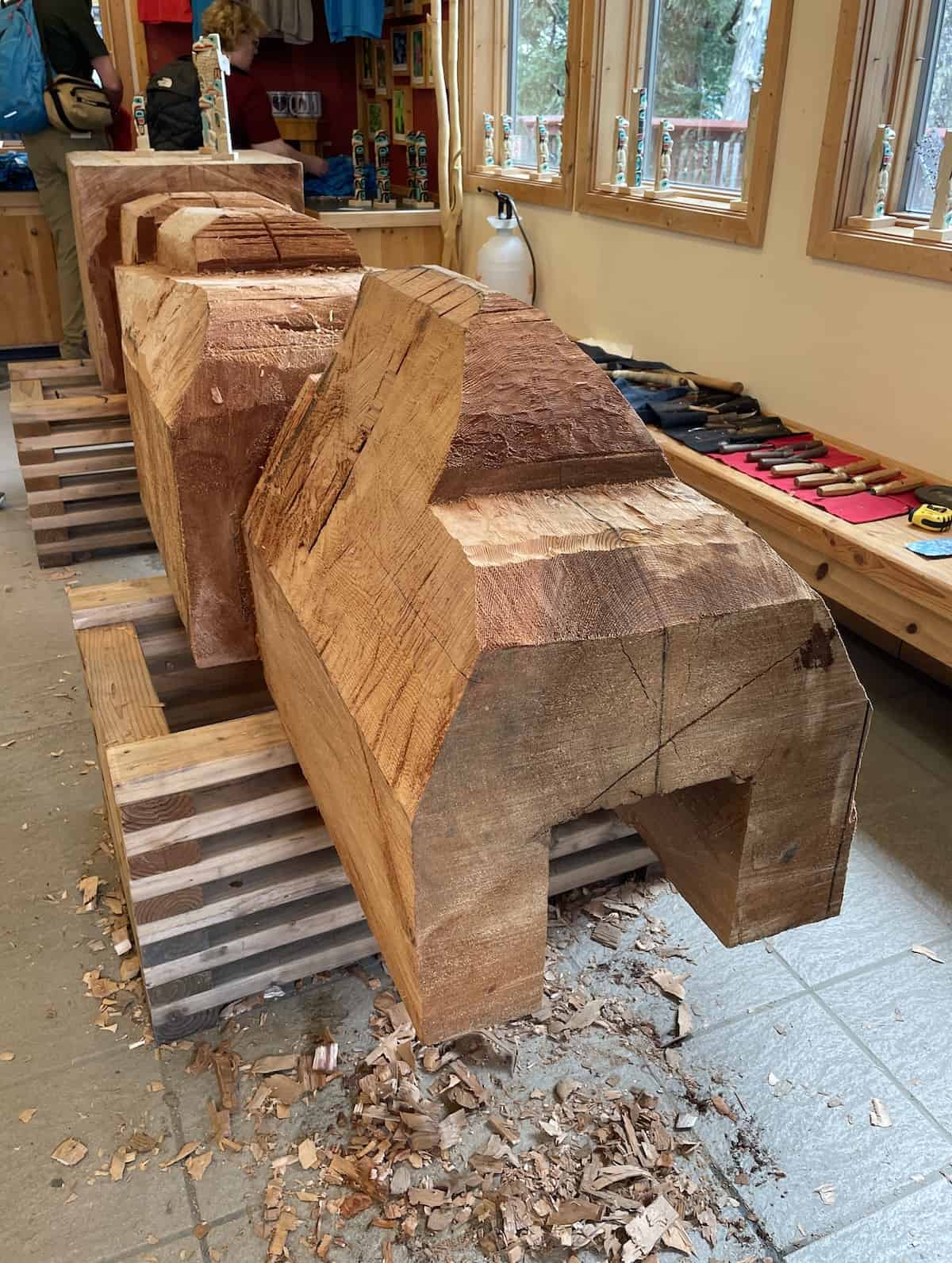 Then it's time to get out on one of the trails. Pick up the Mount Roberts Trail Guide before leaving the Visitor Center for trail suggestions and safety information.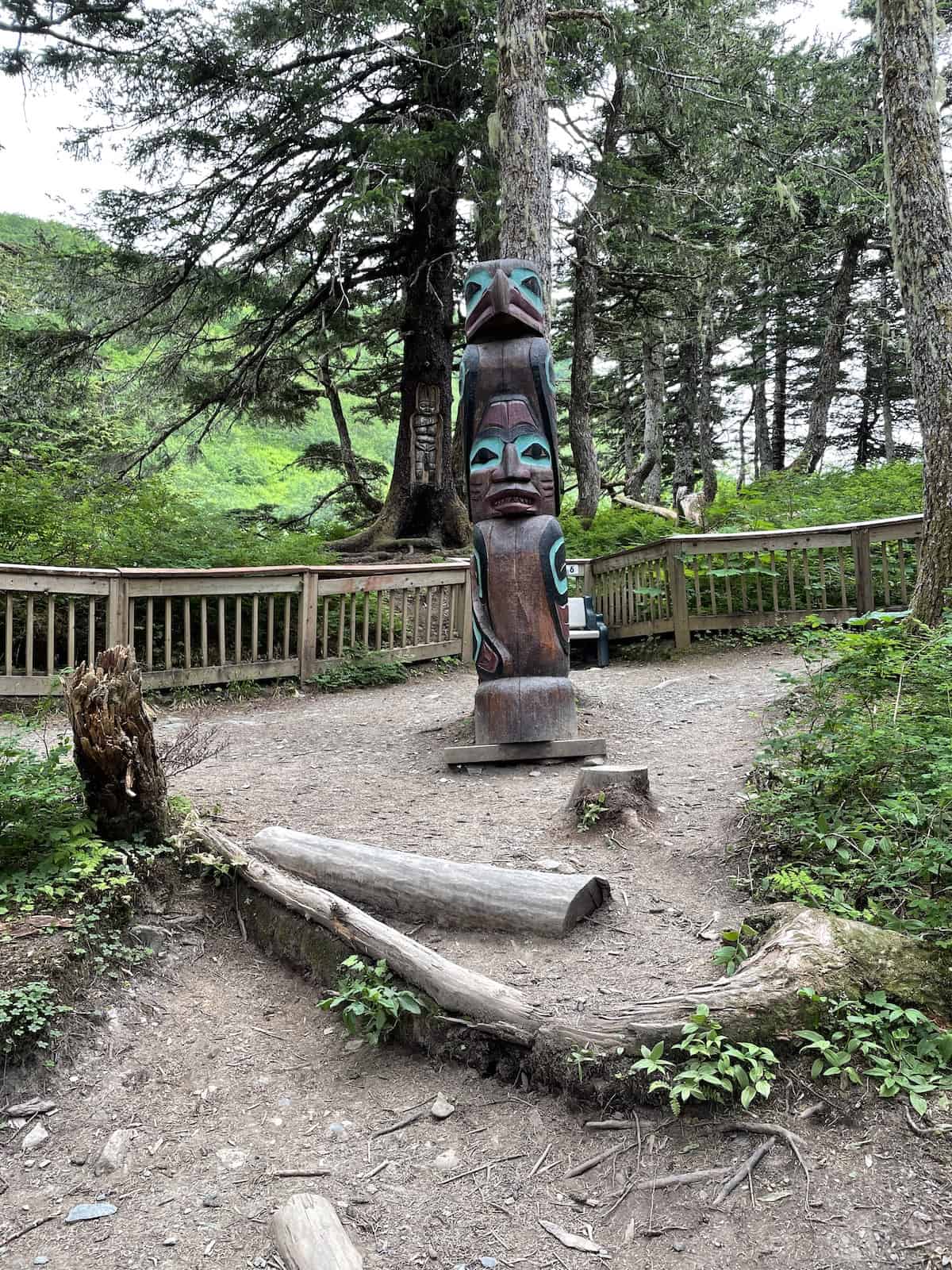 It's quite a trek to get to the Glacier, so be prepared with good walking shoes. Another option is seeing the Glacier from a seaplane or landing on it in a helicopter. Be sure to book these early as they often sell out.
Whale Watching
As Alaska is one of the best places in the world to see whales, we booked a second Holland America excursion in Juneau. We went out on a deluxe catamaran and were guaranteed to see whales, which we did!
We would move to one side and one would come up on the other side. Our captain knew where to find them!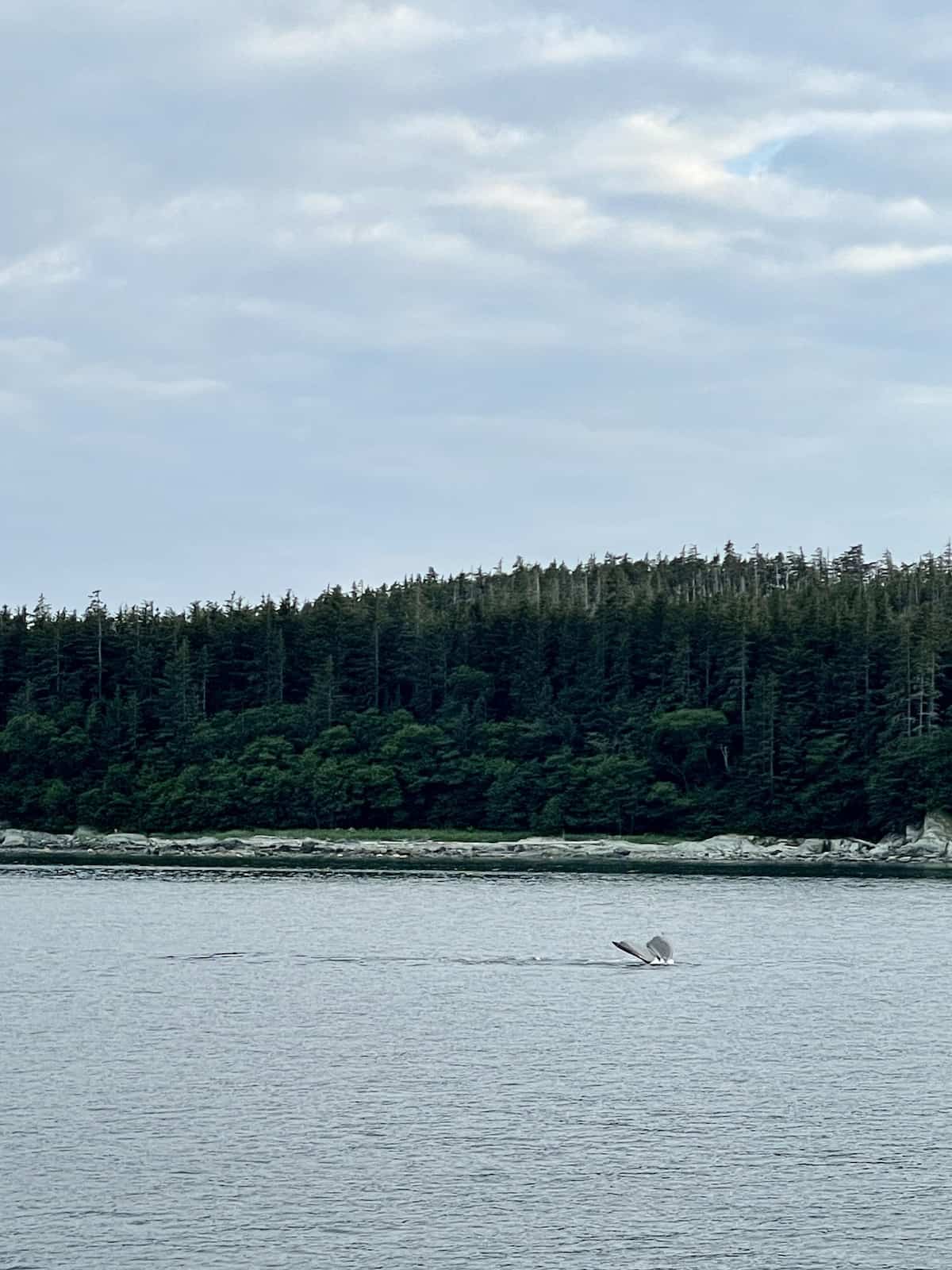 The whale watching experience included dinner with a buffet of local specialties like halibut, reindeer sausage, shrimp, smoked meats and cheeses. Dessert was Alaska Wild Berry Brownies and Chocolate Chip cookies.
There is a bar for purchasing soft drinks and beer, including a few local favorites.
Shopping
Planning to bring back souvenirs? Downtown Juneau is a great spot for picking up traditional handmade gifts like jewelry, clothing, and fun novelties at the local gift shops. You'll also find a lot of restaurants, so spend the day eating and exploring!
Have you been to Alaska? It was definitely a bucket list trip!
FAQs
Can you walk to the breweries from the ship?
You can walk to the breweries we visited as that was what we did. Forbidden Peak and Alaskan Brewing were both about 20 minutes from downtown.
Can you bring beer home from Alaska?
You can bring beer home in checked luggage, but not your carryon.
Is Alaska cold all the time?
It's not cold during summer. I visited in July and the weather was beautiful, probably in the mid-60s. Normal temps during the day are low 60s in June, July, and August.
Like our content? Follow us on Pinterest!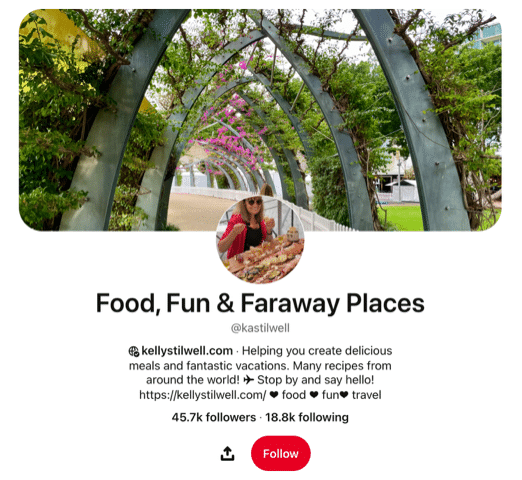 More Pacific Northwest Travel Stories