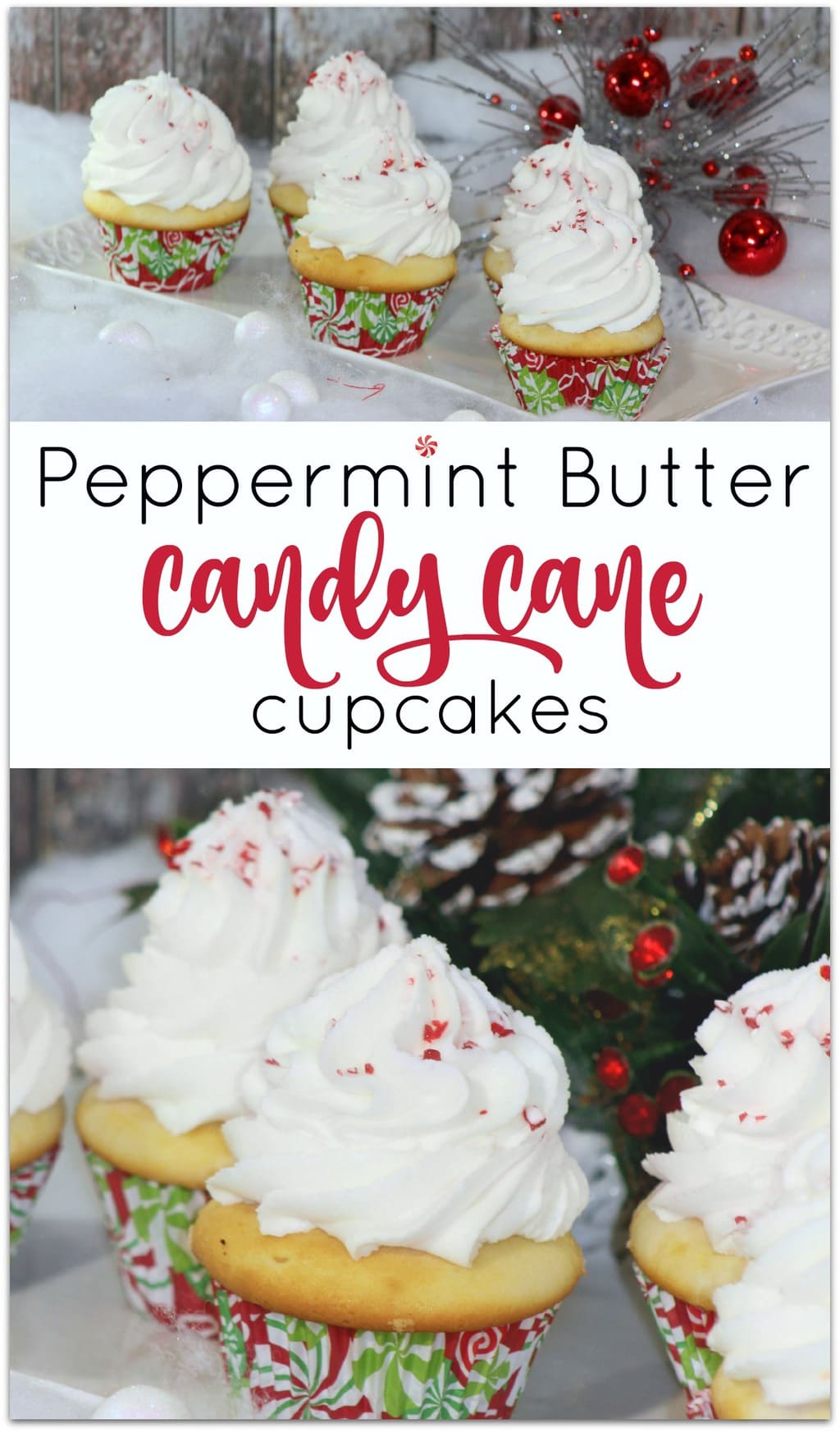 Who wants a Christmas cupcake? I've told you before that cupcakes are one of my favorite desserts for parties and celebrations, especially when kids are involved. This is an easy dessert recipe, but the result is just beautiful! As I always say, don't buy cupcakes when you can DIY! Want to be able to produce a beautiful topping of frosting like you see here? My secret is the Wilton Dessert Decorator Pro
! You won't believe how easy it is to produce professional looking desserts!
Peppermint Butter Candy Cane Cupcakes

Cupcake Ingredients:
3 C flour
¾ tsp baking powder
¼ tsp tsp salt 
1 tsp vanilla
¾ tsp almond extract
1 ½ C unsalted butter, room temp
1 ½ C sugar
5 eggs, room temp
1 C whole milk
1 box small candy canes, crushed
Frosting Ingredients:

1 C soft unsalted butter
4 + C powder sugar
4 TBSP heavy whipping cream
1 tsp peppermint extract
1 bag of peppermint bits

Cupcake Directions:

-Preheat oven to 350 degrees. Line cupcake pan with paper liners.
-Whisk flour, baking powder, and salt together in a bowl. Set aside.
-Using an electric mixer cream the butter and sugar together until light and fluffy.
-Add the eggs, one at a time, mix well after each addition.
-Stir in the vanilla and almond.
-Slowly add the flour mixture alternately with milk, mixing well after each addition.  Start by adding the flour first.
-Add crushed candy canes to the batter.  Mix well.
-Using an medium ice cream scoop fill each lined cupcake tin ⅔ rd's full.
-Bake at 350 degrees for 18-21 minutes or until a inserted toothpick comes out clean.
-Allow the cupcakes to cool in the pan for about 10 minutes.
-Transfer the cupcakes onto a wire rack to cool completely.
Frosting Directions:
-Cream the butter, peppermint extract and powder sugar until it looks light and creamy.
-If it doesn't cream add several drops of the heavy whipping cream until it creams.
-Test to see if the frosting can form and hold a stiff peak by taking a spoonful of frosting and turning the spoon upside down. If the frosting stays on the spoon it is ready if not then....
-Add more powder sugar ½ C at a time.... mix well.
-If ready scoop the frosting into a pastry bag with a large round tip.
-Twist the open end of the pastry bag to push the frosting to the tip.
-Start by frosting on the outside edge of the cupcake working to the center of the cupcake.
-Sprinkle the top of the frosted cupcakes with peppermint bits.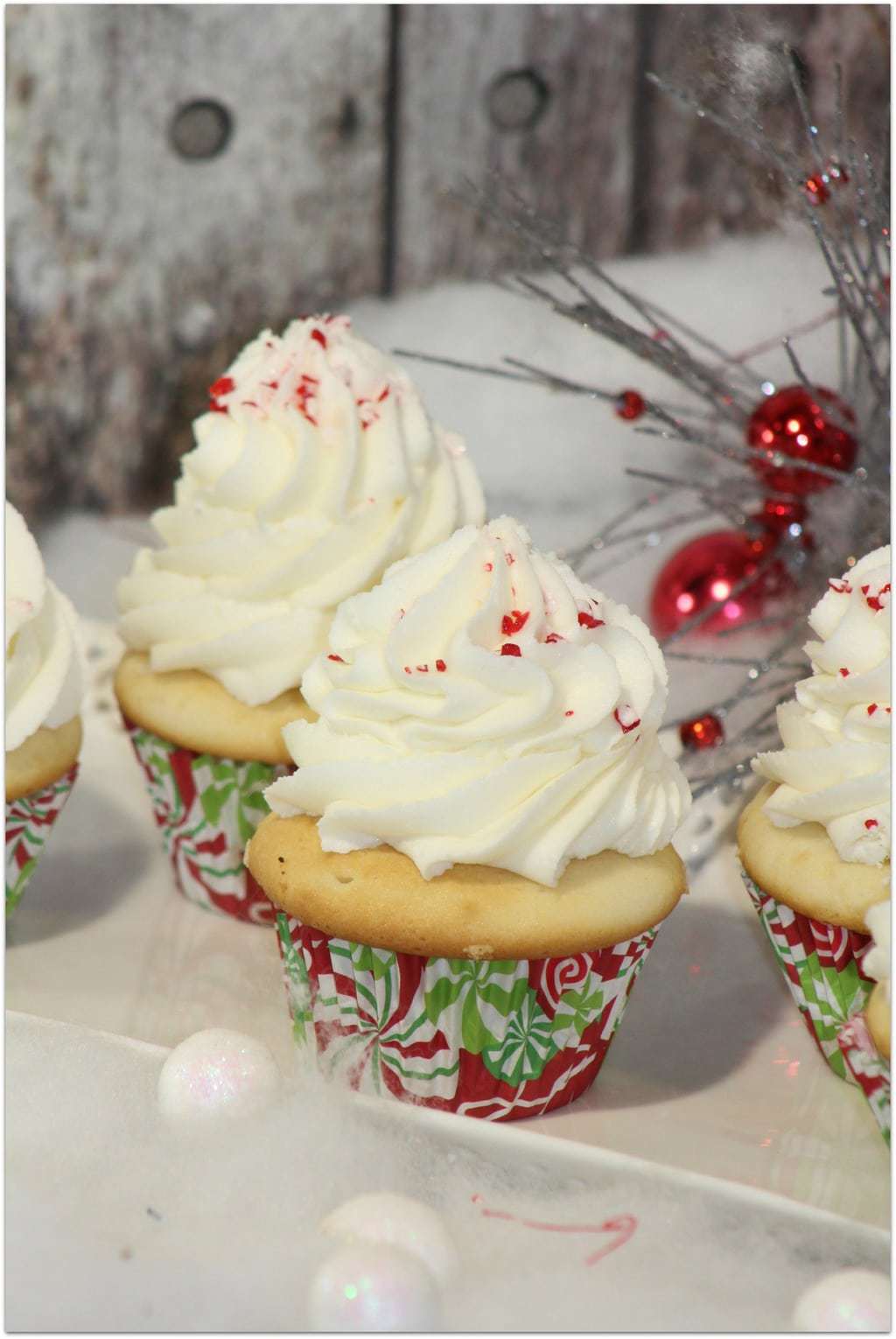 Don't you just love these Candy Cane Cupcakes? Looking for more Christmas desserts? You'll love these Cranberry Bliss Cupcakes and this round up of 23 Christmas Cookies has something for everyone!