Looking for the ultimate CityWalk Orlando Restaurants List? We've got you covered.
If you're visiting the Universal Orlando Resort, you can't miss CityWalk. You have to walk through portions of CityWalk to get from Universal's parking garage to the theme parks.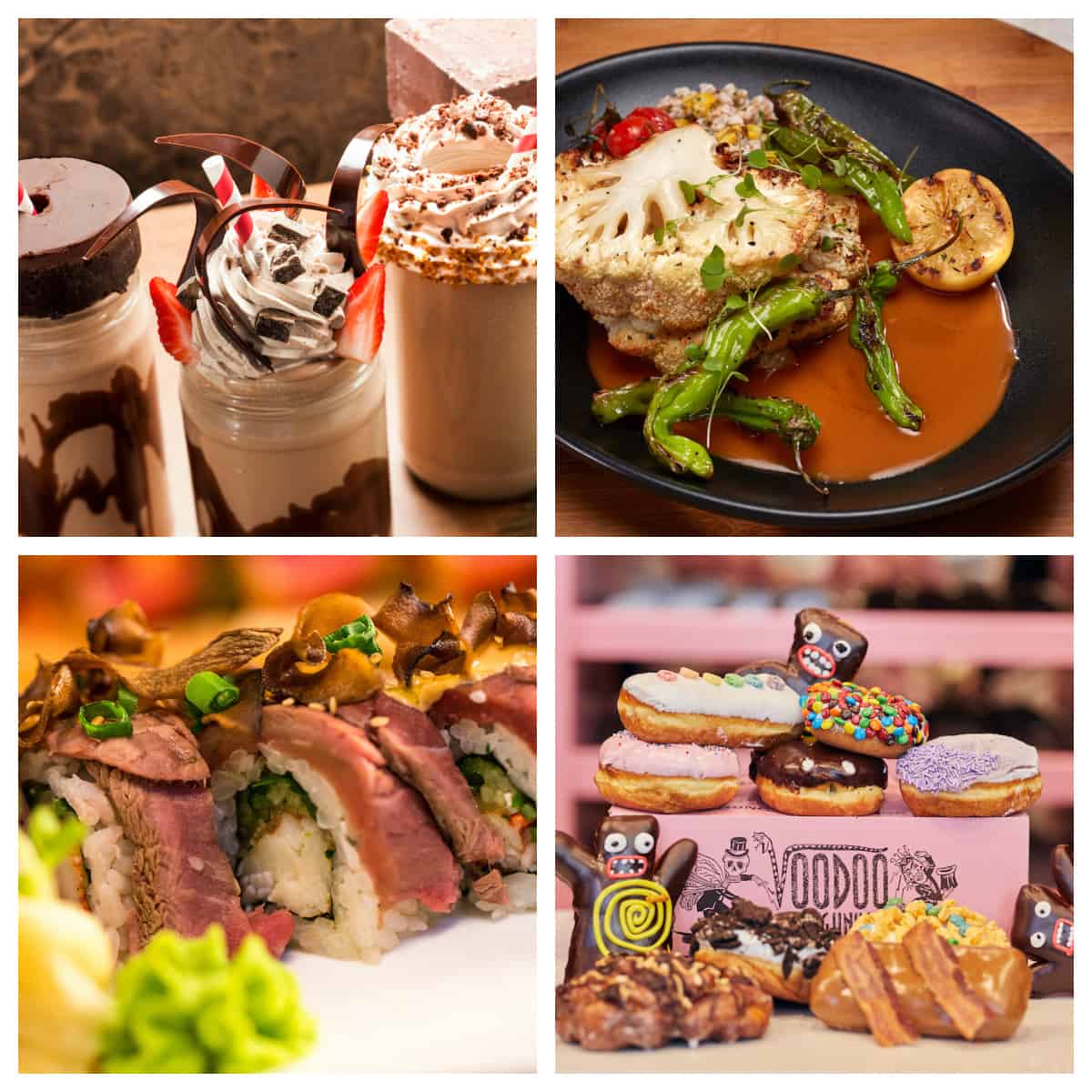 Because it hosts an incredible assortment of restaurants, you won't want to pass CityWalk by. Here are the restaurants you can find in this vibrant shopping, dining, and entertainment complex.
And while you're visiting, be sure to take some time to chill. Here's a list of things to do in Winter Park, which is really close. If your plans include hitting the beach, check out the best Anna Maria Island restaurants.
Where is CityWalk?
CityWalk is located at Universal Orlando Resort just southwest of Orlando at 6000 Universal Boulevard. It is situated conveniently between Universal's three theme parks, Universal Studios Florida, Islands of Adventure, and Volcano Bay.
This location makes it a great option for people in the theme parks or staying at one of Universal's on-site hotels. Except for the Endless Summer resort, you can walk to CityWalk from all of the resort hotels, the two theme parks, and Volcano Bay.
Check out these tips for visiting Universal's Volcano Bay so you can plan before you go!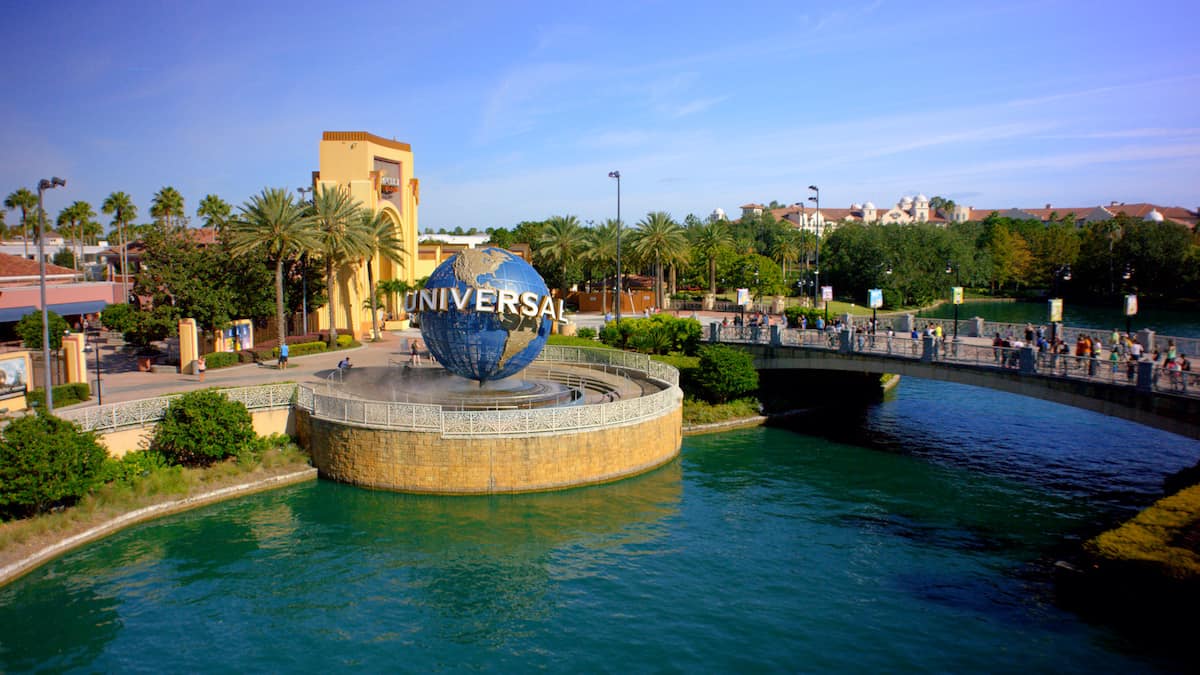 Why We Love the Area
By day, CityWalk provides a calm respite from the crowds at the Universal theme parks.
At night, CityWalk bursts with excitement. There's live music and entertainment, so many amazing places to eat, and a visual feast for the eyes.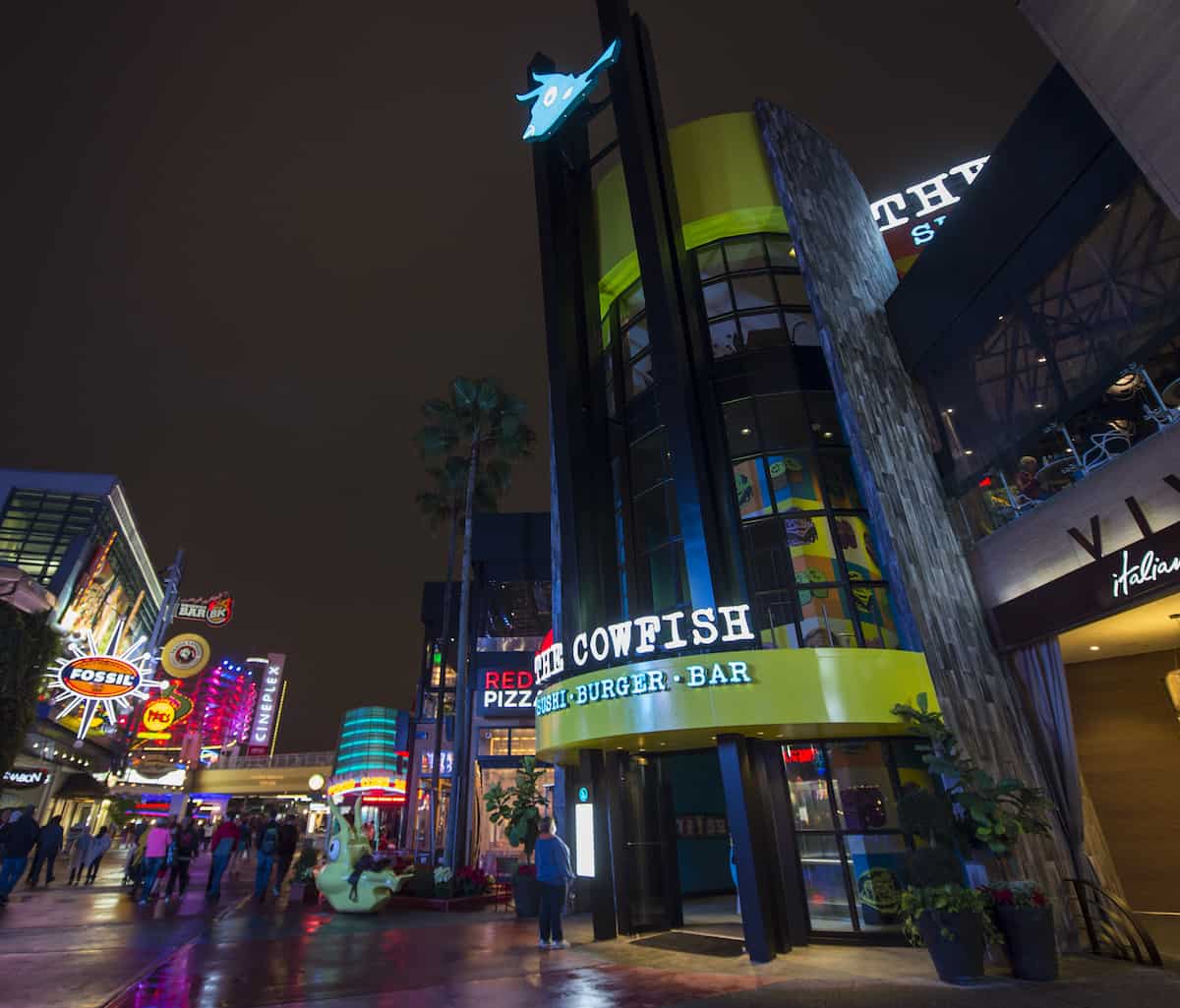 With many different restaurants in a short walk, mix it up with drinks at one place, appetizers at another, and desserts to round out your evening at yet another place.
Now that you have this CityWalk Orlando restaurants list, you can start planning that epic trip!
A Guide to Restaurants at CityWalk
When it comes to restaurants, CityWalk offers something for everyone. There are fast casual restaurants, sit-down restaurants for the whole family, and even a wide assortment of cuisines for any palate.
Here's what you need to know about the best restaurants at CityWalk.
Bigfire
Hearty, flame-kissed American fare is what you'll find at Bigfire. Their fire-grilled steaks satisfy fans of a meat and potatoes meal.
But one surprisingly popular dish is the Cauliflower Steak with spicy Shishito peppers and a charred tomato sauce. I love vegetarian fare- especially when it's this good!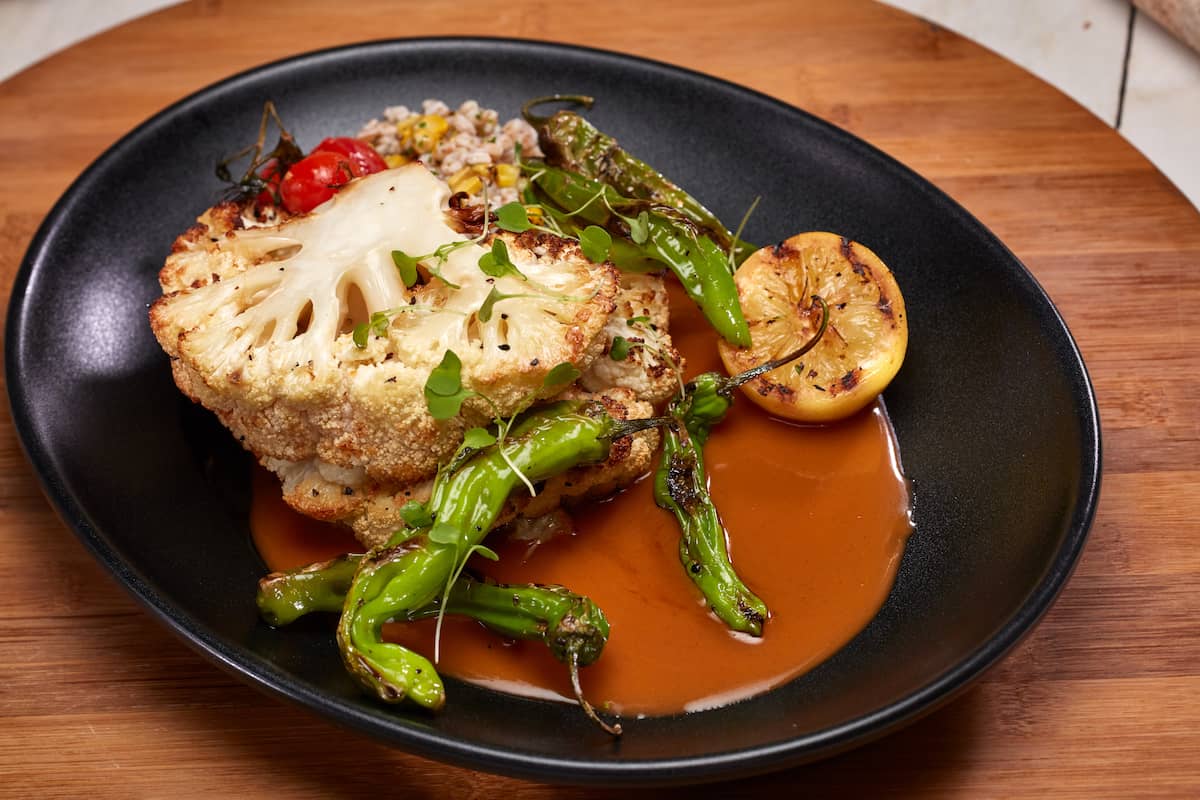 Many of the dishes at Bigfire are grilled over an open flame from cherry, pecan, and oak wood. Make sure to save room for dessert. Tableside S'mores is a fun way to end your meal.
Hours: Bigfire is open daily from 4:00 to 10:00 p.m. Outdoor seating is available.
Voodoo Doughnut
It's a doughnut shop – how good could it be? That's a question that is only asked by people who have never grabbed one of those signature pink boxes full of sugary goodness.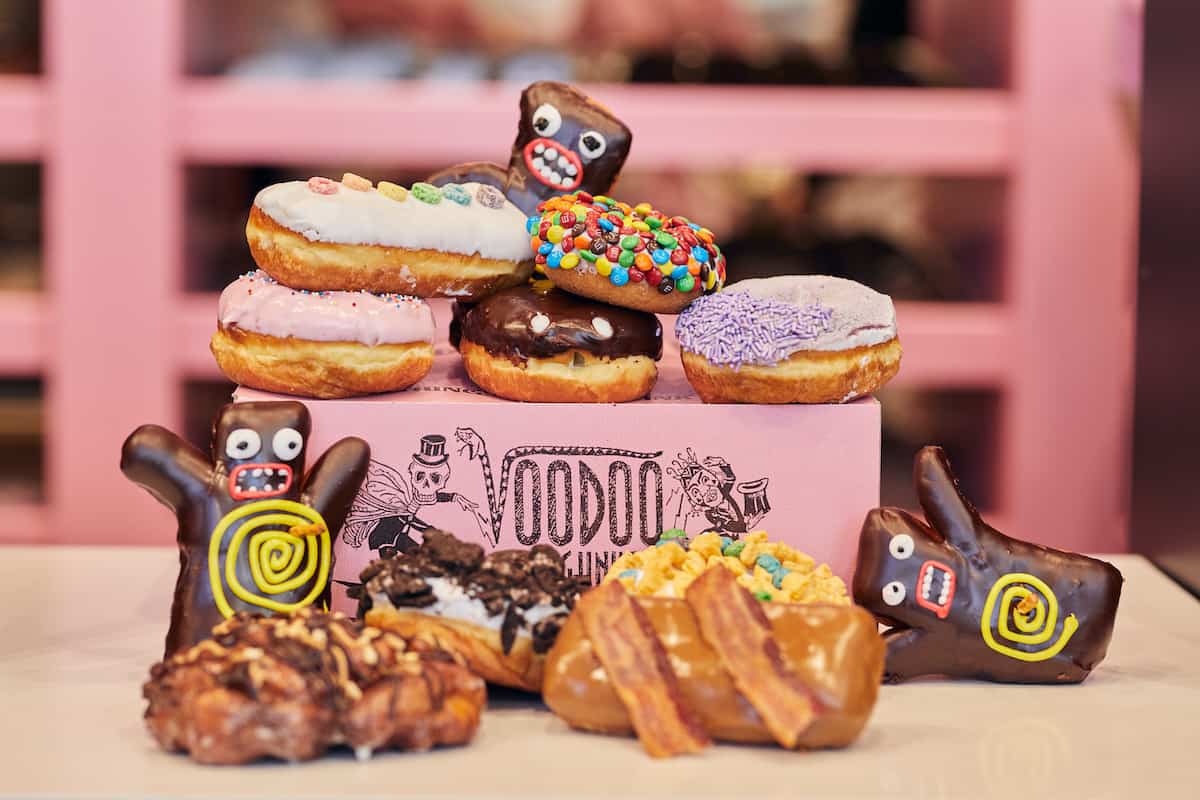 There's an incredible variety of doughnuts made fresh every day. The signature Voodoo Doll (raspberry jelly-filled donut with chocolate frosting and a pretzel stake) is both quirky and delicious.
Make sure to ask what the current signature flavor is. Voodoo Doughnut offers magical creations based on events at the Universal Orlando resort, like special offerings for Mardi Gras or Halloween Horror Nights.
Hours: Voodoo Doughnut is open daily from 8:00 a.m. to midnight.
The Cowfish
Sushi and burgers may not sound like a normal combination, but that's because Cowfish isn't your normal restaurant.
In addition to a gigantic selection of standard maki, sashimi, and nigiri, you can get one of a dozen fusion rolls. Add to that more than a dozen different burger choices, and that would be a drool-worthy menu to review.
But the real reason people talk about Cowfish is their Burgushi Rolls. These are the best of both worlds: a combination of burgers and sushi.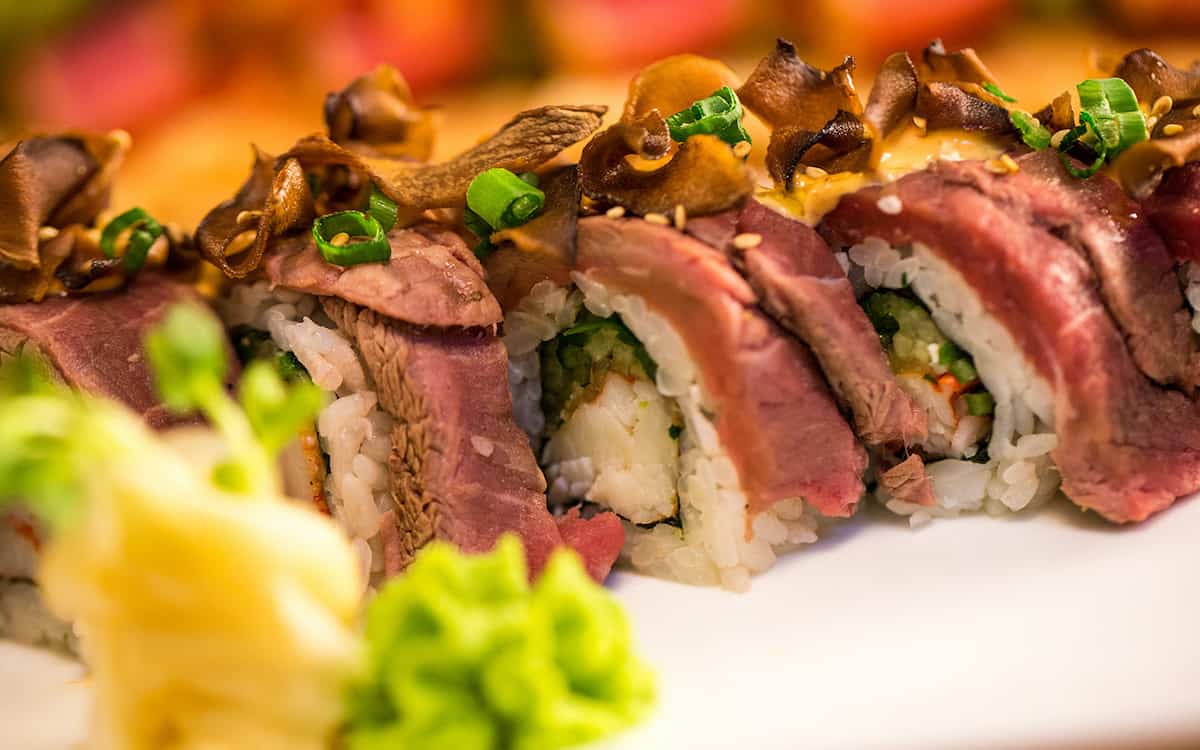 For example, the Bison Burgushi delivers a punch of flavors with seasoned bison and roasted red peppers that are made into a roll with sushi rice, tempura flakes, pickled green tomatoes, chipotle aioli, scallions, and cotija cheese.
Hours: Cowfish is open daily from 11:00 a.m. to 11:00 p.m. Outdoor seating is available.
VIVO Italian Kitchen
As the name suggests, VIVO Italian Kitchen provides modern Italian cuisine from authentic family recipes perfected through the generations. Start with the Fritto Misto (fried calamari, shrimp, zucchini, artichoke, and ricotta) for a delightful shareable appetizer.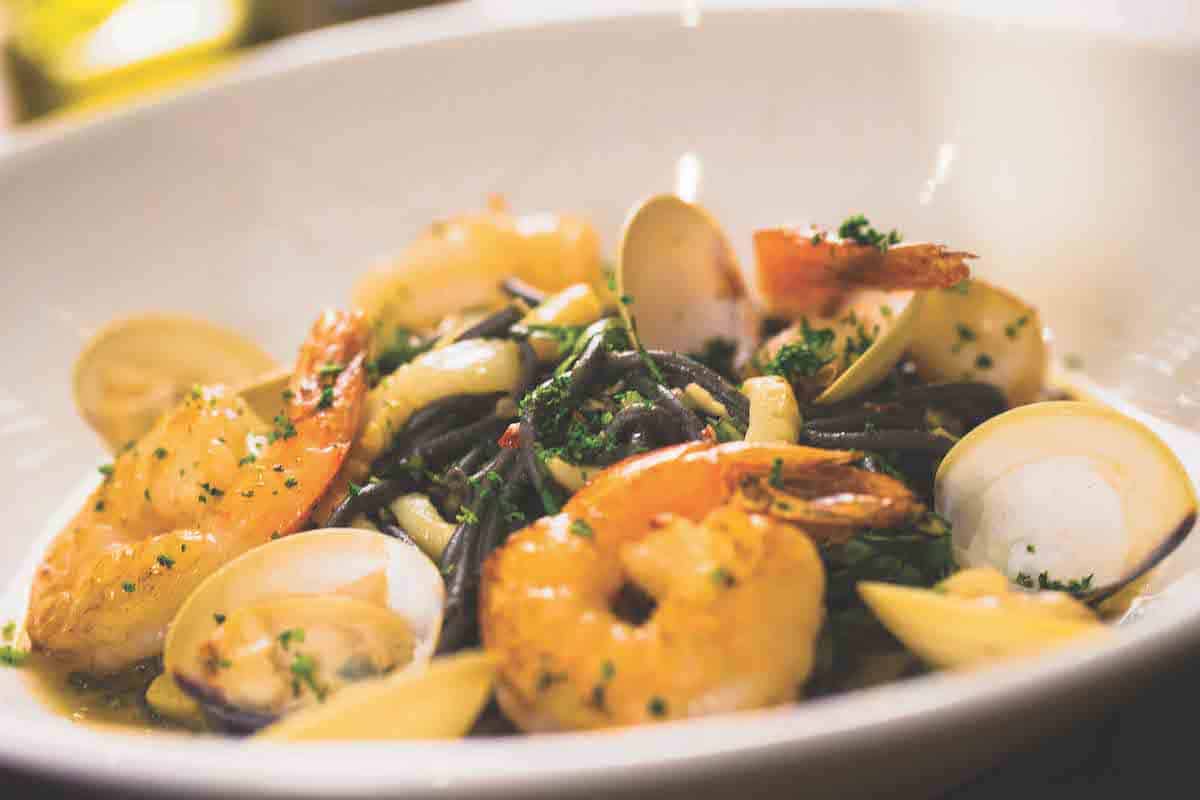 Every pasta preparation you can think of is on the menu here, from traditional to unique. The Squid Ink Seafood is an eye-catching dish with a diverse variety of seafood and shellfish.
The Gnocchetti Pasta with house-made fennel sausage meatballs is a bowl of comfort food. And of course you can't go wrong with standards like Spaghetti Bolognese or Lasagna.
Hours: VIVO is open from 5:00 to 10:00 p.m. Outdoor seating is available.
Bob Marley – A Tribute to Freedom
Classic Jamaican cuisine is the name of the game at Bob Marley–A Tribute to Freedom. From the sweet heat of the Reggae Jamaican Jerk Chicken to the traditional Oxtail Stew, the menu doesn't shy away from in-your-face flavors.
The restaurant itself is filled with historic memorabilia and photos about the late Bob Marley in a building designed to look like his home in Jamaica. For fans of reggae, Bob Marley–A Tribute to Freedom is a must-visit destination.
Hours: Bob Marley–A Tribute to Freedom is open from 5:00 p.m. to midnight. Outdoor seating is available.
Antojitos
Antojitos Authentic Mexican Food is a lively cantina featuring all the bright flavors of Mexico. The street tacos are a true highlight here. Get them with grilled nopales, carne asada, al pastor pork, and more.
For a Mexican twist on the surf and turf, try the Mar y Tierra. This dish includes mole braised short rib and grilled shrimp, along with a chorizo and queso tamale. It includes some of the best flavors of Antojitos in one dish.
Hours: Antojitos is open daily from 4:00 to 11:00 p.m. Outdoor seating is available.
Hot Dog Hall of Fame
Get your hot dogs here! High-quality hot dogs from Nathan's, Vienna, Koegel, and more come with regional toppings. There are eight different standard options at the Hot Dog Hall of Fame, or you can make your own for a quick bite of classic American fare.
On the Kansas City dog, you'll find pulled pork and coleslaw. The New York dog is covered in sauerkraut and mustard. The Detroit dog is smothered in Abbott's Coney chili and onions.
If you're truly hungry, customize your own Two Foot Dog. For the true ballpark experience, add on a side of Cracker Jack and roasted peanuts, and of course a huge basket of french fries.
Hours: Hot Dog Hall of Fame is open from 11:00 a.m. to 11:00 p.m. Outdoor seating is available.
The Toothsome Chocolate Emporium and Savory Feast Kitchen
Toothsome Chocolate Emporium is a steampunk-themed full-service restaurant, bar, and confectionary serving gigantic milkshakes. The main menu items include something for the whole family, with flatbreads, fresh salads, a tremendous appetizer section, burgers, and filling main dishes.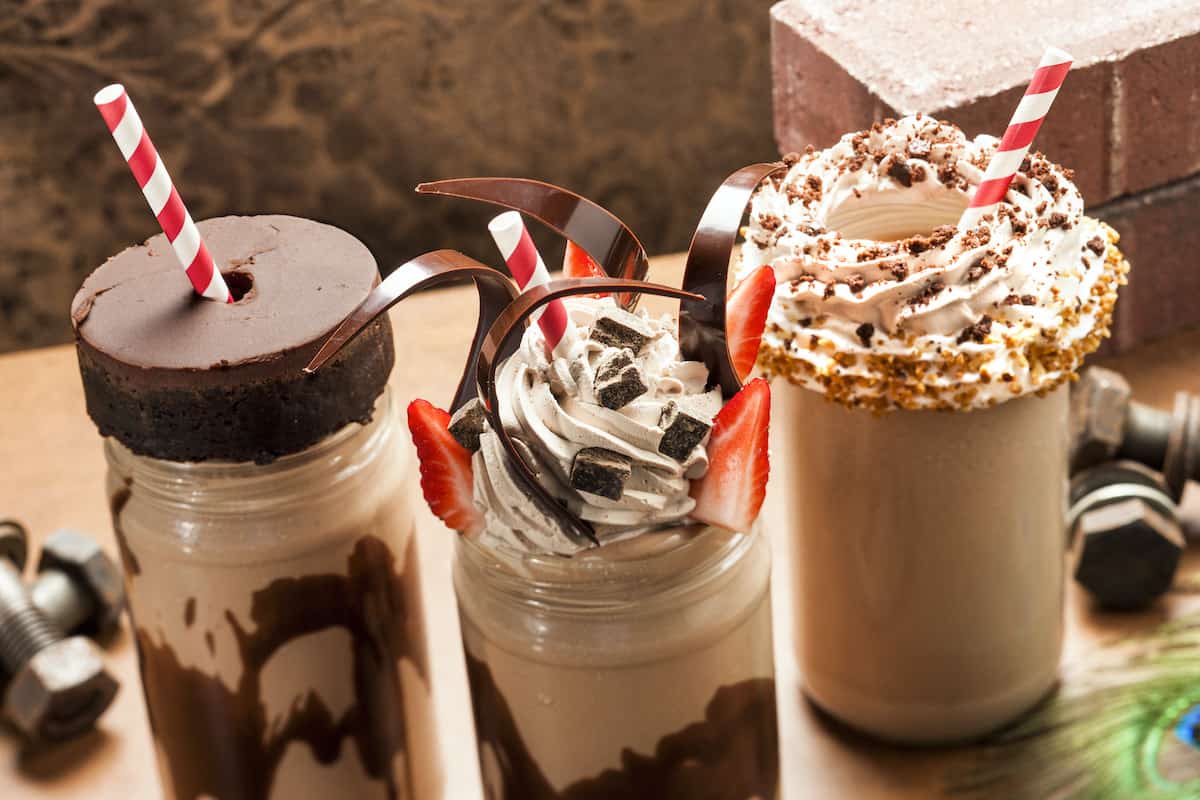 But the best part of a meal at Toothsome is the incredible desserts. They're gooey and messy, but oh so good. The Confetti and Red Velvet milkshakes mean that you can have your cake and your milkshake too! For something more unique, try the Key Lime Pie or Cookie Jar milkshakes.
Hours: Toothsome is open from 11:00 a.m. to 11:00 p.m. Outdoor seating is available.
Bread Box Handcrafted Sandwiches
Bread Box is one of the best places for a quick meal at CityWalk. From deli sandwiches like Chicken Salad or Turkey and melts like a Patty Melt or Pastrami on Rye, there's a sandwich for everyone.
What makes Bread Box so successful is that the sandwiches are familiar, but most have a unique twist.
The Ham and Cheese melt benefits from not only three types of cheeses, but also the sweet and tangy peach jam. The Tuna sandwich gets some extra zip with wasabi mayonnaise.
Hours: Bread Box is open from 10:30 a.m. to 10:00 p.m. Outdoor seating is available.
The Bubba Gump Shrimp Co.
They've got Fried Shrimp, Shrimp Scampi, Coconut Shrimp, Grilled Shrimp . . . you know the drill if you've seen Forrest Gump. While Bubba Gump does have dishes other than shrimp, the shrimp dishes are the reason you'll want to grab a meal here.
Meals here are huge, like Forrest's Seafood Feast with fish and chips, fried shrimp, seafood hush pups, and fries. For something lighter, go with the Shrimper's Net Catch, peel and eat shrimp that have been steamed in beer.
Hours: Bubba Gump is open 11:00 a.m. to 11:00 p.m.
Red Oven Pizza Bakery
Red Oven Pizza Bakery serves both Pizza Blanco (white pizza) and Pizza Rosso (with San Marzano tomatoes). These made-to-order pizzas are perfectly prepared in a 900-degree stone-lined oven.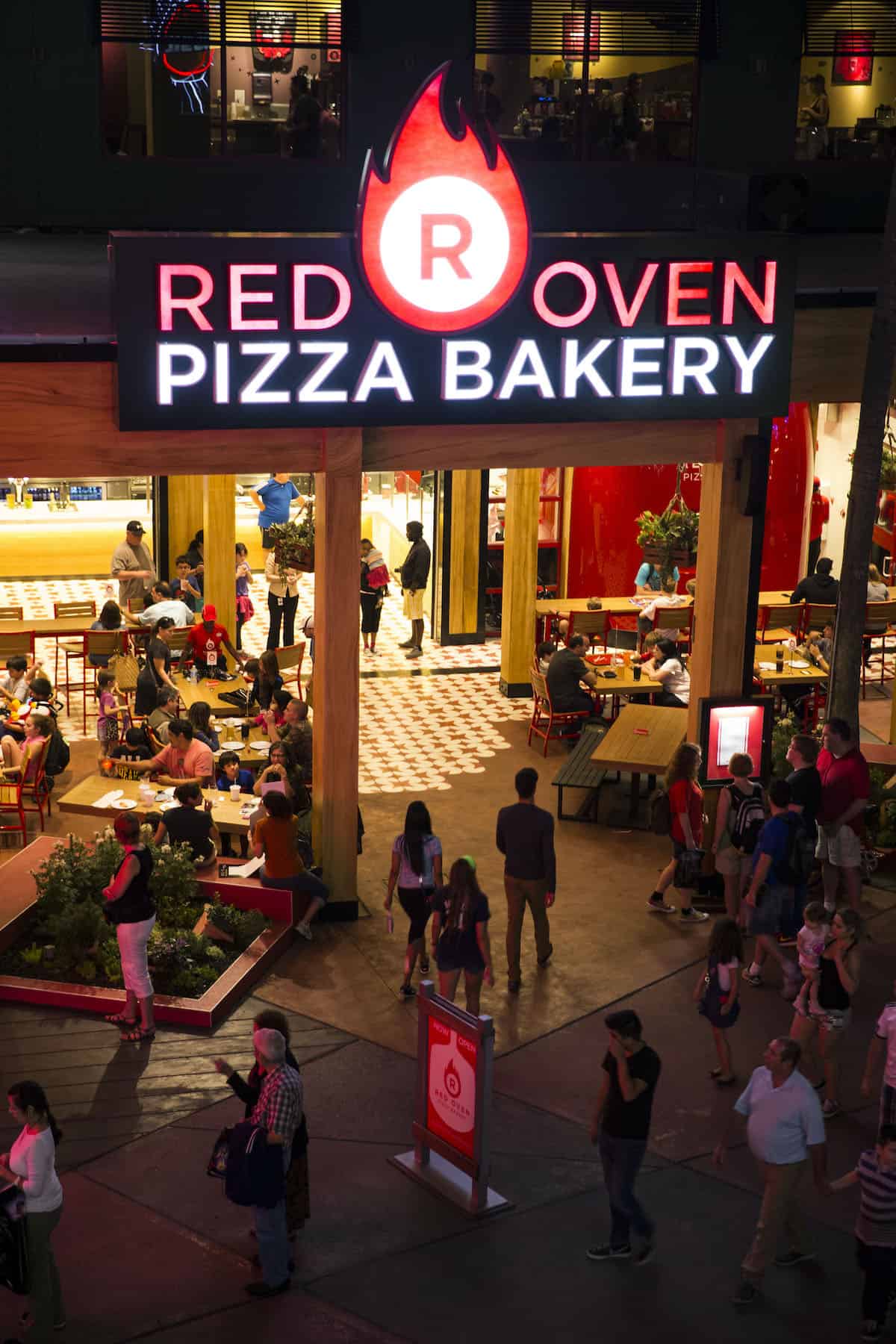 You can get any type of standard pizza – cheese, pepperoni, Margherita – and they are delicious. For something unique, try the Roasted Chicken with basil pesto and sweet corn emulsion, or the Alla Benno with prosciutto and pineapple.
Hours: Red Oven Pizza Baker is open from 11:00 a.m. to midnight. Outdoor seating is available.
Jimmy Buffet's Margaritaville
Margaritaville has the most laid-back vibes in all of CityWalk. Of course you can get a Cheeseburger in Paradise and one of their many margaritas at this Key West-themed restaurant.
Other options include Floridian favorites like Fish Tacos with a tangy key lime crema or delightful Crispy Coconut Shrimp. Enjoy savoring your meal while relaxing to the mellow vibes of a live band.
Even if you're not looking for a meal, you can't miss the Lone Palm Airport Bar. Jimmy Buffet's seaplane, the Hemisphere Dancer, provides the scenery for this "airport lounge". Grab some Volcano Nachos and a Shark Fin and enjoy this perfect place in paradise.
Hours: Margaritaville is open from 11:00 a.m. to 10:00 p.m. Outdoor seating is available.
Hard Rock Cafe Orlando
The menu at the Hard Rock Cafe for lunch and dinner is fairly standard. You've got your mix of burgers, sandwiches, and chicken and beef entrees. Their burgers are juicy and delicious, even if they aren't too unusual.
What is great about Hard Rock at CityWalk is that it is one of a very few places that serve a sit-down breakfast. Even better, there's a create-your-own Mimosa Flight to get you in the relaxed brunch mood.
In addition, like other Hard Rock locations, you'll find collections of rock memorabilia all around. Live bands also perform on select nights at the 3,000-person attached concert venue.
Hours: Hard Rock Cafe Orlando is open from 8:00 a.m. to midnight.
Pat O'Brien's
Pat O'Brien's is a New Orleans restaurant that fits well with the vibrant scene at CityWalk. All the bold flavors of Bourbon Street are found throughout the menu. Grab a hearty bowl of Jambalaya or some Crawfish Etouffee for a filling meal.
The drinks are a real draw at Pat O'Brien's. Who can pass up the lure of a Hurricane or a cool and refreshing Mint Julep? Grab some Lobster Beignets and a Typhoon (Three Olives vodka, Chambord, peach schnapps, cranberry juice, and pineapple juice) from the full bar and enjoy the atmosphere.
Hours: Pat O'Brien's is open from 5:00 p.m. to midnight. Outdoor Seating is available.
NBC Sports Grill & Brew
Sports bar food is its own genre with a devoted fan base. If you are a sports fan, this should be your game day destination.
With almost 100 high-definition screens showing a variety of sports coverage, you can chow down on a variety of appetizers, burgers, and more. They also have a gigantic assortment of beers (both bottled and draft).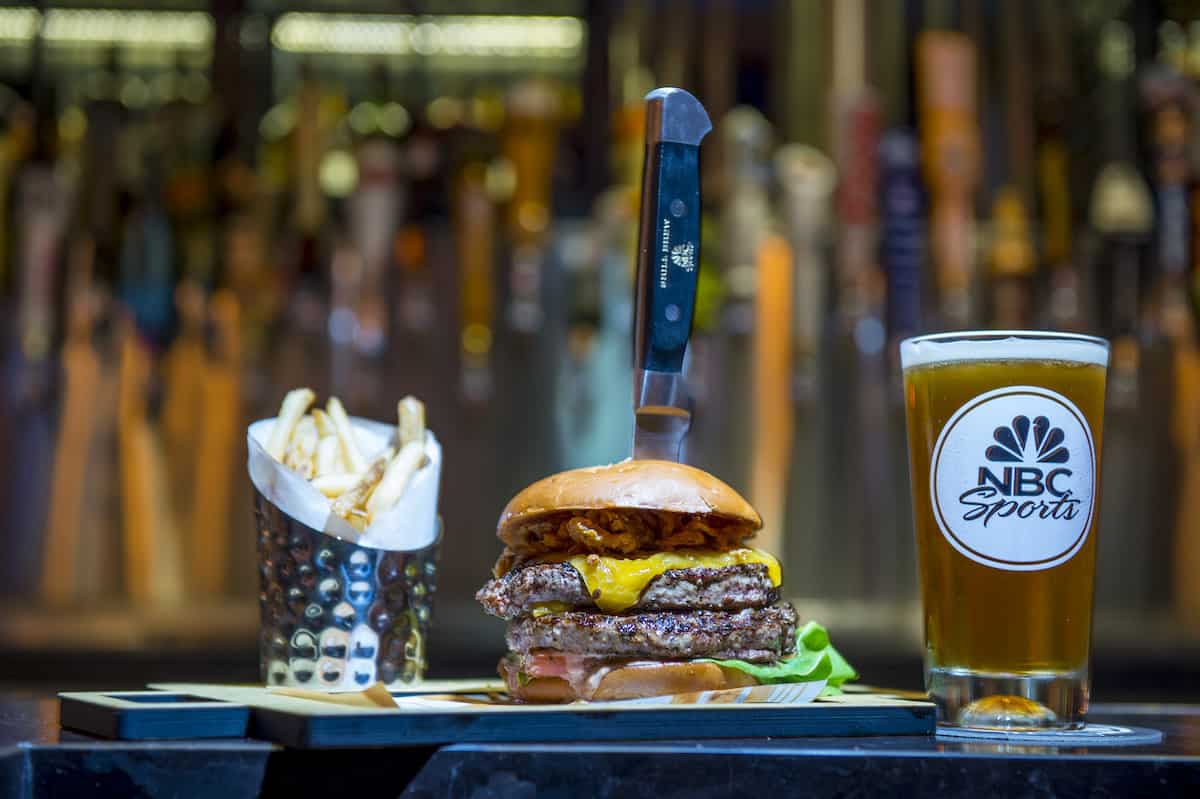 Can't decide? Just grab some nachos and a beer flight or two for a game day masterpiece at NBC Sports Grill and Brew.
Hours: NBC Sports Grill & Brew is open from 11:00 a.m. to 11:00 p.m. Outdoor seating is available.
Bend the Bao
Bend the Bao is the newest restaurant at CityWalk. These fusion Asian dishes combine savory ingredients like kimchi fried chicken, Maryland crab cakes, and pork belly in fluffy bao.
If you can't decide which one you'd like to get, buy a combo meal to try some of the different flavors. Have a seat to enjoy your meal outside, or nosh as you stroll through CityWalk.
Hours: Bend the Bao is open from 10:30 a.m. to 11:00 p.m. Outdoor seating is available.
Menchie's
Looking for sweet treats that won't make you feel too guilty? Our favorite yogurt spot Menchie's serves a variety of frozen yogurt flavors for every person's taste buds.
The flavors of the day vary, and there are seasonal options as well. One of the most popular is the Dole Whip Soft Serve Pineapple. It's a theme park classic!
What's great about Menchie's is that you pay by the ounce and it is self-serve. You can build your own bowl with a combination of flavors and toppings. I love the toppings!
Mix up some Creamy Cocoa Hazelnut with Dreamy Dulce De Leche and add some coconut flakes on top. Or mix some of their sorbets, like Pomegranate Razz or Summertime Watermelon, with fresh fruit for a refreshing treat.
Hours: Menchie's is open from 10:30 a.m. to 10:00 p.m. Outdoor seating is available.
Cold Stone Creamery
On a hot day, ice cream is a great way to chill out. Cold Stone Creamery blends up made-to-order ice cream by mixing it on a frozen slab of granite.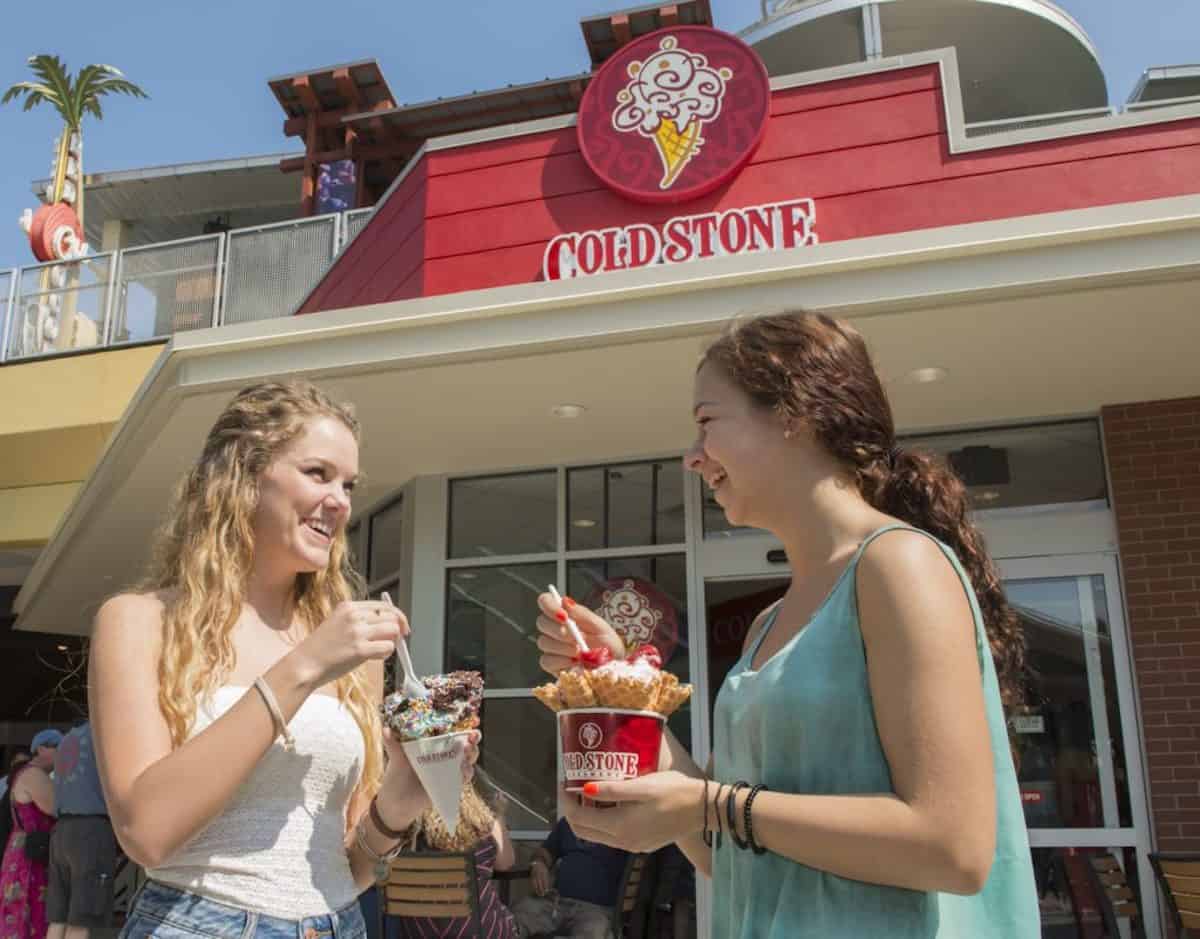 The Founder's Favorite is a popular choice with sweet ice cream blended with pecans, brownie, fudge, and caramel. For a dessert that is perfect to share, get the Cheesecake Fantasy, cheesecake ice cream with graham cracker pie crust, blueberries, and strawberries. It's the best of two desserts in one!
It's also fun to just hang out and watch these masters of ice cream at work!
Hours: Cold Stone Creamery is open from 10:30 a.m. to midnight. Outdoor seating is available.
Starbucks Coffee
Sometimes, you just need a coffee. Starbucks offers the same type of menu in CityWalk that you'd find around the corner from your house. You can get the standard coffee, tea, and Frappuccino offerings.
It's one of the few chain restaurants that many guests to Universal Orlando's CityWalk are happy to see included!
Hours: Starbucks is open from 7:00 a.m. to midnight. Outdoor seating is available.
Other Chain Restaurants
CityWalk is home to a handful of typical mall food court types of restaurants. Burger King Whopper Bar, Cinnabon, Moe's Southwest Grill, and Panda Express are all affordable ways to get known types of food.
While none of these should be your top pick for mouth-watering meals, if some of your party want food that they are familiar with, these options fit the bill. It's nice that everyone can have what they want.
Frequently Asked Questions
Do I need a ticket to Universal to go to CityWalk?
Since it is not located within a theme park, you do not need a ticket to Universal to explore CityWalk. Some venues may have an evening cover charge for special events, however.
What are the hours at CityWalk?
CityWalk itself is open from 8:00 a.m. to 2:00 a.m. Hours for individual restaurants, shows, and entertainment vary. 
Does it cost to park at CityWalk?
Most of the year, parking is free at CityWalk after 6:00 p.m. The exception to this is on days when Halloween Horror Nights takes place, when standard parking fees remain in effect all night.
Parking prior to 6:00 p.m. starts at $27. Additional options include Prime Parking ($50) and Valet Parking ($27 for 2 hours or $75 for over 2 hours before 6 p.m. and $27 for 2 hours and $40 for over 2 hours after 6:00 p.m.).
Like our content? Follow us on Pinterest!