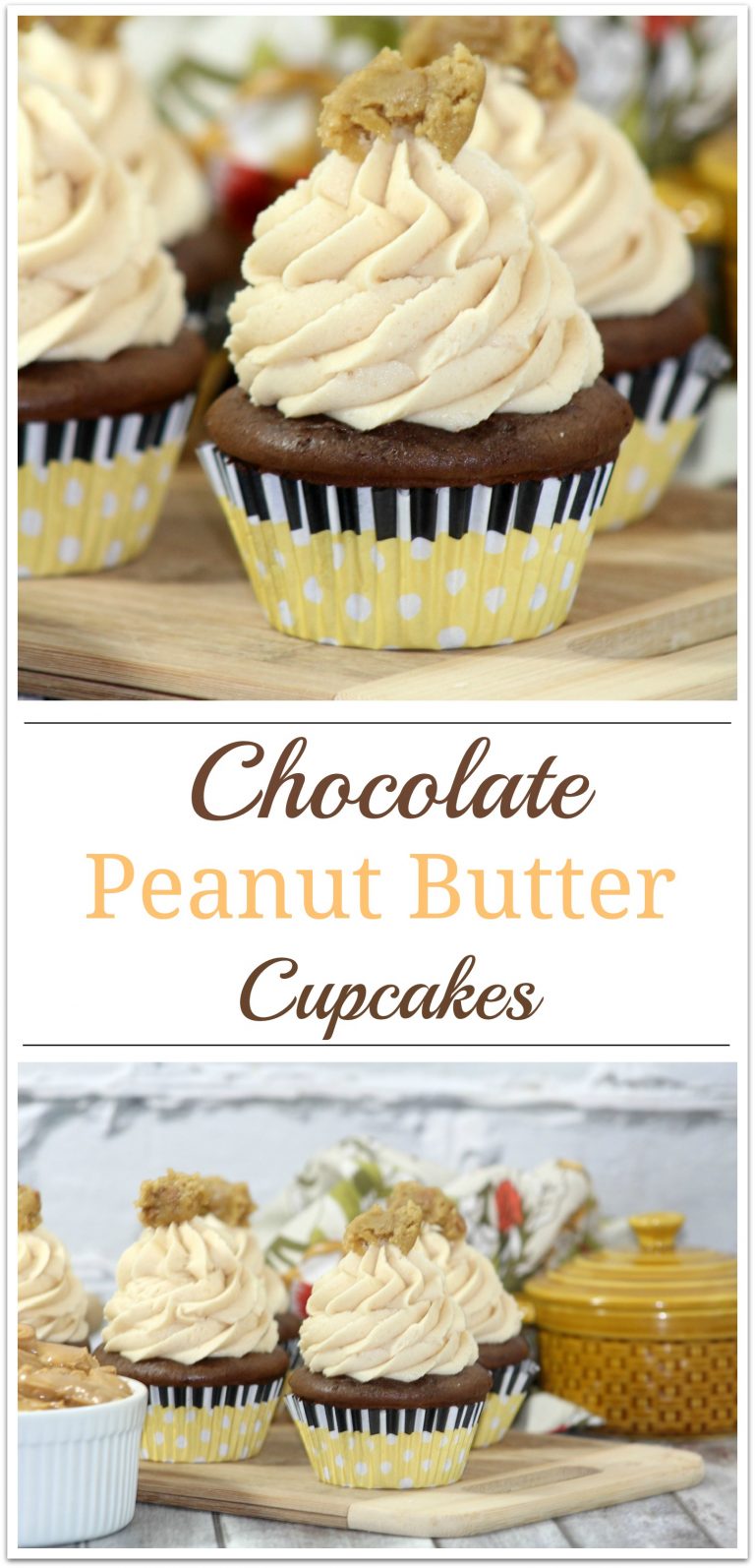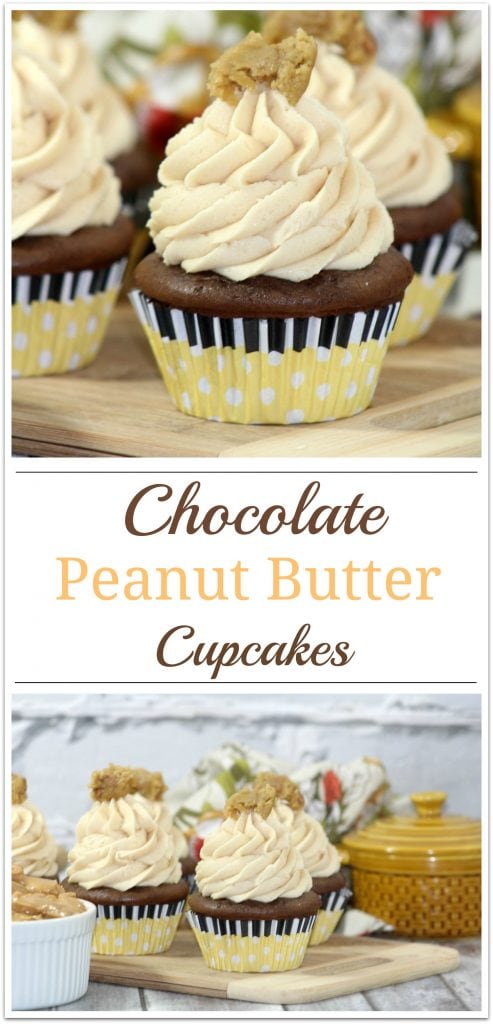 Ready for a decadent dessert? These Chocolate Peanut Butter Cupcakes with Peanut Butter Frosting are so rich and delicious, and they have a surprise inside! I adore peanut butter in any way, shape or form. On toast, on banana slices, with jelly, in smoothies. It's so good and so good for you! Okay, I'm not saying these cupcakes are the healthiest treat, but hey, we've got to live a little, right?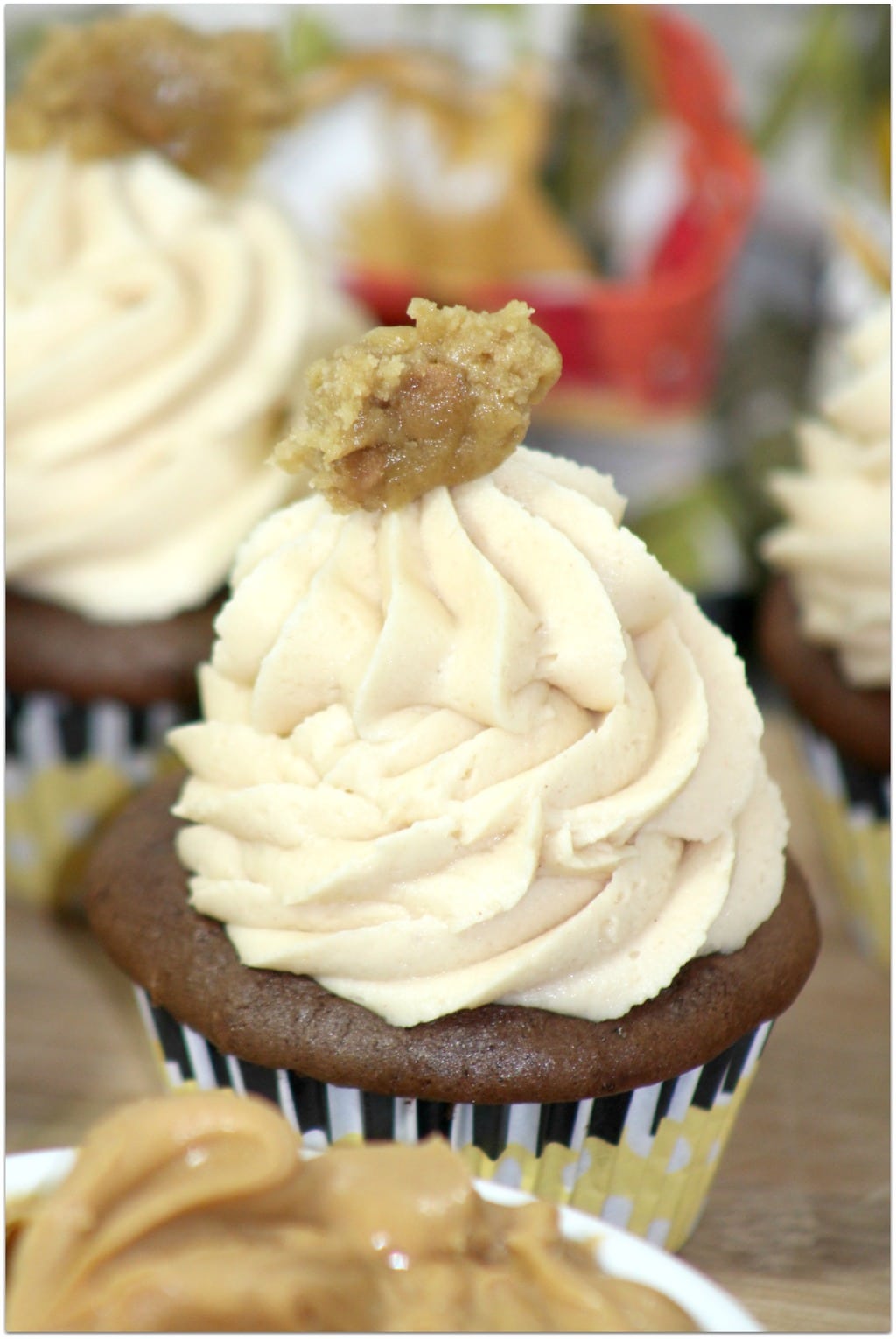 Chocolate Peanut Butter Cupcakes
Cupcake Ingredients:
1 ¾ C Flour
2 C Sugar
1 C Cocoa
1 ½ TSP Baking Soda
1 ½ TSP Baking Powder
1 TSP Salt
2 Eggs
1 C Whole Milk
½ C Oil
2 TSP Vanilla
1 C Boiling Water
1 pkg of refrigerator peanut butter cookie dough
Cupcake Directions:
-Preheat oven to 350 degrees.
-Line the cupcake tins with paper liners.
-Mix the flour, sugar, cocoa, baking soda, baking powder, and salt in a bowl.
-In a separate bowl add the eggs, whole milk, oil, and vanilla.
-Add the bowl containing the eggs, whole milk, oil, and vanilla to the bowl holding the dry ingredients.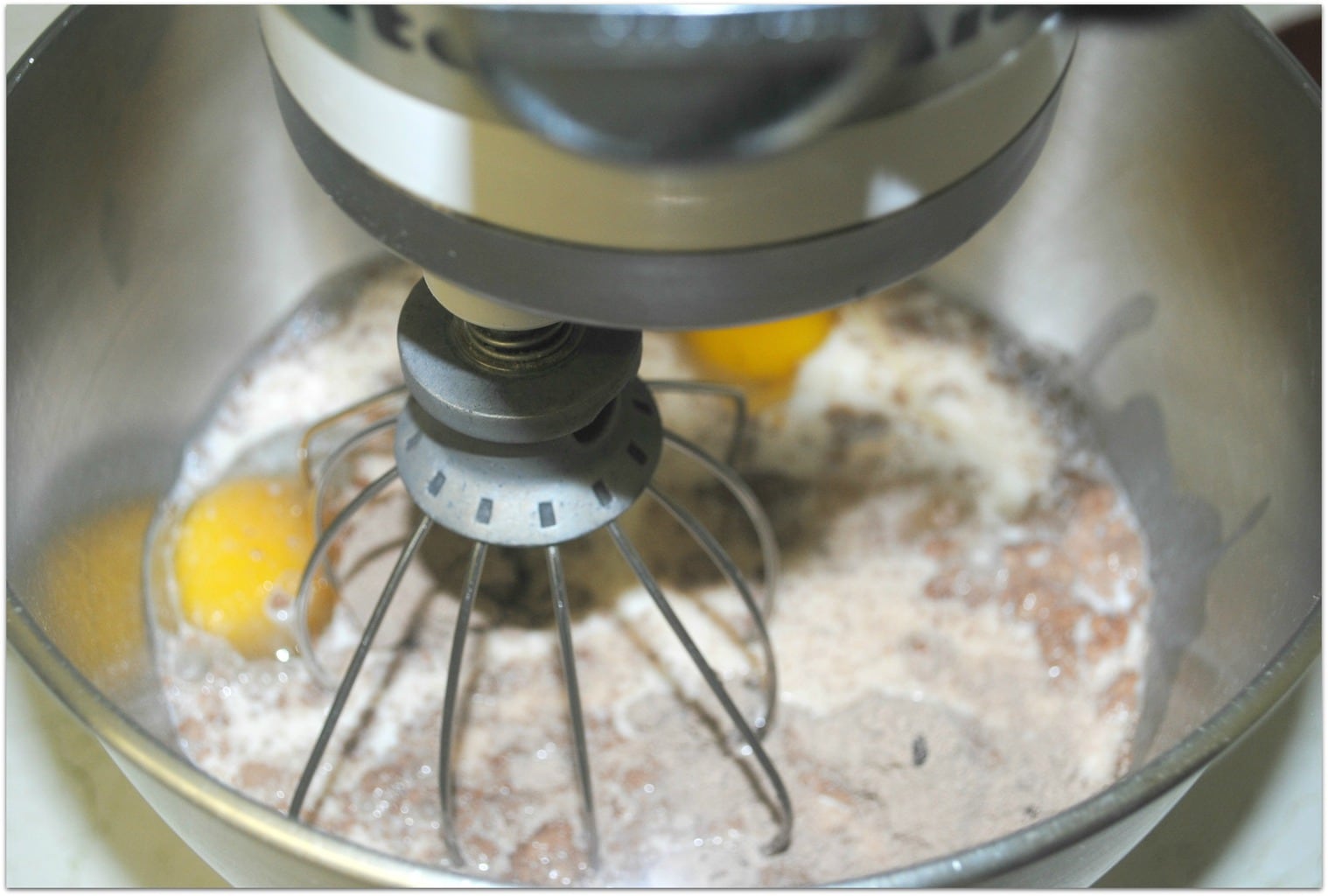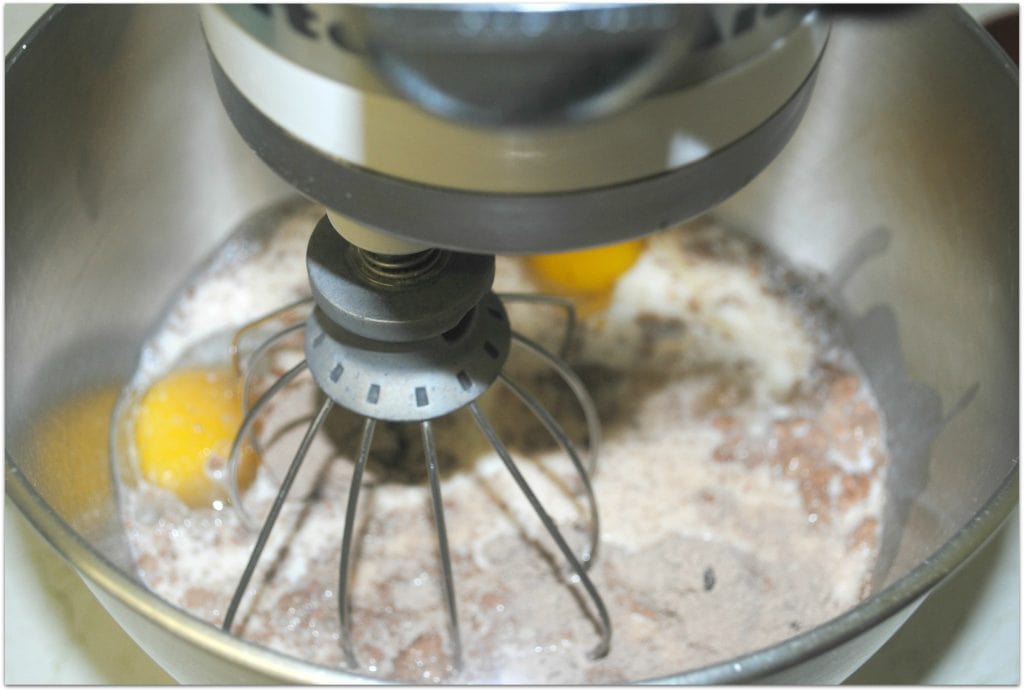 -Mix all together until fully incorporated.
-Beat for 3 minutes on medium.
-Slowly add the boiling water starting with a small amount then pour in the remaining boiling water.
-The batter may be a little runny.
-Scoop batter into cupcake paper liners until ¾ full.
-Take 1 piece of cookie dough and put it in the cupcake batter. Make sure to center it and DO NOT push it to the bottom. Try to place it in the middle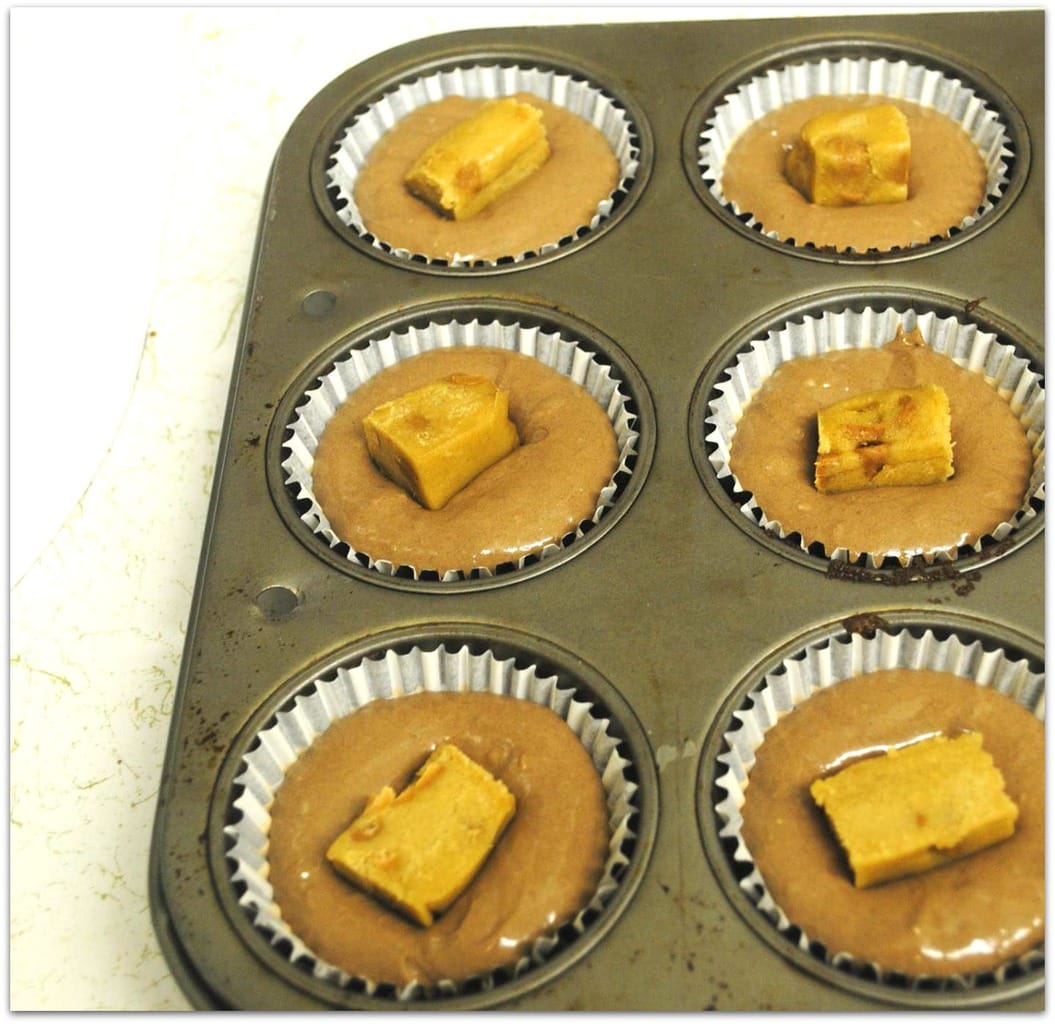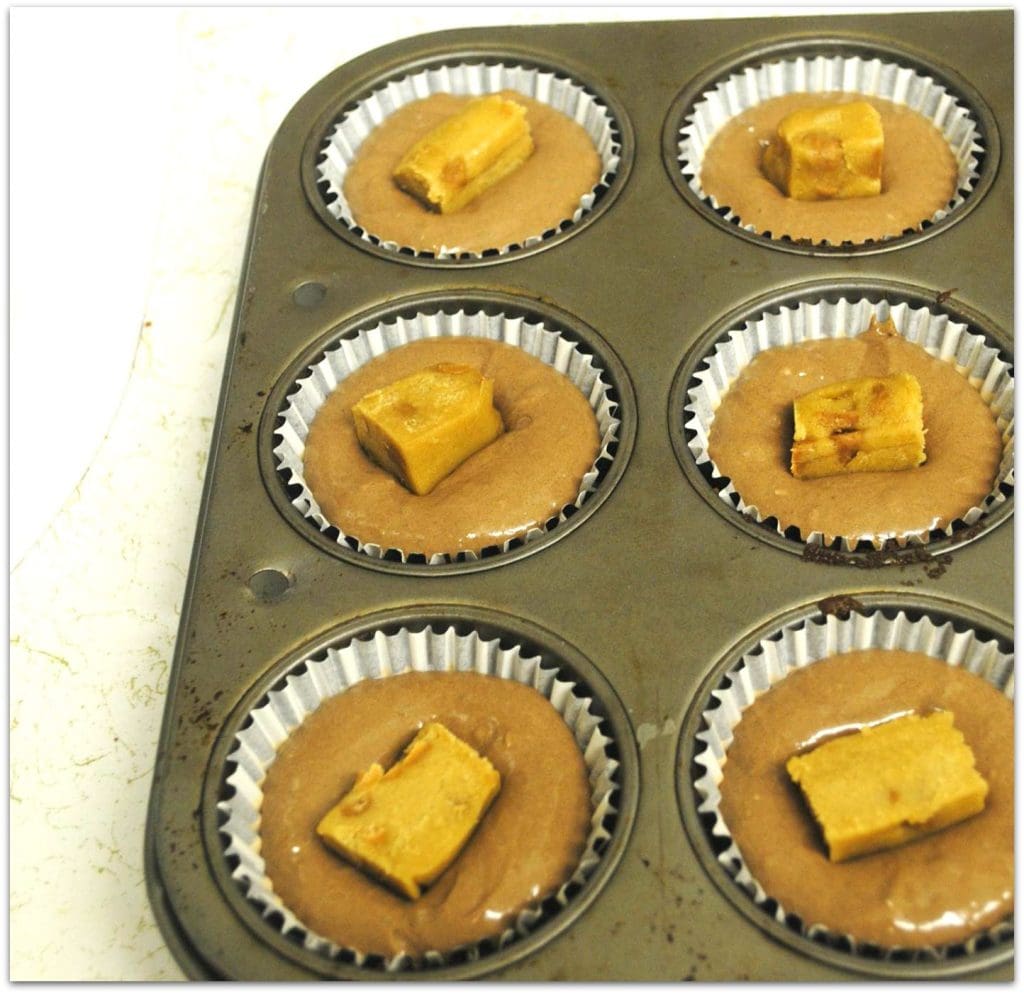 -Bake at 350 degrees for 20-25 minutes.
-Remove from oven and allow to cool for 10 minutes.
-Take out of cupcake pan and place on a wire rack until completely cooled.
Frosting:
Ingredients:
1 C unsalted butter
4+ C powder sugar
4 TBSP heavy whipping cream
¼ C creamyPeanut butter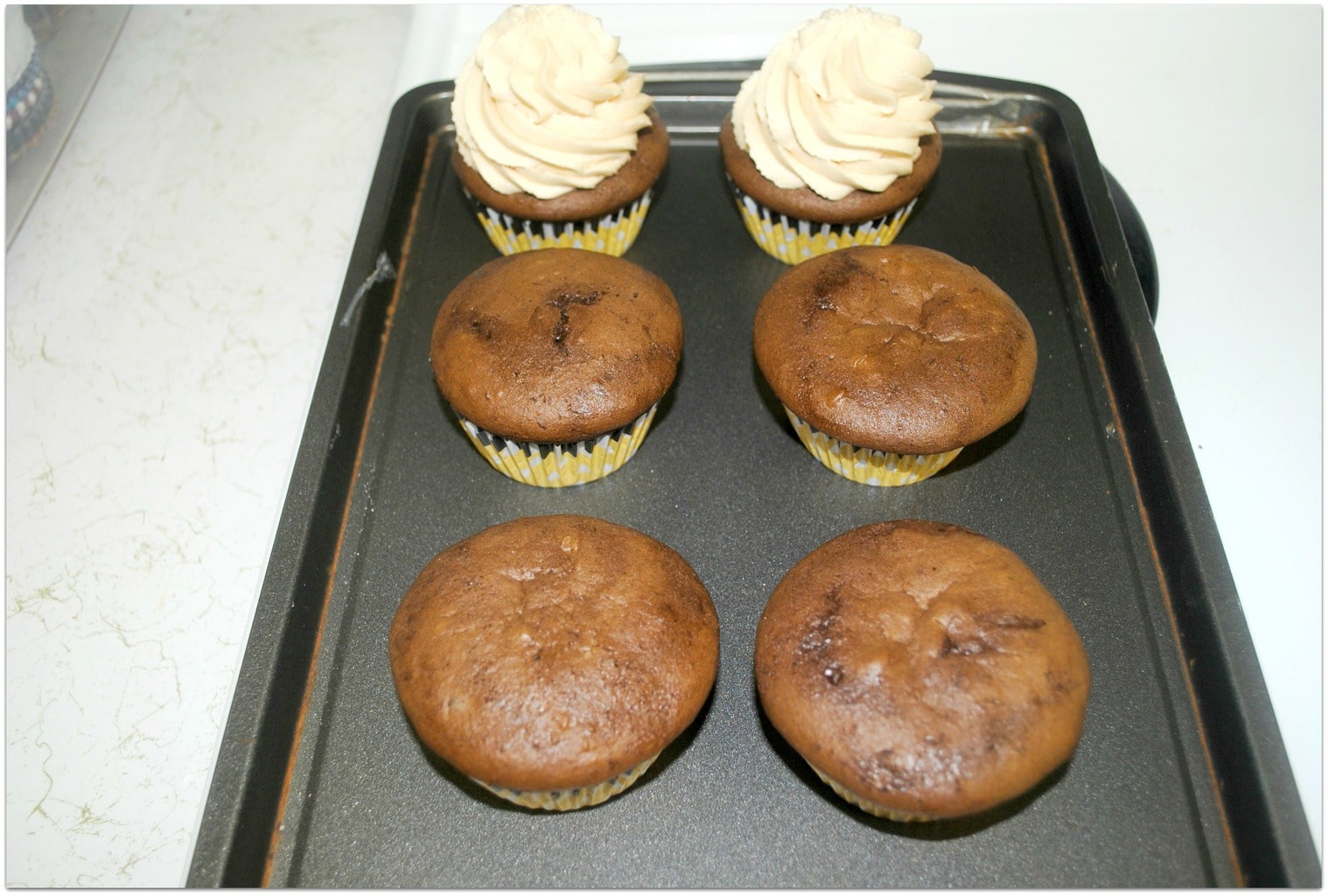 Directions:
-Cream the butter with a mixer.
-Add the powder sugar.
-If the frosting doesn't cream add the heavy whipping cream.
-Continue to mix until the frosting can make and hold a stiff peak.
-Be patient. This may take several minutes.
-If the frosting can't hold a stiff peak then add more powder sugar.
-Continue to mix until the frosting can hold a stiff peak.
-Add 4 TBSP of peanut butter to the frosting. Stir to blend.
-Scoop the frosting to a pastry bag with a large frosting tip.
-Twist the open end of the pastry bag until the frosting begins to come out.
-Frost the cupcakes.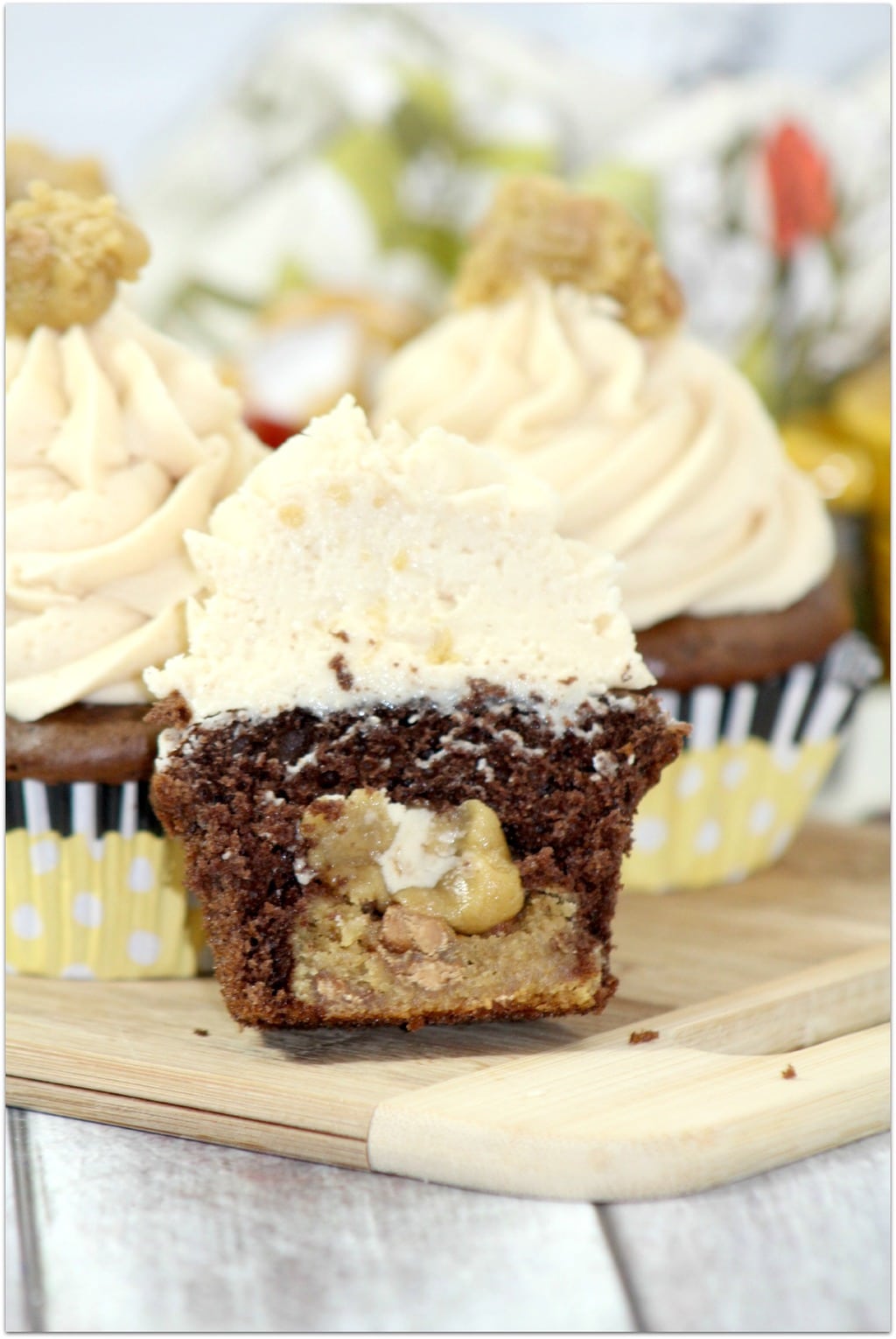 If you love cupcakes, try this Chunky Monkey Cupcake recipe. Want more cupcakes recipes? Check out these Lemon Lime Refresher Cupcakes or these Strawberries & Cream Cupcakes! You can also visit my Cupcake Crazy Pinterest Board where I've pinned a bunch of my favorites!