Looking for amazing Christmas cookie recipes? This is a round up of the best 20 Christmas sugar cookies I've found so far! In this list, you'll find the fluffiest, softest and most beautiful sugar cookie recipes ever.
In fact, you will have so much fun making them I bet it gives you and everyone around you a little extra dose of Christmas spirit. Need a little Christmas? Here you go!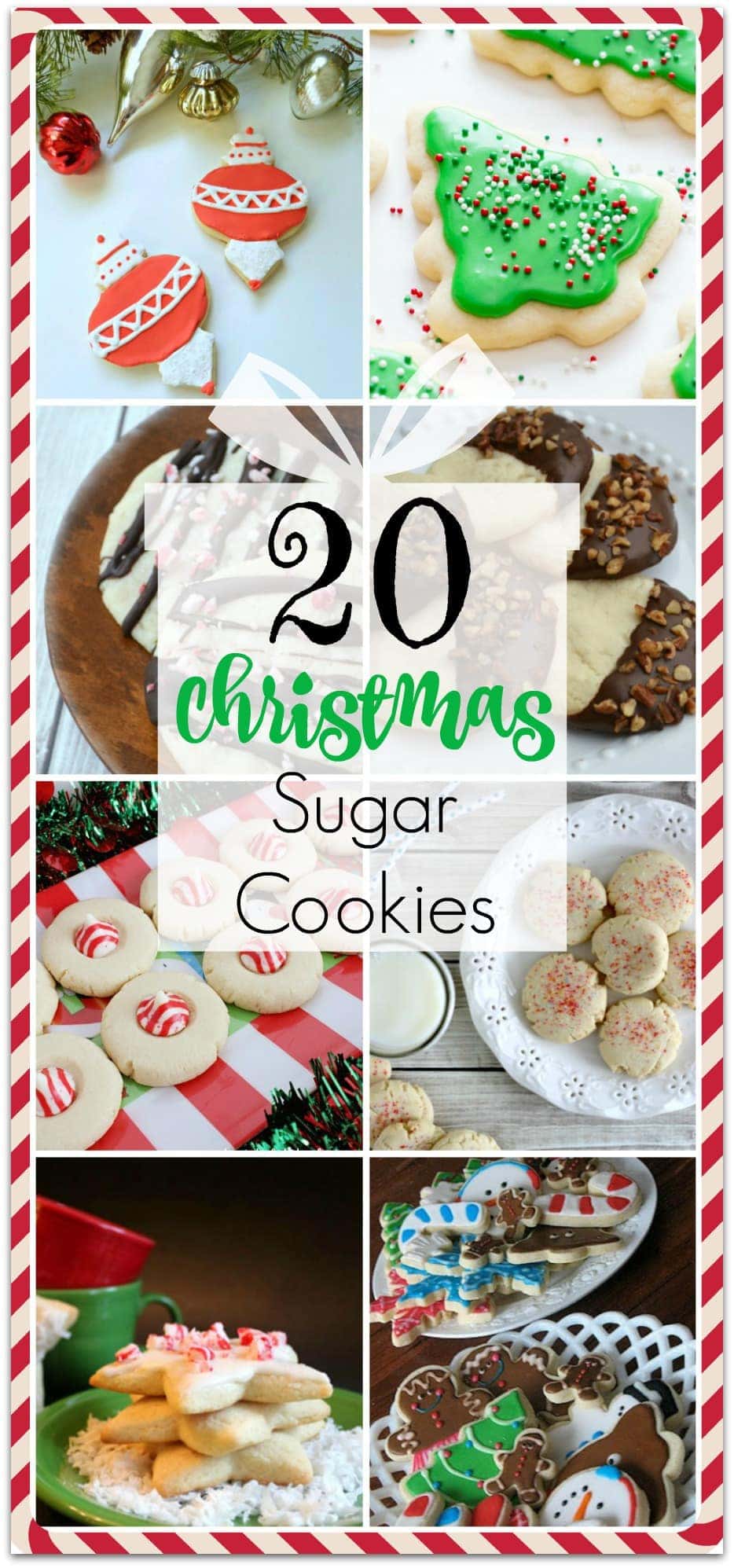 Have you ever made homemade sugar cookies? They really are so easy to make, and you'll find many easy recipes for them. 
Especially around Christmas time, sugar cookies are a favorite as you can decorate them so many different ways. Grab your favorite cookie cutters and the kids will come running to help!
I still have cookie cutters that my mom used when I was little! I don't love them as much as I love the newer ones, but I still pull them out just for the memories.
I also love sugar cookies because you can add vanilla, almond or a number of other extracts to give them a a unique flavor. What's your favorite extract to use in a cookie?
Looking for a DIY gift idea? Cookies make great gifts, too! When you have to bring food to a party, cookies are the way to go! They are always a perfect easy dessert idea!
Don't forget to bring a few in a box as gifts for the hostess! Add a couple of Christmas Cookie Cutters tied with a bow! So sweet!
Perfect Frosted Sugar Cookies from Back to Her Roots
Buttercream Thumbprint Sugar Cookies from Sarah's Bake Studio
Peppermint Sugar Cookies from Krystal's Kitsch 
Ombre Christmas Tree Cookies from Smiling Colors
Yummy Easy Sugar Cookies from The Taylor House
Chocolate Dipped Sugar Cookies from Oh My! Sugar High
Brown Sugar Cookies from Amanda's Cookin'
Sugar Cut Cookies from Intoxicated on Life
Easy Coconut Sugar Cookies with Chocolate Drizzle and Peppermint White Chocolate from Oh My! Sugar High
Christmas Funfetti Cookies from Love to Be in The Kitchen
Christmas Cookie Decorating from Amanda's Cookin'
Rudolph Cookies from The Frugal Navy Wife
Cranberry Sugar Cookies with Chocolate from Table for Seven
Santa Mickey Sugar Cookies from Virtually Yours
Hidden Mickey Candy Cane Cookies from Virtually Yours 
Christmas Sugar Cookie Ornaments from Divine Lifestyle
Coffee Glazed Sugar Cookies Recipe from How to Have it All
Soft Sugar Cookies with Peppermint Icing from Retro Housewife 
Mom's Christmas Sugar Cookie Recipe from Mama Likes to Cook
The Best Homemade Sugar Cookies from Frugal Living NW
Which of these Christmas sugar cookies recipes did you like most? My favorite is the Rudolf cookies.
Looking for more Christmas? Check out these  10 Tasty Breakfast Recipes!
And don't forget Cookies in a Jar! You can prepare the ingredients for a few of the recipes above and put them in a jar. Such an easy and fun idea for neighbor gifts and they can pull them out of the pantry when they're in the mood for a homemade dessert.