Celebrating the green holiday without St. Patrick's Day desserts is not a party at all! When my kids were little and going to parties, I would always offer to bring something just because St. Patrick's Day desserts are fun to make.
Baking is not my gift, but if I had known about recipes like this, I would have been the rockstar mom! Seriously! These are all a lot easier than they look!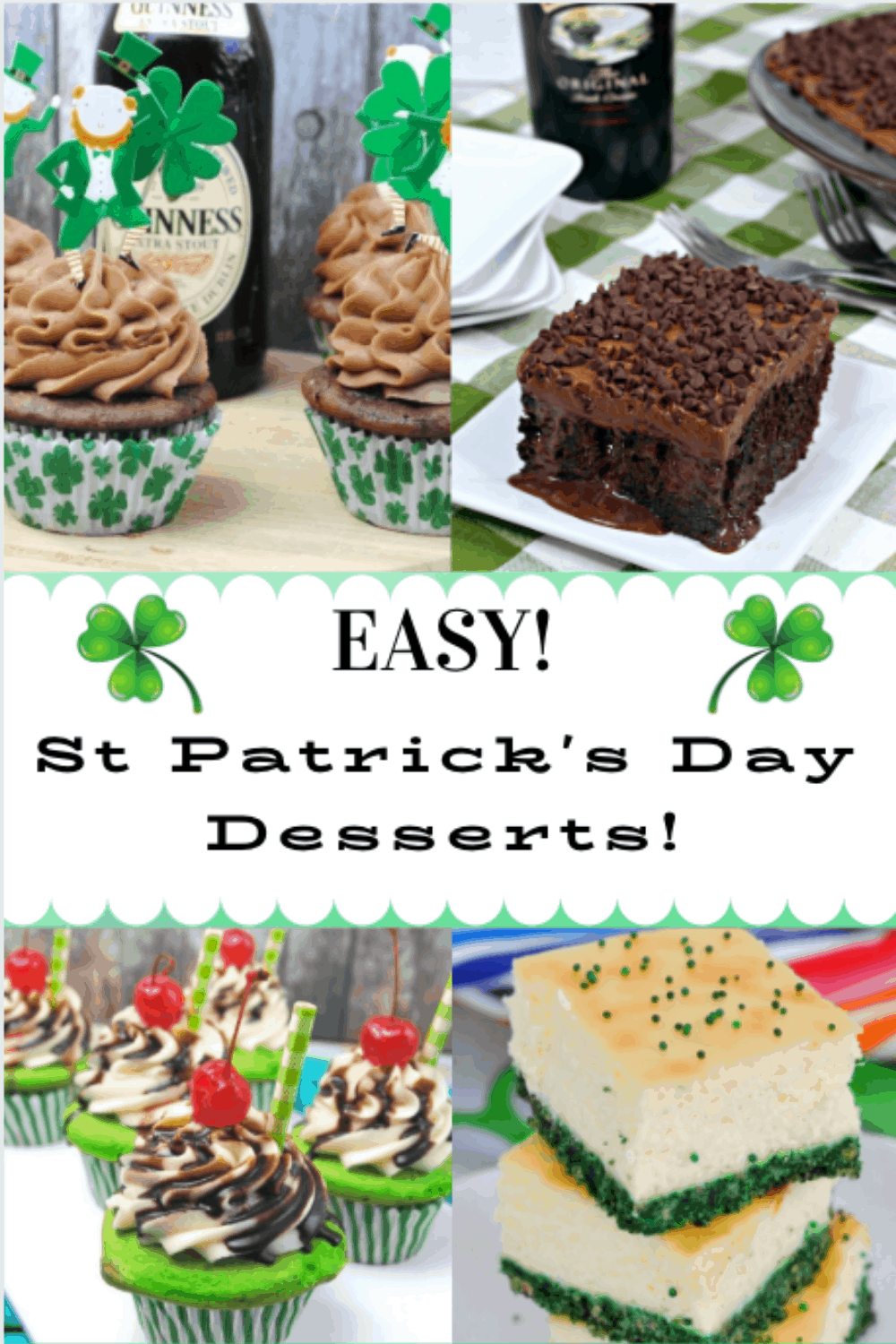 Festive St. Patrick's Day Desserts
These easy desserts will make you look like a baking queen! We've got recipes for cupcakes and other desserts perfect for your celebration. You can offer to bring food with confidence with these easy desserts! Enjoy!
Guinness Cupcakes with Sweet Cream Chocolate Frosting | Food, Fun & Faraway Places
Have you ever used Guinness in a recipe? We actually cook with it quite a bit. It makes the most wonderful sauce for these Beer Braised Short Ribs as well as this recipe for Irish Beer Ribs (spare ribs) made with Guinness Sauce. I used to buy this sauce until I figured out how to make it! It's wonderful with bread, too.
These cupcakes are only for adults, but aren't they fun?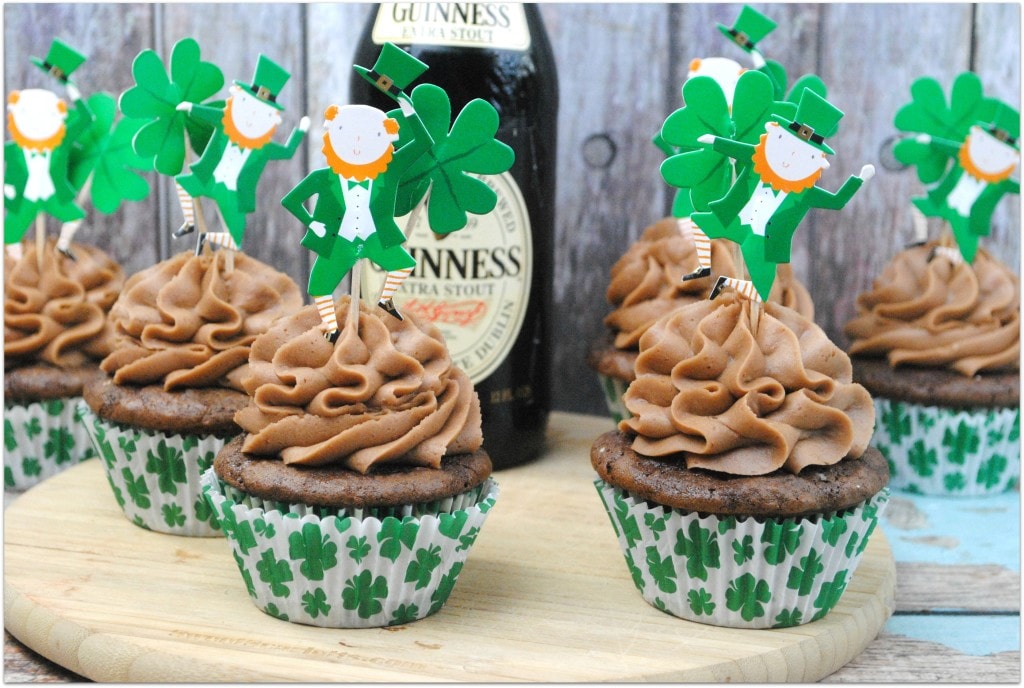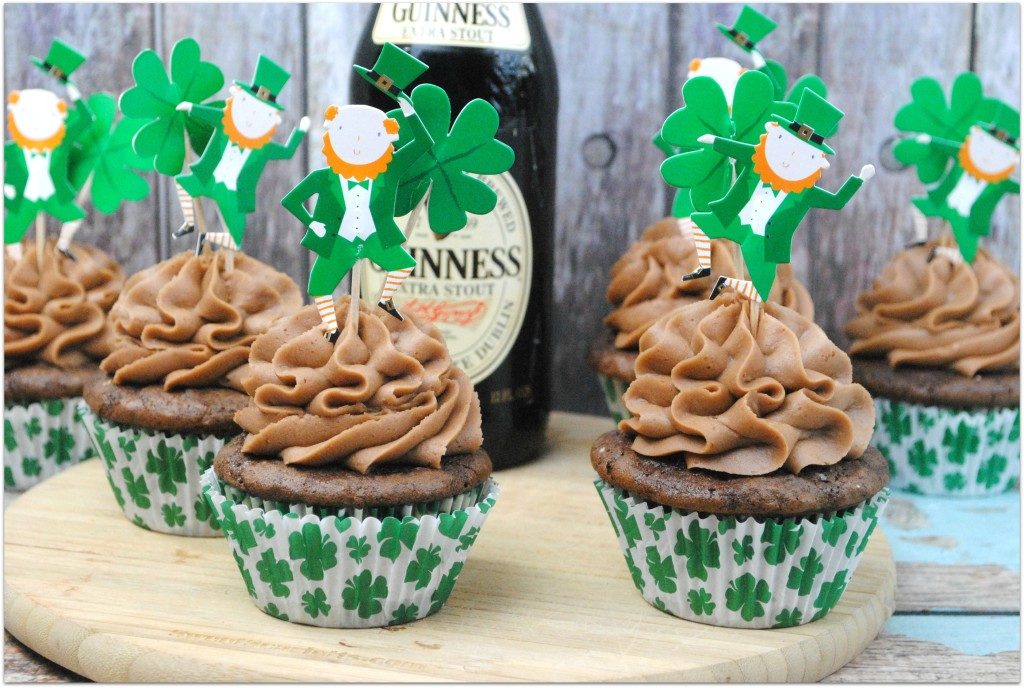 Shamrock Shake Cupcakes | Food, Fun & Faraway Places
Here's one the kids will enjoy! Get them in the kitchen to help!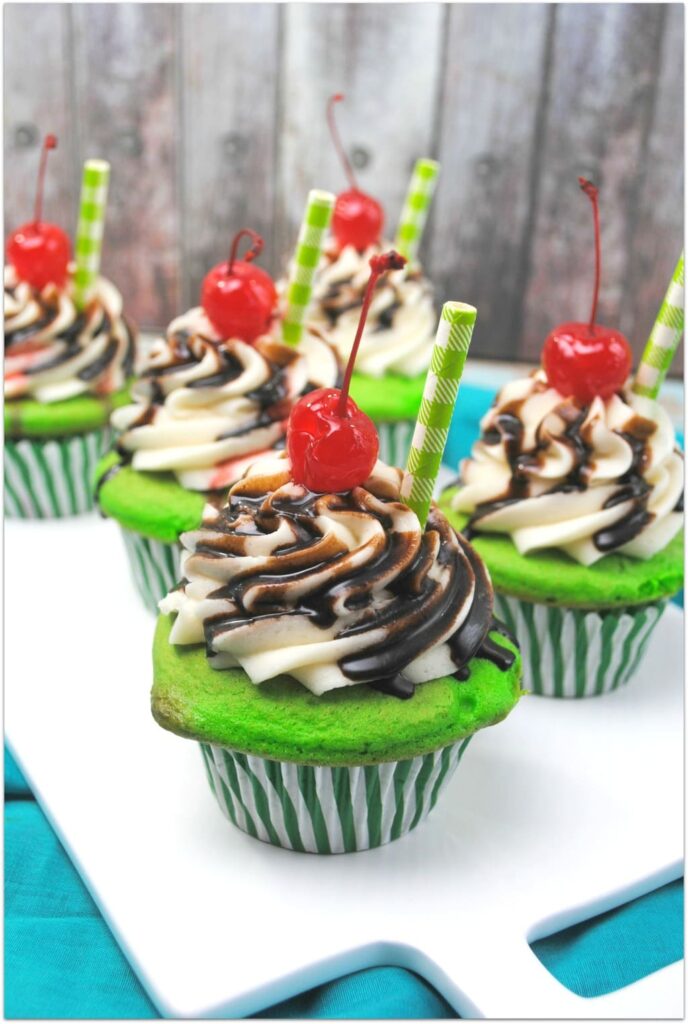 Baileys Irish Cream Coffee Cookies | Food, Fun & Faraway Places
Another one for the adults. Why should the kids have all the fun? Baileys add such wonderful flavor.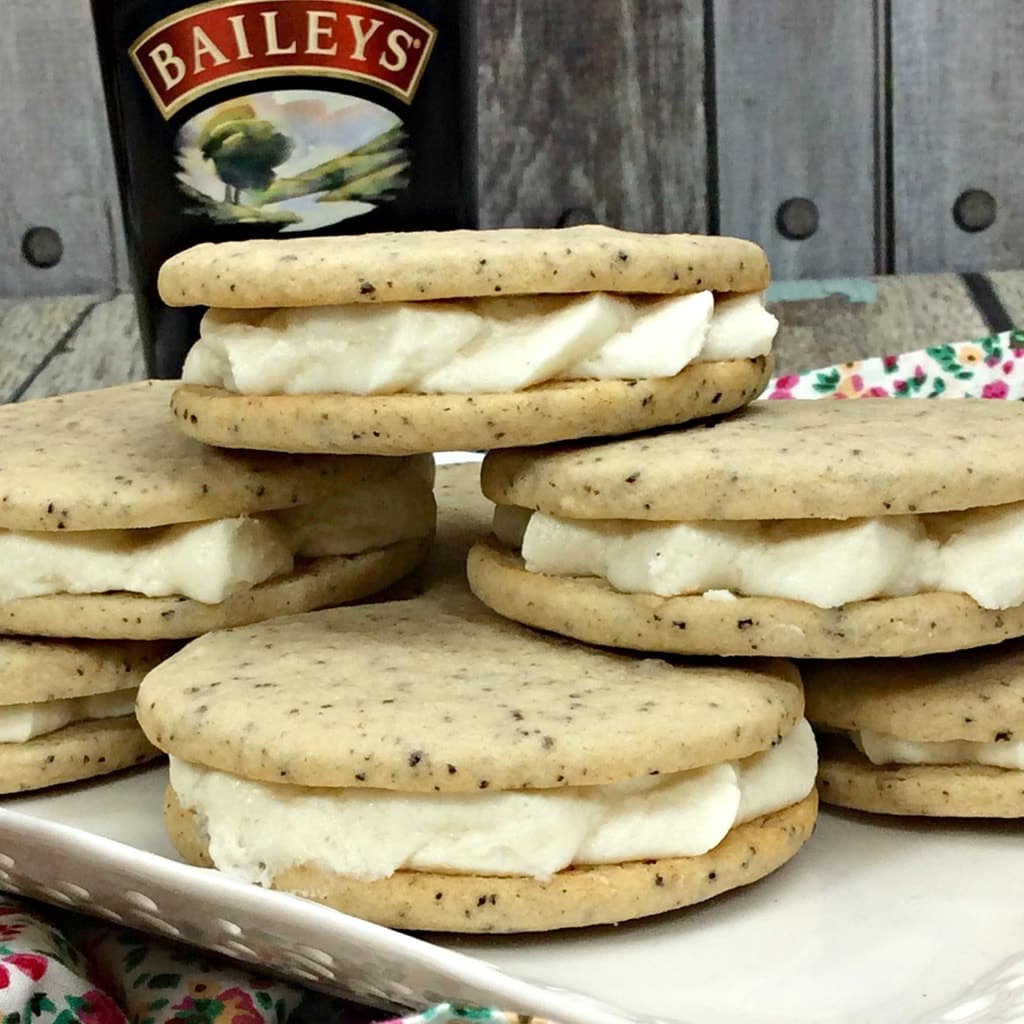 Baileys Irish Cream Chocolate Cake  | Incredible Recipes
This is one of my favorite sites for recipes and fun! The Facebook page is an easy way to keep up with all the recipes they share from top blogs around the world. Doesn't this cake look luscious? You'll find more St. Patrick's Day desserts there!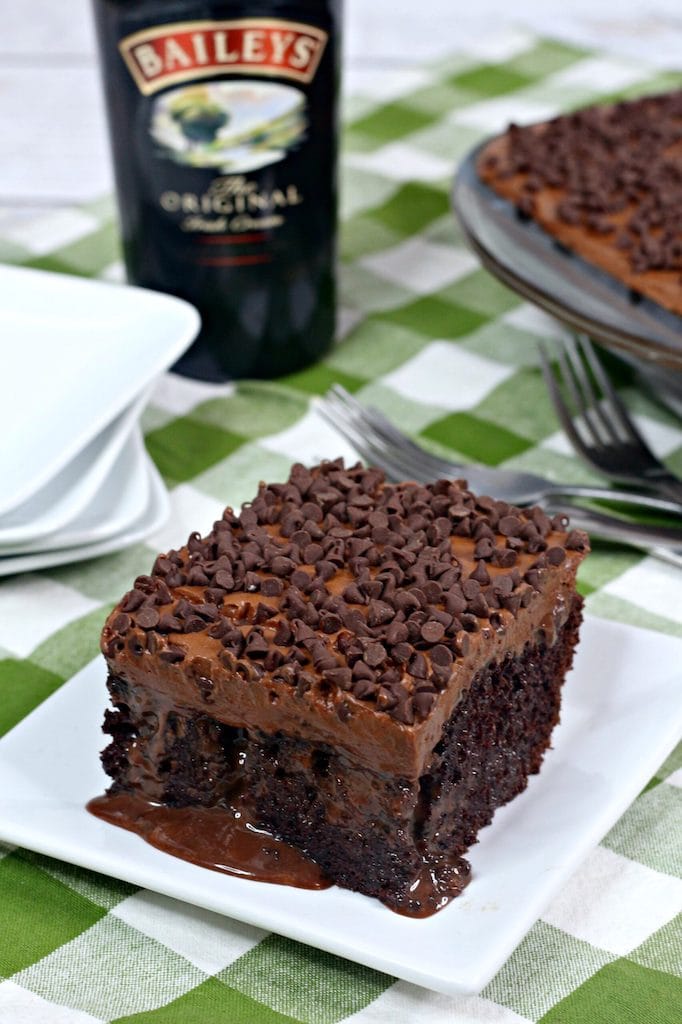 St. Patty's Day Minty Pudding Parfaits | See Mom Click
Here's an easy and festive dessert the whole family will enjoy.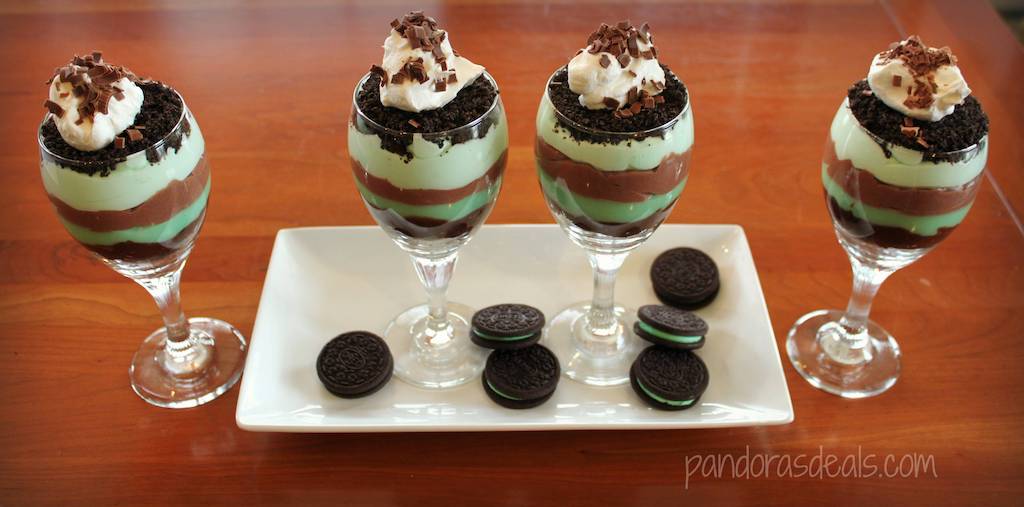 St. Patrick's Day Marshmallow Pops | Simply Stacie
These pops are perfect for a school event. Easy to transport and eat.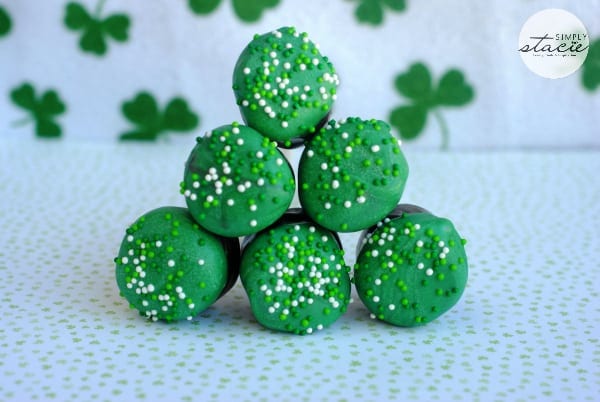 St. Patty's Day Minty S'mores from See Mom Click
S'mores are always a good idea, and these are so festive!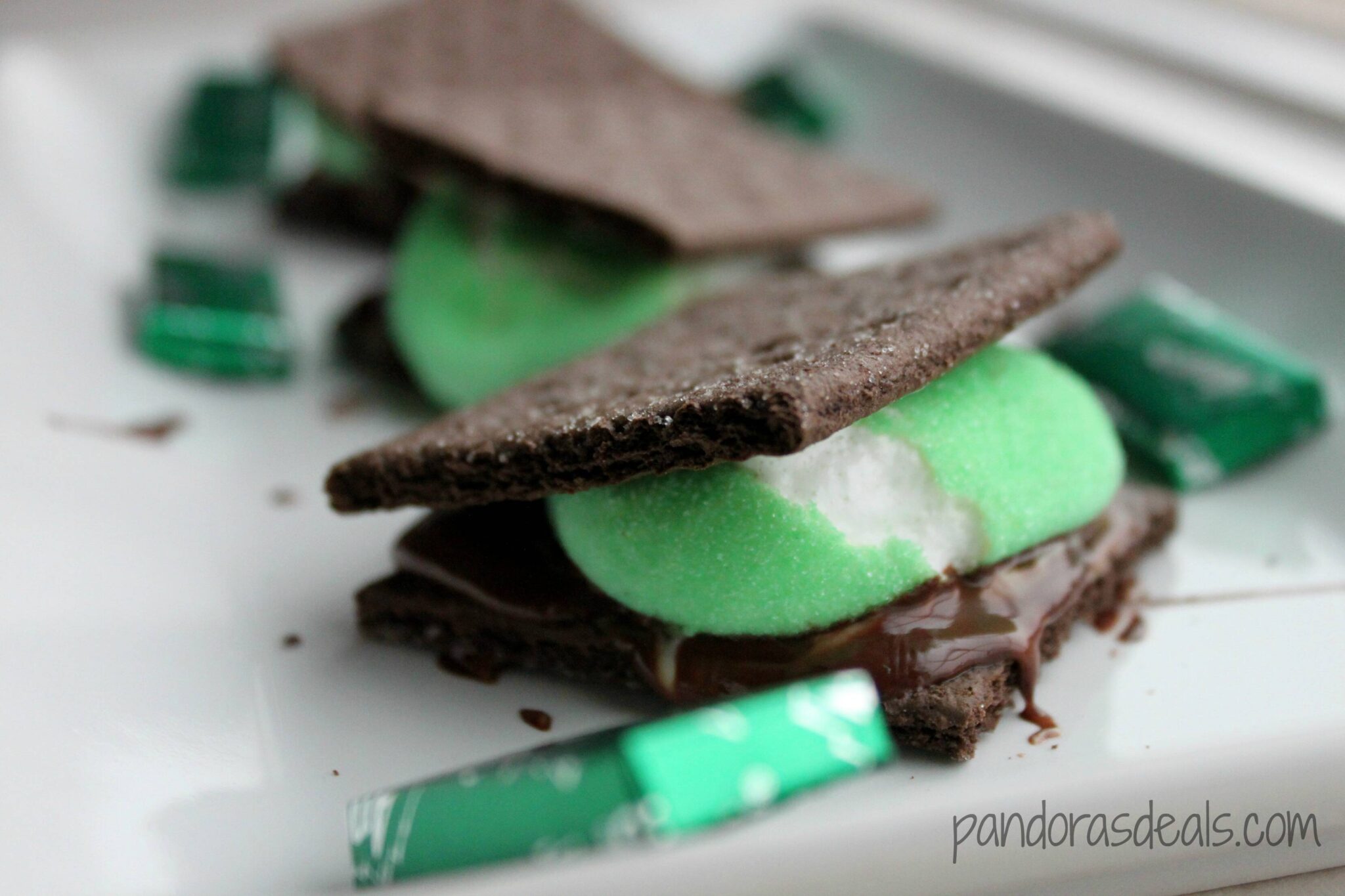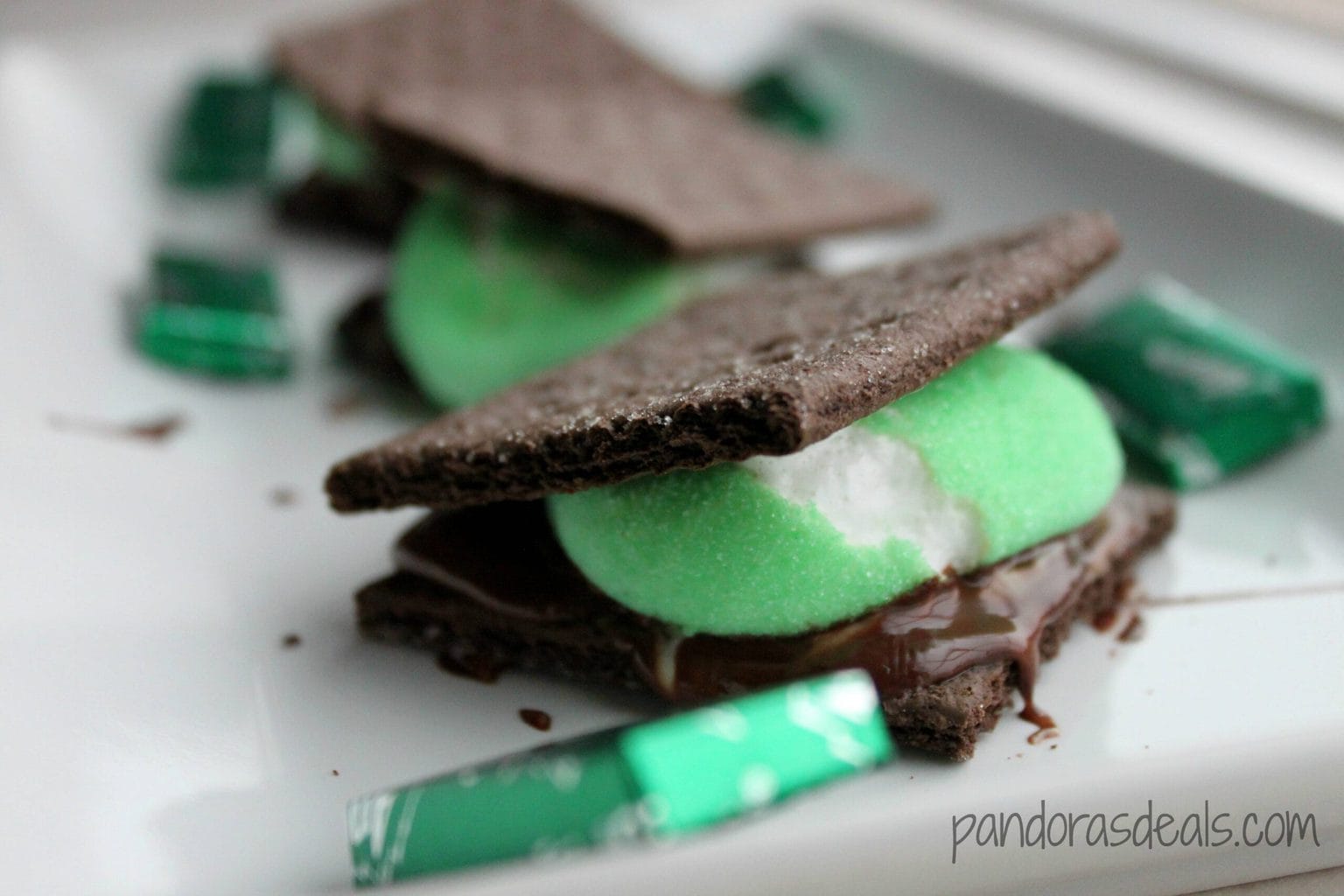 St. Patrick's Day Surprise Inside Cupcakes | This Mama Loves
How cute are these cupcakes? The kids will love finding the surprise inside!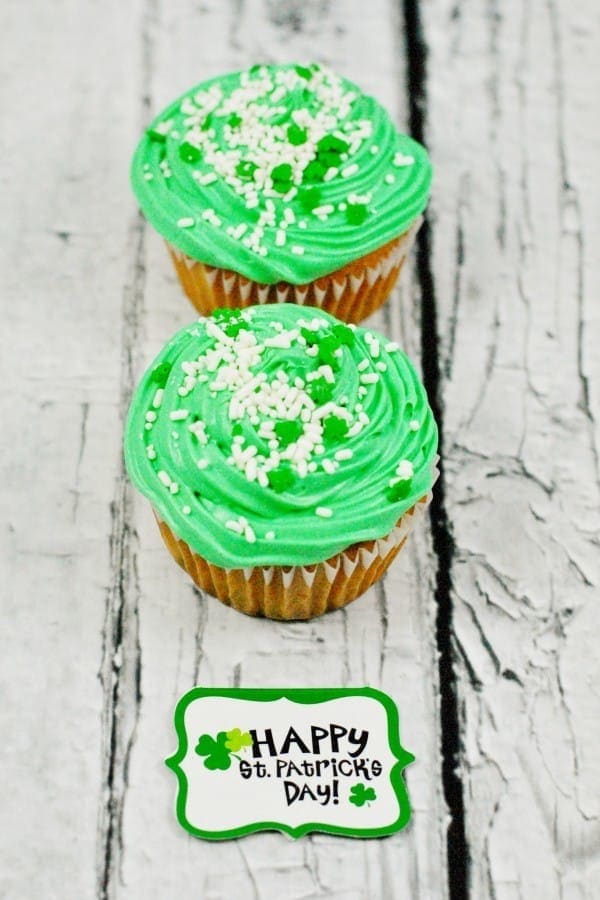 St. Patrick's Day Shamrock Pretzels | Spaceships and Laserbeams
Another one of my favorite sites for recipes, Spaceships and Laserbeams creates easy recipes we all can do. Thank goodness!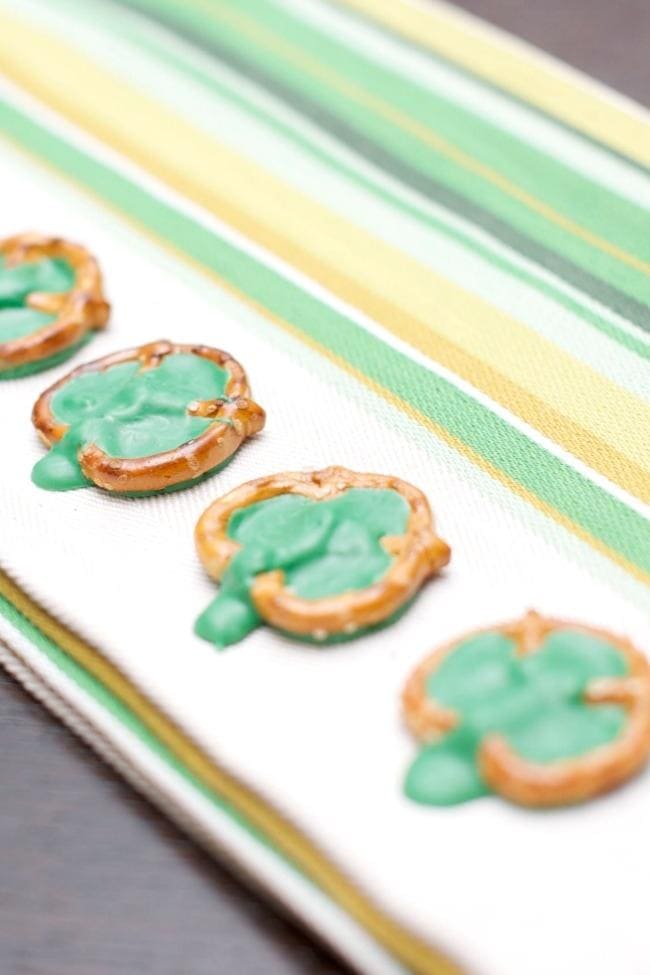 Green Ombre Oreo Mint Chocolate Cake | The Soccer Mom Blog
This cake looks so wonderful! It makes a beautiful presentation, and the instructions are step by step.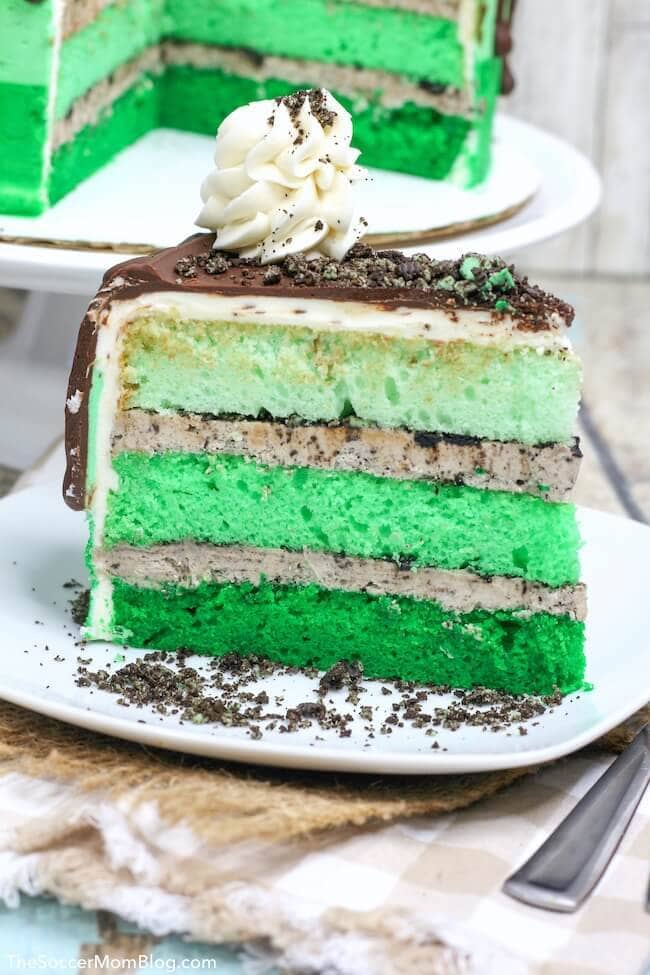 Chocolate Mint Krispie Recipe | A Mom's Take
I adore Rice Krispie treats. I don't know why I don't make them more often. They are so easy and always turn out perfectly! These are made with those delicious little Andes Mints. Yum!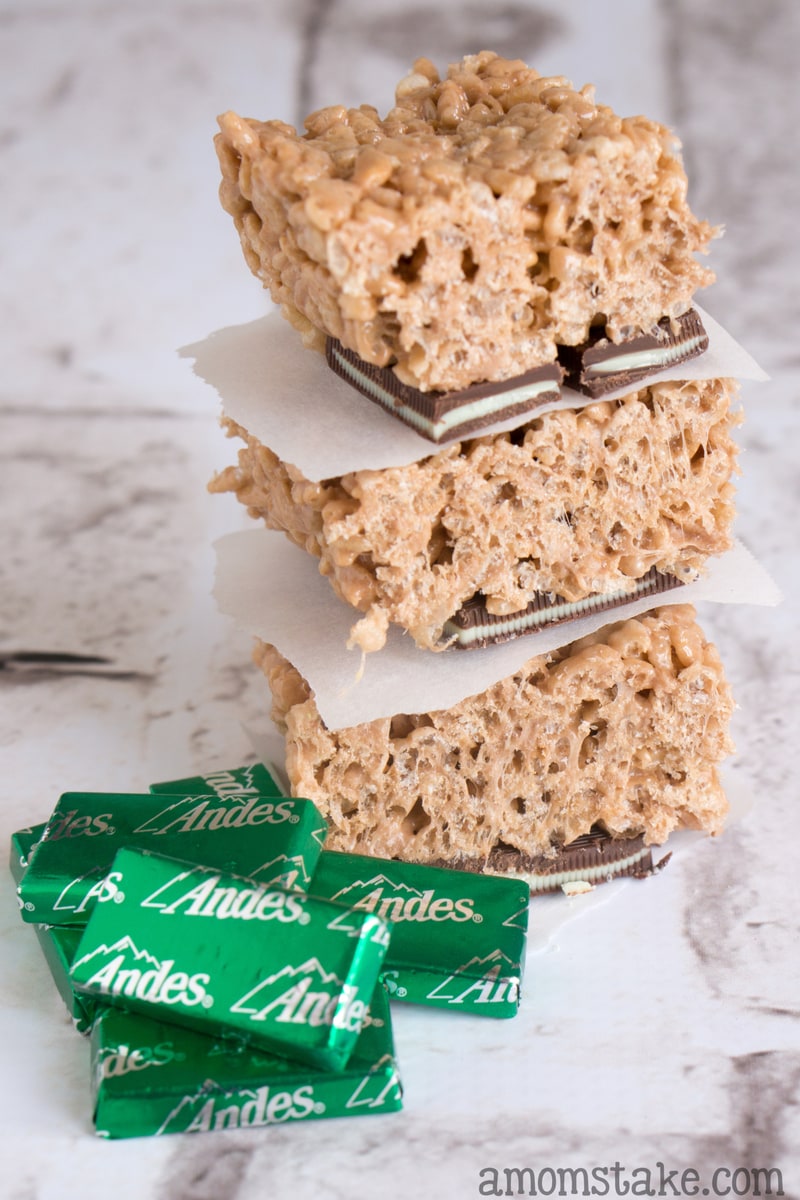 Green Velvet Cheesecake Bars | About A Mom
So clever, these green velvet bars will be a party favorite!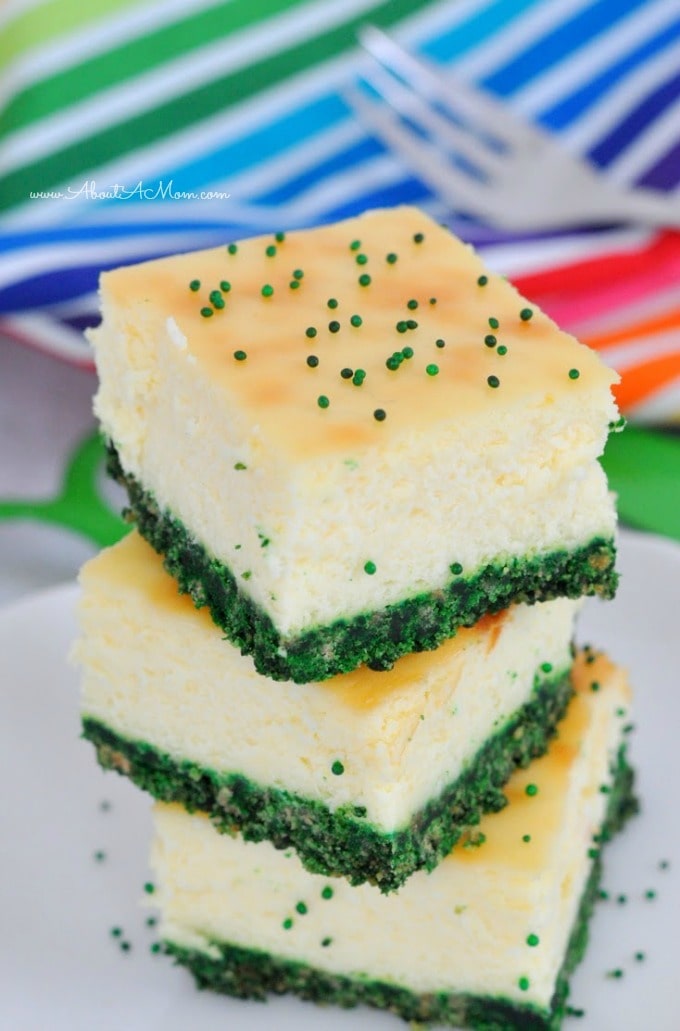 Shamrock Whoopie Pies |  Mom Foodie 
These whoopie pies are luscious, and what could be a more perfect fit for St. Patrick's Day desserts?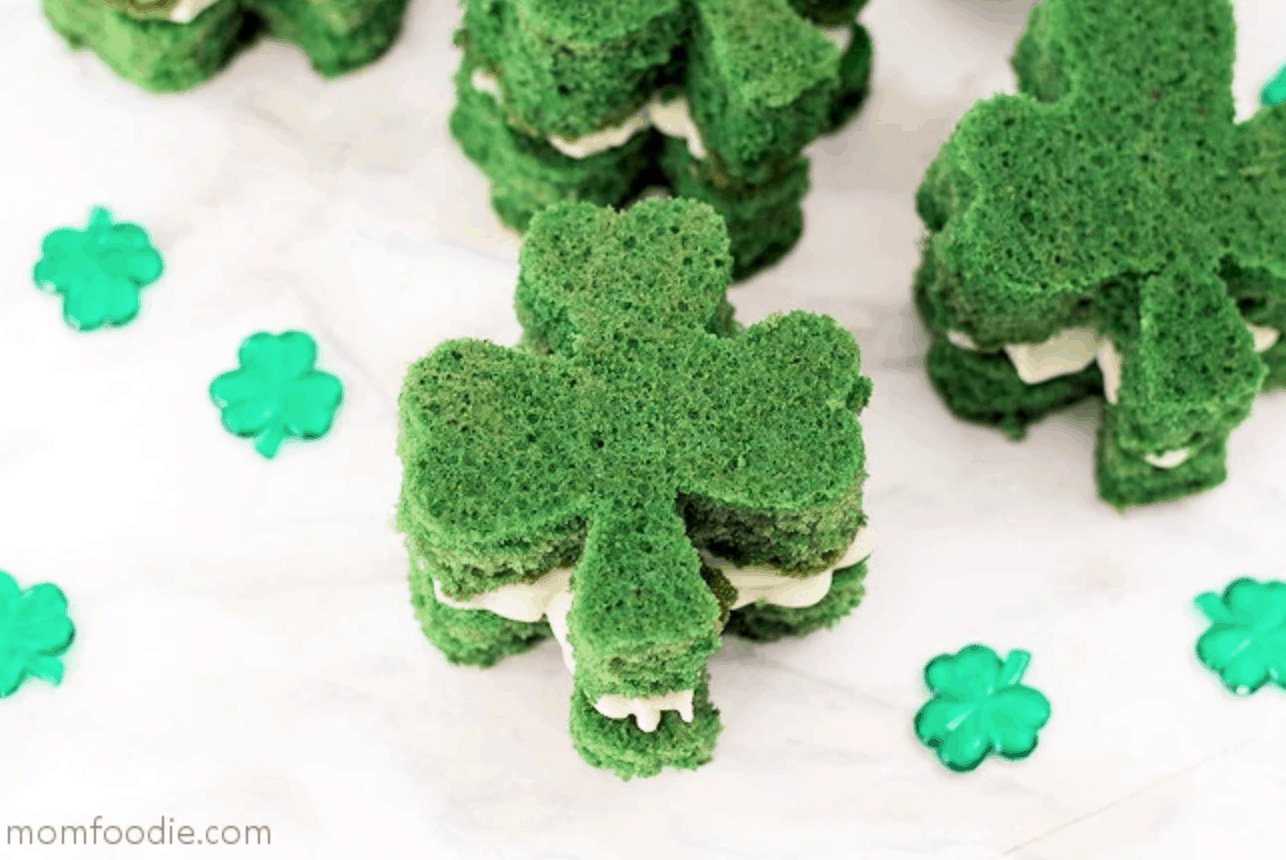 St. Patrick's Day Rice Krispie Treats | Brooklyn Active Mama 
Aren't these adorable? Hands-free desserts are the best for kids. You could change these up to work for any holiday, too.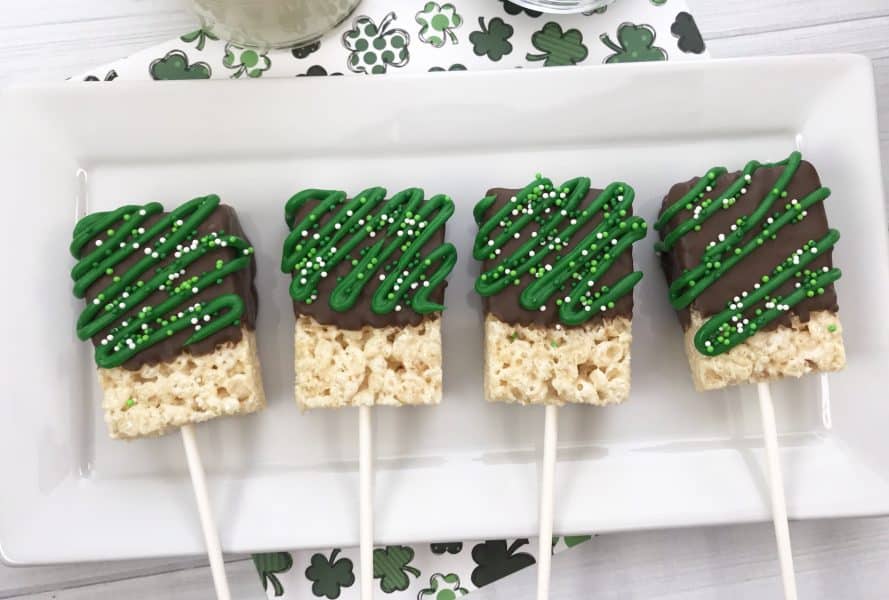 St. Patrick's Day Green Cake Pops | Delicious Little Bites 
This one is gluten-free! Aren't they fabulous? I'd put them in a short vase and make them the centerpiece of the table!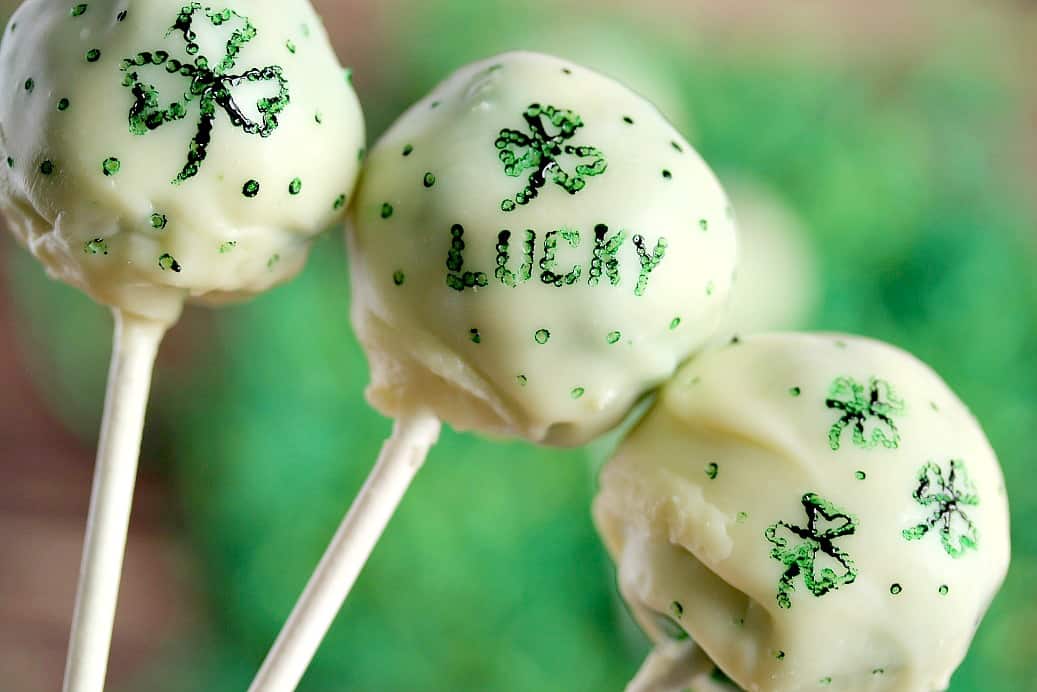 Brownie Mint Trifle | Saving You Dinero
Trifles are so easy and make the best presentation! I might make this one in a big trifle bowl for a party!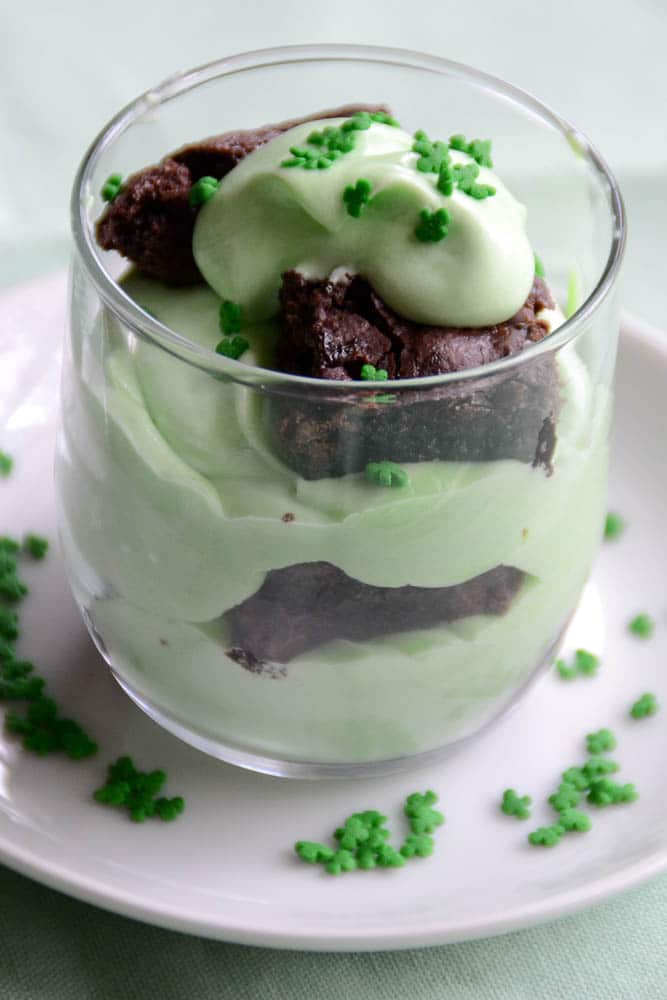 Pistachio Dessert | Food Meanderings 
This one is ready in under 30 minutes and so delish!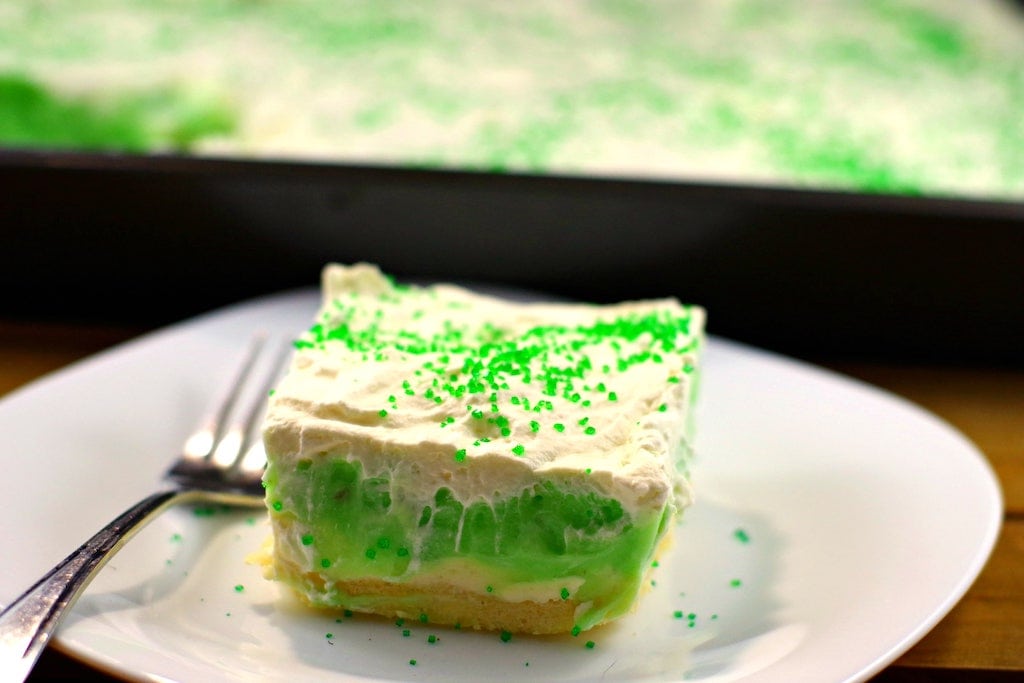 Shamrock Stained Glass Cookies | Love on a Plate
These only look difficult to make. They are actually so easy!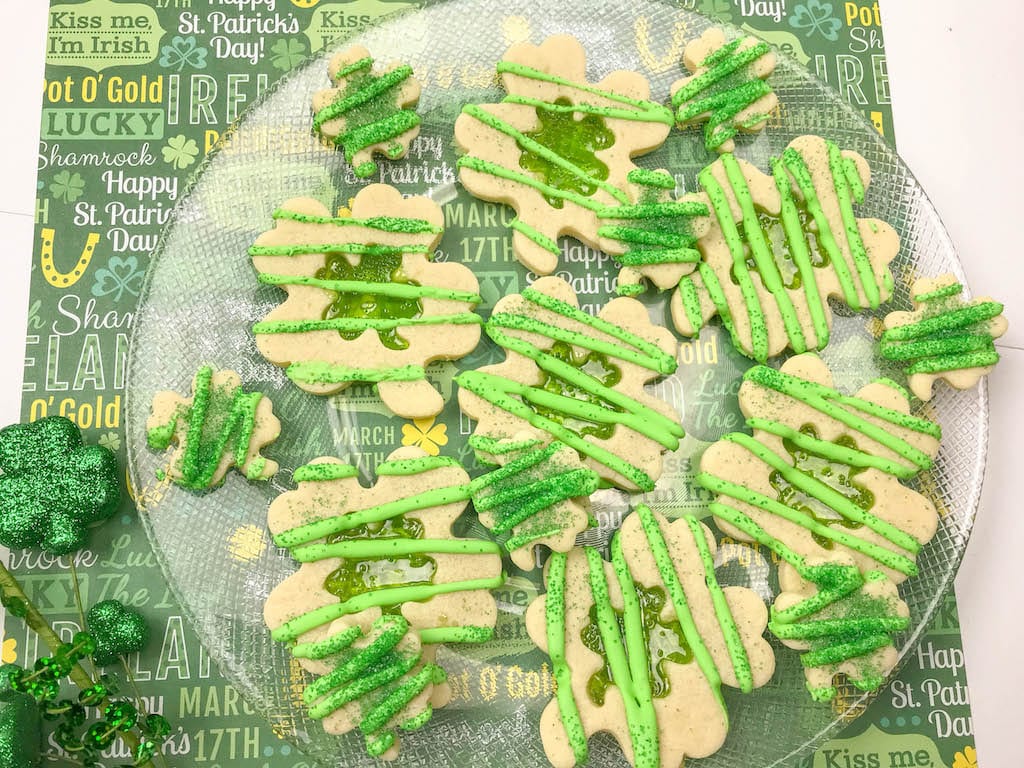 Mint Tea Homemade Marshmallows | The Artisan Life
This one is so clever! I could do a lot with these marshmallows! Making them versus buying them takes marshmallows to a whole new level!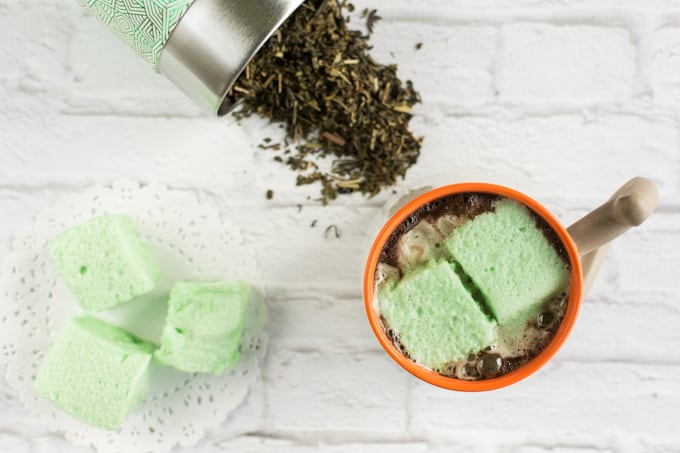 St Patrick's Day Snack Mix | Mama Cheaps
This snack mix makes a great gift for teachers, friends, and book club members. Who could you bring some cheer?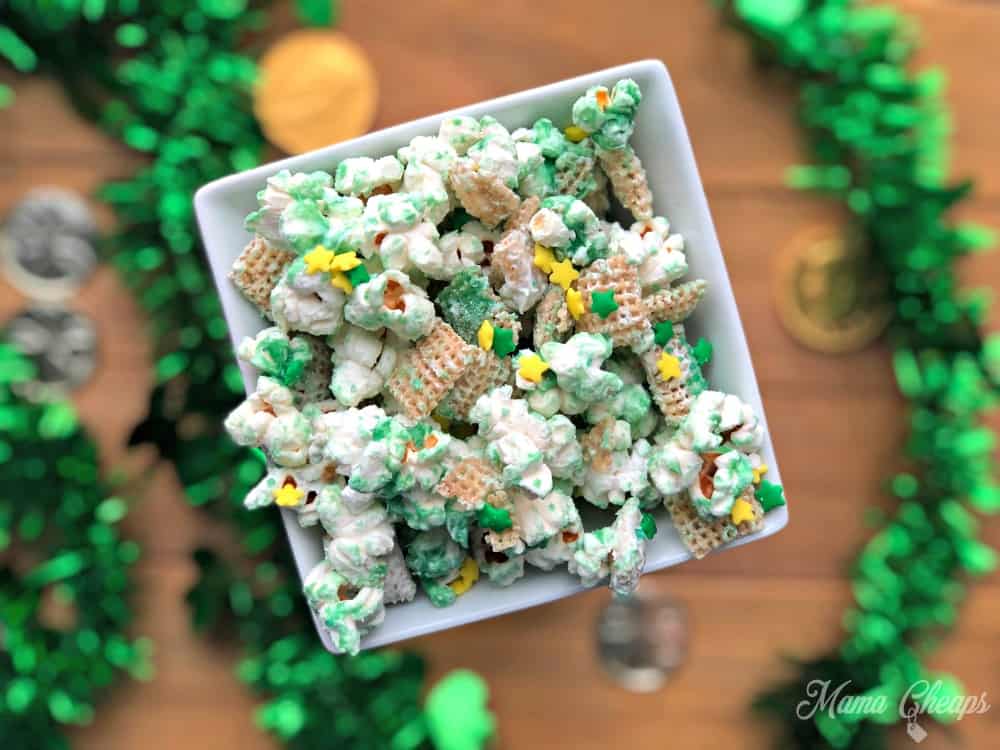 Green Mint M & M's Cookie Recipe | Vibrant Guide 
Yay for M & Ms! And these are so festive. Buy the green ones while you can!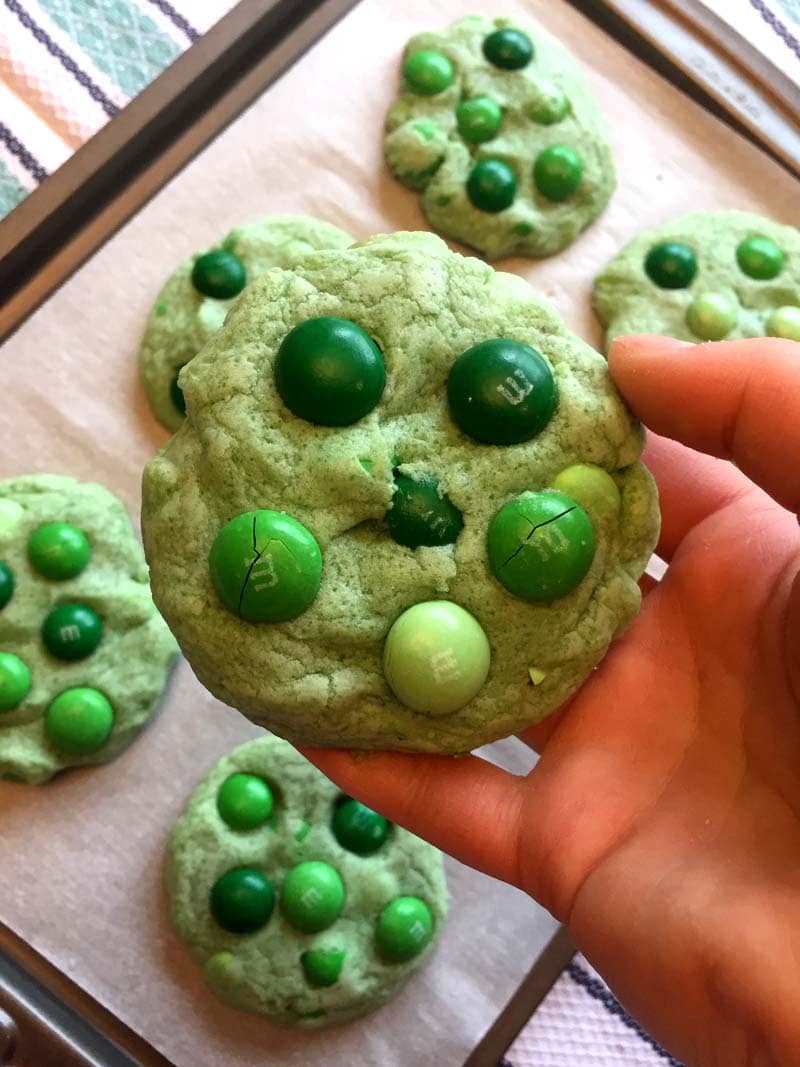 Mint Chocolate Truffles | The Love Nerds
Here's another one that would make such a nice gift. Aren't they pretty?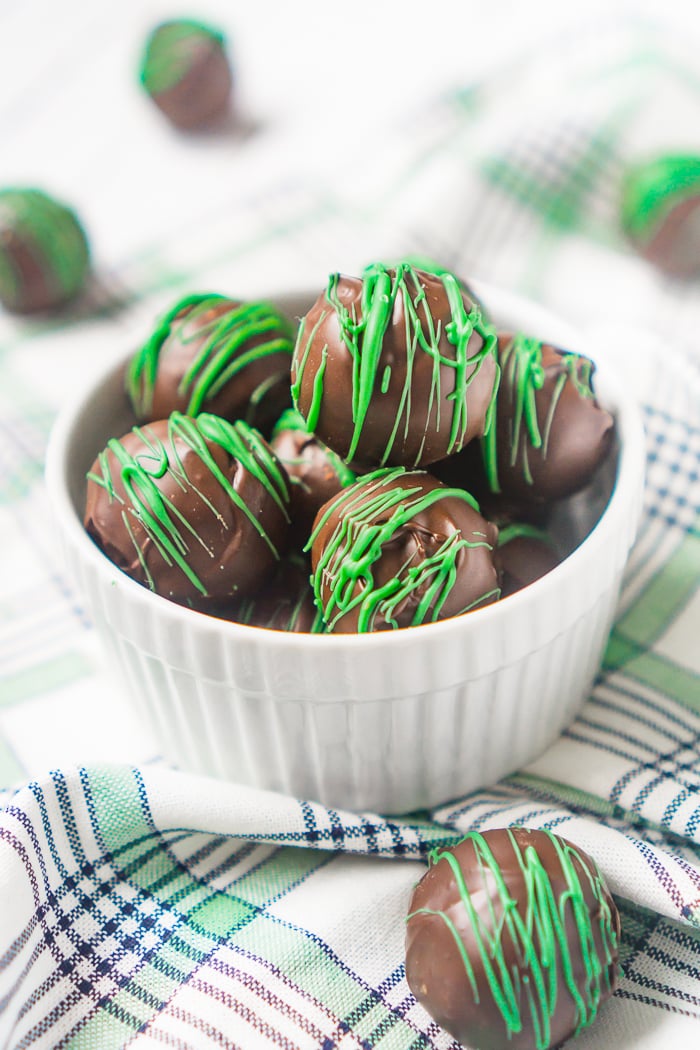 St Patrick's Day Green Fudge | Crayons & Cravings
Who loves fudge? Add St. Patrick's Day sprinkles to any dessert to make it festive!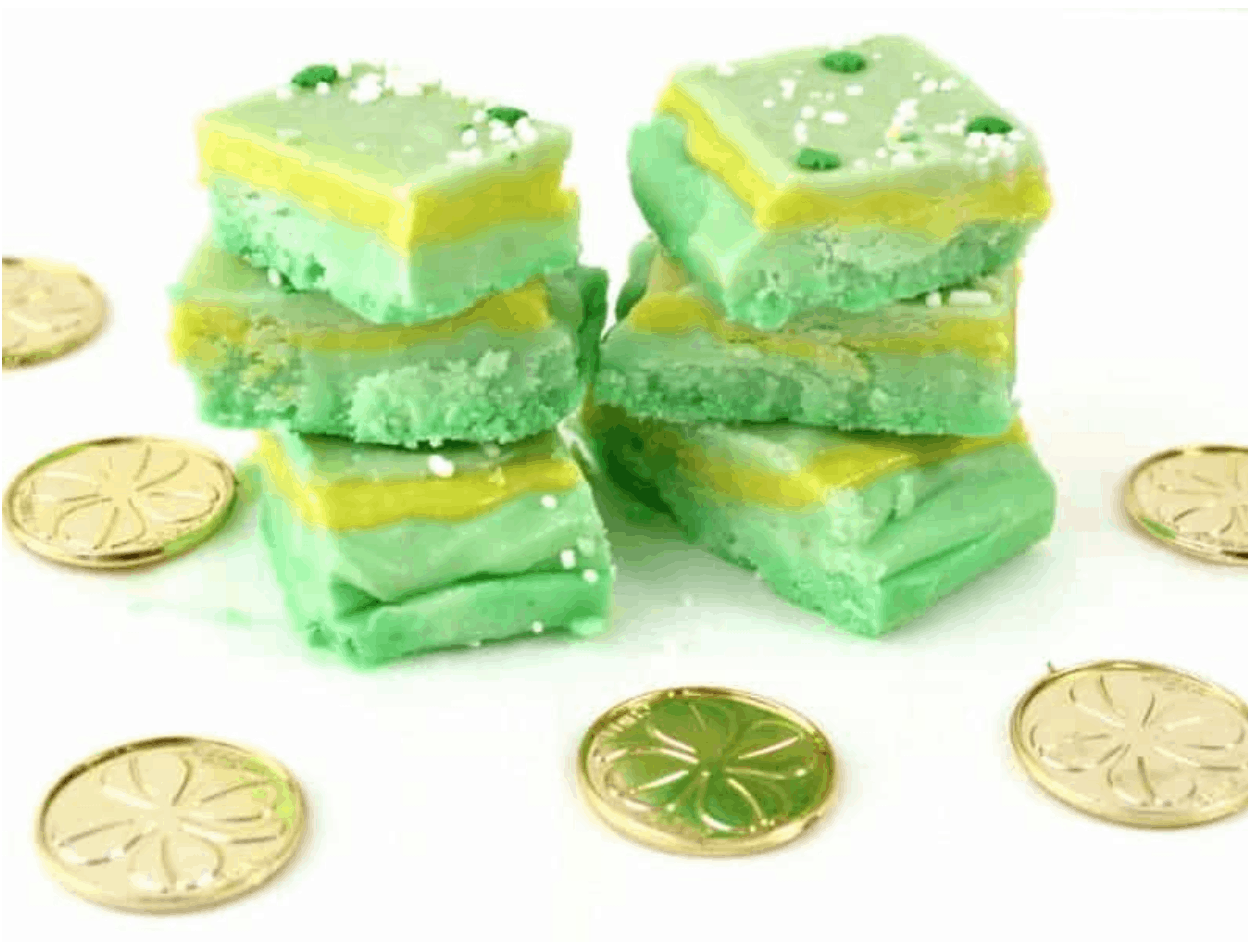 Marshmallow Leprechaun Hats | Dine, Dream Discover 
This one is really creative and tastes like s'mores without the mess!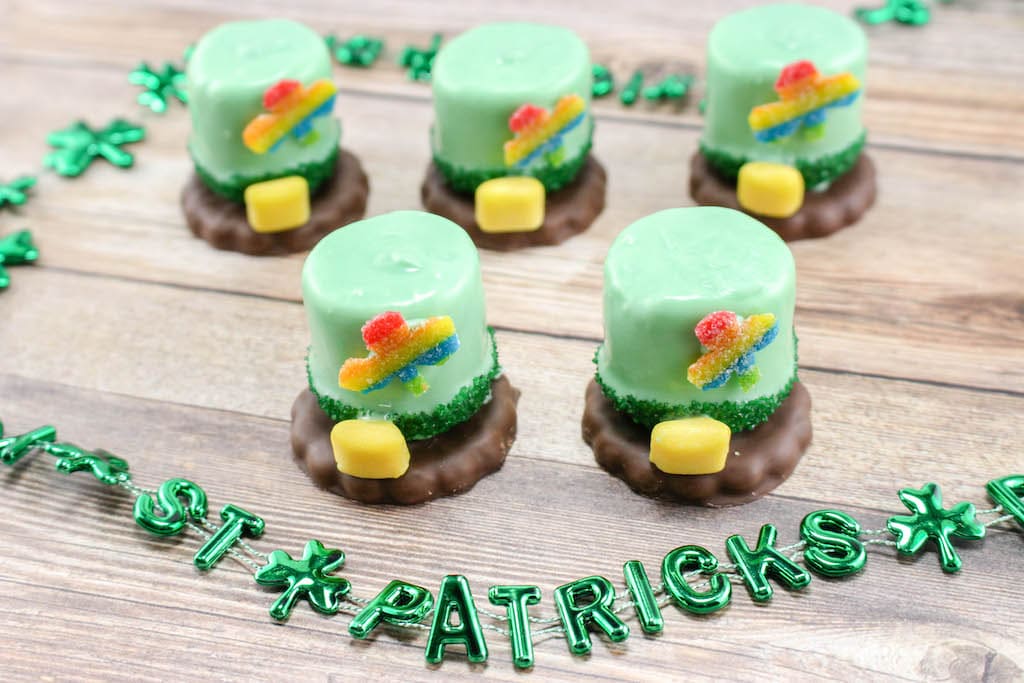 St Patrick's Day Meringues | Whispered Inspirations
These little bits of deliciousness can be whipped up in no time!
Patty's Lime Polk Cake | Housewives of Frederick County
The perfect dessert to take to a party, this cake is so moist and so tasty!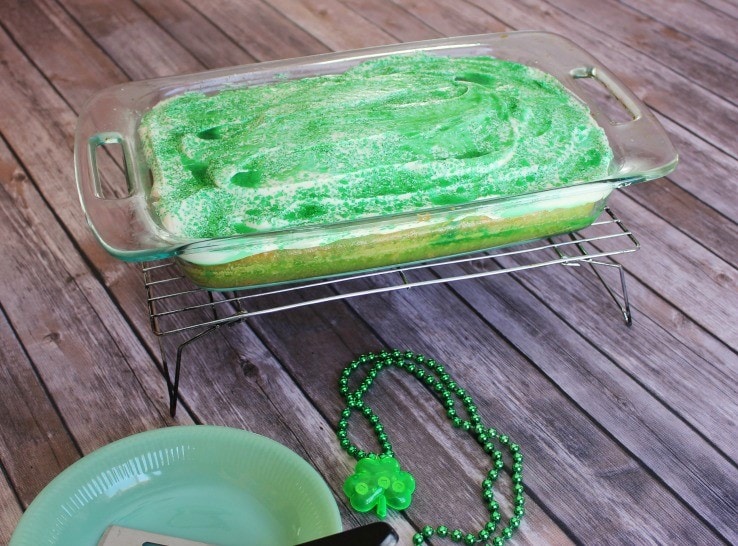 Shamrock Pretzel Pops | Dancing in the Rain
The kids will really love these pretzel pops, and you'll love how easy they are to make!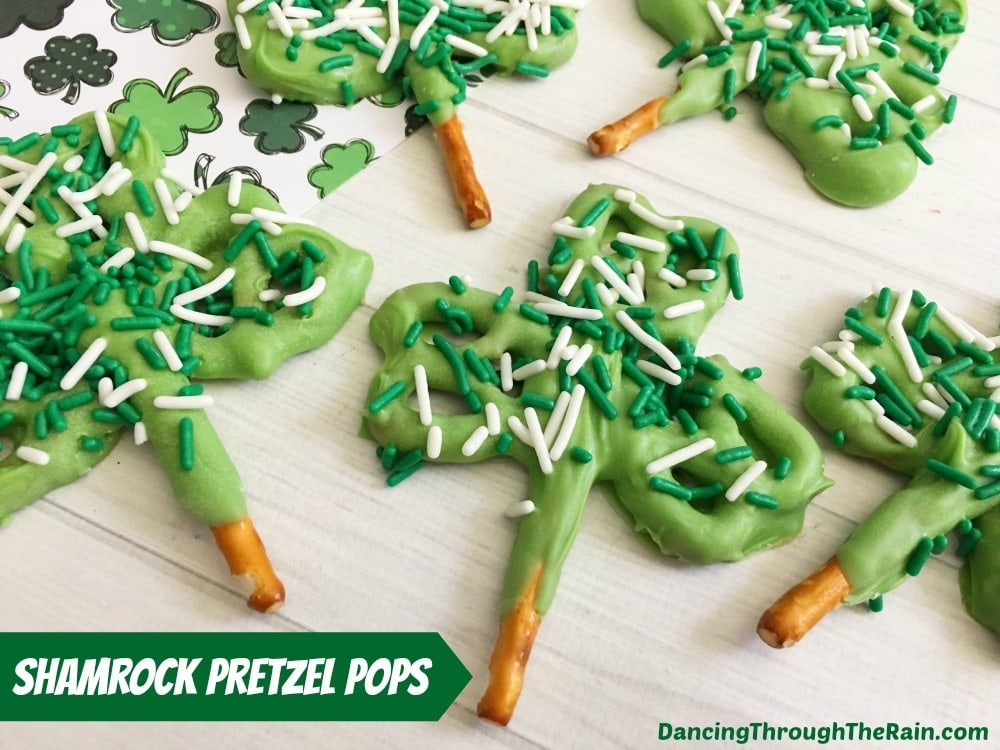 Shamrock Oreo Cookies | The Inspiration Edit
This is one of my favorite St. Patrick's Day desserts ever! Aren't they cute?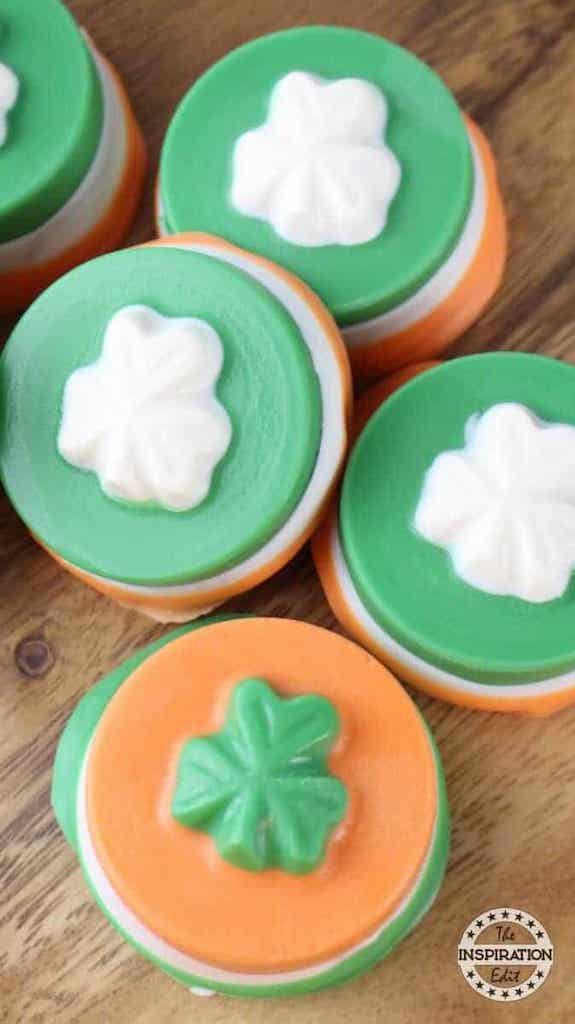 Rainbow Jello Cups | A Magical Mess
Though this dessert is a little time-consuming, the results are worth the trouble!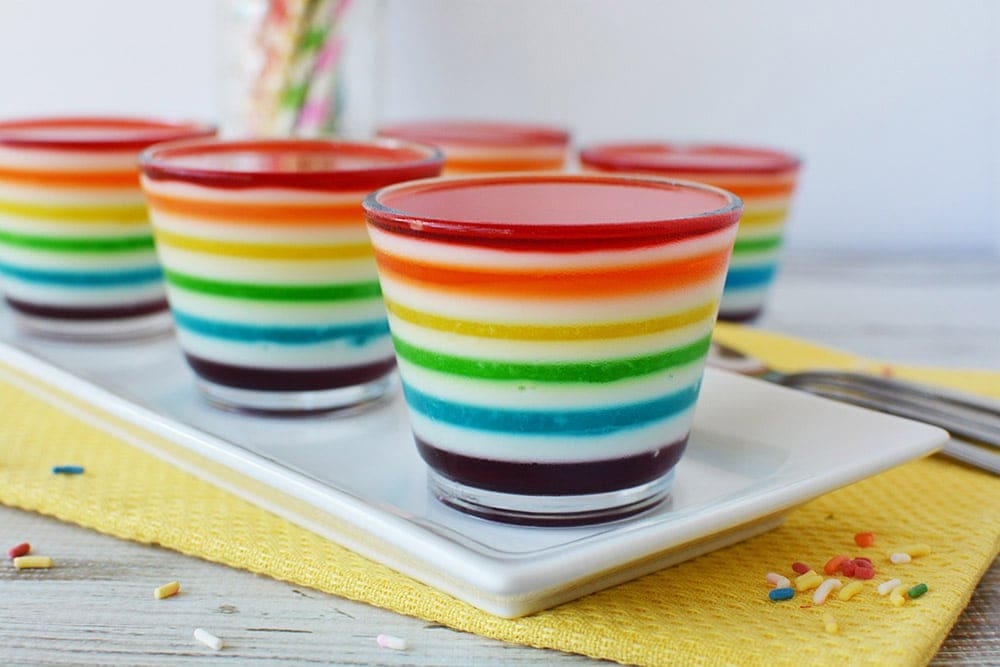 Leprechaun Samoa Ice Pops Recipe | Cutefetti
Dawn at Cutefetti is so creative and these look so good!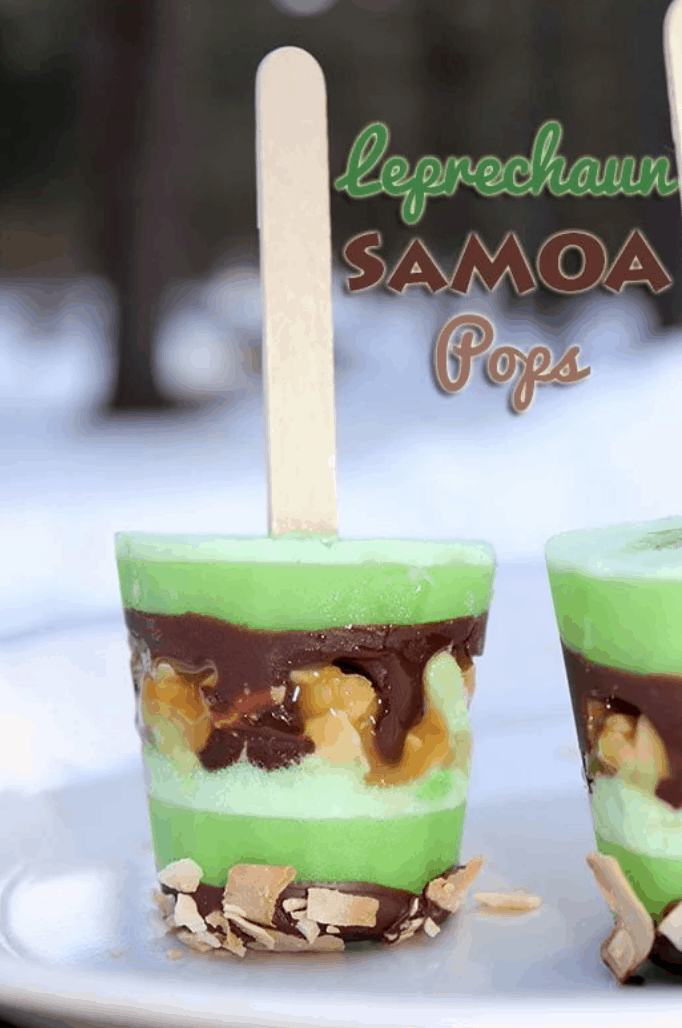 Chocolate Covered Leap-Rechauns | The Monday Box 
These aren't just for St Patricks Day desserts - just think of the possibilities! Birthday parties, scouts, any gathering where kids are involved!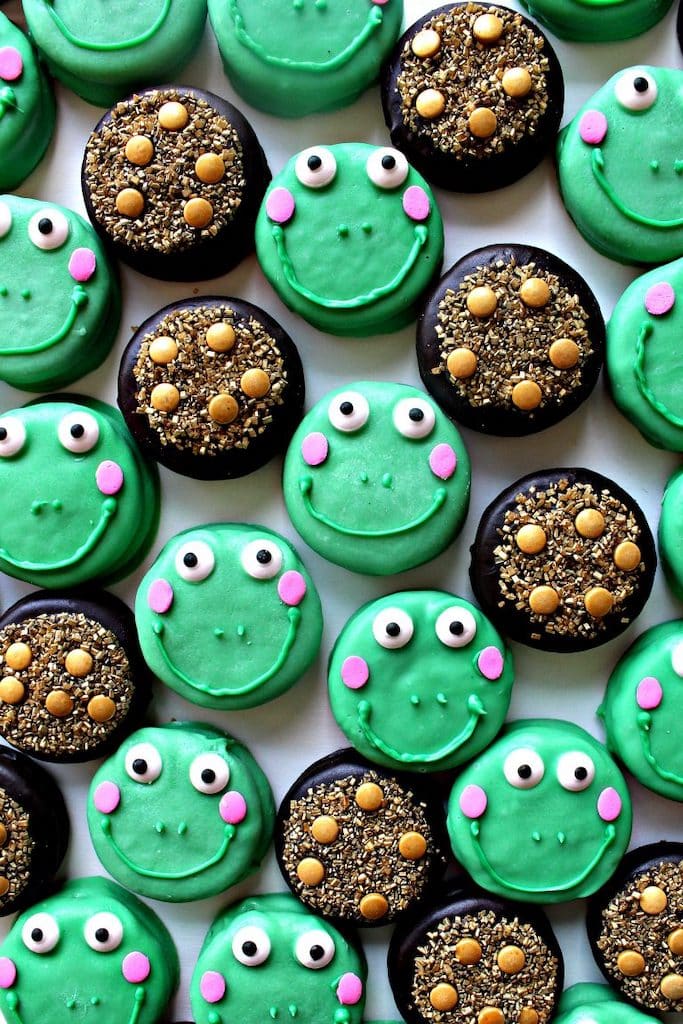 Rainbow Painted Sugar Cookies | Snappy Gourmet
Another fun one for the kids to make, and you can't go wrong. Let them express their own designs and see what they come up with!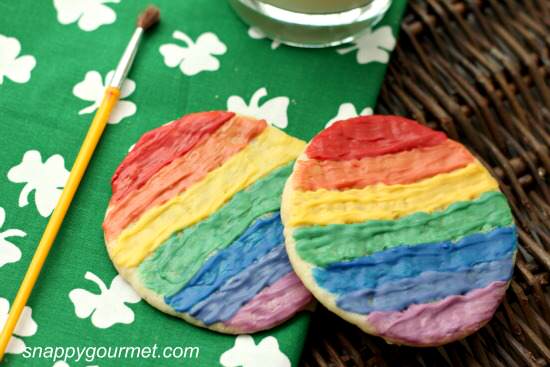 More St. Patrick's Day Desserts Recipes
Before you serve dessert, you've got to serve St. Patrick's Day appetizers! If you're throwing a dinner party or just want to celebrate with your family, check out these St. Patrick's Day dinner recipes. And check this post out for a list of recipes for St. Patrick's Day cupcakes.
Have fun! And always remember if you're drinking on St. Patrick's Day, have a designated driver and drink responsibly!