Have you ever had Irish Potato Pie? It makes a delicious side to just about any meal, whether steak, chicken, or seafood. It pairs well with entrees that are warming, comfort foods, as well as elegant, savory options.
When I was in Ireland last year, we dug deep into the history of potatoes, including the famine. It was a very sad, but fascinating lesson in Ireland's history.
If you haven't read any of the articles about my Ireland trip, check out things to do in County Wicklow and see how they put your face right in the foam of a Guinness draught at the Guinness Storehouse in Dublin.
Potatoes are also a huge part of Peru's culture as I learned when visited Potato Park on a Cusco Tour. Try this delicious Peruvian Causa with shrimp for a taste of Peru.
Instead of the basic boiled potatoes, why not try a delicious Irish Potato Pie alongside your next meal? I don't think you'll miss the blandness of the old way of doing potatoes after trying this recipe.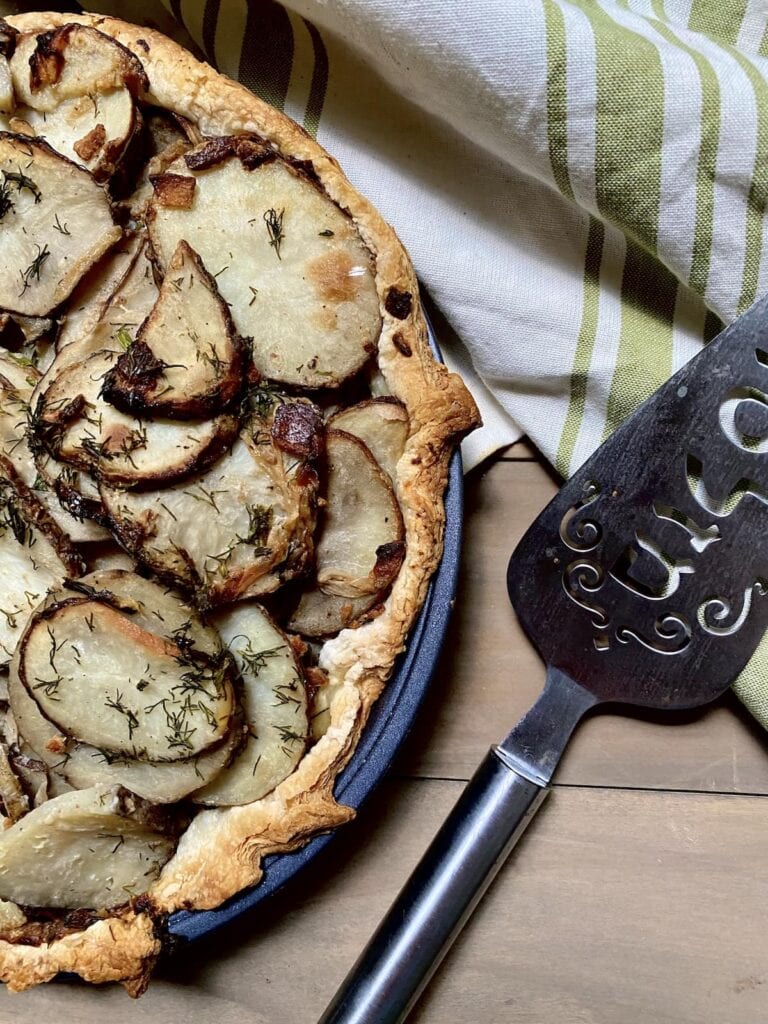 Granted, this recipe will take a little longer than boiling potatoes for the ordinary mashed version, but the bonus? An easy, beautiful, new, tasty side dish. You'll get regular requests for this one.
The best part of this dish?  The bacon!  It gives a savory, saltiness that is just right. Not overpowering, but definitely adds the perfect balance!
What You'll Need to Make It
You'll only need eight ingredients, not including salt and pepper. Much of this is probably already in your fridge, like butter, bacon, and half & half.
I always have potatoes and onions. What I don't have on hand typically is puff pastry, fresh dill, and fresh chives. Gather your ingredients and get started making your first Irish Potato Pie.
How to Make Potato Pie
Preheat oven 375º.
Cook bacon until fully cooked and crisp. You will need a pan big enough to cook the bacon, onions, and potatoes. I had to switch out to a larger pan after cooking the bacon and onions.
While the bacon is cooking, start working the thawed puff pastry into a pie plate. I used a rolling pin to get it a little larger than my pie pan.
Crimp the edges with a small fork and place in the refrigerator until ready to be filled.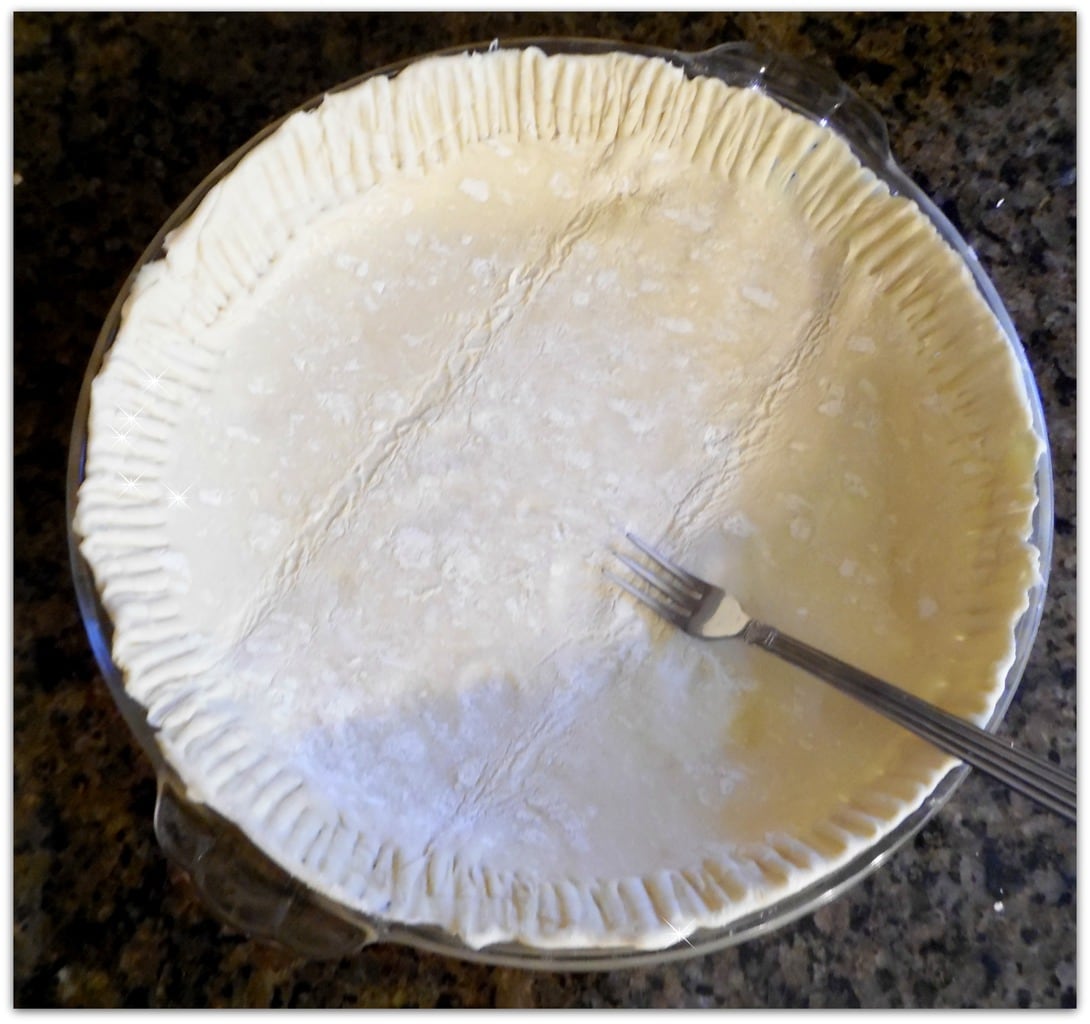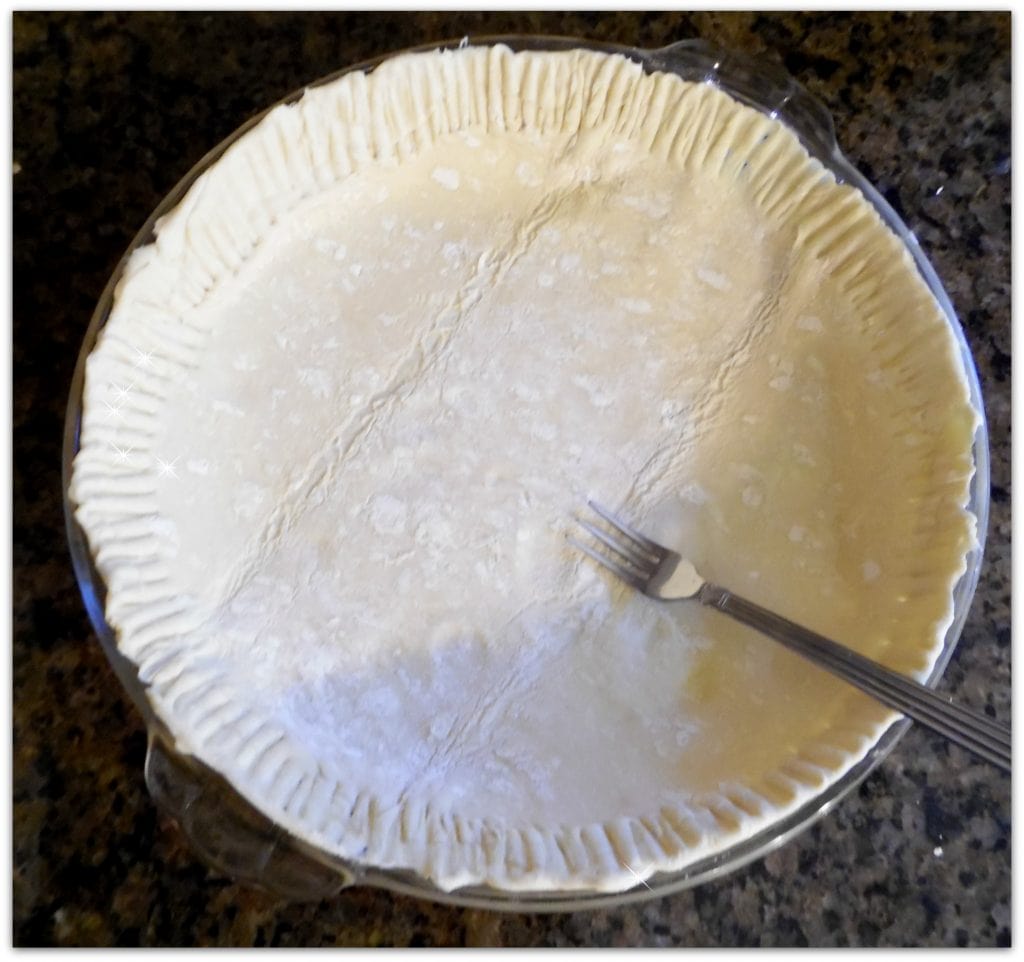 The most time-consuming part of this dish is cutting the potatoes. But really, there are only 5 to cut. This really is an easy recipe.
Here's a trick I learned over 25 years ago and I have to believe it has saved my fingers each and every time! When cutting potatoes (or anything round... tomatoes, etc) cut a thin slice off one side to make a flat edge.
This will stop the vegetable from rolling or "slipping" out from under the knife. (Lay the flat side on your cutting board and make smooth, deliberate cuts with a sharp knife. The sharper the knife, the easier t0 cut.)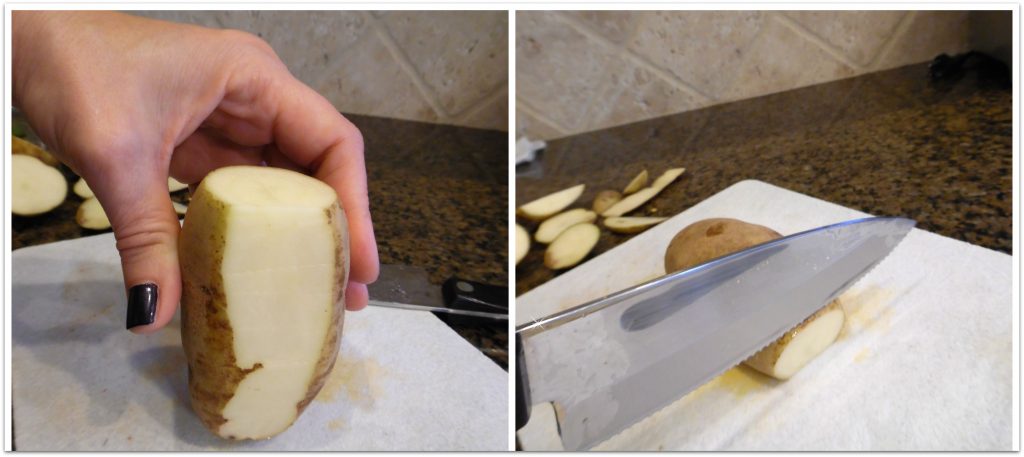 I decided to try to make it a tiny bit healthier this year. After removing the crispy bacon from the pan, I drained all but ¼ cup of the bacon drippings.
Note: My husband never knew and he loved this dish!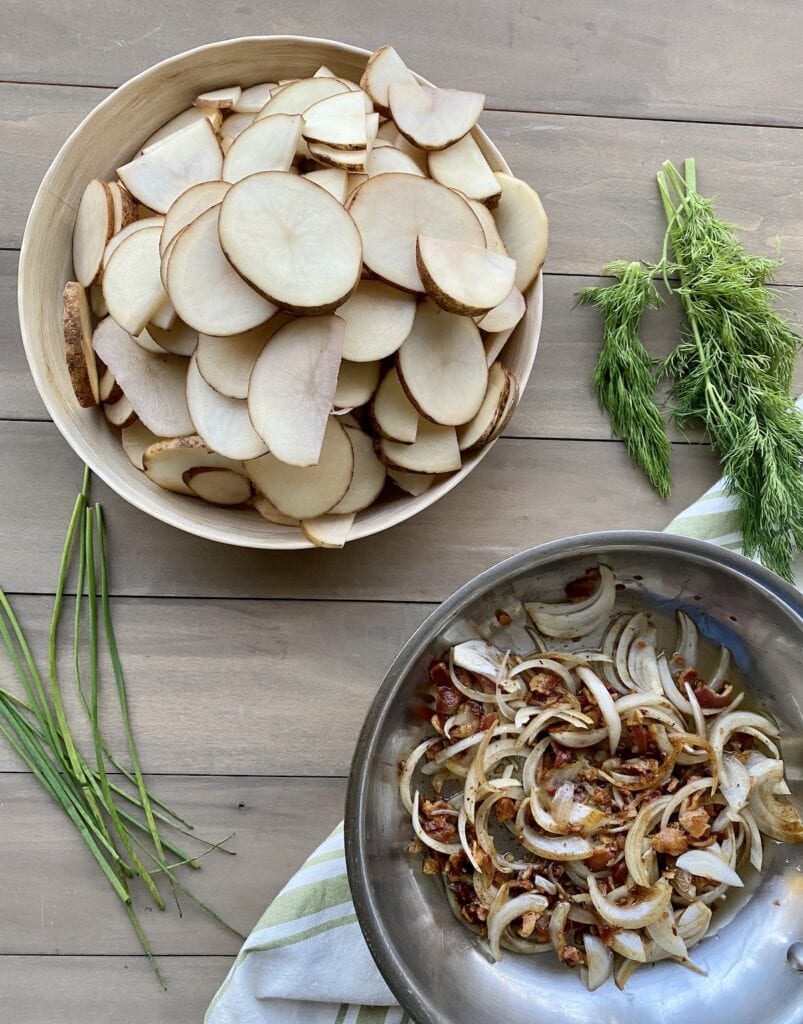 Add onions to the bacon drippings and butter and let them caramelize for a few minutes, stirring constantly, but being careful not to burn the bacon.
Add the potatoes, salt & pepper, and fresh dill and stir with a wooden spoon carefully for about 7 minutes.
Spoon filling into pie crust and pour half & half over the filling.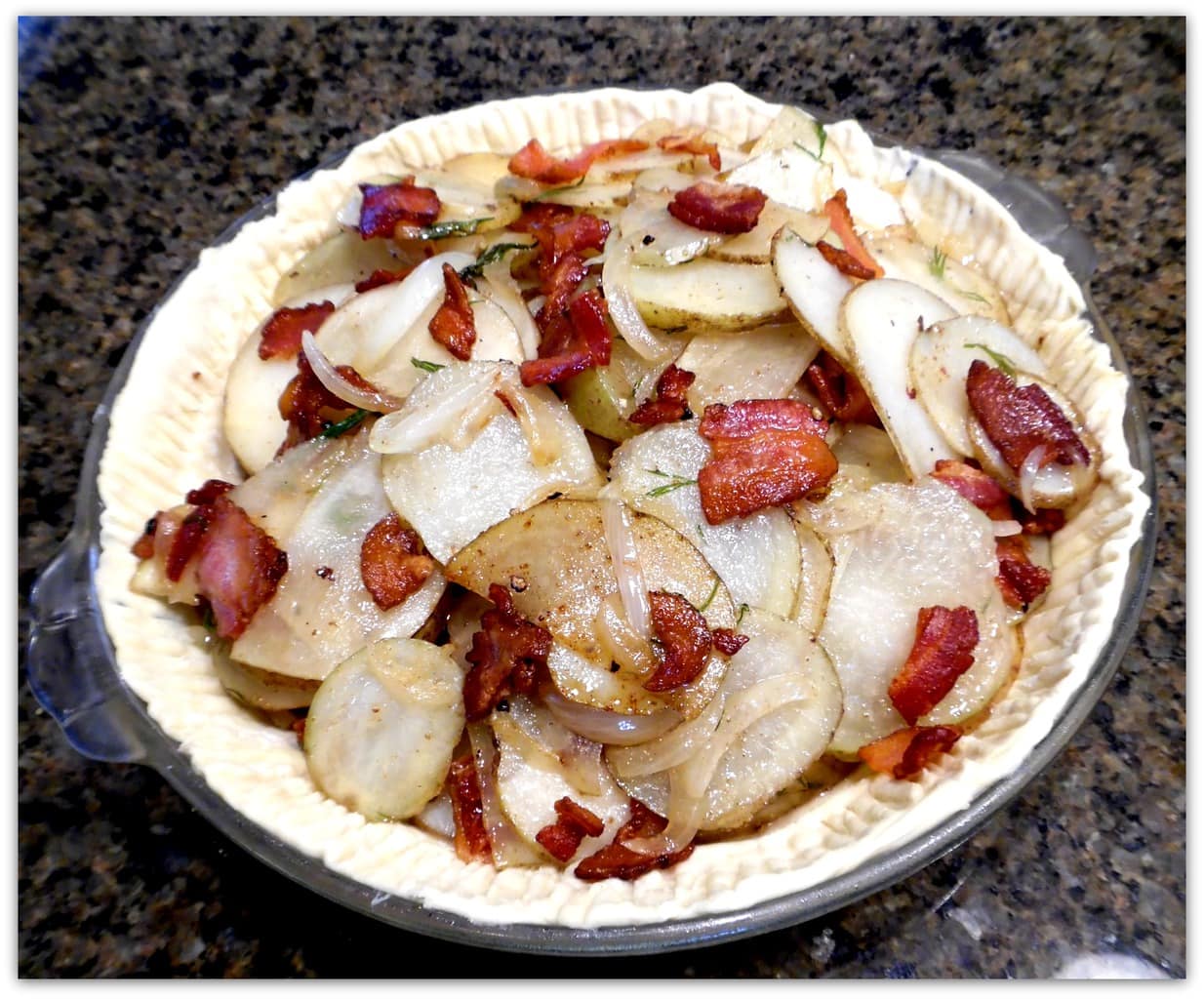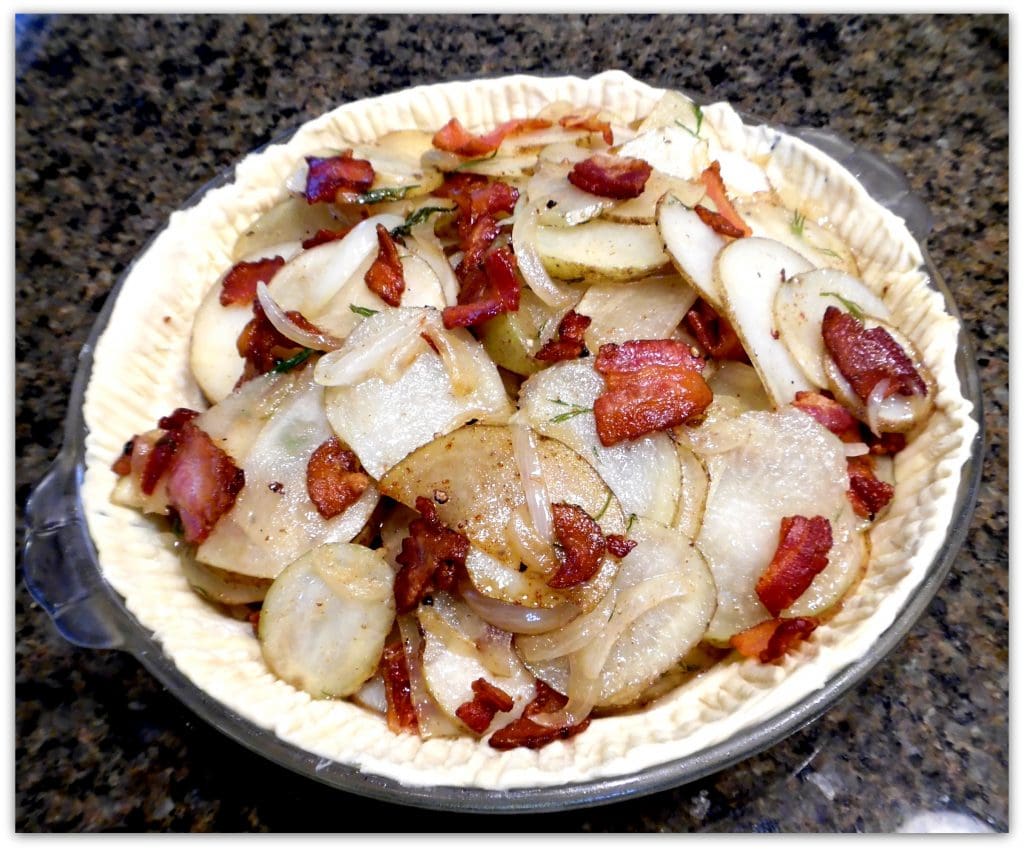 Bake 45 minutes until golden and crisp, making sure the bottom of the crust is fully cooked.
Let the pie set for 10 minutes. Sprinkle with chives. Cut into triangles. Serve immediately.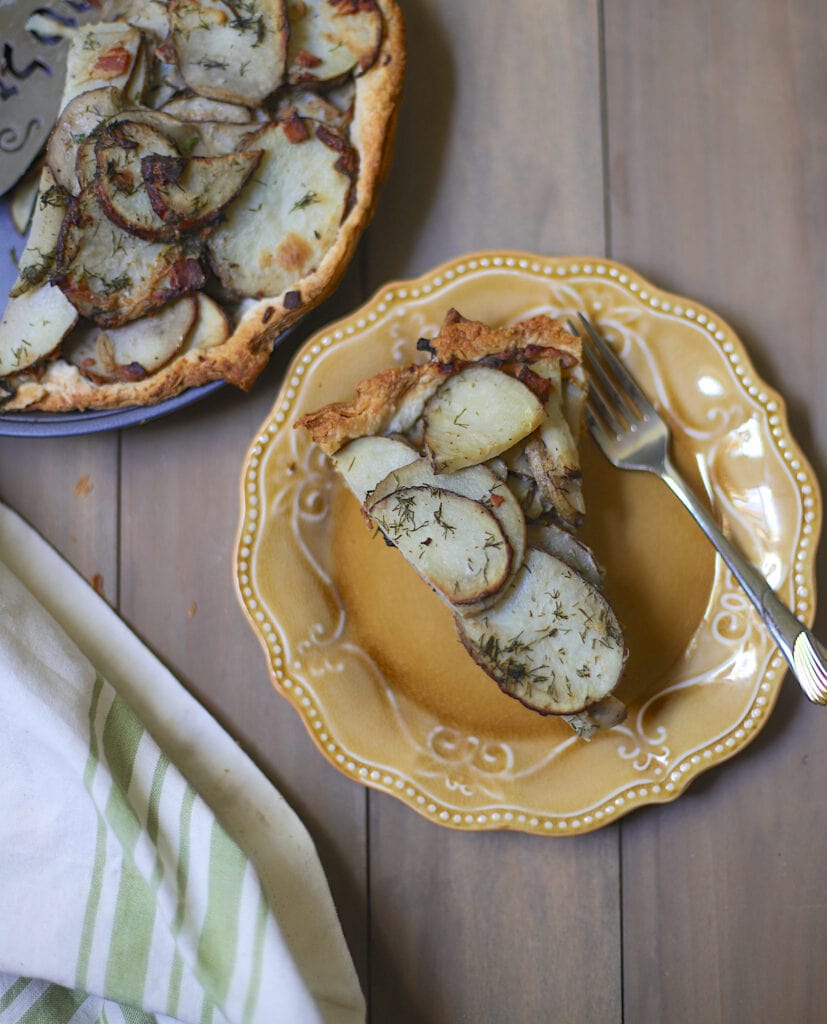 I hope you enjoy this side dish! Serve it up with these delicious Guinness Irish Beer Ribs (4 ingredients!) If you decide to make it, let me know! I'd love to hear your thoughts! Enjoy!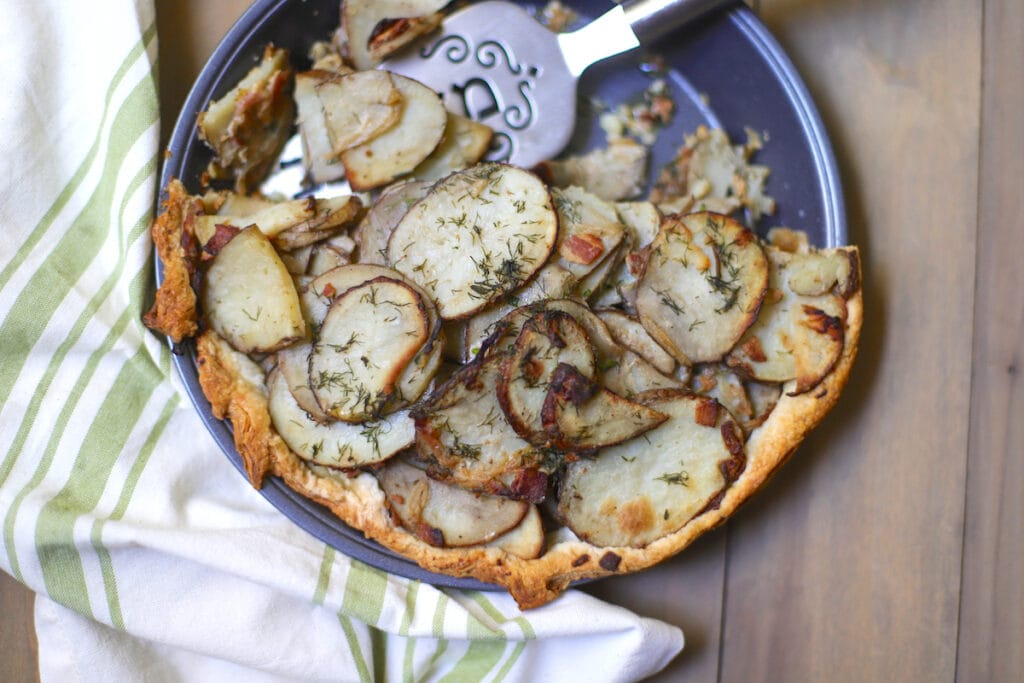 Here is a printable recipe for your convenience!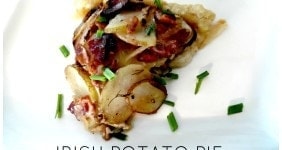 Ingredients
1

sheet

puff pastry

thawed

4

TBS

butter

½

pd

Bacon

thick-cut - chopped

5

Potatoes

thinly sliced

½

Yellow Onion

thinly sliced

1

TBS

Dill

fresh, chopped

½

Cup

Half & Half

Salt & Pepper

Chives

chopped for garnish
Instructions
Saute bacon until crisp. Drain all but ¼ of bacon drippings.

While the bacon is cooking, place thawed puff pastry sheet in pie pan and crimp edges. Refrigerate until ready to fill.

Add butter to the pan with crisped bacon and ¼ cup drippings.

Once the butter has melted, set aside.

Add onions to the pan with bacon and caramelize, being careful not to burn the bacon.

Add potatoes, dill and salt & pepper. Stir until well combined.

Add the potato and bacon mixture to the pie pan.

Pour half & half over the filling, doing your best to distribute it throughout the filling.

Bake 50 minutes until tender and golden. Make sure the bottom of the pie is cooked through. It won't hurt to leave it in a little longer!

Let the pie set for 10 minutes.

Sprinkle with cut chives and serve.
Nutrition
Serving:
6
|
Calories:
322
kcal
|
Carbohydrates:
20
g
|
Protein:
4
g
|
Fat:
25
g
|
Saturated Fat:
10
g
|
Cholesterol:
28
mg
|
Sodium:
178
mg
|
Potassium:
65
mg
|
Fiber:
1
g
|
Sugar:
1
g
|
Vitamin A:
305
IU
|
Vitamin C:
1
mg
|
Calcium:
30
mg
|
Iron:
1
mg
Note: This recipe was made again and updated on March 19, 2021 with a few new photos.