Have you ever taken a bath with lavender bath salts? If your answer is no, I hope you'll take a few minutes this week to spoil yourself.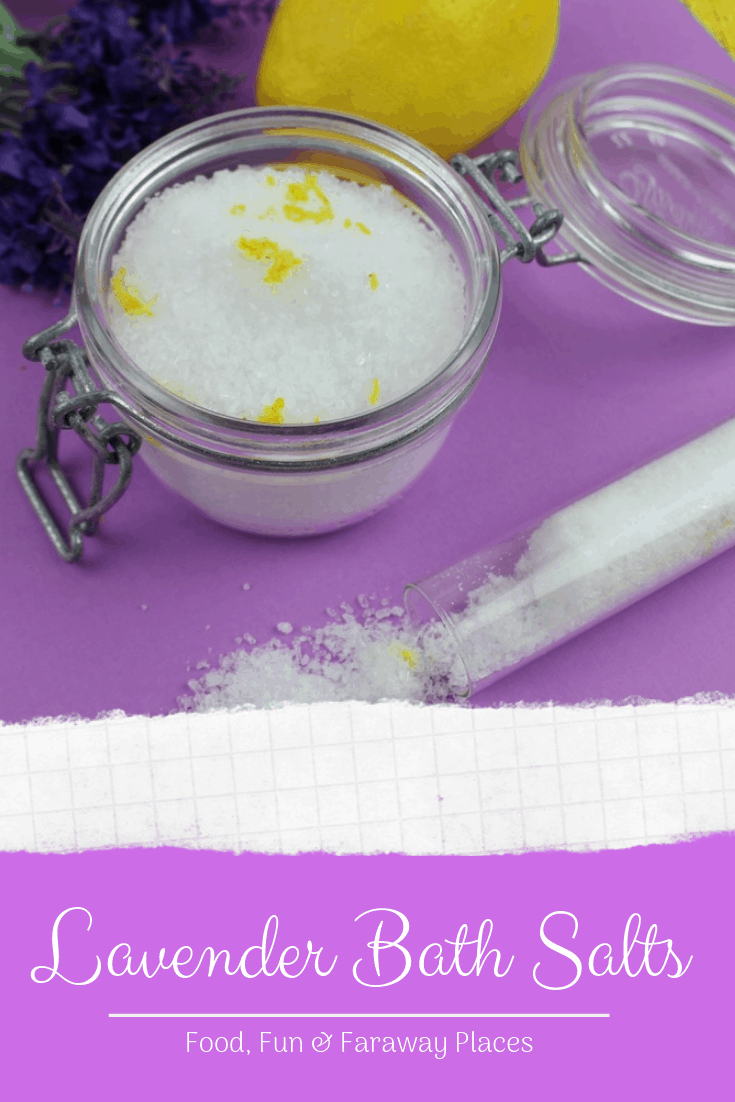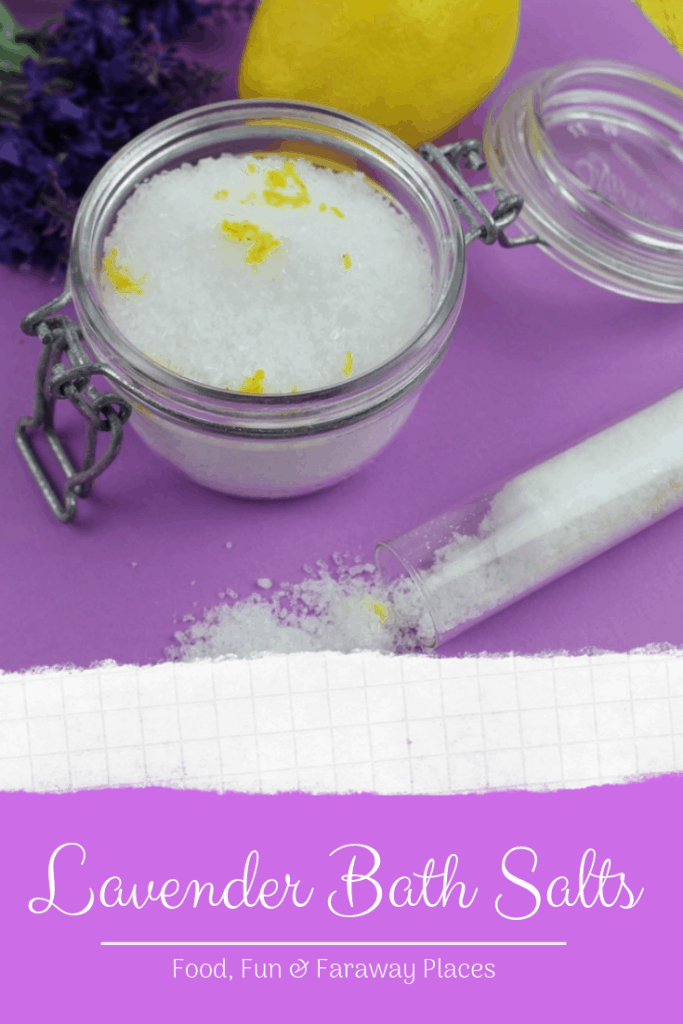 I know this recipe might come as a surprise as I typically write about food and travel, but I've decided I need to take more time to relax, and I'm betting you feel the same way.
I've been feeling a little stressed lately, and one of my favorite blogs has had a focus on taking care of yourself. I don't do a very good job of taking time off, but Brighton at BrightonTheDay has encouraged me to think more about self-care.
Brighton also wrote a post not long ago about what the life of an influencer looks like from the outside, and it really resonated with me. My friends are always telling me I'm living the dream, and don't get me wrong, I was very blessed to have found this business at a good time.
What you might not know about me is that I typically work 10 hour days when I'm at home - sometimes longer. When I'm on a trip, we are often up early and go until pretty late.
Once in a while, I'm actually in a photo! This was taken by a friend I met on the Holland America Maasdam cruise through parts of Southeast Asia earlier this year.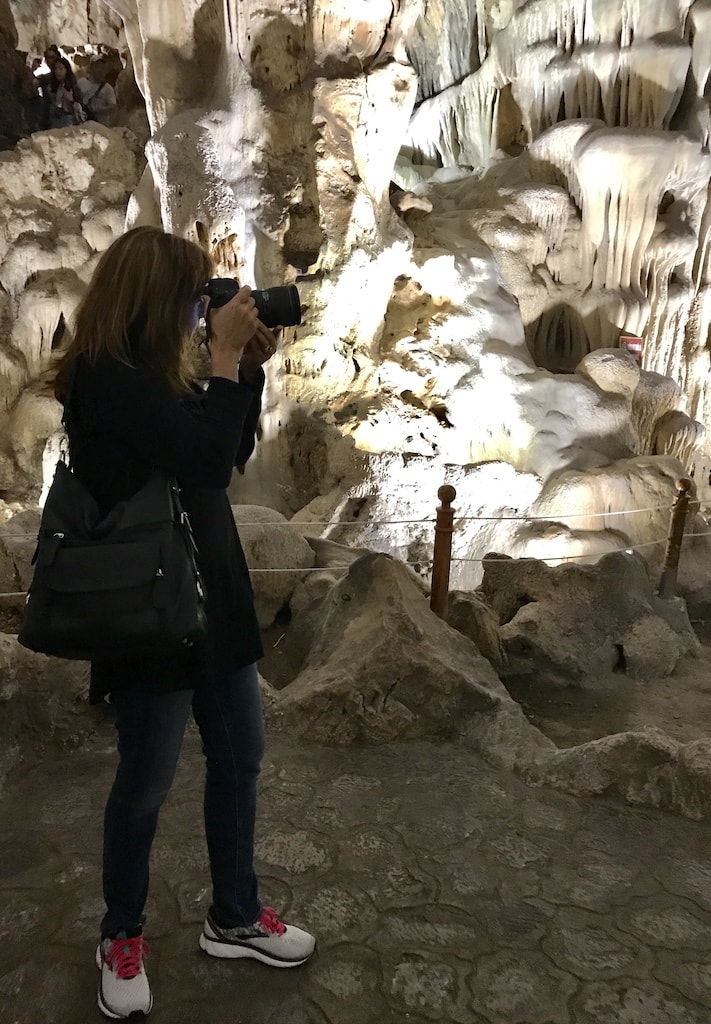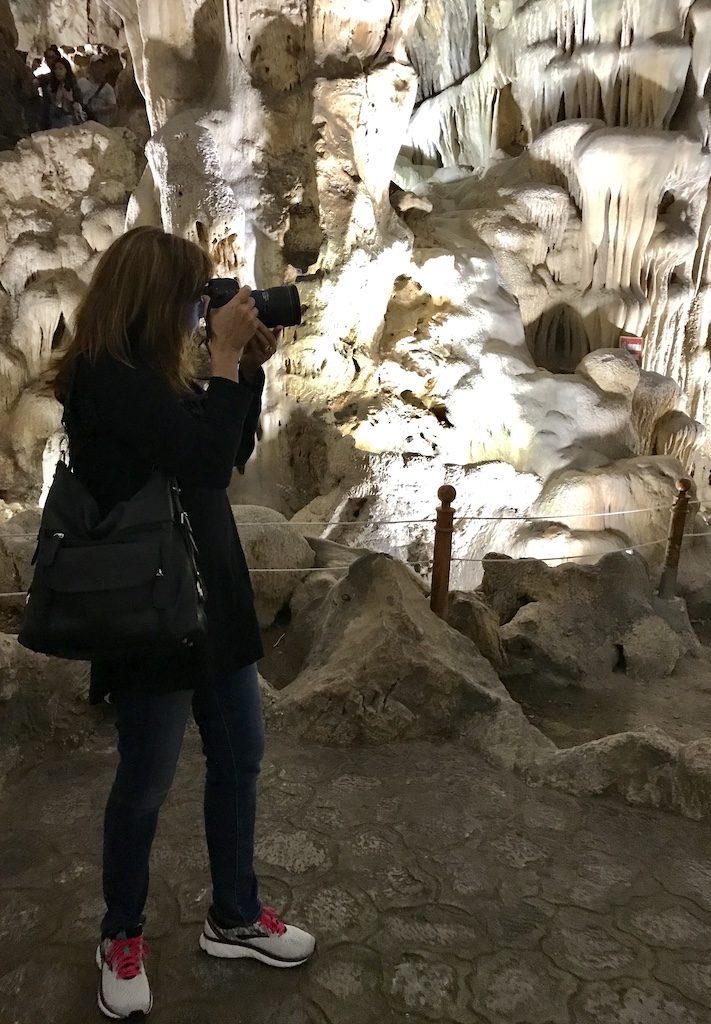 I'm still not as good as I'd like to be about uploading all my photos and at least partially editing them and getting them in folders at the end of the day, but it takes so long, y'all! I'm lucky if I'm asleep before midnight and have to do it all over again the next day.
To get the photos you see posted here and on my social channels, I lug around a Canon 6D along with an extra lens, extra battery, and an external light for food once I lose natural light. This wreaks havoc on my shoulders.
I have a soaking bathtub in our bedroom that I think I have soaked in ten times in ten years. That's crazy, and I'm ready to make some changes!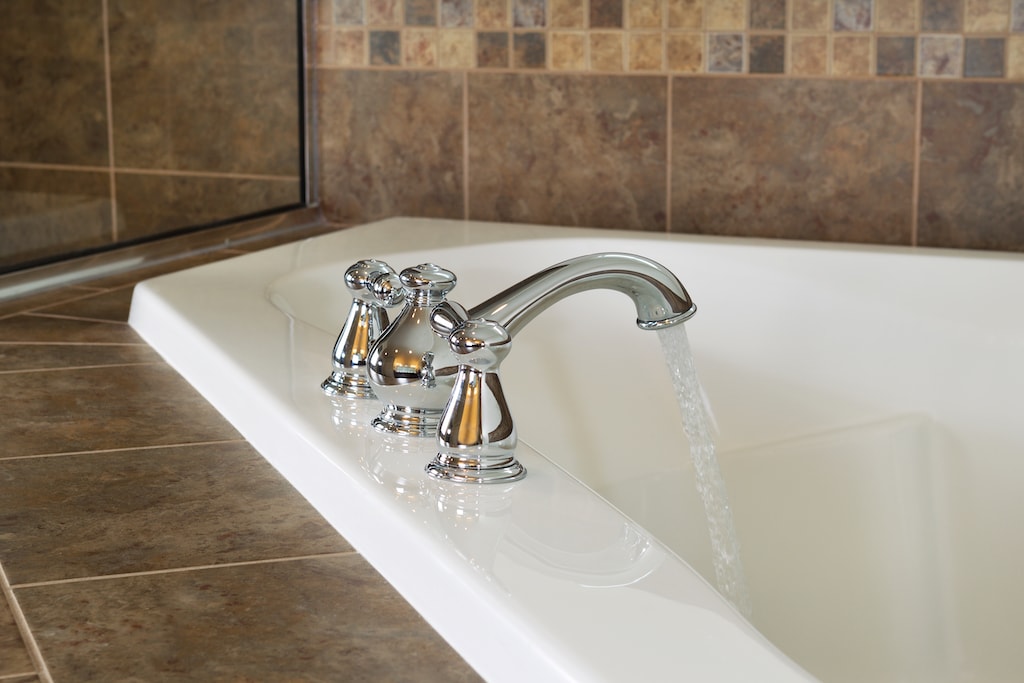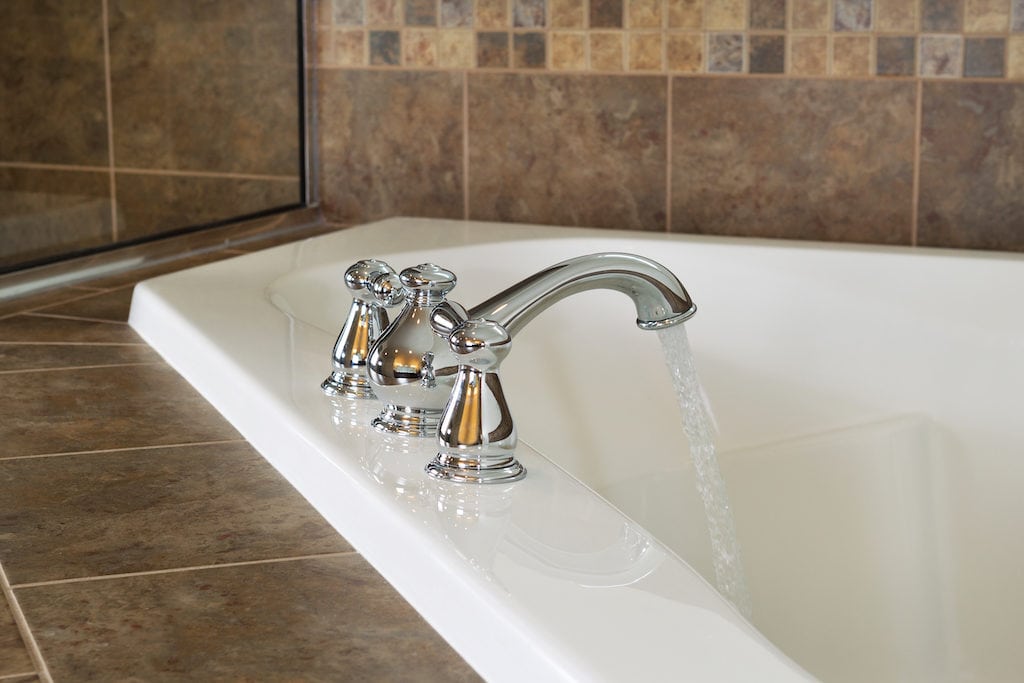 How about you? Do you take good care of yourself? Do you take time to relax, or do you work crazy hours? My kids are adults now, both in college, but taking care of kids is a full-time job, too. Trust me, I know!
I want to encourage you to stop and reevaluate things if you're feeling stressed. That's what I'm doing now. I love what I do and want to keep doing it, but I need to come up with some strategies to work smarter and not so hard.
I've had this recipe for lavender bath salts for ages and I'm so glad to finally share it with you. I hope it helps you to take some time to chill. Grab a good book, a glass of wine, and fill the tub. Tomorrow is a new day!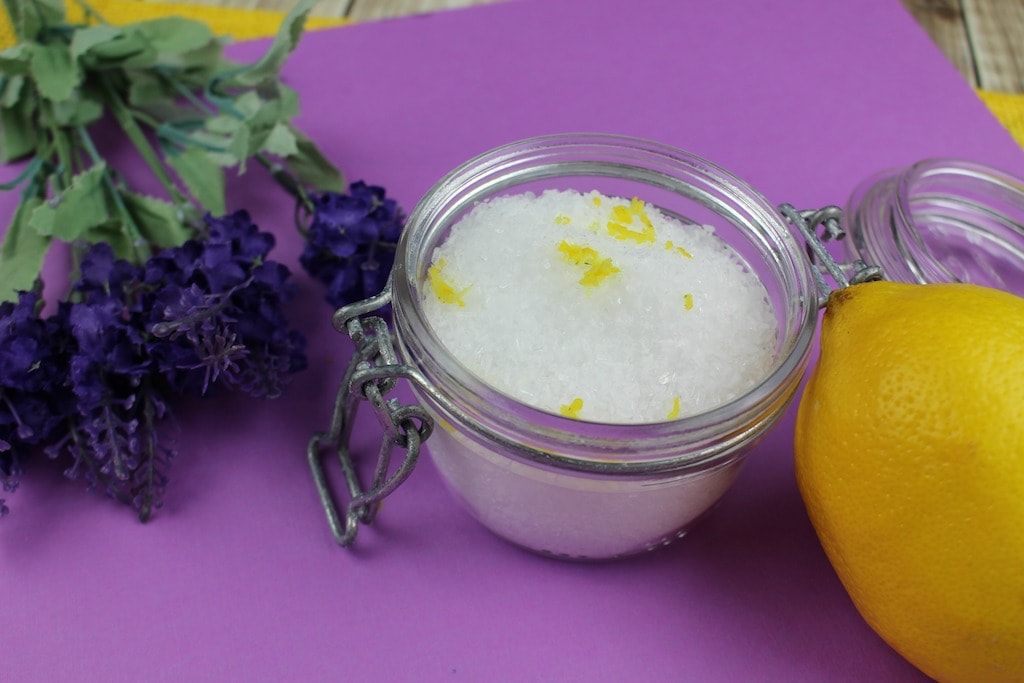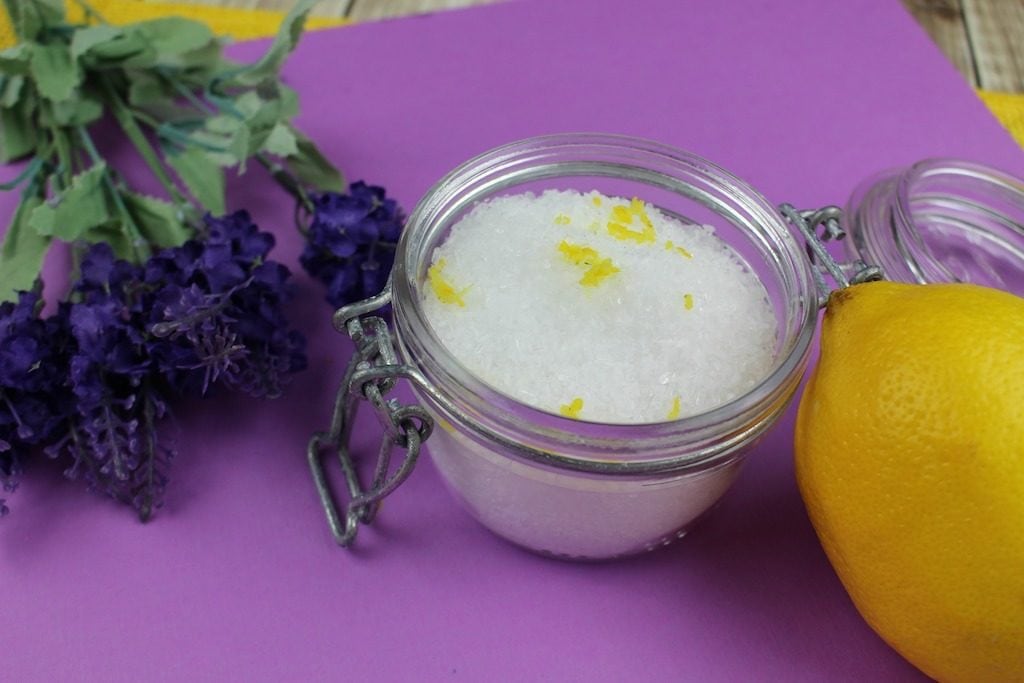 What You'll Need to Make Lavender Bath Salts
1 cup Epson Salt
¼ cup coarse sea salt
¼ cup baking soda
5 drops lemon essential oil
5 drops lavender essential oil
Optional- 1 teaspoon lemon zest
An airtight container for storing.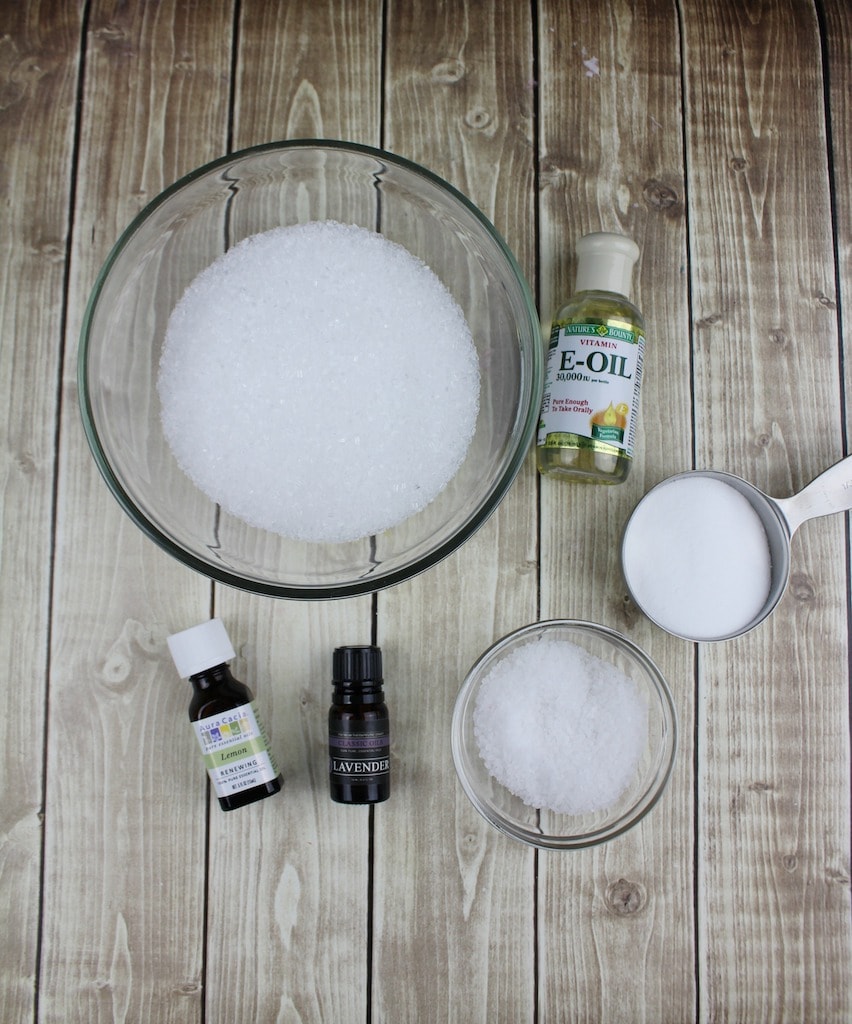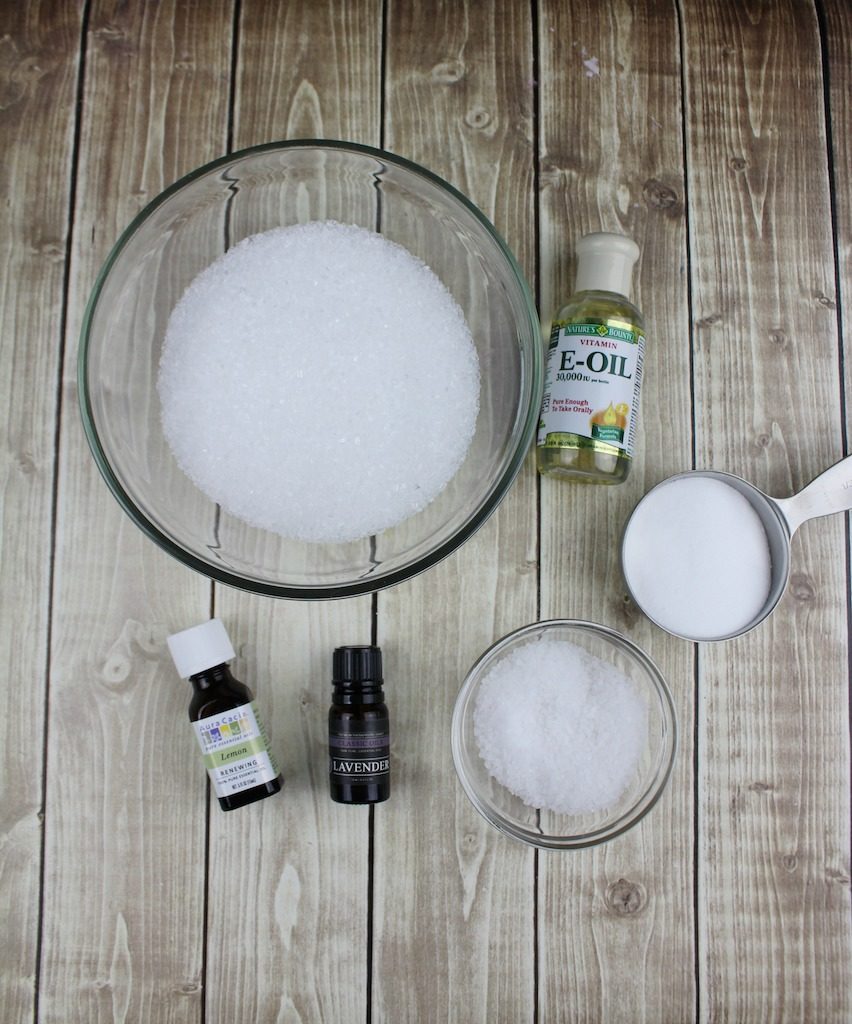 How to Make Lavender Bath Salts
In a medium mixing bowl, add both salts and the baking soda. Mix until well blended.
Add the essential oils and stir well until fully incorporated.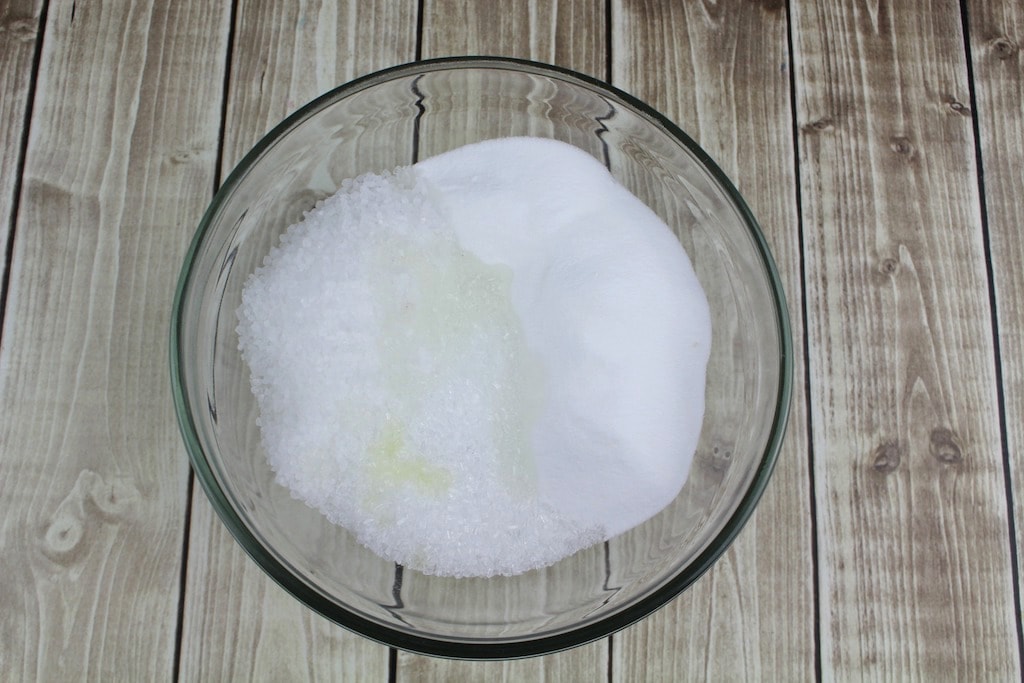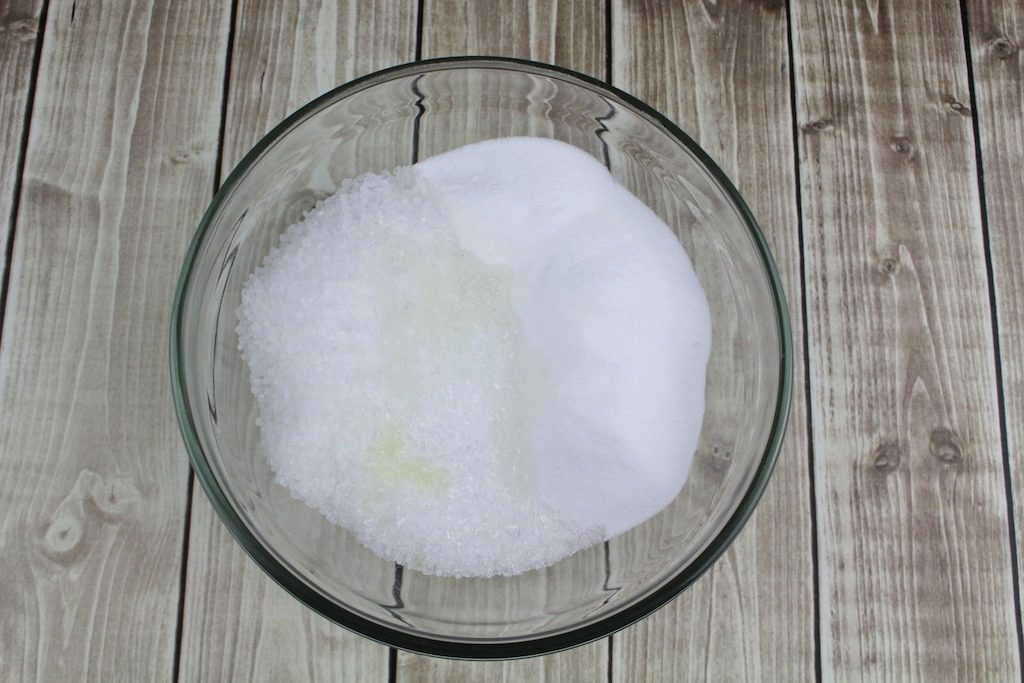 Adding the lemon zest is optional, but lemons really are great for your skin as they have antibacterial benefits. If you're adding the lemon zest, stir it in at this point.
Transfer to an airtight container and store up to 6 months.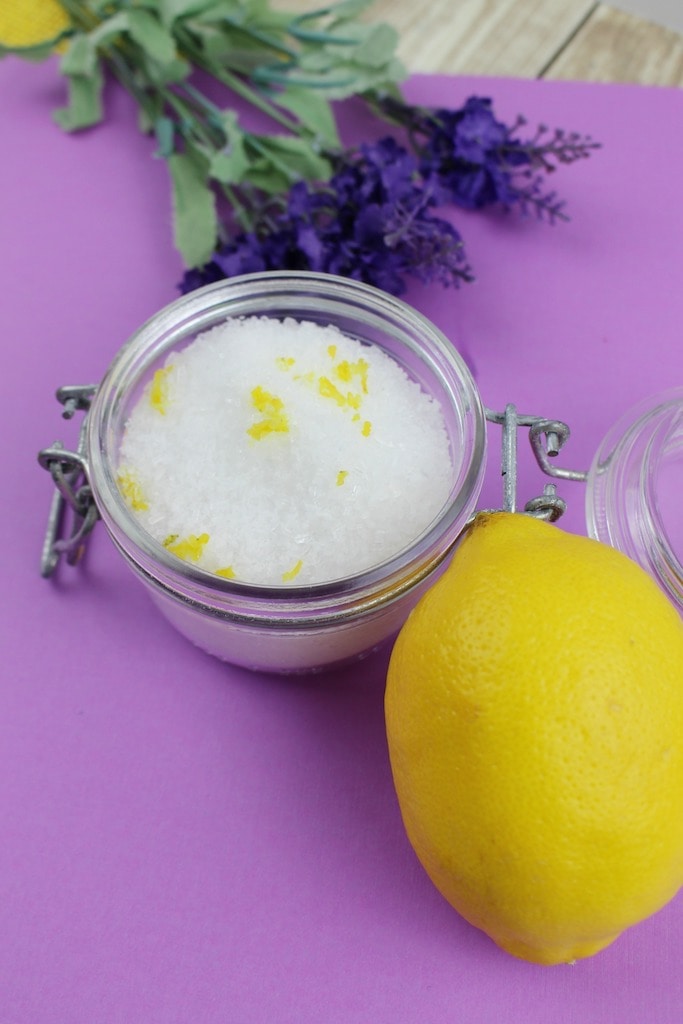 How to Use Lavender Bath Salts
Add ¼-1/2 cup of the lavender bath salt mixture to your warm bathwater.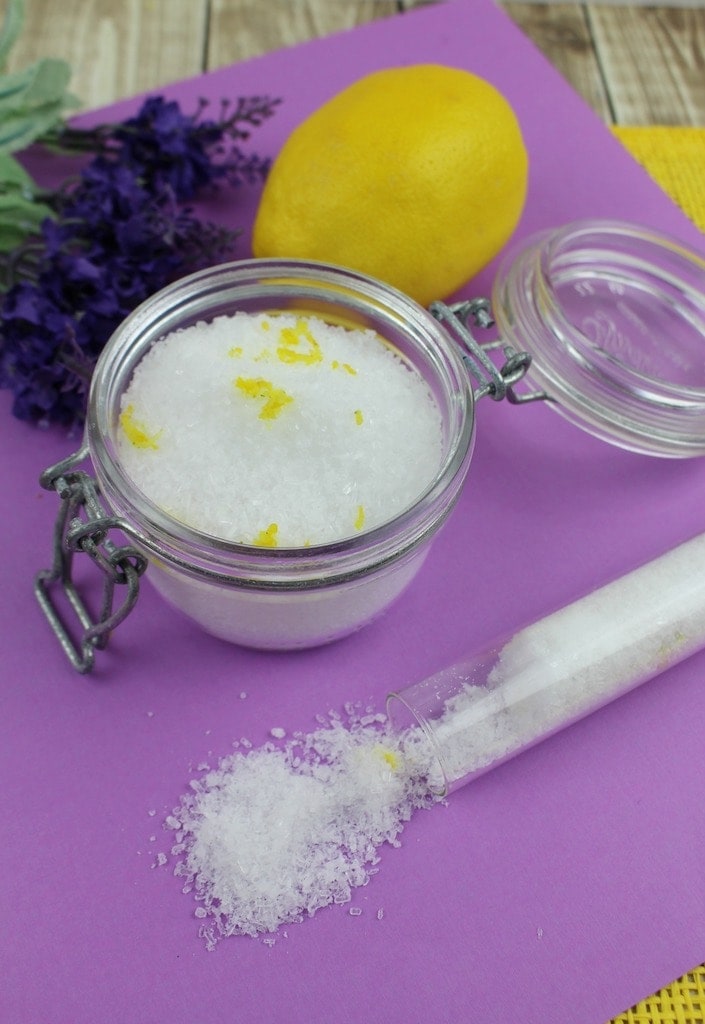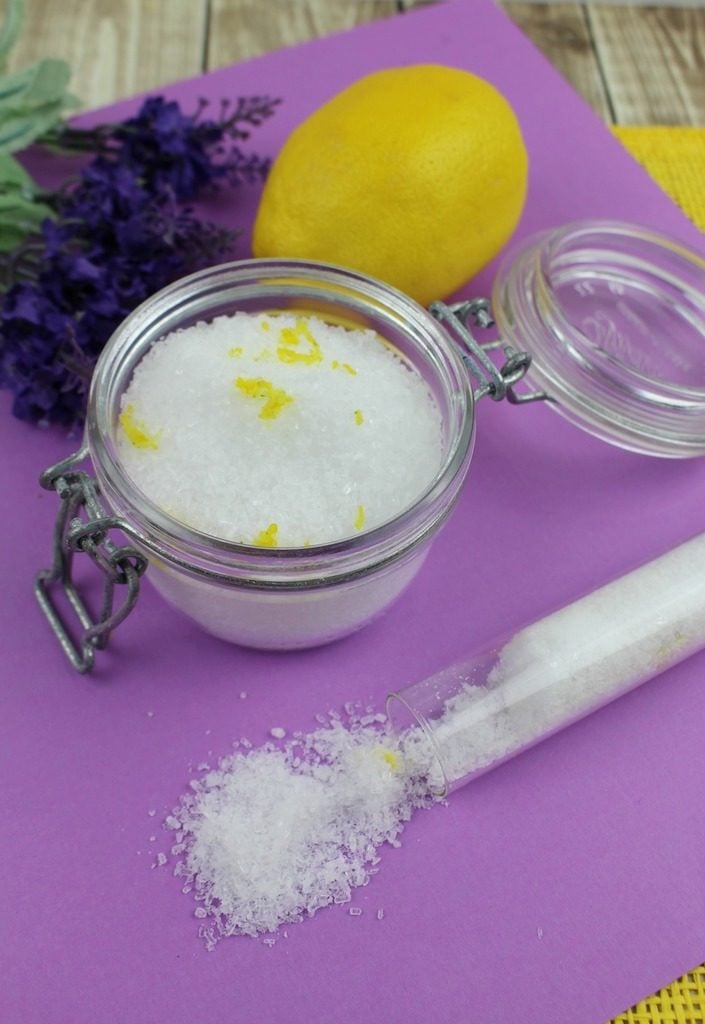 Relax and soak in the bath for at least 30 minutes.
After drying skin with a towel, apply your favorite moisturizer. This Aveeno body lotion has lavender and chamomile for a calming effect.
Lavender Bath Salts Make a Perfect Gift
Lavender bath salts would be a wonderful birthday or Christmas gift, and this one is easy and inexpensive to make. You could pick up a few of storage tubes or a pretty jar with a spoon for gifting. Tie a ribbon around the top and you're set!
Please, please, let me know what you think if you try these bath salts. I'm thinking I might try some other bath salt recipes and want to know if it's something you'd like to see more of.
Save This To Pinterest for Later!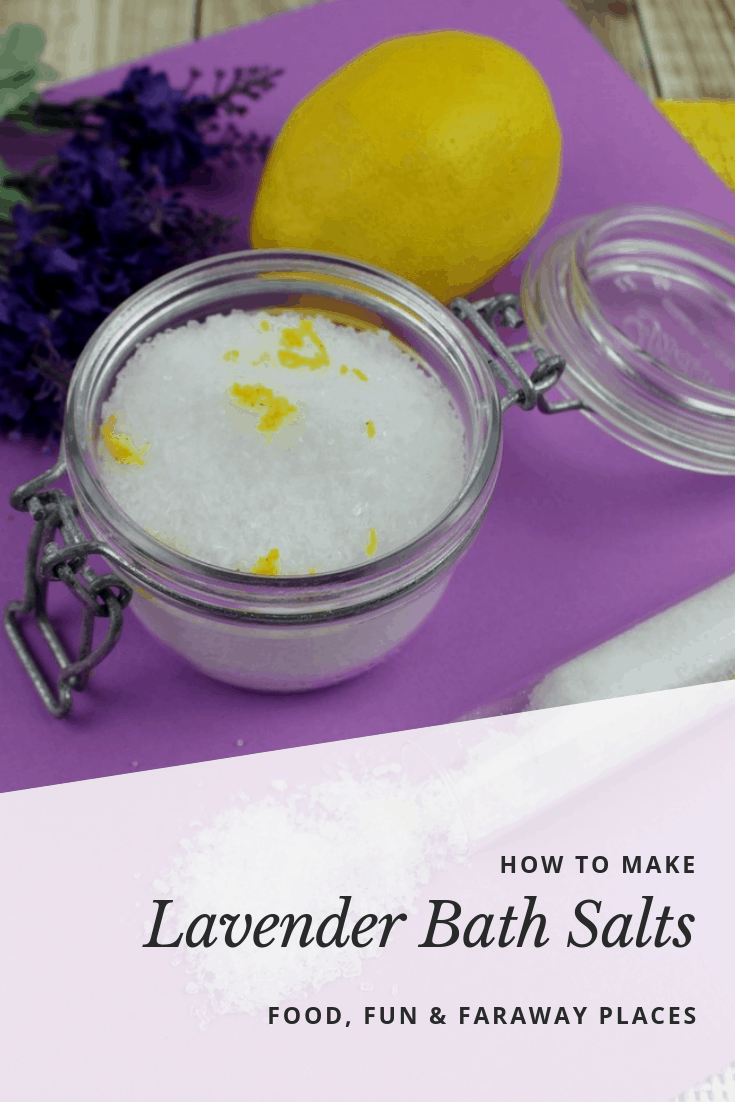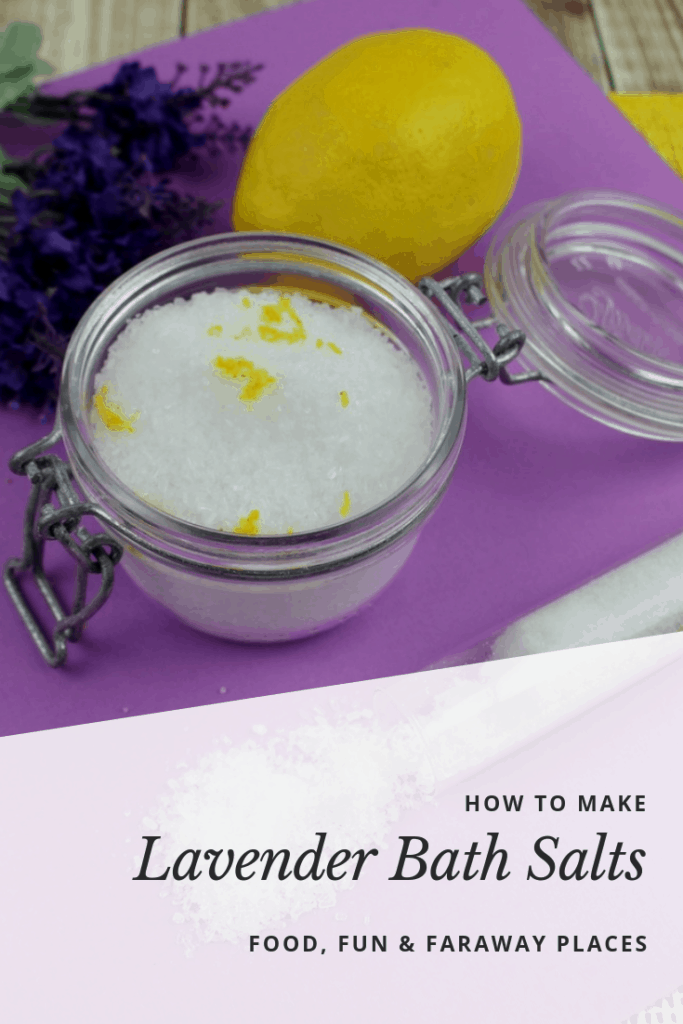 Follow Food, Fun & Faraway Places