Earlier this month I joined 39 other bloggers on my first Brandcation to sail to Cozumel, Mexico on Royal Caribbean's Liberty of the Seas. Royal Caribbean has seven classes of ships, and Liberty of the Seas is in the Freedom Class. This ship is massive, at over 1,100 feet long. To give you something to compare that to, the Empire State Building is 1,250 feet tall. Yes, this ship is that big. In fact, only the Allure and Oasis are bigger than Liberty of the Seas.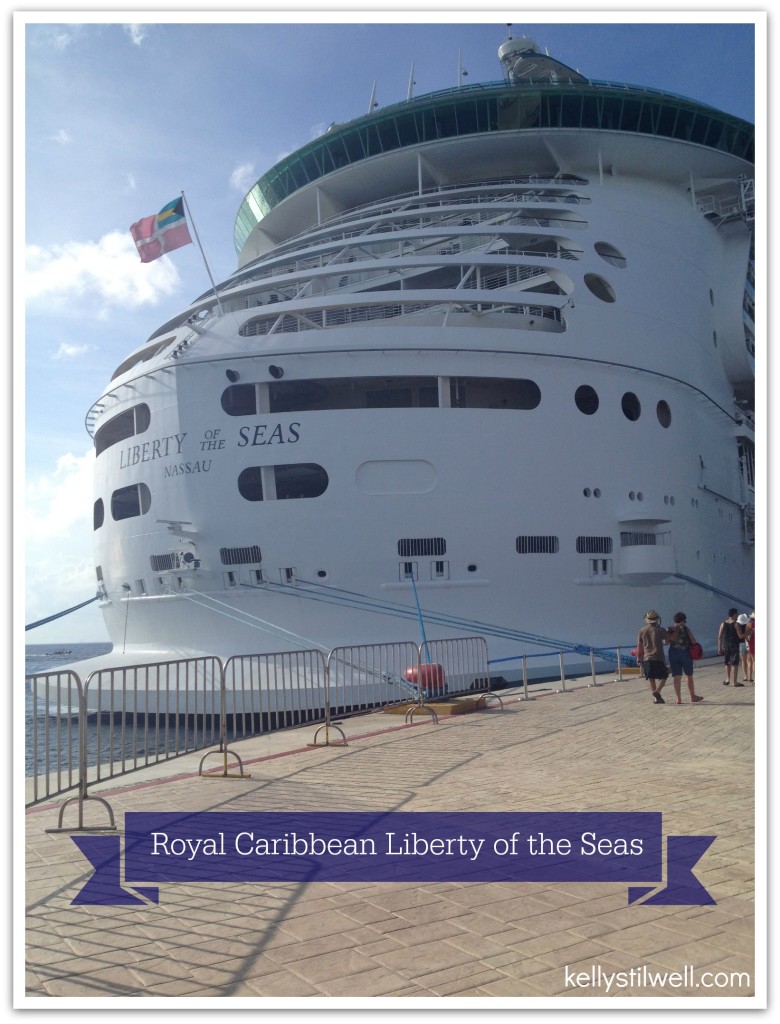 We were able to board at just after noon, and after our long drive to Port Everglades, my local friend Stefanie from Mommy Musings and I were ready to relax! (Read Stefanie's thoughts on Royal Caribbean.) Honestly, seeing the ship from the outside, you still can't imagine how big it is inside.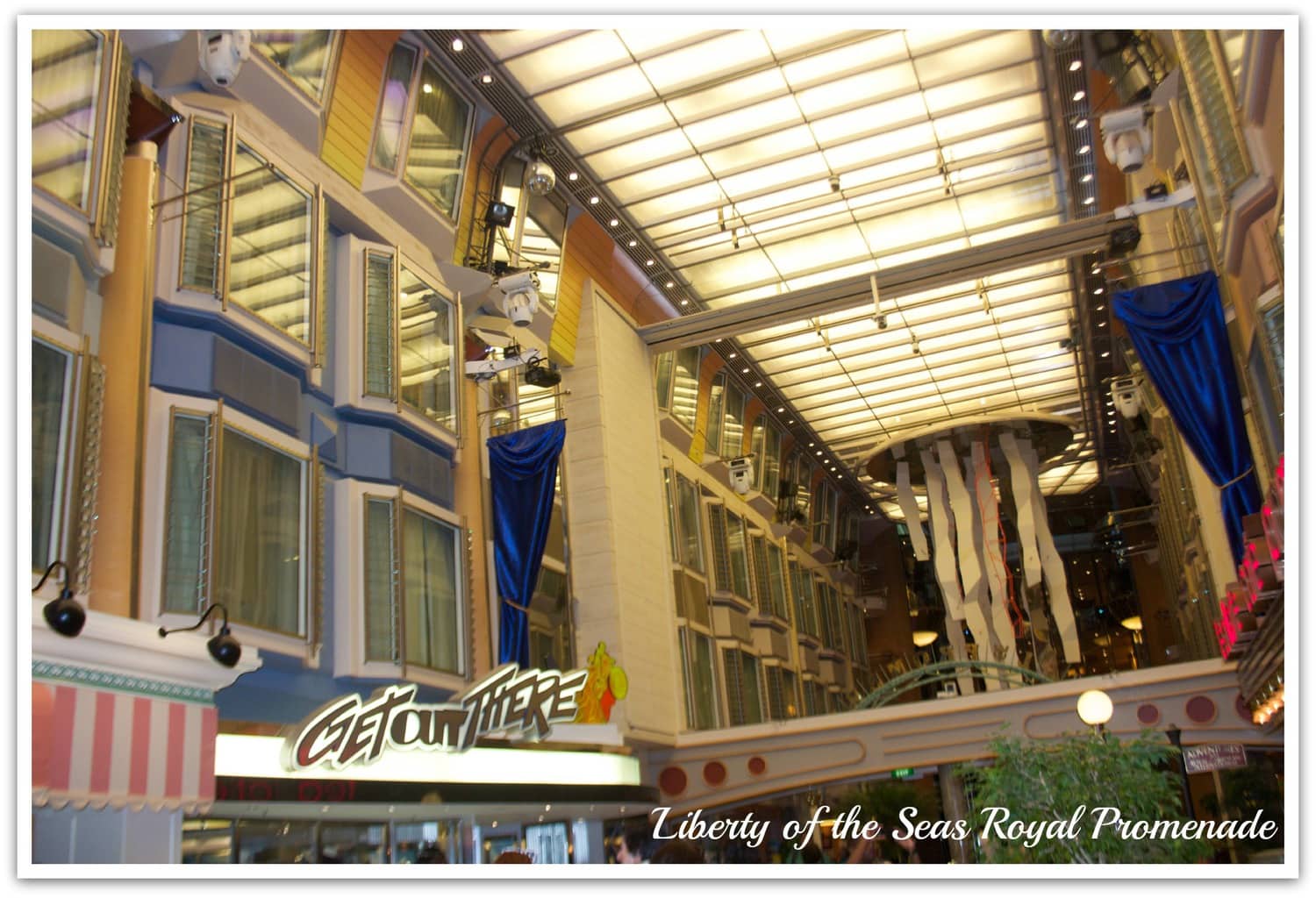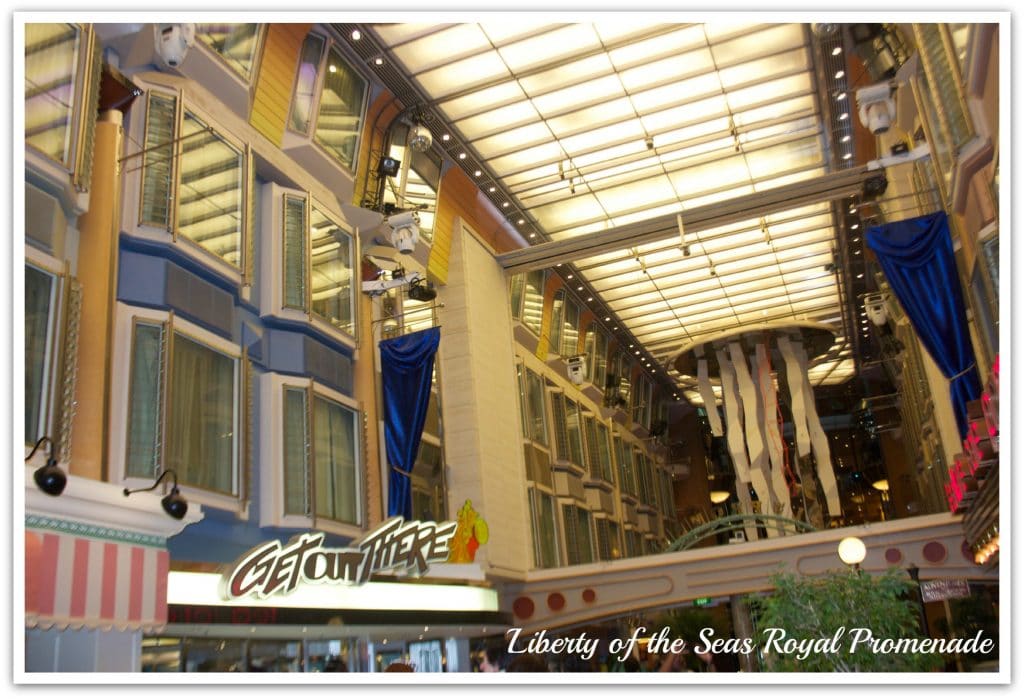 We had some lunch and checked out our rooms. We were all sharing, so I hadn't met my roommate yet. Our wonderful room attendant said she would separate the beds into two twins, which my roomie would appreciate. My husband will tell you, I've been known to take up the whole bed! The rooms were lovely, and larger than I thought they would be. Tip: Always remember to pack a day bag as your luggage may not be in your room until early evening. Need a cruise packing list? Download mine and save it for your trip. It's a lifesaver! 😉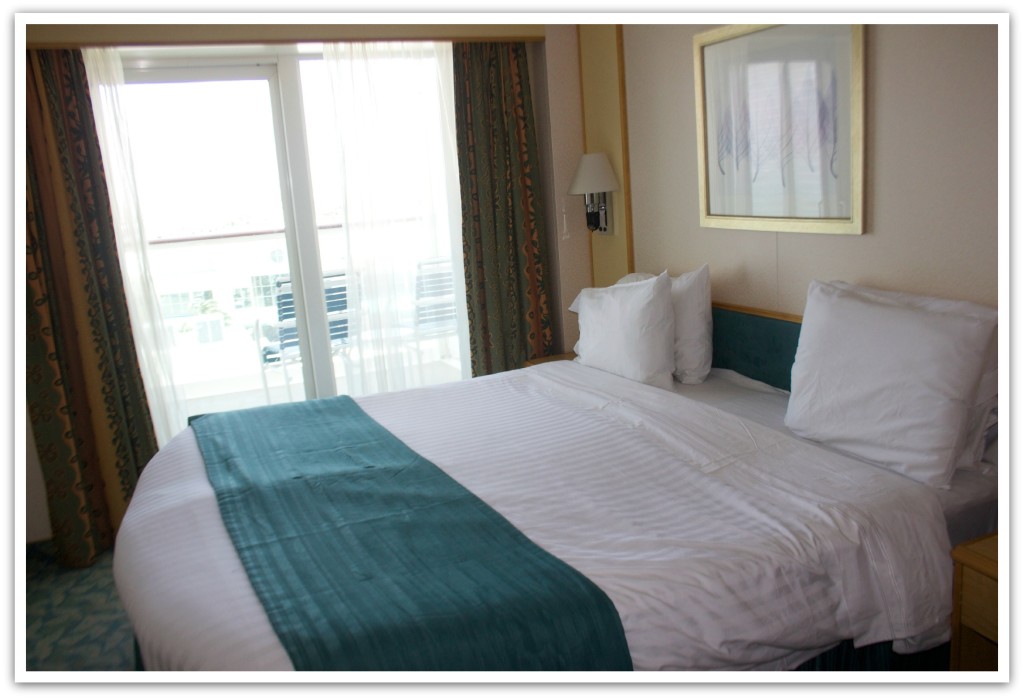 I have only cruised once before, back in November, but I think all cruise ships have a sail away party. We went up onto the deck and look what we found! There were waiters right there anytime you needed something, and everything goes right on your room, so there's no need to carry around your purse or wallet. Tip: Take a lanyard with you and just wear your room key card!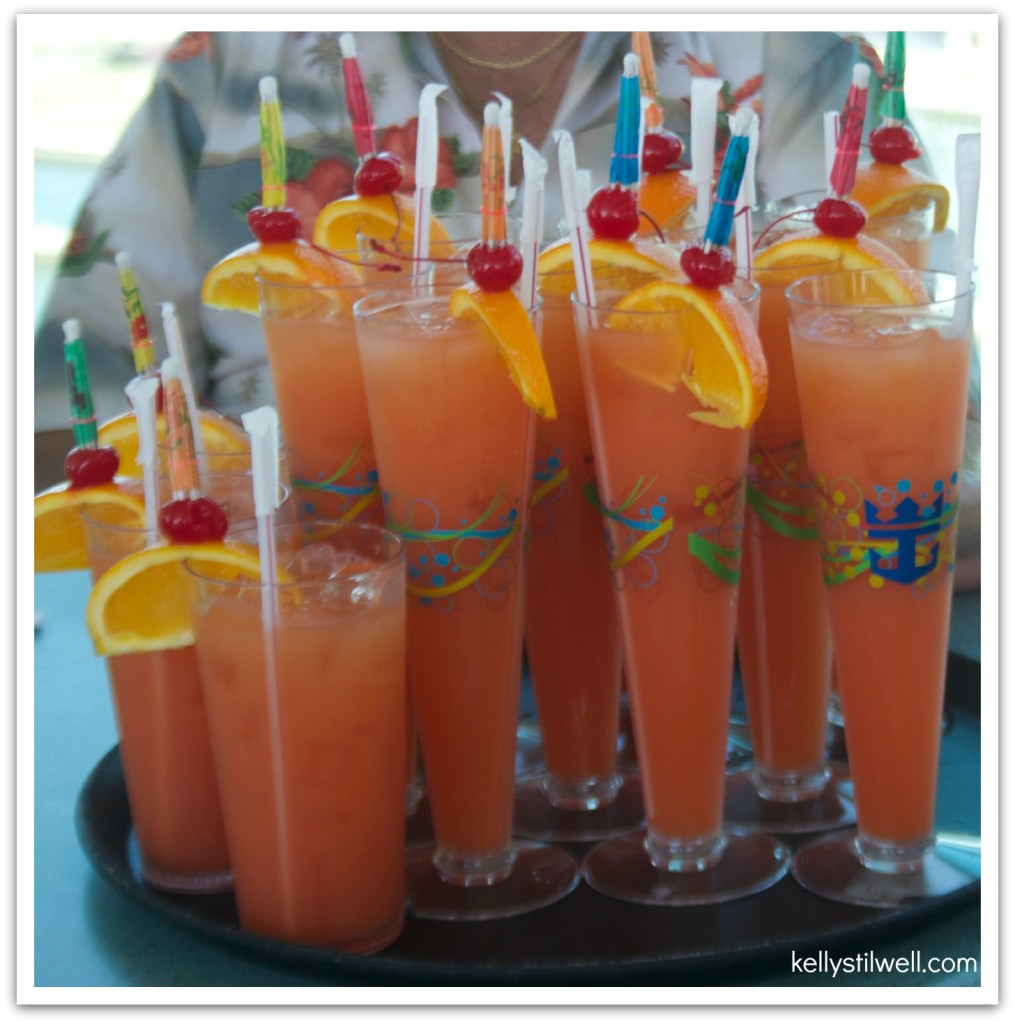 I'm a lightweight when it comes to drinking different spirits together, so I headed to the bar for my first cocktail of the cruise. I've never had a Pina Colada with dark rum, but oh my word, it was so good! You know what they say about never going back after you've gone over to the dark side. Yum!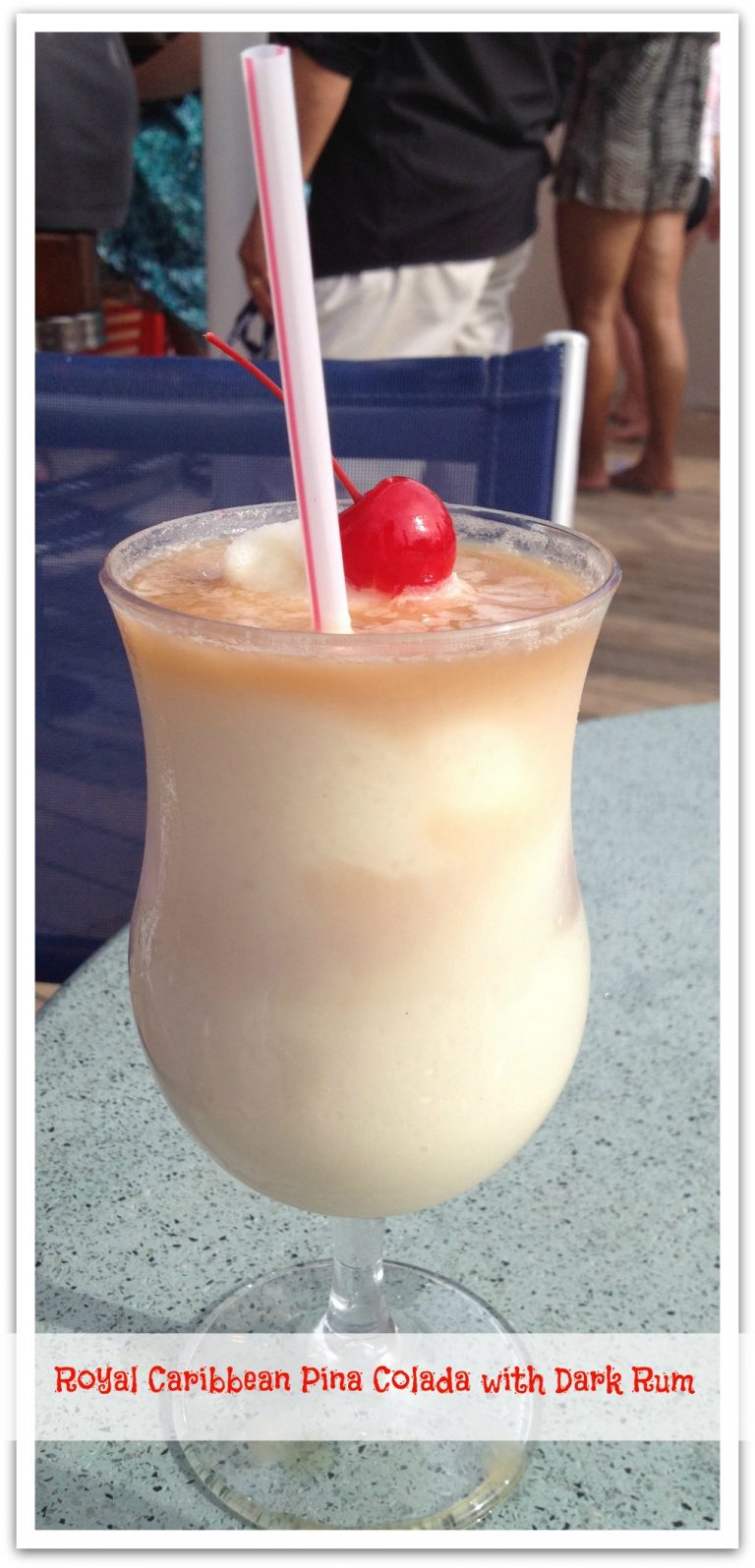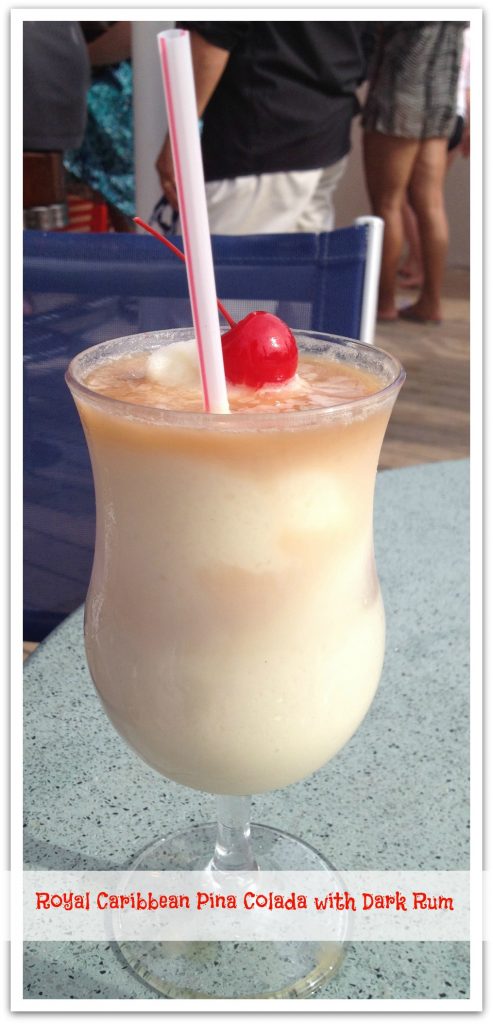 It was fun that the Good Year Blimp was there to wish us Bon Voyage! We were officially sailing away!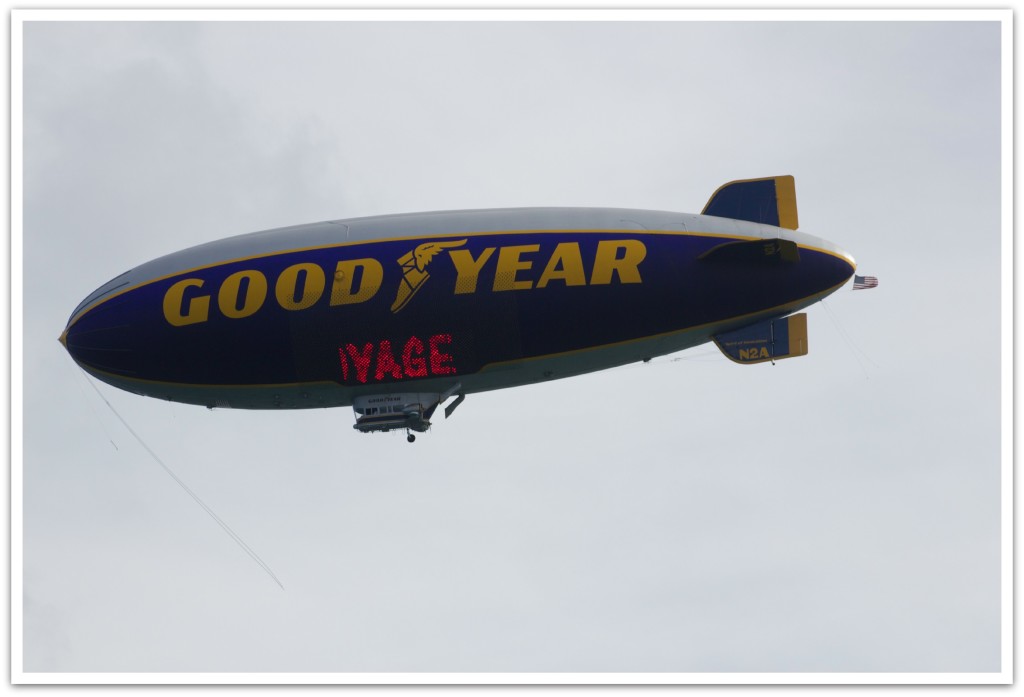 We didn't have too much time before our group was meeting to get our itinerary, but we found this directory and spent some time getting familiar with the ship. There was so much to do. How would we do it all in just four days? We could only try...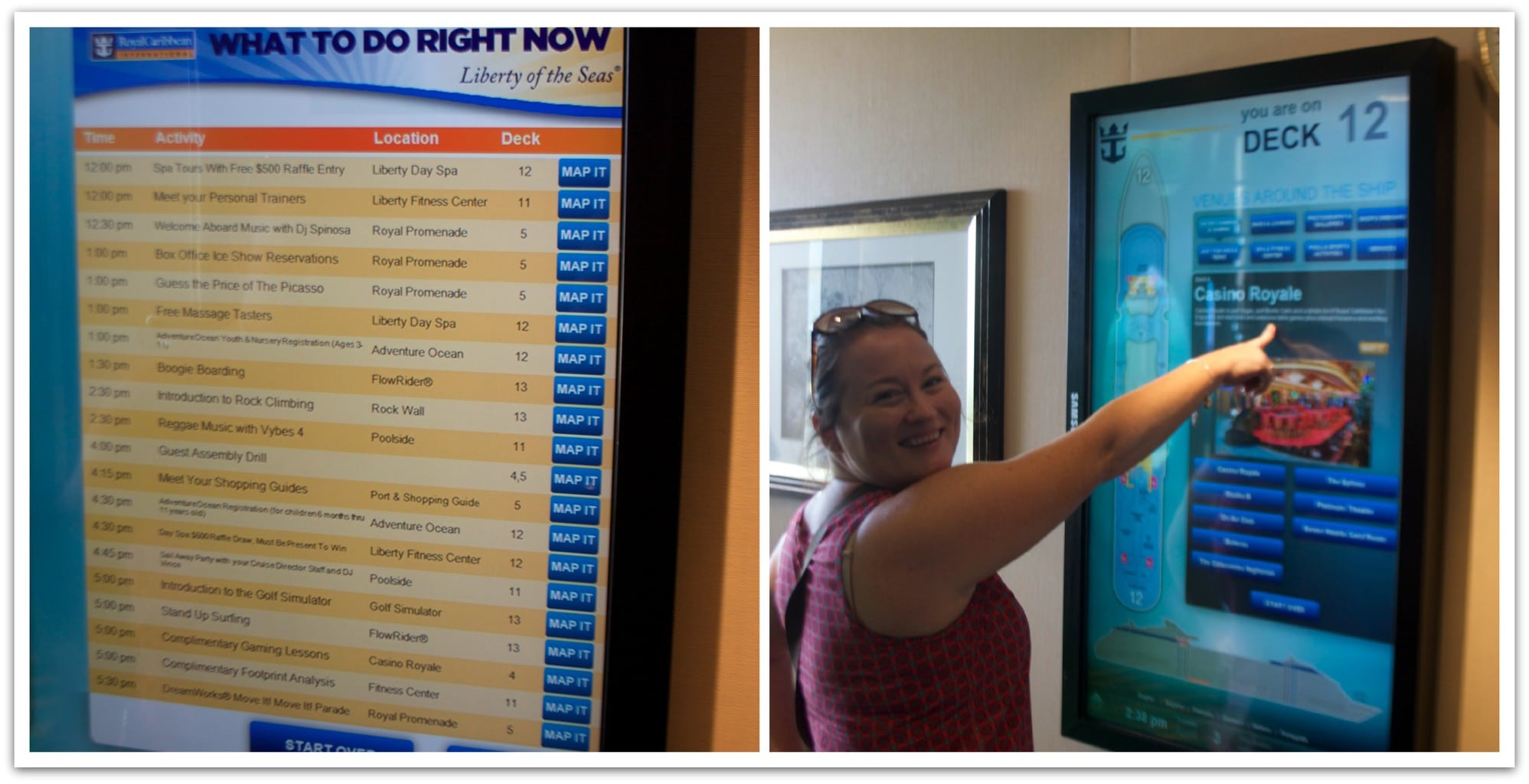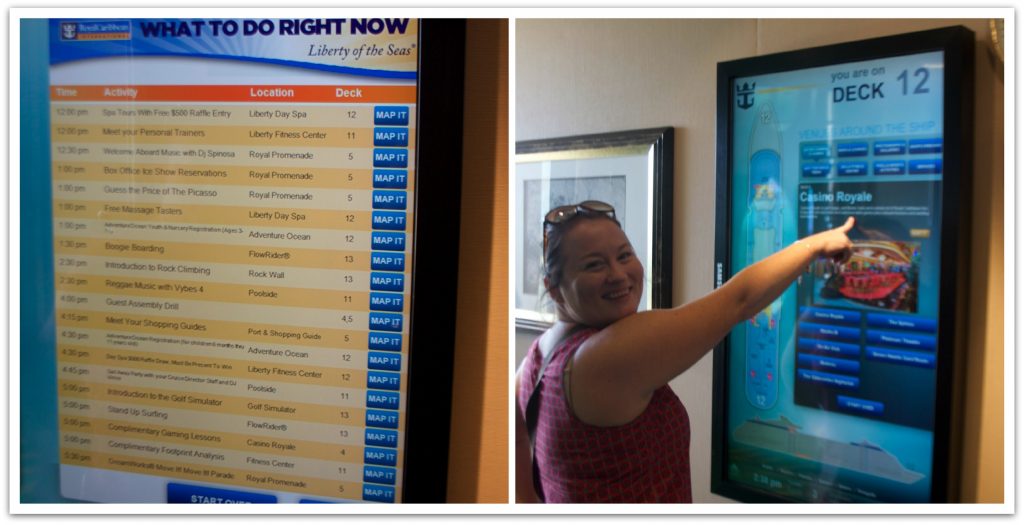 After our group met, we had a door decorating contest to get to work on.  The doors were so awesome, I'm going to share them all with you in another post soon, but here is ours. We won first prize! Though I did bring the supplies for the selfie station, my roommate Jen of Life with Levi was the brains behind this creation. Tip: Before your trip, pick up some fun magnets that represent you and whoever you are cruising with. Door decorating is really fun!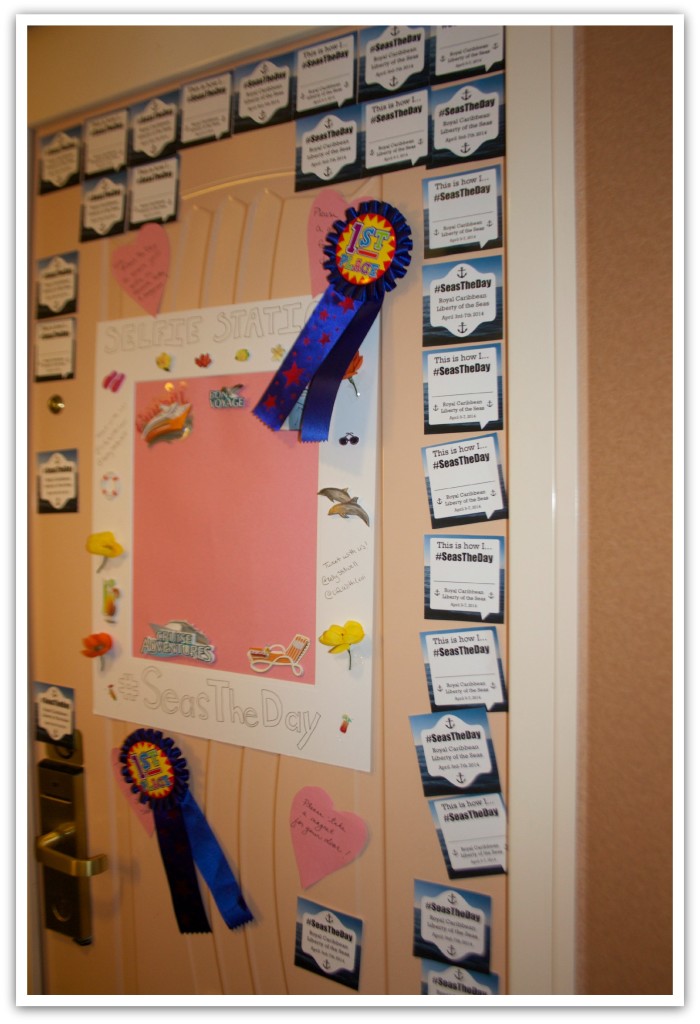 I really enjoy dressing up, and most people do dress nicely for dinner when cruising.  One of our nights was semi-formal, and it was a blast to get pictures of our group looking gorgeous!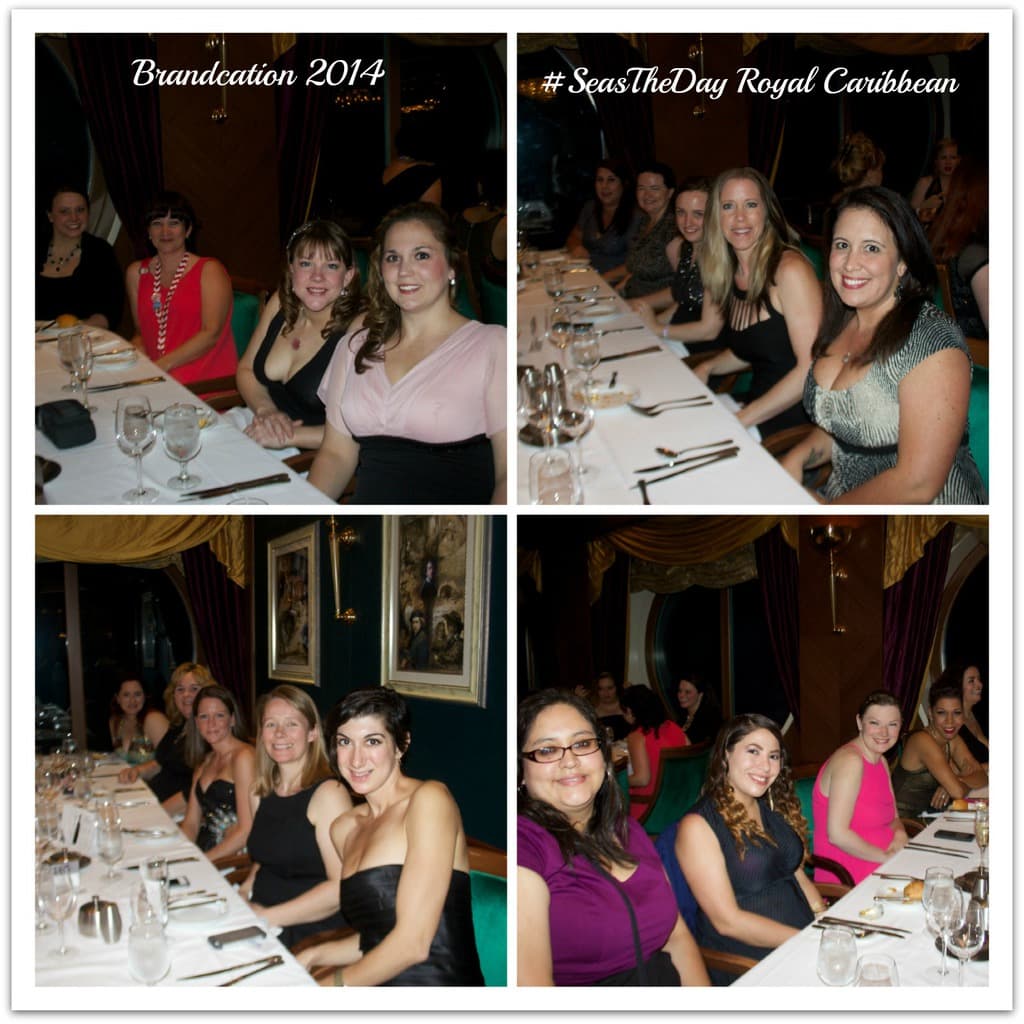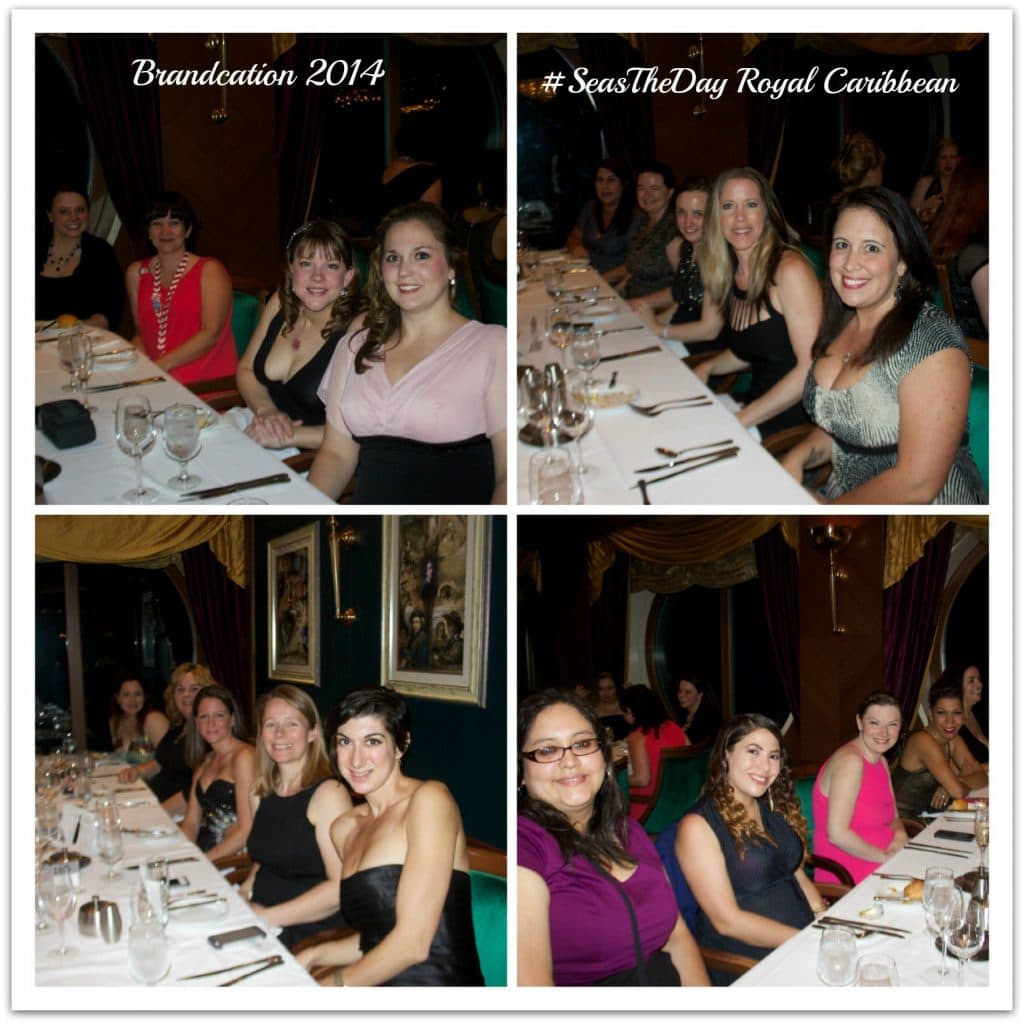 We had an amazing time!  The food was delicious! I didn't get photos of it all, but I'll give you a teaser. Priorities, right?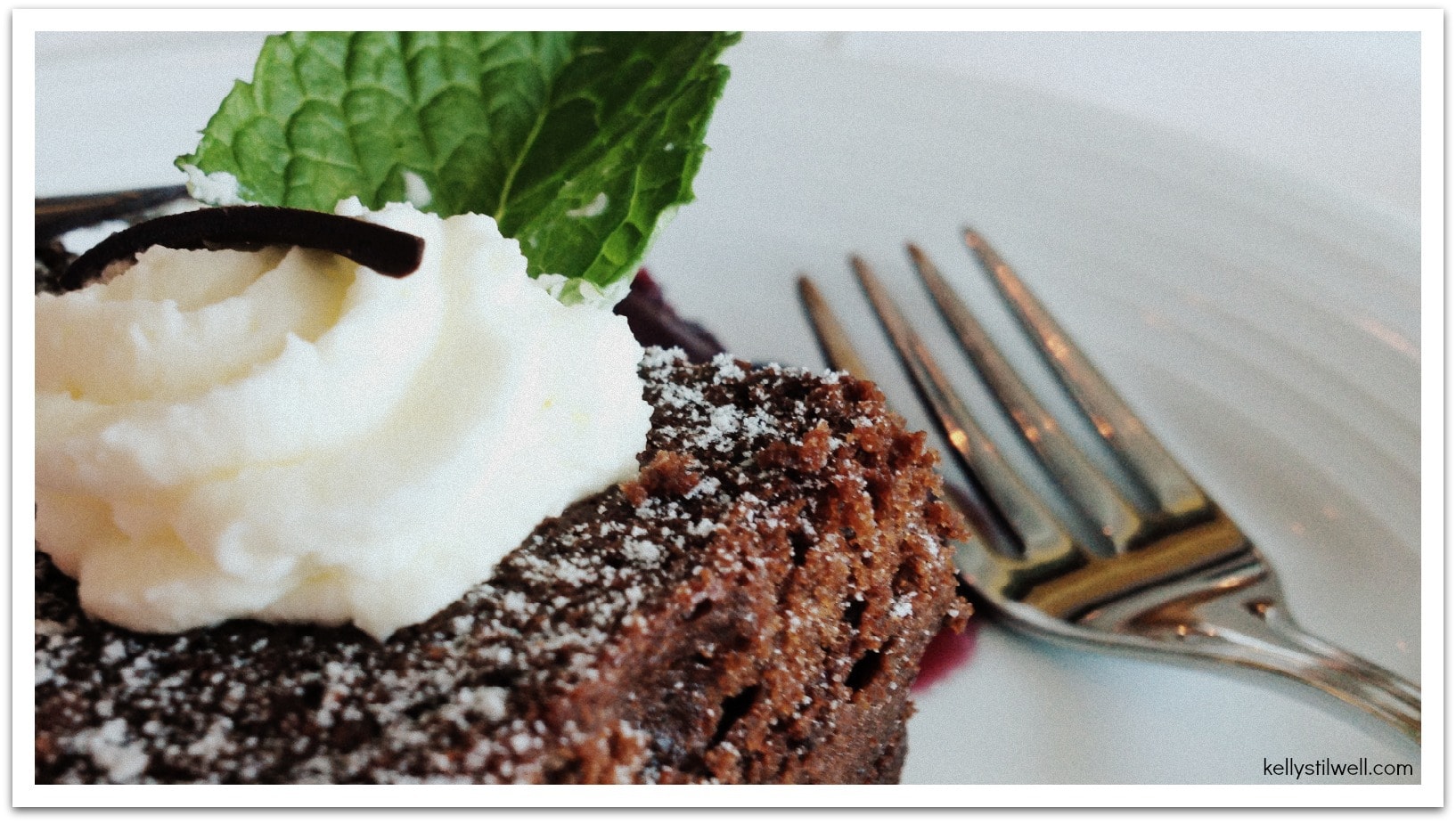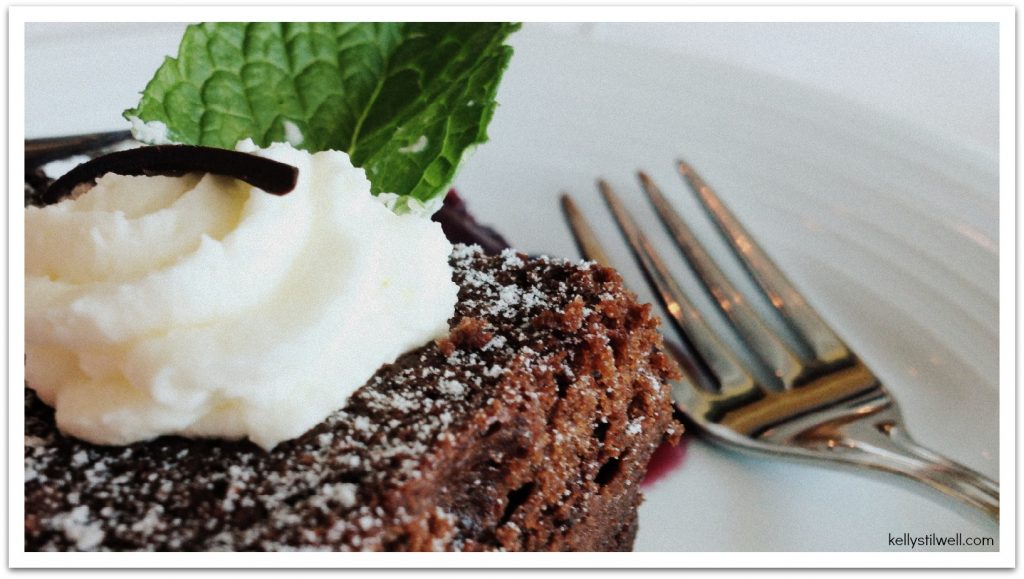 Our waitstaff, Yogi & Yoshi, were awesome. I just love that you have the same servers every night, because you really get to know them. I have no idea how they remember every name at the table, but they do! There must be a trick to it. I'd sure love to know what it is, because names seem to go in one ear and out the other for me! Here's me with Yogi and Yoshi. I wish it had come out a little better, but they were so terrific, and I wanted to share it with you.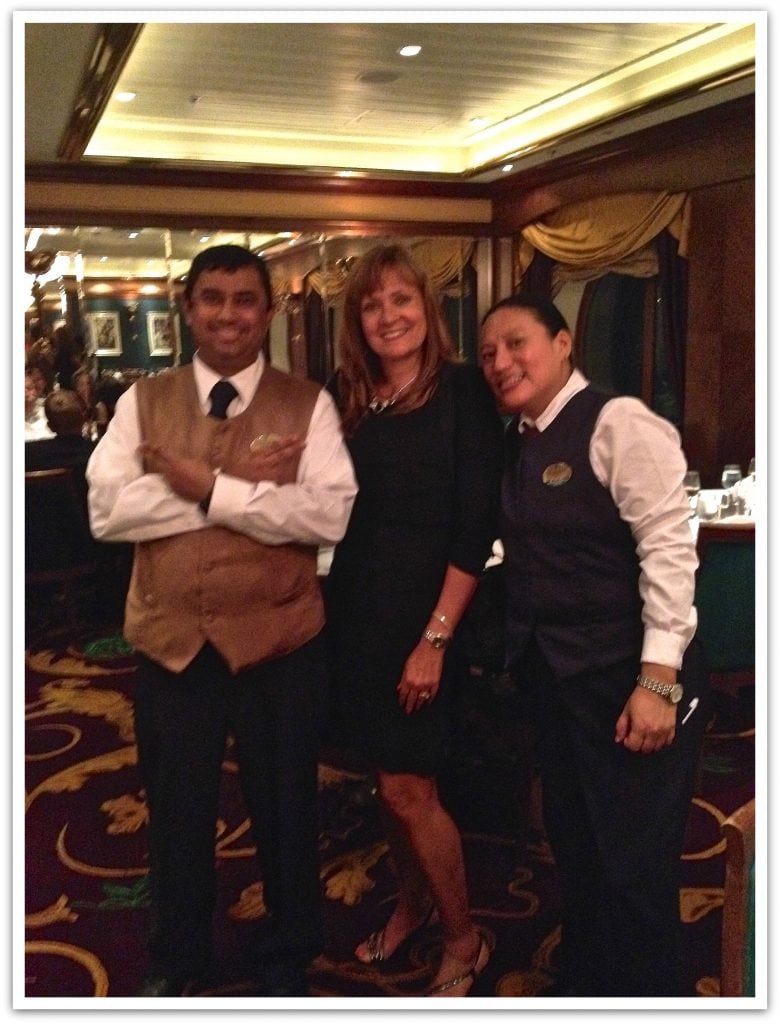 Okay, enough about food (for now!) If you are looking for fun activities for you and your kids, you will love Liberty of the Seas. Just look at some of the things you can do!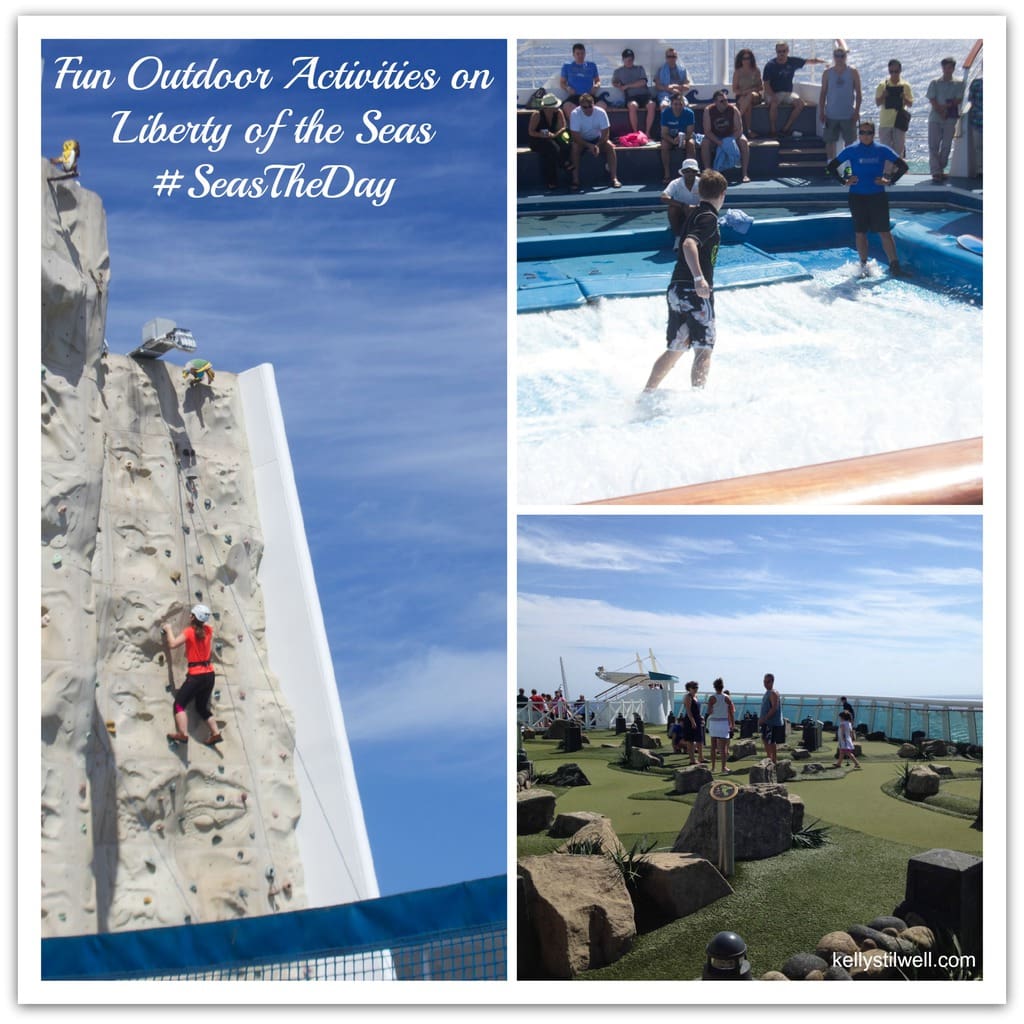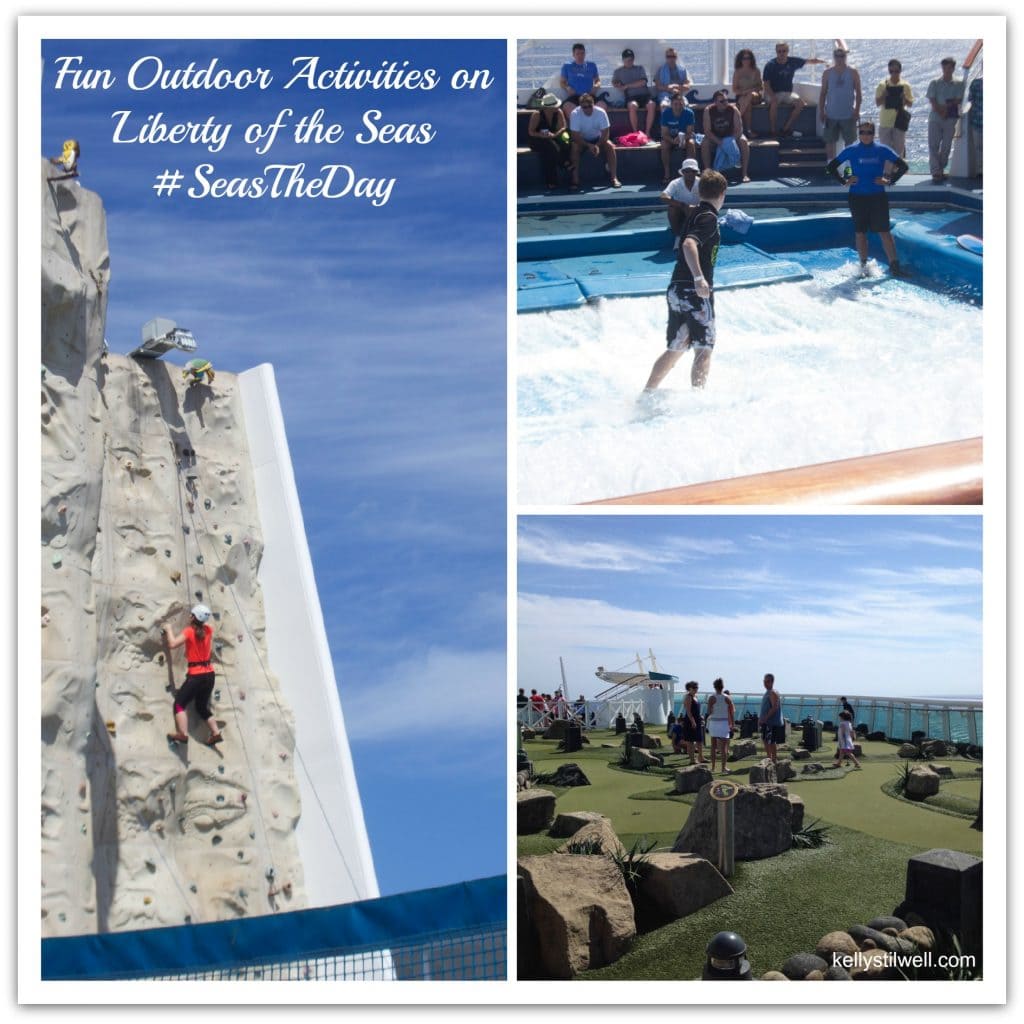 This is just a small sampling of what you can do indoors! Did I mention the casino and ice skating rink? Yes. Ice skating in the middle of the ocean. And there is an amazing ice skating show. And a Broadway style show of Saturday Night Fever that was awesome!
By the way, that burger is a cupcake, and the cake around the plate is supposed to be fries. I made it in a class which I'll be sharing soon!
By the way, you would not see anything like my cupcake served on this ship! As part of our tour, we were able to meet the Executive Chef of Liberty of the Seas. Chef Donna is the only lady chef in the fleet, which I thought was very cool. You can't imagine what this entails. The food is made fresh each day, and goes by elevator to different restaurants. It was amazing that Chef Donna took time to meet with us and answer questions.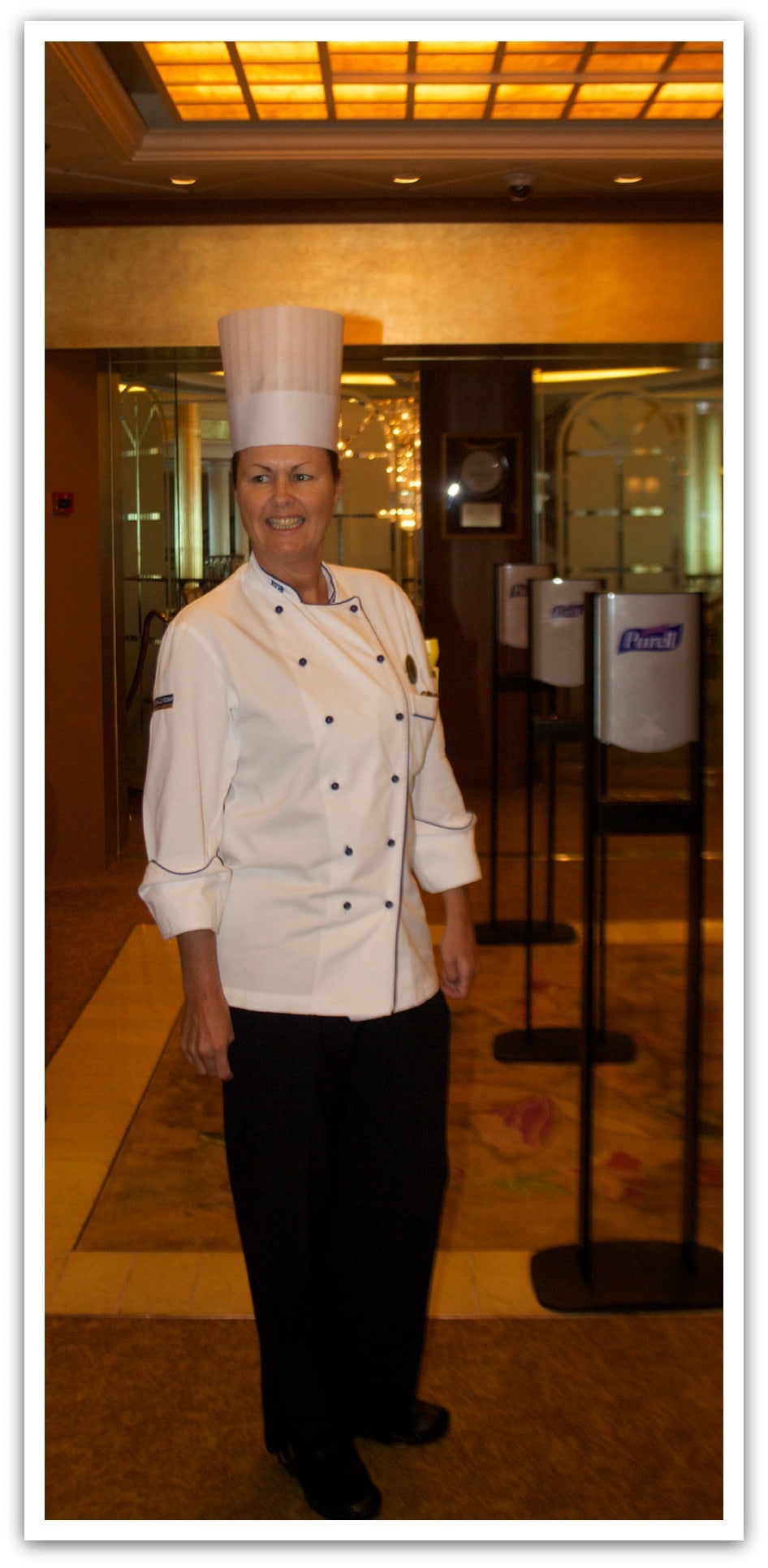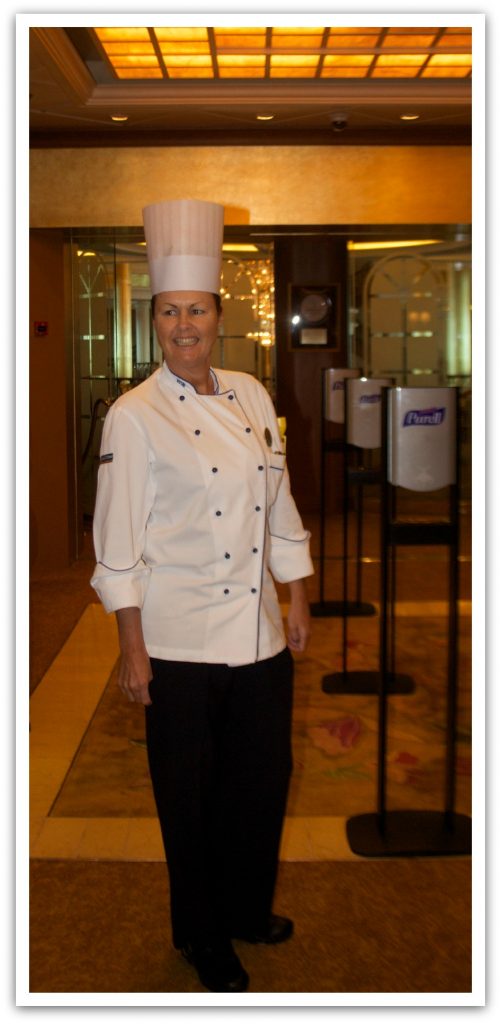 Our destination was Cozumel, and I've never even told you about that part! I often wondered how people could cruise and not get off the ship. I think I'm beginning to understand now! Don't worry, we did get off and checked out the shopping and a very cool restaurant in Cozumel. I'll share it soon. For now, I'll leave you with one of my favorite things from the cruise.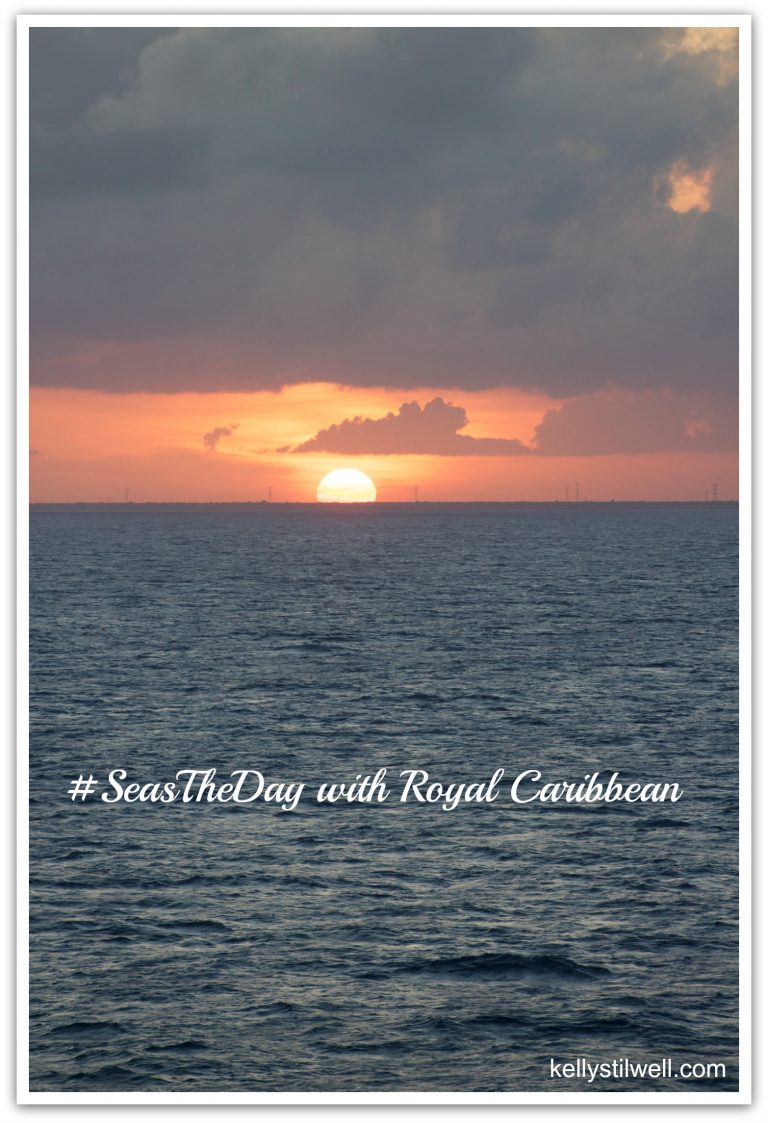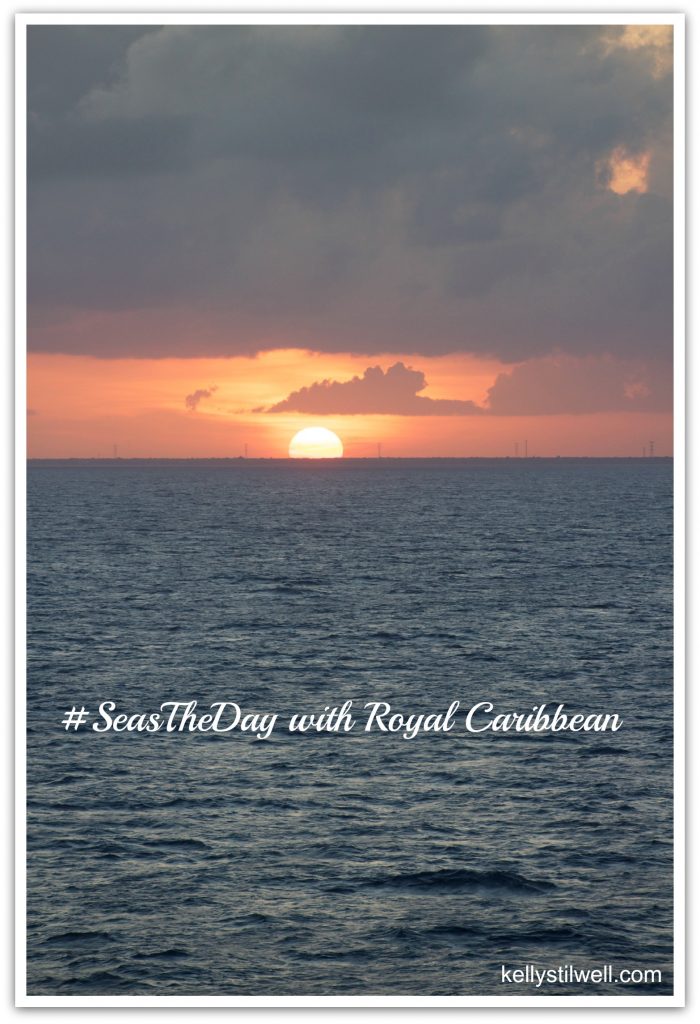 Spectacular, right?  Thanks for visiting!
My cruise was provided by Royal Caribbean and Brandcation. As always, all thoughts are my own.