Having a list of delicious Christmas dinner recipes gives you a head start in putting together a holiday feast everyone will enjoy.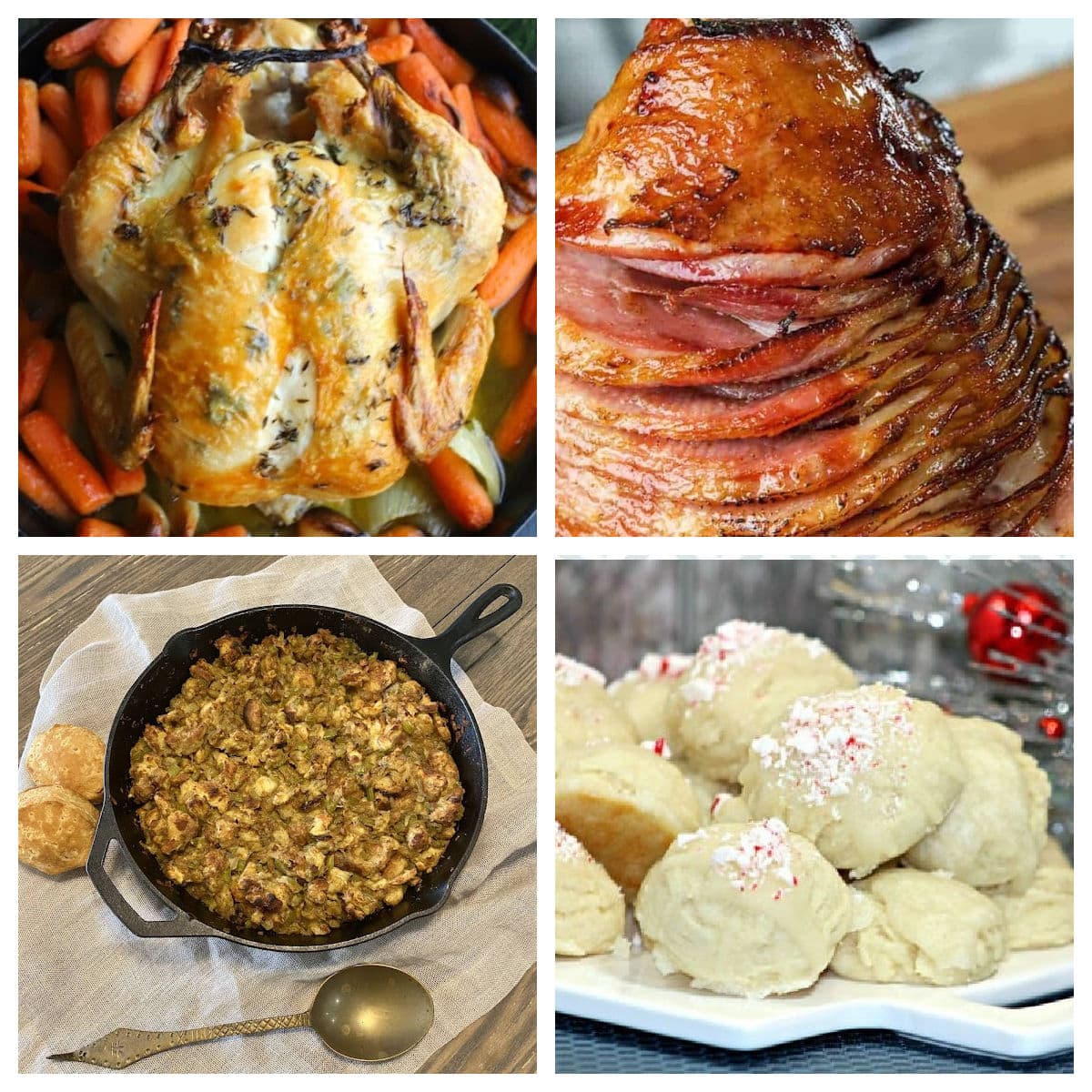 Planning can easily become overwhelming, but it doesn't have to be.
With a little planning, you can easily host a fabulous holday dinner, with dessert, that will wow your friends.
Planning Christmas Dinner Recipes
The first step to any dinner is menu planning. Do any of your guests have allergies to gluten or dairy? Any vegetarians?
I don't think it's necessary to modify your favorite recipes, but I do feel it's important to have something for friends or family who can't eat or prefer not to eat certain foods.
Simply ask your guests when extending the invitation whether they have allergies. If they don't, you can mark that off your list and scroll down to these yummy Christmas dinner recipes. 
If you do have allergies or non-meat eaters in your group, make a dish or two that everyone will enjoy that takes the allergy into consideration.
I was a vegetarian for many years but my mother always made a special dish for me for holiday dinners, and I was so grateful not to have to eat mashed potatoes and corn for dinner!
For vegetarians, you could make something like this Vegan Power bowl. It's one of my favorite meals and it's super easy to make.
It's also a pretty dish, so your guest will be grateful you put so much work into their meal.
You could also make this Italian Bean soup, but make enough for others as it smells so good!
Choosing Christmas Dinner Recipes
Now that you know all your guests will enjoy the meal, start choosing which of these Christmas dinner recipes you will serve.
Appetizers
I always have a small appetizer or two for guests to enjoy before dinner. My very favorite appetizer for this time of year is this Cranberry Brie braid. It's a lot easier to make than you might think!
This is my best bruschetta recipe and it's light enough that guests won't' ruin their dinner.
For gatherings where guests will be arriving hours before dinner, perhaps this classic stuffed mushrooms recipe would work well. I've served these two appetizers together many times.
Take a look at this list of party appetizers for more ideas.
Main Dish Christmas Dinner Recipes
If you are serving a traditional Christmas dinner, your main dish will probably be a turkey or ham.
Depending on how many guests you are serving, you may choose to serve a turkey breast, a roasted chicken, or even Cornish hens. We love Cornish hens and they are perfect for our small group of four.
Side Dishes
Next, choose your side dishes. I like to serve mashed potatoes, sweet potatoes, stuffing, and a green vegetable like green beans or broccoli.
I also like to have bread with the meal, and this loaf of Rosemary Garlic Bread will make nice sandwiches for the leftover poultry the next day.
Dessert
Finally, choose a dessert that will be festive for the occasion. The last few recipes on the list of Christmas dinner recipes below are for sweet treats everyone will enjoy.
Delicious Christmas Dinner Recipes
Traditional Christmas Dinner Recipes including Dessert!
Christmas dinner is not the time to fly by the seat of your pants, so a little planning is in order! I've gathered recipes for everything from the main dish to sides, and finally, dessert!
Check out this list of Christmas desserts, this list of Eggnog desserts, and this list of Christmas cookies.
You also need to be sure you have the right tools for cooking. Having the best Christmas dinner recipes and not have the tools you need to make it can create a failure you don't want to experience! (Been there!)
Making mashed potatoes is so much easier when you have a really good potato masher, and I know we've all experienced not having a quality roasting pan.
And if you like making your meal festive, check out these adorable Santa Suit Christmas Silverware Holder Pockets and this CD of Christmas Dinner music.
I've got a handful of amazing Christmas breakfast recipes, too. Enjoy!
Merry Christmas!
This post was originally posted on November 21, 2014, and updated on December 17, 2020.