Baja Mexico whale watching is known worldwide for the unique experience it offers. With so many whales in one place, you are sure to see plenty of these magnificent creatures!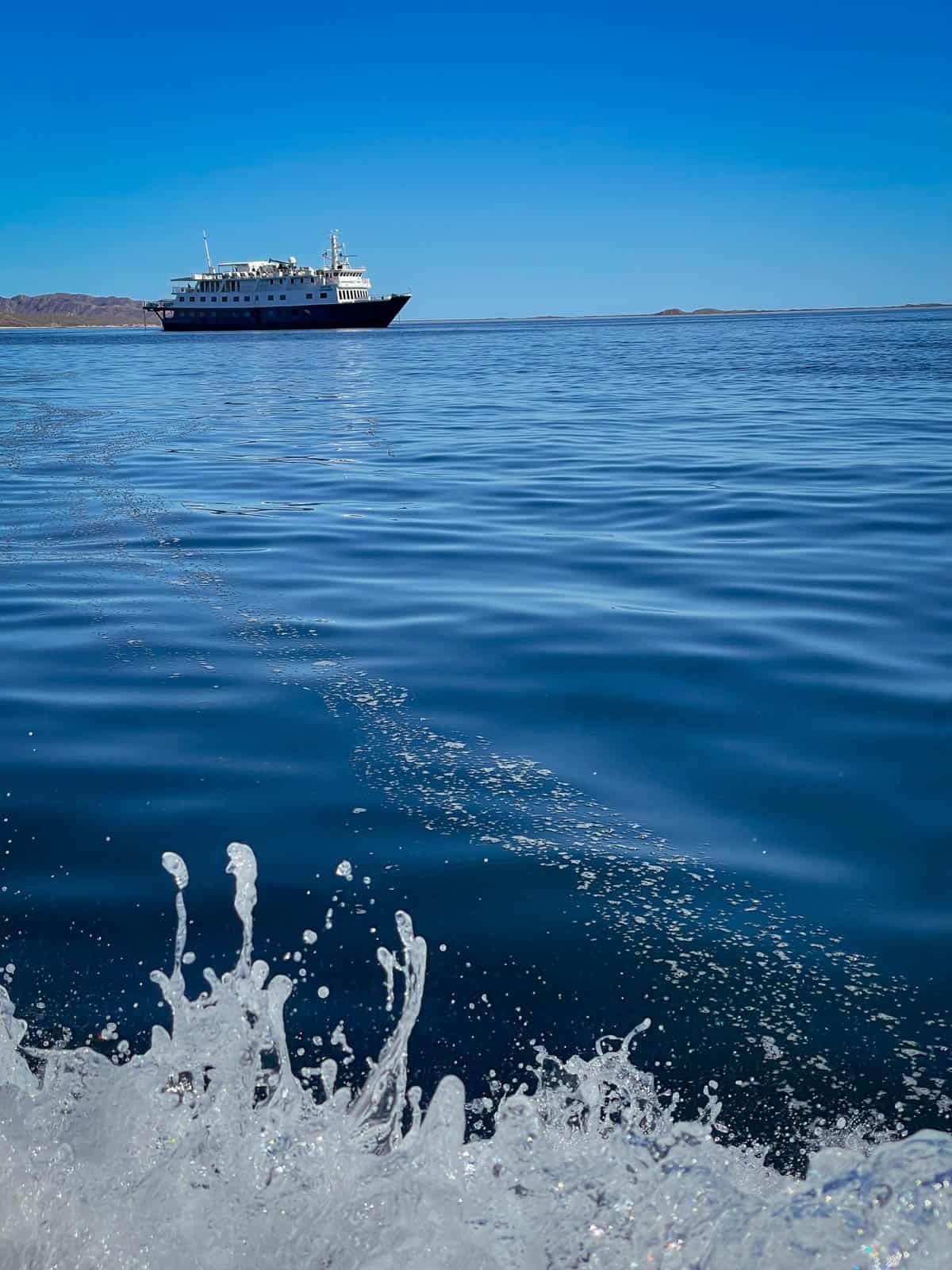 Mexico, in general, is an incredible place to explore nature. But if you have not been to the northwestern part of the country, this is where to go if you want to see the whales.
In fact, we saw whales from the highway when we were headed to our boat before this cruise even began! We thought it was a good sign, and we were right.
Where Is Baja Mexico?
The Baja peninsula is located just south of California. It is part of Mexico that extends into the Pacific Ocean, and provides incredible sights by land and sea.
Even though it is part of Mexico, it's often referred to as Baja California Sur. Because it is a peninsula with limited connection to the rest of Mexico, Baja has its own unique vibe throughout its desert lands and stunning coastline.
Baja is accessible both by car (driving south from San Diego) or by airline. We flew into the San Jose del Cabo International Airport.
If you'd like to go a few days early, the Cabo Azul Resort looks fabulous and is part of the Hilton Vacation Club.
Before you head out, be sure to print this free Mexico packing list. Print as many as you need so everyone can have one to start planning.
Why We Love Baja
Baja is a feast for the senses. Visually, the coast offers stunning blue water with plenty of ocean views from mountain trails.
The coastline offers secluded beach experiences along with picturesque jagged rock formations.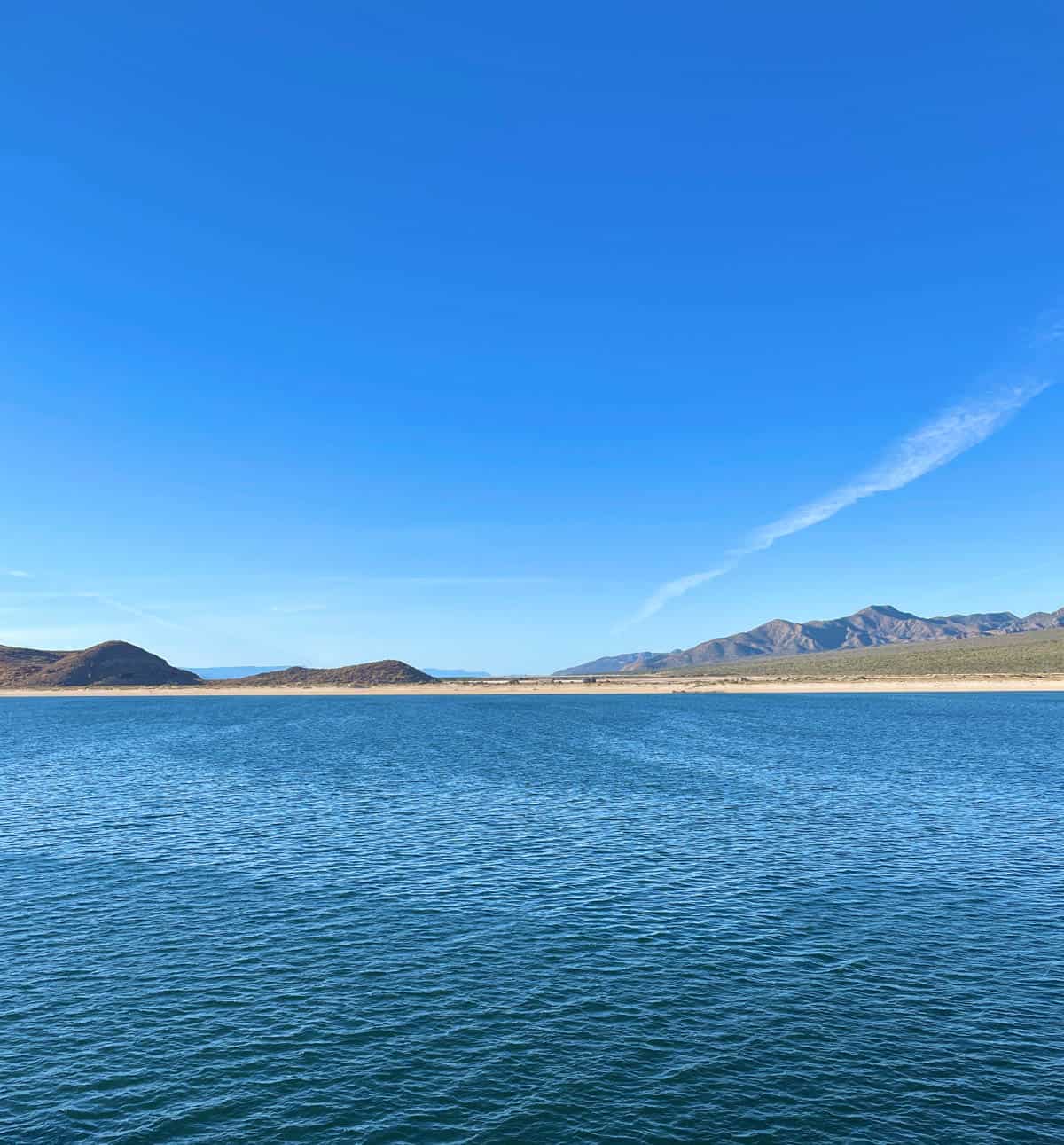 Although the Pacific Coast ocean water can be chilly, it is home to a variety of marine mammals and other ocean life including sea turtles, hundreds of varieties of fish, and of course the popular gray whales.
The Sea of Cortez, located between the peninsula and mainland Mexico, is a UNESCO World Heritage Site.
Named the Aquarium of the World by Jacques Cousteau thanks to its rich biodiversity, the Mexican government works hard with the international community to protect this unique environment.
A voyage to see whales with UnCruise Adventures is an incredible way to see this area and let someone else do the legwork for you.
Although whale watching is a good reason to take this cruise, the whole all-inclusive UnCruise experience is a vacation that you'll talk about for years to come.
With so many unique activities, this once-in-a-lifetime vacation is the perfect getaway and unforgettable experience.
The UnCruise adventure we took hit so many of the best spots in the waters around Baja.
The cruise begins in La Paz. The UnCruise team will meet you at your beautiful hotel in San Jose Del Cabo and take you to the ship.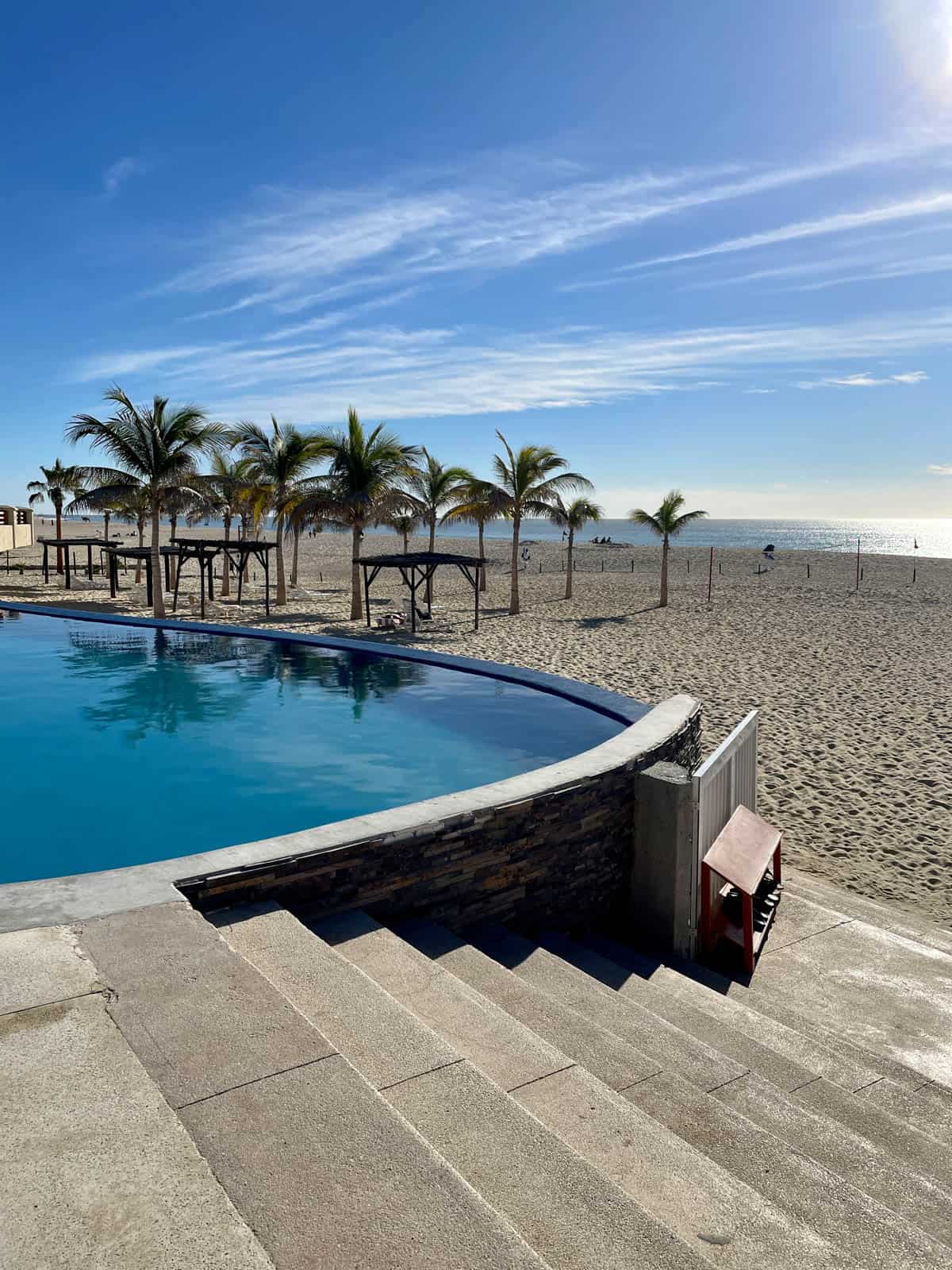 The cruise includes visits to Bahía Magdalena, Agua Verde, Isla Espiritu, and more.
Whale Watching in Baja
The UNESCO protected status of the waters around Baja makes it the perfect place for whales to visit.
International laws keep the environment clean and safe for wildlife.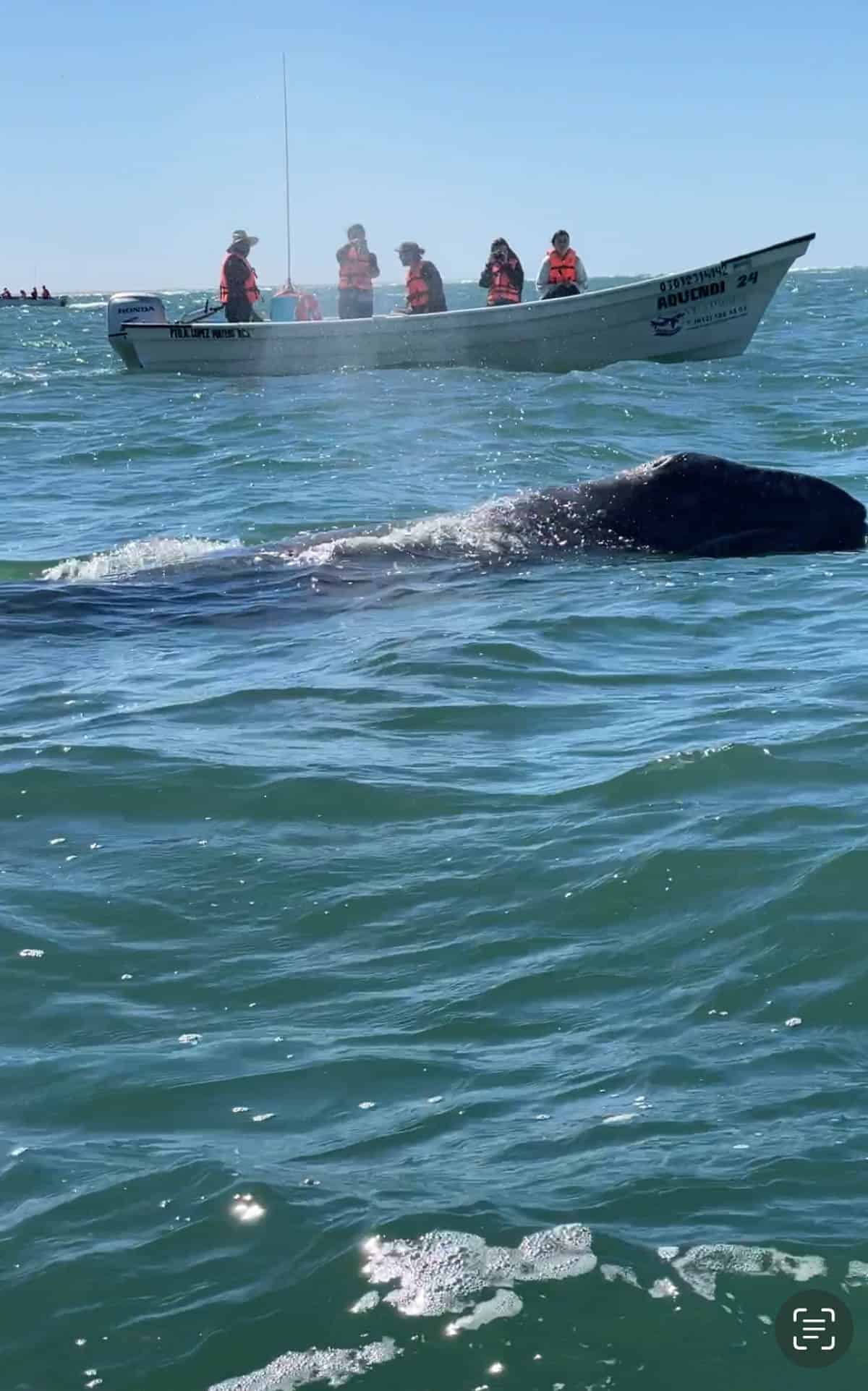 Ocean currents infuse the water with nutrients that provide excellent conditions for marine plants that provide food for whales and other ocean life.
Gray whales travel from the Arctic to Mexico to mate and give birth in safety during the winter months before returning to the Arctic.
In general, you'll see grey whales from late December through April, with calving season in February and March.
This was one of the big draws of this particular cruise. We were able to see the newly born babies and mommas swimming along side by side!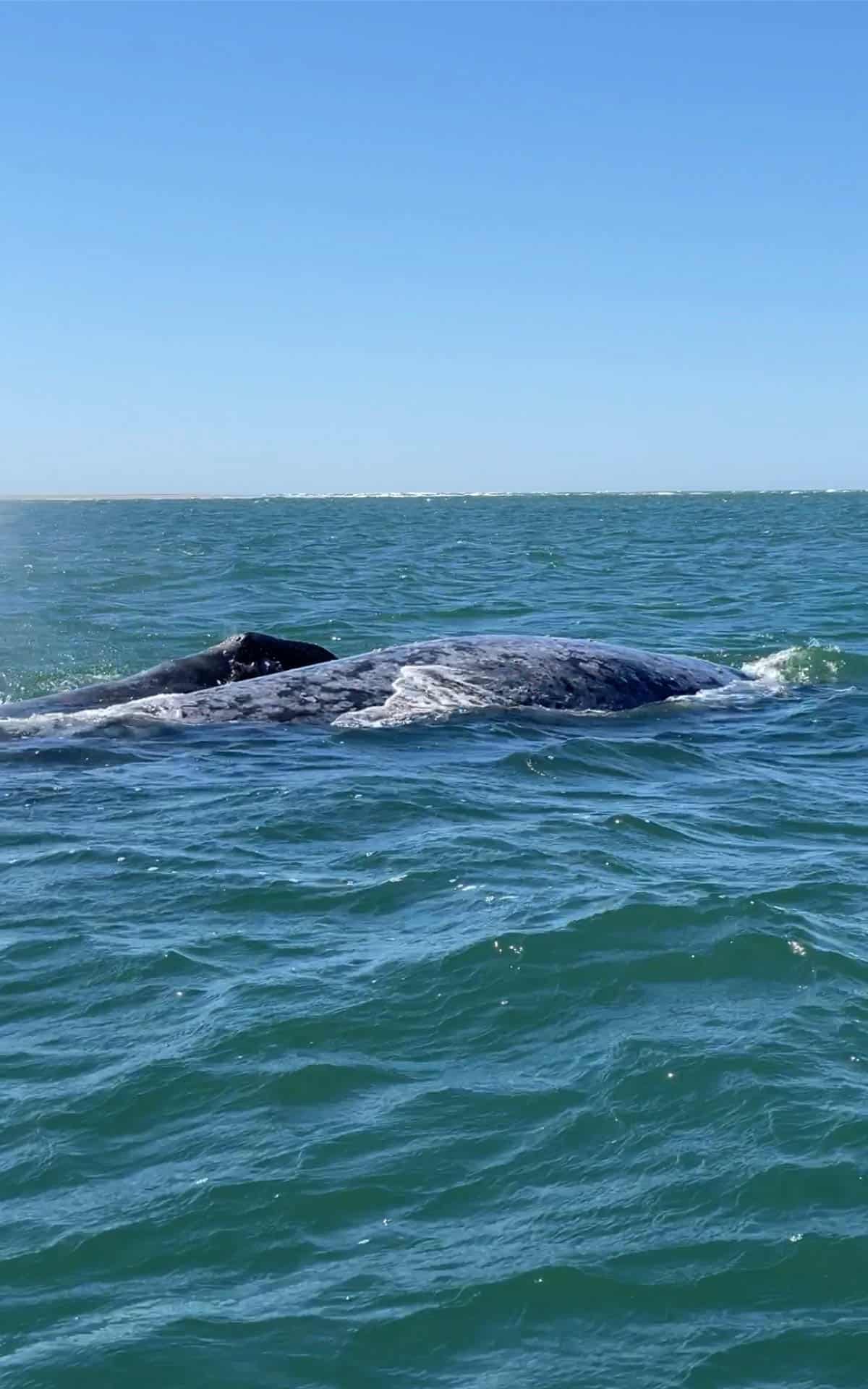 This little guy came up quite a bit. We think mom was trying to teach him what to do, but when he would spout, it was pretty adorable.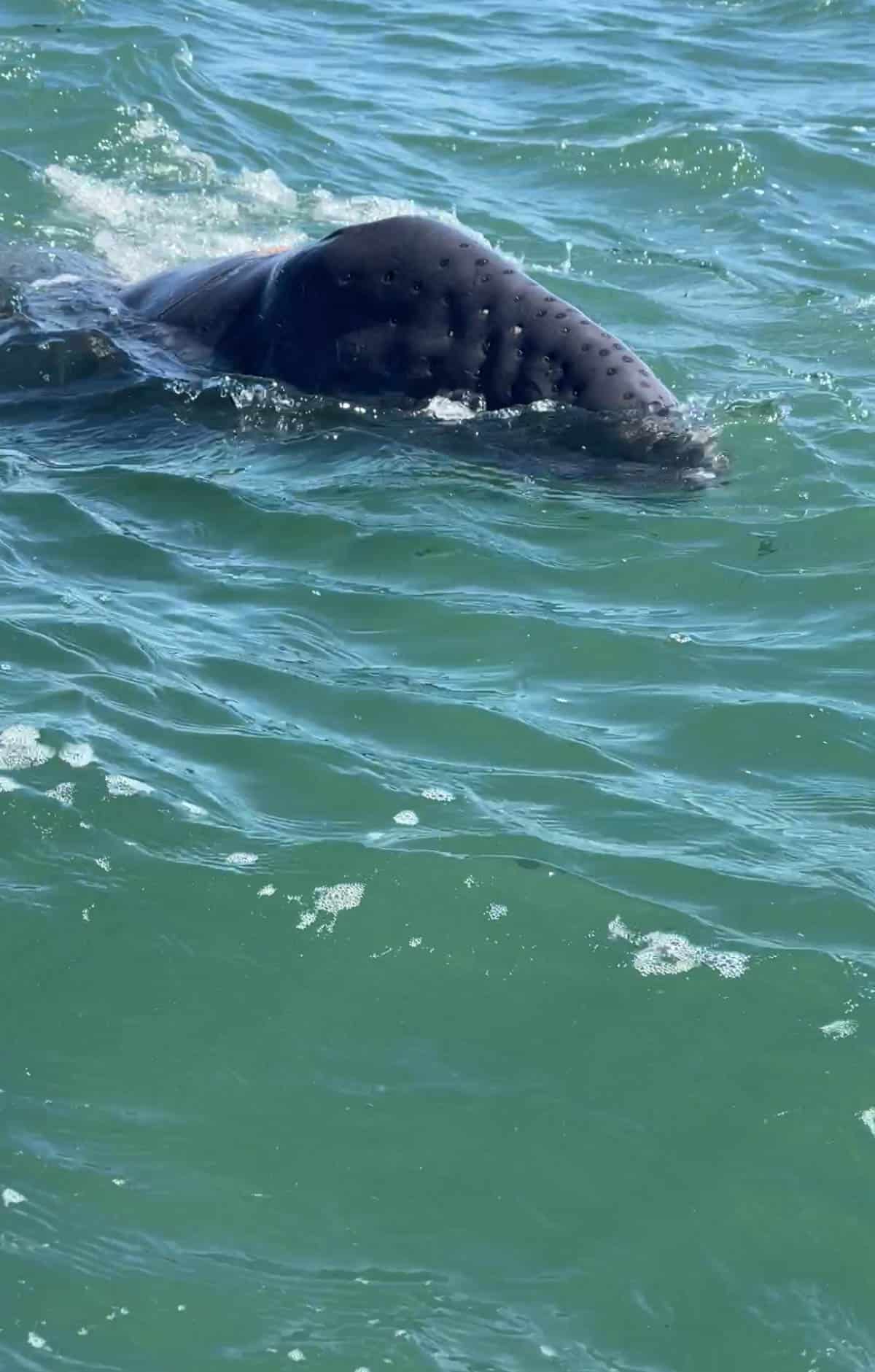 Other whales, such as humpback whales, blue whales (the largest animal on earth), and whale sharks can also be found during the cooler winter months.
Whales love the protected area, but they also love to have human interaction.
Tour operators work hard to keep a balance between providing close encounters with these gentle giants and letting the wild animals have much-needed space.
If you're traveling outside of the prime viewing times, that doesn't mean that you won't see whales.
There are many "resident gray whales" who have made the area around Baja their year-round home.
During the months when whale sharks migrate through the area, you can also go snorkeling with the whale sharks. It was a little too early in the season for whale sharks in the area when I sailed.
That is one factor that can't be predicted – wildlife lives according to its own schedule. Some activities were spur of the moment depending on the behaviors of wildlife at that time.
What made an UnCruise whale-watching trip so great is that it is a very small cruise.
On my cruise, there were only about 60 guests on board the ship! This makes the whale-watching tours feel like an intimate up close and personal experience.
At the end of our whale watching adventure in Puerto Lopez Mateos, we had time to explore the small shopping area for souvenirs before heading back to the ship.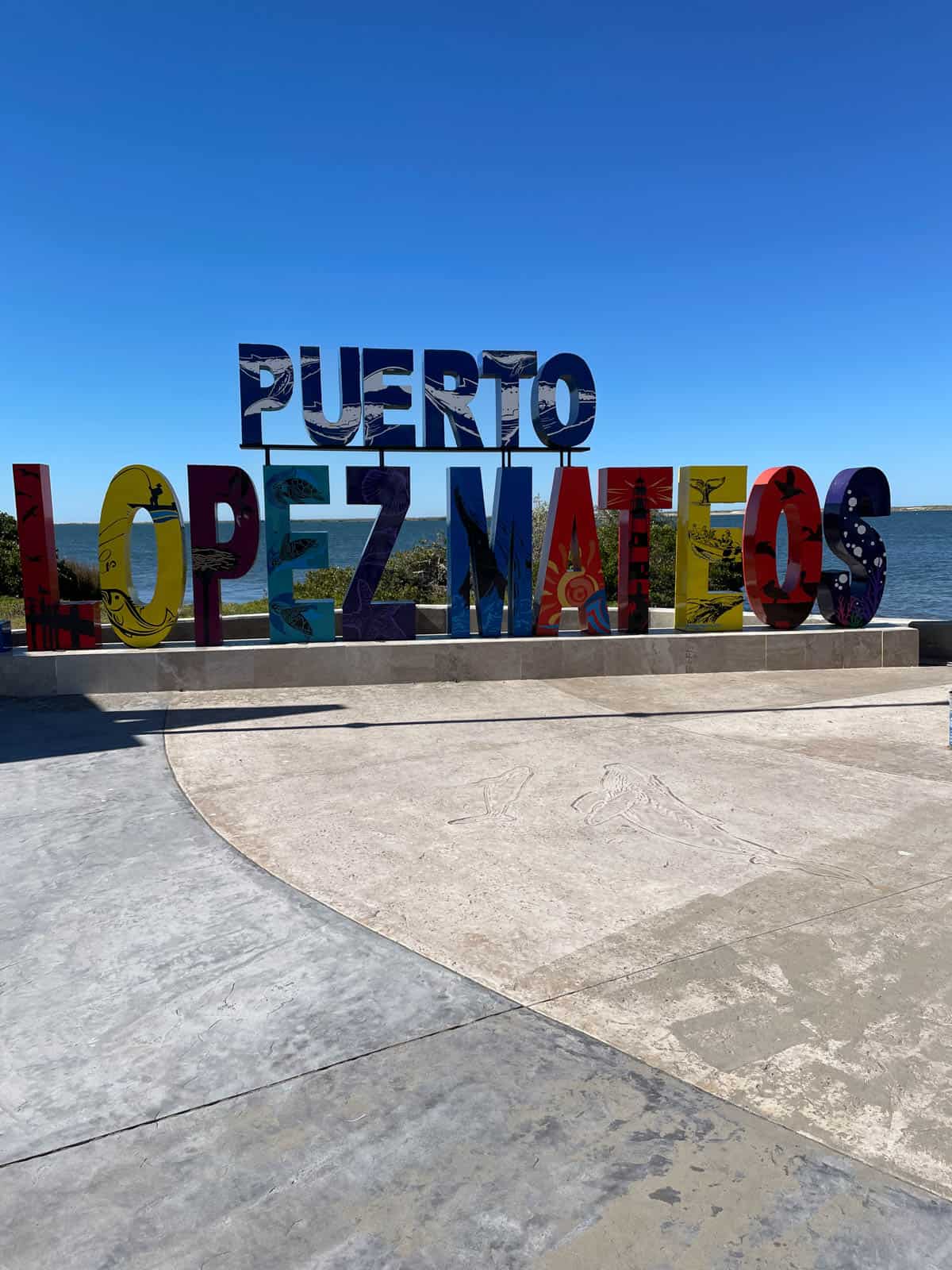 Other Activities with UnCruise
Seeing whales in the wild was a highlight of the trip, but the UnCruise experience included so many other activities on land and sea.
The entire cruise was filled with full days of experiences. Each day you are given the opportunity to choose the activities you'd like to participate in.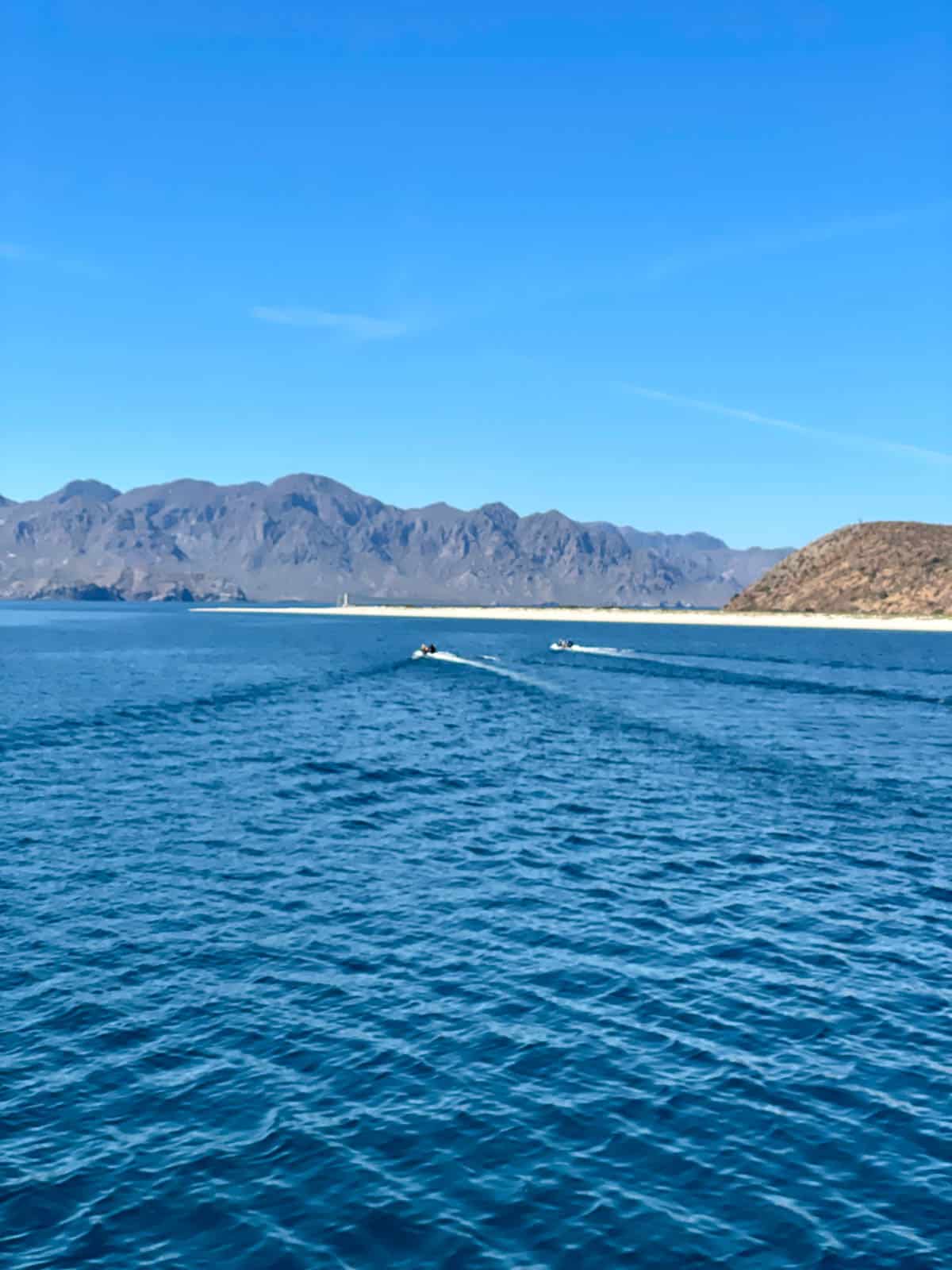 Snorkeling with California Sea Lions
This is not something you can do every day! Truly a bucket list experience, you will have the opportunity to don a wetsuit and be in the water with these playful creatures!
This is not to say everyone will get in the water. If you don't feel comfortable, you can sit in the boat (as I did) and take a gazillion photos!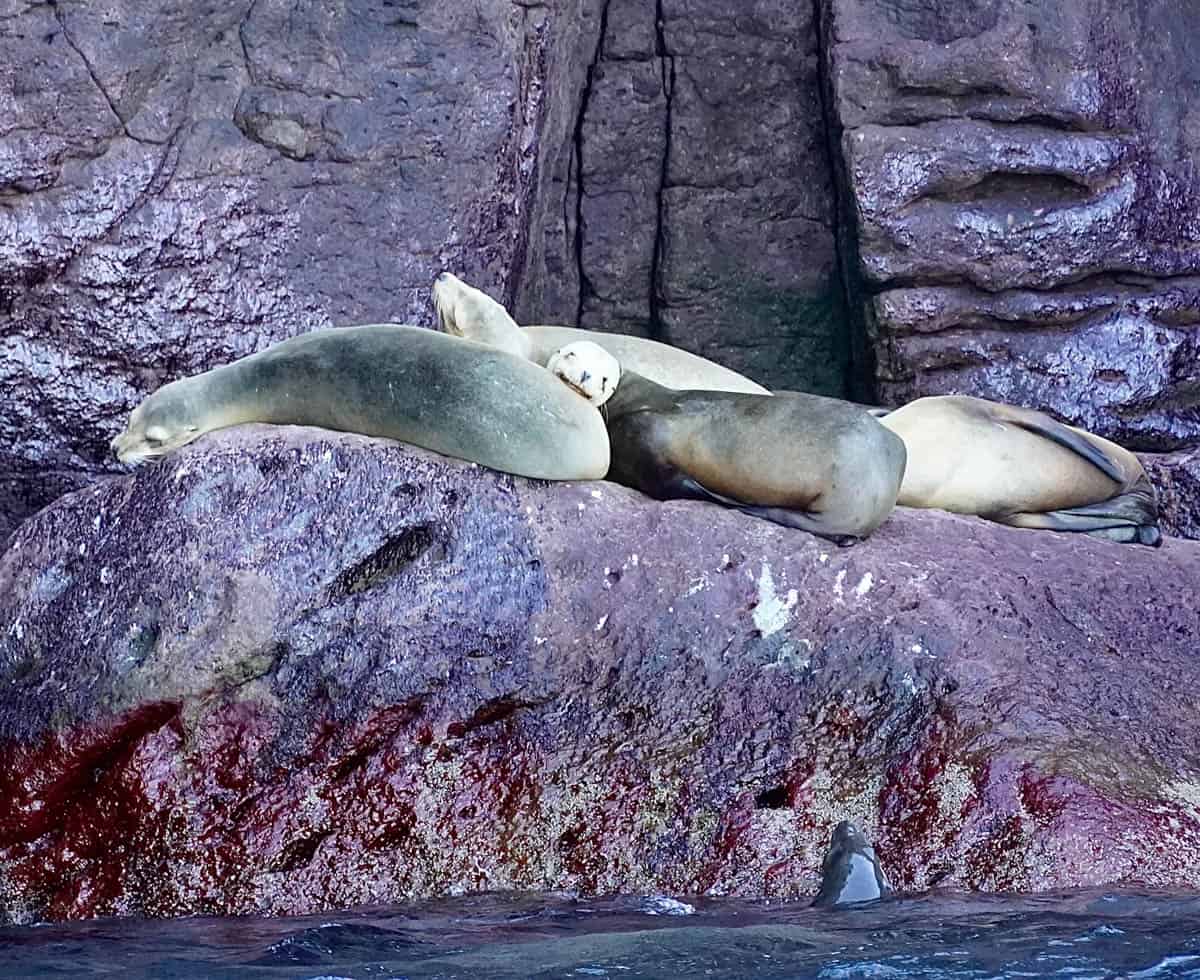 Bring your waterproof camera or Go Pro (worth the investment from the photos you'll get!) as these little guys really seemed to like interacting with the camera!
Thanks to my fellow writer friend, Valerie, who shared this photo from our trip. Check out her Baja UnCruise review.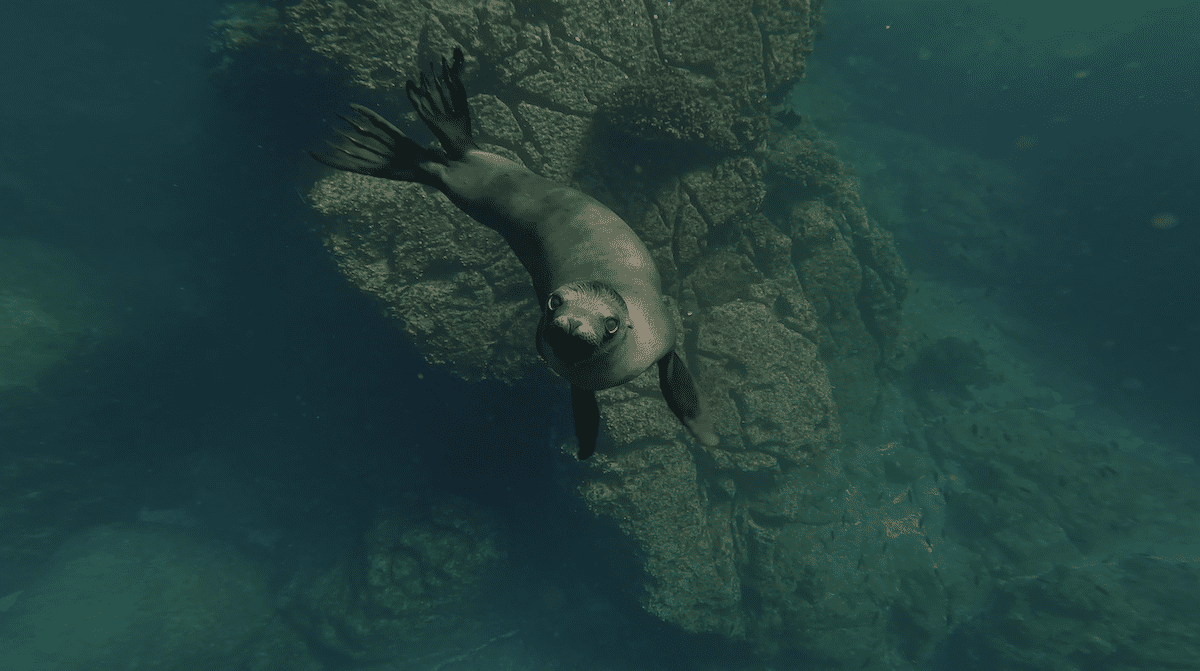 There are other opportunities to snorkel, as well. When you first board the ship, you will be fitted with your gear for the week.
Your life jacket hangs outside your room.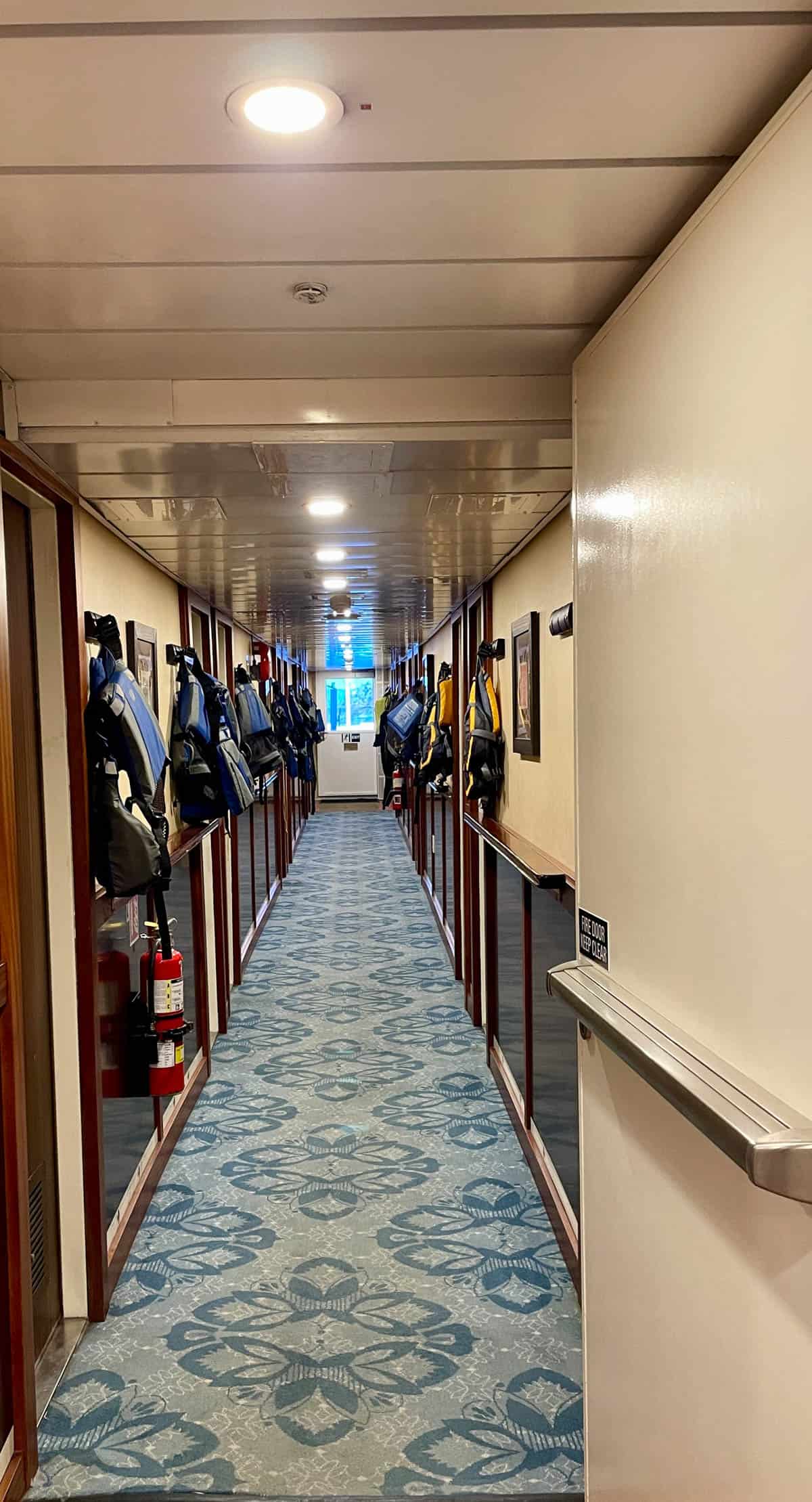 Your wetsuit and snorkel gear stays on the top floor of the boat. It's a great system!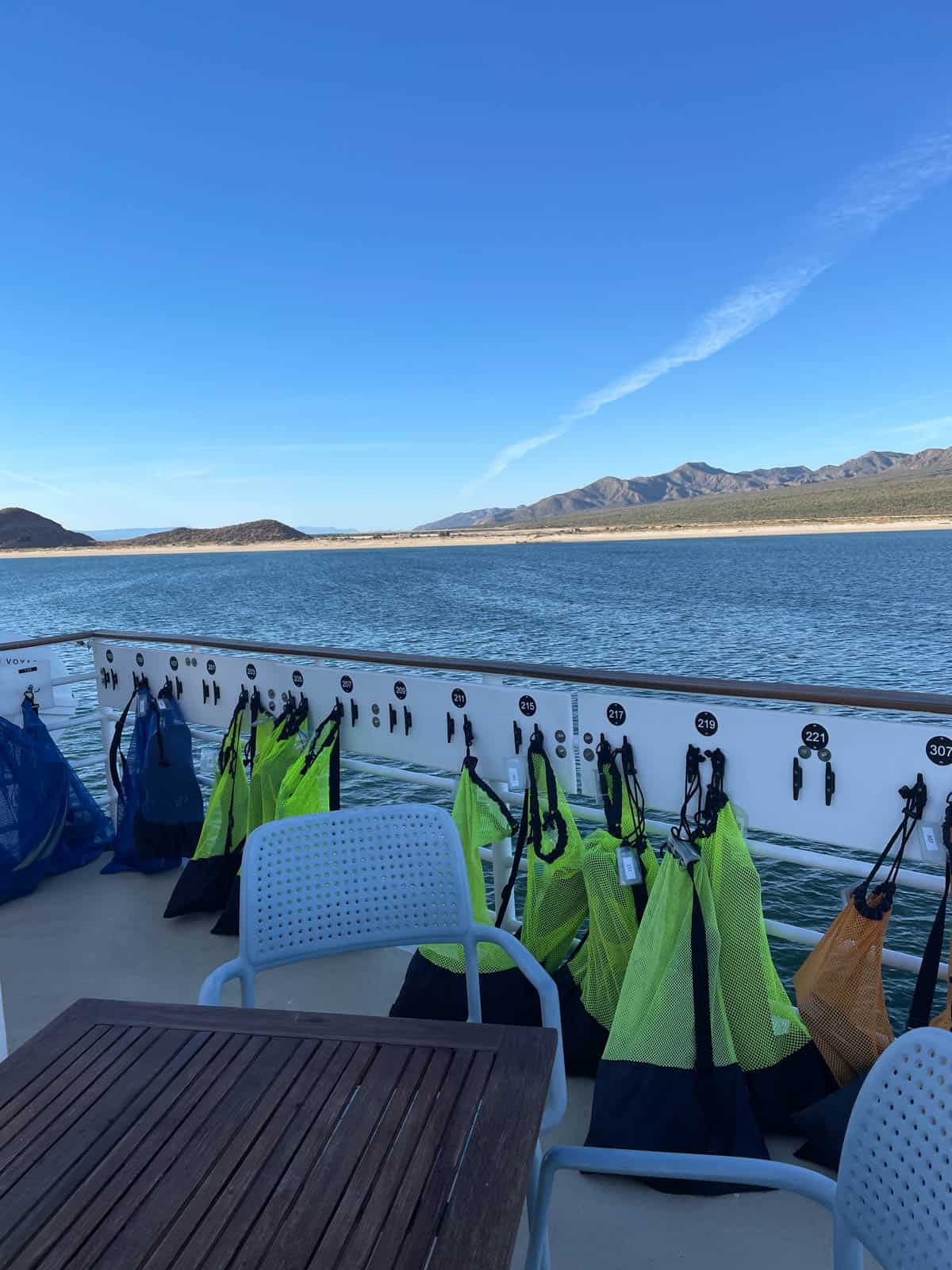 Kayaking
As the Safari Voyager was equipped with kayaks as well as the EZ Dock kayak launch platform, it was only a matter of finding the perfect spots!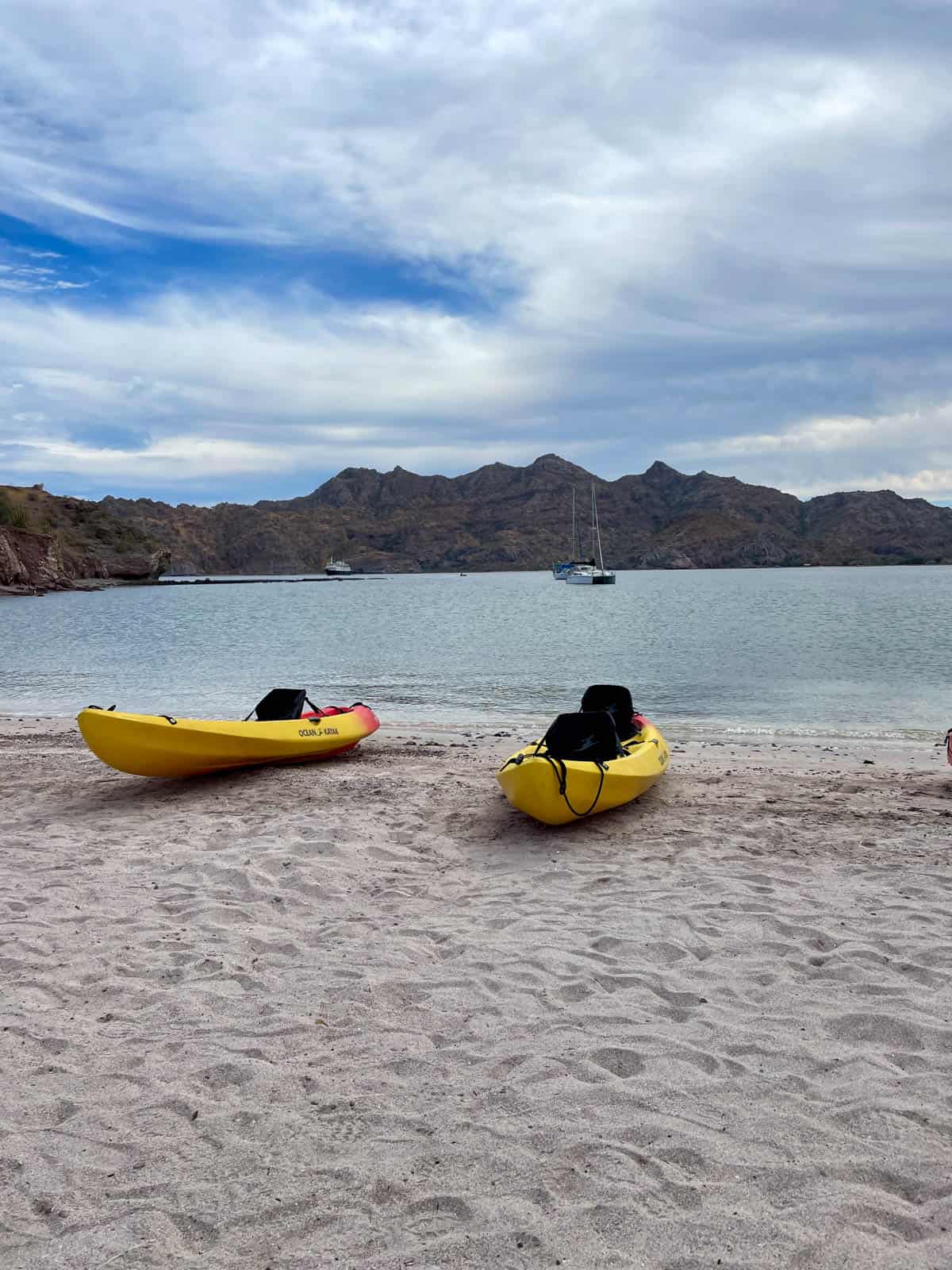 The scenery in this part of the world is so spectacular, there were plenty of beautiful places to explore.
Paddleboarding
Our ship was also equipped with paddleboards, perfect for scouting about when we were anchored near a shoreline.
Exploring by skiff
We did quite a bit of exploring by skiff as this was the best way to bird watch. I saw my first Blue Footed Boobies on this trip. If you look closely, both birds have blue feet.
We also saw brown pelicans, frigatebirds, great blue herons, and snowy egrets, just to name a few. Baja Mexico is paradise for bird-watching.
Hiking
Three levels of difficulty are offered most days when hiking is offered. The knowledgeable guides are there to point out interesting things to see from different types of plants and animals to cave paintings.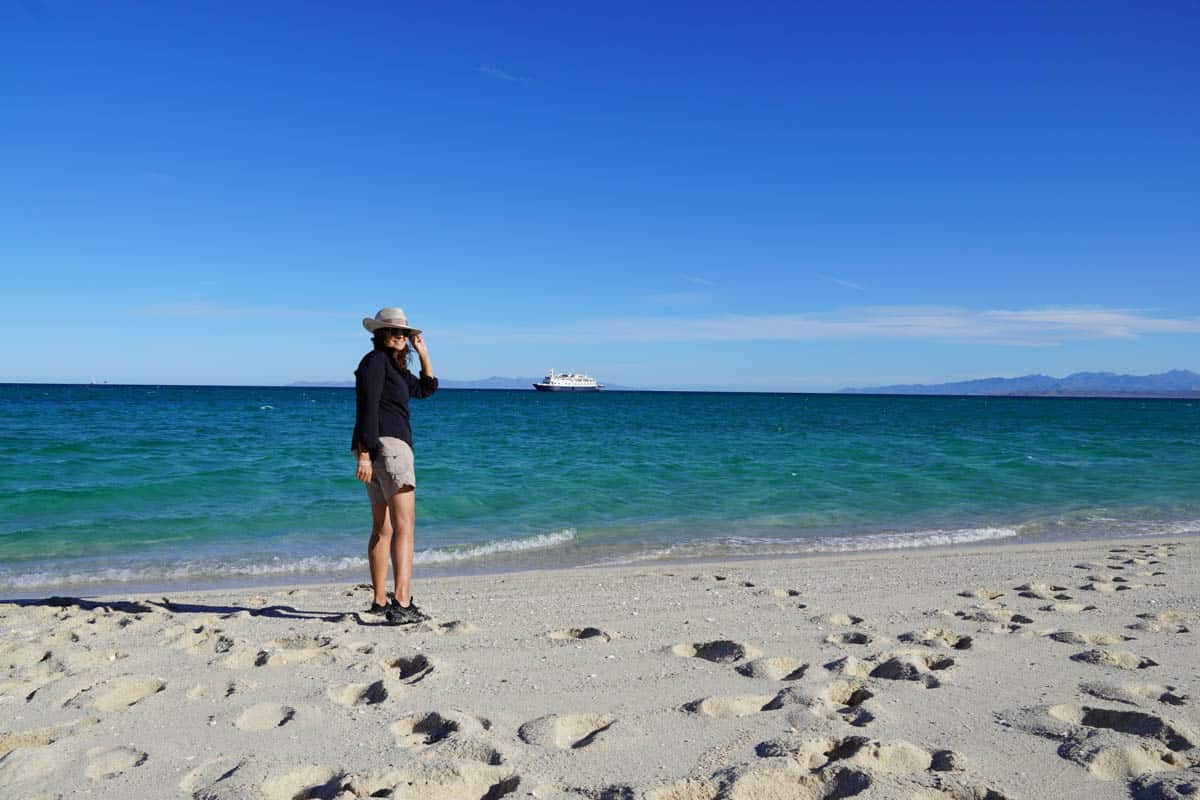 The easy hikes are mostly on flat surfaces, so they really are for everyone. The difficult hikes are for experienced hikers.
We were told to be prepared to use all extremities, meaning you may need to pull yourself up by grabbing a ledge or rock.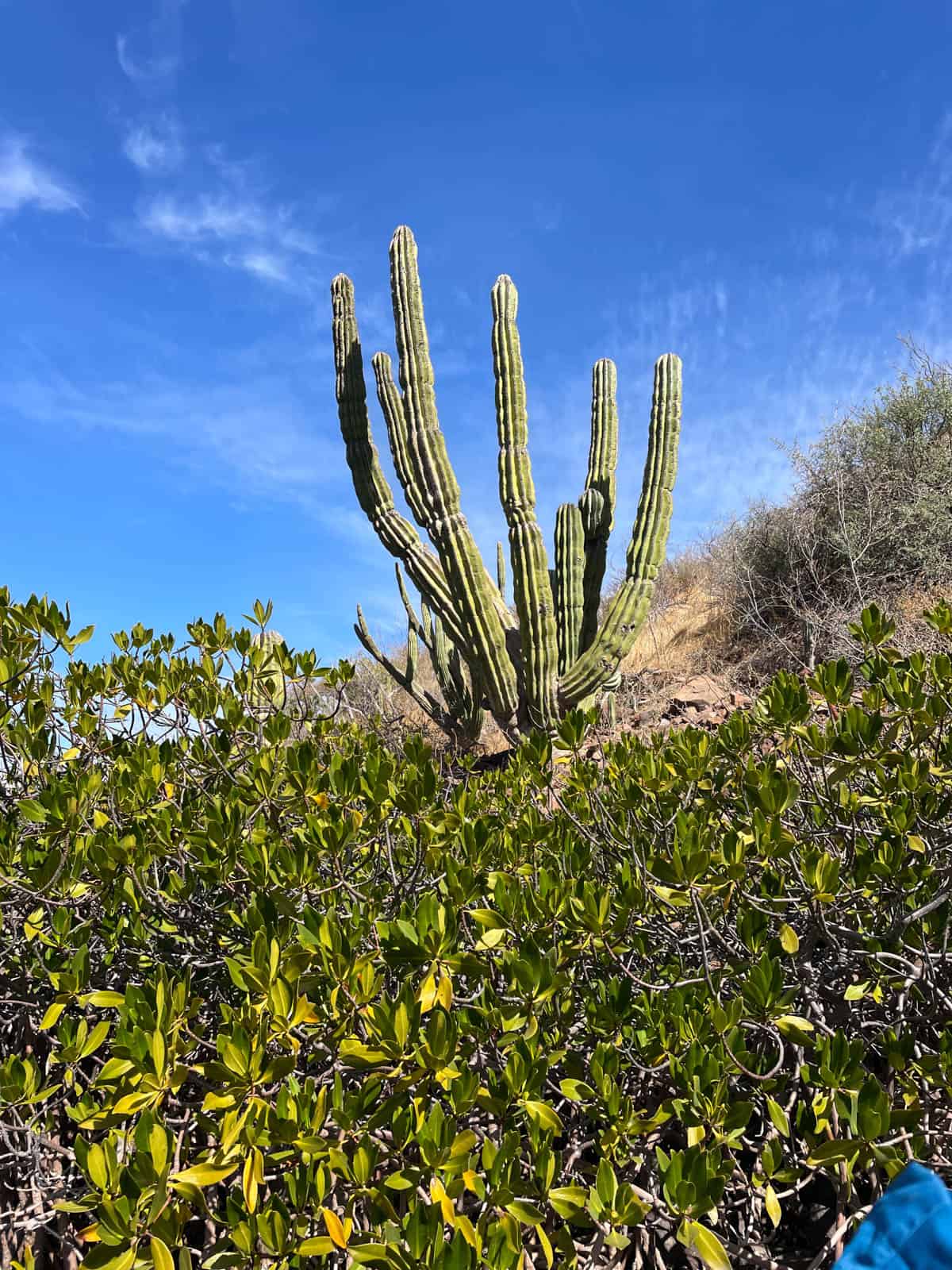 If you are not an experienced hiker, it's probably best to start easy. You can always move up to the medium difficulty level on the next one.
Mule riding
Mule riding was a fun experience and the views were extraordinary. A local family has been working with UnCruise for many years in organizing and leading this part of the trip.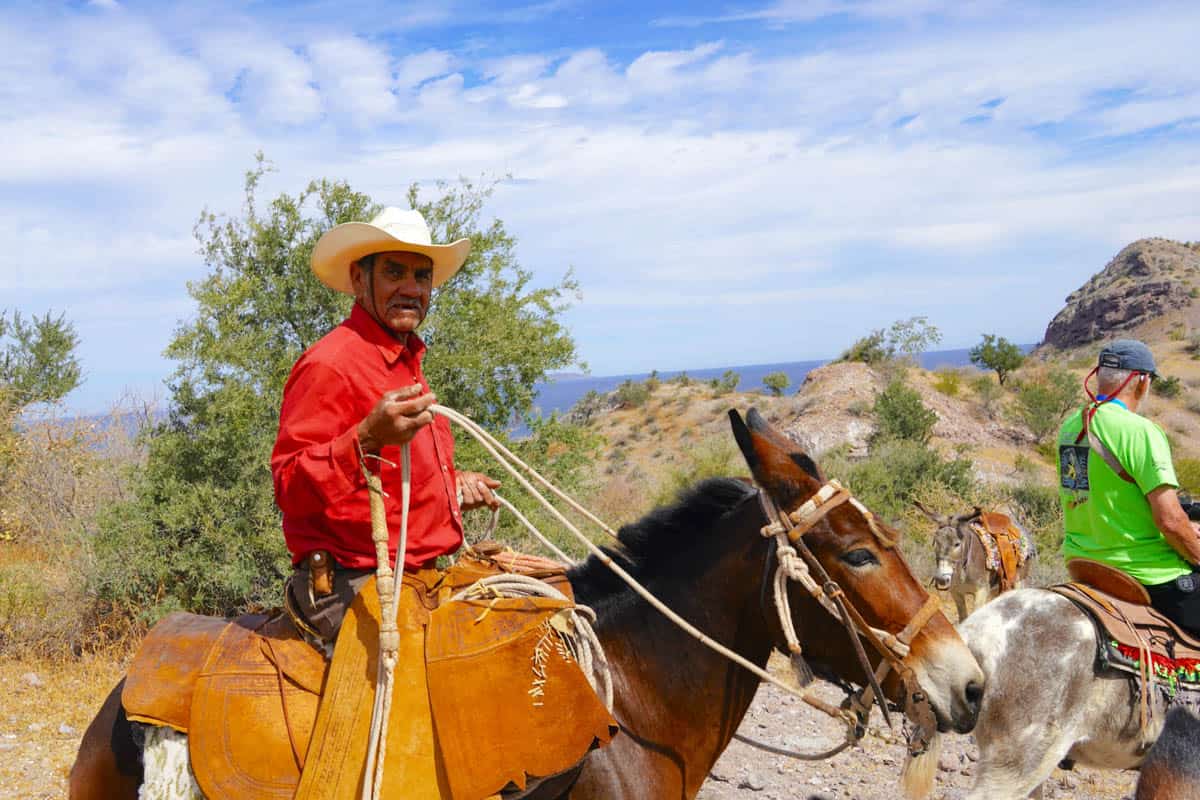 From carefully selecting each rider's mule to helping everyone get comfortable, they are with the group for the entire ride.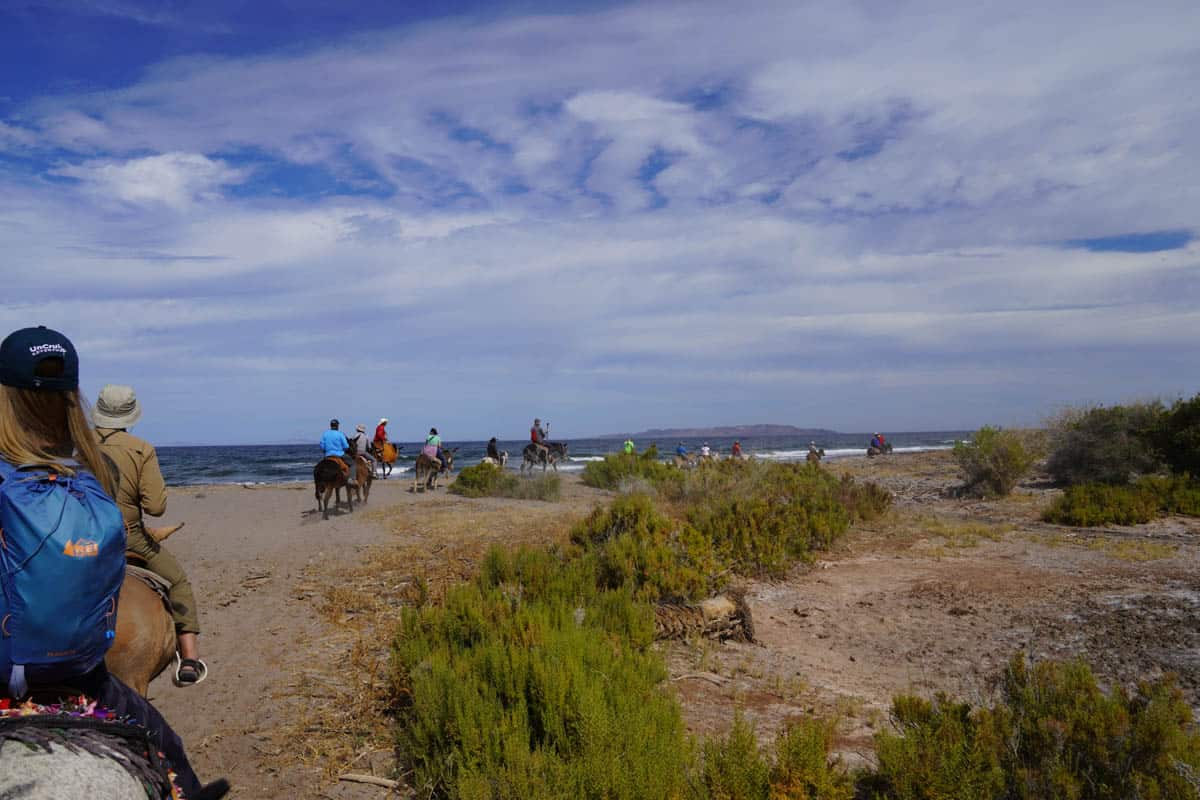 This is another wonderful aspect of UnCruise. They believe in giving back to the communities they visit.
Exploring the small town of Loreto
This was actually my second time visiting Loreto, and I loved it as much as the first.
This is a great spot for purchasing gifts to take home to friends and family as there are many lovely artisan shops.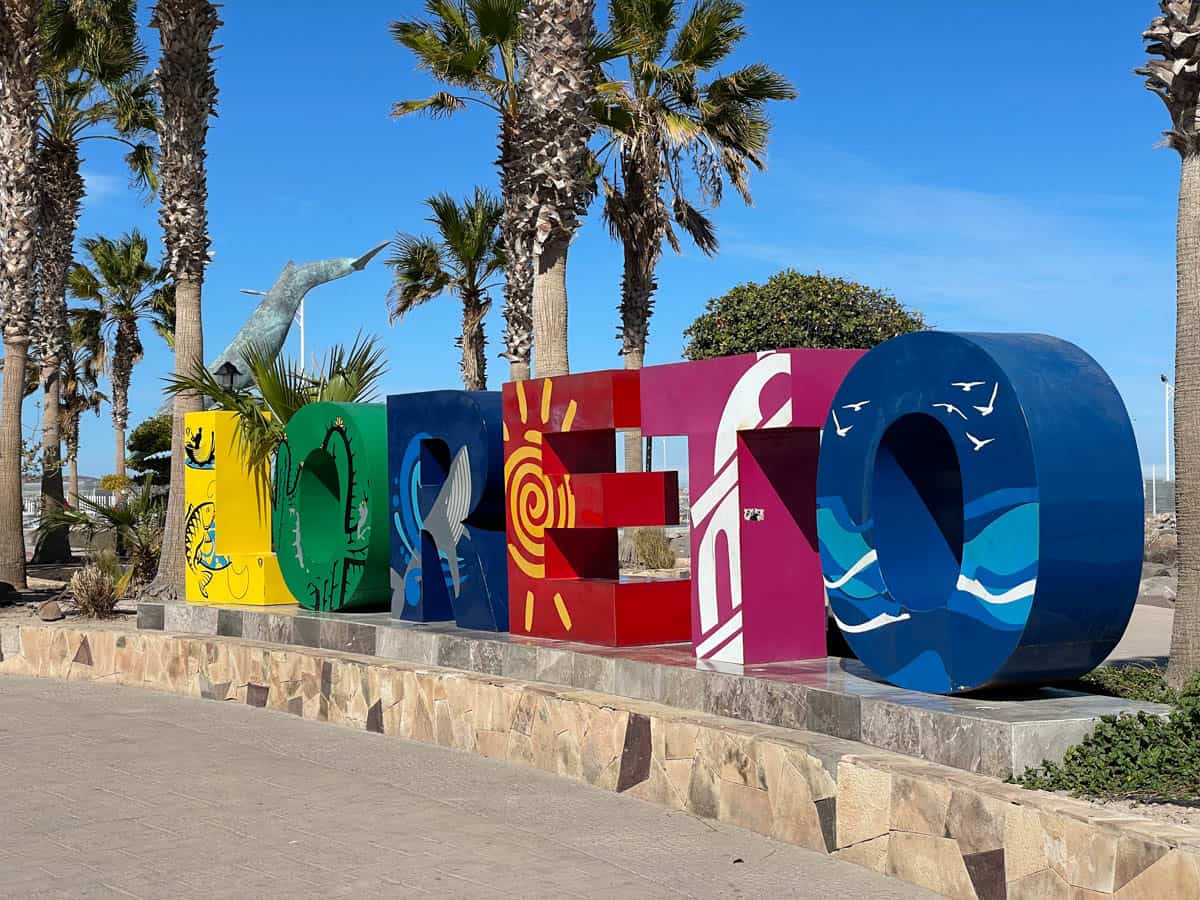 You can also visit the brewery for a local beer and some chips and salsa. They even had a stout which made this girl a happy camper!
Stargazing
On board our ship, we also had experienced guides who sailed with us for the entire voyage.
On one night, we had an impromptu star gazing viewing. I had never seen so many stars!
Each night one of the guides would conduct a lecture about the wildlife, marine life, environment, or history of Baja.
They were so passionate and knowledgeable, and it was a wonderful way to wrap things up at the end of the day.
Your UnCruise Accommodations
Though time in your room is really only spent sleeping and showering, it's still nice to know the accommodations are nice.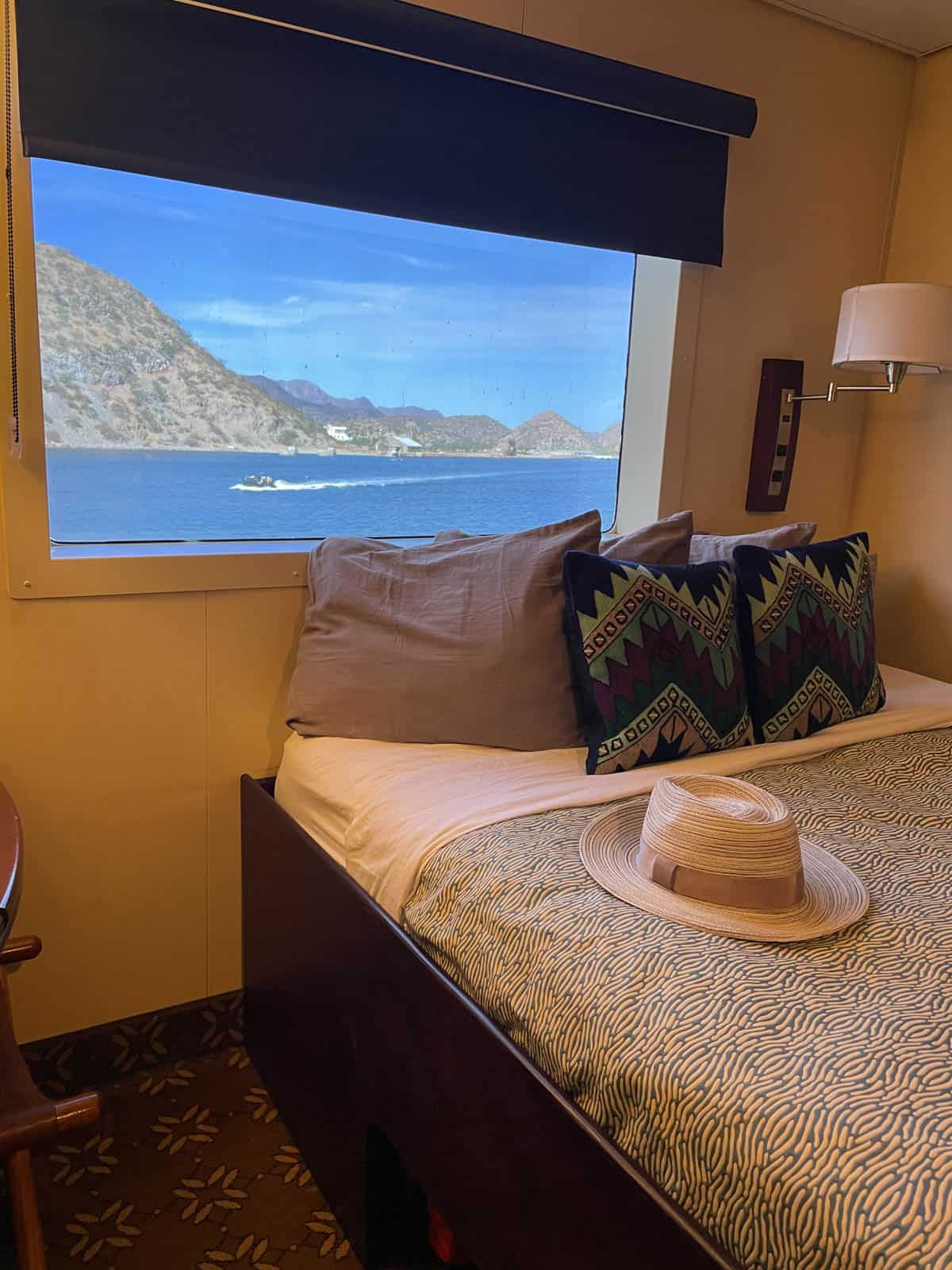 My room had a full sized bed, a convertible desk/vanity, and small sink and mirror. I had my own shower and bathroom with plenty of towels and organic eco-luxurious bath products from Raw Botanicals.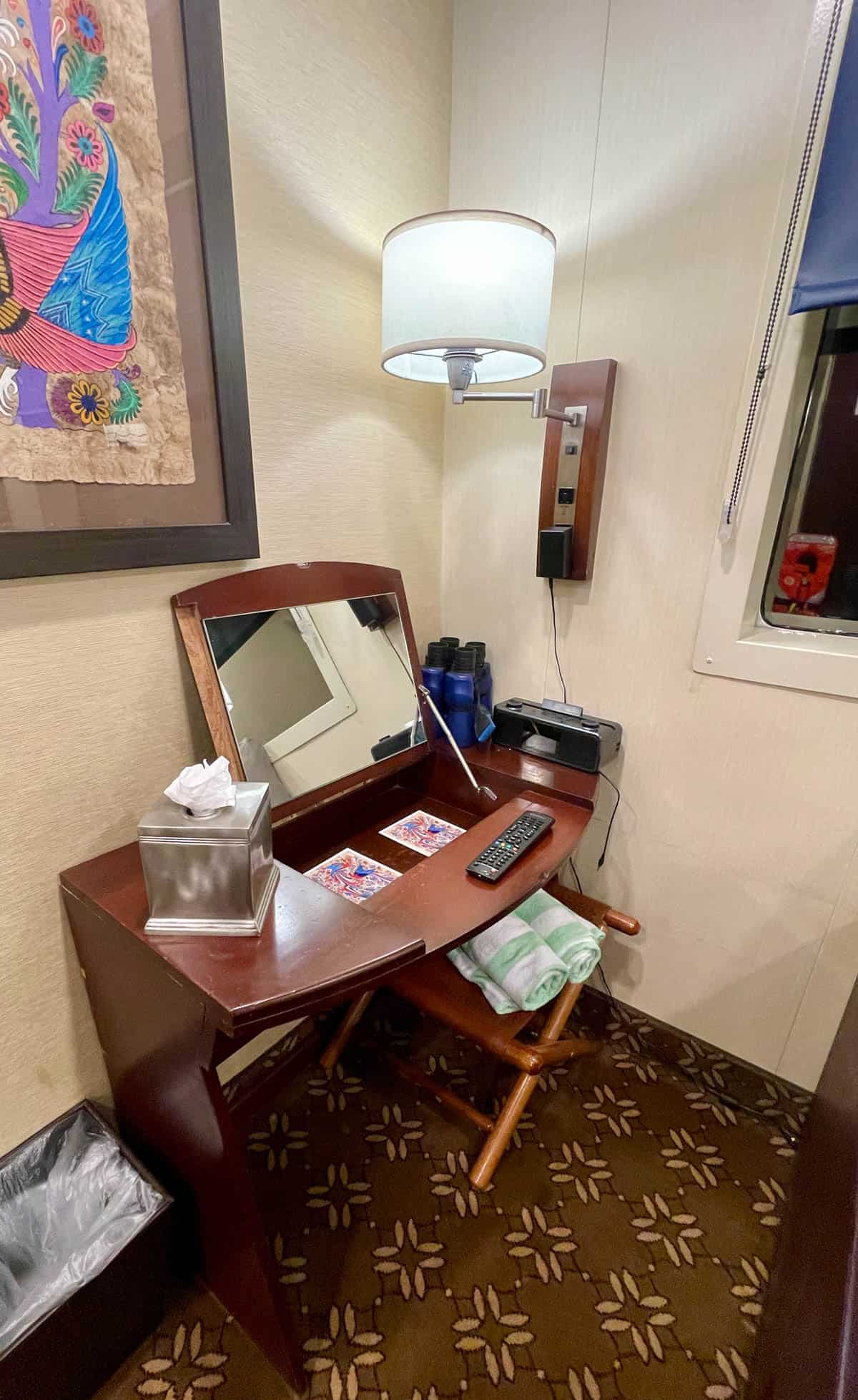 Because the UnCruise ships are relatively small, if you're not participating in the scheduled tours, there isn't a whole lot to do on the ship.
You'll find a very small library and games in the lounge. Other than that, you can watch the world go by from one of the chairs on the deck.
Not a bad way to spend an afternoon! We saw whales from the deck quite a few times.
Meals on UnCruise
Exploring can work up an appetite. The meals on UnCruise were exceptional.
You'll wake up to meals like veggie frittata, breakfast potatoes, cinnamon rolls, French toast, and Greek yogurt with granola, depending on the day.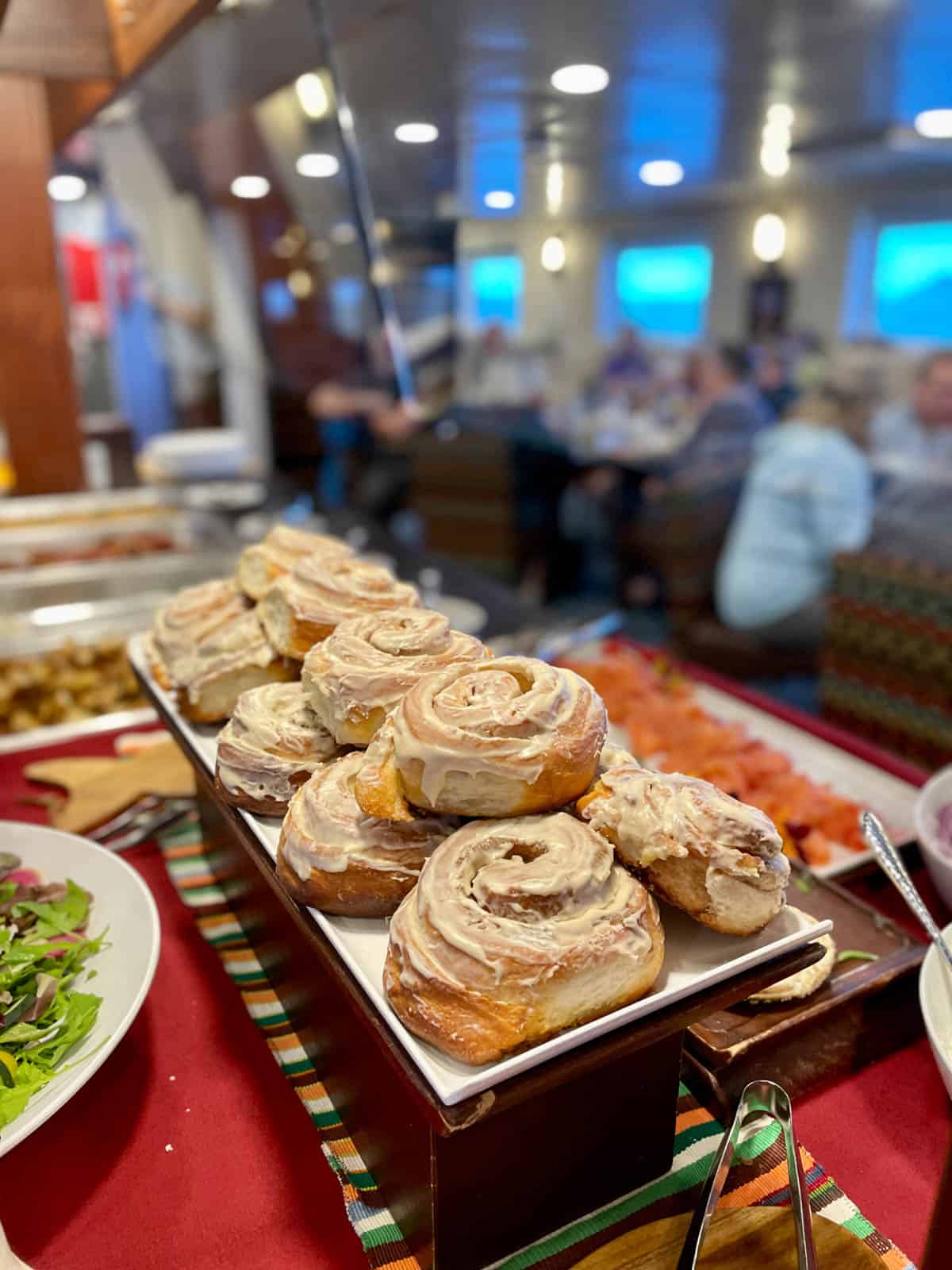 Entrees like filet mignon, roasted duck, lobster tail, and local fish were on the menu for dinner. You will not go hungry!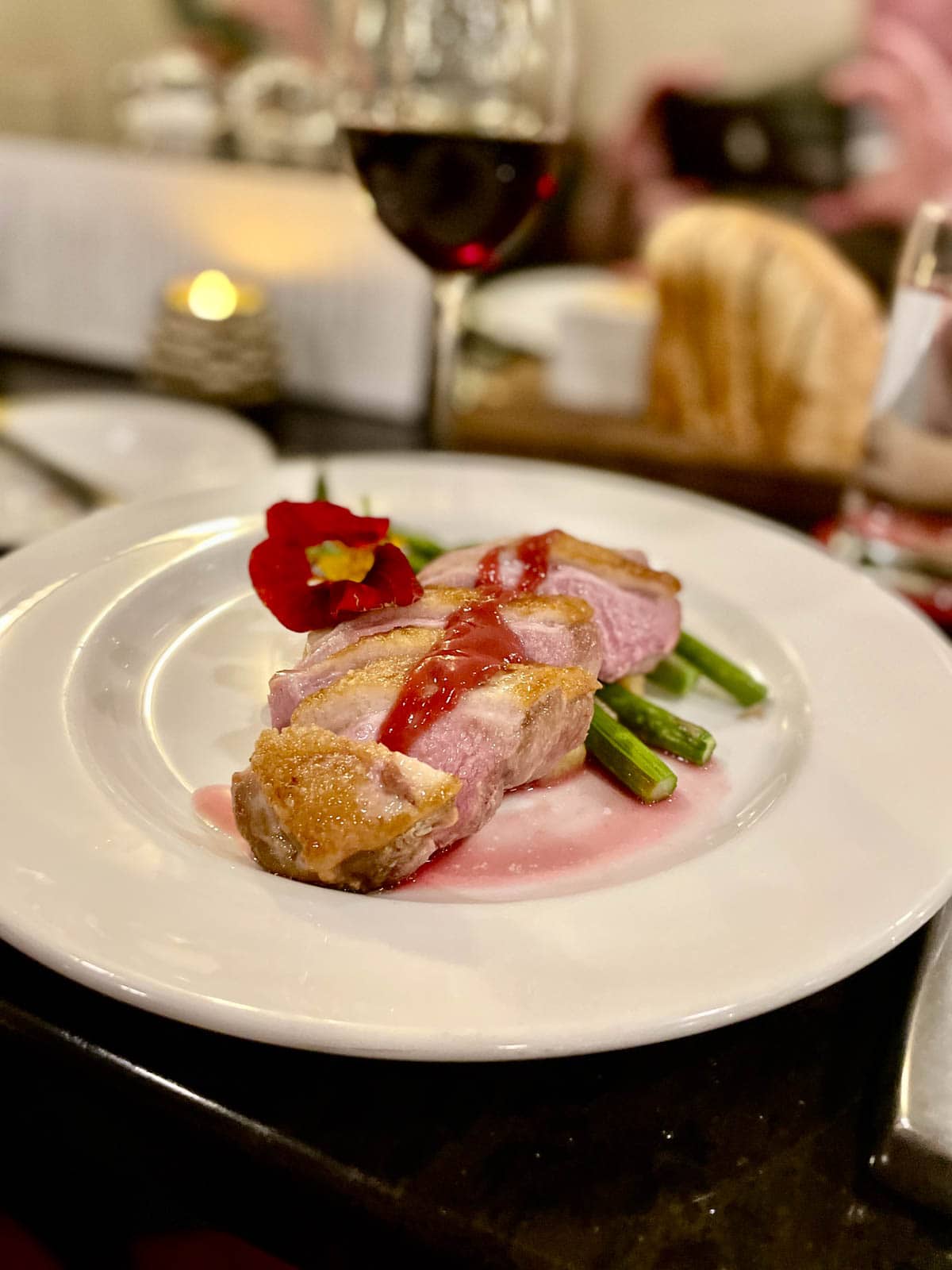 There was a pastry chef on board, and every day we had freshly made bread that was baked right on the ship.
The upscale meals were amazing, but they also can accommodate special dietary requests. We had a couple on our trip who were vegan and their meals looked incredible!
Each evening at 5:30, the Voyager Lounge hosted cocktail hour which featured a signature cocktail of the day.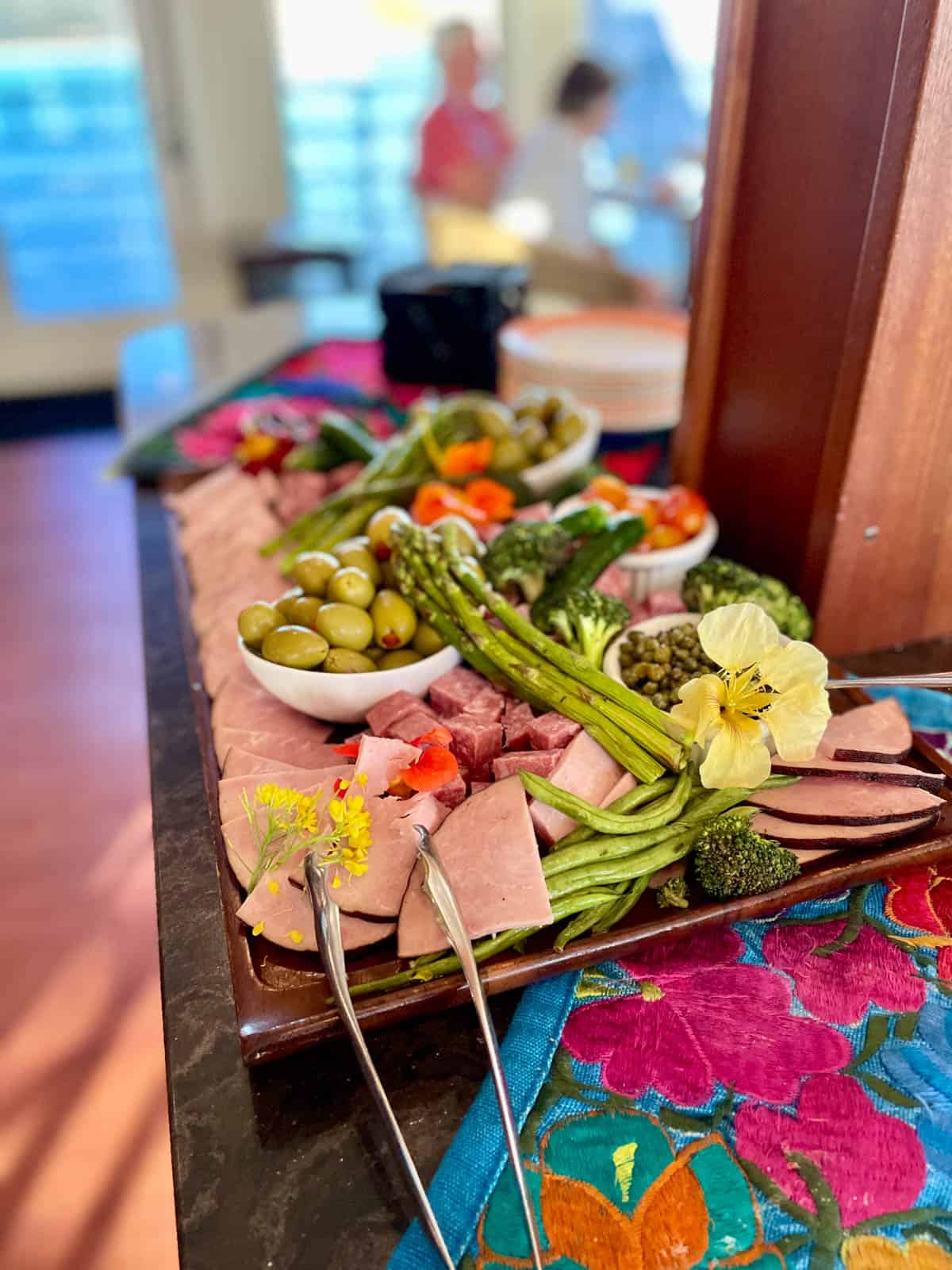 Again, as this is an all-inclusive trip, cocktails, premium wine, and beer were all included.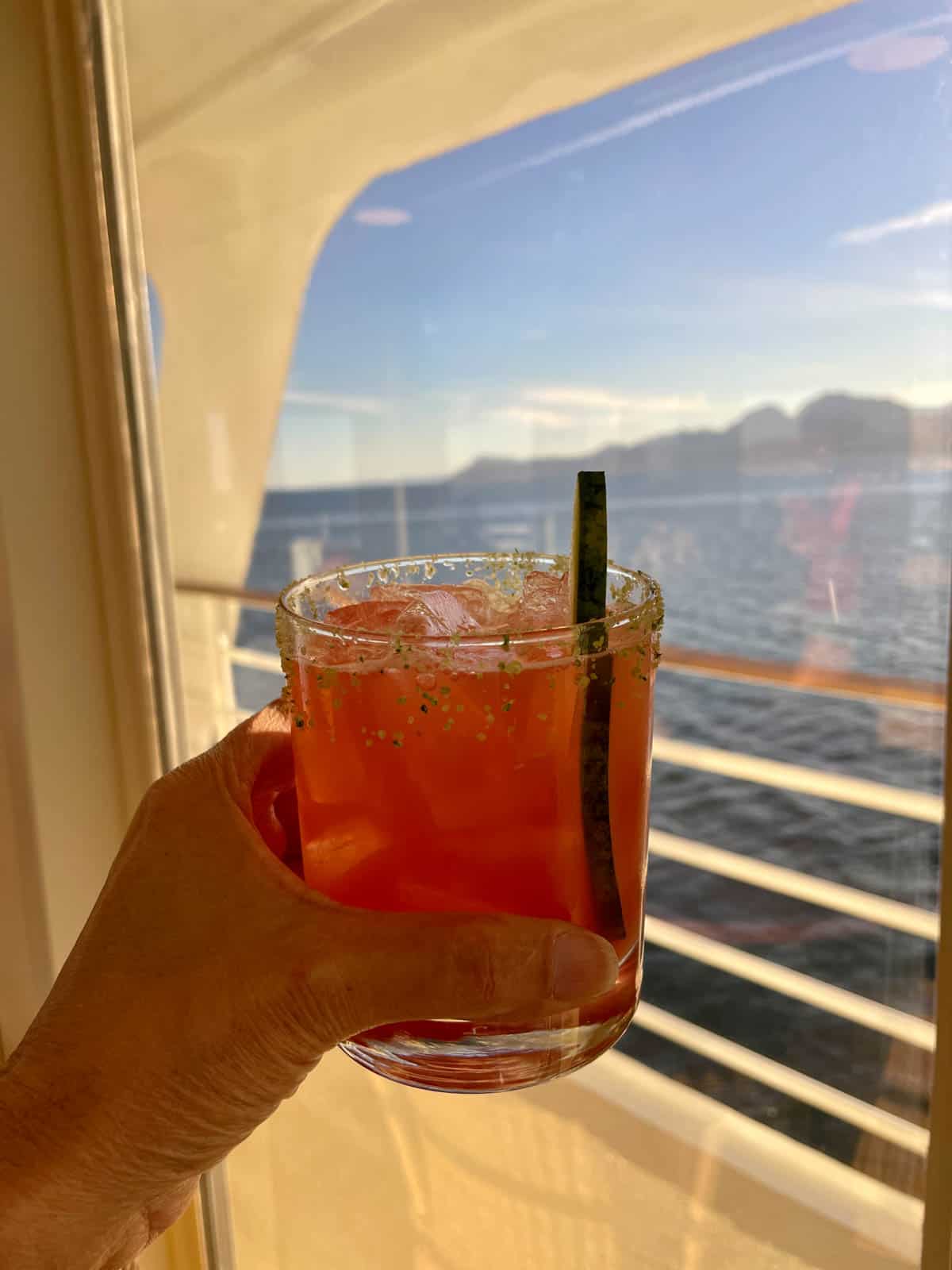 Other UnCruise Vacations
Though this Baja Mexico whale watching trip was amazing, UnCruise offers a variety of destinations. Each trip offers its own unique activities and experiences.
You can book all kinds of cruise destinations, including river cruises down the Columbia and Snake Rivers.
Always dream of seeing the incredible wildlife in the Galapagos Islands? You can do that with UnCruise, too.
If sailing around the beautiful Hawaiian Islands or exploring the rugged frontier of Alaska are on your bucket list, check out UnCruise.
Each cruise offers specially curated activities so you get to experience the best of what each location has to offer.
Newly added cruises include winter sports in Alaska, Prince William Sound, and Costa Rica to Cartagena.
Frequently Asked Questions
When is the best time see whales in Baja?
Whales can be spotted year round in the waters off of Baja, with the peak of whale season in January through late March. Gray whales that migrate to the area from the Arctic start to arrive in December, and some gray whale mothers will stay with their calves in the waters of Baja into May.  
When is hurricane season in Baja Mexico?
Pacific hurricane season goes from the middle of May through the end of November, with the peak of the season in September. The best Baja Mexico whale watching time falls outside of hurricane season, which is a plus! 
What months have the best weather in Baja California?
The most pleasant months to visit the Baja California peninsula are November through April, with pleasant temperatures and bright, sunny days. As you might expect for a desert area, summers can be very hot. One thing to be aware of is that the waters off the coast of Baja can be unexpectedly cool, even on a warm or hot day.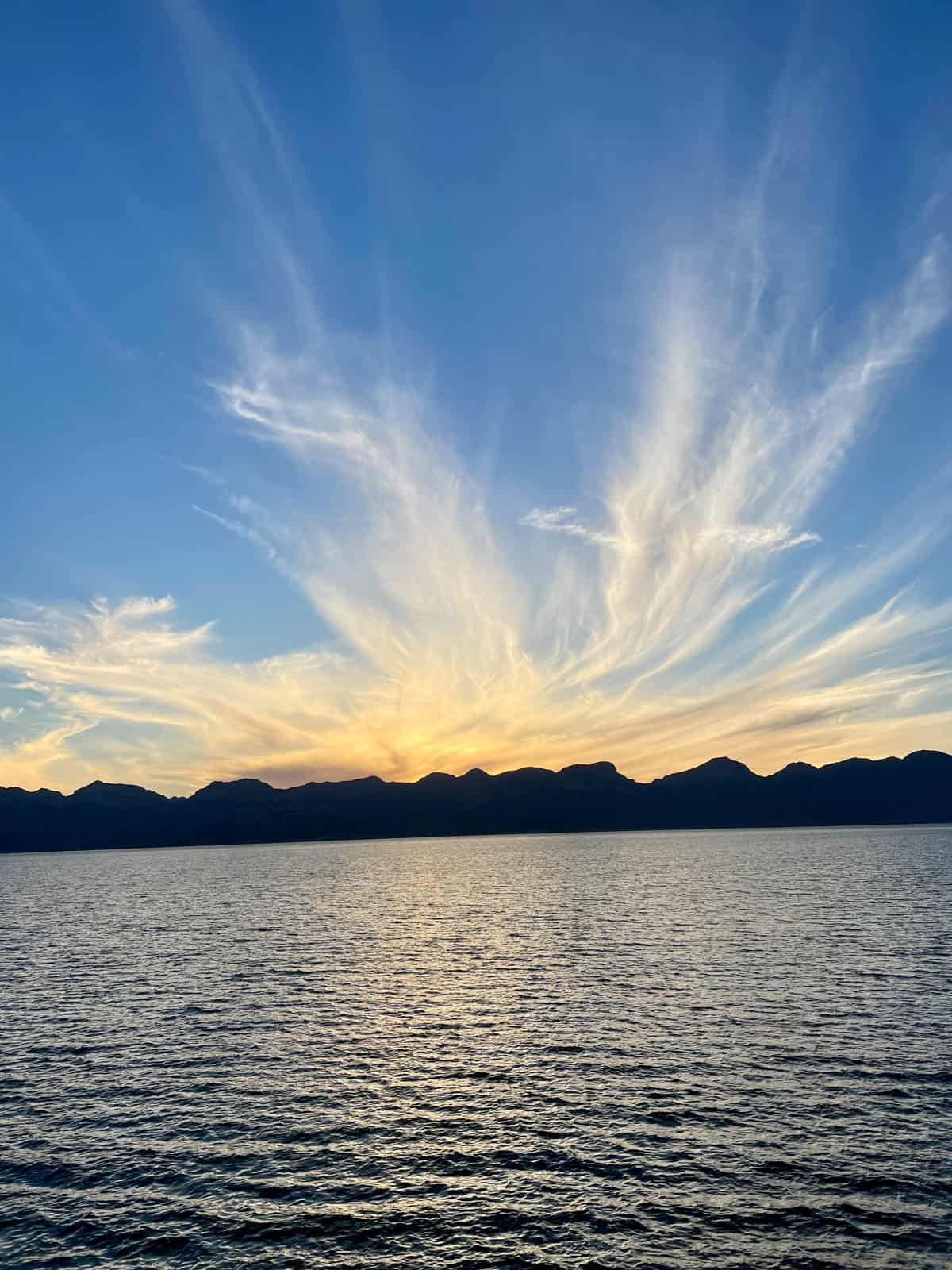 Top Tips for Baja Mexico Whale Watching
These tips are really for whale watching anywhere in the world.
Book a reputable company who not only has your safety as a priority, but also the protection of these incredible creatures. I have personally seen charters chase whales and get too close. Do your due diligence when looking for a whale watching tour.
Don't forget sunscreen and a hat. The sun is strong on the water, especially in Mexico. Even if it doesn't feel hot, the sun is still powerful, even on a cloudy day.
Hydrate, hydrate, and hydrate some more. It's easy to get dehydrated when it's hot.
Check out UnCruise for a great way to see whales and more in this gorgeous region of Mexico.
Like our content? Follow us on Pinterest!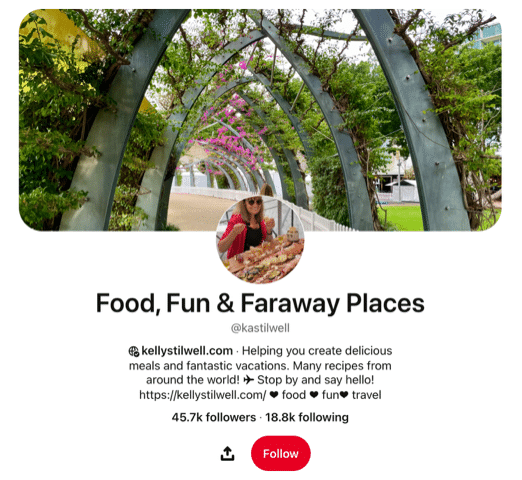 More Mexico Destinations