These Italian dinner ideas will have your family praising your amazing cooking skills! These are all pretty easy recipes to prepare, and who doesn't love traditional Italian dishes?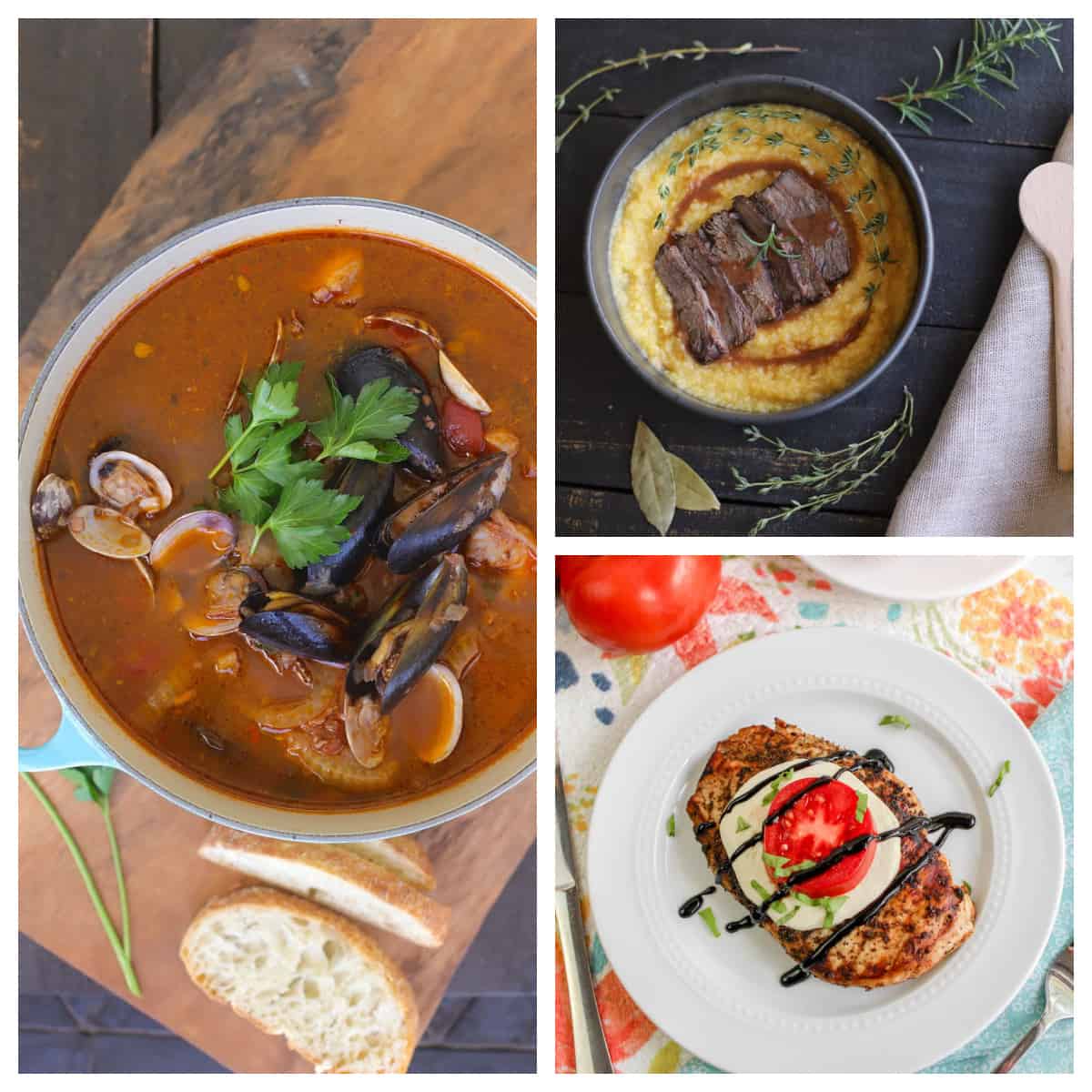 I just got back from Sicily and Rome, sailing on the Costa Smeralda ship, a gorgeous new Italian cruise ship. The Italian food was wonderful on the ship, as well as in Sicily and Rome, where I stayed for an extra couple of days. I think I could eat Italian cuisine every night!
There's no need to go to an Italian restaurant with all these easy Italian recipes at hand. You can do this!
Starting with an Italian appetizer is always fun. In fact, we often eat appetizers as our main course for a quick meal! My best bruschetta recipe, bruschetta with mozzarella, or this caponata siciliana all make delicious starters or perfect finger food for a dinner party.
Serve any of these dishes with this wonderful rosemary garlic bread recipe to sop up the wonderful broths or sauces and you'll be set with a taste of Italy.
Don't forget dessert! This easy biscotti recipe or this bakery style Italian Amaretti cookies recipe will pair perfectly with any of these Italian dinner ideas.
Watching your weight? I've got a list of Weight Watchers Italian recipes.
Tips
Whenever you're making Italian food or any other recipe, remember that olive oil does go bad! If you've had a giant opened bottle of olive oil you haven't used in a year, it's more than likely rancid and could ruin all your hard work. Buy fresh olive oil every six months or so.
Don't toss that rind of parmesan! It will give wonderful flavor to soup recipes and stews.
When using salt after cooking a dish, we use Maldon salt. It's a flaky salt just for finishing. I think you'll agree it adds amazing flavor!
If learning to cook authentic Italian food is on your bucket list, check out these cooking classes in Rome Italy.
FAQ
Which of these classic Italian recipes will you make for Italian night this week?