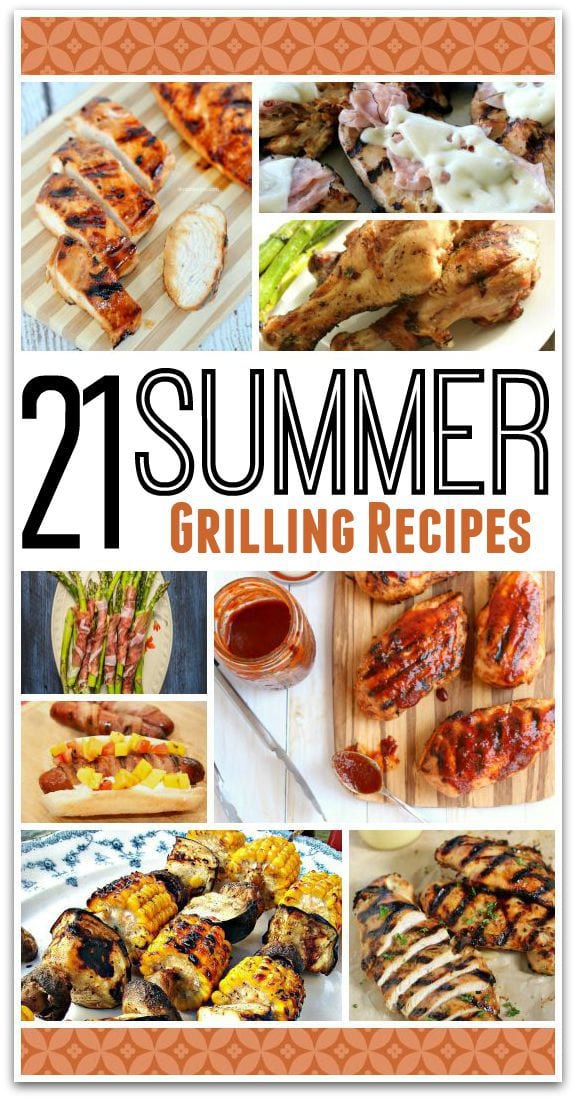 These grilling recipes are perfect for summer or anytime you can get to the grill! When we lived in Maryland, we even grilled in the snow!
These recipes are perfect for family dinners or your next party!  It's great to get out of the kitchen and enjoy the summer weather.
We've got chicken recipes, steak recipes, hot dogs, pork chops, and more! We've even got some vegetables so you've got a well-rounded meal as well as options for vegetarians.
Choose your favorite recipe and be sure to come back and let me know how it turns out! Happy grilling!
21 Summer Grilling Recipes
Grilled Greek Yogurt Chicken from Miss Information
Chipotle BBQ Grilled Chicken from Miss Information
Grilled Ginger Soy Chicken Recipe from About a Mom
Cilantro Lime Grilled Chicken Drummies from More with Less Today
Grilled Chicken Fajitas from Spend with Pennies
Bacon Wrapped Hot Dogs with Mango Salsa #FinestGrillathon from Spaceships and Laser Beams
Grilled Honey Soy Glazed Pork Tenderloin from About a Mom
Perfectly Grilled Moist Pork Chops from Saving you Dinero
Hawaiian Island Grilled Pork Chop Recipe from The Frugal Navy Wife
Mojito Lime Grilled Porterhouse Pork Chops from This Mama Loves
Perfectly Grilled London Broil with a Delicious Marinade from Coupon Mamacita
Grilled Teriyaki Beef Kabobs from Busy Mom's Helper
Grilled Honey Mustard Chicken from Spend with Pennies
Grilled Chicken Cordon Bleu from Spend with Pennies
Grilled Chicken Caprese from The Taylor House
Summer Grilling: BLT Brats from The Taylor House
How to Cook Sweet Potatoes on the Grill from Pink When
Sweet Chili Grilled Corn on The Cob from Just 2 Sisters
Grilled Jerk Corn Skewers from Love Foodies
Grilled Corn Casserole from Flour on My Face
Sides to Grill Up with Your Burgers – #Asparagus With Bacon #Recipes #Tips from Celebrate Woman Today
Choose one of these 22 Delicious Pasta Salad recipes to serve with your meal! If you're looking for dessert, check out this round-up of Brownie recipes!
And if you're looking for a cocktail to serve, you might like this Bloody Mary with Bacon or this Royal Peach Cocktail! Enjoy!