Looking for the best places to see fall foliage on the East Coast of the United States? This is just a handful of spots that will be bursting with color once the autumn temperatures start to drop.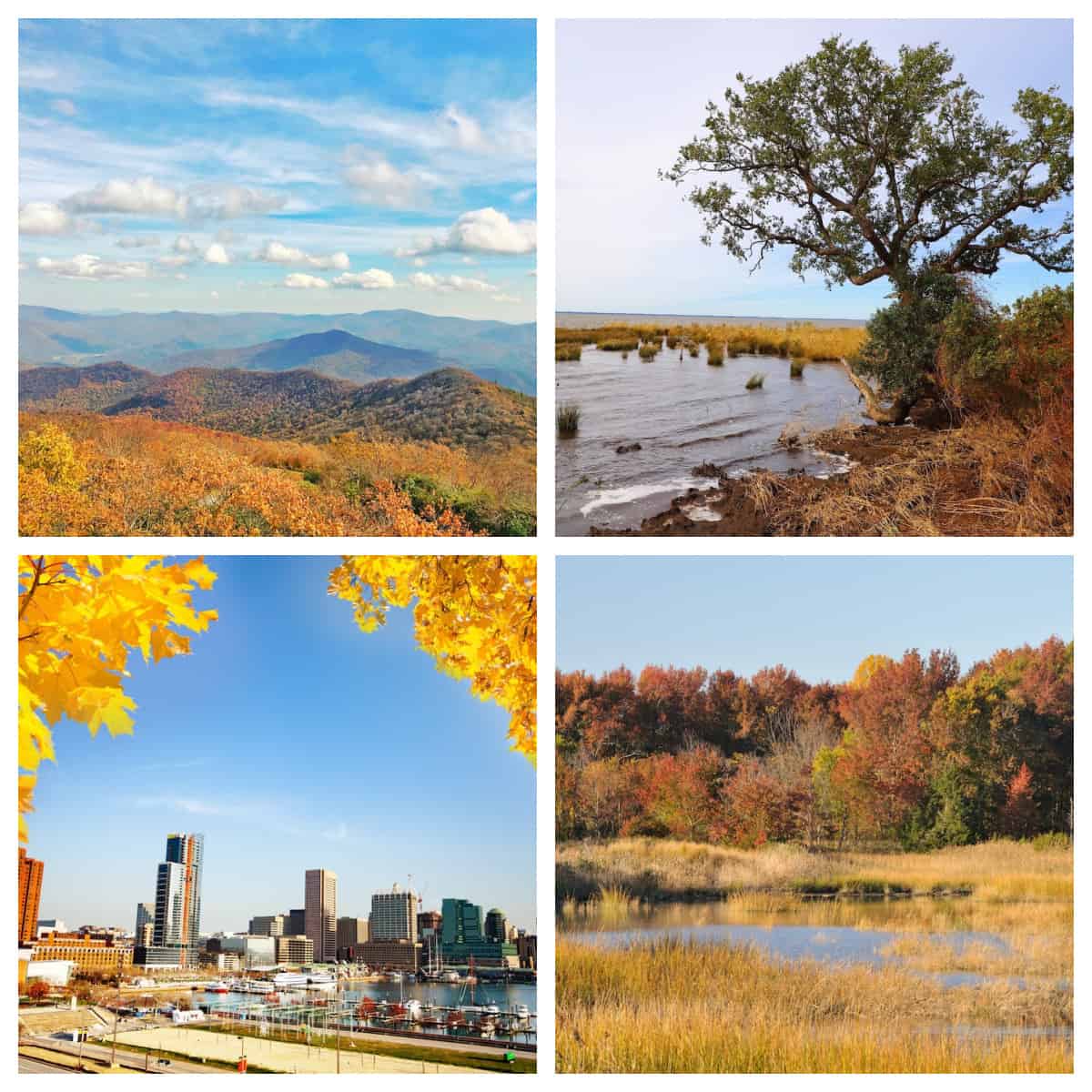 Those stunning colors are one of the things that makes autumn such a wonderful season. When the weather turns crisp and flannel becomes the standard attire, we know that we'll soon be treated to a technicolor explosion of reds, yellows, oranges, and rusts.
When fall foliage blankets the landscape, there's no better place to experience it than on the East Coast of the United States. Honestly, it's one of the things I miss most about living in Maryland.
Florida has its perks, but the only way we know fall is here is when Starbucks starts serving Pumpkin Spice Latte!
Best Places to See Fall Foliage
In just a couple of months, the trees will begin to grace us with their colorful show, and the east coast is the place to be to enjoy the most beautiful fall foliage of all. From Georgia to Maine, the trees will be exploding with the colors of fall.
Thinking about a road trip? Check out some of my favorite places along the coast to enjoy nature's most beautiful display. Get outside and play!
Lake Oconee, Georgia
Lake Oconee, located roughly halfway between Atlanta and Augusta is a gorgeous place any time of year, but when fall rolls around, it becomes a cornucopia of color. This massive lake is thickly surrounded by hardwoods which reveal their fall splendor to those who make the trek.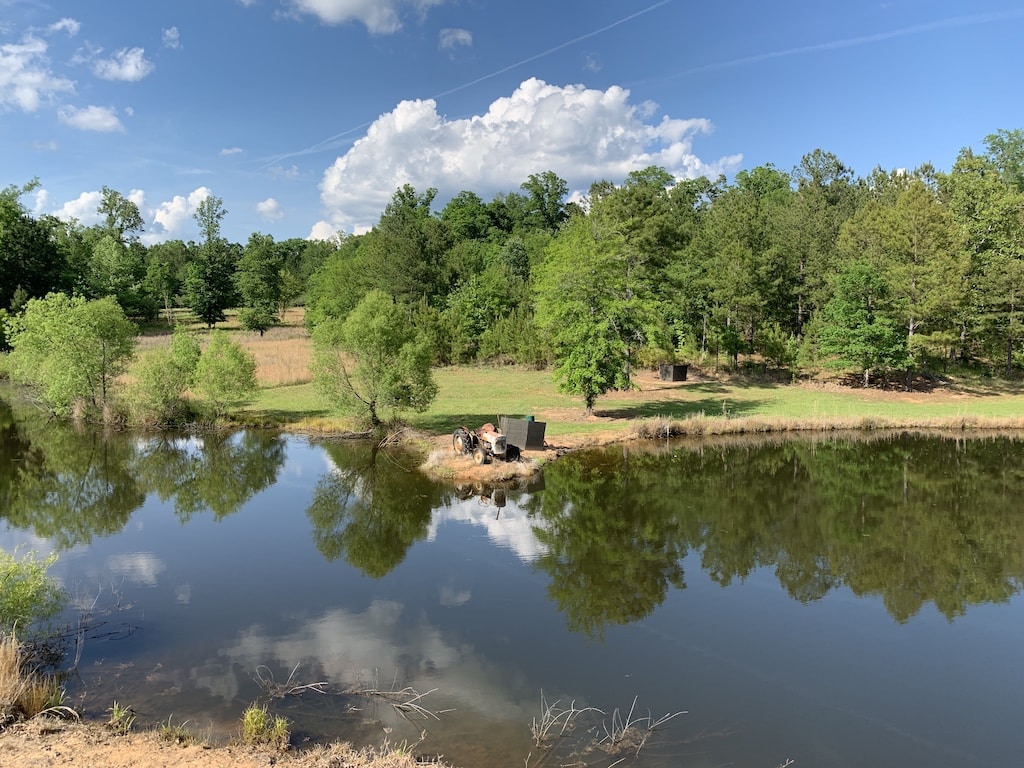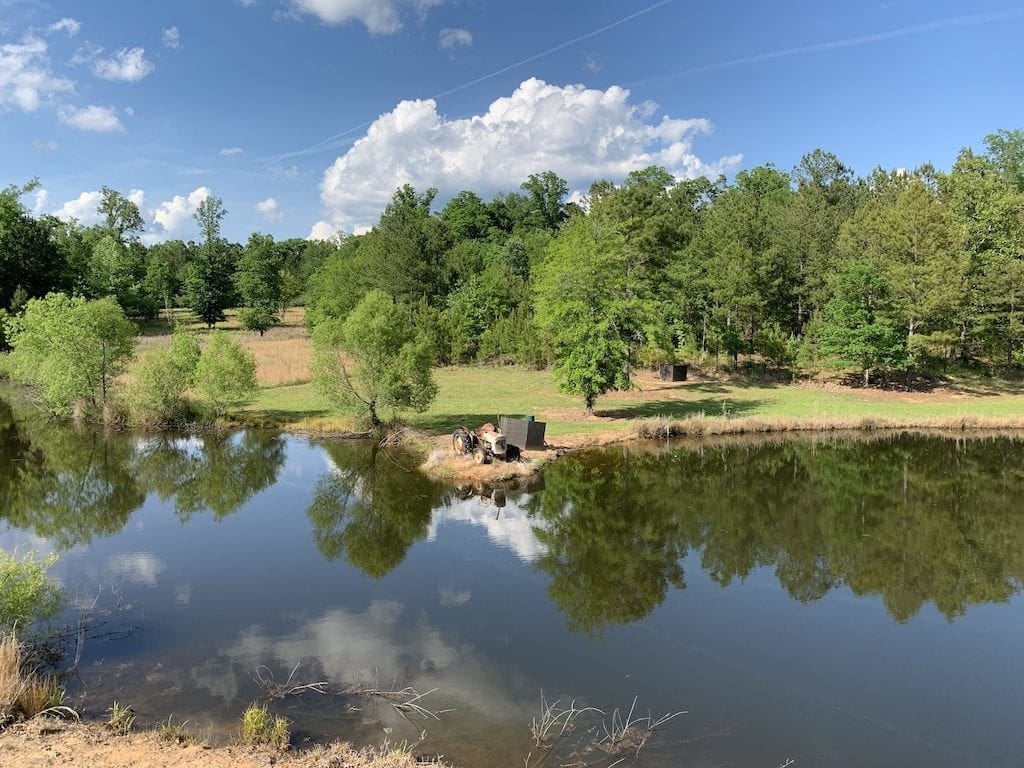 If you're planning to spend a couple of days in this area, the Ritz Carlton Lake Oconee is the perfect spot. An outdoor lover's paradise, visitors can enjoy the explosion of fall colors from a boat, on the golf course, or sitting outside for a cocktail.
The best time to see autumn in Lake Oconee is probably mid-November. Obviously, it will be a week or so later in the southern part of the state, and a week or so earlier in the north.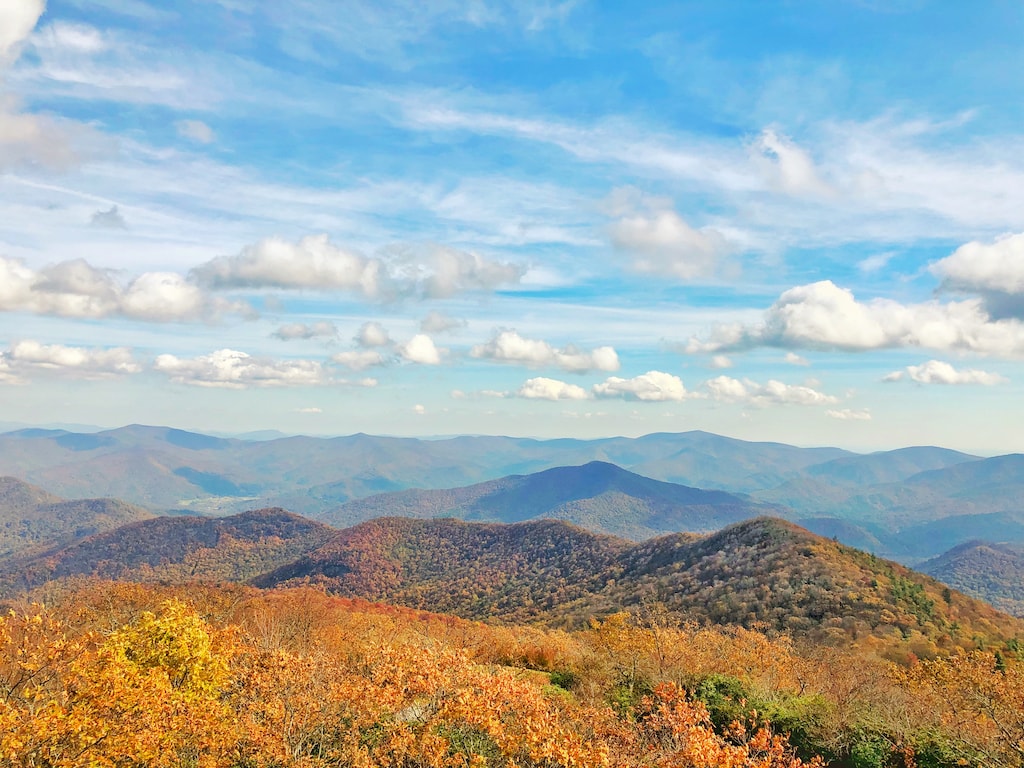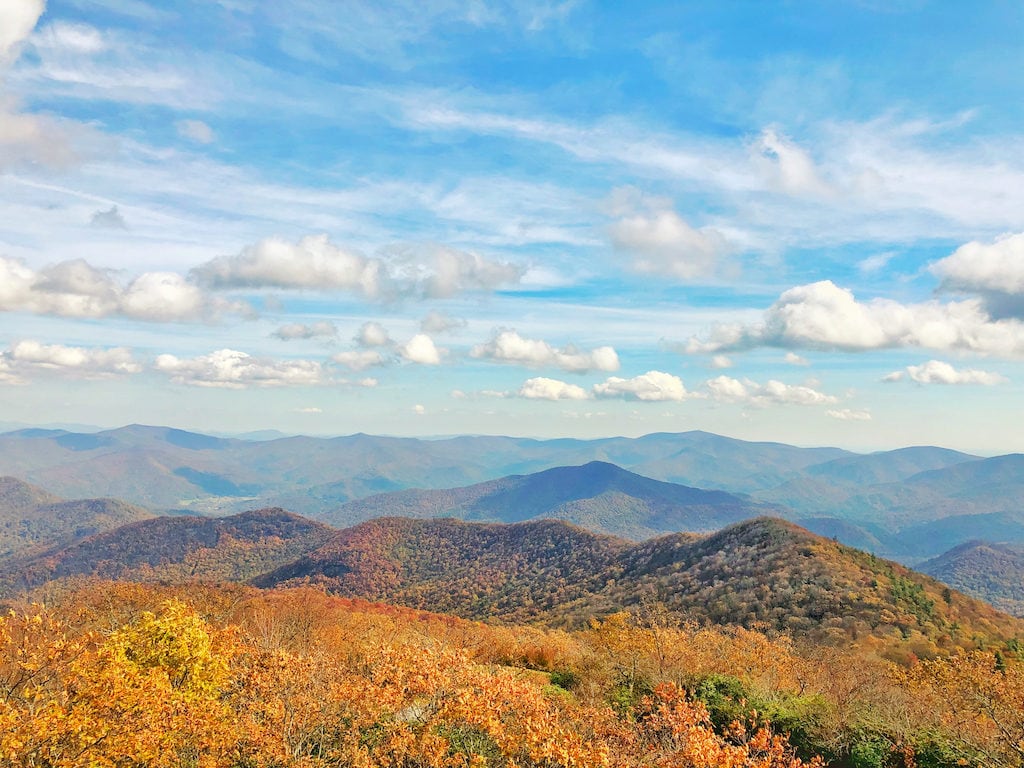 Blue Ridge Parkway, North Carolina
The Blue Ridge Mountains actually run from Carlisle, Pennsylvania through areas of Maryland, Virginia, North Carolina, South Carolina and all the way to Oglethorpe, Georgia. One way to see fall in this region is driving the Blue Ridge Parkway. This truly may be the very best place to see fall foliage!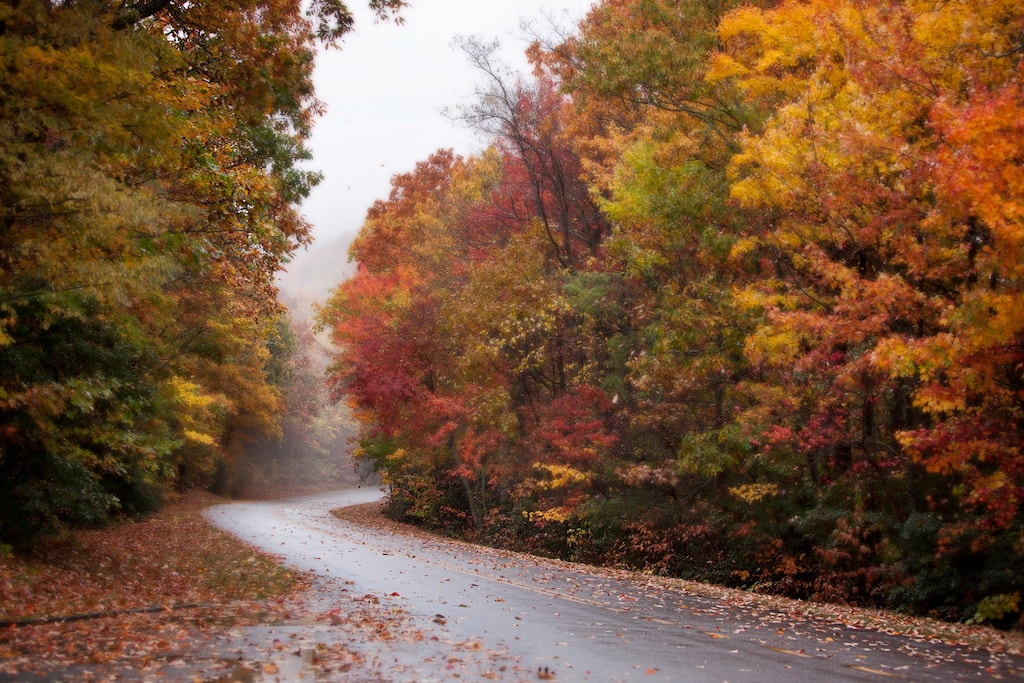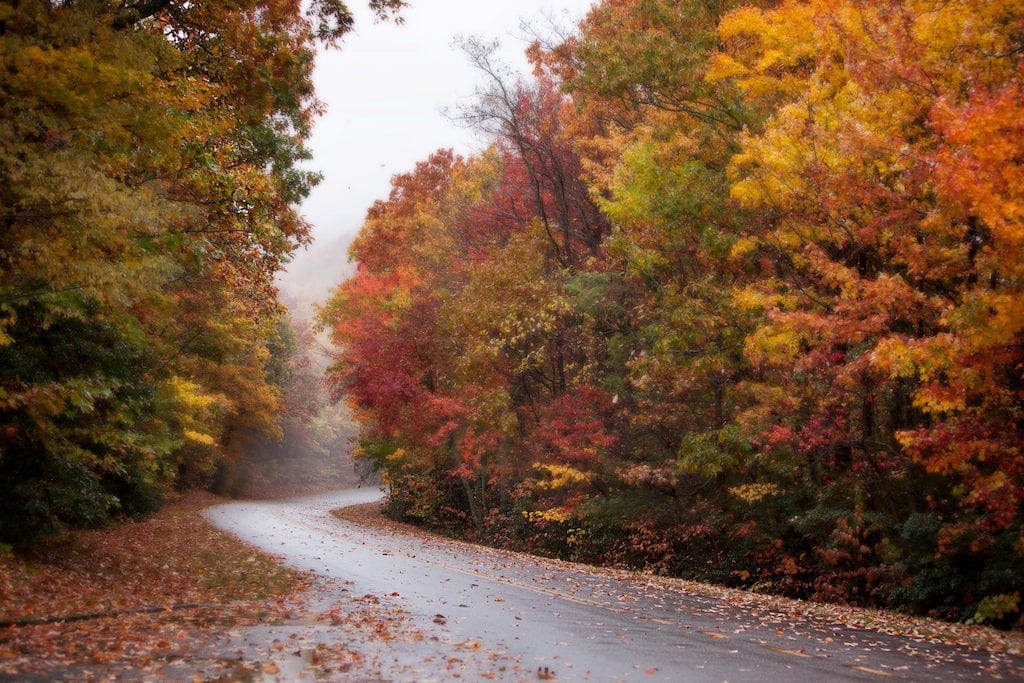 Fall colors come alive all along the Blue Ridge Parkway which starts in Skyline Drive in Virginia and runs all the way through to the beginning of the Great Smoky Mountains in North Carolina.
Visitors can enjoy the changing foliage via biking, hiking, boating, and more. It's a colorful wonderland for nature lovers.
Outer Banks, North Carolina
When you think Outer Banks, you probably think of watersports rather than fall foliage, but this area of North Carolina is actually bursting with beautiful fall colors.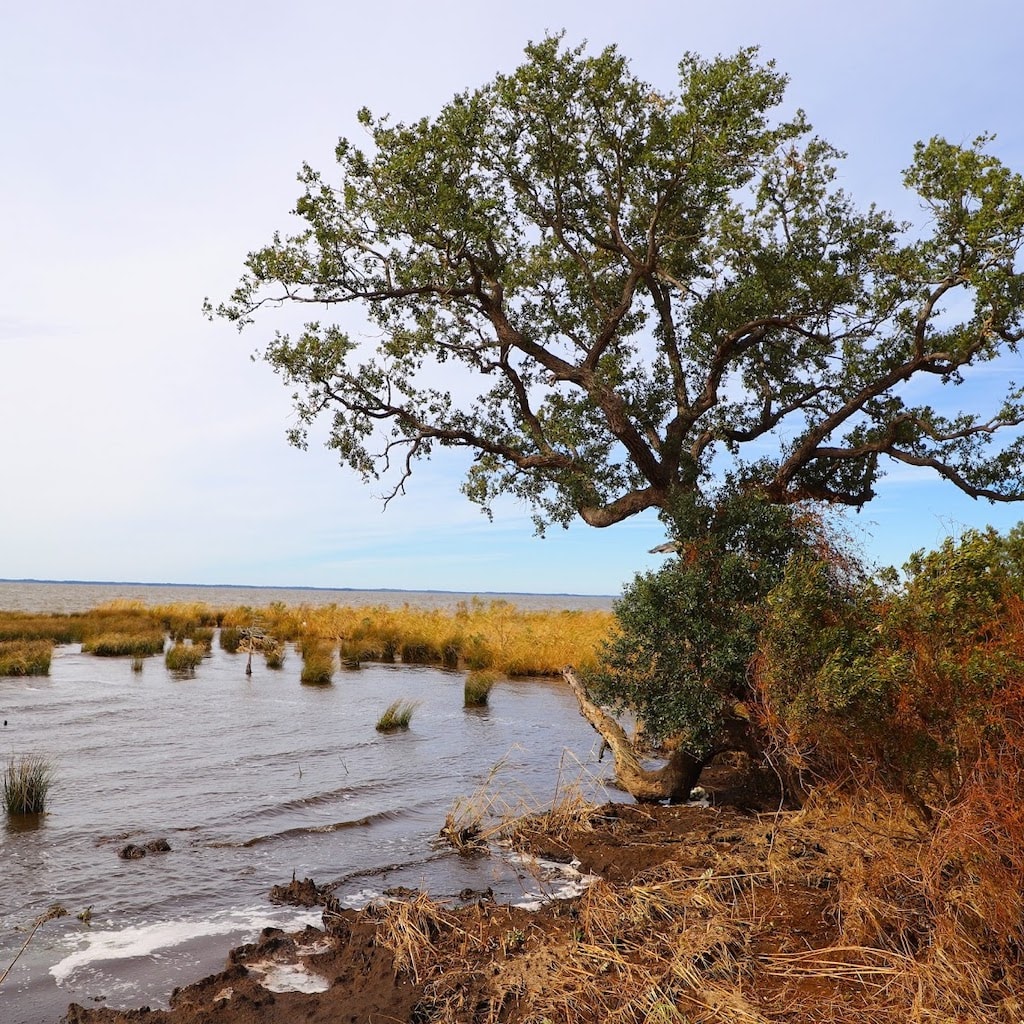 The topography of Nags Head Woods offers a truly unique way to enjoy fall foliage in the outer banks, but this area is beautiful all year long. And by the way, the food is pretty spectacular, too! If you're looking for my favorite places to eat, this article featuring the best OBX Restaurants should help!
Baltimore, Maryland
As I mentioned, this is the one thing I really miss about living in Maryland. The last place we lived before moving to Florida was Carroll County, just outside of Baltimore, and we had almost seven acres of land.
It's a stunning landscape in the fall, and I have such fond memories of my kids playing in the leaves. I think this is one of the best places to visit in the fall in the U.S.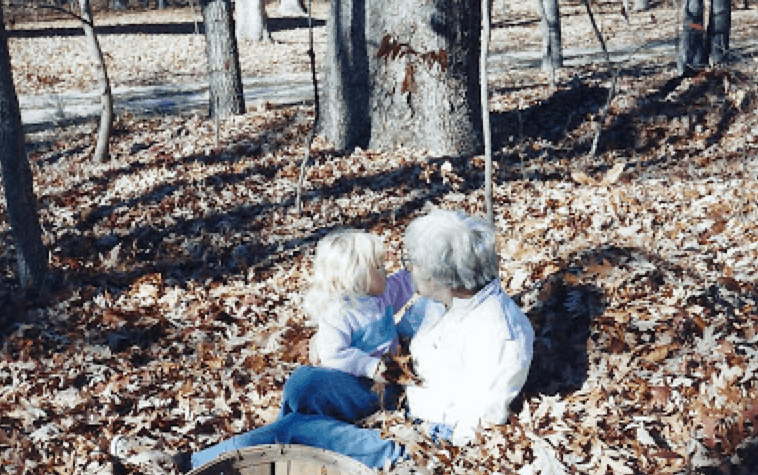 You can travel anywhere in the state of Maryland and see stunning fall foliage. In fact, a road trip from Virginia to Maryland, passing through our Nation's Capital, would be an amazing itinerary.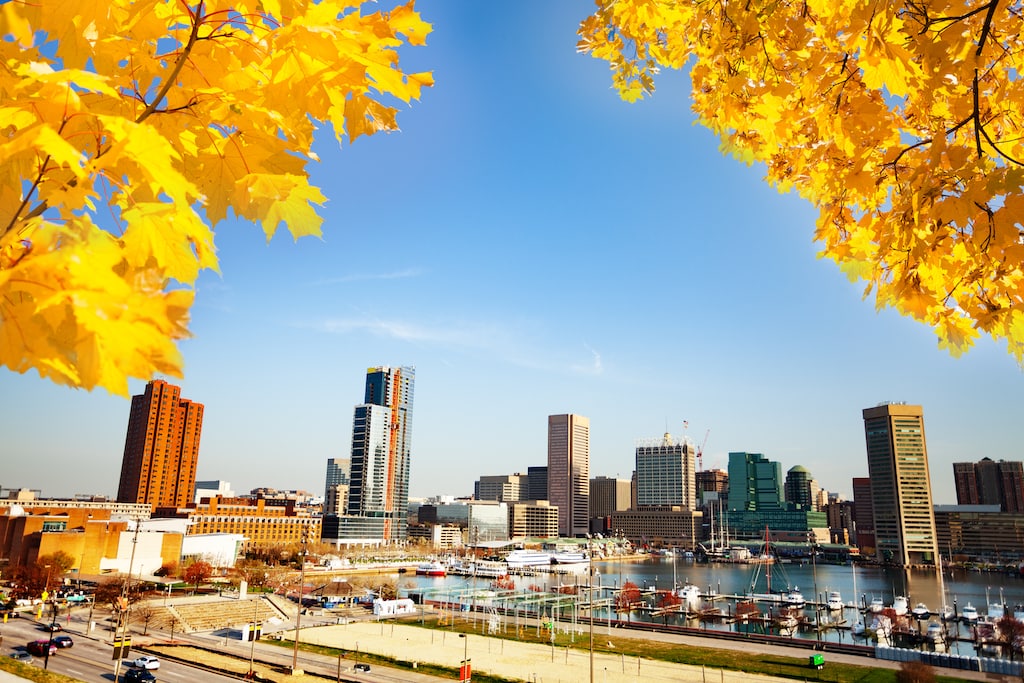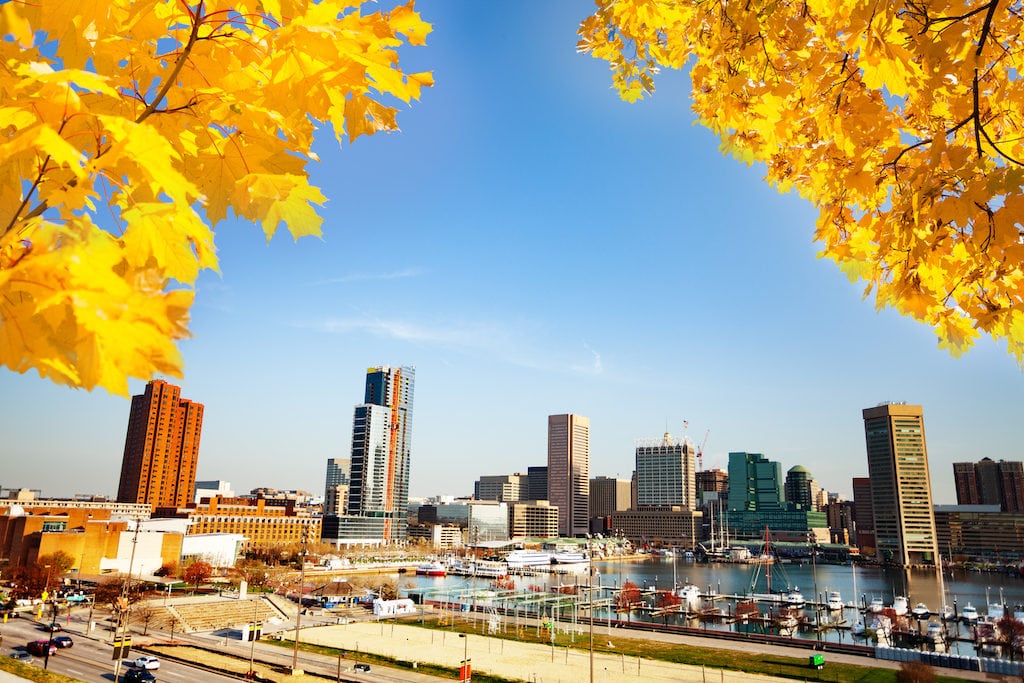 Bombay Hook National Wildlife Refuge, Delaware
About 50 miles north of Prime Hook National Wildlife Refuge lies Bombay Hook National Wildlife Refuge.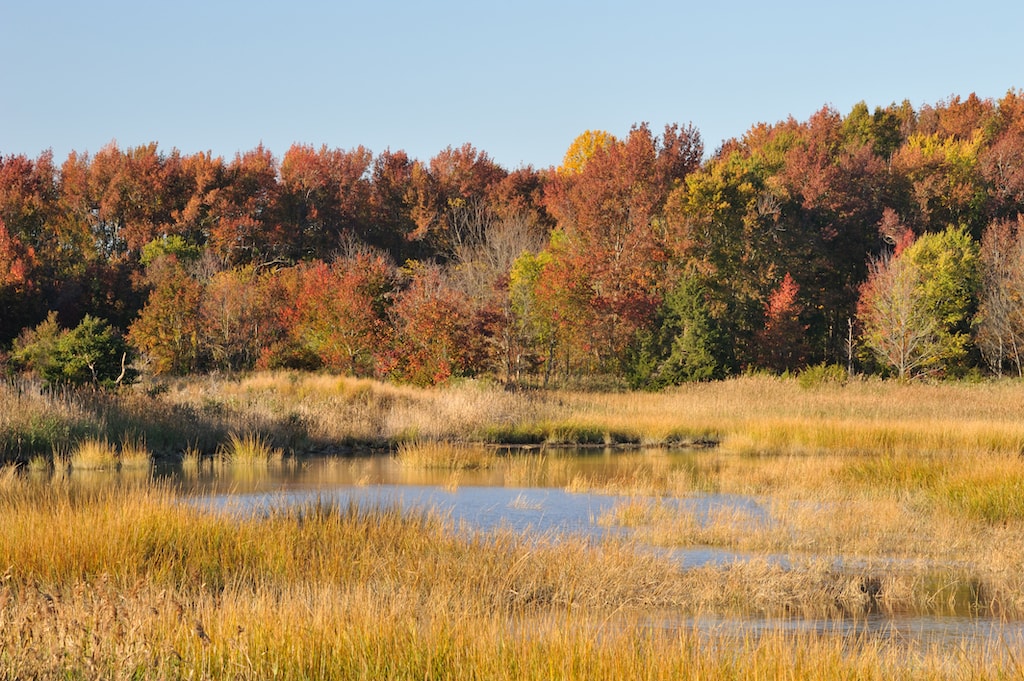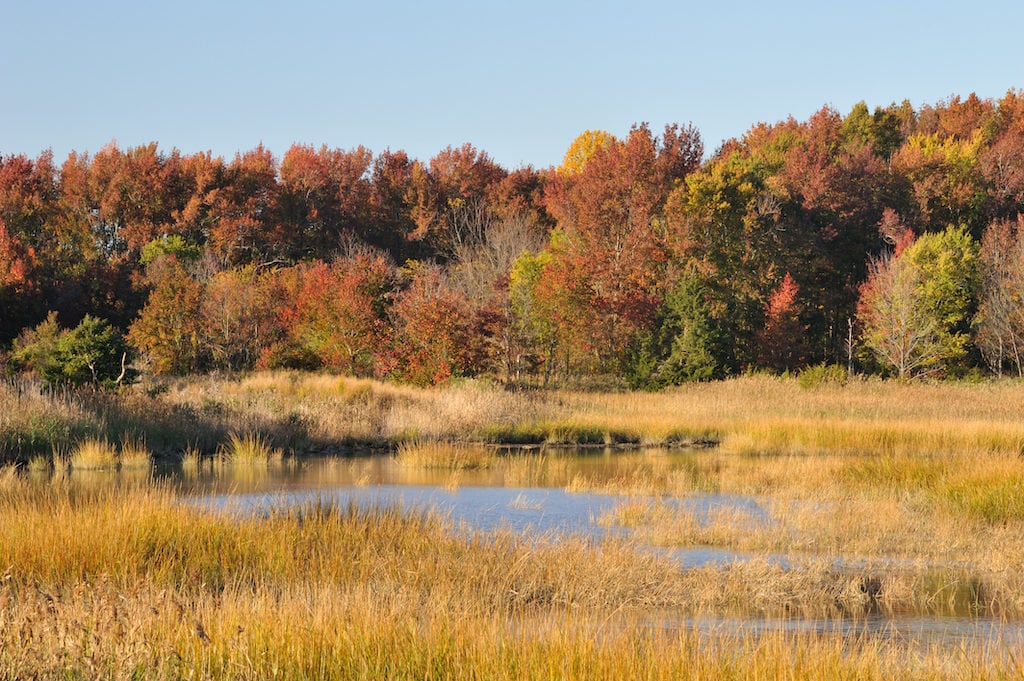 Like Prime Hook, which is another great spot for viewing autumn's splendor, Bombay Hook is committed to protecting tidal salt marsh and the migratory birds that stop there on their way north or south. Marshes meet wooded wilderness here for a fall foliage treat accented with water views and a variety of wildlife.
New Haven, Connecticut
Vast natural preserves aren't the only places to find the best fall foliage on the east coast. You can find gorgeous colors everywhere in New England, and the coastal city of New Haven, Connecticut, is one of the prettiest areas.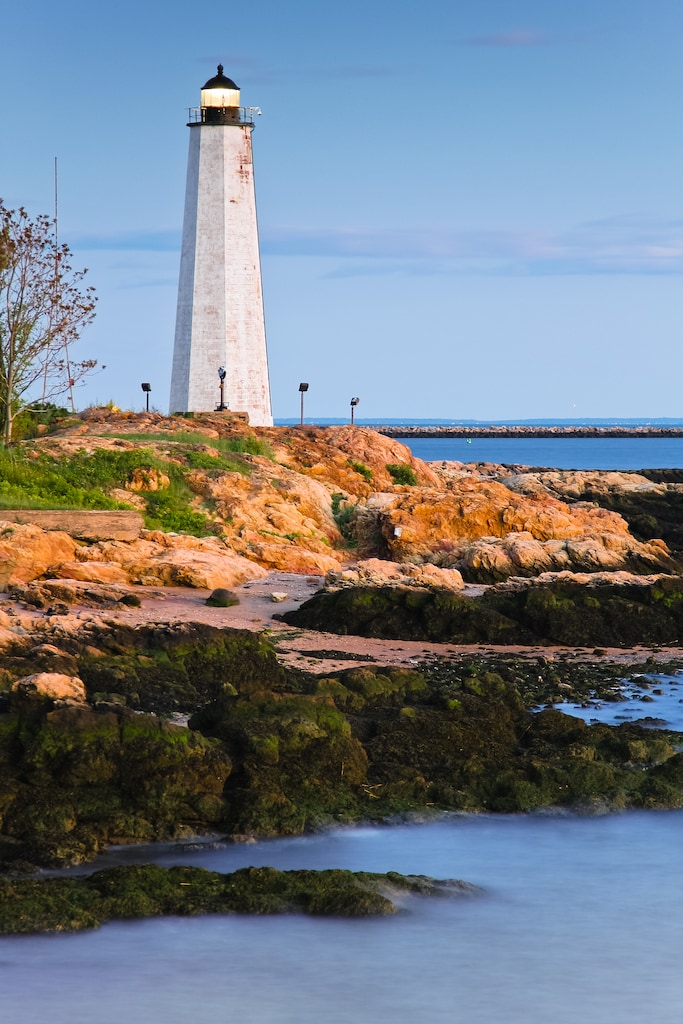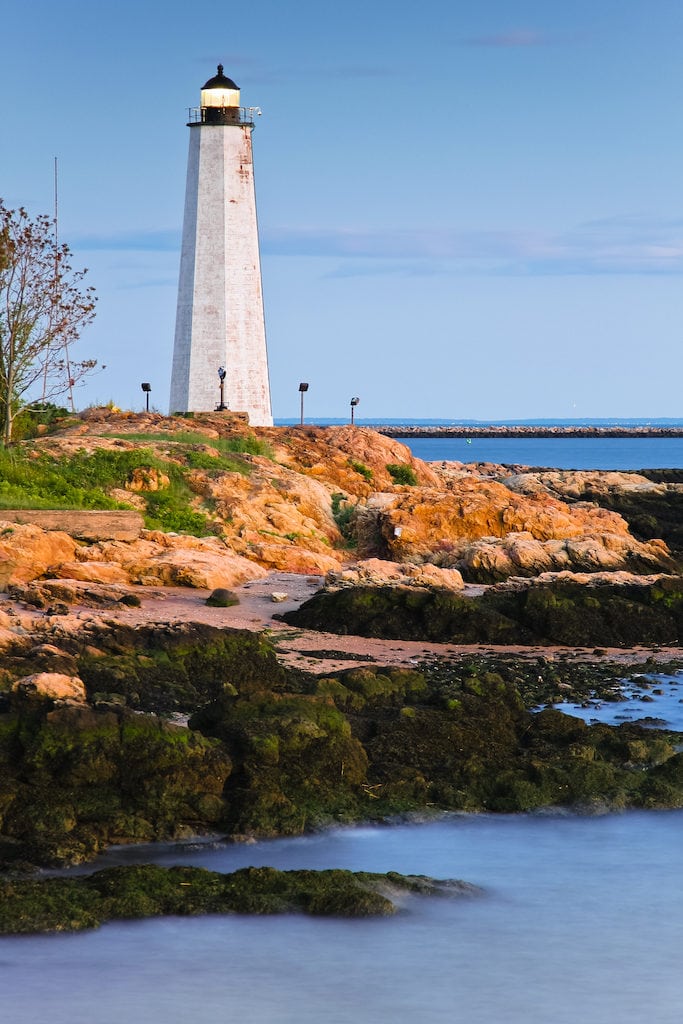 Home to Yale University, this city is bustling with activity, with everything from tours to shopping and dining. The city is also home to East Rock Park and West River Memorial Park, both so pretty this time of year.
In addition, the parks feature beautiful walkways, bridges, and waterways, making these areas relaxing respites during a day of touring the city, and perfect spots for Instagram shots.
Adirondack Forest Preserve, New York
A protected park in New York, Adirondack Forest Preserve is well known for gorgeous fall foliage. The terrain of the area features swamp flats, rolling hills, steep mountains, and lots of forests, so if you're looking for an active adventure, you'll find it here.
You'll also find peace and tranquility if that's what you're searching for. Adirondack Forest Preserve is the largest region without a city in the entire state of New York. This destination is overflowing with color in autumn.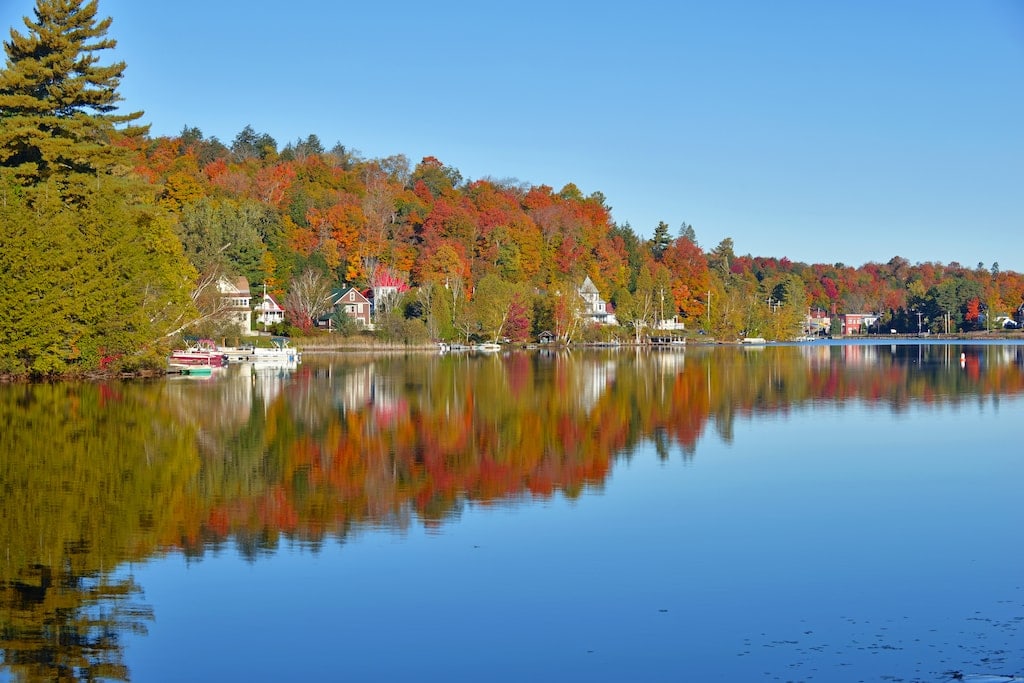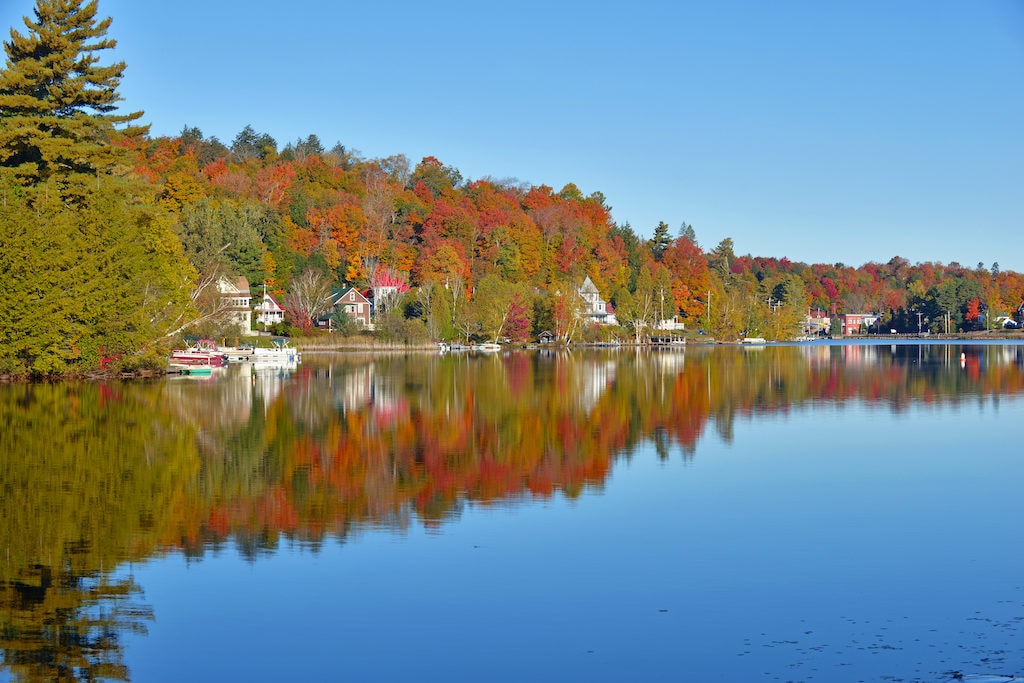 Central Park, NYC, New York
A virtual forest preserve in its own right, Central Park in New York City offers gorgeous fall foliage, water and city views, bridges and stonework, and even wildlife in abundance.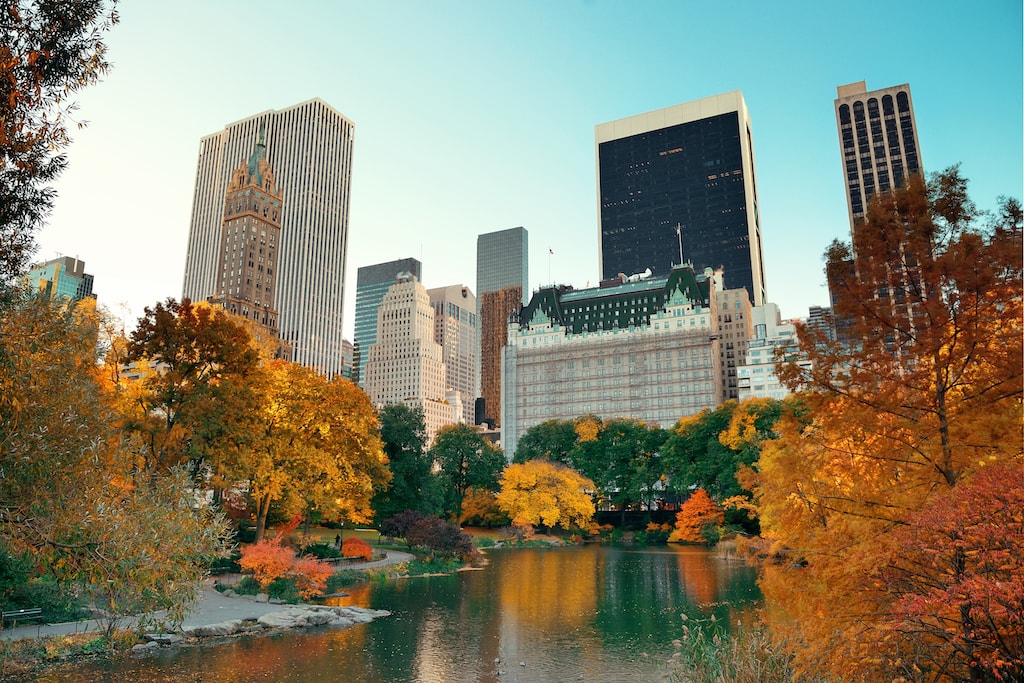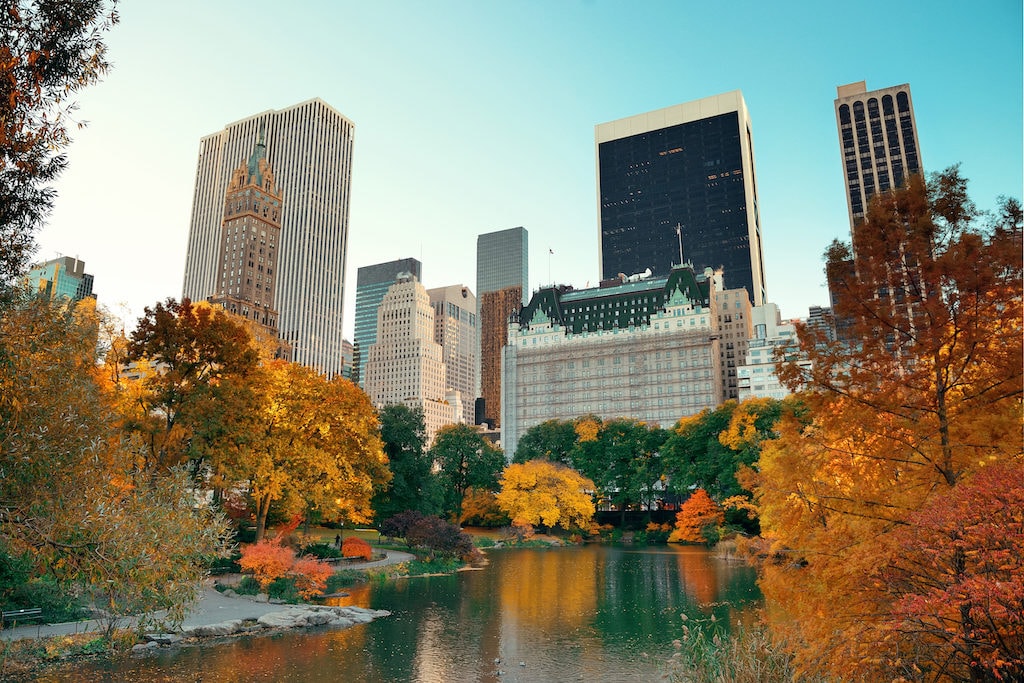 Visitors get the best of everything here, from fine dining, shopping, and shows while they explore the city to the beauty of nature when they make their way to the park to enjoy its sprawling natural beauty.
Upper Delaware Scenic and Recreational River, New York
As part of the state line, the Upper Delaware Scenic and Recreational River area is shared by both New York and Pennsylvania. This stretch of Delaware River offers quiet pools and exciting rapids for the intrepid water explorer.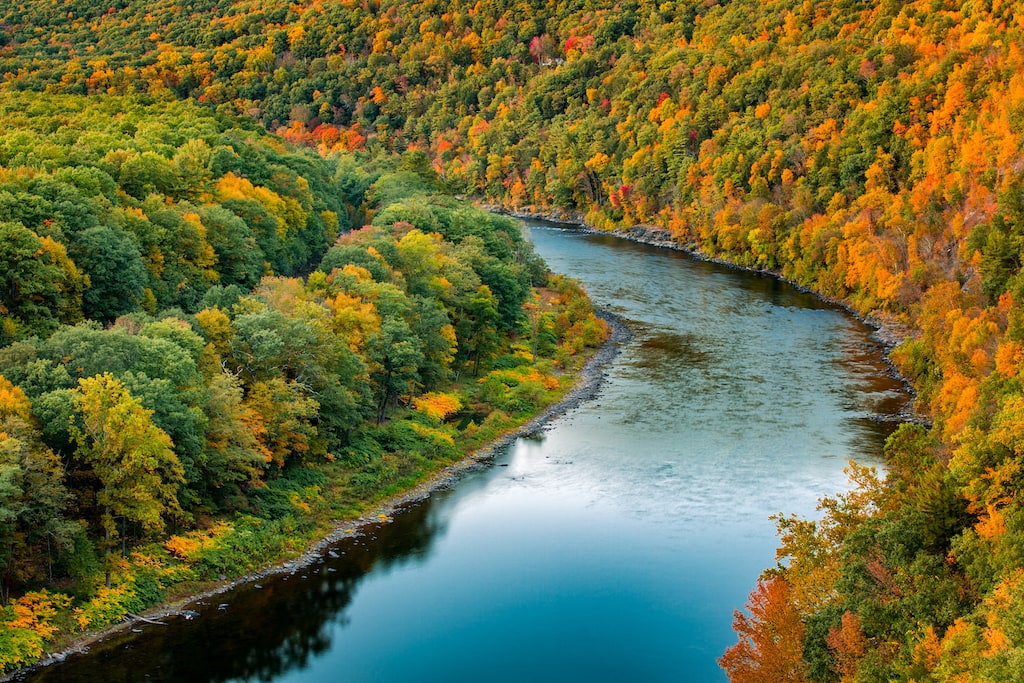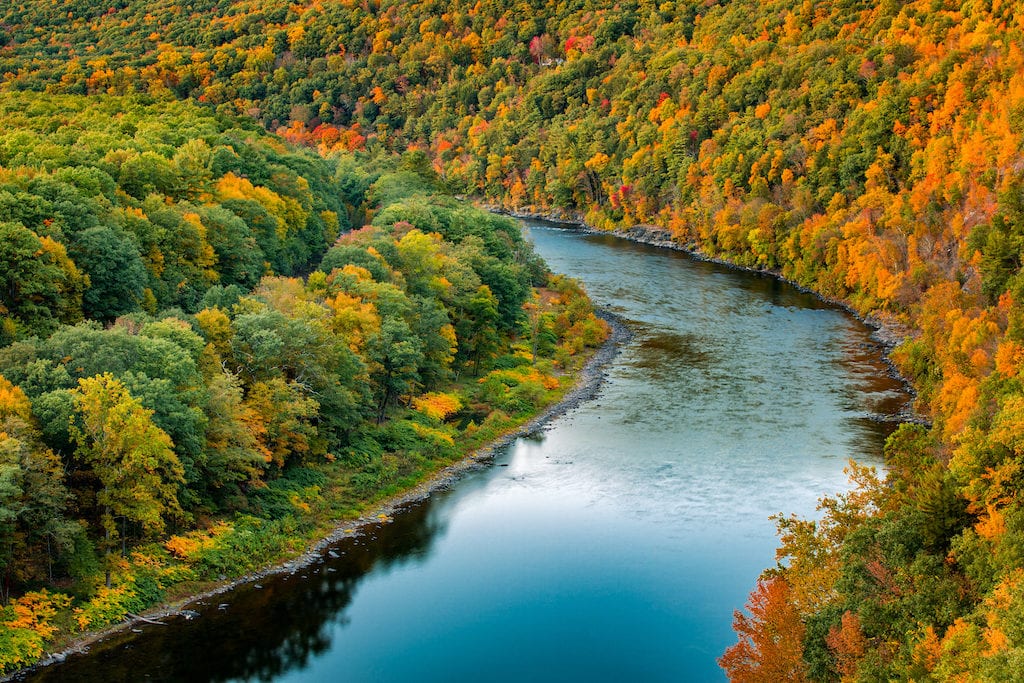 Boating and fishing are the major draws to this area, but visitors can enjoy the surrounding woods by foot, as well. However you decide to traverse the area, you'll be treated to the vibrant, fiery colors of east coast fall foliage all along the banks of the river.
The scenic byway parallels the New York bank of this river and makes for a fabulous road trip.
White Mountain National Forest, New Hampshire
White Mountain National Forest offers a vast variety of ways to enjoy this outdoor wonderland and its beautiful fall colors. Mountains, valleys, and dense woodlands are all to be found in this national forest, as well as lots of wildlife.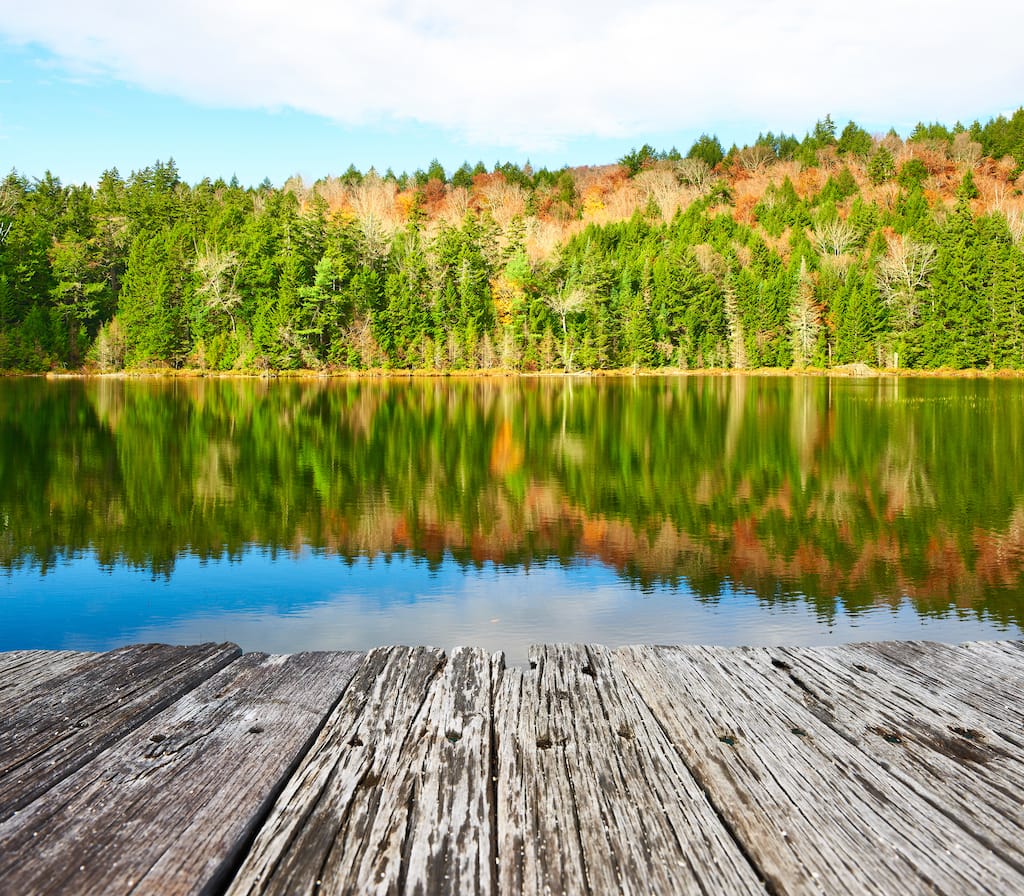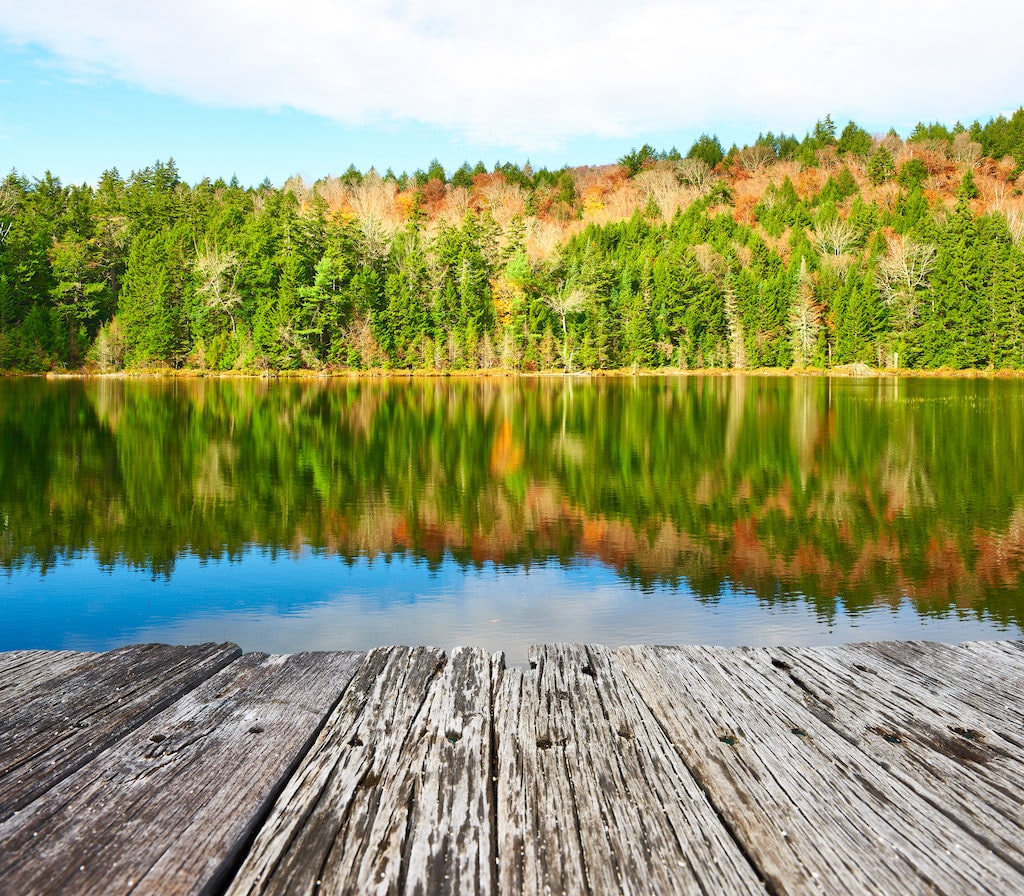 Although known for its pines, this forest also boasts a variety of hardwoods that provide the fiery reds, golds, and oranges the New England area is known for in the fall.
Visitors can enjoy these breathtaking colors while hiking, biking, climbing, fishing, hunting, picnicking, and more. There are even outdoor educational activities available for those who want to learn more about the nature of this area.
Rockland, Maine
Rockland, Maine is a beautiful place to visit during the fall. When the weather turns, and the leaves change color, visitors are treated to the classic New England autumn.
We took a three-day Windjammer schooner cruise on the JW Riggen a couple of years ago and stopped in Portland on our way to the airport to come home. Though it was not autumn, the views are so pretty all year long.
Warren Island State Park would also be a fantastic place to visit. Our kids had such a good time exploring the park.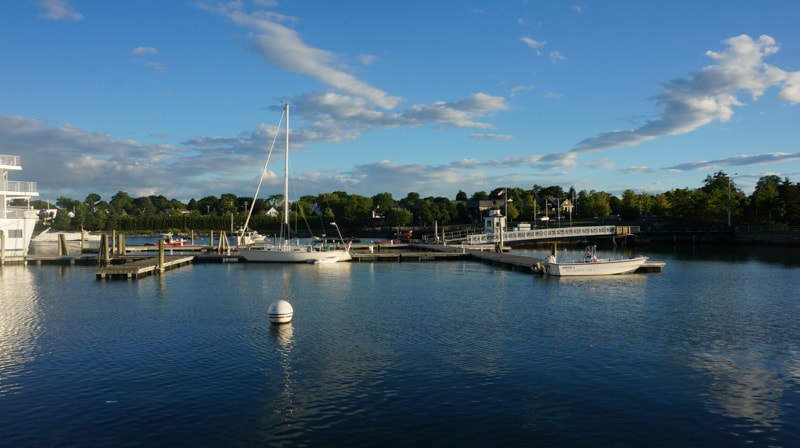 With its mix of art, outdoor adventures, and sophisticated city life, Portland, Maine also makes a great fall spot to explore. Check out the lighthouse tours, the arts, and waves crashing against rocky shores.
Scarborough Maine, less than ten minutes from Portland, is a wonderful family vacation spot, too. We enjoyed our time there so much and made great family memories.
This shot is from Patten, which is about a three-hour drive north of Portland. You just can't go wrong anywhere in Maine in the fall! I think it's one of the best places to see fall foliage in New England.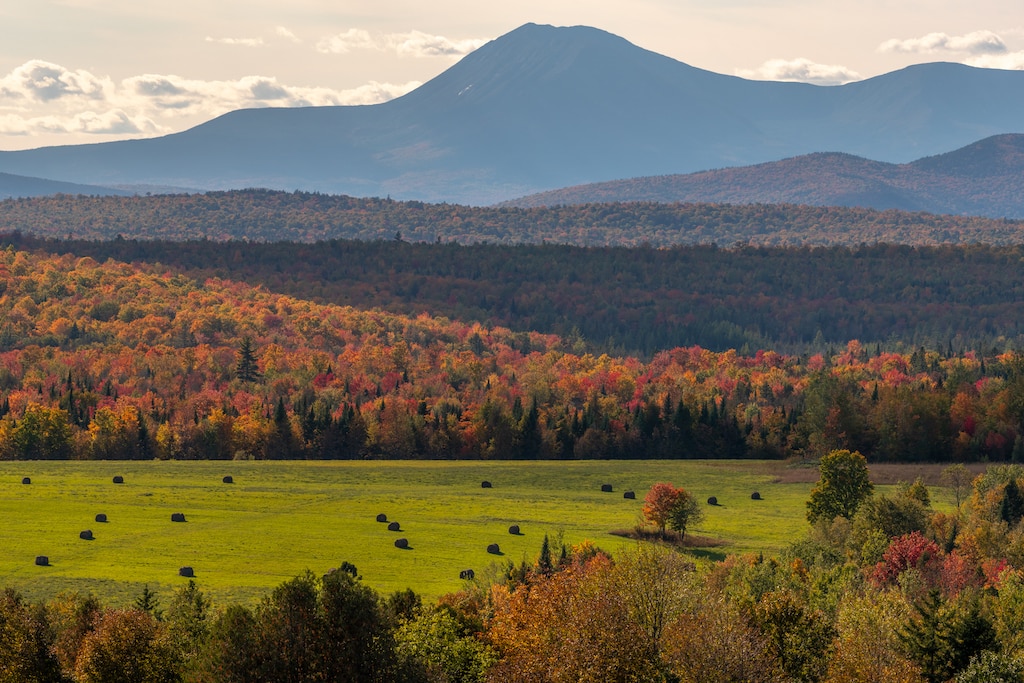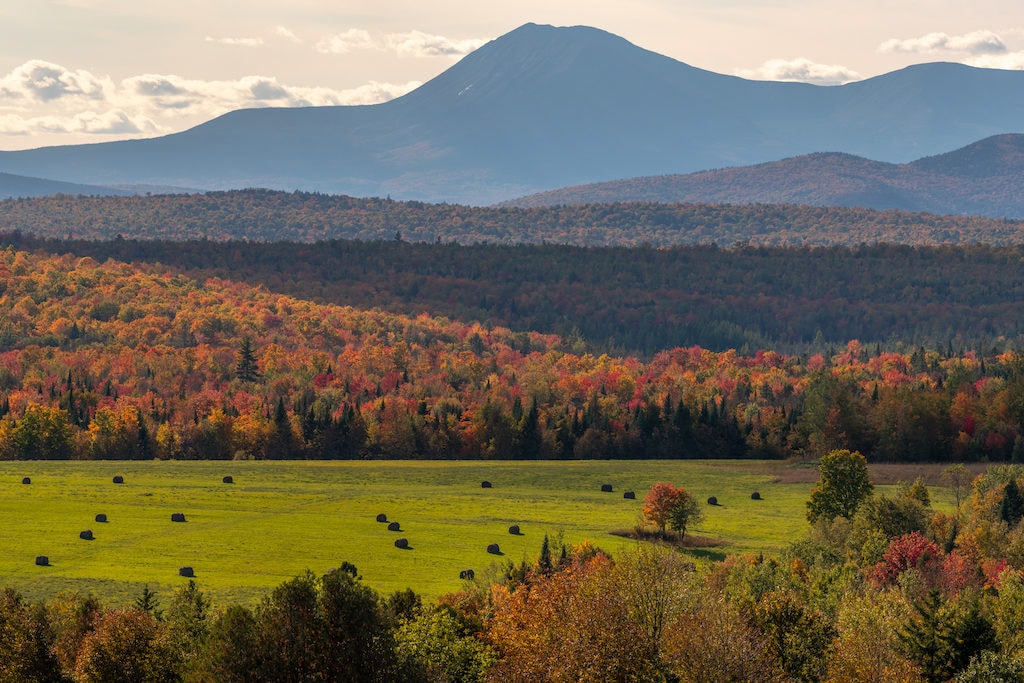 Quaint shops, beautiful buildings, wonderful harbor views, rugged terrain, the ocean, and of course, classic New England fall leaves are waiting to greet visitors to Bar Harbor. This wonderful New England gem combines amenities you'd find in the big city with a small-town look and atmosphere.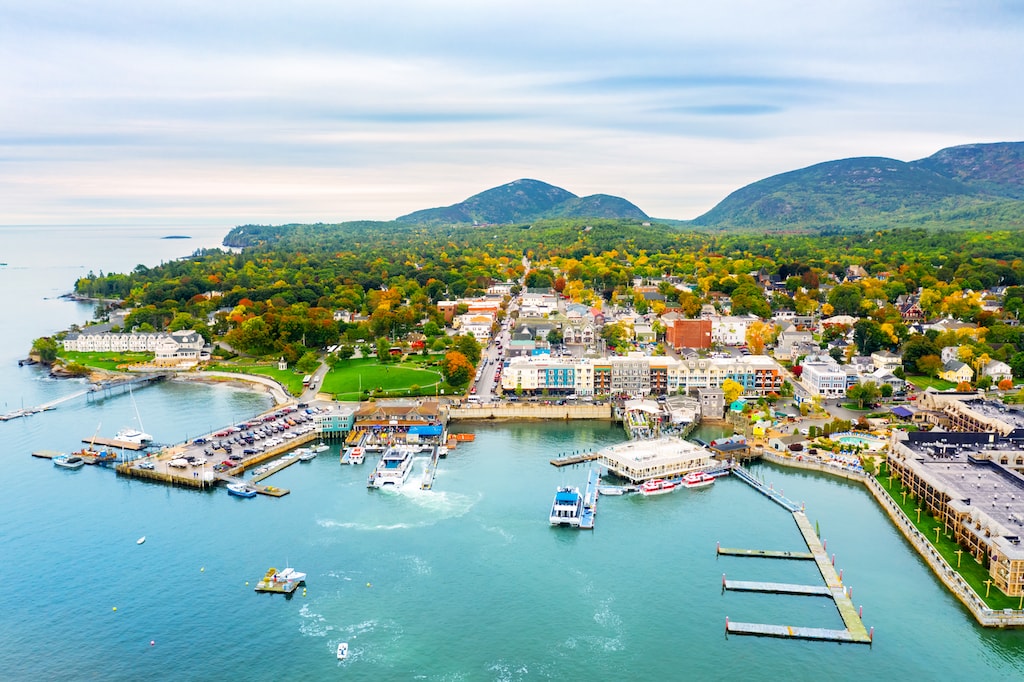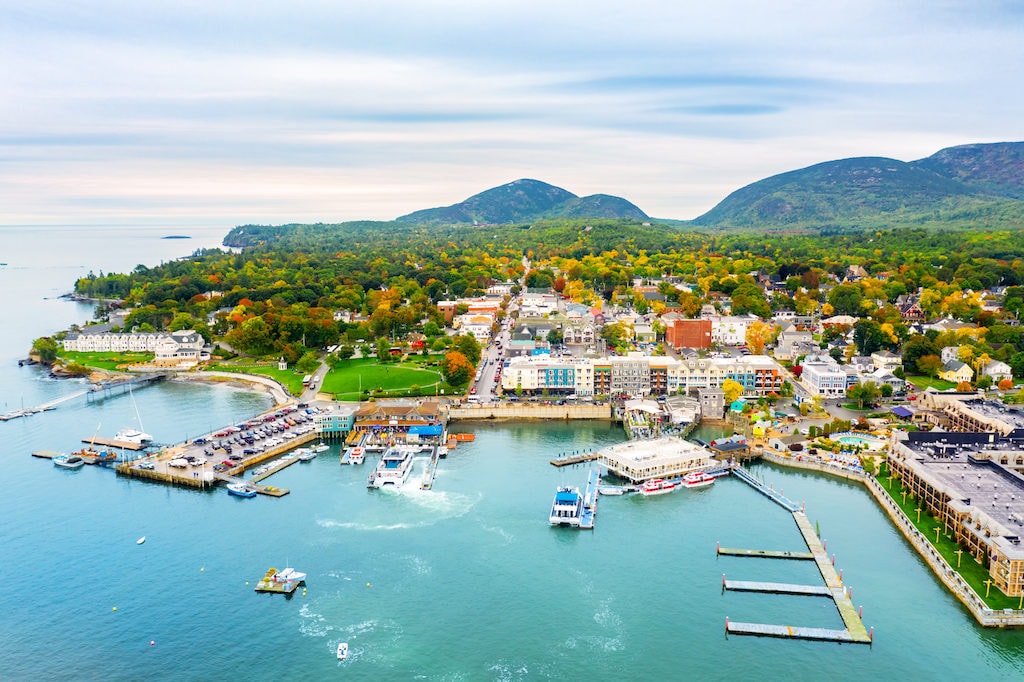 Combine that with the many hardwoods dotting the town and densely packing the surrounding area, and you have a place that's practically made for viewing the lovely colors of autumn.
Visitors to the area can enjoy dining, shopping, walking tours, boating and the like in and around the town, while further out, the ocean, woodlands, wildlife, and waterways await those who want to get back to nature.
So there you have it - twelve gorgeous destinations to see Mother Nature do her thing this fall. Check out the fall foliage report for updates on when the show will begin in each area.
Do you have anything to add to the list? Please share! Where will you go to get outside and explore?
Like our content? Follow us on Pinterest!