These Red Velvet Holly Cupcakes are so festive, and the perfect dessert to take to a Christmas party!
The recipe is easy, so you won't spend hours in the kitchen. You're welcome!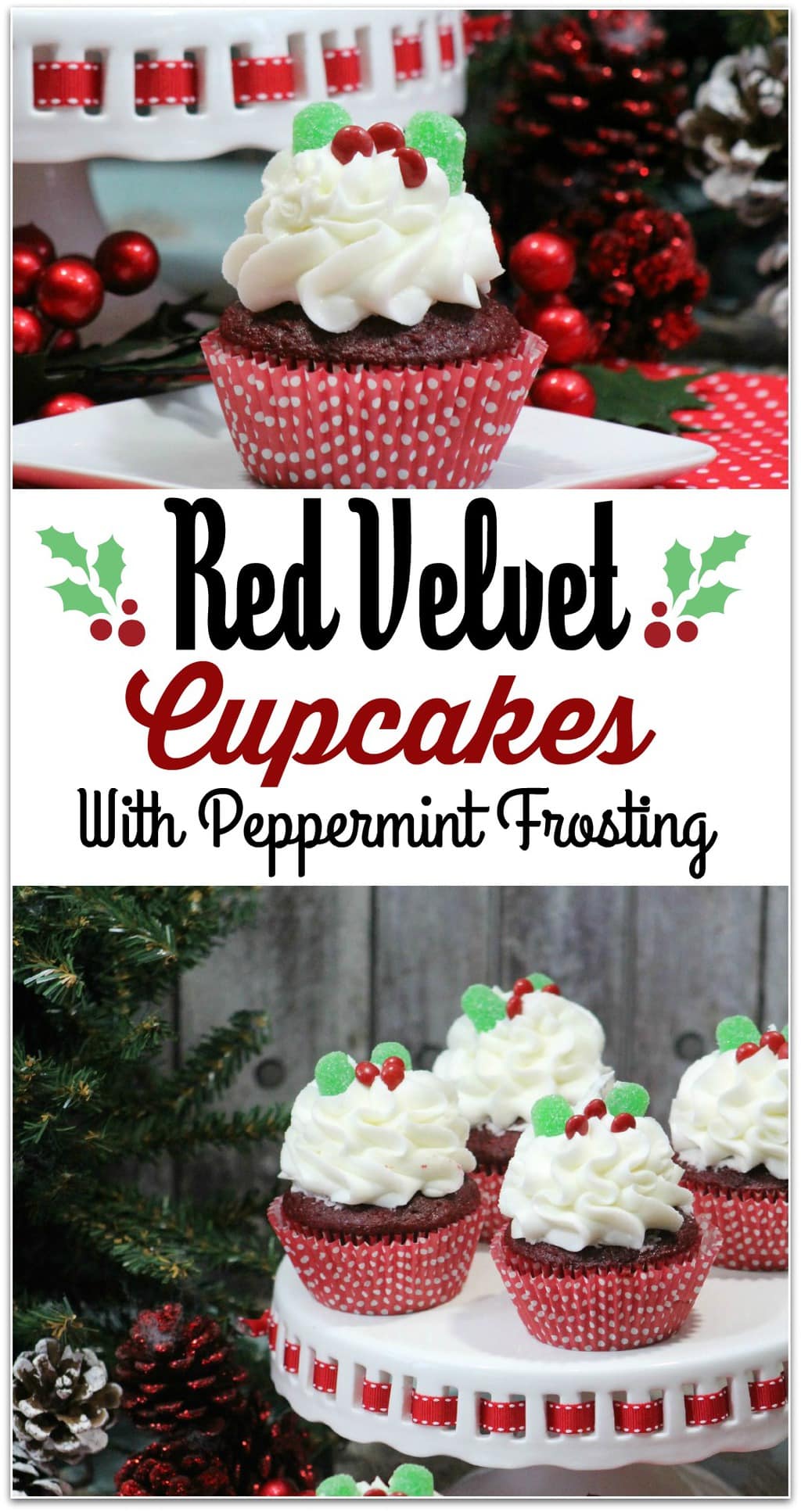 If you don't have a cake and cupcakes decorating kit, do yourself a favor and get it! It will change your decorating from a novice to a pro!
Once you make cupcakes or a cake with this, you will wonder what took you so long! I used it today for sweet potatoes, too, and they were so pretty!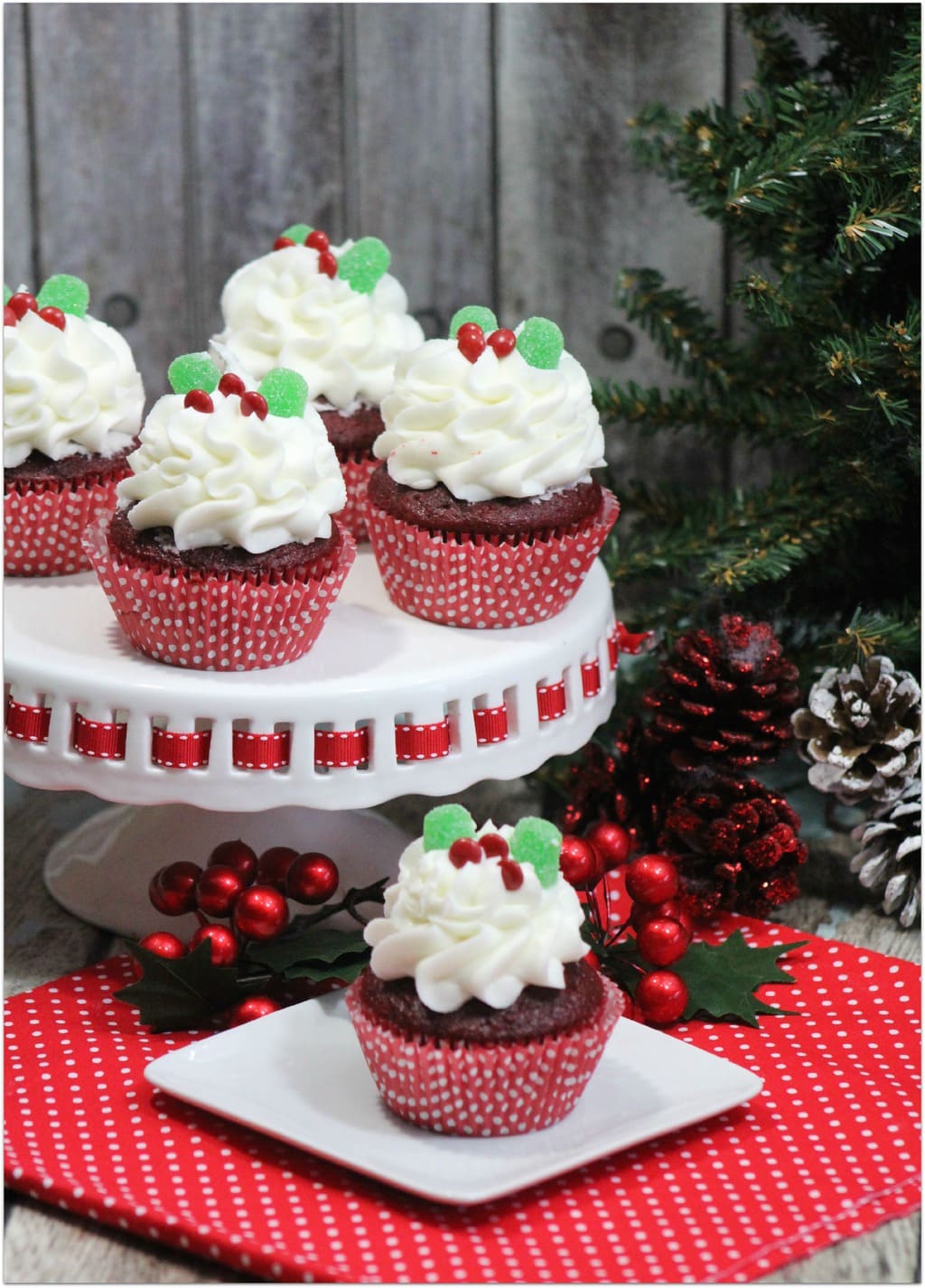 Holly Red Velvet Cupcakes with Peppermint Frosting
Cupcake Ingredients:
2½ C flour
1 tablespoon cocoa powder
1½ tsp. baking soda
½ tsp. salt
½ C butter, room temp, plus 4 TBSP
¼ C softened shortening
1 C sugar
1 egg, room temp
1 tsp. vanilla
1 tablespoon Red Velvet extract
1 C buttermilk
1 tablespoon Red gel food color
Frosting Ingredients:
1 C soft unsalted butter
4 C powdered sugar
4 tablespoon heavy whipping cream
1 teaspoon peppermint extract
1 bag green gum candy (round shape)
1 bag of red M&M's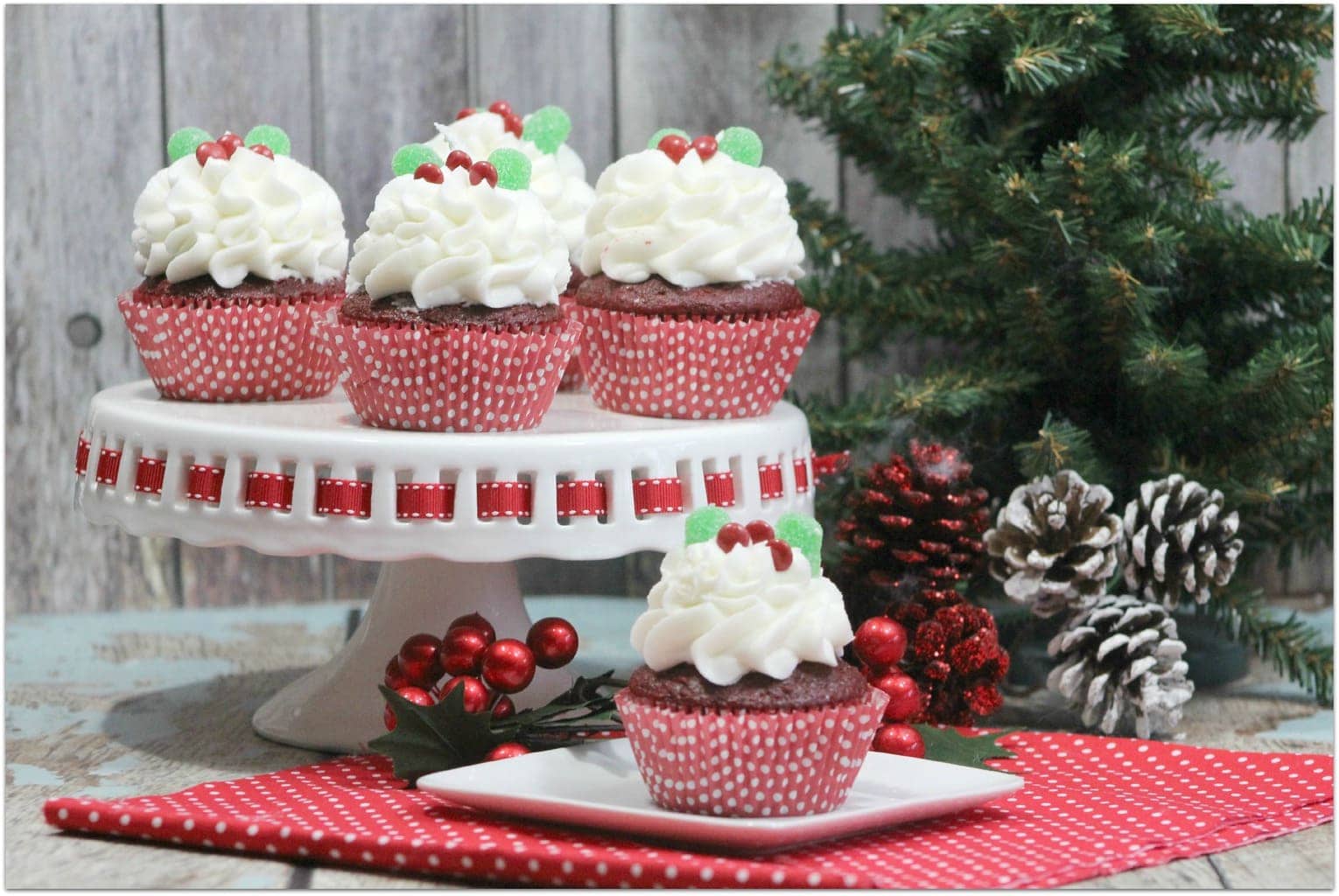 Cupcake Directions:
-Preheat oven to 350 degrees.
-Line cupcake tins with paper liners.
-Sift flour, cocoa, baking soda, and salt.
-Mix with a wire whisk.
-In a separate bowl using an electric mixer, beat the butter, shortening and sugar until it is light and creamy.
-Add the egg, vanilla, red velvet extract, and red gel food coloring.-Mix well.
-Add flour and buttermilk, ½ of each at a time, mix until completely combined.
-Spoon the batter into the lined cupcake tins until ⅔'s filled.
-Bake at 350 degrees for 20-25 minutes or until an inserted toothpick comes out clean.
-Cool for 10 minutes.
-Remove from cupcake tins to a wire rack until totally cooled.
Frosting Directions:
-Cream the butter and powdered sugar until it looks light and creamy.
-Add the peppermint extract. Stir to mix well.-If it doesn't cream add several drops of the heavy whipping cream until it creams.-Test to see if the frosting can form and hold a stiff peak by taking a spoonful of frosting and turning the spoon upside down. If the frosting stays on the spoon it is ready if not then..- Add more powdered sugar ½ C at a time. Mix well.-If ready scoop the frosting into a pastry bag with a large tip or your Decorator Plus with Star tip.
-Twist the open end of the pastry bag to push the frosting to the tip.
-Start by frosting on the outside edge of the cupcake working to the center of the cupcake.
- Cut the green gum candy rounds into half.
-Place the green gum candy halves on top of the cupcake to look like the green leaves of the holly.
-Add the 3 red M&M's on their sides in a triangle shape for the berries.
-You can refer to the picture of the cupcake for more direction of the placement of the holly and berries.
Looking for more Christmas desserts? Try these adorable Polar Bear Cookies or these Cranberry with White Chocolate Drizzle Cookies.