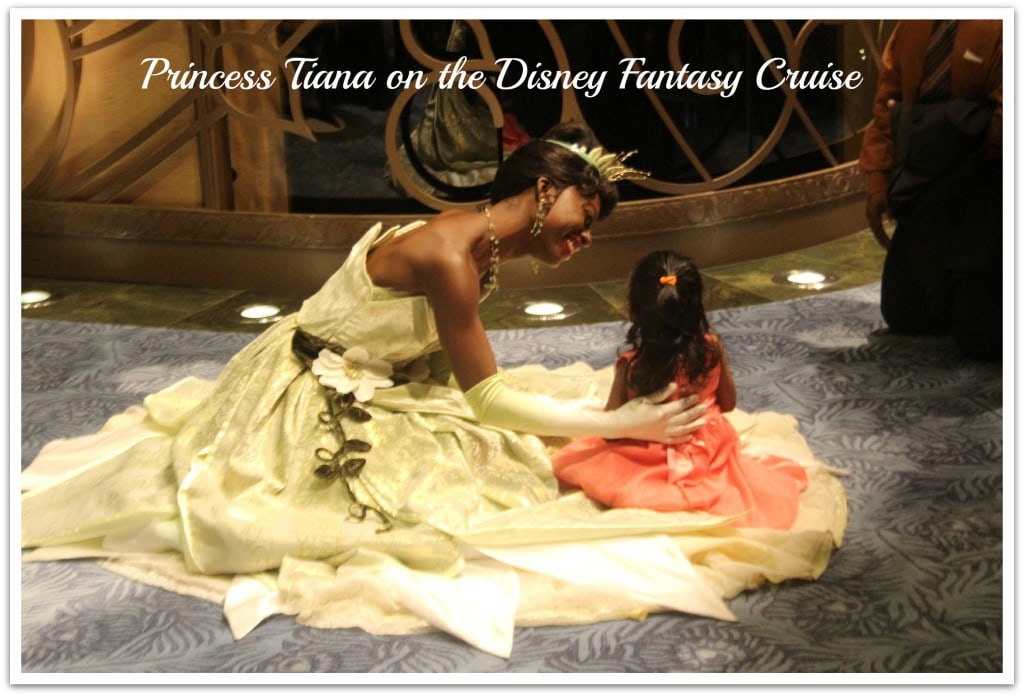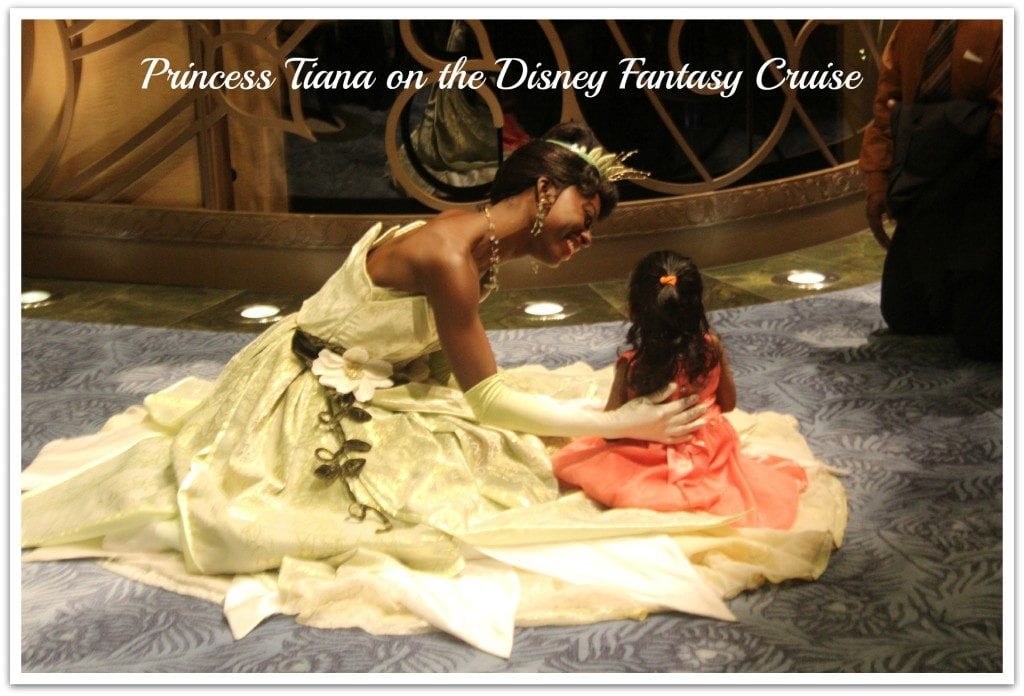 Thinking about a Disney Fantasy Cruise? We took one in the middle of December, and I'm sharing our cruise day by day. Our first day was a blast! Once we got the map of the ship down and read over our Personal Navigator which was on our bed when we got back from dinner on the first night, we were ready for Day Two!
Our second day on the ship was at sea, of course, so we began with a wonderful buffet breakfast at Cabanas. I can't imagine that there is anything you would want to eat that you can't find at Cabanas! Tip: The dining room can be crowded at peek times, but we never had trouble finding a seat outside. Why would you want to be indoors anyway, right?!
After breakfast we stopped to watch the kids visit with Chip & Dale. As you can see, the lines weren't long at all, so mornings seem to be best for character visits.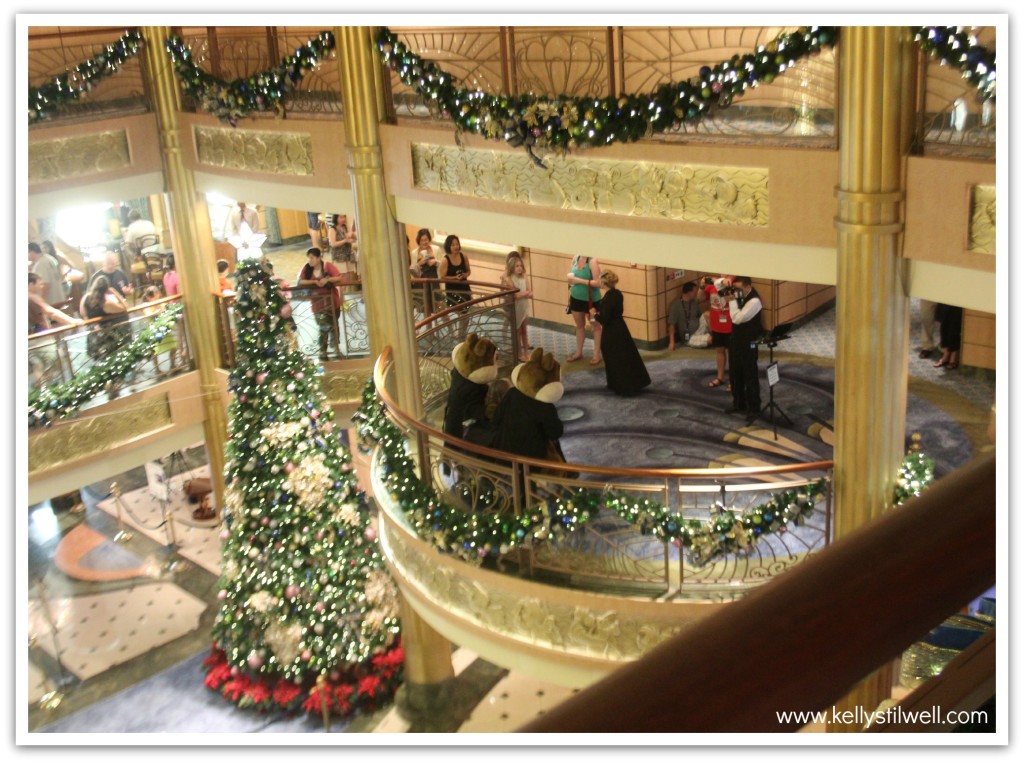 By the way, there is so much for the kids to do on a Disney Cruise, including animation classes! Most of them were for younger kids, but they looked like a lot of fun. Other activities on the Fantasy included Disney Junior dance parties, Tinker Bell's Talent Show, Story Time, Super Sloppy Science, and even a Diaper Dash for the families with babies! For the older kids, there was Zombified, where a big movie producer was looking for zombies to help him film his latest masterpiece.
While our girls went off exploring, my husband wanted to check out the gym and spa. The gym was a lot bigger than I expected. Exercising while overlooking the ocean is pretty cool, right?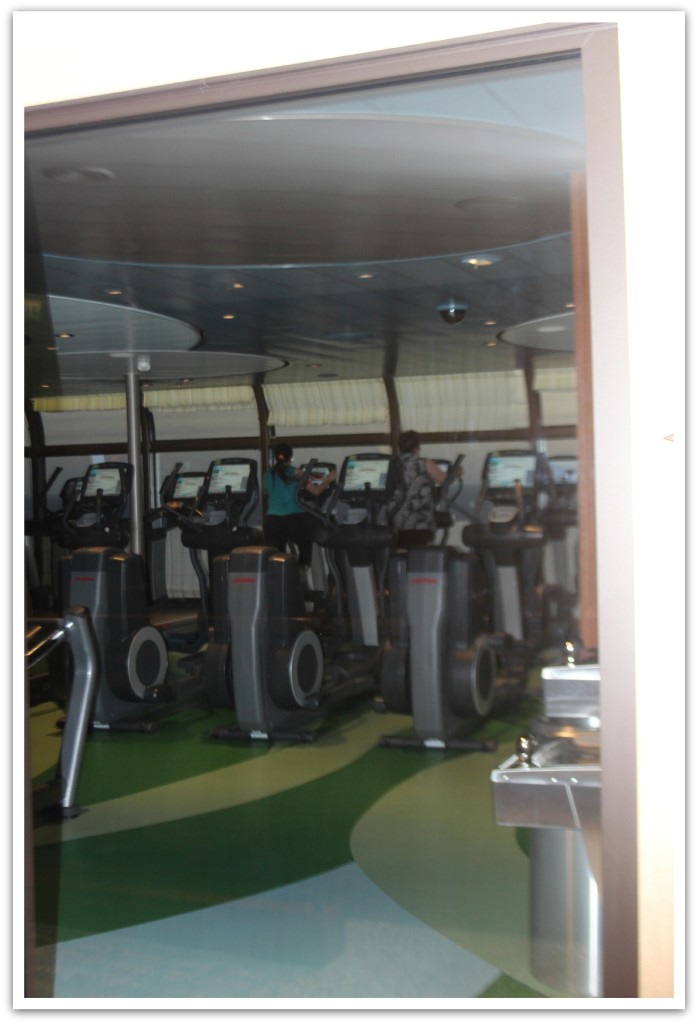 We explored the Rainforest as we had heard it was a must-do on the Fantasy. It was pretty amazing! Tip: I was told by a friend that you could get a day pass for the salon, but they only sold a certain amount each day (which is actually great because it wouldn't be as much fun if it was crowded.) When my husband asked, they only gave him the price for a package for the week. I'm sure it was just a misunderstanding, because when I called they said they absolutely sold day passes, as long as they hadn't sold all of them for the day. The day pass is great because you can come in and out as often as you'd like.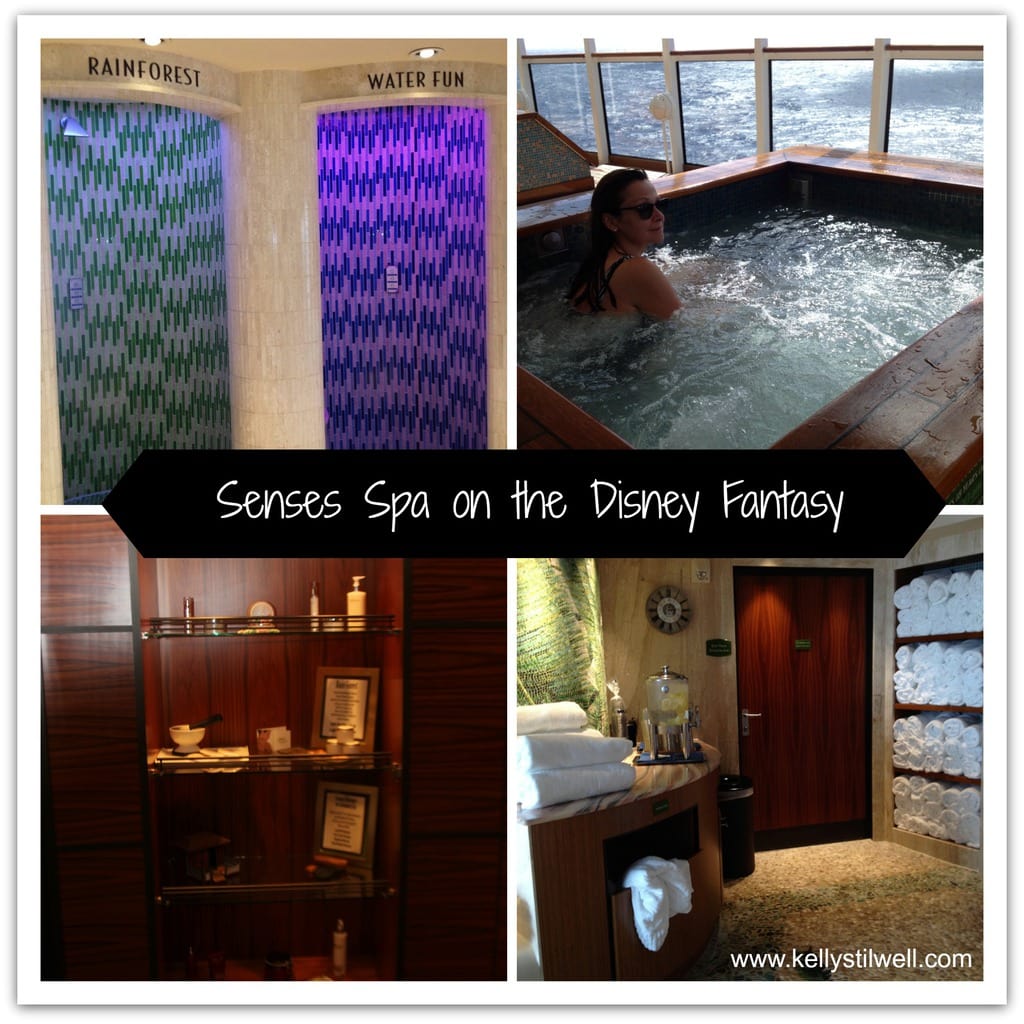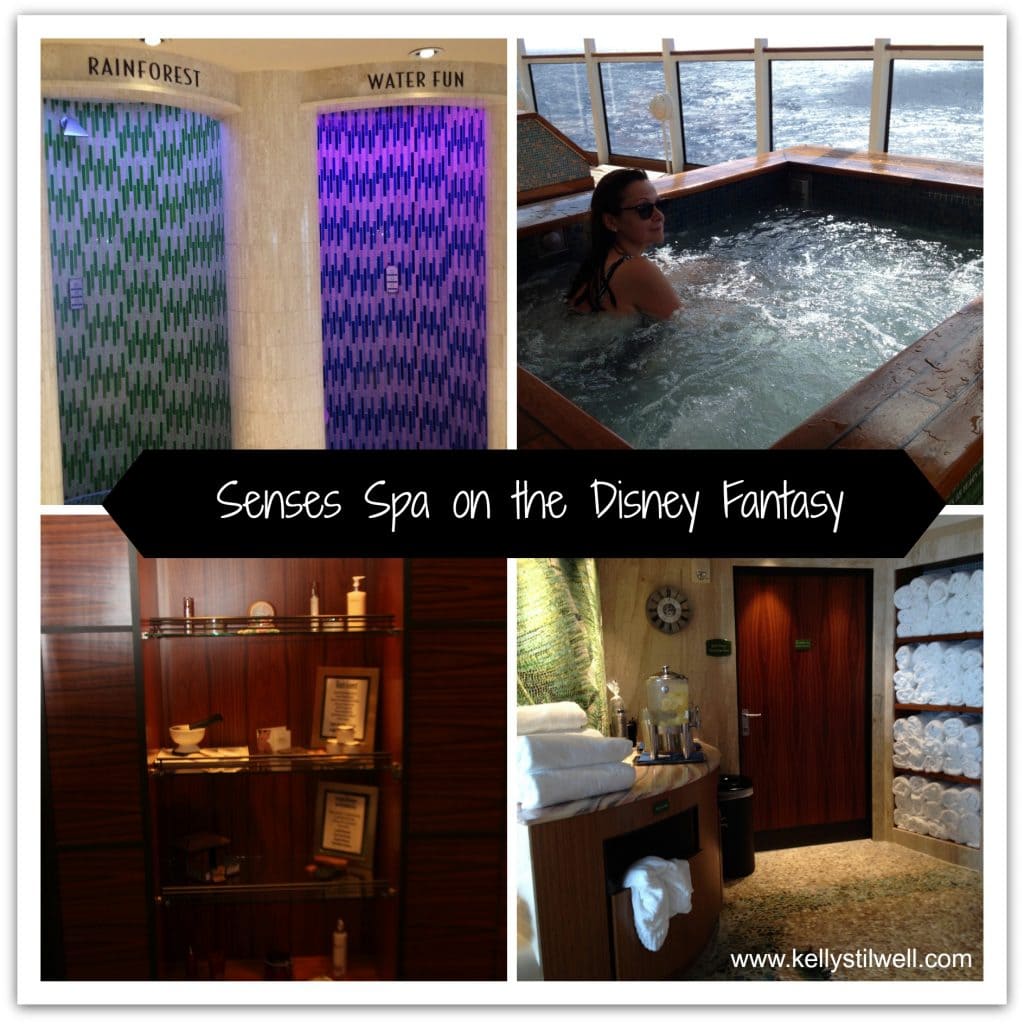 My husband decided to get in a workout. I decided not to. No judging. I'm on vacation. I actually needed a nail repair, and they were able to take me right away. There are so many treatments available, and they run specials, so be sure to ask. I got a special on our last "at sea" day for three treatments for just $99! I got a facial, a foot massage, and a neck and shoulder massage. It was heavenly.
As we were walking back to our stateroom, I discovered signs on stateroom doors. This is how you know who has cruised before! Many cruise families place magnetic signs on their doors like this Fireworks Cruise Ship Porthole Wall Sticker Decal
to represent their family. Tip: Pick up your sign in advance on Amazon or a maybe a craft store as the good ones in the ship gift shop sell out right away! The one below was handmade by Kevin who was celebrating his 25th anniversary! So sweet! Want some ideas to decorate your door? Check out these 10 Ideas for Decorating your Cruise Cabin Door.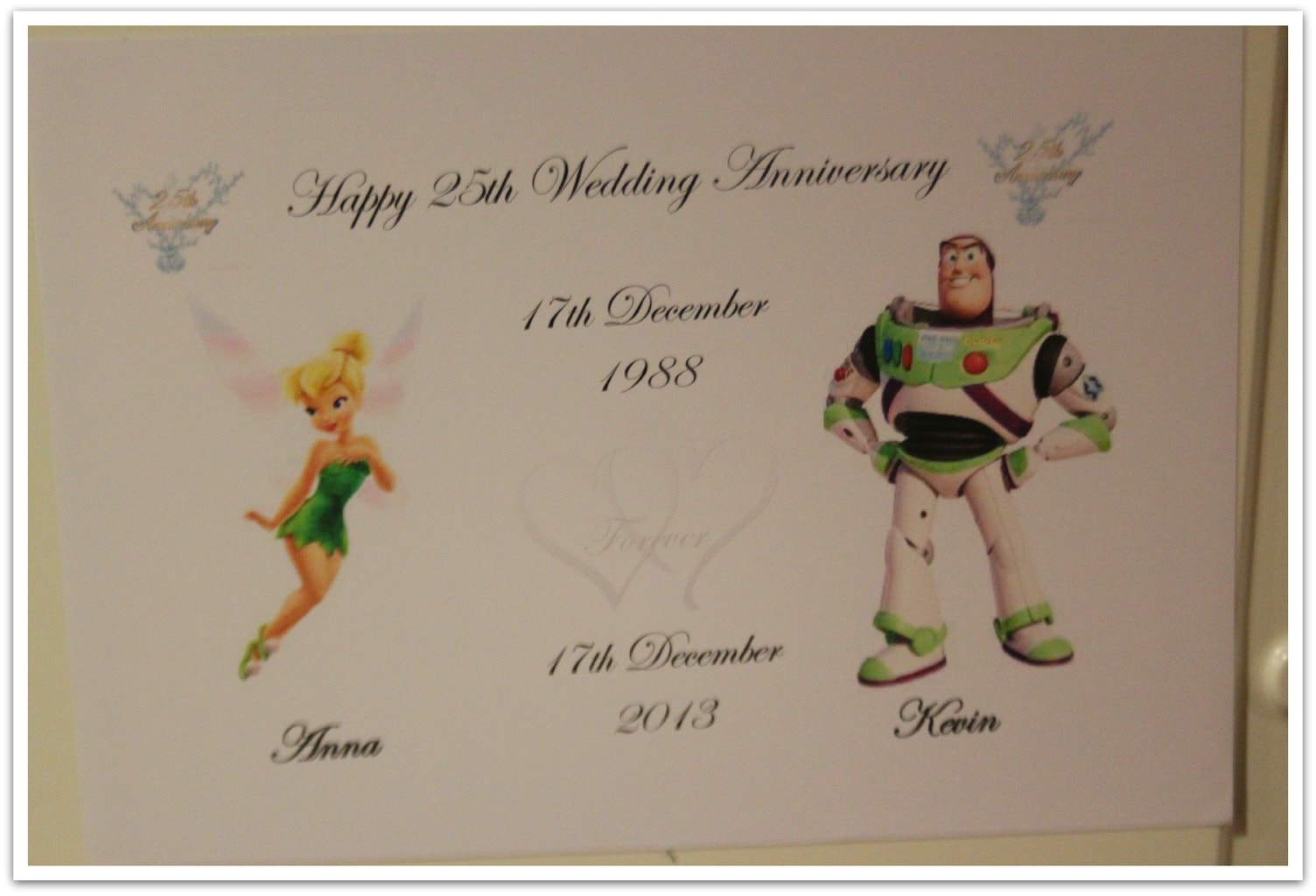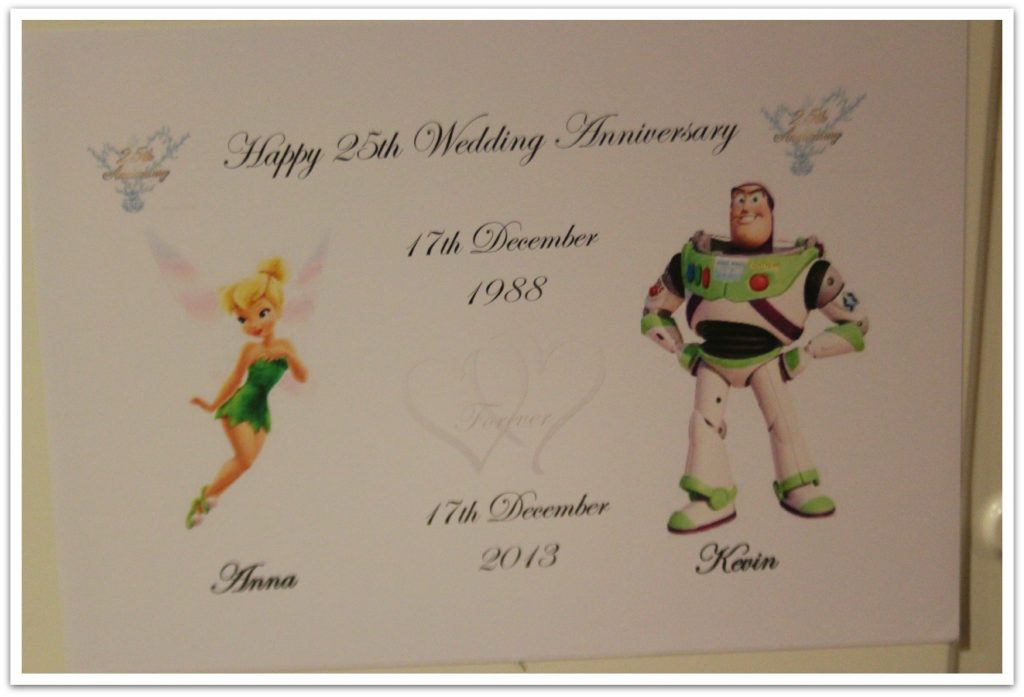 We decided to see Aladdin at 3:00, and the Navigator said it was formal. I was thinking I misread, and my family was not happy when we rushed back to the room after lunch to change, only to go back and change back into our comfier clothes for the rest of the afternoon. Some people threw a towel over their bathing suits for the show! Now we know! Aladdin was amazing, as we knew it would be.
On the way back from Aladdin, we stopped by the lobby for the Captain's Reception. We were able to chat with Captain Marco, who's from Italy, and he was charming in his white uniform. We forgot to get copies of our photos on the ship, so I don't have it to share with you. We were told this event did not allow cameras, but we would have another opportunity on a different night. I wish I had known this as we waited in line for the photo opp. Tip: When you get in line, ask if you can take your own photos! By the way, that was the only time I was told I couldn't use my own camera.
We stopped by the ginger bread house for a quick photo opp before dinner.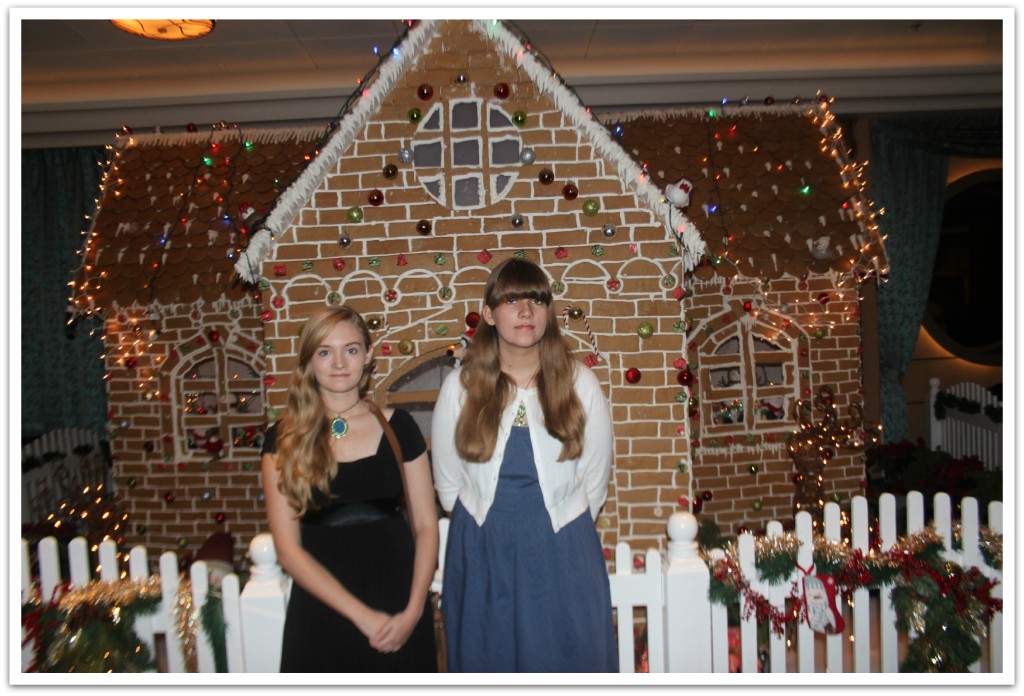 One thing that drives my husband kinda' crazy is me snapping pictures all through dinner, so I didn't. After all, this was not a review for Disney Cruise lines, but a family vacation. Still, I had to snap this one!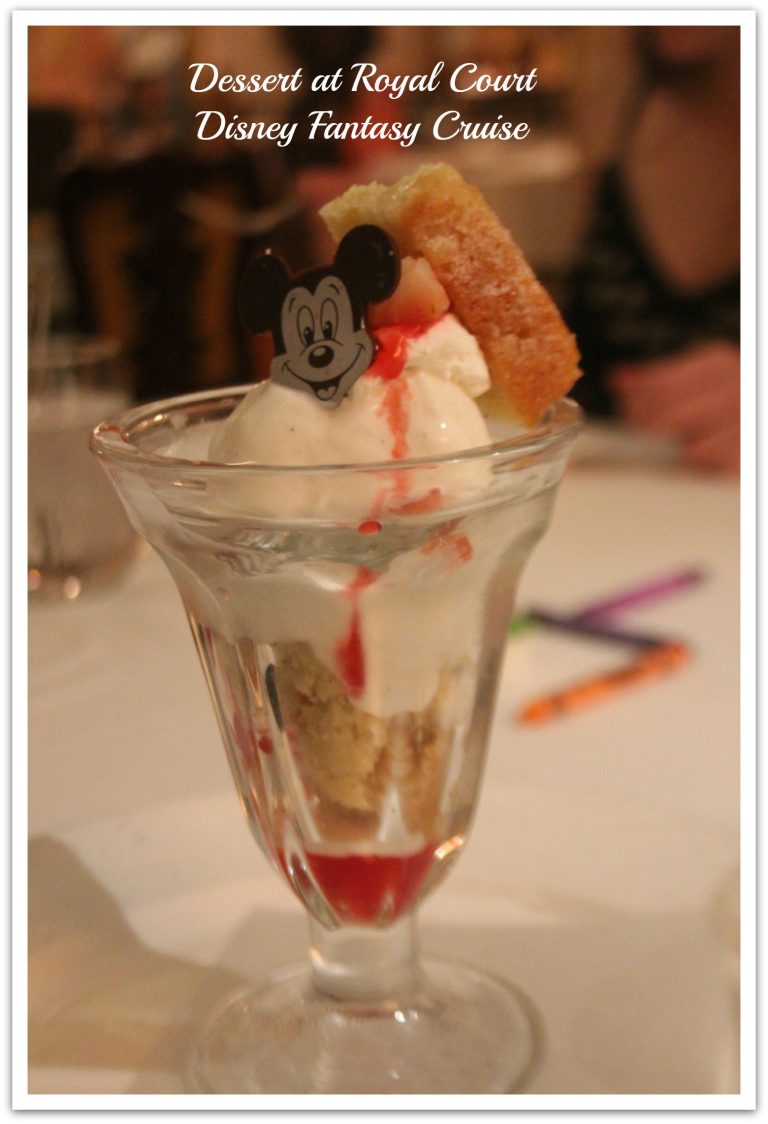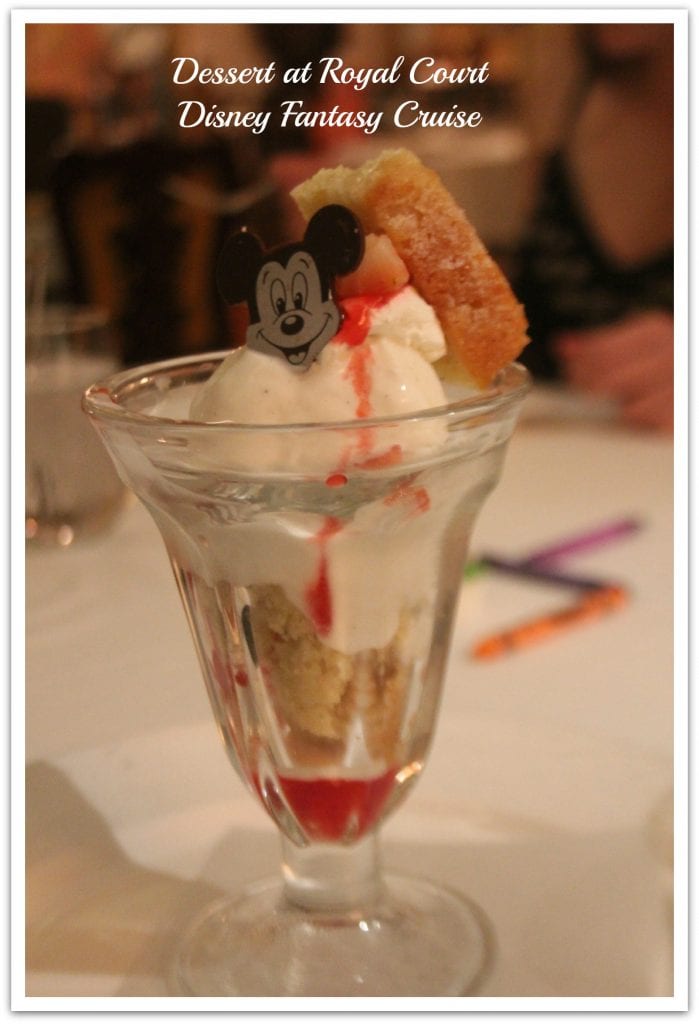 I heard it was divine, but there wasn't a bite left for me...
We headed out to see if we could catch any characters, and we scored! Princess Tiana was delightful! I loved watching her with the little ones. We found Minnie, too! She was stunning as usual!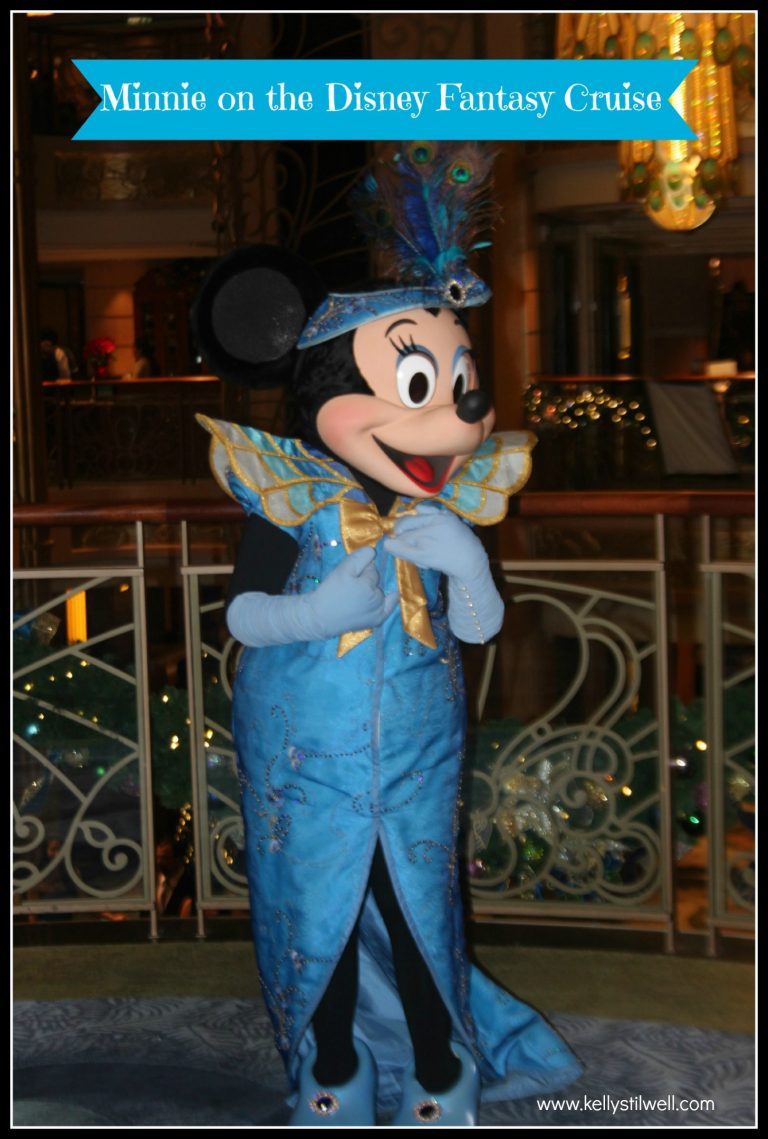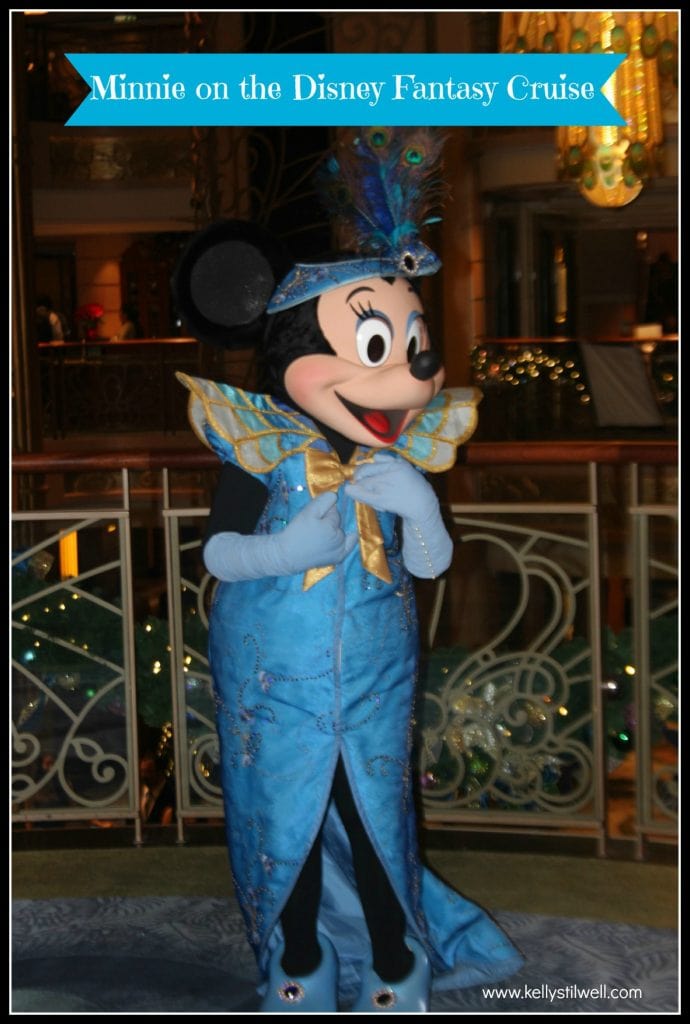 We were all dressed up, too!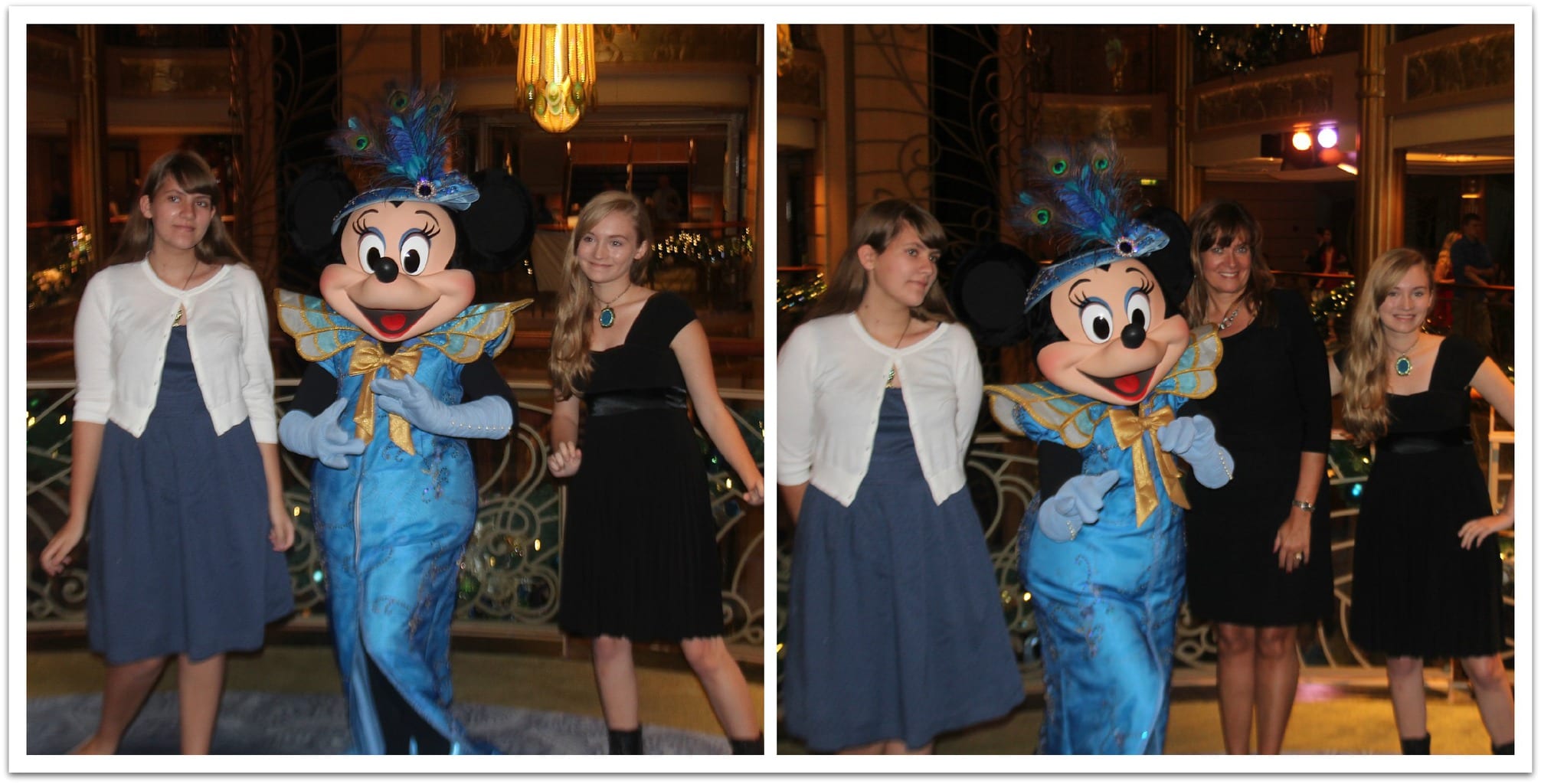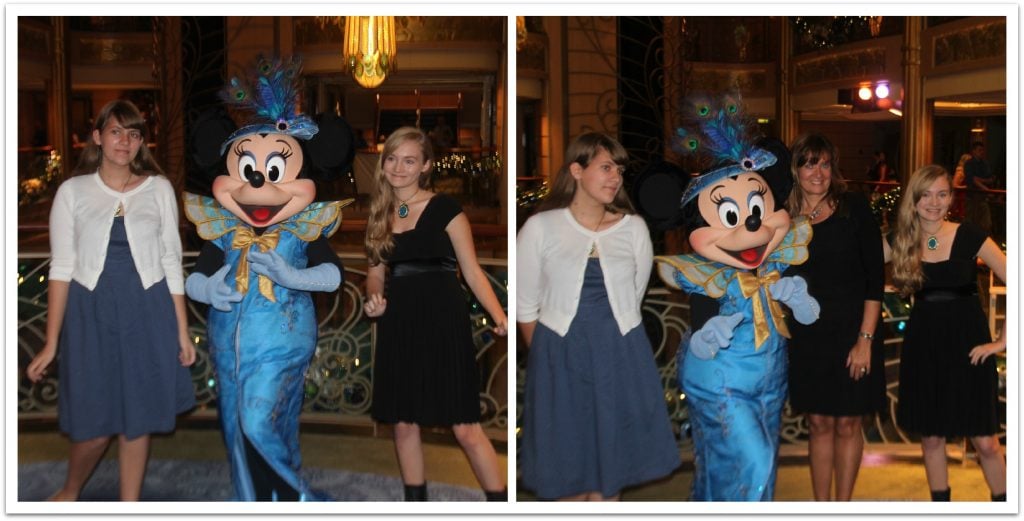 The girls went off to see what was going on for their age group while my husband and I went to a show for adults. This is one of the beautiful things about a Disney Cruise! The show we saw was a comedy and ventriloquism act by Lynn Trefzfer. She was fabulous!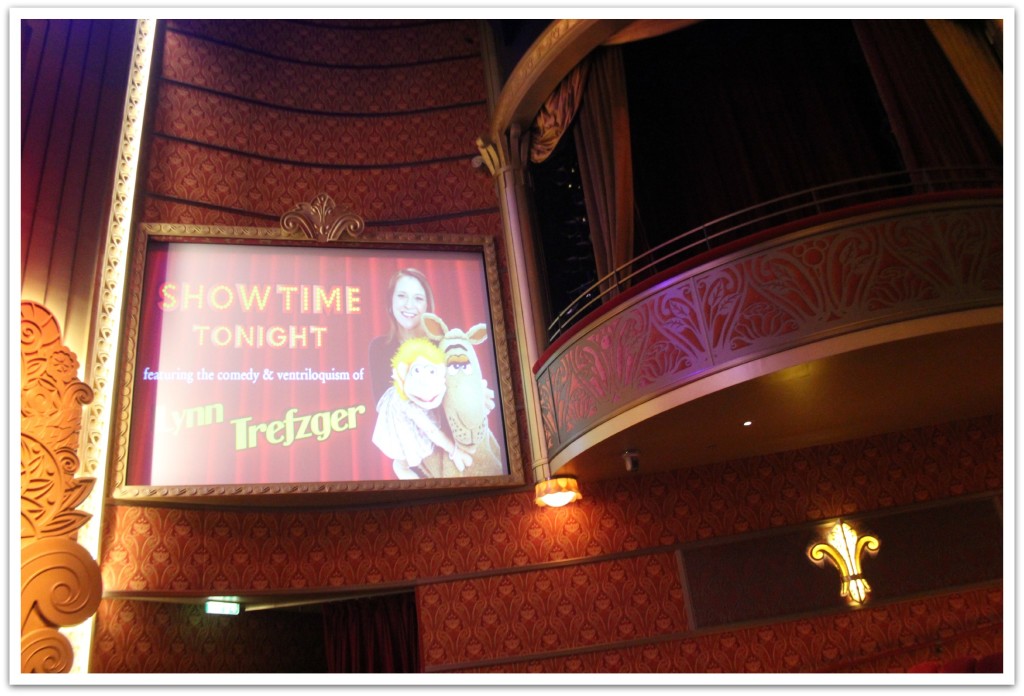 We stopped and had a drink after the show, and were in bed before the kids! That was weird, but they were having so much fun!
We were looking forward to another day at sea, and dinner at the Animator's Palate the next day!