Thinking about a Disney cruise? Our family has wanted to take a cruise for years, so going on a Disney Cruise for a 7-day Eastern Caribbean vacation was a dream-come-true.
As you probably know if you've been around here for a while, we are very big Disney fans.
We're also Disney World season pass holders, even making it out to Disneyland twice in the last couple of years.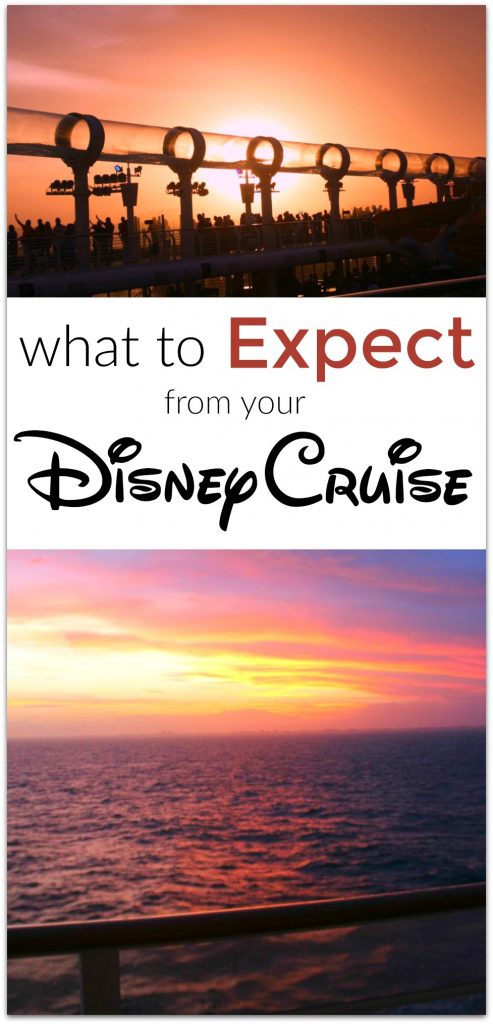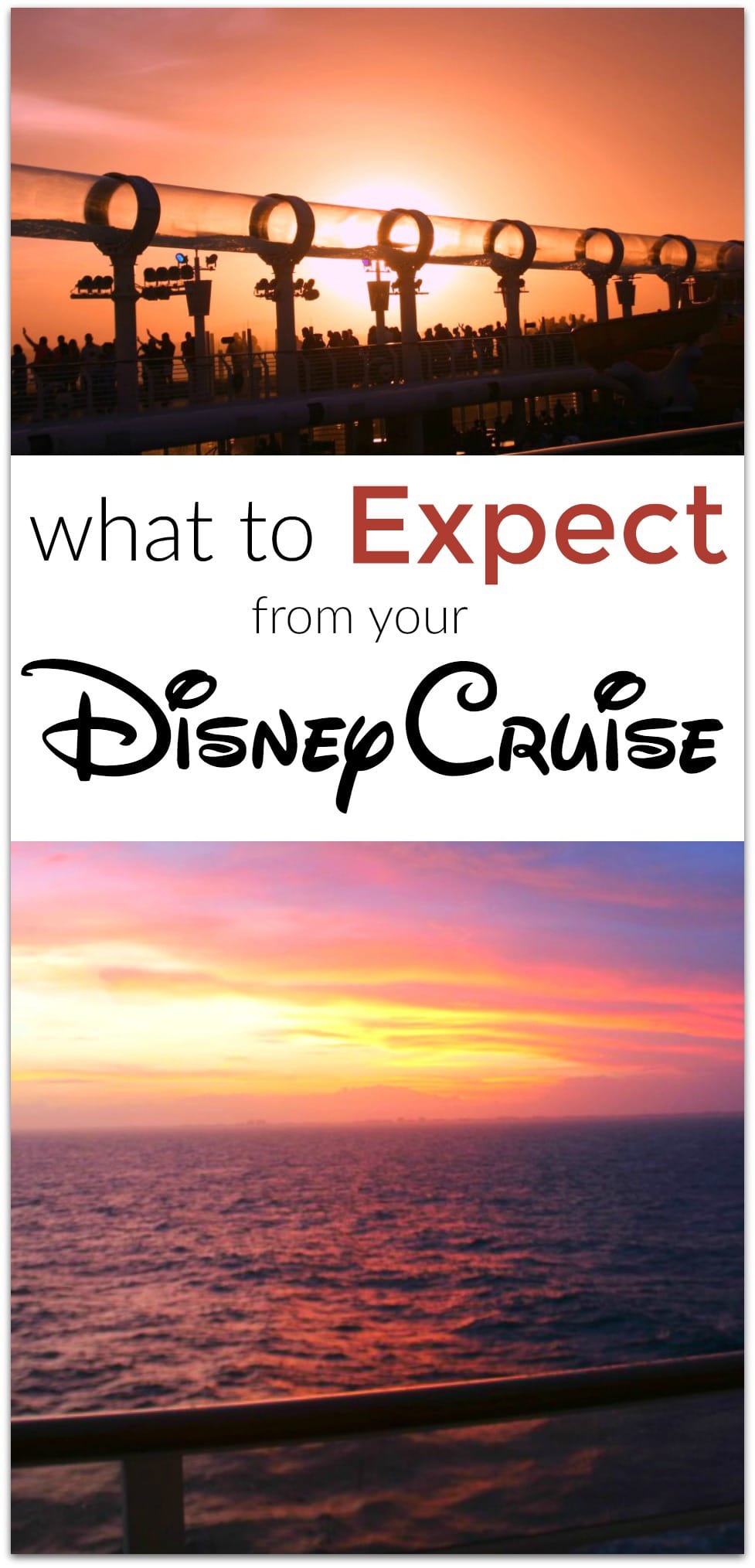 Our oldest would be graduating from high school in 2014, so we knew our time with her at home is short, so we started looking at a Disney cruise.
The Disney Wonder ship and Disney Dream ship tied for the next best Disney cruises.
We booked A Disney Cruise on the Fantasy for December 14th-21st. Yes, one week before Christmas.
And yes, I now realize I needed to do a lot more BEFORE Christmas if we wanted to have a relaxing holiday once we got home, but that is a post for another day.
Maybe next year I'll write about 10 Things Not To Do One Week Before Christmas, and add take a vacation to the top!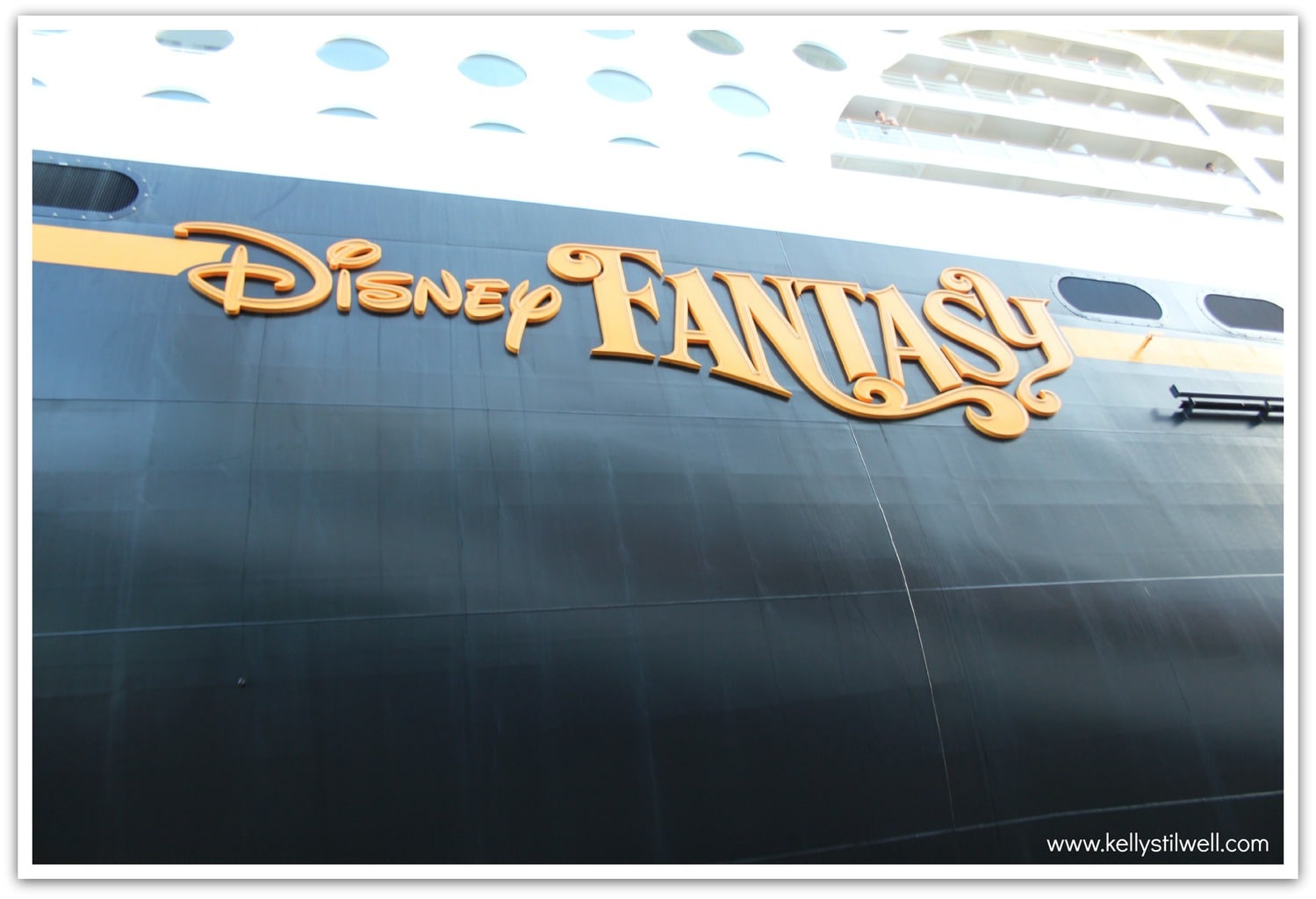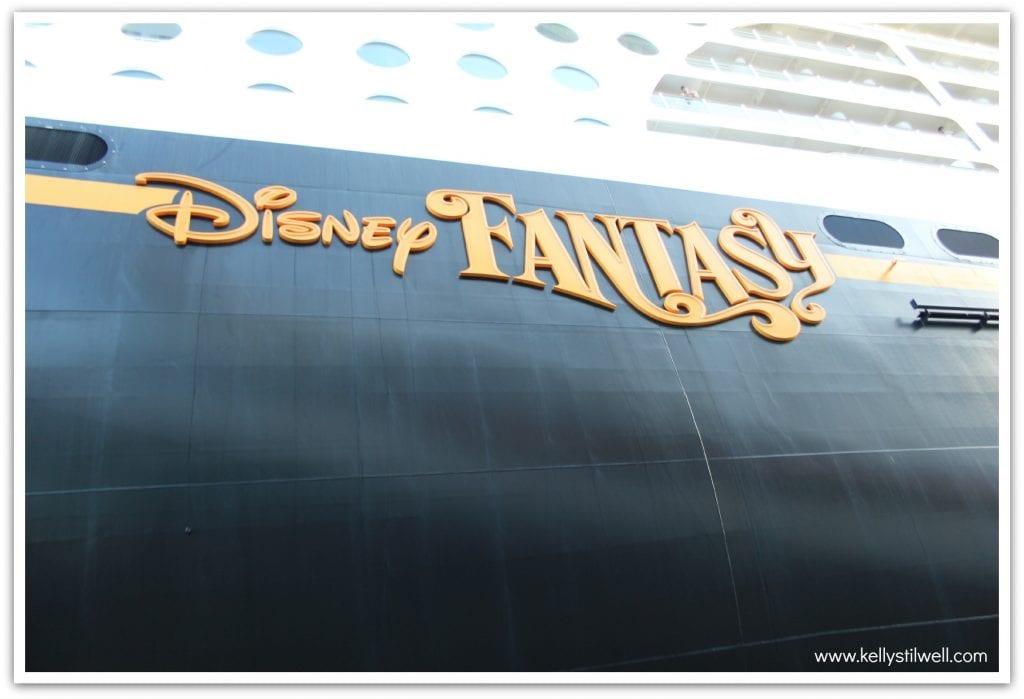 Our Disney Cruise
Let me begin by saying the Disney Cruise Lines website is terrific! Use it!
You can investigate where you want to go, how big you want your room to be, what activities you want to do on the ship, what excursions to book, even what to pack!
We booked a Deluxe Family Oceanview Stateroom with a Verandah, which is listed as being able to sleep three to five.
We have two adults and two teenagers, and though it was tight at times, it was perfectly fine.
We met a family who has two younger kids and booked a suite, and though it was gorgeous and had a verandah that was 4 times the size of ours, I personally don't think I would spend the extra $4,000 for just four people. But it was spectacular!
They also had a concierge room where they could get drinks, water, and snacks, but room service is free (excluding soft drinks and alcoholic beverages) so we didn't feel that would be a benefit for us.
For the most part, you are off having fun, not sitting in your room, so I would rather spend extra money on things like excursions and special dinners.
You can bring your own alcoholic beverages, so we packed a few bottles of wine.
I will say the price for bottles was very reasonable in the restaurant, which was surprising as restaurants typically really mark up wine. We had a toast as soon as we got to our stateroom.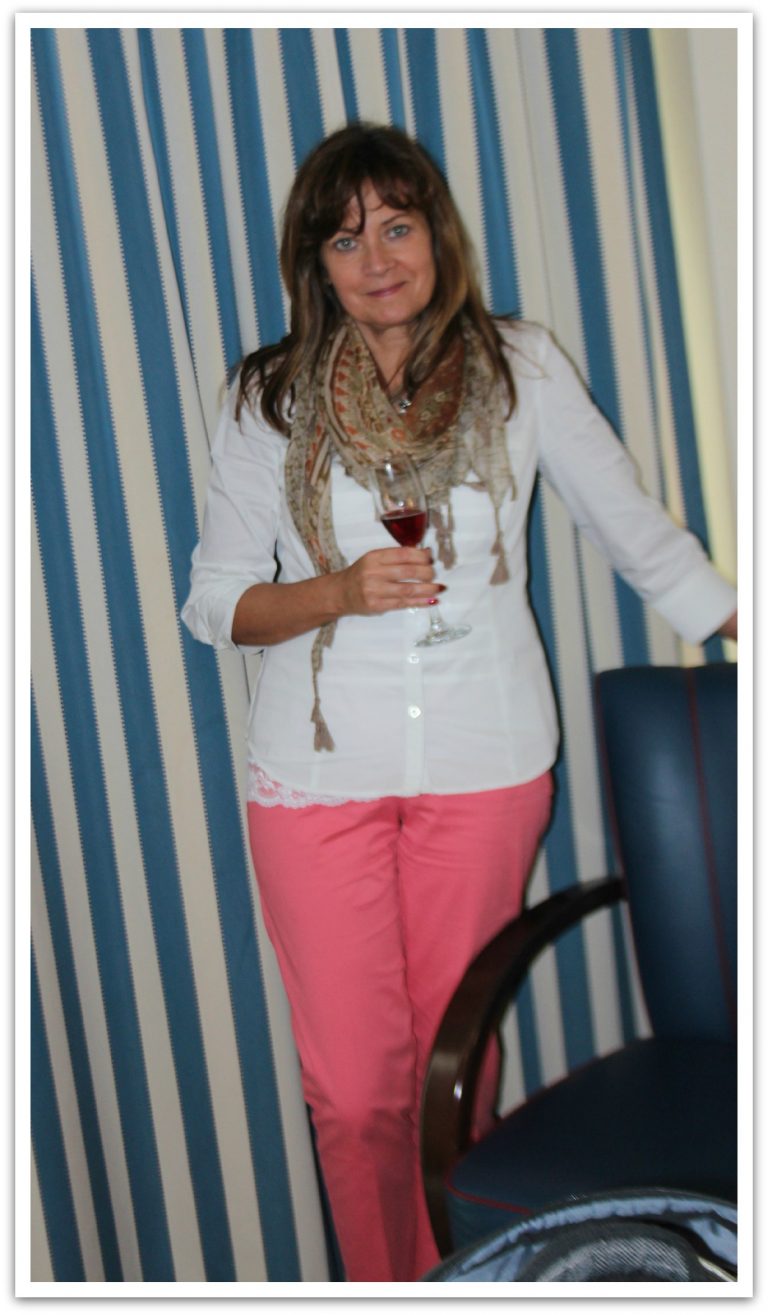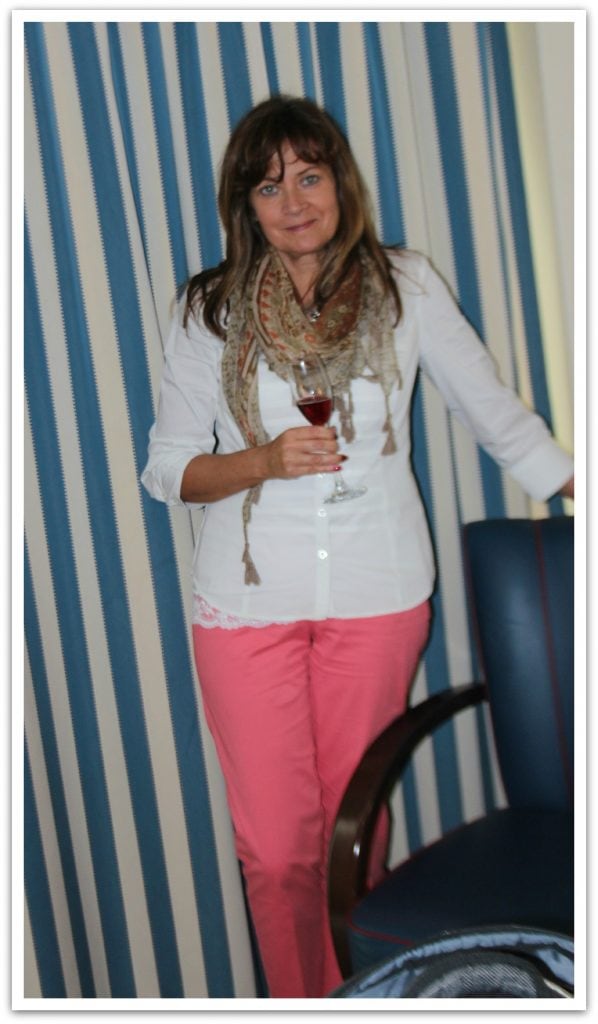 Our room was really nice. You don't spend that much time there, but it was comfortable and quiet when we wanted to just chill. Here's a peek into our room.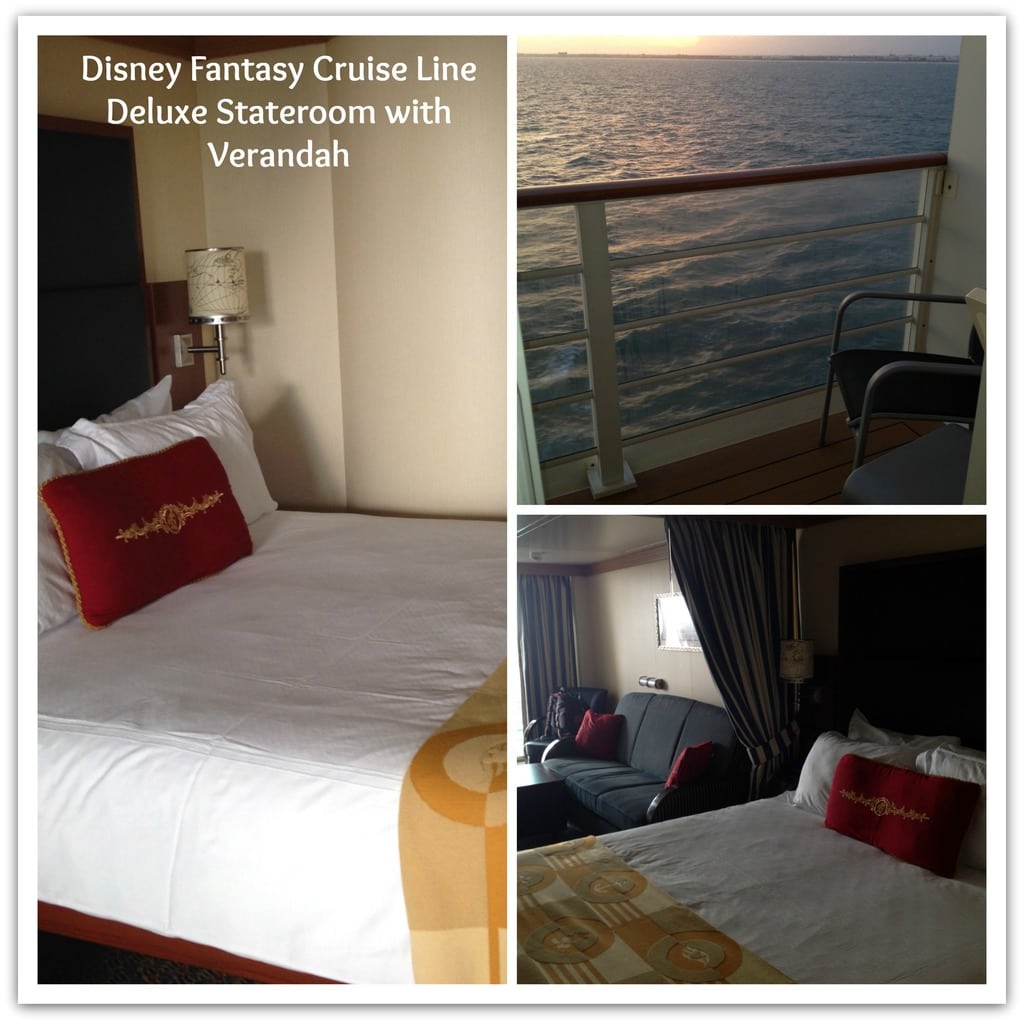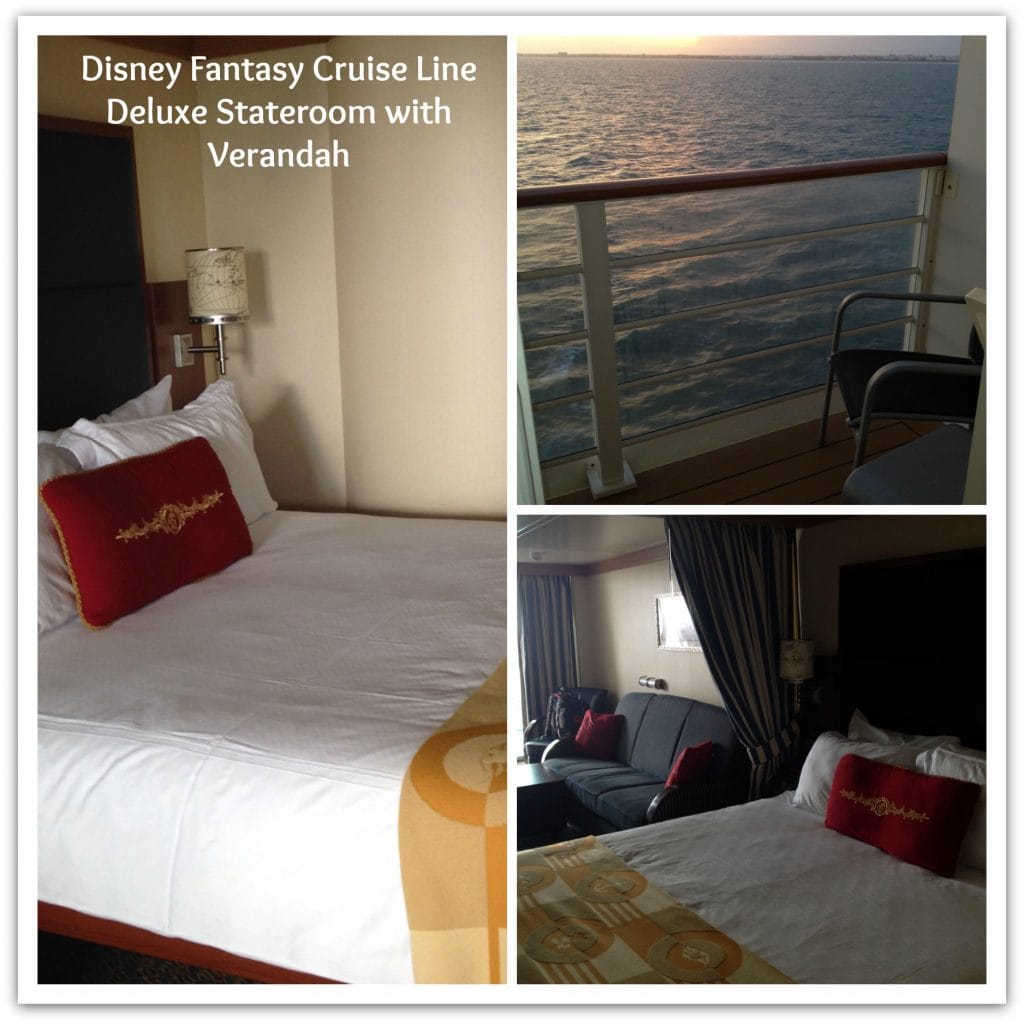 The bathroom was nice and is split into a shower room with sink and separate toilet room with sink, which was helpful when we were all getting ready for dinner.
The shower has two options, so you can enjoy the spray from the top or use the handle sprayer, which would be helpful for little ones.
We all enjoyed the Disney bath products.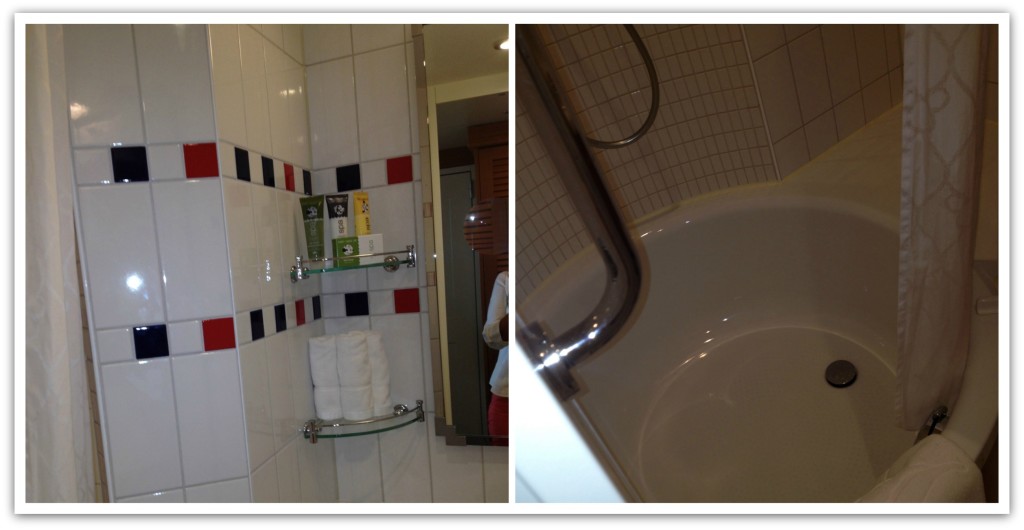 There is a lot of storage in the room (under the bed, in the closets) so you'll be able to stash your luggage to give you more room to move around.
We took 5 suitcases, one of which was oversized. We also each took a backpack, and it was no big deal to stash everything.
Remember to take advantage of the Disney Cruise site and look at the attire recommendations.
I don't wear dresses that often and I took two, but I really could have used another. Many people dress up for dinner, and though you don't have to every night, it was fun.
When you make your plans for the first day on the ship, get there as early as you can.
We were able to get on the ship at about noon, just in time to go have a wonderful lunch and get settled before the Sailing Away party.
It was exciting to be on deck for the departure! Though my kids were a little old for this, younger kids were having a blast dancing and singing with the cast members!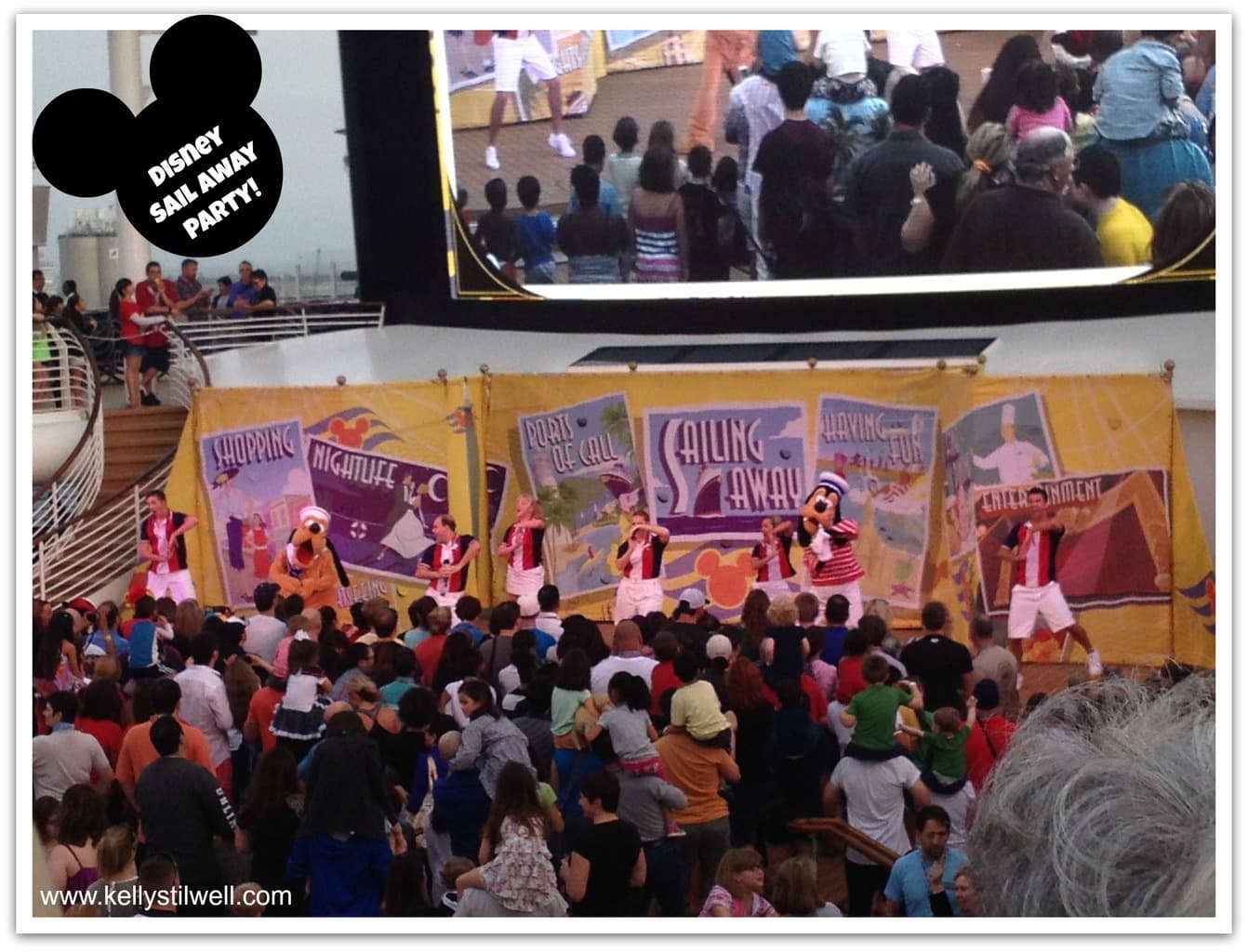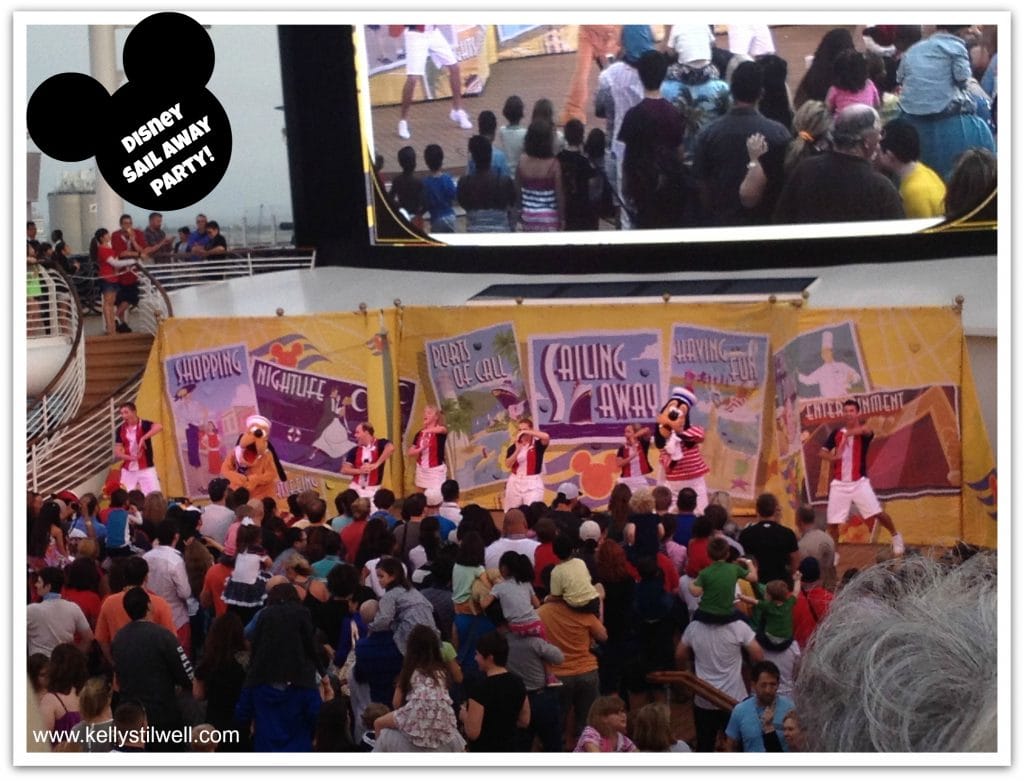 We decided to investigate the ship after the party. I was just amazed at the size of The Fantasy. There's also a fabulous Disney art gallery.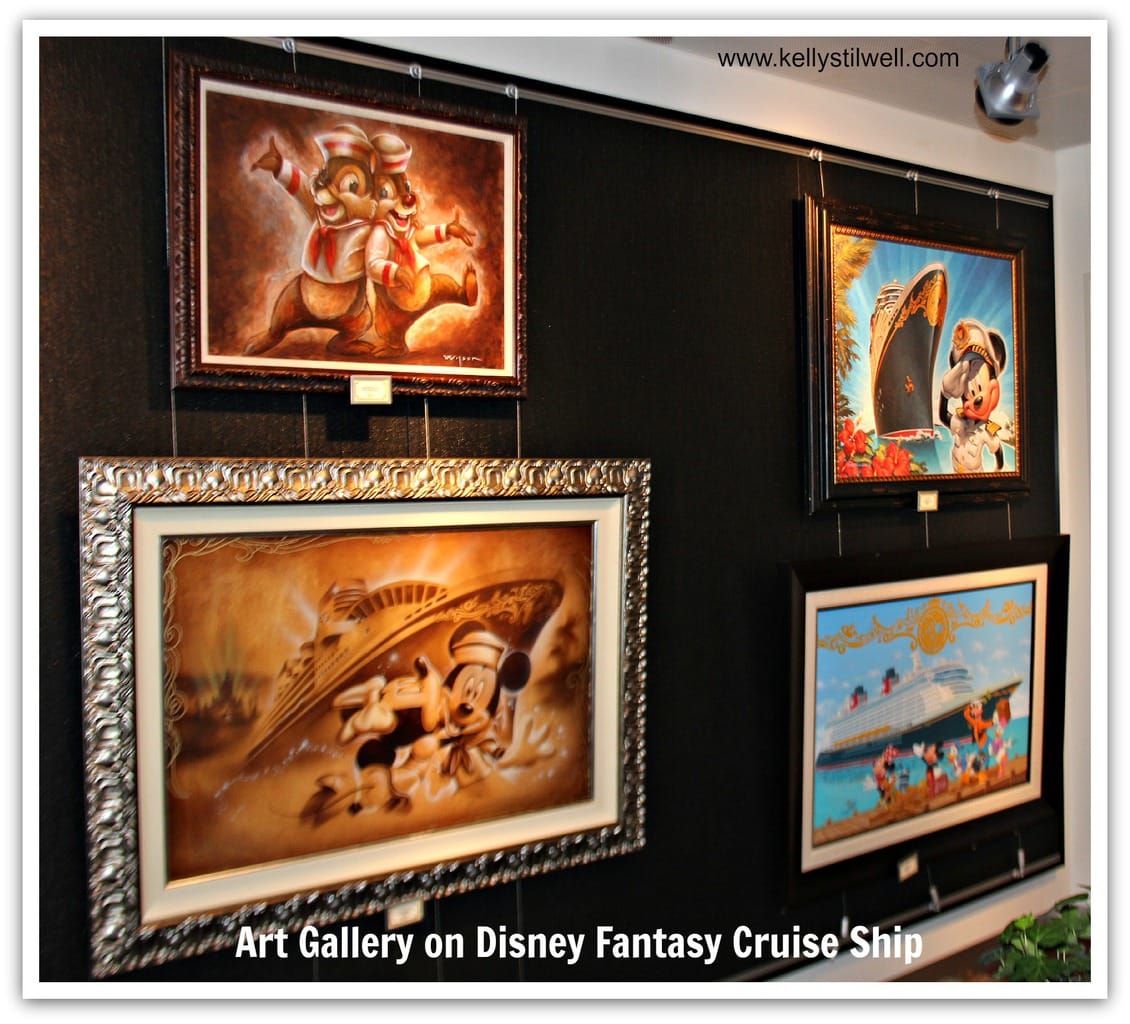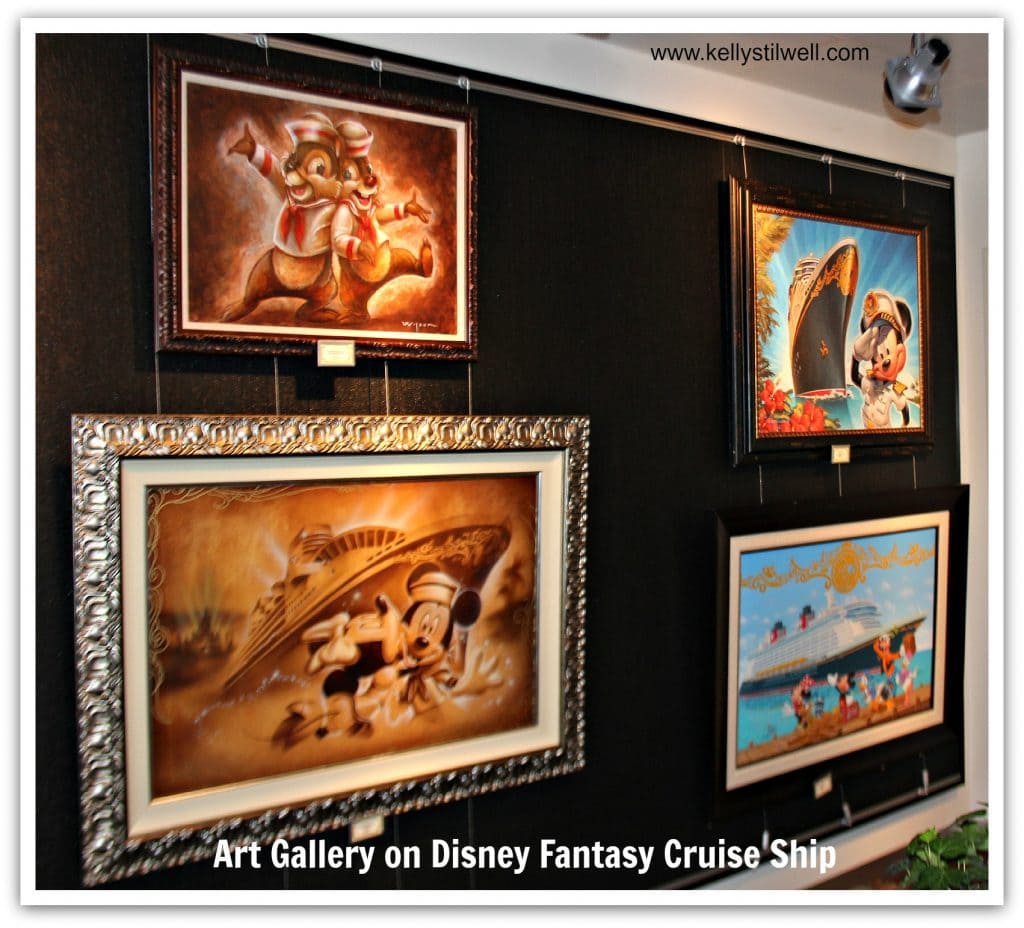 I saw a lot more outdoor activities than I expected, including a mini-golf course. Of course, there are several pools, including one just for adults.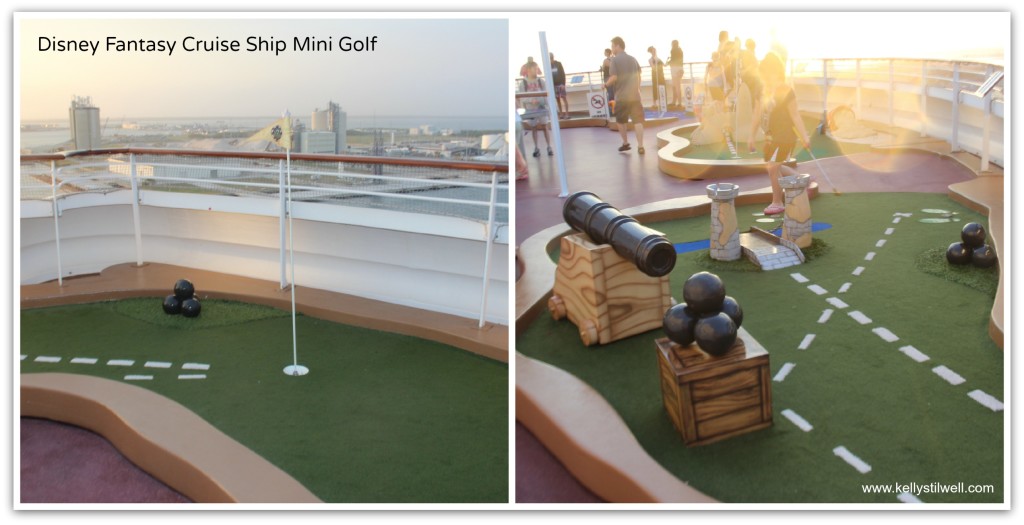 As the sun started to set on the Aqua Duck, we decided to go back to our stateroom and figure out our plans for the evening.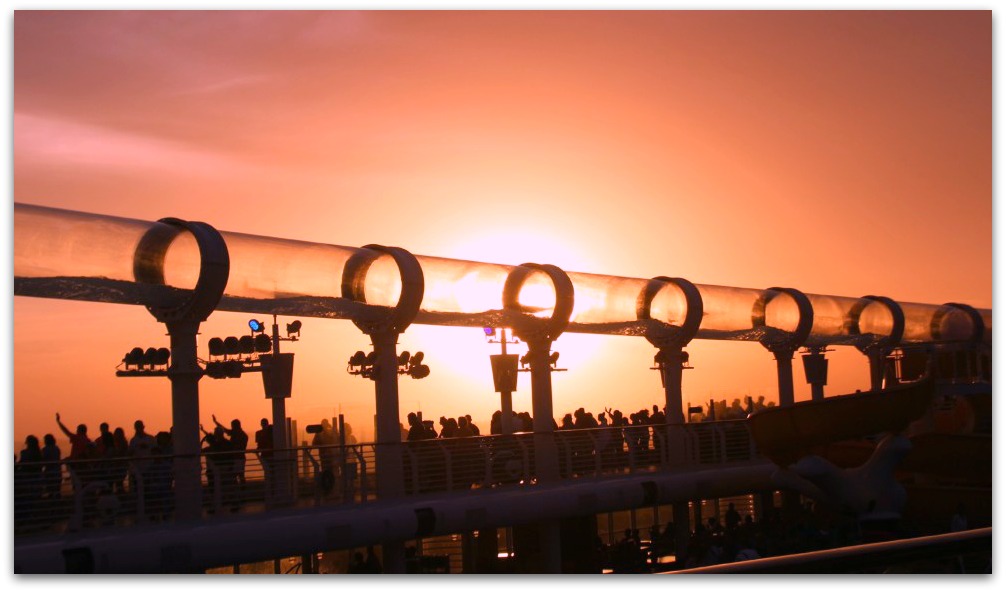 We had our first towel animal waiting for us on our bed! The Disney Cruise Navigator was also on the bed for us so we could look over the evening's activities.
My daughter took advantage of a quick nap on the top bunk!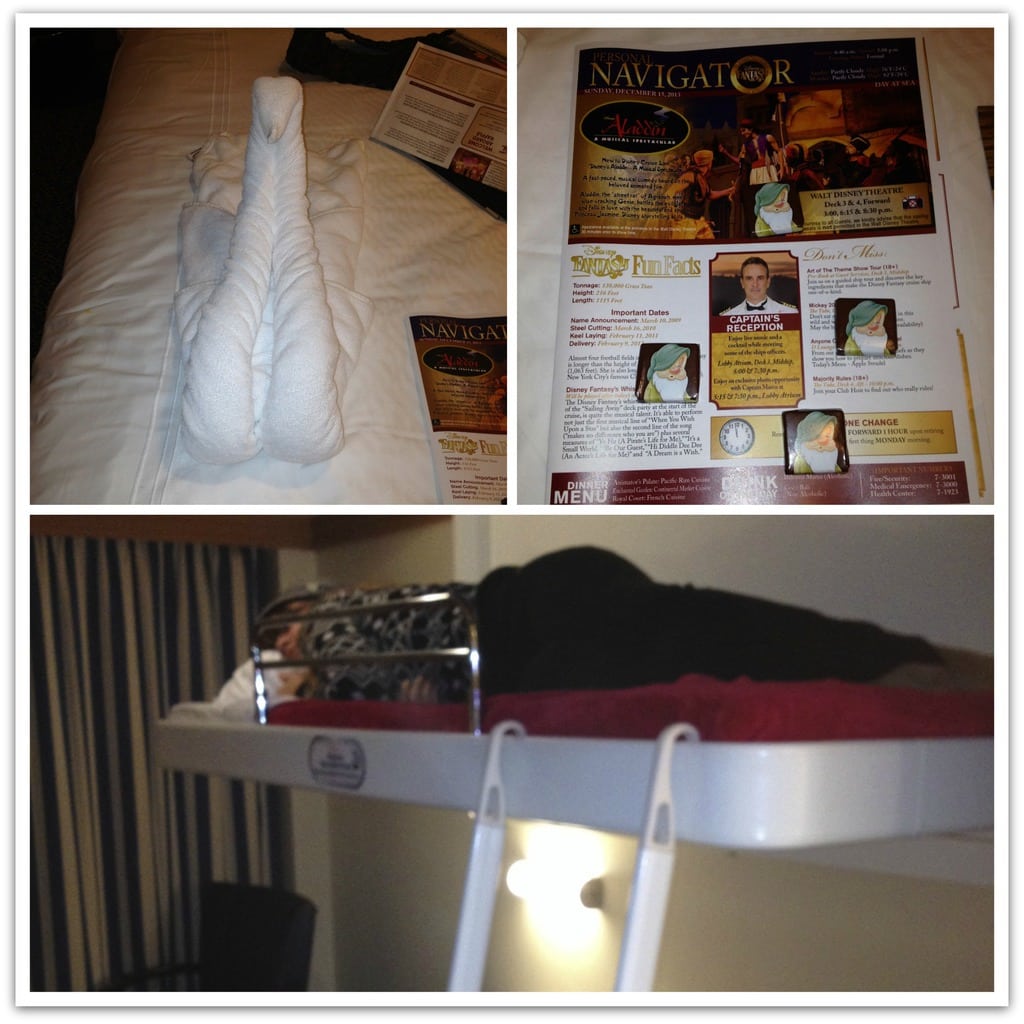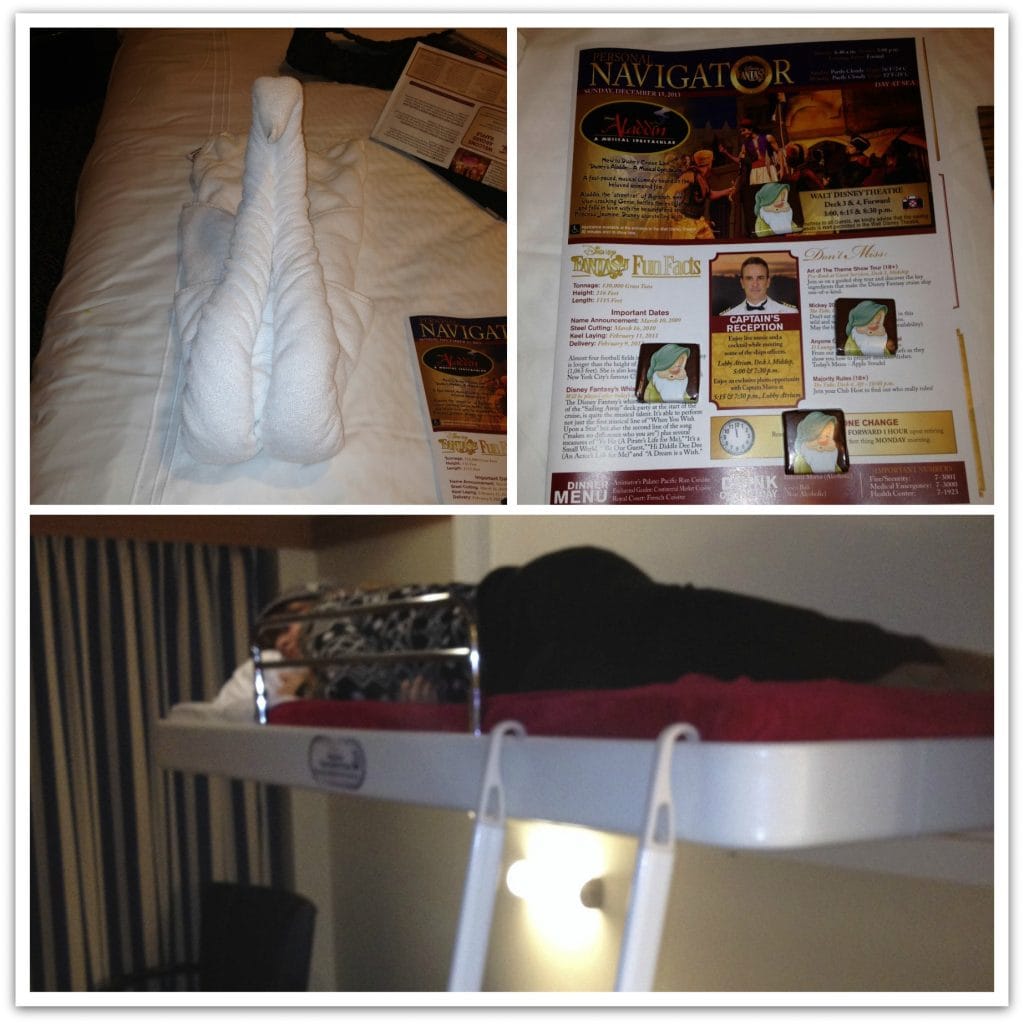 I highly recommend a room with a verandah! The sunsets were spectacular and it was so peaceful in the morning.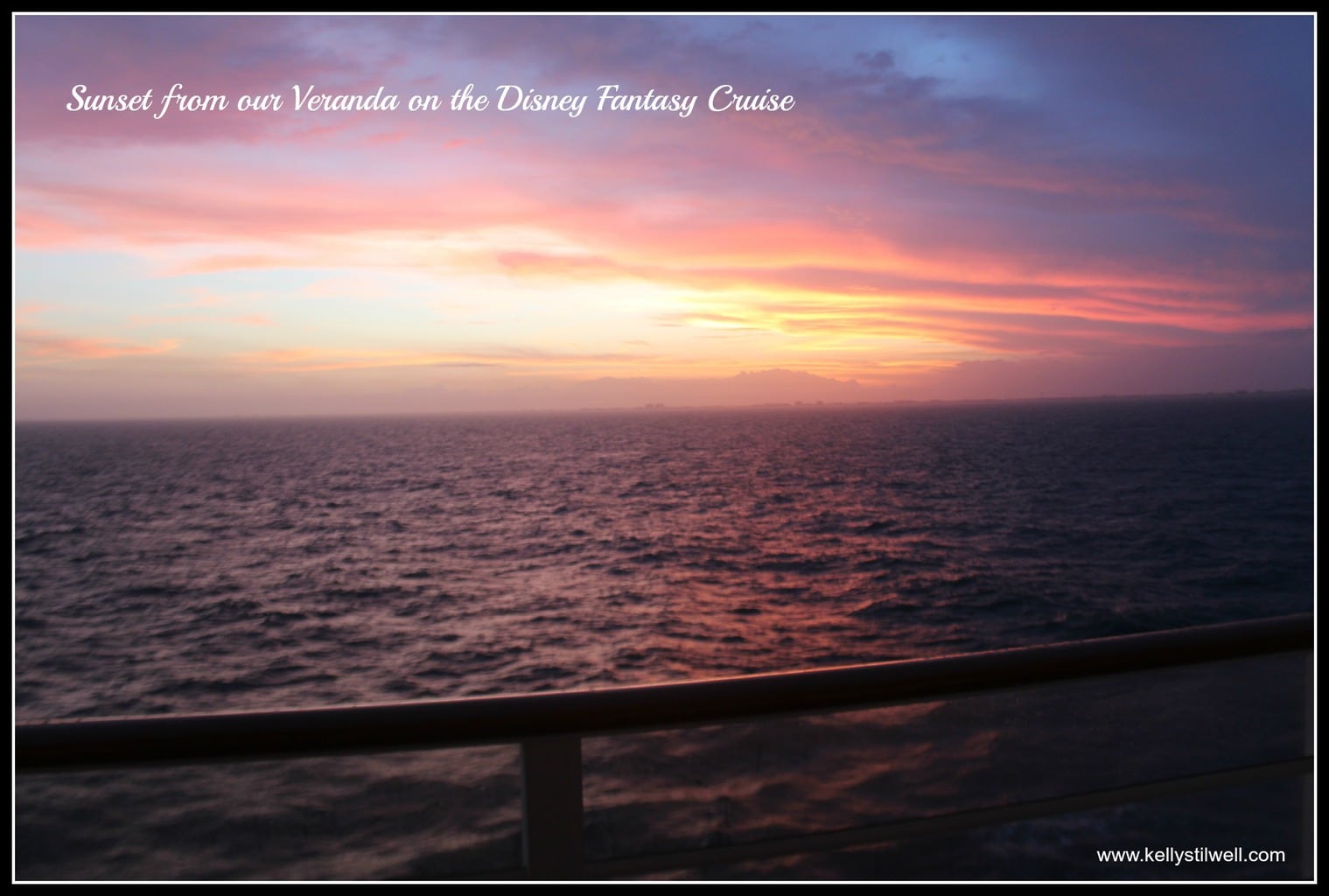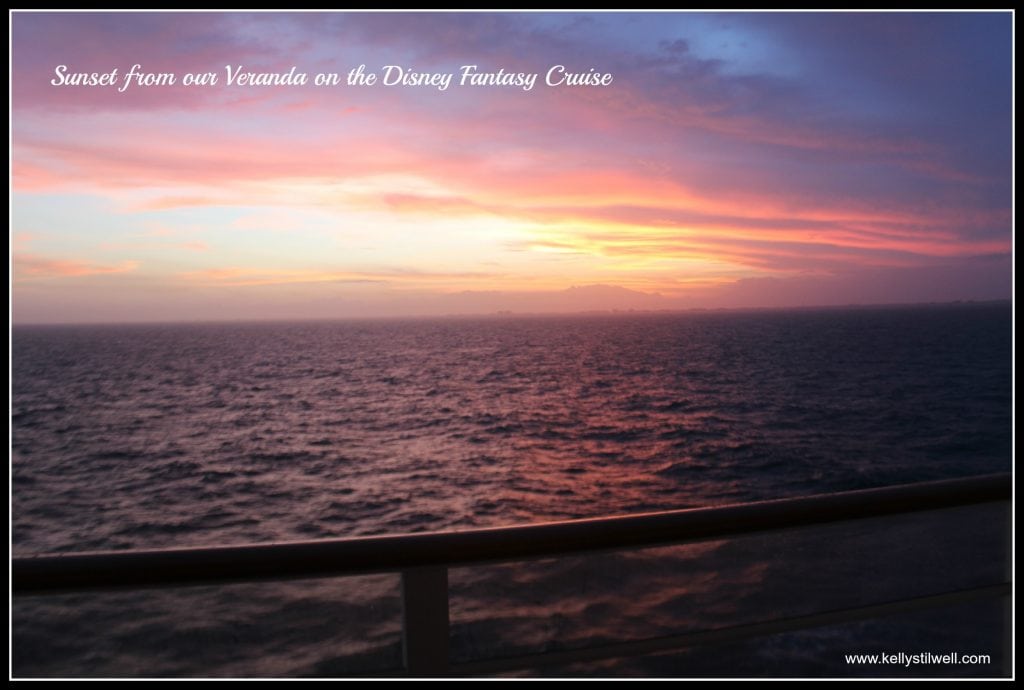 We also enjoyed being able to see when we were sailing into port.
It was suggested that you come up to one of the decks to watch, and being able to see from our room (in our jammies!) was great!
We chose the later dinner time each night, so we spent some time relaxing and getting ready for the evening.
Our first meal was at the Enchanted Garden, and we had a blast! Our staff was nothing short of spectacular! (I actually miss them!)
We were paired with a family who had two daughters the same age as ours, so it was really fun to get to know them.
Seeing the dining room decorated, it really is hard to believe you are on a ship!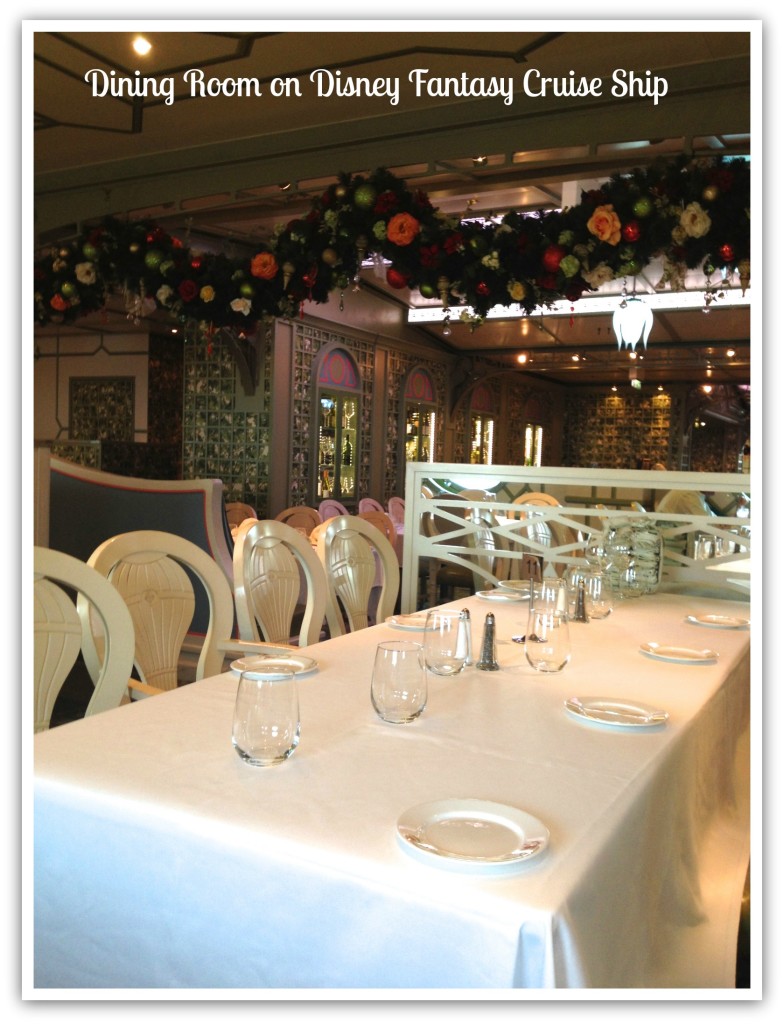 I'll be sharing pics of our staff and more fun in later posts. After dinner, we did more investigating and saw character appearances of Mickey, Cinderella, Donald, Belle, Goofy, the lovely Princess Tiana, and even the very mischievous Peter Pan!
Don't worry, I have lots of photos to share of all the characters! Coming soon!
What do you think you would most enjoy about the first day on the Disney Fantasy Cruise? Want to see Day Two?
Other Disney Cruise Posts You Might Enjoy