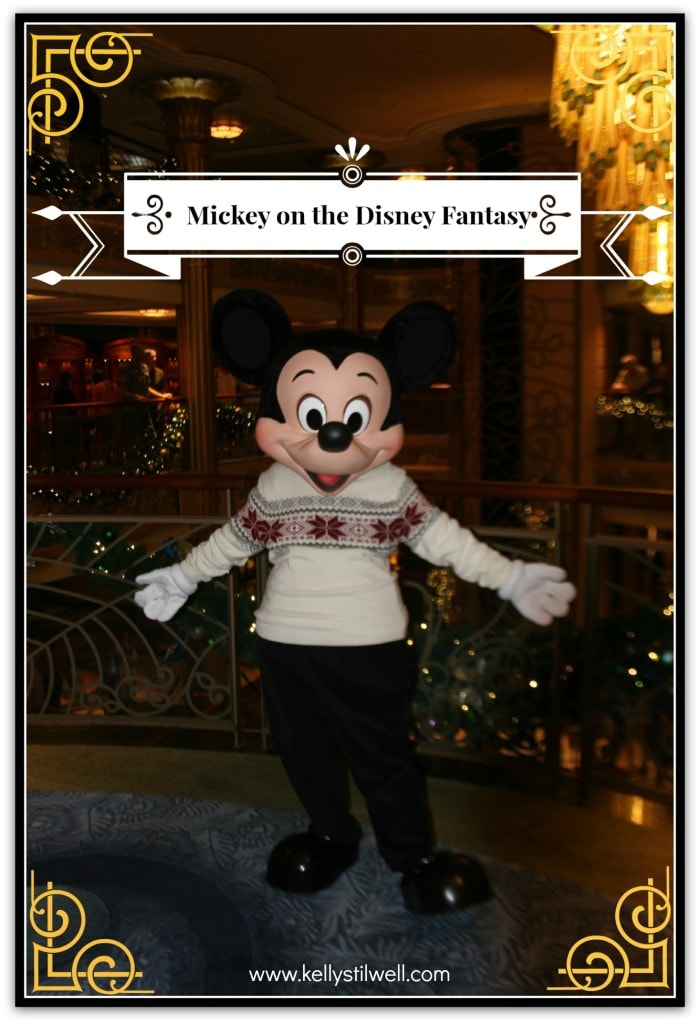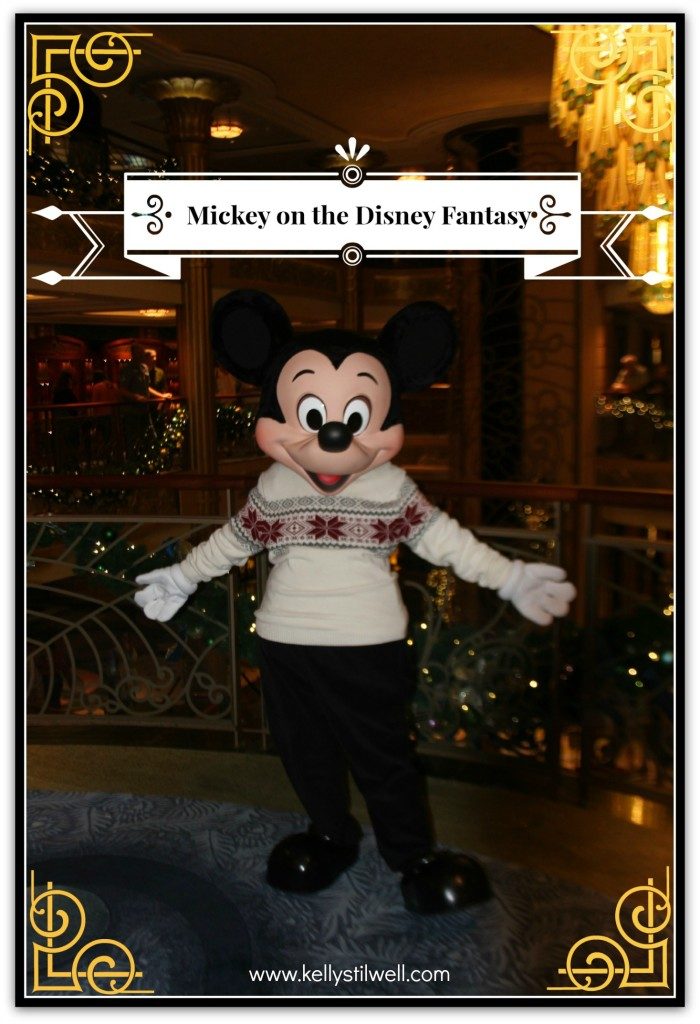 By the time day three rolled around on our Disney Fantasy Cruise, we were really hitting our stride. As I mentioned in my Day Two post, we had planned to visit the Rain Forest at the Senses Spa, and I was so ready to relax on those heated tile beds I had heard about. We started the day with room service for breakfast,which is free with your cruise package. If you look in the drawer of the desk, you'll find the menu to fill out and place on your door the night before. I didn't know this until later in the day, so I just called, ordering a pot of coffee, juice, fruit, muffins & danish, and two doughnuts. Honestly, the fruit was just okay, but everything else was wonderful. Looking over the activities for the day, I saw that Thor: The Dark World was playing at 10:30, and it was tempting! If you didn't read about my trip to LA, take a minute and check that out, too. I had the chance to meet and interview Loki, which was amazing. Disney's Planes was also playing in the morning.
After breakfast, the girls went off to see Hercules on the Funnel Vision screen at the pool, and we headed to the spa. You'll find robes and slippers in the ladies room, as well as lockers to put your clothes in. The spa gives you a package of scrubbing salts and a mitt, so I started off in the sauna. Tip: Bring a towel in with you as the seats are very hot! Next I tried out all the rainforest showers. A couple of them are cold, which is not my cup of tea, but I enjoyed the warm ones. Those heated tile beds? Heavenly. I had brought a book to read which is actually a brand new story about Sleeping Beauty (review coming soon).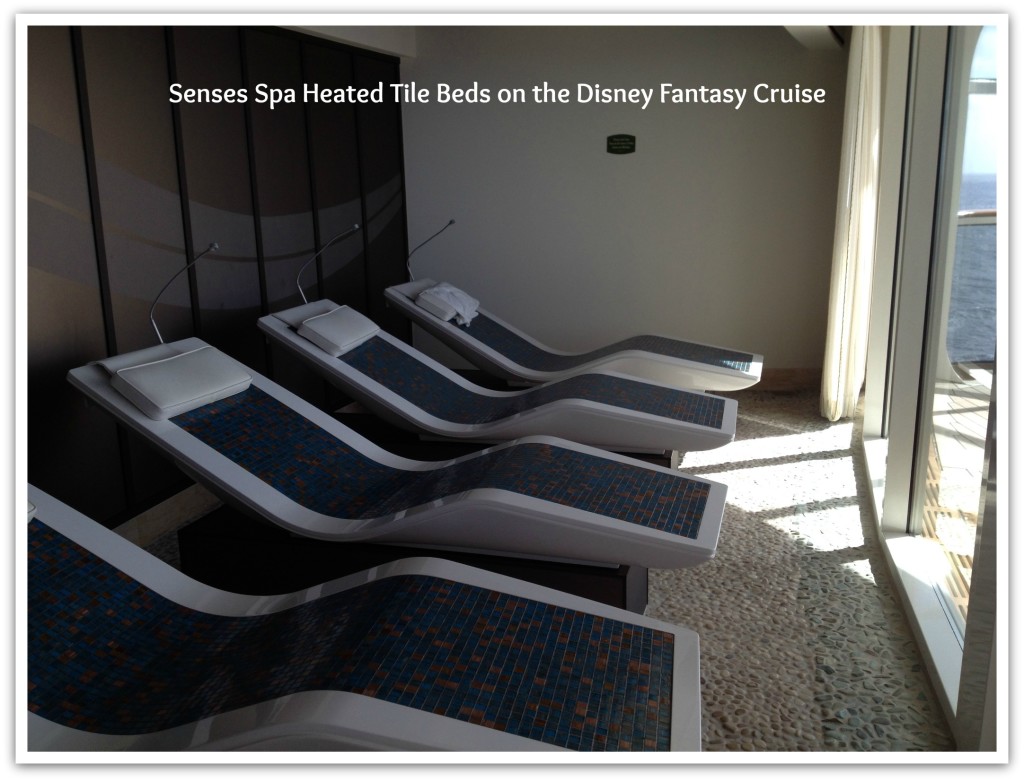 My husband got a massage while I just relaxed and read for a while. It really was magical looking out over the ocean while lying on these contoured heated beds. I spent a few minutes in the whirlpool, too, and though I have to say the jets weren't working very well, it was still nice.
We decided to eat at Cabana's again for lunch, and easily found a seat outside. The food was so good! In case you're wondering, there were mounds of shrimp, stone crab claws, a great salad bar, sushi, all kinds of entrees, and a dessert bar. It was so nice to just sit and relax and watch the ocean go by. If you decide to do a Disney Fantasy Cruise, you've got to see the huge mosaic walls showcased in Cabanas. The walls are based on Finding Nemo, and were created by Italian artists. Each wall is more than 8 feet high and 25 feet wide, and contains about 194,500 tiles in 200 colors of hand-crafted Venetian enamel! The mosaic design is of Australia's Great Barrier Reef as well as characters from the movie. Must see!
I forgot to mention that the ship provides two phones at no cost for your family to use, in case you think we had completely forgotten about our kids! They were off eating ice cream and watching movies! In one day, they saw Hercules, Tangled, Wreck-It Ralph, Monsters University and The Lone Ranger! They also went to the live show Wishes, and a Disney Behind the Scenes Talk with Laura Mitchell, a Disney Imagineer. Trust me when I say they were loving life!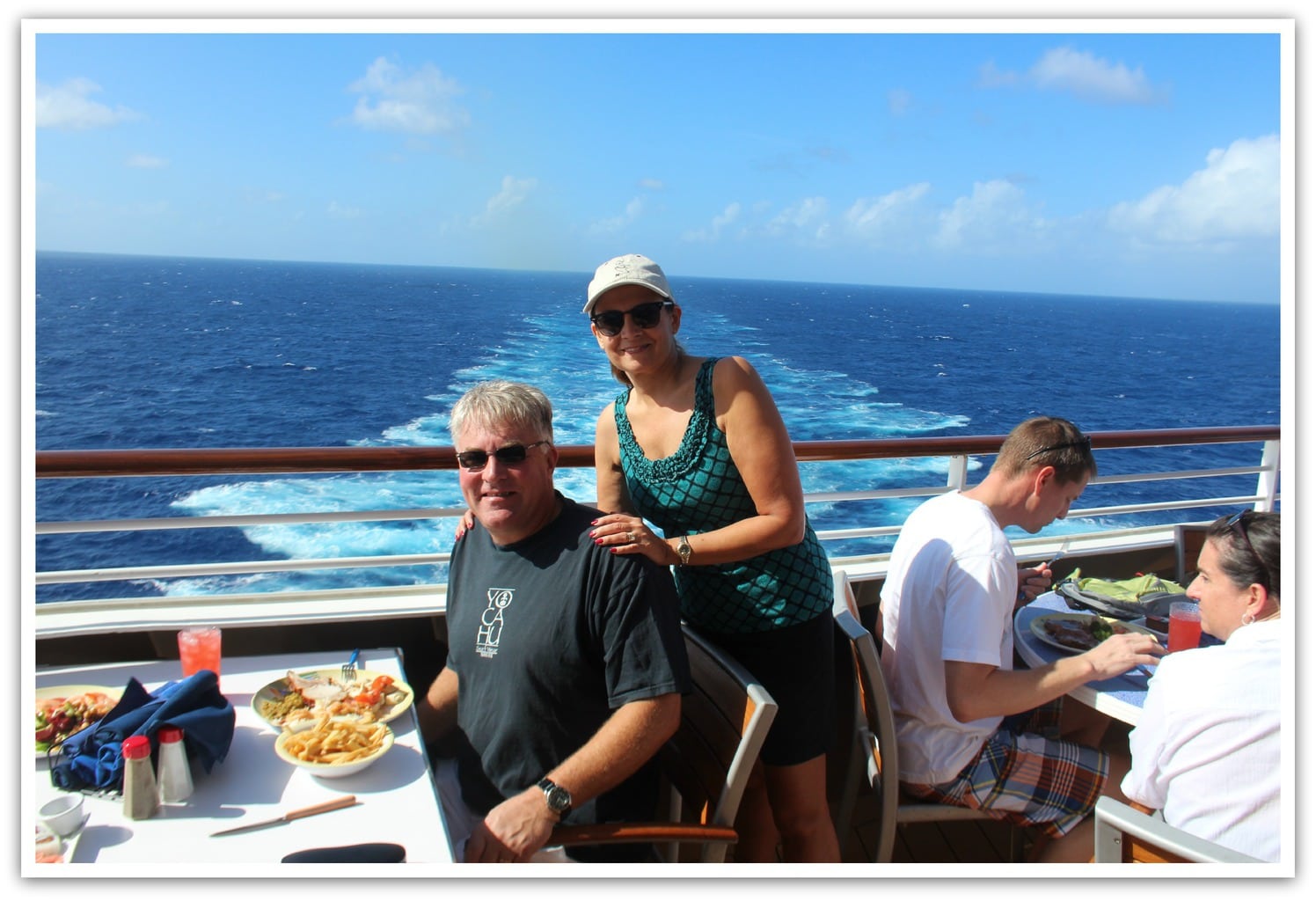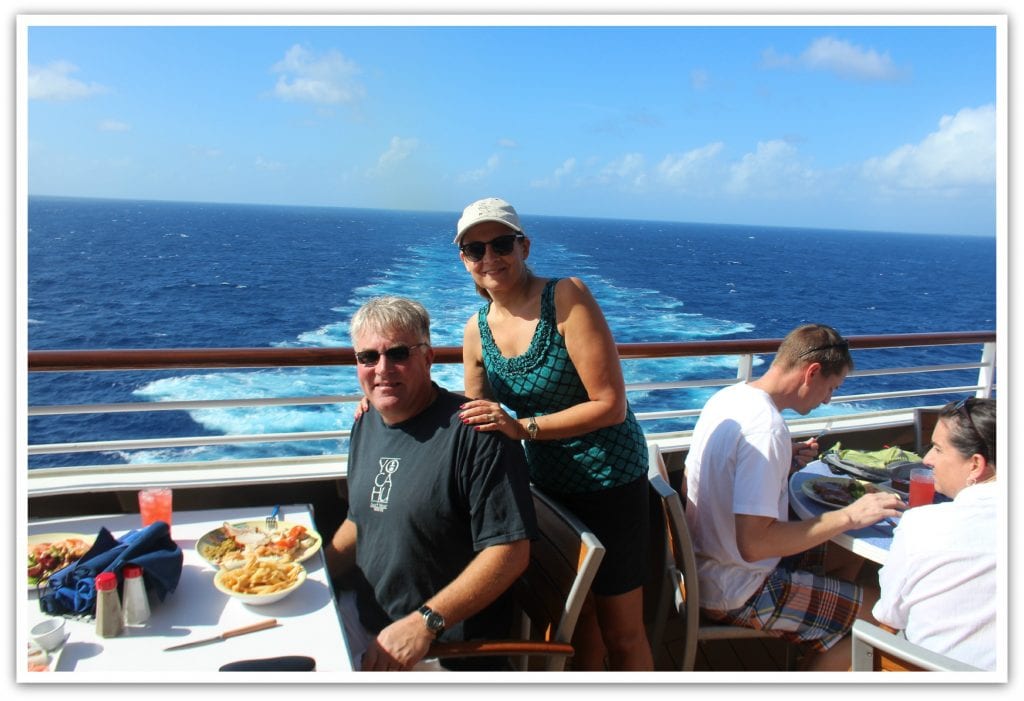 We headed back to the spa after lunch as we had paid for the Rainforest for the day. It was really a relaxing afternoon. I had no internet access (shudder!), so I just spent most of the afternoon reading.
As we headed out to dinner, guess who I ran into? I had to get my picture taken with the Mouse who started it all!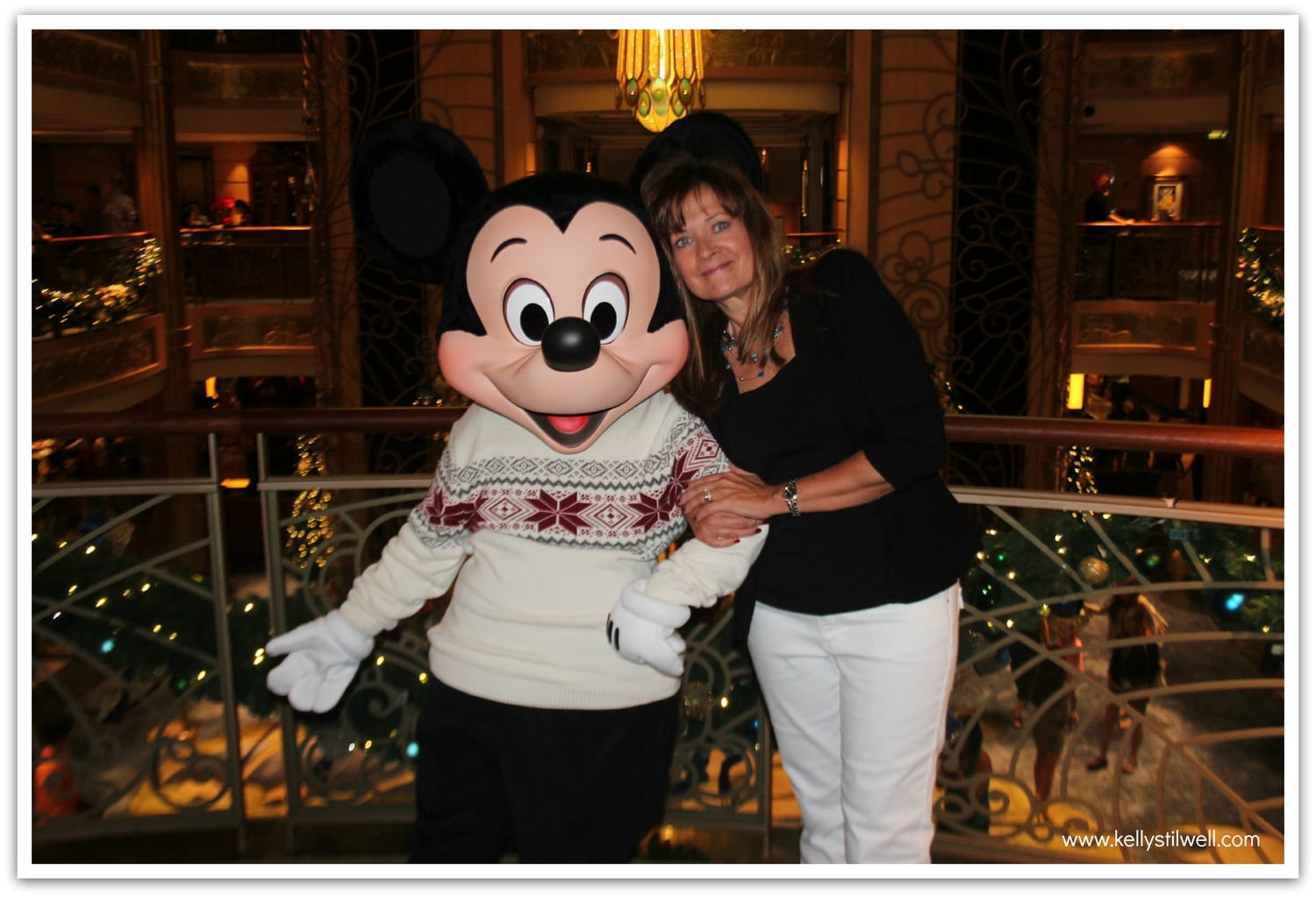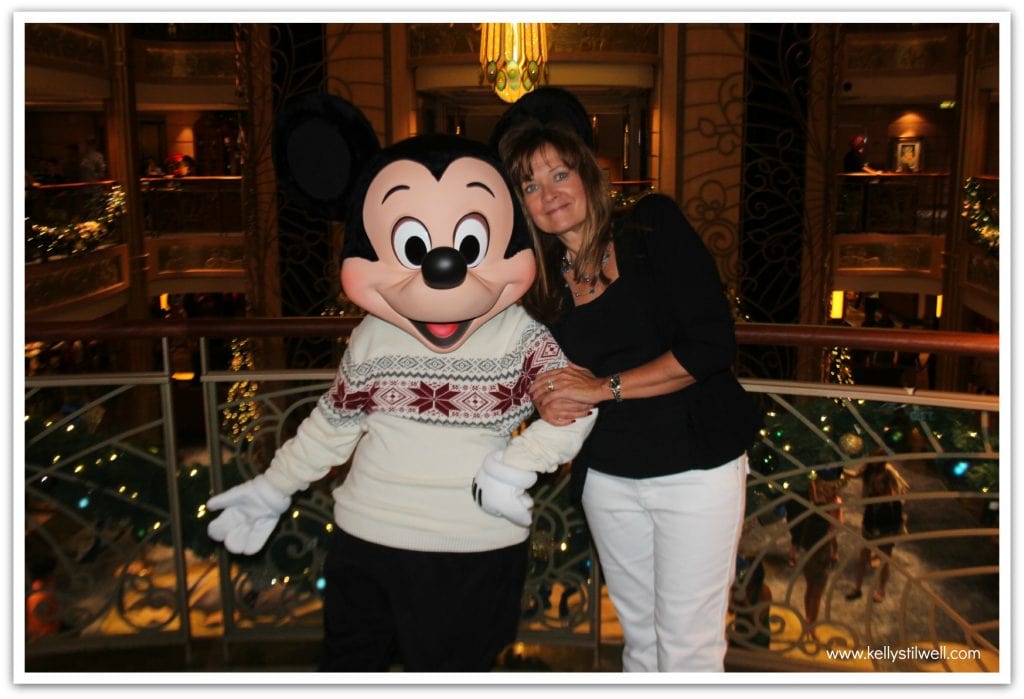 As I turned the corner, look who else we ran into! If you have children, this truly is magical! The Disney characters were everywhere!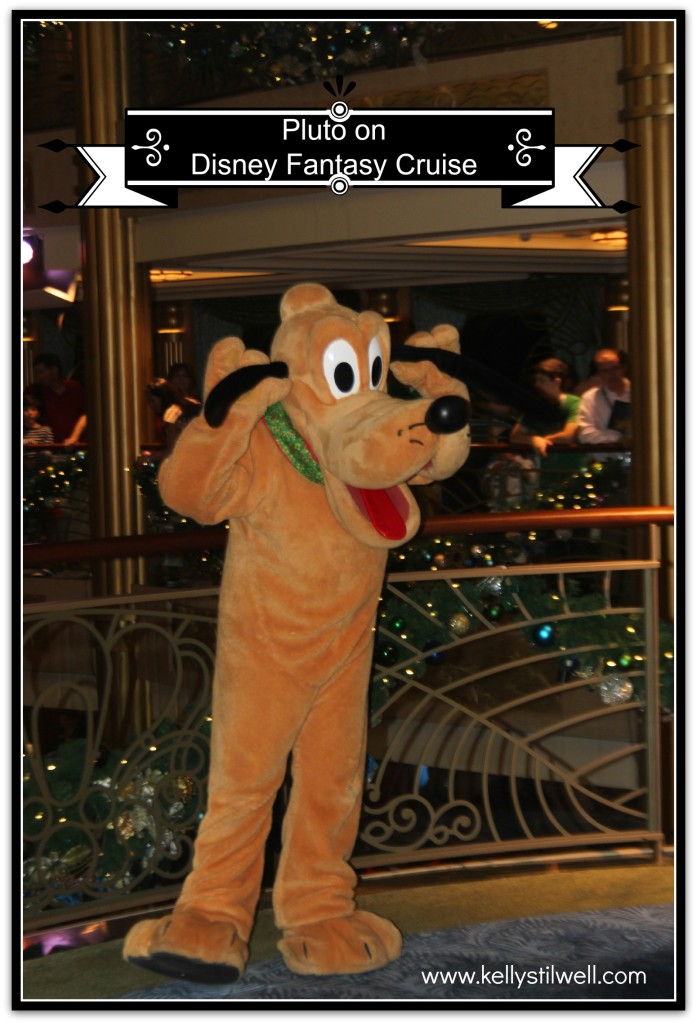 Our dinner rotation was at Animator's Palate, and we couldn't wait! The restaurant is so cool! The decor is themed with items you would find in an animator's studio.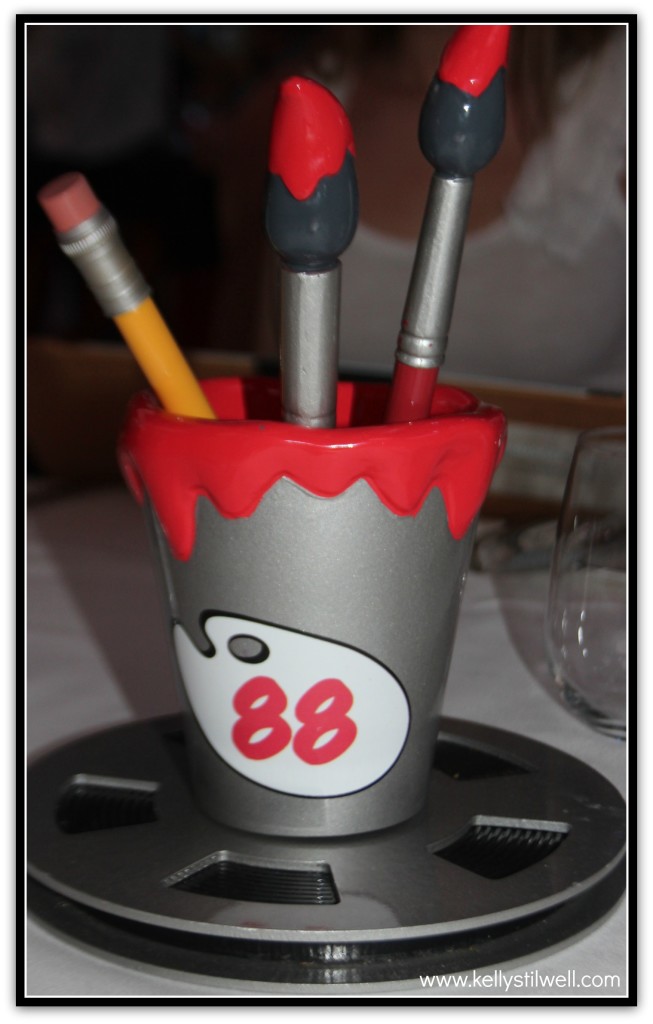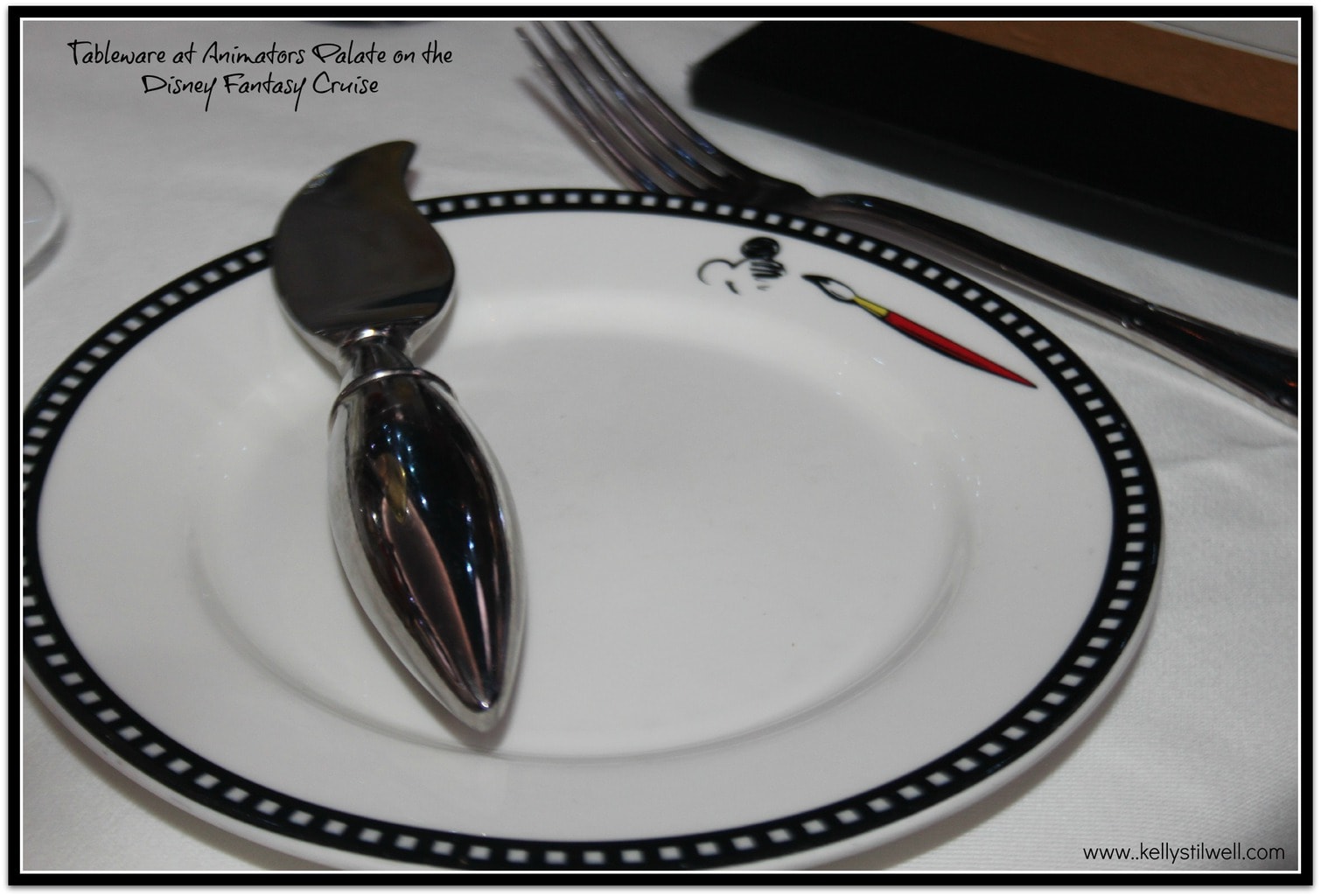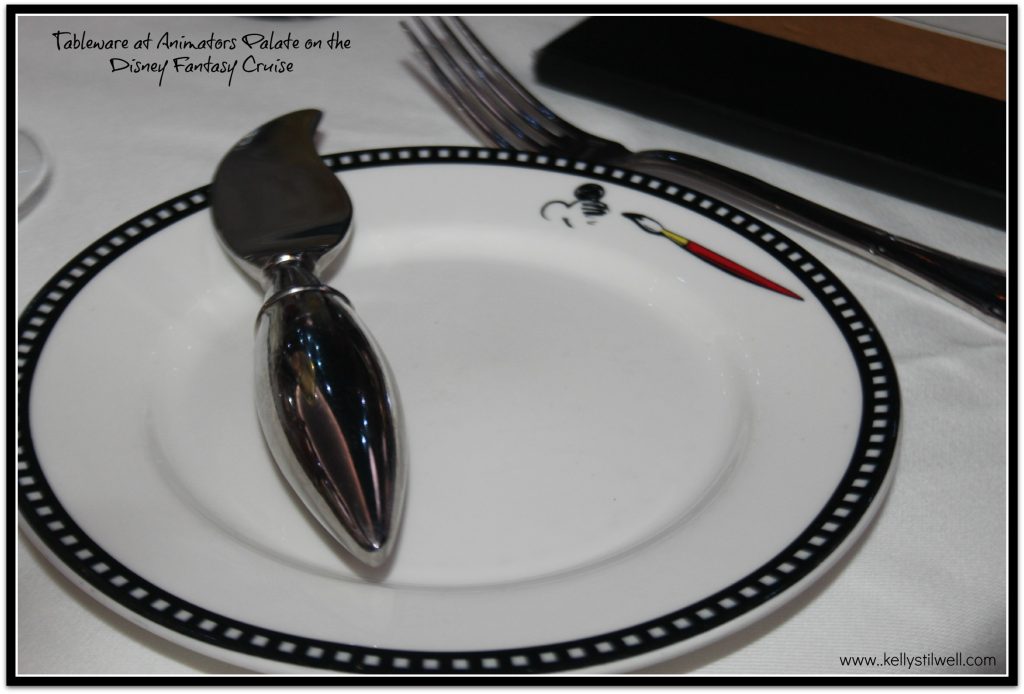 If you have been reading Virtually Yours for a while, you probably know that my oldest daughter wants to be an animator, so this was such an amazing experience for her. All over the walls, there were character sketches and scenes from Disney movies.
Of course, Nemo had quite a presence because we were, after all, cruising. The righteous Crush came to visit every table, and interacted just like he does at Epcot in The Seas with Nemo & Friends. (If you have not visited Nemo and chatted with Crush, it is a must! It's not just for kids!)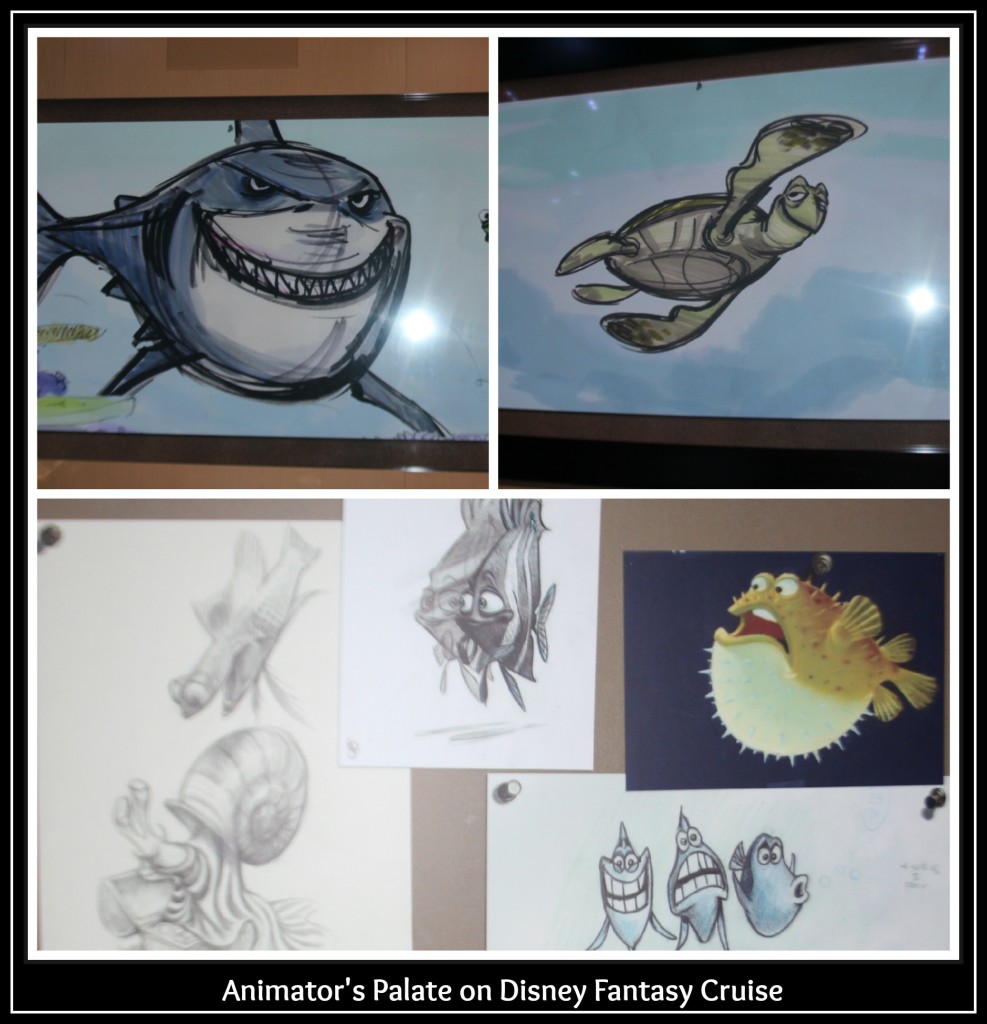 One of my favorite movies, Up, was represented well.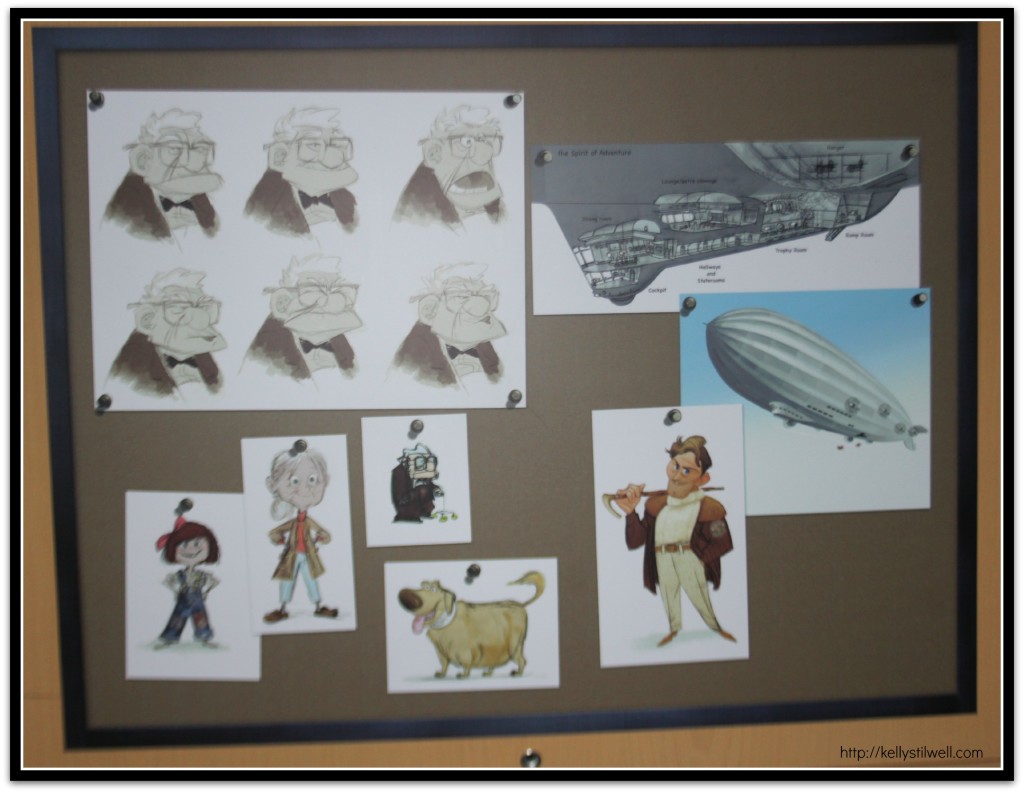 And I loved this one that had a a few movies in one drawing.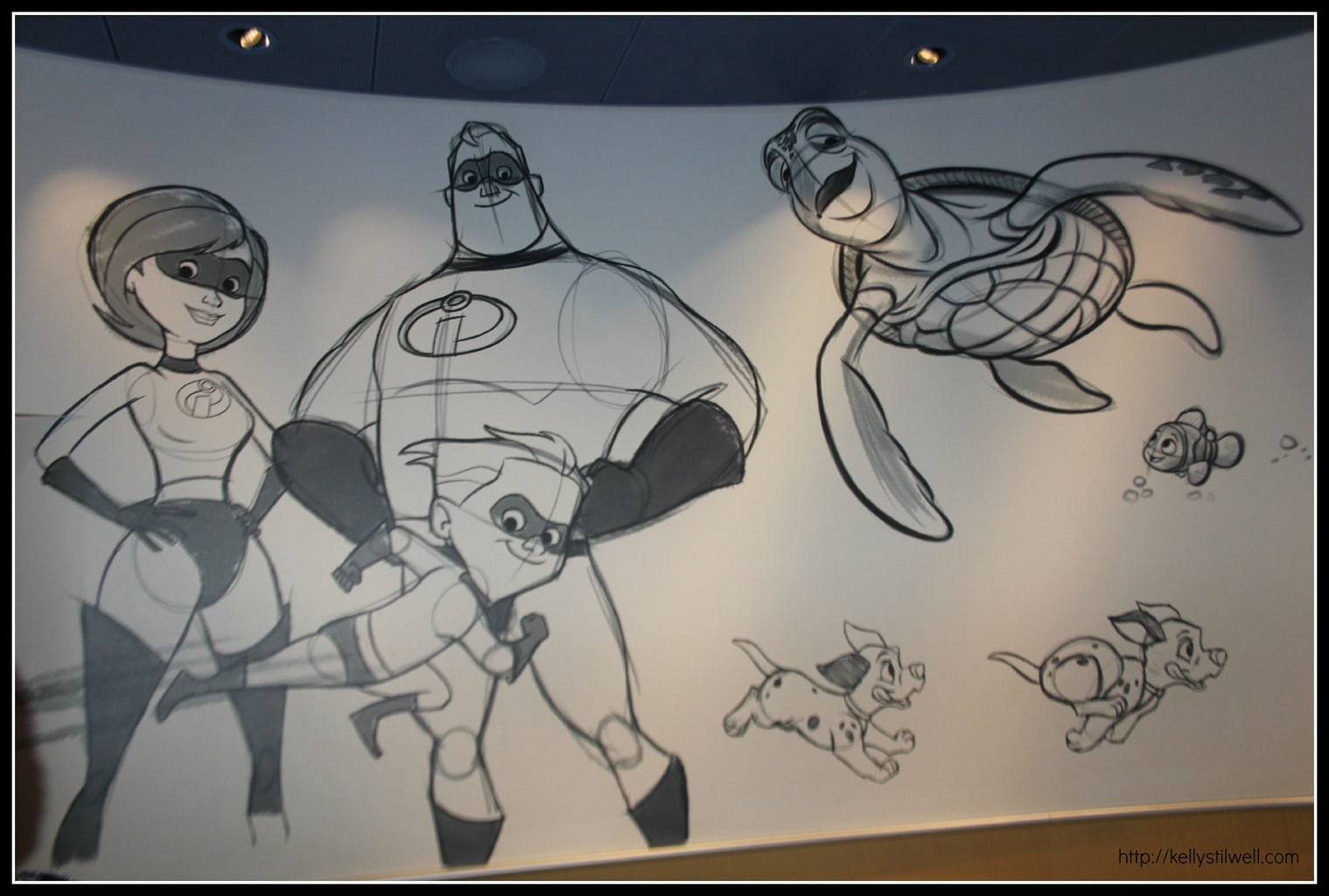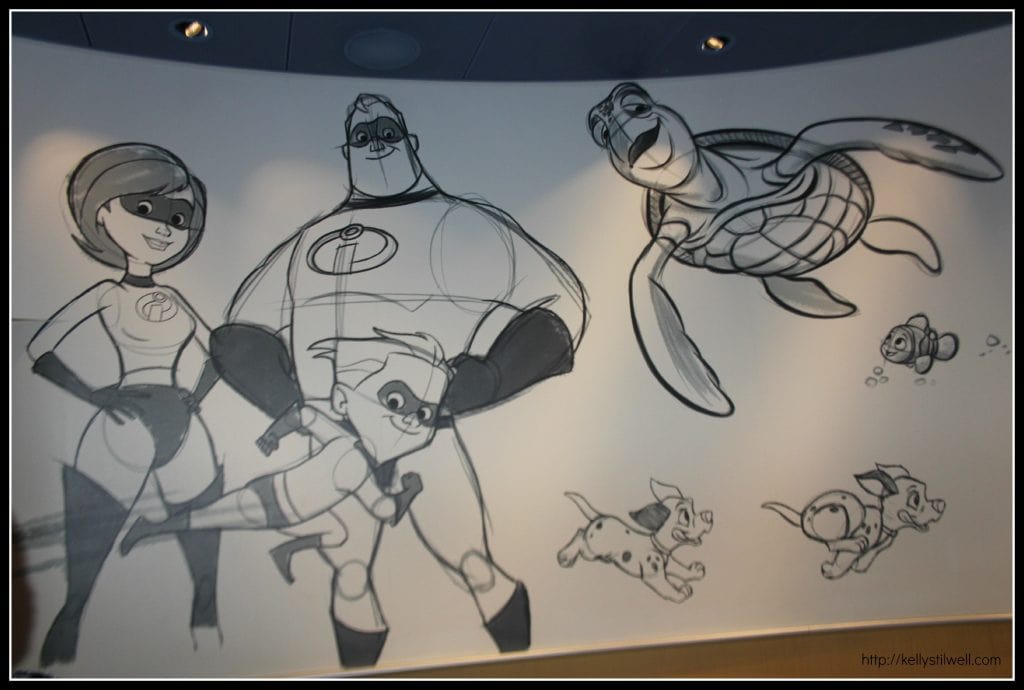 And does this look like an animator's bookshelf or what? Maybe it could use a few more items. Remember Klay Hall's bookshelf?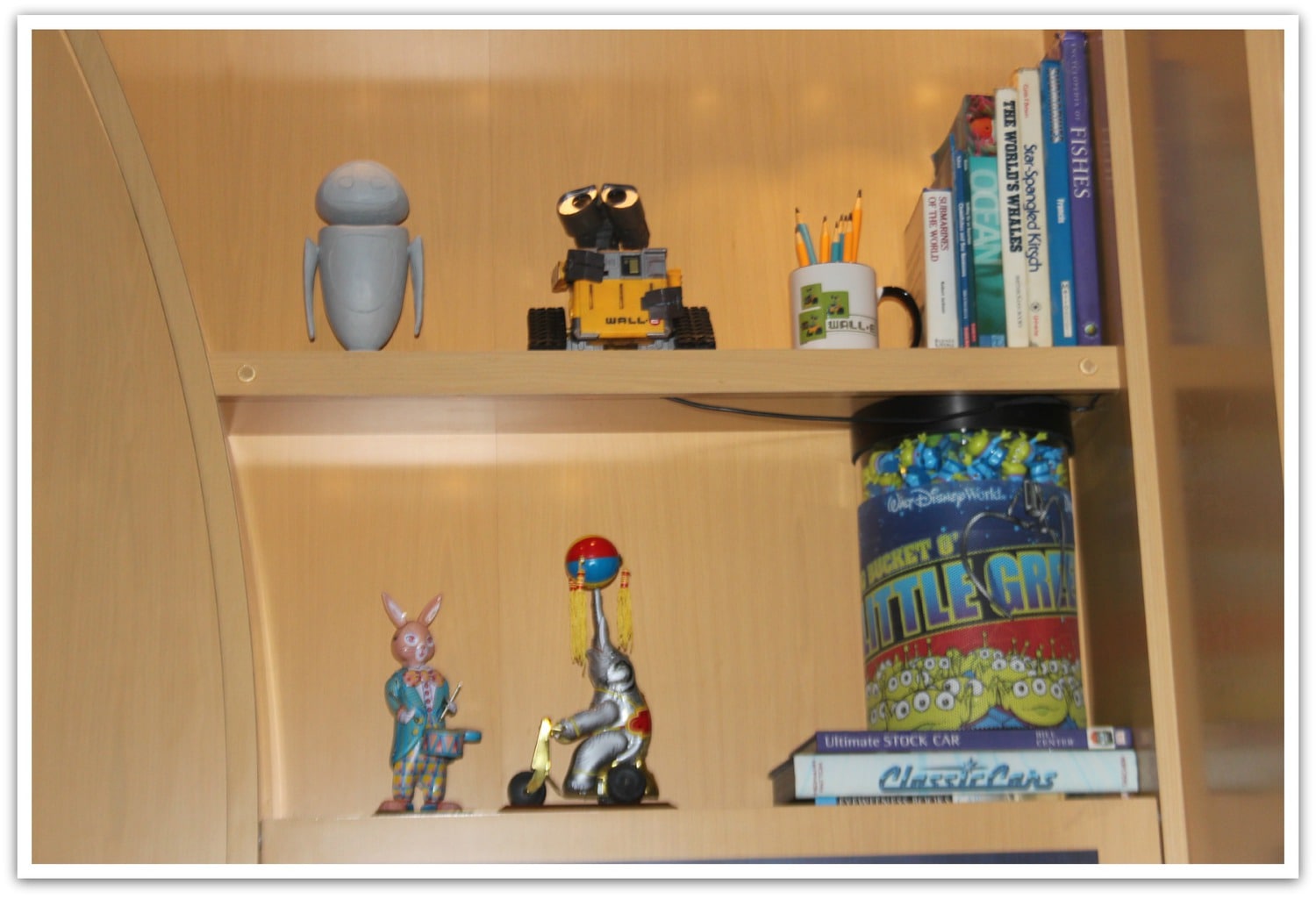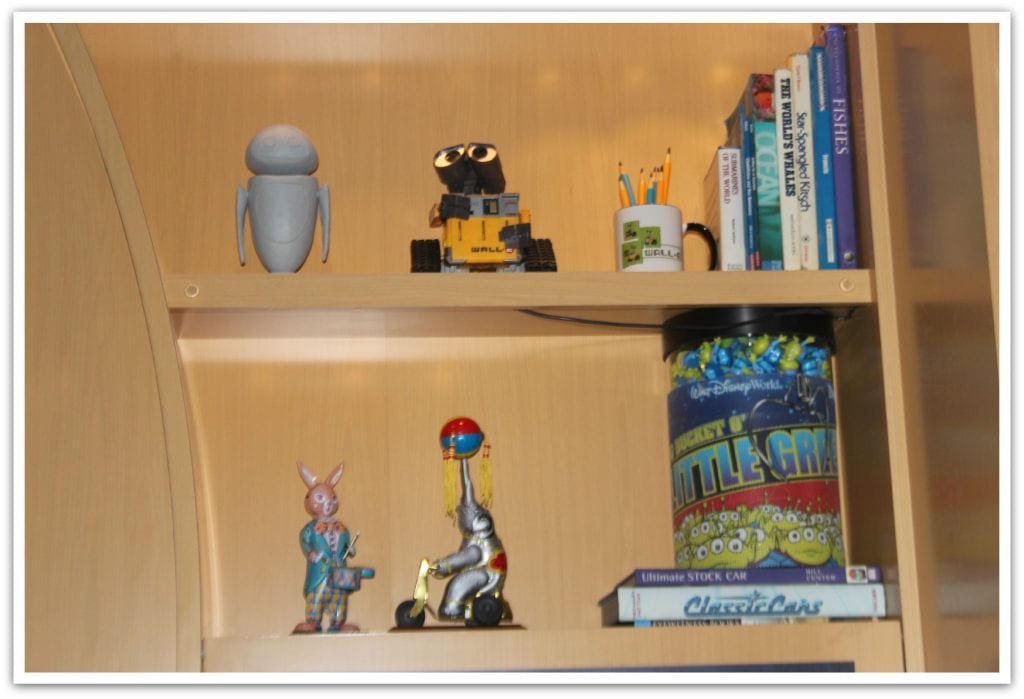 It was already 10 by the time we finished dinner! We decided to go see The Lone Ranger with Johnny Depp. Honestly, not my favorite movie, but my husband loved it! There were parts that I really enjoyed, but several times I closed my eyes along with my daughters. There were some pretty gory scenes.
We were exhausted and had to be up early the next day as it was our first in port day! We couldn't wait to visit St. Maarten! You won't believe what we found there! Let's just say it's not of this world 🙂
Have you ever cruised? I'd love to see your comments!